Think you're too scared to go up for a hot air balloon ride? It's an experience you won't forget. Book your reservation for the ultimate Albuquerque experience for a hot air balloon now.
Aerial Adventures: Exploring Albuquerque from a New Perspective
I received media passes to attend the Balloon Fiesta. All opinions are my own and may differ from yours.
For years I have wanted to go on a hot air balloon ride. And for years, I've been too scared.
Back in 2019, we went to the Albuquerque Balloon Fiesta for my 60th birthday.
I had the opportunity to go up in a balloon as part of my media pass.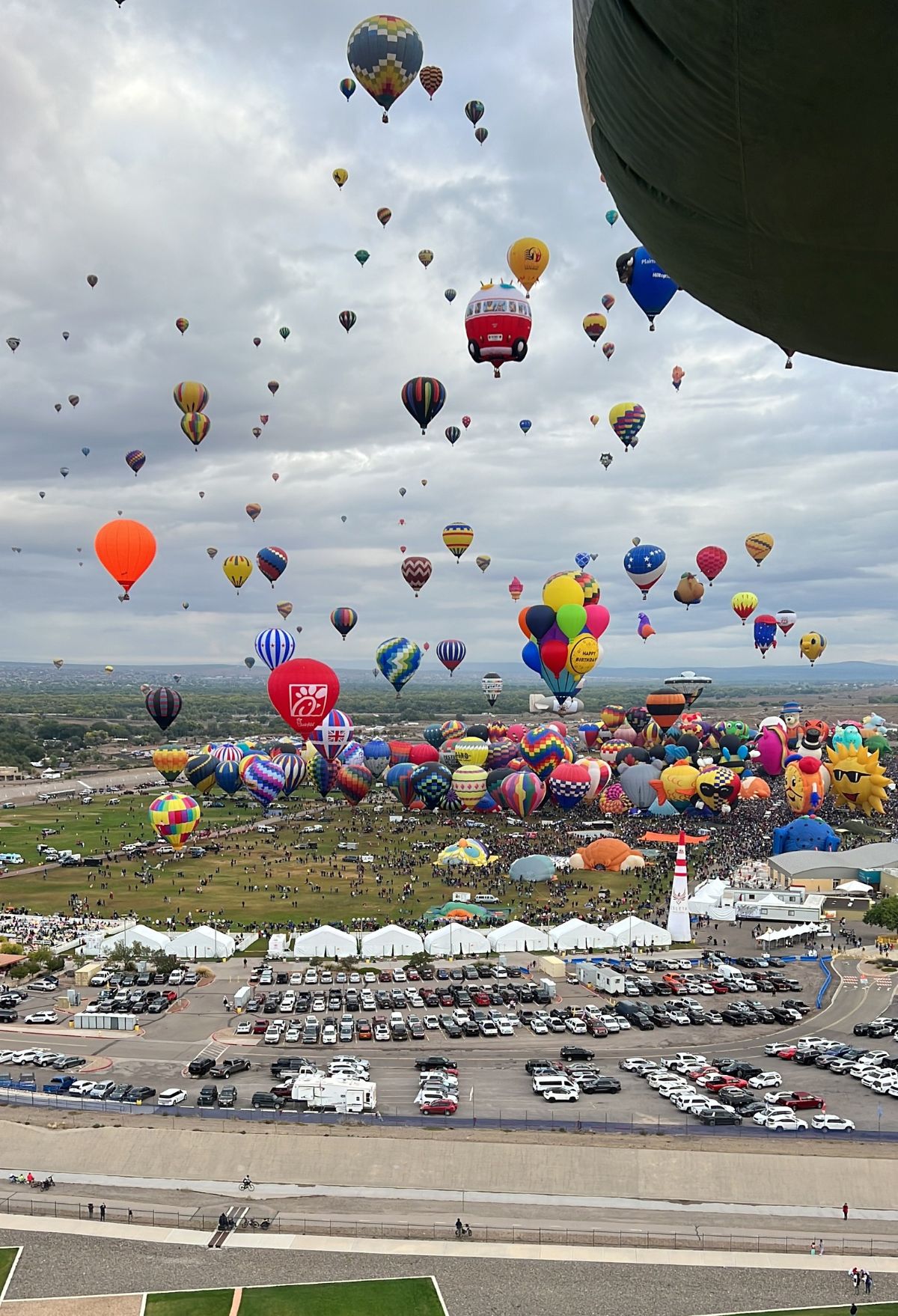 It would have been an awesome 60th birthday present.
But once again, I was too scared. I'm scared of heights, to begin with.
Yes, I've been in airplanes (not a fan of those either!)
So, it didn't happen.
We attended the Albuquerque Balloon Fiesta 50th Anniversary last year, 2022.
And once again, I had the opportunity to go up in one again as part of my media pass.
And you know what? I finally got the nerve to go..on the day we were leaving.
Hot Air Balloon Ride Sequence
When the dawn patrol goes up and gives the okay, it's time to start getting ready.
The tarp is laid out on the ground, and then the balloon gets laid out on top of that.
They then hook the balloon to the carabiner hooks on the basket.
Next, they pull out the extra large inflating fan and start inflating the balloon.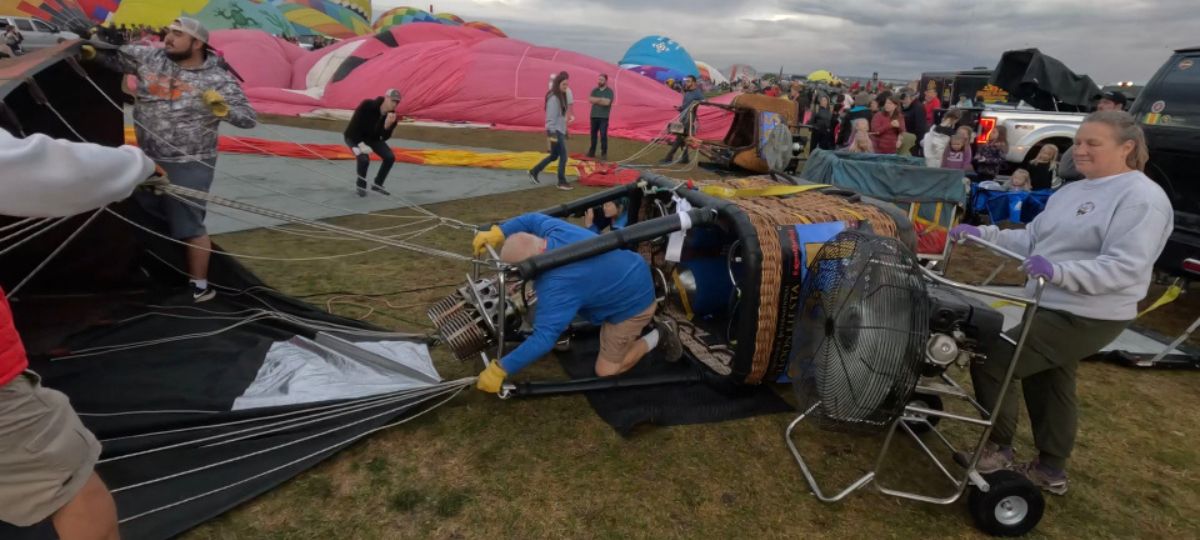 The pilot turns on the helium and the balloon lifts up.
Now we wait for the green flag.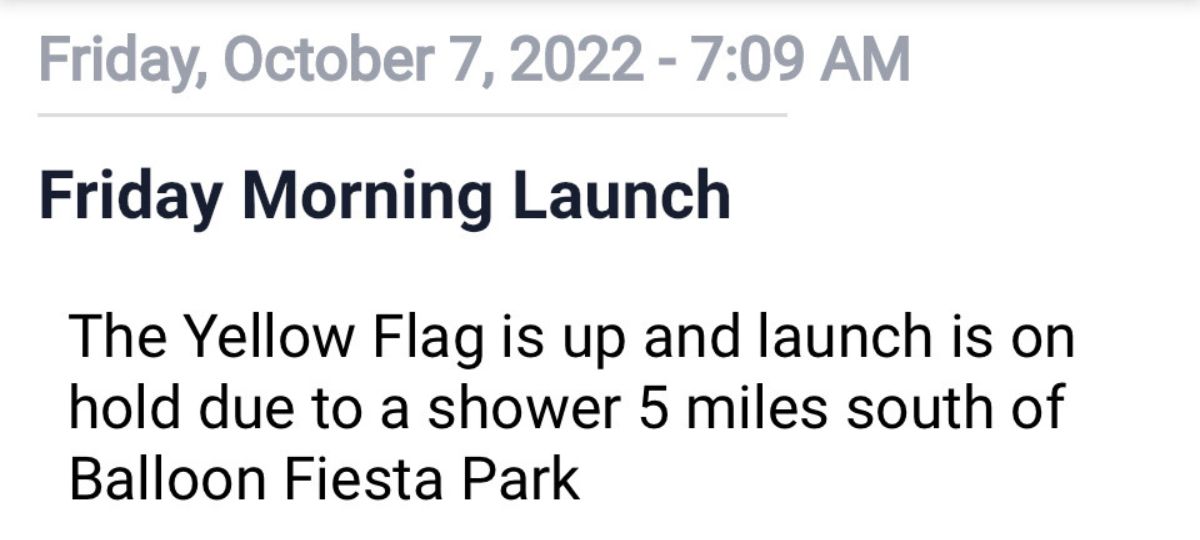 The zebras will come by and let us know when it's our turn to fly.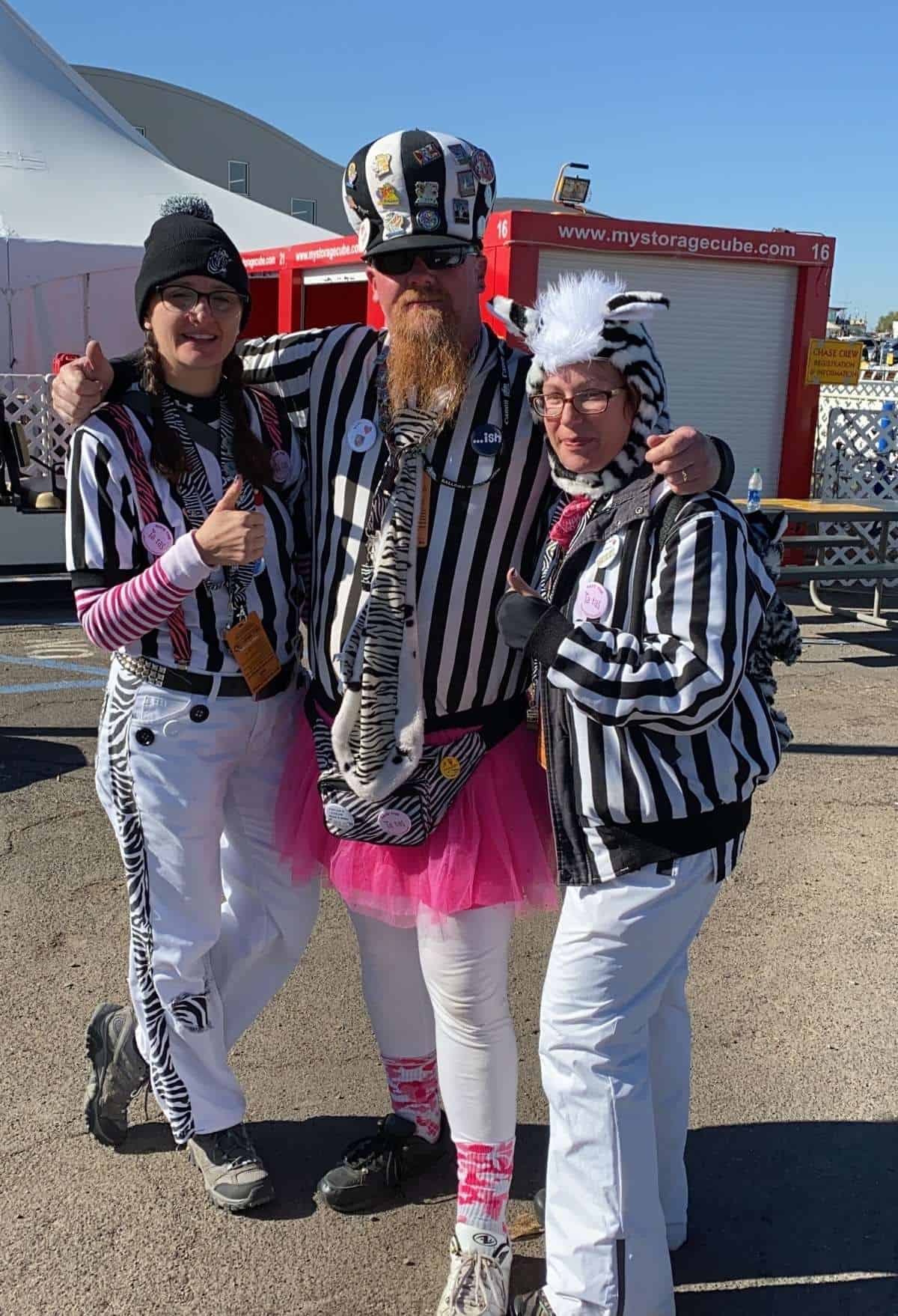 When it's time, the pilot turns up the helium, and off we go.
Ready for Landing
Once it's time to land, the pilot will look for a good clear spot.
Meanwhile, on the ground, the chase crew is trying to follow us so they can be wherever we land to assist. (And they are really good at it, I might add!)
As I said before, we landed in a small tree, but that was the pilot's plan.
The ground chase crew was there to grab the ropes and get us down safely.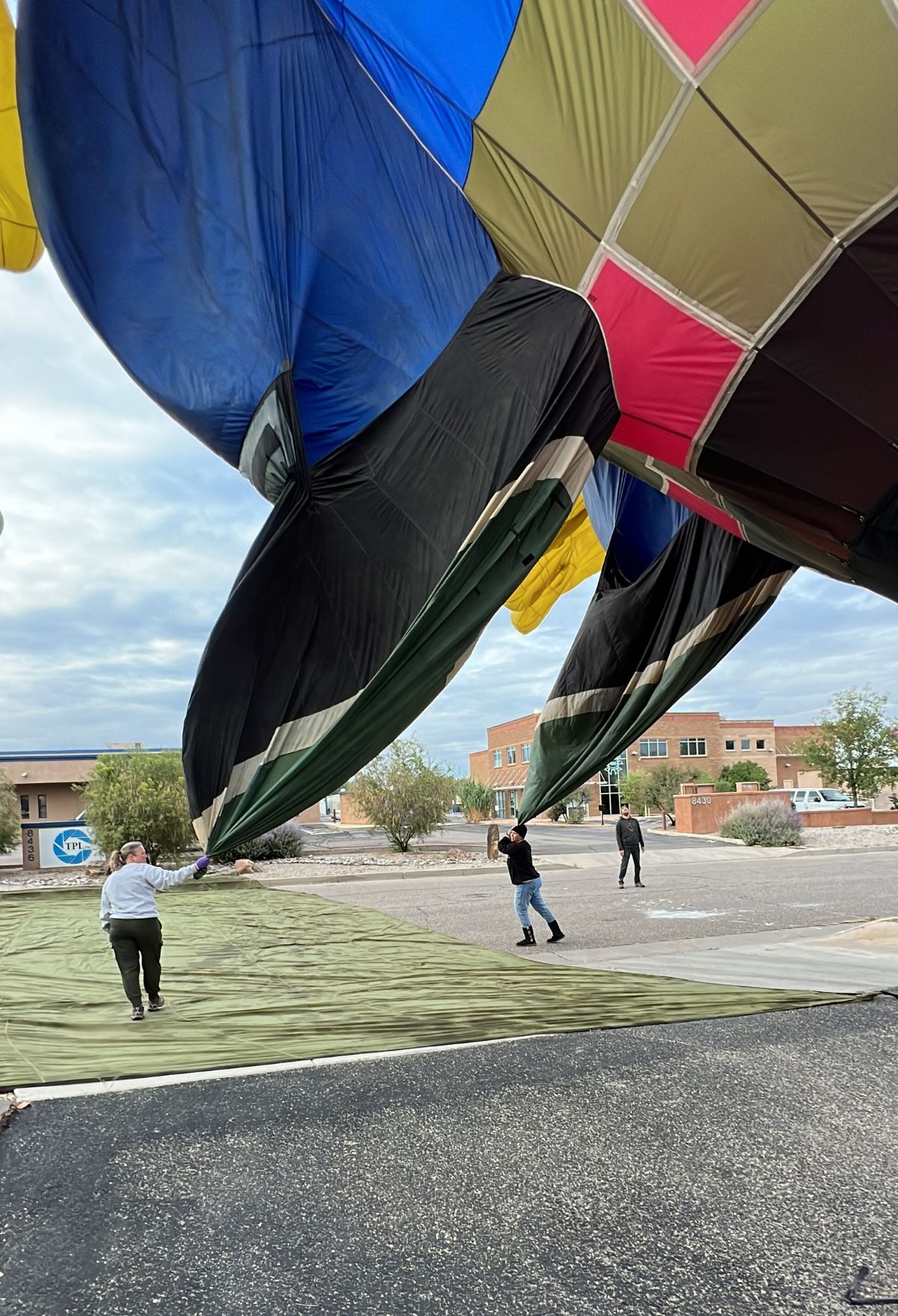 Since we landed in a parking lot, they moved us out to the street so they had enough room to lay down the balloon.
Once in the street, we got out so they could lay the balloon and the basket down and start deflating and rolling it up.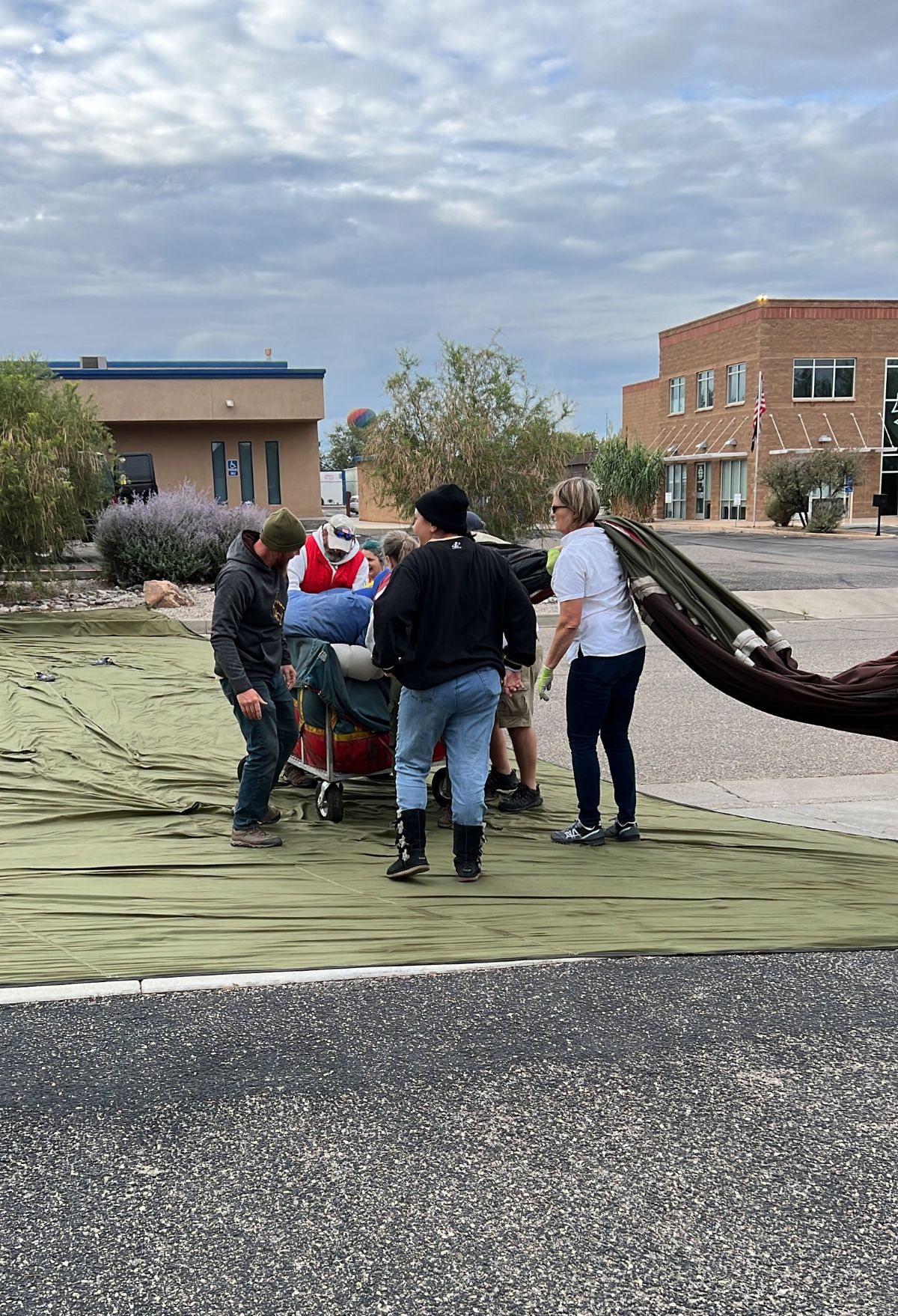 After the Ride
Did you know that there is a ritual after the balloon ride? Yeah, me neither, lol!
They loaded up the balloon into the back of the truck and we all drove back to the field.
Once there, if it was our first balloon ride, then we had to drink a glass of champagne while kneeling without touching the glass. 😂😂😂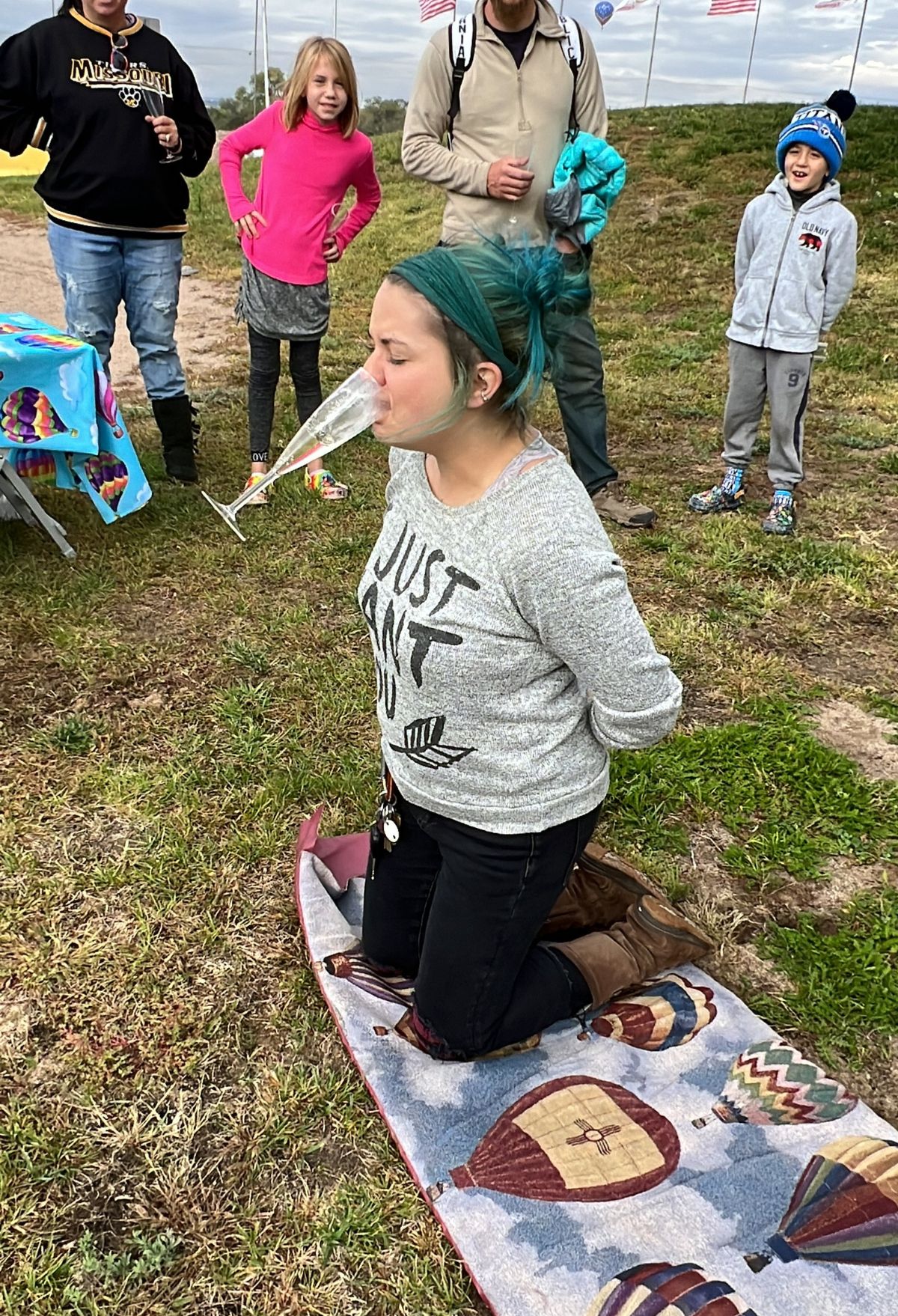 I was exempt since I had two knee replacements and can't kneel on my knees. 🙂
The pilot told us a story and we toasted with our champagne and all went on our merry way.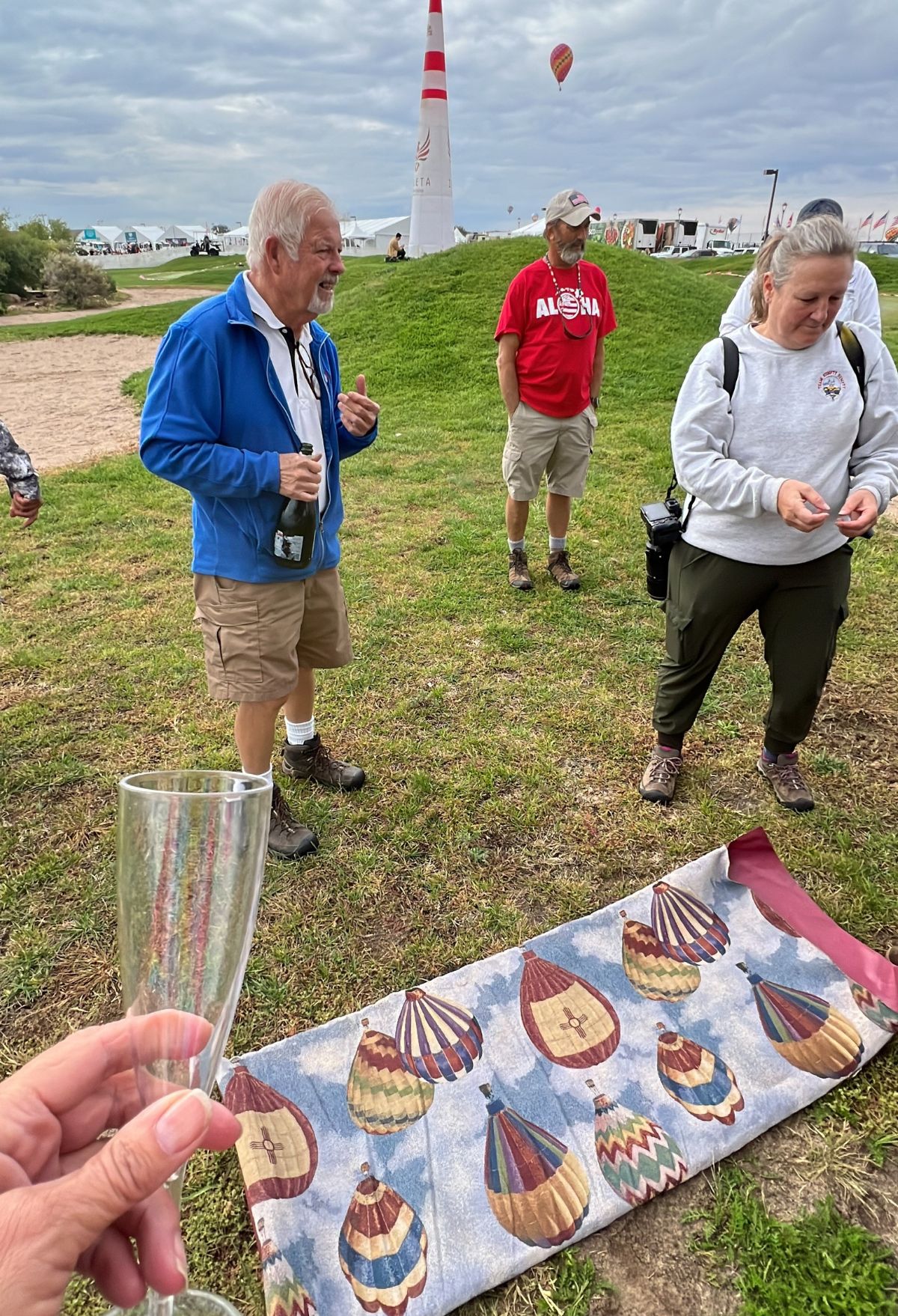 It was quite the experience! And something that everyone must do at least once in their life.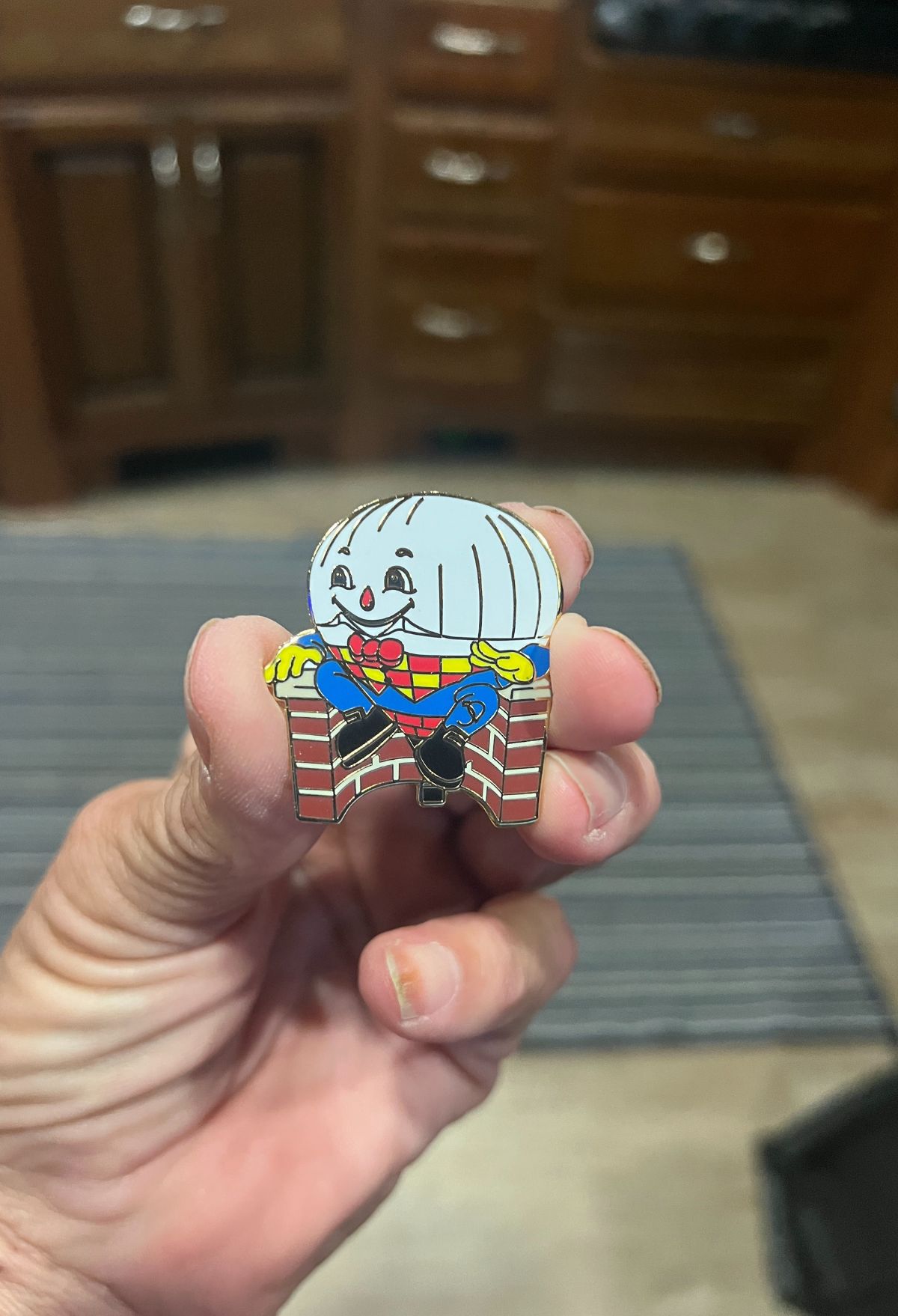 We received a commemorative Humpty Dumpty hot air balloon pin and card.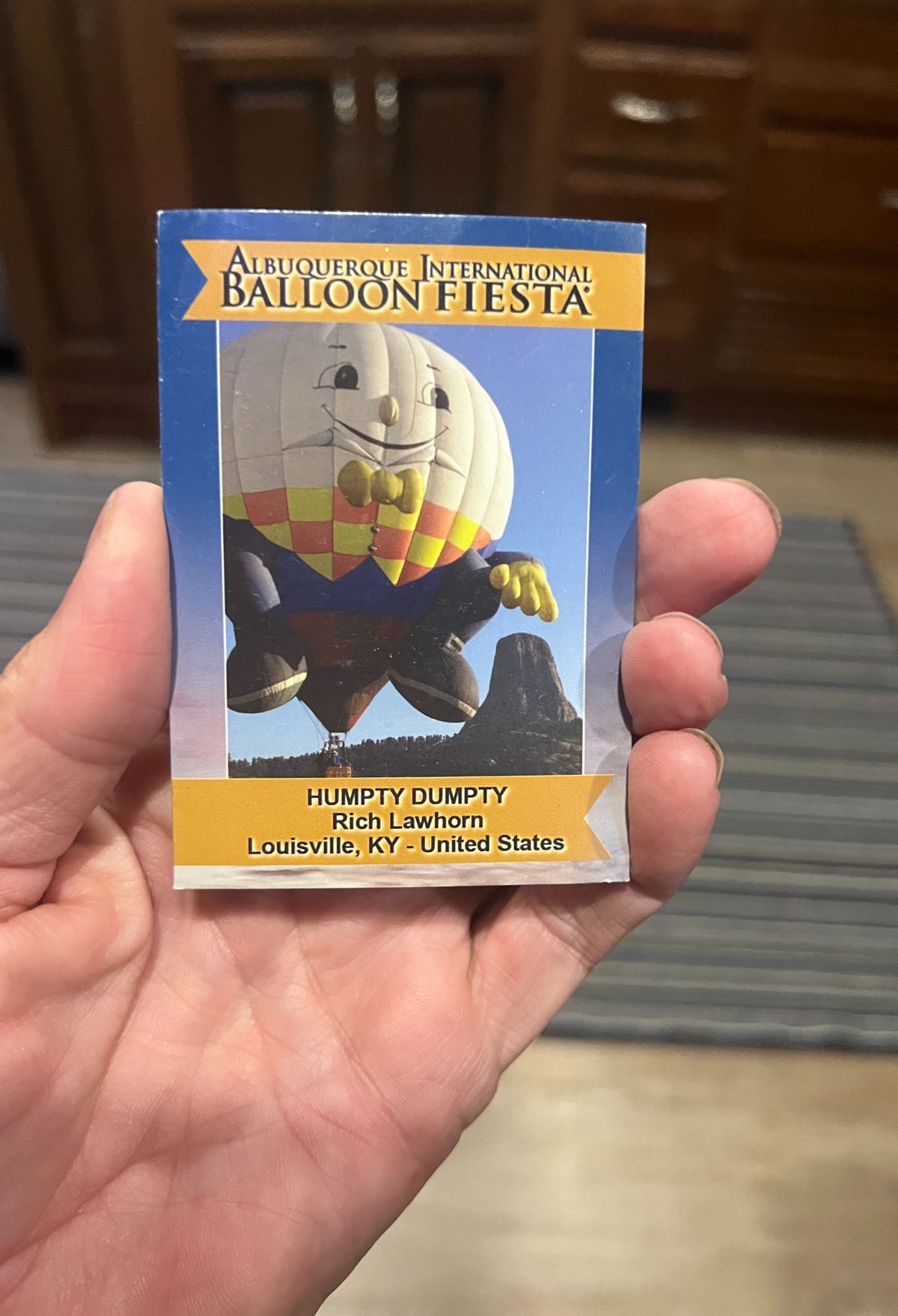 What Does Going Up In A Hot Air Balloon Feel Like
When you start to rise, you don't know which way to look.
There is so much to see.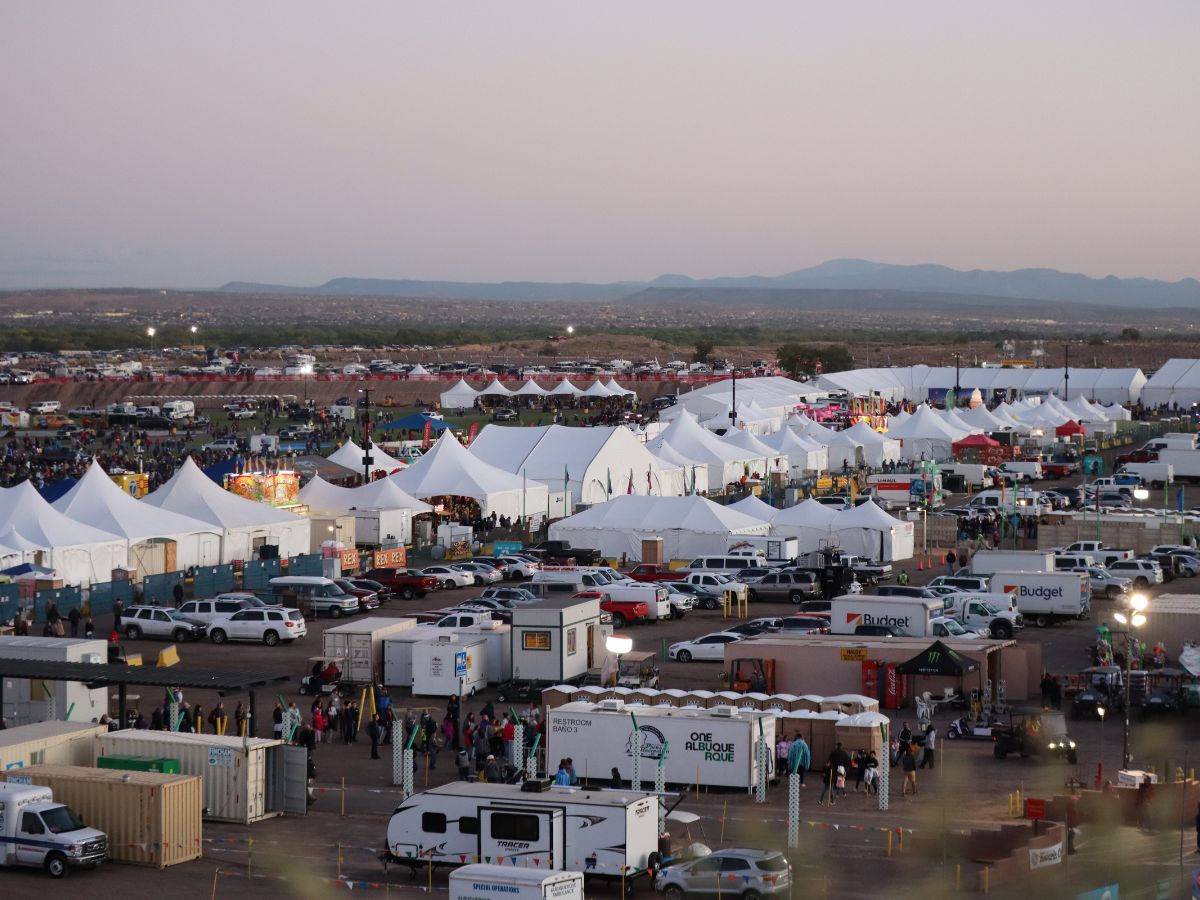 But not only that, the feeling you get in the air is nothing as you've ever felt before.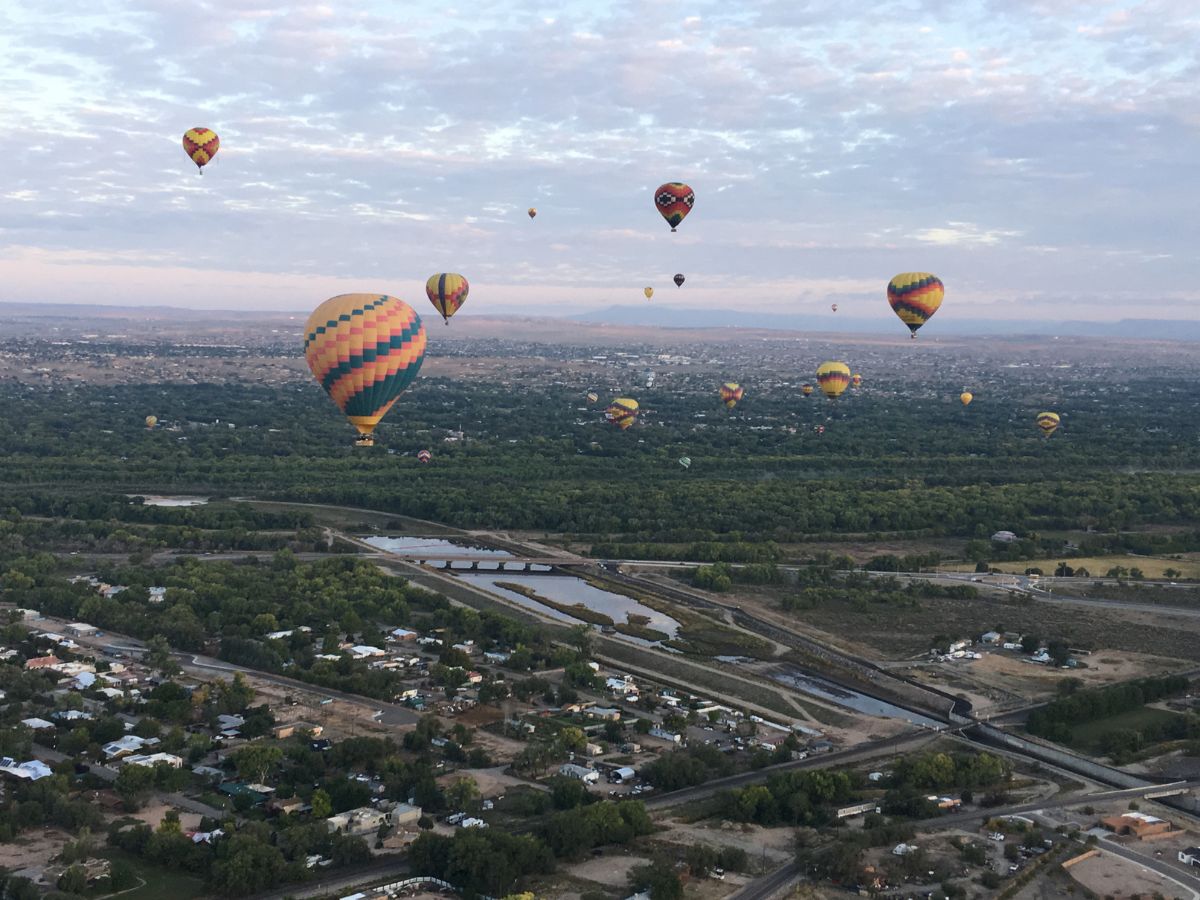 It's peaceful and calm.
It can be a little loud when the burner ignites and depending on how tall you are (like me) you can feel the heat on your head.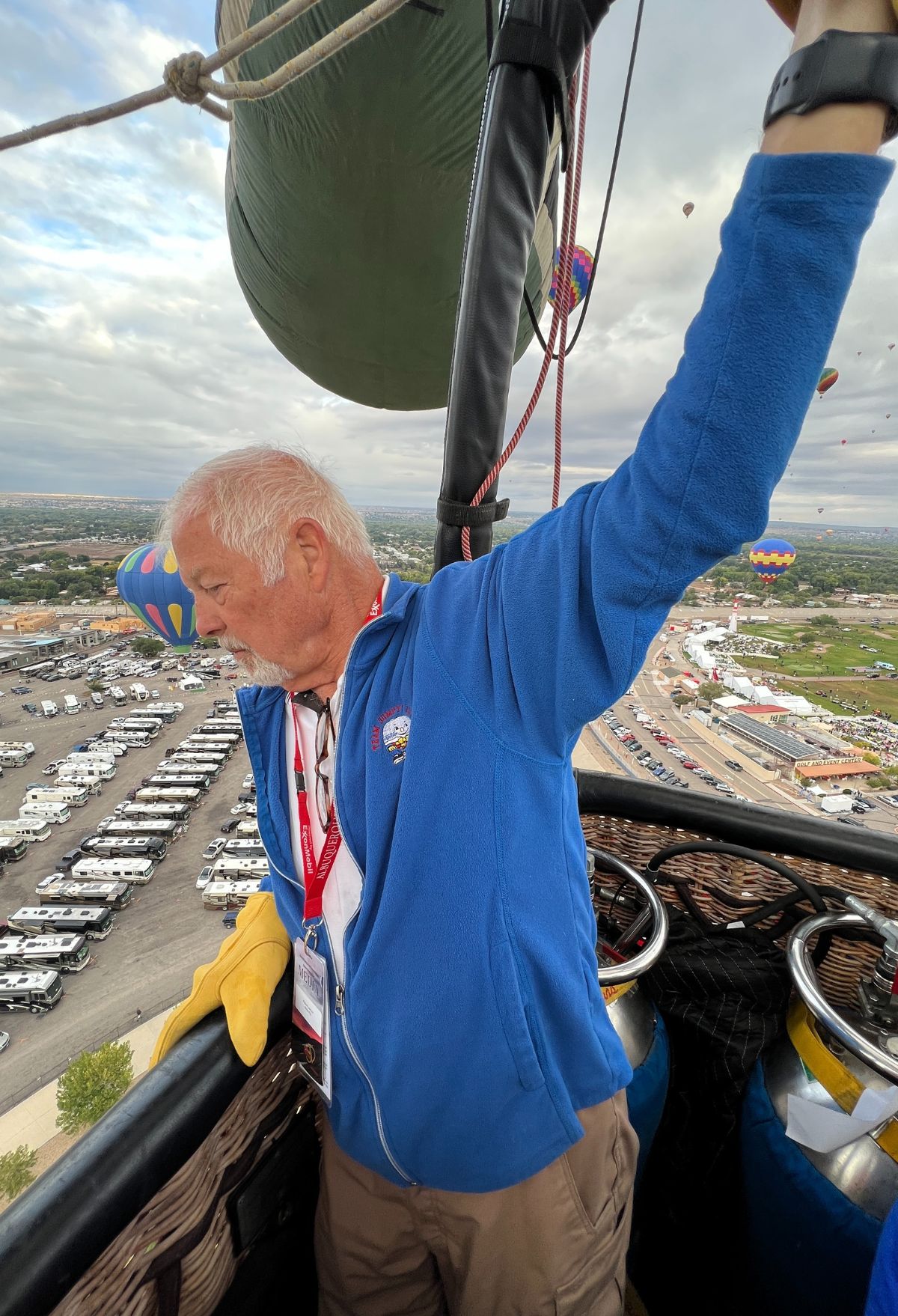 You will never feel so serene in anything else that you do.
Arriving Early
I arrived at the media tent bright and early by 5:00 am so I could be first in line to sign up.
Not everyone is guaranteed a balloon ride.
What I didn't know is that it goes by weight.
Hot Air Balloon Rides Weight Limits
We were going on the Humpty Dumpty balloon. Each hot air balloon has a weight limit according to the basket size.
Since Humpty Dumpty is a personal balloon and not a commercial balloon, it was small.
On the hot air balloon was the Pilot, myself, and another girl named Chancey who worked for the Albuquerque Journal.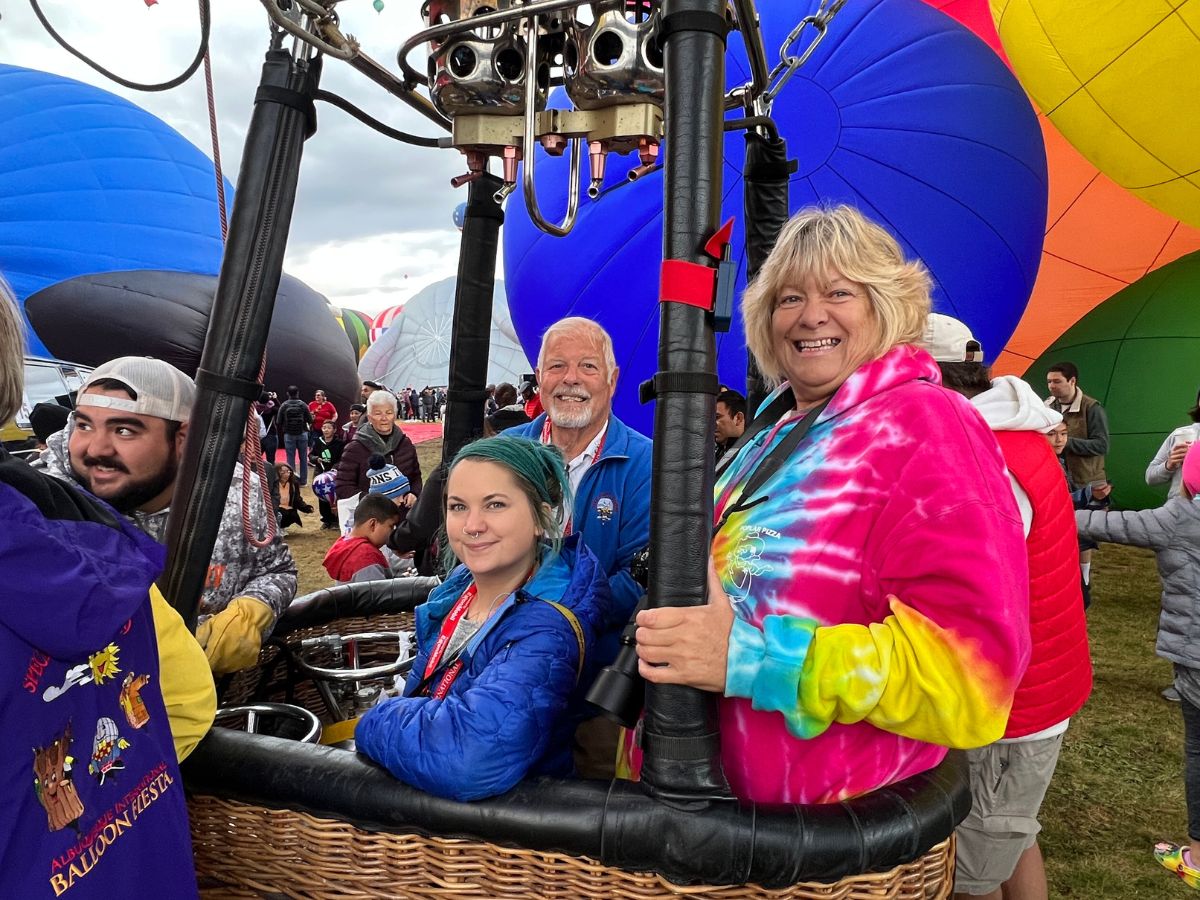 But besides the weight of the three of us, there were also several helium tanks and the weight of the balloon and basket.
Hot Air Balloons Big and Small
Rainbow Ryders provide hot air rides at the Balloon Fiesta.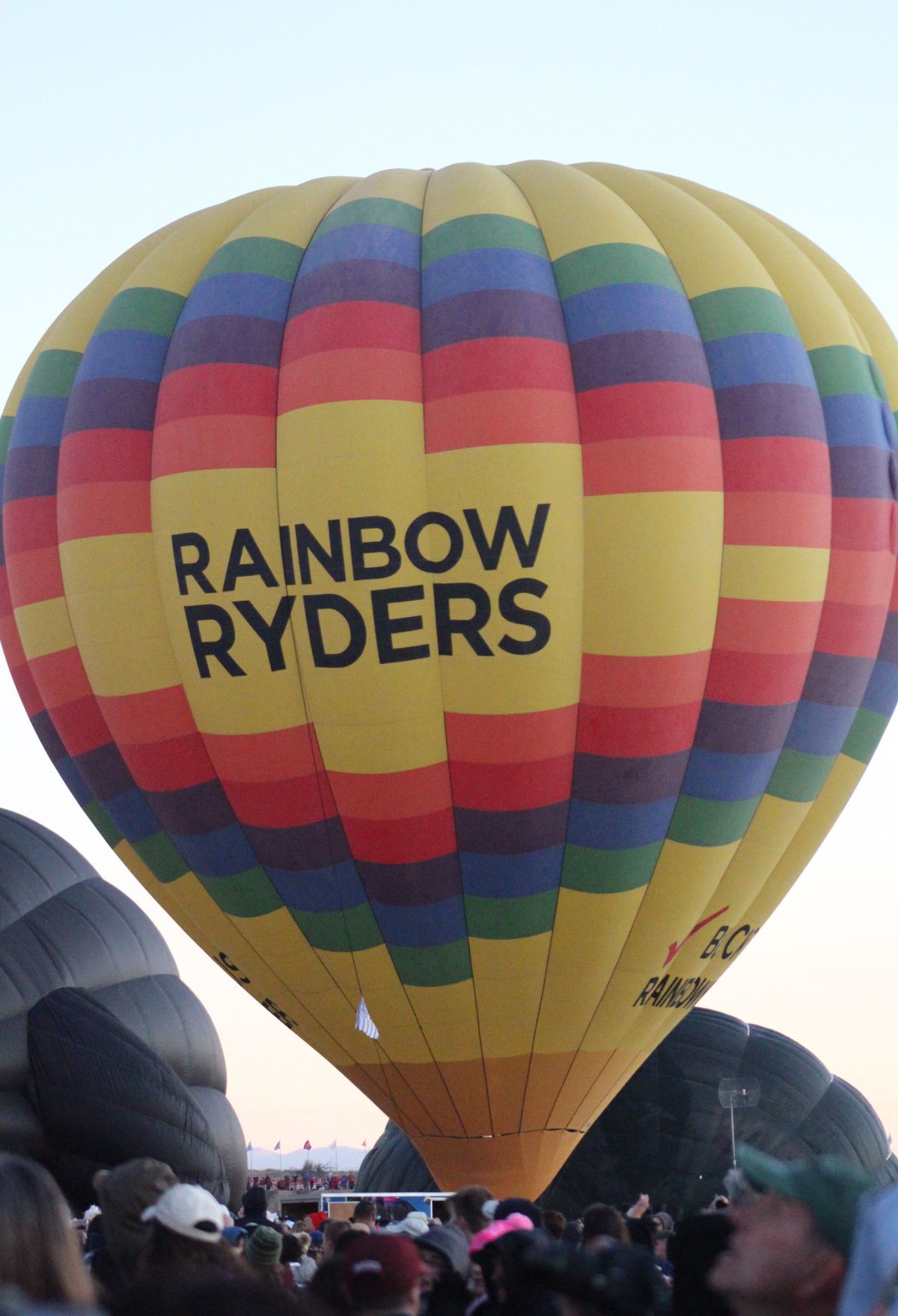 They have extra large baskets that hold up to 10 people.
However, they also have smaller baskets for cozy rides like Marra and Tim went up on for their 50th wedding anniversary.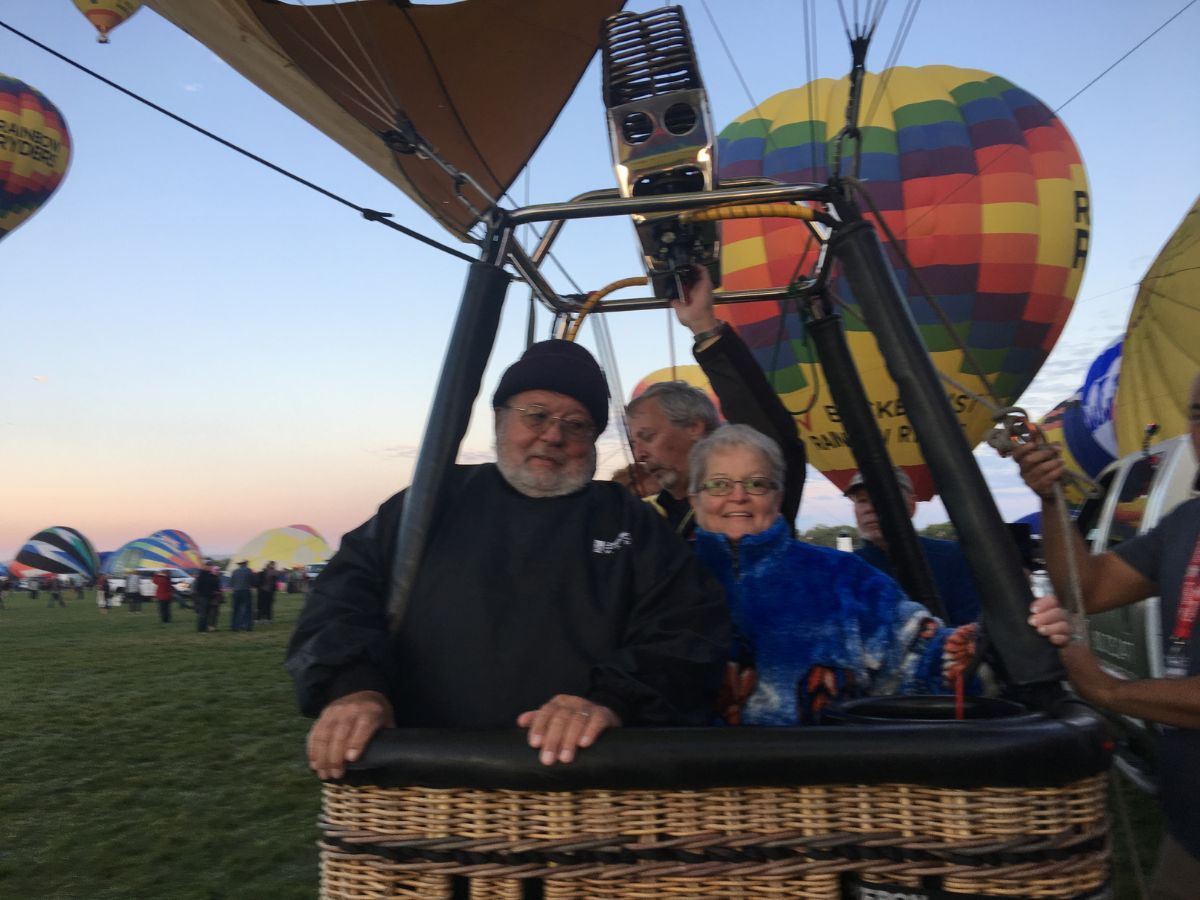 Book Two Hot Air Balloon Rides
This might sound like a crazy idea, however, if you are only there for part of the Albuquerque International Balloon Fiesta, there is no guarantee that you will fly.
For instance, Marra and Tim had to be rescheduled several times due to uncooperative weather.
However, if you can't fly on the date of your reservation, it will be rescheduled or your money refunded.
Our friends last year had booked a balloon ride and it ended up raining. They were rescheduled and it rained again.
Unfortunately, their time at the Albuquerque Balloon Fiesta had come to end and they never got the opportunity to go up.
TIP: If you have your heart set on going up and will not be attending the entire event, I suggest making two reservations spaced out.
What You Will See
There is no telling what you will see. But you will see for miles and miles.
Marra and Tim went one way and landed in the desert. But even though they flew over the desert, there is still a lot to see.
Such as the Rio Grande.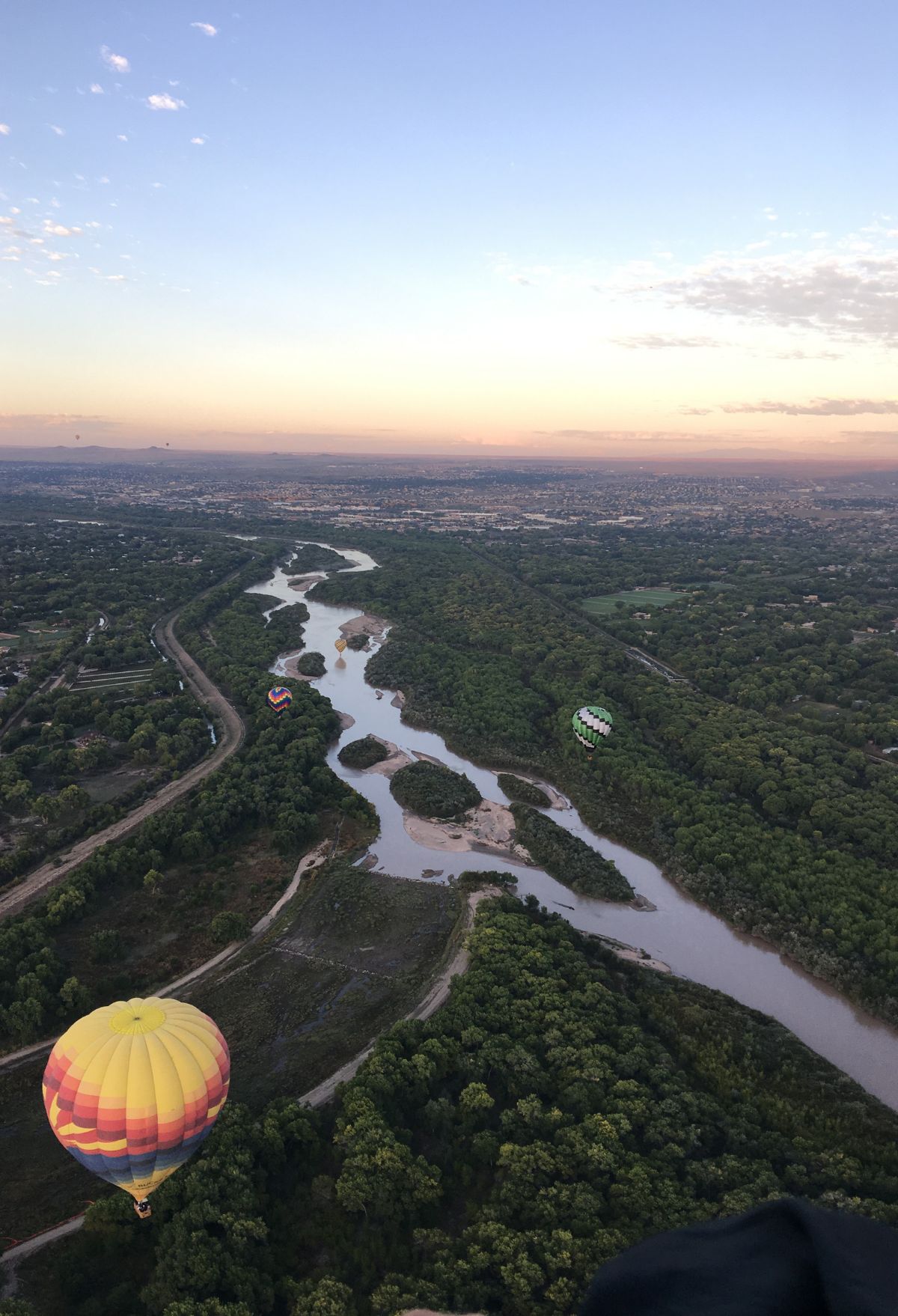 We went over the Fiesta RV campgrounds and landed in a tree (it was a small tree) in a populated area.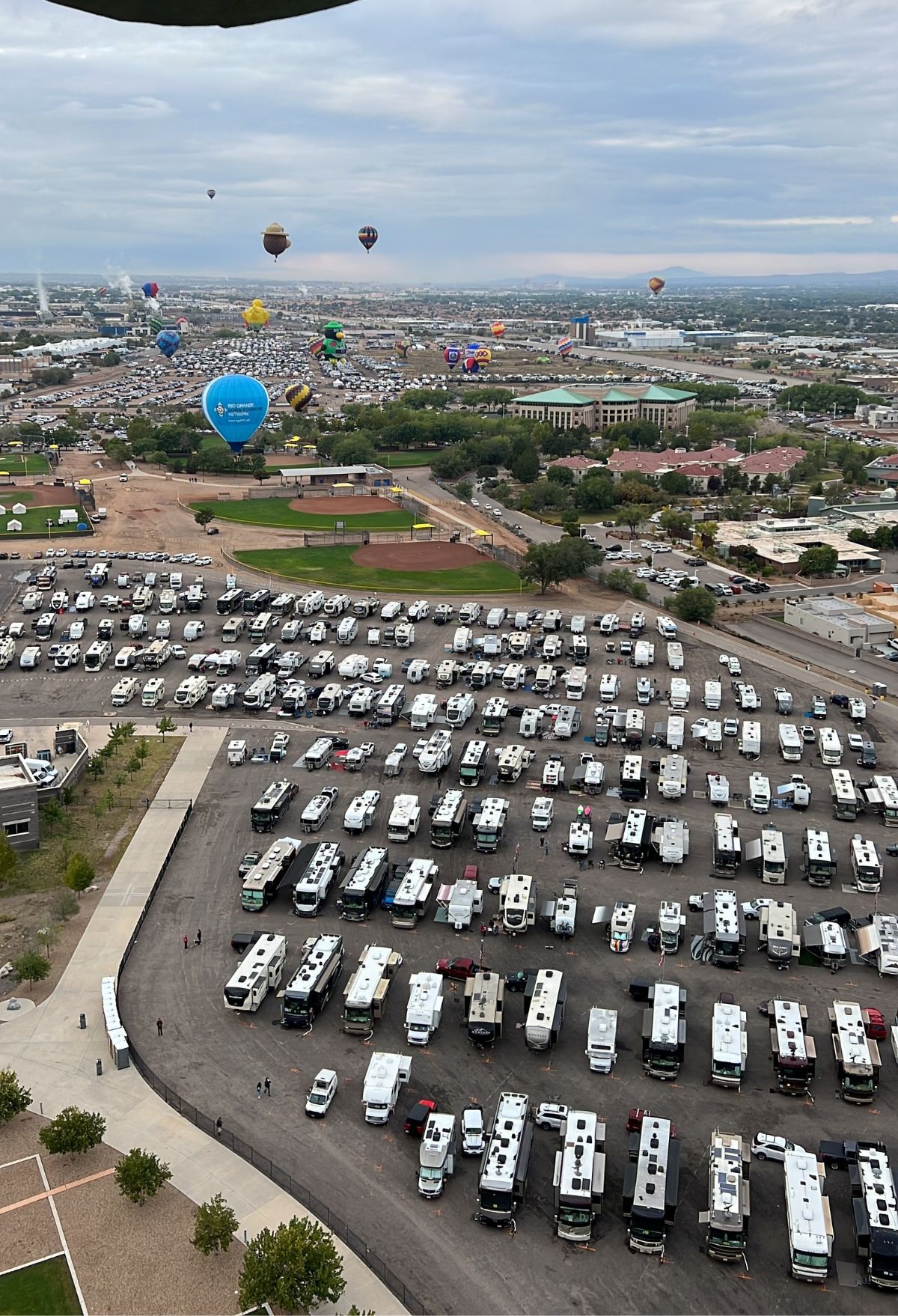 He said by landing the tree, gave us a smoother landing. And it was.
I was able to see my husband and RV though, lol.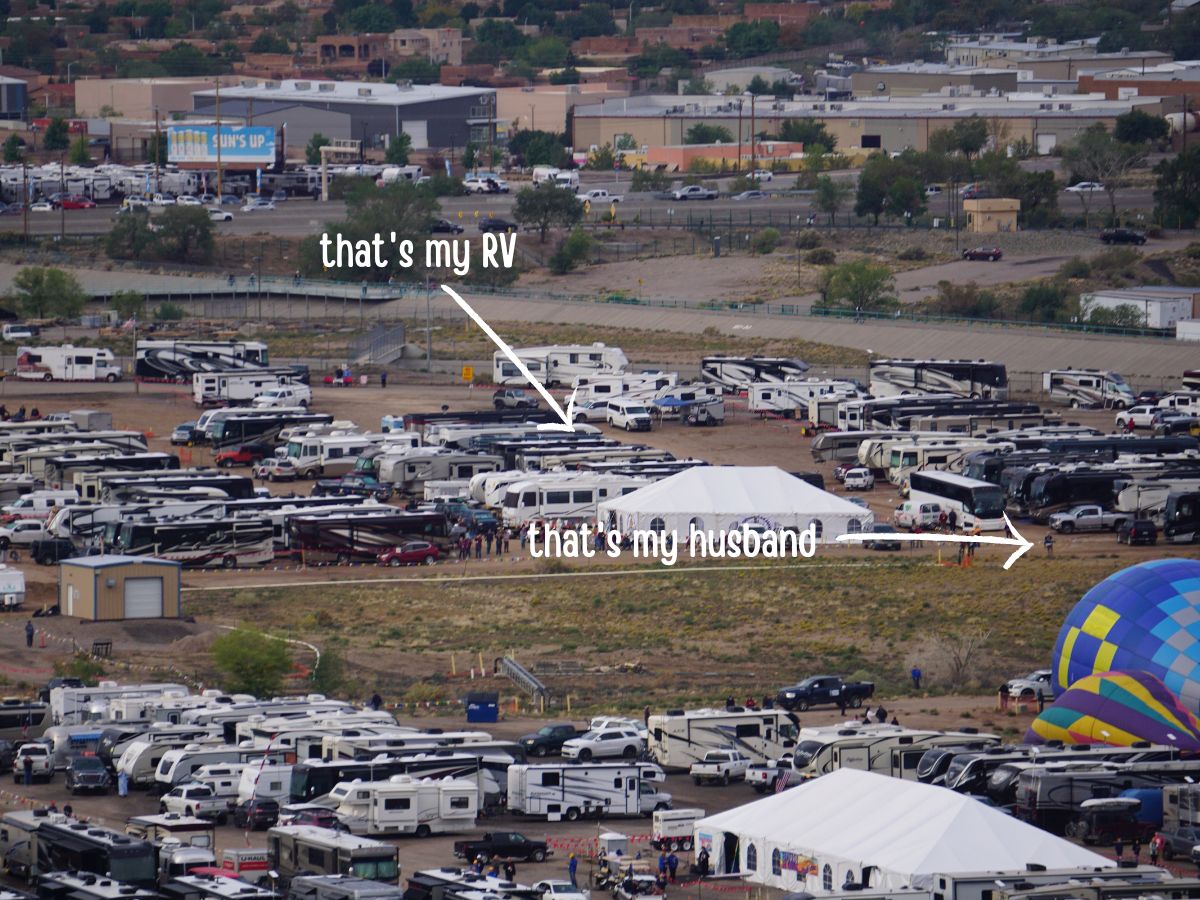 And there were others that came down in downtown Albuquerque. Which meant they saw a lot more than we did.
It all depends on the wind!
Who To Call
If you are interested in reserving a hot air balloon ride, call Rainbow Ryders at 505-823-1111 and reserve your spot ahead of time.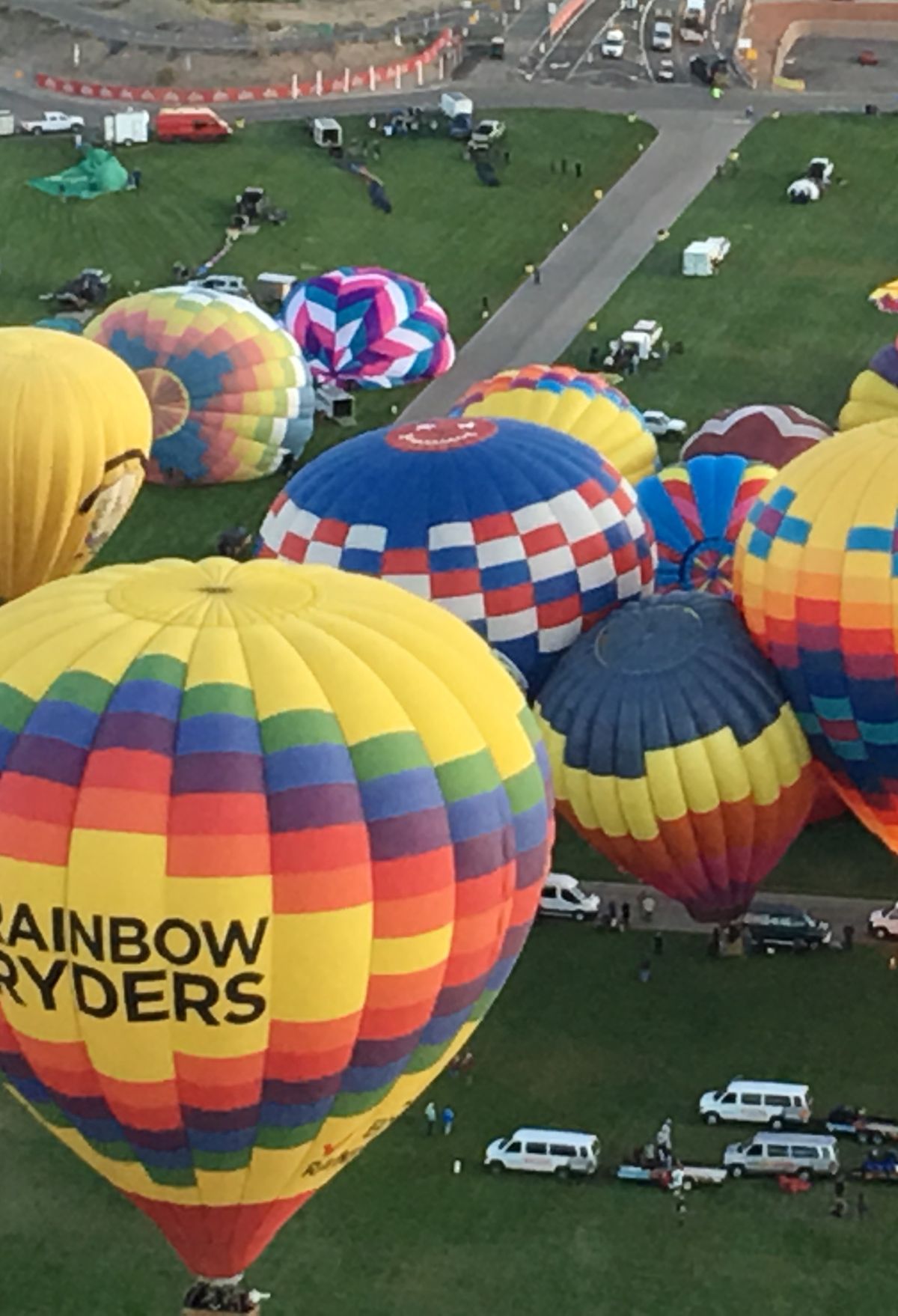 They are the official rides at the Balloon Festival.
How Much Does A Hot Air Balloon Ride Cost At The Albuquerque Balloon Fiesta
Pricing for a hot air balloon ride during the mass ascension at the Albuquerque Balloon Fiesta ranges from $550 to $595.
You can book your reservation online. I suggest you book soon as there are only so many spots available per day and they fill up fast.
What Should You Wear on A Balloon Ride
Since you fly at sunrise, it can get pretty chilly. I wore a hooded sweatshirt in case it was colder while we were in the air.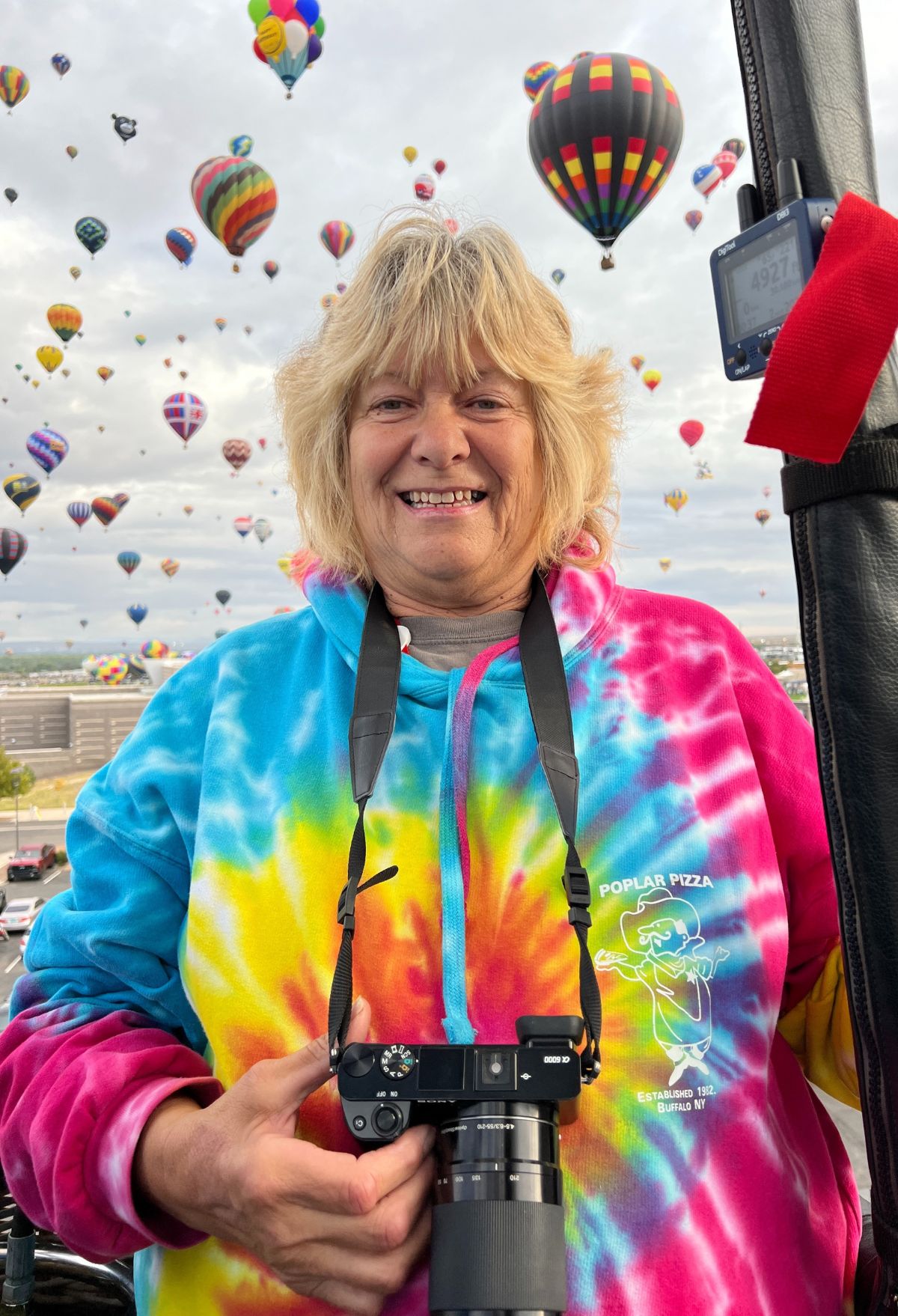 However, I did not need the hood and I was pretty comfortable.
Plus, I could always take it off if I was too warm.
Be sure to pin it for later and follow us on Pinterest.