If you're looking to throw a fabulous Barbie-themed party or simply want to indulge in some fun, pink-hued dishes, then these Barbie-inspired recipes are perfect for you.
From delightful cocktails to mouth-watering desserts, these recipes are imbued with the charm and glamour of Barbie's world and are sure to impress your guests. Effortlessly bring Barbie's signature style to your table with these creative and delicious dishes that embody the playful and vibrant spirit we all love about this iconic character.
With a diverse selection of Barbie-inspired drinks, scrumptious desserts, and whimsically-themed meals, there's something for everyone – whether you're hosting a nostalgic gathering for friends or a kid-friendly celebration for the young ones in your life. Embrace the Barbiecore aesthetic and infuse your event with an extra dollop of pink, sparkle, and fun by incorporating these recipes into your party plan.
Barbie Must Haves Summary
Infuse your event with Barbie glamour through unique drinks, desserts, and meals
Embrace iconic Barbiecore aesthetics in food presentation and party themes
Offer a diverse menu with options to suit various tastes, for both adults and children
Barbie Themed Drinks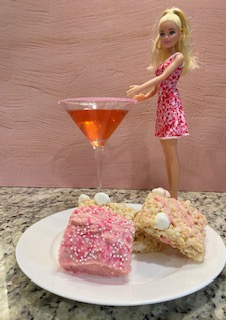 Summer Poolside Sips
Cool down during hot summer days with Barbie-inspired poolside cocktails. Mix up a Strawberry Rosé Spritz, combining rosé, simple syrup, and strawberry puree. Pour into a highball glass and top off with sparkling rosé for added fizz. Another refreshing option is the Pink Gin Fizz, made with gin, fresh lemon juice, and a dash of elderflower liqueur. Shake well and pour over ice, then top with pink cotton candy for a Barbie-worthy touch.
Refined and Elegant Cocktails
For an elevated Barbie-themed experience, indulge in refined and elegant cocktails. A tantalizing option is the Barbie Martini, a blend of vodka, cranberry juice, pineapple juice, and fresh lime juice. Serve in a frosted martini glass for added sophistication. If you prefer something lighter, try the Lavender Rosé, combining rosé, lavender syrup, and fresh lemon juice. Stir gently and serve in a wine glass garnished with a sprig of lavender.
Kid-Friendly Mocktails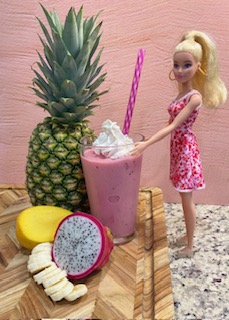 Include all ages in the Barbie-inspired fun by offering kid-friendly mocktails. Delight the young ones with a Barbie-themed Strawberry Milk, using pink strawberry syrup and cold milk. Stir together, and serve in a tall glass garnished with whipped cream. Another option is the Pineapple Pink Punch, a blend of pineapple juice, lime juice, and simple syrup. Serve over ice, and add a pinch of tajin for a playful twist.
Barbie Inspired Desserts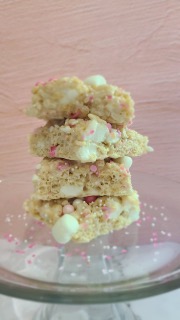 If you're looking to create a Barbie-themed party or simply love pink desserts, these recipes will surely be a hit. With a focus on berries, no-bake options, and classic pink treats, we'll explore some delicious Barbie inspired desserts to indulge your sweet tooth.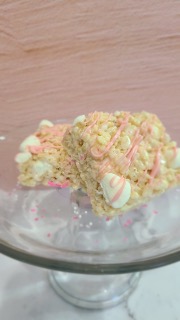 No-Bake Strawberry Cheesecake
A light and fluffy dessert perfect for satisfying your cheesecake cravings. Whipped evaporated milk gives the dessert a silky texture and sweet flavor. The pretty pink hue of this no-bake cheesecake is certainly Barbie-approved and great for keeping things light in the summertime.
Strawberry Cake with Raspberry Jam
This delightful treat featuring layers of moist strawberry cake, filled with tangy raspberry jam, and coated with dreamy pink frosting is a showstopper. Garnish it with fresh berries and sprinkles for a festive and Barbie-esque touch.
French Macarons
Macarons are not only beautiful and delicate but also come in a variety of vibrant colors. Choose pink food coloring and flavor them with raspberry, strawberry, or rose to create delightful Barbie themed macarons. These sweet and light treats are perfect for serving at a sophisticated tea party or as a delightful dessert.
Copycat Starbucks Pink Drink
You can recreate this popular Starbucks drink at home by combining iced passion tea, coconut milk, and sweetened with a touch of strawberry syrup. Add some sliced strawberries and raspberries for an extra fruity twist. This refreshing and Instagram-worthy beverage is a great addition to your Barbie-themed event or as a simple treat to enjoy on a warm day.
Rhubarb Desserts
With its naturally pink hue, rhubarb is a wonderful ingredient for Barbie-inspired desserts. From pies to cobblers, incorporating rhubarb will bring a tart and unique flavor to your dessert table, not to mention a lovely pop of color.
Overall, Barbie inspired desserts offer a tasty and visually appealing way to indulge your love for pink treats and berries. Whether it's a classic strawberry cake, delicate macarons, or a refreshing strawberry milkshake, these recipes will undoubtedly help you create a memorable and delicious event or simply brighten up your day with a dose of pink sweetness.
Barbie Themed Meals
When planning your Barbie-themed meal, focus on dishes that showcase the signature pink hue while also incorporating delicious flavors. Here are some ideas that will help you create a fabulous menu that captures the essence of a Barbie party.
Start off with a light and refreshing appetizer like a watermelon salad. Combine bite-sized watermelon cubes, crumbled feta cheese, and fresh mint leaves with a drizzle of balsamic glaze or dressing. This dish offers a perfect balance of sweetness and tanginess while staying true to the Barbie theme with its vibrant pink color.
For the main course, consider serving a classic baked ziti with a twist. Make a pink marinara sauce by mixing regular marinara sauce with a bit of heavy cream or coconut milk to achieve the desired pink hue. Combine cooked ziti, the pink marinara sauce, and a generous portion of mozzarella cheese. Bake until the cheese is bubbly and golden, and you'll have a fun, Barbie-inspired dish that's sure to be a crowd-pleaser.
No Barbie-themed meal is complete without some refreshing pink beverages. Whip up a batch of pink lemonade, either from scratch or using a store-bought mix. For an extra touch, add thinly sliced strawberries or raspberries to the pitcher for added flavor and visual appeal.
For your adult guests, consider offering a signature pink cocktail, like a prickly pear margarita. Combine tequila, lime juice, triple sec, and prickly pear syrup for a vibrant pink beverage that's both delicious and on-theme. You could also opt for a classic frose or a strawberry-infused sparkling rosé to add some sparkle to your Barbie-themed party.
Throughout the meal, you can play Greta Gerwig-directed movies or even have Margot Robbie's "Barbie" film on in the background for entertainment. This will add to the atmosphere and create a fun, engaging environment for your guests.
By incorporating these ideas into your Barbie-themed menu, you'll create a memorable dining experience for your guests. Remember, the key to a successful Barbie party is to mix creativity with delicious dishes while staying true to the iconic pink theme. Enjoy planning and hosting your Barbie-inspired meal!
Barbiecore Aesthetics in Food
Barbiecore aesthetics in food is all about embracing the bright colors, fun, and party atmosphere that the iconic Barbie doll is known for. When planning your Barbiecore-inspired menu, focus on incorporating eye-catching colors like pink and purple, while adding playful elements through textures, flavors, and presentations.
One popular aspect of Barbiecore is incorporating pink foods and drinks, such as cotton candy. Cotton candy can be served on its own or used as an ingredient in dessert or cocktail recipes. For example, you could create a cotton candy-topped sundae or add it to the rim of a festive cocktail for a visually stunning treat that will undoubtedly get your guests talking.
Another great way to embrace the Barbiecore aesthetic in your food is by using edible glitter and edible flowers as garnishes. These elements can be added to both sweet and savory dishes to add that extra touch of glamour and whimsy. Sprinkle edible glitter over your desserts, or lay an edible flower on top of a served dish for an elevated presentation.
Drinks are just as important as the food when it comes to creating a Barbiecore atmosphere. Blackberry lemonade, with its vibrant purple hue, is an excellent choice for a signature drink. It's both refreshing and visually appealing. You could even serve it in clear plastic cups decorated with Barbie decals to add to the theme.
Lastly, consider incorporating actual Barbie dolls into your décor – whether it's a poolside party or an indoor gathering. Set up a few themed table displays and use these iconic dolls as centerpieces or as part of the overall décor. This will create a nostalgic and fun atmosphere that truly embodies the essence of Barbiecore.
In conclusion, when infusing Barbiecore aesthetics into your food and drink offerings, it's essential to be creative and channel your inner child. By combining bold colors, playful textures, and nostalgic elements, you can easily create a memorable and whimsical dining experience for your guests.
Party Ideas and Themes
When planning a Barbie-themed party, creativity is key to ensuring your event captures the essence of the iconic doll. Here are some ideas that will help create the perfect Barbie-inspired atmosphere for your guests:
Pool Party
A pool party is an excellent way to embrace the Barbie theme, especially during the summer months. Decorate your pool area with pink balloons, flamingo pool floats, and vibrant beach towels. You could even include a fun Barbie-inspired dress code for your guests or have a selection of Barbie pool attire available for them to wear.
Charcuterie Board
Putting together a Barbie-themed charcuterie board can add a touch of sophistication and elegance to your event while keeping the snacks on theme. Choose a variety of pink-hued foods, such as strawberries, grapes, sliced watermelon, and even pink cheese. To add contrast and variety, intersperse these items with crackers, nuts, and dried fruits.
Pink Cocktails
No Barbie-themed party is complete without pink cocktails to toast the occasion. Offer a selection of summer-appropriate beverages like rosé, sparkling rosé, and frosé. For a more unique twist, create a special Barbie-inspired signature cocktail using pink lemonade, vodka, and a splash of grenadine.
Barbie-Inspired Recipes
From appetizers to desserts, you can incorporate the Barbie theme in your party menu using pink ingredients. For example, consider serving pink sushi rolls made with beetroot-infused rice, or create a dessert table filled with pink cupcakes, macarons, and cotton candy. This way, your guests can indulge in a variety of Barbie-inspired treats.
Whatever your Barbie-themed party ideas and plans may be, the key is to ensure everything is infused with a touch of pink and that your party captures the essence of the beloved doll. By incorporating poolside fun, a charcuterie board, pink cocktails, and Barbie-inspired recipes, your event will provide a memorable experience for both you and your guests.
Frequently Asked Questions
What are some popular Barbie-inspired desserts?
Discover these delicious options like pink sugar cookies, strawberry milkshakes, and raspberry cheesecake for a perfect Barbie-themed dessert. Choose your favorite sweets that incorporate shades of pink in both color and flavor to recreate a Barbie-inspired atmosphere during your event or gathering.
How can I create a Barbie-themed pasta dish?
Creating a Barbie-themed pasta dish can be achieved by using edible pink food coloring or beetroot powder. Alternatively, a pink sauce with ingredients like tomatoes, cream, or pureed red bell peppers can be added to your favorite pasta to achieve that desired Barbie theme.
Which pink food ideas would work well for a Barbie party?
Some great pink food ideas include shrimp cocktail, pink deviled eggs, beet hummus, and fruit skewers featuring watermelon and strawberries. In addition, you can choose pink-colored drinks such as prickly pear margaritas or strawberry lemonade to complement your menu and enhance the Barbie-themed ambiance.
Where can I find Barbie-themed food near me?
To locate Barbie-themed food, be sure to check your local bakeries, cafes, or even party supply stores for any available options. Alternatively, you can search online and explore various websites or social media platforms to find customized Barbie-themed food offerings and delivery services.
Are there any collaborations featuring Barbie-themed food?
Yes, there have been collaborations between iconic brands and Barbie that result in themed food and beverages. Keep an eye on social media and brand announcements to stay informed about the latest or upcoming collaborations.
What kind of food is commonly featured in Barbie movies?
Barbie movies often showcase food that is aesthetically pleasing, creative, and visually engaging. This often includes colorful pastries, fruit platters, and other dishes such as baked ziti. While watching the movies, pay attention to any food scenes for inspiration and ideas to incorporate into your own Barbie-themed menu.