When it comes to experiencing the rich and comforting flavors of Italy in your own home, there's nothing quite like a bowl of Zuppa Toscana. This hearty Italian soup, originally hailing from the Tuscany region, combines the rustic goodness of Tuscan cuisine with the warmth of a comforting soup. In this article, we're going to guide you through crafting the classic Zuppa Toscana recipe that will not only tantalize your taste buds but you might not ever have a reason to visit Olive Garden again 🙁 as our copycat recipe leaves nothing to the imagination.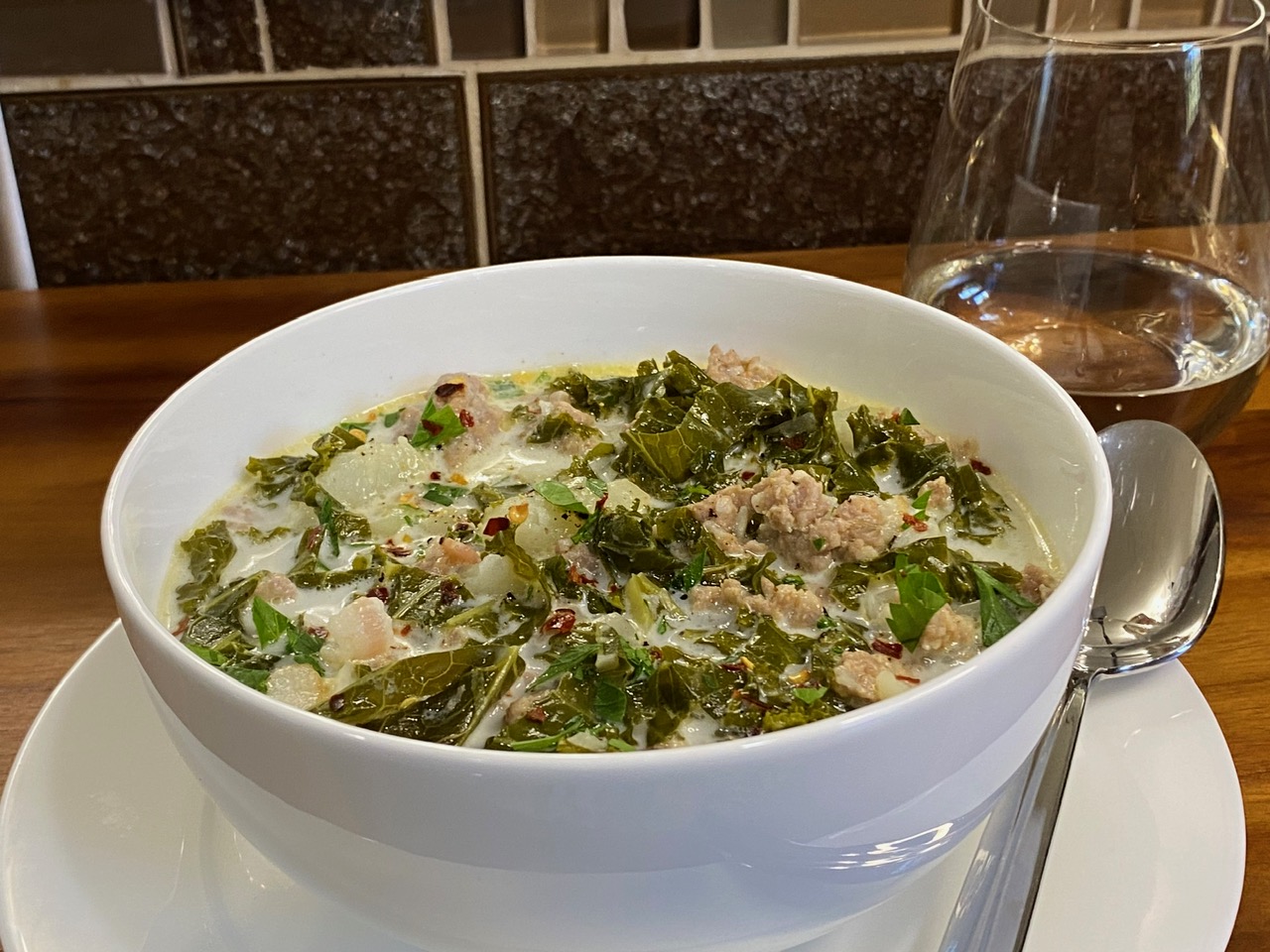 Allow me to introduce you to Zuppa Toscana
Zuppa Toscana, literally translating to "Tuscan Soup," is a traditional Italian dish known for its robust and flavorful combination of ingredients; so it's only right that I'm also listening to Tuscan Leather while wearing Tuscan Leather (you guessed it-I just gave my very best Drake impression…jk-lol). All jokes aside, this soup features a creamy broth base, tender potatoes, spicy Italian sausage, kale, and a hint of garlic. The harmonious blend of these ingredients creates a symphony of flavors that make Zuppa Toscana a beloved classic.
The Origin of Zuppa Toscana
Zuppa Toscana has its roots in the Tuscany region of Italy, where it was born out of the need to create hearty and satisfying meals with simple, locally available ingredients. Today, it has become a worldwide favorite, thanks to its delicious taste and easy preparation.
The Perfect Zuppa Toscana Recipe
Now, let's delve into crafting the perfect Zuppa Toscana right in your own kitchen. Follow these steps to create a bowl of goodness that rivals the best Italian trattorias:
Ingredients
Italian Sausage: Begin with 1 pound of spicy Italian sausage. This is the key to the soup's distinctive flavor.
Potatoes: You'll need 4-5 medium-sized russet potatoes, peeled and sliced into thin rounds.
Onion and Garlic: A finely chopped onion and 2 cloves of minced garlic for that aromatic base.
Chicken Broth: 6 cups of chicken broth to create the soup's savory foundation.
Heavy Cream: Add richness with 1 cup of heavy cream.
Kale: 2 cups of fresh kale, stems removed and leaves chopped.
Salt and Pepper: Season to taste with salt and pepper and if you're like me you always manage to add other spices to every recipe.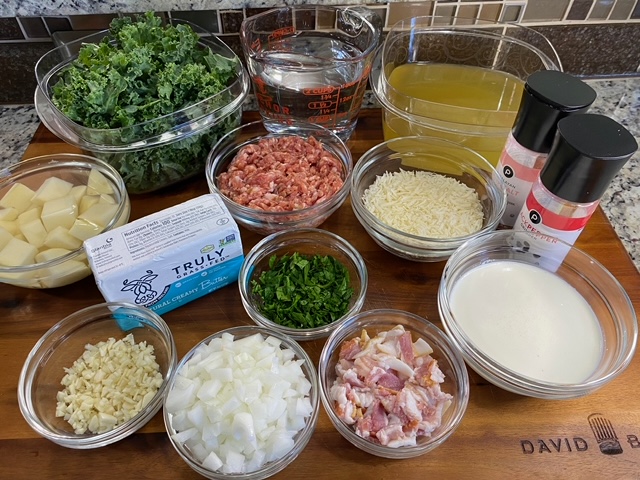 Instructions
Cook the Sausage: In a large pot, cook the spicy Italian sausage over medium heat until browned and crumbled. Make sure it's thoroughly cooked for that burst of flavor.
Sauté Onions and Garlic: Add the chopped onion and minced garlic to the pot. Sauté until they turn translucent and fragrant.
Add Potatoes and Broth: Stir in the sliced potatoes and chicken broth. Bring the mixture to a boil, then reduce heat and let it simmer until the potatoes are tender. This usually takes about 15-20 minutes.
Incorporate Heavy Cream: Pour in the heavy cream and mix well. Let the soup simmer for another 10 minutes, allowing the flavors to meld together.
Add Kale and Season: Toss in the chopped kale leaves and season the soup with salt and pepper to taste. Continue to simmer for an additional 5-7 minutes until the kale is tender.
Serving Suggestions
Once your Zuppa Toscana is ready, ladle it into bowls, and serve piping hot. You can also top each serving with a sprinkle of grated Parmesan cheese for an extra burst of flavor.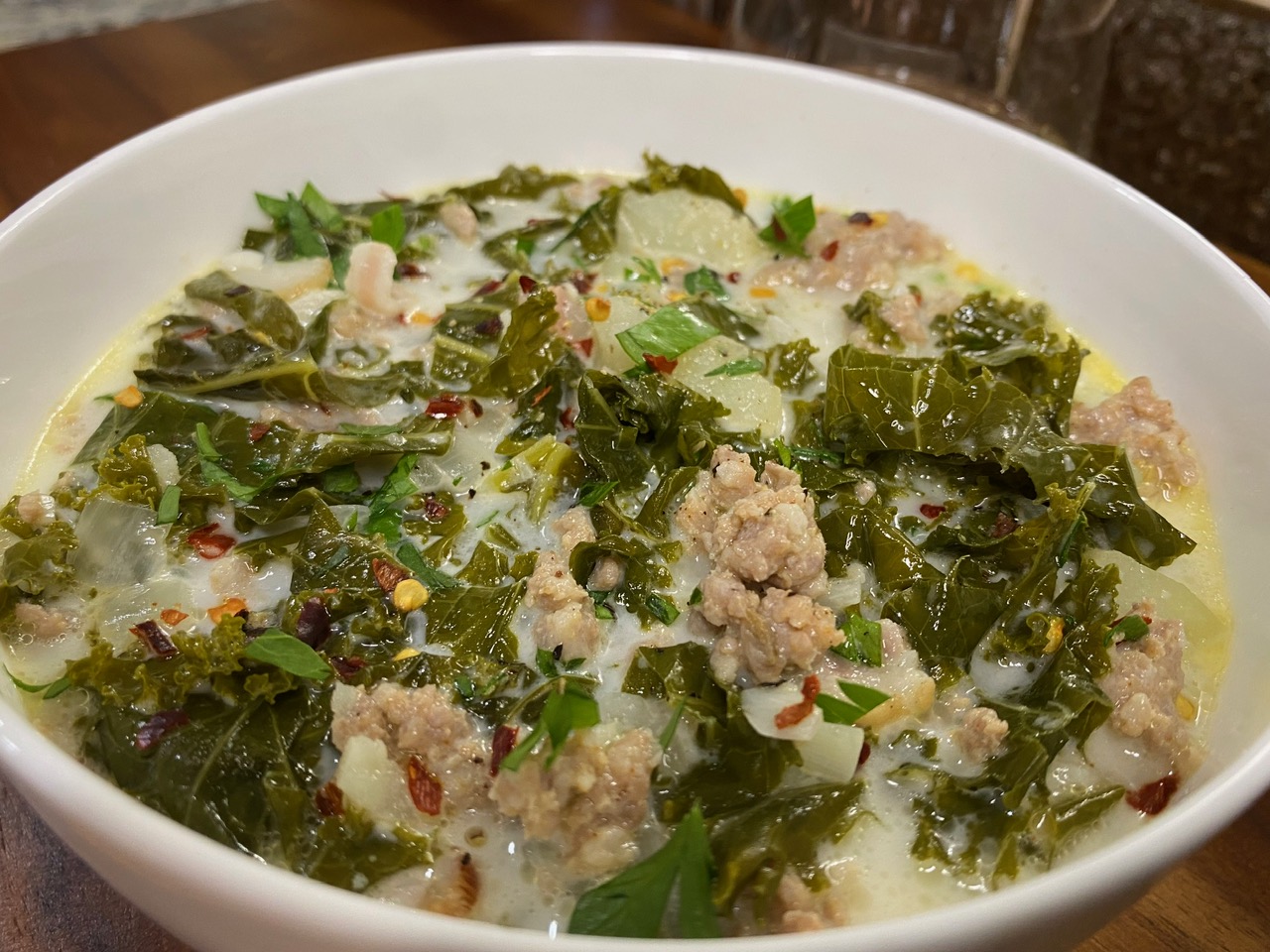 A Presto Zuppa
Now you know the formula of Olive Garden's copycat Zuppa Toscana Recipe. The delightful Italian soup that combines simple ingredients to create a culinary masterpiece. With our detailed recipe, you can now recreate this Tuscan classic in your own kitchen, impressing your family and friends with your culinary skills.
For those seeking an authentic taste of Italy, this Olive Garden copycat Zuppa Toscana recipe is a must-try. Whether it's a cozy family dinner or a special occasion, this soup will transport your taste buds to the charming streets of Tuscany. So, why wait? Gather your ingredients and get ready to savor the flavors of Italy with our homemade Zuppa Toscana recipe. Buon appetito! 🍲