As we enter the fall season, the delicious aroma of the Starbucks Pumpkin Spice Latte fills the air.
This famous drink has captured the hearts of coffee lovers everywhere, and for good reason.
Rich and velvety, with a perfect balance of sweet, spiced pumpkin flavor and bold espresso, it's no wonder that the Pumpkin Spice Latte has become a seasonal favorite.
In this article, we'll share a delightful copycat Starbucks Pumpkin Spice Latte recipe that you can make in the comfort of your own home.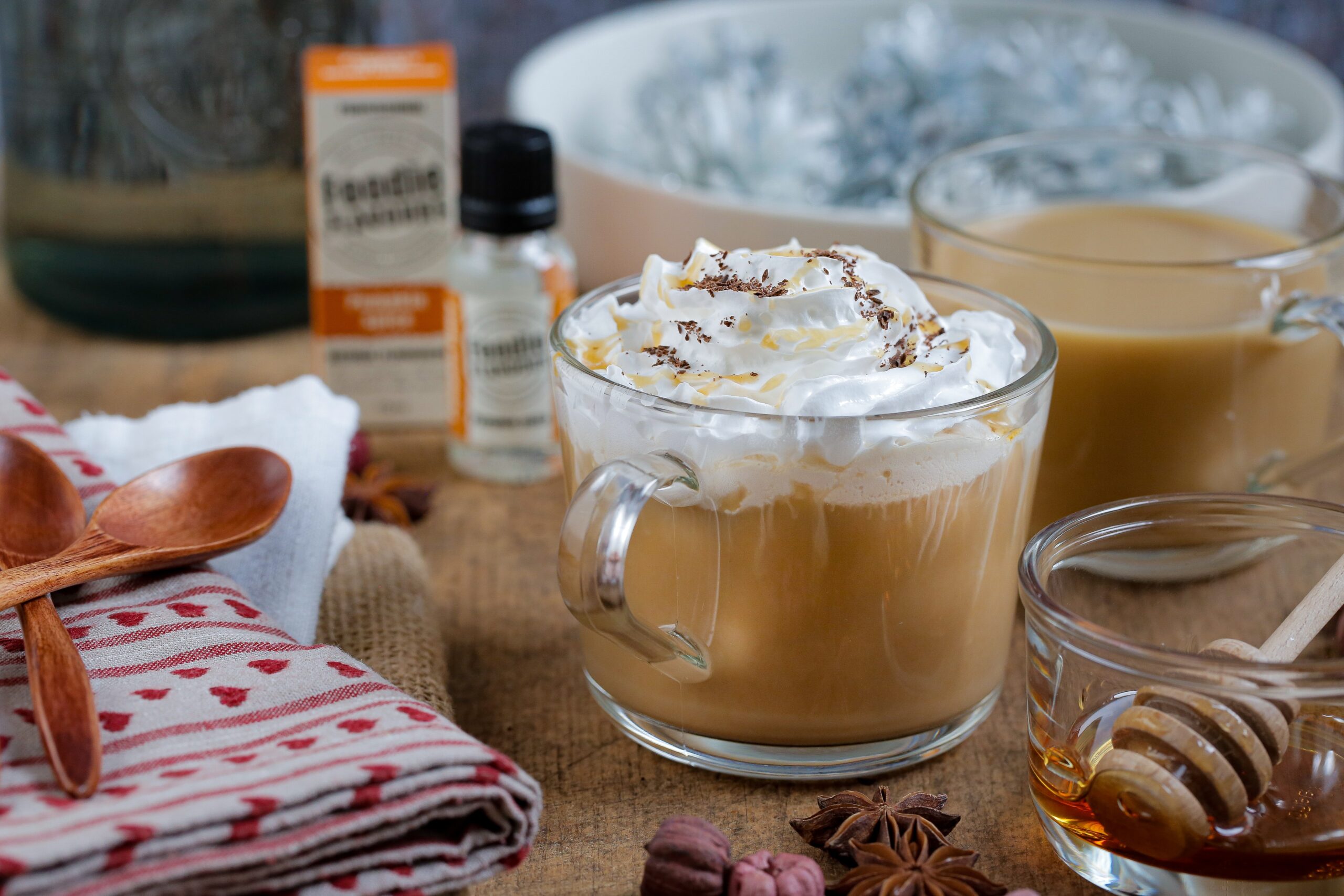 This way, you can enjoy this cozy beverage any time the craving strikes. So grab your favorite mug, and let's get started on crafting a homemade version of this beloved autumn treat!
20 Years of Pumpkin Spice…
Pumpkin Spice Latte
Fall is the season for cozy sweaters, crunchy leaves, and of course, the beloved seasonal drink from Starbucks - the Pumpkin Spice Latte. As soon as the air turns crisp, we eagerly await the arrival of this iconic beverage. Let us dive into the story behind this fall favorite.
The Pumpkin Spice Latte was created back in 2003, and it quickly became a hit, marking its 20th anniversary this year. Millions of fans look forward to its return to the menu every year, celebrating the start of the festive season.
This combination creates a warm, smooth, and delicious beverage that perfectly captures the essence of autumn.
Over the years, Starbucks has introduced variations of the drink, catering to different preferences. One such addition is the Iced Pumpkin Cream Chai Tea, a fan-favorite twist on the classic chai latte, topped with pumpkin cold foam.
The key ingredients of the Starbucks Pumpkin Spice Latte [Quick List]
Espresso
steamed milk
pumpkin spice sauce
whipped cream
and a sprinkle of pumpkin spice topping
Copycat Pumpkin Spice Latte Ingredients
Key Ingredients
Let's start by looking at the main ingredients that make up the iconic Starbucks Pumpkin Spice Latte.
The foundation of this delectable beverage begins with espresso or a strong coffee.
To create that creamy base, we use 2% milk as the default option, but you can substitute with non-dairy milk or whole milk if you prefer.
Next comes the flavorful pumpkin sauce that truly defines this autumnal treat.
In addition to pumpkin puree, we'll also need spices like cinnamon, ground cloves, ginger, nutmeg, and vanilla extract.
Combining these ingredients with sugar and water will create a pumpkin spice syrup that can be added to the espresso and frothed milk.
If you don't have access to pumpkin puree or some of these spices, consider using pre-made pumpkin pie spice or pumpkin spice seasoning.
You can even make your own custom blend with your favorite spices.
To make the latte truly rich and luxurious, we need to froth the milk and create a lovely creamy texture.
You can achieve this using a frother or by simply warming and whisking the milk on the stovetop or in the microwave.
Pumpkin Spice Latte Optional Toppings
While the Starbucks Pumpkin Spice Latte is scrumptious on its own, it never hurts to treat ourselves with a few delicious toppings.
Generously add some whipped cream as a garnish before drizzling caramel sauce or caramel syrup on top for an extra touch of sweetness.
If you're a fan of crunchy toppings, caramelized sugar bits or crushed cookies can add a delightful texture to your latte.
To cater to a variety of preferences and dietary restrictions, feel free to get creative with your milk and sweetener options, such as oat milk, instant espresso, granulated sugar, or simple syrup.
Now that we've covered the key ingredients and optional toppings for the Starbucks Pumpkin Spice Latte, it's time to create our own delicious concoction and savor the tastes of fall!
Equipment Needed to make Starbucks Pumpkin Spice Latte at Home
For Preparation
To create the perfect Starbucks Pumpkin Spice Latte at home, you'll need a few essential tools and gadgets to ensure a seamless experience.
First and foremost, we will need a saucepan for making the pumpkin spice syrup.
A stovetop is also required for heating the ingredients.
Make sure to have a whisk on hand for mixing the pumpkin puree, milk, and other ingredients over medium heat.
For those looking to achieve the classic espresso taste, we recommend using an espresso machine or a macchinetta (moka) - the go-to choice in Italy.
This will elevate the coffee aspect of your latte and bring it closer to the original Starbucks experience.
We'll also need to use cinnamon sticks to enhance the flavor and aroma of our pumpkin spice syrup.
No homemade Pumpkin Spice Latte would be complete without frothy milk.
An aeroccino milk frother is ideal for creating that perfect milk foam, but if you don't have one, you can always use a blender or a mixer as an alternative method.
Opt to store your pumpkin spice syrup in a jar for ease of use and convenience.
For Serving your Starbucks Pumpkin Spice Latte
Now that we have prepared our delicious homemade Starbucks Pumpkin Spice Latte, presentation is the final step.
Choose a comfortable and stylish mug that complements your homemade latte.
To top it off, add a dollop of whipped cream and a sprinkle of cinnamon or pumpkin pie spice to give it that Starbucks touch.
Don't forget to serve your latte with a warm smile and enjoy your beverage with friends and family.
By gathering all the essential equipment mentioned, you can easily recreate the iconic Starbucks Pumpkin Spice Latte in the comfort of your own home.
Enjoy all the flavors and warmth of fall with your very own homemade latte!
Step by Step Guide: Starbucks Pumpkin Spice Latte
Creating the Pumpkin Spice Syrup
To make the perfect Starbucks Pumpkin Spice Latte at home, we need to start by creating our pumpkin spice syrup.
In a saucepan, combine sugar and water and bring it to a simmer. Once the sugar is dissolved, add cinnamon sticks, ground cloves, ginger, nutmeg, and pumpkin purée, and let it simmer for 20 minutes.
After simmering, remove the saucepan from heat and strain the mixture through cheesecloth.
This will make enough syrup for 8 beverages and can be stored for up to 7 days in the fridge.
Making the Latte
Now that we have our pumpkin spice syrup ready, it's time to make the latte. We'll need to froth the milk first.
You can use dairy or non-dairy milk, just like in Starbucks. We usually use 2% milk2. Frothing the milk is simple – just warm it up (microwave or stovetop) and whisk it2.
Once the milk is frothed, brew the espresso roast3.
Pour the pumpkin spice syrup into a mug, followed by the hot espresso, and stir together3.
Finally, pour the frothed milk over the espresso mixture.
Serving Suggestions
Our Starbucks Pumpkin Spice Latte is ready to serve, but we can still take it up a notch with some delicious serving suggestions.
Top the latte with whipped cream for a classic touch4. If you want an iced PSL, you can skip heating the milk in the "Making the Latte" section and add ice before the whipped cream3.
We hope you enjoy making and sharing this delicious Starbucks Pumpkin Spice Latte recipe with your friends and family. Happy sipping!
Starbucks Versus Homemade Versions
Store-Bought Versus Home-Made
When it comes to pumpkin spice lattes, there's always the debate over whether to buy a Starbucks PSL or create a homemade version.
We understand the appeal of both options. At Starbucks, you're getting consistency, quality ingredients, and the convenience of simply walking in and out with your favorite fall drink. However, the cost of a Starbucks PSL can add up, and sometimes, you might want to save a few dollars by trying a homemade version.
Making a homemade pumpkin spice latte can be an enjoyable and cost-effective alternative. With a copycat Starbucks pumpkin spice latte recipe, you can replicate the flavors of the popular drink without leaving your home.
Plus, you have more control over ingredients like sweeteners, and the total cost of a homemade Pumpkin Spice Latte can come out to be around $1.53 compared to Starbucks' $4.25.
Special Modifications
While Starbucks uses a pumpkin spice sauce and pumpkin spice topping, you can also make your own blend of spices to create a satisfying and customizable pumpkin spice flavor.
When crafting a homemade pumpkin spice latte, you can experiment with different pumpkin spice blends and adjust them to your taste.
Don't be afraid to play around with different spices!
Another advantage of making a homemade version is the ability to create variations of the classic PSL.
You can try making a pumpkin cream cold brew, similar to what Starbucks offers, by simply adding a pumpkin-spiced cream to your cold brew coffee.
Or, if you're looking for a non-dairy option, you can opt for a pumpkin spice oatmilk macchiato like Starbucks' Apple Crisp Oatmilk Macchiato.
We hope these ideas and insights help you explore the world of pumpkin spice lattes at home. Enjoy trying different recipes, experimenting with flavors, and savoring the taste of fall in every sip!
Starbucks Pumpkin Spice Latte Nutritional Information
Caloric Value
Let's start by looking at the calories in the Starbucks Pumpkin Spice Latte. A popular beverage choice, it is available in various sizes and milk options. For instance, for a 12 ounce Tall serving, a Pumpkin Spice Latte with almond milk and no whipped cream has 180 calories, with 40 of those coming from fat.
Below, we've compiled a table of calories in different milk options:
| | |
| --- | --- |
| Milk Option | Calories (Tall 12oz) |
| Almond milk, no whipped cream | 180 |
| Coconut milk, no whipped cream | 270 |
| 2% milk, with whipped cream | 300 |
| Whole milk, with whipped cream | 330 |
Health Considerations
While the Pumpkin Spice Latte contains some nutritious ingredients such as milk and pumpkin puree, it's essential to consider other aspects of its nutritional content. For a Tall (12oz) 2% milk variant with whipped cream, here are some nutritional details:
Fat: 14 grams (9 grams saturated fat)
Sodium: 230 mg
Total Carbohydrates: 52 grams
Sugar: 50 grams
Protein: 14 grams
Vitamin A: 15% Daily Value
Calcium: 30% DV
Although it has some protein and vitamins, the high sugar content might raise health concerns. It is always good to be mindful of your sugar intake, particularly if you have any dietary restrictions or health conditions.
We hope this information helps you make informed choices while enjoying your favorite Starbucks Pumpkin Spice Latte.
Other Starbucks Fall Beverage Recipes
As the seasons change, we're always looking forward to the next delicious Starbucks beverage to keep us warm or refreshed. In addition to the beloved Pumpkin Spice Latte, we'd like to share a few more of our favorite fall beverage recipes for you to enjoy.
Caramel Macchiato
Nothing quite warms us up like a delicious Caramel Macchiato. Here's a simple recipe to create this wonderful beverage at home:
Ingredients:

2 shots of espresso or strong coffee
1 cup of steamed milk
2 tablespoons of vanilla syrup
2 tablespoons of caramel sauce

Instructions: Mix the vanilla syrup with the steamed milk, then pour the espresso over it. Drizzle the caramel sauce on top, and you've got yourself a homemade Caramel Macchiato!
Peppermint Mocha
If you're looking for a cozy beverage with some holiday cheer, the Peppermint Mocha has got your back:
Ingredients:

2 shots of espresso or strong coffee
1 cup of steamed milk
1-2 tablespoons of cocoa powder
1-2 tablespoons of peppermint syrup
Whipped cream (optional)

Instructions: Mix the cocoa powder and peppermint syrup into the steamed milk, then pour the espresso over the mixture. Top with whipped cream and enjoy your festive Peppermint Mocha!
Pink Drink
Who says fall beverages have to be hot? Our refreshing Pink Drink is the perfect pick-me-up, even in chillier weather:
Ingredients:

½ cup of green coffee extract (optional)
½ cup of unsweetened passion tea
2 tablespoons of açai powder or syrup
1 cup of coconut milk
Strawberries or other fruits for garnish

Instructions: Mix the green coffee extract (if using), passion tea, and açai powder or syrup together. Add the coconut milk and stir until the mixture turns a pretty shade of pink. Serve over ice and garnish with fresh strawberries or other fruits.
Try our favorite fall drinks and let us know which one warms your heart the most!
Oh and let us know what you think of your copycat Starbucks Pumpkin Spice Recipe.