Yesterday I came across a gentleman, Clinton Baker and his dog, Watonga. They were sitting on the side of the road with a sign on his back that said "Clinton Baker's SUICIDE PREVENTION AWARENESS WALK, WA-FL.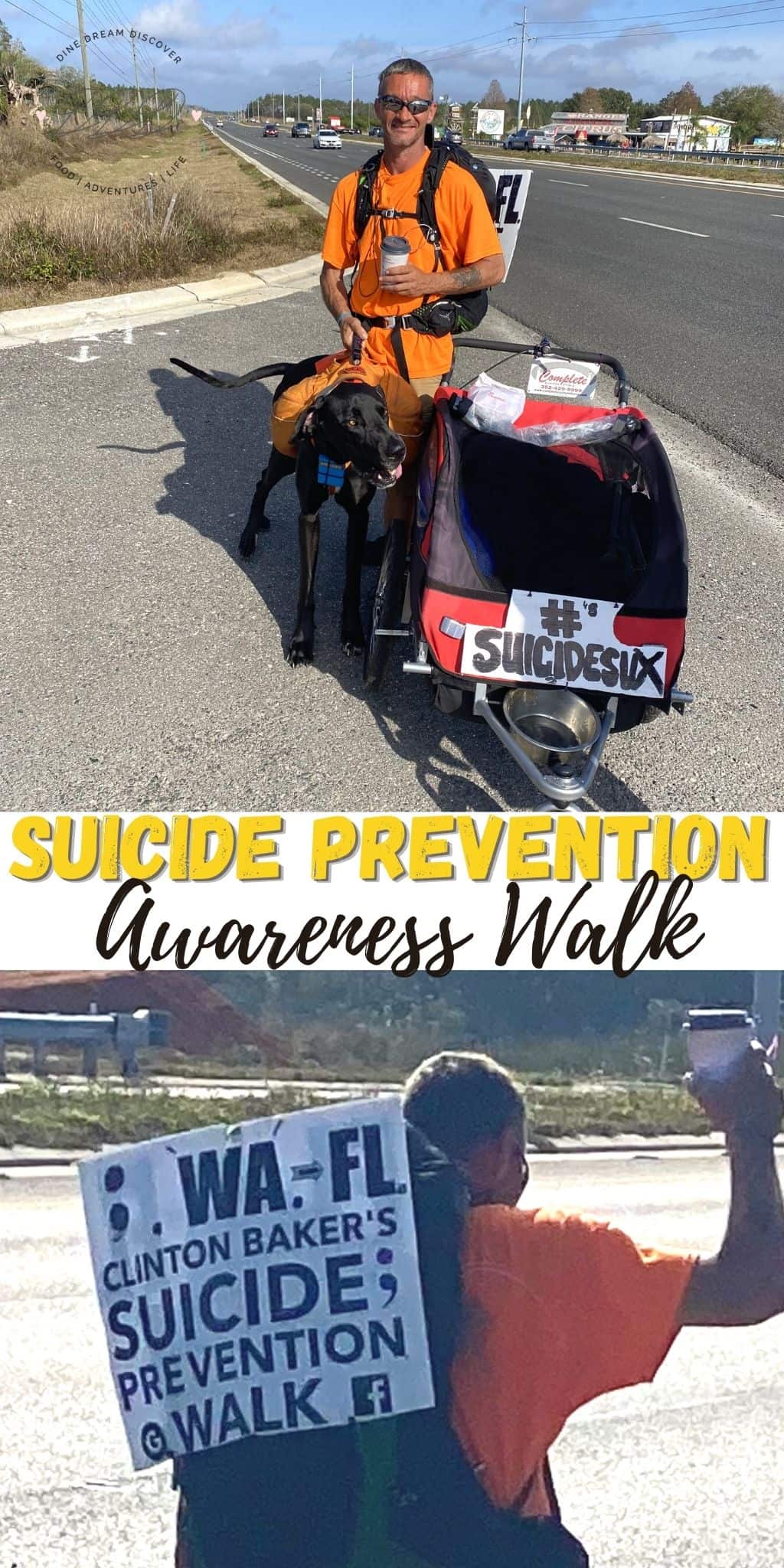 This post may contain affiliate links. See my disclosure policy for more info.
Suicide Prevention Awareness Walk FL to WA to FL
Yesterday as I was coming home from the store, I came across a gentleman and his dog, Clinton Baker and Watonga. They were sitting on the side of the road on the other side so I couldn't stop.
I assumed he was homeless and dogs always tug at my heart strings. So I came home and put some food items together for him and his dog and headed back. You know what happens when ASS-U-ME?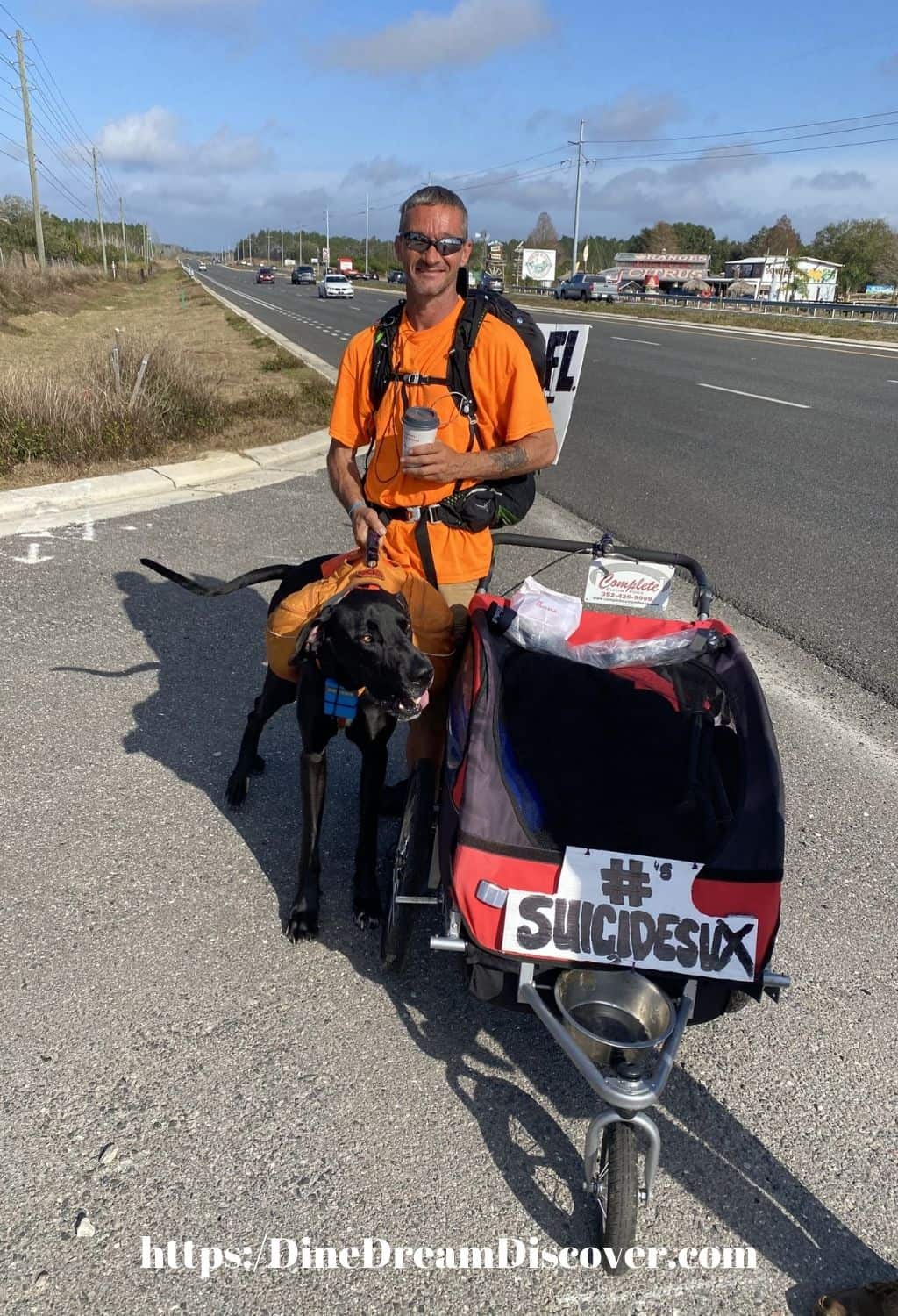 He was on foot so I figured he wasn't that far from where I had seen him. We found them a little bit up the road heading south on Highway 27 in Minneola, Florida.
Approaching the Two
Upon approaching the man and his dog, we noticed a sign on his back that said "Clinton Baker's SUICIDE; PREVENTION WALK WA-FL." 💙 For some reason I didn't take a picture which is very unlike me, lol.
We pulled up next to them and I handed him the bag and told him there were some treats in the bag for the dog also.
The Next Morning
This morning I woke up and and had an ugh! moment. Why didn't I take a picture? 🤦‍♀️ Why didn't I ask him more about his story? Was there a story behind it?
When I woke up this morning, I did a google search for "Man walking for Suicide Prevention Awareness" to see if I could find anything.
Lo and behold, it's all over the internet! News stations have written articles, people have written articles, and more. There were pictures so I knew it was the same person.
That only gave me another reason to go and find him and take him breakfast. He posted that he stopped for the night around Lake Louisa State Park in Clermont, FL so I knew he wasn't too far.
Clinton Baker's Suicide Prevention Awareness Story
His name is Clinton Baker and his dog's name is Watonga. He adopted the dog, which looks to be a Great Dane, in Oklahoma. The day before, his service dog, D-O-G (say the letters and that was his dog's name,) had gotten killed by semi in Oklahoma. How sad. 😭
I don't know for sure, but I'm guessing he got Watonga somewhere around Watonga, OK and that's how he got his name. And that dog is so good. No leash and stays right by his side. ❤️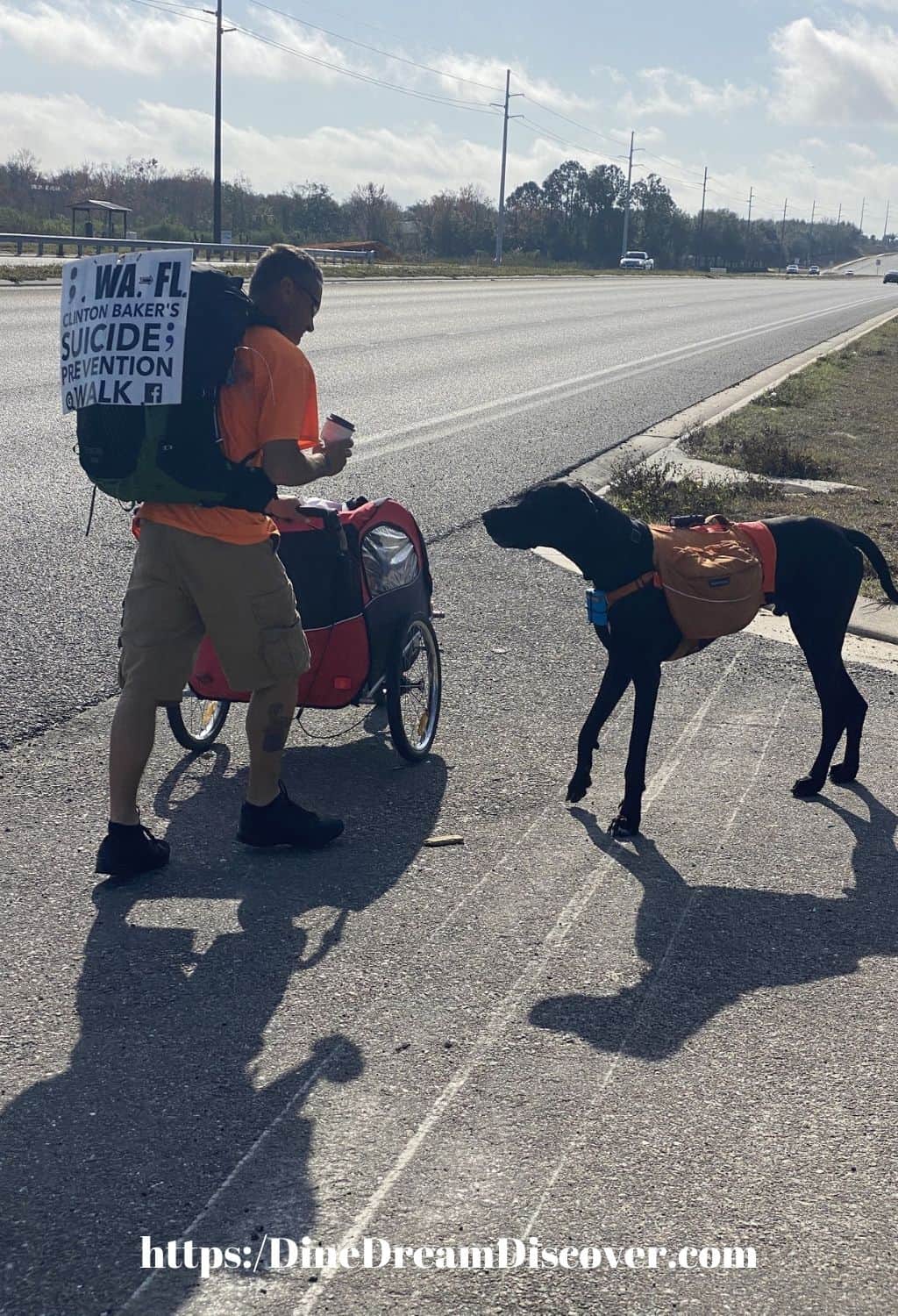 Clinton is originally from New Hampshire and started his walk in Florida. His original plan was to walk to Alaska. However, COVID happened and Canada closed their borders so he only walked to Washington. (And by "only", I mean he couldn't go to Alaska!)
He left Florida in January 2020, made his way to Washington and then headed back to Florida. WOW! I give him so much credit.
The walk was a result of losing a few people in his life, including his dad and brother to suicide. He also lost another brother in a car wreck, another brother to liver disease and a 6 month old son to SIDS.
And he almost lost his when he tried to take his own life. Someone was definitely watching over him and saved him.
Clinton walks for others that have committed suicide and you can follow along on his Facebook page where he updates throughout the day.
People along the way have given him donations, hotel stays, food, drinks, whatever they can.
CLINTON AND WATONGA ARE ON THEIR WAY TO KEY WEST, FLORIDA, HEADING WEST SOMEWHERE ON HIGHWAY 17. IF YOU ARE IN THE VICINITY OR EVER SEE HIM, PLEASE STOP AND BUY HIM AND WATONGA A MEAL. IT WOULD ALSO BE NICE IF YOU A PLACE WHERE HE COULD SLEEP IF YOU HAVE SOMEWHERE ESPECIALLY WITH THE RAIN COMING NEXT FEW DAYS.
Tonight he is trying to make it to a church 8 miles from the last post I seen. They're both tired and I hope they make it there to recharge and get some rest.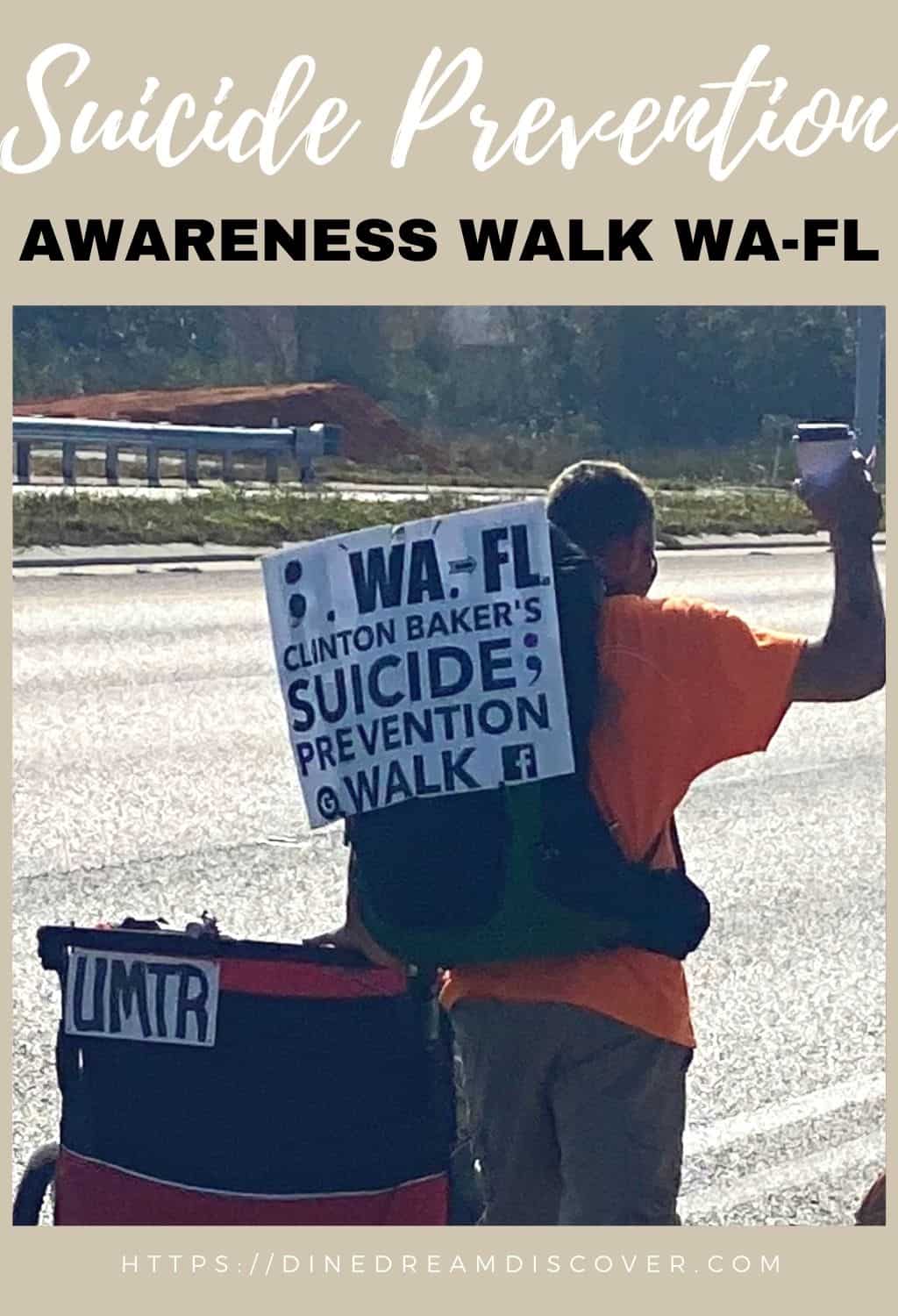 On a Mission
We headed out around 9:30 am. He had posted about an hour before that he was on his way. We stopped at Chick-fil-A and got him some breakfast and coffee.
I also took some dog treats but I felt bad that I forgot water. 🙄
We found him shortly down the road and gave it to him and got a picture with them.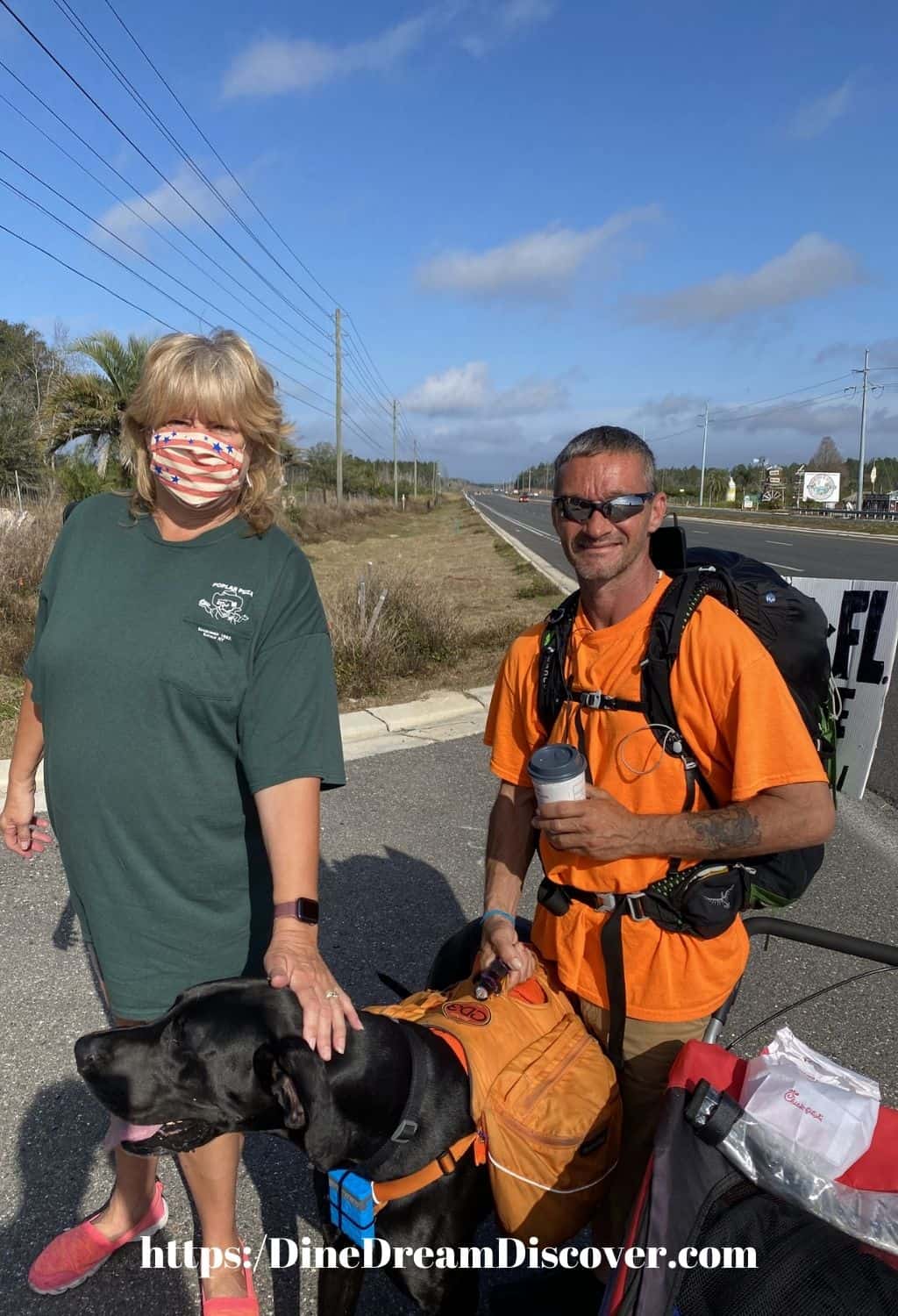 God Bless you both and watch over you and keep you safe.
Be sure to follow us on Pinterest and PIN IT FOR LATER!