Wonderful Halos Mandarins are delicious, loaded with vitamin C, easy to peel, seedless, and sweet. They are a nutritious snack that contains fiber and are a healthy treat to make a holiday snowman craft.
I received the products mentioned below in order to facilitate my review. All opinions are my own and may differ from yours.
This post may contain affiliate links. See my disclosure policy for more info.
Do You Want to Build a Wonderful Halos Holiday Snowman
Halos Mandarins not only taste good but are fun to make crafts with. Take for instance the Wonderful Halos Holiday Snowman. It's easy to make and can be used for a variety of things...plus it's edible and tastes good.
While a real snowman won't survive in Florida, the Mandarin Snowman will.
We love making crafts with Wonderful Halos Mandarins. And with Valentine's Day approaching quickly, check out our Halos Valentine Love Bugs.
Let's make some fun snowmen! These cute mandarin oranges are easy to put together and will be a great craft for your kids.
They only require basic supplies, so all you need is around the house and they're tasty too (hint hint).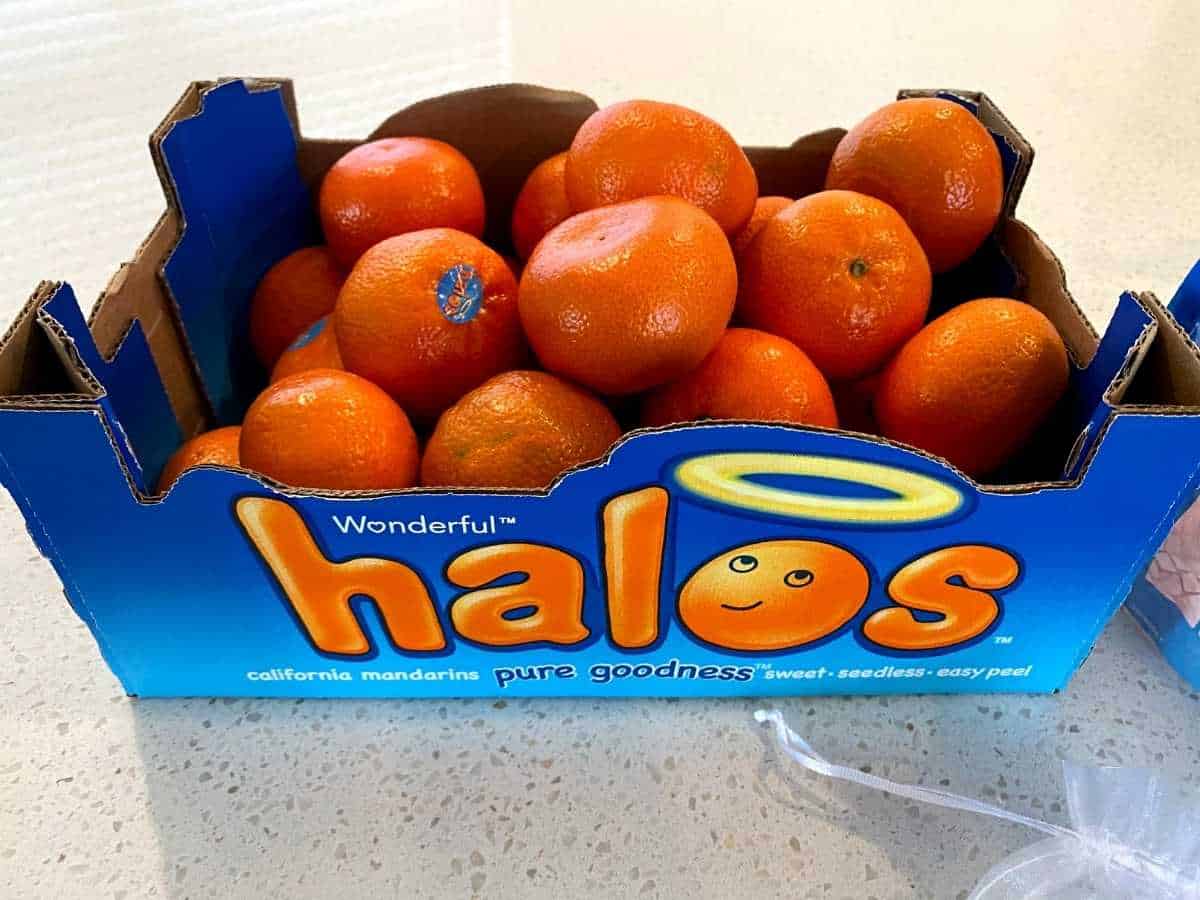 My favorite part about this project using Halo Mandarin Oranges? The fact that after we finish decorating them our children can eat their fruit right away.
Halos Mandarin Snowman Supplies
How to Make a Halos Mandarin Snowman
Start by placing 2 cloves for the eyes and 4 cloves for the mouth.
Place 3 cloves on second Halos mandarin for buttons.
Pare down a baby orange and poke a toothpick into the center of the mandarin for his nose.
Cut a round 3-inch circle out of the black construction paper.
Then cut a small circle for the top of the hat.
Cut a piece of the cardboard tube for the hat.
Paint the hat with black acrylic paint and let it dry.
Glue on the top and bottom circles of the hat.
Take a toothpick and build your snowman. Place the mandarin with the buttons on top of the plain mandarin.
Place the Halos mandarin with the eyes and mouth on top of the middle one.
Take another toothpick and place the hat on top of his head.
Make small holes with a toothpick in the sides for his stick arms.
Wrap yarn around a piece of cardboard multiple times to make the scarf. Cut the ends and tie a piece of yarn around the ends to keep them from unraveling.
Place around the snowman's neck.
Enjoy looking at your creation and then eat him!
Happy holidays from us at Dine Dream Discover and Wonderful Halos Mandarins.
About Halos
Halos Mandarins are available in 2 Count bags, 3 and 5 lb bags, and a 5 lb box.
They are not only delicious but they are loaded with vitamin C.
My husband loves them because they are easy to peel, are seedless, and sweet.
I love that they are a nutritious snack that contains fiber and a healthy treat after school or anytime.
Connect with them on Facebook, Twitter, and Instagram.
Be sure to follow us on Pinterest and PIN IT FOR LATER!