Fresh Christmas wreaths and trees have always been my favorite part of the holiday season. The scent of these fresh wreaths can also make any room feel cozy.
I received the product mentioned below in order to facilitate my review. All opinions are 100% my own and may differ from yours.
Beautiful Christmas Forest Christmas Wreaths Delivered
There's no way you can have too many Christmas decorations! I love how my husband always tells me that when it comes to the holidays, even though he knows full well what kind of person I am.
And so as a result I end up with an extra wreath or two hanging from every door frame in our RV.
Fresh Christmas wreaths and trees have always been my favorite part of the holiday season.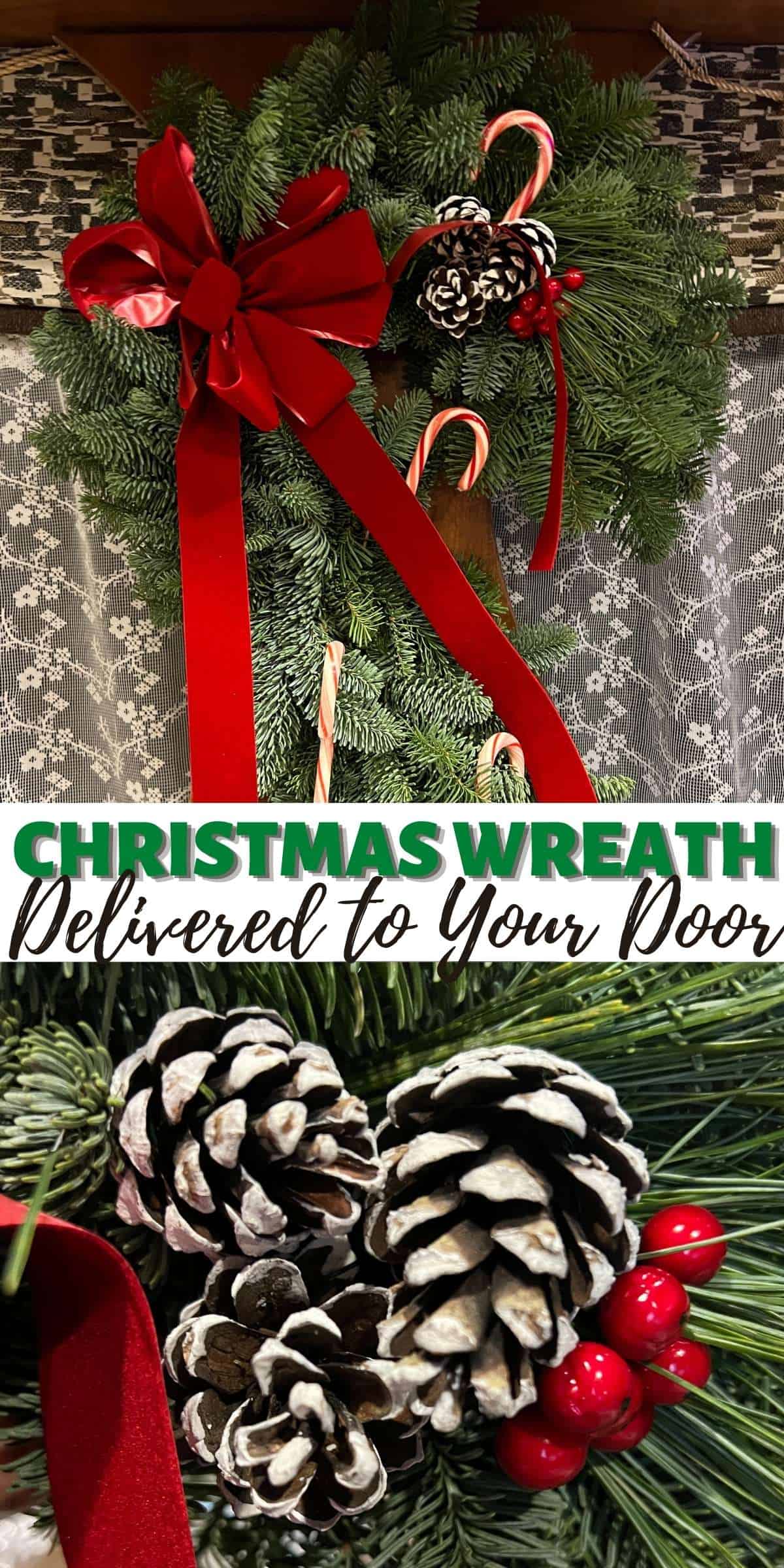 I love how they smell, but more than that is their beauty when put up on display for all to see.
The scent of these fresh wreaths can also make any room feel cozy.
Your friends and family will be so impressed when you show them this beautiful wreath.
It comes with pine cones on it and a red bow, making for an interesting decoration in any room of your house or office or even outdoors!
The perfect gift idea if they're near or far away from where you live like us. A few years ago, I sent a beautiful lighted Jingle Bells Wreath to our friends and they absolutely loved it.
So Many Christmas Wreaths Choices
Christmas Forest has so many wreaths to choose from and choosing just one was the hardest part.
Ultimately, I ended up choosing the 22" Candy Cane Red Bow Christmas Wreath. You can also get it with a candy cane bow.
Years ago, when we lived up North, we always put a special wreath in the shape of a candy cane, cross, swag, heart, or Christmas tree at the cemetery for our family members.
However, since we aren't there anymore, this one brought me back to those days.
I chose to hang this on an interior door. Not only because are experiencing a tropical storm for the next three days, but because I LOVE the smell of it and it's so beautiful to look at.
If you are into Christmas lights, you can always add a battery-operated strand to the Candy Cane wreath.
Want to take it a step further...add some real candy canes too.
Not Only Wreaths
Christmas Forest not only has Christmas wreaths to choose from. There are also table wreaths, Advent wreaths, Christmas garlands, ornaments, and more.
Christmas Forest wreaths are made with care and attention to detail. They come complete with a hook for hanging.
Plus, you can even purchase a wreath hanger when ordering.
Expert artisans like Julie, an elf who has been crafting these forest-fresh creations for over 20 years now.
They make sure that each one is a work of excellence in design as well as materials used; they're committed protectors too!
Your wreath is guaranteed to arrive as forest fresh.
Where to Purchase
All these mentioned above can be purchased online at ChristmasForest.com. They will arrive at your door on or close to the date you choose.
Handmade with the freshest noble fir and pine, juniper berries, and incense cedar.
They harvest these evergreens respectfully and try to protect rain forest ecosystem for future generations.
Offering one-of-a-kind Christmas wreaths that will make your home smell like a festive tradition!
Order yours today!
Connect with Christmas Forest on Facebook, Twitter, and Pinterest.
Follow us on Pinterest and PIN IT FOR LATER!