A HydroJug is a 73 ounce water bottle that you fill once and will help you meet your daily water quota. Here are mega reasons to get yourself one.
I received the products mentioned below in order to facilitate my review. All opinions are my own and may differ from yours. This post may contain affiliate links. See my disclosure policy for more info.
Reasons to Get a HydroJug
Did you know that Florida is the kidney stone capital of the world? I didn't either until I ended up in the hospital with about my 5th one. I'll be the first to admit that I don't drink enough water.
It's always so cumbersome when we go somewhere to bring a cooler filled with water bottles. Besides the fact that all that plastic is no good for the earth!
When we were at the Arches National Park, we went on a few hikes. The first thing it said was make sure that you had water with you before you started.
And once again, we didn't because we don't like to be bothered carrying a cooler or a bunch of water bottles.
We had one bottle of water between the two of us. For a ¾ mile walk each way. In the heat. 🙄
But what if you could easily take a half gallon of water with you with just one jug? Now you can, with the HydroJug. It's a great addition to our must have RV Gift Guide.
What is a HydroJug
A HydroJug is a 73 ounce water bottle that you fill once and will help you meet your daily quota. It has the measurement scale right on the side so you can fill it as much or little as you want.
The HydroJug is dishwasher safe (top shelf) and BPA Free with a leakproof top.
The HydroJug comes in a variety of colors from Mint, Pink, Lavender and more. With the wide mouth, you can fill it with ice with no problem and wash it out easily too.
It has an easy grasp handle, the bottles are translucent so you can see how much is left inside, and are made with food grade plastic.
I fill it with ice and fill it with water from my Epic Nano Water Pitcher.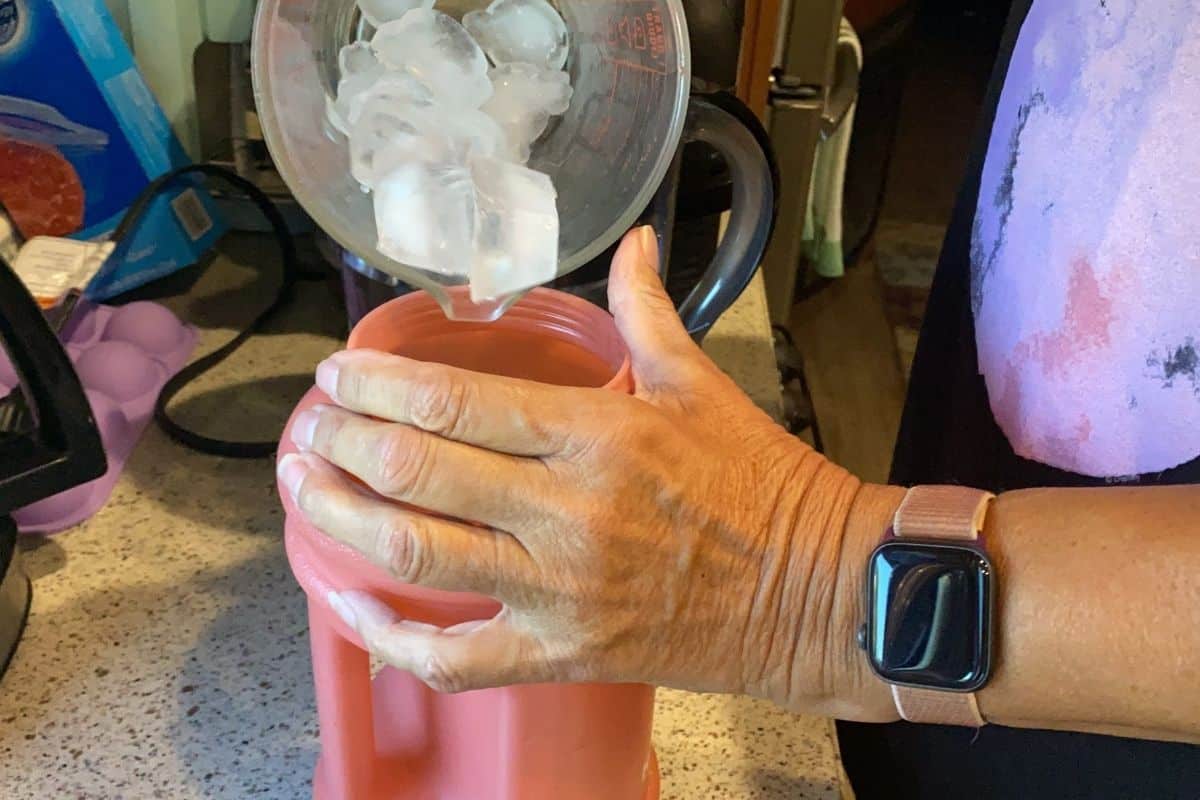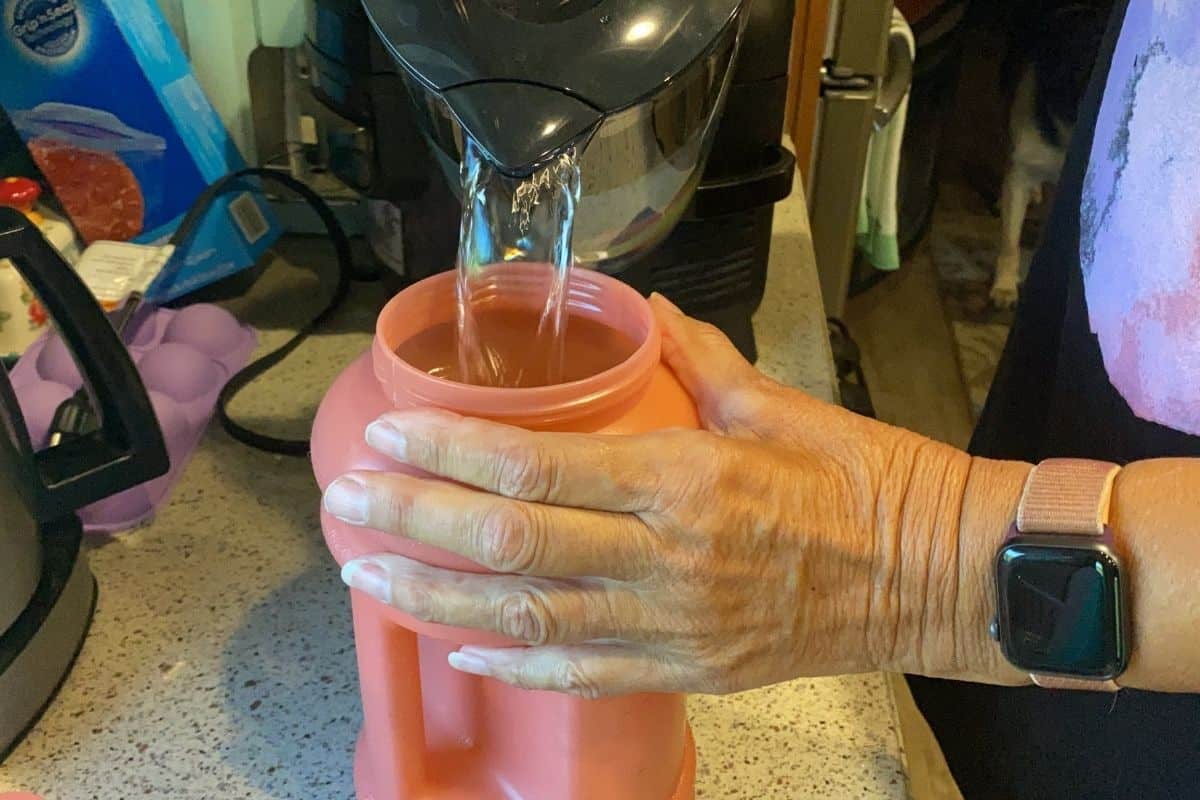 With a variety of matching sleeves, you can get one for every outfit. Choose from florals, camo, tie dye, tropical, leopard, and more.
The sleeves have an adjustable strap that is removable so you can easily carry it on your shoulder.
The sleeves are made of neoprene and insulate the HydroJug while cutting down on condensation. It comes with two pockets, one for your phone and another for your keys. Fits my iPhone 11 no problem. No need to carry an additional purse. 
I received a Blush Limited Edition with a Floral Sleeve and Classic Black and Gray one as well as a black marble sleeve for it. My husband was in his glory because it matched the Jeep. 🙄 (easily amused, 😂)
There is only one bad thing about the HydroJug that I have noticed. It's not going to fit in your cup holder.
HydroStraws are also available if you are a straw kind of person. The straw can be closed inside your bottle.
Why You Need a HydroJug
At the Pool
When I go to the pool, I don't want to take a bunch of stuff with me. A towel, drink, and me. One plastic bottle of water isn't going to last for a couple of hours though. Luckily, my HydroJug will. I did not put my sleeve on it because I didn't want it to get dirty.
Tired of Wimpy Pitchers
The HydroJug arrived just in time for my knee replacement hospital stay. Nurses are great but they get overwhelmed and have more than just you to take care of. So with my HydroJug, I was able to have it filled once and it lasted me all day.
Confusion
Drinking water is good for you. No kidding. Being dehydrated can cause confusion. I saw the confusion in my mom who had dementia when she was wasn't drinking enough water.
Kidney Stones
I've touched base quickly on this above. Kidney stones are the result of not drinking enough water. You sweat when it's hot and by the time you are thirsty, you are already dehydrated.
That's when kidney stones form. And trust me...no one wants a kidney stone.
Giving Blood or Bloodwork
If you have ever gone to give blood or needed to have bloodwork done, drinking plenty of water ahead of time, helps with finding your veins.
I had no idea until recently when I ended up in the hospital for a kidney stone. My veins were no where to be found. That's when I learned it was from not drinking enough water. Who knew?
Heat Stroke
Heat stroke can happen quickly. One minute you are feeling okay and the next minute you feel dizzy and like you are going to pass out.
I was out of town once and my husband called me. He had been cutting the grass and all of a sudden felt very dizzy. I told him to drink plenty of water and relax. Luckily, it helped quickly and there was no need to call 911.
Losing Weight
I know a lot of people think that drinking at least 8 glasses of water a day when you are trying to lose weight is a myth. However, I can attest to that, it is fact true.
When I was trying to lose weight, I would watch what I ate, counted calories and did my exercises. The one thing I did not do, was drink lots of water.
After a month of not seeing any results, I decided to give it a try and drink at least 8 glasses of water a day.
And you know what happened? I ended up losing 80 lbs over the course of the year.
Prevent Muscle Fatigue
Do you ever get cramping in your legs after you've been exercising? That is the worst, especially when it happens when you are sleeping.
Leg cramps can wake you out of a deep sleep. I usually have to hop out of bed and walk it off for about a half hour. Now if I had drank enough water that day, my muscle cramps would never had happened.
Keeps Skin Supple
The older you get, the more wrinkles you will have. However, you can keep wrinkles at bay if you drink water. Water hydrates your skin to keep it supple and clear.
Drinking water will help prevent dry spots and reduce puffiness.
Helps with Digestion
No one wants to be constipated. And there's no reason to be. Drinking plenty of water helps with that.
How Much Water Should You Drink
The old saying goes that you should drink 8-10 glasses of water a day. Although, they have changed that to half of your weight.
So for instance, if you weigh 150 lbs, you should drink 75 ounces of water a day. The HydroJug helps with that! You can check out how much you should drink with the water calculator.
I was so glad to have received the HydroJugs for multiple reasons. It really will help next time we go on hike, picnic, bike ride, or walk. It's convenient to just sling over your shoulder like a purse.
Where to Purchase
The HydroJug is available online at TheHydroJug.com. Connect with them on Facebook, Twitter, and Instagram.
These make a great gift for everyone in your family and friends too. Plus, they don't only have to be used for water, if you know what I mean. 😉
Follow us on Pinterest and PIN IT FOR LATER!