The Country Music Hall of Fame and Museum in Nashville is an incredible attraction for anyone who loves country music or just wants to learn more about this iconic genre.
This post may contain affiliate links. See my disclosure policy for more info.
The Country Music Hall of Fame and Museum: Nashville's Greatest Attraction
Every year in Nashville Tennessee, thousands of country music fans flock to the Country Music Hall of Fame and Museum.
Nashville has no shortage of must-see attractions, but there is one museum that stands out among the rest.
The Country Music Hall of Fame and Museum is located in Nashville, Tennessee.
This museum has exhibits on the history of country music as well as current artists.
They include instruments, costumes, awards, photos, and videos from some of your favorite artists like Dolly Parton and Johnny Cash.
The Country Music Hall of Fame and Museum is an incredible attraction for anyone who loves country music or just wants to learn more about this iconic genre.
This Nashville institution features exhibits and artifacts from some of the most famous names in country music history.
Is Country Music Hall of Fame worth it?
Are you a music lover?
Are you looking for an experience that will be fun and exciting?
Do you want to get the opportunity to see memorabilia from legends like Johnny Cash, Patsy Cline, Willie Nelson, Waylon Jennings, Reba McEntire, and more?
If so then the Country Music Hall of Fame is definitely worth it. The Country Music Hall of Fame has been one of the most popular destinations in Nashville for decades.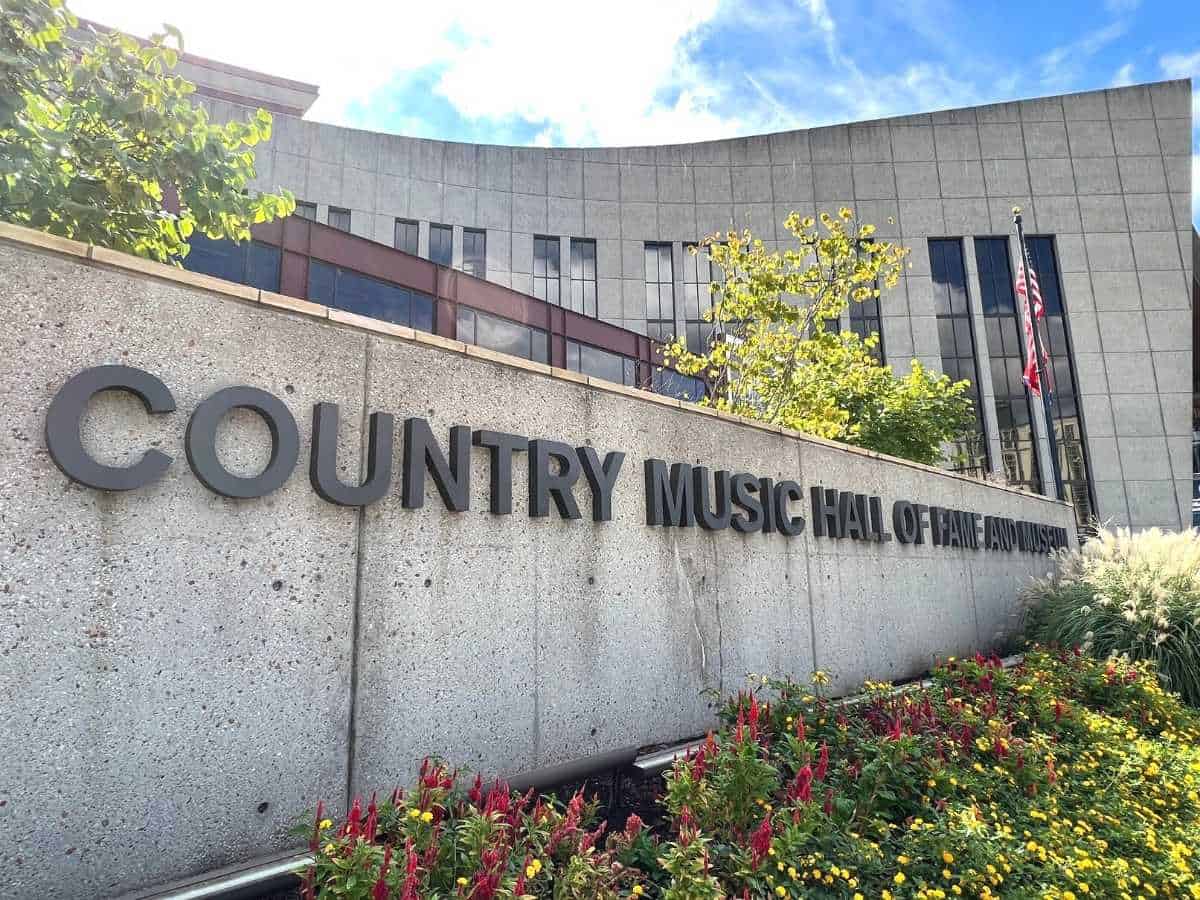 Country music is a passion for many as it blends the best of rock and roll with traditional American values.
From country legends to modern-day heroes, there are plenty of stories to see here.
Some Highlights of the Museum
One of the first things you see upon arrival on the third floor is Taylor Swift's Education Center.
The Taylor Swift Education Center is a one-of-a-kind learning environment for all ages.
It offers 3 classrooms, an interactive gallery, and more to inspire creativity in students of every age from toddlers up to adults!
The center also features special artifact cases that highlight artifacts connected with country music culture.
The education center has everything you need: Youth Art Installations provide opportunities to share your passion.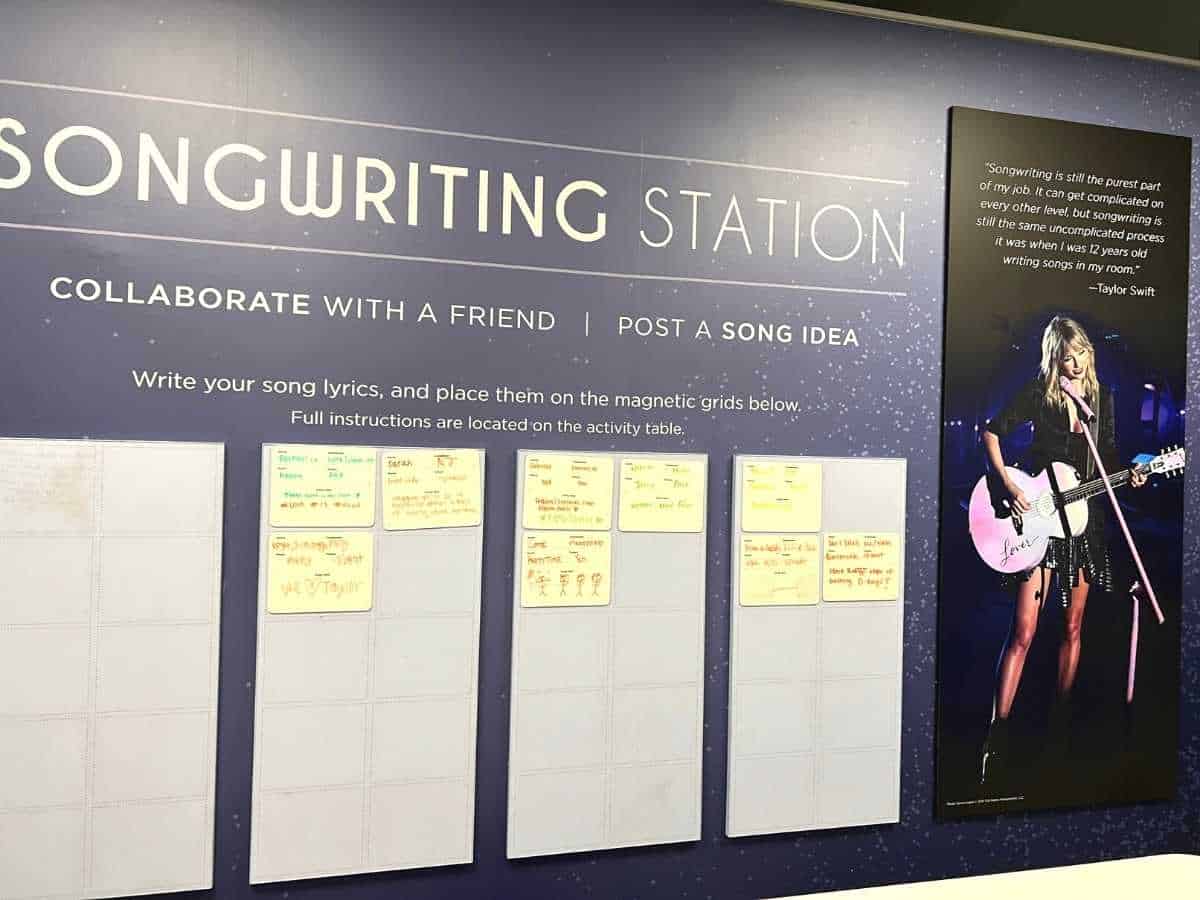 Teen programs encourage activities outside school hours while Adults book talks make anyone curious about Country Music Culture welcome at any time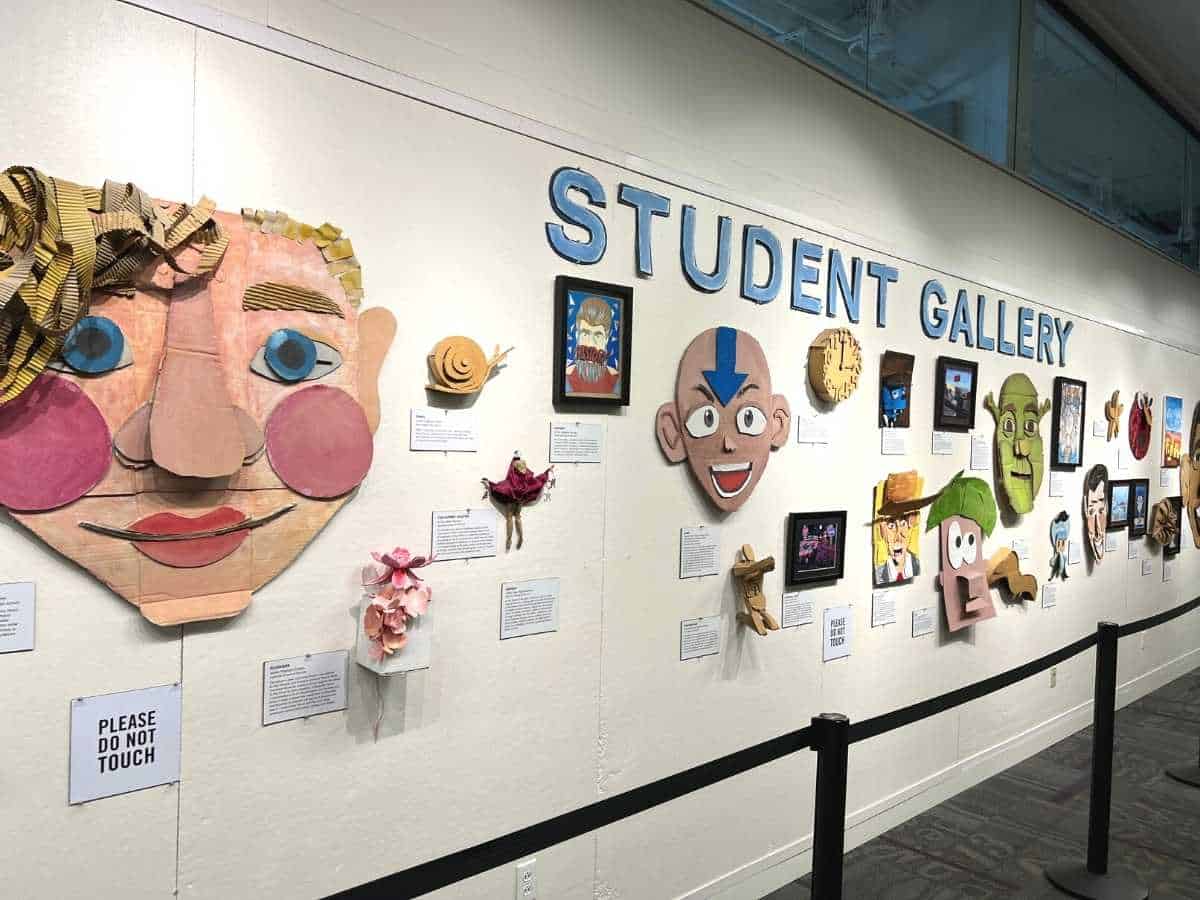 After that most of what you will see pertains to the early years.
You will also see the cornfield from Hee-Haw complete with the original outfits worn by the cast.
Once you pass that you have arrived at the "Wall of Gold Records!" That was so cool.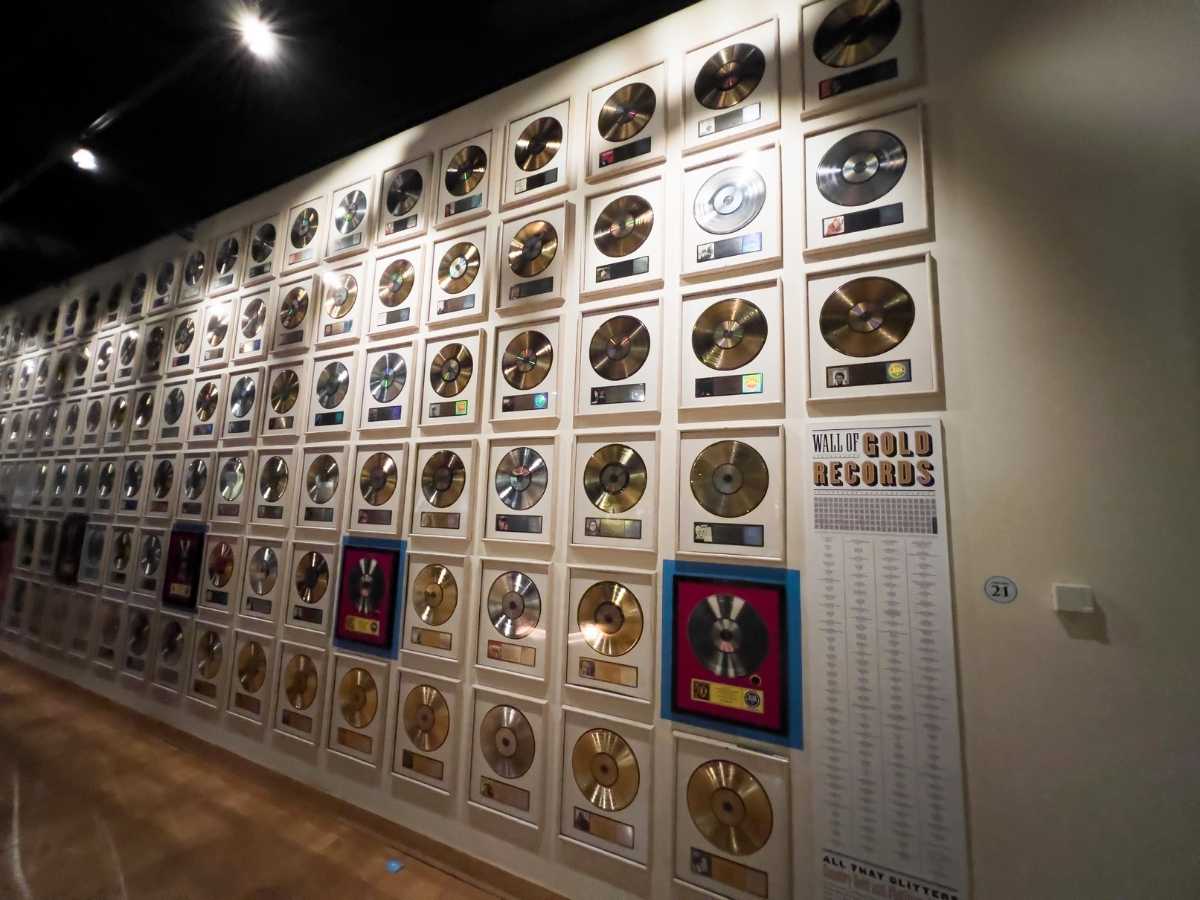 The sign will tell you which record belongs to whom.
I didn't count them, but I'm pretty sure that Elvis Presley had the most up there.
Elvis Presley's Gold Plated Cadillac
At the end of the hall is Elvis Presley's Gold Plated Cadillac.
The gold-painted "Cadillac" belonging to Elvis Presley is just one of many treasures that can be found at the Museum.
In order to make the Cadillac as sleek and elegant looking as possible, it was given a gold plate finish.
The highlights of this luxury vehicle are made up mostly with crushed diamonds mixed in for extra dazzle!
With items such as a record player, telephone, refrigerator, record player, refreshment bar, and a tv, the interior was a place of innovation and indulgence, with amenities that were unheard-of back then.
Webb Pierce's Nudie Mobile
It's not what you think! Webb Pierce was a Honky Tonk singer and one of Nashville's flashiest figures.
His 1962 Pontiac Bonneville convertible was customized by Nudie's Rodeo Trailers and features a hand-tooled leather interior.
Complete with a mini custom saddle situated between the bucket seats, steer horns on the front bumper, and chrome-plated ornamental guns and horses.
What looked like Silver Dollars were actually alloy coins. However, they were originally inlaid with more than a thousand silver dollars.
The Second Floor
Heading down to the second floor, you can either take the stairs or hop on the elevator.
Here you will see the Trans-Am from the movie Smokey and the Bandit II.
At first, I wasn't sure why exactly this was on display in the Country Music Hall of Fame and Museum but the soundtrack from the movie included recordings by Brenda Lee, Jerry Reed, Roy Rogers, and The Statler Brothers, to name a few.
On the second floor, you will also see a huge video screen where artists will be singing their hit songs. Miranda Lambert was on while we came through.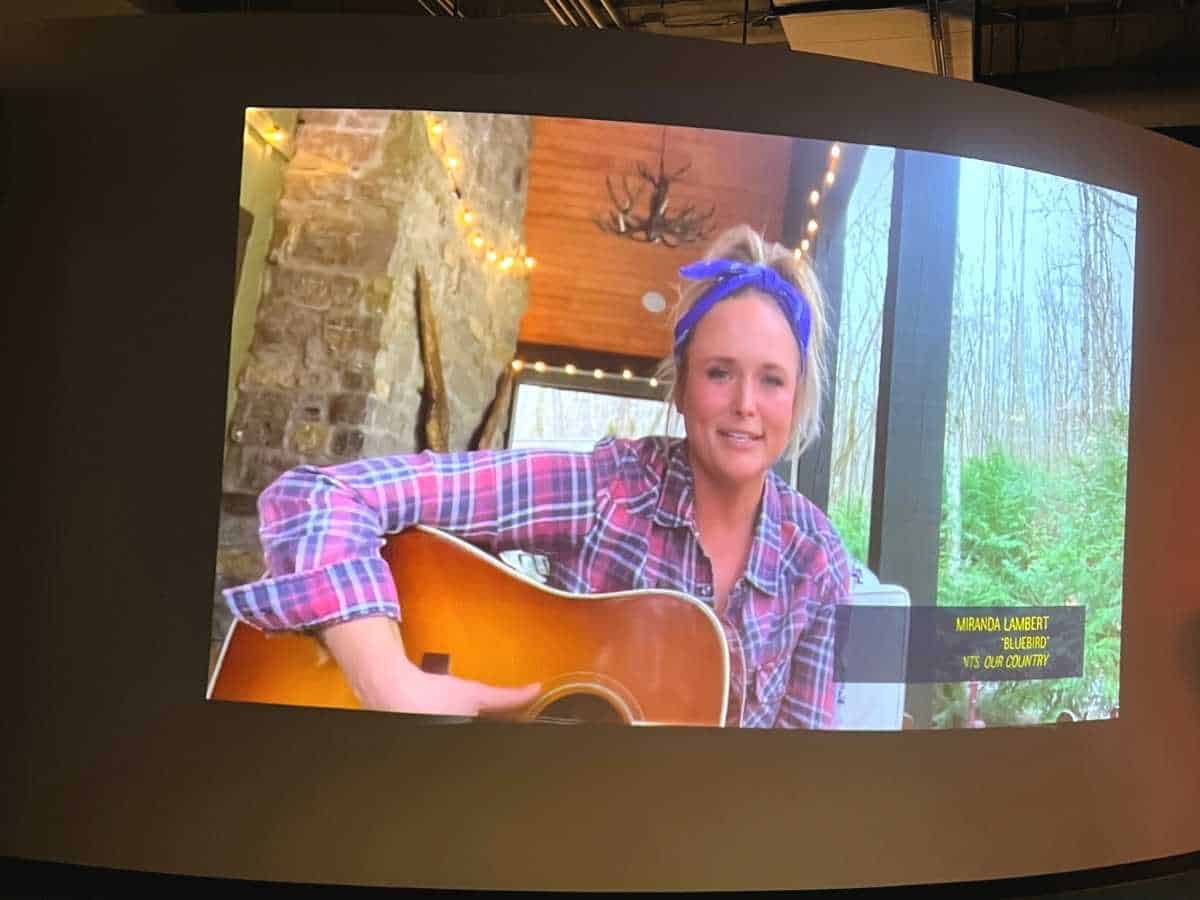 In addition to a huge guitar and record player, there is also a giant replica of Taylor Swift's bus that houses an interactive station where you can create a recording of your singing.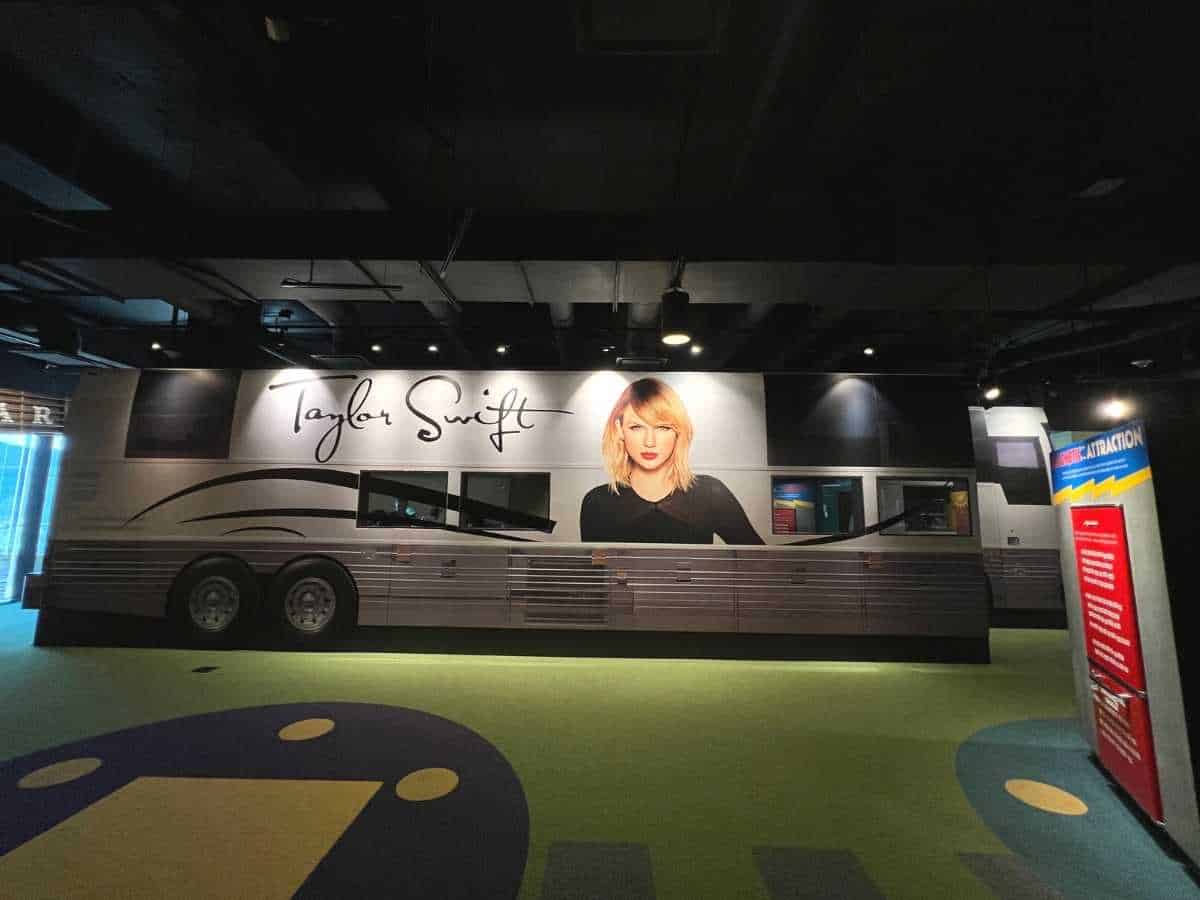 Once you are finished, it will be emailed to you to share on social media...if you dare. 😉 Sorry, I'm not sharing. 😂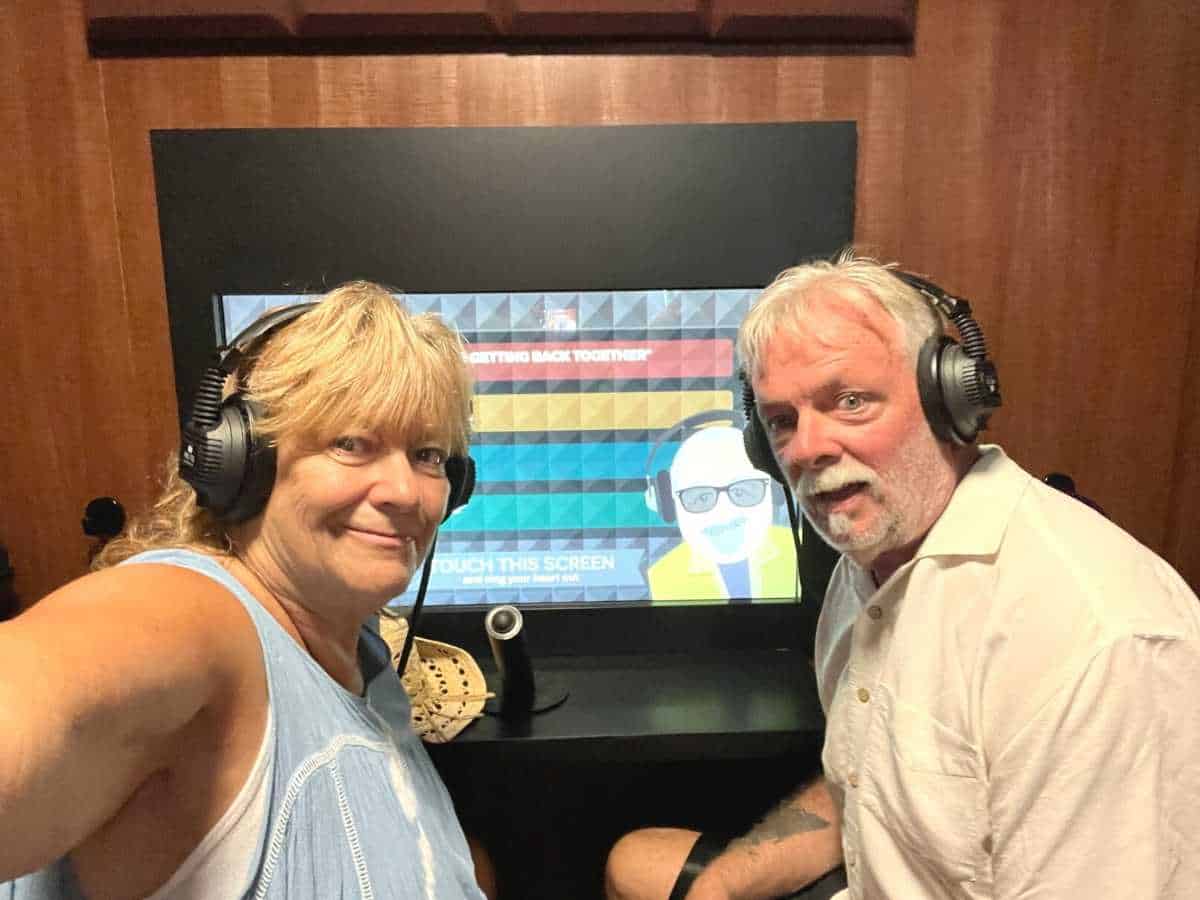 A wall filled with Kacey Musgraves clothing, Big and Rich's Top Hat and guitar, and articles of clothing worn by Alan Jackson, Clint Black, Mark Chesnutt, and many more.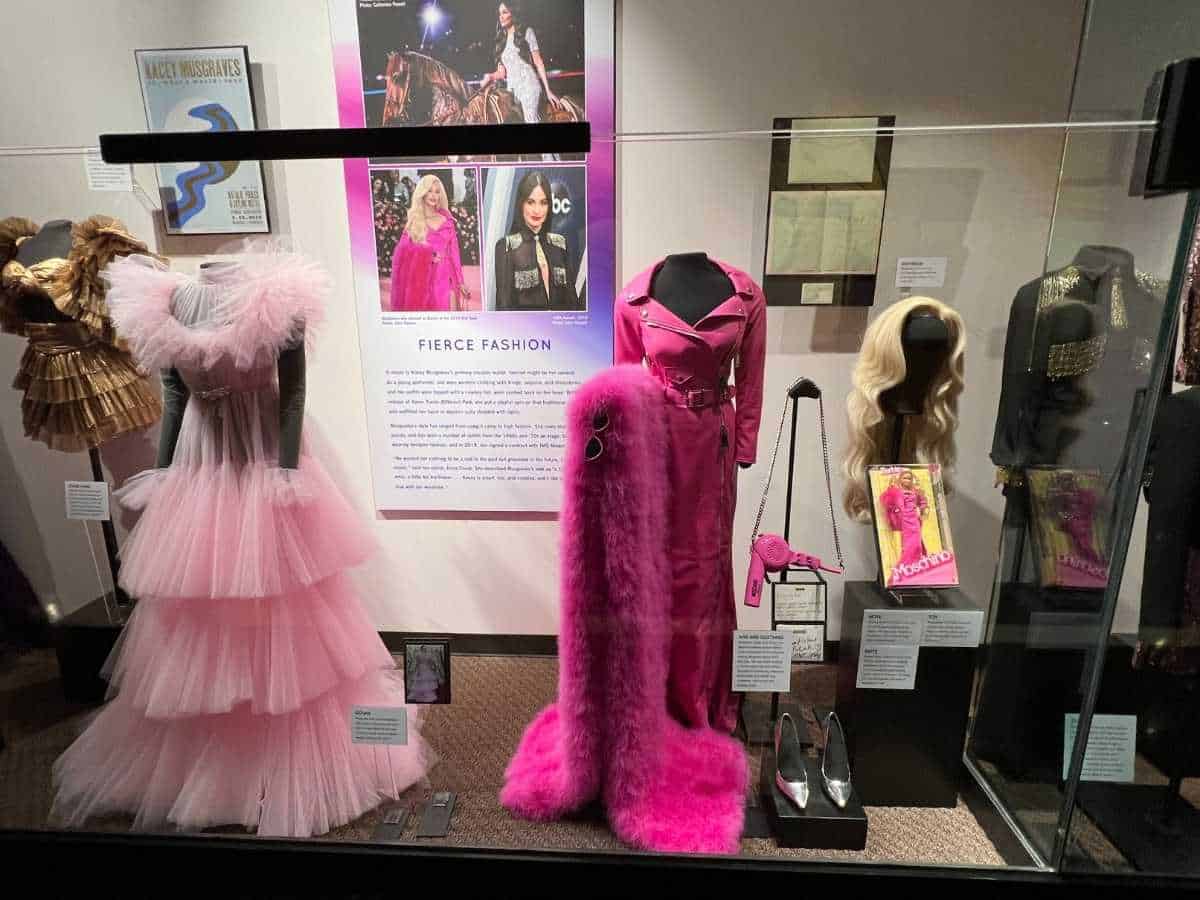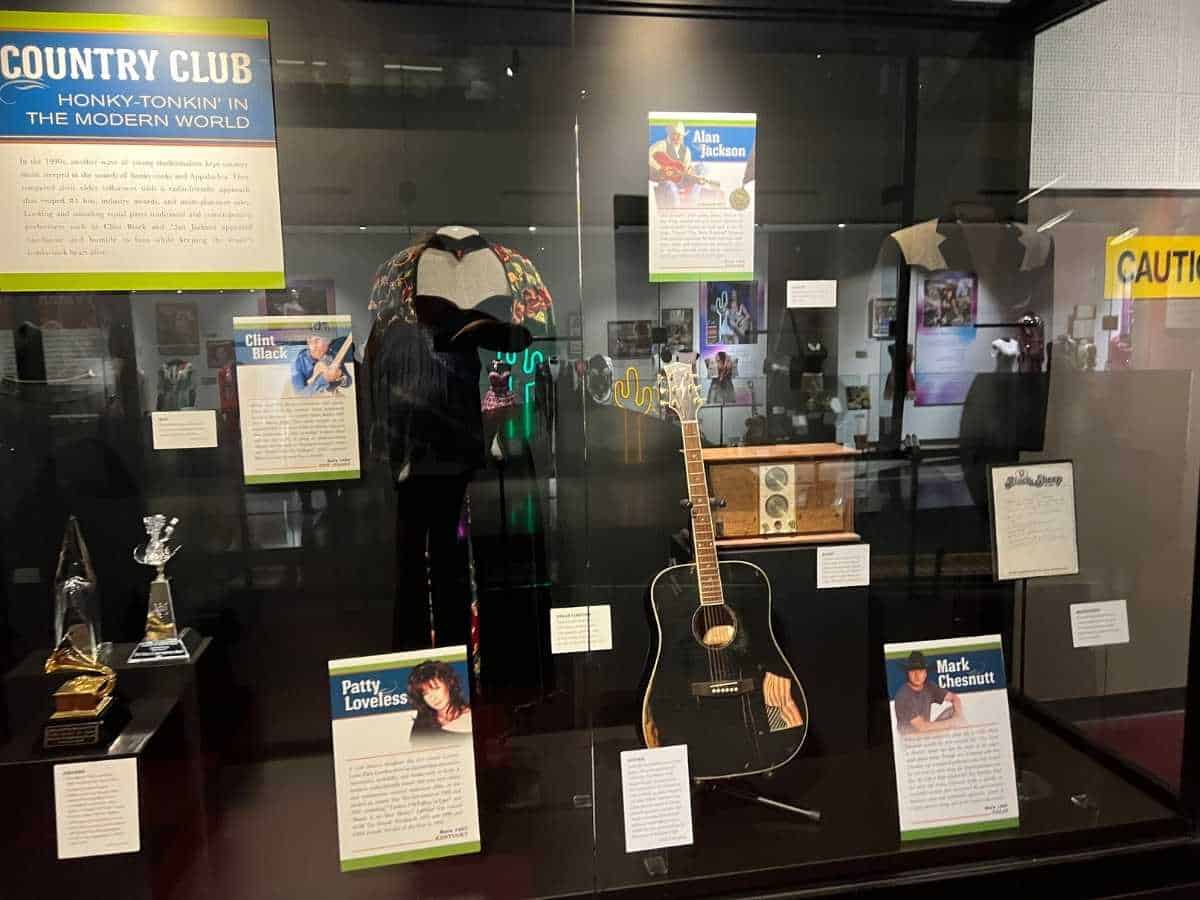 Hanging on the wall are copies of actual handwritten songs by Tim McGraw - Taylor Swift and Liz Rose, Where Were You (When the World Stopped Turning) by Alan Jackson, and Eric Church's "Carolina."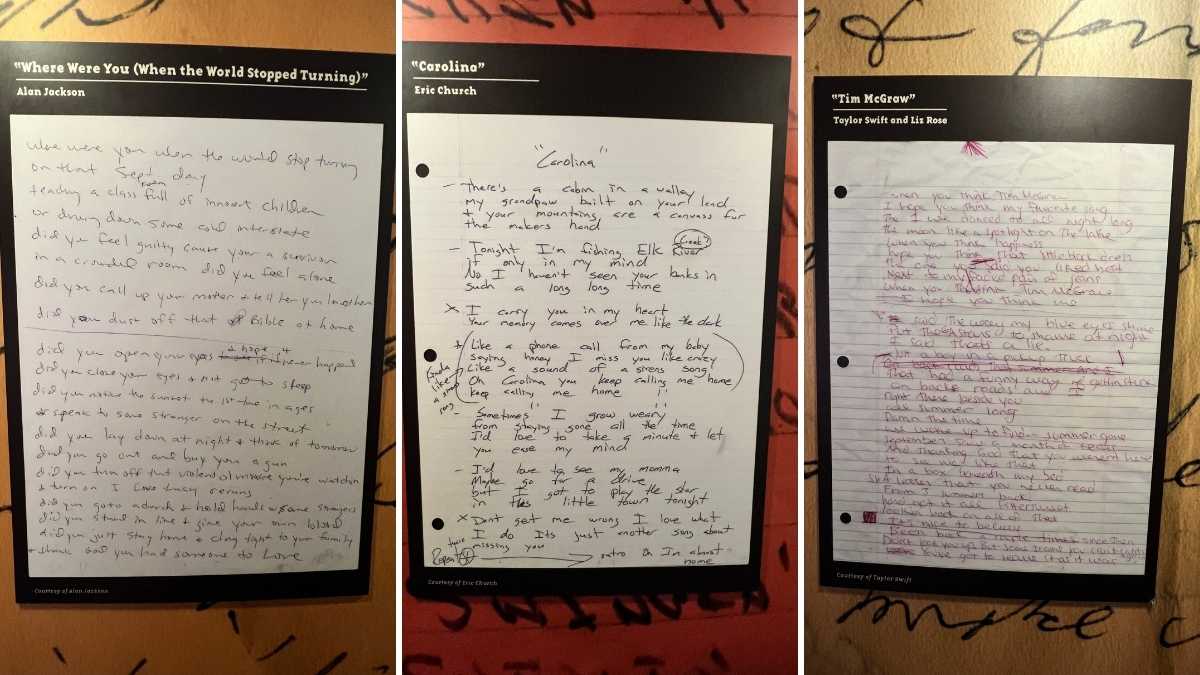 On another wall, there is a display of the Music Machine Bobbleheads. Publicists, drivers, songwriters, lawyers, accountants, drivers, sound persons, wardrobes, coordinators and so many more.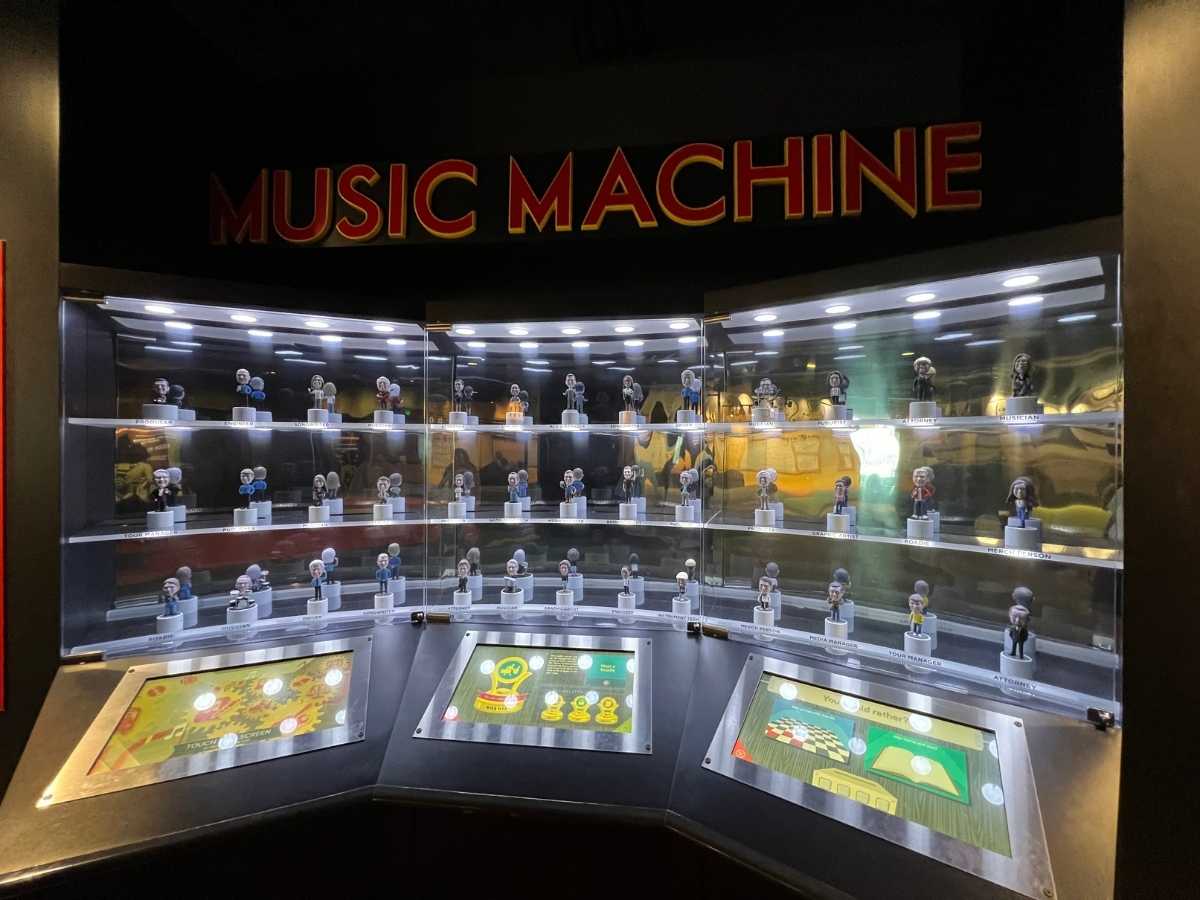 These all represent the people working together like a machine to make sure everything runs smoothly for the artist.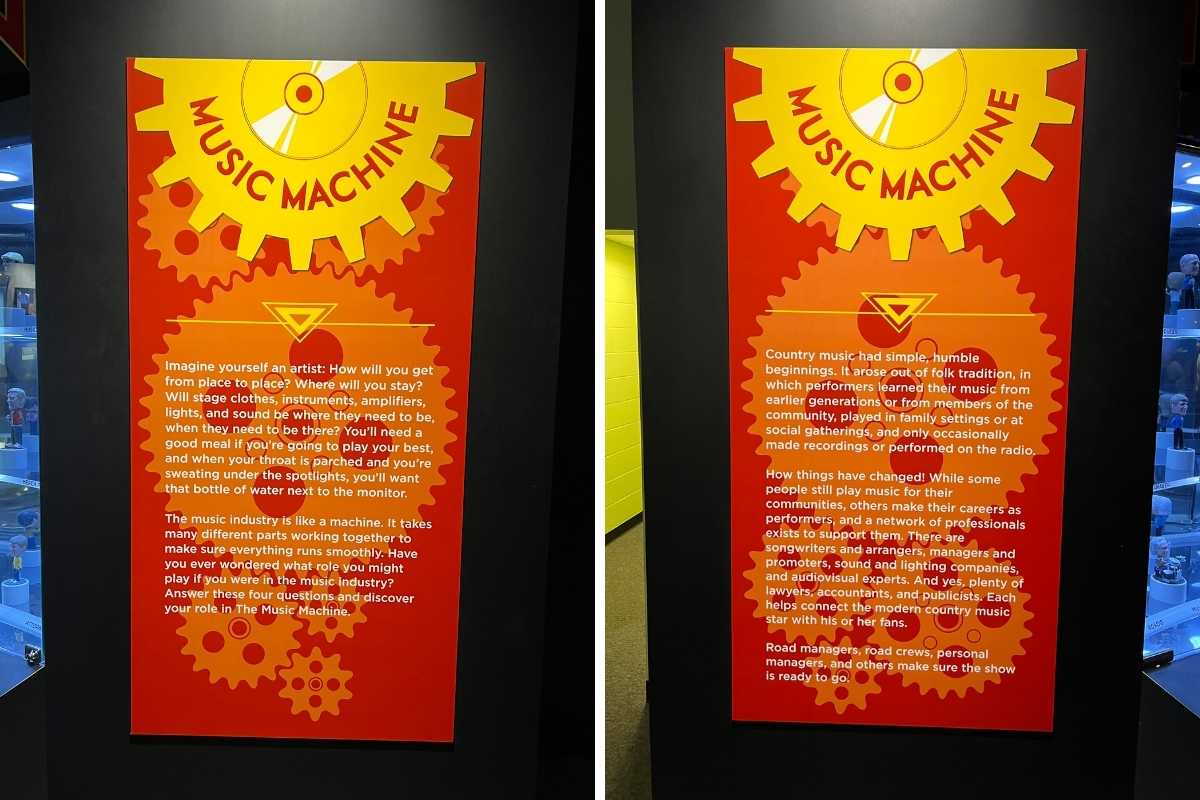 The Hall of Fame Rotunda
Once you get near the end, you will find The Hall of Fame Rotunda.
This is where all the plaques are hanging dedicated to those inducted into the Country Music Hall of Fame.
The Hall is massive with one hundred and forty-six inductees as of this posting.
The first members were Jimmie Rodgers, Fred Rose, and Hank Williams who were inducted in 1961 when it all began.
They are randomly placed on the wall because they are considered all equal. The newest members, however, can be found alongside Thomas Hart Benton's The Sources of Country Music.
Be sure to look up at the massive skylight where you will see the words 'Will The Circle Be Unbroken' which connects the musicians, generation after generation.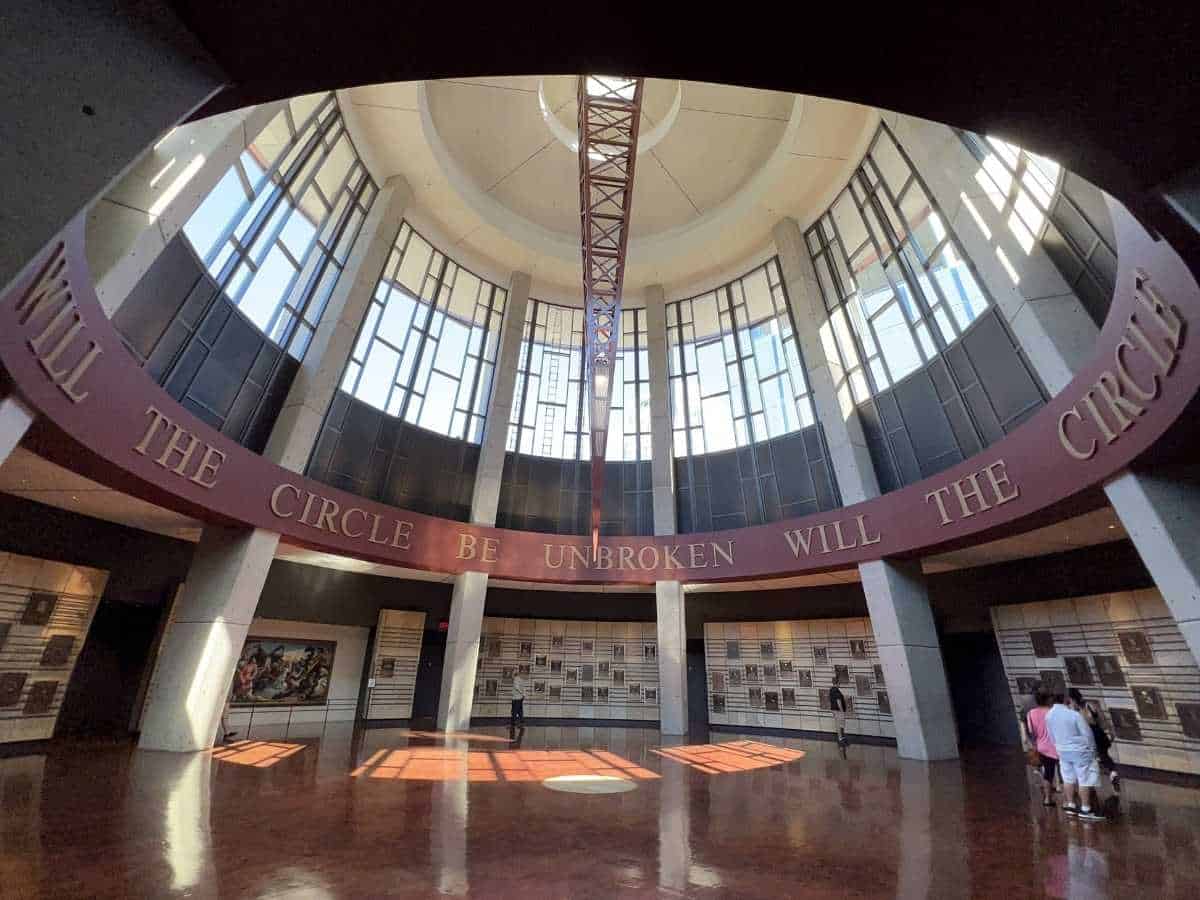 I took a picture of a few of our favorites, like George Strait (who doesn't love George?), Cindy Walker (because she has the same last name, 😂), Reba McIntyre (who was born in McAlester, Ok. where my daughter in law comes from), Brooks and Dunn, and of course Loretta Lynn (love her to pieces!)
And we can't forget the King himself...Elvis Presley.
How long does it take to go through the Country Music Hall of Fame?
We had reservations for 12 noon but got there around 11:45. We were able to start our self-guided tour right away.
Upon entering, we weren't sure that we were going to make our 1:30 reservation for the Studio B tour because there was so much to see.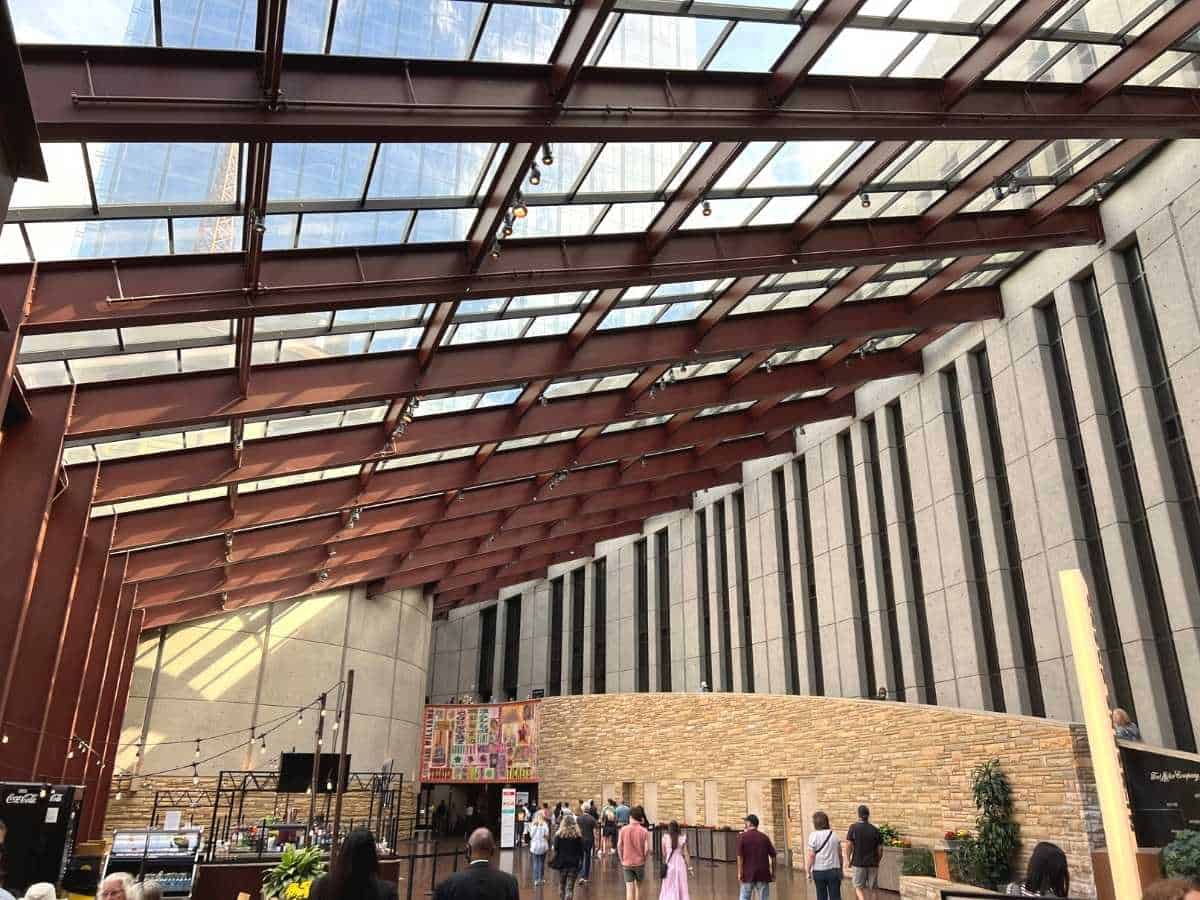 Once you get your tickets, you are guided to an elevator that takes you up to the third floor. This is where you will start and work your way down.
We were able to see everything and even had time for a quick snack while waiting for the Studio B tour bus.
There is a little snack bar near the main entrance as well as a Taco restaurant with To Go Margaritas 😉 in the hallway.
It took us around an hour and a half with no rushing at all throughout each section.
I recommend allowing 2 hours if you want plenty of time for exploring and just in case it gets crowded with a lot of tour buses!
Where to Park
The Country Music Hall of Fame and Museum is located in the heart of downtown Nashville.
We took the shuttle bus from Nashville KOA because we weren't sure how busy it would be on a weekday.
However, if we would have driven there, we would have parked in the Hilton parking garage where we had parked the night before which is half a block away.
Parking in downtown Nashville is by no means cheap and since we weren't sure how many hours it was going to take, we were glad that we had chosen the shuttle from our park.
Location, Pricing, and More
Located in the heart of downtown Nashville The Country Music Hall of Fame and Museum is at 222 Rep. John Lewis Way S, Nashville, TN 37203.
Masks were not required if you are vaccinated, however, we chose to wear them for the most part. They are required on the bus and in RCA Studio B.
Tickets can be purchased ahead of time for the museum alone with or without the Audio Tour.
Or you can purchase a bundle with RCA Studio B or The Hatch Show Print Tour which by the way is located right inside the Museum.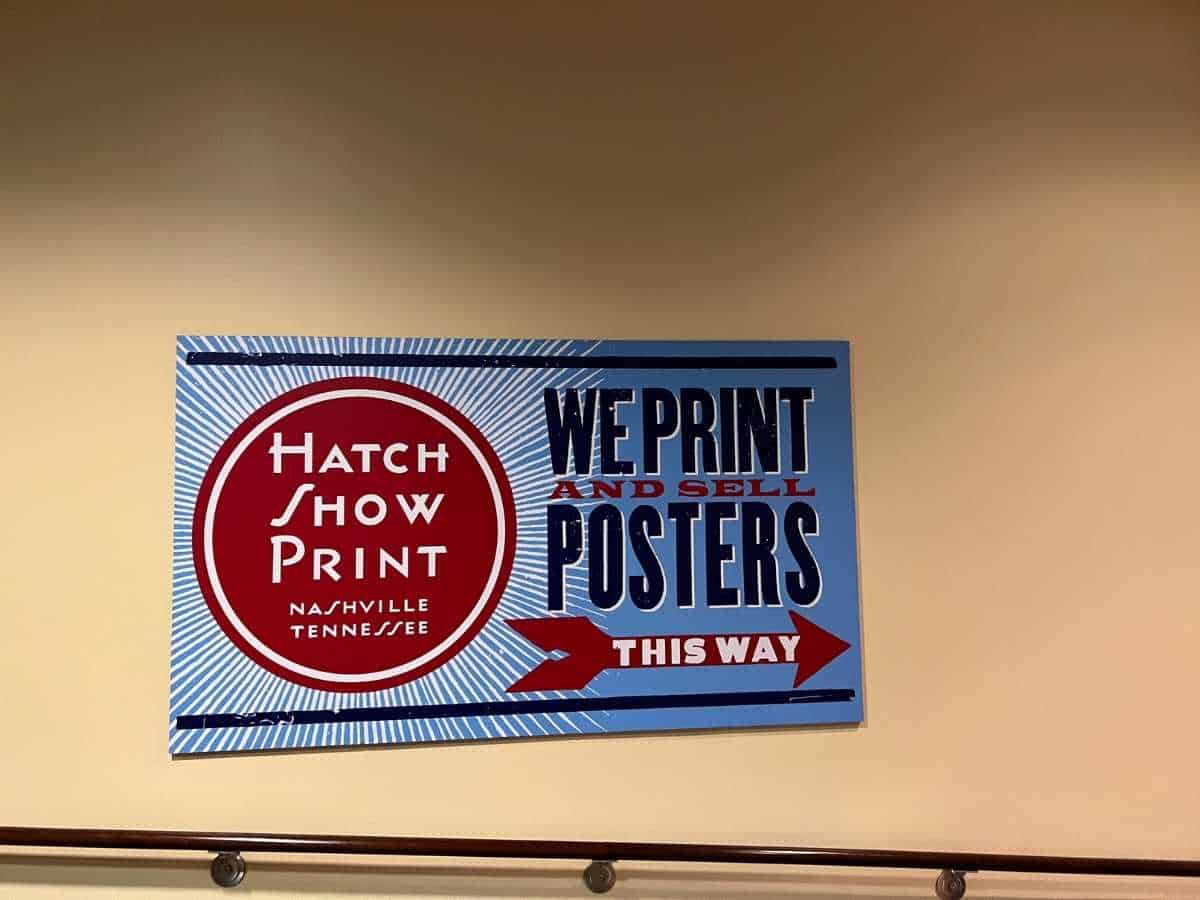 You can also purchase them upon arrival.
Pricing ranges from $17.95 for youth museum admission to a family membership for $115.
The Audio Tour is available in five languages and features famed WSM radio personality, Bill Cody, as he carries you through the Museum.
Wheelchair and stroller accessible.
Connect with the CMHoF on Facebook, Twitter, and Instagram.
Be sure to follow us on Pinterest and PIN IT FOR LATER!