Looking for the perfect Labor Day cocktail?
Look no further than this red, white, and blue layered drink recipe.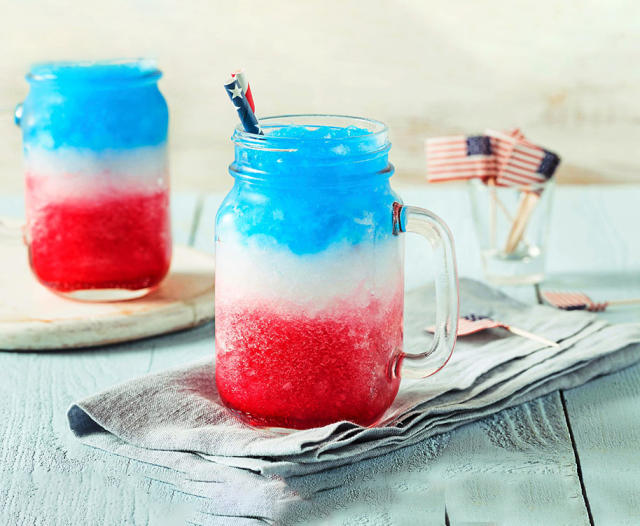 It's a citrusy and refreshing option that's perfect for Labor Day Weekend or backyard BBQ.
With its patriotic colors, this cocktail is a must-have for any 4th of July celebration. And the best part?
It's easy to make and won't break the bank.
So whether you're hosting a big bash or just looking for a fun drink to enjoy this Labor day Weekend, this red, white, and blue cocktail is sure to impress.
Why This Recipe Works
We love this refreshing red, white, and blue layered cocktail recipe because it is easy to make and takes only 5 minutes.
The sweet and tart flavours of grenadine and lemonade are perfectly balanced by the vodka, making this drink a crowd-pleaser at any gathering.
To ensure clear lines between the layers, we need to layer the ingredients in a specific order and pour slowly.
This recipe yields 2 cocktails and comes together quickly without the need for a cocktail shaker. It's a fun and patriotic addition to any drink recipes collection.
Labor Day Red, White and Blue Cocktail
If you're looking for a refreshing and patriotic drink to serve at your 4th of July gathering, this red, white and blue cocktail is the perfect choice. This citrusy cocktail is easy to make and consists of three distinct layers of red, white and blue. Here's what you'll need to make it:
Equipment
2 tall glasses
Soup spoon
Ingredients
2 oz grenadine
6 oz lemonade
3 oz vodka
2 oz blue curacao
Instructions
Pour 1 ounce of grenadine into each glass, fill with ice.
Mix together the lemonade and vodka.
Very slowly pour the lemonade into each glass.
Hold the upside down spoon over the glass and slowly pour blue curacao over it to create the blue layer. Serve immediately.
Notes
To ensure separation between layers, refer to the post for a visual layering technique.
The drink will eventually mix together as the ice melts.
How to Make a Layered Cocktail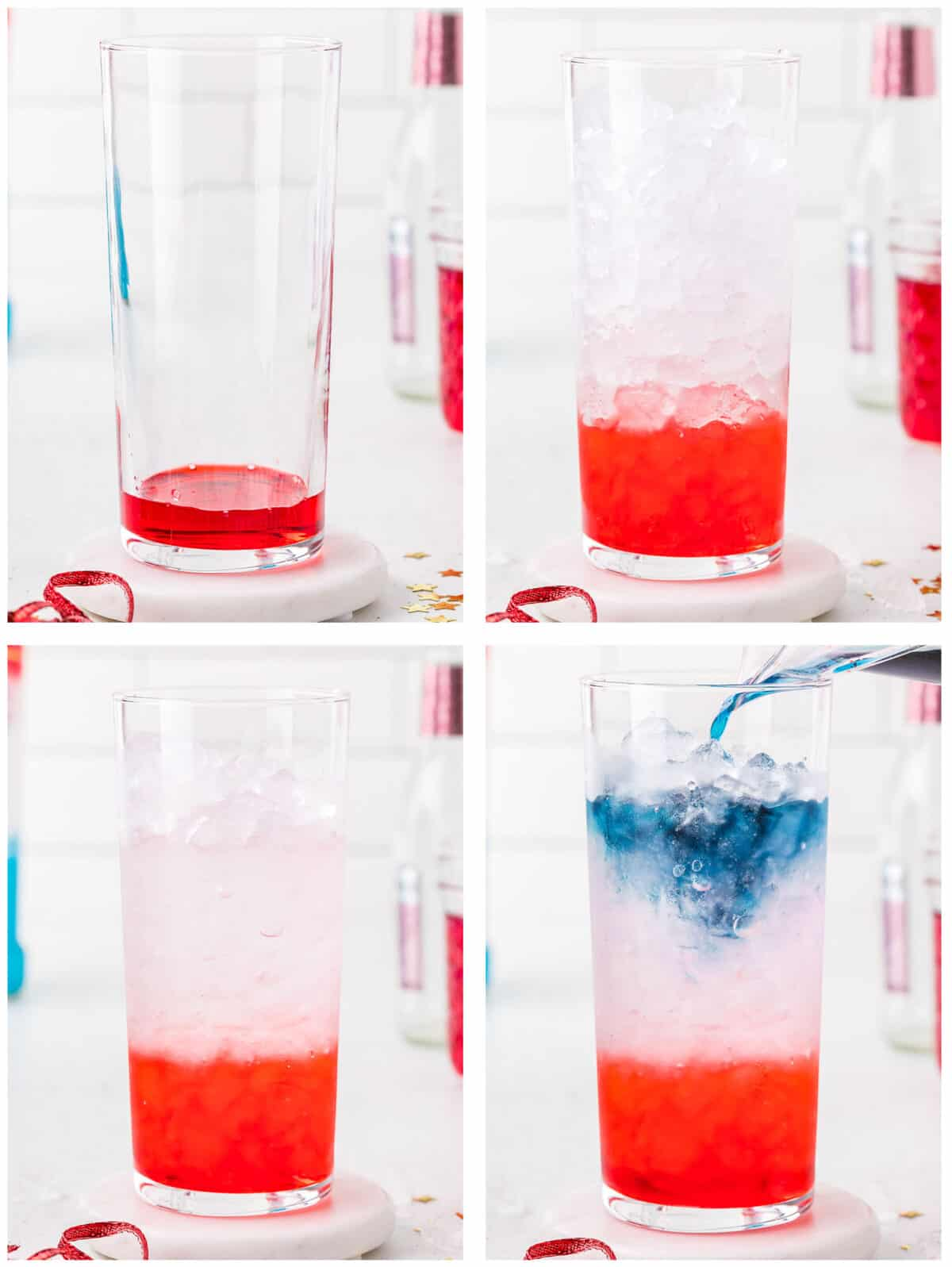 When making a layered cocktail, it is important to use a tall glass, such as a pint glass or fluted water glass, to ensure that each layer is visible.
Step 1- Red Layer
To create the red layer, divide the grenadine between two glasses. It is important to add the ice after pouring in the grenadine to prevent the thick liquid from coating the ice cubes and turning the entire drink pink.
Step 2- White Layer
The white layer is made by mixing vodka and lemonade. This can be done in a cocktail shaker or by stirring the ingredients together in a glass measuring cup. When pouring in the lemonade, a slow and steady pour is recommended to prevent splashing.
Step 3- Blue Layer
To create the blue layer, place a spoon upside down over the glass and slowly pour the blue curacao over the spoon. This will help to cascade the liquid and prevent it from mixing with the other layers. It is important to pour the blue curacao slowly to achieve the desired effect.
While some bartenders recommend using a spoon to pour the blue curacao, with practice, it is possible to achieve the desired effect without using a spoon.
To garnish the cocktail, consider using a skewer with red, white, and blue fruit or candy to add an extra patriotic touch.
By following these steps, you can create a beautiful and impressive layered cocktail that is sure to impress your guests.
Expert Tip
When it comes to creating the perfect layered cocktail, the pouring technique is key.
While batch making the cocktail is not recommended, you can set up a cocktail station for party guests to help themselves.
Mix the spiked lemonade in a pitcher and stage the grenadine, blue curacao, and ice bucket with instructions for individual glasses.
Watching guests compete and try different techniques to get the most perfect layers can be hilarious. Leave it to the bartender to show off their skills!
Red, White and Blue Cocktail Non-Alcoholic Option
For those who prefer a non-alcoholic option, try using blue curacao syrup instead of blue Gatorade. Here are some other summer-inspired non-alcoholic options:
Red, White, and Blue Jello Shots
Mangonada Popsicles
Blueberry Frozen Dog Treats
These mocktail options are perfect for summer parties, backyard BBQs, and burgers on the grill. For a slushy texture, blend ice with your chosen drink and enjoy!
Red, White and Blue Cocktail Frequently Asked Questions
What does blue curacao taste like? Blue curacao has a citrus flavor similar to triple sec, as it is made using the dried peel of the Laraha citrus fruit. The blue color comes from a dye and does not affect the taste.
What are some patriotic cocktails for celebrations like Independence Day, Memorial Day, and Labor Day? Some patriotic cocktails include margaritas, piña coladas, and patriotic punches. Others include red, white, and blue layered cocktails, bomb pop popsicle cocktails, and American cocktails. For non-alcoholic options, consider red, white, and blue jello shots or layered smoothies.
If you enjoyed any of these recipes, please leave us a rating or a comment to help other wonderful people connect with our food.
Nutrition Info for your Labor Day Cocktails
Calories: 267kcal | Carbs: 29g | Protein: 1g | Fat: 1g
We hope you enjoy this Labor day red, white and blue cocktail as much as we do.