Since most of the time camping is spent outdoors, you want to be comfortable. The Dometic Tub 180 is the Best Heavy Duty Camping Chair available today.
I received the products mentioned below in order to facilitate my review. All opinions are my own and may differ from yours. This post may contain affiliate links. See my disclosure policy for more info.
Best Heavy Duty Camping Chair
Chances are that if you have an RV, then you've most likely heard of Dometic. Dometic makes many of the parts in campers like the air conditioners and ovens.
But did you also know that Dometic makes other camping accessories like the Heavy Duty Tub 180 Camping Chair and 20 ounce Thermo Tumblers? These items are a must have for any RVer and a great addition to our RV Gift Guide.
Since most of the time camping is spent outdoors, you want to be comfortable whether you are sitting around the fire with friends, in the screen tent, or relaxing with a good book.
The Dometic Tub 180 is the most comfortable Camping Chair that I have ever sat in. I'm not gonna lie, sometimes I avoid sitting when we head over to other campsites if I don't bring my own chair. 
I'm 6 ft tall and some of the chairs I've seen (even owned) are scary to sit in. I feel as though I'm going to end up on the ground.
However, the Tub 180 makes me feel secure and not worry that it's going to rip and break. 
Between us and the neighbors, we laid 3 chairs to rest this weekend. lol
About the Dometic Tub 180
With a powder coated steel frame, leaving the chair out in the weather won't be an issue. It provides a protective barrier that helps prevent corrosion.
It's called a Tub 180 because the seat is shaped like a tub. With the high sides, it forms around you when you sit making it very comfortable.
180 kg or almost 400 lbs is the weight limit the Polyester fabric will hold. Which is why it is considered the best Heavy Duty Camping Chair today.
The chair easily unfolds and sets up in seconds and folds up just as easy. We received a chair that is gray in color so it matches everything.
The camping chair also comes with a 3 year warranty. Kevin even came over to check out the camping chair! 😉
What is Included with the Heavy Duty Camping Chair
The Tub 180 comes complete with a carrying bag and weighing in at only 10 lbs making it lightweight yet strong. You won't be adding unnecessary weight to your RV.
Plus, you can swing it over your shoulder to carry with you for picnics, football games, outdoor concerts, and everything in between.
Dometic 20 oz. Thermo Tumbler
New for this year, Dometic has created a line of outdoor drinkware.
Whether you want to keep your drink hot for up to 6 hours or cold for up to 12 hours, the 20 oz. Dometic Thermo Tumbler is what you need.
Vacuum sealed and insulated, the tumbler holds 20 oz. of your favorite beverage. BPA free, it is also dishwasher safe. (Yes, RV's have dishwashers!)
The splash resistant lid has a removable gasket for easy cleaning.
Made of durable stainless steel. Available in a variety of colors, Mango (the one we received,) Moss, and Ore. 
In conclusion, the outdoor drinkware is also available in a 22 oz and 16 oz thermo bottles and 10 oz cups.
About Dometic
Dometic makes many items for RV's as well as camping accessories like Powered Coolers and Portable Lithium Batteries.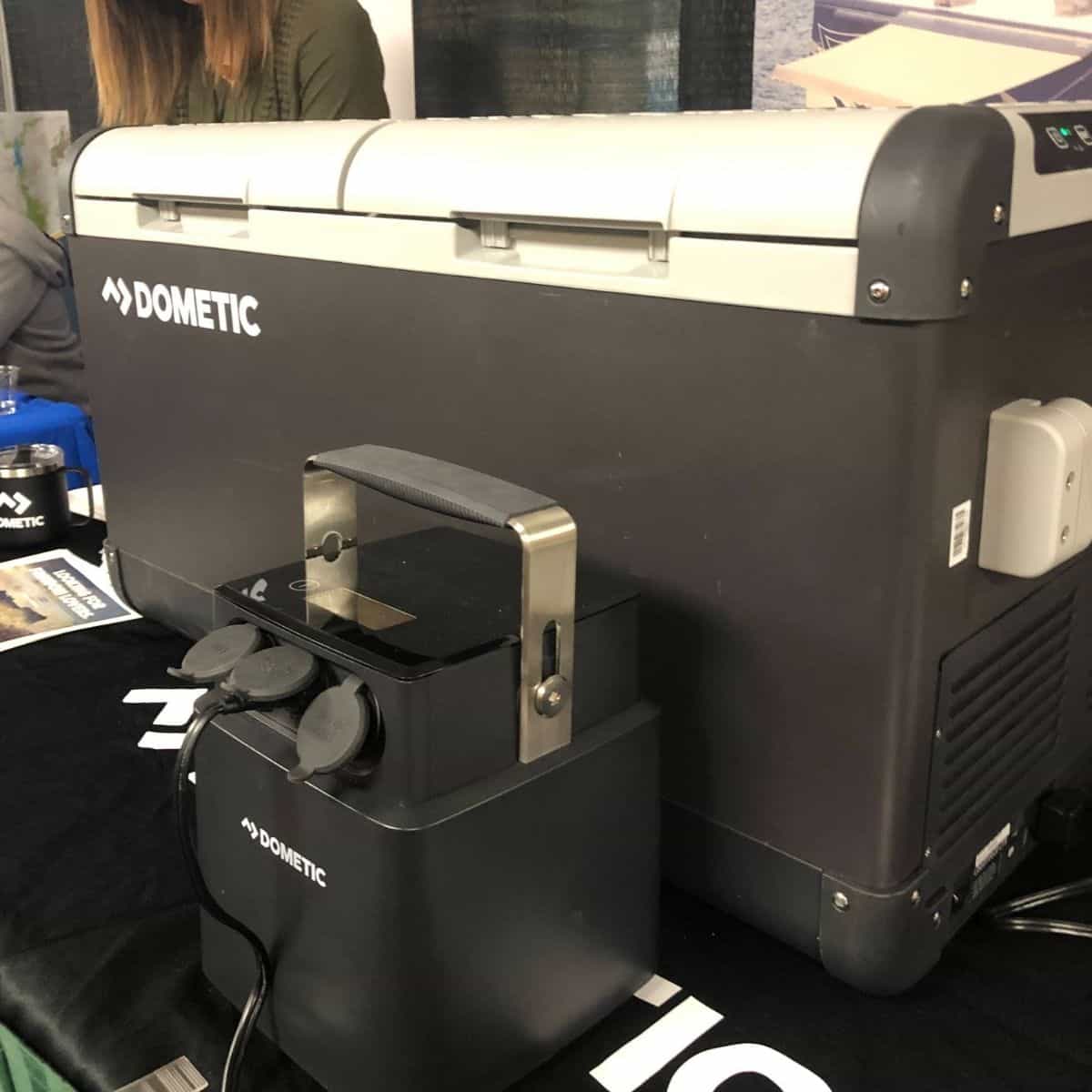 Started by two young Swedish engineering students with a crazy idea, Dometic has been around for 80+ years. Who knew that they were originally started by Electrolux in the late 60's.
You can find out more about Dometic's history and connect with them on Facebook and Instagram.
Follow us on Pinterest and PIN IT FOR LATER!