A hunting chair is essential for any outdoor excursion. The Helikon Range Chair can be used on multiple grounds. Lightweight and portable, it's comfortable even after extended use.
I received the products mentioned below to facilitate my review. All opinions are my own and may differ from yours. This post may contain affiliate links. See my disclosure policy for more info.
Now is the time to Get the BEST Deer Hunting Chair
Hunting season is just around the corner. The right chair will make all the difference when you're trying to relax while enjoying nature, and there are a lot of things that go into picking one up.
However, let me start by saying that this chair isn't ONLY for deer hunting. I love using it while relaxing around the fire, makes a great backpack camping chair, while fishing off the dock, motorcycle ride, outdoor concerts, or even while at the beach.
There are so many different uses for it, but the main reason is its size and weight.
Have you ever had to carry one of those big, bulky, foldable chairs, that are supposed to be lightweight and easy to carry?
Or one of those that have two straps like a backpack and it goes across your back? NONE of those are what they say they are.
Plus the fact that they do not last. We just threw two of those in the garbage.
The last time we went to an outdoor concert, we lugged around two of those chairs. Oh Em Gee...so uncomfortable.
We have also just sat on a blanket on the ground. It was horrible. I told my husband if they don't have seats...I'm not going anymore!
The Helikon Range Chair is sold by Military 1st, but it doesn't stop there.
They have whatever hunting or camping survival gear you need. But, for now, let me tell you about the Range Chair.
How to Choose the Best Hunting Chair for your Needs.
The best range chair for your needs can depend on several factors. How far are you from the target? Do you need to remain mobile, or is it more important that you be comfortable? Is weight an issue?
You need to find the right size chair that's easy to carry and store in your car or backpack, as well as being comfortable enough for all-day use.
If you're willing to invest in something durable and high quality, it'll last much longer than cheaper alternatives.
Why you Need a Range Chair
A range chair is essential for any outdoor excursion. It's designed to provide extra comfort, stability, and safety when sitting on the ground.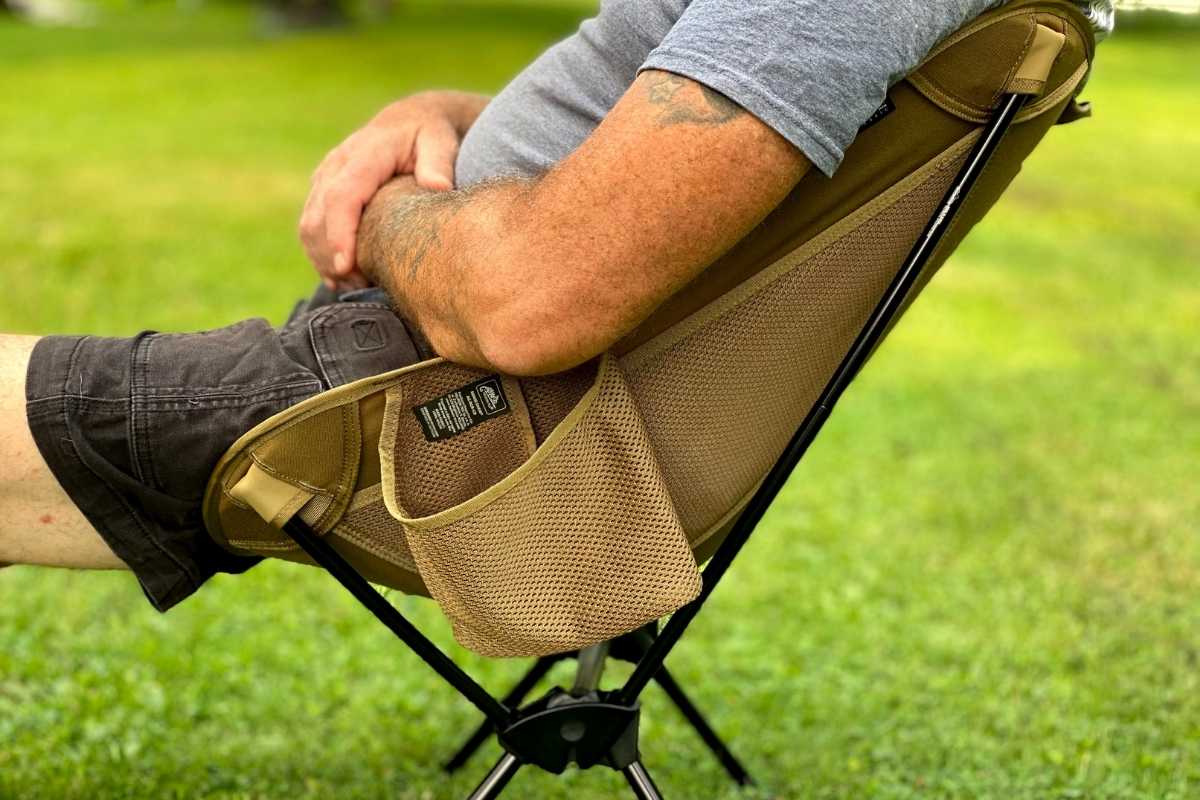 These chairs are made from durable materials that will last for years of use. Weighing in at a tad under 3 lbs., you won't even know you are carrying it.
This bag features a hip belt (so you can wear it no matter if you're walking uphill or downhill), webbing loops, and Cordura tunnels for easy carry.
The Helikon Range Chair can be used on multiple grounds. Lightweight and portable, it's comfortable even after extended use.
It supports weight up to 330lbs, has mesh panels for improved breathability, and has two mesh pockets.
Easy to assemble, the chair folds down when not in use for easy storage or transport.
In Conclusion
The Helikon Range Chair is a versatile and comfortable option for anyone looking to take their outdoor experience up a notch with so many great features.
Whether you're using it on grass, sand, or snow, this chair will keep you comfy all day long while providing enough stability to enjoy your favorite book in comfort.
If you are interested in purchasing one of these chairs for yourself or as a gift for someone else who loves being outdoors just as much as you do, visit their website today!
Where to Buy one online
I received the Coyote-colored chair, but it's also available in Multicam and Shadow Gray. Available online at Military1st.com.
Connect with them on Facebook, Twitter, and Instagram.
If you need a versatile camping chair that will keep your backside from getting sore while you enjoy nature's beauty, check out this one!
Follow us on Pinterest and PIN IT FOR LATER!