Blue Ox Tow Bar Service is available across the country at RV events. Find out everything you need to know so you don't make the same mistakes we did.
Getting Your Blue Ox Tow Bar Serviced
Getting Your Blue Ox Tow Bar Serviced is something that should be done at least every 2 years.
You want to make sure it's safe when flat towing your vehicle behind your RV, for your safety and the safety of others.
And it's very easy to do if you plan ahead.
Blue Ox goes to events across the country. For instance, the Florida RV SuperShow in Tampa, Quartzite RV Show, FMCA Expo, and many more.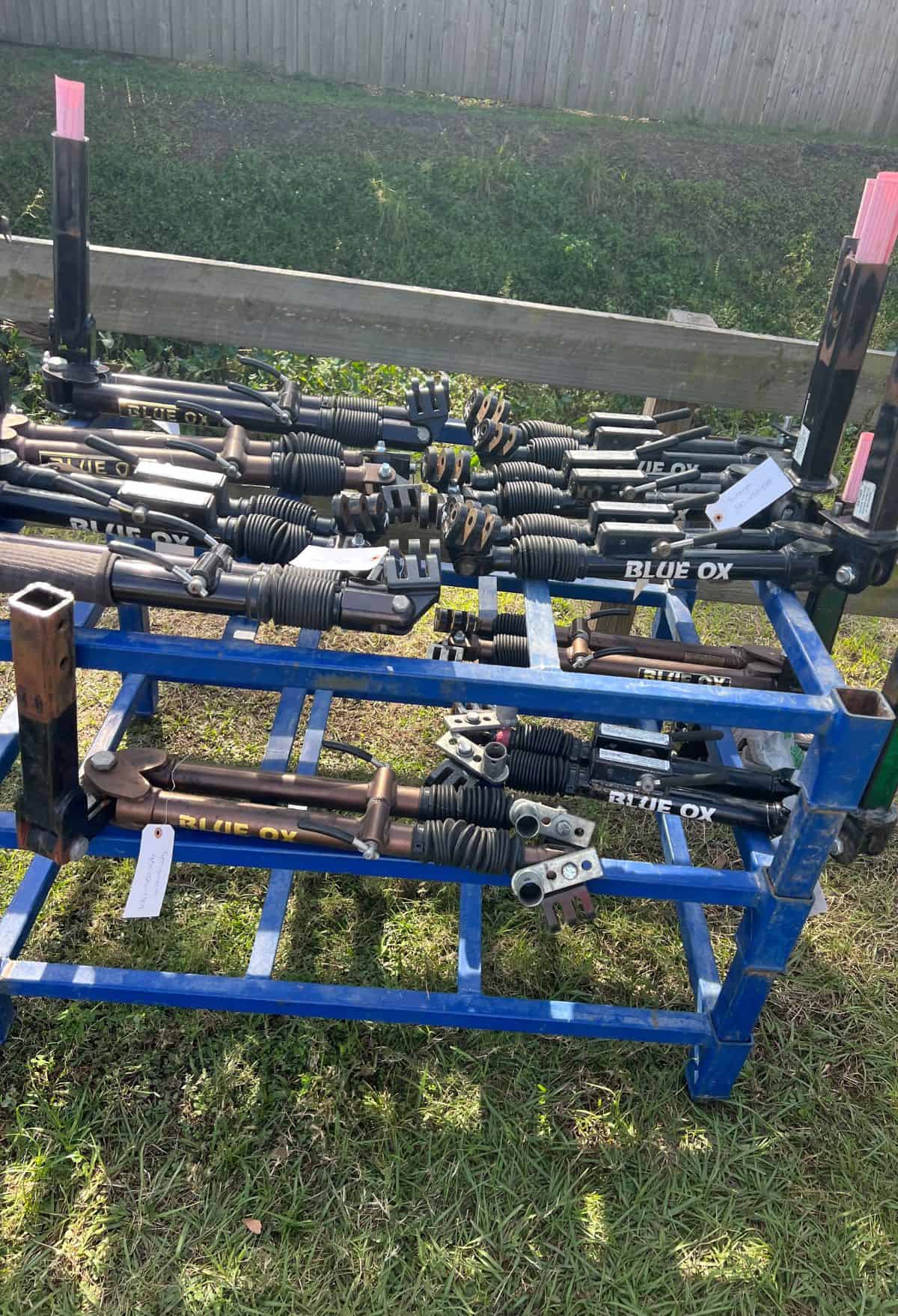 Some of them you can sign up online for and others are on a first-come, first-serve basis.
We went to the Tampa RV SuperShow today to take our tow bar to be serviced (and look at all the new RVs) and here is what we found out.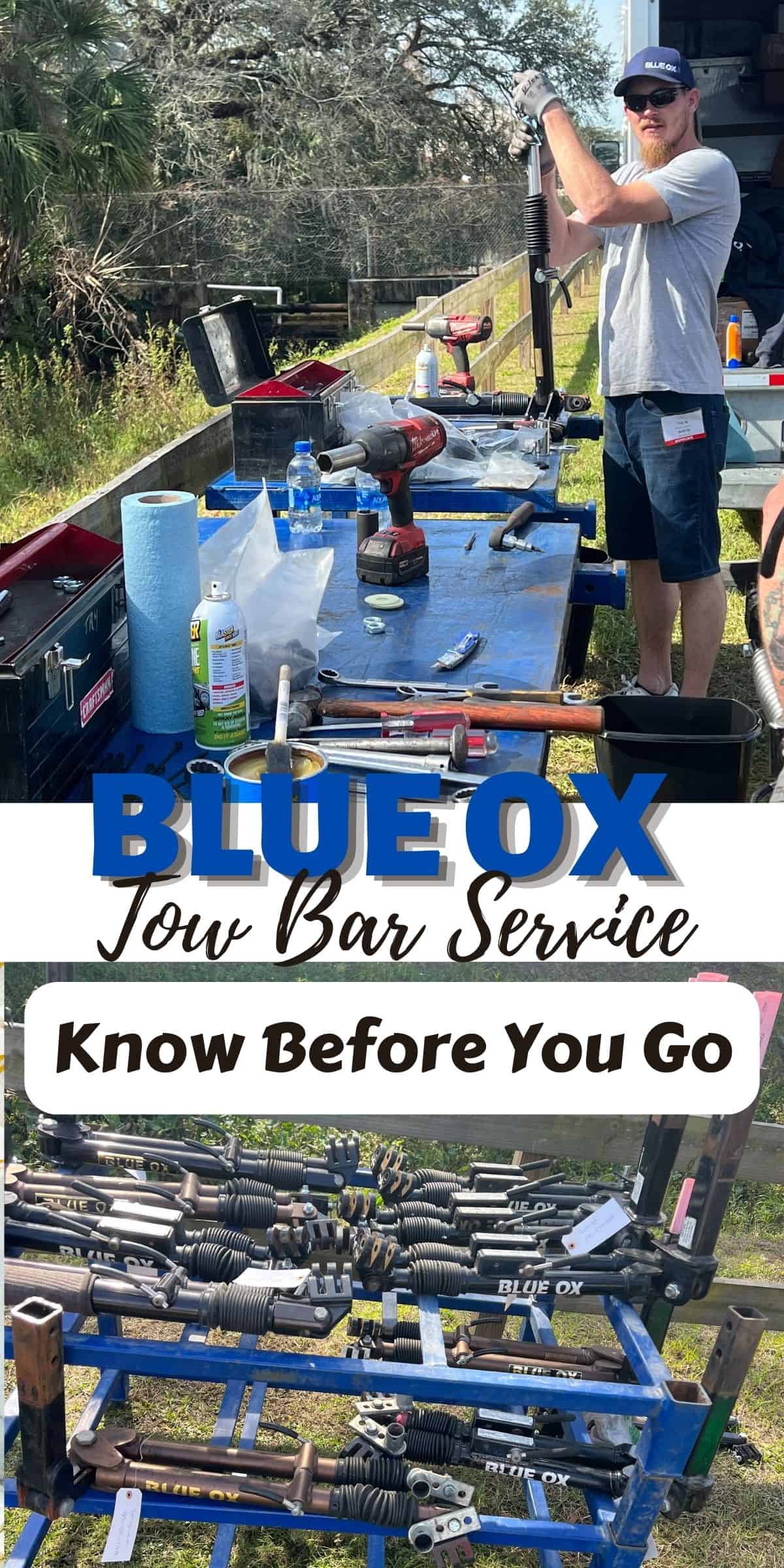 Where To Drop Off The Blue Ox Tow Bar for Service
The tow bar weighs a ton. Okay, maybe not a ton, but around 75 lbs would be my guess. It's other words, it's heavy!
So in order to carry it easily, we wrapped the dog leash around it so that it could be carried easily.
We trucked on through the event to the Blue Ox trailer.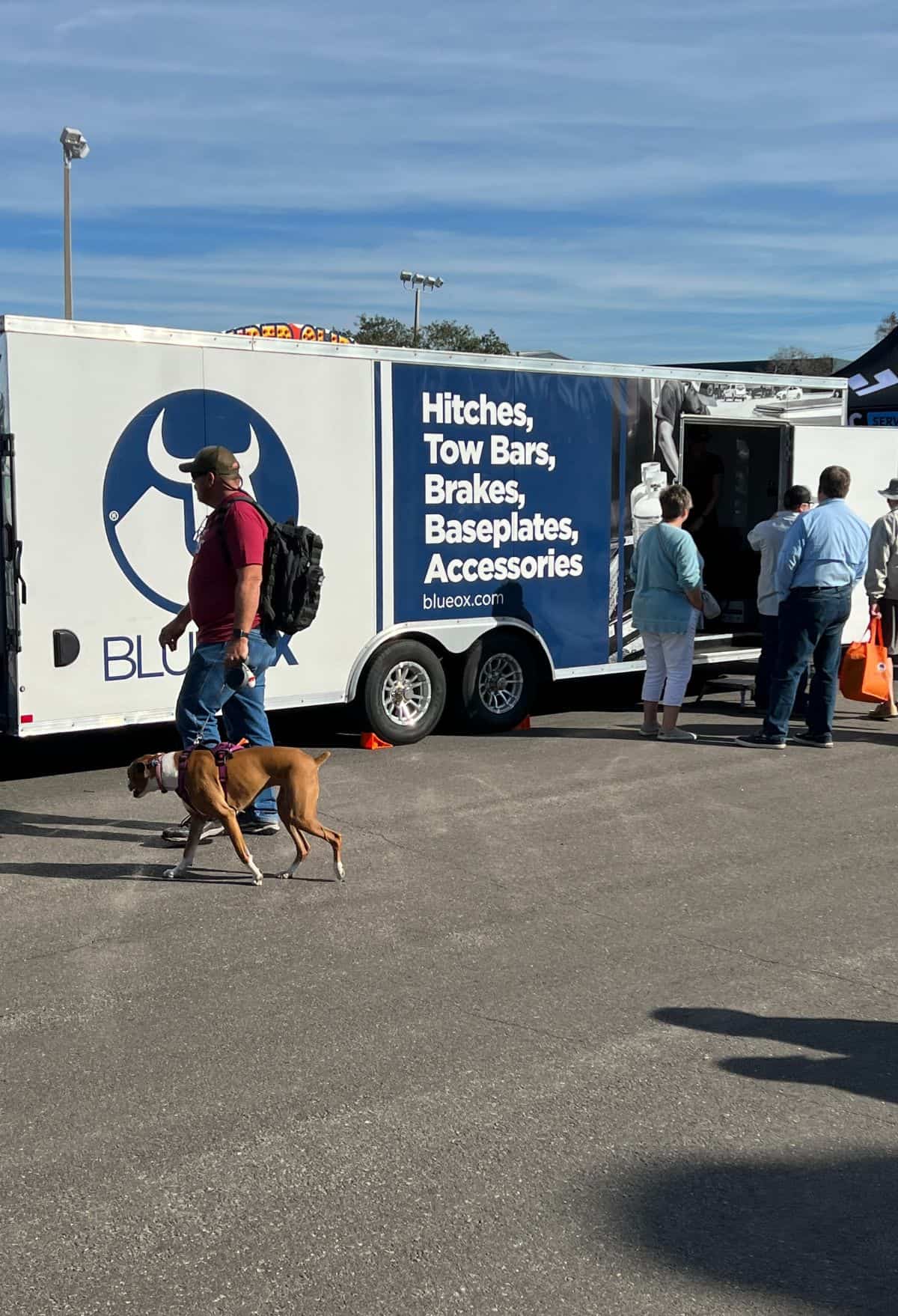 Let me start by saying that the Florida RV SuperShow interactive map is no good.
We took a couple of wrong turns, asked a few people if they knew where it was, (they did not), and after about 45 minutes finally found the Blue Ox trailer. Yay!
There was no one there. Boo!
After asking around, someone finally showed up. Yay again.
Only to be told that they service them in a tent out in the parking lot. Boo again!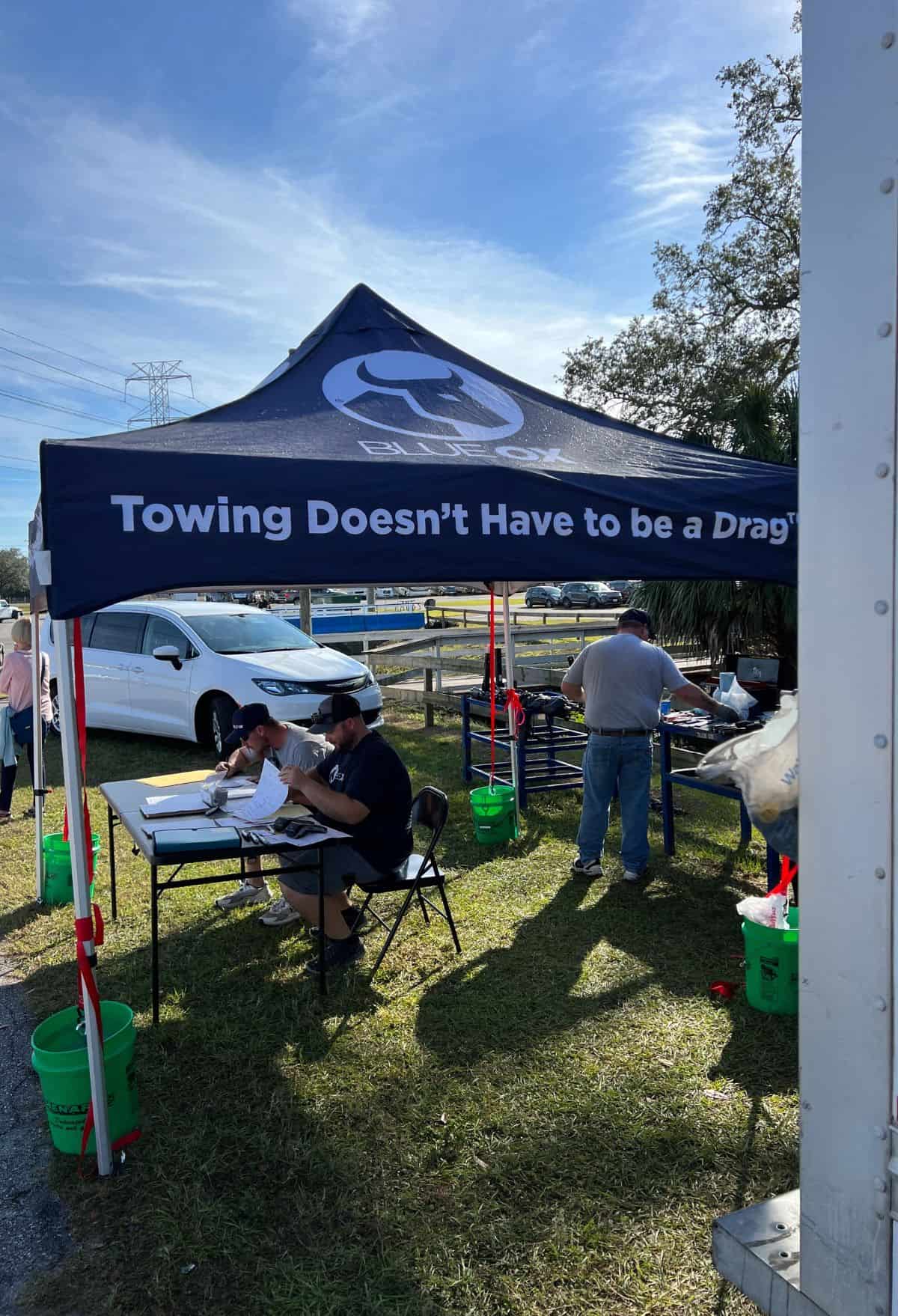 The sad part is that it was less than a quarter mile from where we were parked.
Nowhere on the website does it say that. The email I received did not say that.
Needless to say, we were not happy.
Very Accommodating
Luckily the guy that was there was very nice and offered to give me a ride in the golf cart with the tow bar out to the parking lot.
So off we went.
When we arrived at the tent, I was worried that it wasn't going to get done today.
There were already a ton of them waiting to be serviced.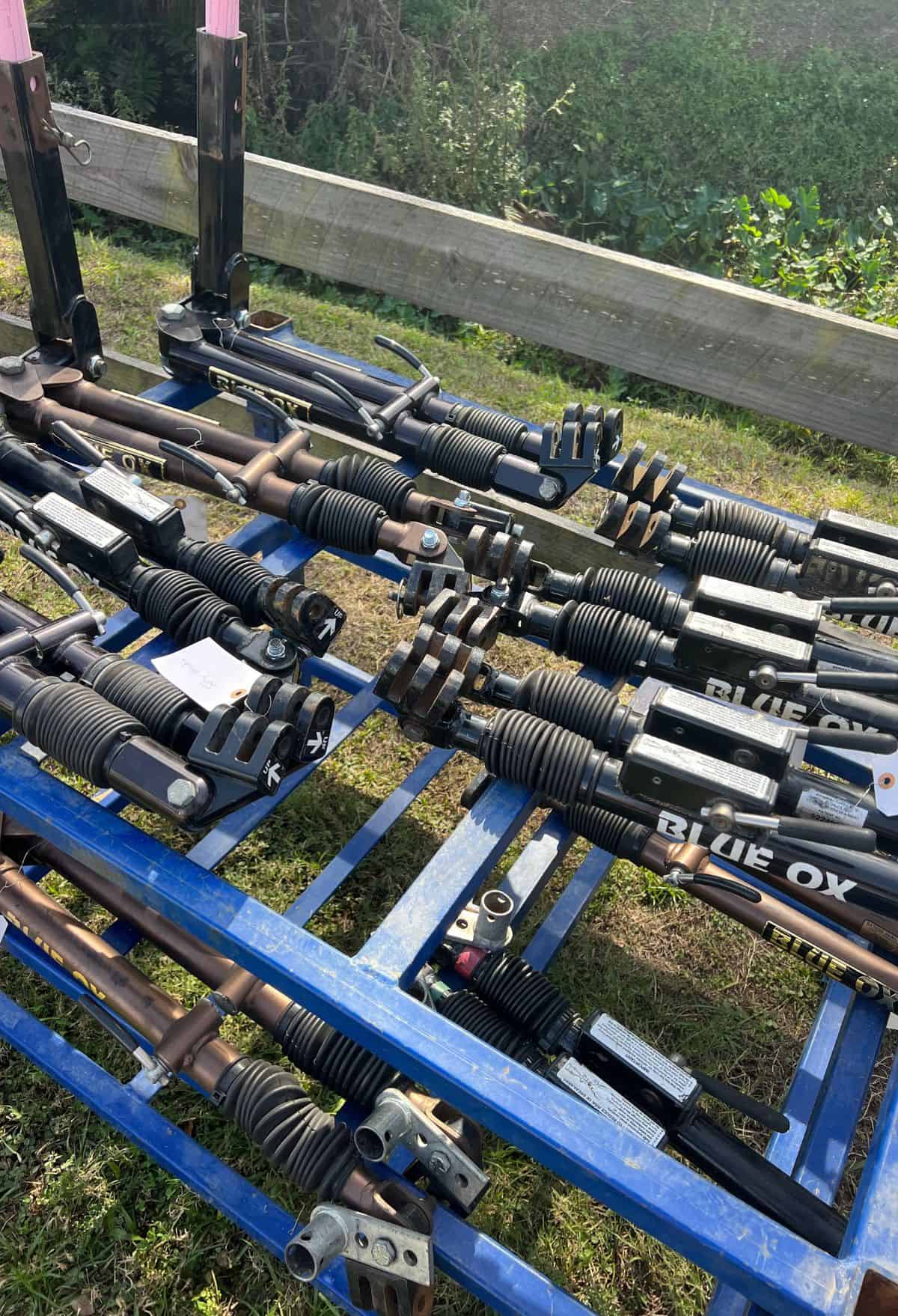 But I had a backup plan in case we had to leave it.
Blue Ox Tow Bar Service
Once at the tent, another gentleman asked me questions about it like how old it was. We had no clue since we had bought it on the Facebook marketplace a few years ago.
Another person came over and took one look at it and said...it's too old and we can't service it.
Wait...What?
You meant to tell me that I just drove 2 and a half hours (should have only taken 1 and a half) in horrible traffic and you can't even do anything to it?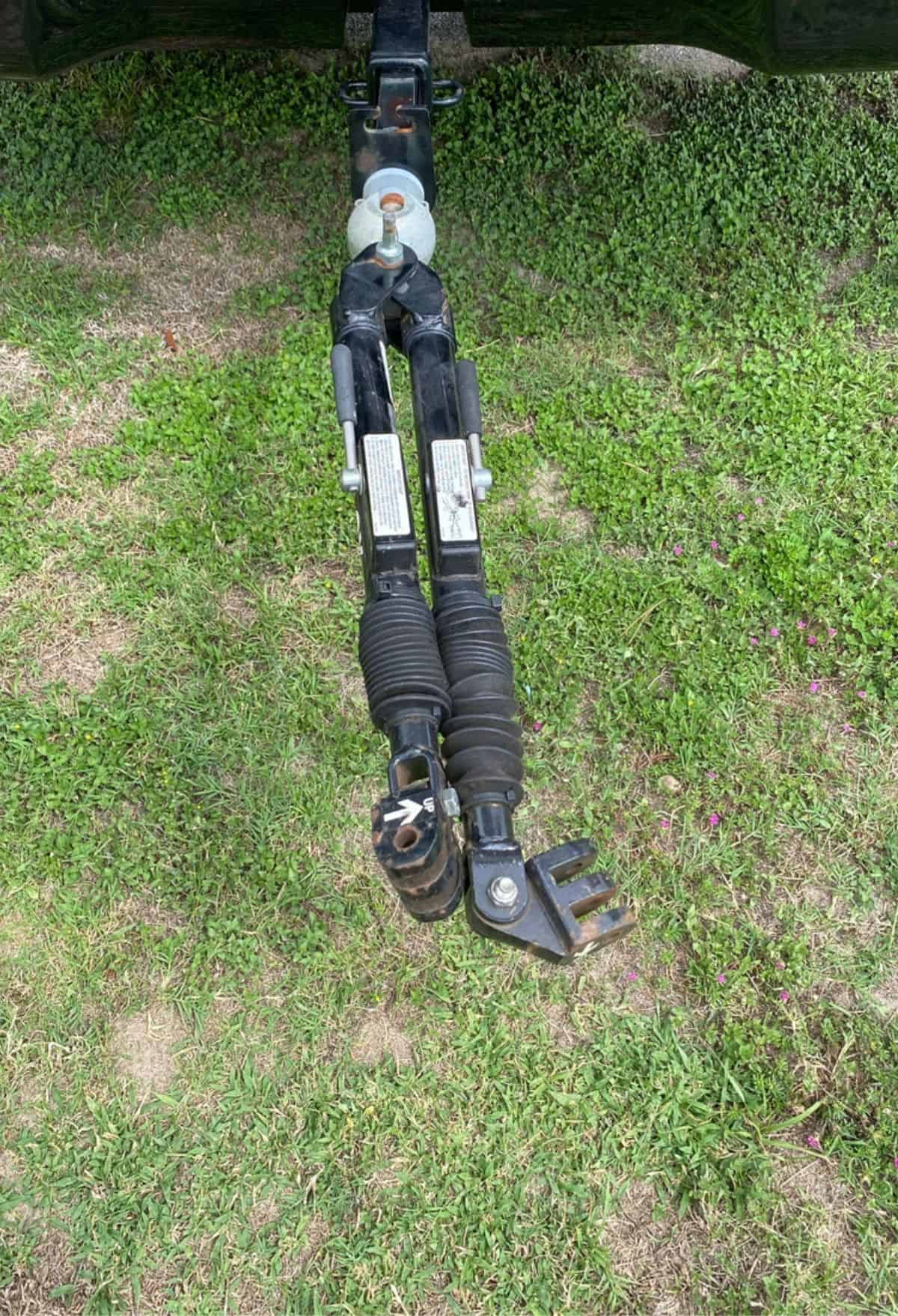 Yep! That's what he was telling me.
He looked it over and said it was 2006. Wow! that's old!
So, I got a ride back inside on the golf cart to break the news to Tim.
What does Blue Ox Tow Bar Service Consist Of
When the Blue Ox Service team services the tow bars, they replace all the bushings, oil it all up, and replace any parts that need replacing.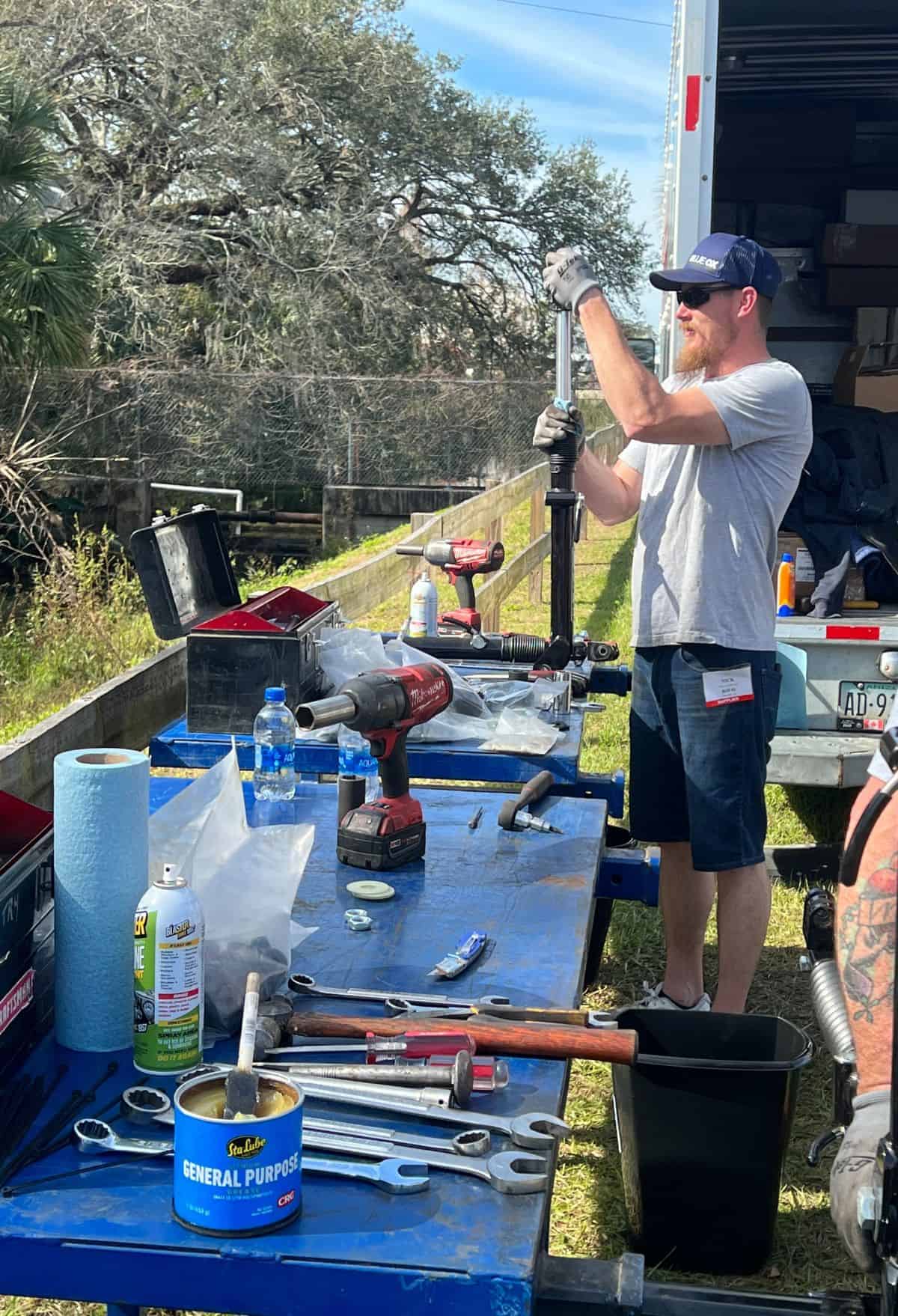 Since ours was too old, we were told that we could trade it in for a new one for only $750 (show price).
We opted to wait and see if we could find a used one seeing we now know where the date is stamped and other information.
They will only service them for up to 8 years old. Who knew? Not us apparently.
Service Pricing
Tow Bars Aged 0-3 years – $50
Tow Bars Aged 4-5 years – $75
Tow Bars Aged 6-8 years – $125
We stopped to pick up our old tow bar before we left, with the truck and didn't have to carry almost 100 lbs through a ton of people.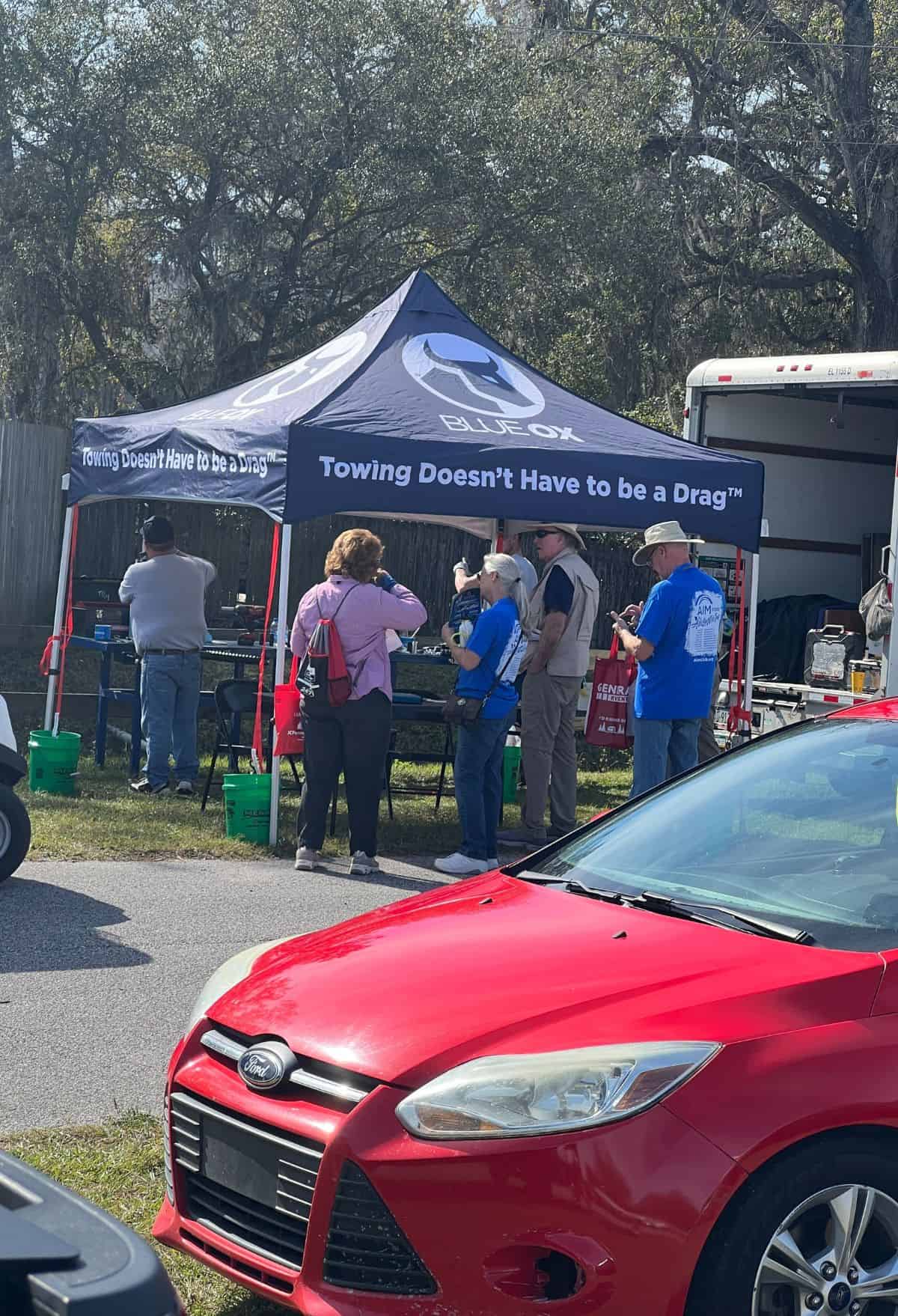 Recap of What You Need to Know
The Blue Ox Tow Bar Service tent is located in the parking lot
You don't have to carry almost 100 lbs through crowds
The service team is very nice
They only service tow bars up to 8 years old
You can get a discounted show price on a new one
Have you ever had your tow bar service? Leave a comment below and let us know.
Be sure to pin it for later and follow us on Pinterest.