Albuquerque Balloon Fiesta FAQs include tips to Get Up and Get Out, book a hot air balloon ride, and reserve an RV campground spot.
I received media passes to attend the Balloon Fiesta. All opinions are my own and may differ from yours.
This post may contain affiliate links. See my disclosure policy for more info.
Get Up and Get Out at The Albuquerque Balloon Fiesta
The Albuquerque Balloon Fiesta is surely a site to see.
In my recent post about Everything you Need to Know About The Albuquerque Balloon Fiesta, I thought I mentioned all the things you need to know.
However, after attending again for the second time, I was wrong.
And I will most likely have even more to tell you after we go again this year! (Yes, we are going again!)
As the title states "Get Up and Get Out", most people probably think I'm talking about going up in a hot air balloon.
And while yes, that is a good reason to attend the balloon fiesta, I meant get up...literally.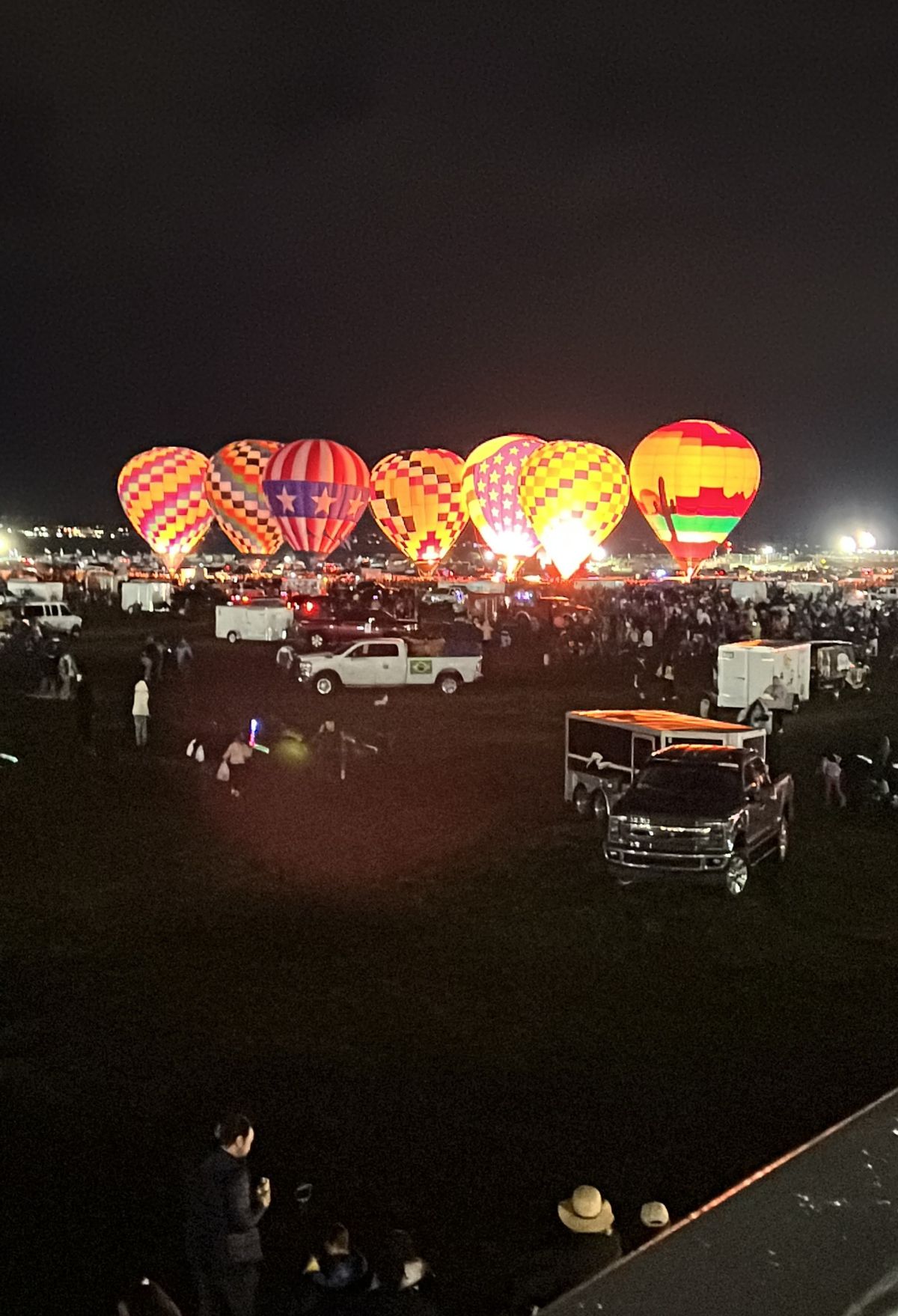 You can never tell what the weather will hold in store for the fiesta. And you don't want to miss out...on ANYTHING!
With that said, I'll go into a little more detail.
Get Up!
I know 4:30 AM comes early. It seems like you just went to bed. Maybe you arrived late on the day before and you are tired.
Or aren't used to getting up that early.
Whatever the reason...TOO BAD!
Set that alarm clock, have your coffee ready to go, and catch the shuttle to the field.
You can grab a bite to eat in the causeway while you are waiting for the balloons to go up.
Why am I telling you this?
I CANNOT STRESS THIS ENOUGH!
We got up, caught the shuttle, and had coffee and breakfast at the field as we waited for the balloons to rise.
The pilots had their briefing, the drone light show was played, the flag was green, Dawn patrol went up and gave the okay for the mass ascension.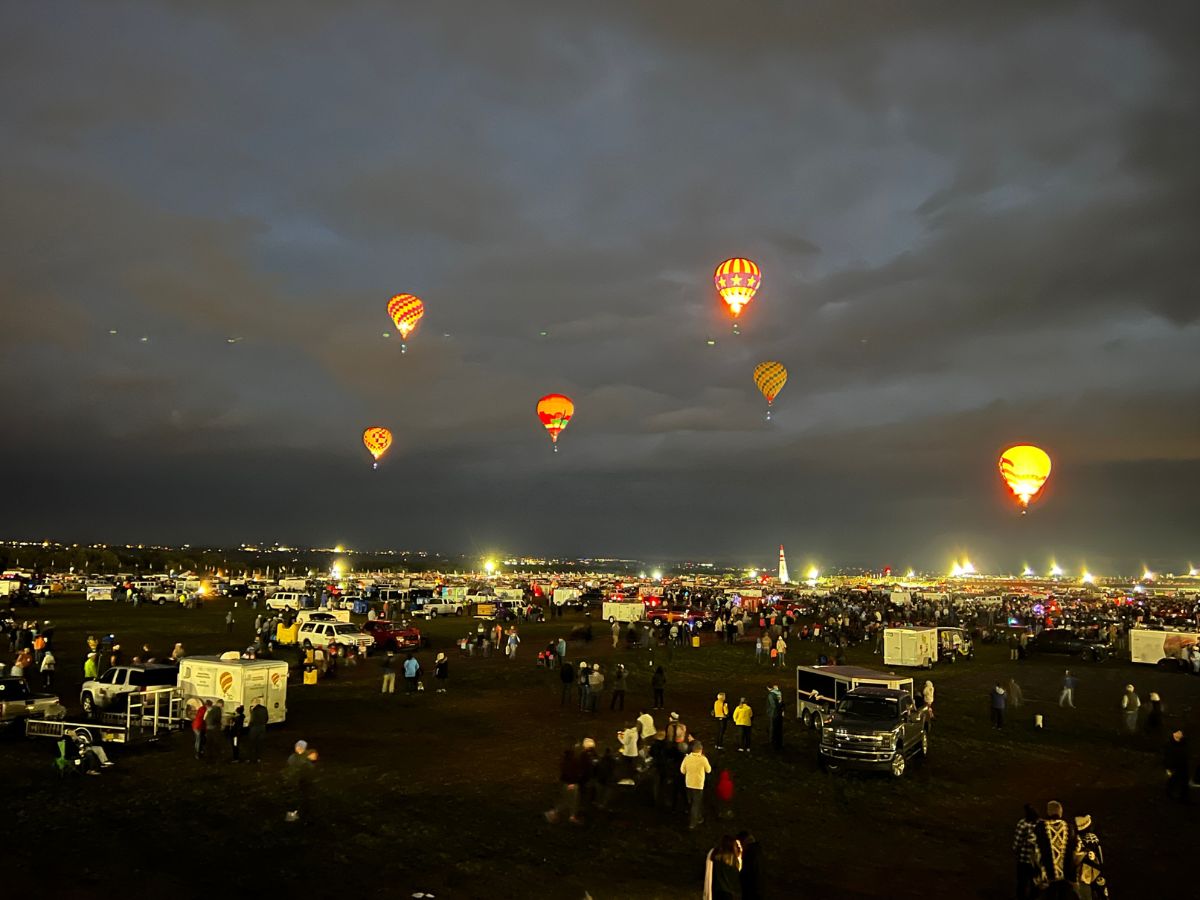 It was a perfect morning! The sun came up and it was awesome.
After a few hours, we caught the shuttle back to the RV and watched as some hot air balloons were still rising right from our lawn chairs at the RV.
We saw a few of our neighbors and asked how they enjoyed the mass ascension. And do you know what they said?
They didn't see it.
SAY WHAT?
They were tired and wanted to sleep in. 🙄 Sunday was another day!
The funny thing is, the balloons didn't go up the following day.
There were storms in the area so they were delayed. Aww, that's too bad!
Mornings can be iffy. When we were there in 2019, the first morning started out beautiful.
As soon as the sun started coming up, the fog rolled in. It was the strangest thing.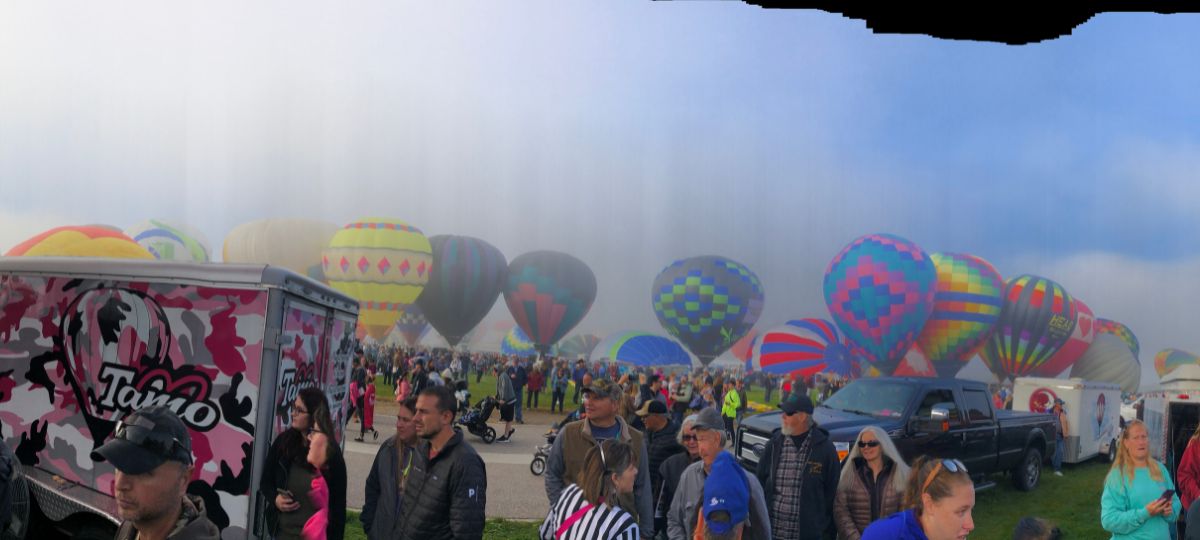 You can sleep in the afternoon when nothing is going on.
Once again...GET UP AND GET OUT! Because you never know what tomorrow brings.
After that first morning that was gorgeous, there really were no more good mornings.
It rained a few times or there were storms in the area which prevents them from going up.
Live and learn I guess.
By the way, the drone show is so cool.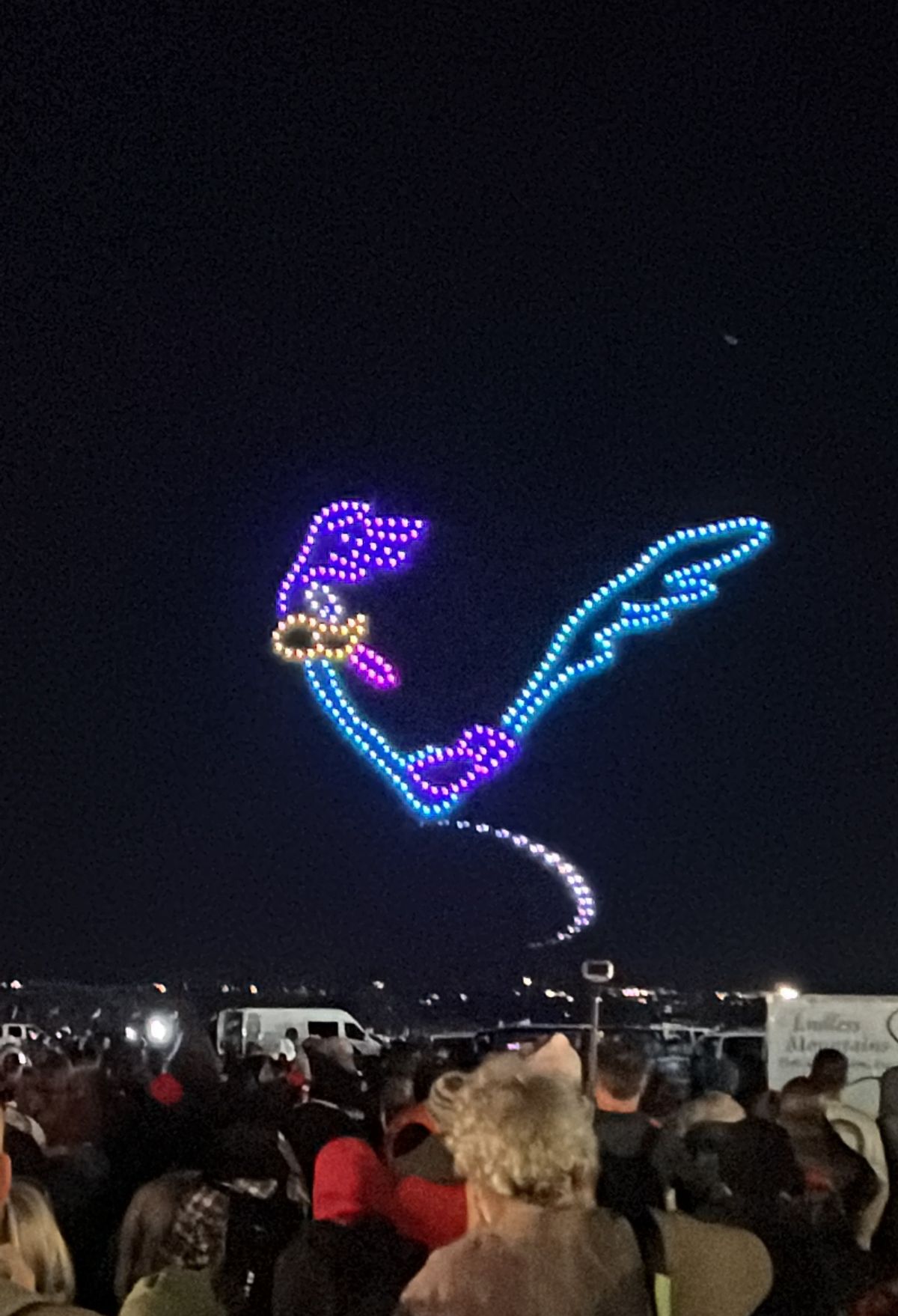 What are the best days to attend the Albuquerque Balloon Festival?
This is a tough one. We went with the Winnebago group the first time and Adventure Caravans the second time.
Both times, you had to choose if you wanted to go for the first half of the fiesta or the second half.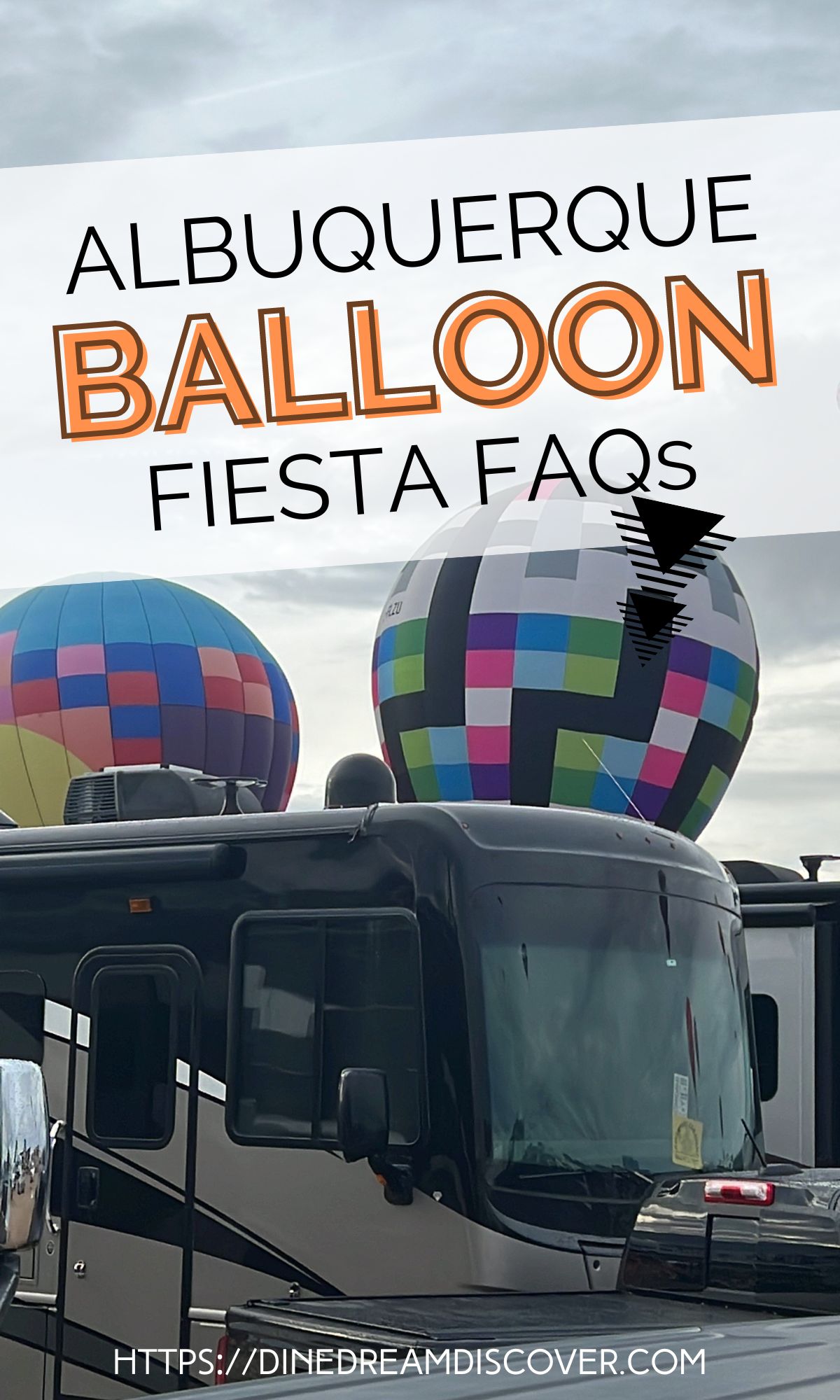 We ended up paying extra (and it was a lot so don't miss out on the RV parking registration day!) so we could stay through the entire thing.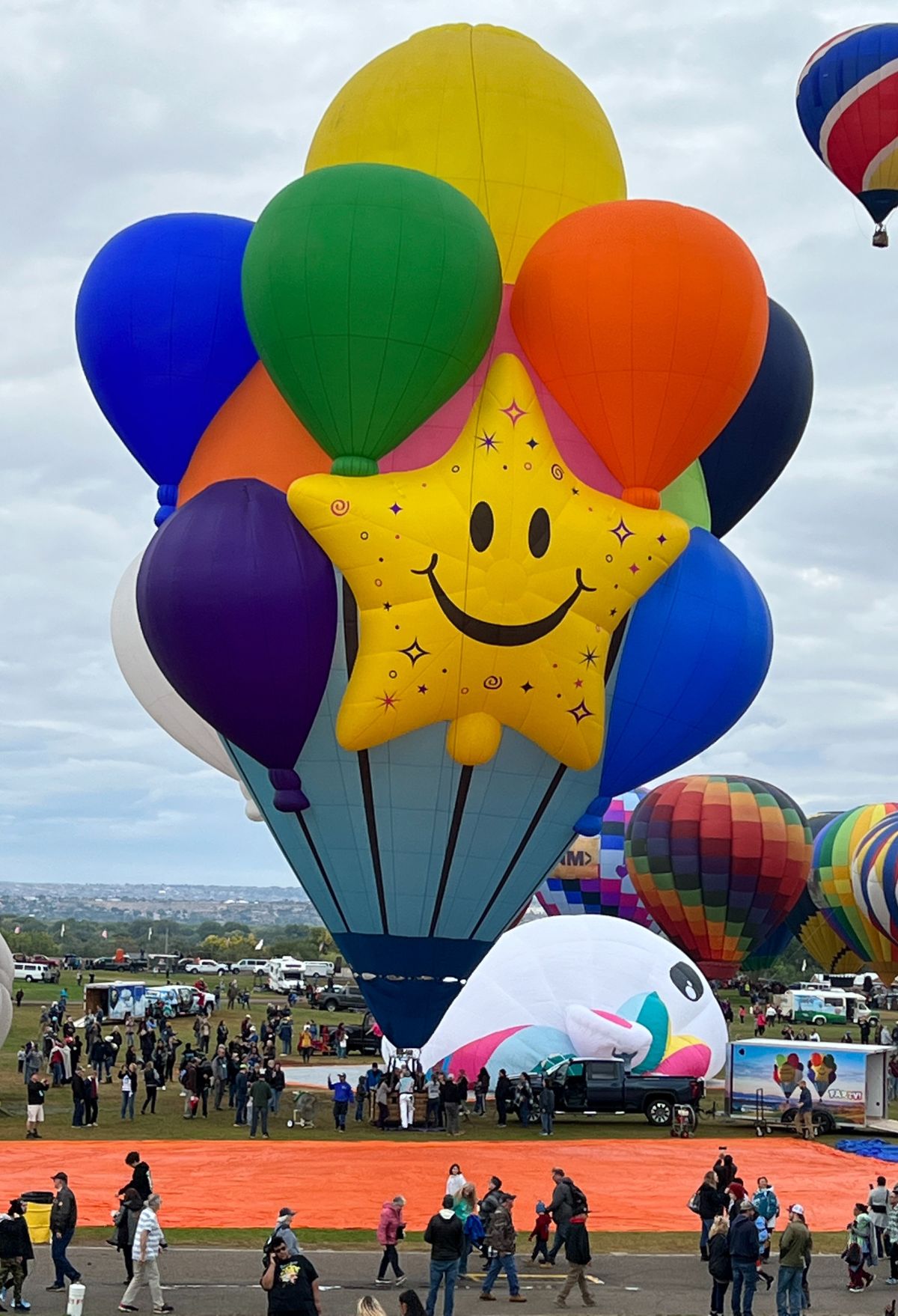 The same goes for this past year. I really wanted to see the Special Shapes Rodeo on Thursday and Friday so we paid extra to stay till Friday.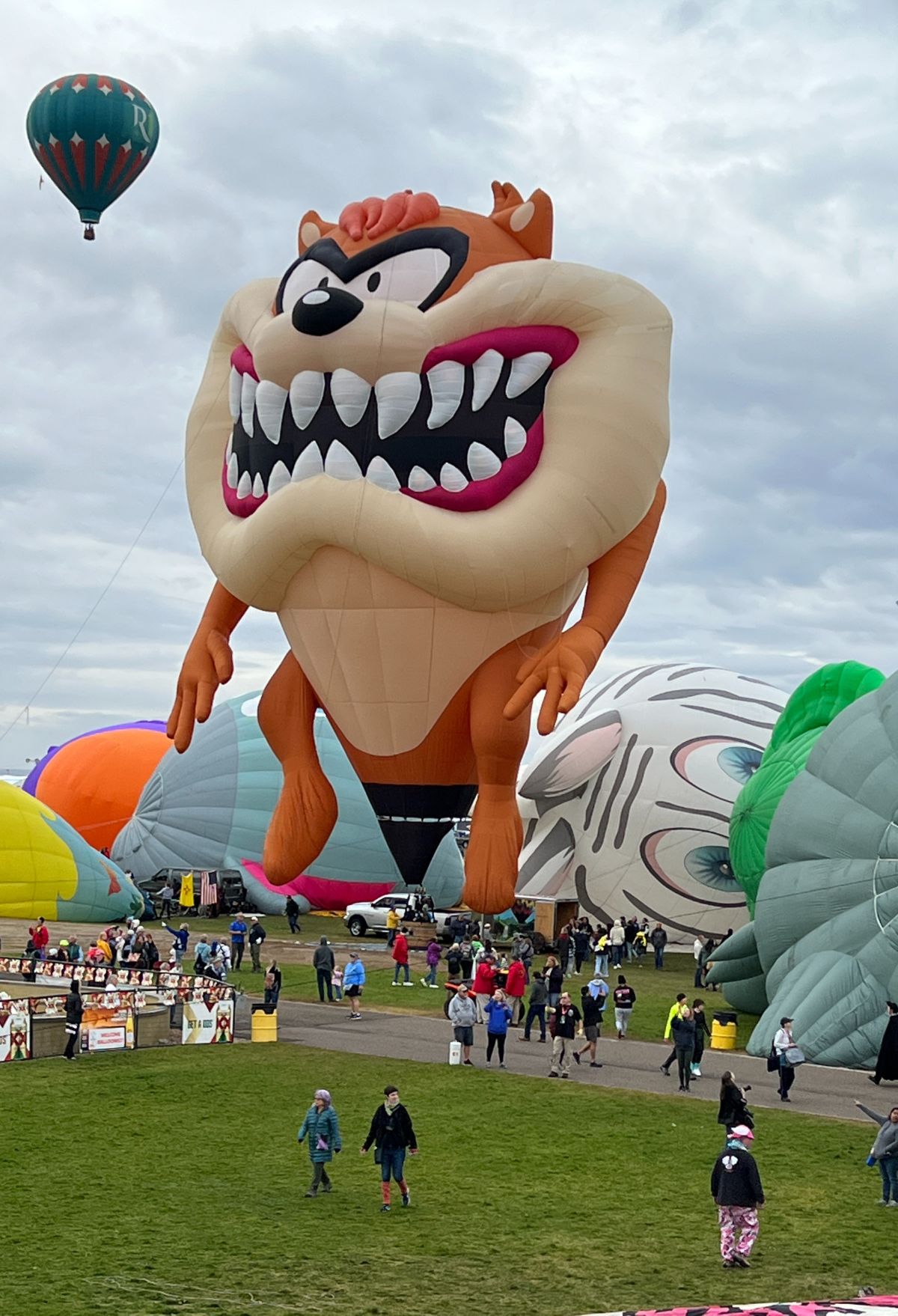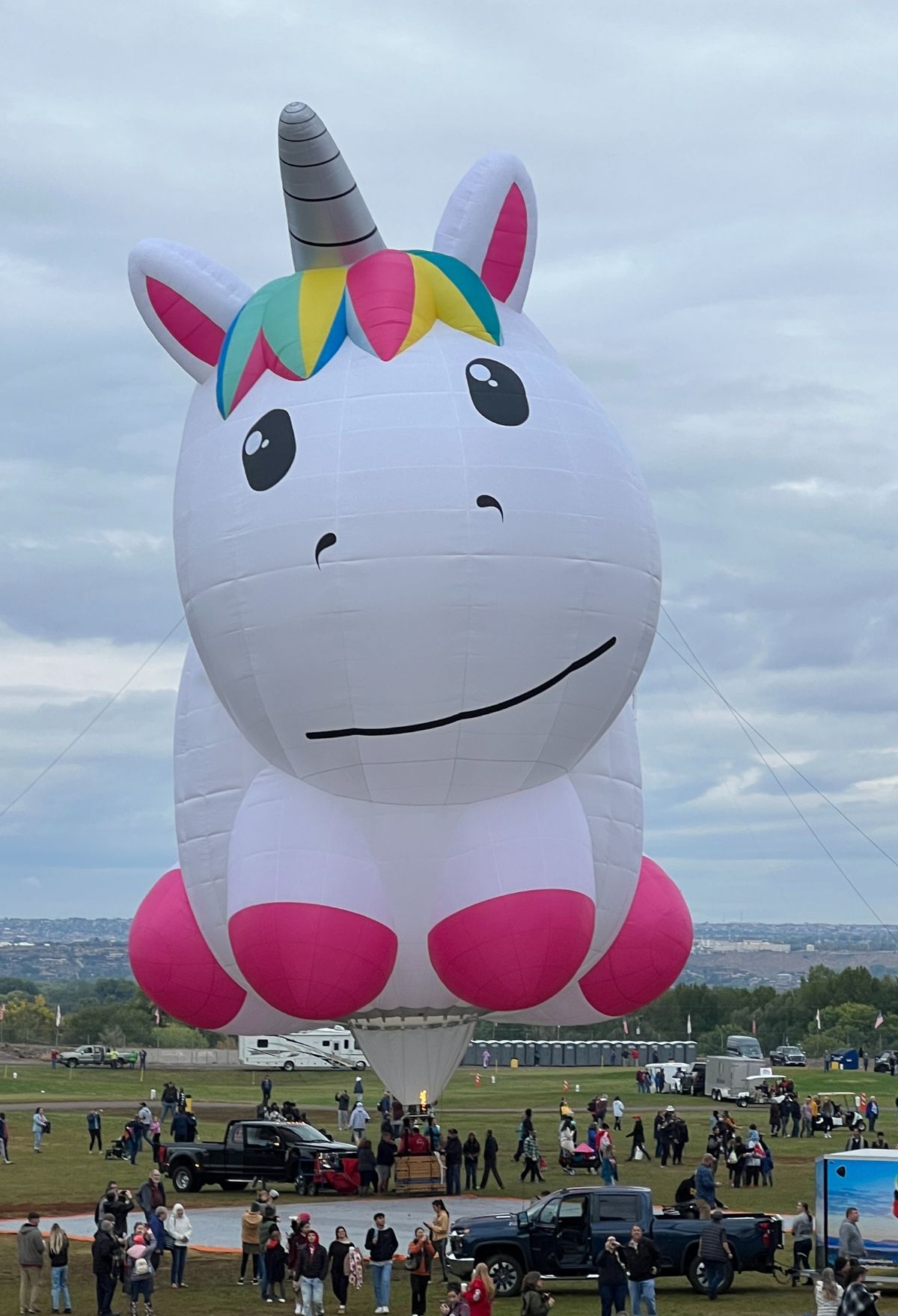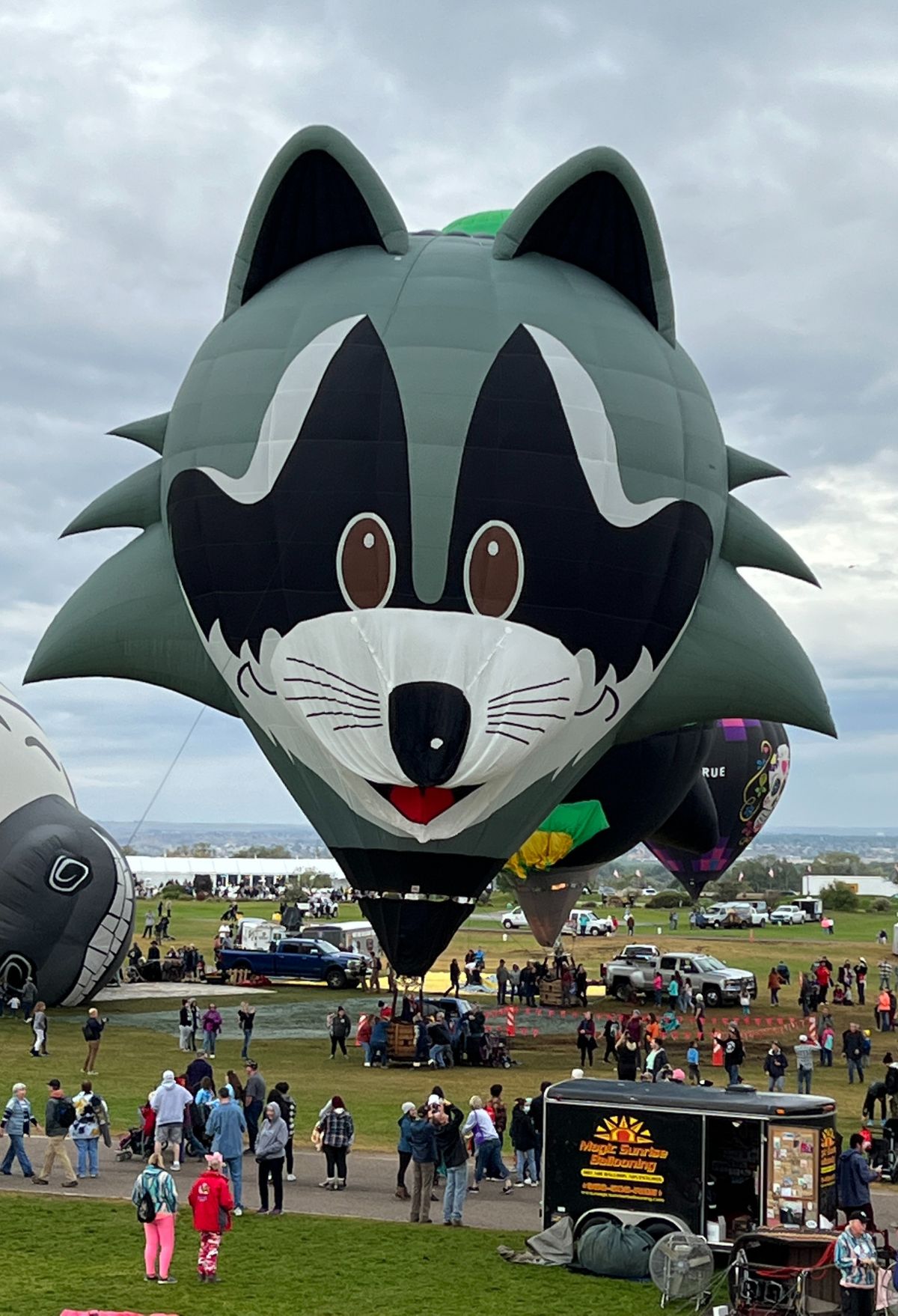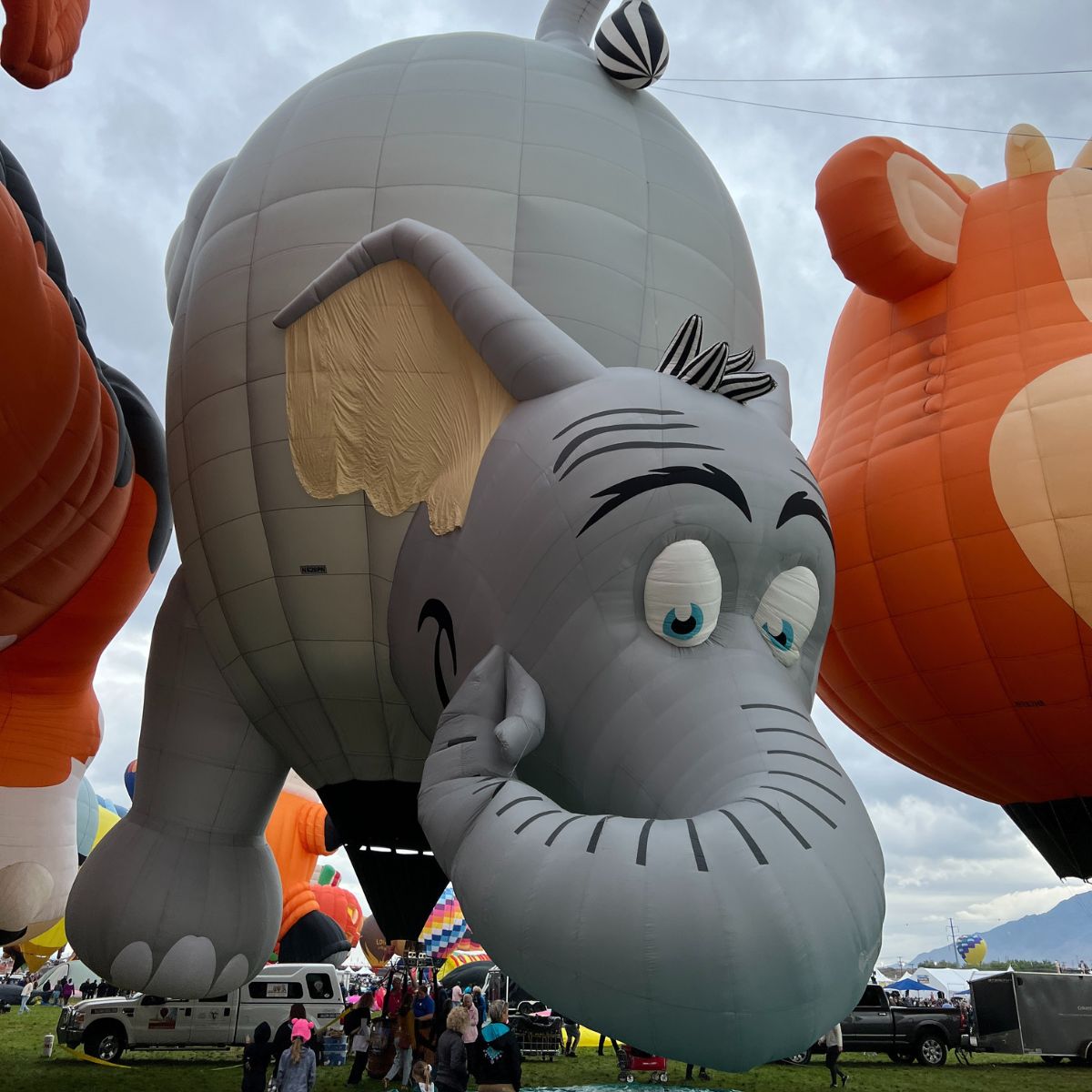 Which worked out well. Because I finally had enough nerve to go up in a balloon. Can you say AHH-mazing?
I went up on Humpty Dumpty.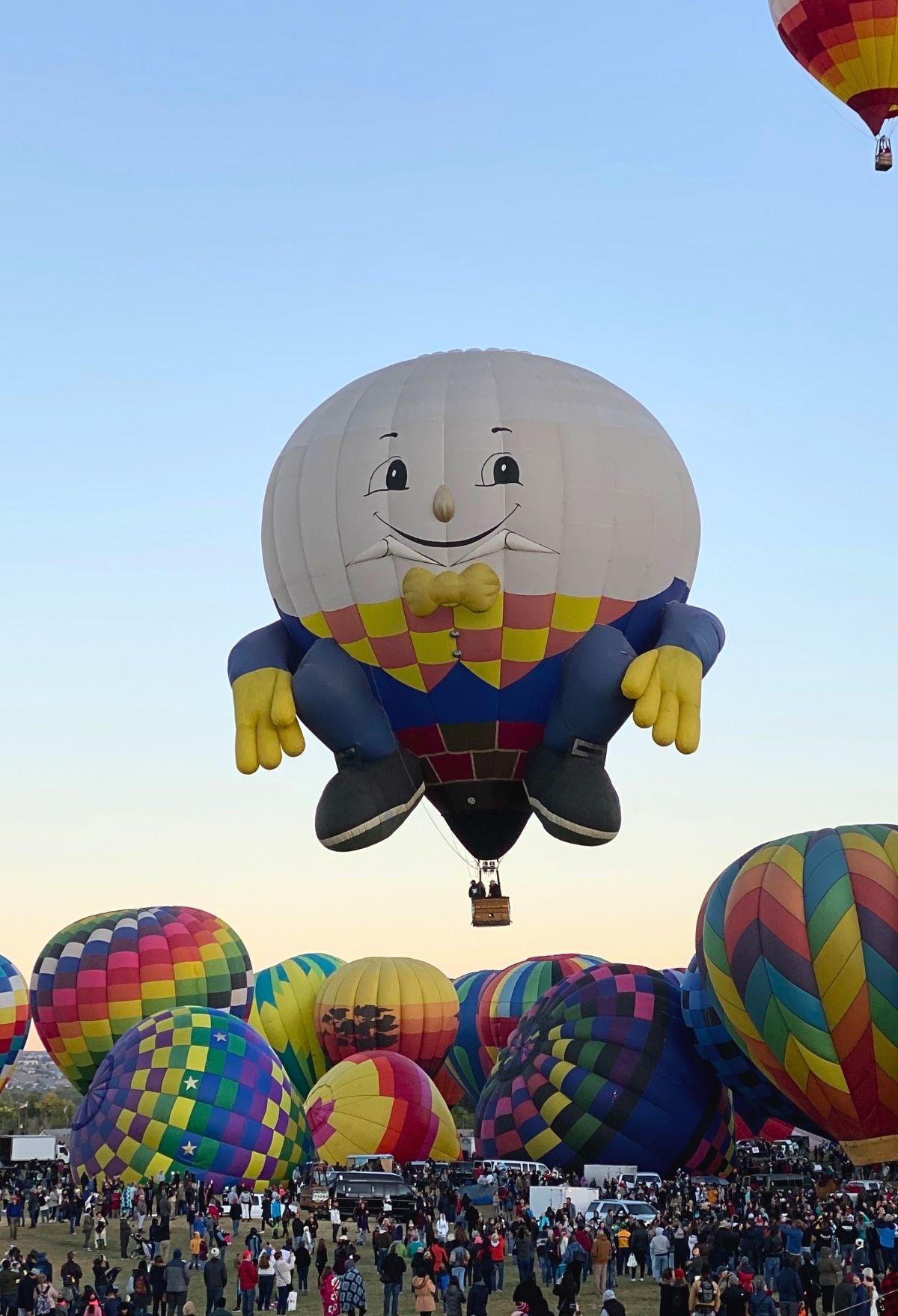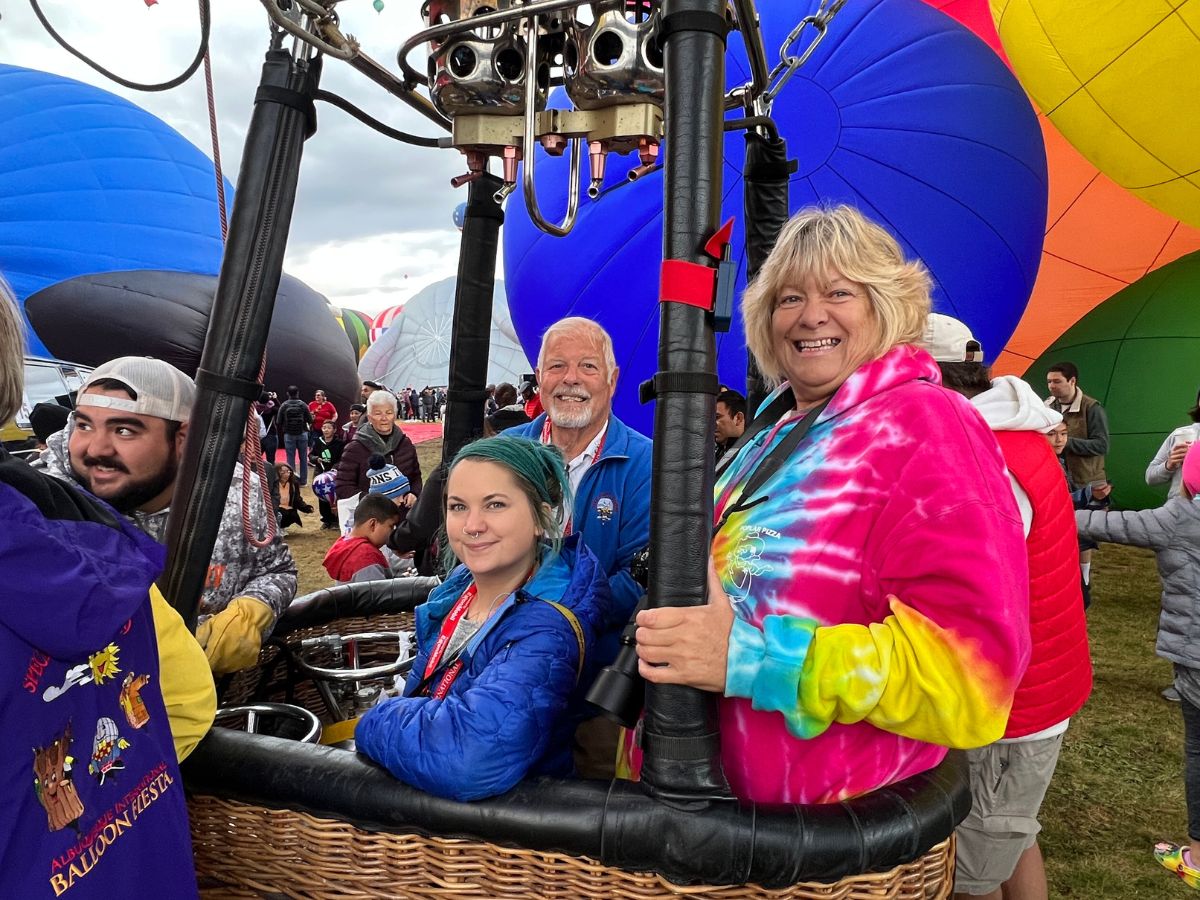 Can you camp at the balloon festival?
Yes, you can camp at the balloon festival.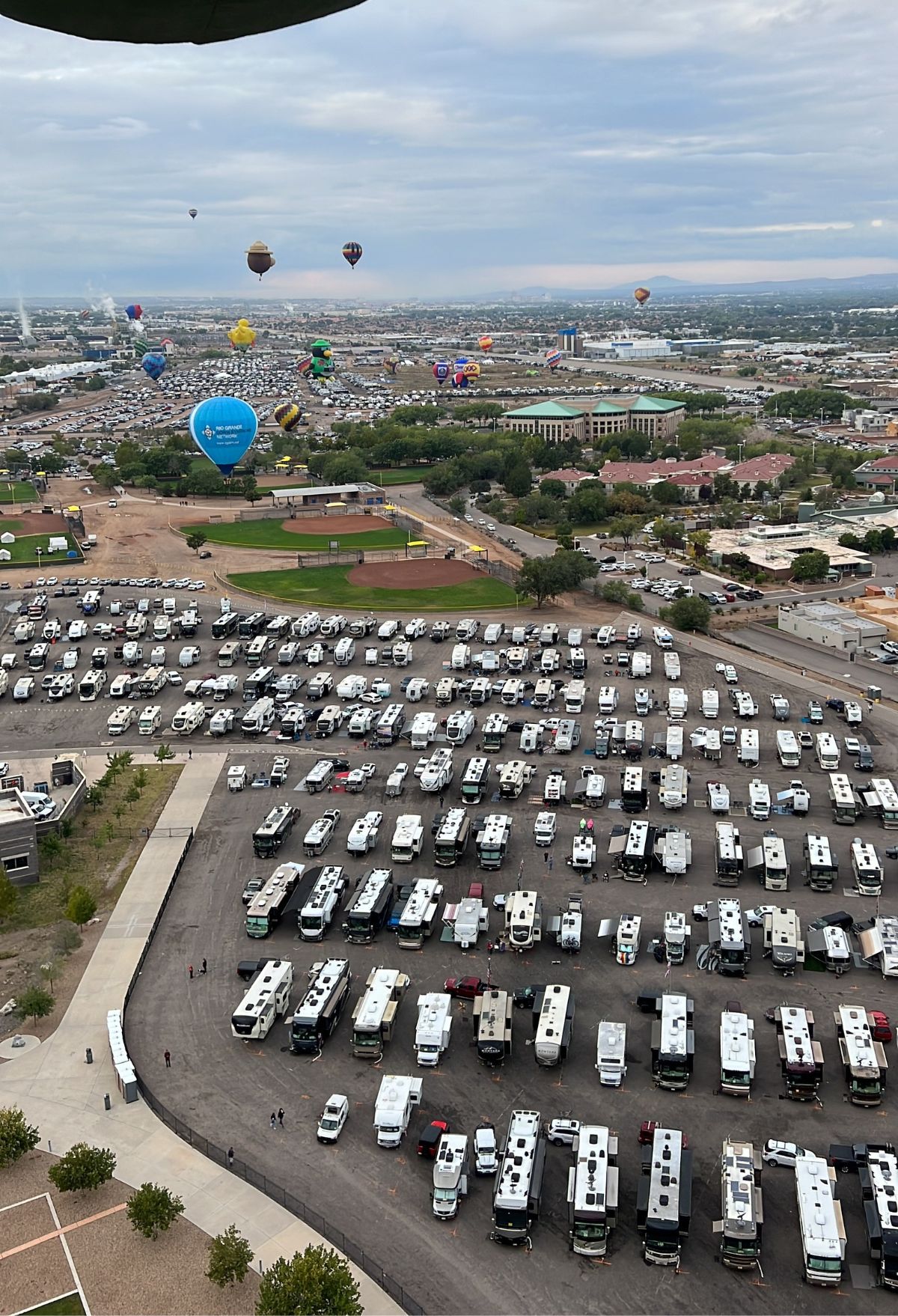 Bring your RV or someone else's RV. Or reserve a glamping tent.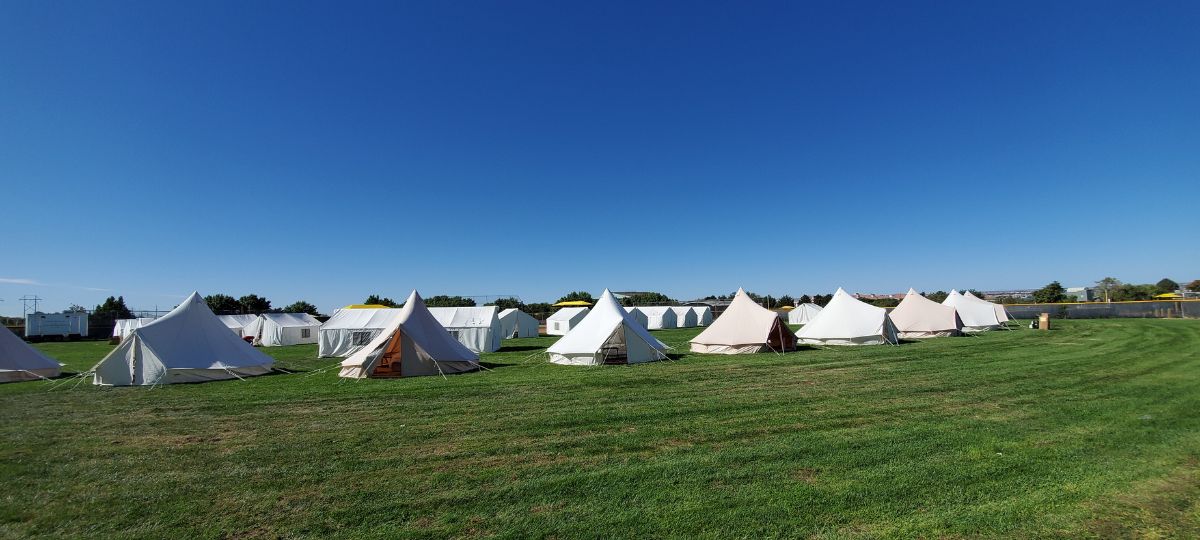 The Glamping tent reservations open up on April 7th, 9:00 AM Mountain time.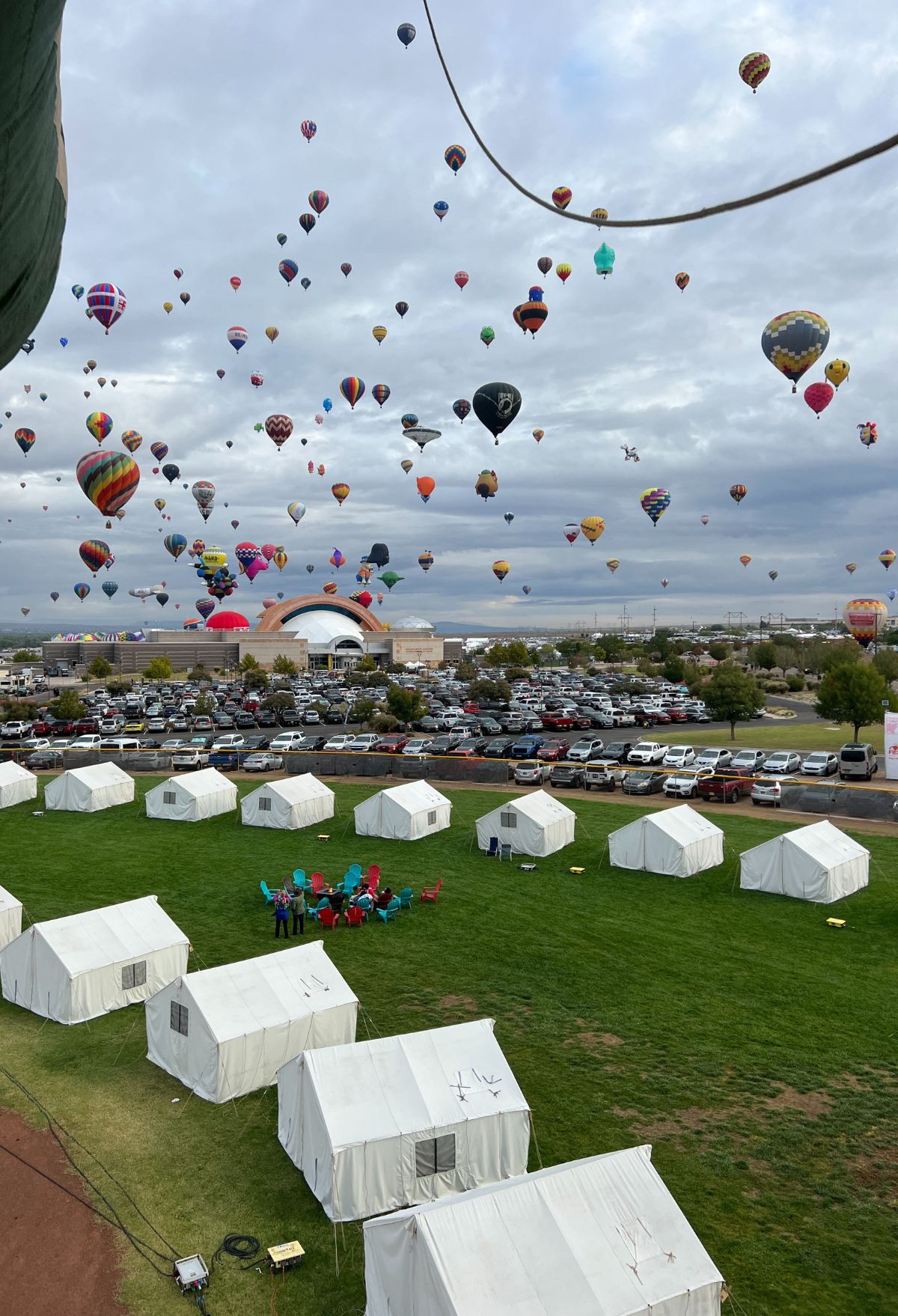 However, if you don't have your reservation through the Balloon Fiesta, then you will have to search around for a group that might have an open spot for you.
They can be pricey. But when you really want to go, as I did for 60th birthday, you will make it happen.
Best Way to Get An RV Reservation
If you are looking ahead to the 2024 Balloon Fiesta, then you will want to be at your computer when the RV camping reservations go on sale.
This can be the following week after the fiesta ends like in previous years. Or in January like this year.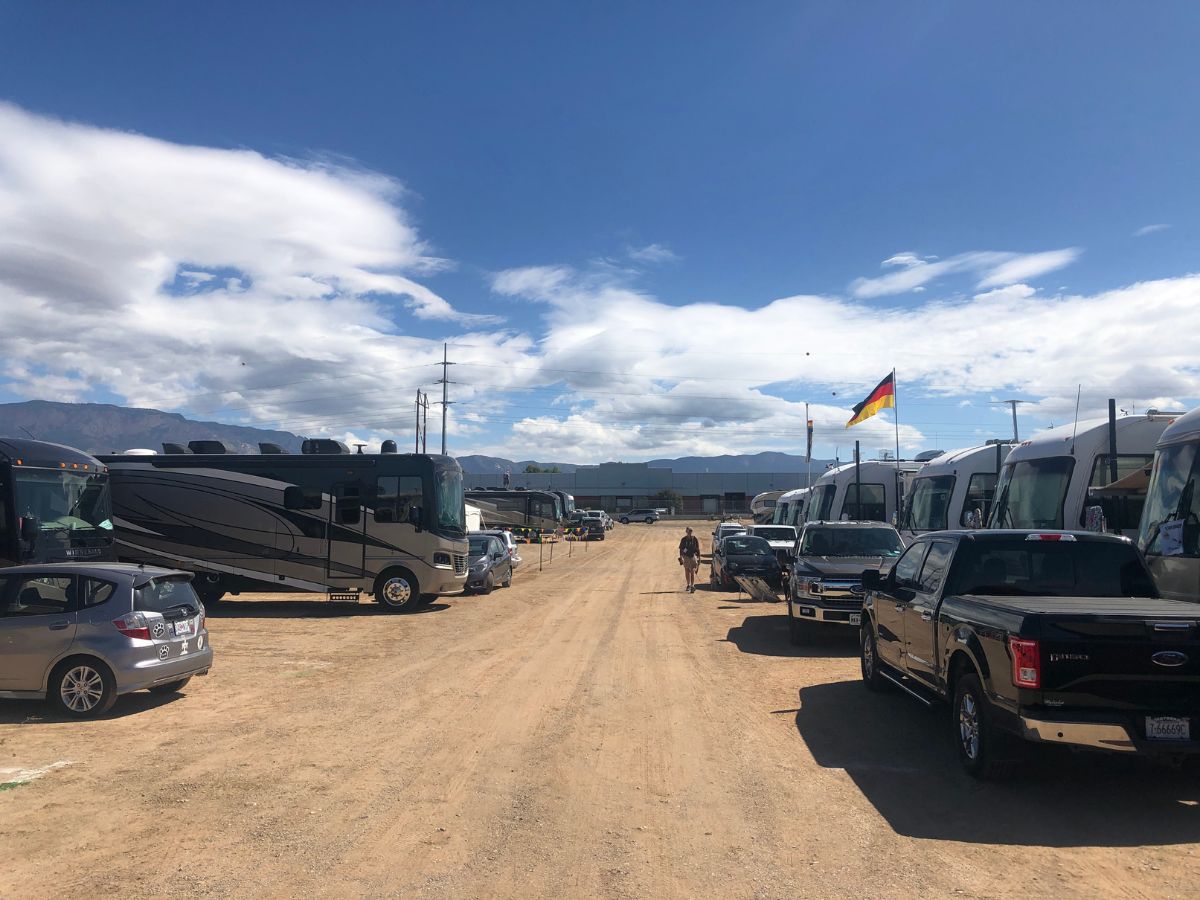 All you have to do is watch the Balloon Fiesta website for details.
Make sure you have good internet and are ready to go at the scheduled time.
Use two computers if you have them or have someone else trying also.
Once it's time, just keep reloading your Google Chrome or Safari, or Firefox, (whatever you are using.)
Don't give up. This year we were put in a waiting room. While I didn't get the President's compound or Premium spot, I was able to get on the waiting list.
I received an email within a month's time that a spot was available. Yay!
My cousin was also able to get a spot for her first visit and is also super excited.
What are The Albuquerque Balloon Fiesta 2023 Dates
This year the Balloon Fiesta dates are October 7th through the 15th.
That means I will be there for my birthday once again! Yay!
Is the Albuquerque Balloon Festival worth it?
Absolutely worth it. No matter how much money you spend to get there, stay there, stay in a hotel, and spend while you are there, it is totally worth it.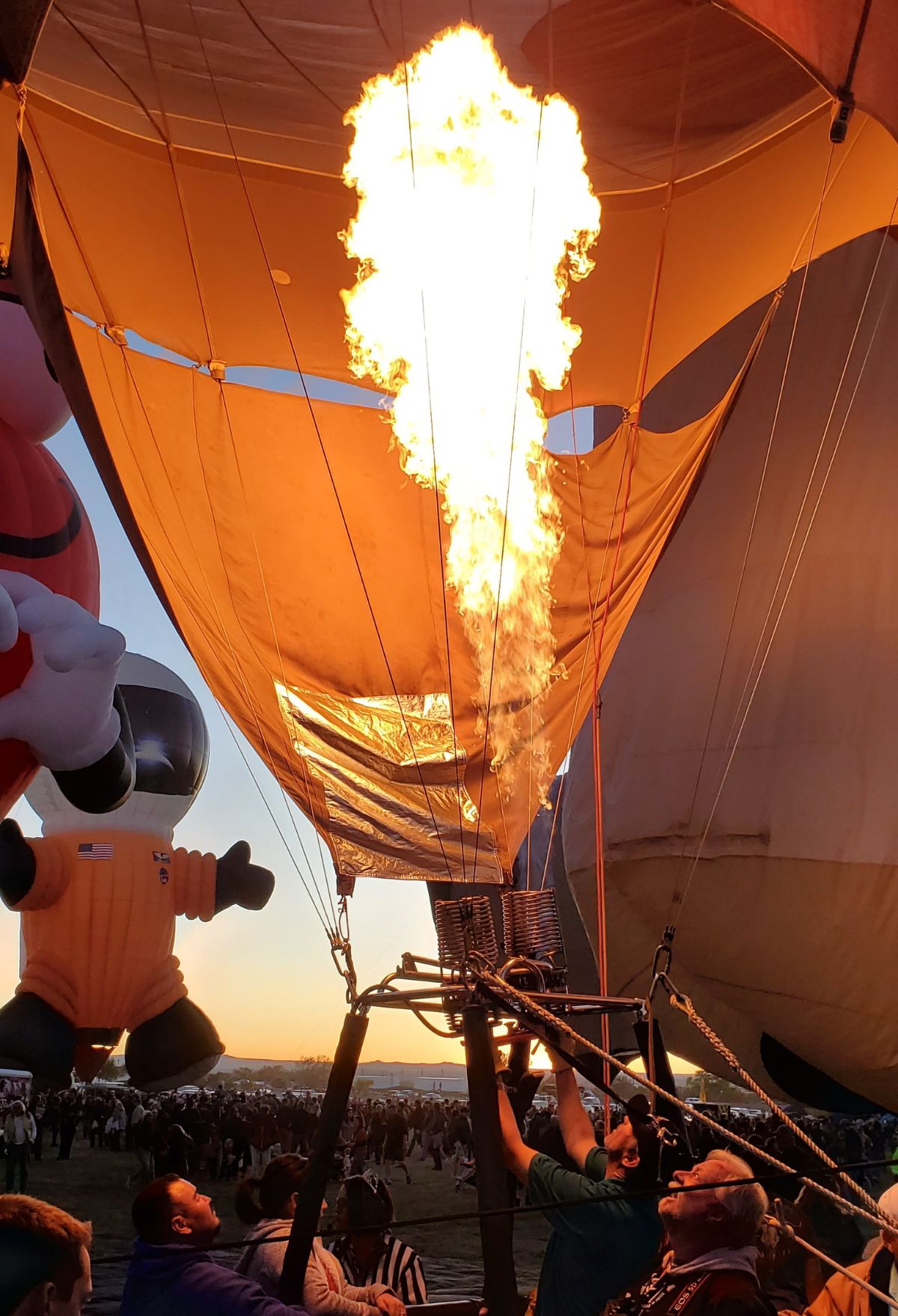 The Albuquerque Balloon Fiesta is such an amazing time that you won't regret it one bit. (unless of course, you choose to sleep in and miss out on the best day!)
How much does it cost to get into the balloon festival in Albuquerque New Mexico?
General admission into the Balloon Fiesta is $15.00 per person for ages 12 and up.
You will need a ticket for each session that you want to attend. For instance, each morning is considered a session as is each evening.
Monday through Wednesday and the second Sunday only have morning sessions.
There are a total of 14 sessions. Four packs will be available at the gift shop starting in July.
While tickets are available at the gate, I suggest purchasing them online so you don't have to wait in line and miss out on any of the events.
Tickets go on sale on April 7th online.
There are also special tickets such as The Chasers Club, Sky Box, and Gondola Club.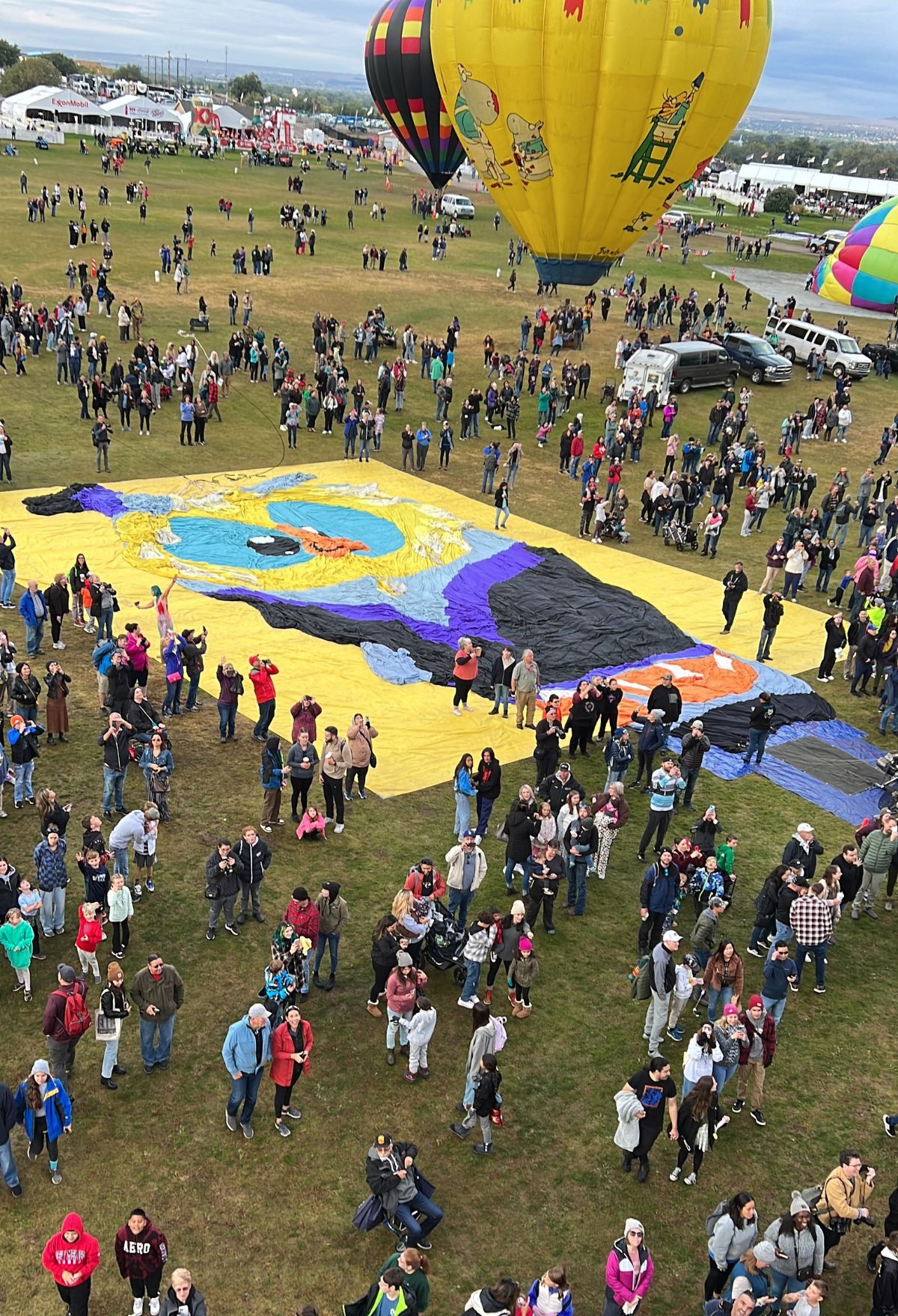 Music Fiesta
The music fiesta is held on October 14th, the second Saturday, of the fiesta.
The stage is at the back of the field near the wood carvers.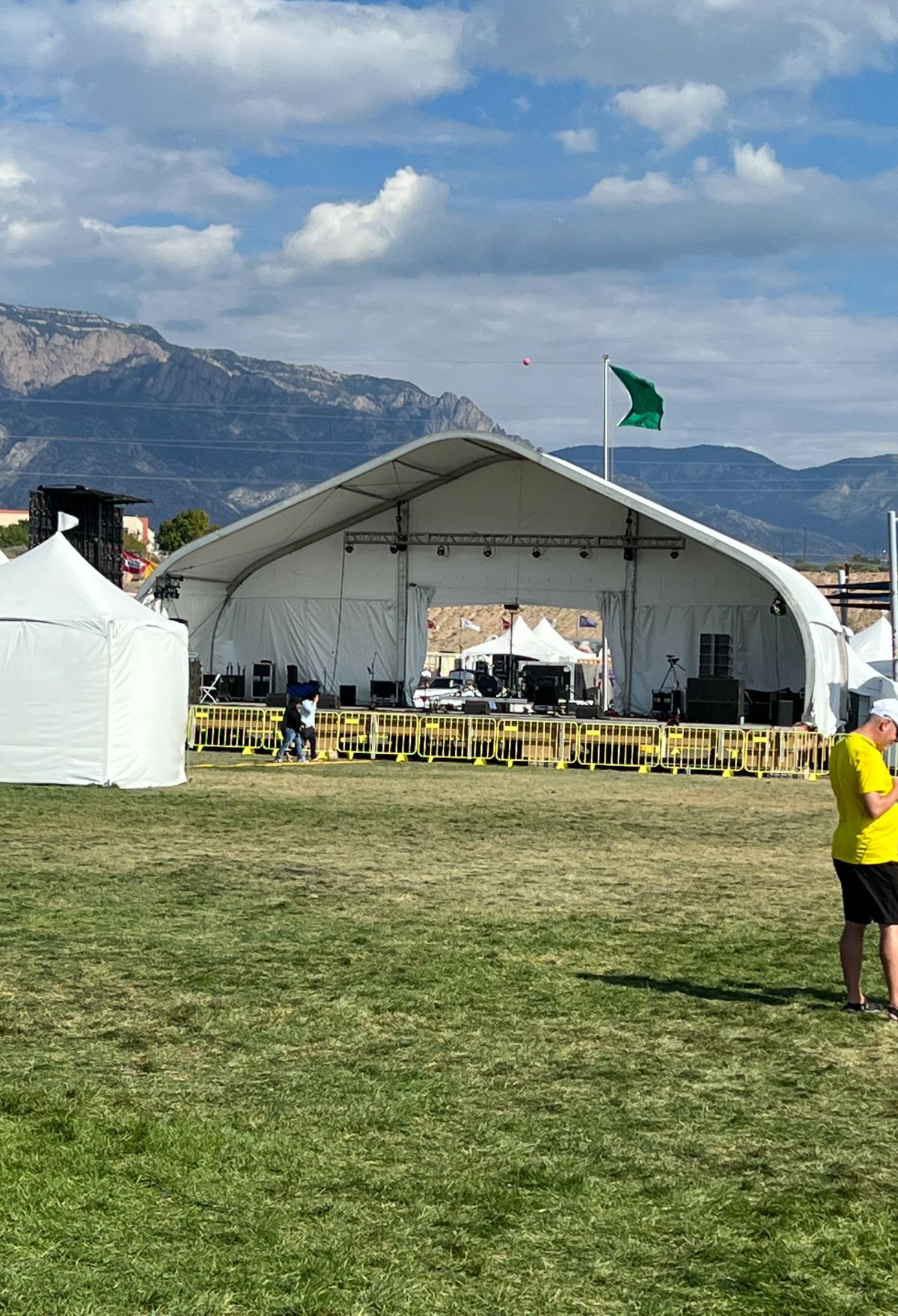 We saw Justin Moore in 2019 and the concert was awesome.
Who is playing has not yet been announced. Tickets can be purchased online.
Hot Air Balloon Rides
Hot air balloon rides are provided by Rainbow Ryders.
They have huge balloons with extra large baskets that hold 10 people.
This is a regular basket that holds 2-3 people.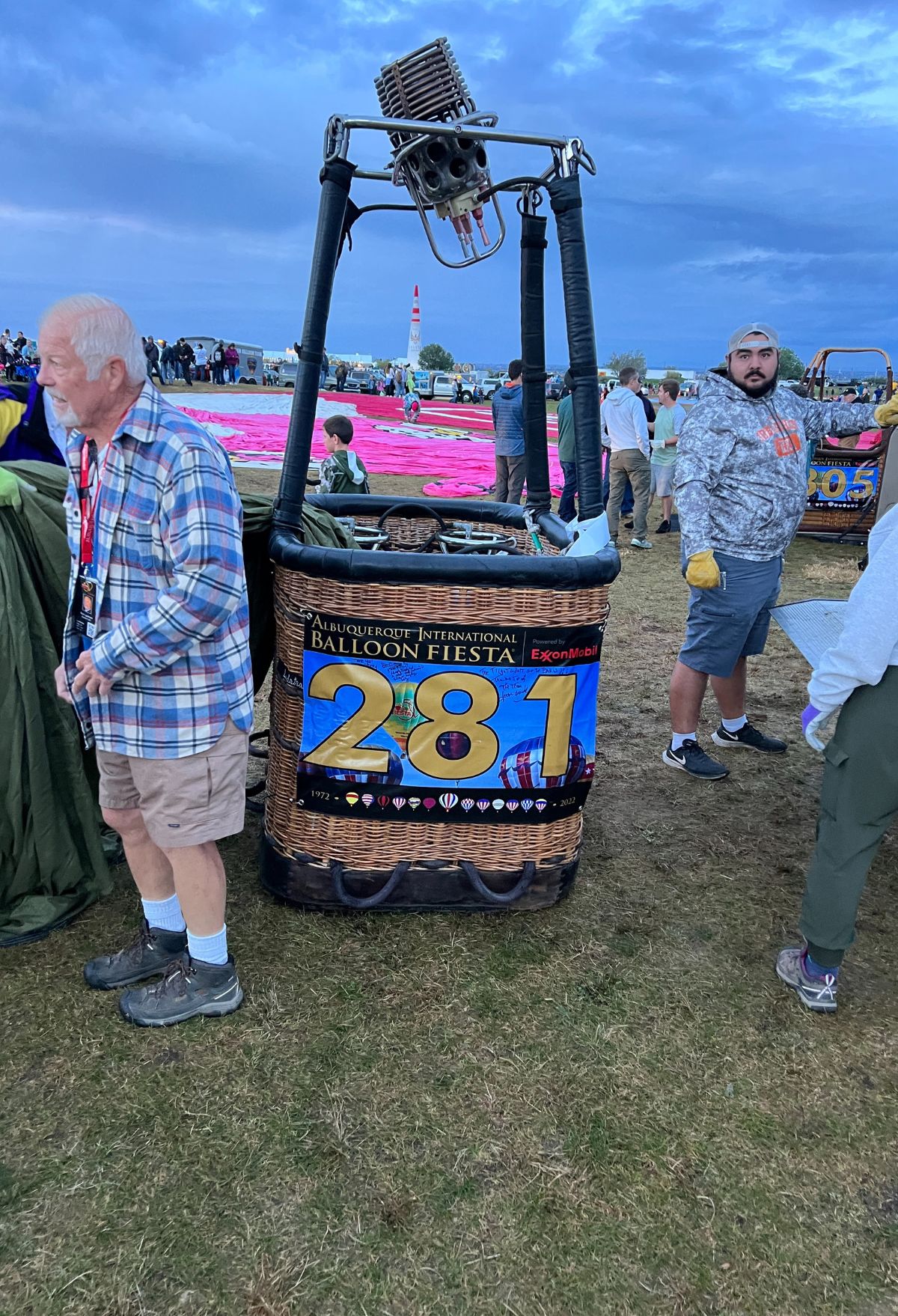 If you are interested in reserving a hot air balloon ride, call Rainbow Ryders at 505-823-1111 and reserve your spot ahead of time.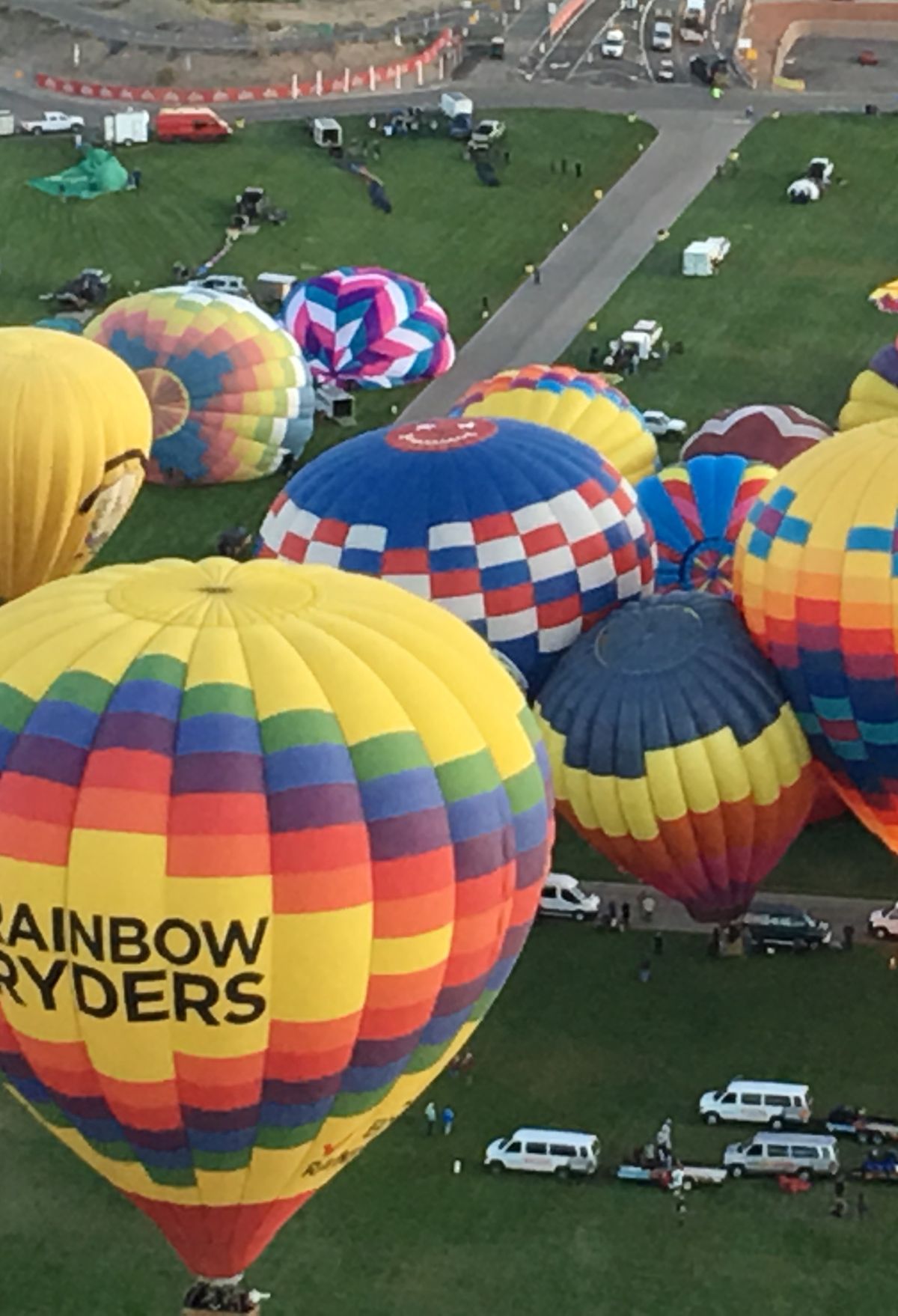 I will say that there is no guarantee that you will go up if the weather is cooperative.
However, if you can't fly on the date of your reservation, it will be rescheduled or your money refunded.
TIP: If you have your heart set on going up and will not be attending the entire event, I suggest making two reservations spaced out.
Our friends last year had booked a balloon ride and it ended up raining. They were rescheduled and it rained again.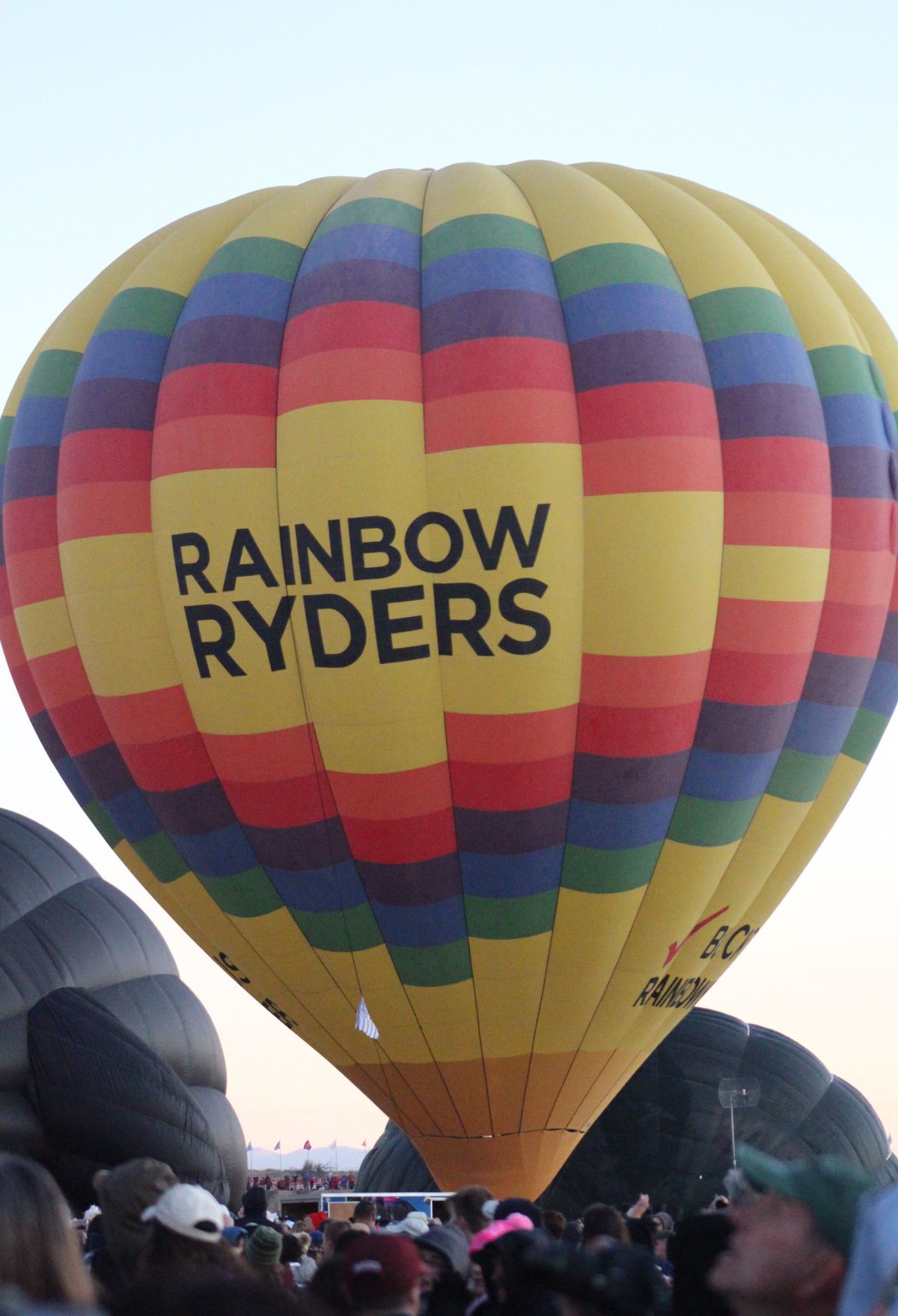 Unfortunately, their time at the Albuquerque Balloon Fiesta had come to end and they never got the opportunity to go up.
Beware of Goat Heads
If you've never been to New Mexico or Arizona, you probably don't know about goat heads.
A goat head is also known as a sandbur or puncturevine. And they hurt especially when stepped on barefoot.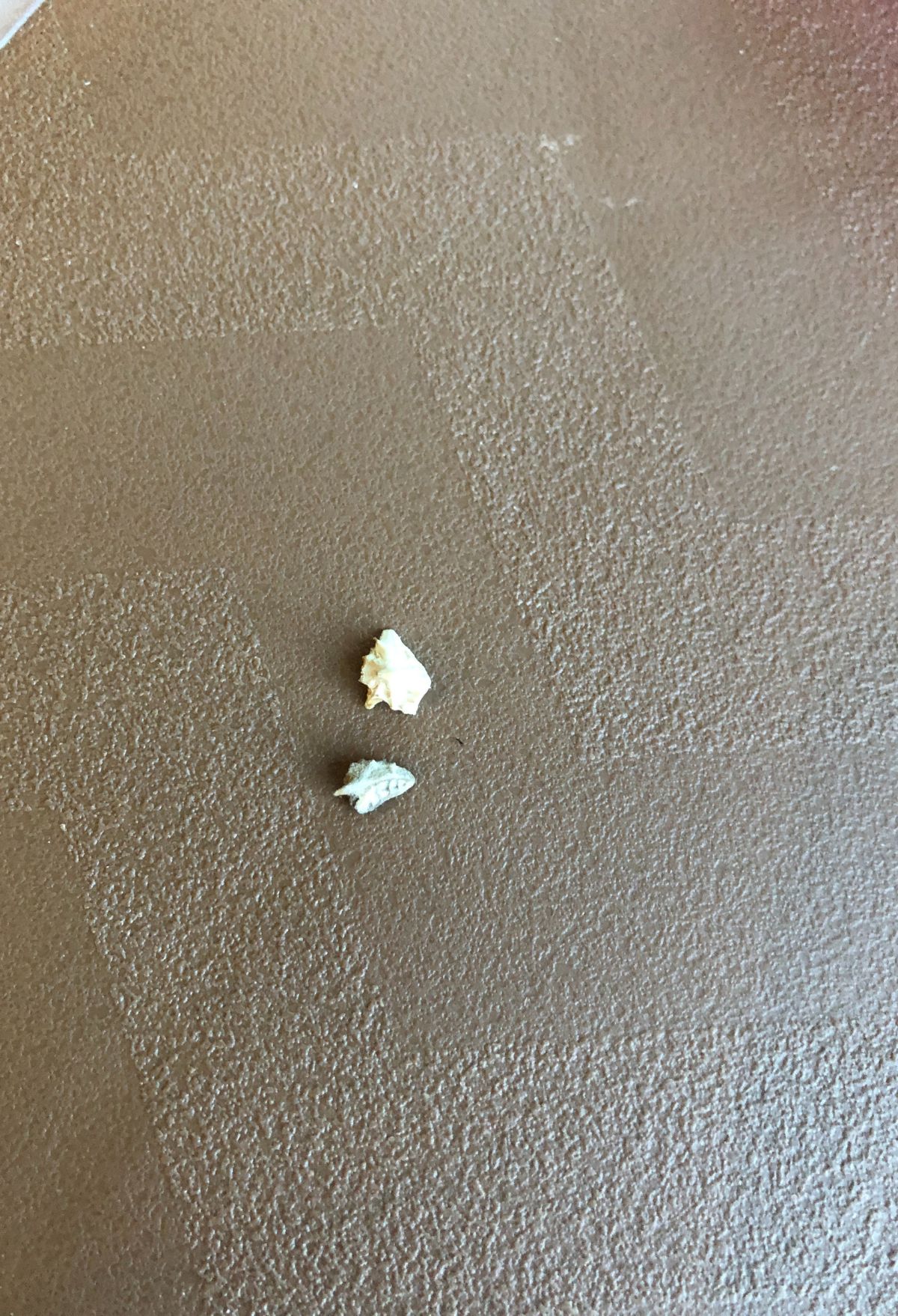 So imagine what it feels like to a dog. Ouch.
We can always tell when Harley has one in her foot. She will start holding up her foot and limping.
Luckily, she is good about my husband getting them out.
Which is why, dog boots are recommended. If they will leave them on!
Unfortunately, Harley won't. She kicks them off.
Blaze didn't mind them.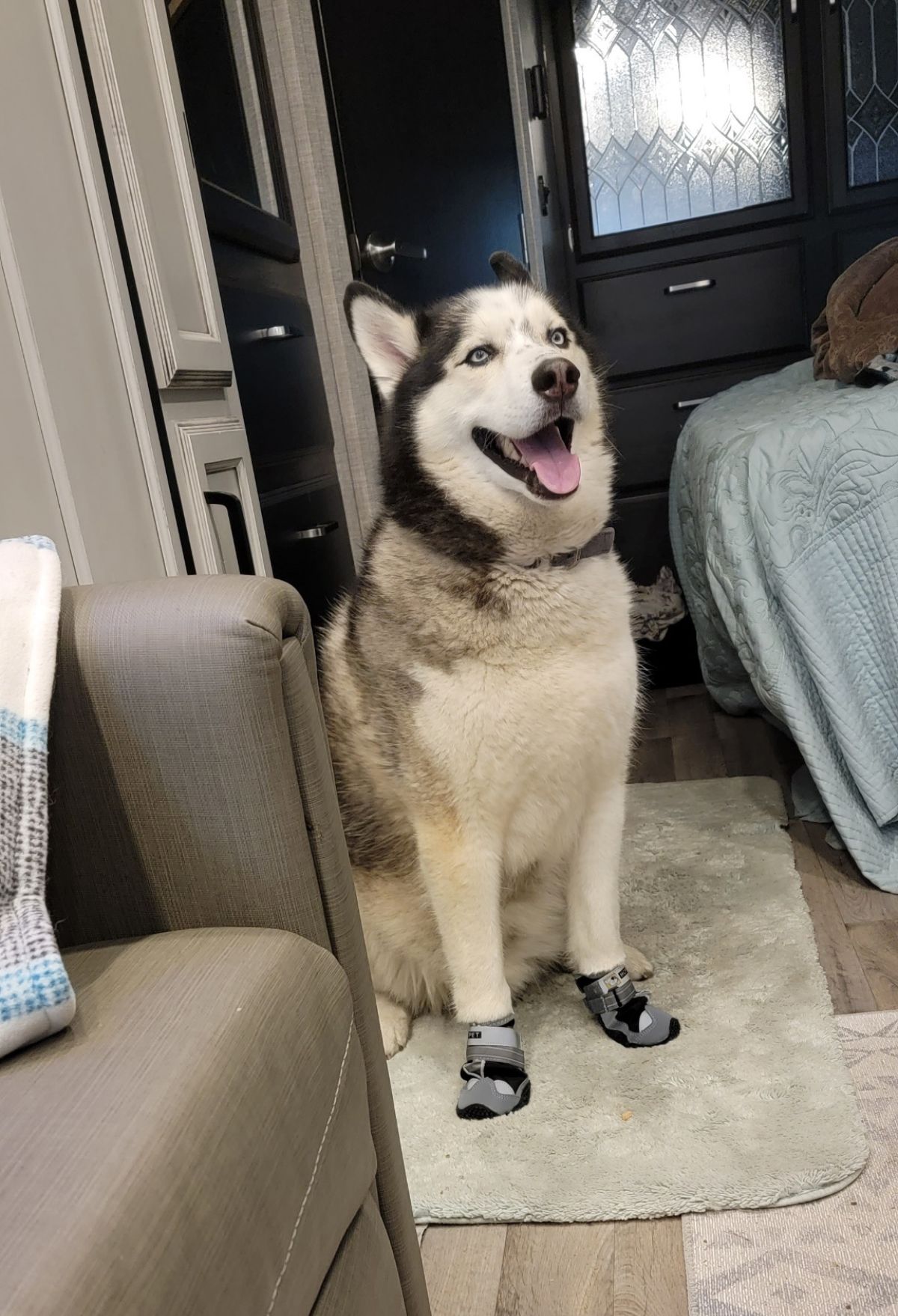 This other dog is one at the Albuquerque Balloon Fiesta that I snapped a picture of.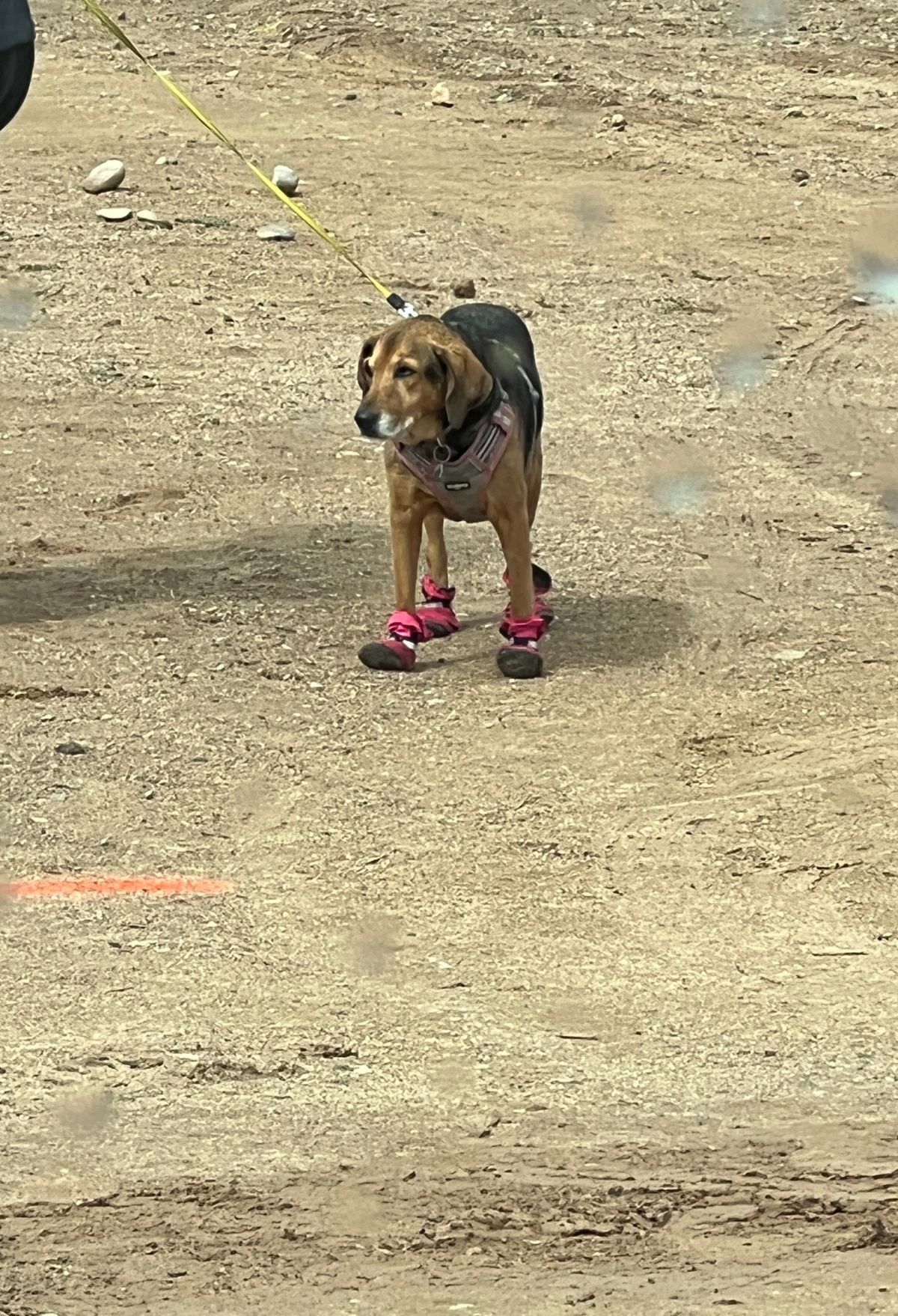 Also, there were a few people riding their e-bikes and the tires got busted from the goat heads.
When you enter your RV, remove your shoes at the door.
Otherwise, they will get tracked in and you'll know (and so will everyone else) when you step on it.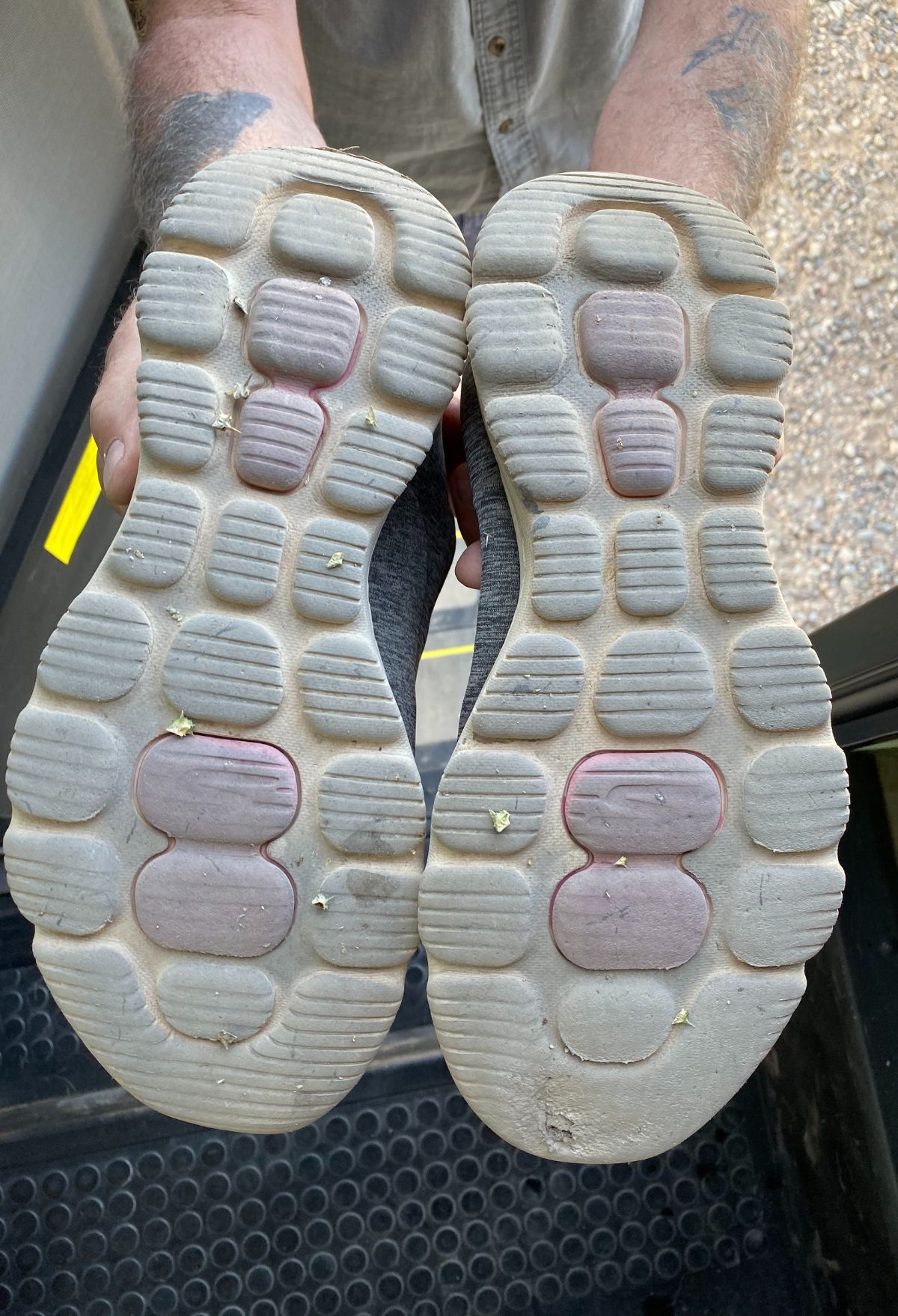 America's Challenge Gas Balloon Race
The gas balloon race is something to see.
This past year they did not take off due to the weather. Luckily, we were able to see them in 2019.
One of the top two distance races for gas balloons in the world.
Inspired by the world's oldest air race, the Coupe Aeronautique Gordon Bennett, this competition is the ultimate test for distance gas ballooning.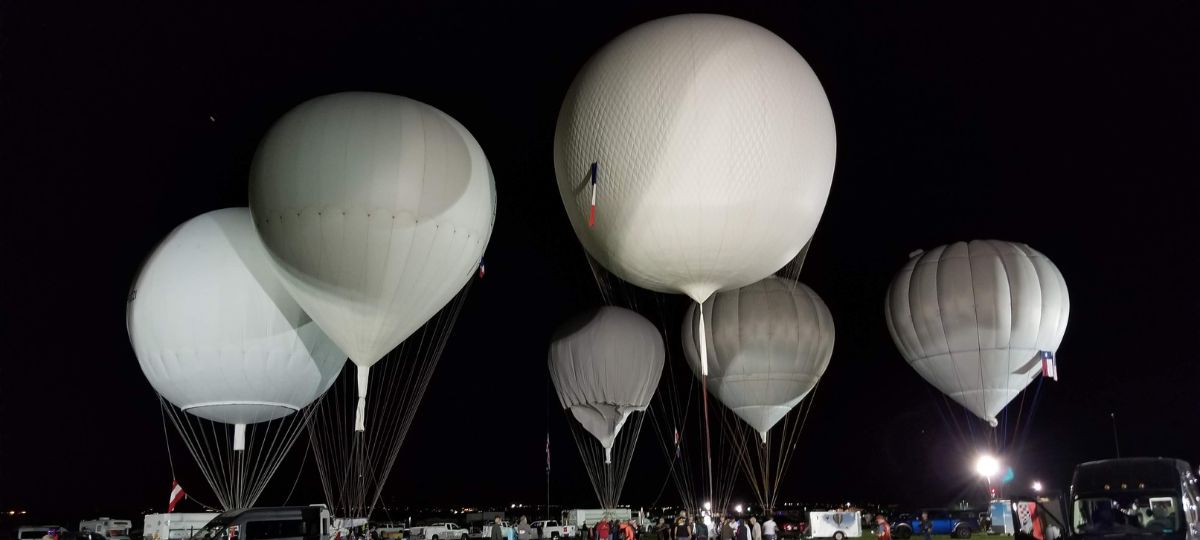 The gas balloons look different than regular hot air balloons and should be on your list to see.
The challenge is simple. Travel farther than any other team in order to claim victory.
Final Balloon Fiesta FAQs
Finally, these are just a few Balloon Fiesta FAQs that come to mind and seem important.
I'm sure after attending this year again, I will have another entire post afterward.
The sunsets are pretty awesome too!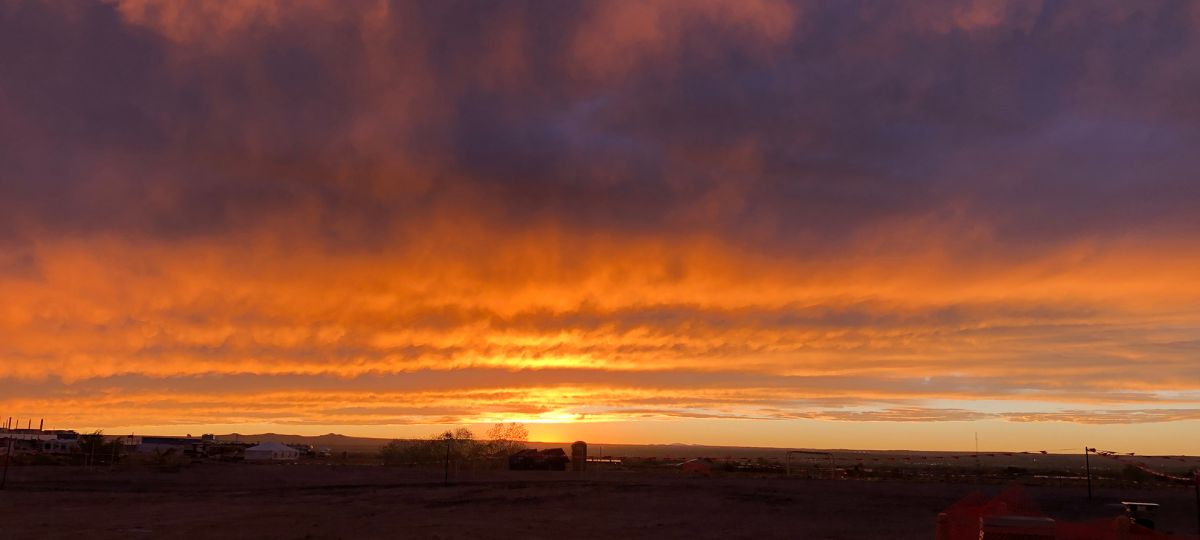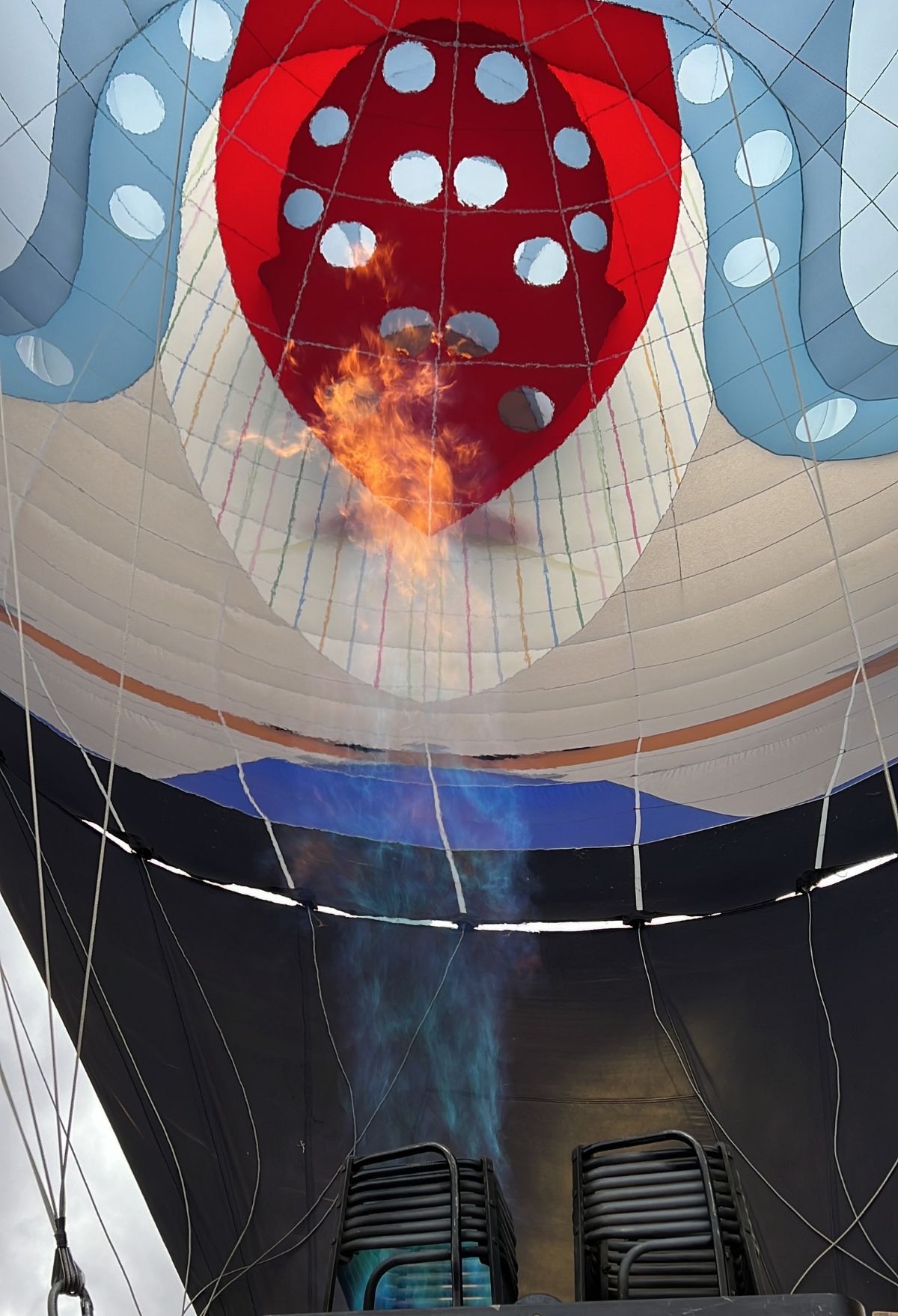 Have you ever been to the Albuquerque Balloon Fiesta?
What are some of your tips? Leave a comment below letting us know.
Don't forget to PIN IT for later!