Artisans from China recreate scenes from How The Grinch Stole Christmas at the Gaylord Palms ICE! Exhibit. You will also find Snowball throwing, huge ice slides, a gift market, an adult beverage stand, snow, and more.
How The Grinch Stole Christmas Gaylord Palms ICE Exhibit
It's been a few years since the last Gaylord Palms ICE display. We have the pandemic to thank for that.
But alas, it has returned and we are glad that it's back.
We enjoyed our visit to Gaylord Opryland last year during the Halloween season and knew this was going to be spectacular as well.
The Gaylord Brand by Marriott goes all out for all their events.
I have only been to one previous ICE! event and that was Frosty the Snowman way back in 2013. Gosh, I didn't realize it's been almost 10 years.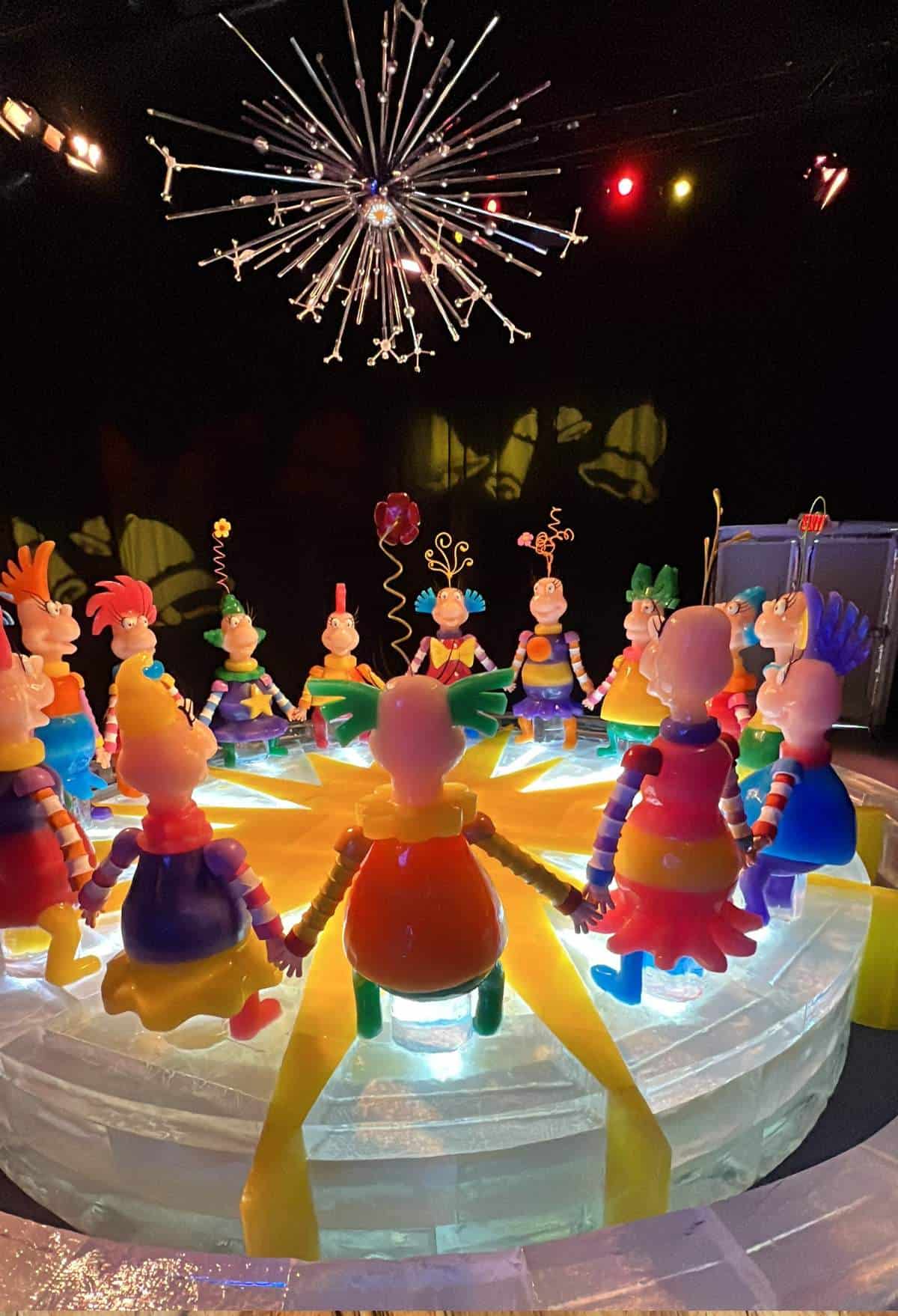 Some things have changed since then and for the better, I might add. They have added so much more than just the ICE display this year with How The Grinch Stole Christmas.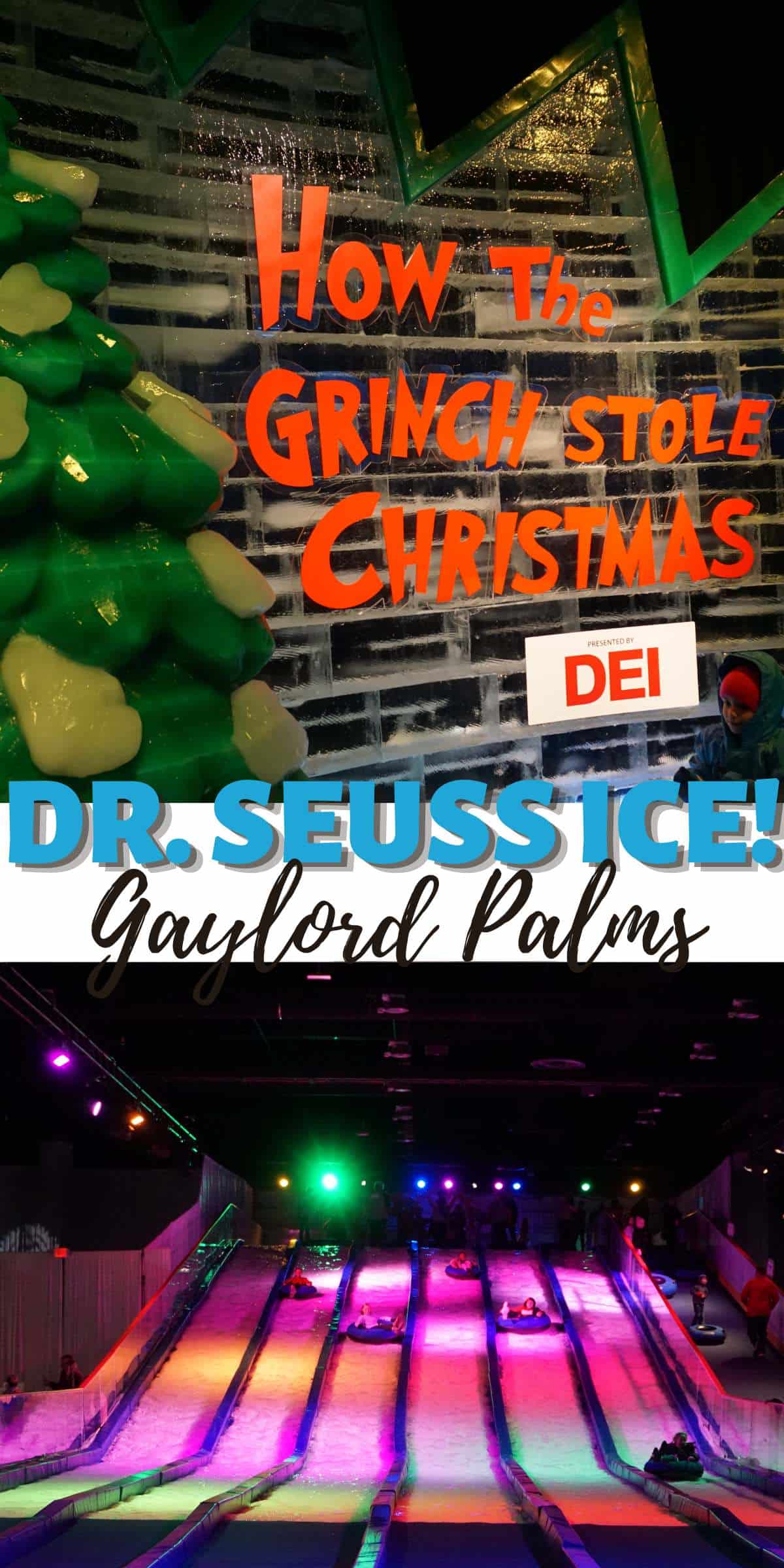 Snowball throwing, huge ice slides, a gift market, an adult beverage stand, snow, and more. We will talk more about these a little later in this post.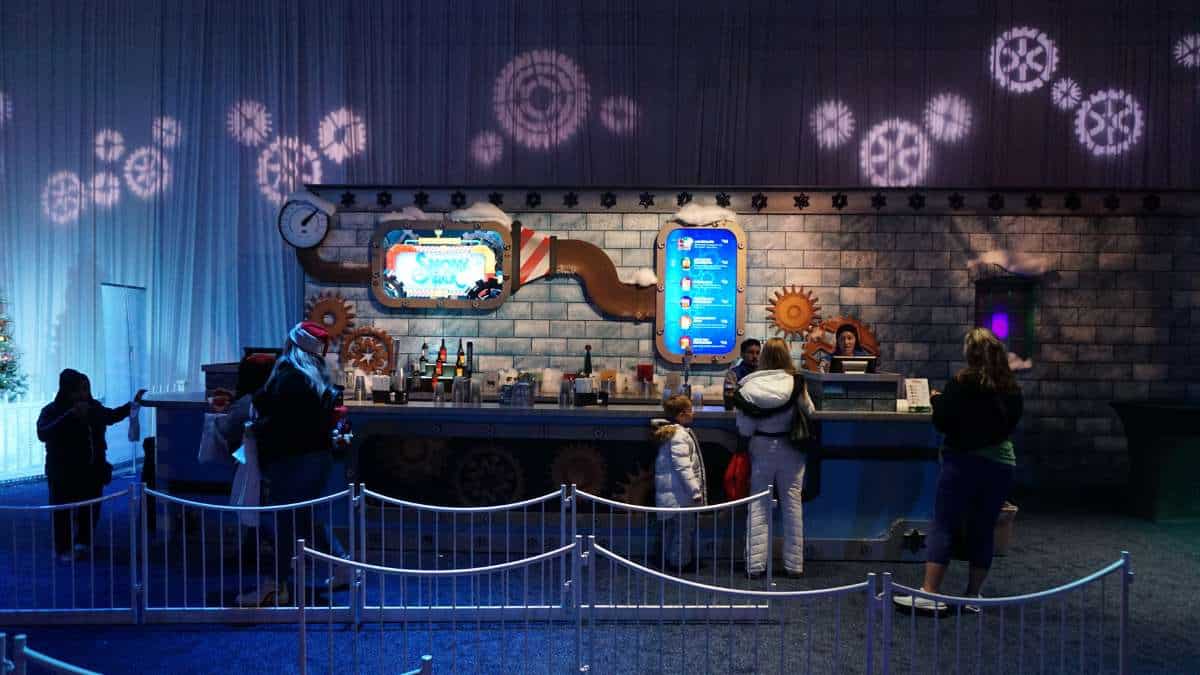 For now, let's get on with the show!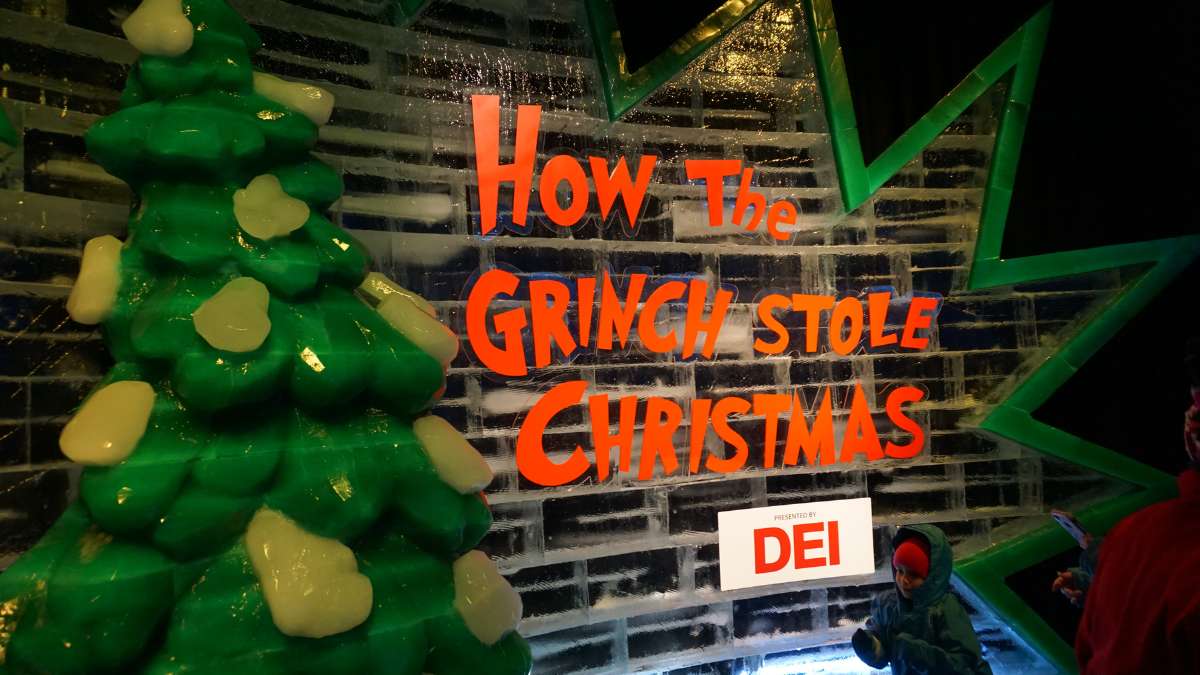 What is ICE at Gaylord Palms
With How the Grinch Stole Christmas being a classic story, it's no wonder why artisans from China were so inspired to recreate its scenes in ice sculptures by chipping away at over two million pounds of ice over the course of several weeks!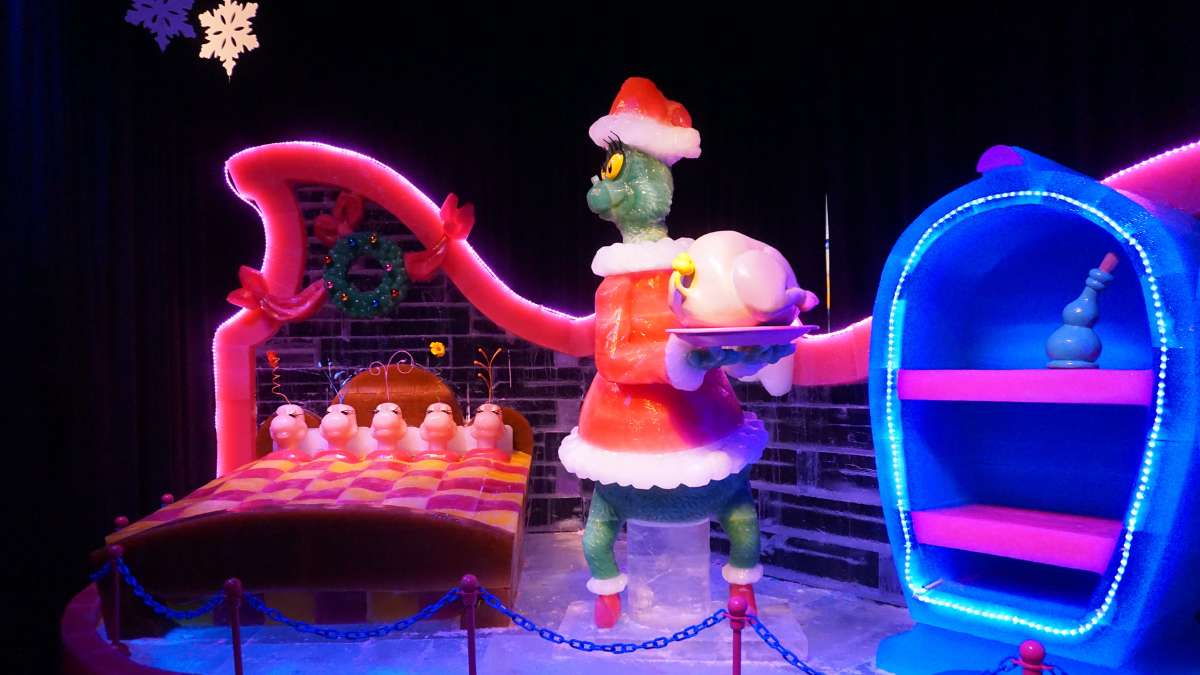 To create these scenes out of ice, artisans are using tools like picks and chainsaws — chosen with care, they shape each beautiful display with intricate detail.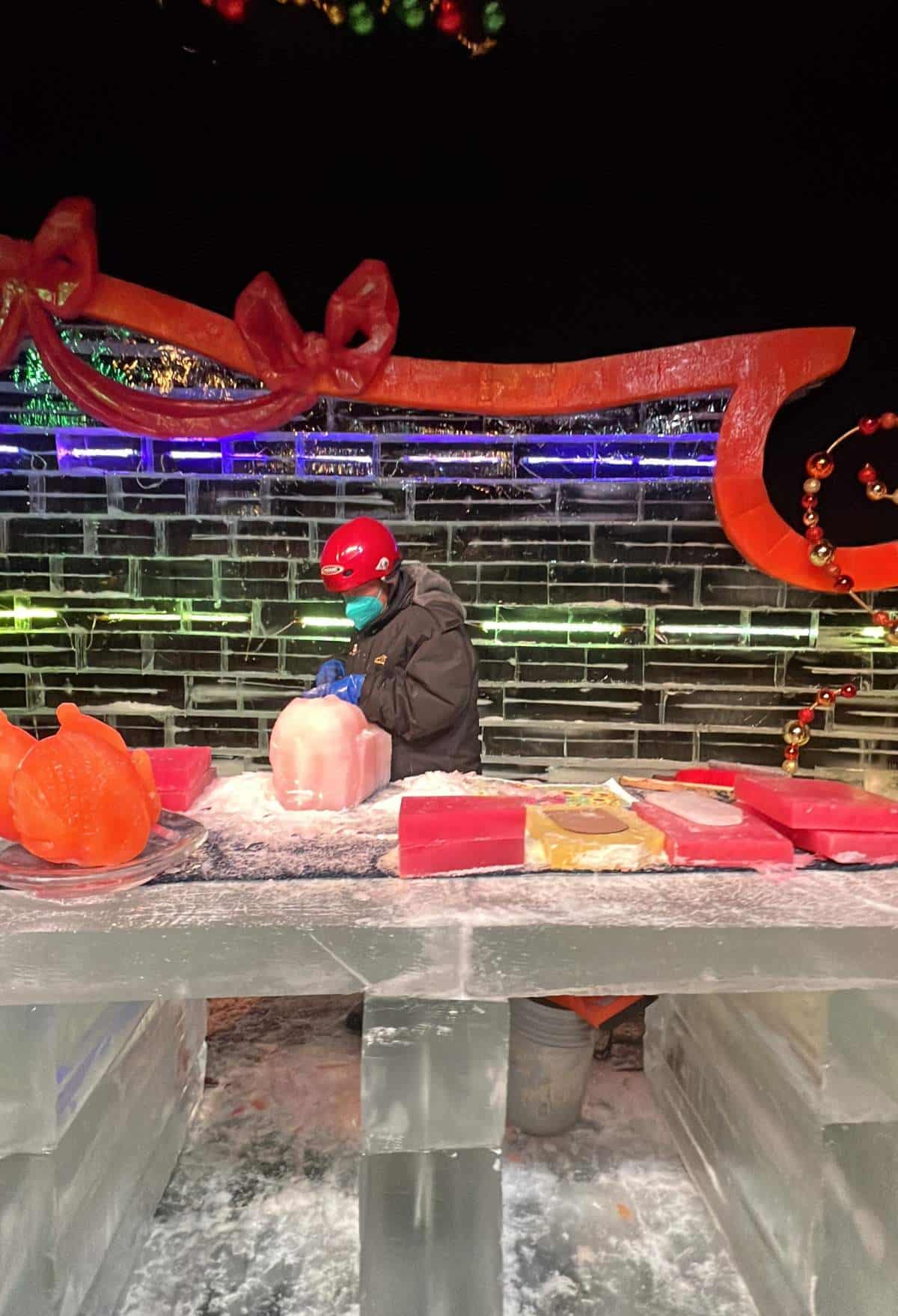 This winter, visitors of Gaylord Palms ICE can experience the entire reenactment of how the Grinch stole Christmas with impressive ice versions of The Grinch, his dog Max, and all the citizens of Who-Ville.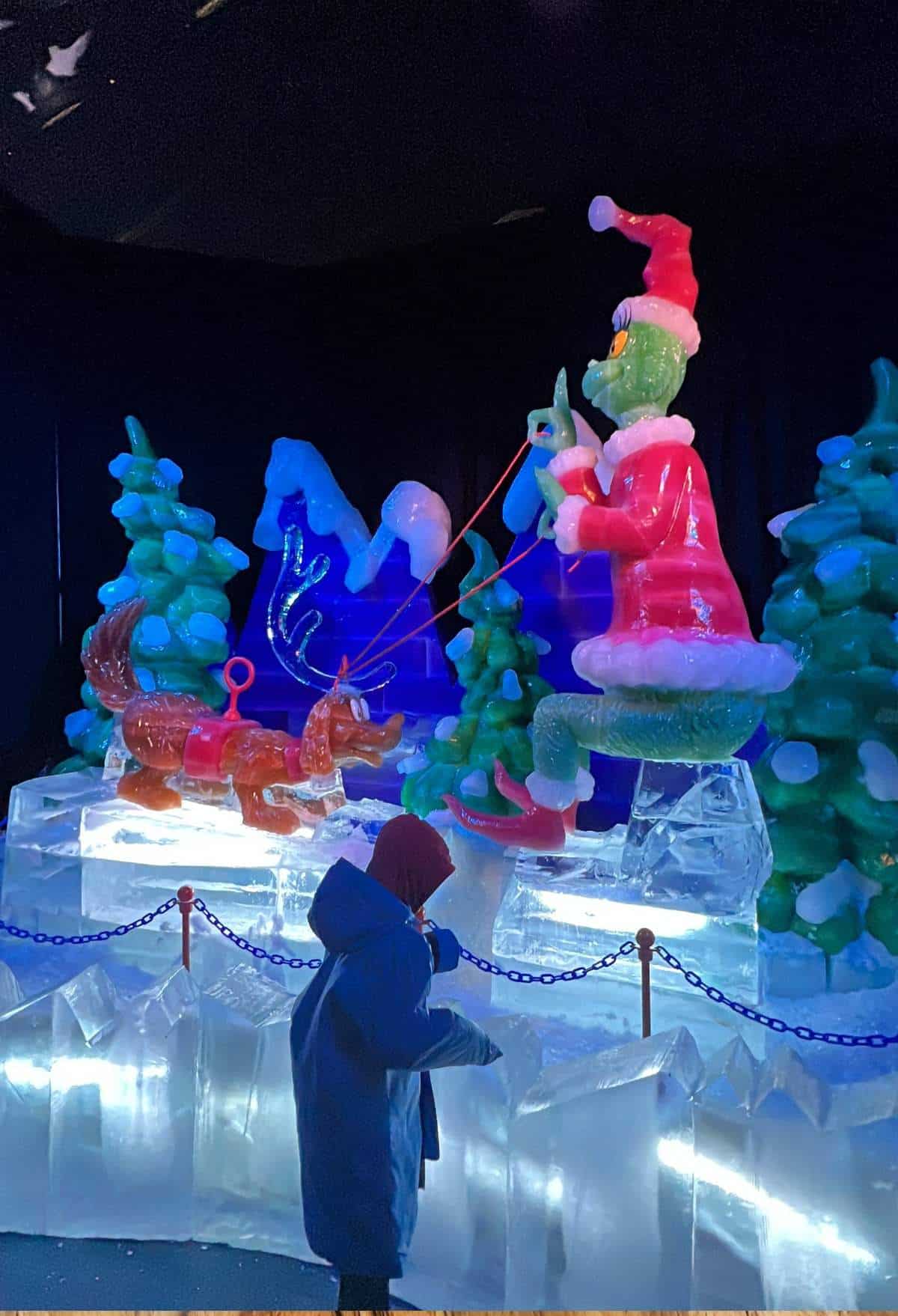 Bundled up against the frigid 9-degree temperature in the big blue parkas, this promises to be one experience like no other.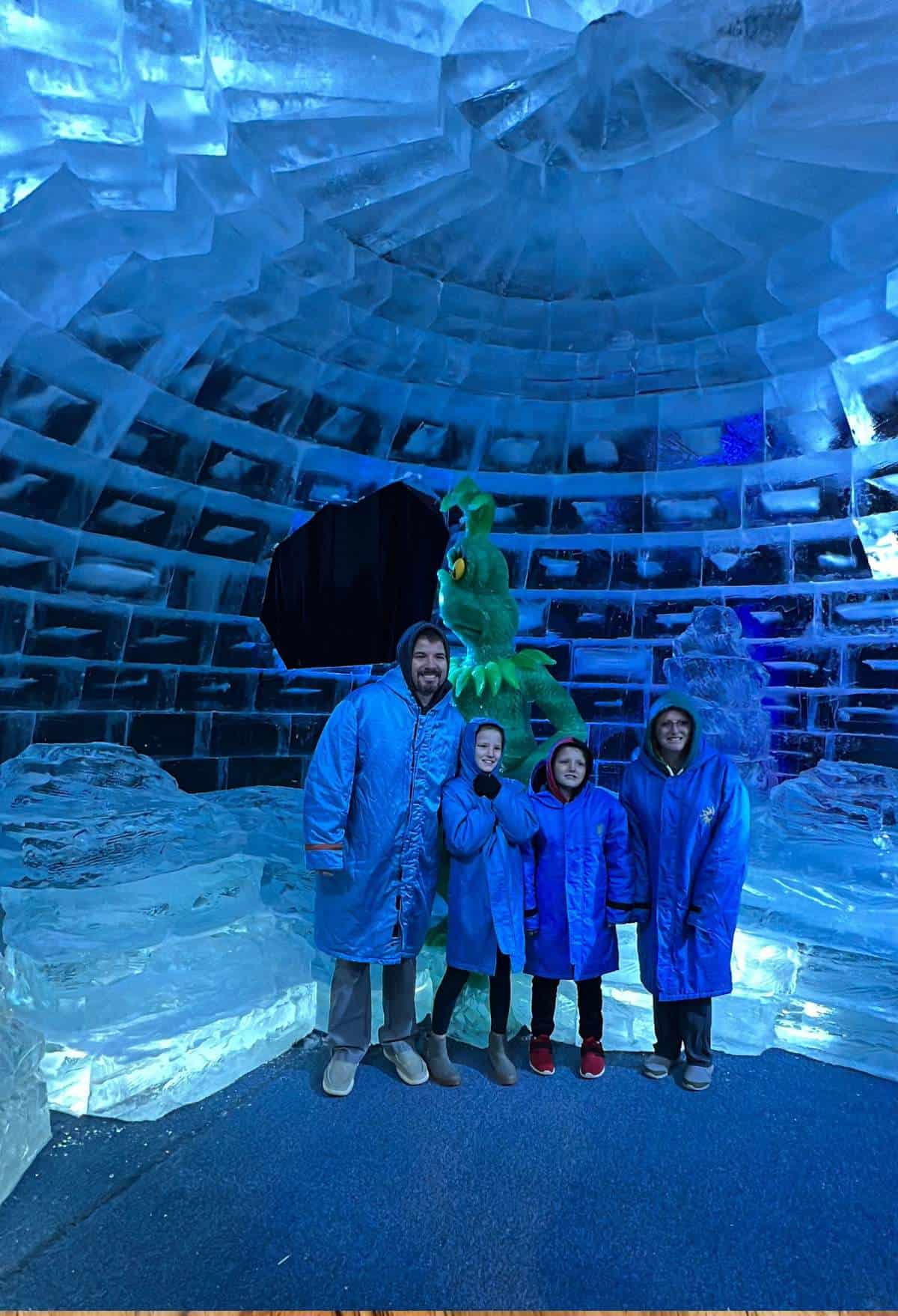 The experience culminates in a magnificent nativity carved entirely out of ice.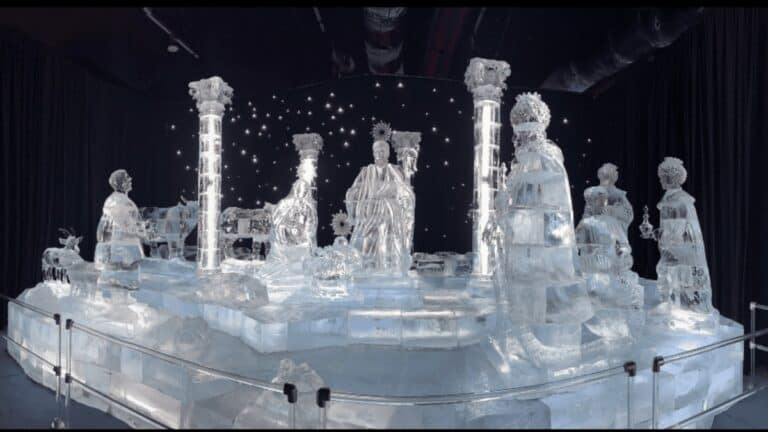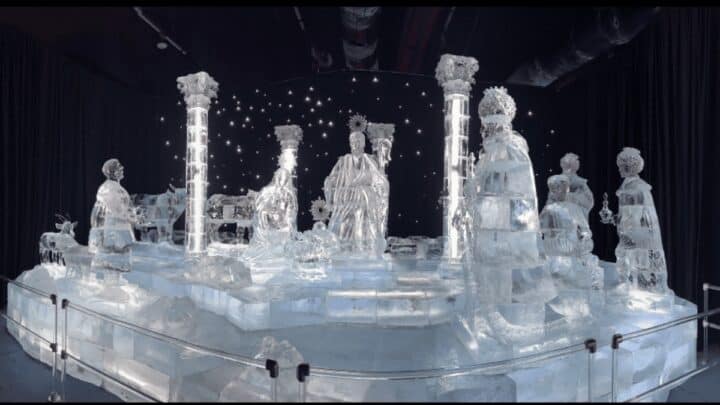 More to See and Do
This year, I was amazed at all the things to do in the snow village. Some of the things cost extra but some are free.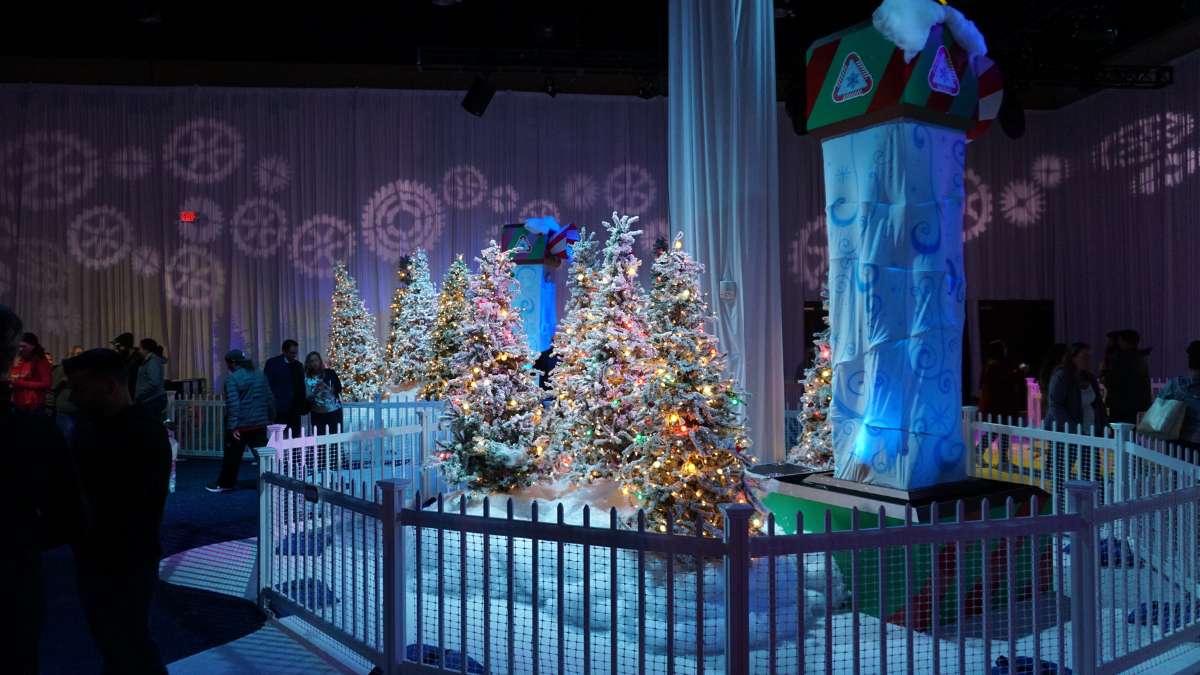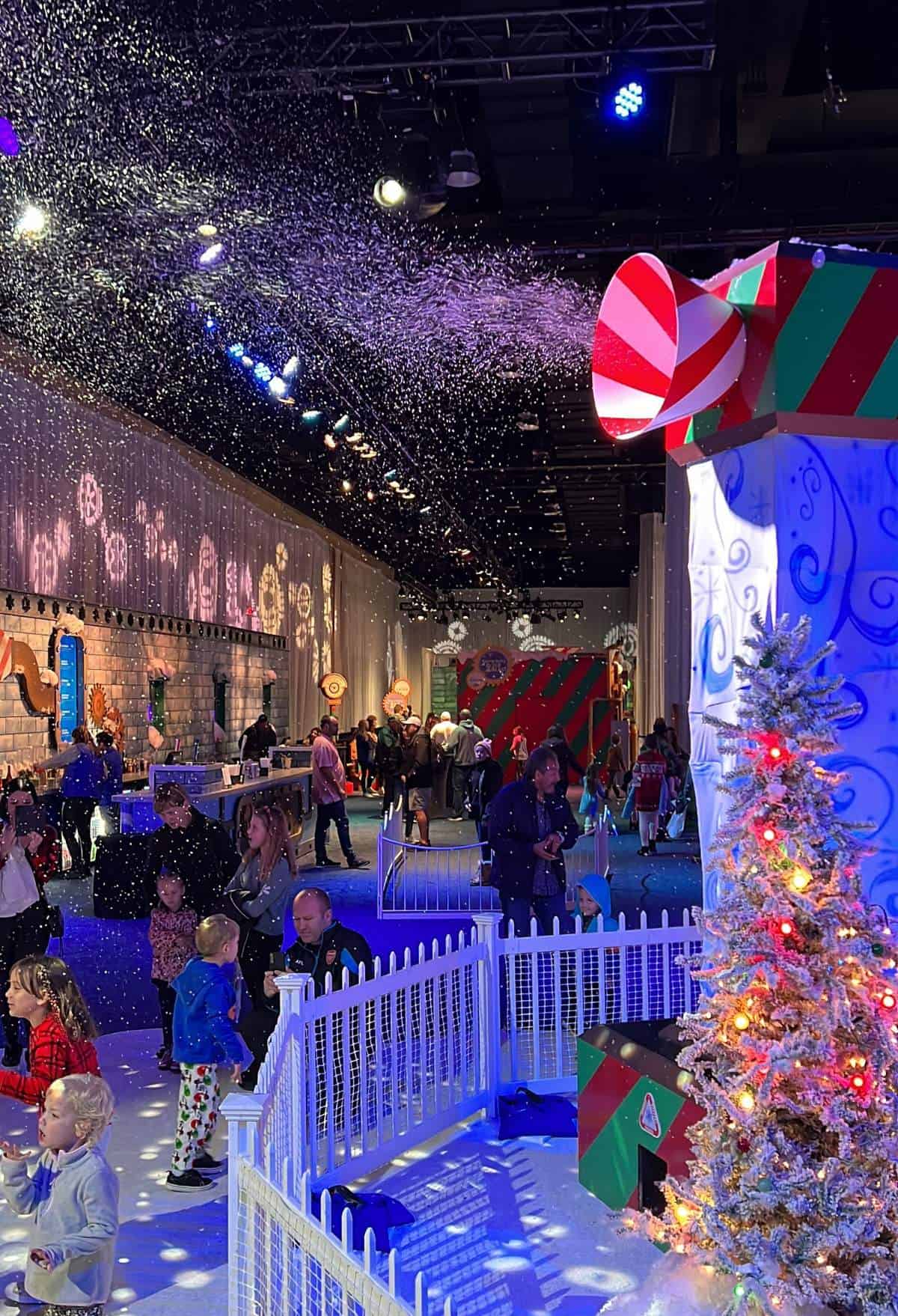 The Cirque: Spirit of Christmas
A festive family experience awaits at the Gaylord Palms ICE during The Cirque: Spirit of Christmas, a stunning 30-minute show that follows young child Noel as they venture through dreamlike chapters in order to reignite their Christmas spirit.
With elaborate staging and stunts, cirque-style aerial acrobatics, and lively festive music, this high-energy presentation brings Noel's quest for holiday cheer to life in an engrossing fusion of artistry and entertainment.
Nothing spells holiday magic like watching these talented performers take center stage in a magnificent show with seamless grace and skill!
Be sure not to miss out on this unique opportunity to enjoy spectacular cirque-style spectacles while celebrating how the true spirit of Christmas can be restored.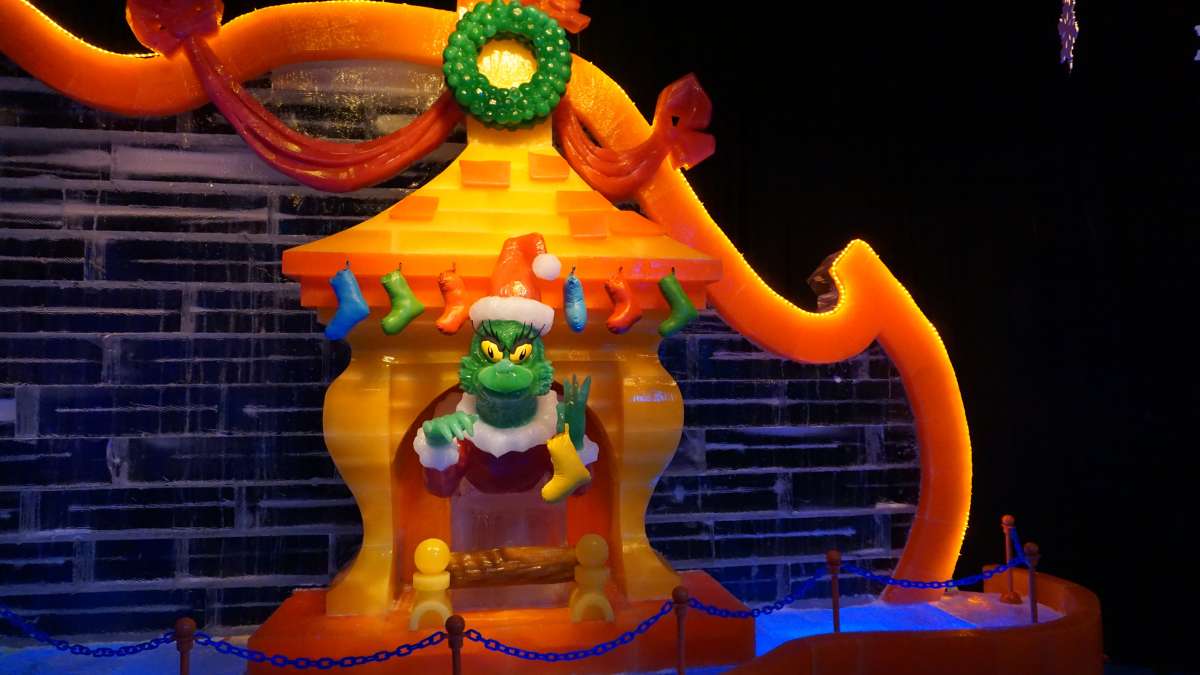 Alpine Village
Alpine Village is a truly special holiday attraction that can be experienced at the Gaylord Palms Resort.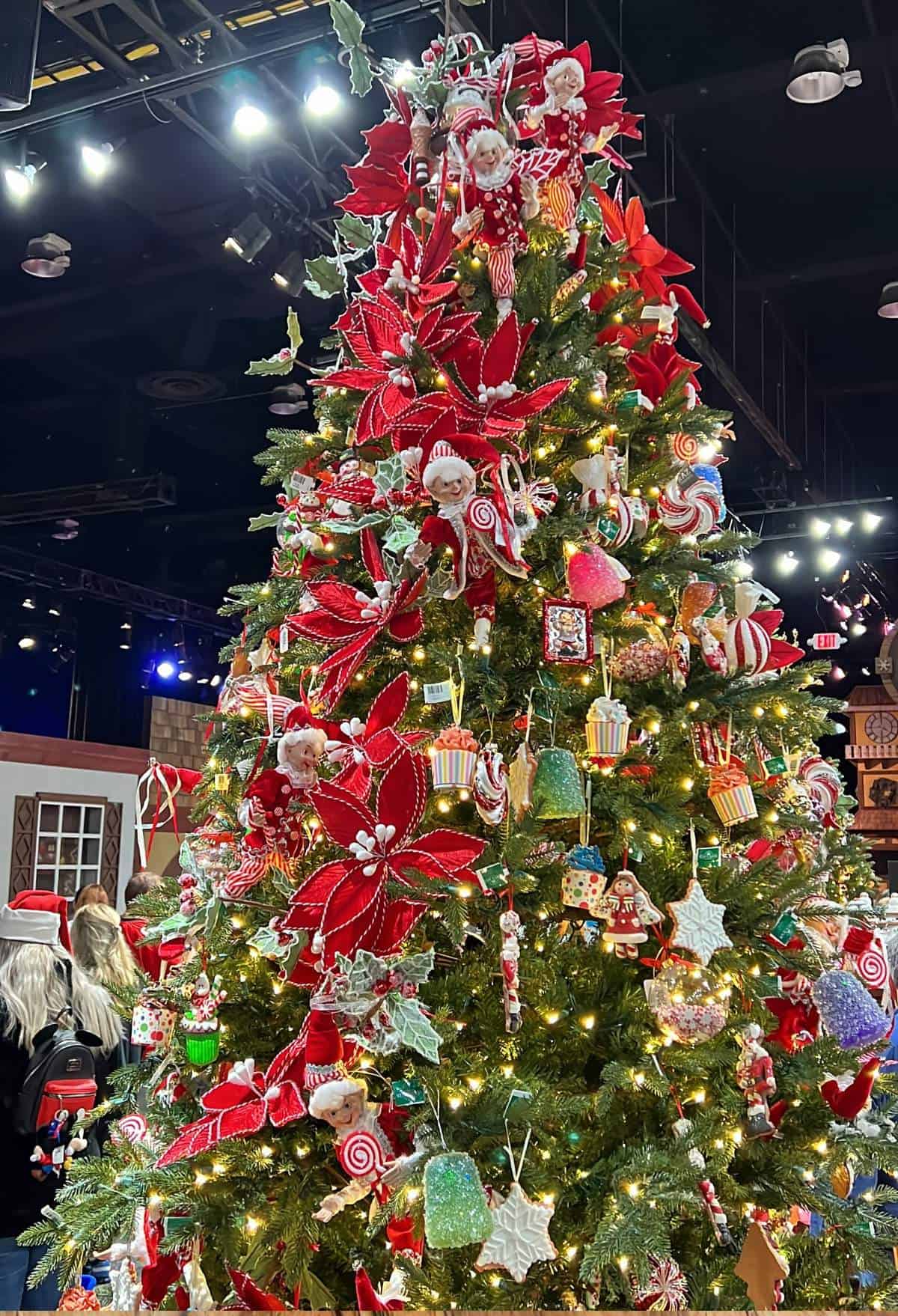 An impressive giant Christmas shop located in the village allows guests to shop without having to buy tickets for the ICE! attraction.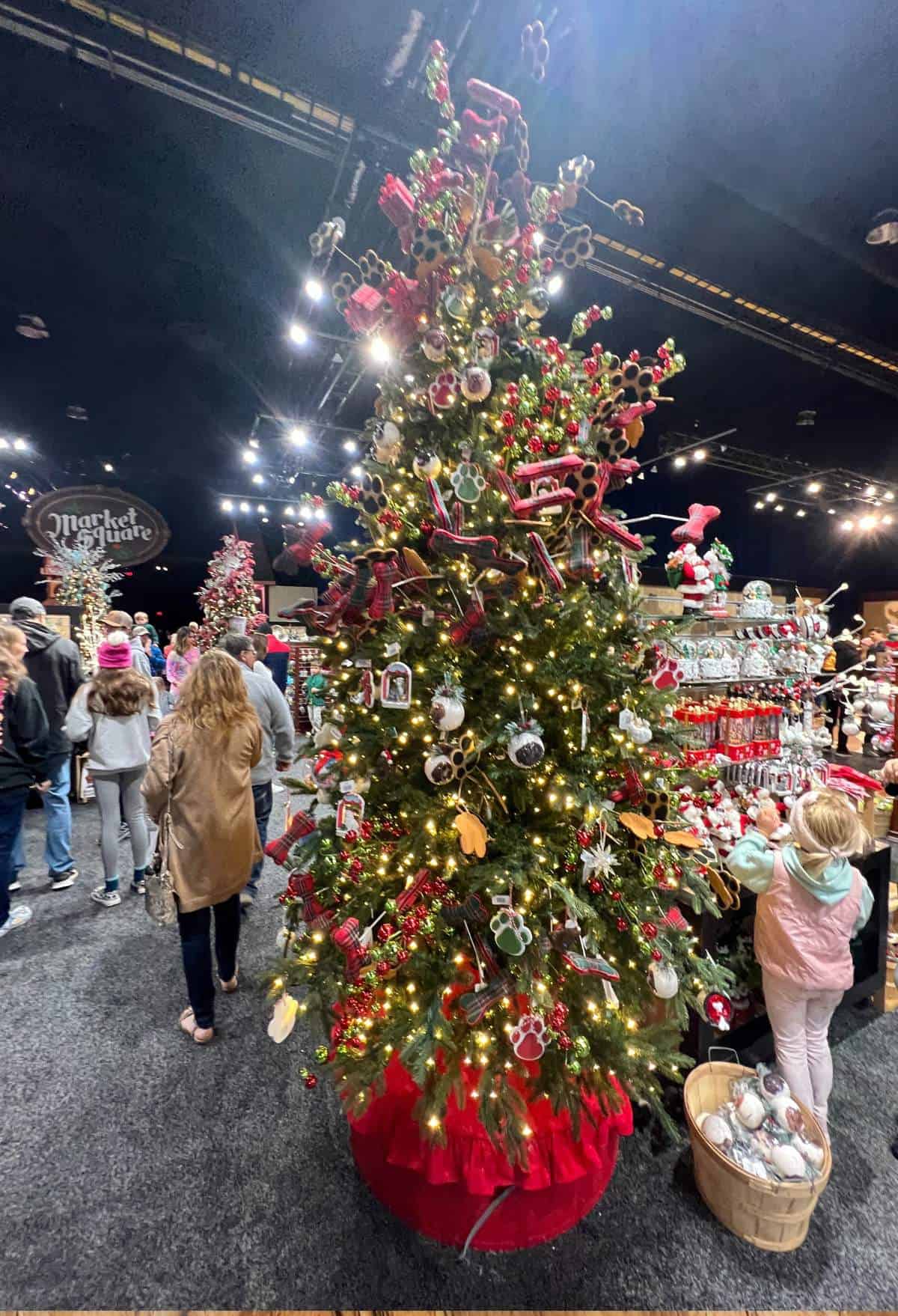 Guests who experience the resort's famed ICE! displays exit through this well-crafted winter wonderland as well.
Filled with How-The-Grinch-Stole-Christmas-themed gifts, and flavorful refreshments, Alpine Village ensures a truly enchanting Christmas escape for all those who visit.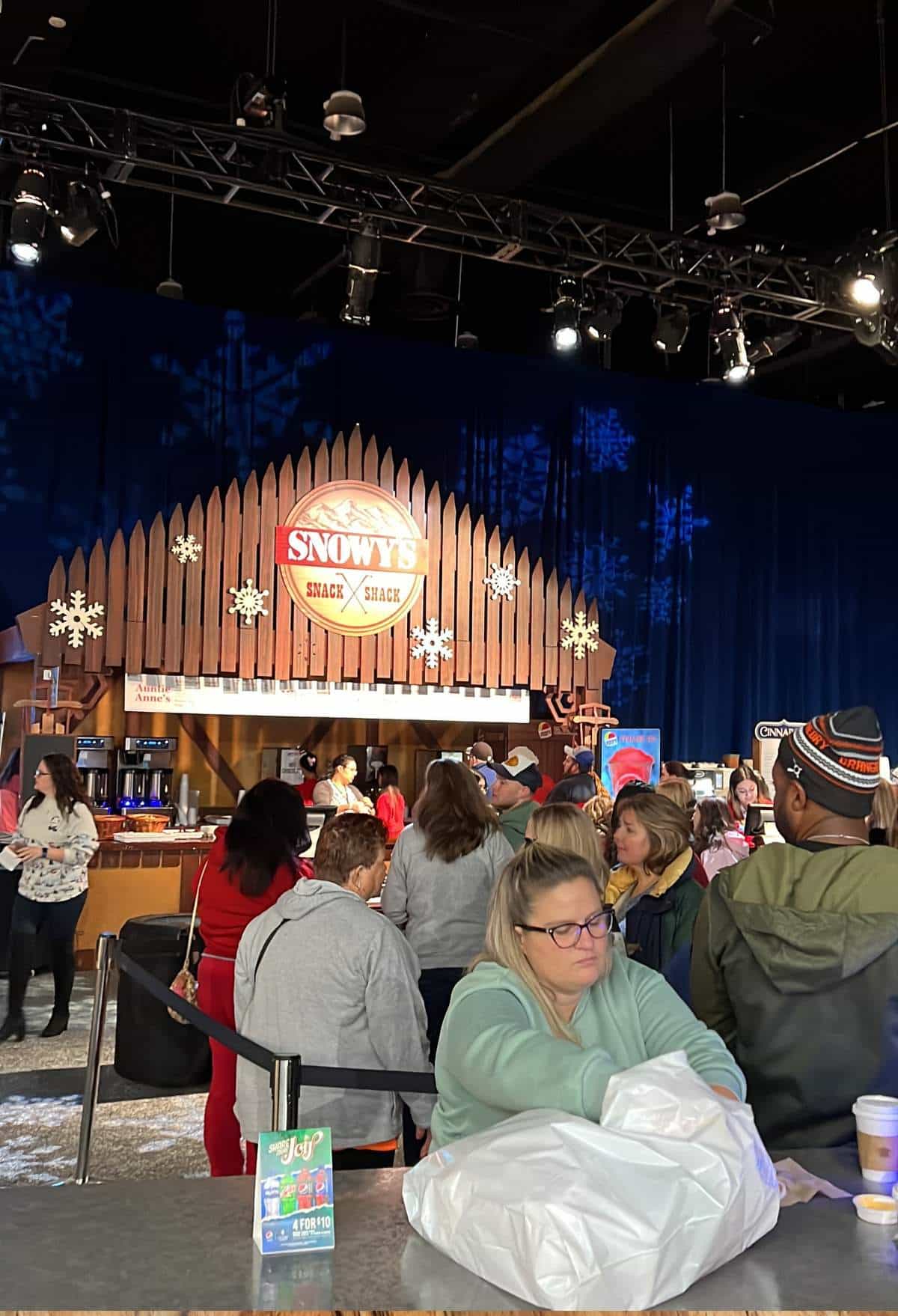 Altogether, it's the best place to get your fill of Christmas merriment during the holiday season!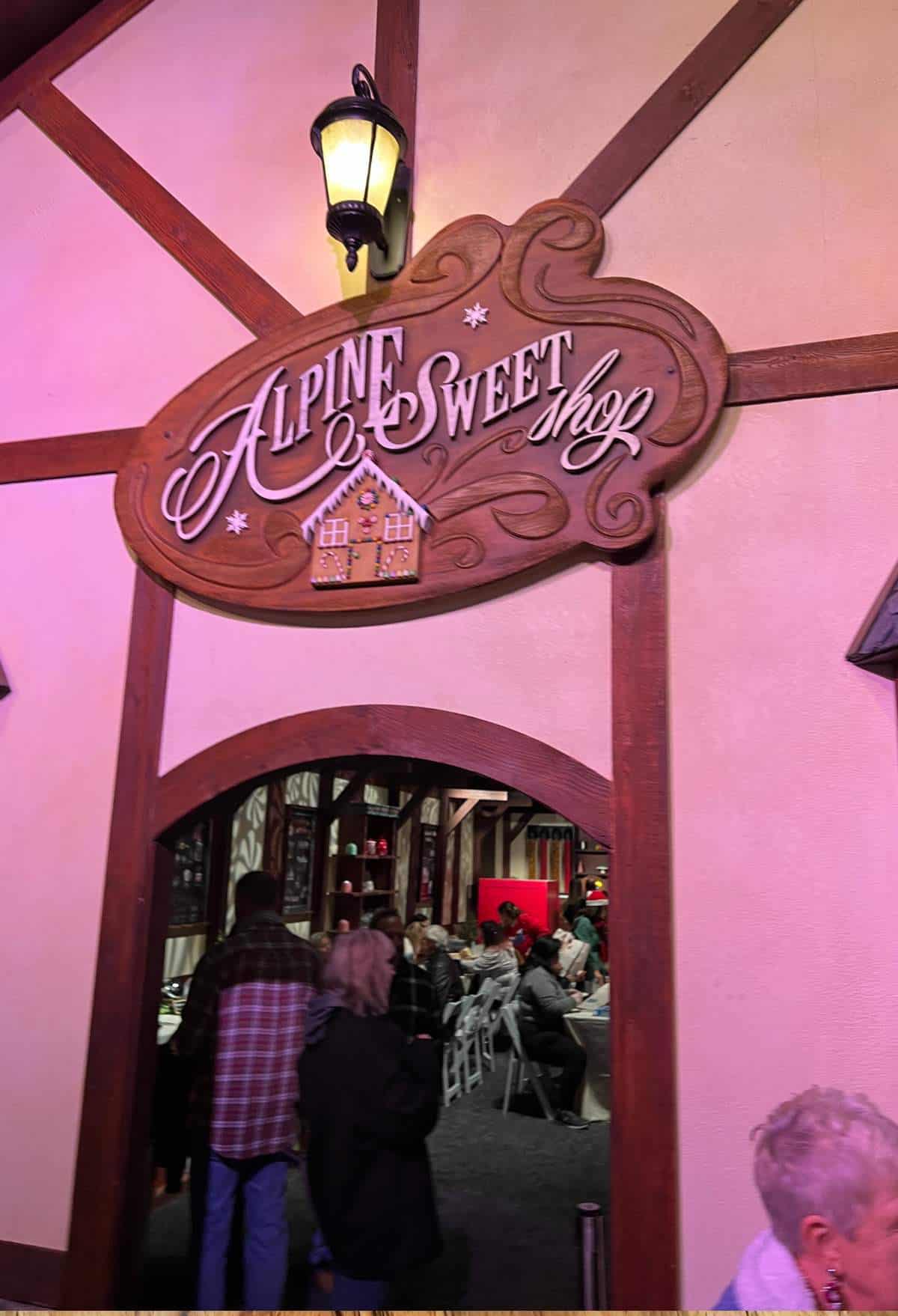 Naughty or Nice Escape Room
Are you feeling naughty or nice? Now, thanks to the Naughty or Nice Escape Room at Gaylord Palms ICE in Kissimmee, Florida, you can find out.
Jack Frost has put your name on his Naughty List but promises relief if you take the ultimate challenge of sneaking into Santa's office and solving a few puzzles.
Get ready for an adventure that will have you howling with laughter as you goof up like The Grinch who Stole Christmas!
Experience this delightfully devilish escape room challenge and prove that you deserve to be off the naughty list for good.
Snow Factory
This was our favorite part! The Snow Factory at Gaylord Palms ICE is inviting everyone to get in a bit more winter fun.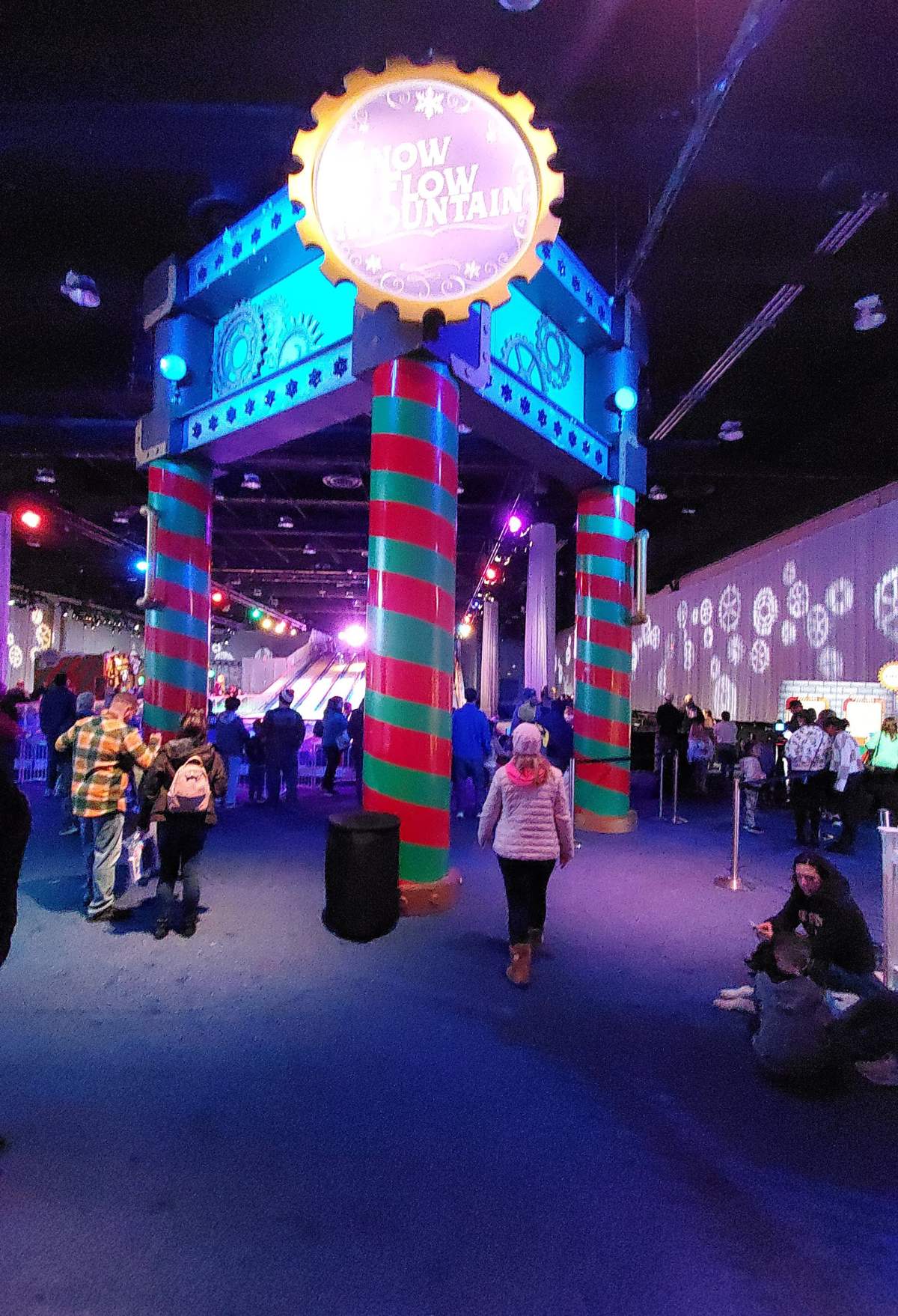 Start with ice tubing down Snow Flow Mountain. When you purchase tickets for Snow Flow Mountain, you can go down as many times as you want throughout the day.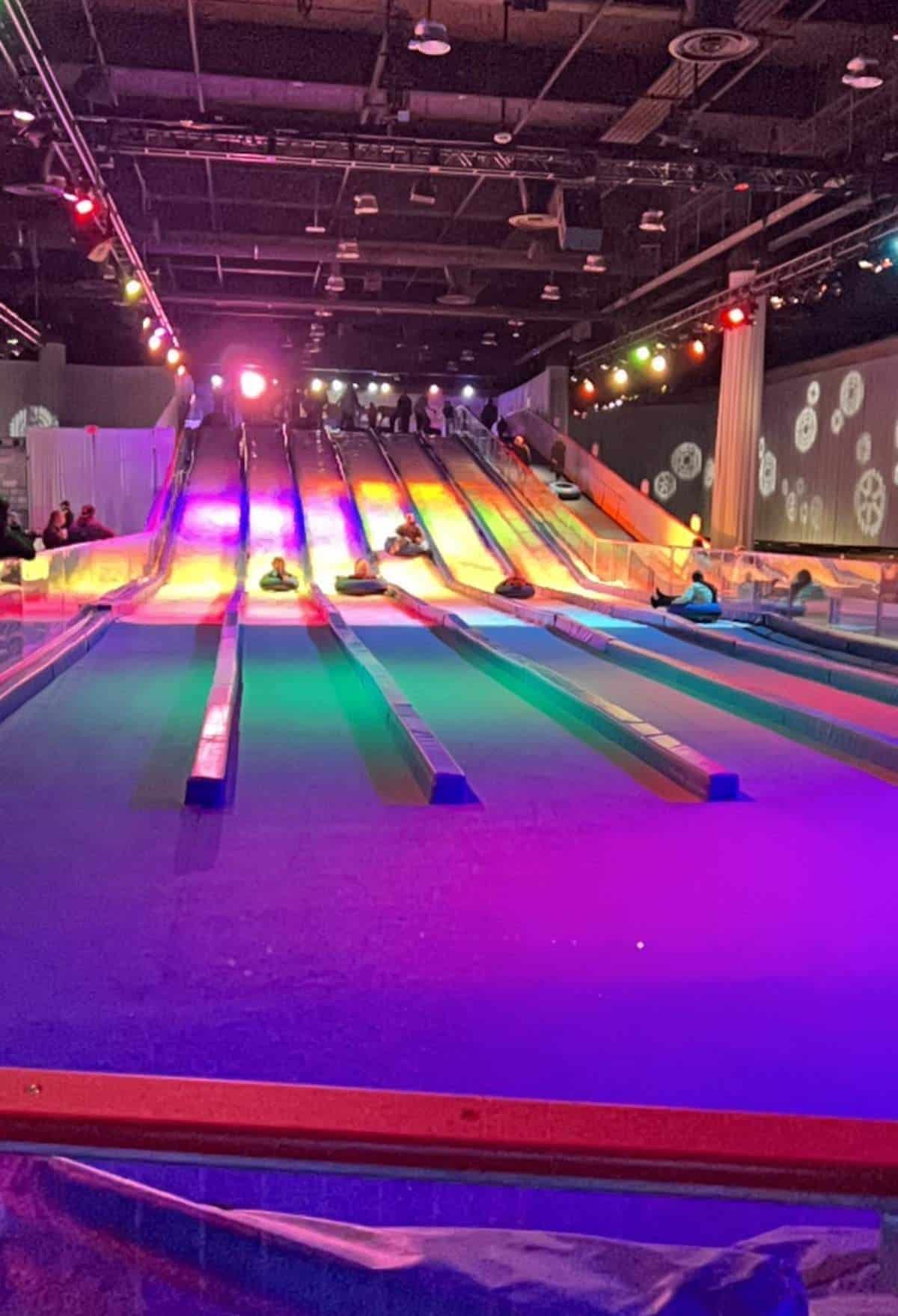 So the longer you stay, the more fun you'll have.
There is a slide located inside the ICE! display. However, it is the coldest room in the show and we were only able to stay inside that room for a few minutes. My fingers started to freeze while taking pictures.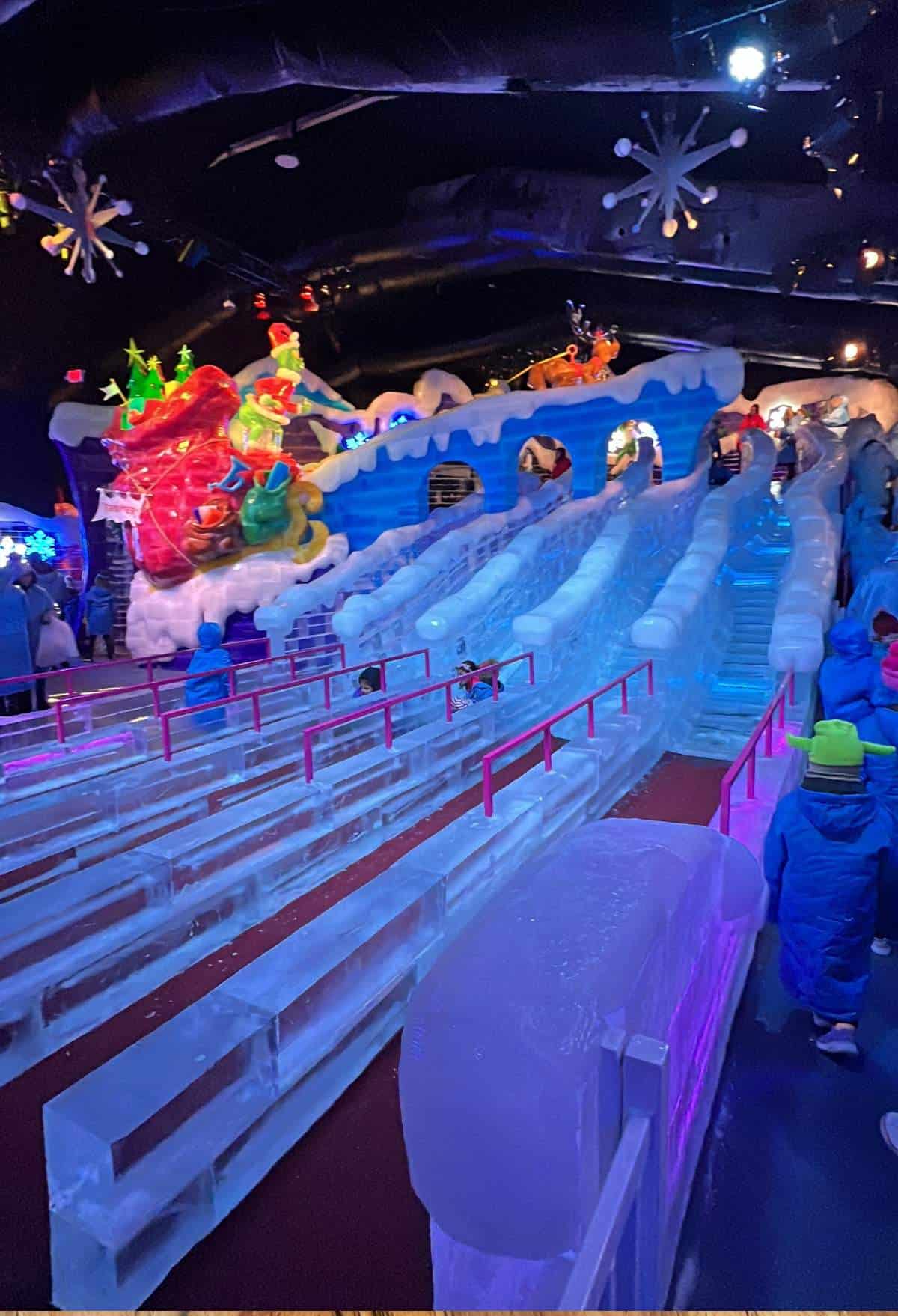 So be prepared. The slide in the snow village is warmer for sure and you can spend more time there without getting frozen like the ice!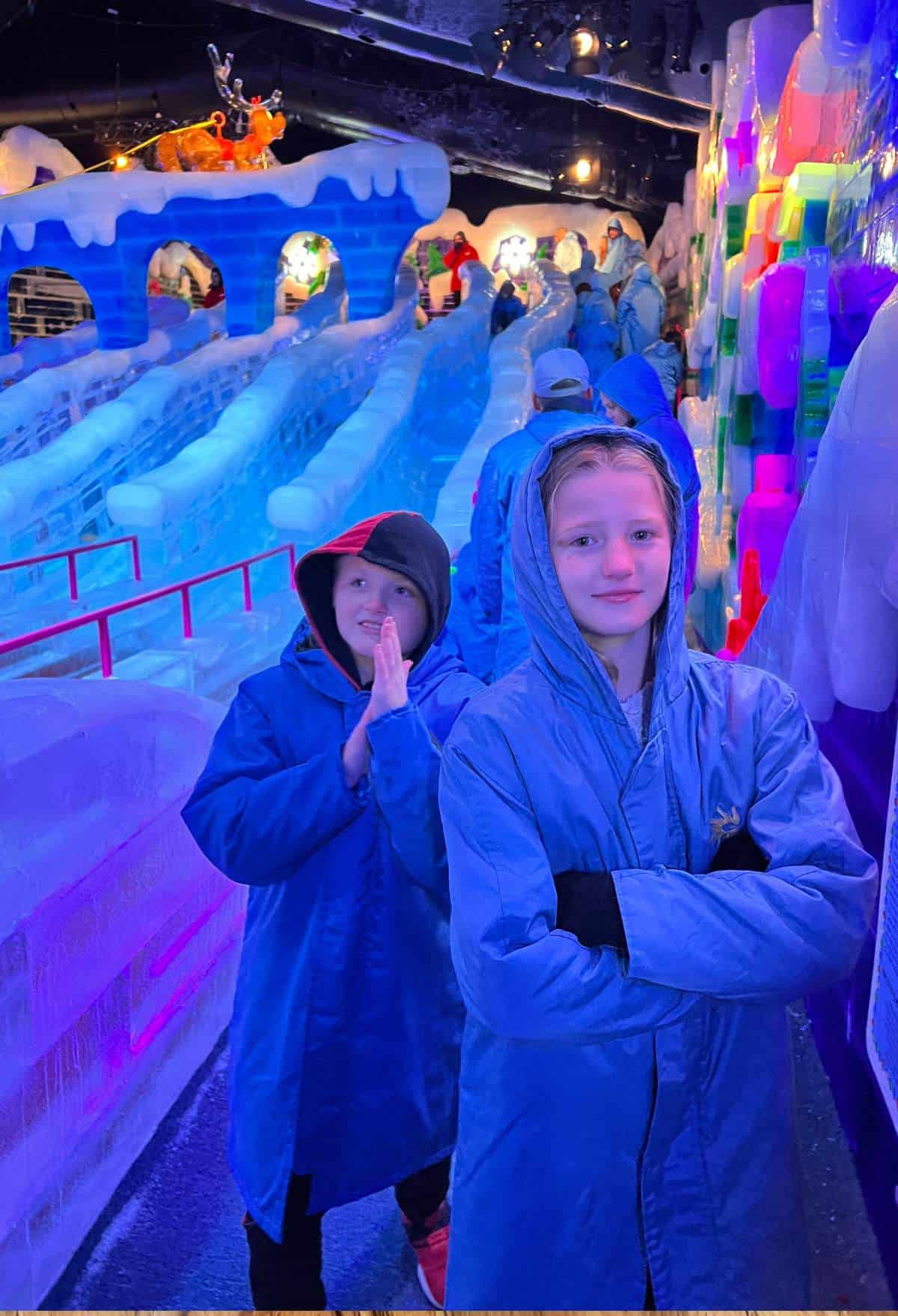 Snowball throwing at the Snow Ball Build & Blast.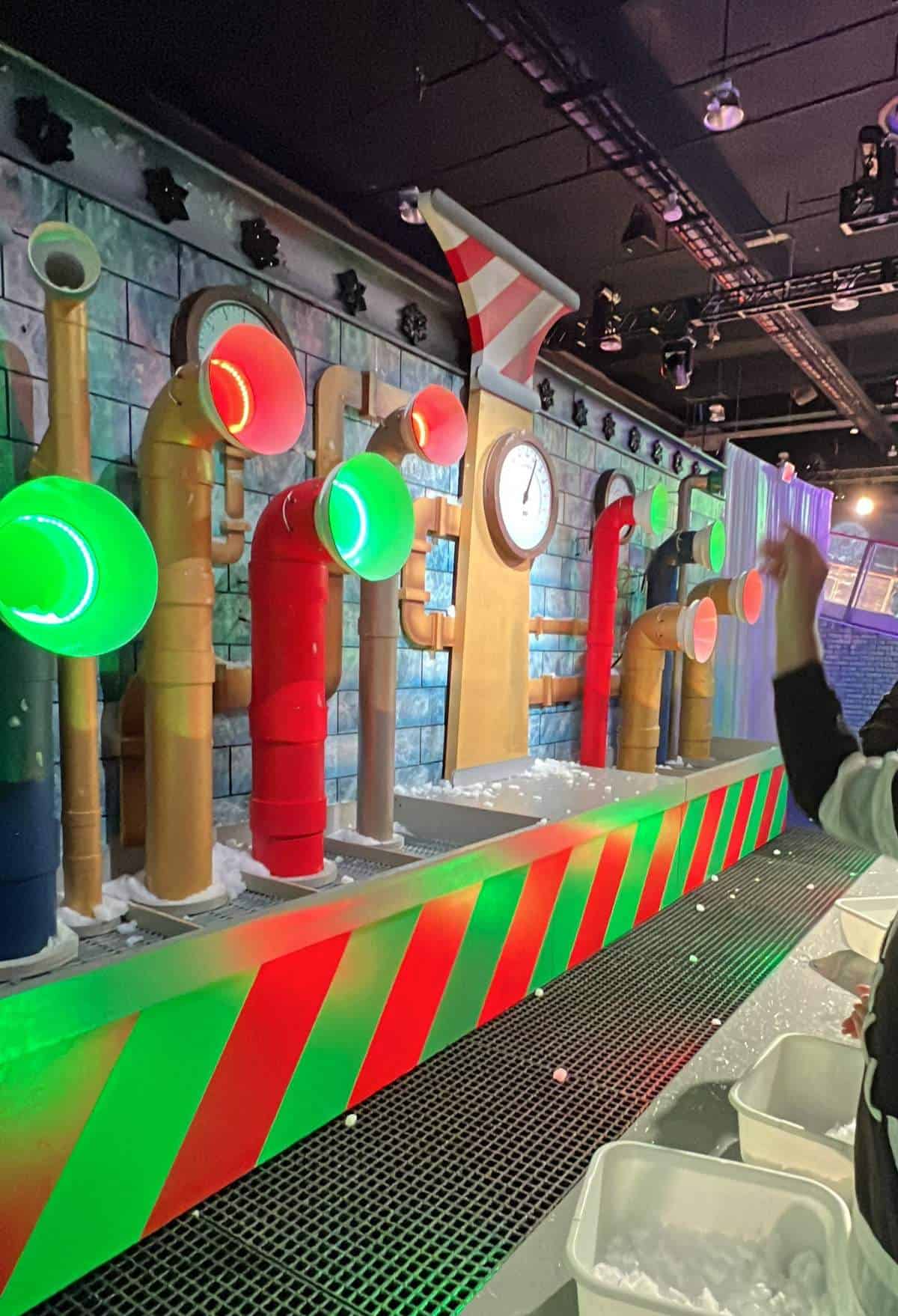 This winter-themed event is perfect for those looking to experience a holiday-flavored adventure that rivals the Grinch stealing Christmas!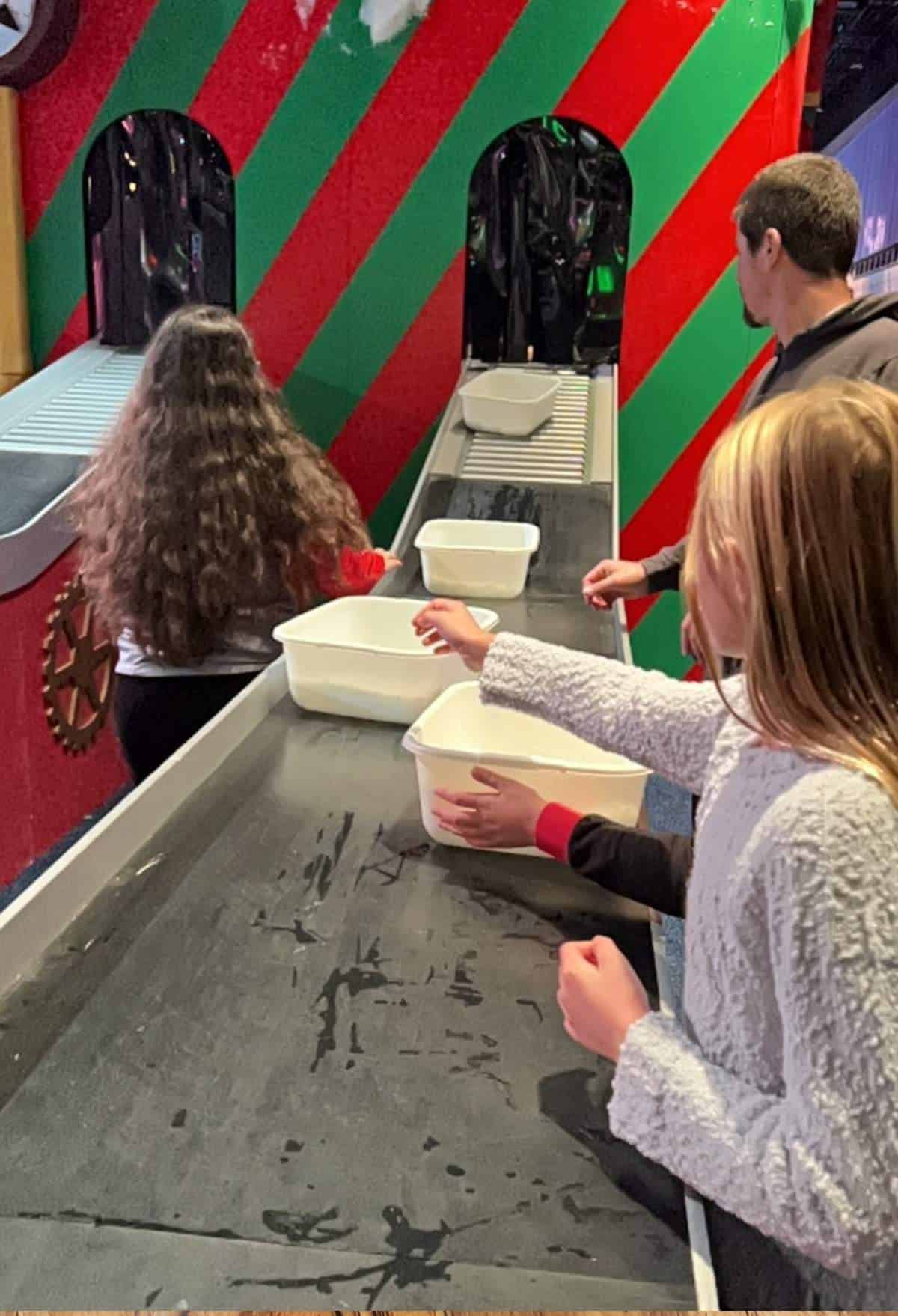 Noah was so excited because he is originally from Kansas and had never seen snow. Little did he know that in 24 hours he was going to be in Buffalo, NY to see the 7 ft. blizzard event of 2022.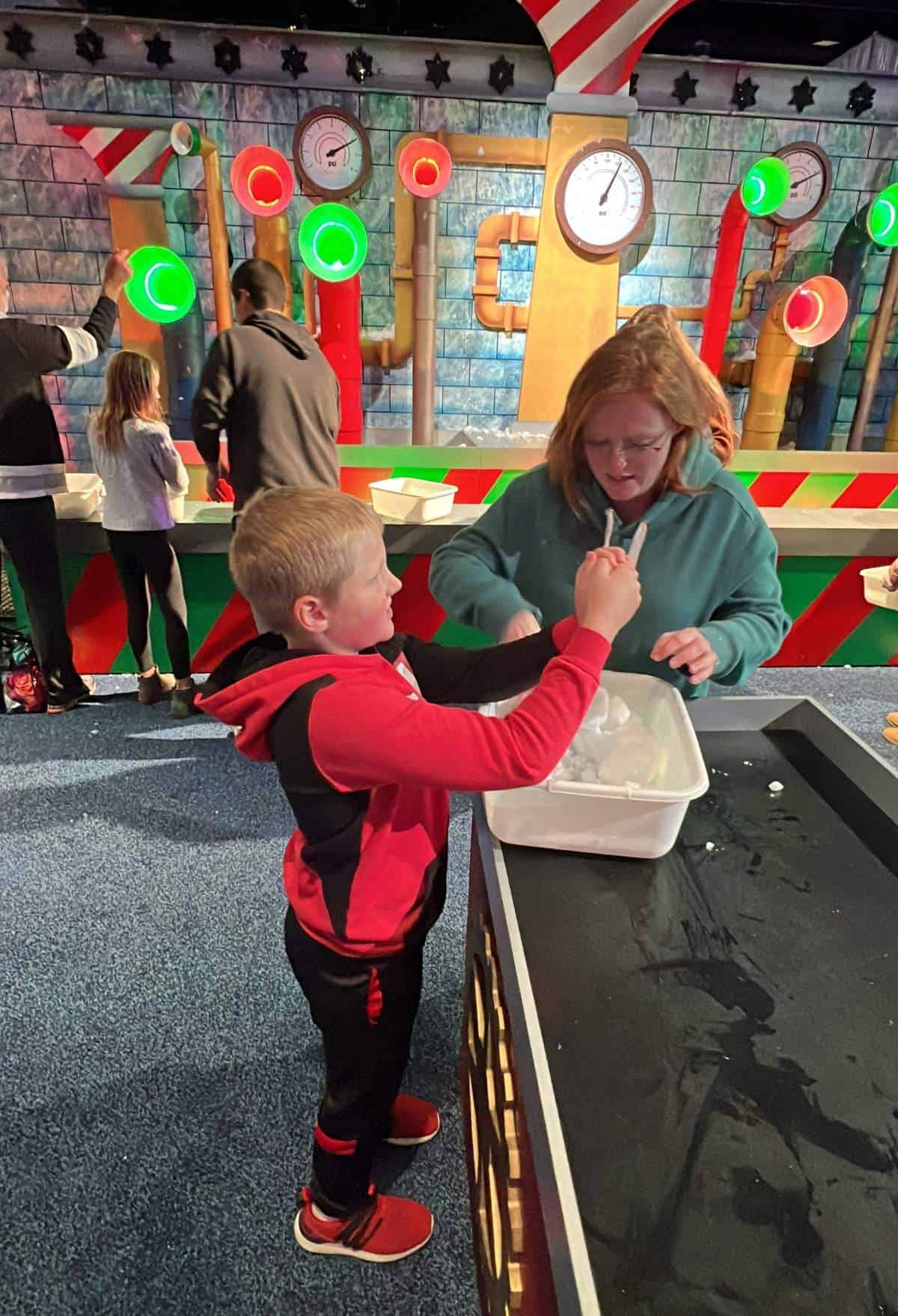 You pay per bucket of balls, but you can all share, it's not one per person.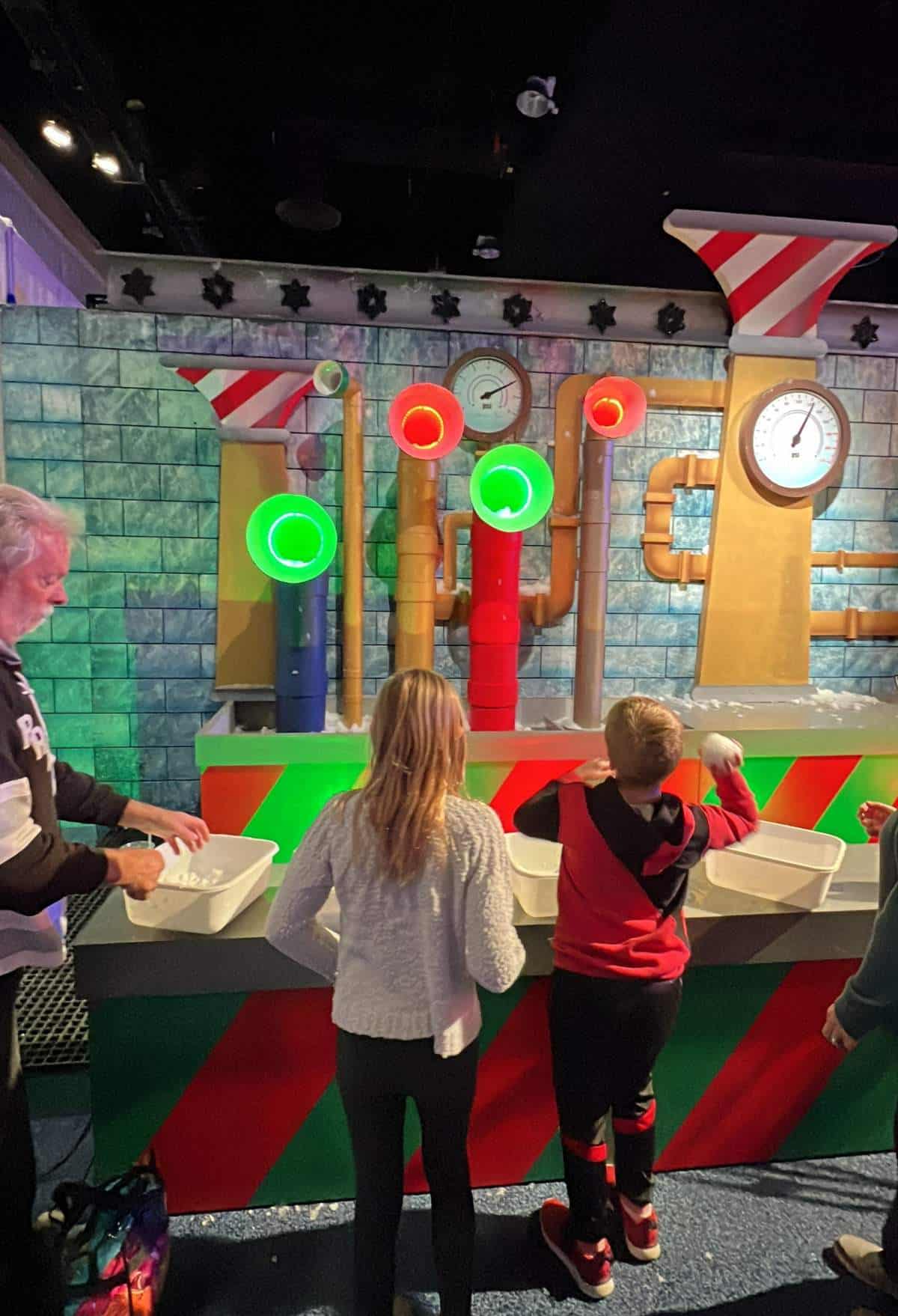 If the adults are in the mood for something special, then you won't want to miss their Christmas-themed drinks at the Snow Bar.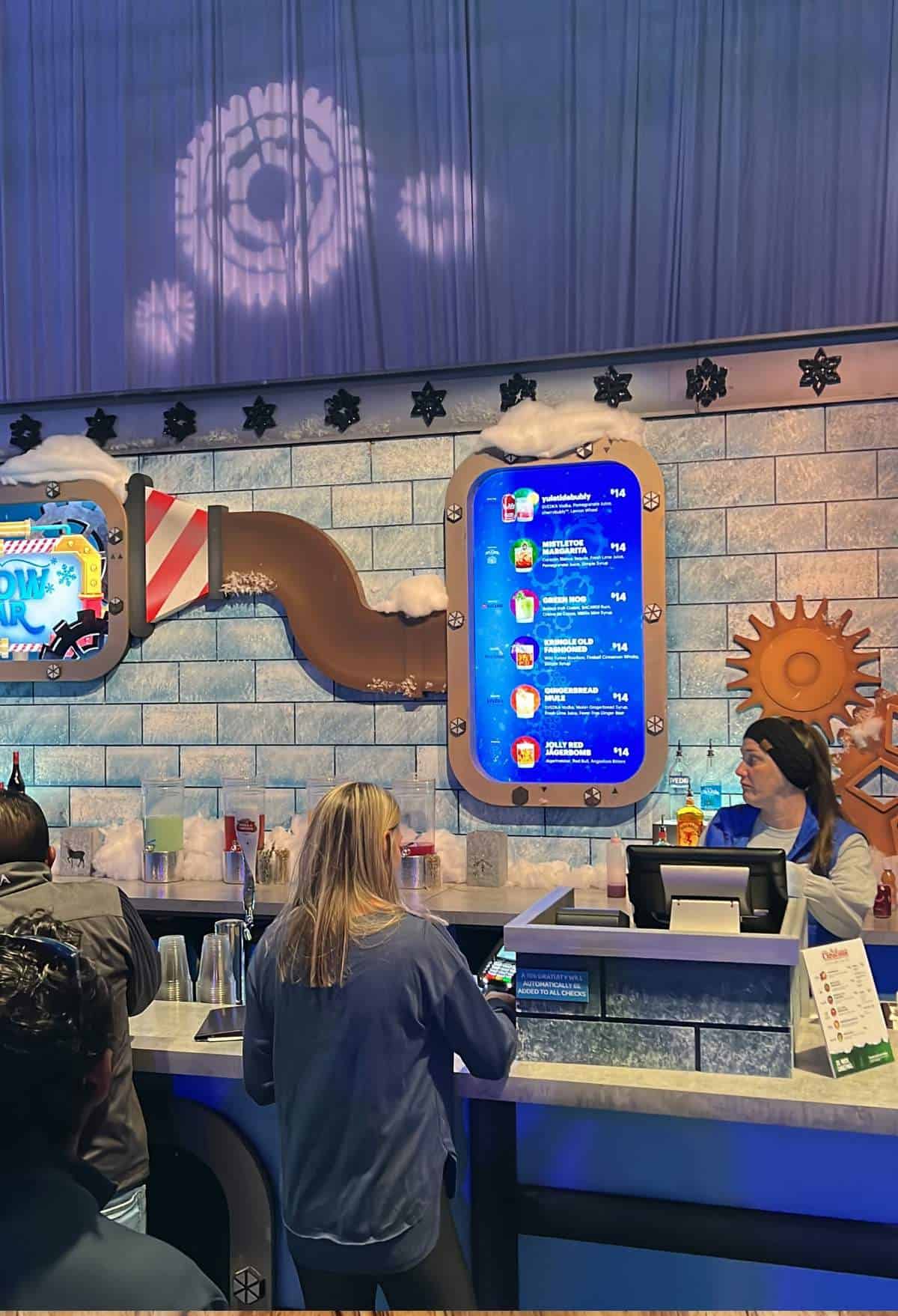 You'll have plenty of sweet and delicious options for your own winter wonderland. There's no better way to enjoy the season than with a trip to the Snow Factory!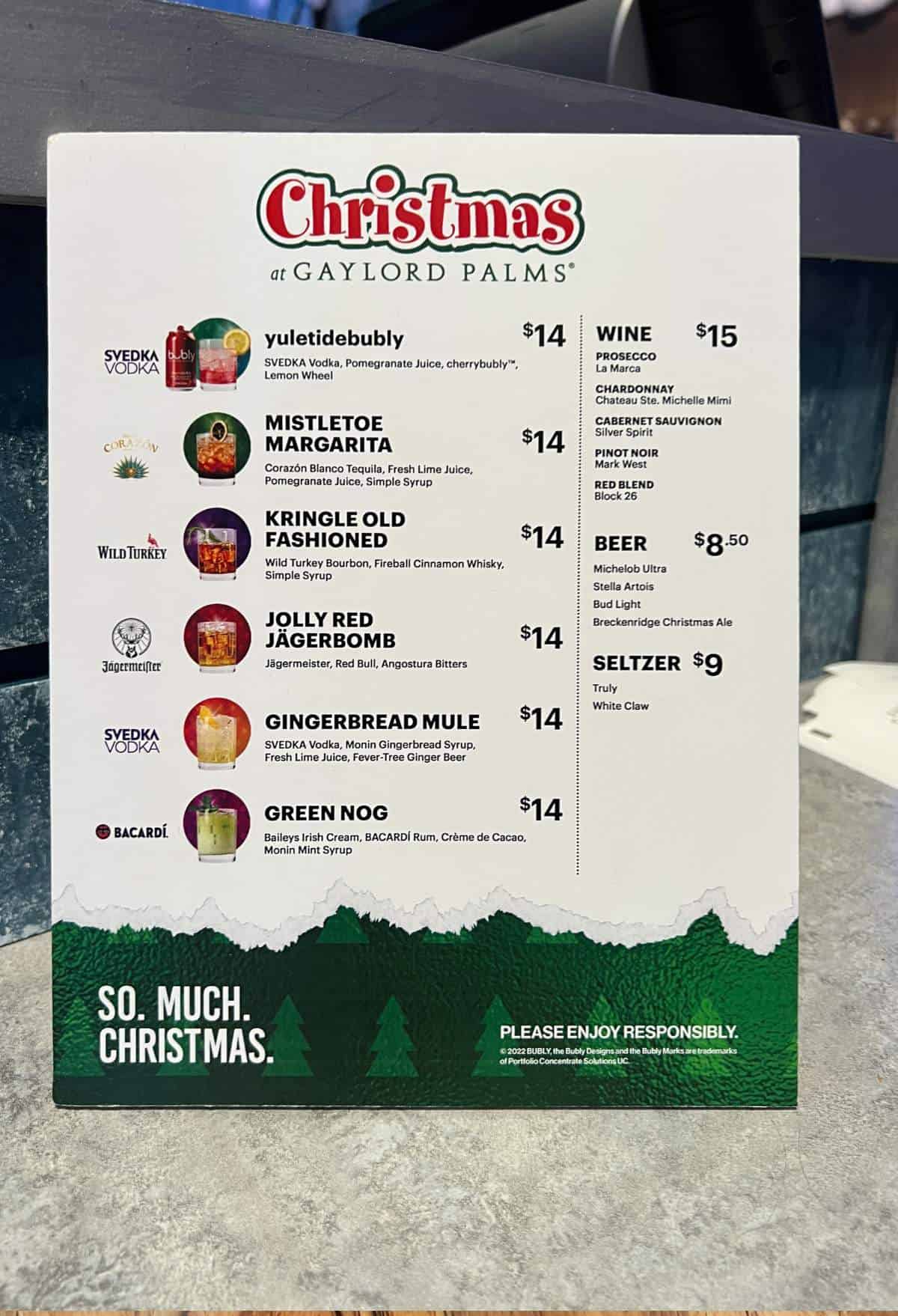 I went with the Green Nog and was not disappointed.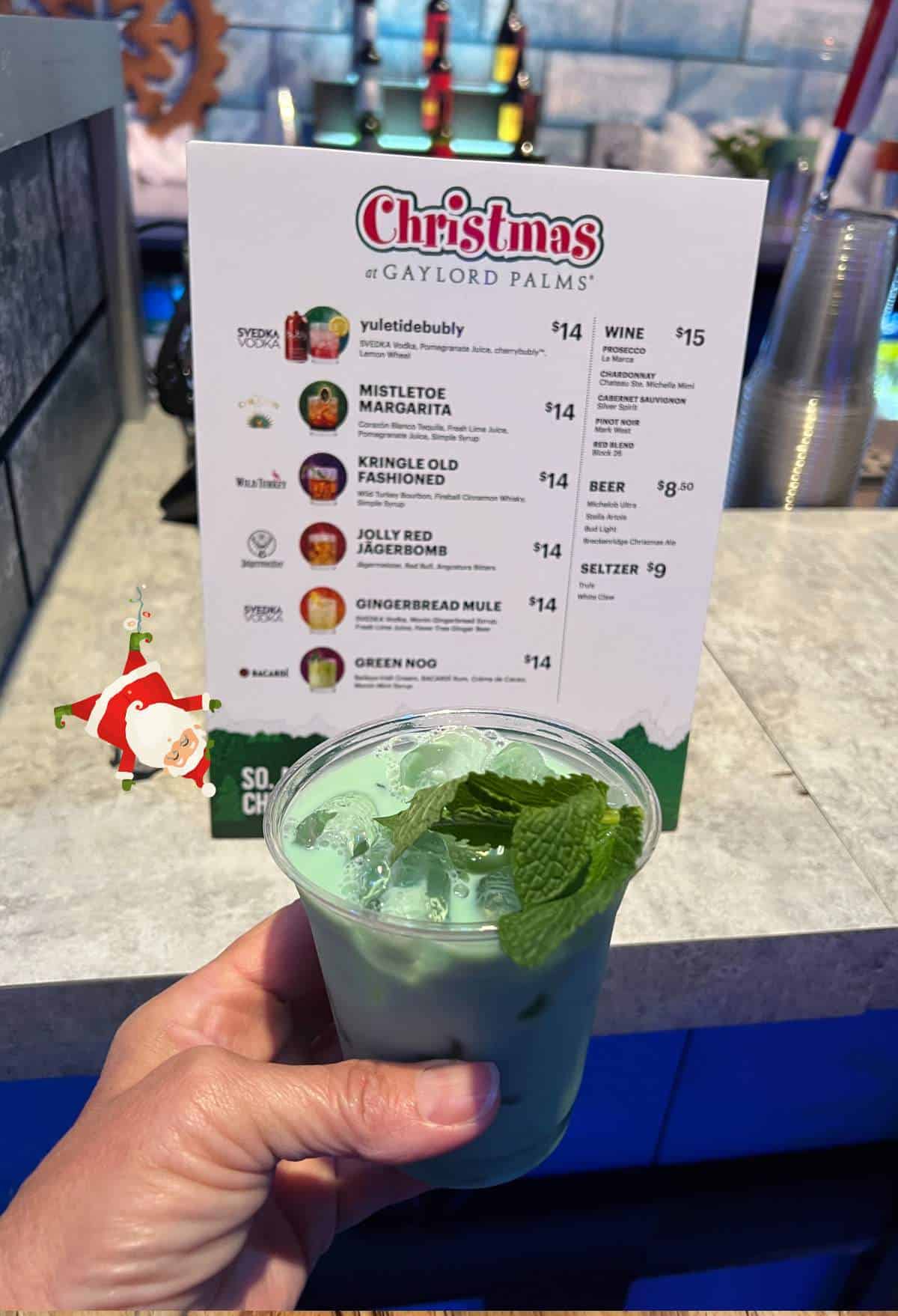 There is so much more, so visit them online for all the information. And if you choose to stay at Gaylord Palms, there are more options only available to overnight guests, such as Feast with The Grinch Character Breakfast.
Christmas at Gaylord Palms
If you have ever been to Gaylord Palms, then you know how spectacular it looks.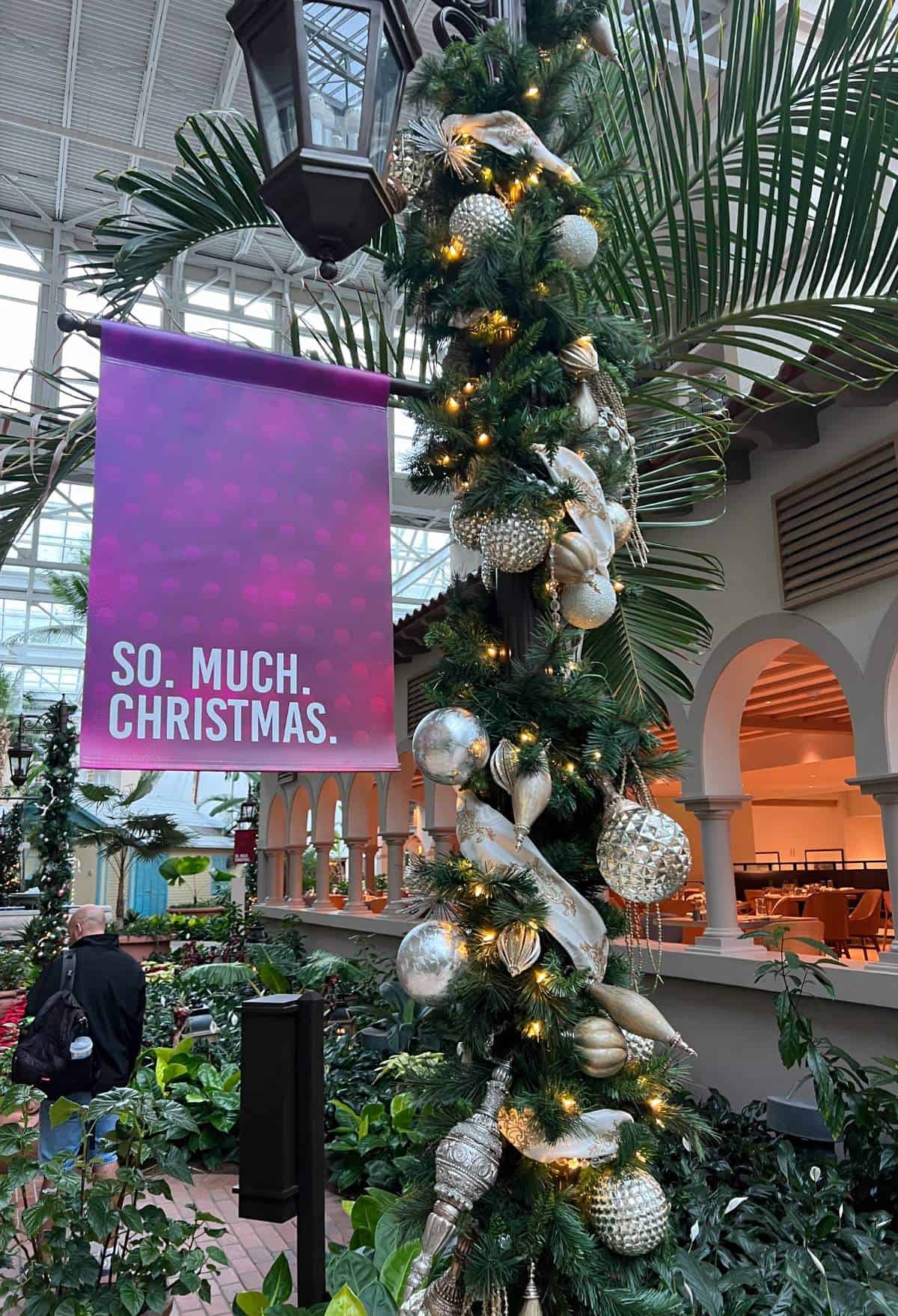 With a 4.5-acre atrium, you can walk among the 100 decorated Christmas trees and feel like a child all over again.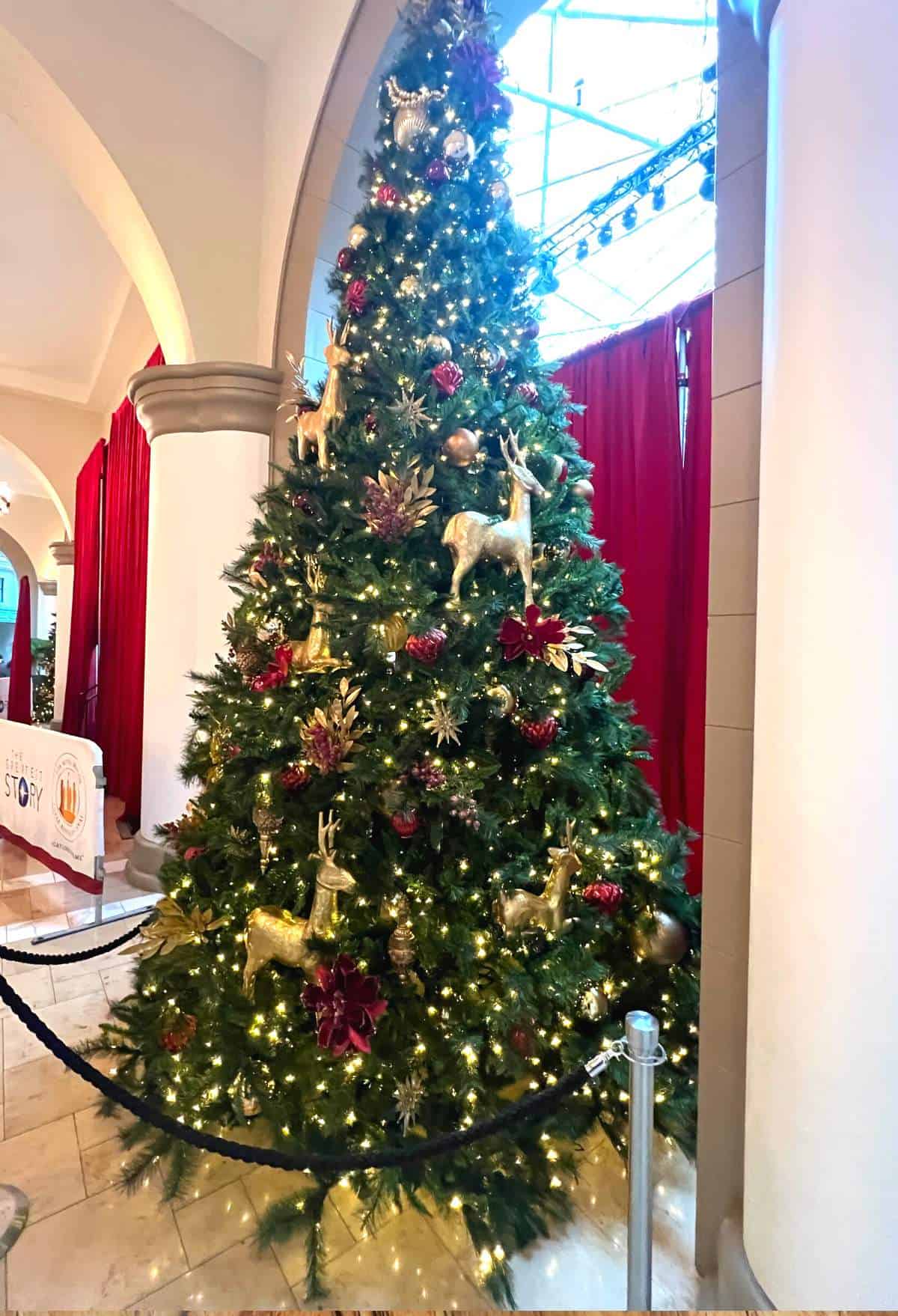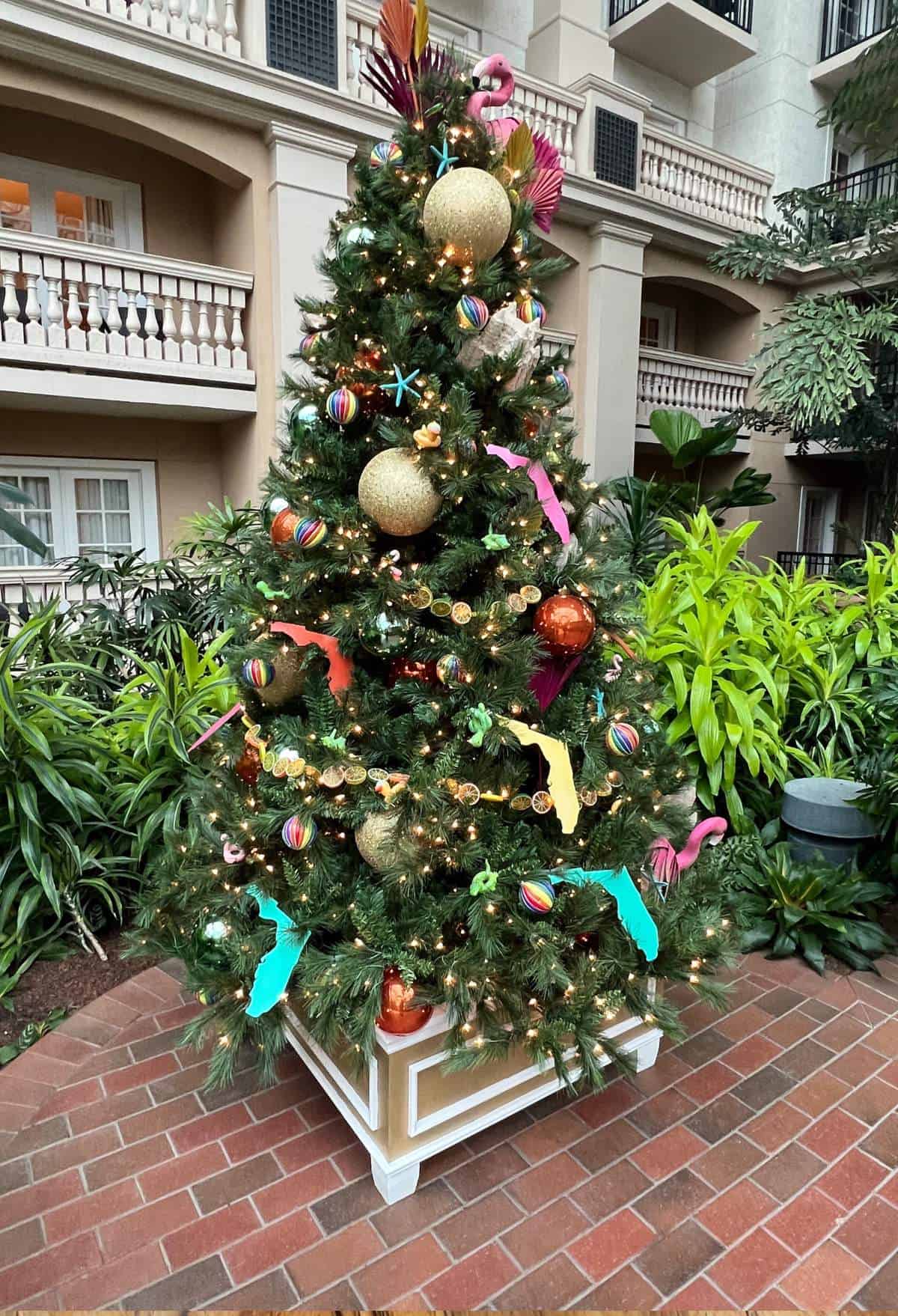 Everywhere you look, you will find more Christmas decorations than you can imagine.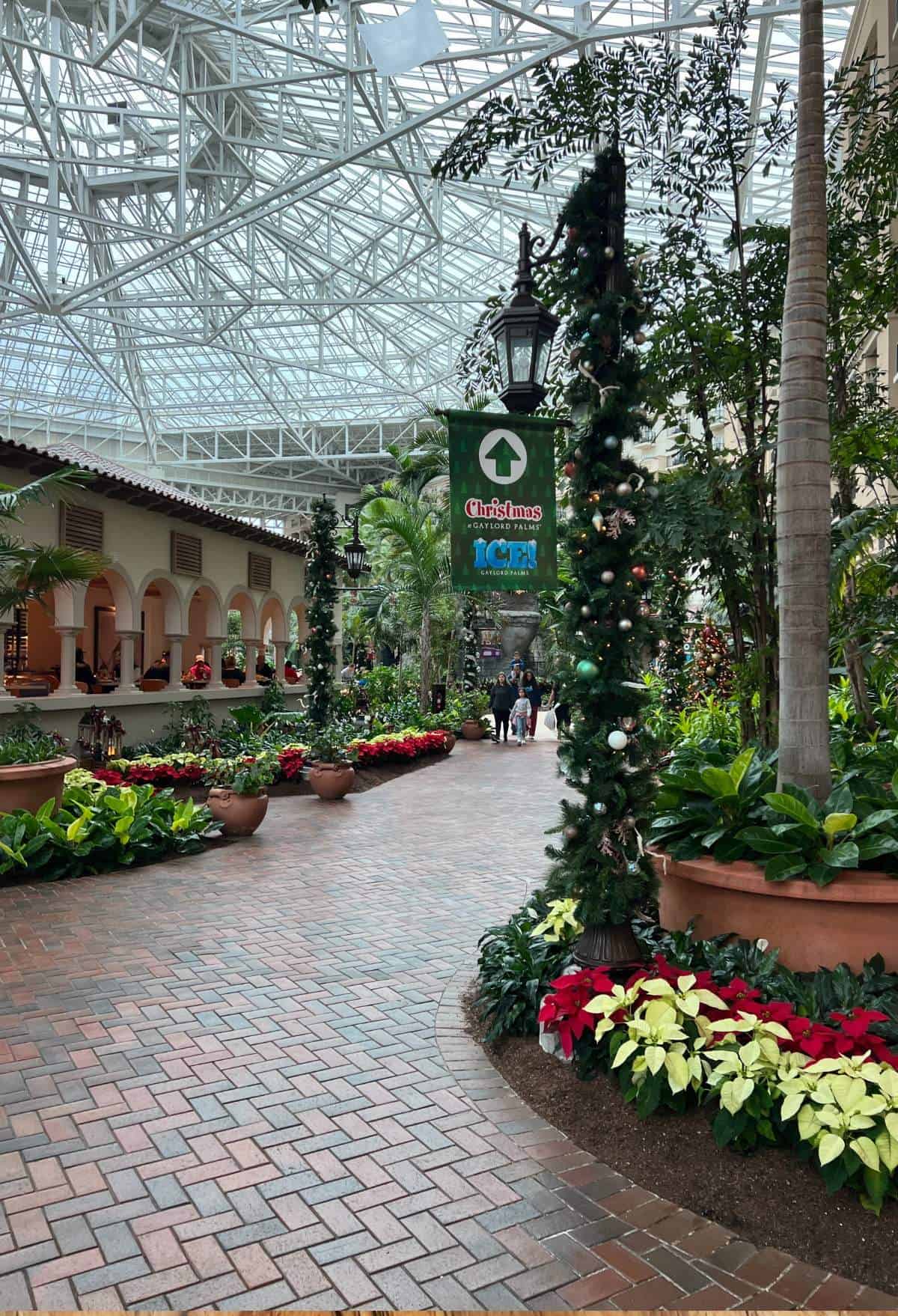 Three million Christmas lights and 20,000 ornaments, plus a 60 ft. tall tree that comes to life every evening with a magical and musical show.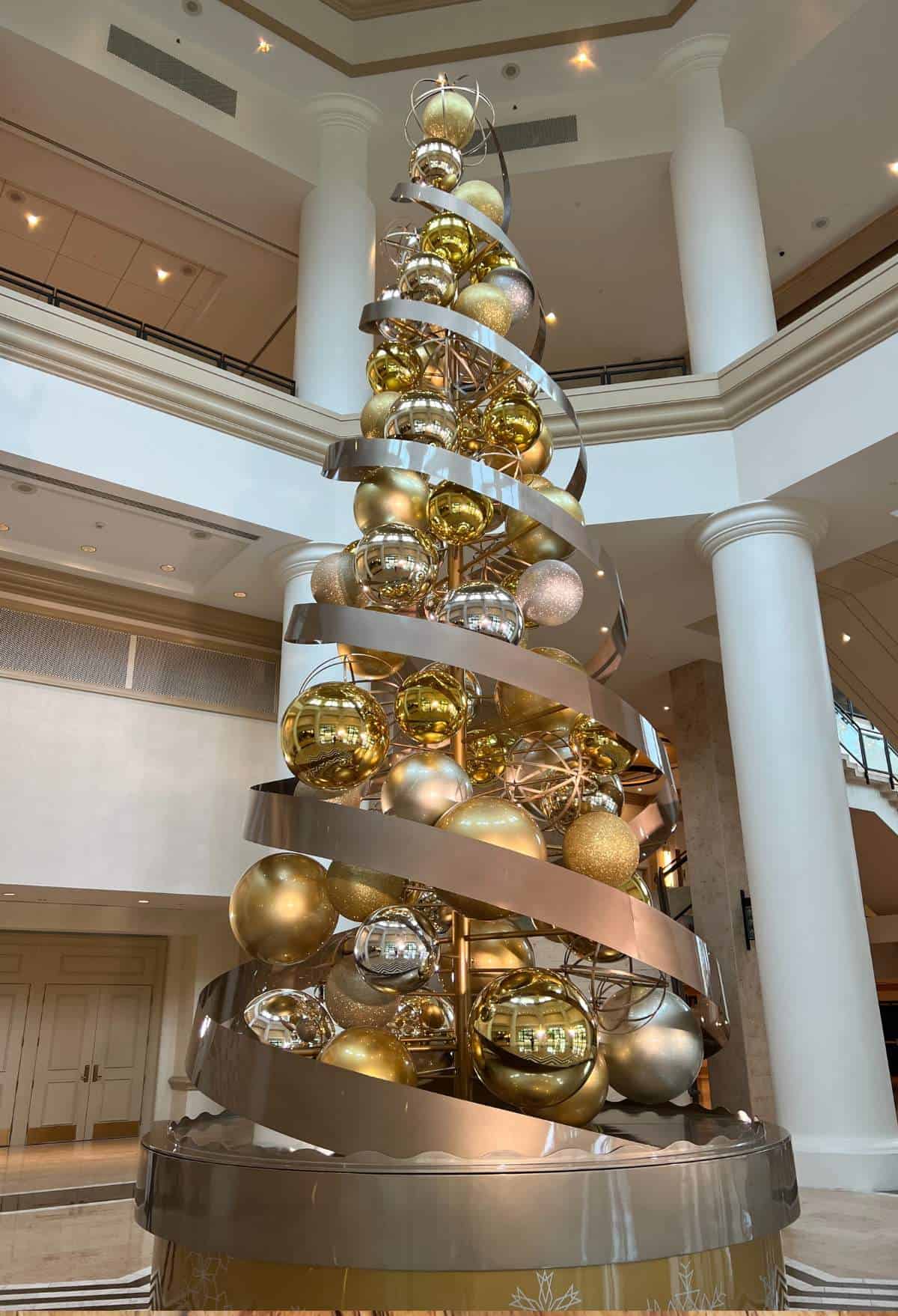 Book that room with the atrium view for a spectacular vacation.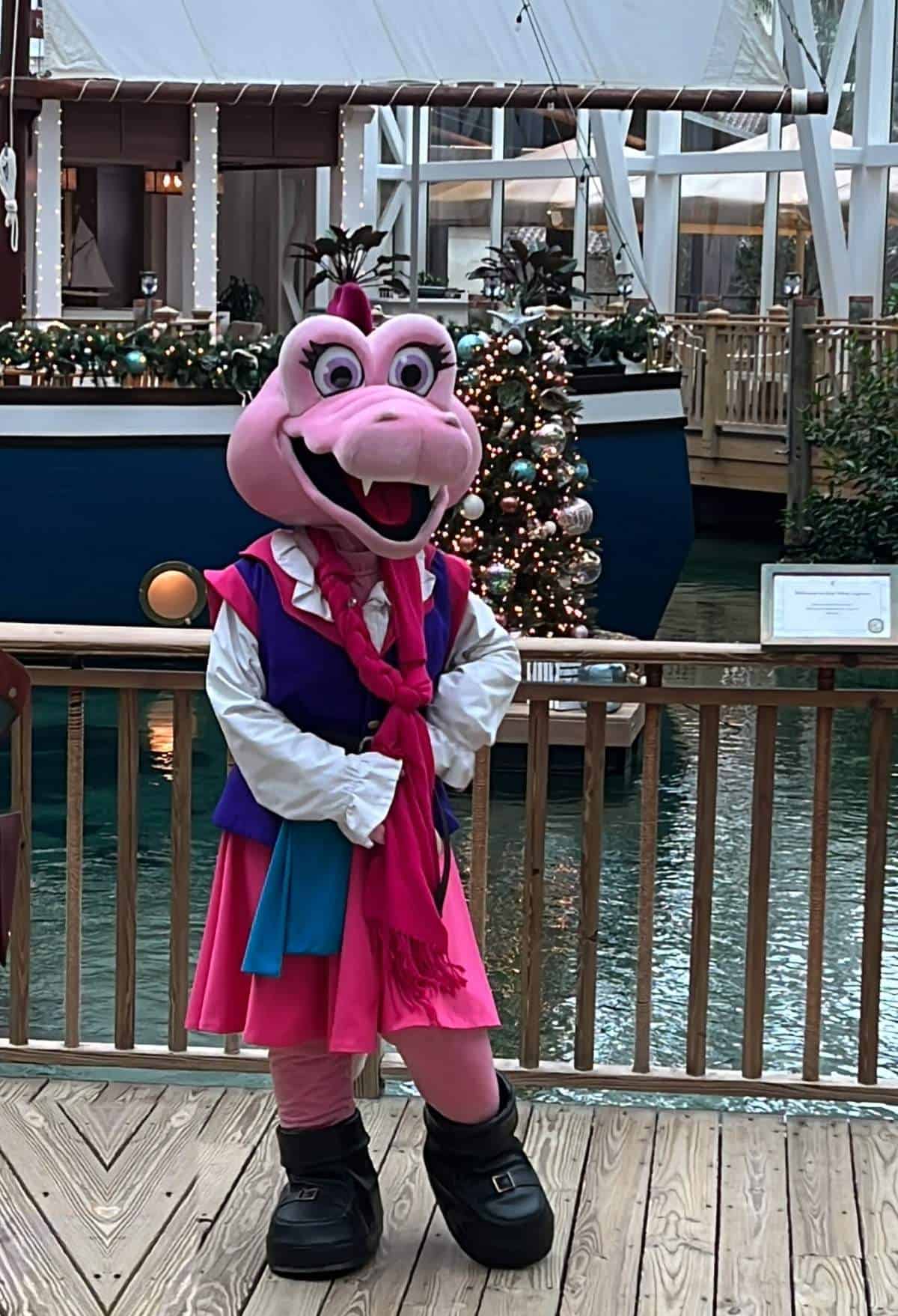 Restaurant Choices
There are many dining options to choose from but the one that stands out the most is MOOR, a 60-foot sailboat sitting in a lagoon. It stands for Mindful Of Our Resources.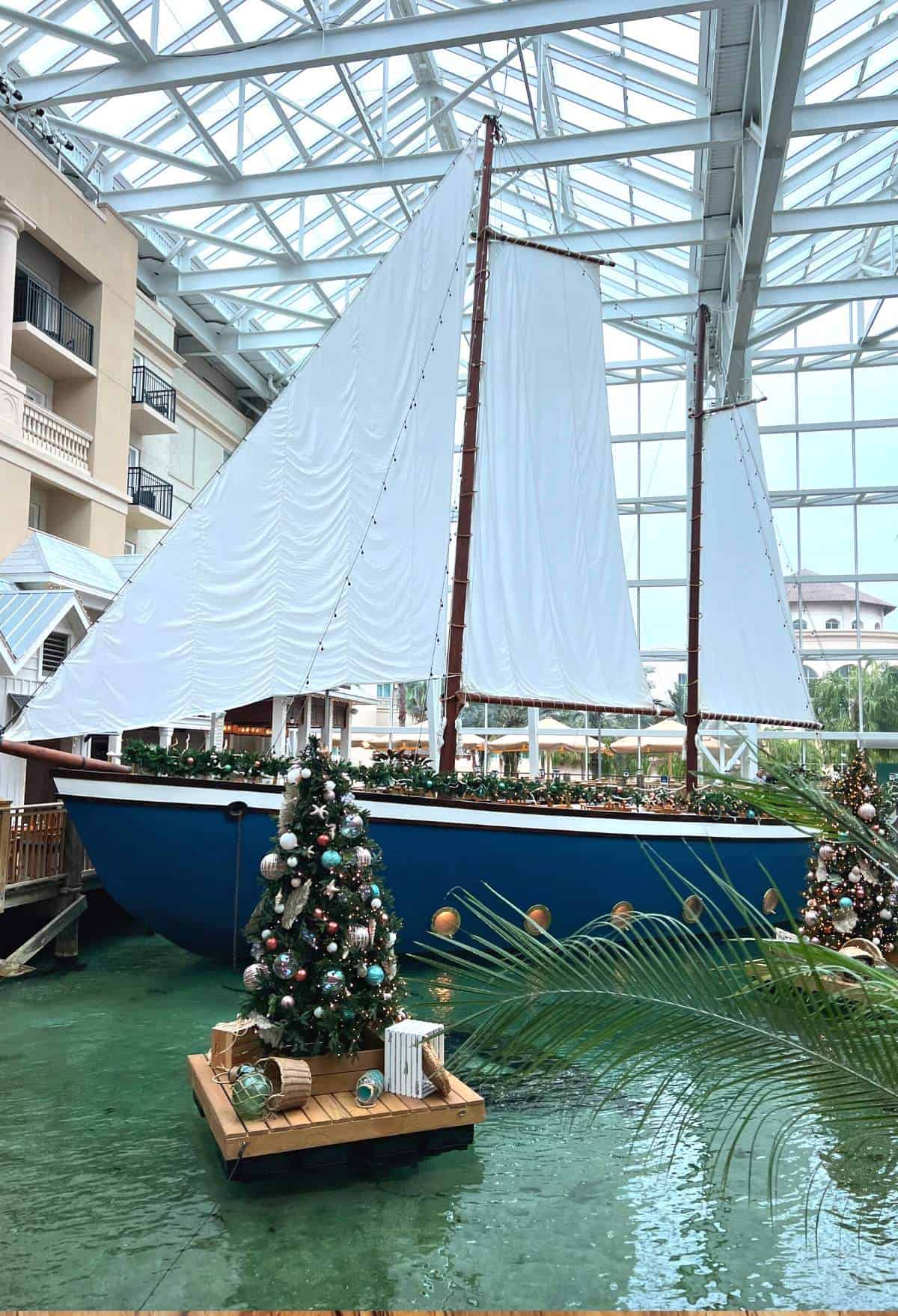 The menu changes daily and the chefs pride themselves in their sustainable dishes. The ingredients are sourced from local farmers and fishmongers.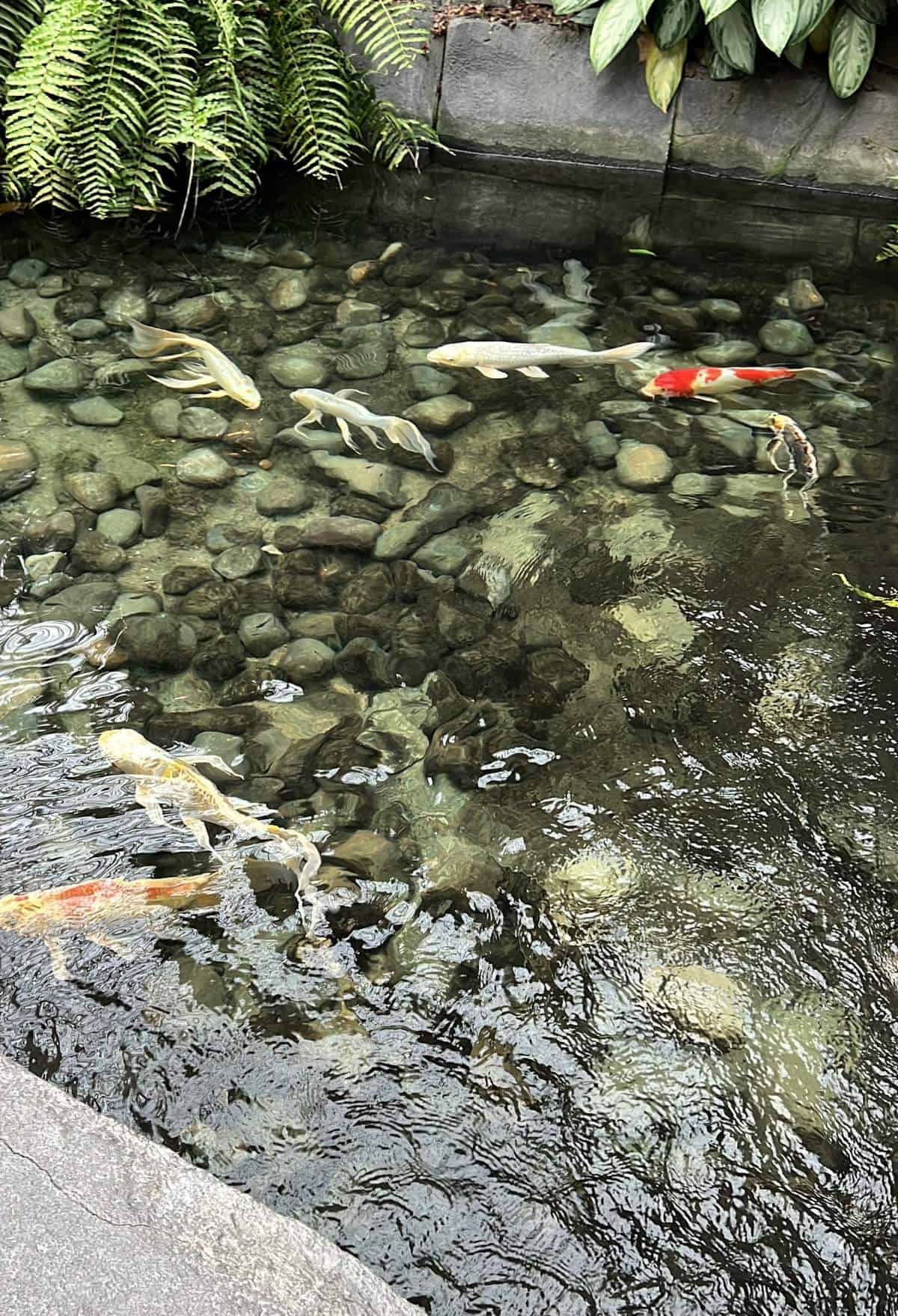 How to Dress for ICE at Gaylord Palms
Upon entering ICE! there is a guide for choosing the perfect size parka to wear on entry. Being a balmy 9 degrees, you kind of need more than just the parka!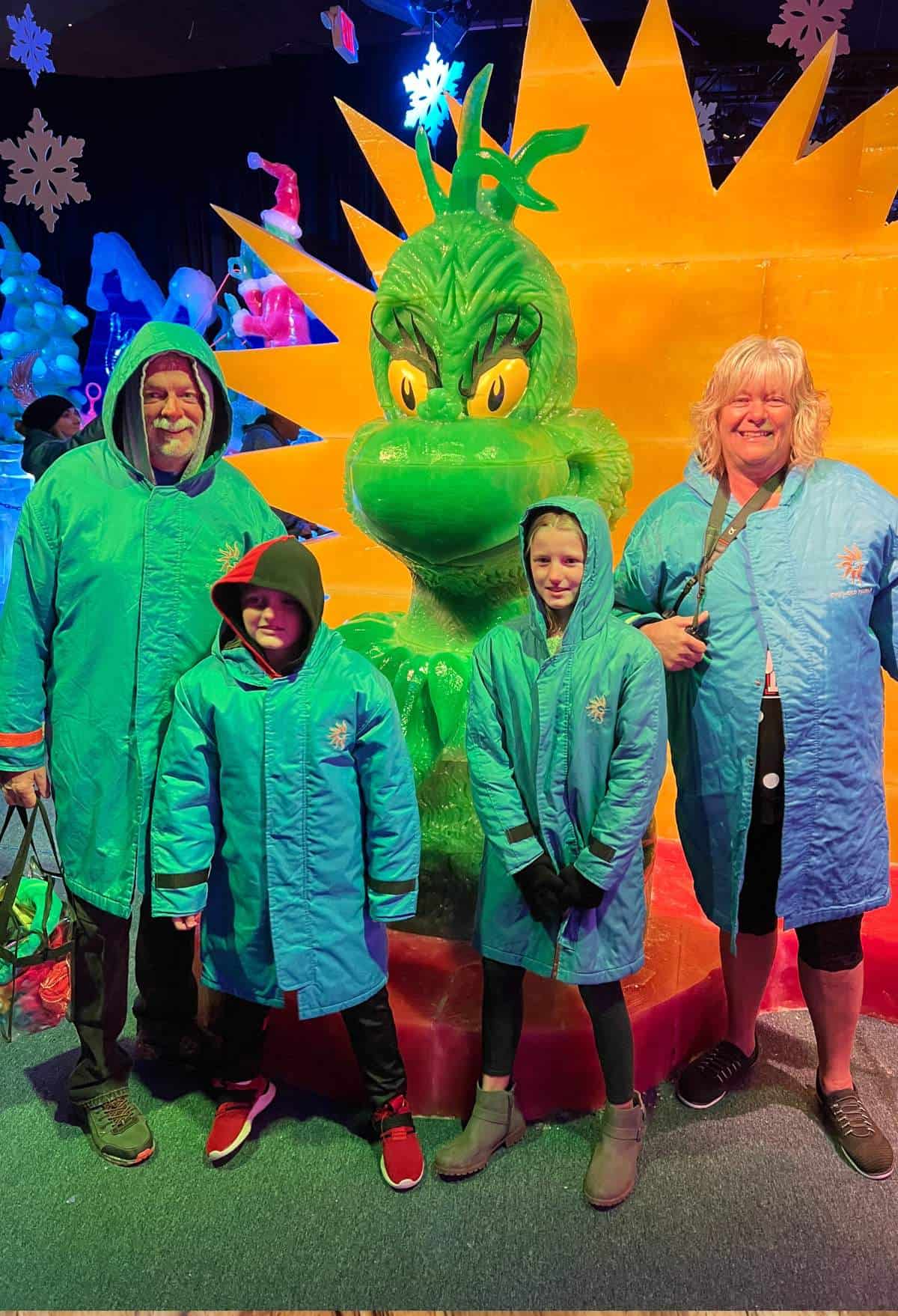 And this year there is something extra festive - little gnomes of varying sizes that represent how average sizes among different people can vary greatly!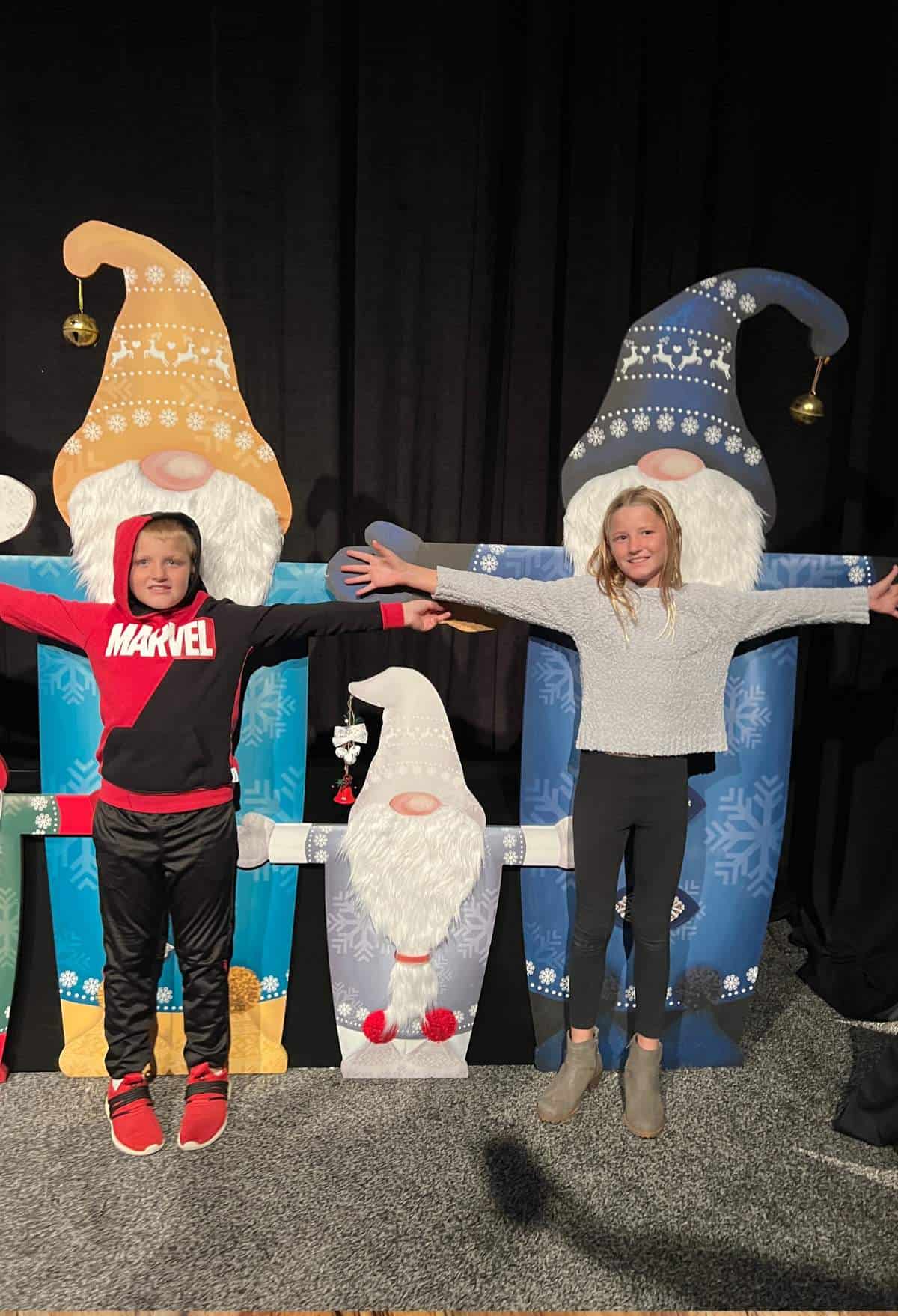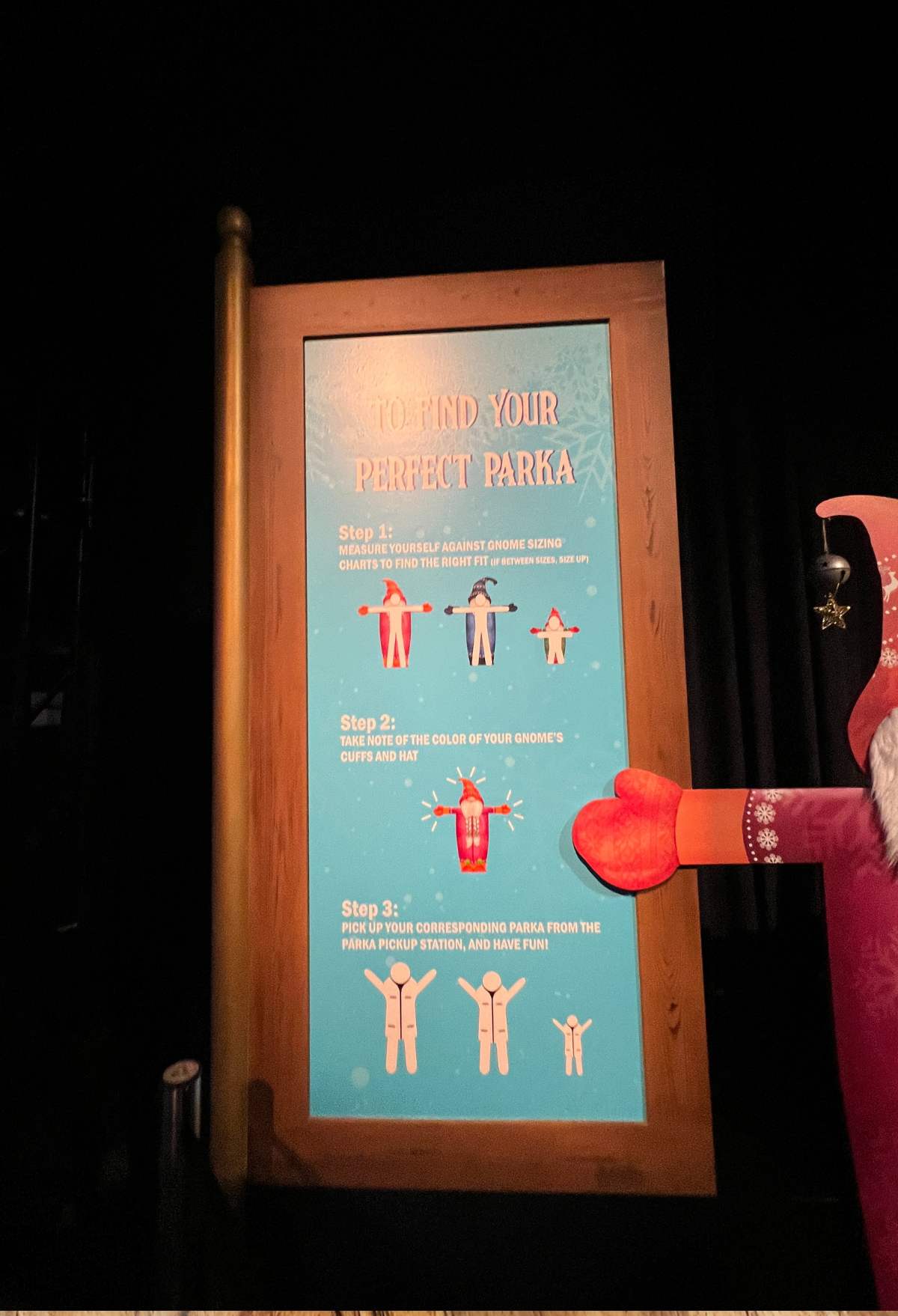 While you may think that the big heavy big blue parka will keep you warm, it will but only to a certain extent.
DON'T DO WHAT I DID!
When we went back in 2013, I had never been to an ICE! event and went wearing flip-flops! Yikes!
Upon entering, I was told I had less than 10 minutes to walk through or my toes would be frostbitten.
I enjoyed the displays but missed out on so much because I practically ran through it.
This year, I was prepared. I wore cropped pants (only because I don't own long pants cause I live in Florida), had a hooded sweatshirt to wear under the parka, wore sneakers, and I even took gloves this time!
Unfortunately, I was the ONLY one to bring gloves and hated to see my grandaughter's fingers freezing when she went on the Ice slides.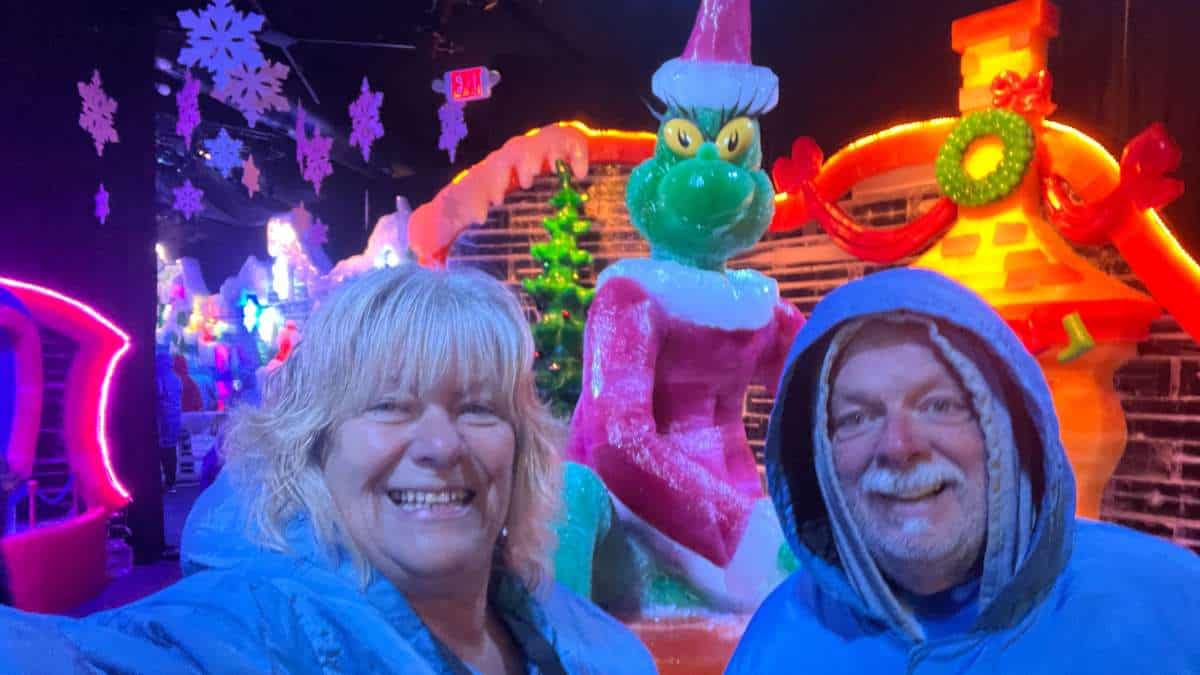 Dress appropriately:
Sweatshirt
Pants
Sneakers or shoes
Winter hat
Gloves
Other Important Information
Don't lick the ice! Apparently, that is a thing as there are signs everywhere. Ewww!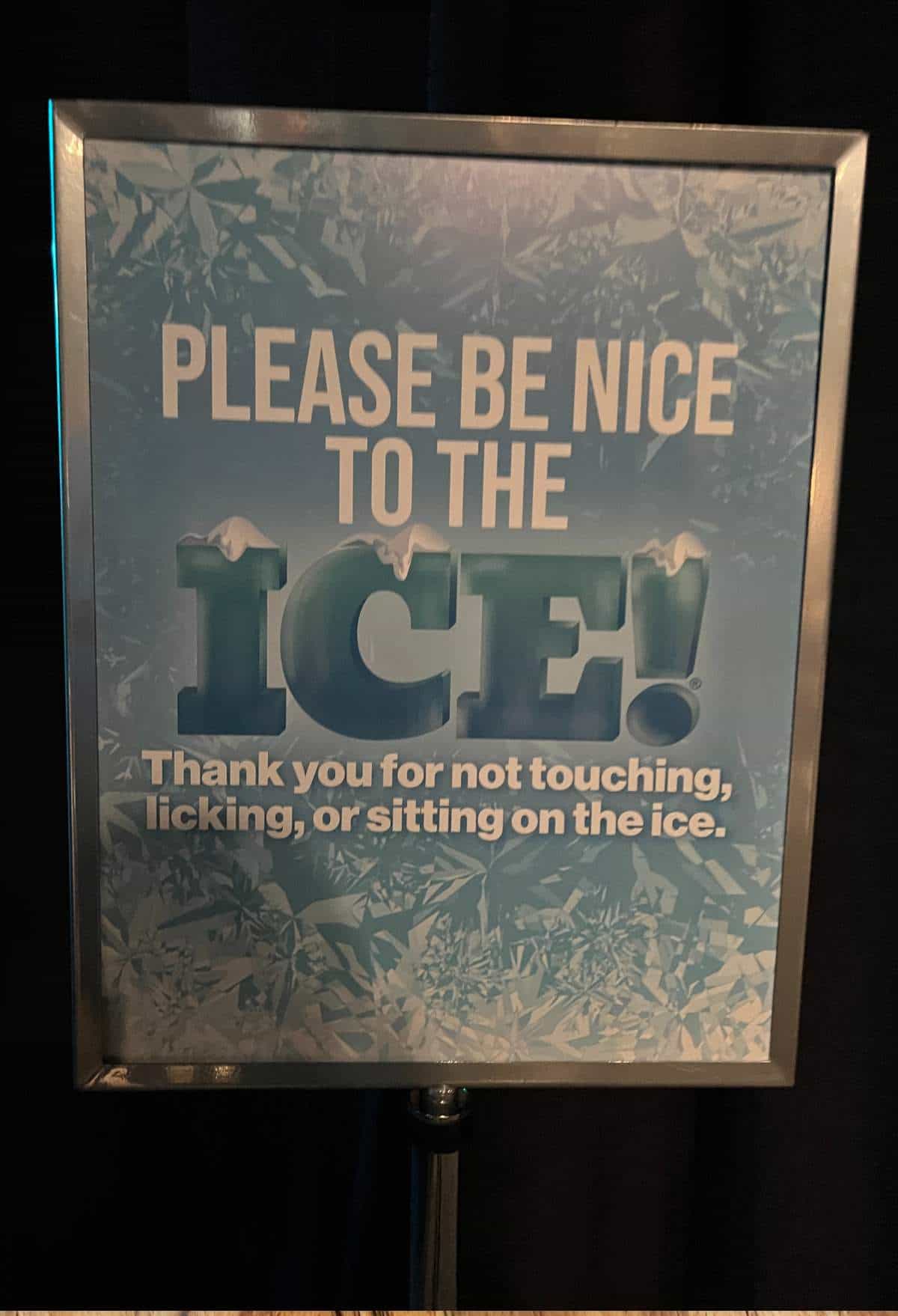 How Long Does It Take to Go Through ICE!
They suggest approximately 30 to 45 minutes depending on how much stopping you do to take pictures and take in all the beauty of the sculptures.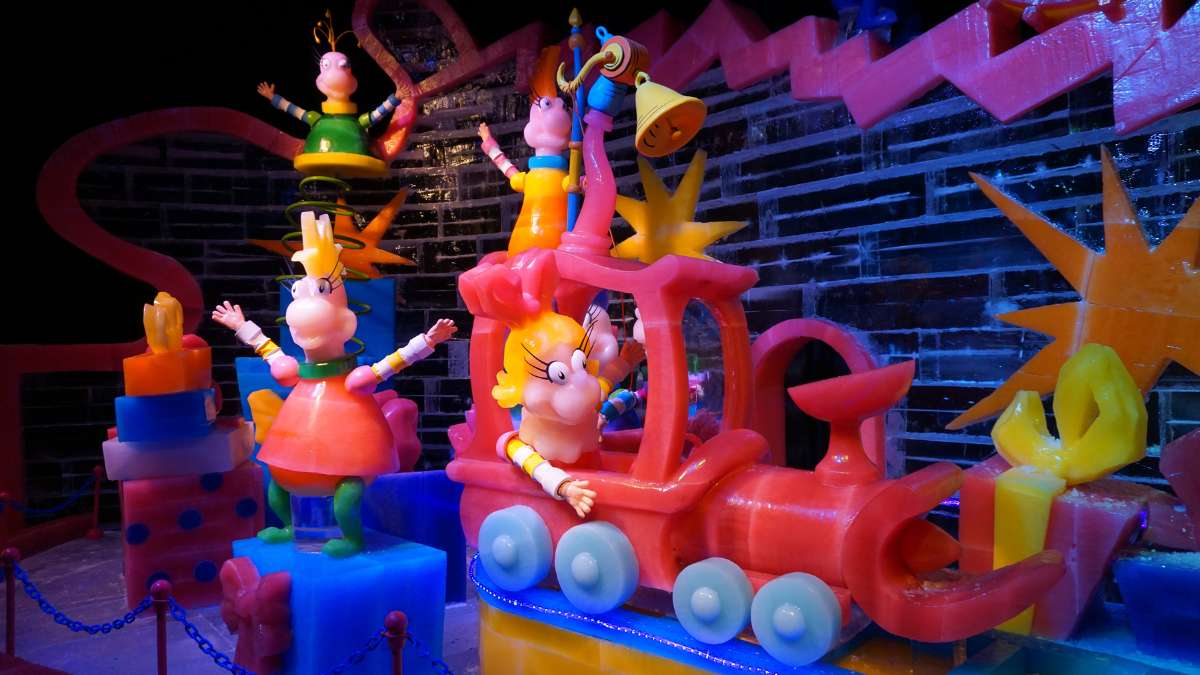 However, it can also take a lot less time if you aren't used to the cold and are not appropriately dressed.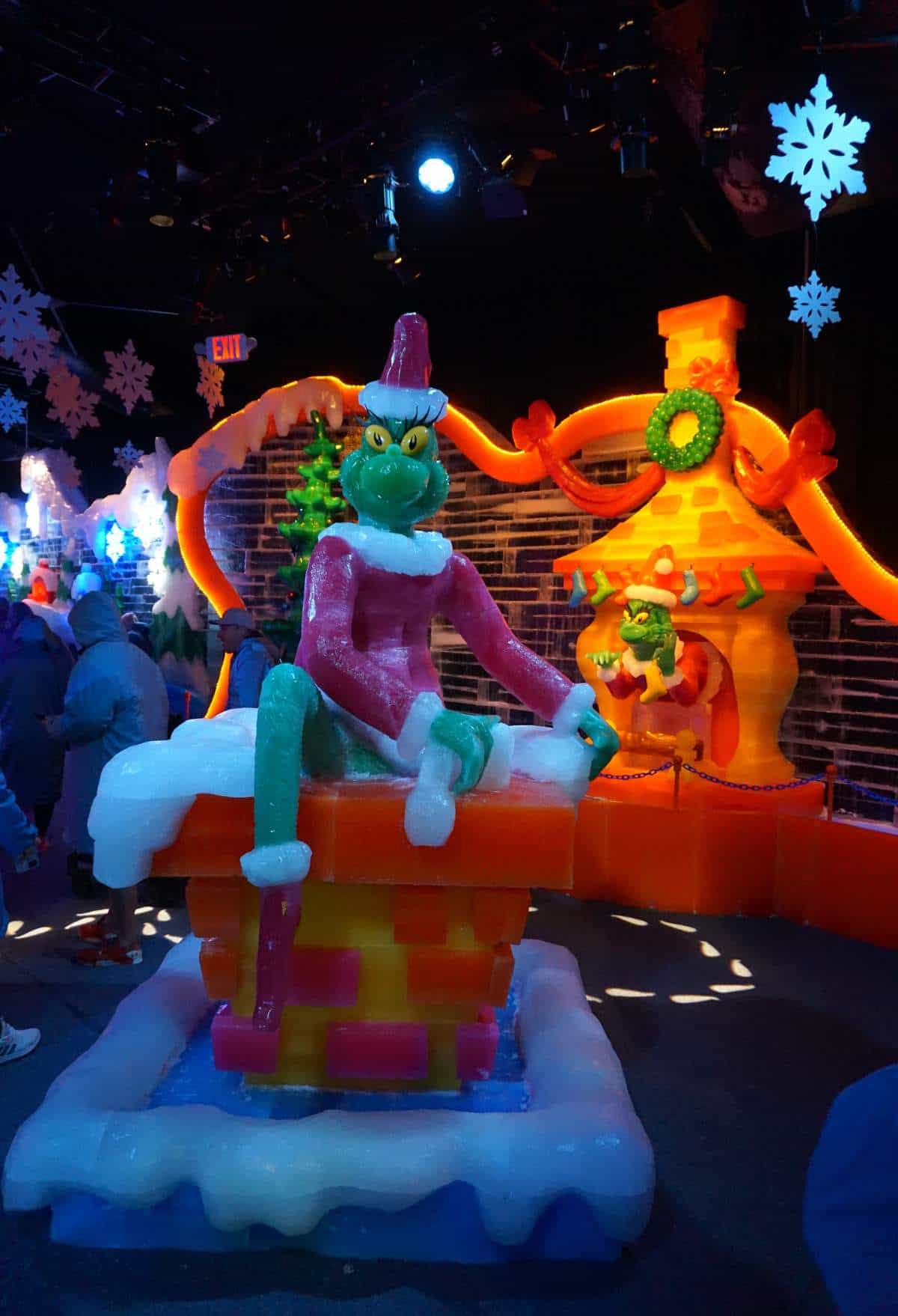 Where Do You Park
There is plenty of parking to choose from including a small ramp. It does cost $30 for self-parking and $40 for valet parking.
Handicap parking is scarce. With that said, if you have someone that is handicapped, I suggest dropping them off at the door or using valet parking.
Use of Cameras
The use of cameras is allowed. However, at 9 degrees F, the cameras are most likely to shut down due to cold and battery consumption.
Don't ask me how I know. Take a backup phone camera, or 2 or 3 as I did. 😉
Gaylord Palms Orlando ICE Tickets
Tickets are only available online. There is no ticket booth inside the event. ICE! runs through January 1st, 2023.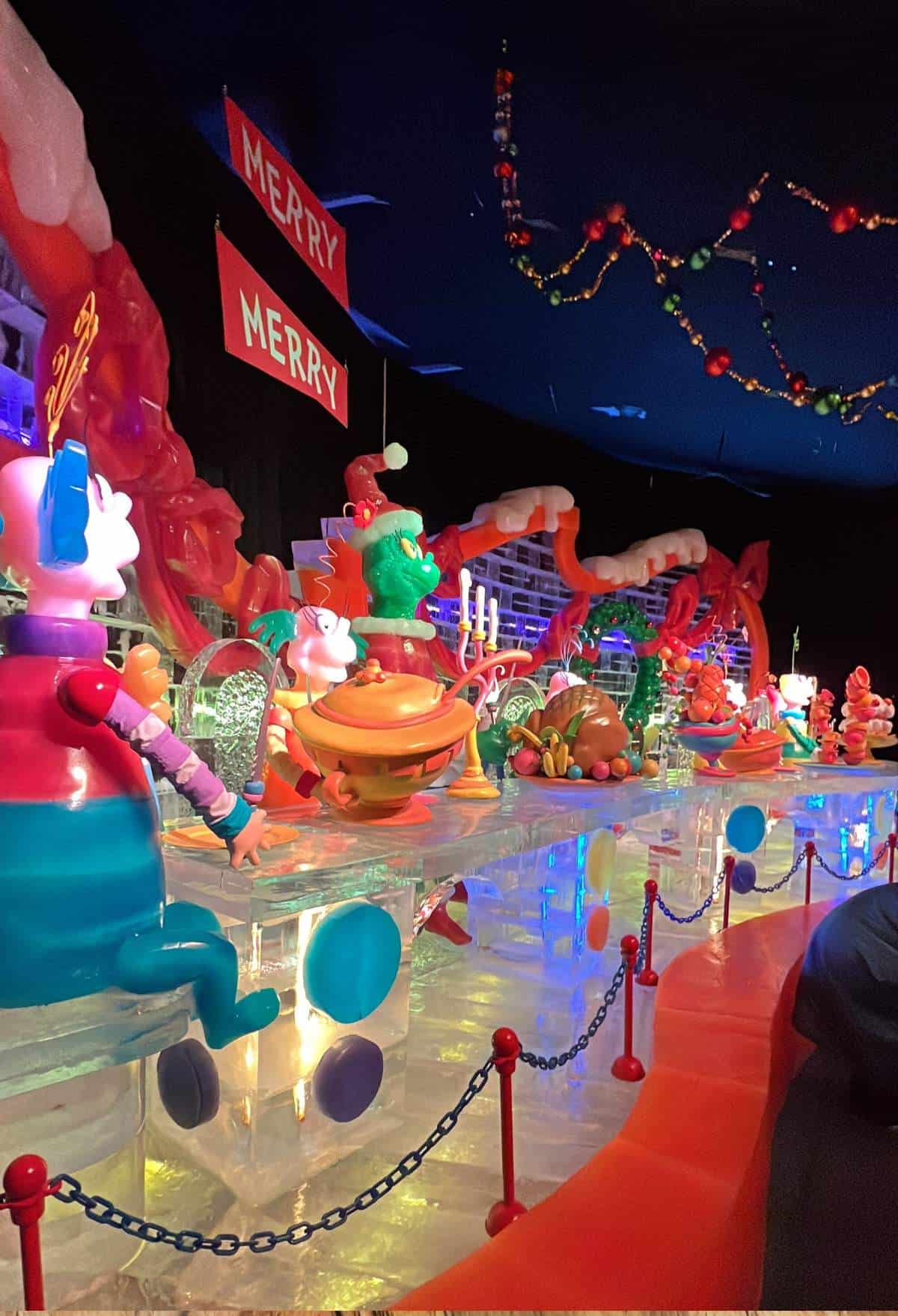 Don't miss out on this one-of-a-kind opportunity: book your experience early online and join in the festive cheer.
If you are looking to save some money, be sure to watch their Facebook page. That is where I found my 30% off coupon.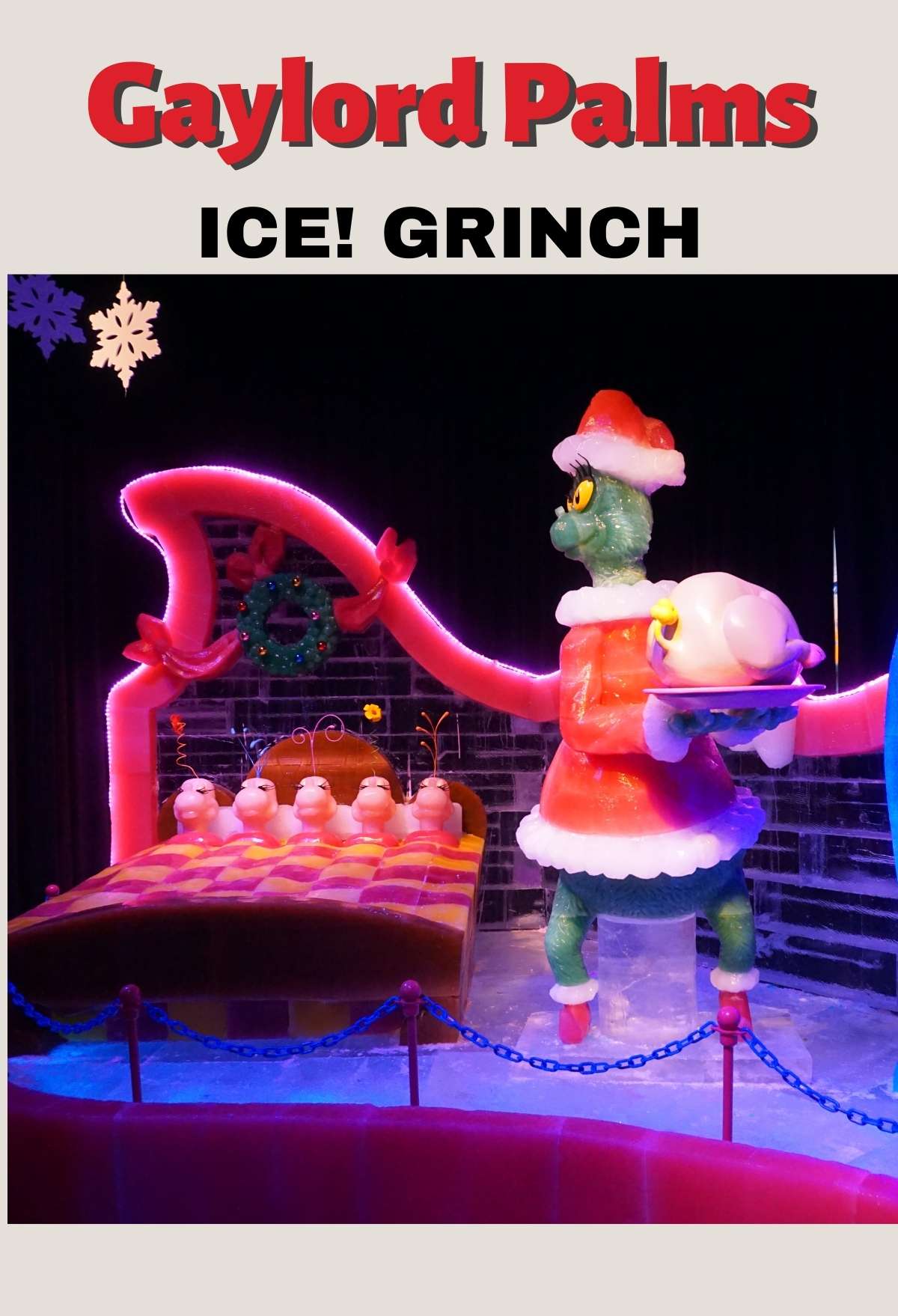 Gaylord Palms is located at 6000 W. Osceola Pkwy., Kissimmee, FL 34746, 407-586-0000.
Get your tickets today!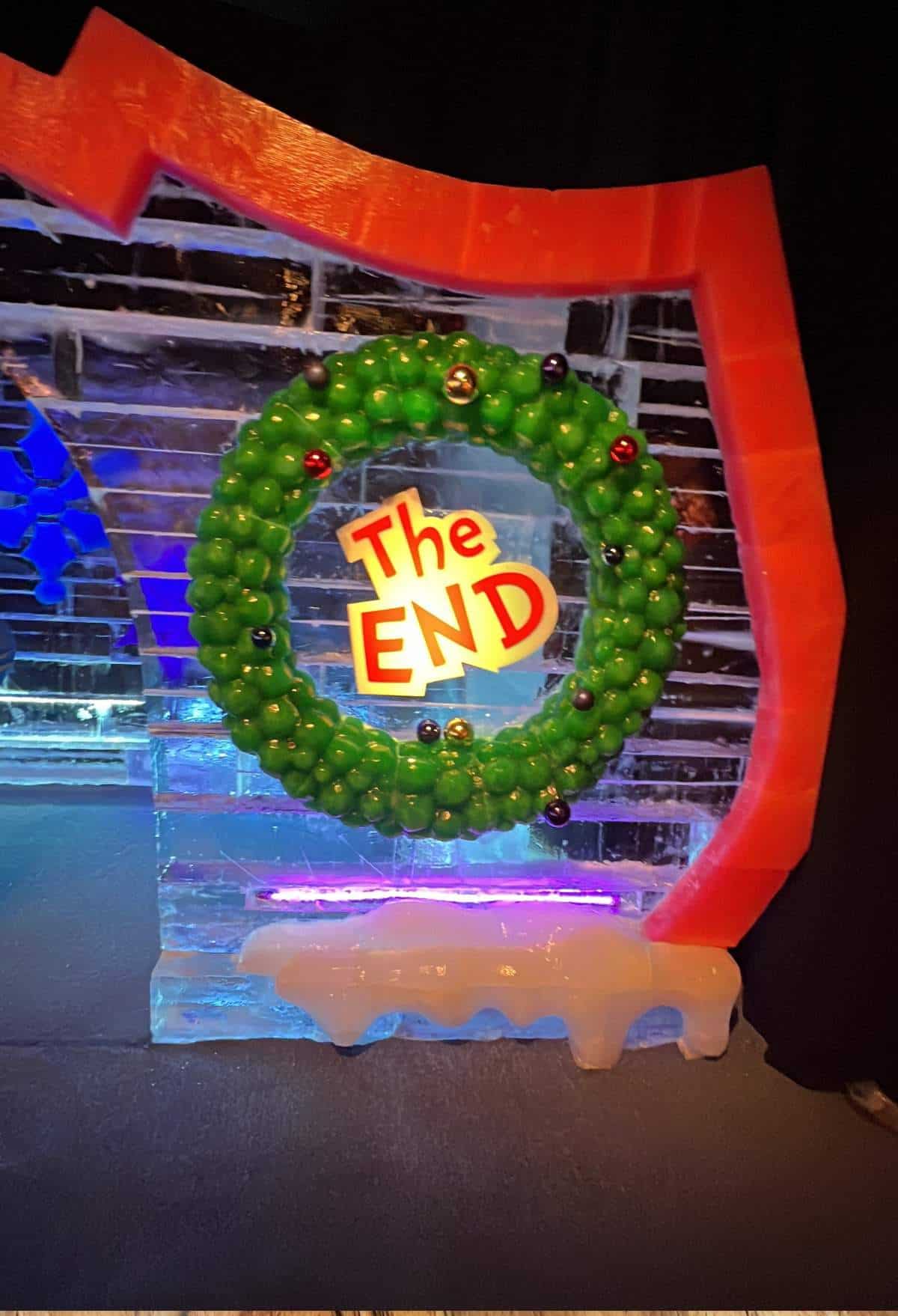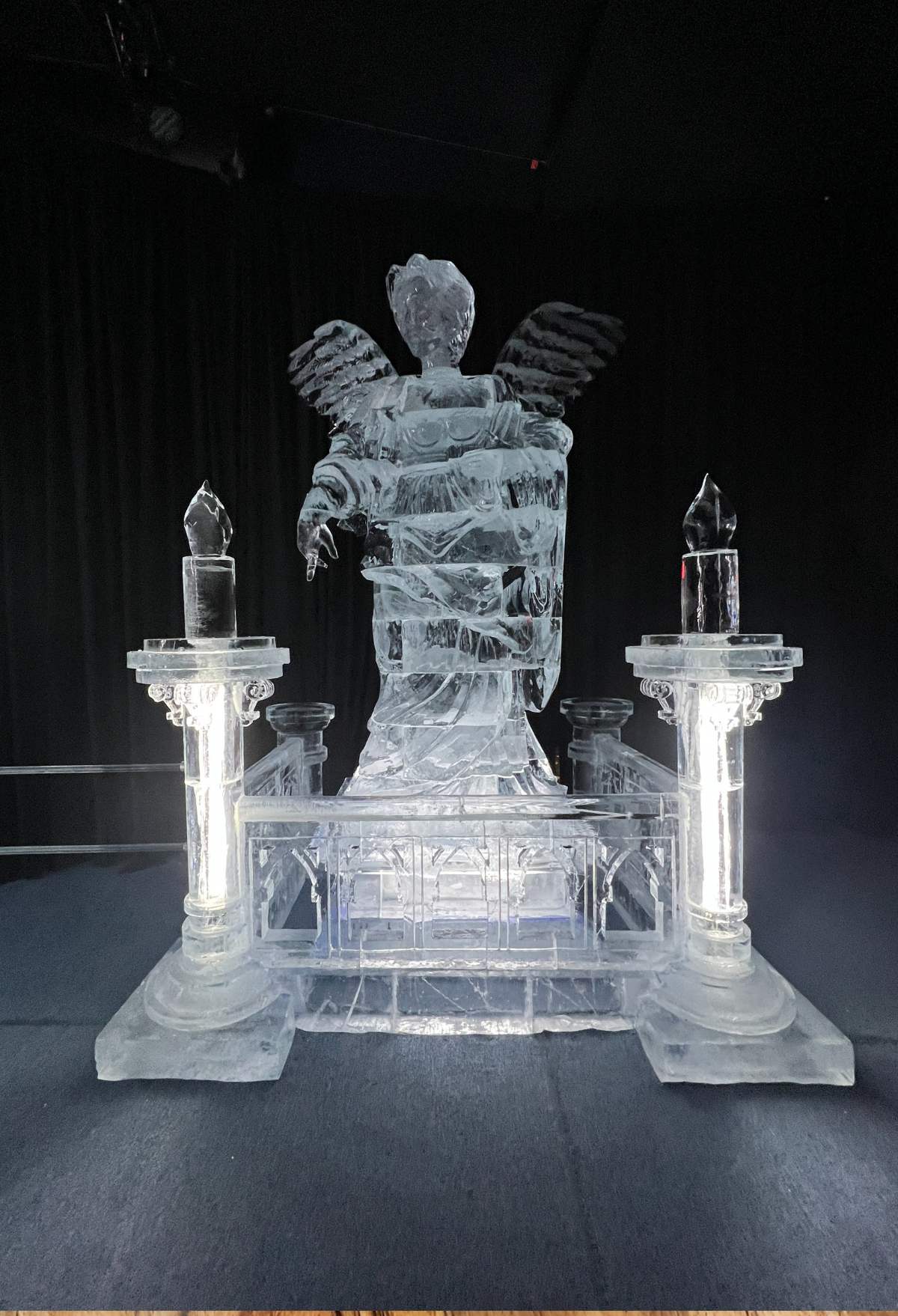 Be sure to pin it for later and follow us on Pinterest.