It's Wednesday, hump day, and it's also June 1st! And what that means is..... the first day of Hurricane season! If you wait until the last day or two to get your hurricane preparation supplies...you won't find any.
I received the products mentioned below in order to facilitate my review. All opinions are my own and may differ from yours.
This post may contain affiliate links. See my disclosure policy for more info.
Hurricane Preparedness
Does everybody know what day it is? Besides the fact that it's Wednesday, hump day, it's also June 1st! And what that means is..... the first day of Hurricane season!
Yay! Not!
Hurricanes are scary. Especially when you are in a motorhome.
Last year, there was a hurricane that was headed towards us in Chiefland, FL. Then it turned and was headed towards the panhandle.
By evening it turned again and was headed right over us. By then it was too late to leave.
Luckily, it was downgraded to a Tropical Storm. We pulled our slides in and hunkered down. There was a lot of rain and wind but we made it through okay...this time.
The path of a hurricane can change in a heartbeat.
When we moved to Florida in 2003, hurricanes were the last thing on my mind.
Native Floridians never seemed to worry about impending hurricanes. They throw hurricane parties.
It's like Kansans. They never worry about tornadoes. They stand there and watch them and video them.
Fast forward to 2004 and Hurricane Charlie
The thing about hurricanes is that you never know where they will hit.
So let me start off by saying...it's imperative that you don't wait to evacuate.
Hurricane Charlie was coming but it wasn't expected to hit anywhere near us.
We lived in a manufactured home at the time and our friends said don't worry, everything will be okay.
The clubhouse was our safe haven and it was our go-to spot for things like that.
So we figured we'd be okay.
However, as I watched the news, I was getting more and more scared. Charlie kept moving and by the time it was too late to evacuate...the storm was heading right for us.
Luckily, we lived in Central Florida so we were a little more protected than the people on the coast.
Even though we were under a mandatory evacuation, we didn't have to leave.
I owned the snack bar at the time which was located inside the clubhouse. I thought it was a good thing. I was going to be able to feed people that were taking shelter inside there.
It turned out to be a nightmare.
Sheltering at the Clubhouse
Once everyone got inside and situated...the office decided to throw everyone out. I don't remember the exact reasoning behind it, but you think people were panicking before...it was worse then.
People started pushing and shoving to try and get out and get back home. There were some who had fallen and broken their ankles.
So we too went back to our home.
Back at Home
Once we got back to our home, I once again put on the TV to watch where the storm was headed.
It was expected to make landfall within a couple of hours and be directly over us by nightfall.
Too Late to Leave
By now it was already too late to leave to head to a shelter. I'm panicking and crying. I'm putting all my pictures and valuables inside the washing machine (that's what they say to do!)
And if you've ever evacuated for a hurricane at the last minute, the traffic going North is horrendous. I mean bumper to bumper.
And gas is very hard to find.
After Charlie, we left for Hurricane Francis and Jeanne. Yep, three major hurricanes in one year. That would make anyone not want to live in Florida anymore.
Francis and Jeanne were headed our way shortly thereafter, and are more horror stories, but I will save those for another post.
We had no hurricane preparation done at all because ya know....these things don't happen to us.
And then our friends called. They called us to come over to their house which was also a manufactured home.
However, their house was more blocked in whereas ours was out in the open.
He said, bring some alcohol with you and come over...so we did.
Of course, there are always emergency shelters that you can go to if you have enough time.
Hurricane Charlie
Hurricane Charlie was a category 4 storm and besides being very scary, it was a doozy.
About a week earlier, we had purchased a new truck. Well, if there is a named hurricane making landfall, you can't get any type of insurance.
So the truck had to sit at the dealership until after the storm. They brought it inside since we were worried about it.
Another one of those yay moments...not!
The roof of the dealership collapsed from the storm on top of the new truck.
They fixed it but you know, it's not the same.
Losing Power
We ended up losing power. Luckily a friend of mine had an extra generator for the freezer at the snack bar. As for the house, well we had to live without power until it was restored.
Now, if I had a Generark Generator with Solar Panels, we wouldn't have had to worry about keeping things charged, running our kitchen appliances, and even running our portable air conditioner.
Generark Portable Generator for Hurricane Preparation
If you wait until a hurricane hits, you will not be able to find a portable generator anywhere.
Ok, let me correct that. The only place you will be able to find a portable generator is someone selling on the side of the road for triple the price.
Not only not being able to find one, but you just might need it right away.
The Generark Generator isn't a whole house generator. But it can do a lot of things. I received the Gererark Solar Generator HomePower ONE Series and it's everything that we need it for and more.
Check out this chart below and find out more online.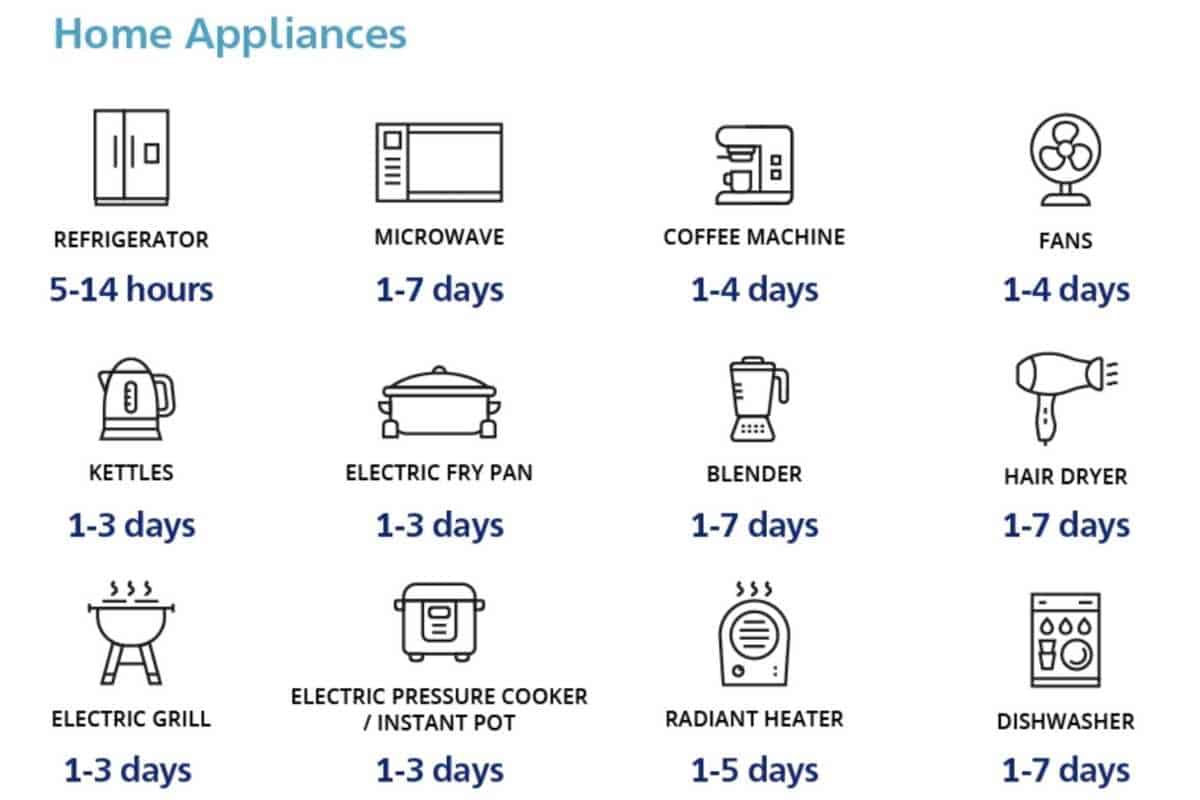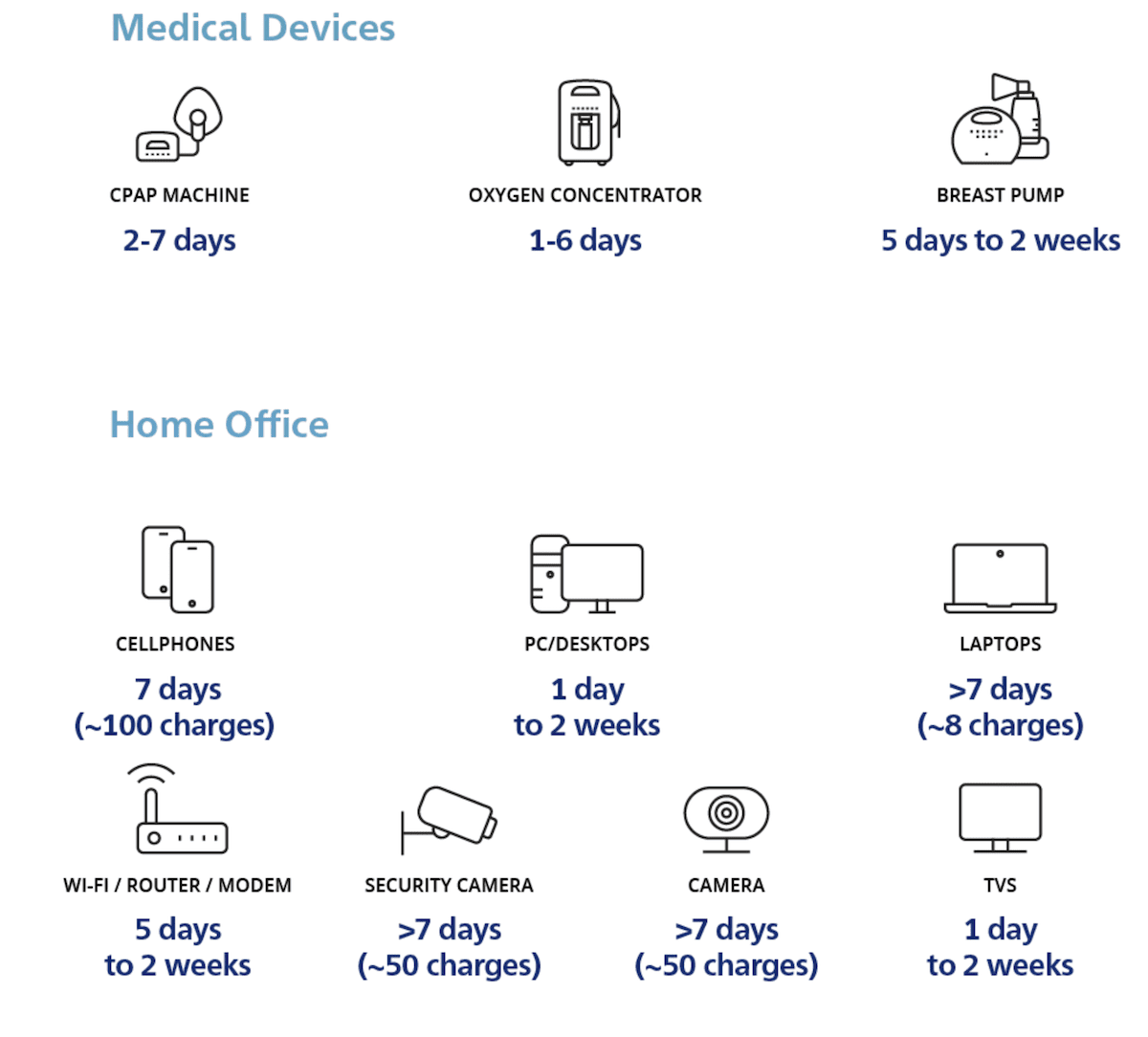 What We Use the Solar Generator for
We use it when we are boondocking. I've used it to charge my electronics, make my morning coffee, make dinner in my instant pot, (which I use all the time!), and even to recharge my brother's Inogen Portable Oxygen Concentrator.
No one thinks about things like an Inogen or Cpap machine and how they will run these things if the power is out.
I've also used it for my portable air conditioner. I don't mind boondocking, but the dog and I need our air conditioning, lol.
The best thing about the Generark Portable Generator is it comes with 2 solar panels so you can recharge the generator even if your power is out.
It can also be recharged with a car cigarette lighter or with the wall charger if you have power.
You don't need gas, propane, or any form of fuel for it so it can be used indoors.
Hurricane Preparation Supplies
In addition to the Generark Portable Generator, there are other supplies that you should have on hand.
If you've ever seen the meme floating around about getting to the store to get bread and milk because there's a snowstorm up north (the portable generator is good for that too), an impending hurricane is kind of the same thing.
If you wait until the last day or two to get your hurricane preparation supplies...you won't find any.
The shelves are bare and you will be paying $1-$2 a bottle of water at the corner gas station for a bottle of water.
In other words, NOW is the time to get prepared. As I write this post, there is a tropical storm out there heading for the Keys and South Florida. Which can turn into a hurricane at any time.
Supplies Needed:
Generark Solar Generator
Bottled Water (at least one bottle per person for several days)
First Aid Kit
Medications
Pet Food
Pet Medications
Canned Food
Manual can opener
Non-Perishable Food
Electronics chargers
Full tank of gas in the car
Emergency radio
Batteries
Flashlights or Lanterns
Cash
N95 masks
Whistle (for help)
Basic tools
Antiseptic wipes
Rain Gear
Extra clothing
Blankets and Pillows
Toiletries (toothbrush, toothpaste, moist towelettes, toilet paper)
Important papers
5-gallon bucket with a noodle or toilet seat and garbage bags
These are the basic hurricane supplies needed. As you go, you may find other items that are specific to you.
You can always add to the list.
Be sure to pin it for later and follow us on Pinterest.