Ogas Cantina at Disney Hollywood Studios Star Wars Land is a colorful cantina with fun drinks and a cool robot named DJ Rex.
Oga's Cantina 45-Minute Time Limit
I've been wanting to go to Oga's Cantina for a very long time. However, we could never get in.
Last weekend, Star Wars Land didn't seem overly crowded so we stopped by to see how long the wait was.
To our surprise, they said it would be about 15 minutes for the 5 of us to stand over by the wall.
Okie dokie, no problem. So we waited. And guess what? Five minutes later we were called.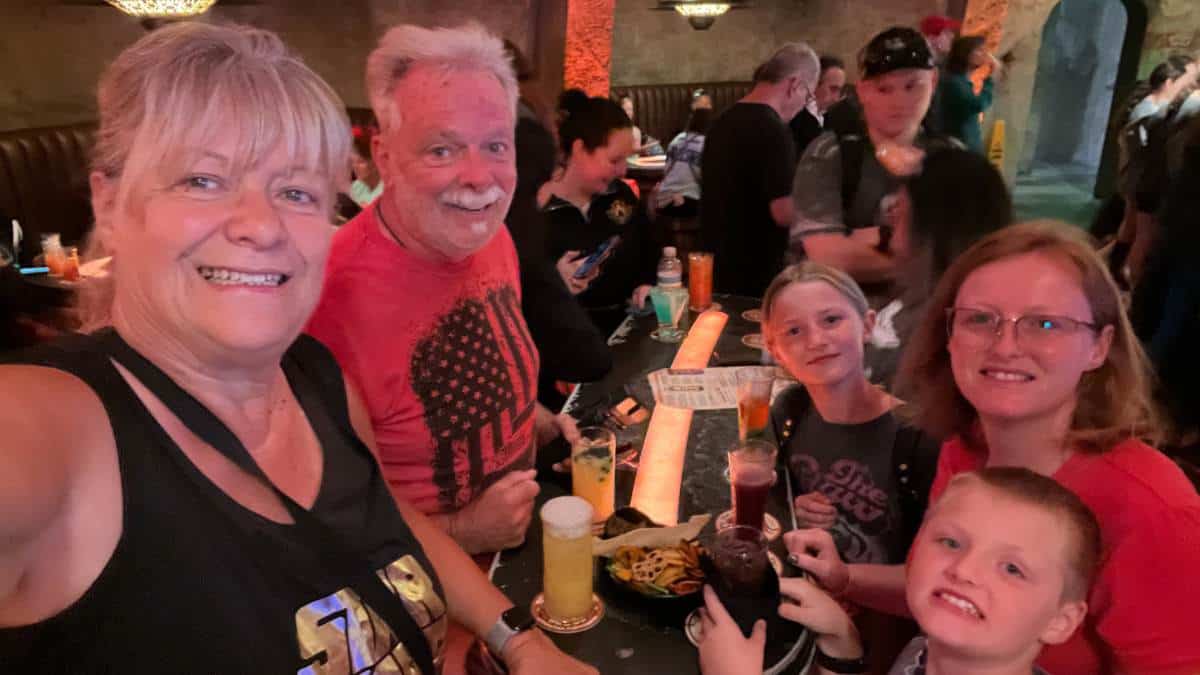 We had a stand-up table right in front of DJ Rex. Gosh, I love that little guy. He is so much fun.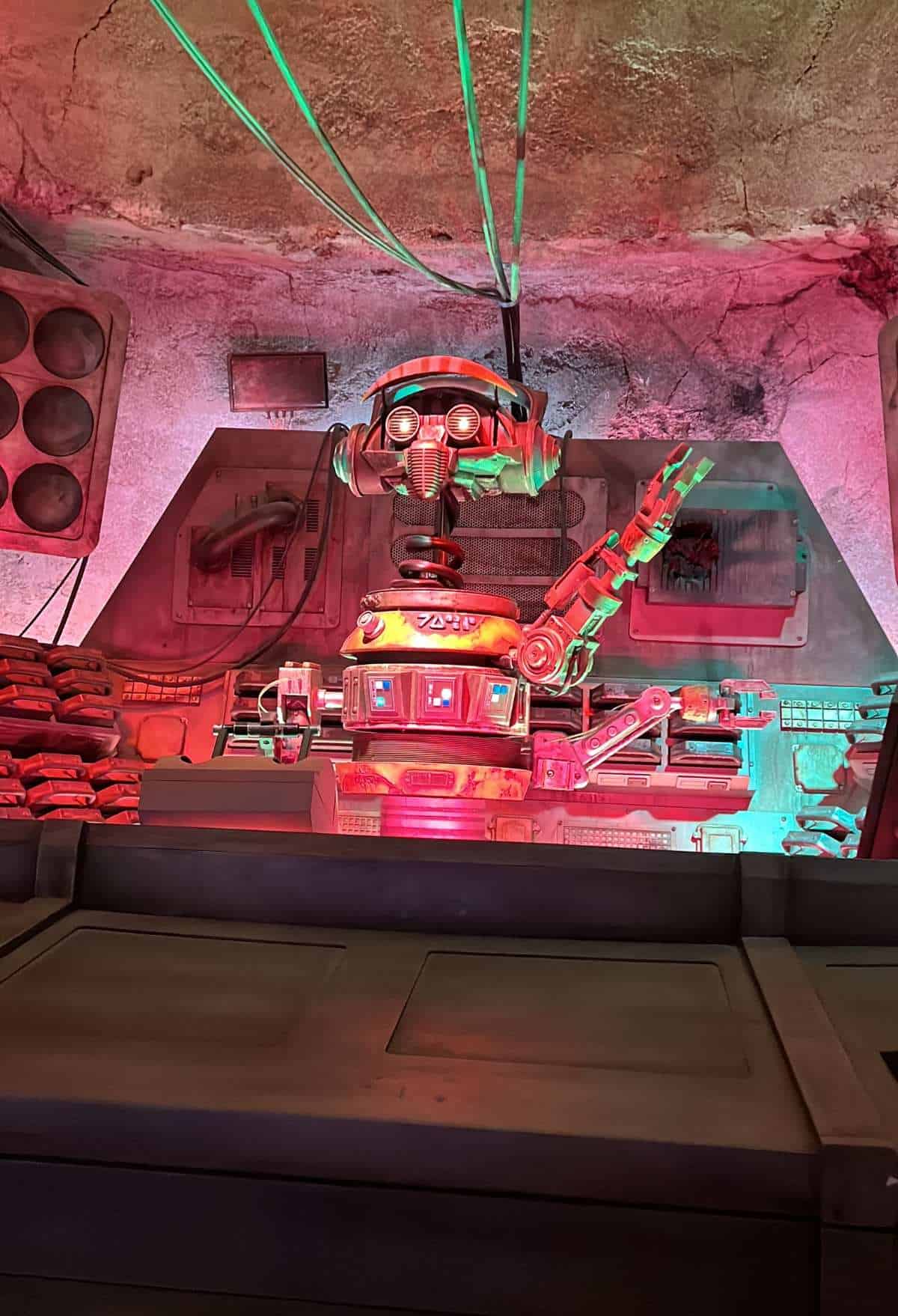 Plus, the place is pretty cool inside.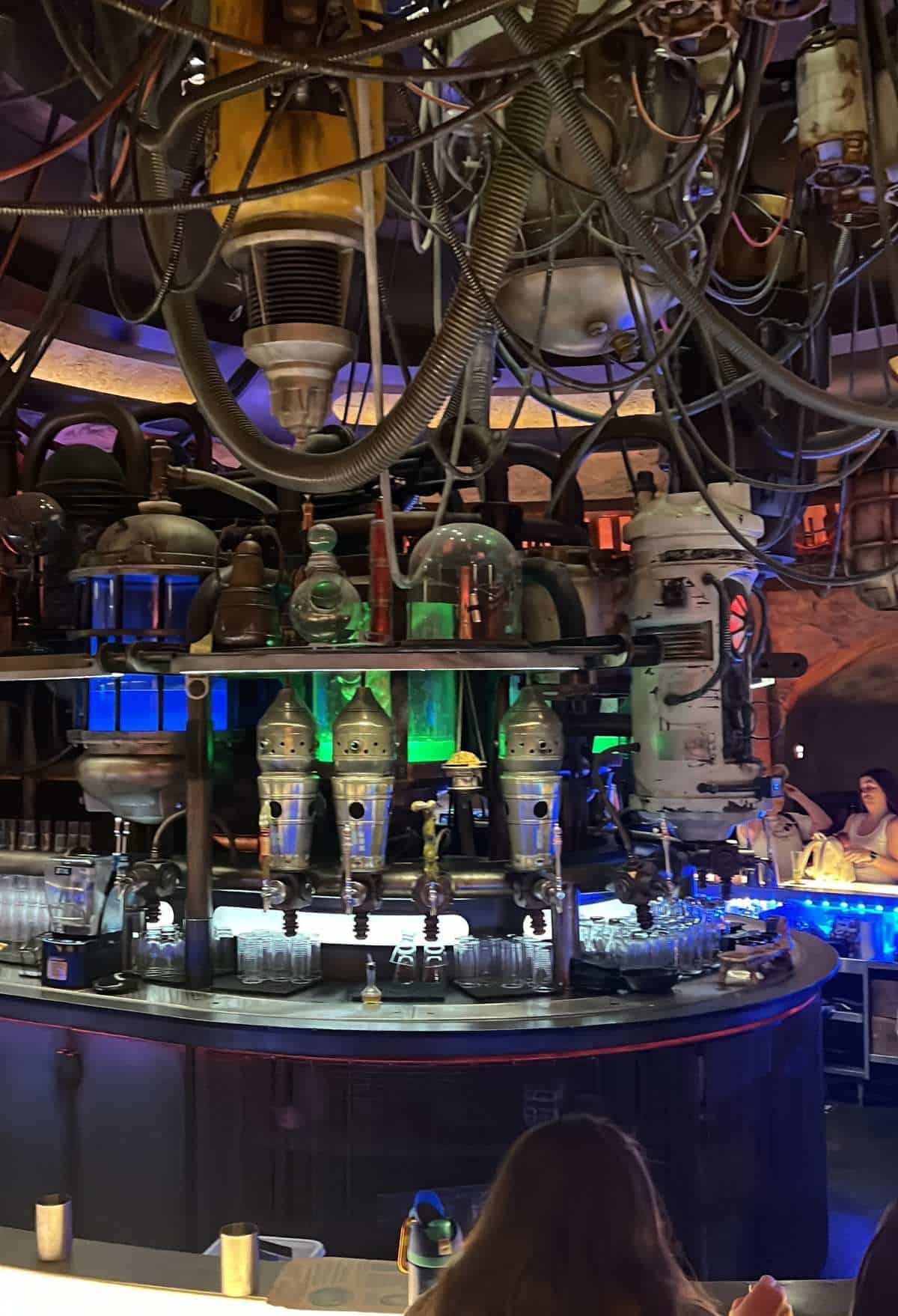 It couldn't have been any better. I was only there for the drinks anyway.
As he escorted us to the table and set the menus down, he told us that we had 45 minutes.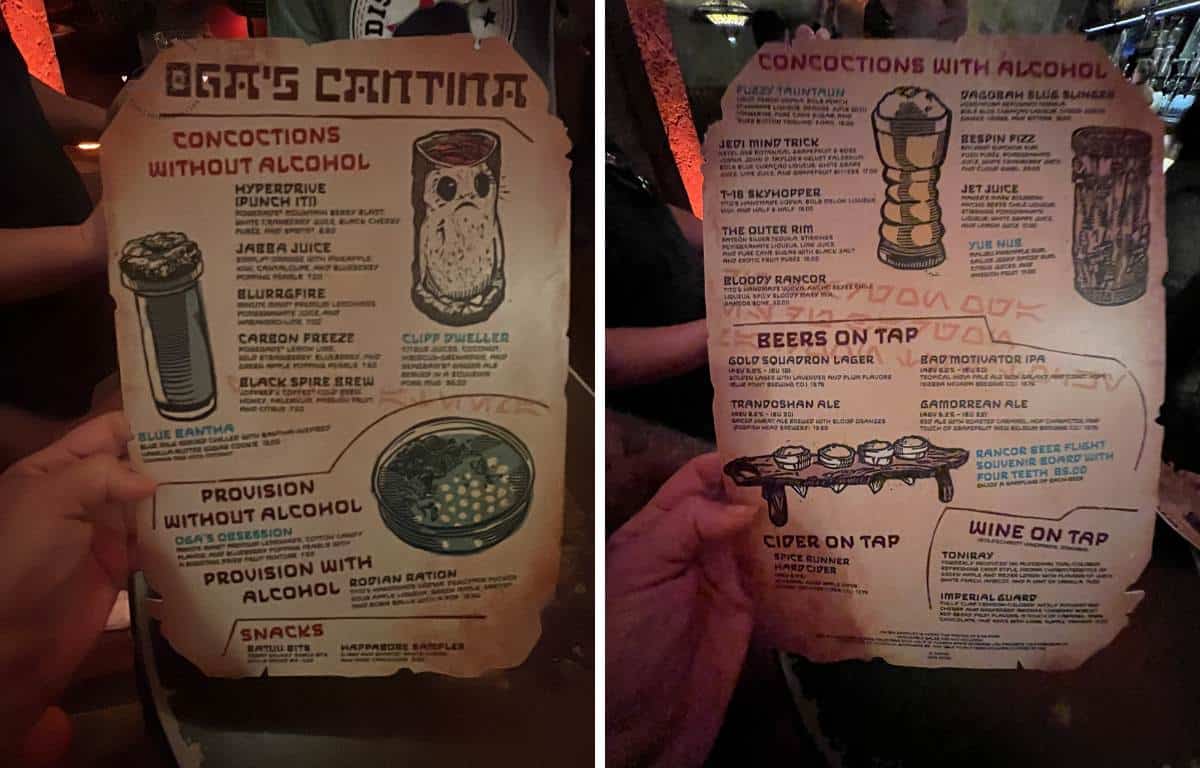 Hmmm. That was a surprise. I wasn't sure how we eat that quickly.
Plus, it was about 10 minutes before we got waited on.
Food Choices
Much to our surprise, there were only two items to choose from for food.
There were people sitting at tables that had reservations. I asked our waiter if they had different food menus and he said no. They had the same two choices as us.
Batuu Bits - Crispy Galaxy Snack Bits with Spiced Chermoula Dip
Happabore Sampler - Cured and Roasted Meats, Cheese, Pork Cracklings
We ordered the Batuu Bits because I couldn't go and not try something.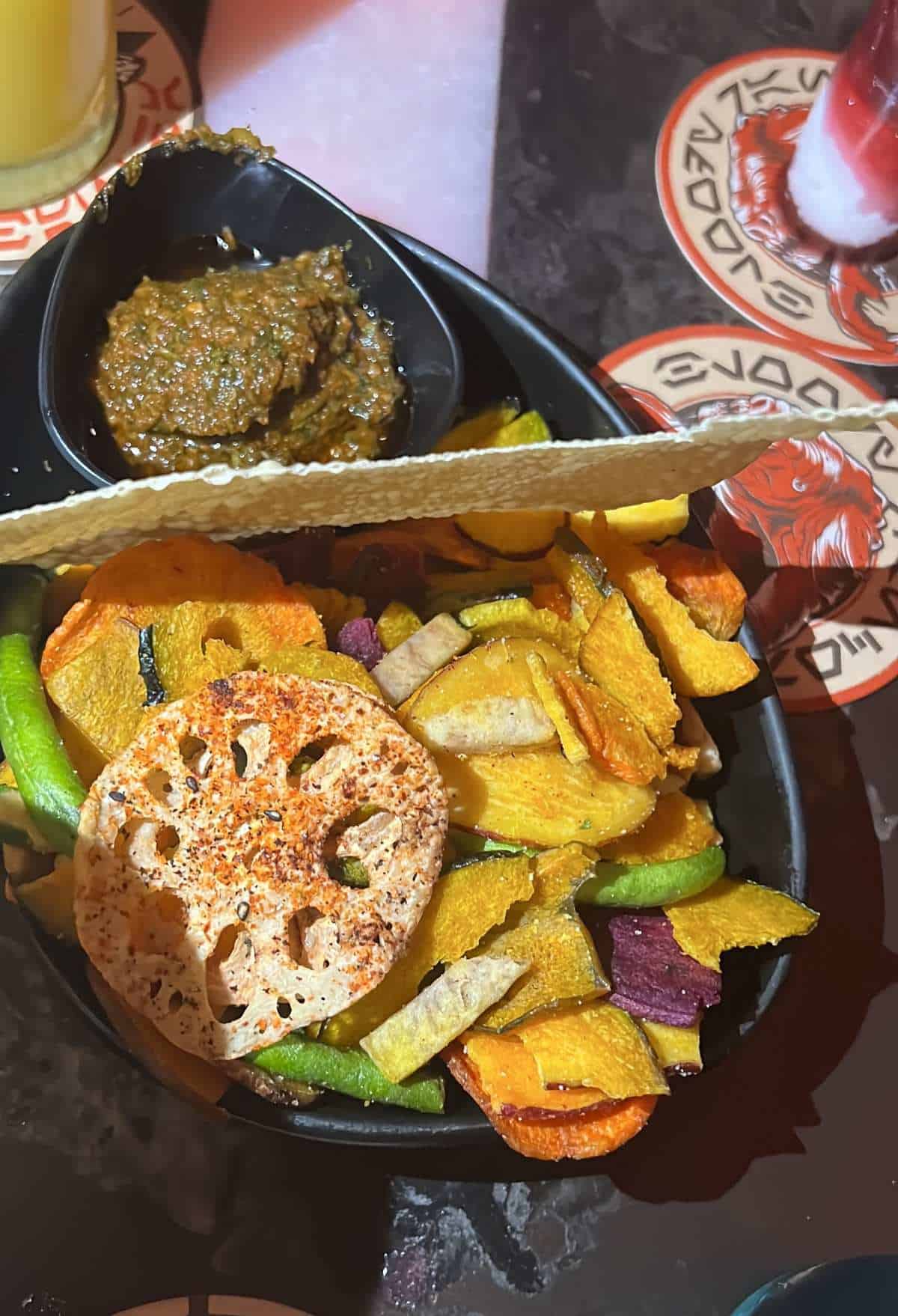 The dip was very spicy and the Crispy Snack Bits are just as they sound...crispy!
In other words, they were dried vegetables. The best part was the dried green beans.
We pretty much left the entire platter. 🙁
Next time we will try the Happabore Sampler.
Drink Choices
Oh there were so many drink choices. Aubrey had been there previously and she had a cute bubbly drink.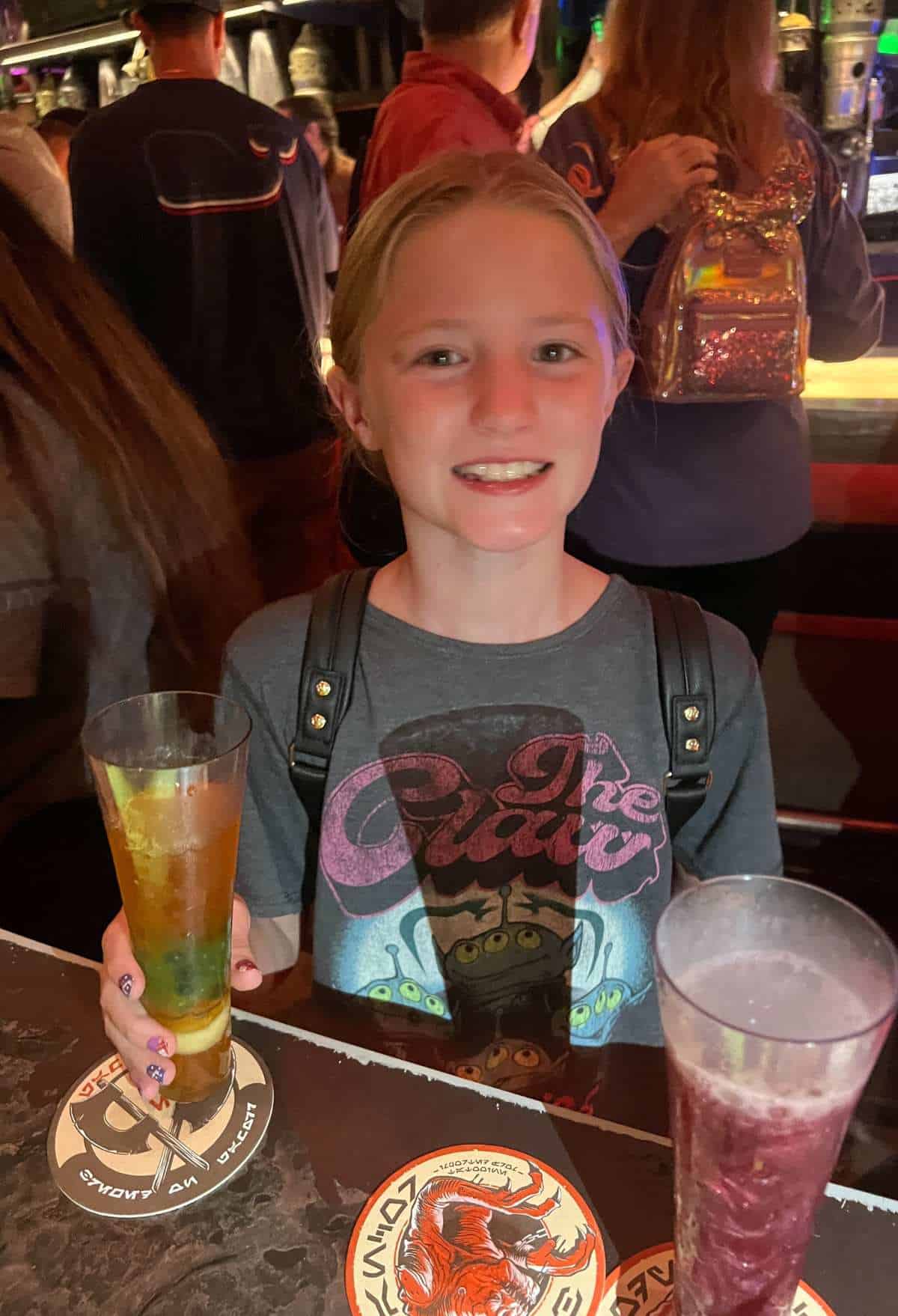 However, I was looking for something with alcohol, lol.
In the end, we all ordered something different so we could try a variety of drinks.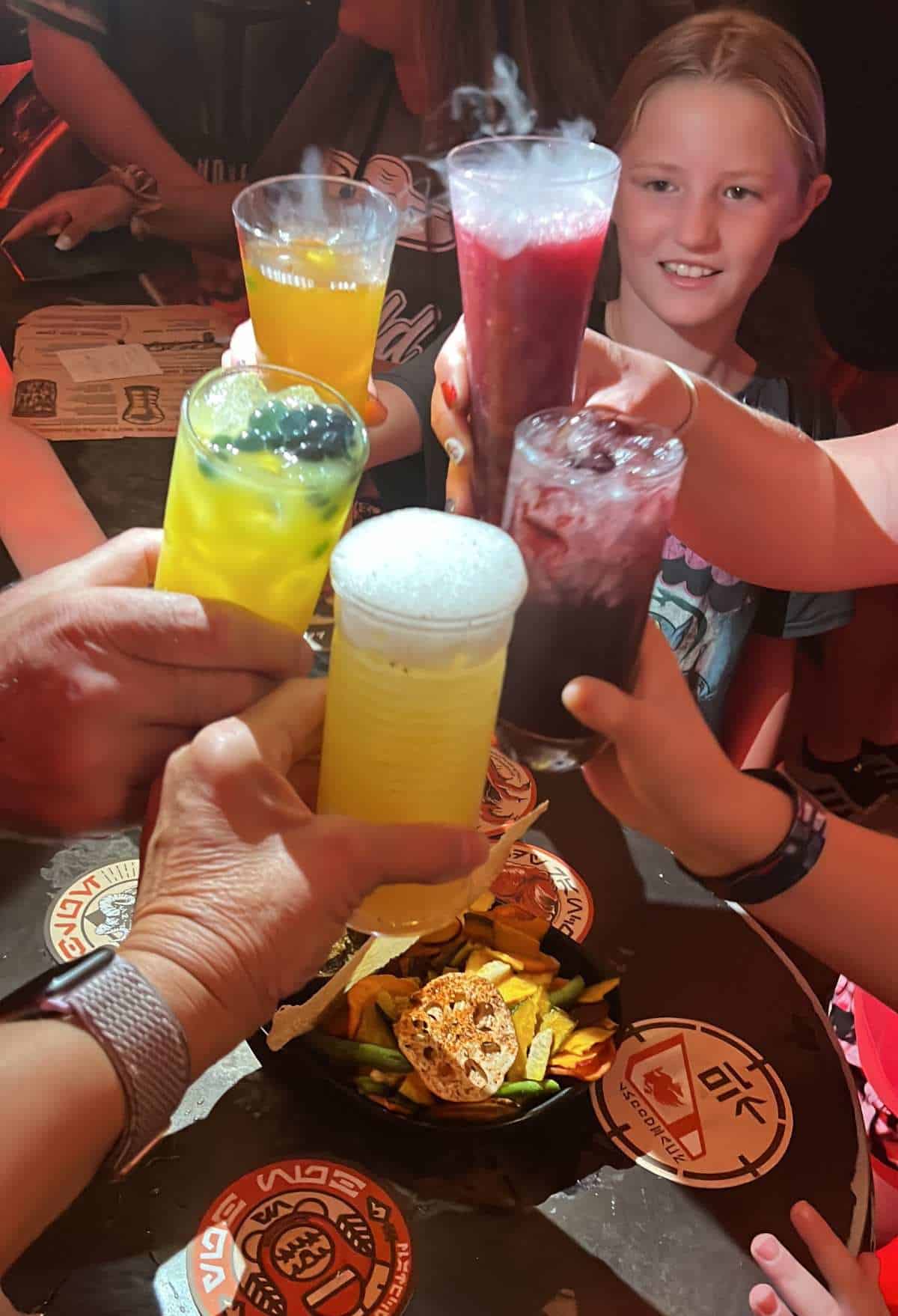 Non Alcoholic Beverages
Aubrey, Noah, and Tim had nonalcoholic beverages.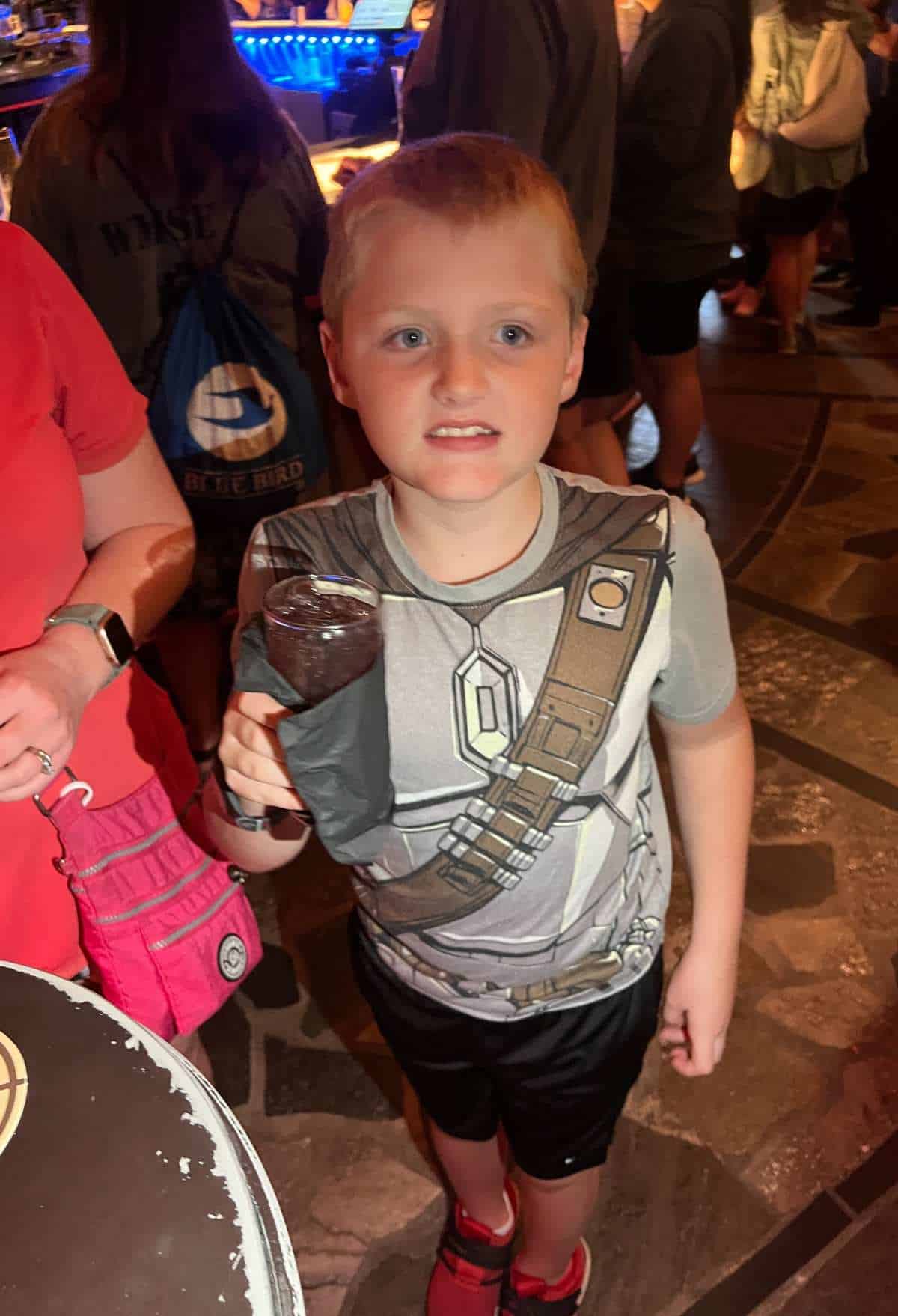 Carbon Freeze - POWERADE® Lemon Lime, Wild Strawberry, Blueberry, and Green Apple Popping Pearls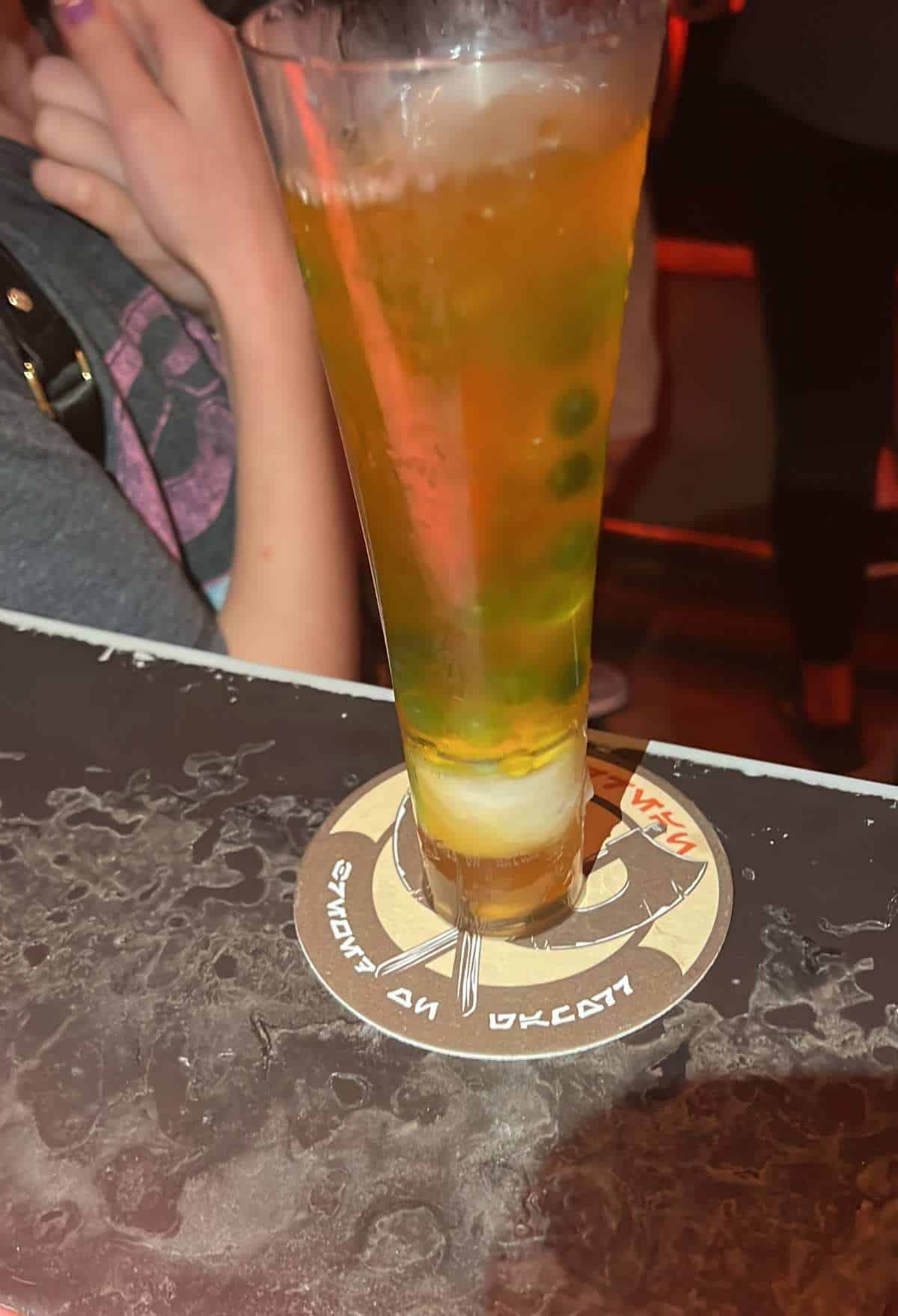 Hyperdrive (Punch it) - POWERADE® Mountain Berry Blast, White Cranberry Juice, Black Cherry Purée, and Sprite®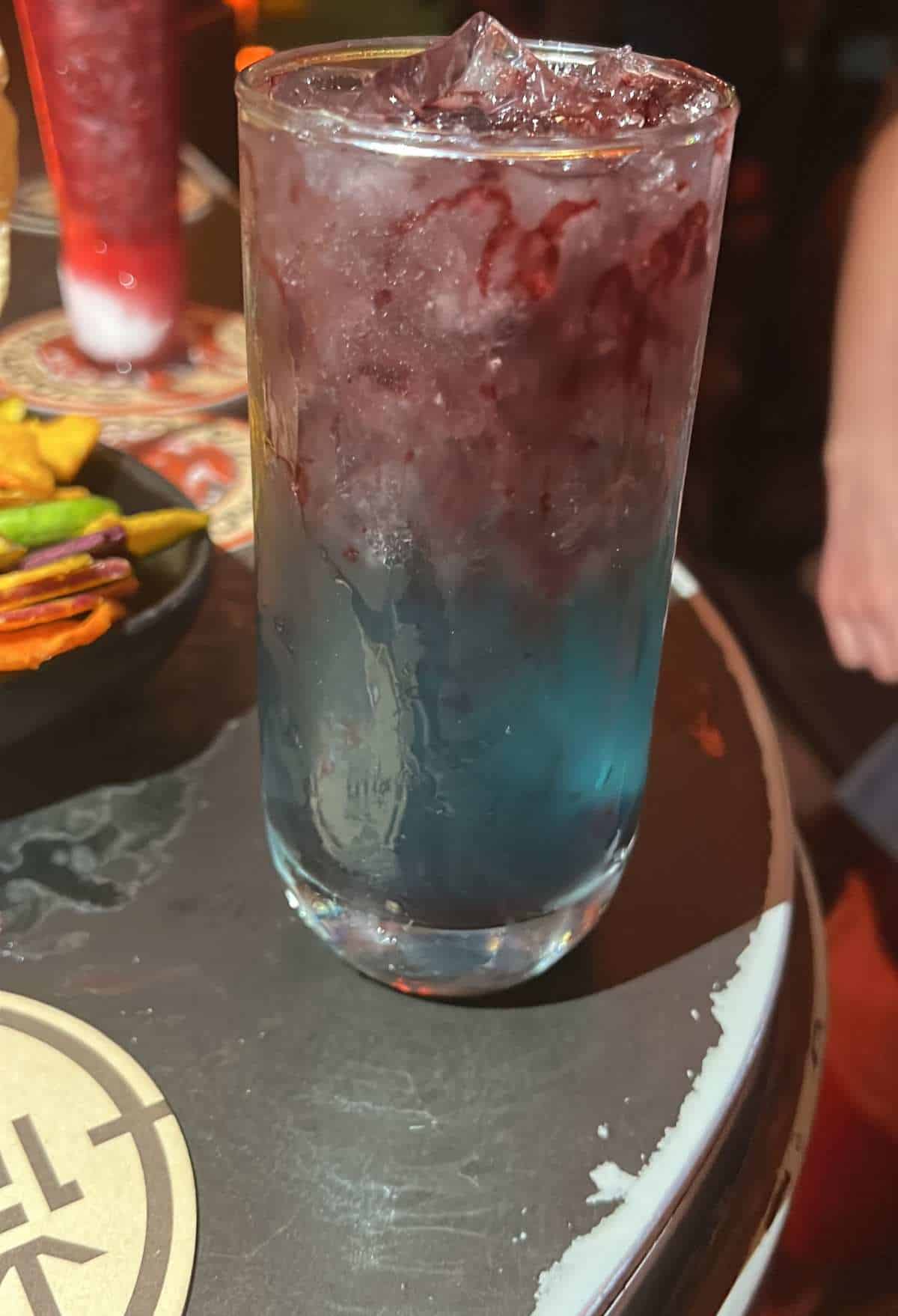 Jabba Juice - Simply® Orange with Pineapple, Kiwi, Cantaloupe, and Blueberry Popping Pearls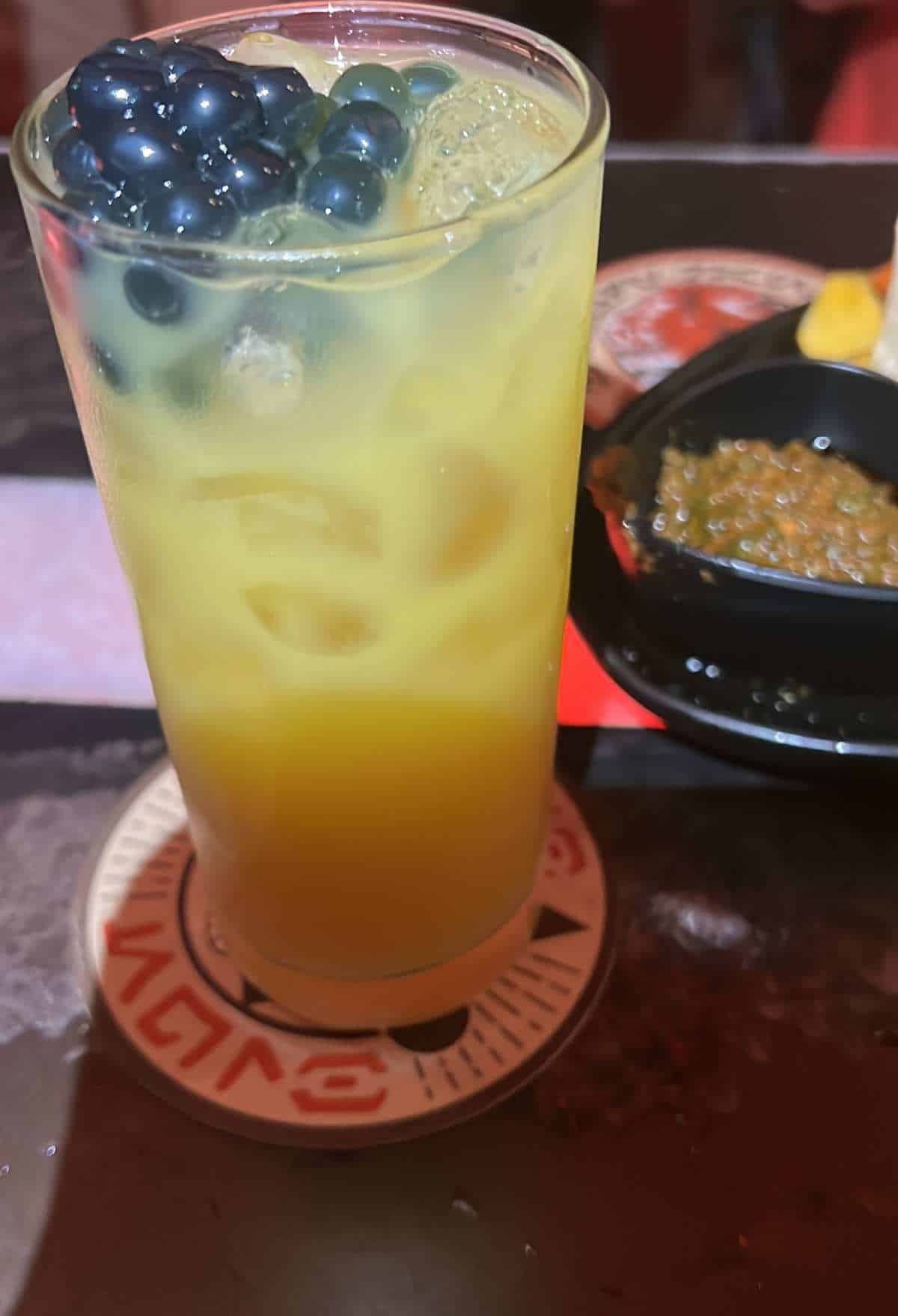 Aubrey really like the Carbon Freeze as it was the same one she had last time. It was a fizzy bubbly drink.
Noah did not like the Hyperdrive, but I loved it. The blueberry and black cherry flavor taste were great. Plus the drink looked pretty as the top layer was falling to the bottom.
Tim did not like the Jabba Juice. It tasted okay to me, but it's not something we would order again.
Alcoholic Beverages
Fuzzy Tauntaun - Cîroc Peach Vodka, Bols Peach Schnapps, Simply® Orange with Tangerine, Pure Cane Sugar, and "Buzz Button Tingling" Foam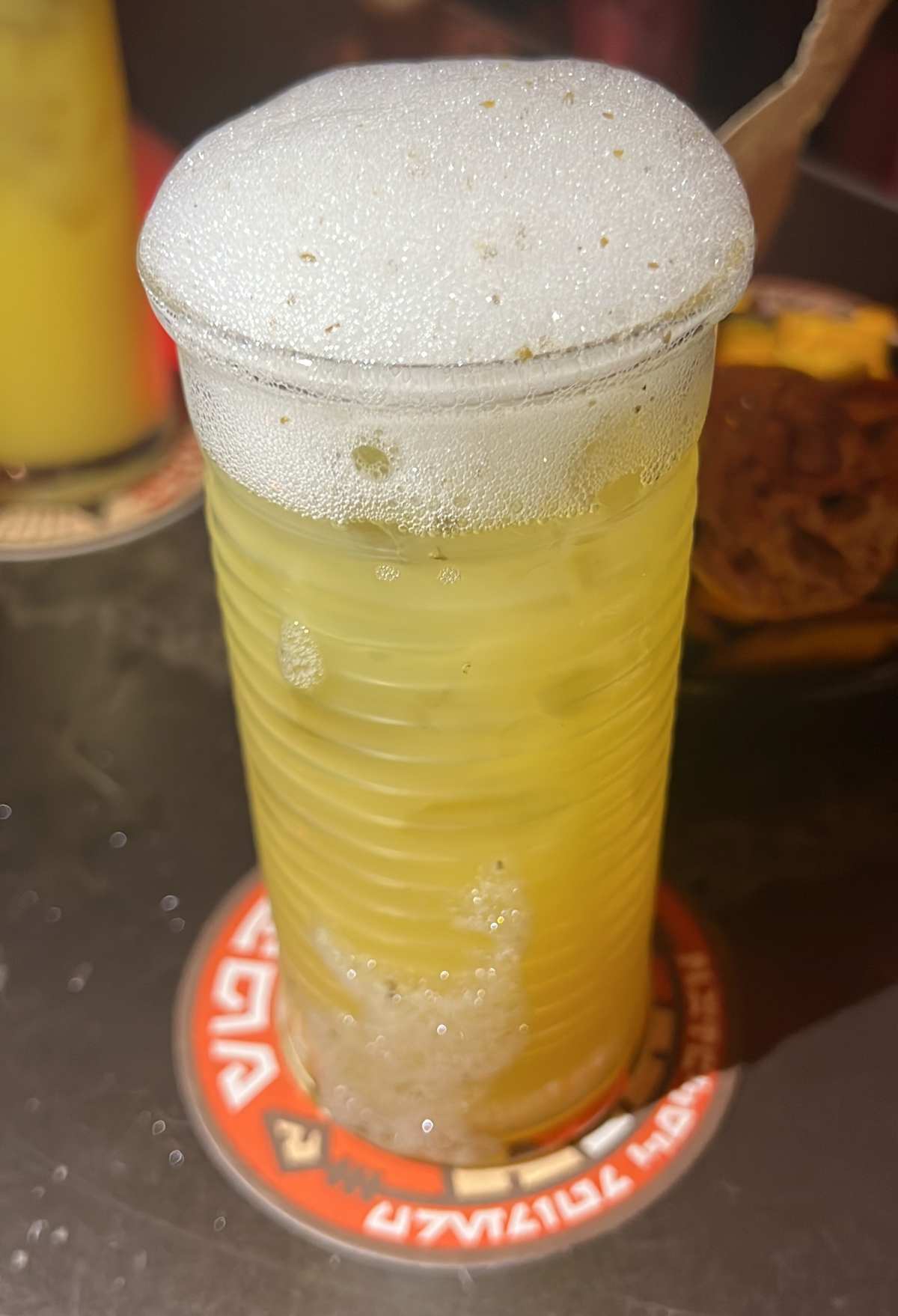 Bespin Fizz - Bacardí Superior Rum, Yuzu Purée, Pomegranate Juice, White Cranberry Juice, and a Cloud Swirl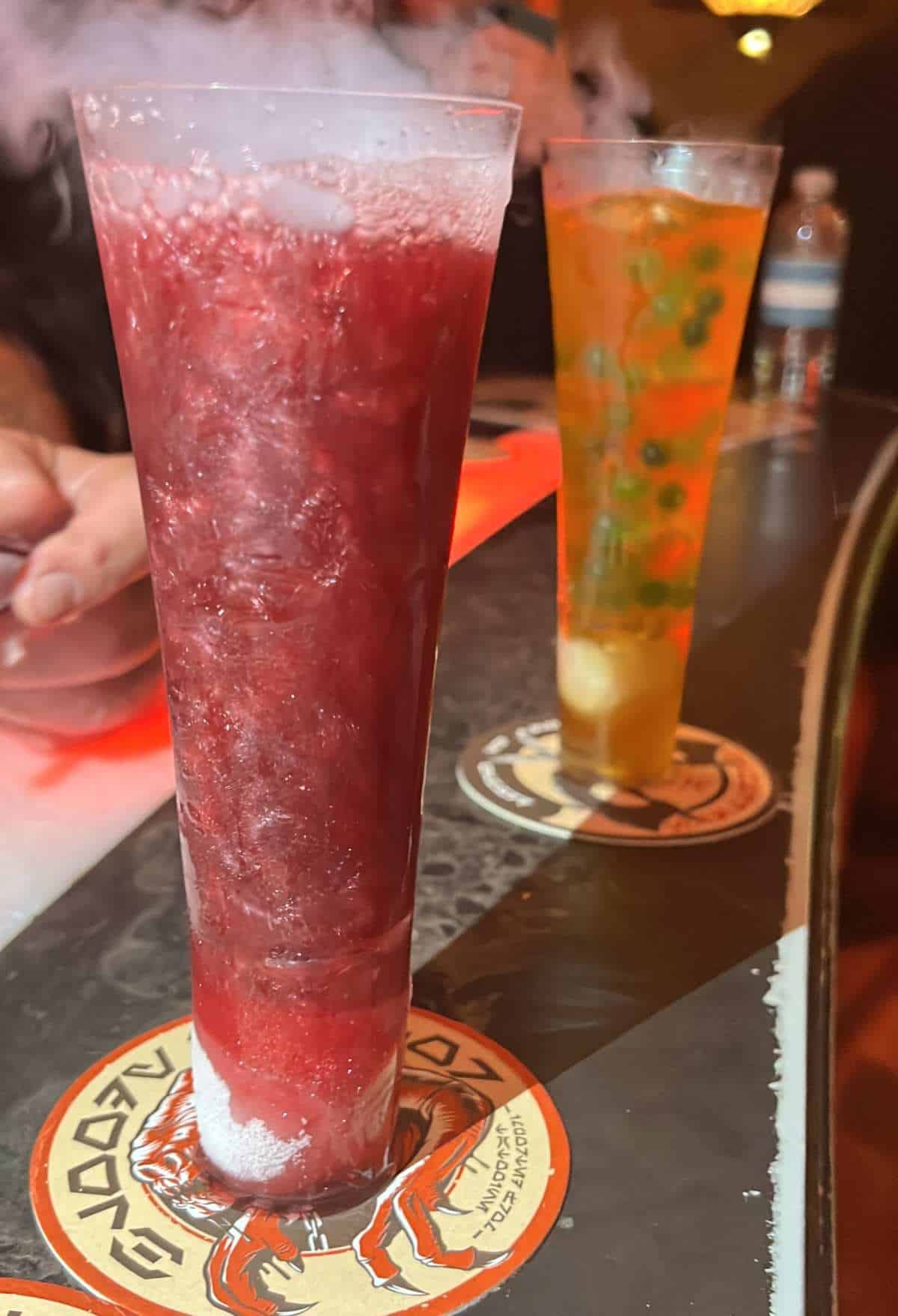 I ordered the Fuzzy Tauntaun because anything with peach is my kind of drink. I really enjoyed it but thought it was going to be bubbly and it was just foaming on the top.
Megan had the Bespin Fizz which was a fizzy bubbly drink and tasted really good. I would get that next time if we went again.
They also have beer and wine. Plus a beer flight for $85. Yup! That's not a misprint.
I wanted to try the Provision with alcohol, but the server talked me out of it by saying it did not taste good and that I would not like it.
It's served in a petri dish and you can't use your hands to eat it.
They have one with alcohol and one without.
Rodian Ration - Tito's Handmade Vodka, Dekuyper Pucker Sour Apple, Green Apple, Sprite®, and Boba Balls with a Pop
Oga's Obsession - Minute Maid® Premium Lemonade, Cotton Candy Flavor, Blueberry Popping Pearls with a Bursting Dried Fruit Mixture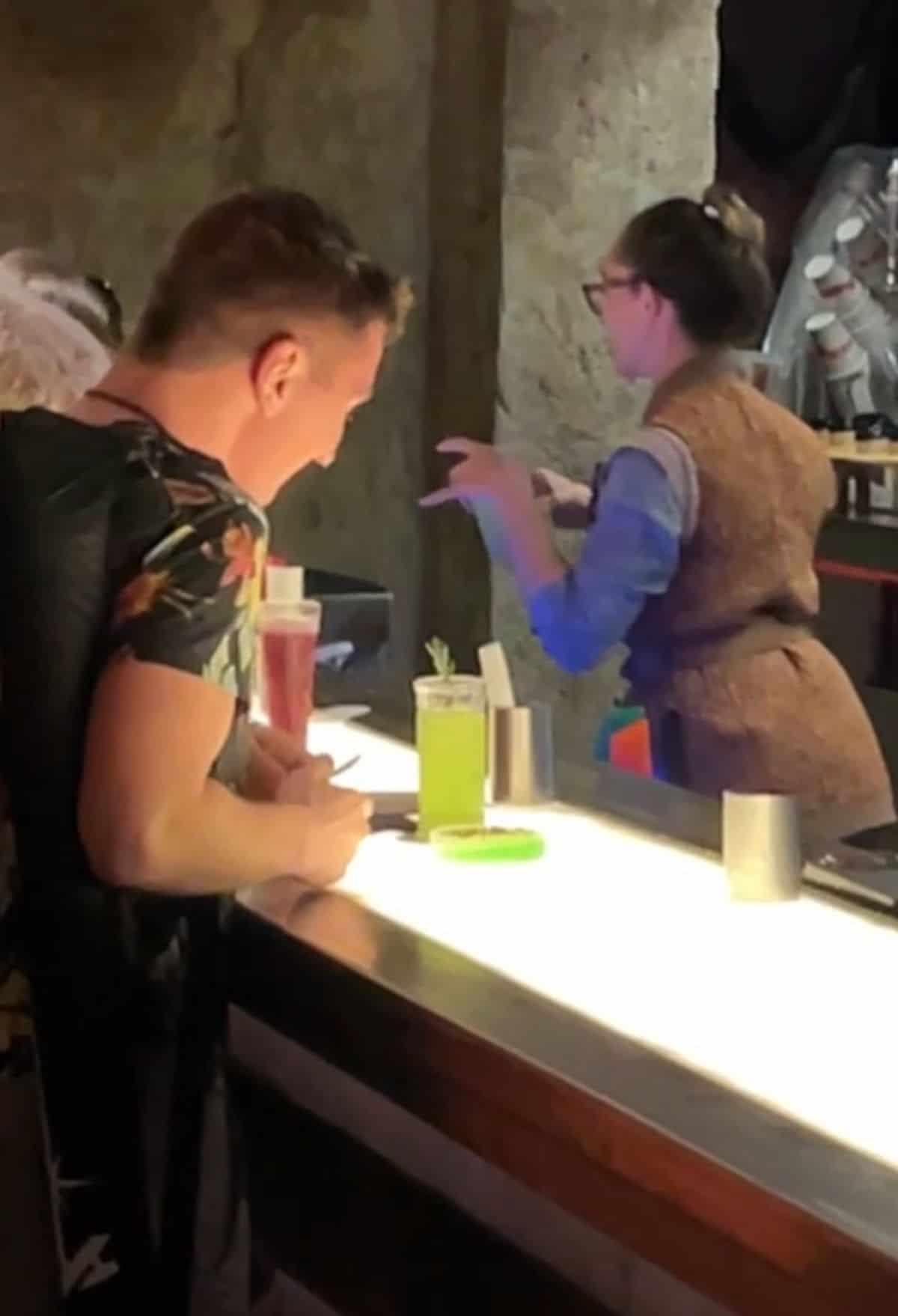 DJ Rex
I was not expecting a robot to be so cool. He was grooving with the music and coming up with some funny jokes.
And don't forget about the Oga's drinking song. How fun!
In Conclusion
Ogas Cantina is a pretty cool place. I would definitely stop there again when we go back. (the perks of living by Disney!)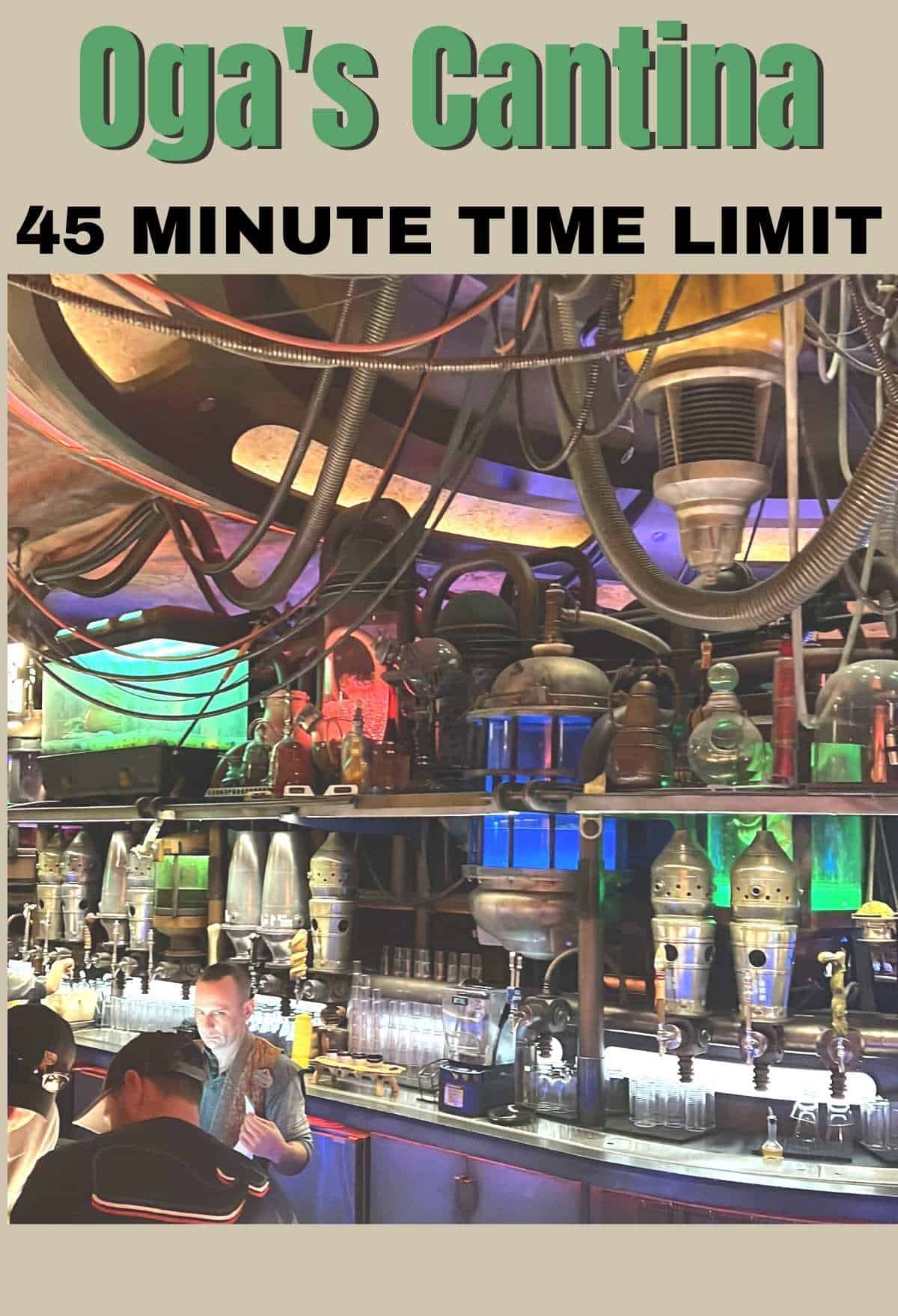 The kids enjoyed it, and so did the adults.
Have you ever been to Oga's Cantina? Leave a comment below and let us know your thoughts.
Be sure to pin it for later and follow us on Pinterest.