MoonShade came out with a temporary and portable awning that fits inside a handy little bag, weighing in at only 8 lbs, and can attach to things with multiple anchor choices and is easy to set up and take down.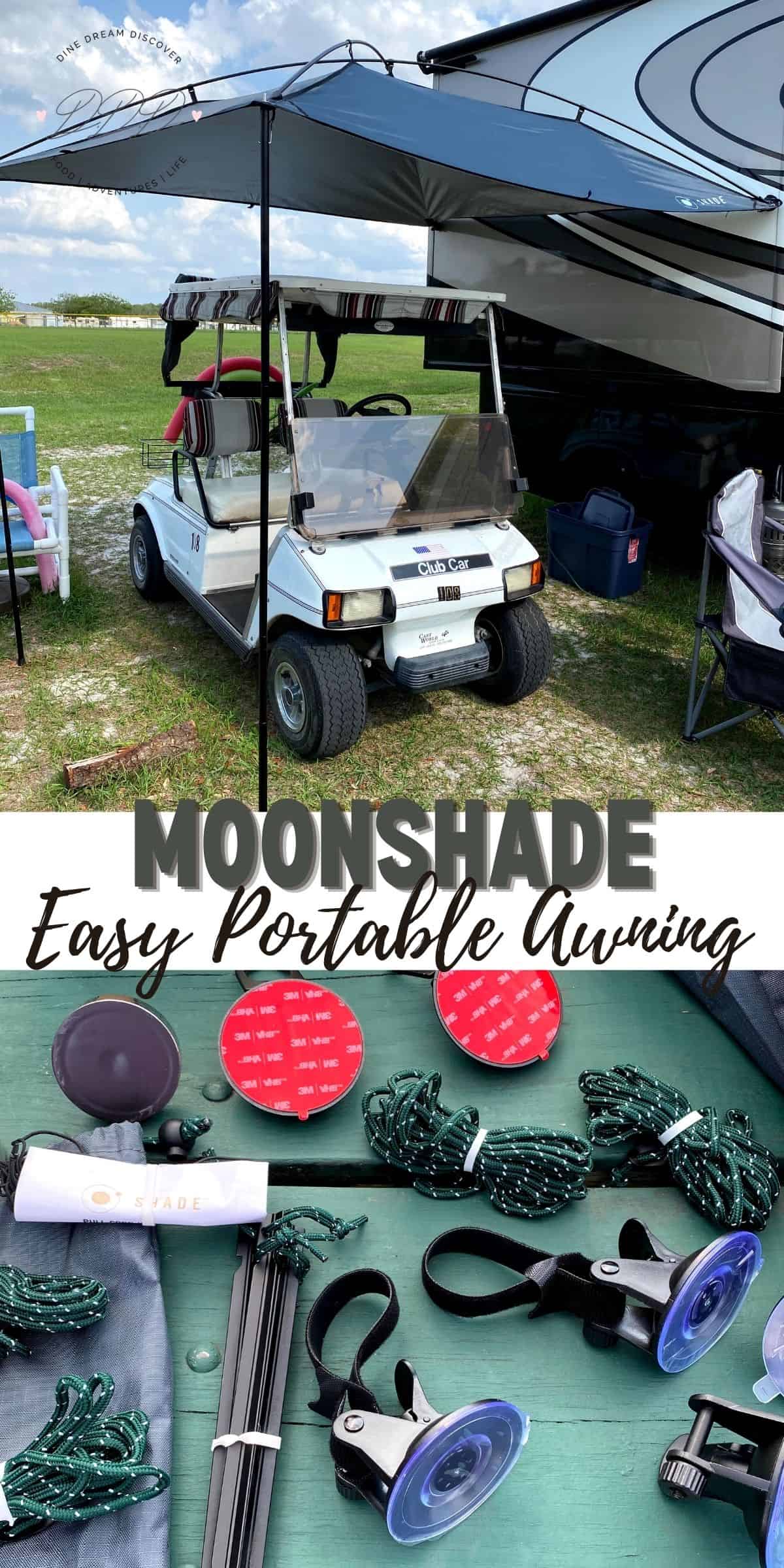 I received the products mentioned below in order to facilitate my review. All opinions are my own and may differ from yours. This post may contain affiliate links. See my disclosure policy for more info.
MoonShade Easy Portable Awning
Did you ever feel the need for some shade when you went somewhere? But there was none to be found?
A temporary awning, one that you could put up and take down easily. How about a portable awning that attaches to something?
Luckily, Moon Fabricators, Inc came out with a temporary and portable awning, MoonShade, that fits inside a handy little bag with shoulder strap.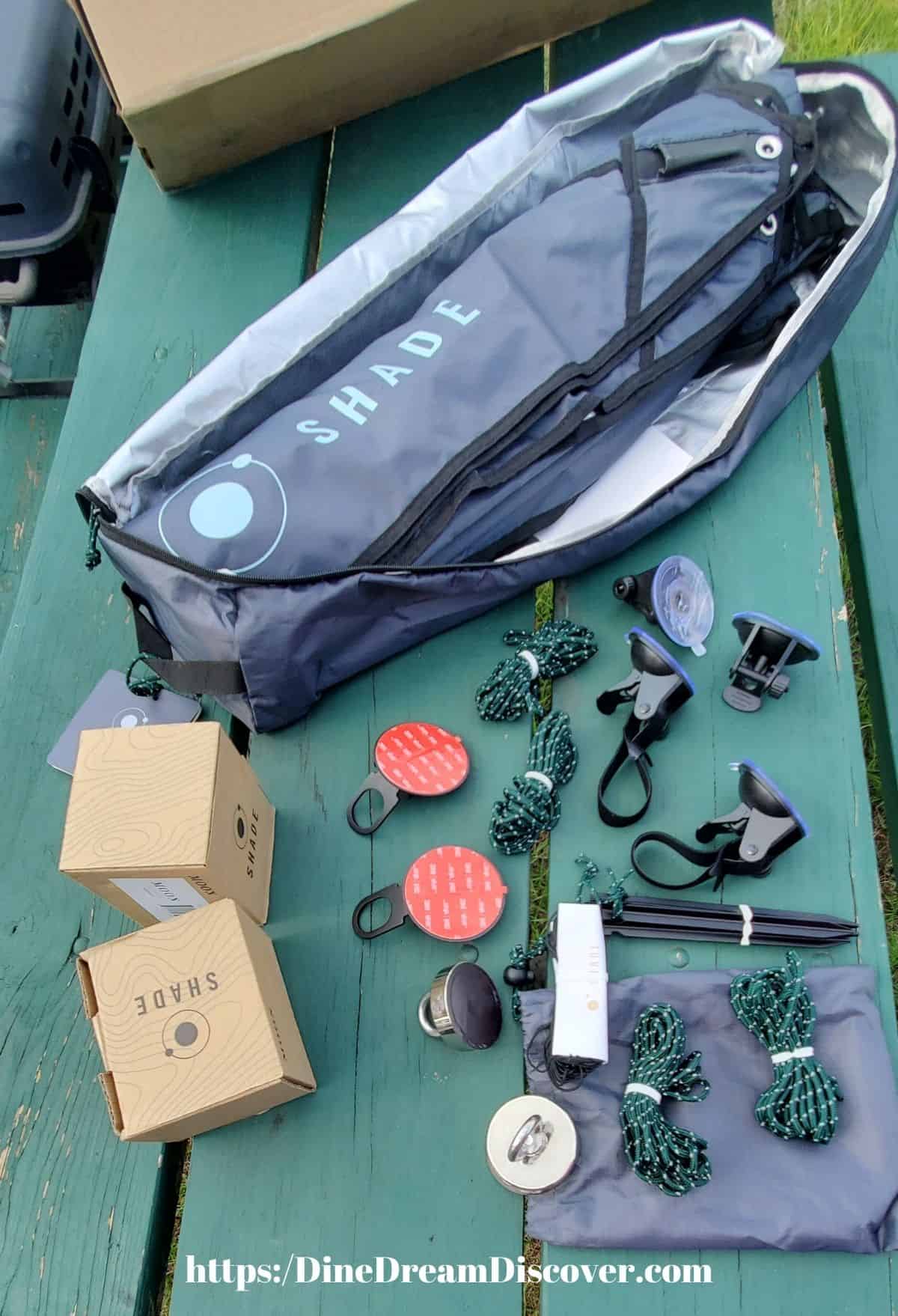 Weighing in at only 8 lbs, it can attach to any sturdy structure with multiple anchor choices and is easy to set up and take down.
We are happy to add it to our Father's Day Gift Guide and RV Must Have Gift Guide.
What is MoonShade
MoonShade is a temporary awning that can be attached to a variety of things. It's like half of regular canopy because it isn't free standing.
It shades an area of 9' x 7'. Which is the perfect size for a couple of chairs, a picnic table, or even a golf cart 😉.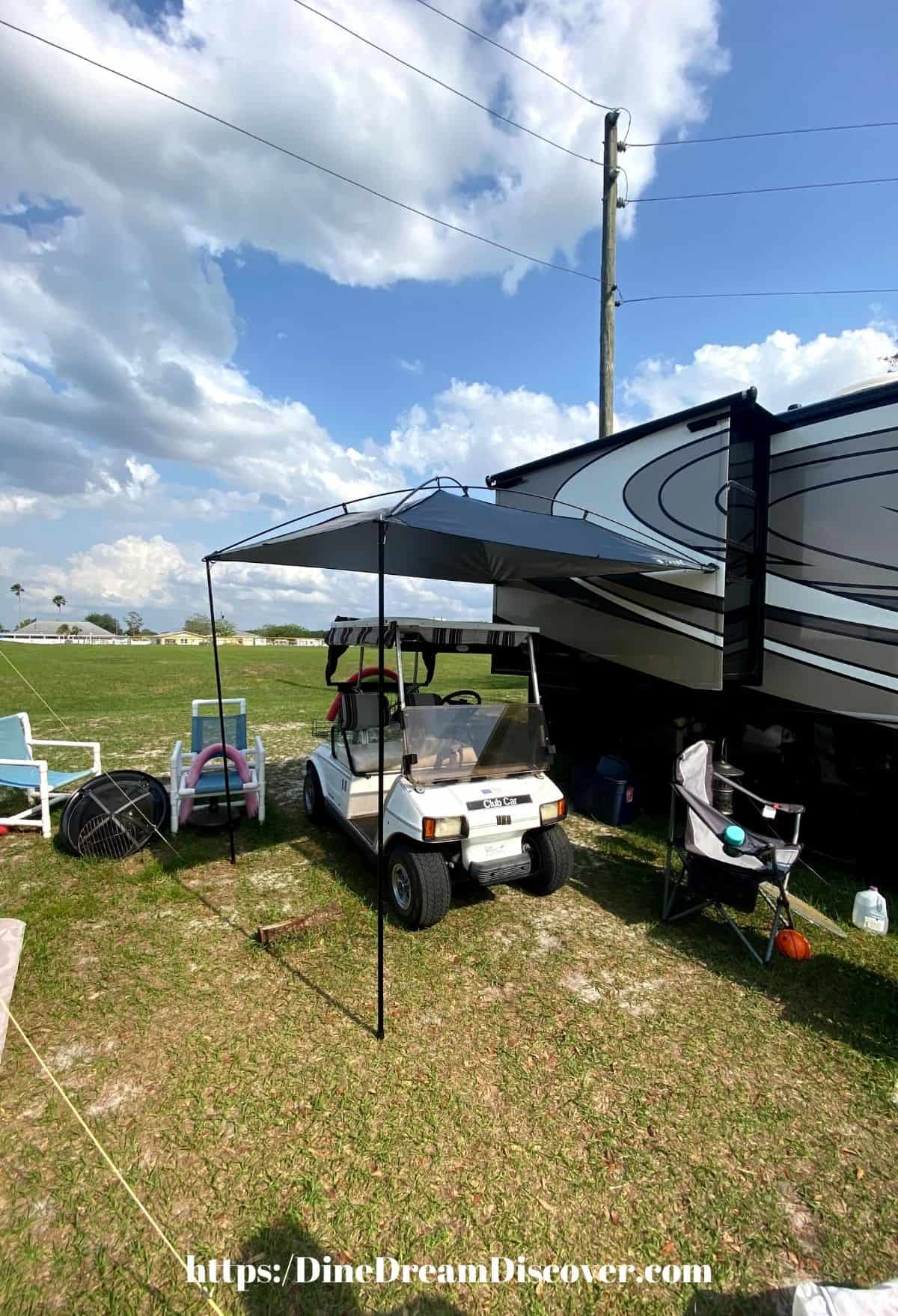 It all fits inside a storage bag with shoulder strap that measures 6" x 28" and weighs only 8 lbs. making it the perfect camping addition and any RV.
The aluminum tension poles easily open and close.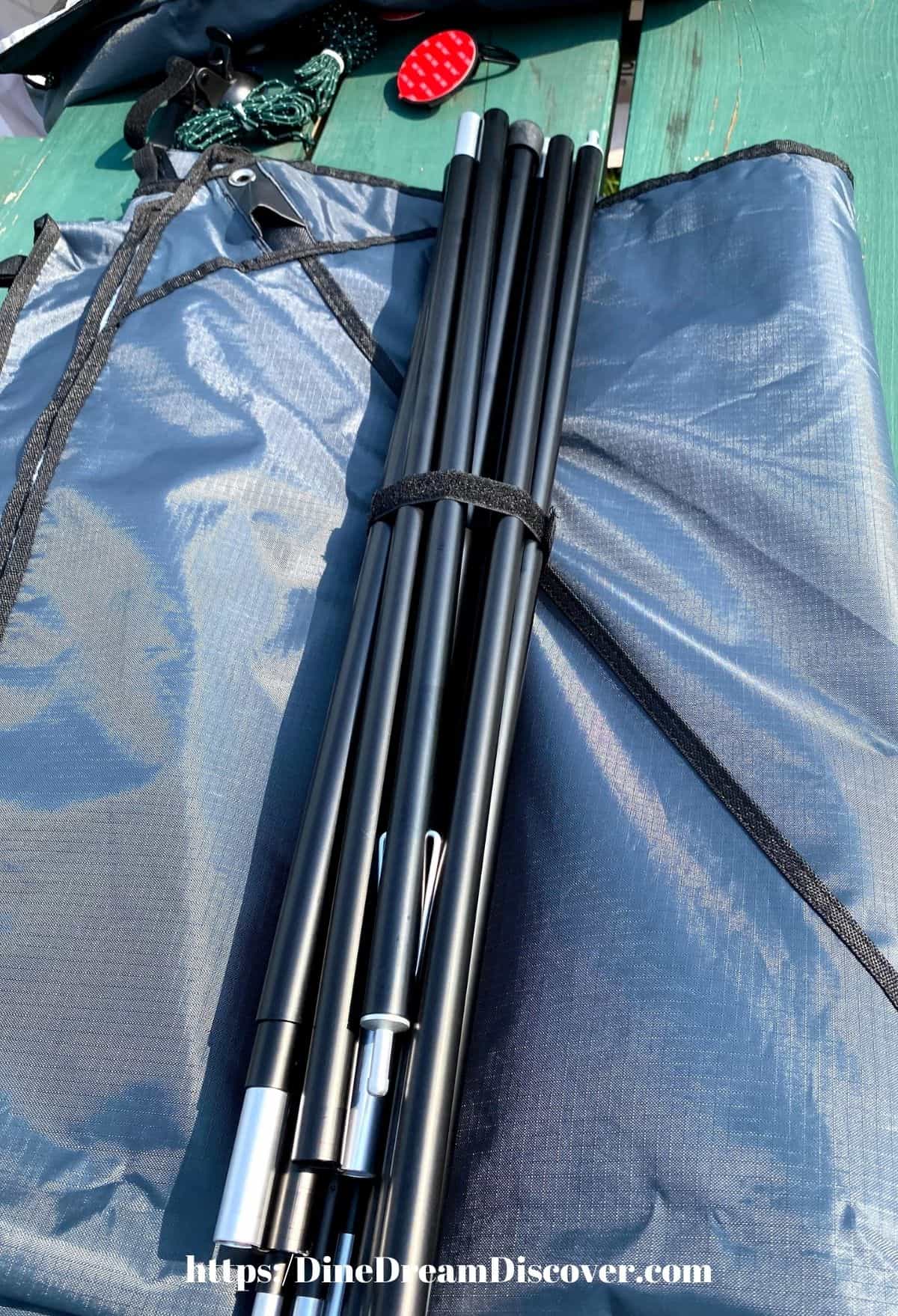 The underside of the MoonShade is reflective so it's great at night also.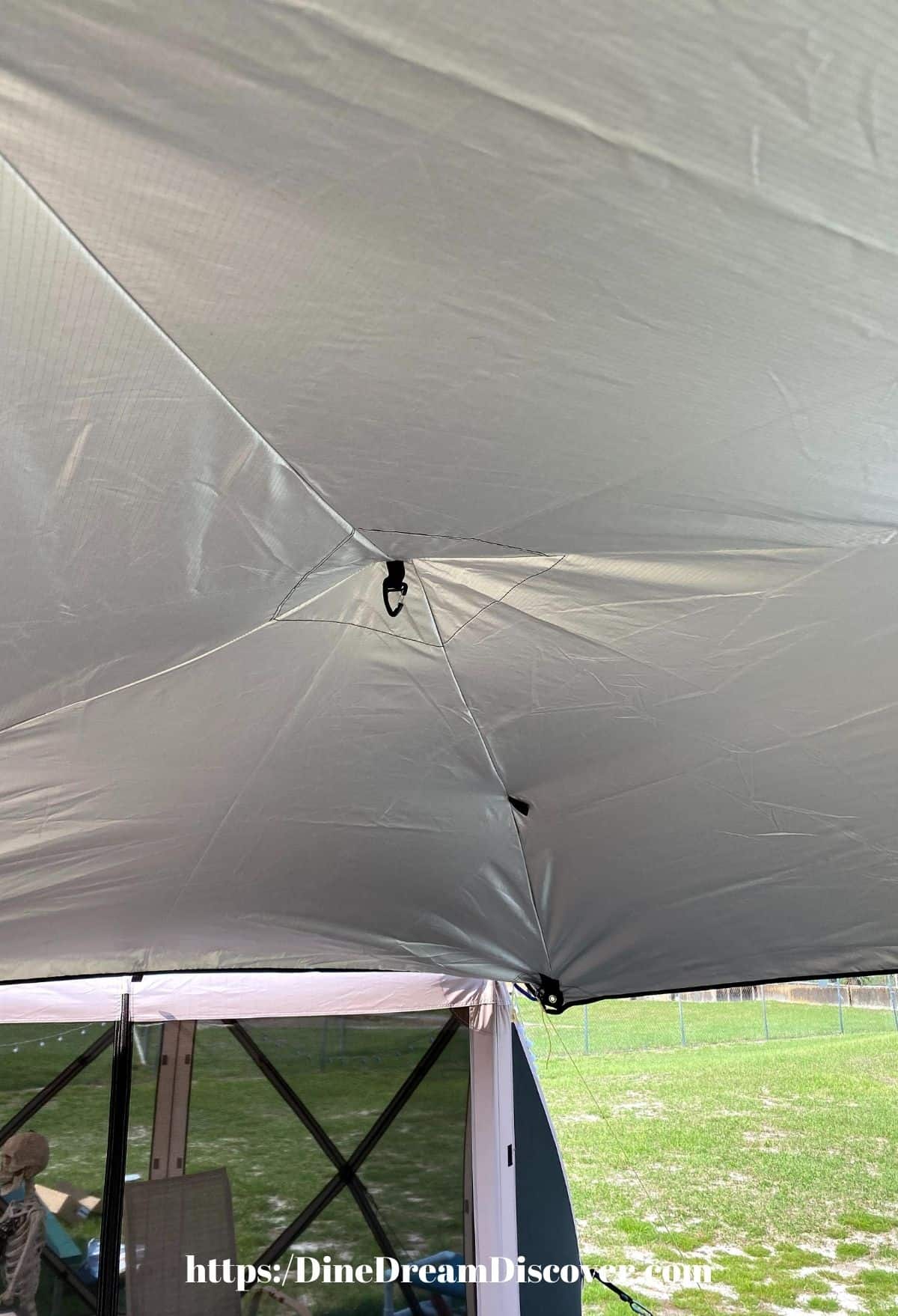 Light it up with a lantern or mini lights and sit out and enjoy nature.
What's Included with the MoonShade
The MoonShade comes with the portable awning, 4 stakes, 4 guy lines, 2 suction cup mounts, 2 suction cup pole ends that allows you to attach the 7 ft. support mounting pole to a vehicle surface, aluminum tension poles, and 2 aluminum support poles.
The support poles extend from 78 to 96 inches. It would be nice if they went a little bit shorter than 78 inches though. But we made it work.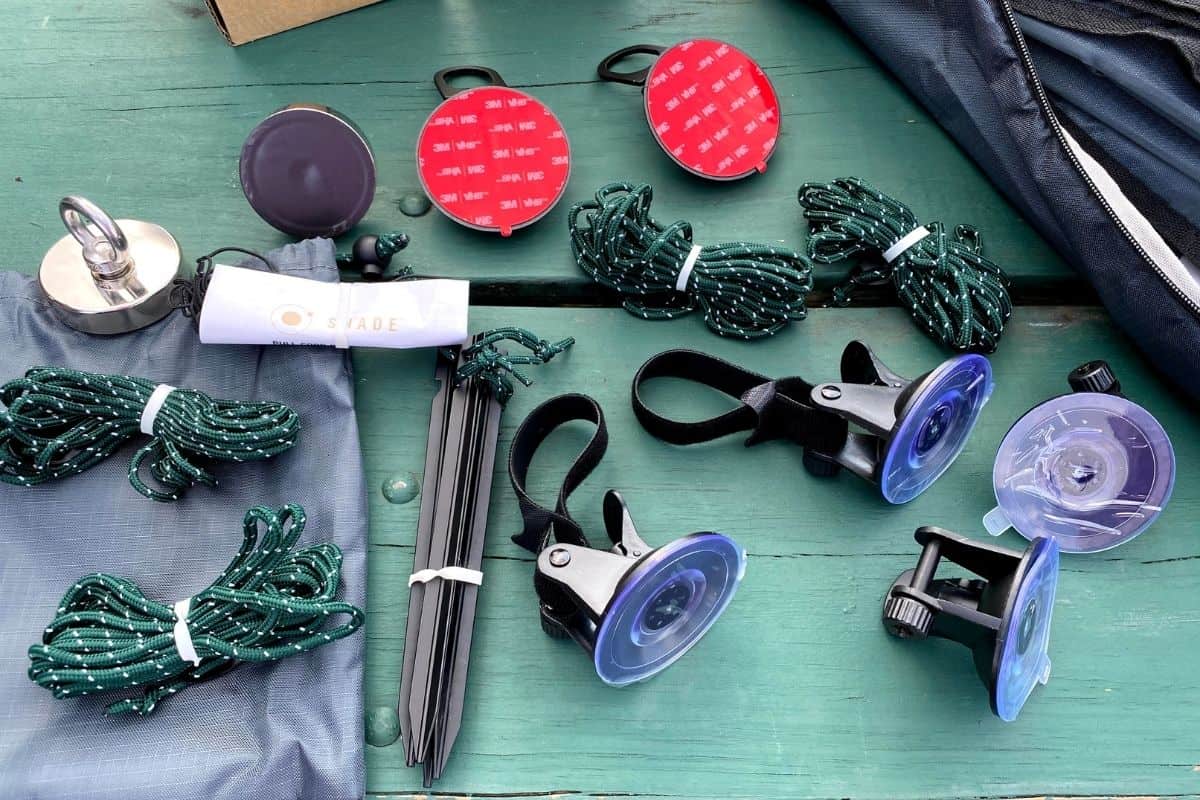 The mounting pole is only used when the structure is less than 7 ft wide.
MoonAnchors
In addition to the suction cup mounts that come with the temporary awning, there are also more MoonAnchors available for purchase depending on your use.
The heavy duty magnet anchors will attach to steel and stay in place.
Semi permanent anchors that will hold strong to keep the awning in place.
Nite Ize Gear Ties can be used in a variety of vehicle anchor situations.
The Sprinter is specifically designed for Mercedes-Benz Sprinter van roof rails.
Basecamp is made for Airstream base rails.
Portable Awning Uses
There are many uses for the portable awning but here are just a few that we used it for.
I attached it to the side of our RV where we have no shade. Most of the time it's too windy to leave our awning out.
So we were able to create shade for the dog (who HATES the sun) and we also parked the golf cart under it.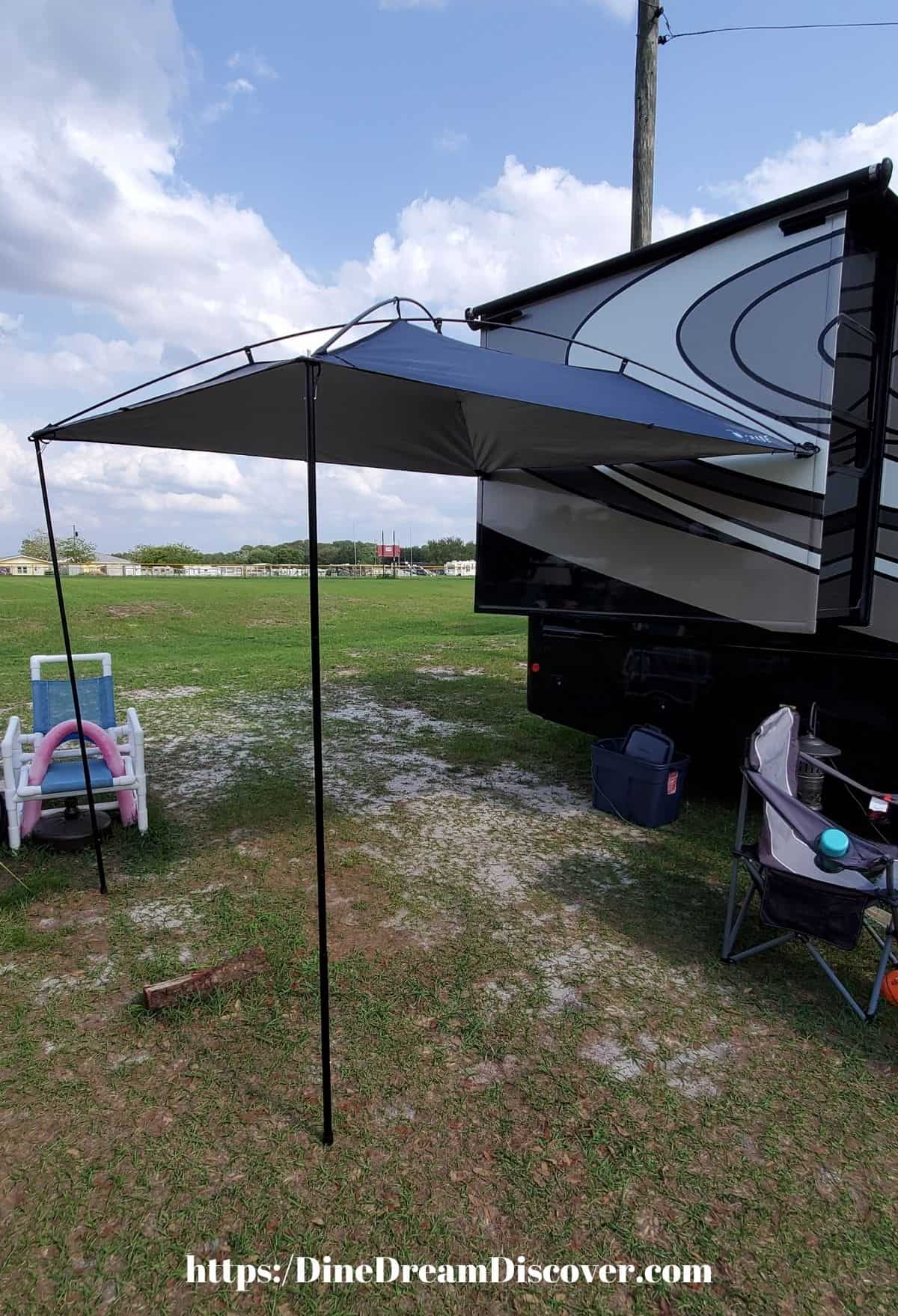 Also, we have a screen tent that has no rain tarp at the door. Which creates a mess at the doorway when it's raining.
We were able to attach the MoonShade to the Carabiner clips that are already there. Worked perfectly. This is where we could have the used the poles to extend a little less than 78".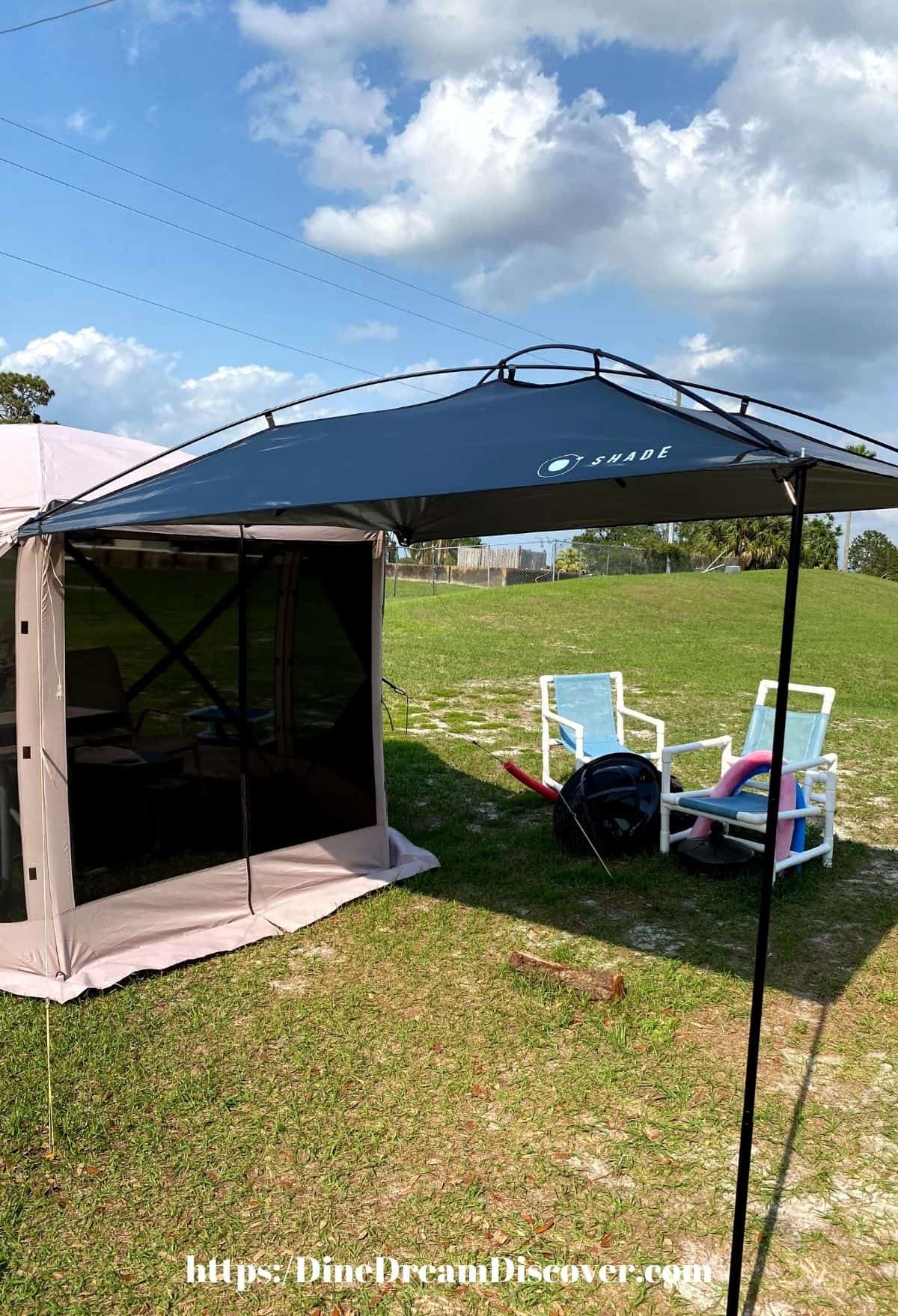 I am still trying to figure out a way to attach it to the Jeep as it has a soft top and no way to use any of the available anchors. But trust me...I'm working on it.
How to Set Up
Attached the suction cups to the side of the RV.
Clipped the Carabiners on the shade to the suction cups hooks.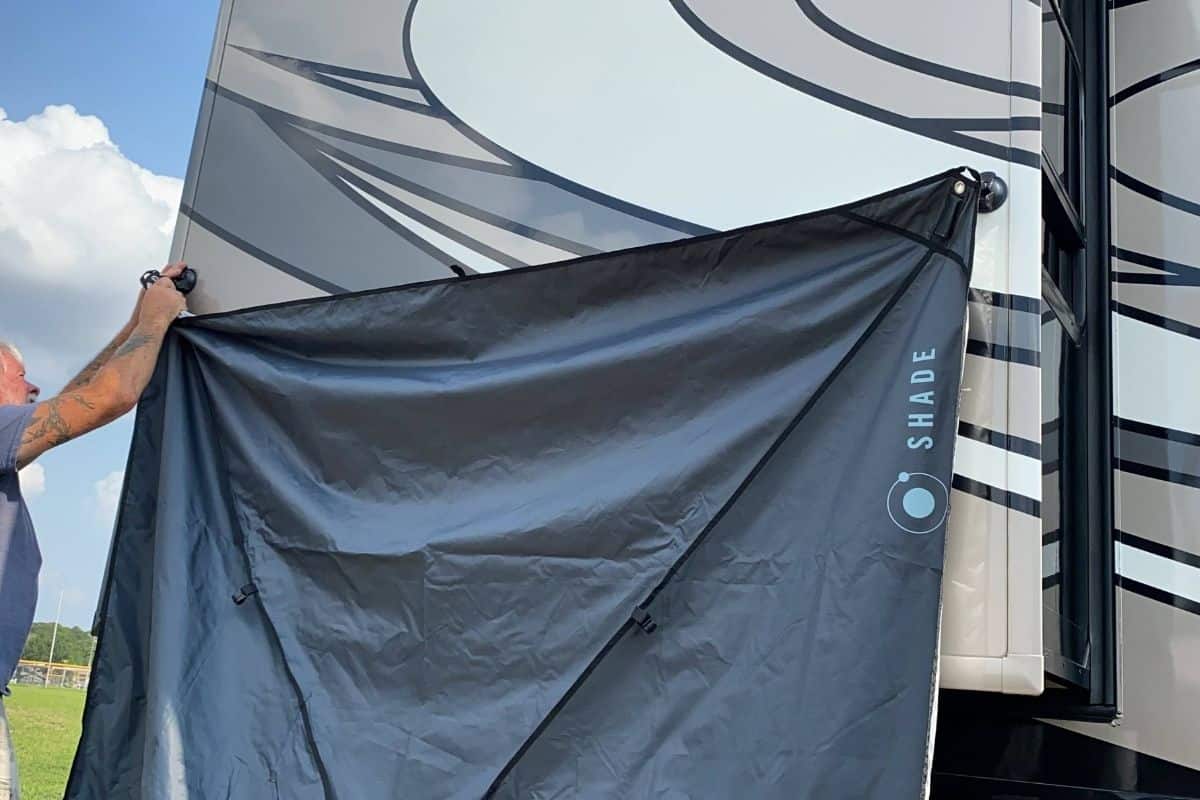 Opened up the tension poles that go on the top and inserted them into hooks and corners.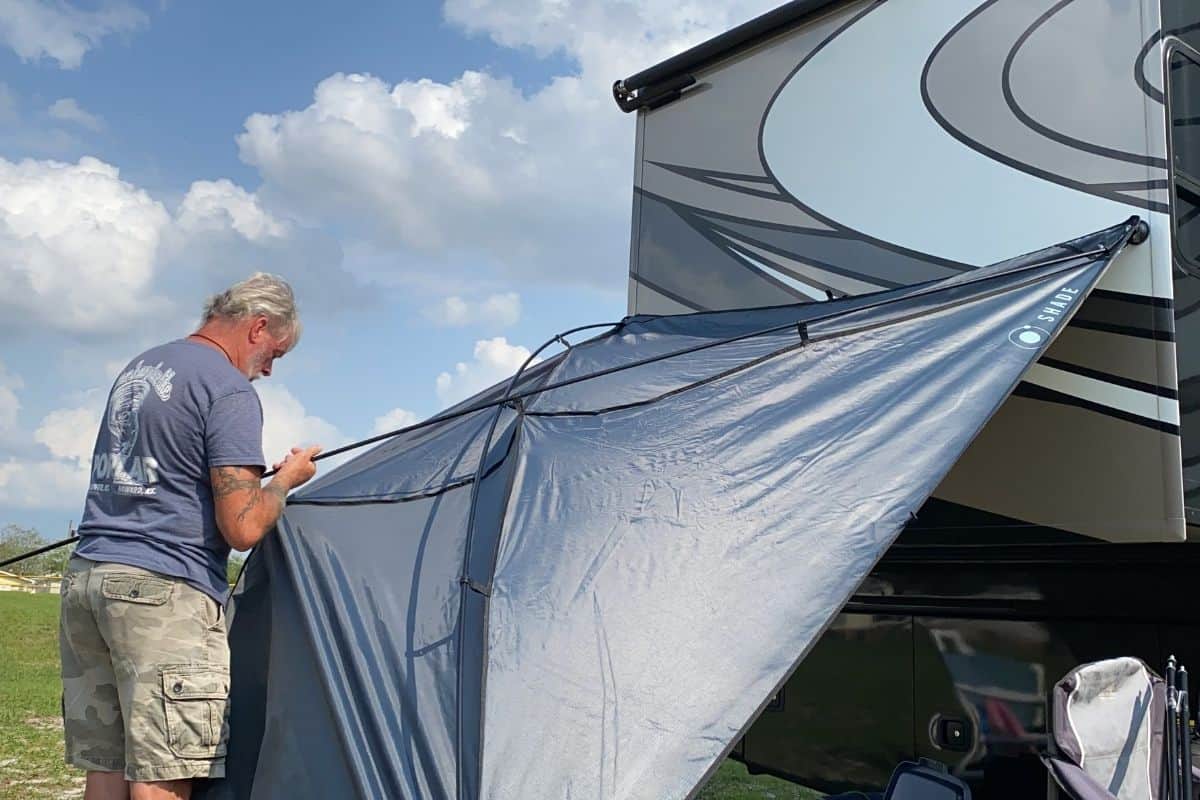 Set up the support poles and placed in corner grommets. Adjusted to the height we needed.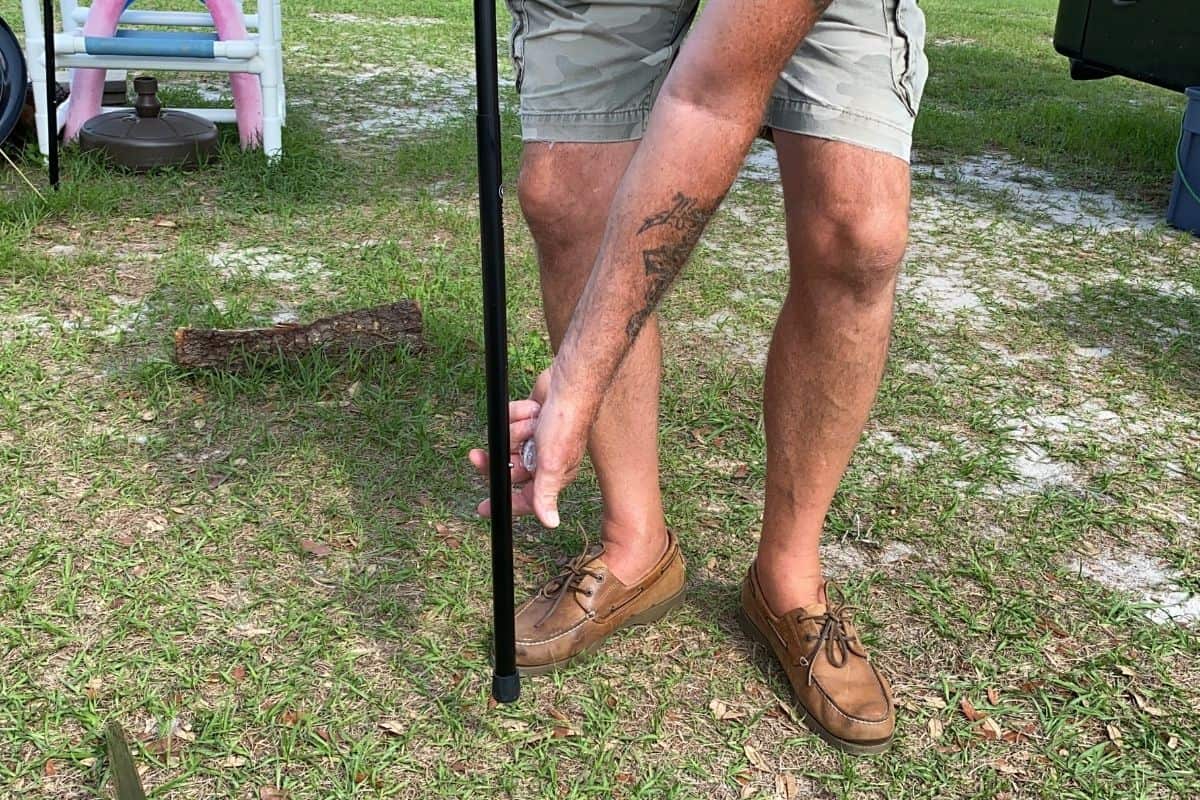 Connected the guy lines to the top and stakes. (We did not show this in the video.)
The setup is simple as is the take down. We set it up on a windy day and we still had no problem.
Where to Purchase
The MoonShade portable awning can be purchased online as well as any extra anchors you might need.
I love the MoonShade and think it's the handiest thing ever. This is definitely one item that needs to be in every RV or Camping bag.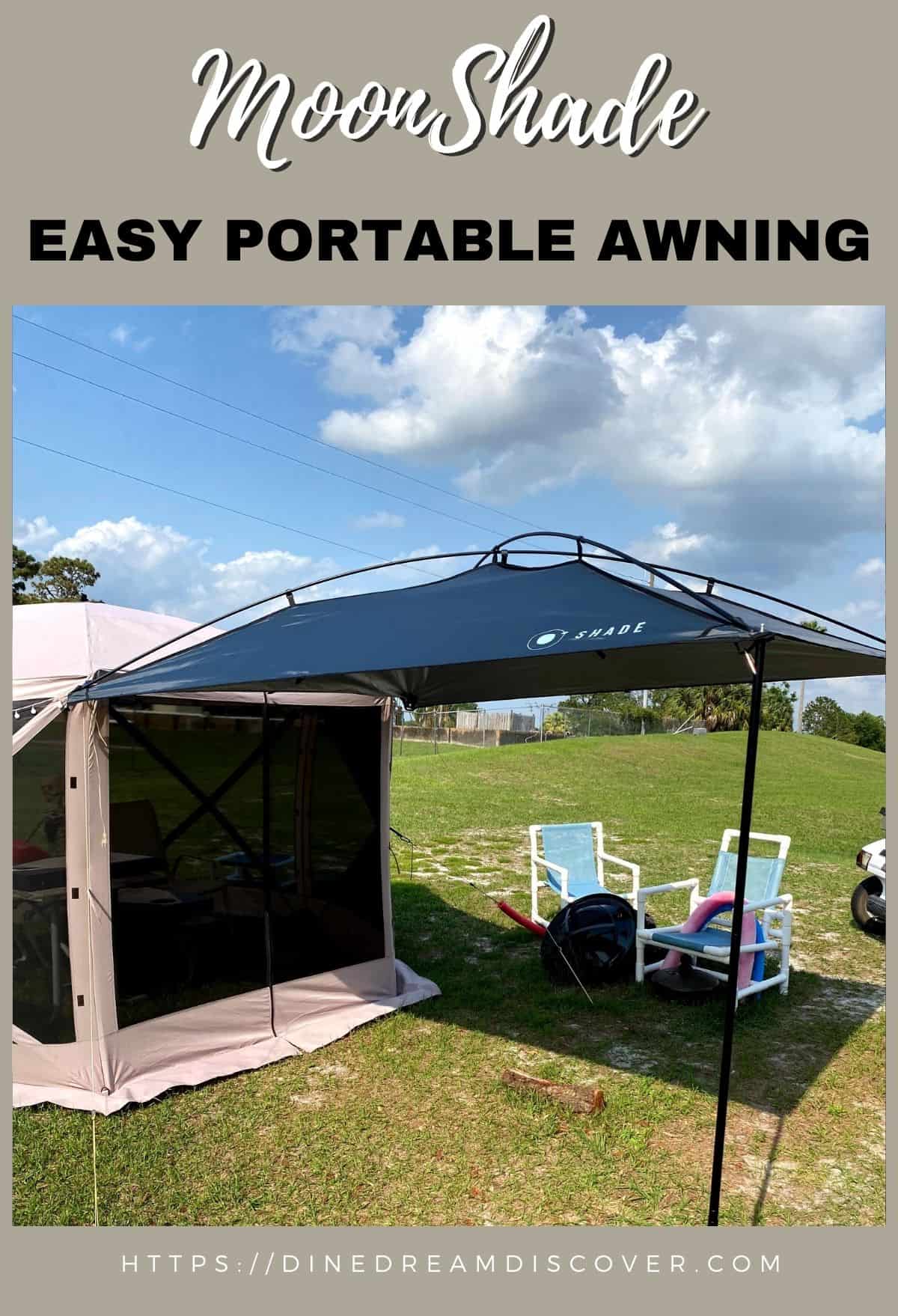 Connect with them on Facebook and Instagram and get your MoonShade today. It makes the perfect gift for Mother's Day and Father's Day too.
Follow us on Pinterest and PIN IT FOR LATER!