Eggs Up Grill in Winter Garden, FL "Say Cheese" menu includes a Berry, berry, Chocolate Mimosa, Strawberry Cheesecake Pancakes, and a Big Smoky Melt to name a few.
My family and I were invited to try the "Say Cheese" menu items at Eggs Up Grill in Winter Garden, FL. All opinions are my own and may differ from yours.
This post may contain affiliate links. See my disclosure policy for more info.
"Say Cheese" at Eggs Up Grill in Winter Garden Florida
I love visiting new restaurants wherever we go. But I love it, even more, when they open up in our home city.
Eggs Up Grill is a franchise. The Winter Garden location opened in August of 2021.
While a lot of restaurants were closing within the last two years due to Covid, Noel and his wife, Annie Arriola decided it was a good time to open a restaurant.
Unlike my two sons and I, who have been in the restaurant business for 30 years, Noel and Annie knew they wanted to try something different and had talked about opening a restaurant for 10 years.
They came across the Eggs Up Grill franchise. The motto of serving the community where you work and live stuck with them and knew that that was what they wanted to do.
Noel's career was in technology and Annie was a nurse. A big difference switching to the restaurant industry.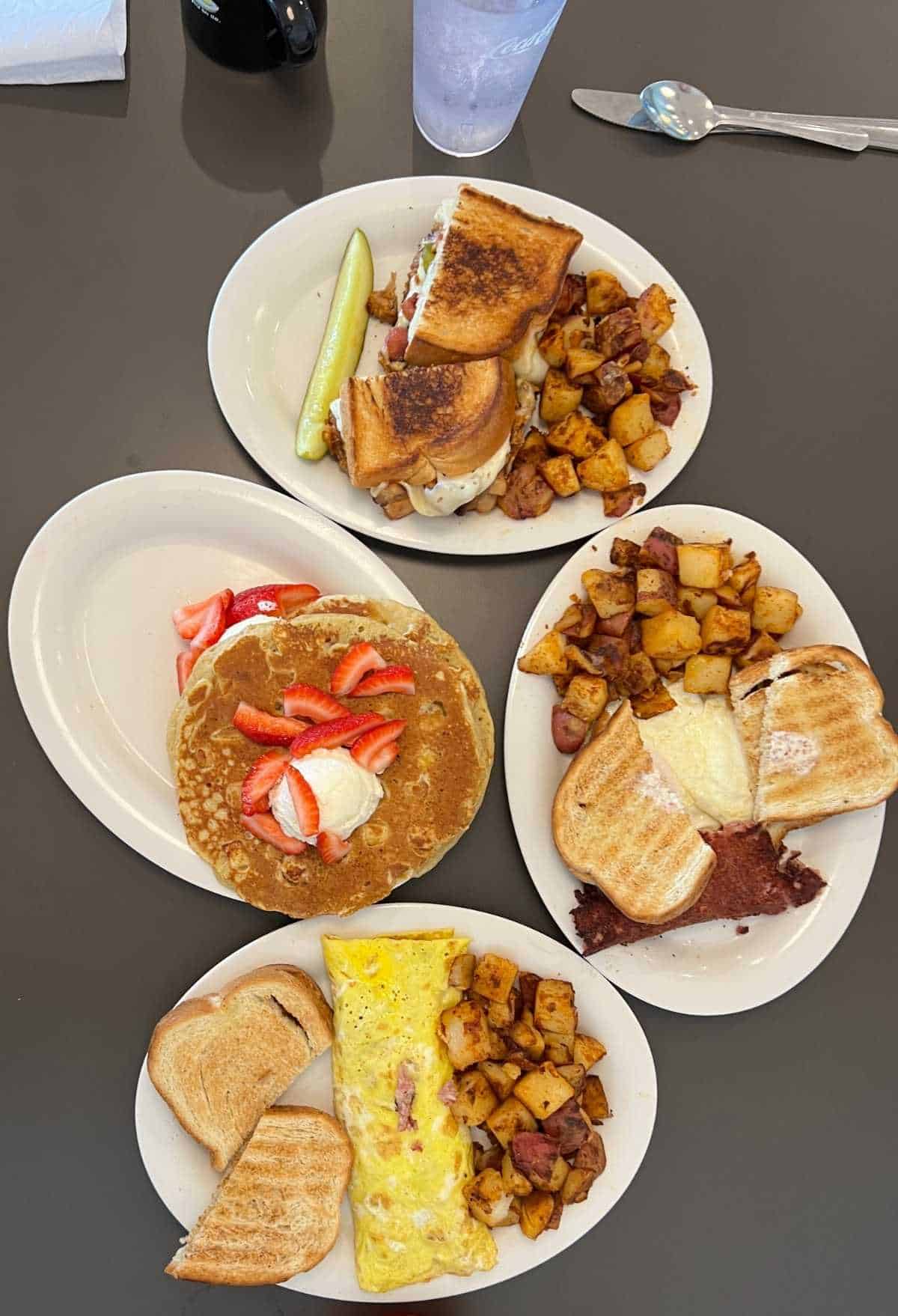 While I did have the pleasure of meeting Noel, the "window washer", (Noel's words lol,) he told me his wife, Annie, who owns the restaurant, was at her nursing job.
When you are in the restaurant business, or any job where you interact with people, you have to have a good sense of humor, especially in this day and age.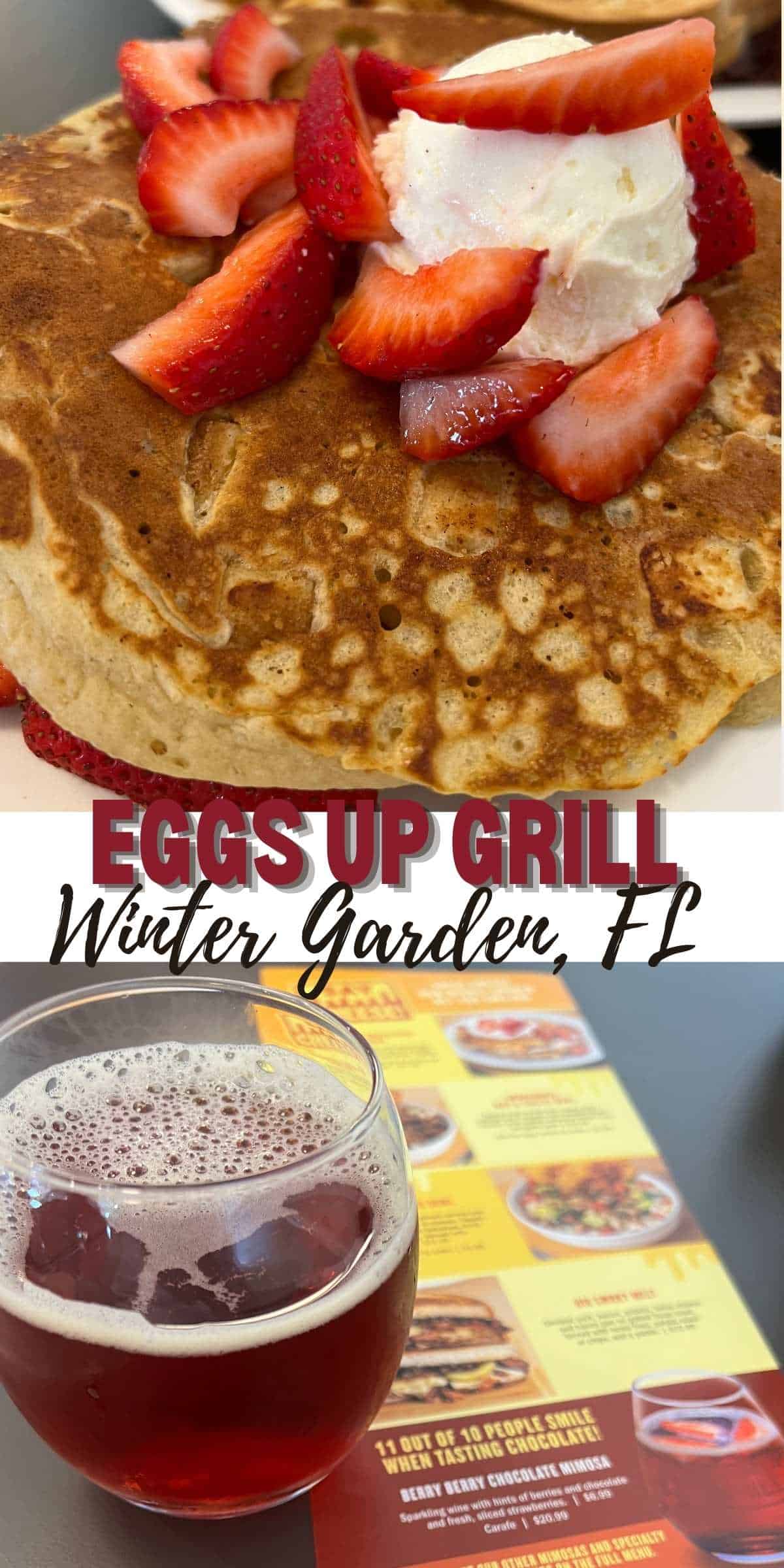 Choosing the Perfect Location
When starting up a new restaurant, it's always easier when you find a location that was a restaurant.
Since many restaurants were closing due to the pandemic, they just happened upon the perfect location.
And that was exactly what they did. The location was previously a Beef O' Brady's bar and grill, and another restaurant. Obviously, it wasn't good if I can't even tell you the name of it.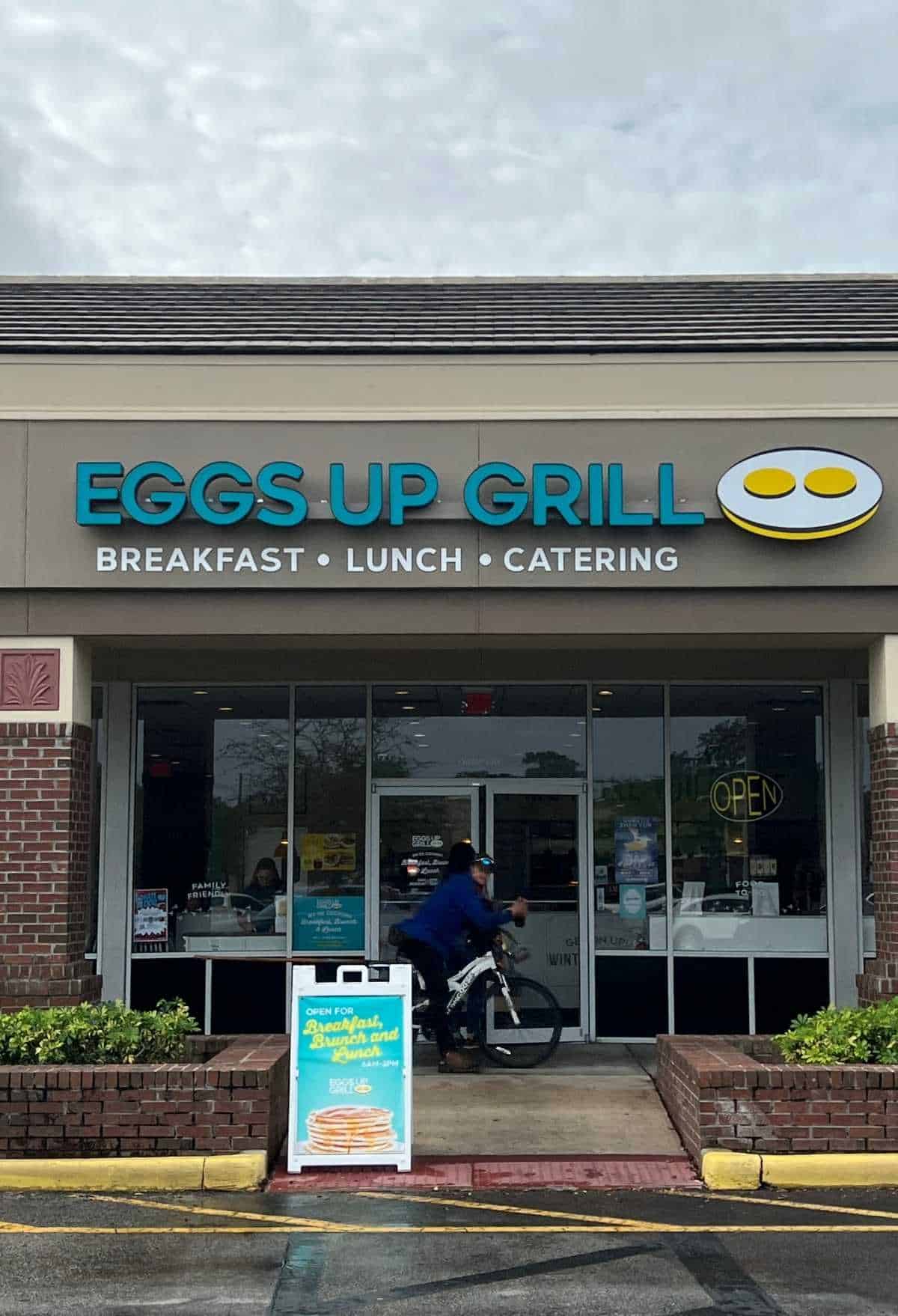 Situated in the West Point Commons Shopping Center at 13750 W. Colonial Drive in Winter Garden, Florida.
Unless you know it's there or are shopping at the Publix grocery store, you cannot see it because it sits back off the main road.
The "Say Cheese" Menu and More
I bet you are saying, get on with it already! How was the food?
I was invited to Eggs Up Grill to try out the new "Say Cheese" menu.
However, everything looked so good and it was a hard decision. But we also ordered from the regular menu to try out some of the daily items.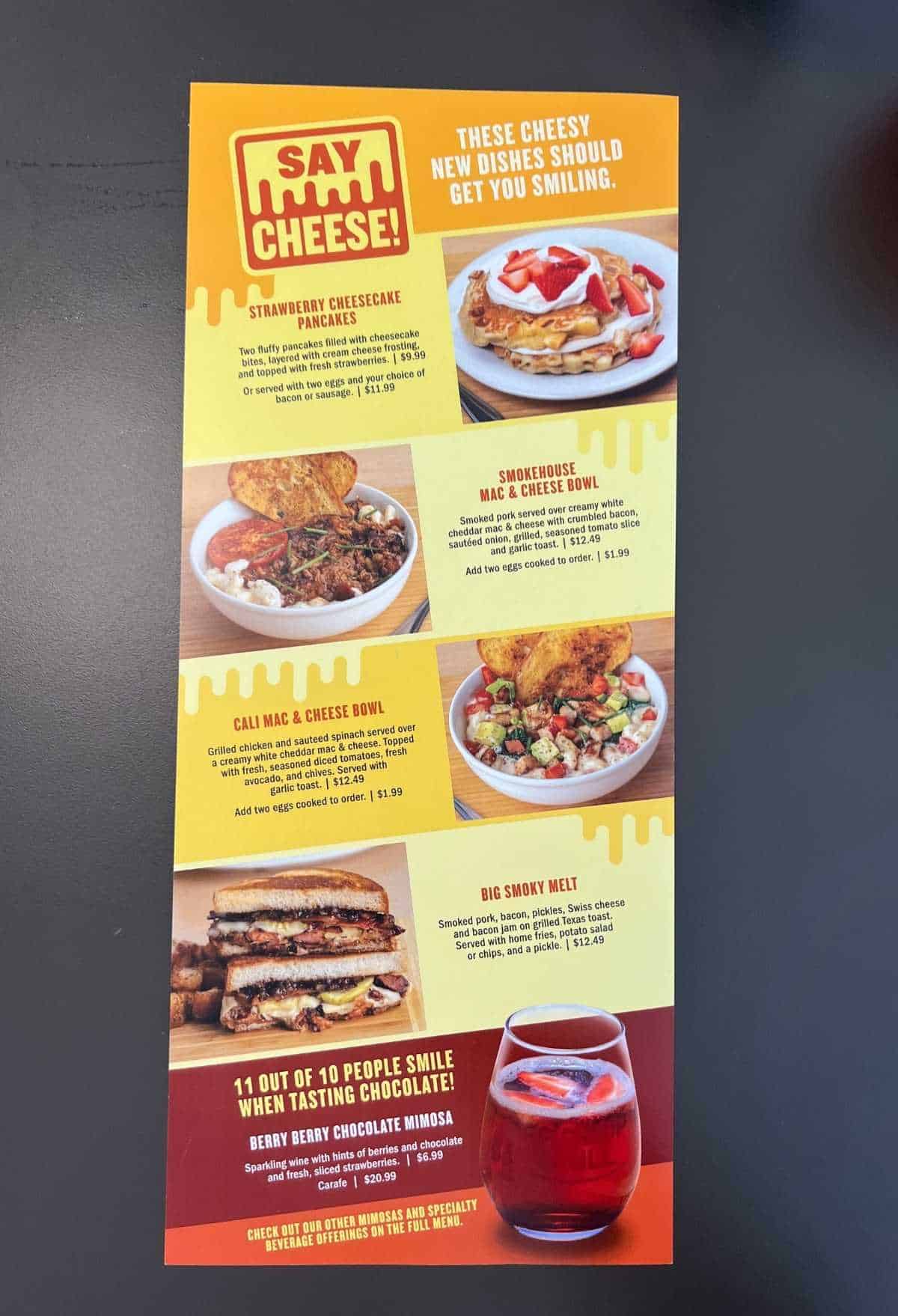 Good thing my son met us there so that we could try out more menu items.
"Say Cheese" Menu Items
Strawberry Cheesecake Pancakes - 2 Fluffy pancakes filled with cheesecake bites, layered with cream cheese frosting, and topped with fresh strawberries. You can also add 2 eggs with bacon or sausage.
Smokehouse Mac & Cheese Bowl - Smoked pork served over creamy mac & cheese with crumbled bacon, sauteed onion, grilled seasoned tomato slice and garlic toast.
Cali Mac & Cheese Bowl - Grilled chicken and sauteed spinach served over a creamy white cheddar mac & cheese. Topped with fresh seasoned diced tomatoes, fresh avocado and chives. Served with garlic toast.
Big Smoky Melt - Smoked pork, bacon, pickles, swiss cheese and bacon jam on grilled Texas toast. Served with home fries, potato salad, or chips and a pickle.
Berry, Berry, Chocolate Mimosa - Sparkling wine with hints of berries and chocolate, and fresh sliced strawberries.
I started off the breakfast with the Berry, berry, Chocolate Mimosa, even if it was only 10:00 in the morning, lol.
And let me tell you...it is DELICIOUS! I was like Oh Em Gee! While I am a wine drinker, normally, I'm not a fan of sparkling wine. However, it wasn't as bubbly like some of the sparkling wines I've tried before.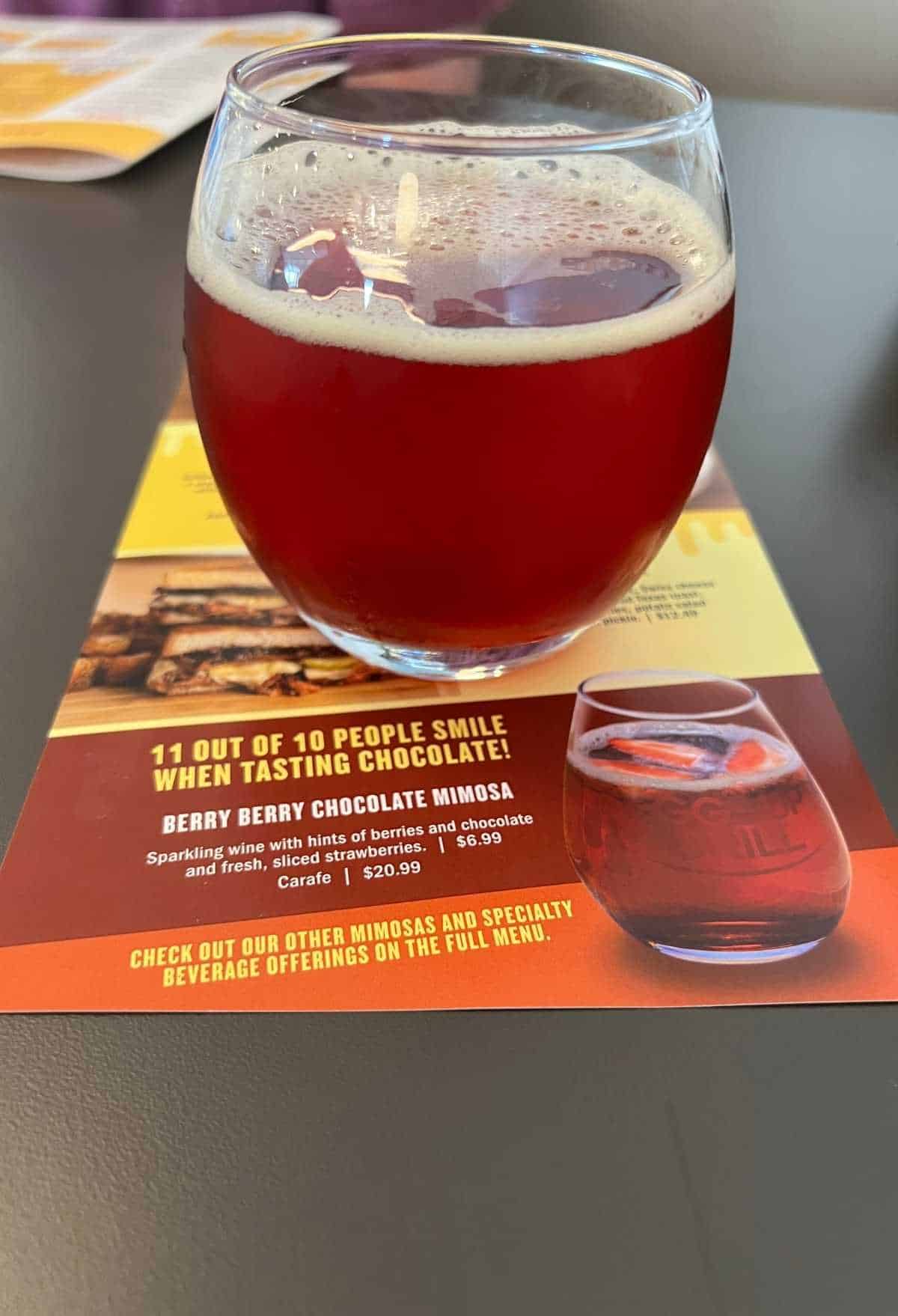 It had a berry taste with an ever-so-slight taste of chocolate. I know they probably wouldn't have given me the recipe, but I should have at least asked. That's how good it is.
Maybe I'll have to get a job there to get the recipe. 😉
We also ordered the Strawberry Cheesecake Pancakes, because who doesn't love cheesecake and the Big Smoky Melt.
I didn't think I was going to get to try the Big Smoky Melt because he was eating it so fast. It was nice of him though to save me a bite so I could tell y'all my thoughts on the sandwich. 🙄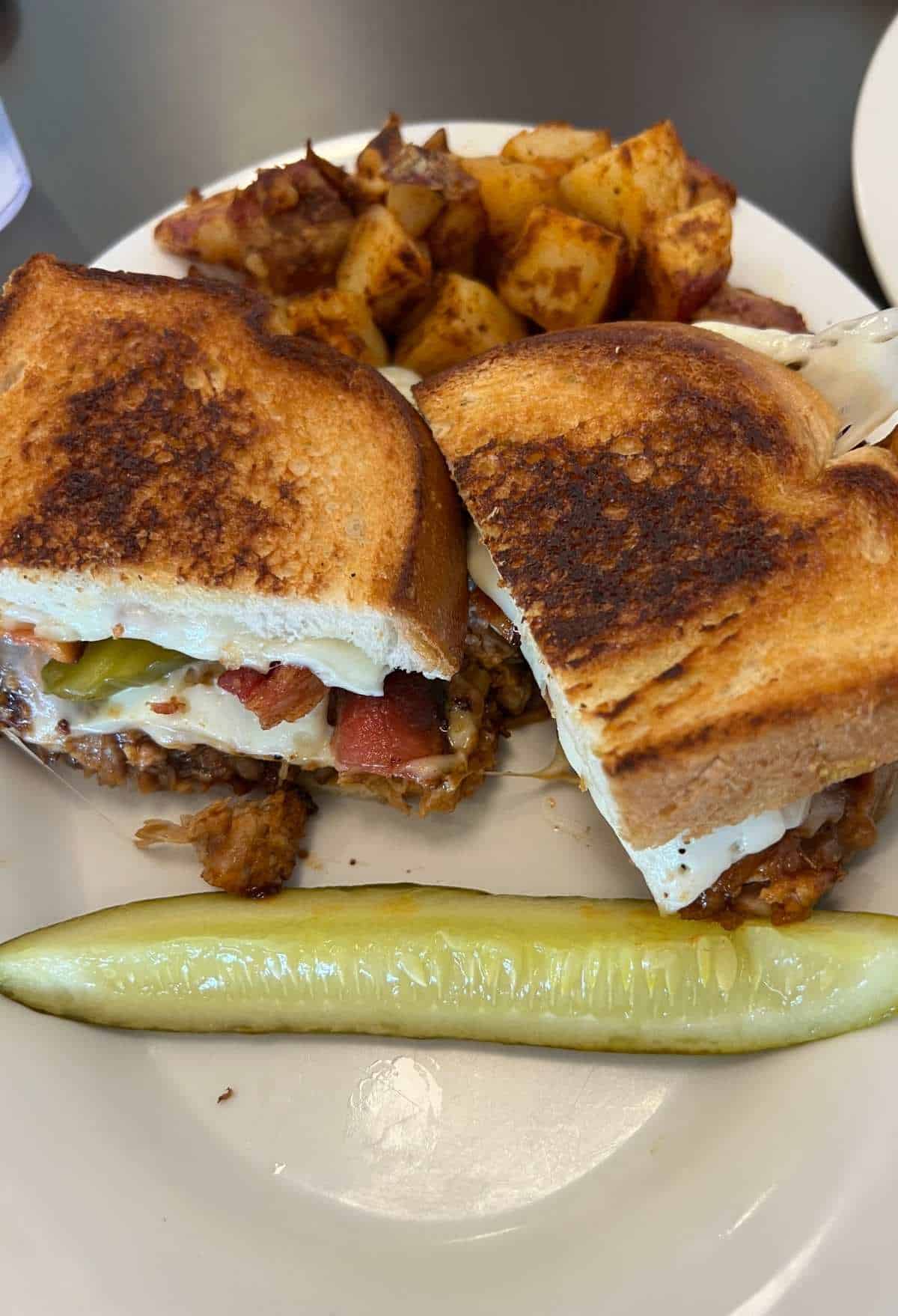 The Big Smoky Melt sandwich was one of the best sandwiches I've ever had and would definitely order it again. I'm pretty sure my husband agrees, lol.
The Strawberry Cheesecake Pancakes could be served for dessert. They weren't overly sweet and are a meal in itself.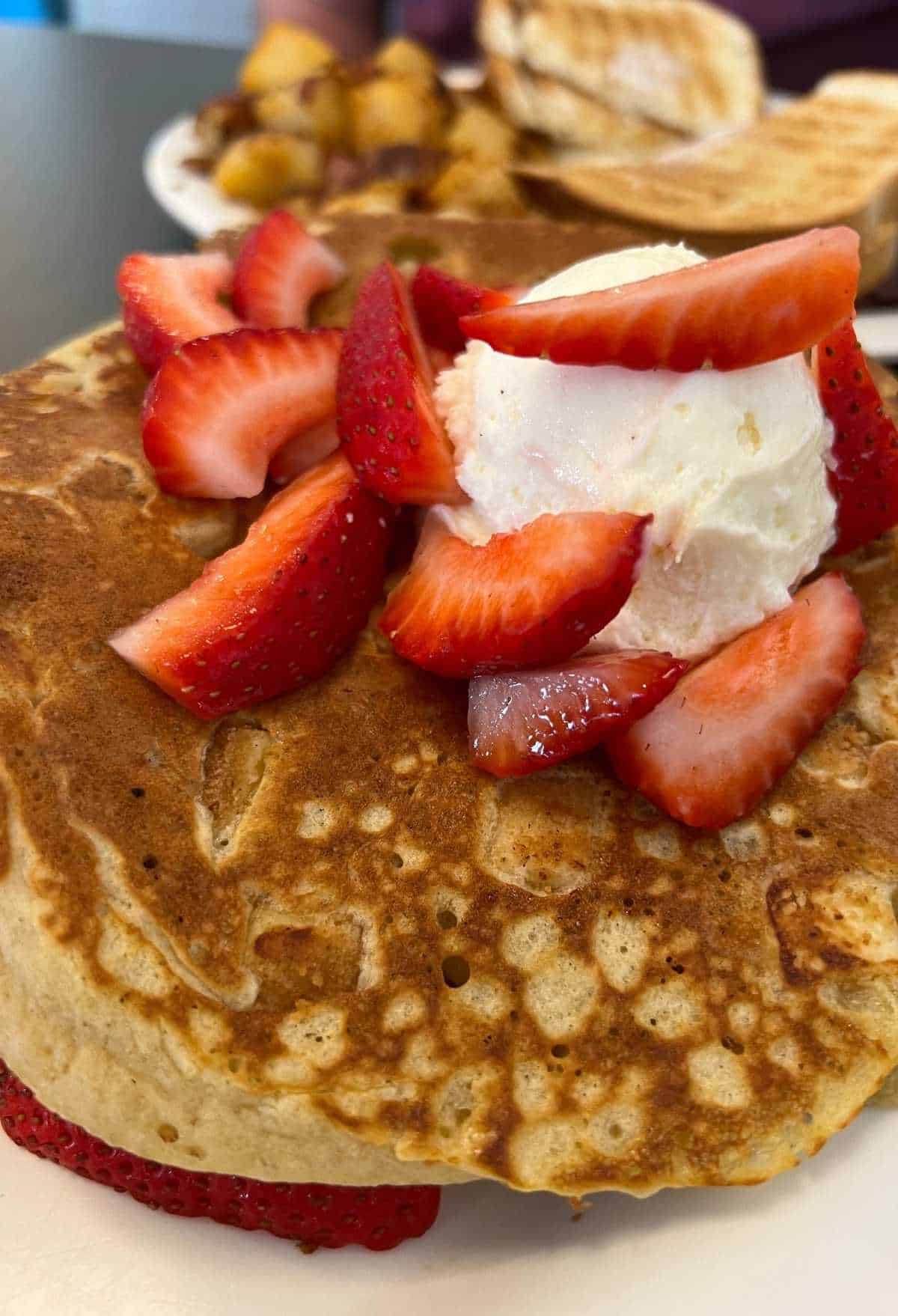 In addition to the "Say Cheese" menu items that we ordered, we also ordered the Founder's Corned Beef Hash and Eggs and the Patty O' Sullivan Signature Omelet.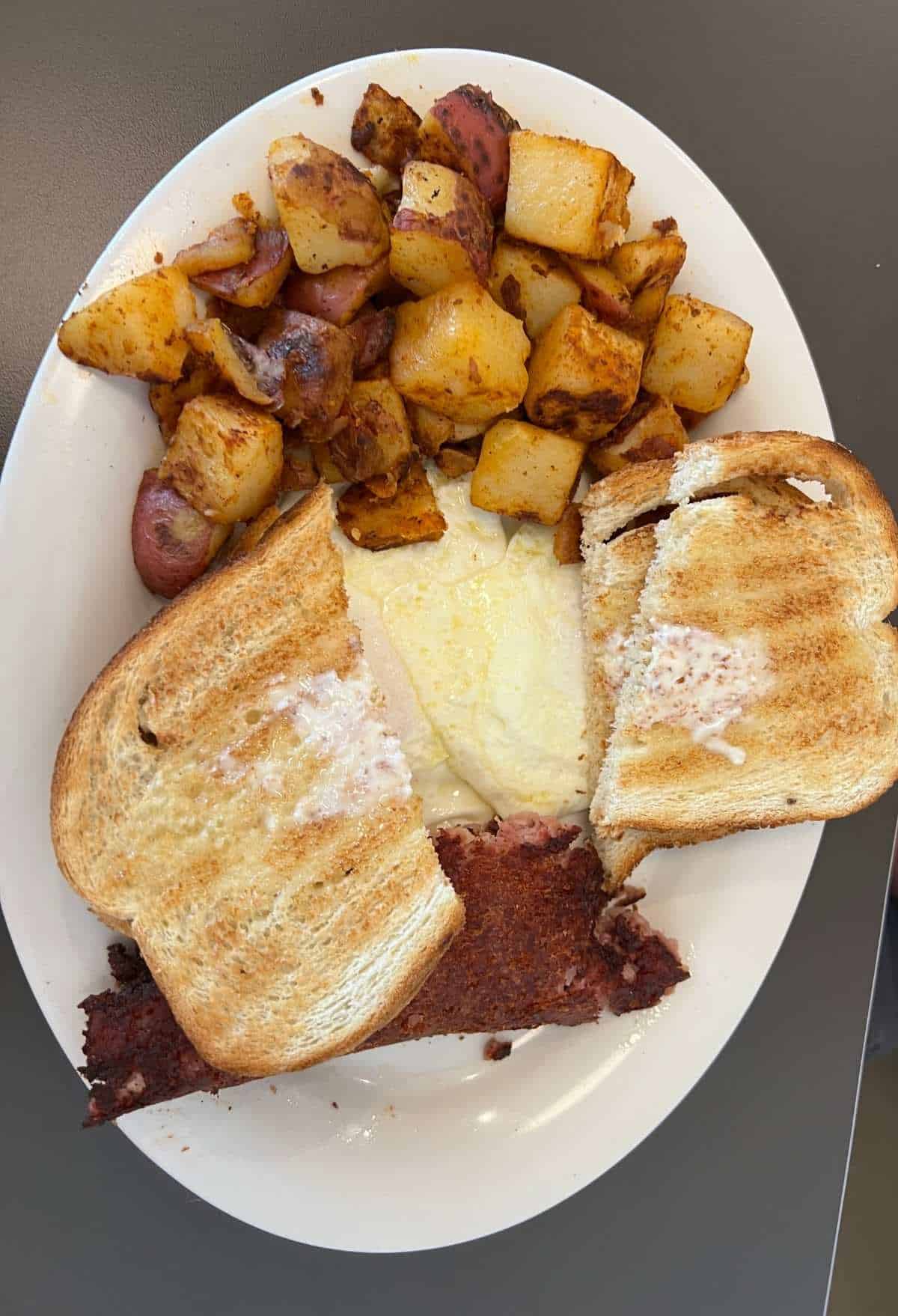 Because the corned beef hash is homemade and not from a can, it was exceptionally good and will be coming back for more.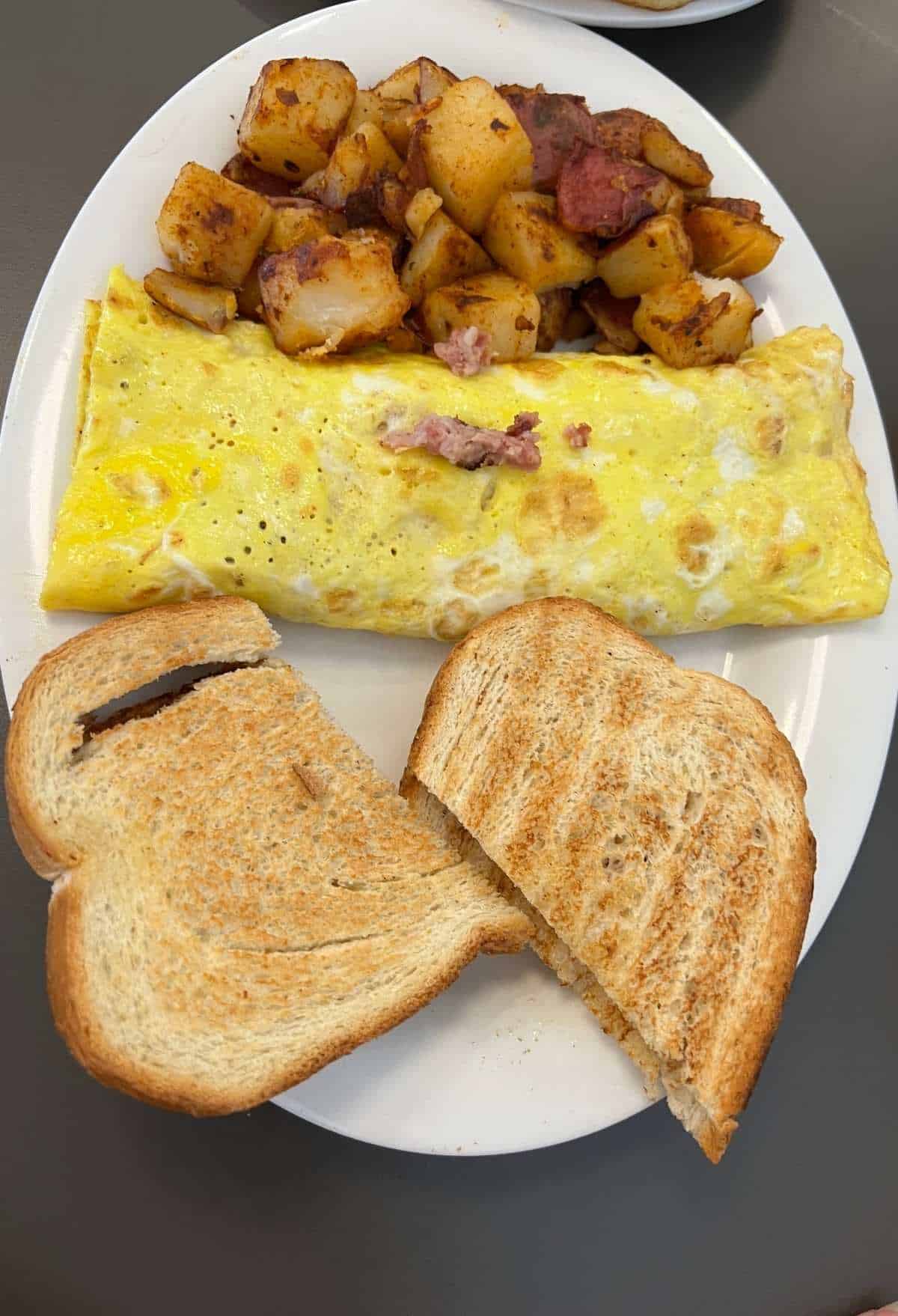 Even though there were three of us, we could not finish all the food.
I really did want to try the Smokehouse Mac & Cheese Bowl, however, I knew we had already too much food.
We ended up taking a good portion of the pancakes home. My husband and son both said not to because normally pancakes aren't good reheated.
And you know what???? I didn't have to reheat them because they were so good later on even cold.
Eggs Up Grill's "Say Cheese" menu only runs through Mother's Day, so be sure and stop in to try out some of the delicious menu items.
And gosh, I hope they add the Berry, Berry, Chocolate Mimosa to the regular menu. I'm still hoping for the recipe though. 🤞
You can visit eggsupgrill.com for the full menu.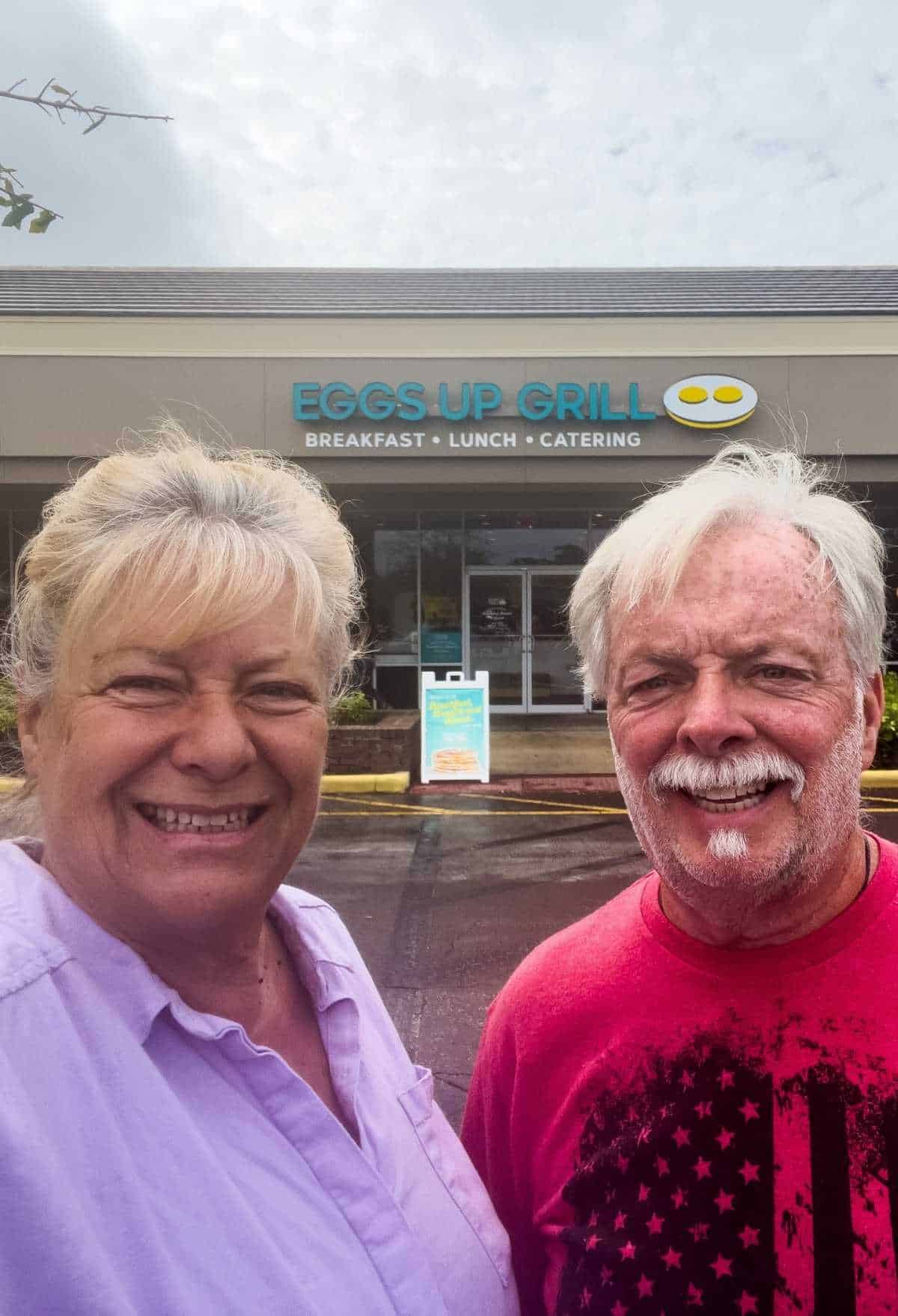 We can't forget to tell you about the staff. In addition to Noel making the rounds and chatting with all their customer's friends, the servers and hostesses are very friendly and attentive to your every need.
They really treat everybody like family.
Eggs Up Grill Info, Location and Hours
Located in the West Point Commons Shopping Center at 13750 W. Colonial Drive in Winter Garden, Florida.
The hours are 6:00 am to 2:00 pm. It's a great breakfast spot before heading to Disney World, which is only 20 miles away.
When you walk into the restaurant, your eye is drawn to its amazing design.
The space feels familiar and welcoming at once with bright colors throughout that make it feel light years away from any other dining experience!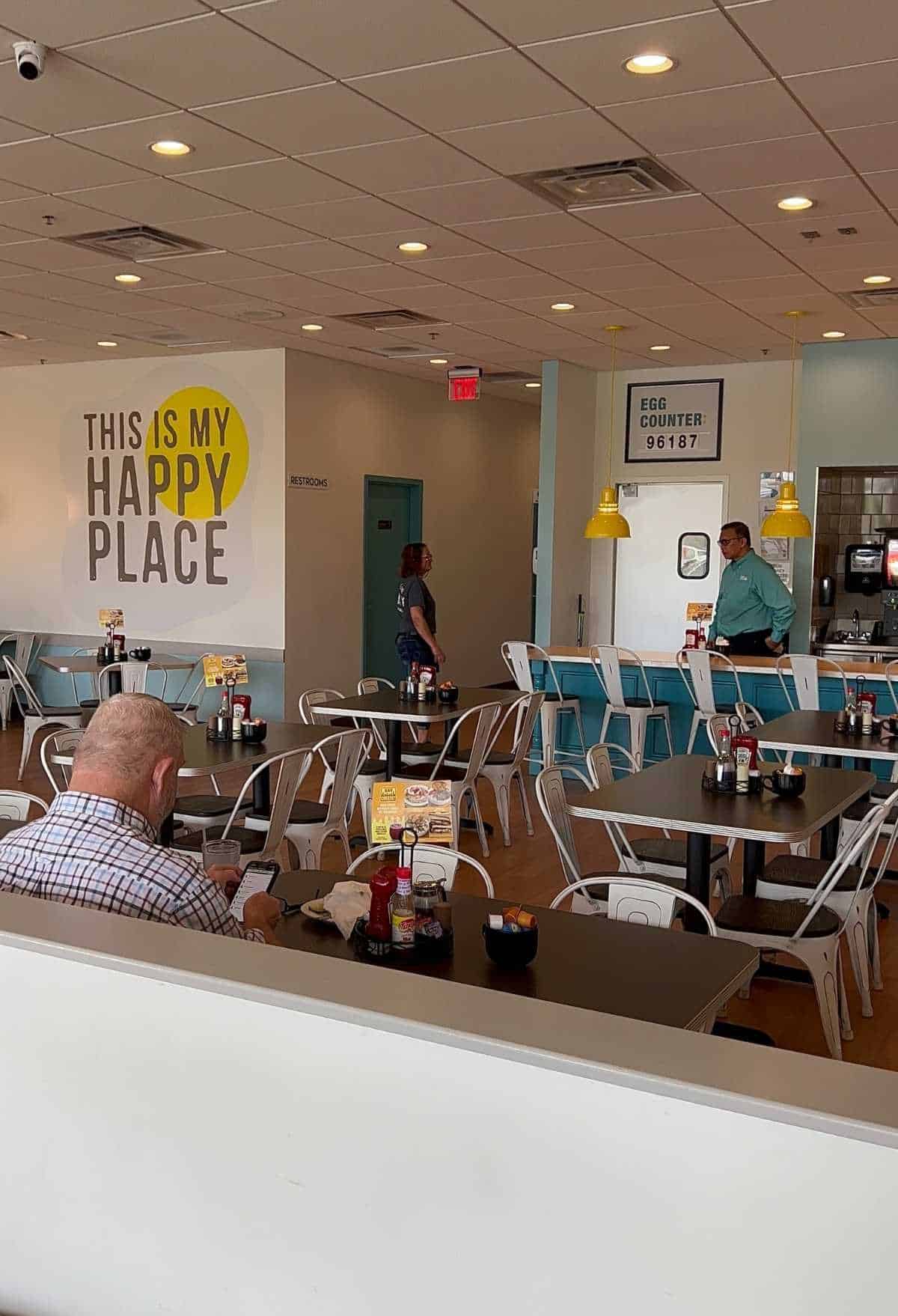 Mentioning what makes this place unique? Well, there is seating available for 120 guests in a 3300 sq ft floor plan so everyone can be seated comfortably without feeling too cramped.
Guests can choose from a variety of seating options at the Eggs Up Grill to suit their mood or occasion.
Whether you're feeling energetic and hungry, want some good company while indulging in conversation with friends over breakfast -or just need time away- there is always something available including an old-style bartop counter!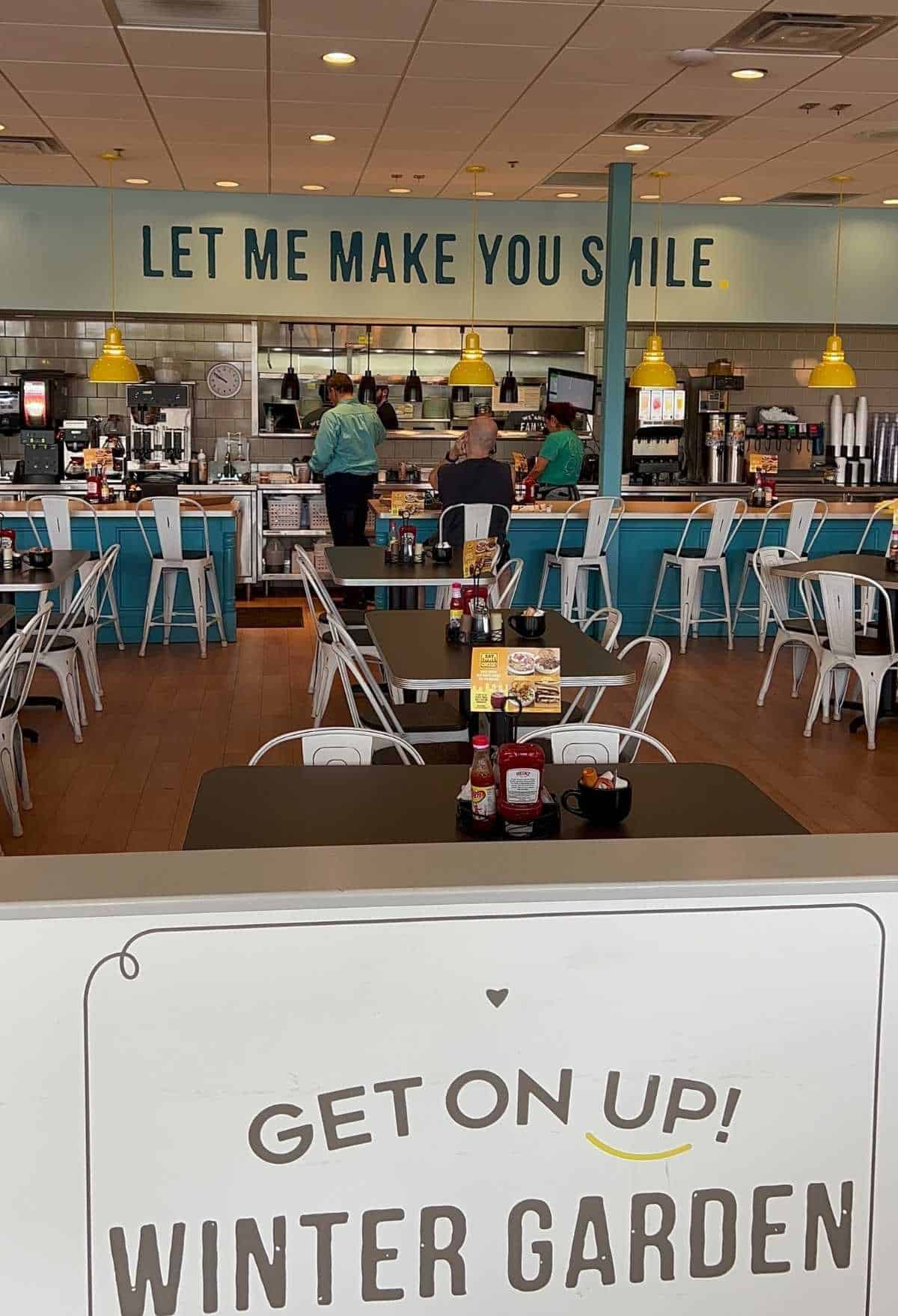 With dine-in seating for your convenience, takeout and online ordering available with third-party delivery service, and catering for big or small events, you have multiple options for their delicious food.
In Conclusion
The best breakfast is waiting for you at this restaurant. Menus featuring favorites like eggs, grits, or home fries will make your morning taste buds happy while biscuits and gravy promise to satisfy any craving!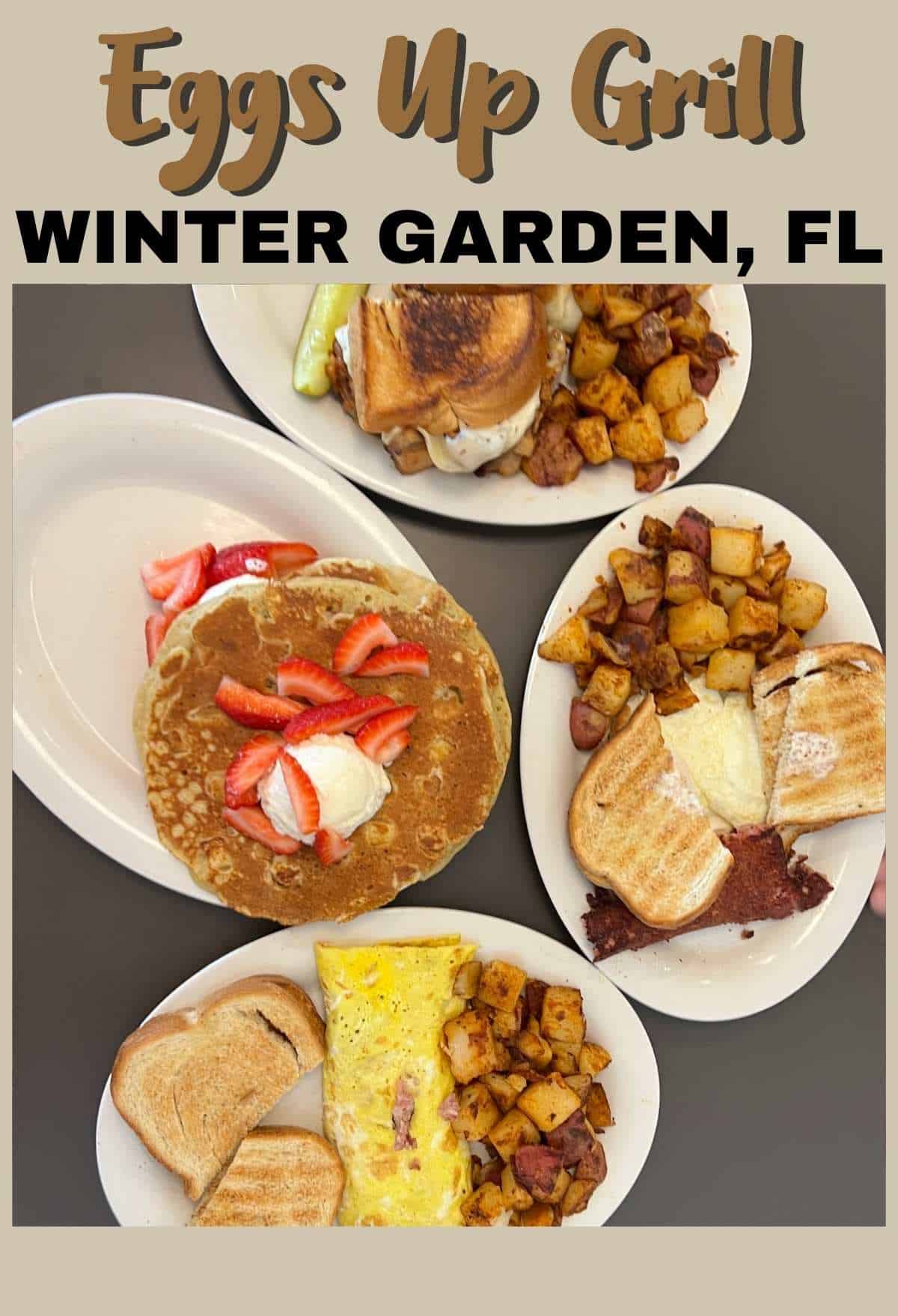 If it's muffins that have been on the mind lately then come try one today because these tasty blueberry treats are sure not going anywhere anytime soon with their mouthwatering flavor.
And lastly; it really is a cheerful atmosphere--we think we mentioned it already but it's worth repeating!
Connect with Winter Garden Eggs Up Grill on Facebook and Instagram.
Help them crack the 100,000 egg by visiting them today.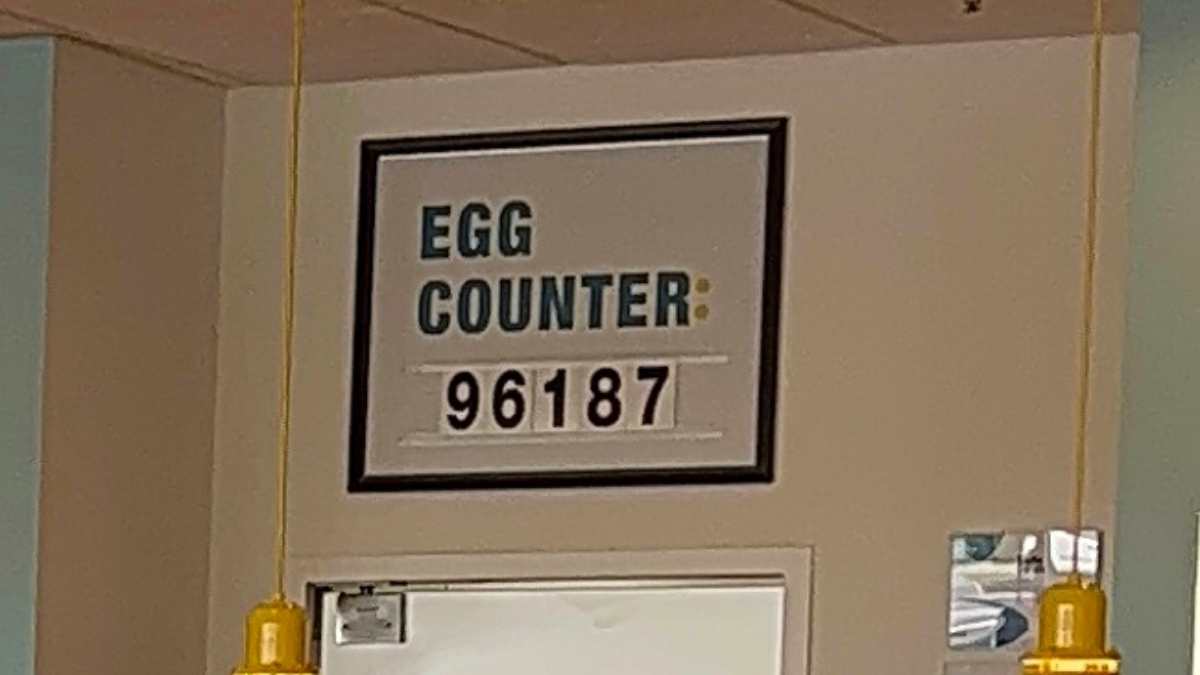 About Eggs Up Grill
If you're looking for an exciting, expanding breakfast franchise to invest in, Eggs Up Grill is a great option.
With locations popping up all over the southeast, now is the perfect time to get on board with this top-ranked brand.
Contact them today at eggsupgrillfranchise.com to learn more about their franchise opportunities and how you can join the Eggs Up Grill team!
Be sure to follow us on Pinterest and PIN IT FOR LATER!