City Works Brunch Review at Disney Springs. The Rock N' Roll Brunch menu has something for everyone. Not into eggs, no problem. Prefer a burger? It's on the menu. Keep reading to find out more.
My family and I were invited to the Rock N' Roll Brunch at City Works at Disney Springs. All opinions are my own and may differ from yours.
This post may contain affiliate links. See my disclosure policy for more info.
City Works Rock N' Roll Brunch at Disney Springs
Having moved to Winter Garden in 2003 because we wanted to be close to Disney World, we have tried many restaurants over the past 19 years.
City Works at Disney Springs opened on February 6, 2020, just as Covid-19 took over the world. I still don't understand why it took us so long to try it out.
Plus, we were just there for the Christmas Tree Stroll at Christmas.
We have heard nothing but good things about the food and drinks and I've had my eye on a few of the brunch items for a long time.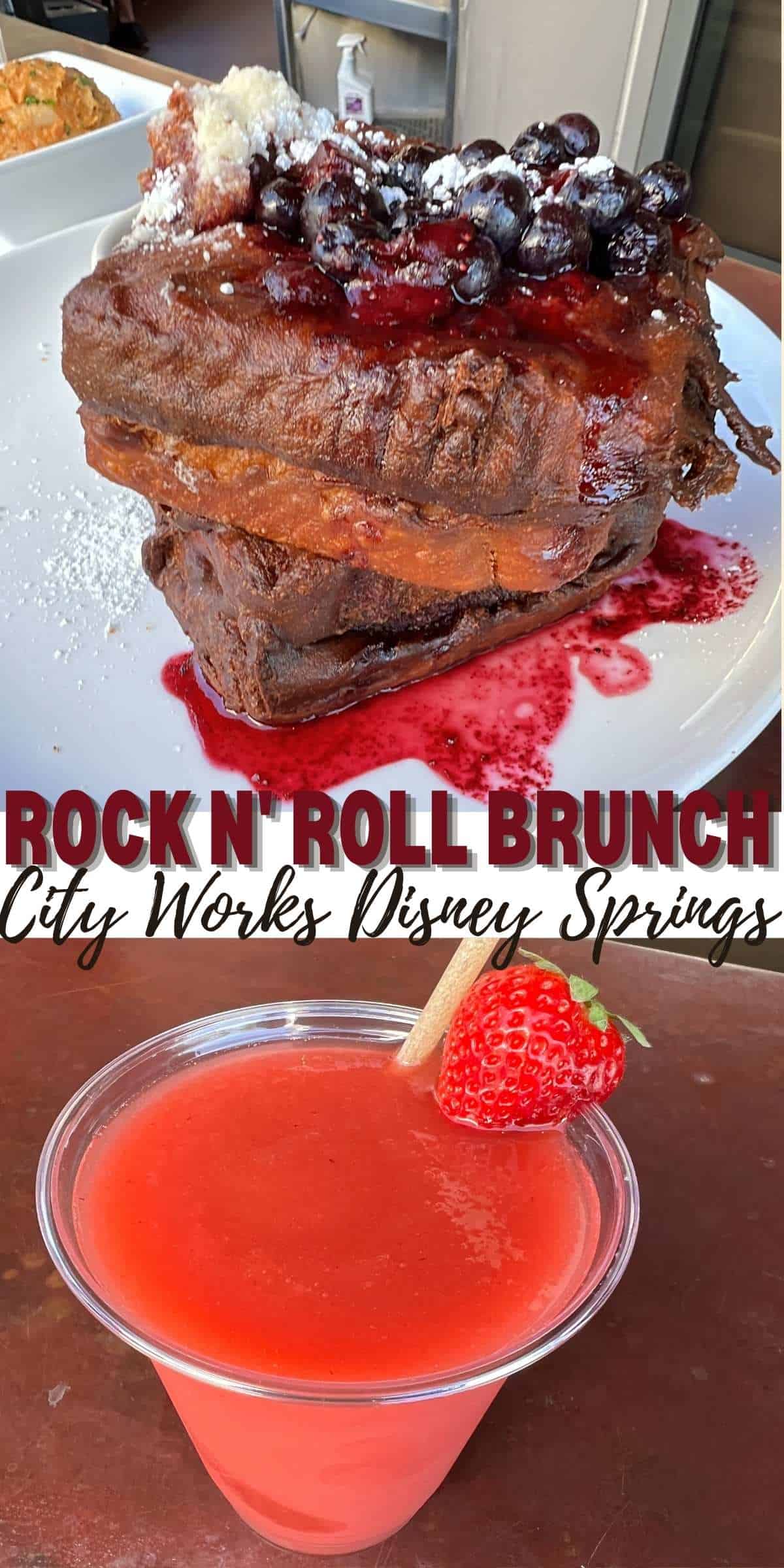 And now that we've been there...we will be going more often. Not sure if that's a good thing or not (for my waistline), lol.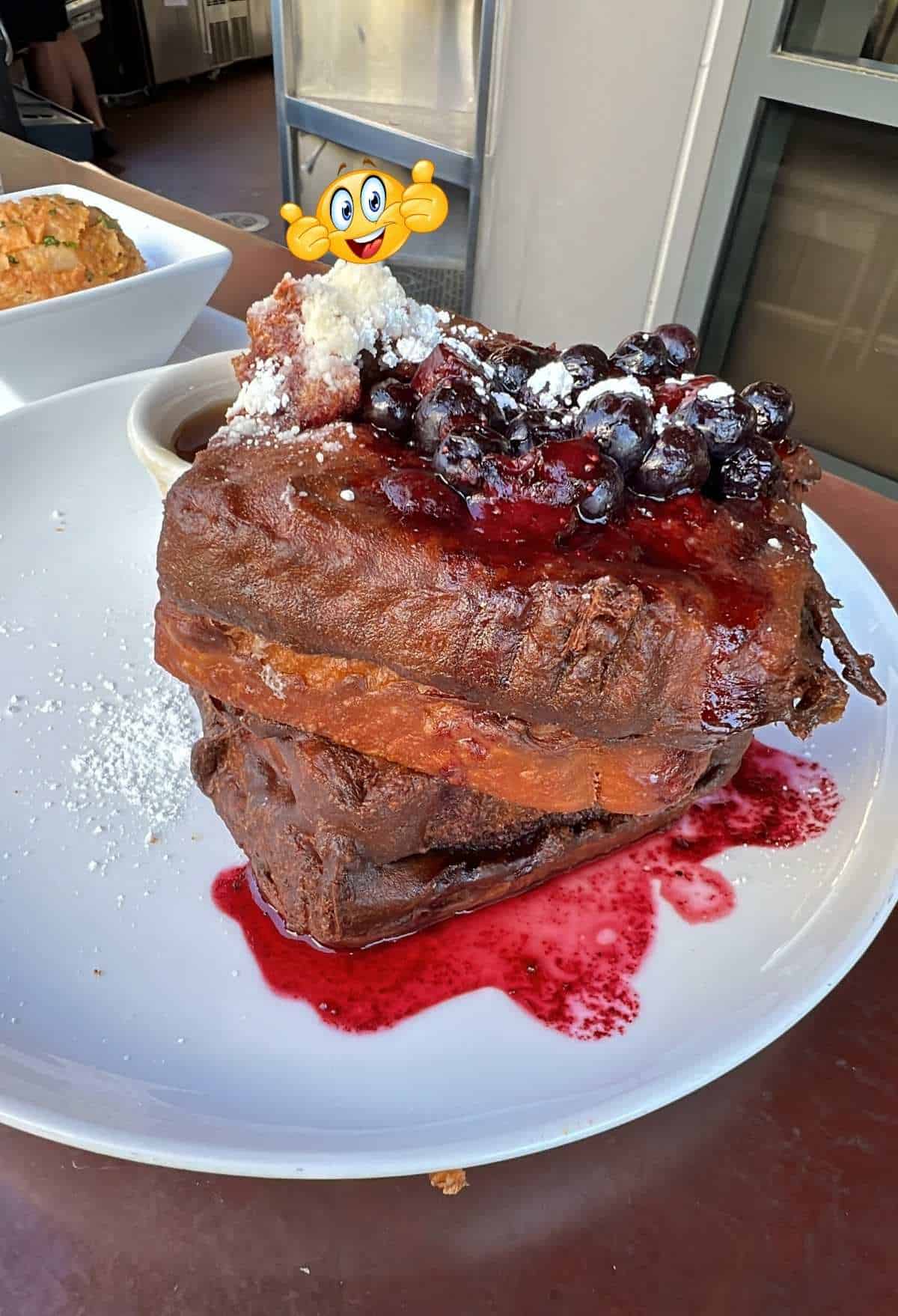 Keep reading for our City Works Brunch Review.
City Works Menu
There are so many choices that sounded good. However, even though they just updated the brunch menu, I had our brunch items already picked out way before we went.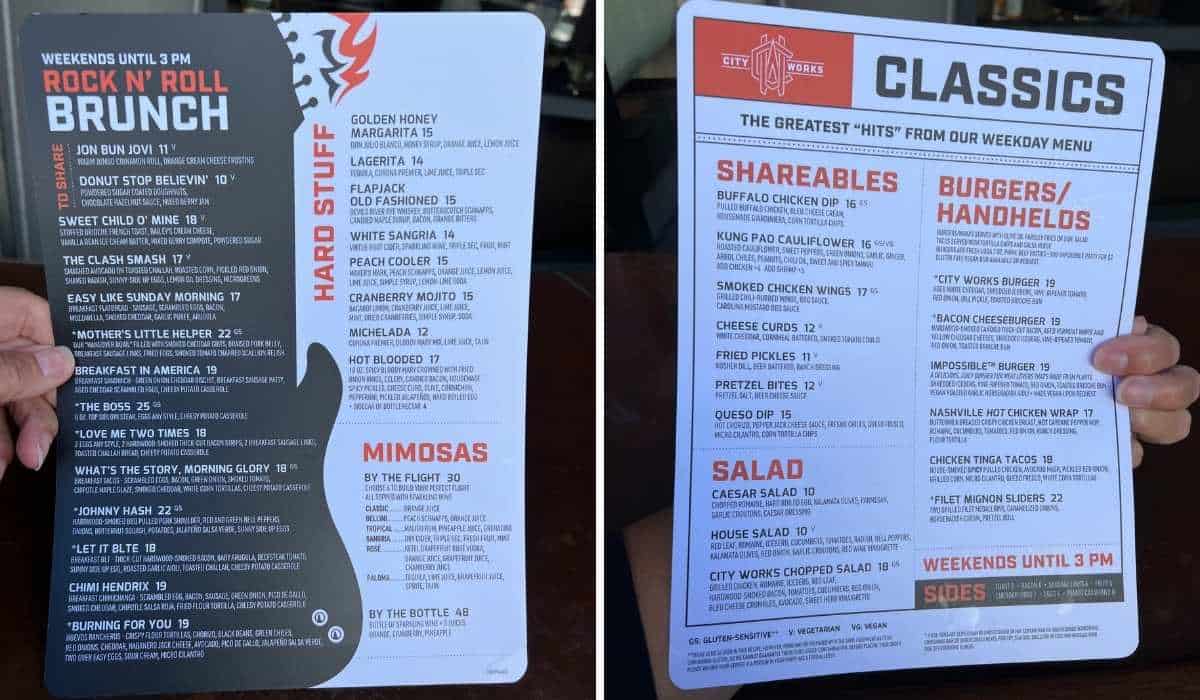 Jon Bun Jovi Cinnamon Roll
This is what we started off with. It's big enough (HUGE actually) for everyone to share so there was no fighting over it. You might be thinking that what's the deal about a cinnamon roll?
It's not just a cinnamon roll, it's served warm (as it should be) but it's the Orange Cream Cheese Frosting that sets it apart from any other cinnamon roll I've ever had.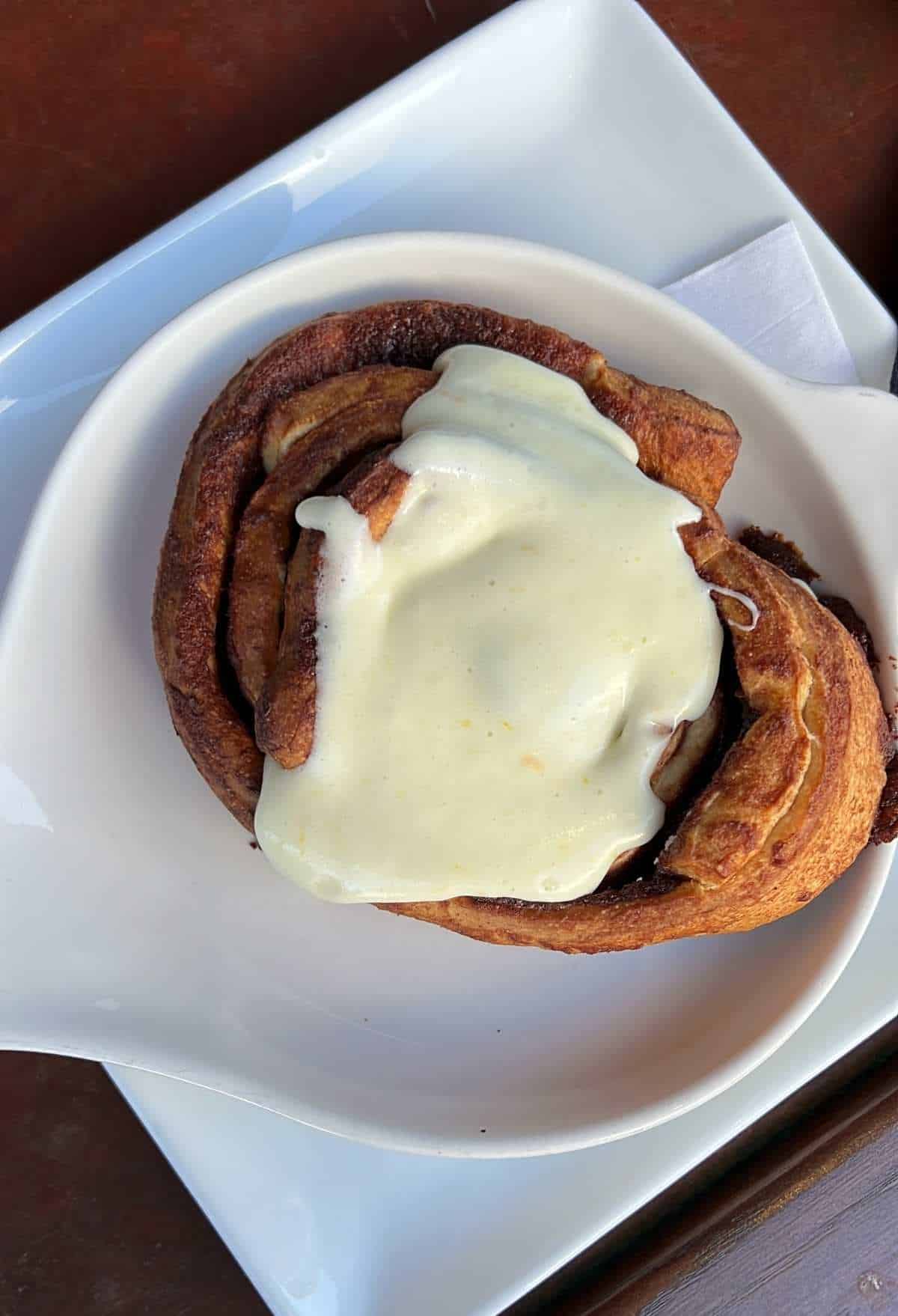 And as you can see in the picture, there is no skimping on the frosting!
Love Me Two Times
A traditional breakfast for those that are predictable, lol. It's a good-sized breakfast though because as the name says, you get two of everything.
Two eggs made to your liking, two strips of Hardwood Smoked thick-cut bacon, and two breakfast sausage links that were really good.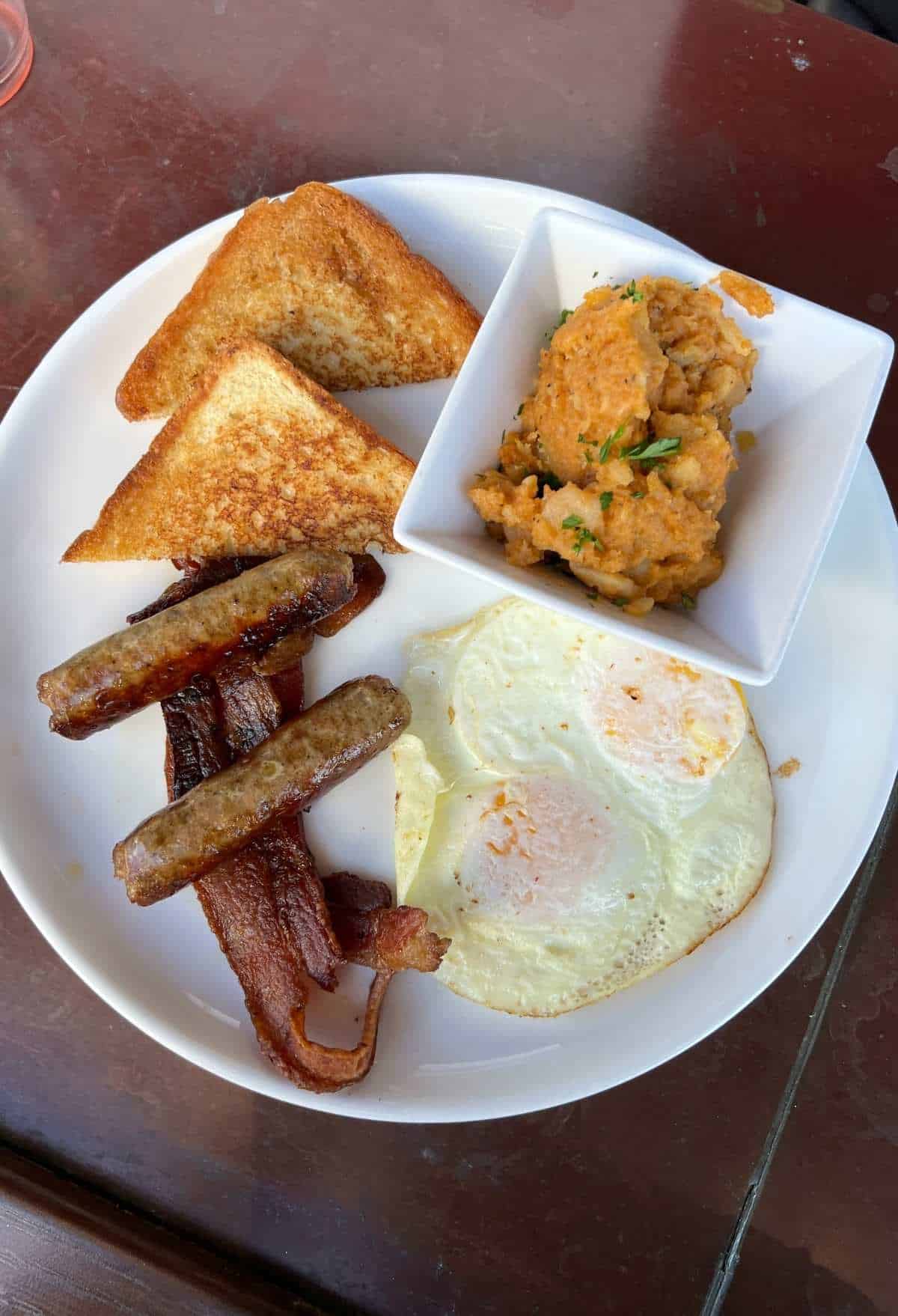 Also included was the Cheesy Potato Casserole which was also very good as was the toasted Challah bread which was a nice addition instead of regular toast.
Filet Mignon Sliders
I can't say enough about these. If you've ever had Filet Mignon, then you know how good it is on its own. But place it on a pretzel slider buns and top it with caramelized onions and the special horseradish cream sauce, you'll be coming back for more.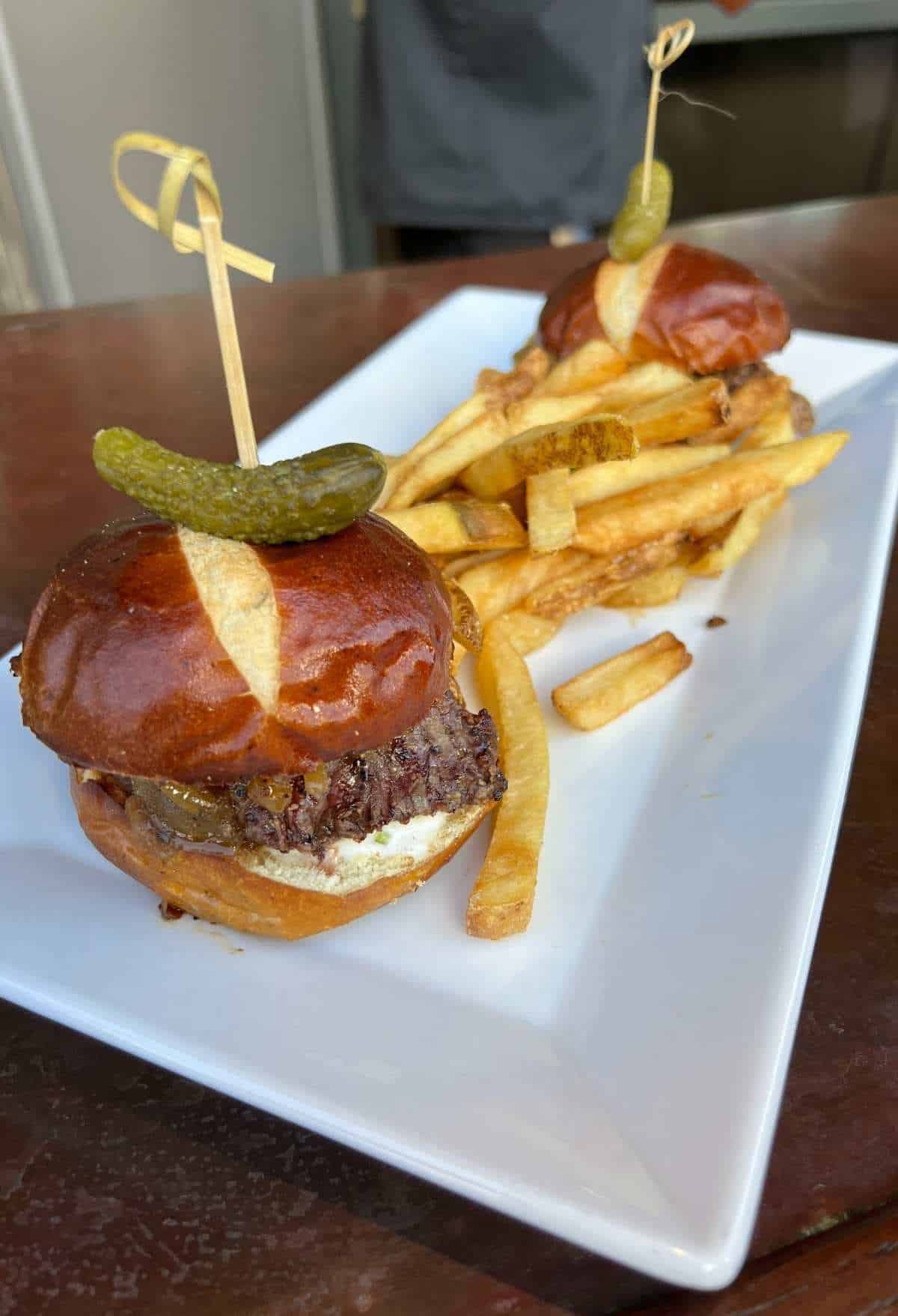 The horseradish cream sauce is so good, that we ordered an extra side to dip our french fries in. I may have to get a job there to get the recipe. (wink, wink)
Sweet Child O' Mine
I saved the BEST for last! When someone mentions Bailey's Irish Cream in a recipe, you can definitely count me in.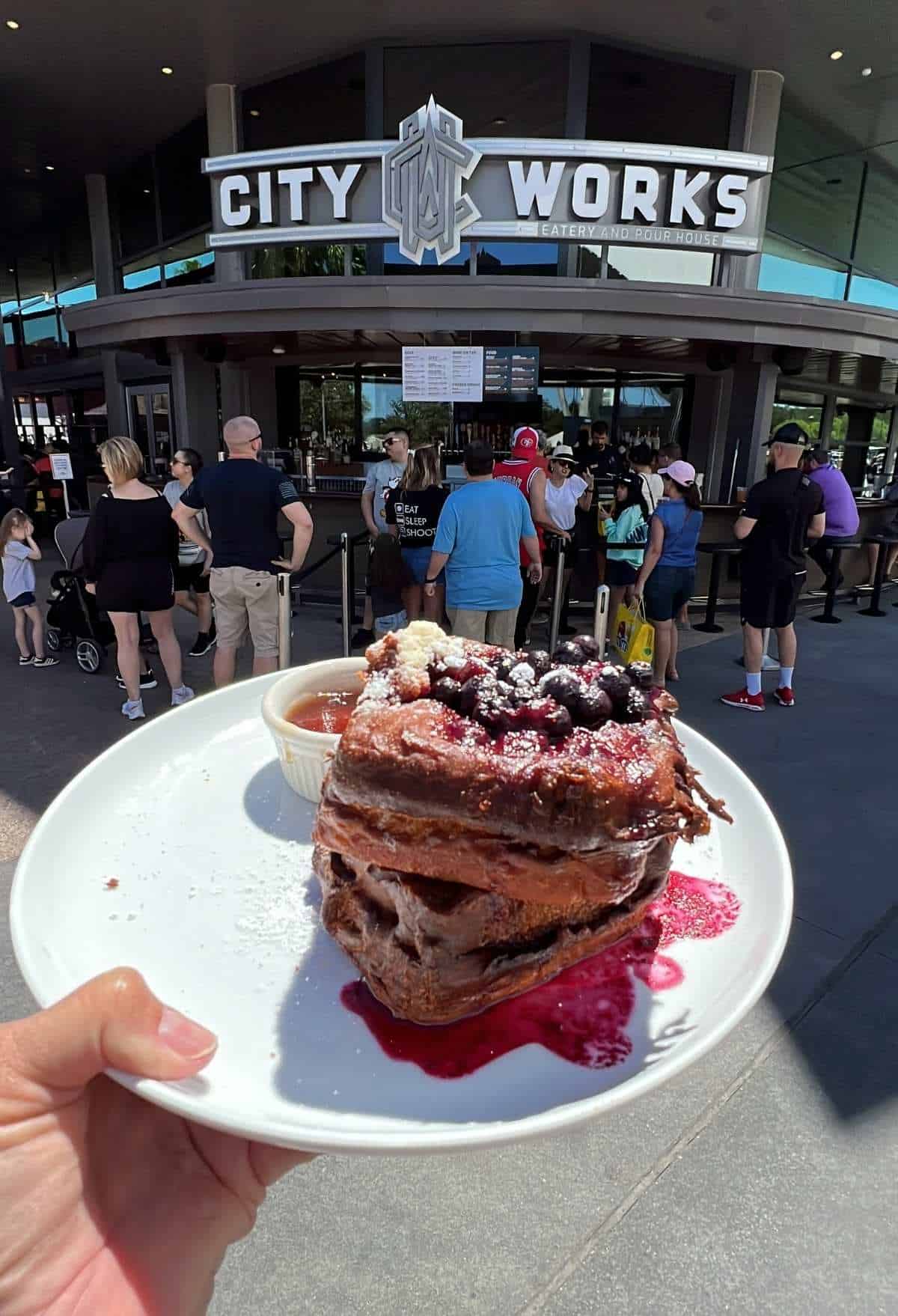 What I wasn't expecting was the amount of food I was getting in this dish. It all starts with Stuffed Brioche French Toast!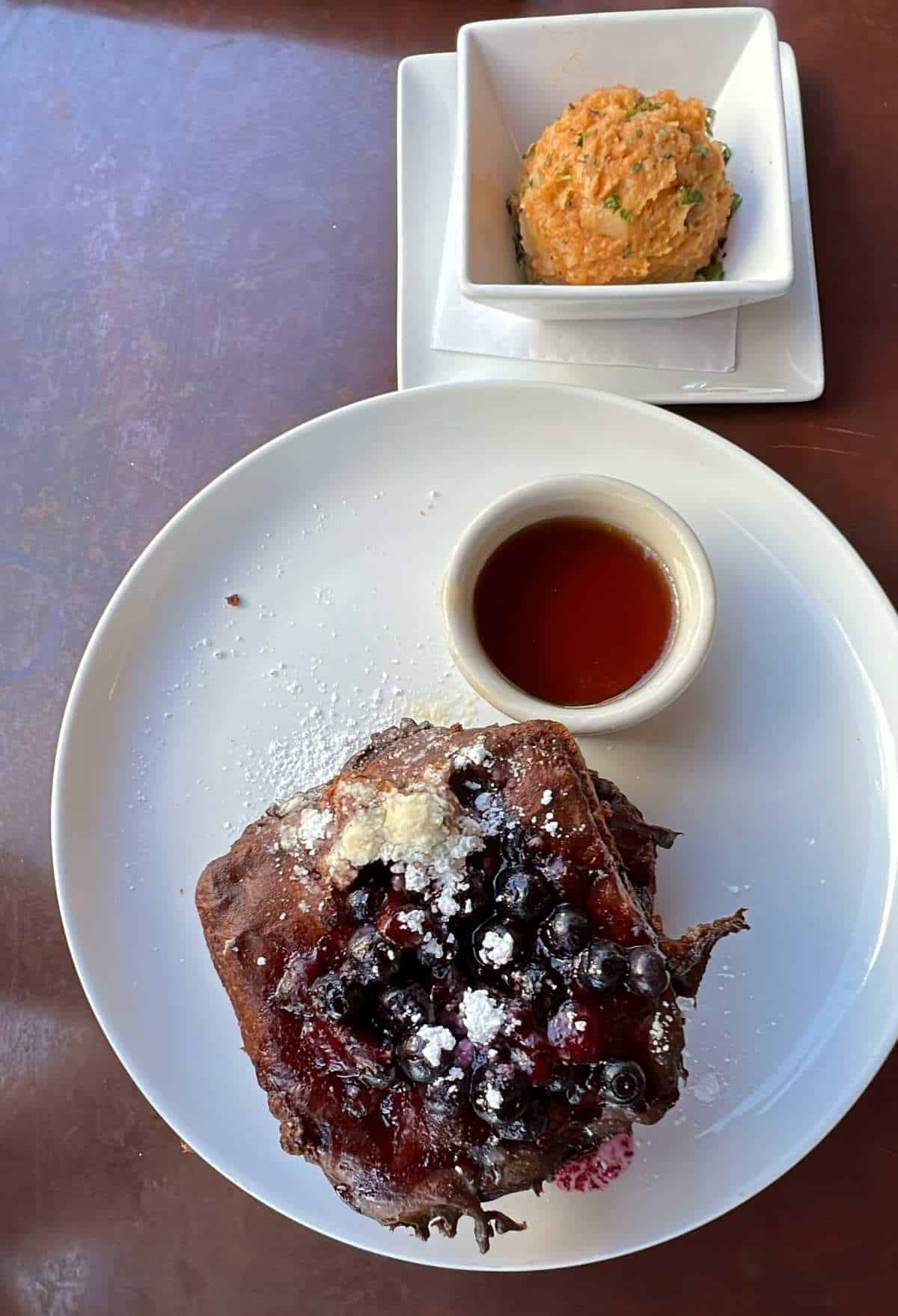 It's stuffed with Bailey's Cream Cheese and Vanilla Bean Ice Cream Batter. I was expecting a thin layer in between the bread. But no...it was loaded and it was so good!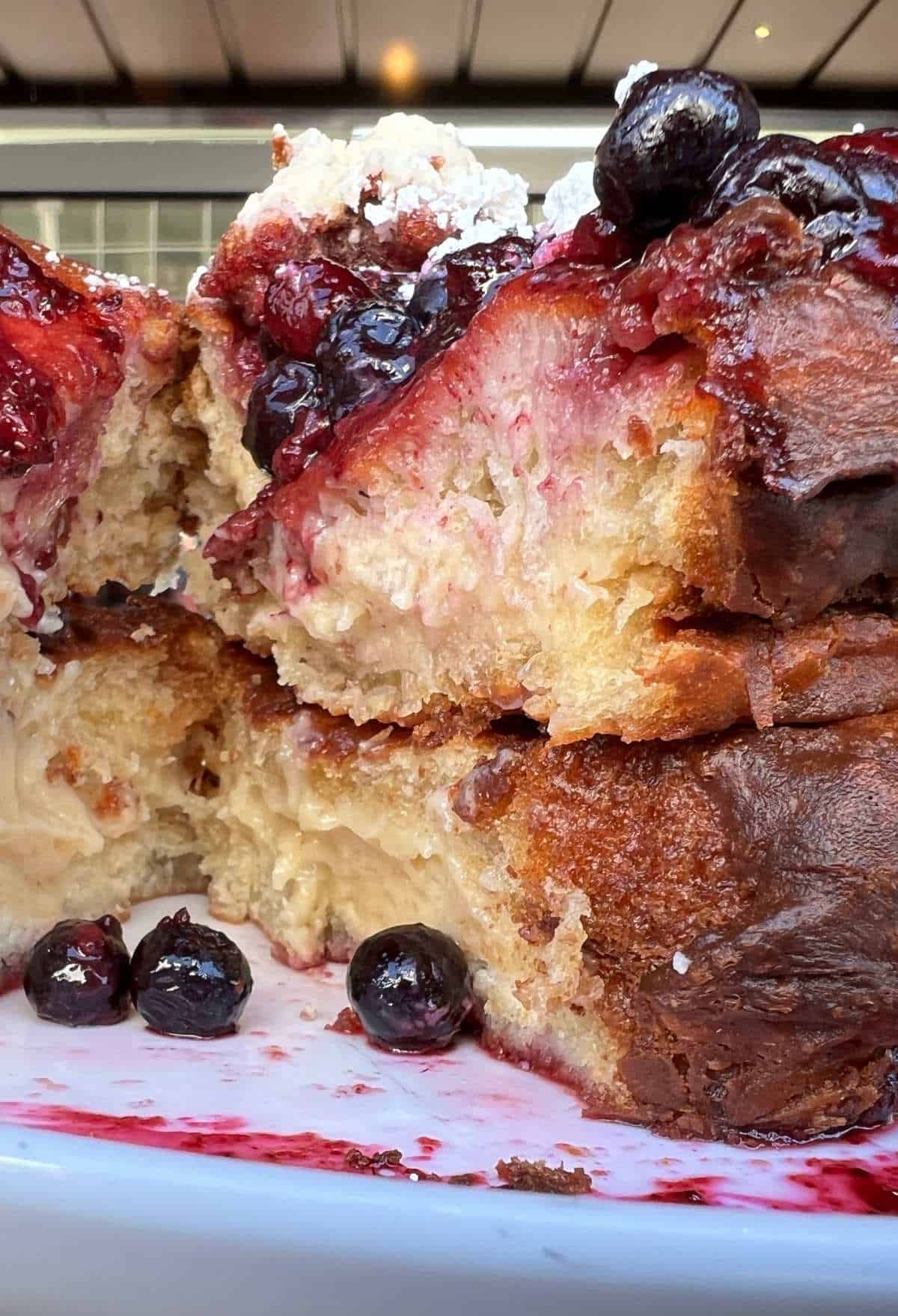 Top it off with a Mixed Berry Compote and powdered sugar and you will be in Heaven.
Strawberry Frose, Frozen Margaritas, and Craft Beers, Oh my!
I'm sure if you are up North freezing, a Strawberry Frose and Frozen Margaritas are far from your mind.
However, here we are in sunny Florida #LoveFl with temps in the mid 80's and sunny living life to the fullest!
And frozen adult beverages are always on our minds. It's kind of hard to ignore them when the machine is churning away right on the patio bar.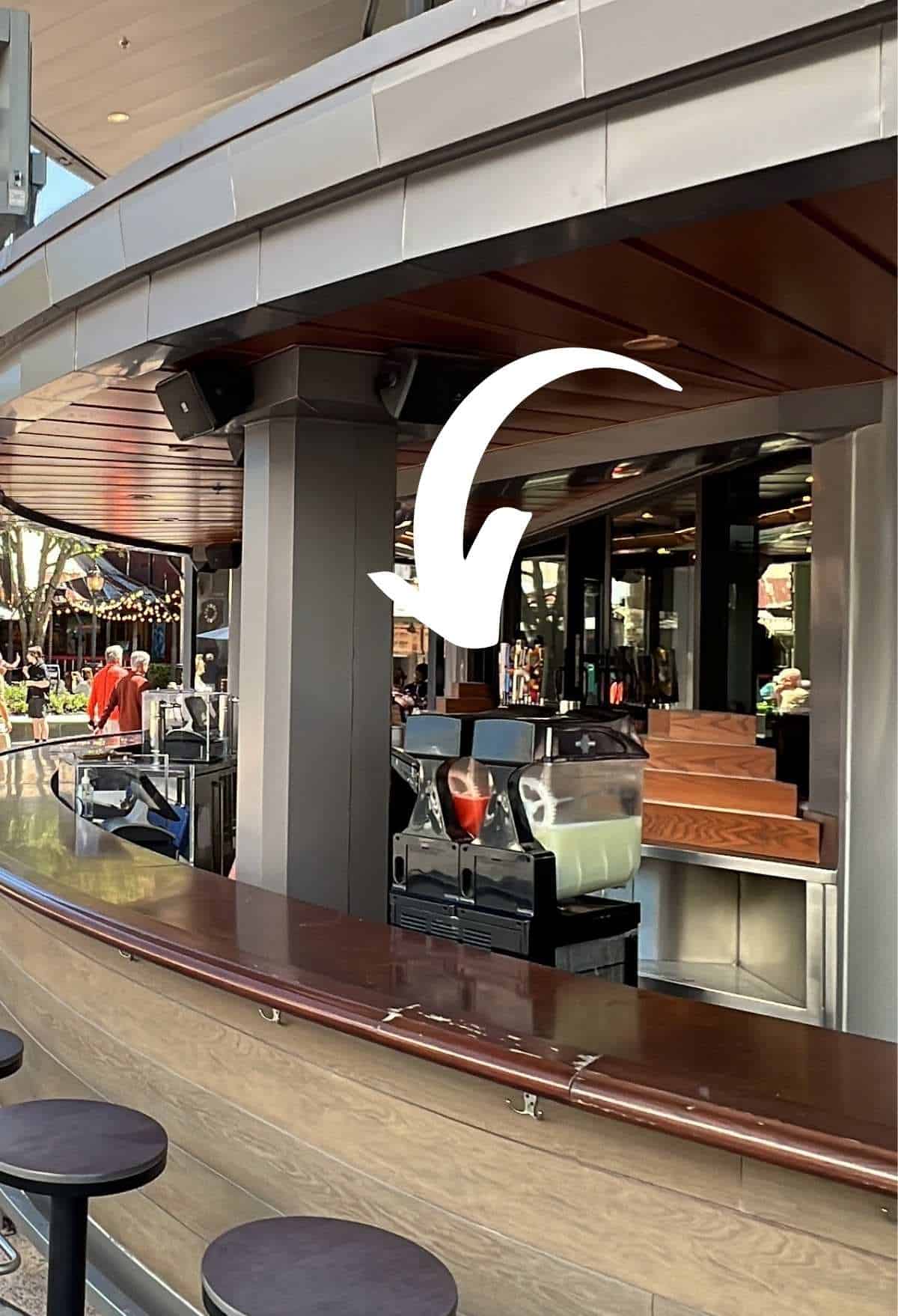 You can't miss it if you're coming in from the parking lot because you have to pass it by. I tried both and while I always enjoy a good ol' frozen Margarita, the Strawberry Frose will always be at the top of my list.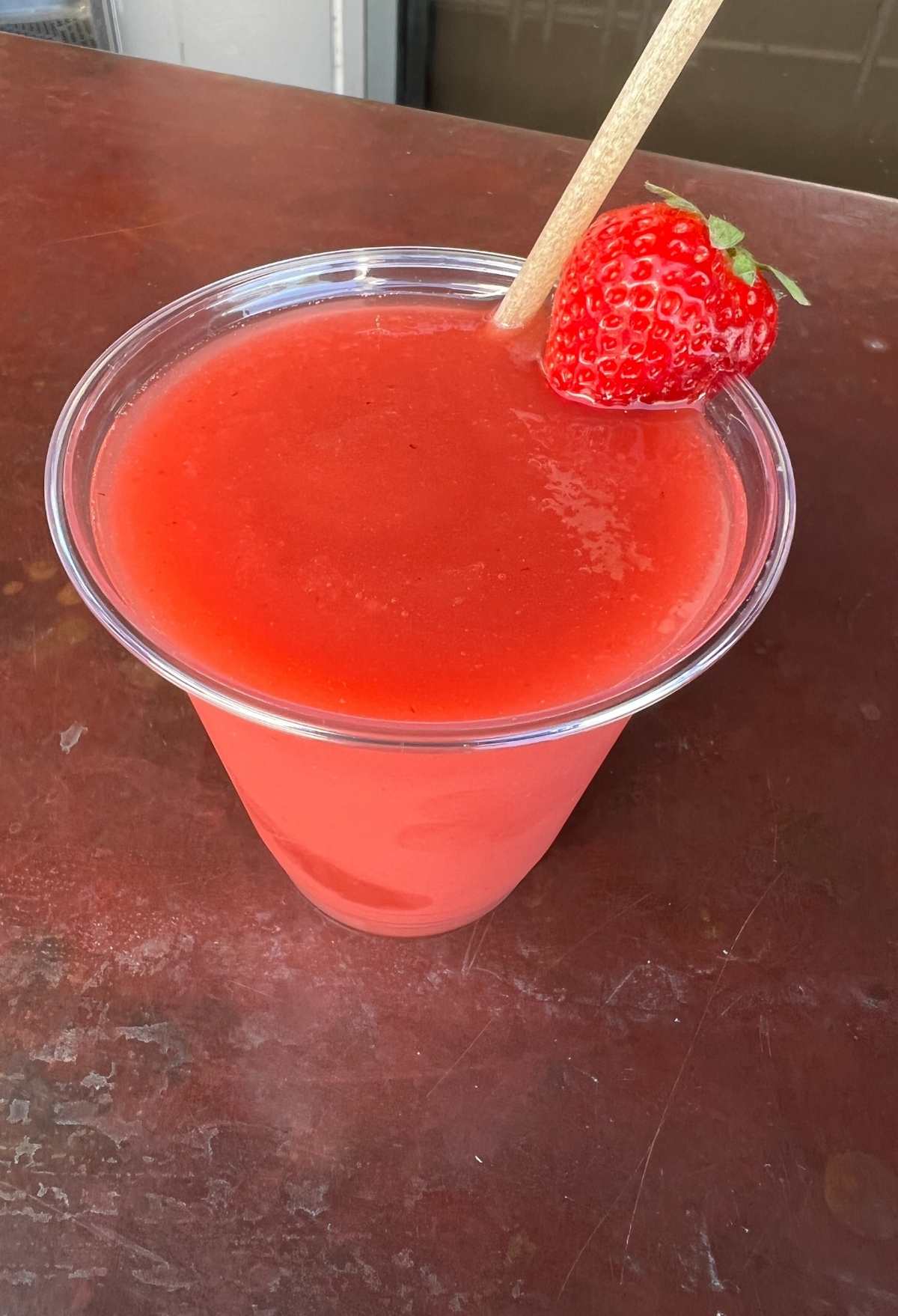 There are many other beverages to choose from as it is a regular bar and they have everything including Craft Beer.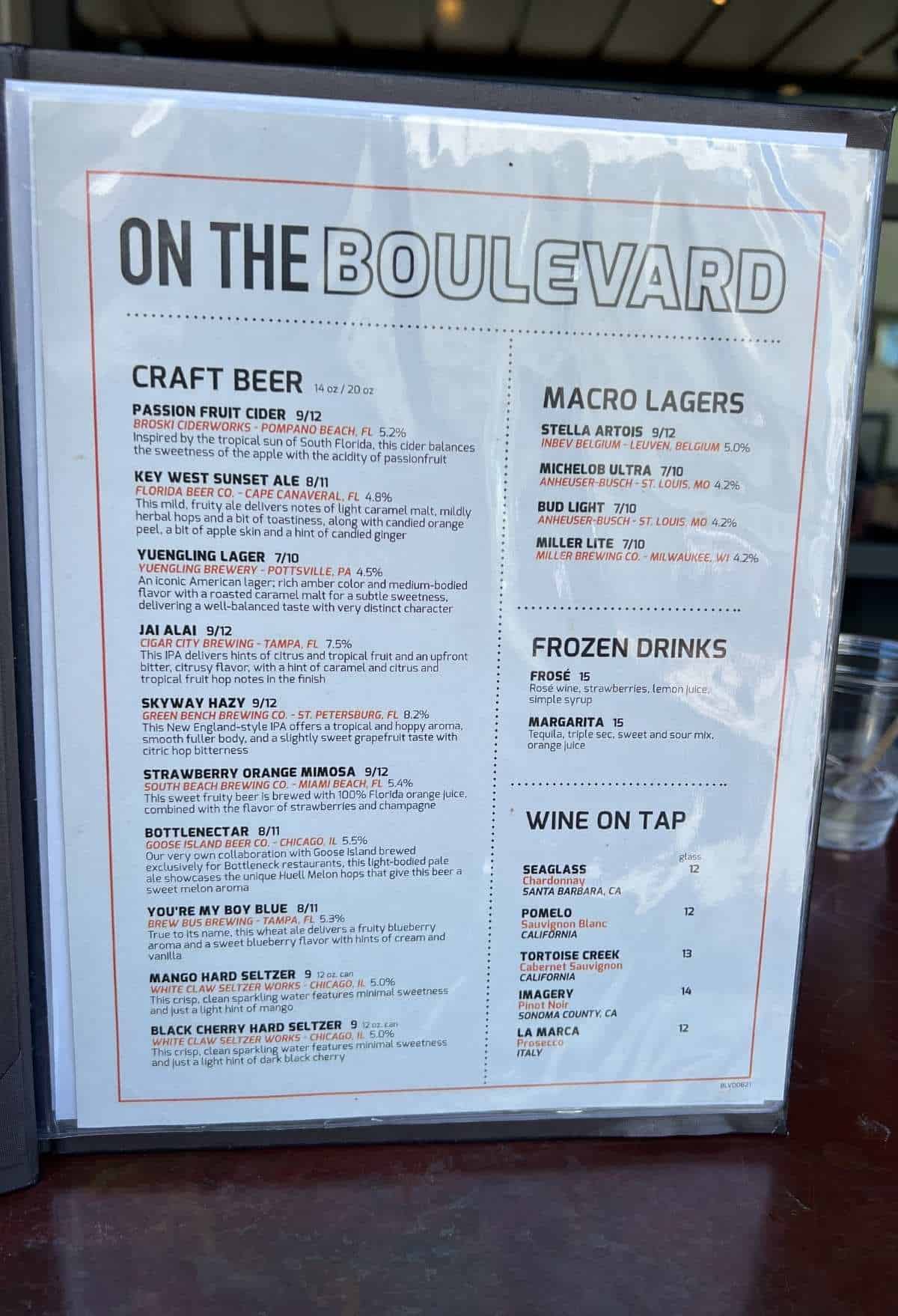 You can also have one of their famous Mimosa. Because after all, it is Brunch!
City Works Brunch Review Seating
There are many seating areas to choose from at City Works Eatery & Pour House. We chose to sit at the patio bar since it was a beautiful day.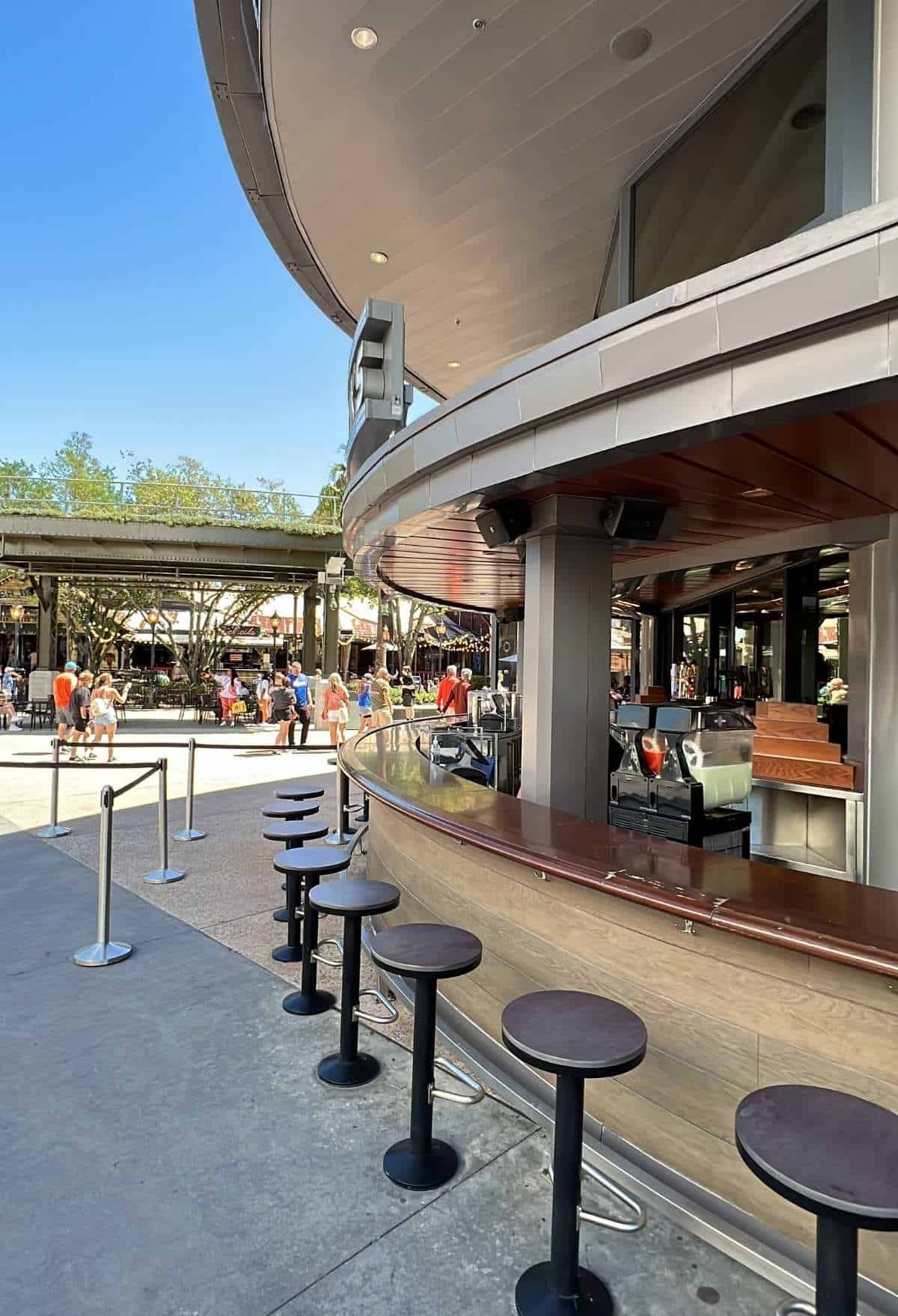 There is also another part with outdoor seating in the next section over.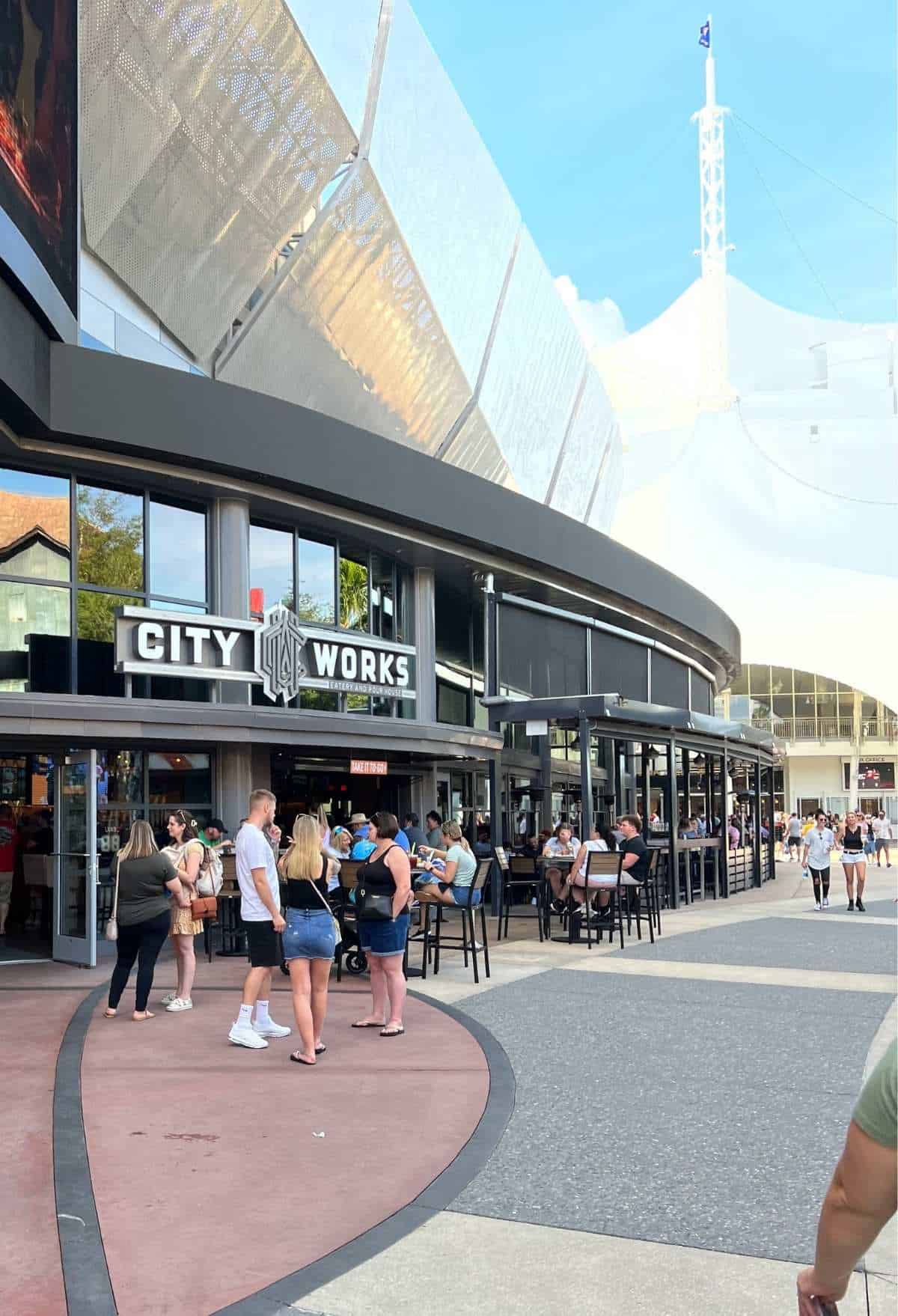 Or if you prefer air conditioning, you can also sit inside.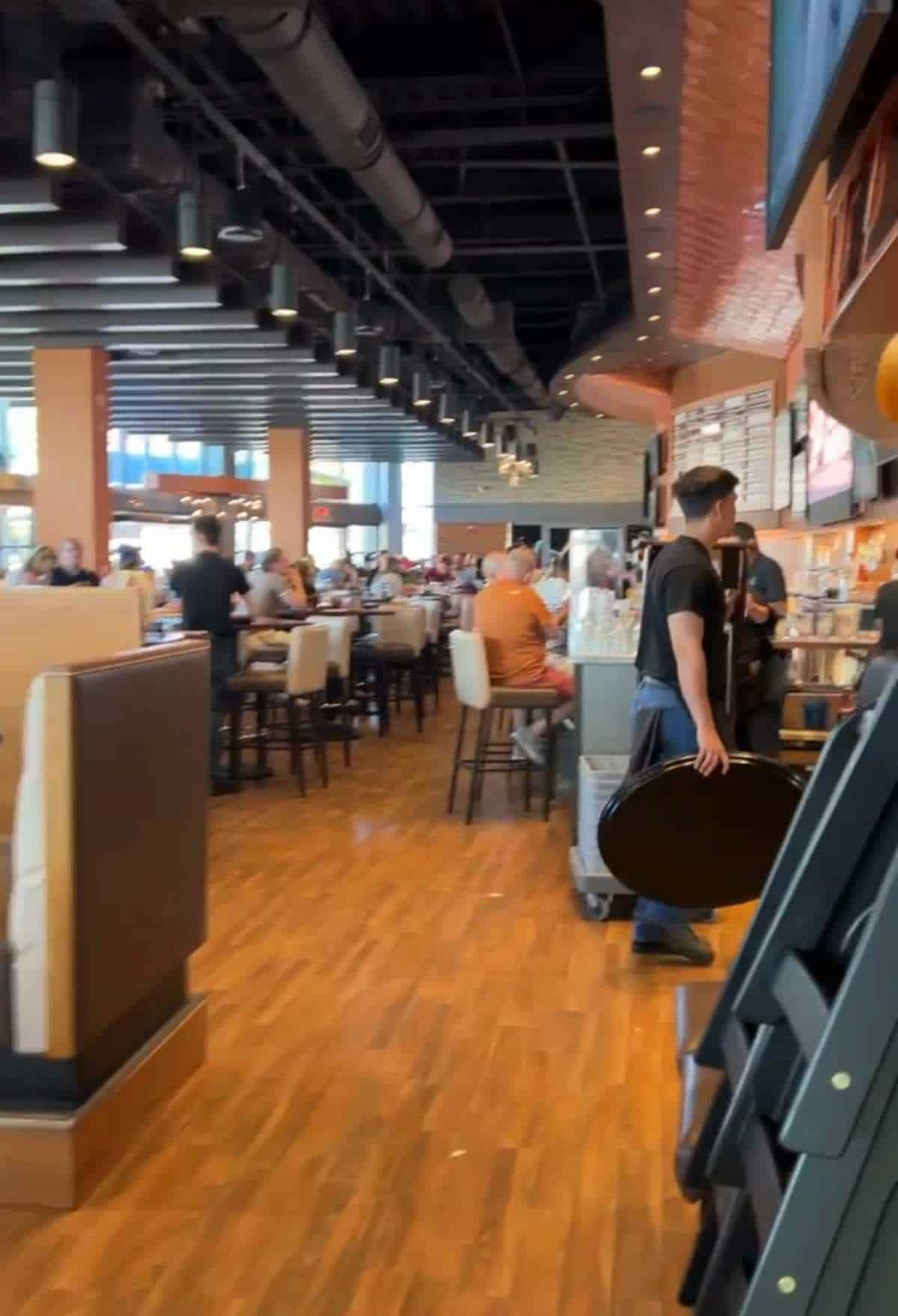 City Works Disney Springs Menu
City Works has an entire menu in addition to the Brunch menu. I have heard great things about the Pork Chops and a few other menu items.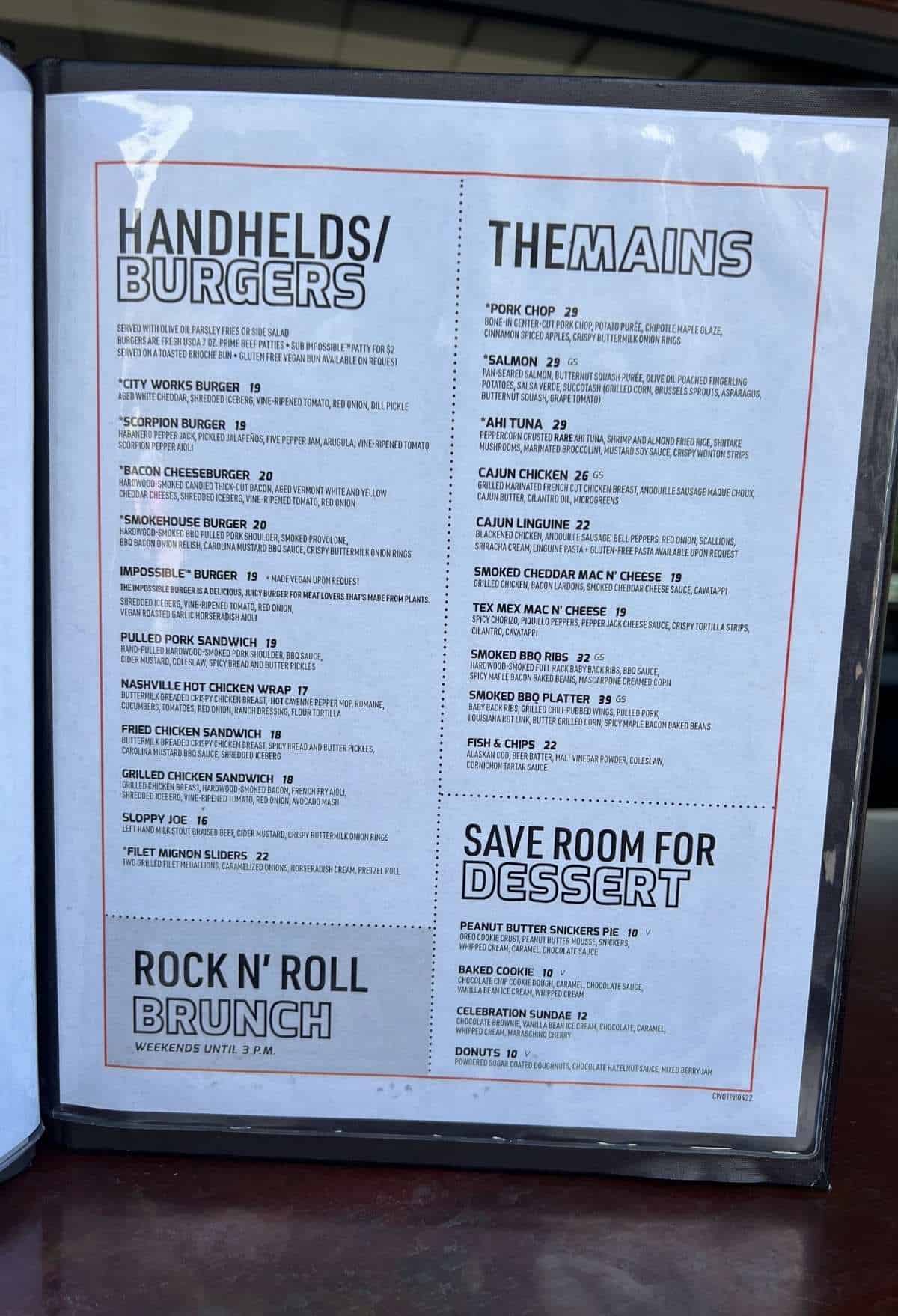 So you know that's on my list for our next visit.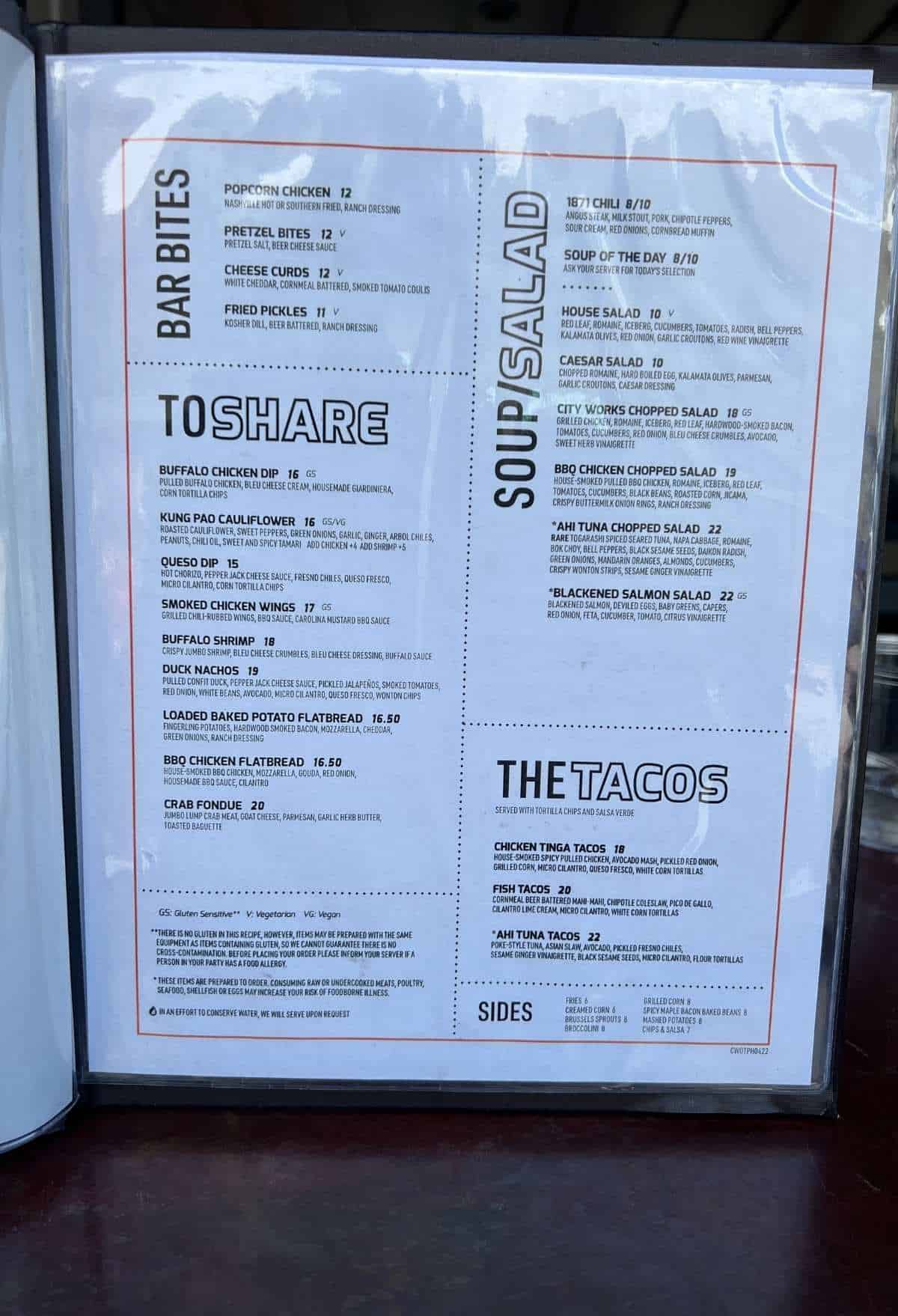 There is also a kids menu.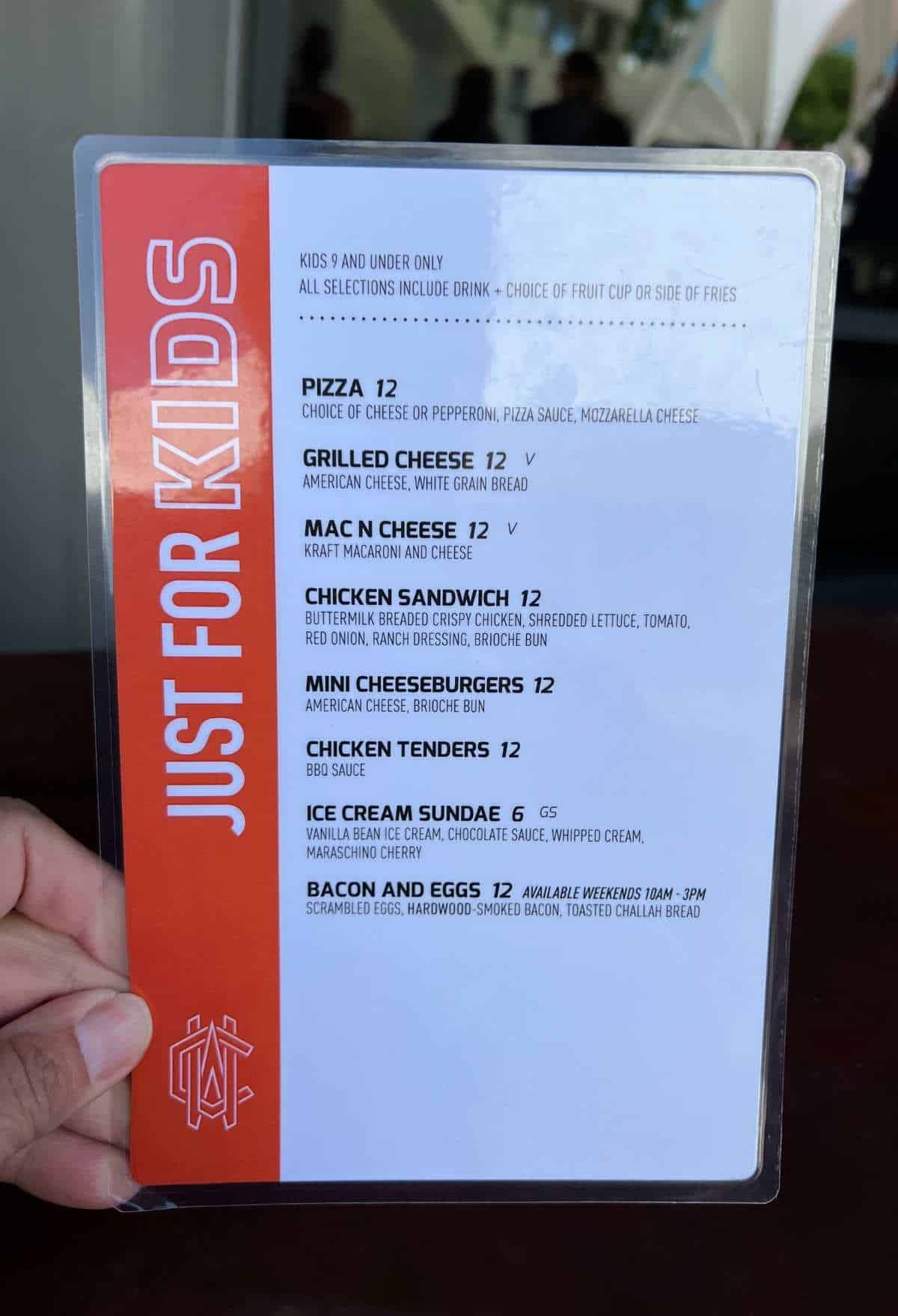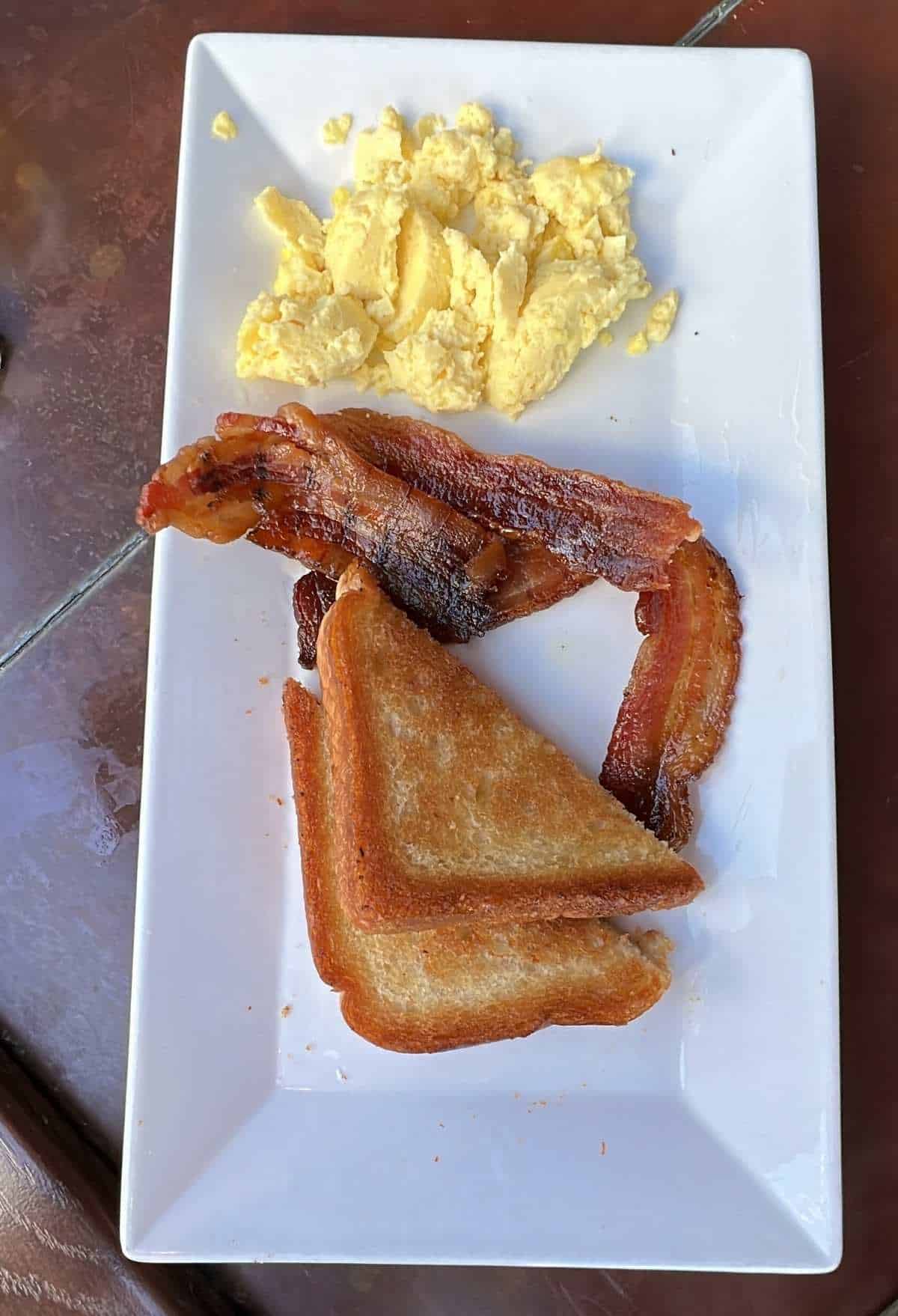 Know Before You Go to Disney Springs City Works Restaurant
There are a few things you must know before you go to City Works Disney Springs.
No kids are allowed to sit at the patio bar.
Dogs are allowed at the outside patio bar.
There is a walk-up counter where you can order food to go and alcoholic beverages such as the Strawberry Frose and Frozen Margarita.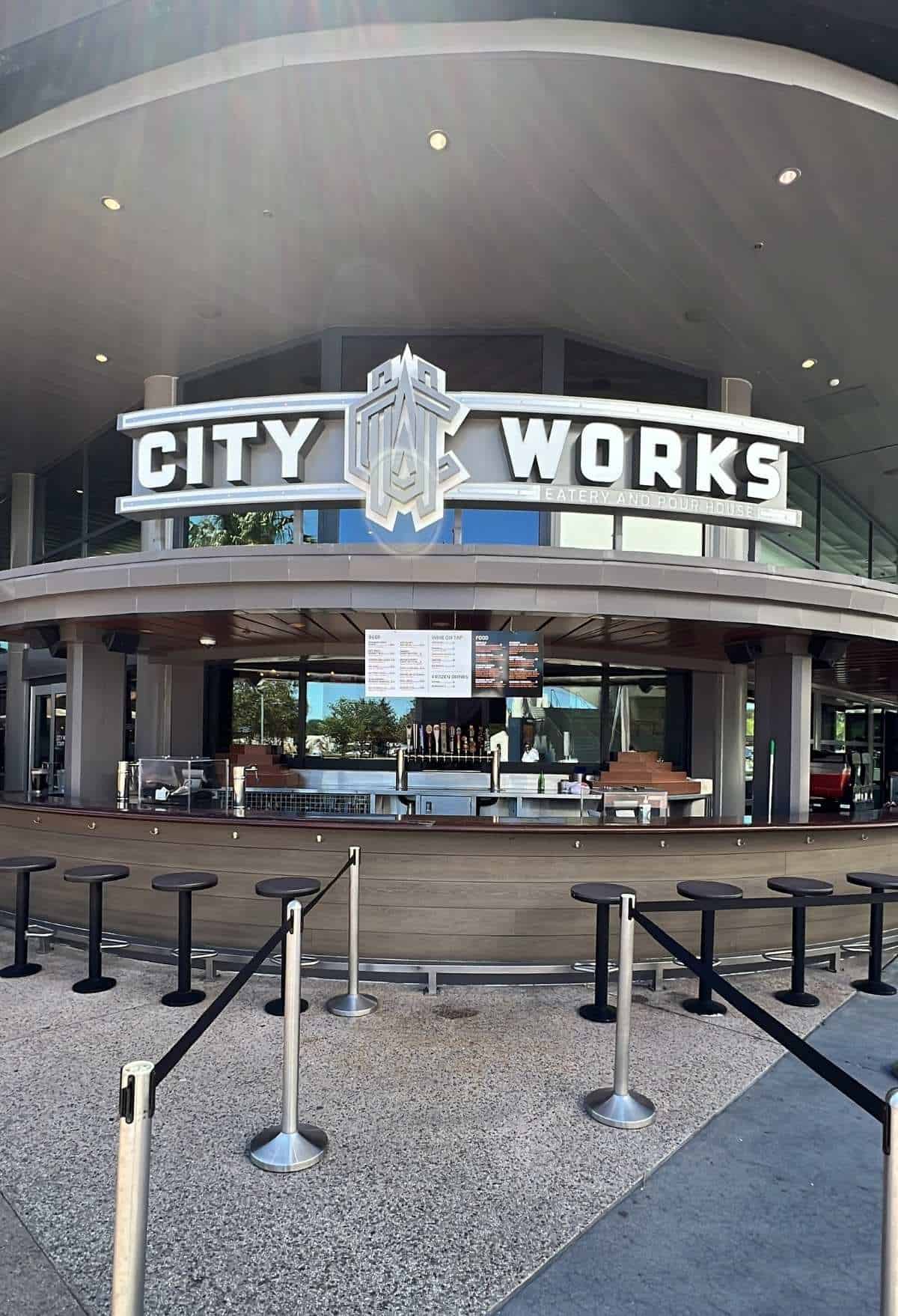 A separate City Works Express menu for you to take and walk with is available.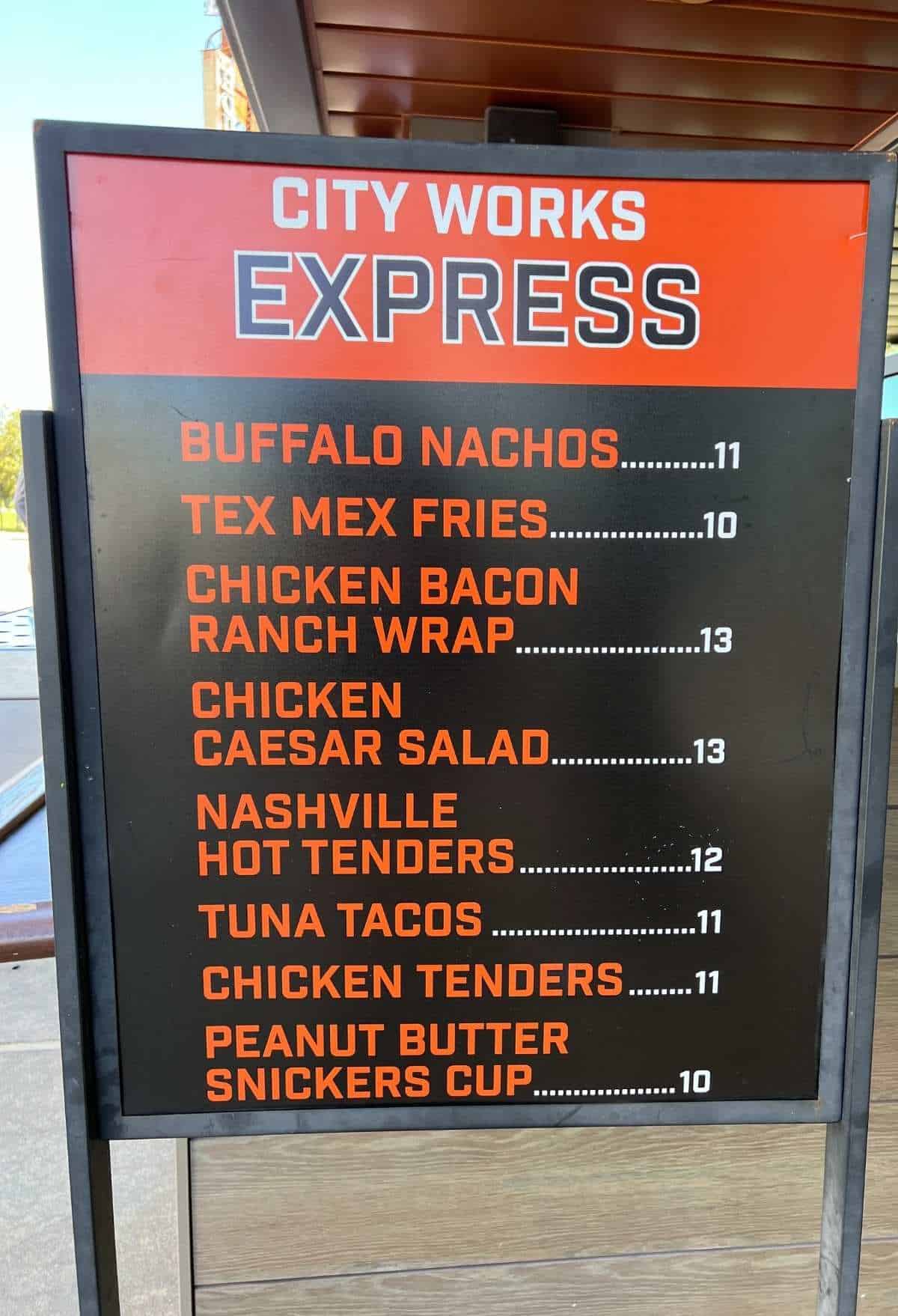 The Mimosa Flights are not available at the Patio Bar because of the glass. If you want one of these, be sure to choose inside seating.
City Works Location and More
City Works is located at Disney Springs at 1486 East Buena Vista DriveLake Buena Vista FL 32830.
It sits adjacent to Cirque do Solei and House of Blues.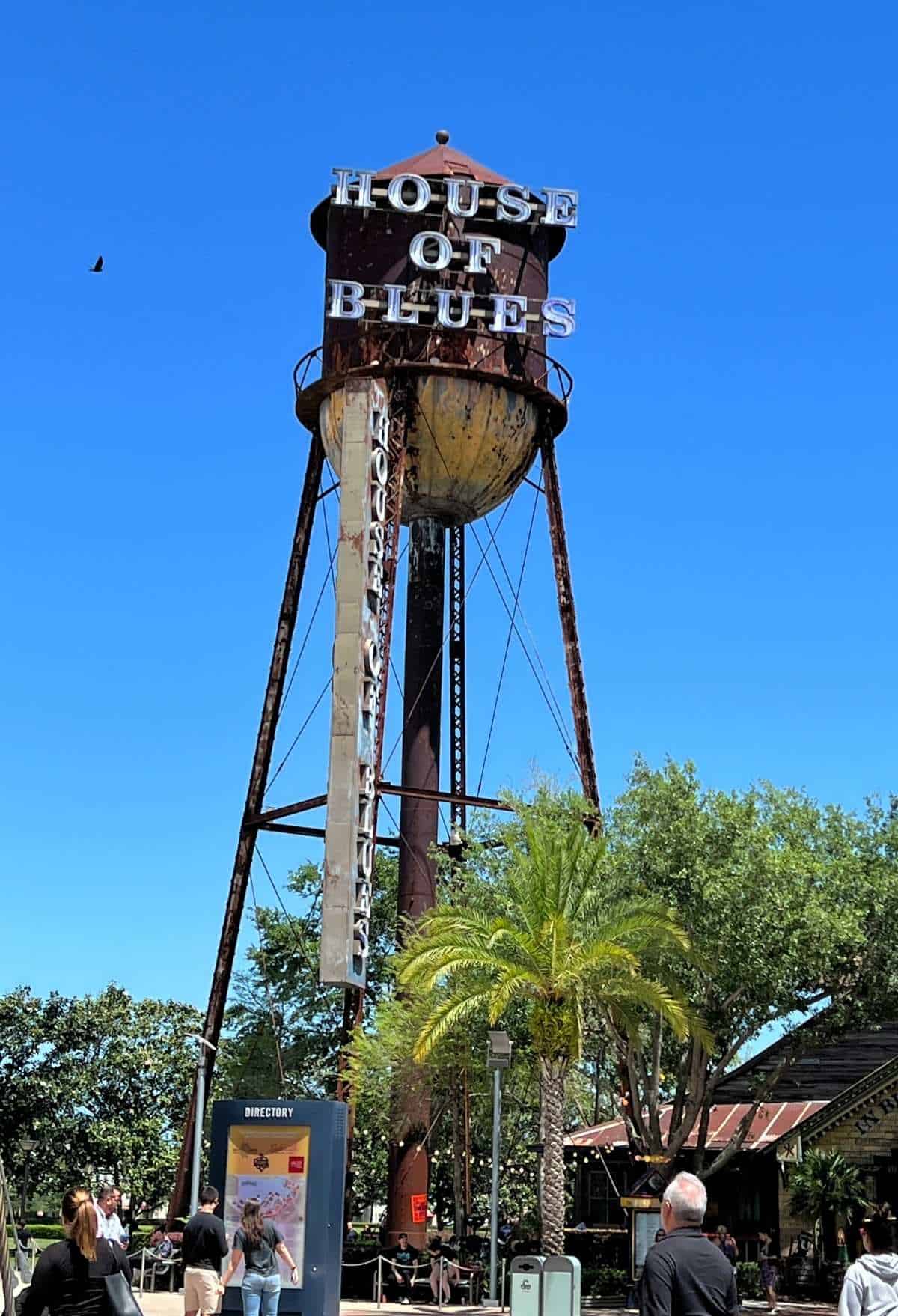 Their hours vary daily, but the Rock N' Roll Brunch is only available on Saturday and Sunday from open until 3 PM.
There are also locations in several other states. Find locations, order online, and make reservations at CityWorksRestaurant.com. (Reservations are highly recommended!)
Where to Park for City Works at Disney Springs
If you are only going to Disney Springs to visit City Works, then the closest spot to park would be surface parking. It's always free.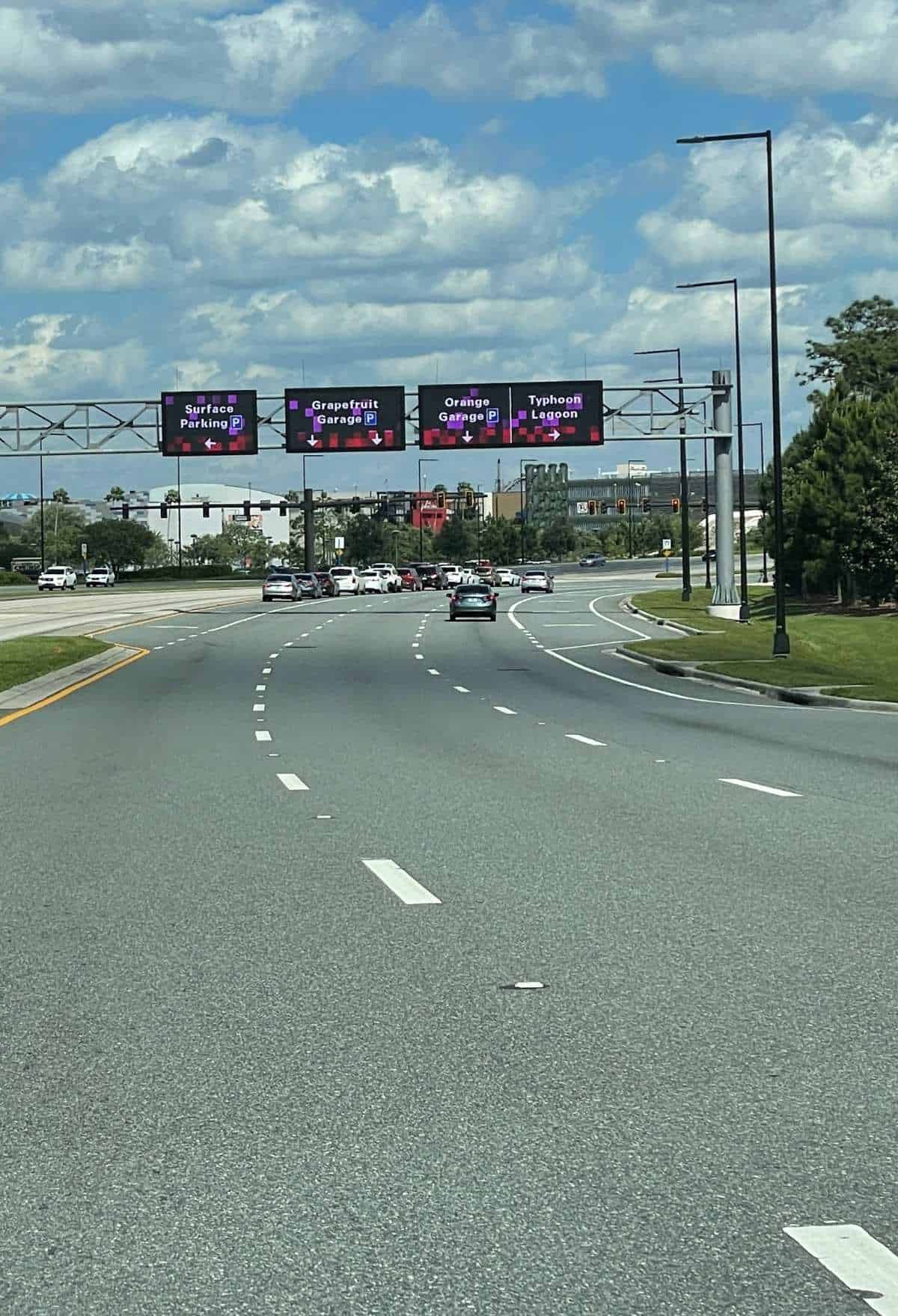 However, if that is full, then head over to the orange parking garage for the next closest spot.
Unless of course, you are staying at one of the Disney hotels. Then you would hop on one of the Disney transportation buses from the hotel.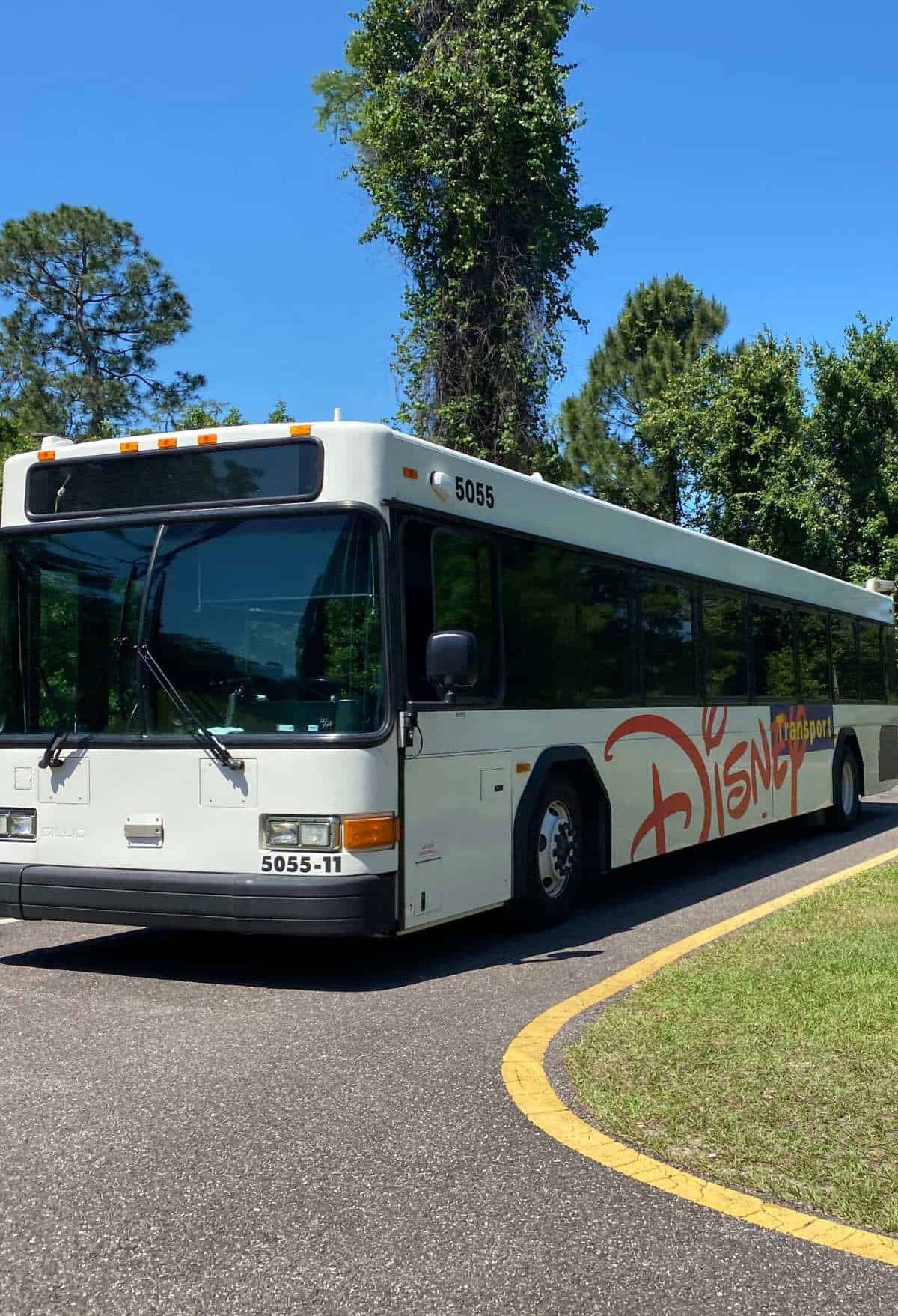 City Works Brunch Review Conclusion
Whether you're visiting Disney World and staying on Disney property or even if you're staying off property, living in the area, or visiting family, make it a point to visit Disney Springs for a City Works brunch date or dinner date.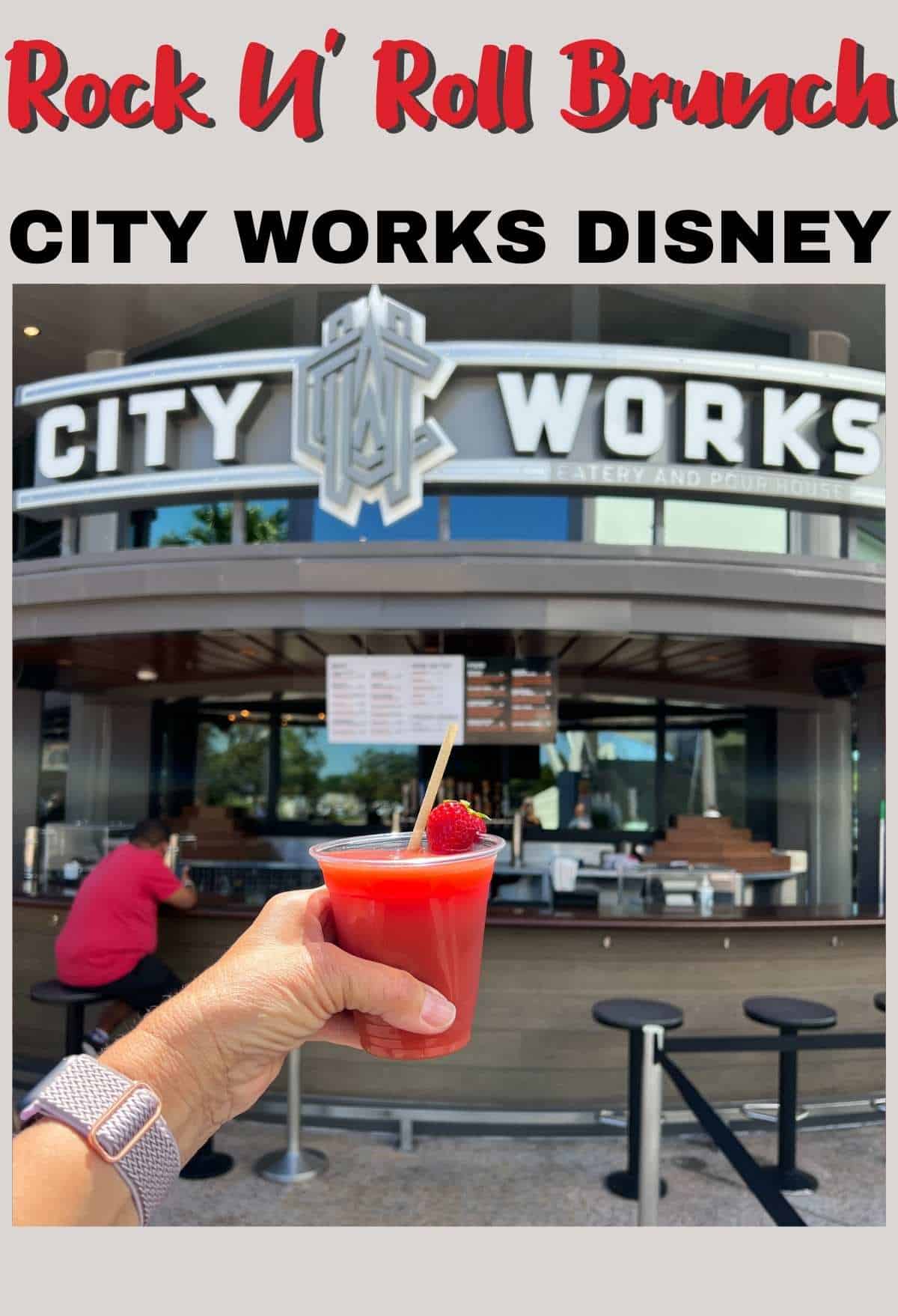 It is also a sports bar with 17 extra-large HDTV's. So if there's a game you want to watch, or sit back and just chill, then City Works at Disney Springs is the place to be.
The service was also great. Since we sat at the patio bar, the bartender, Jeff, took our order and served us our food. He was very attentive to all our needs.
You won't be disappointed at all. Leave a comment below if you've ever been there or plan on going.
Connect with City Works on Facebook, Twitter, and Instagram.
Be sure to pin it for later and follow us on Pinterest.