Planning a trip to the Pioneer Woman Mercantile? Here's everything you need to know to plan the perfect visit! Check out what we learned during our recent visit.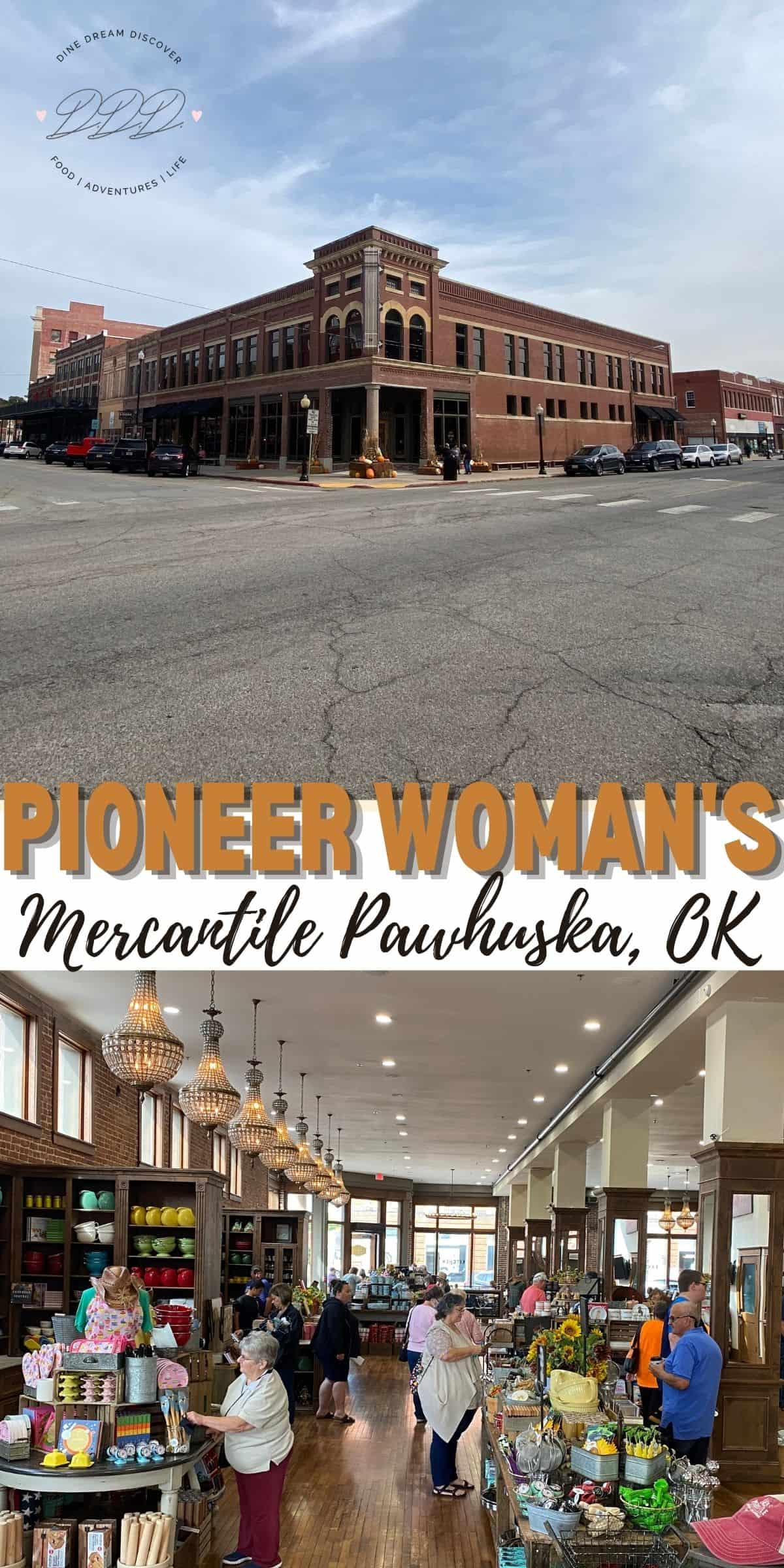 This post may contain affiliate links. See my disclosure policy for more info.
Ree Drummond's Pioneer Woman Mercantile Restaurant
Looking to plan a trip to the Pioneer Woman's Mercantile in Pawhuska, Oklahoma? Here's everything you need to know to plan the perfect visit!
This was our second visit to The Pioneer Woman Mercantile. But this time we also got to visit The Pioneer Woman Lodge, which was pretty awesome.
The Pioneer Woman's Mercantile is only an hour away from my son, so we made a day of it this time by visiting the Mercantile and The Lodge where she does her filming for The Food Network.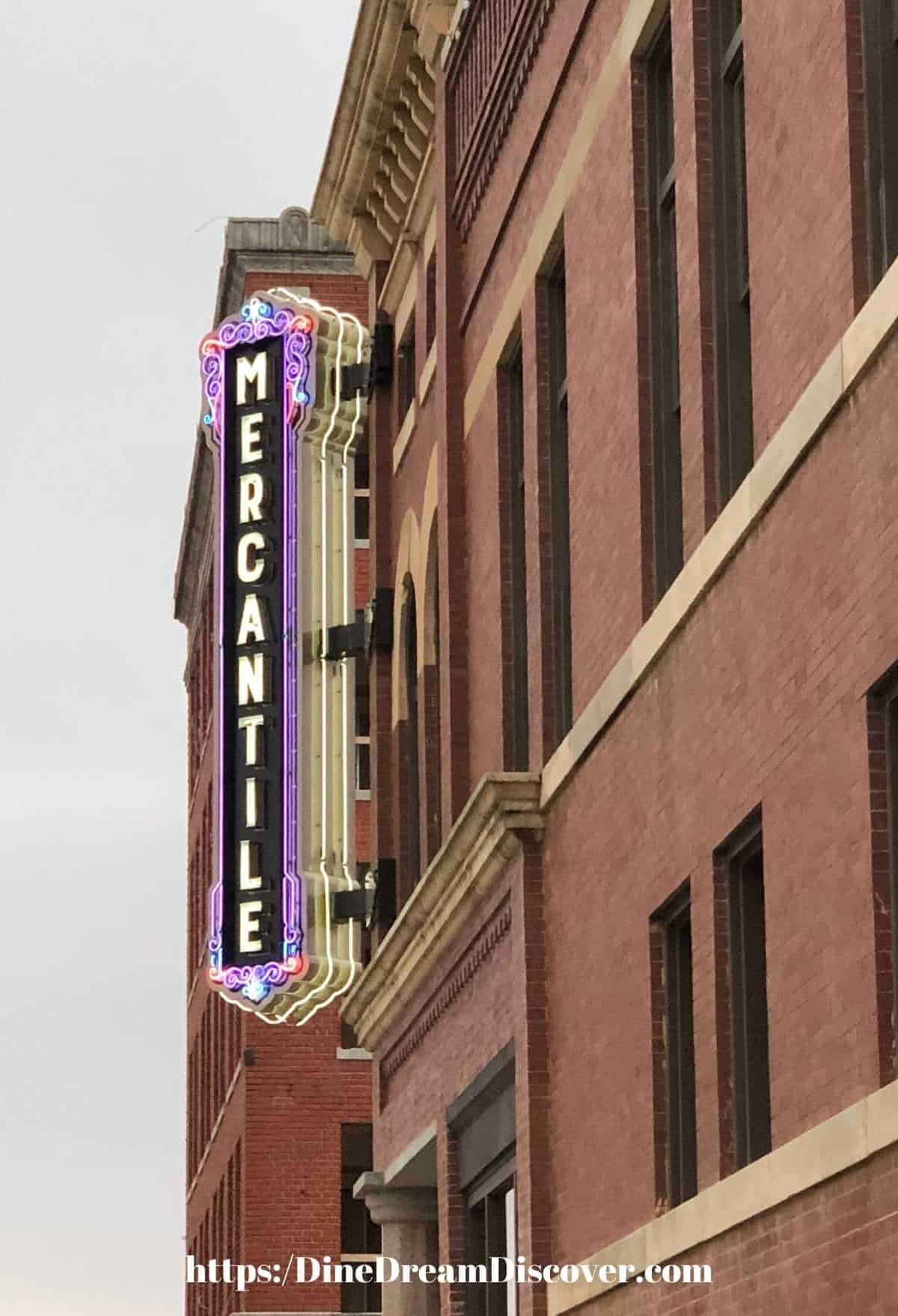 Upon arrival at the Merc, I got all excited when I saw the Drummond Ranch farm truck. I thought for sure that Ree and Ladd were there. I even made my husband hurry up so we wouldn't miss them.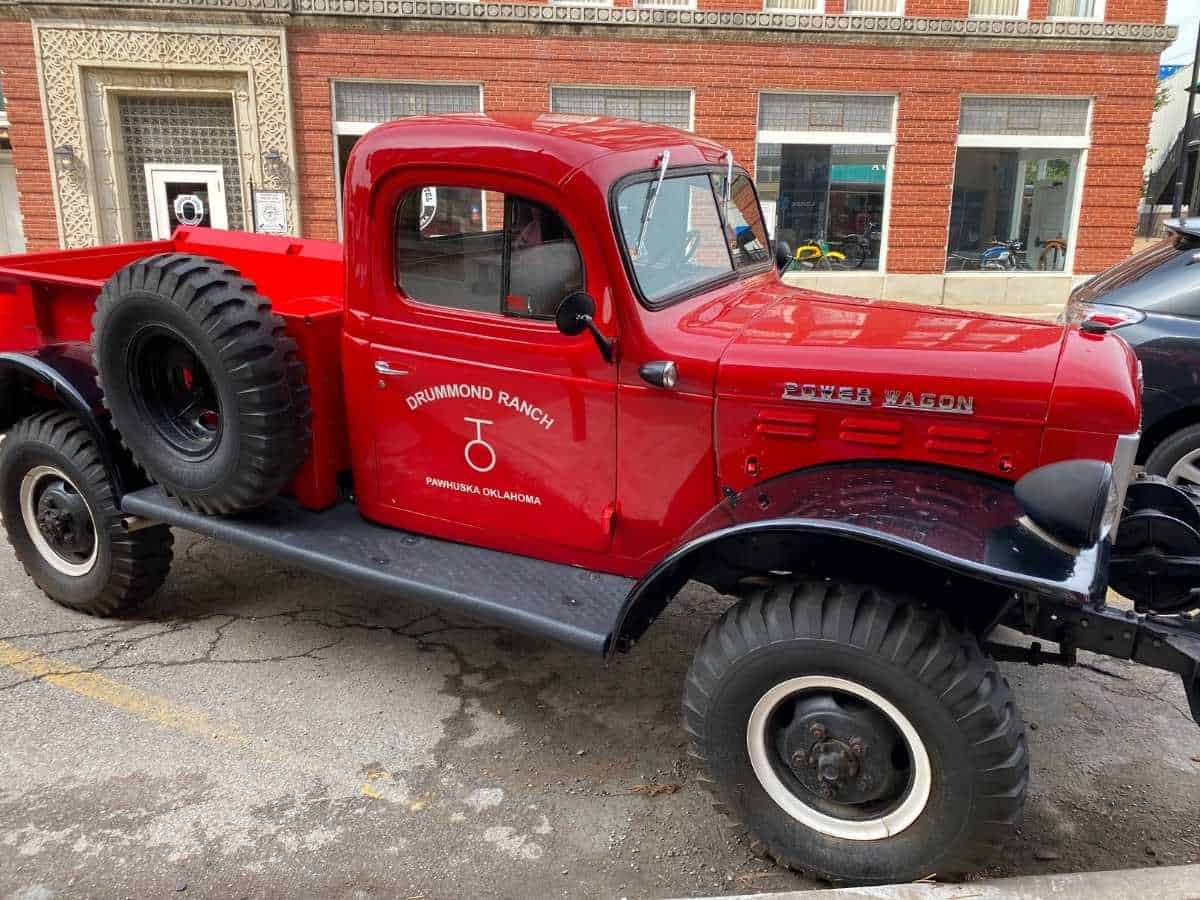 We didn't get to see them on our first visit and I was hoping we would on this trip.
Only to find out that the truck is a staple outside the restaurant and they weren't there. 🥺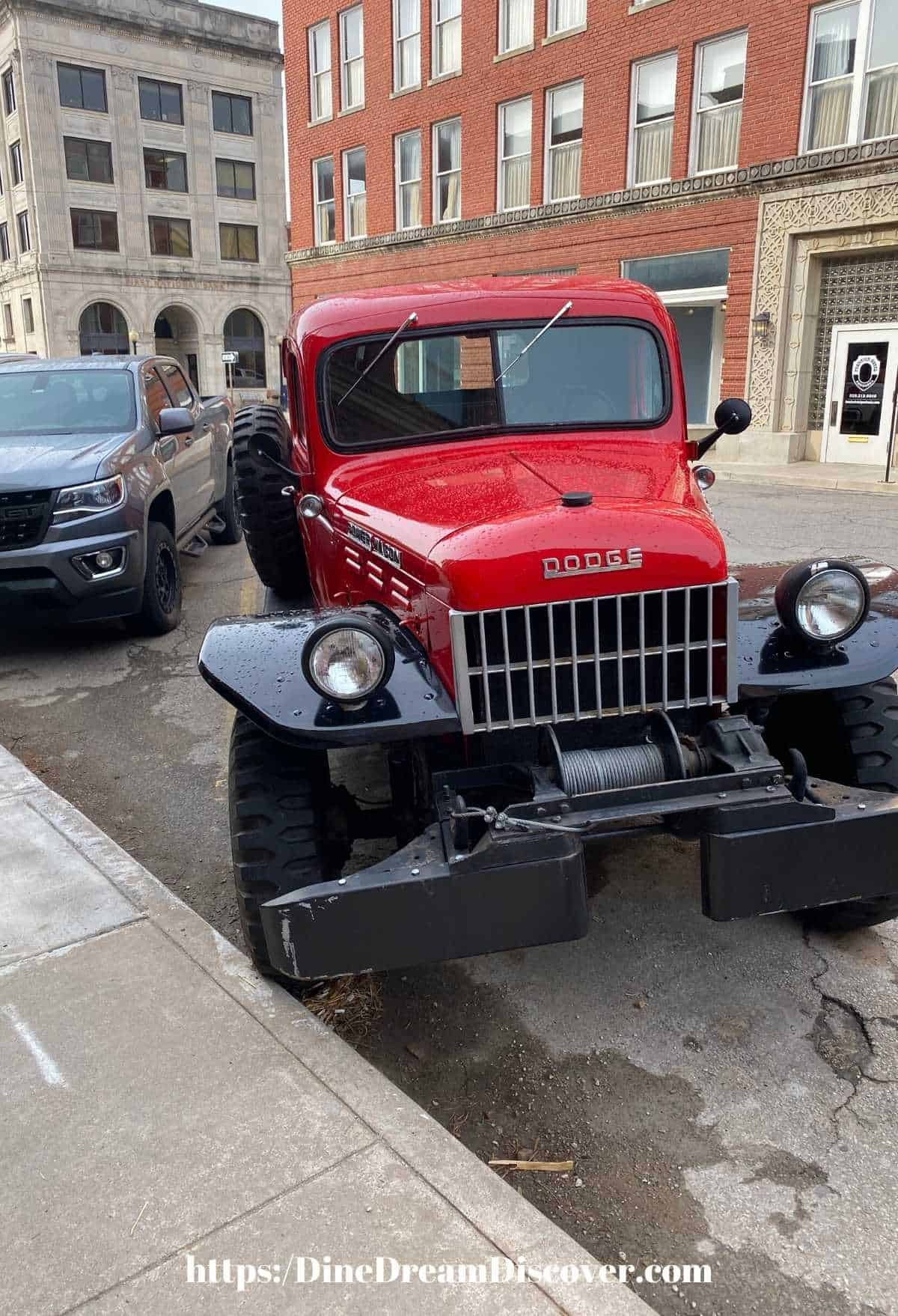 You can even purchase a mini version of the Drummond Ranch truck.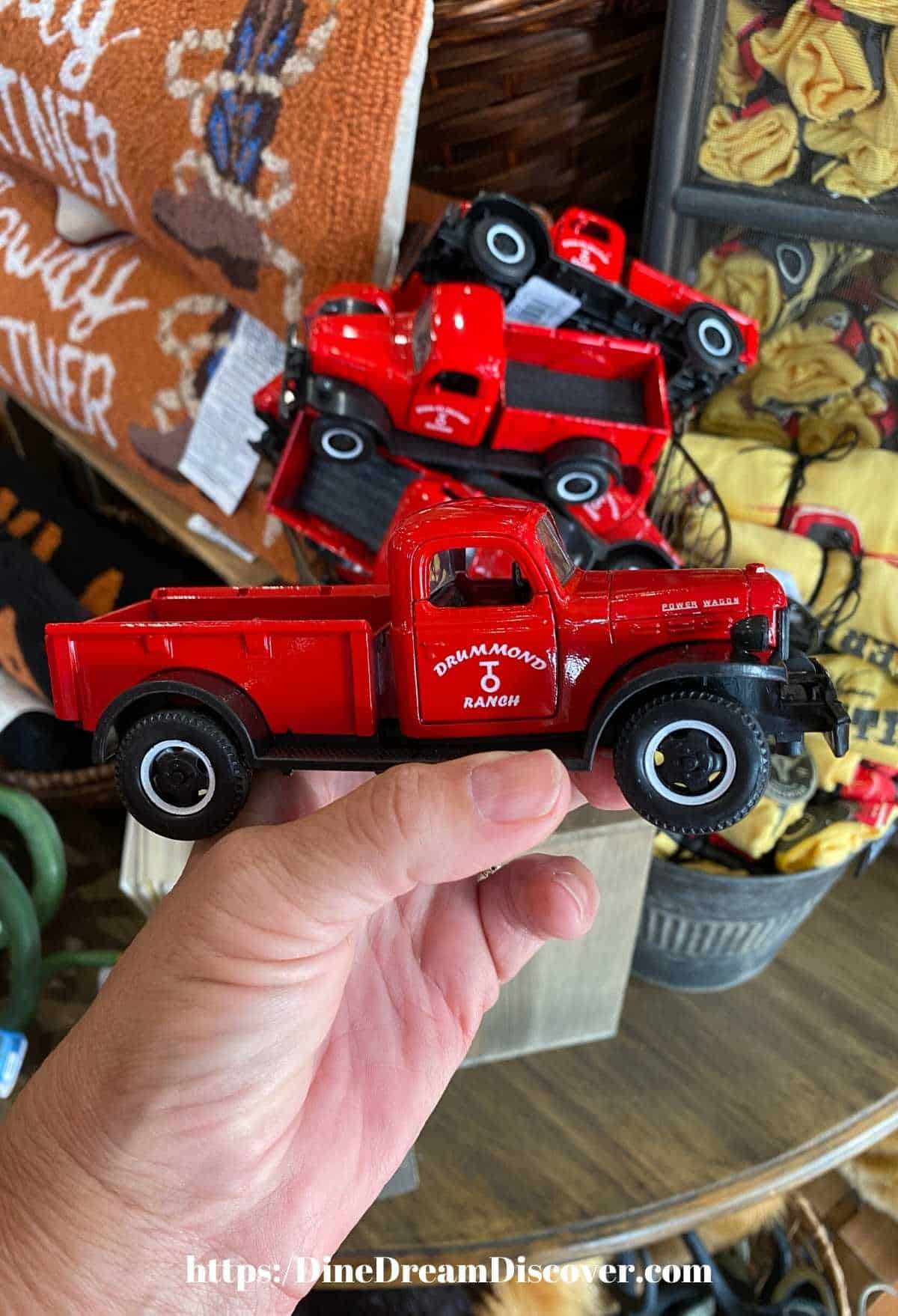 The Pioneer Woman's Mercantile is only an hour away from my son, so we made a day of it this time by visiting the Mercantile and The Lodge where she does her filming for The Food Network.
Ree Drummond's Pioneer Woman Mercantile Restaurant in Oklahoma opened on October 31, 2016.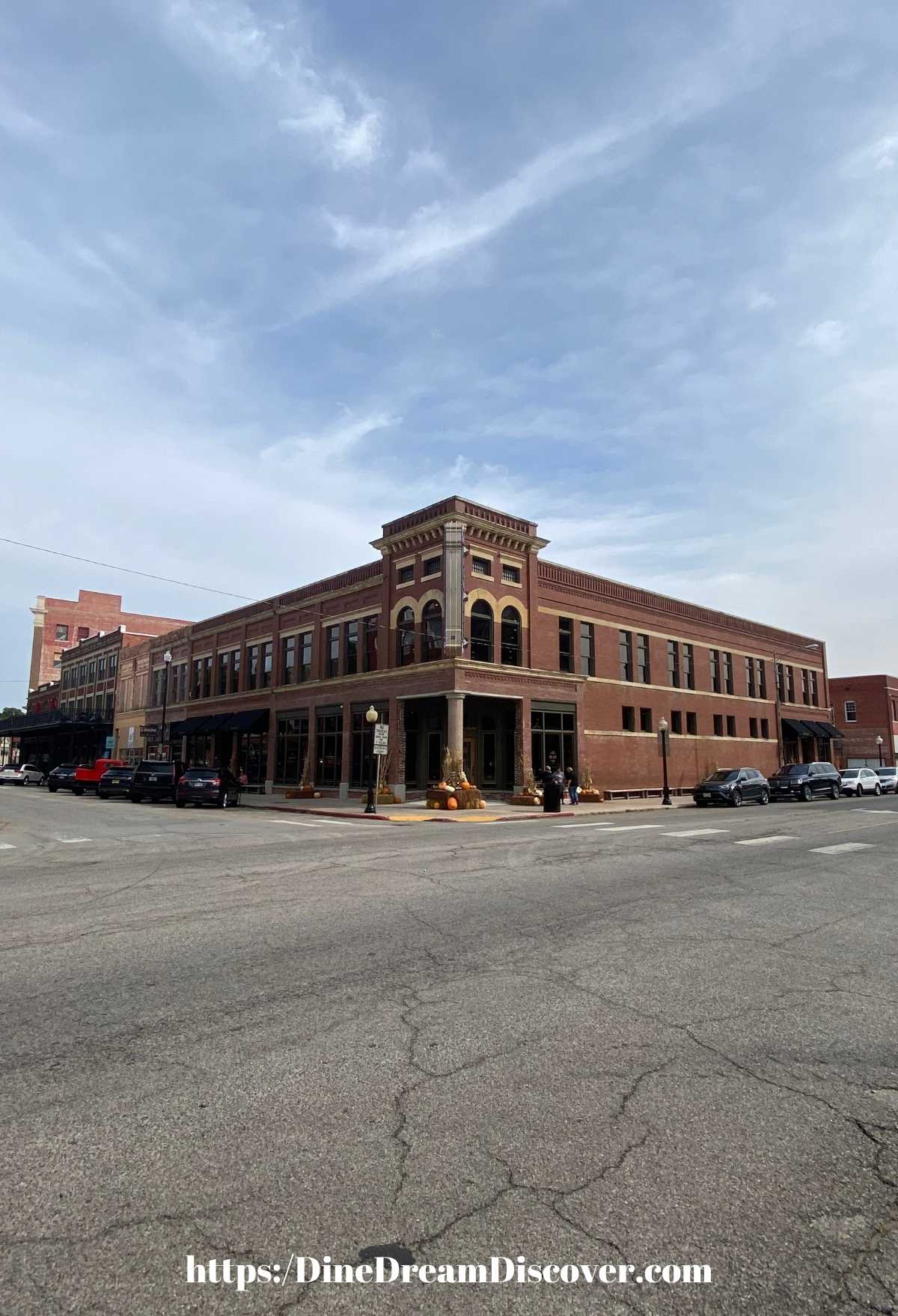 The Mercantile is located in the middle of downtown Pawhuska, Oklahoma, and serves dishes highlighting the flavors of the wider Midwest and South.
The restaurant is located inside the Pioneer Woman Mercantile. As you enter you can go to the restaurant or start shopping.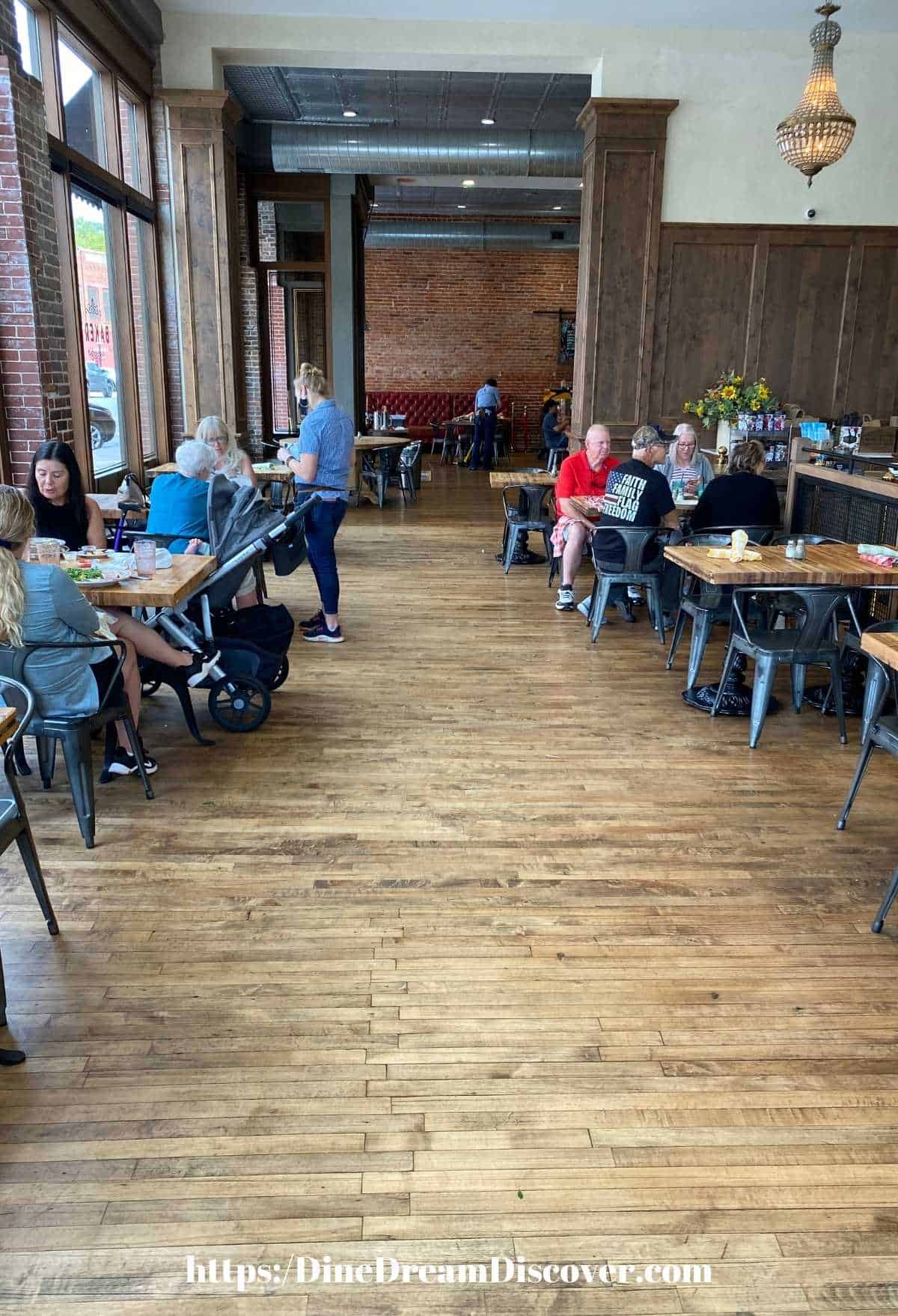 Do you love the Pioneer Woman
The Pioneer Woman Mercantile is a one-stop-shop for all things PW! You can get your hands on her cookbooks, kitchen wares, clothing, and more.
The home decor will make any house feel like a home. It's truly amazing what they have in store for you.
When you walk into this space it feels so good! You are surrounded by beautiful products that are curated with care and attention to detail.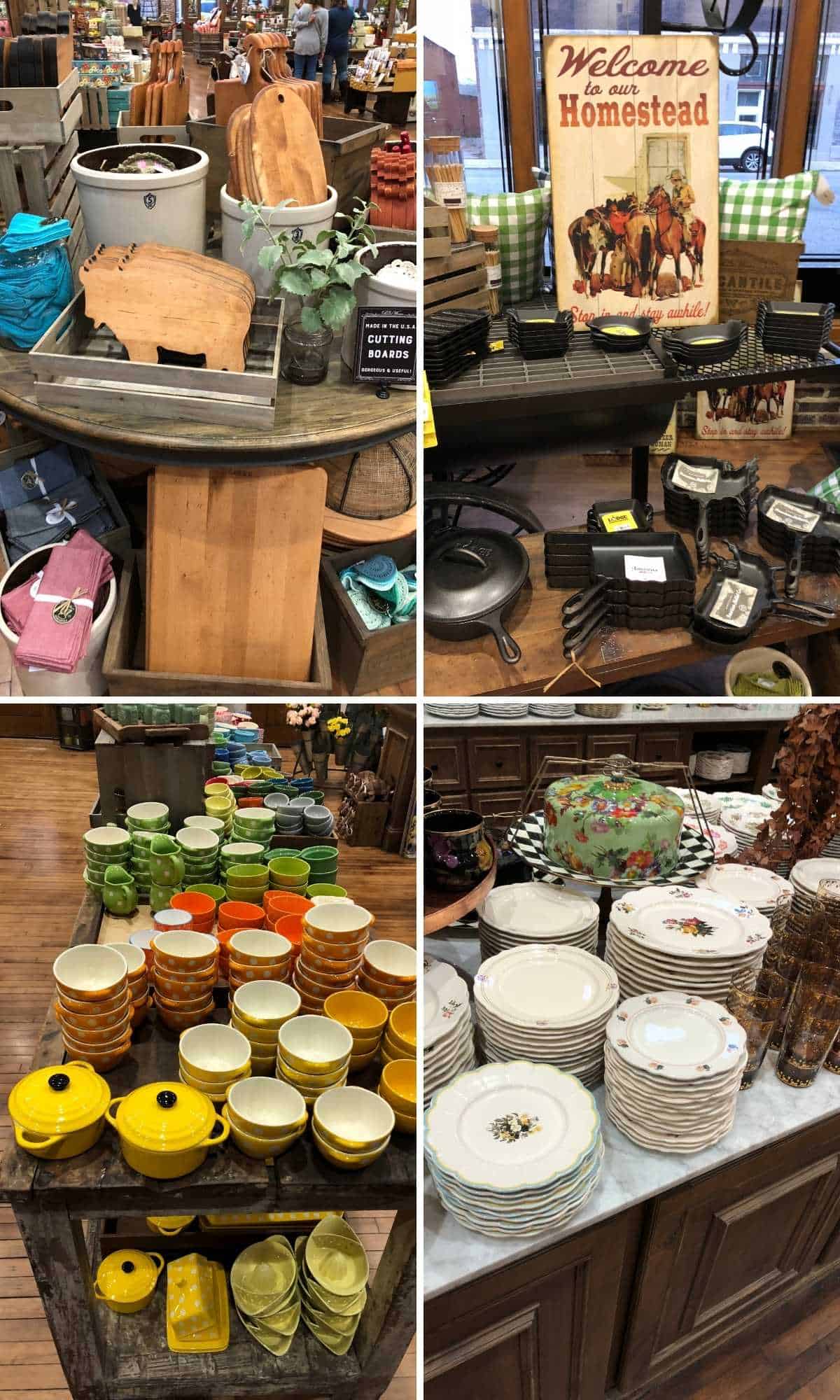 They have everything from candles to dishware to clothing…and then some! If there's something specific you want but don't see it here, just ask because they probably have it or know where to find it.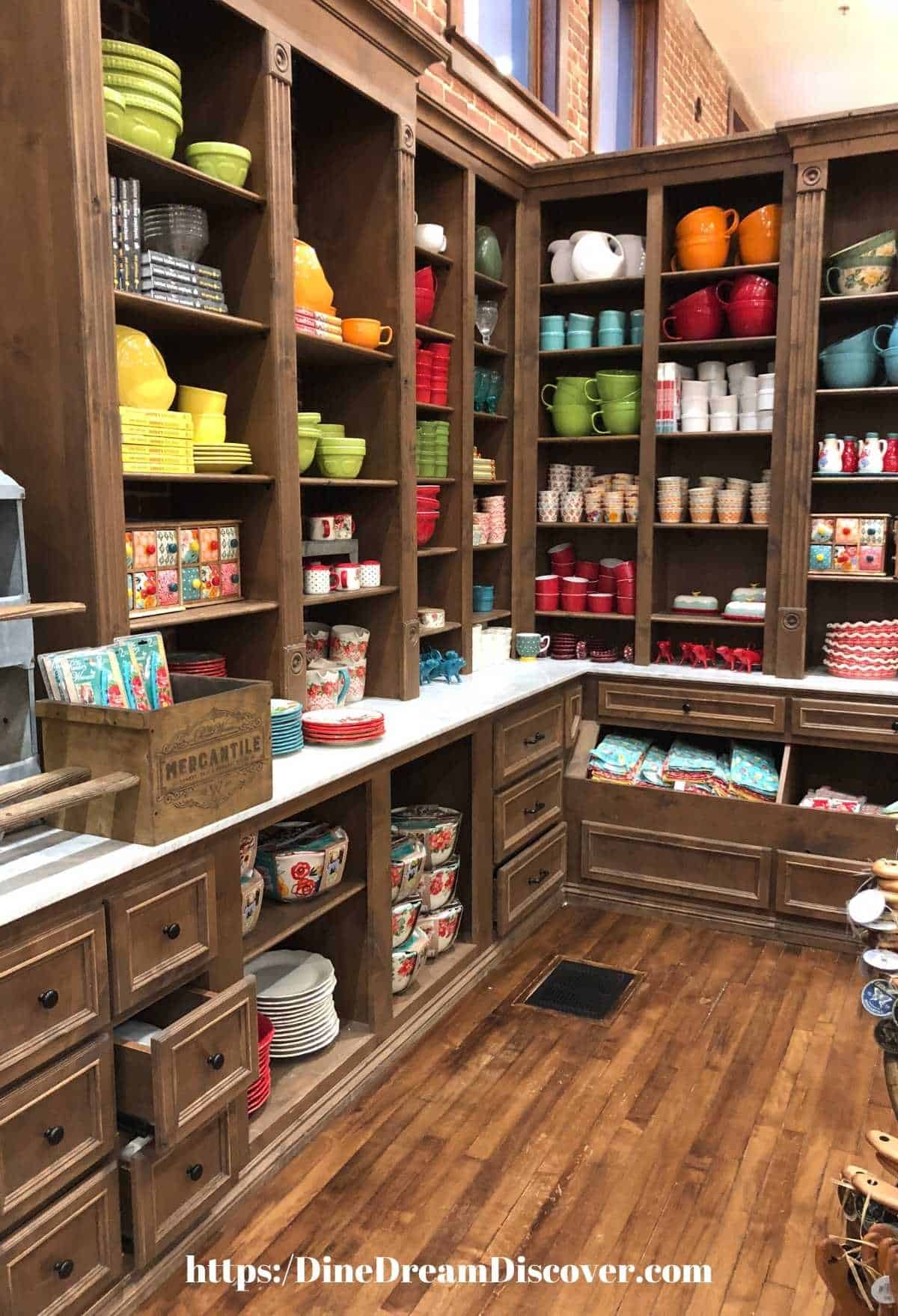 And if not? They might be able to order it for you! This place has got your back when it comes down to making sure every customer leaves happy with their purchase(s).
Who is Ree Drummond
For those who aren't familiar with Ree Drummond, The Pioneer Woman, (and trust me..there are those who don't know who she is at all!)
Ree Drummond is a celebrity chef, author, and owner of the blog The Pioneer Woman. She is a woman with many talents, an author, food blogger, and the star of her own cooking show on The Food Network called "The Pioneer Woman."
She has written many Bestselling cookbooks which many have been on the bestseller list for more than 100 weeks each.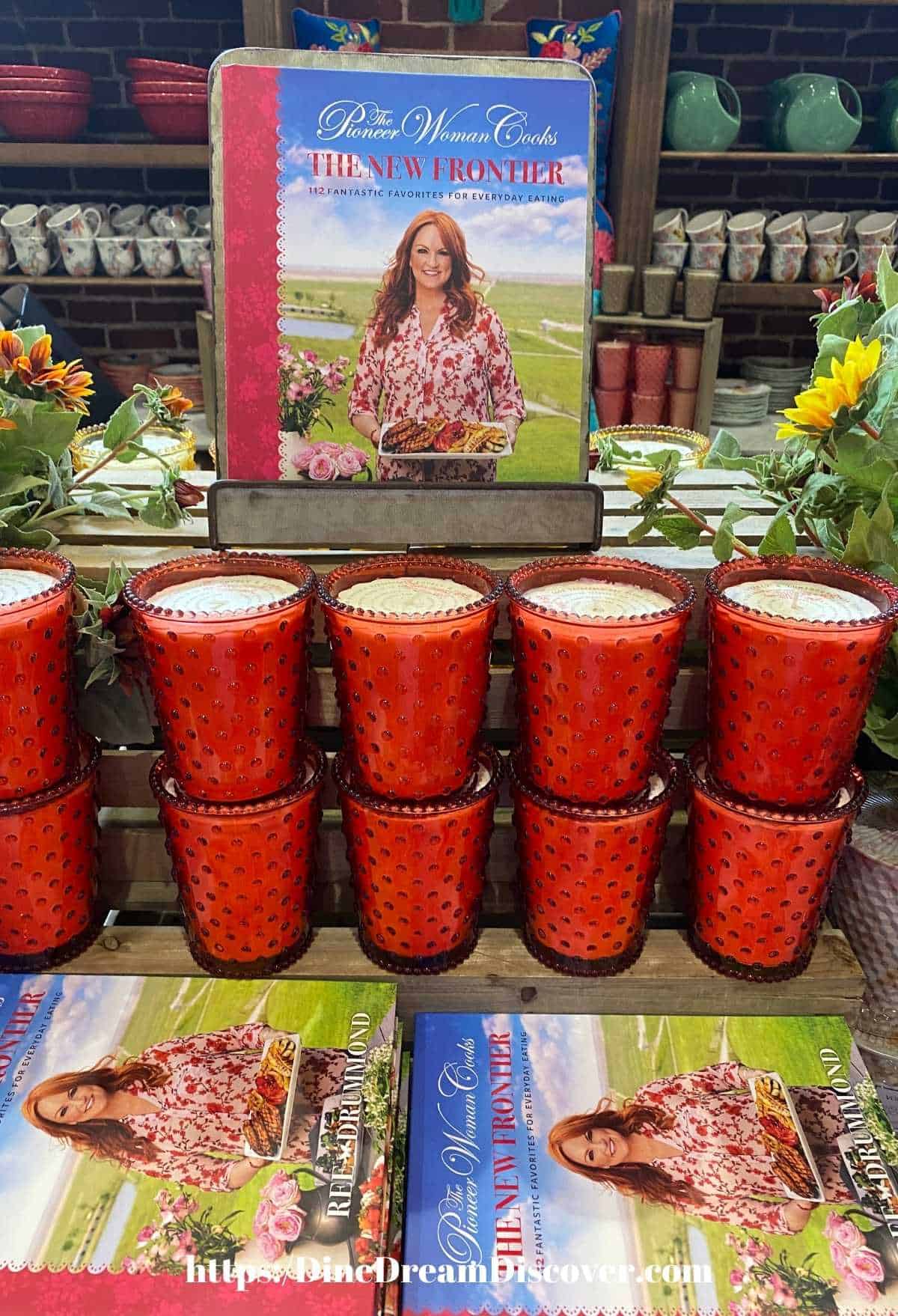 Ree Drummond's first cookbook was made up of recipes she collected while living on her family ranch in Oklahoma with her husband Ladd and their five children.
Ree later expanded to include recipes for dishes like meatloaf and fried chicken as well as desserts like pumpkin pie and chocolate cake.
My favorite cookbook is different because it includes many stories about life at home on the ranch.
She has been named one of Time Magazine's most influential people and Forbes' top power bloggers. She also won a James Beard Foundation Award for best cookbook in 2016.
What is the Pioneer Woman Mercantile
The Pioneer Woman Mercantile is a store that sells food, clothes, and other items. It has been open for about 5 years now. The store's owner is Ree Drummond who is the Pioneer Woman on the Food Network show of the same name.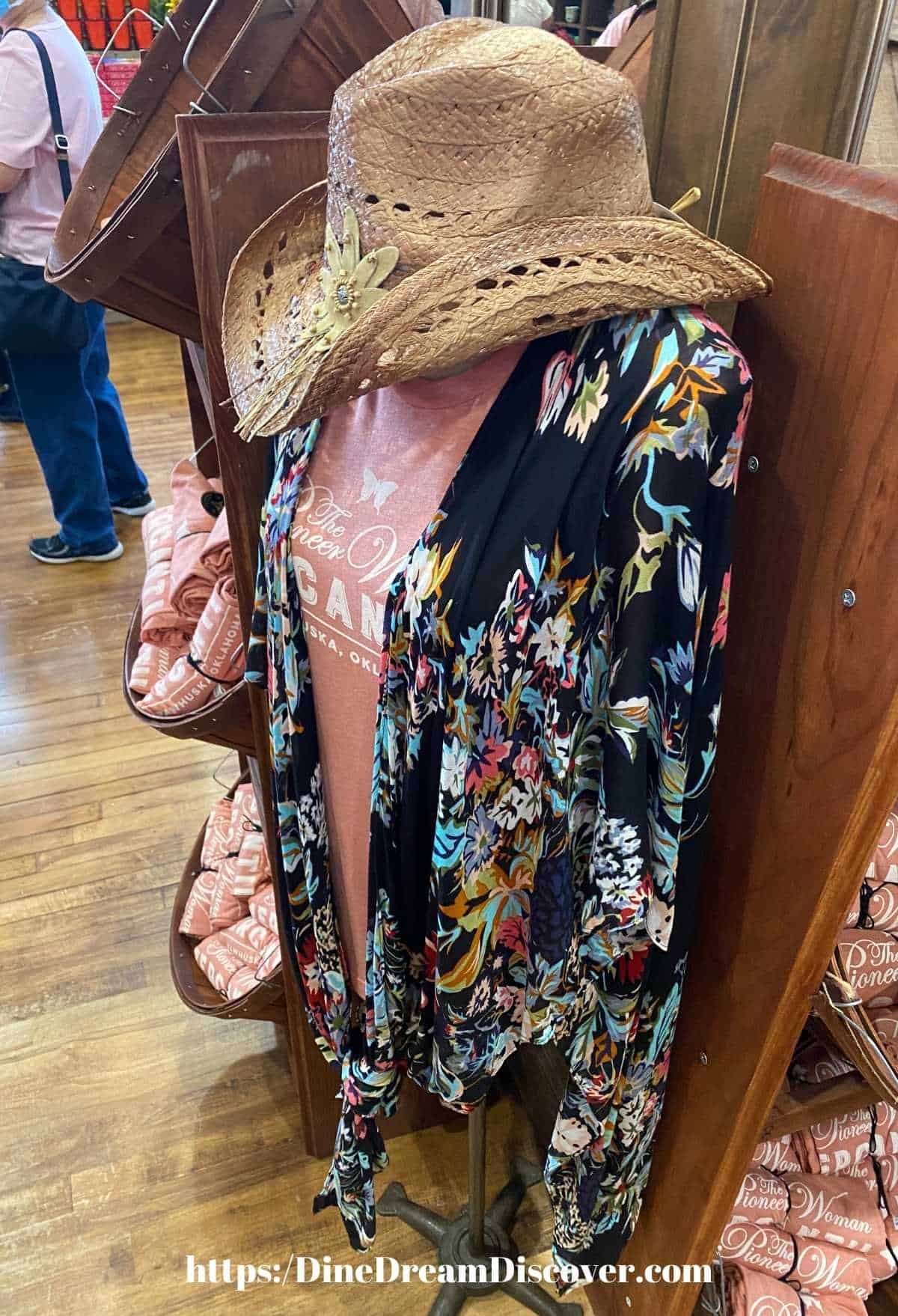 I really, really, loved that hat and kimono. I, unfortunately, did not buy either. 🥺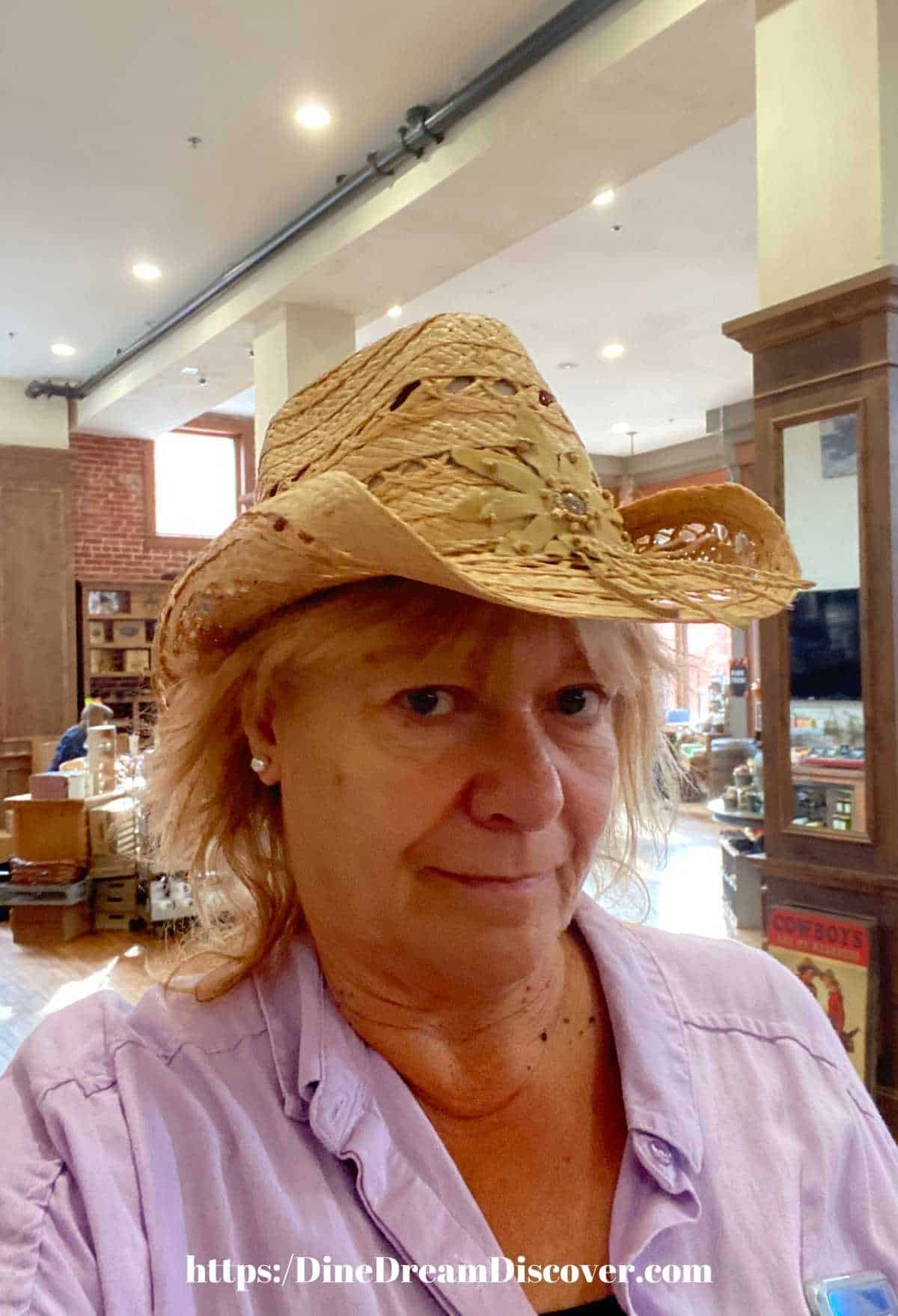 The store offers products from her home state of Oklahoma as well as products she uses to cook with. Floor-to-ceiling shelves filled with all sorts of cute merchandise.
I purchased a few of these cute little blue dishes.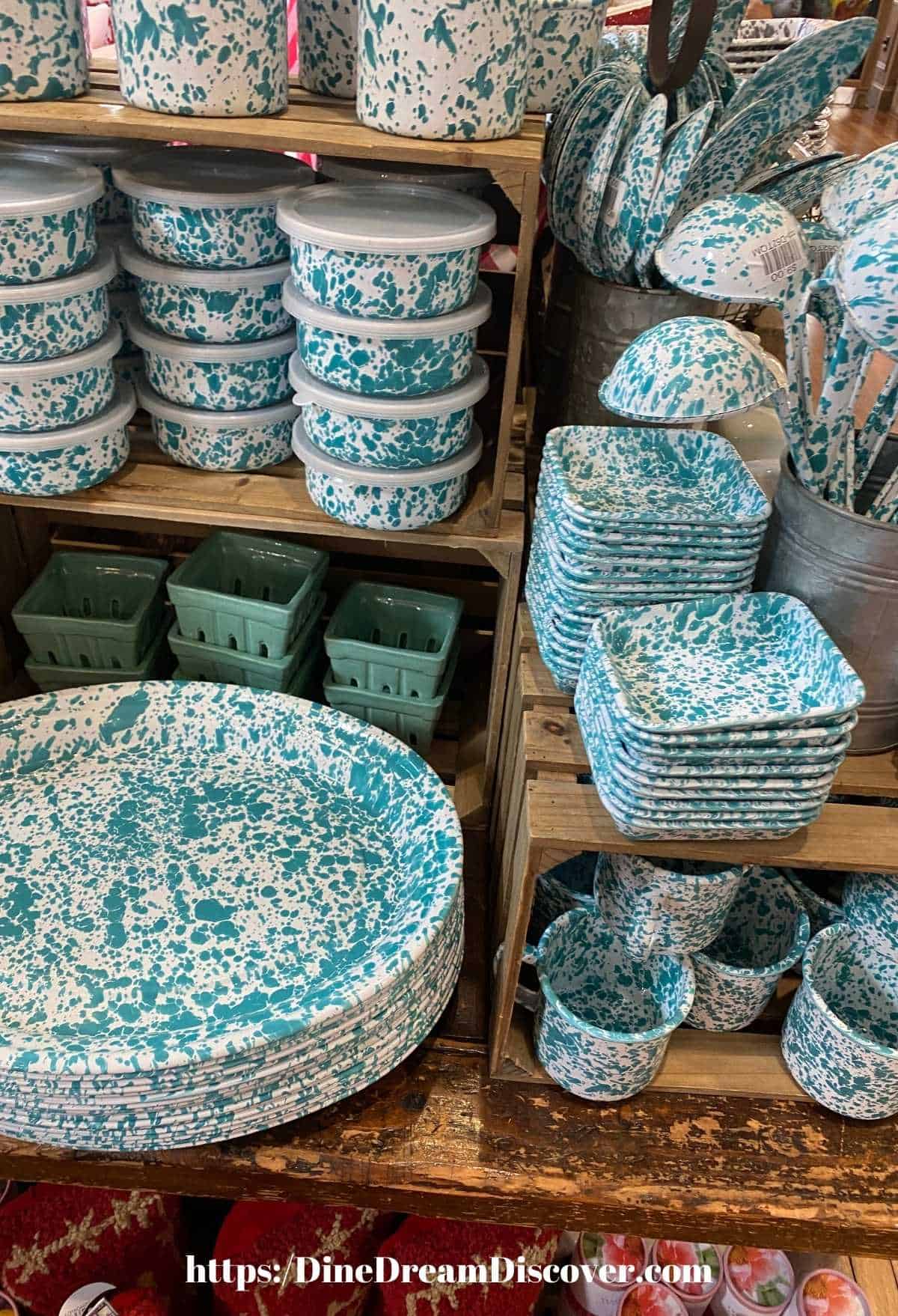 There are many different things to buy at this store including metal serving pieces for parties, books written by Ree Drummond, and clothing too.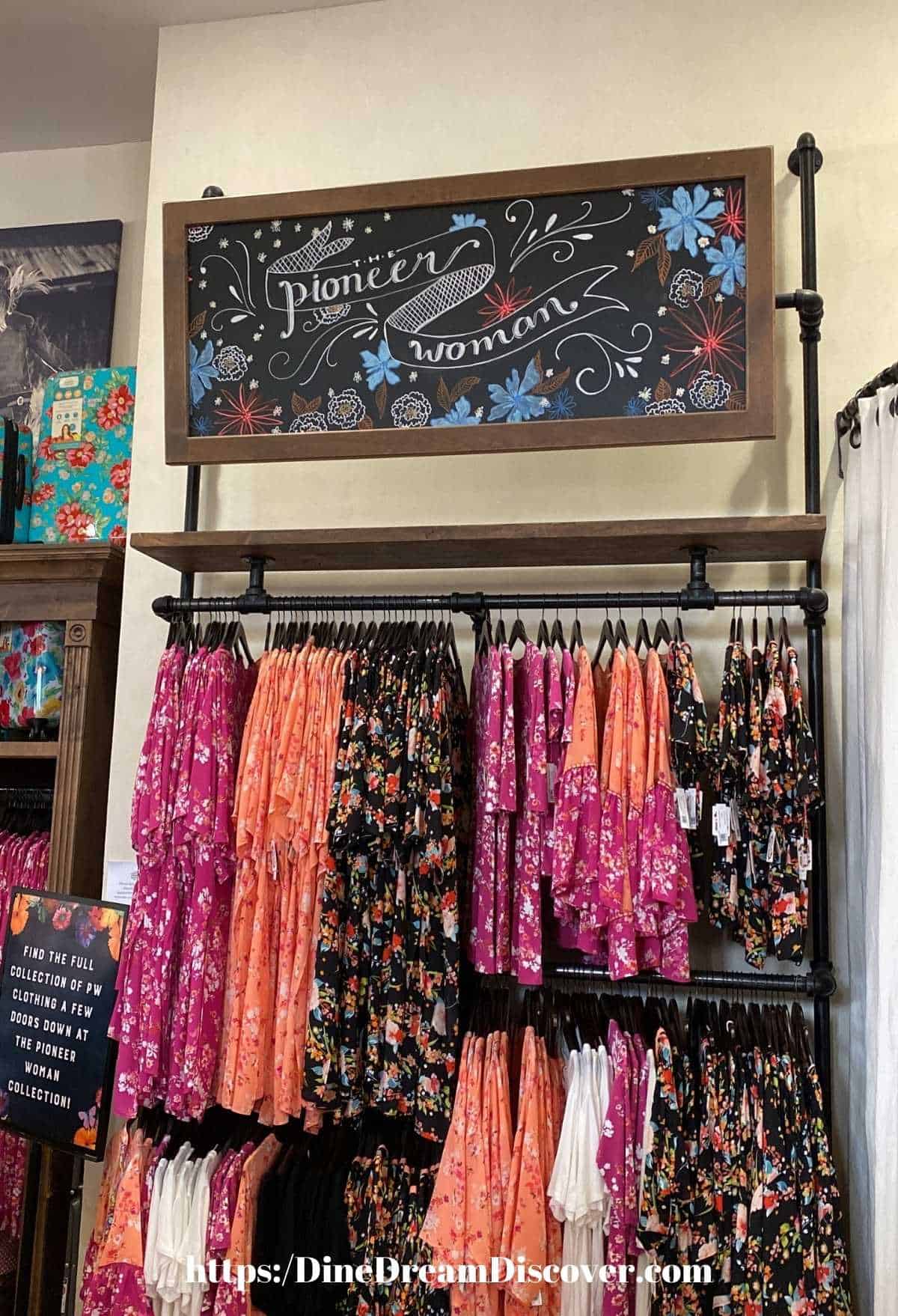 There is even a dressing room to try things on if you would like.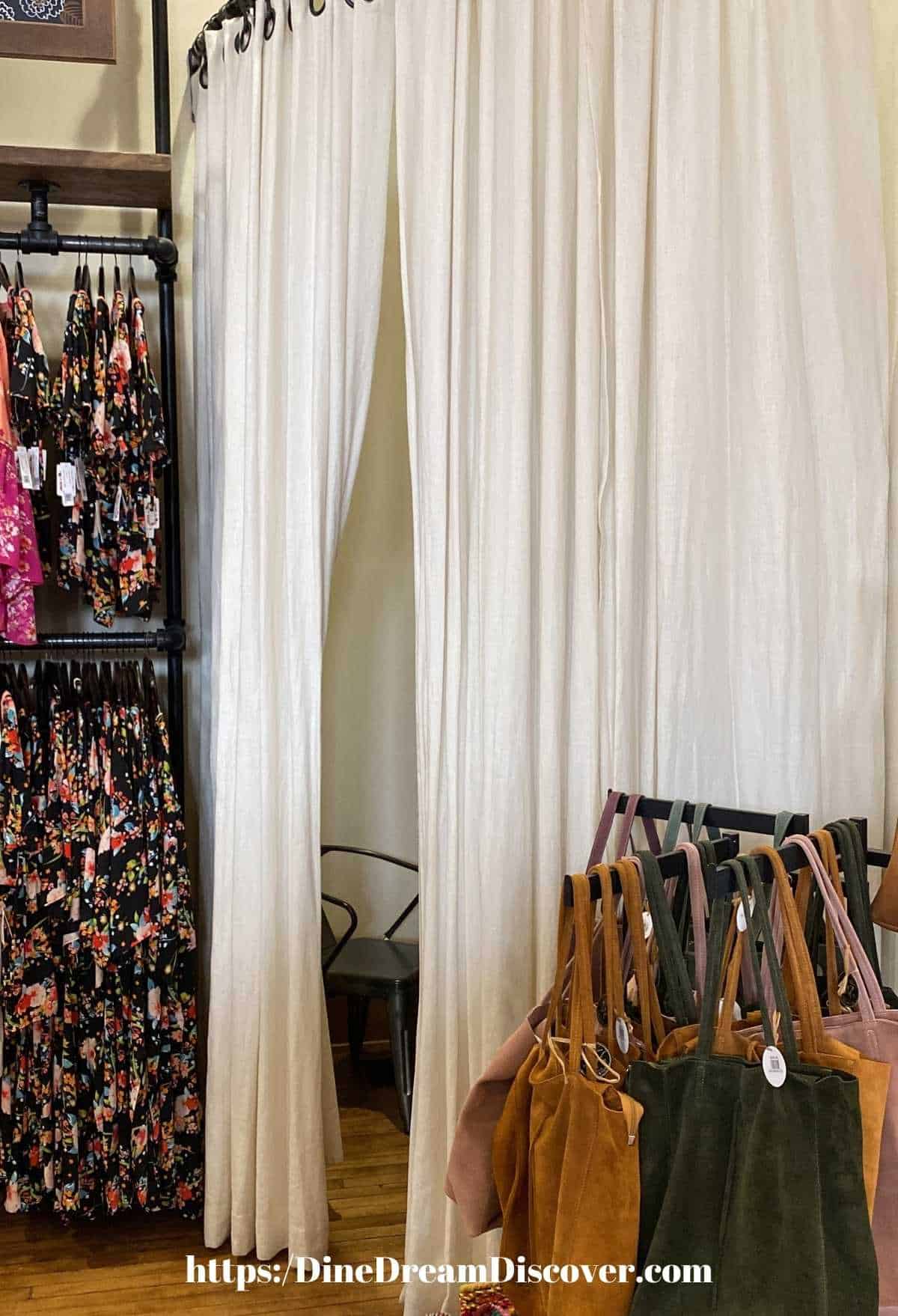 It's incredible to think that someone could draw so many people to their town. With only a population of about 3600, all of the sudden there are thousands in a day just walking through this little restaurant and store!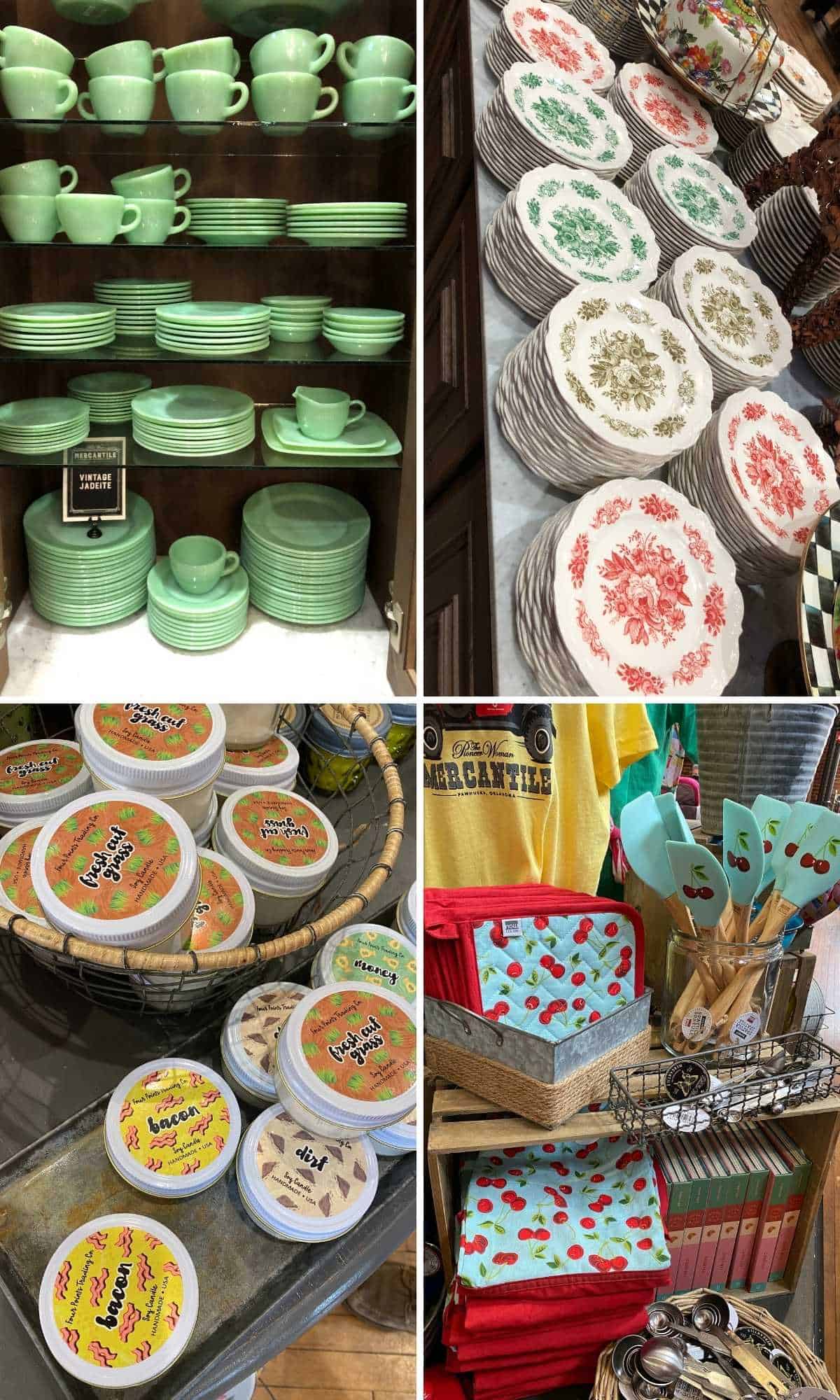 According to Eater.com, they said they serve 6K meals and up 15 thousand people every day.
The article was written in 2017 and I'm sure it's tripled since then.
That blows my mind!
It's so beautiful to walk into this store. You get a warm feeling of home in the air as you take it all in for granted with your eyes wandering from shelf to neatly organized shelf.
Many are filled with Oklahoma-themed items or trinkets that will make any visitor feel at ease upon entering their new favorite spot!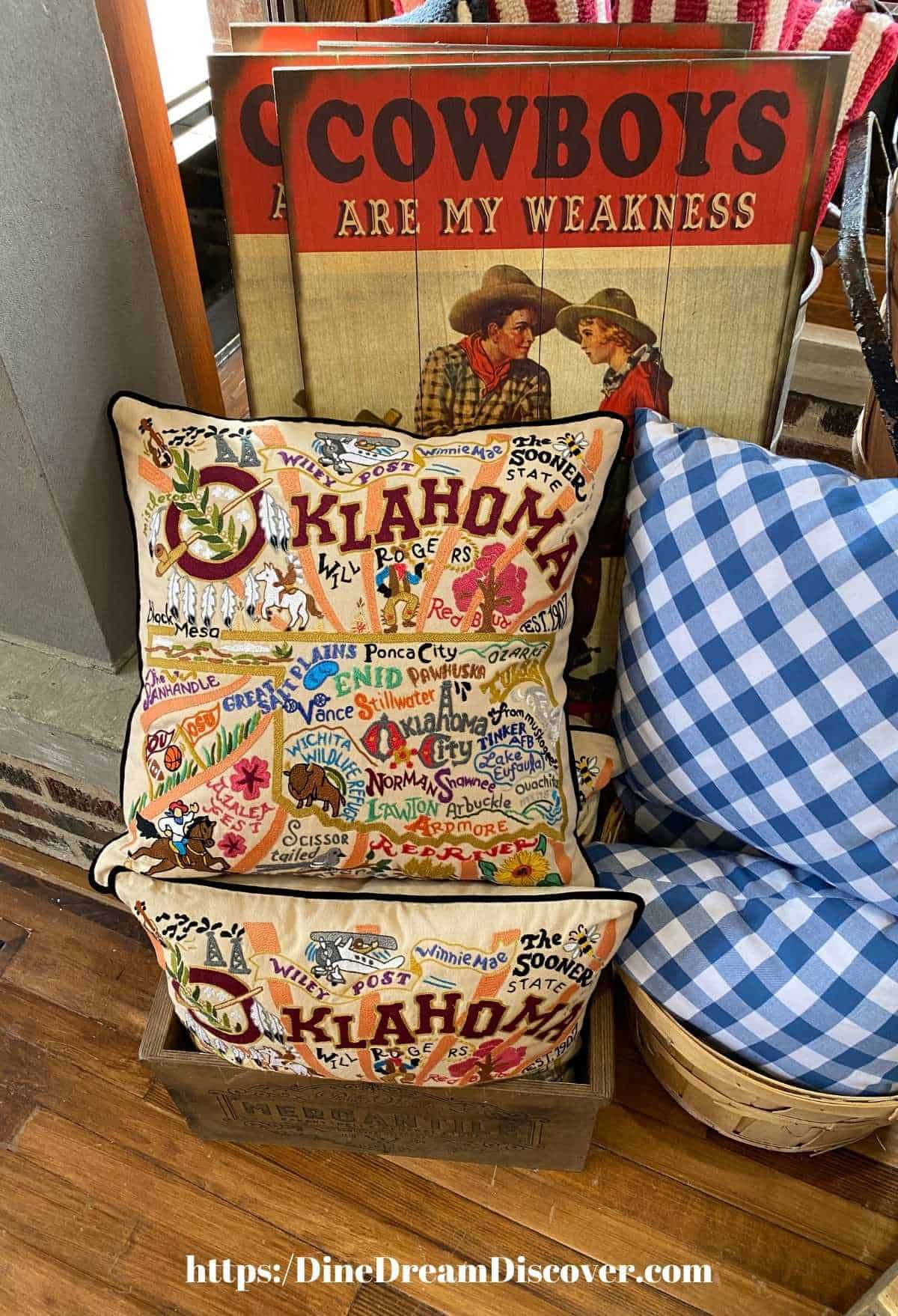 Some things are exclusive only available here but others can be found at Walmart and Amazon.
And don't forget to open all drawers when you're looking around because they also sell some things in them that may interest you even more than what's on display.
If you like candles, she has bacon candles, fresh-cut grass candles, and even candles that smell like gasoline. 😂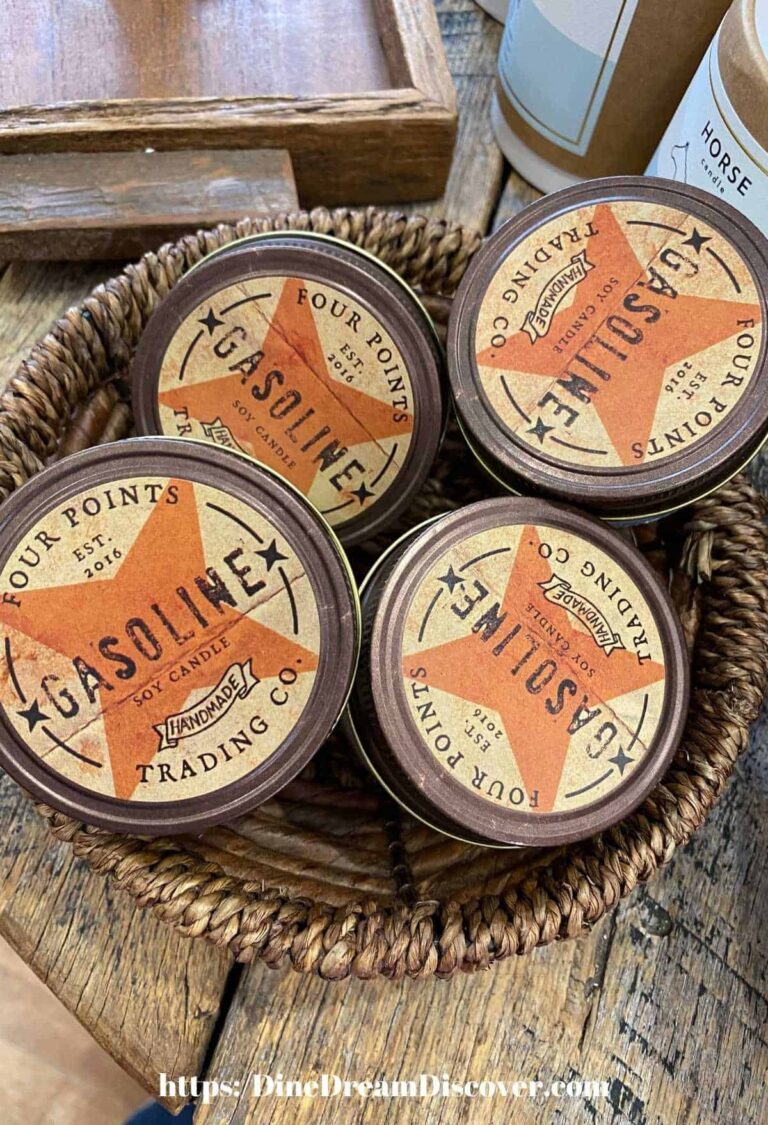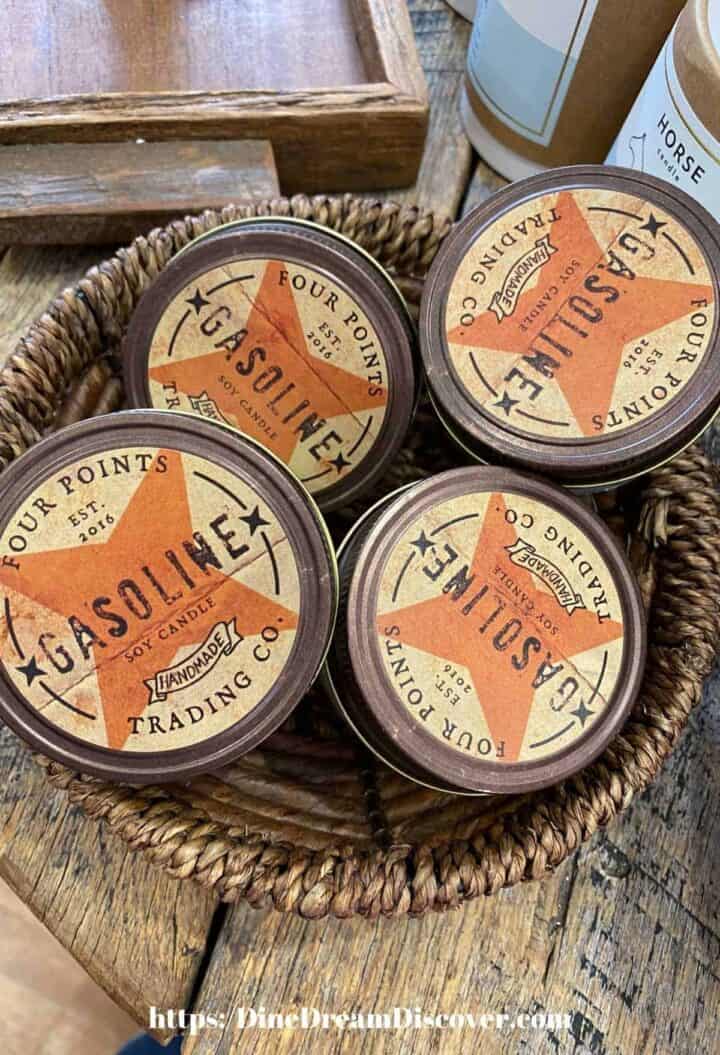 Our First Visit in 2017
The first time we went, it was November of 2017. It was amazing as they had all their Christmas decorations on display.
We took our 5th wheel and spent the night at the Settle Inn RV Park which was located right down the road on the outskirts of town.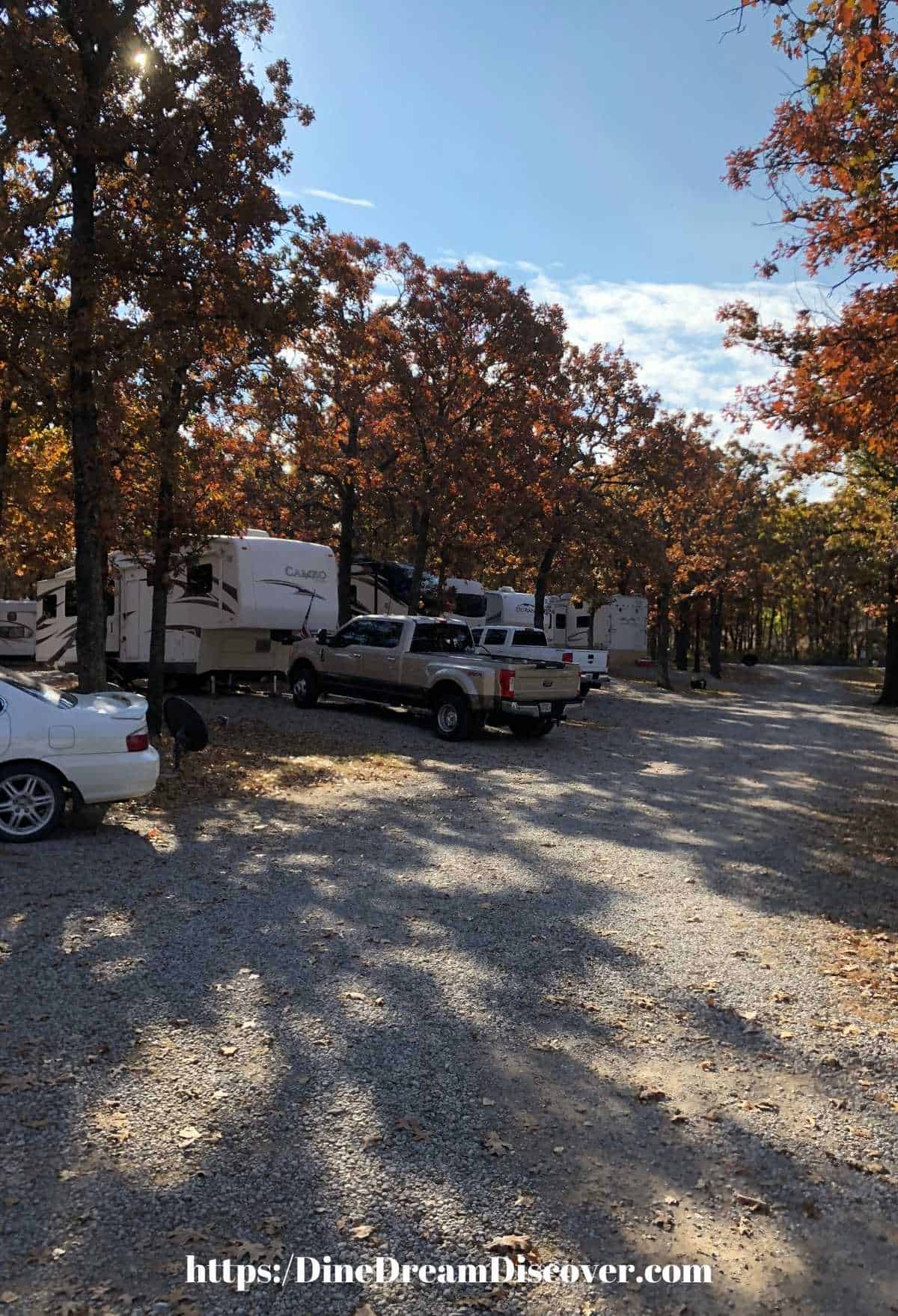 Since we were new to full-time RVing, my husband stayed in the car with the dog, rather than leaving her in the 5th wheel by herself. I went inside the Merc by myself to look around.
When I walked in, I couldn't believe my eyes. I was in awe. The place was huge!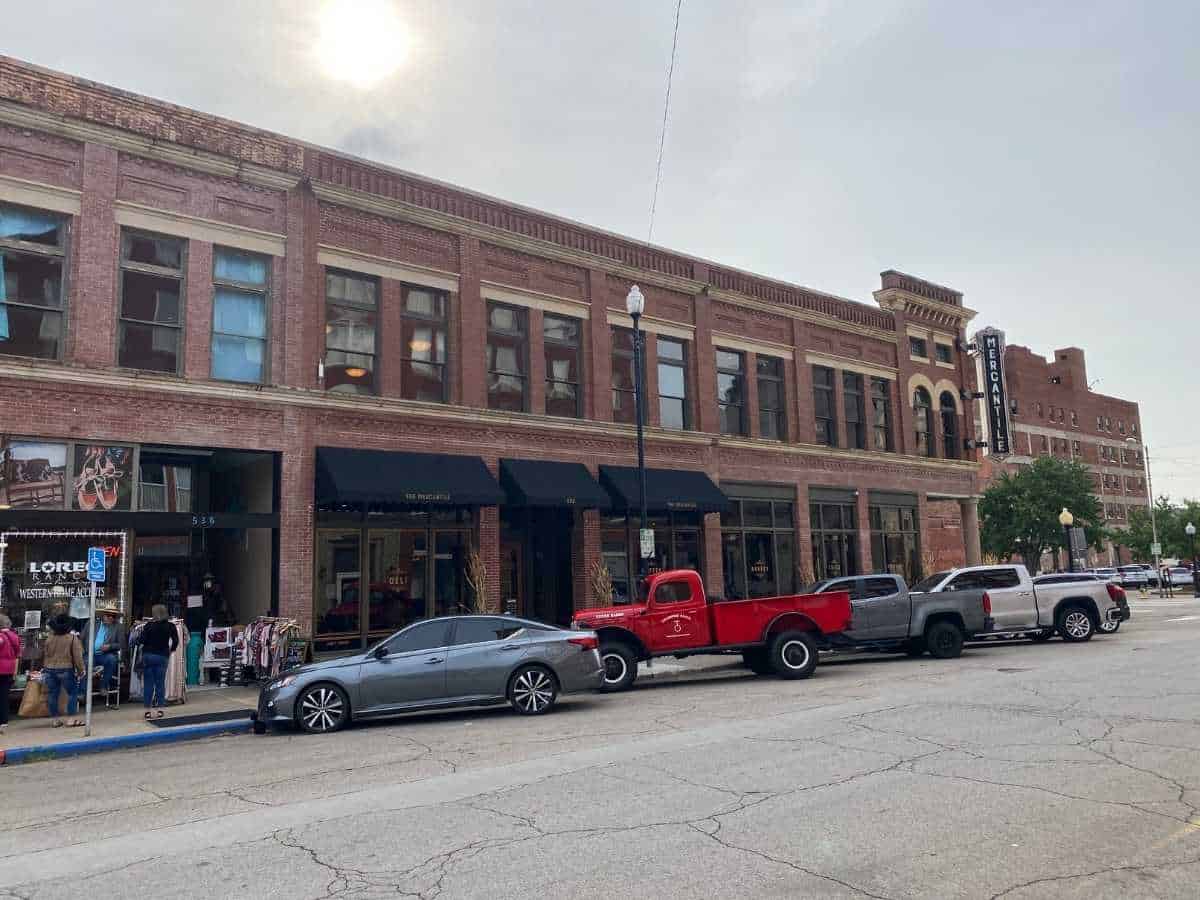 Back in 2017 (pre-pandemic), they had a Grab-n-Go menu so I was able to grab dinner for my husband and me to take back to the RV with us.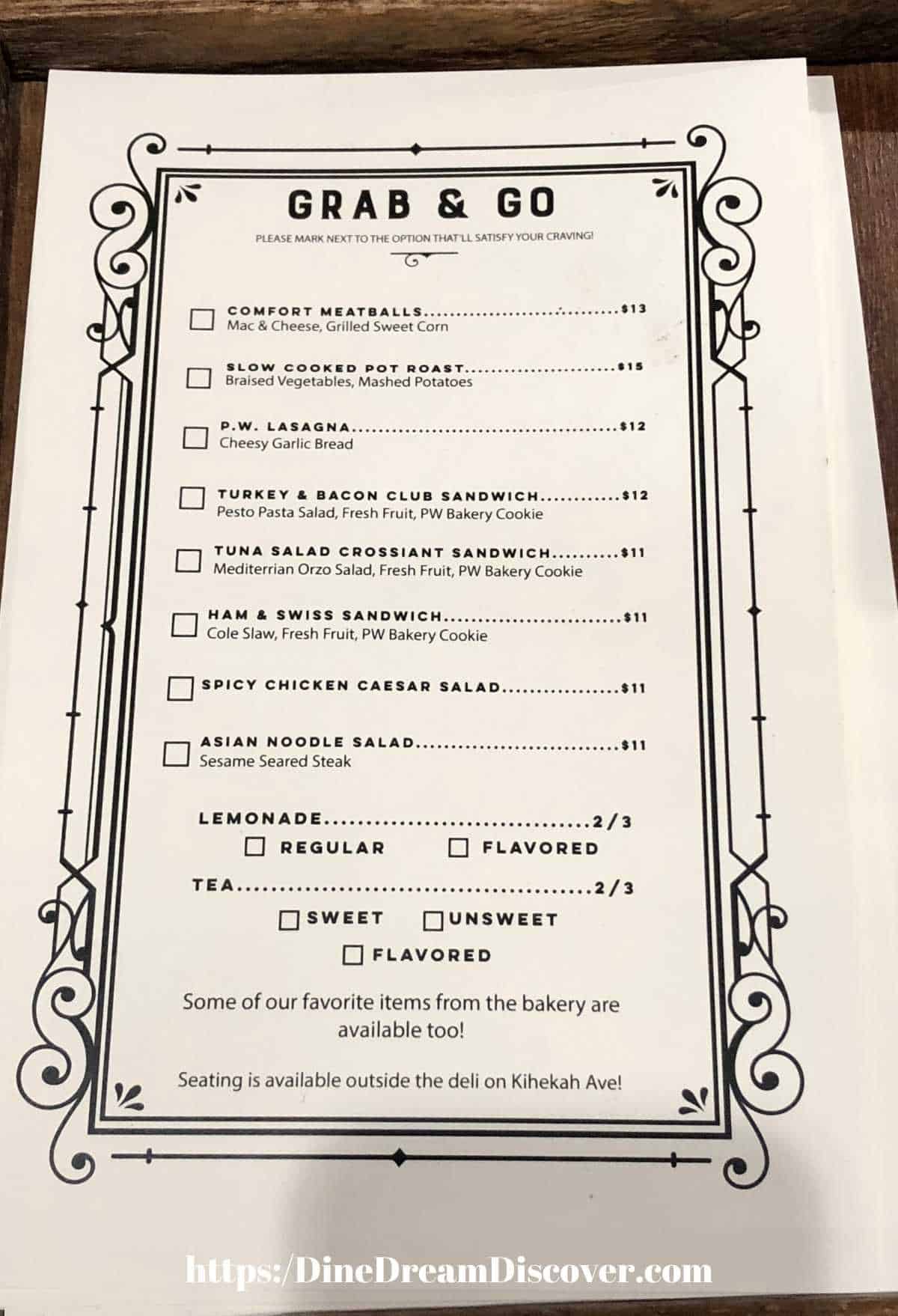 The food was phenomenal, to say the least.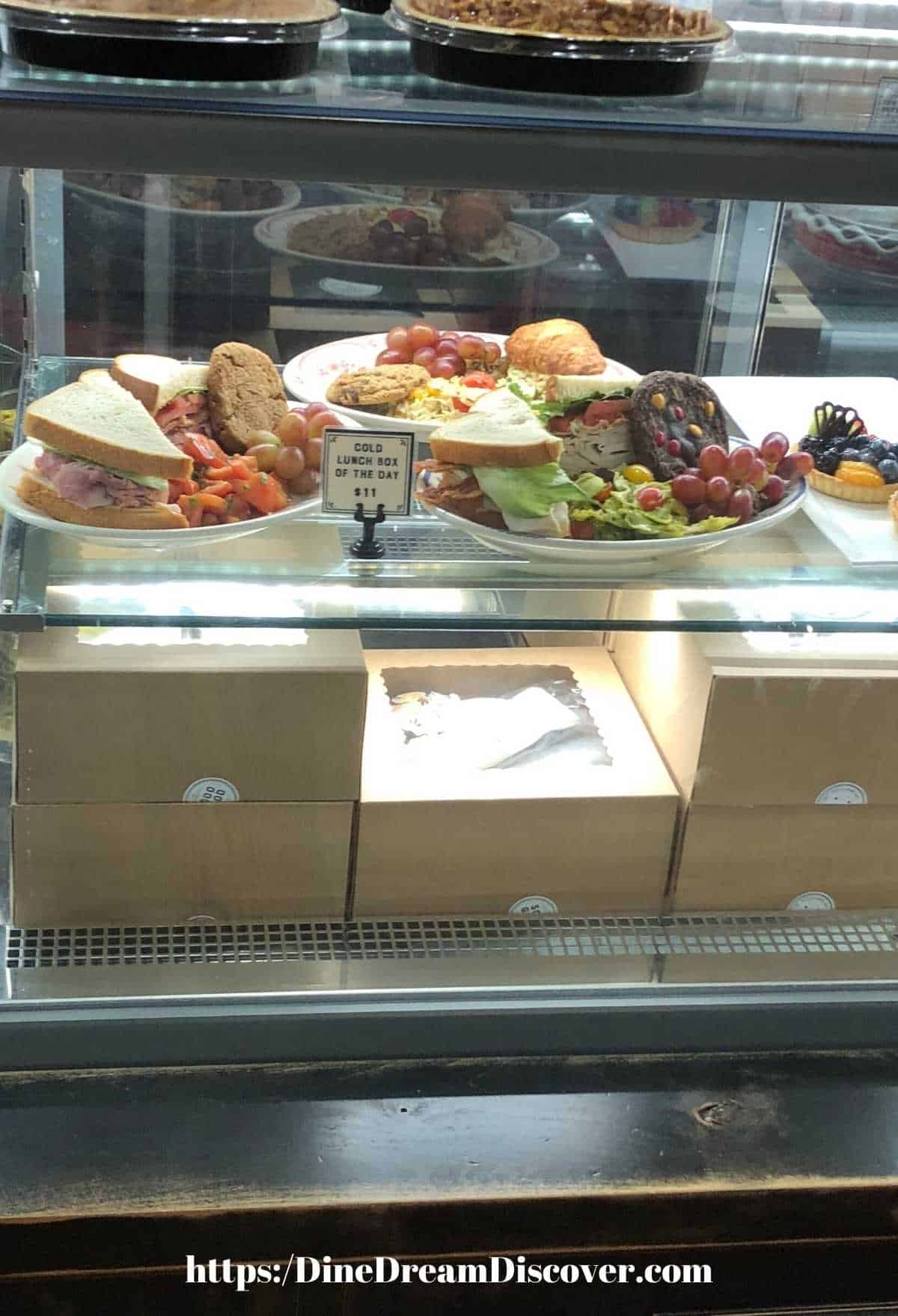 We had ordered a Slow-Cooked Pot Roast dinner and the piled high Ham and Swiss Sandwich.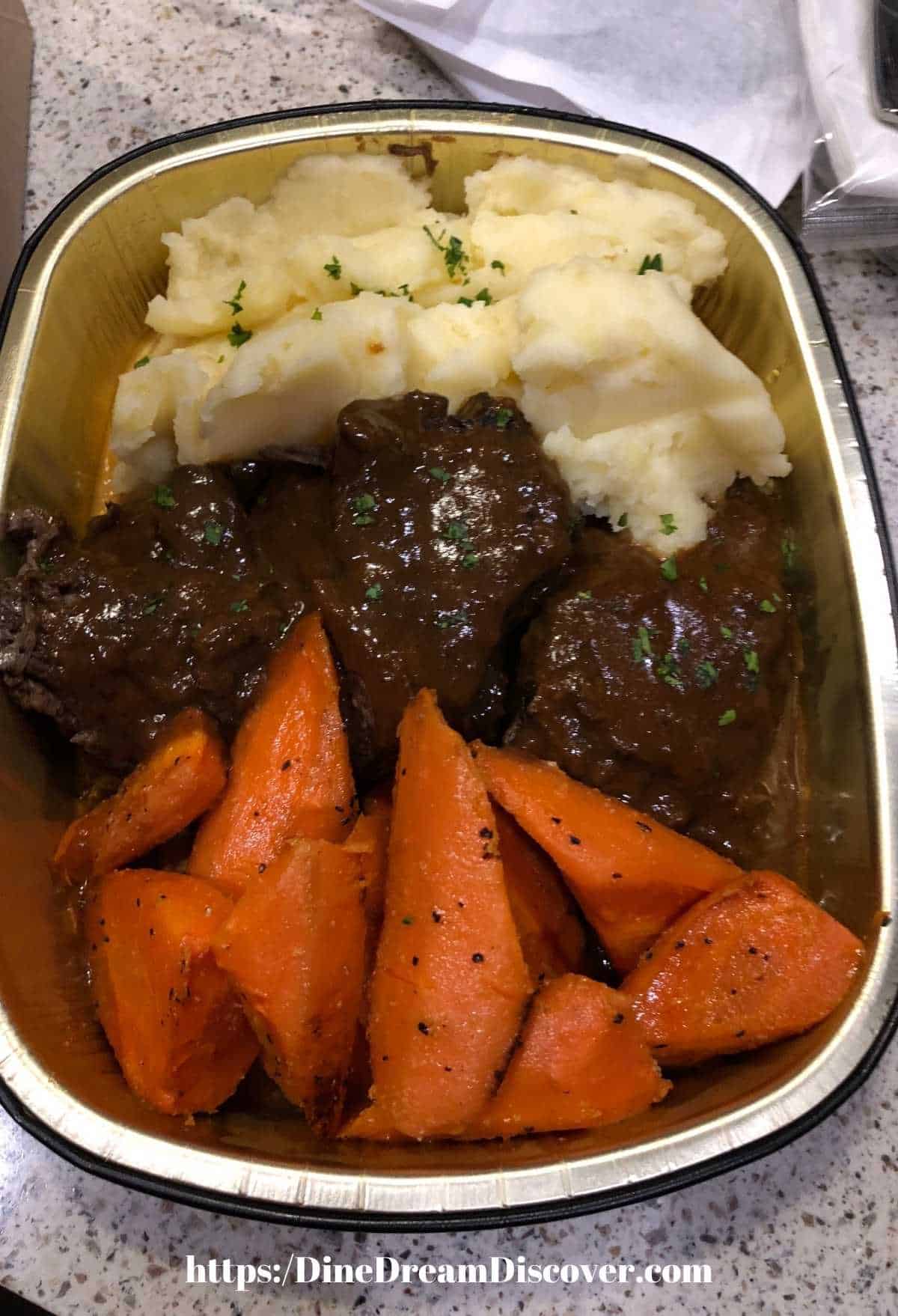 Can you say WOW!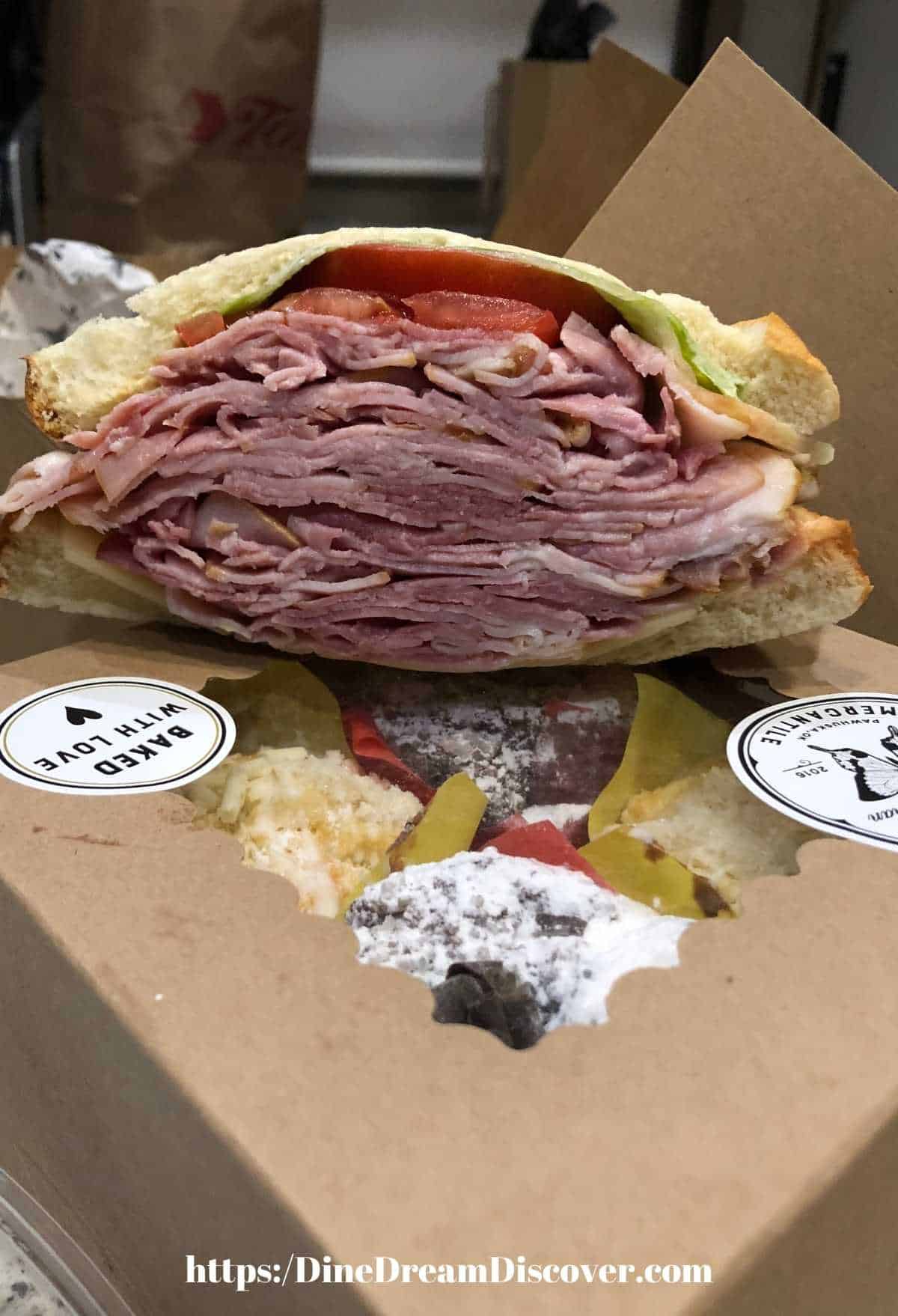 I was hoping they had the same menu items, but unfortunately, they didn't.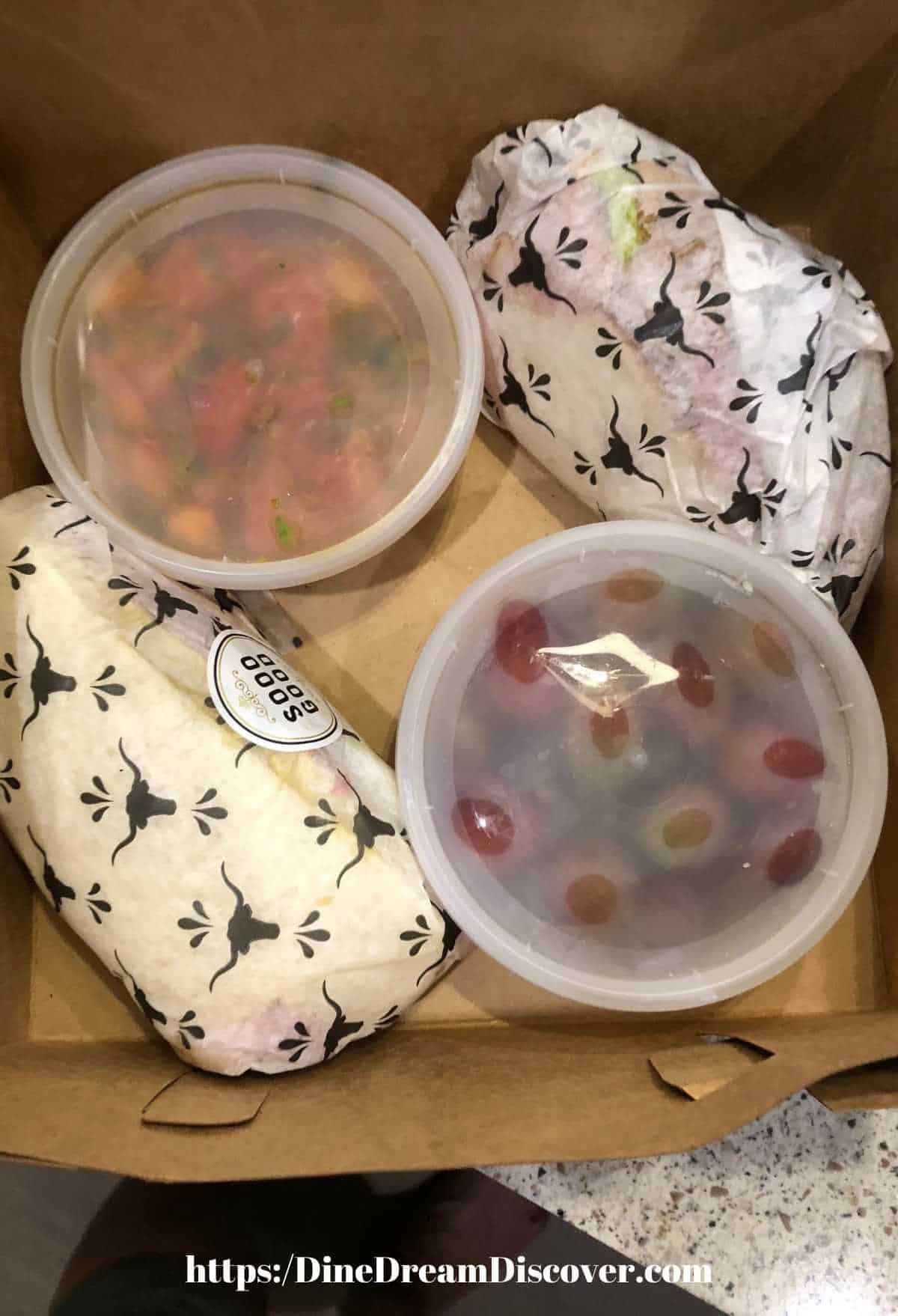 The apple dessert was awesome!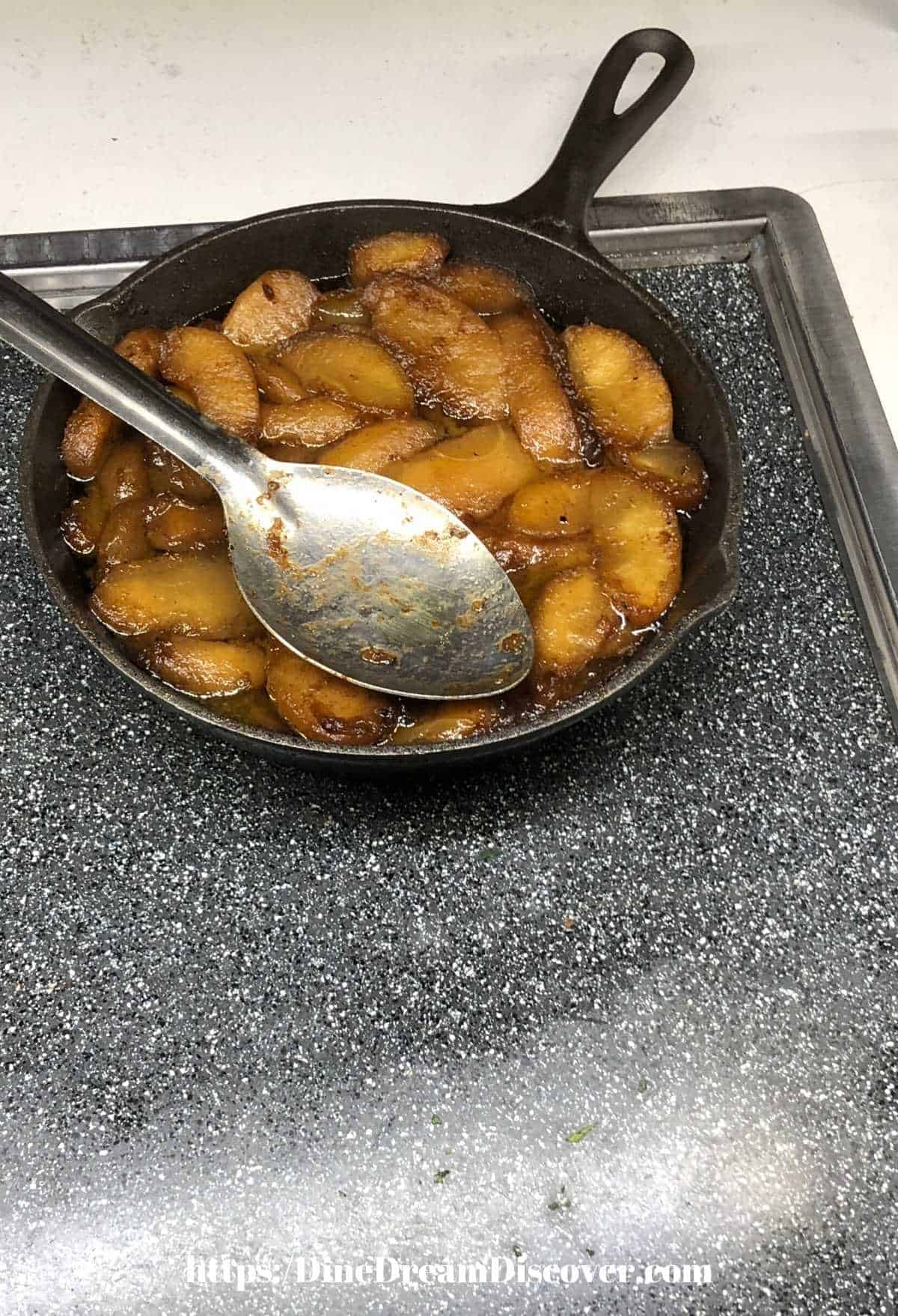 However, the food we ordered this time...did not disappoint!
Pioneer Woman Restaurant
The restaurant serves breakfast, lunch, and dinner. Breakfast is served from 7 am to 11 am.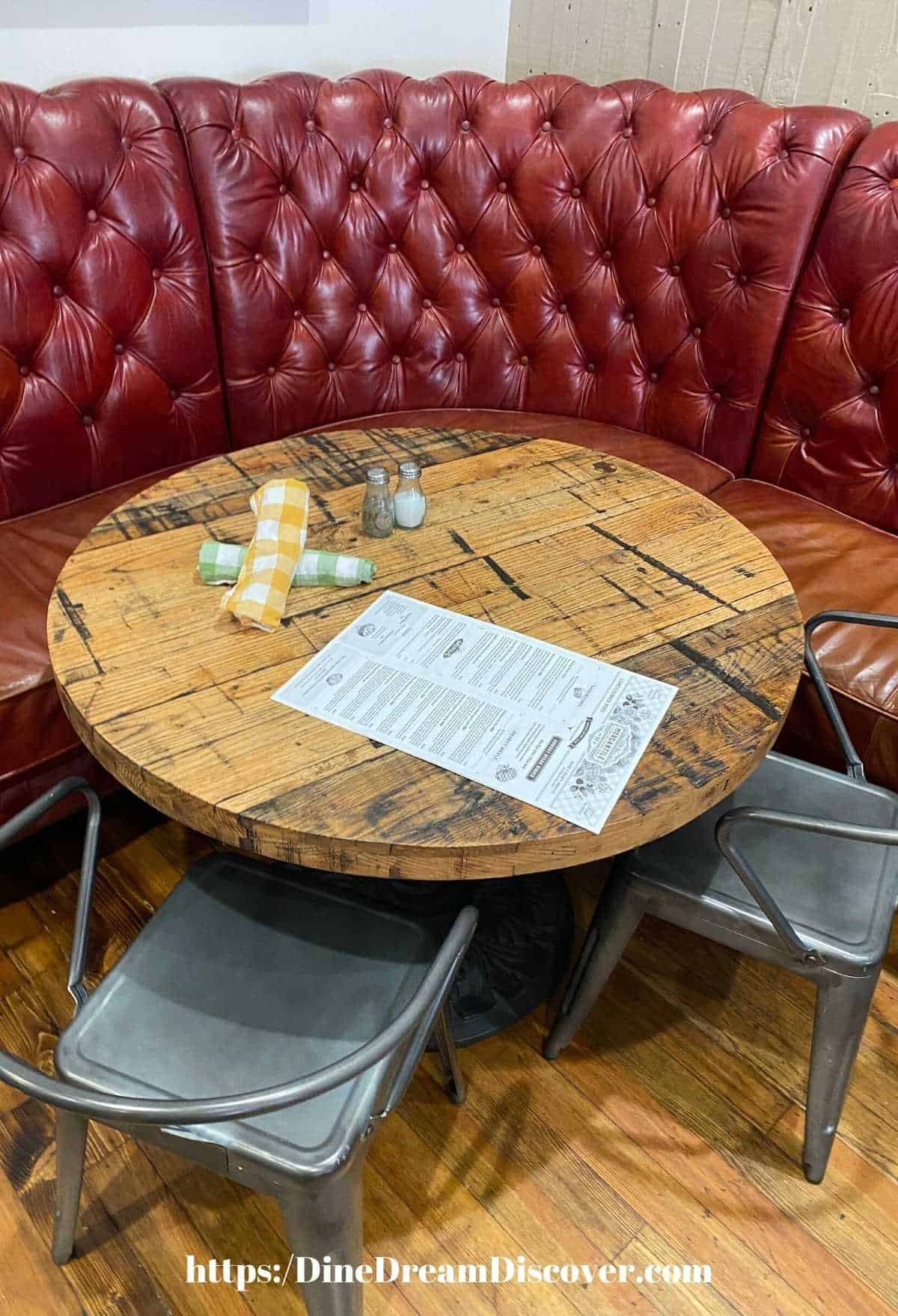 Lunch and dinner are served from 11 am to 7 pm when they close.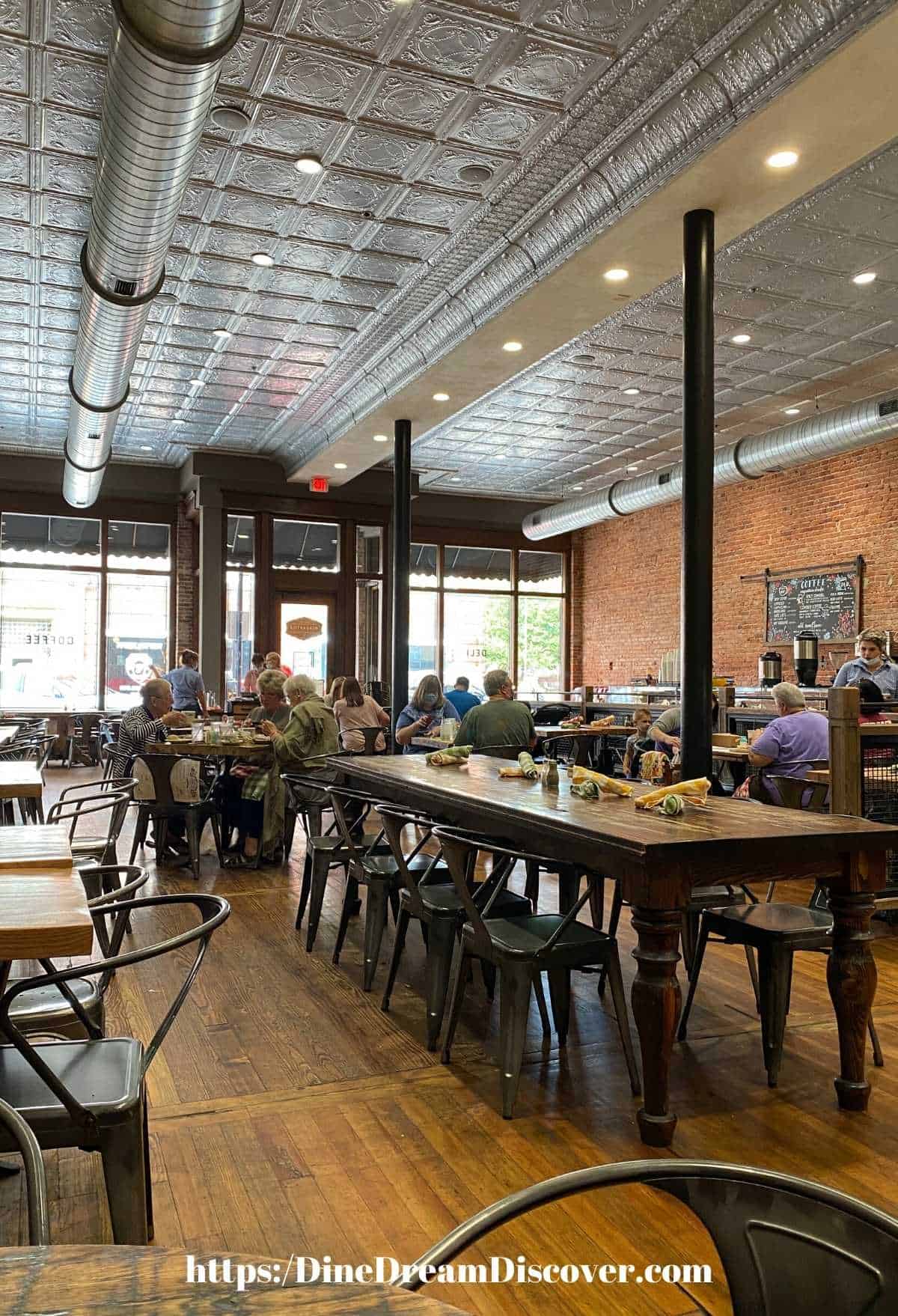 We arrived around 10 am and I had my heart set on lunch so we decided to check out the store first.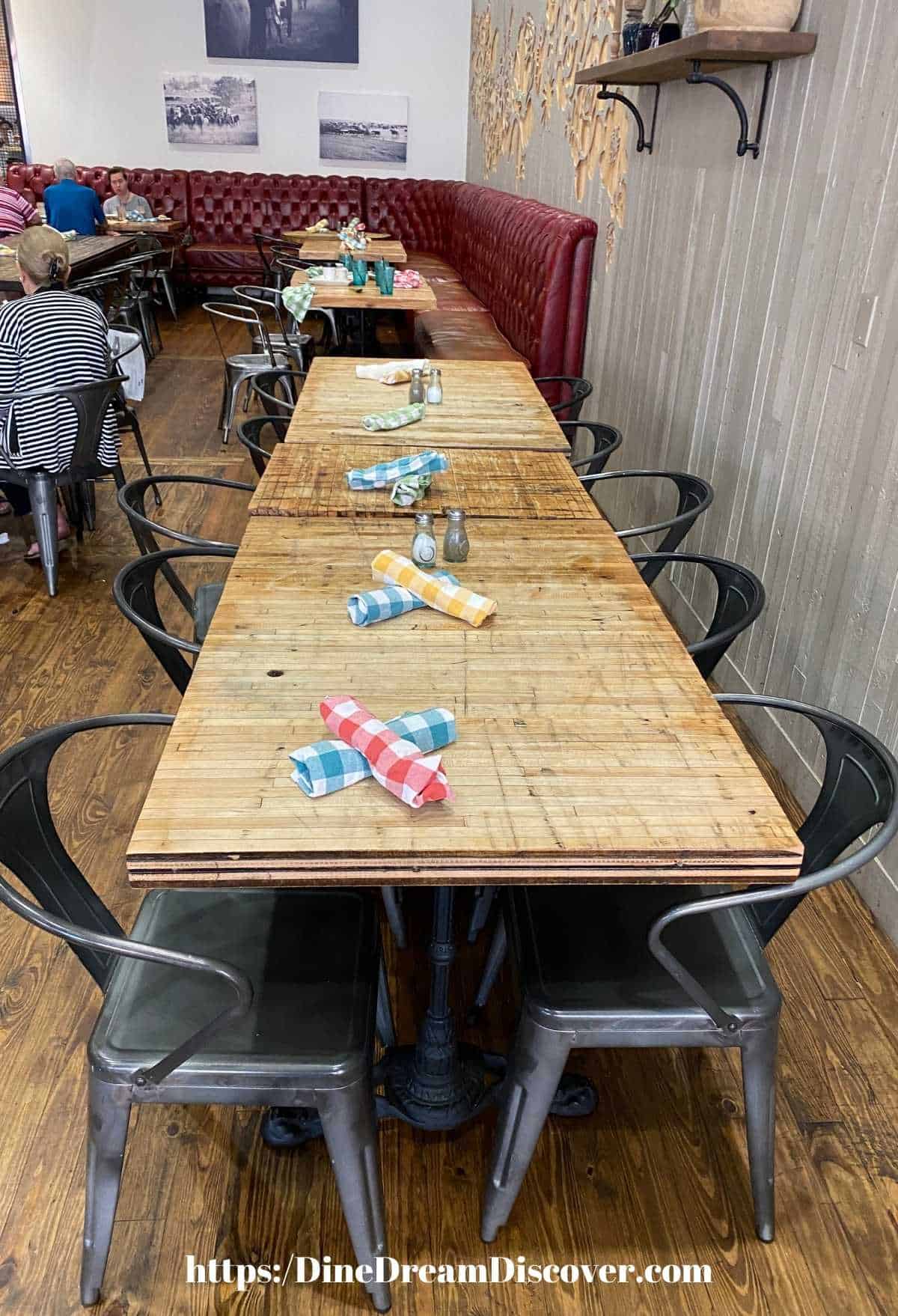 I've seen the lines around the building in pictures so we asked about getting on the lunch as soon as we arrived. However, they don't start taking Pioneer Woman reservations for lunch until 10:45.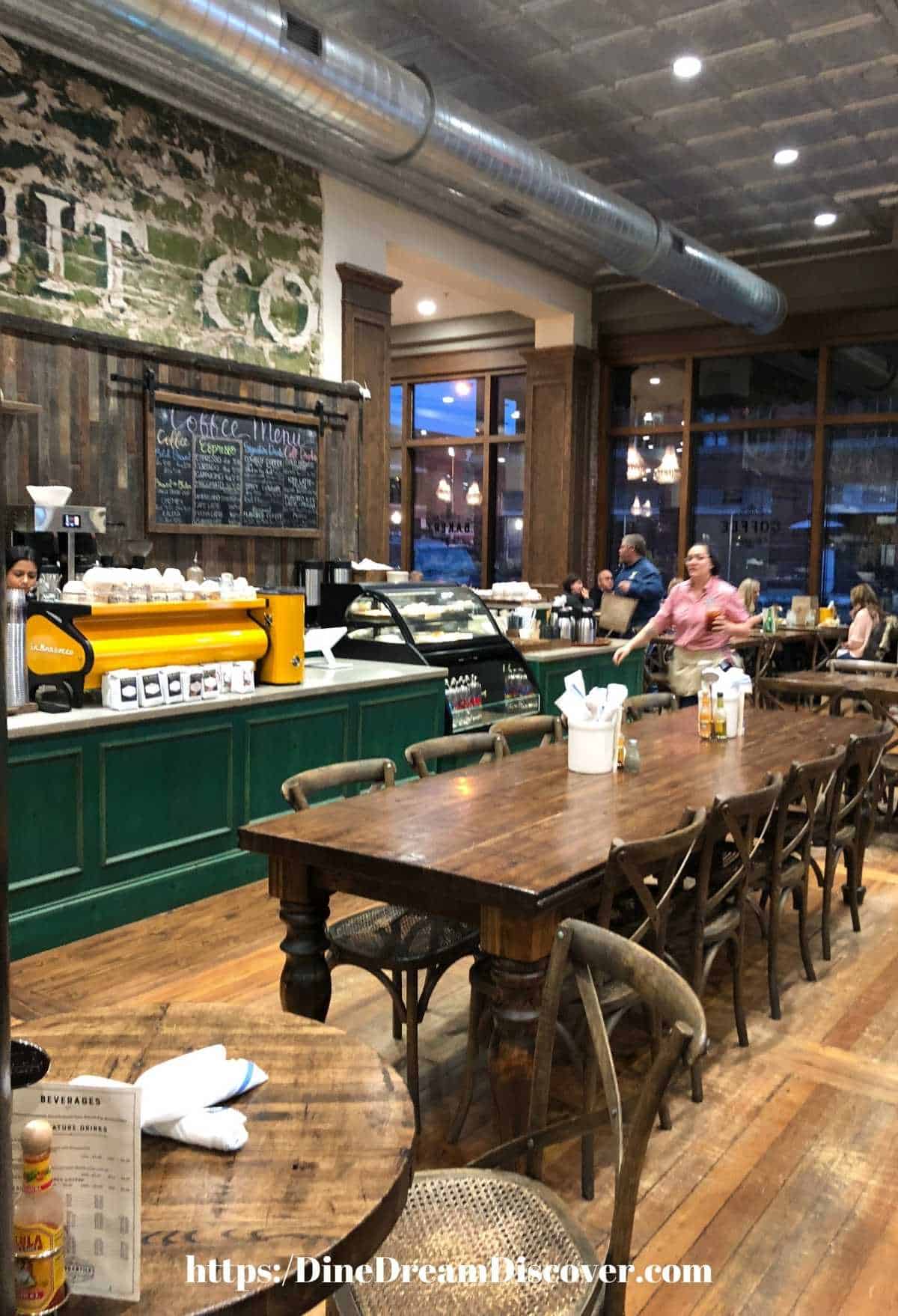 We decided to go upstairs to the Bakery and check it out also. Big mistake. 😂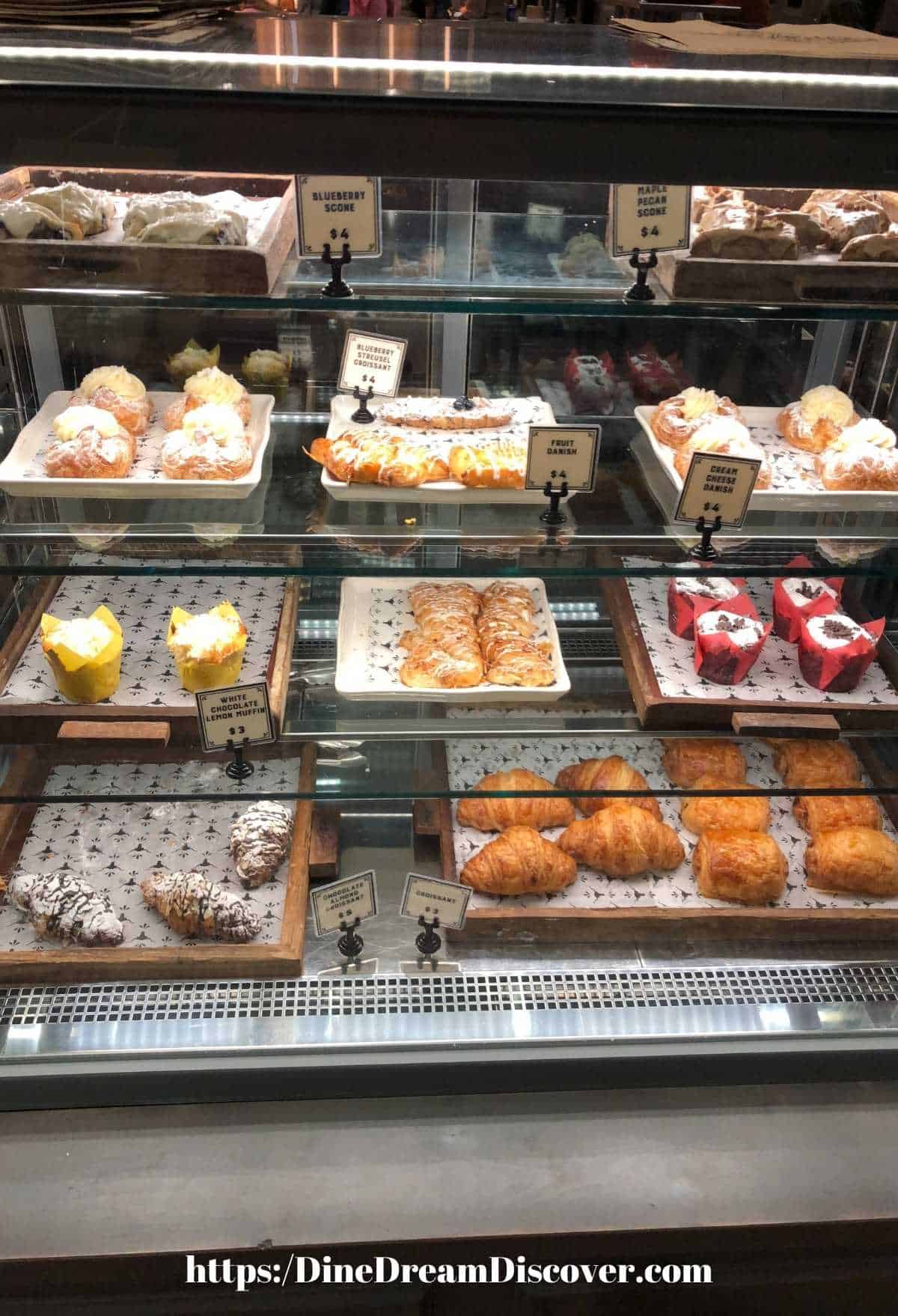 Bakery at the Pioneer Woman Mercantile
The bakery is located on the second level and is a perfect place to enjoy your favorite treat.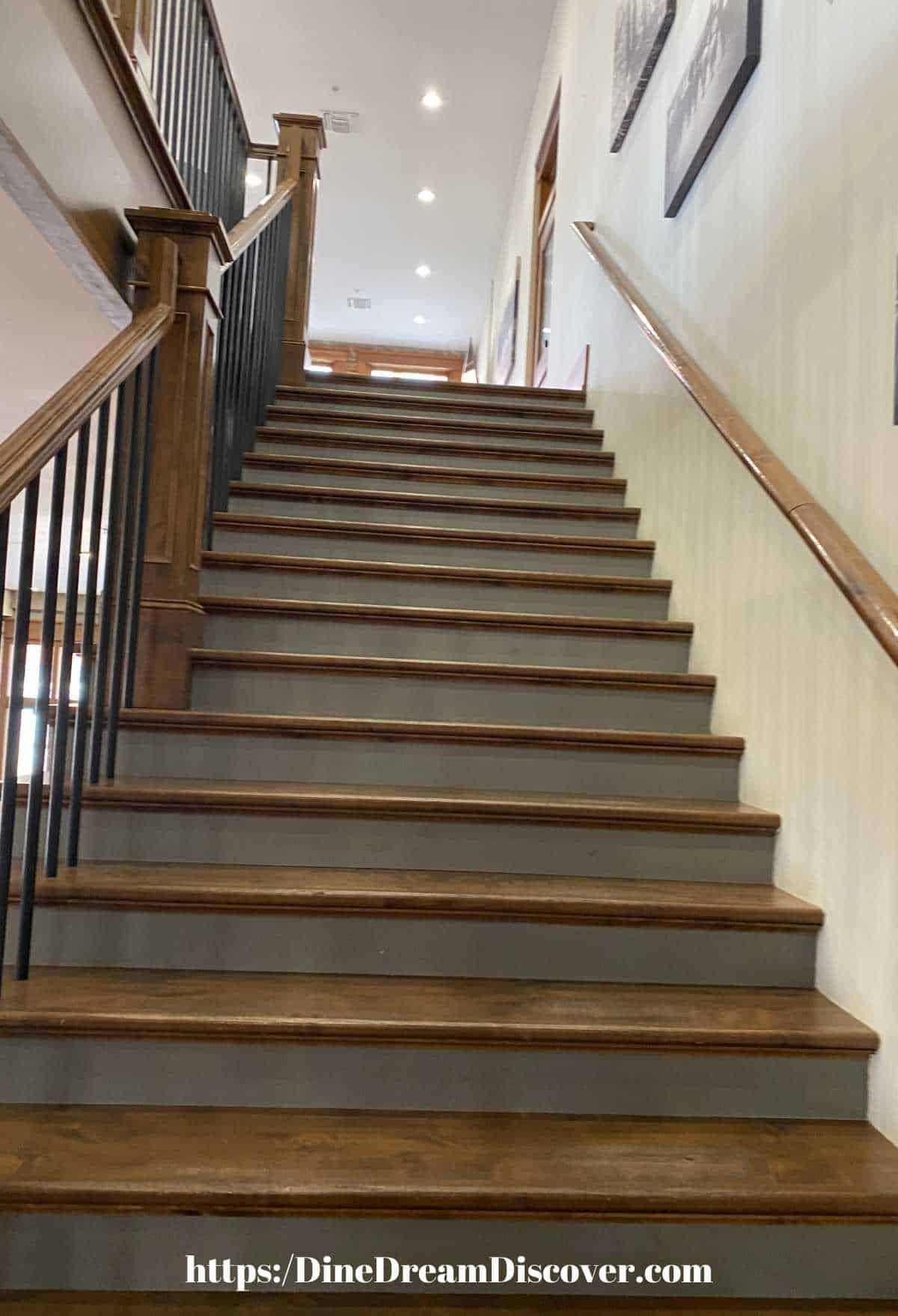 There is an elevator around the corner for those that don't know (I did not know) as it isn't posted anywhere.
We actually saw it after the fact when we went to the restrooms on the first level.
On the second floor, there are tables where you can sit and enjoy your baked goods and good old-fashioned Pioneer Woman Cowboy Coffee.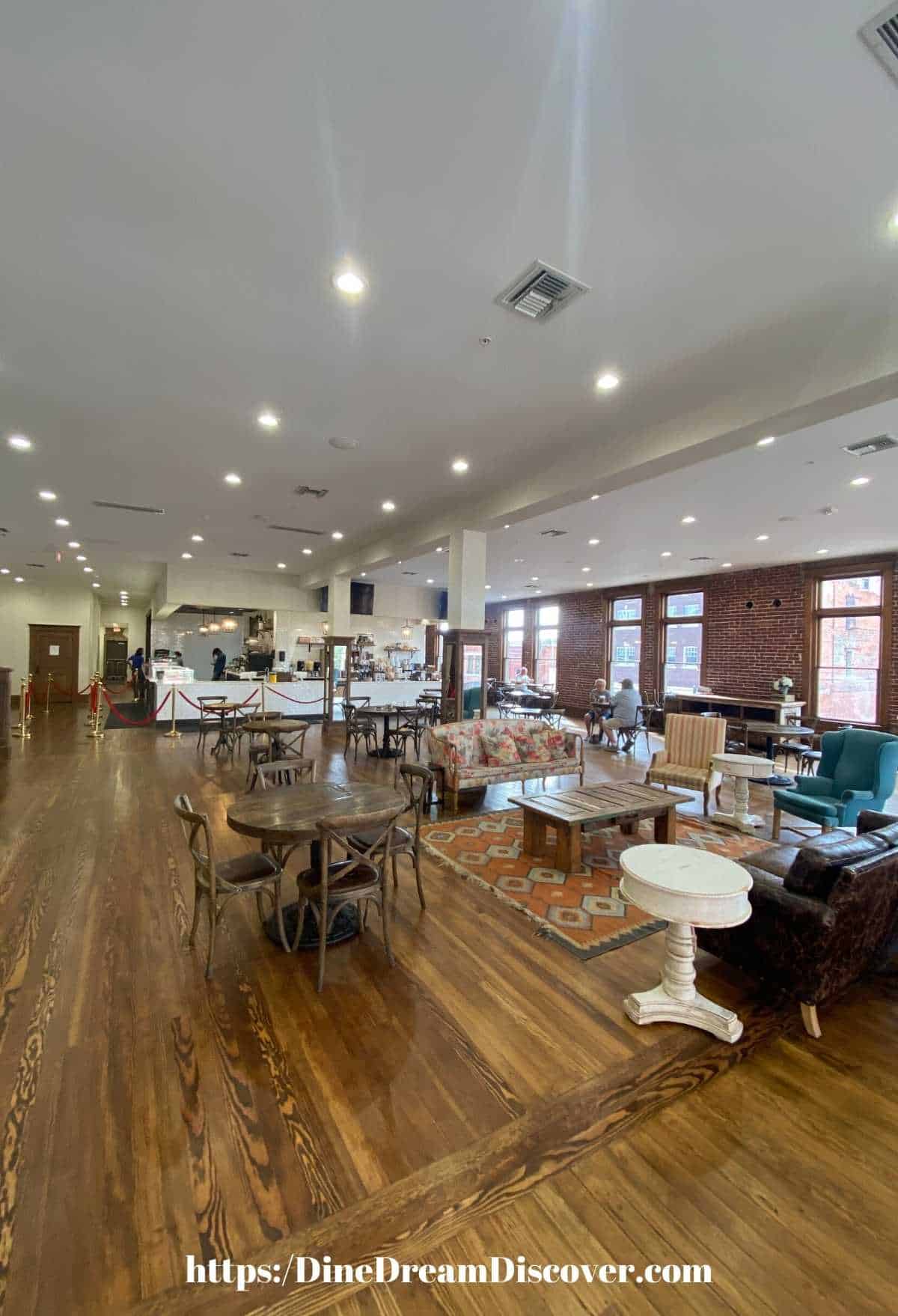 You can find ample room for sitting and just relax and spend the day if you'd like.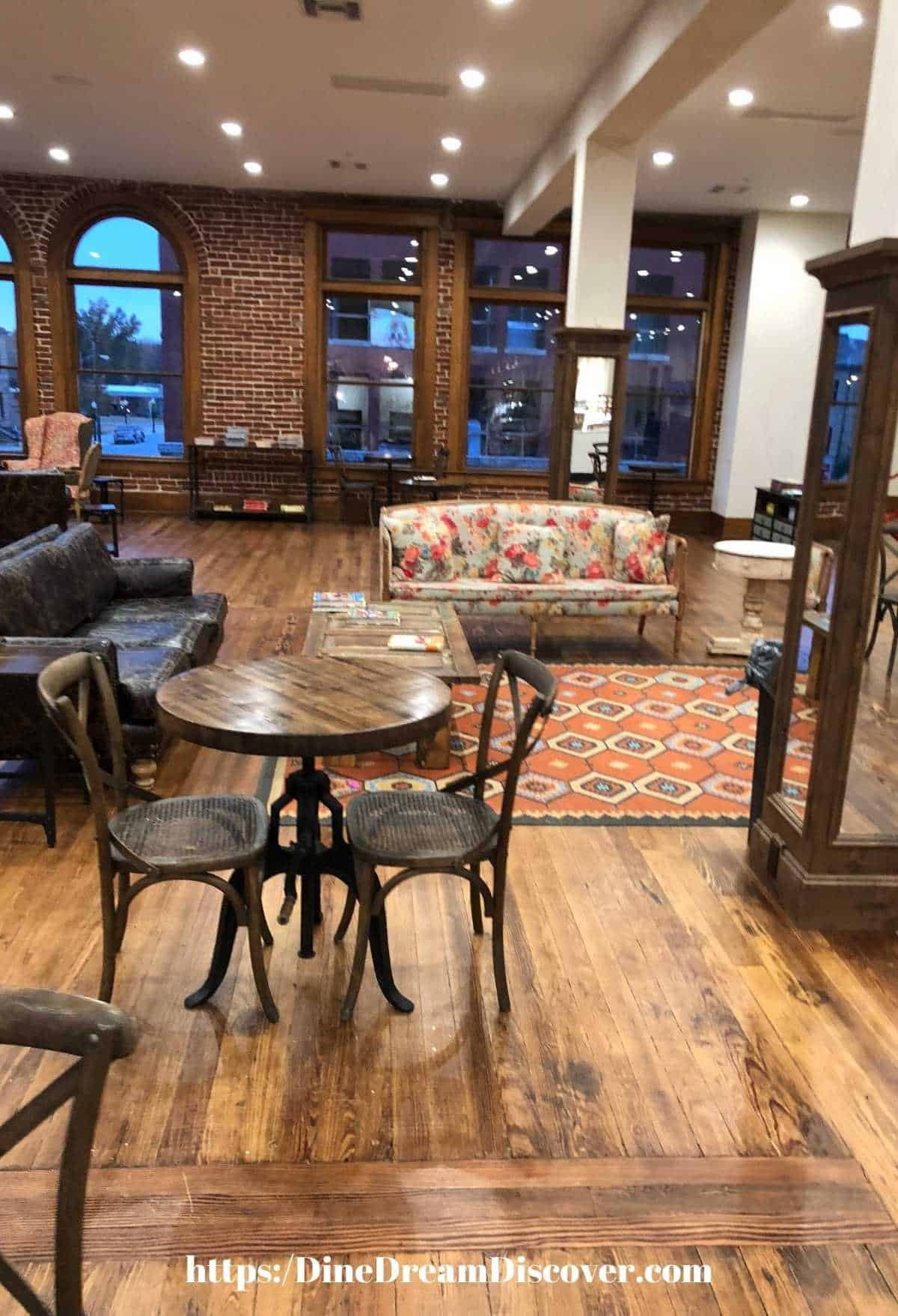 There are also bathrooms upstairs as well. Be sure to check out the bathrooms. They are just as awesome as the rest of the place. lol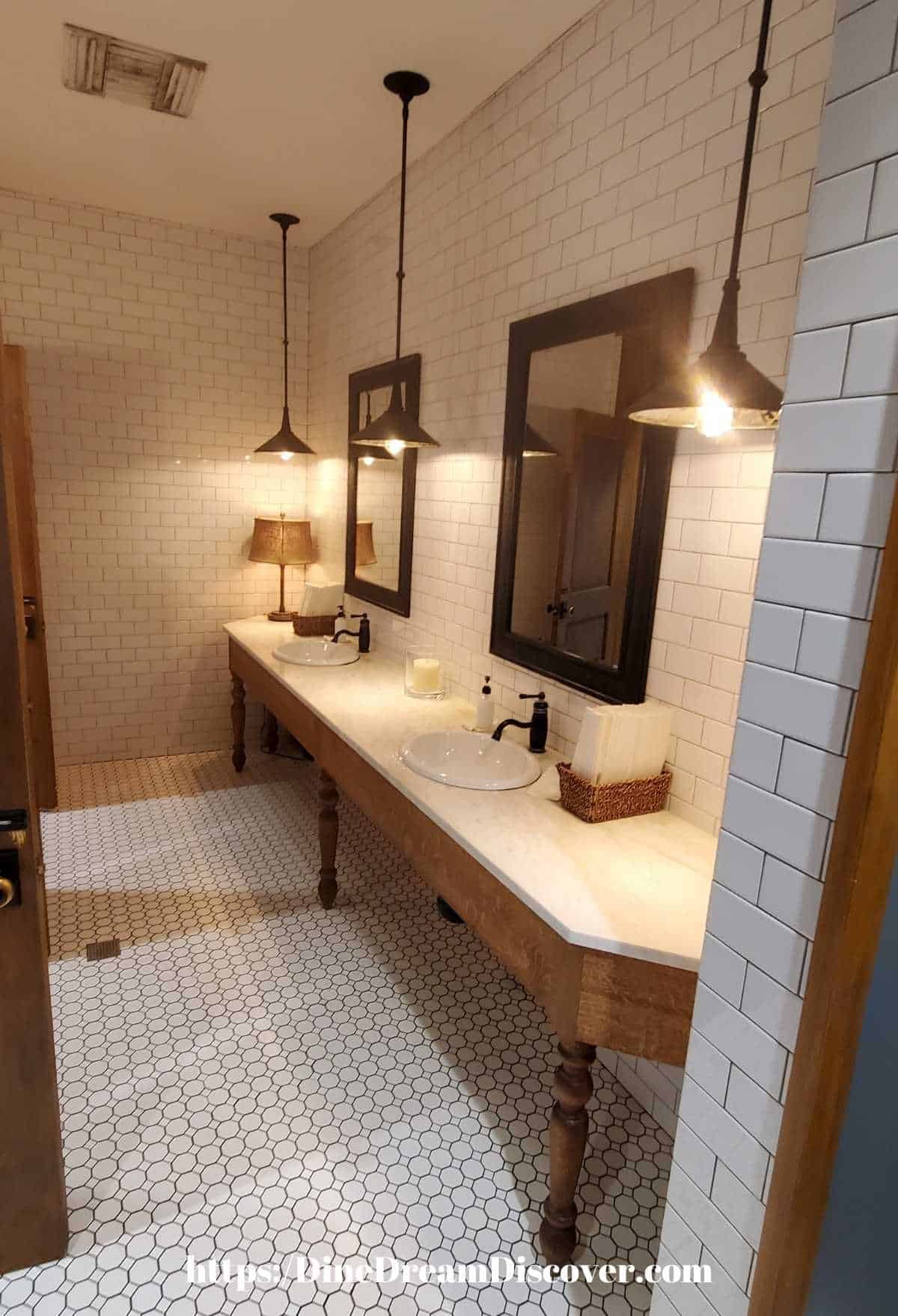 TVs are on with pictures of the farm animals and home life on the Drummond Ranch.
There are so many delectable baked goods, that you won't know which one(s) to choose.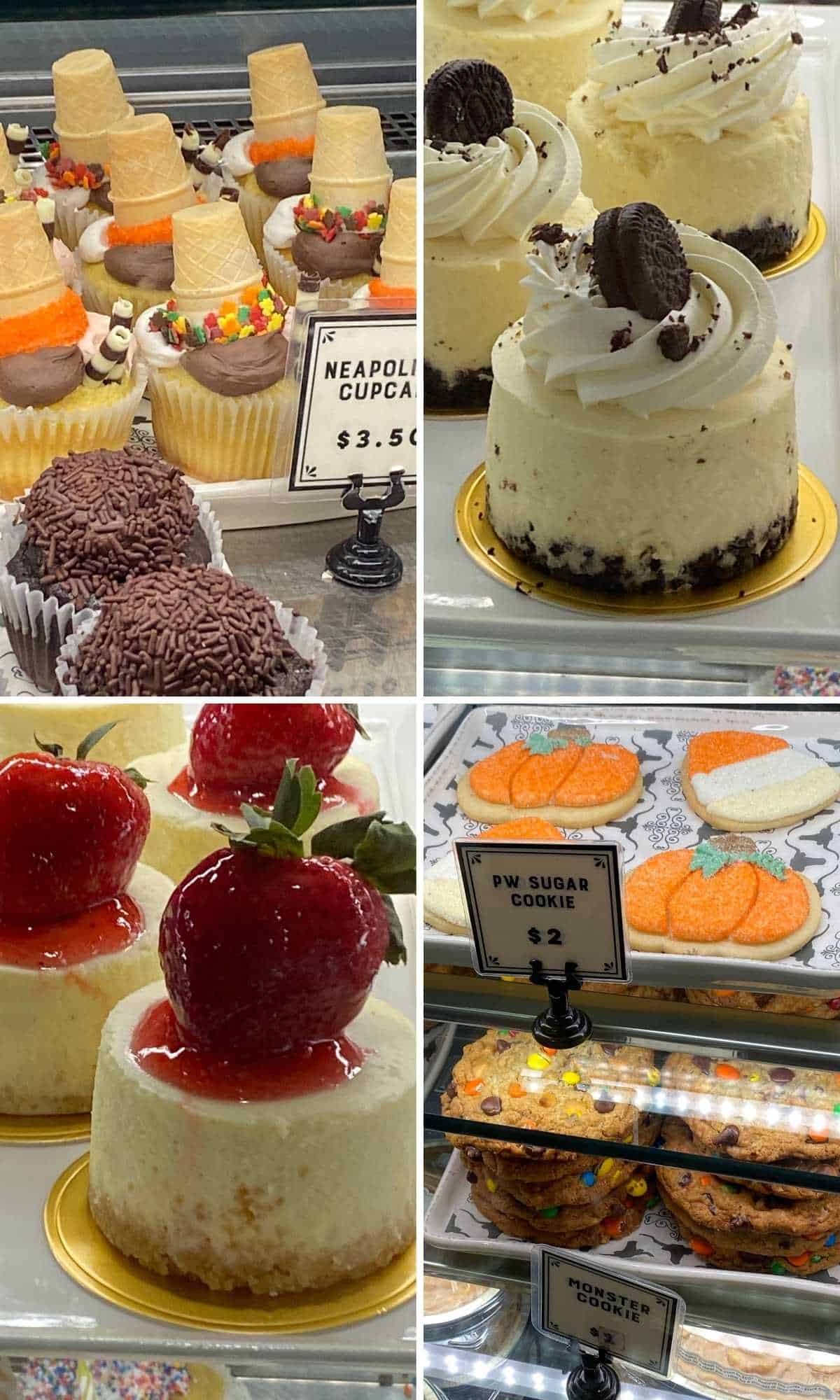 It is a mistake though, to go BEFORE you plan on going to lunch. 😂
We ordered the Apple Danish and the last Strawberry Cream Cheese Danish as well as a Cowboy Coffee.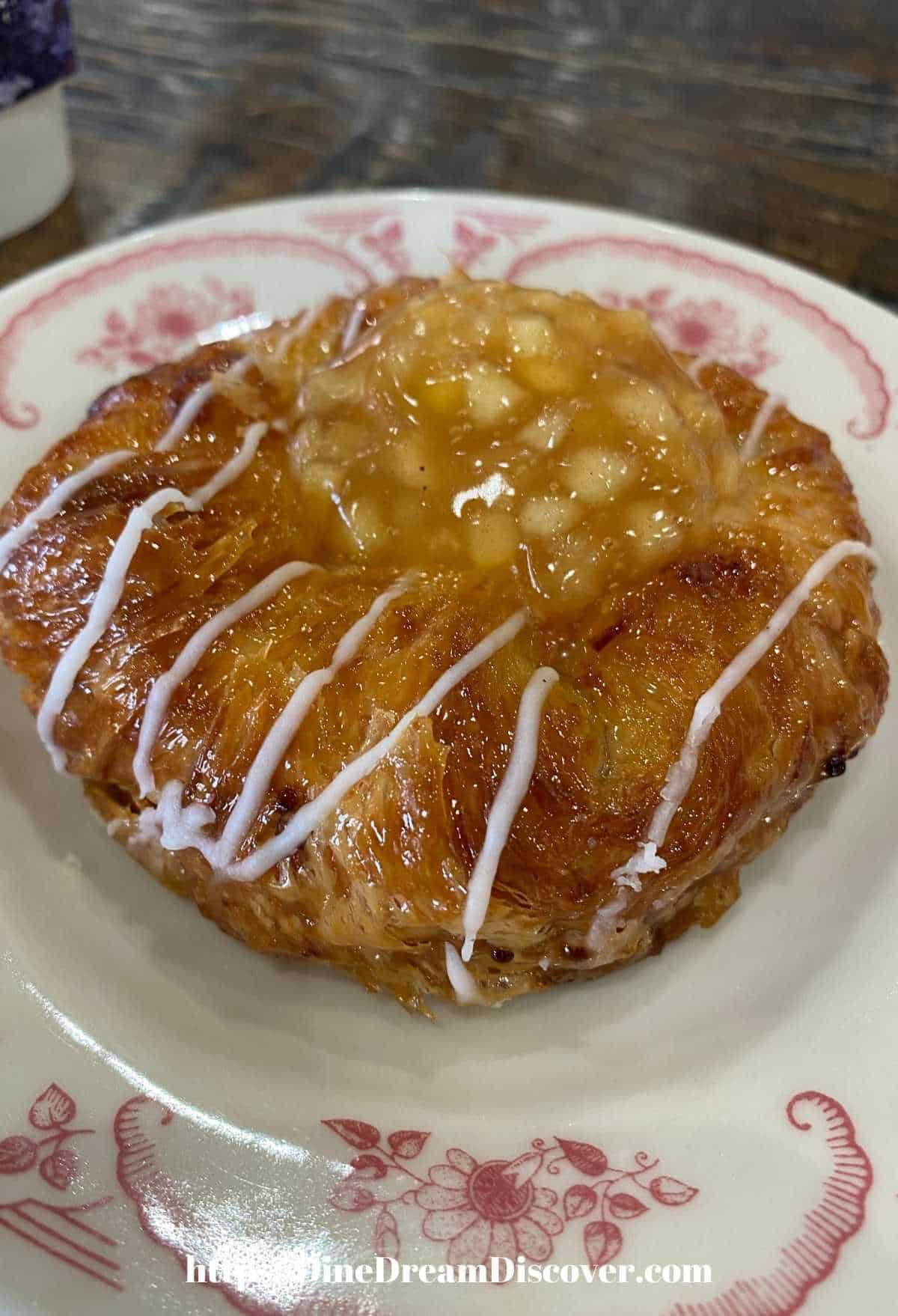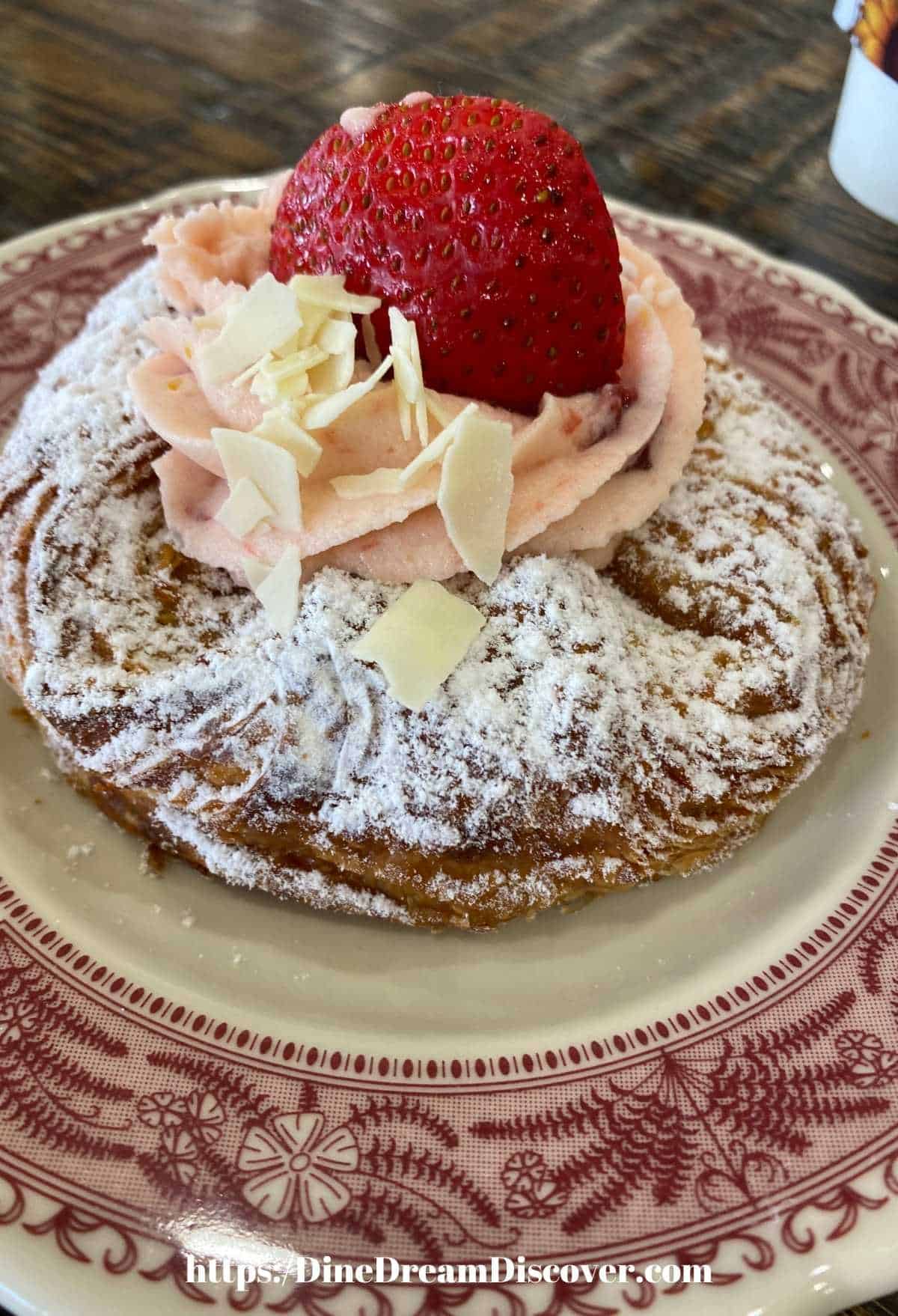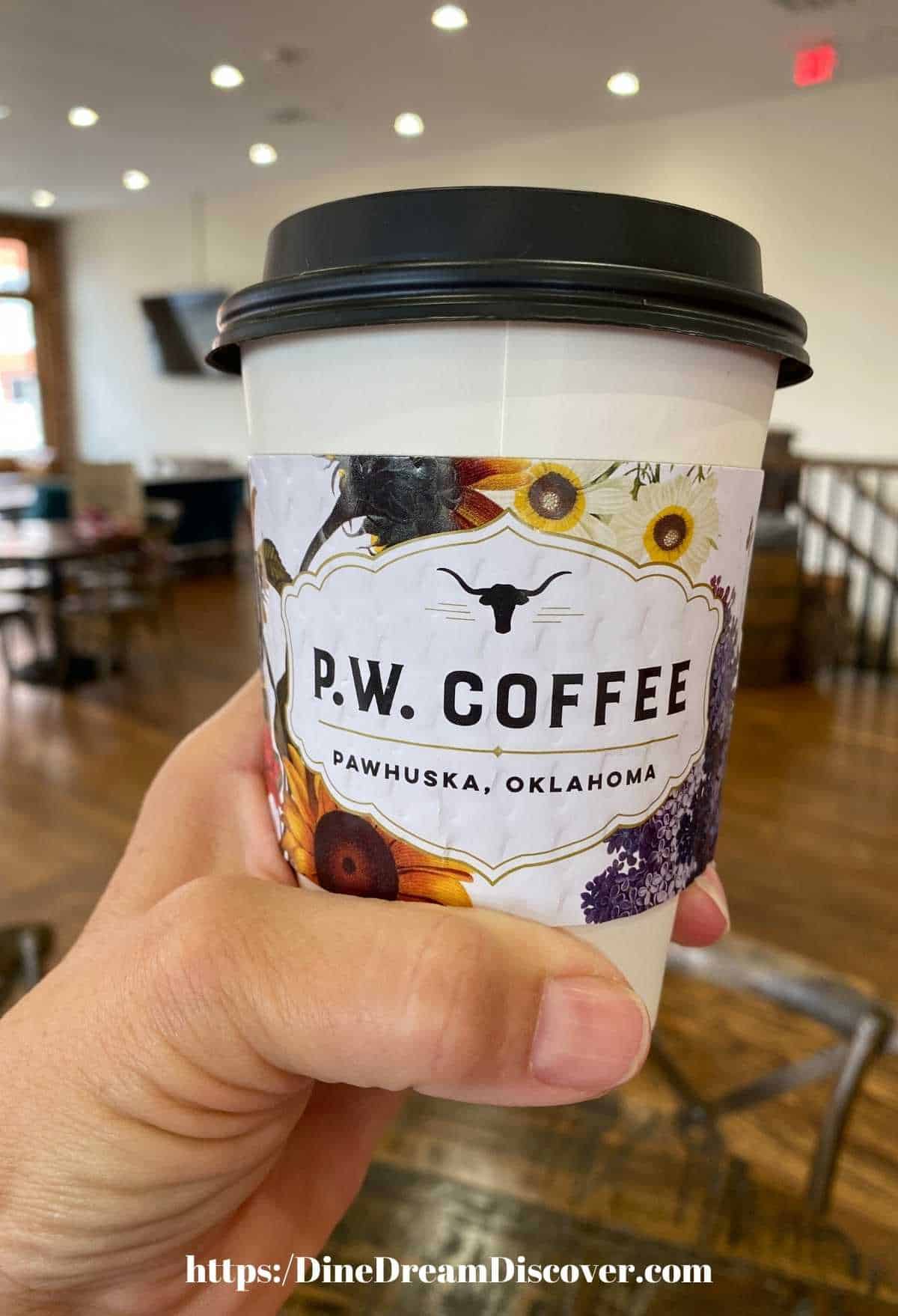 When I walked through to take some more pictures, a few more things caught my eye, like the Pumpkin Cheesecake Muffin, White Chocolate Lemon Muffin, and Chocolate muffin.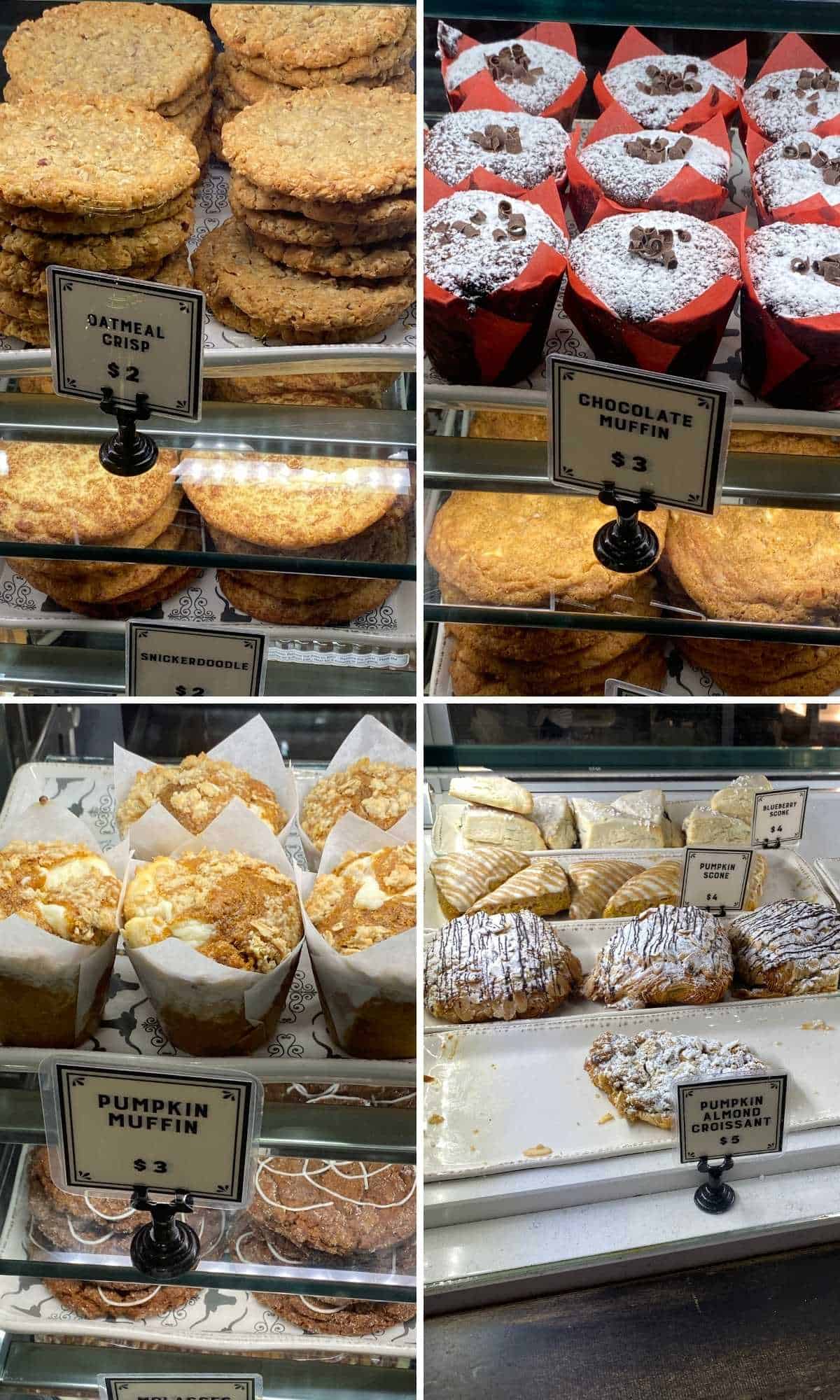 I took a box of muffins home.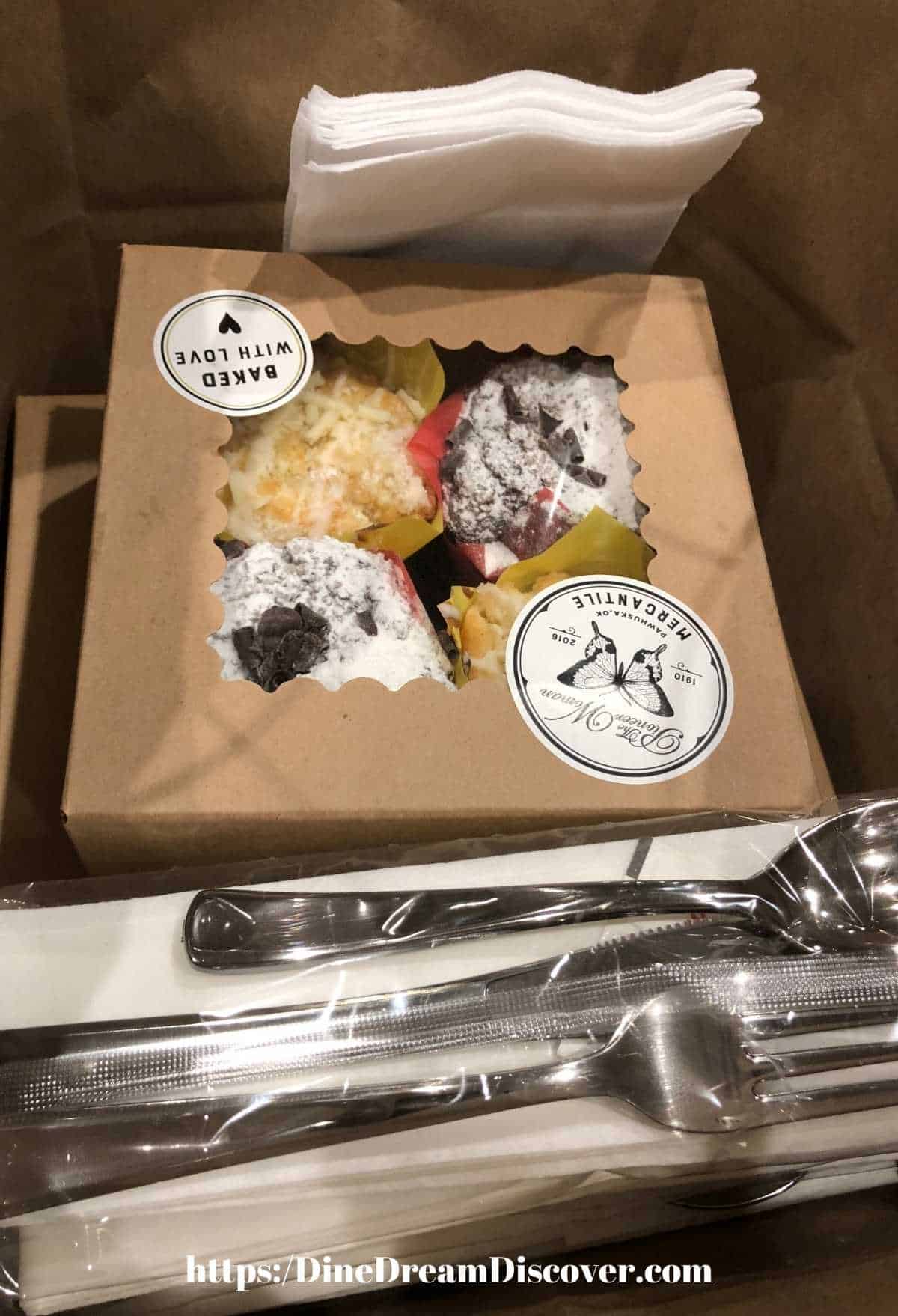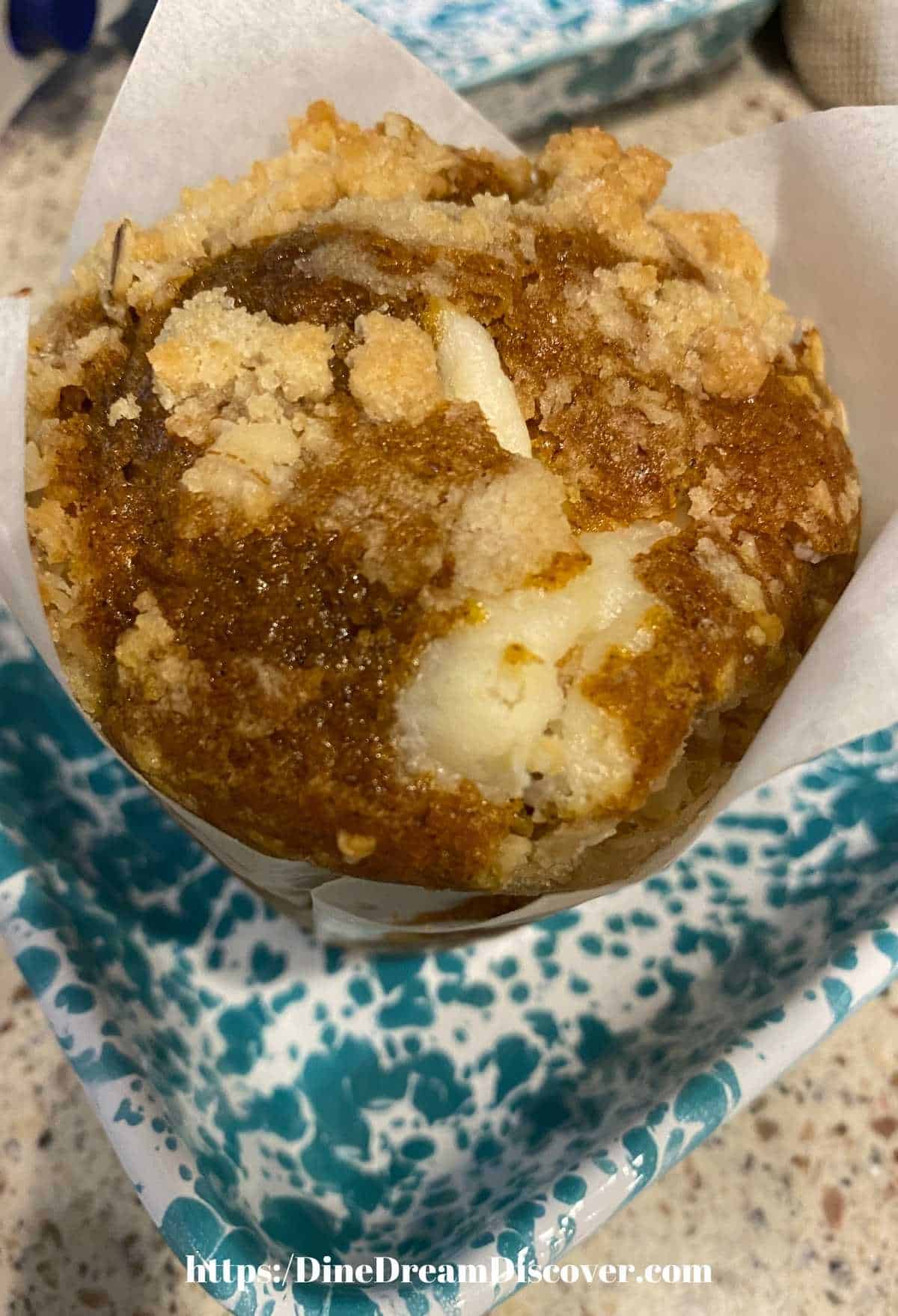 And what better than the bakery's candy shop? This picture was taken on our first visit back in 2017. The candy shop was no longer there on this visit.
But I think it's because she has opened up Charli's Ice Cream and Candy Shop across the street.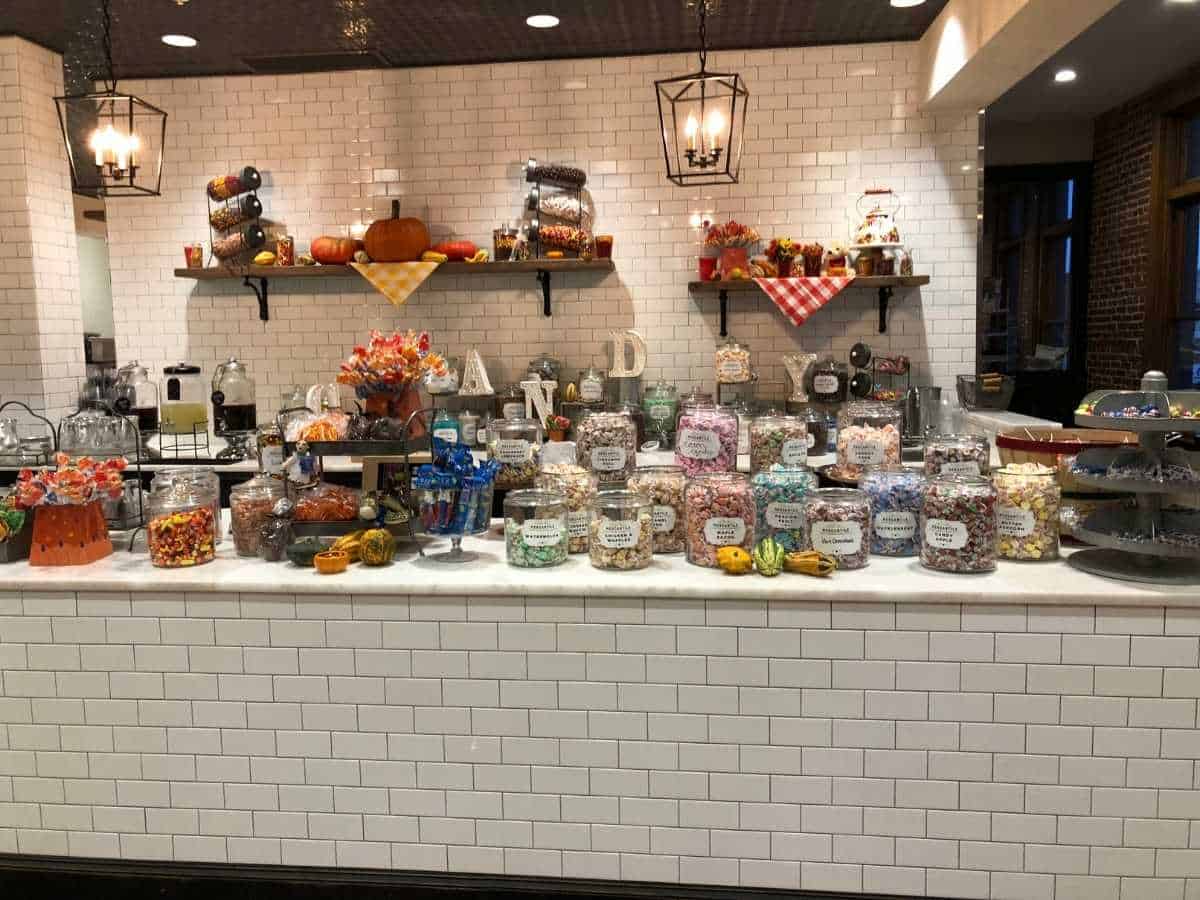 Chances are you'll leave with something sweet in hand after browsing through all that beautiful vintage-looking chandelier - just wait until you see our selection: big glass jars filled right up—you won't be able to stop at one or two pieces; there is everything!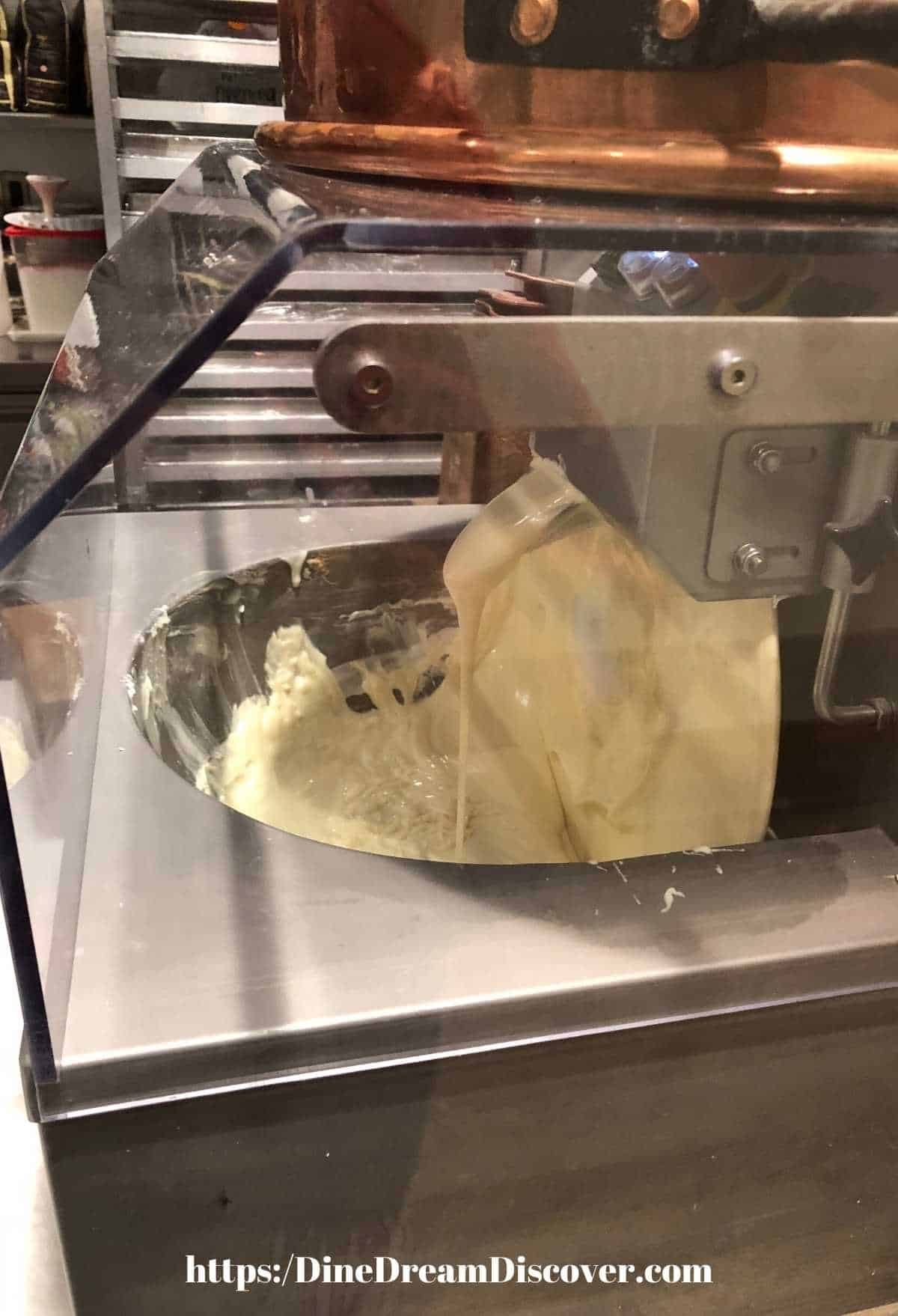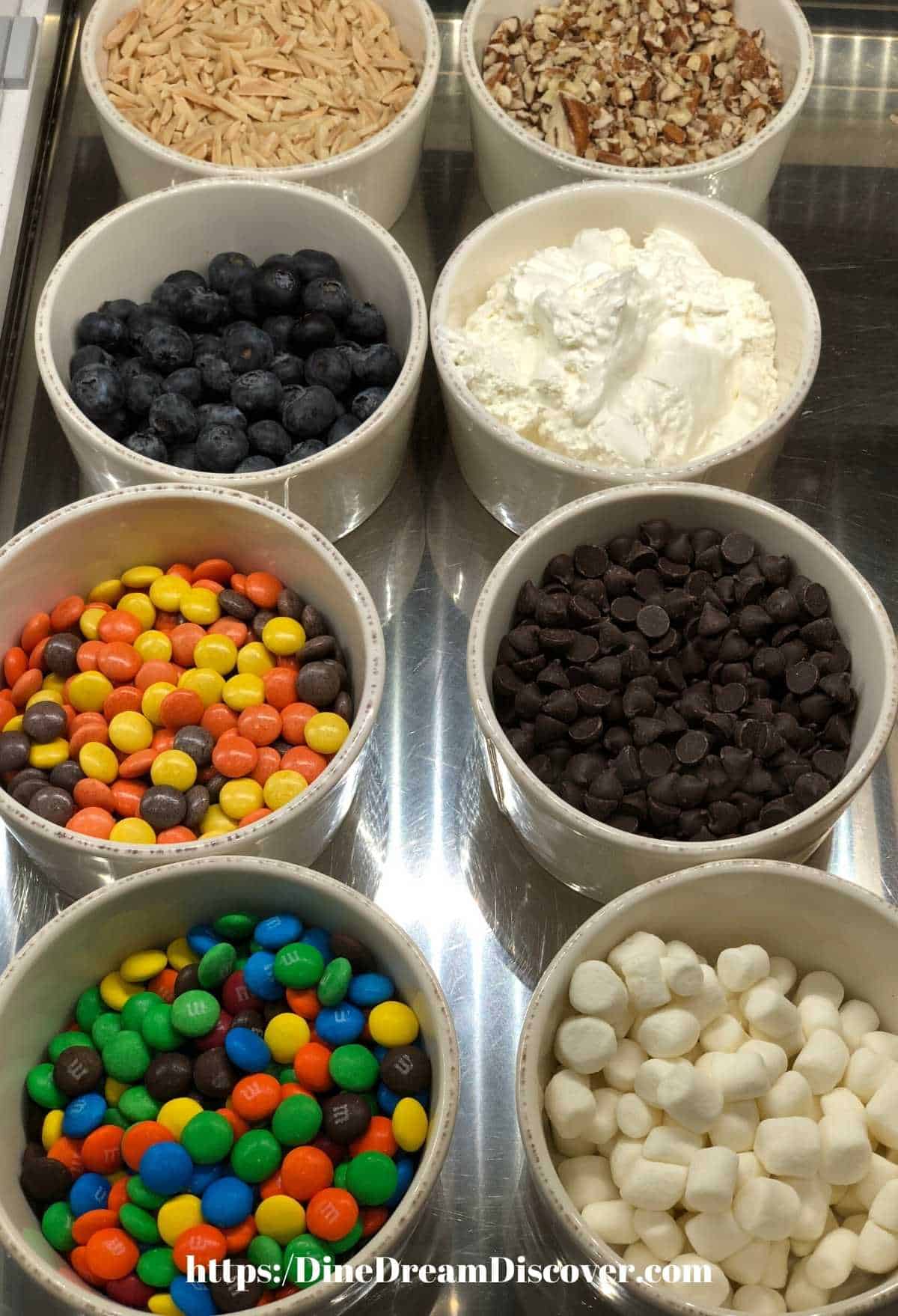 The Mercantile Menu
There are many great menu items to choose from. For breakfast, they have waffles, pancakes, steak and eggs, and so much more. We opted for lunch, but I'm sure the breakfasts are just as amazing.
On the lunch and dinner menu, you can choose from salads, sandwiches, dinners, appetizers, snacks, soup, and more.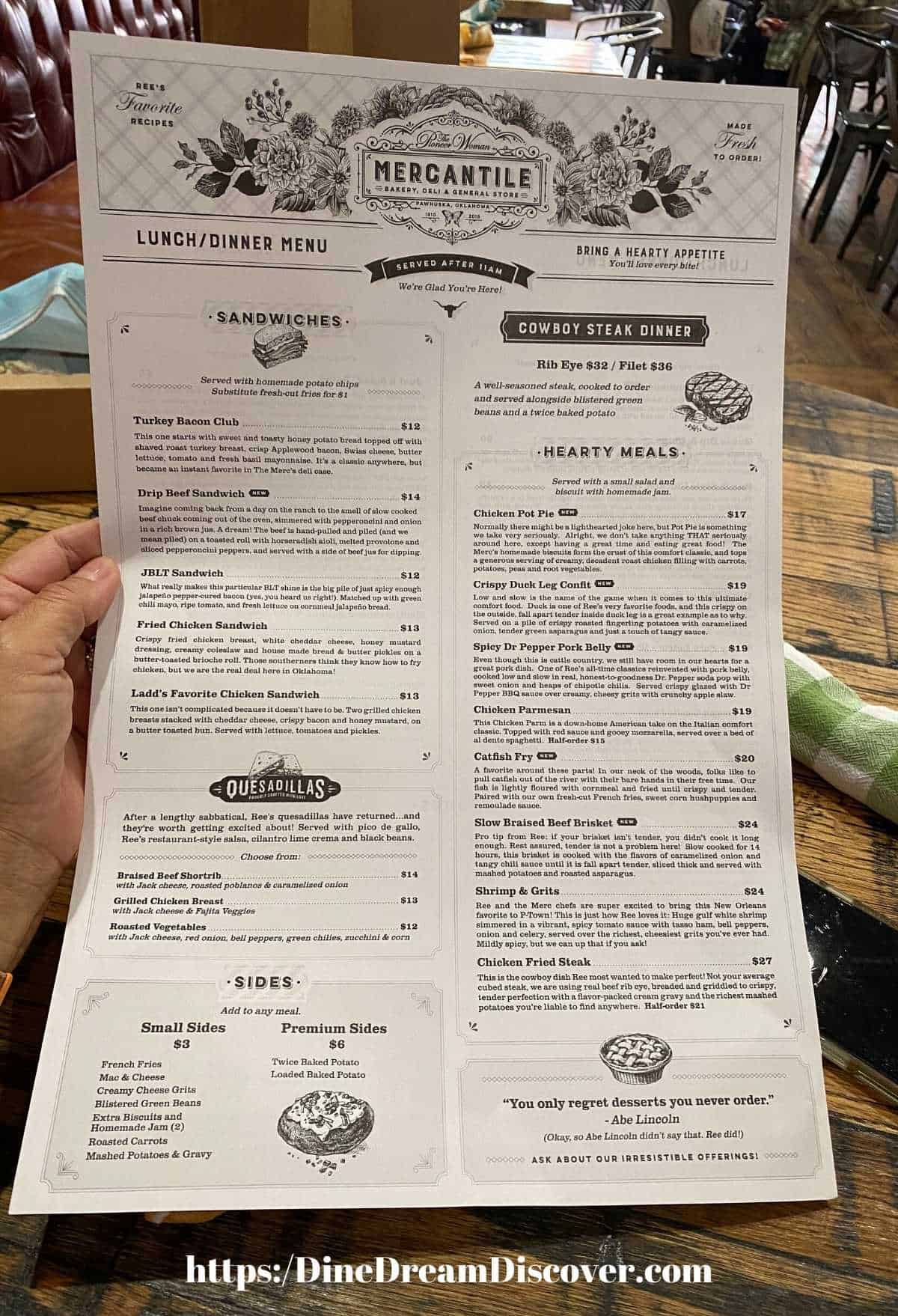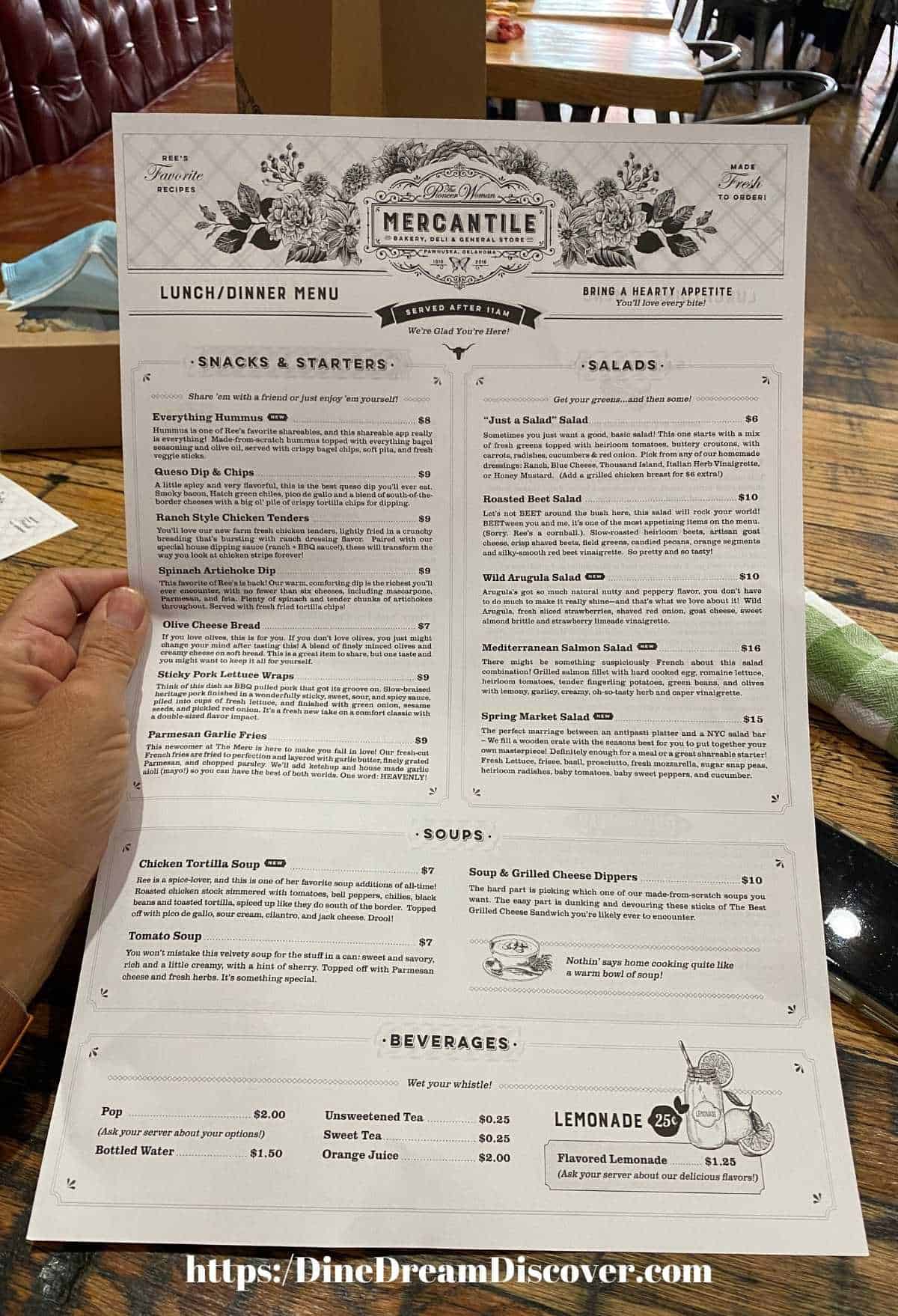 We ordered the new Drip Beef Sandwich with house-made potato chips.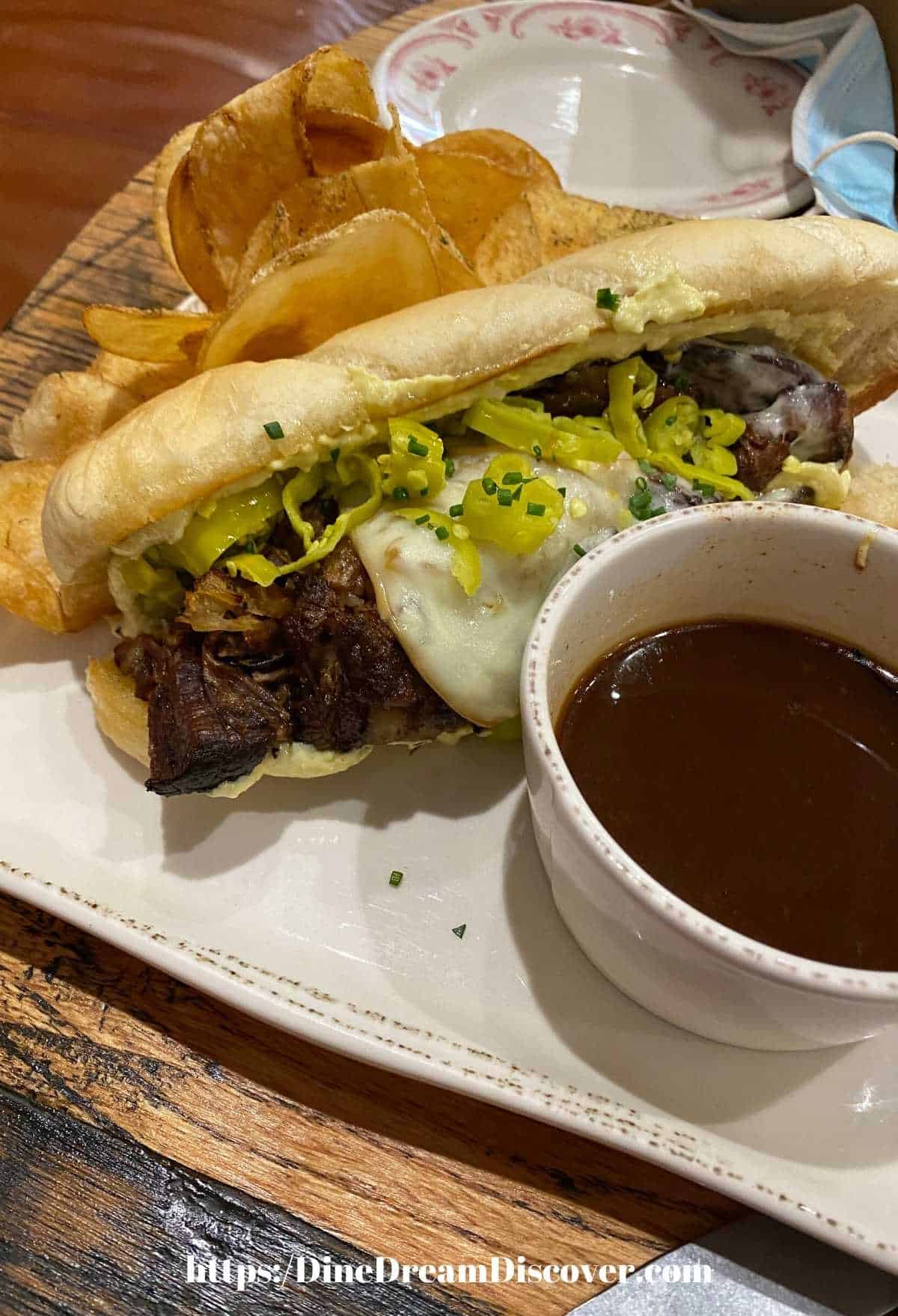 And the new Chicken Pot Pie. Both were excellent and there were no leftovers.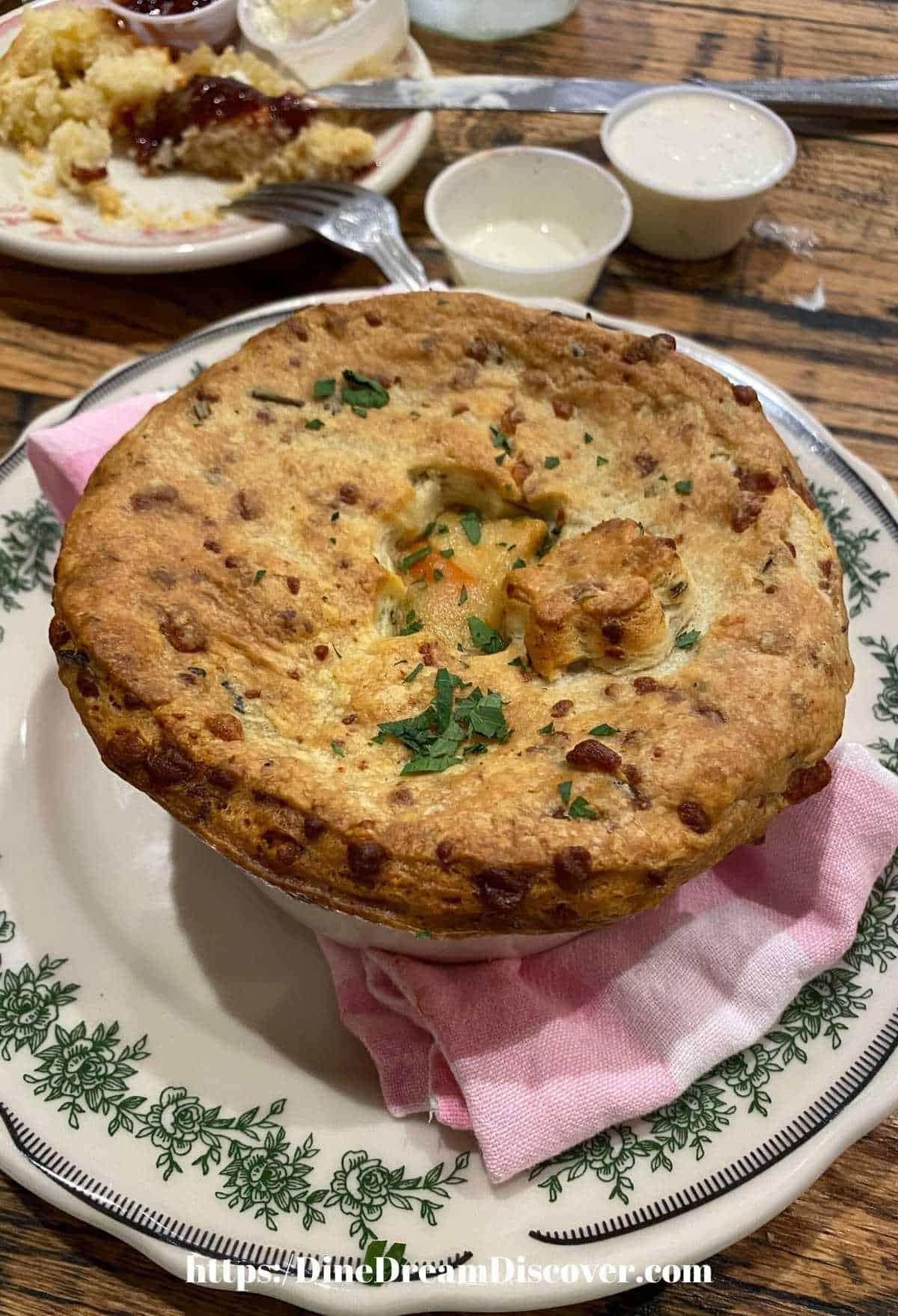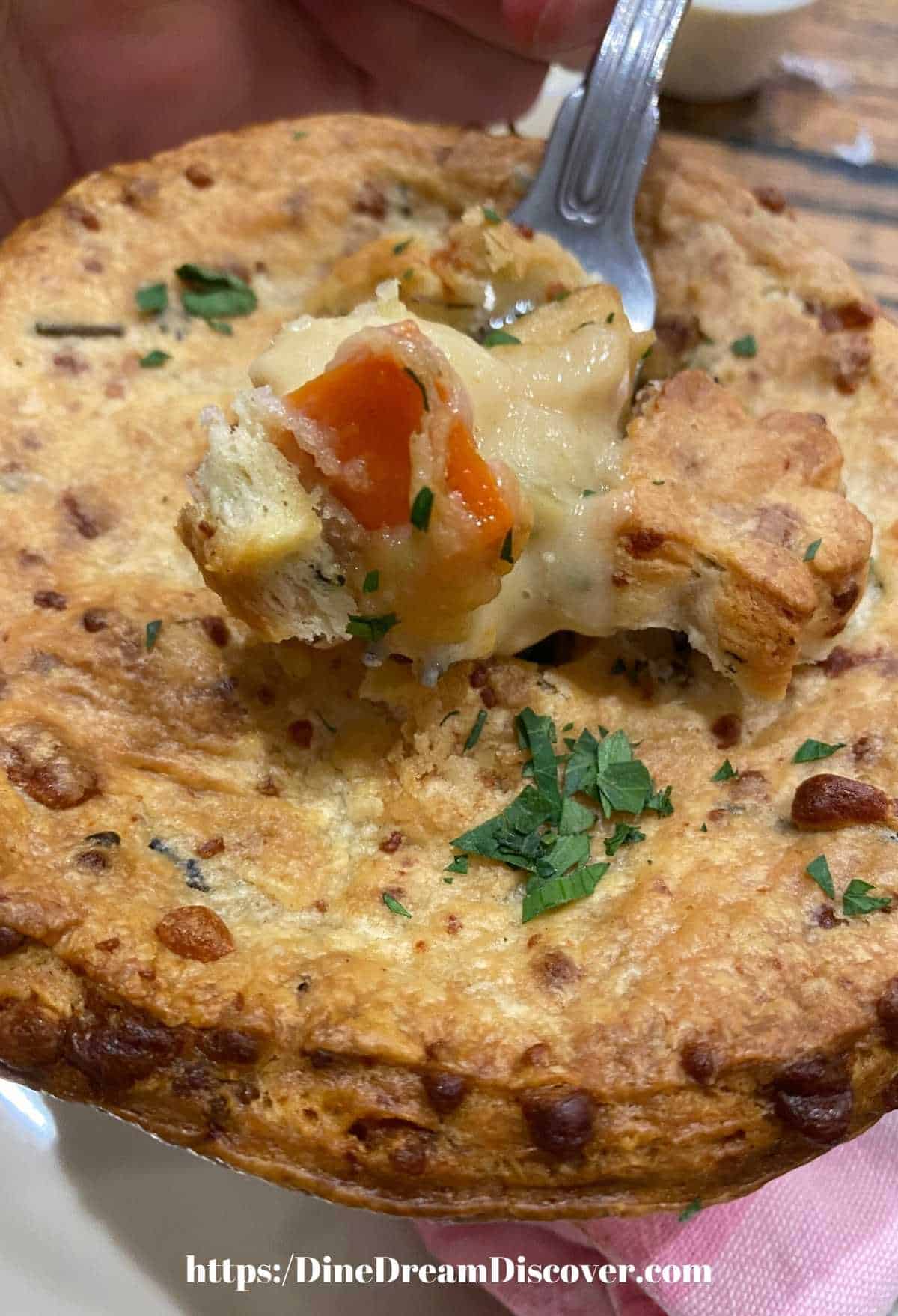 Mine came with a salad and homemade biscuits with butter and blackberry jam. Normally I'm not a biscuit type person, however, they were awesome especially with the blackberry jam.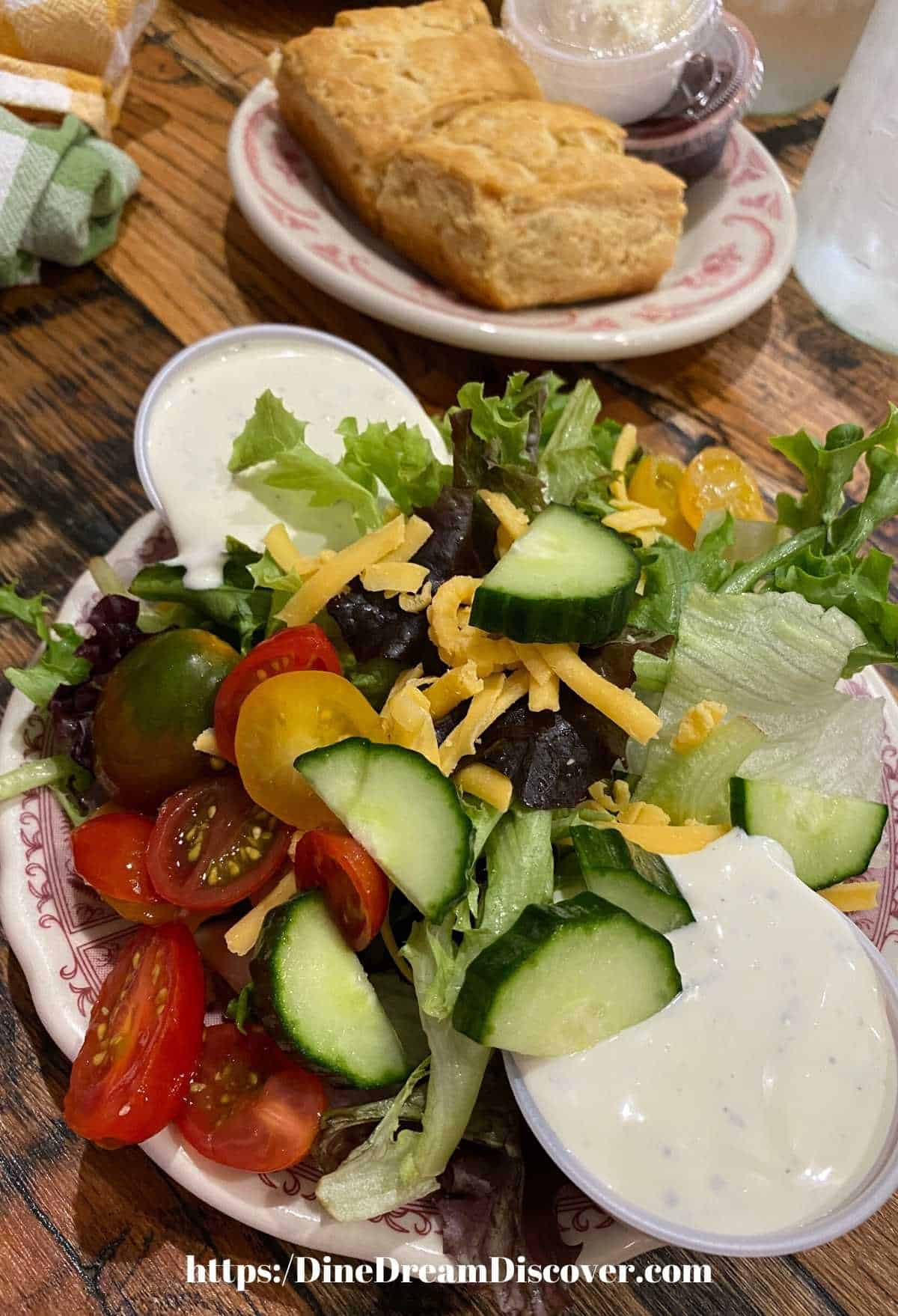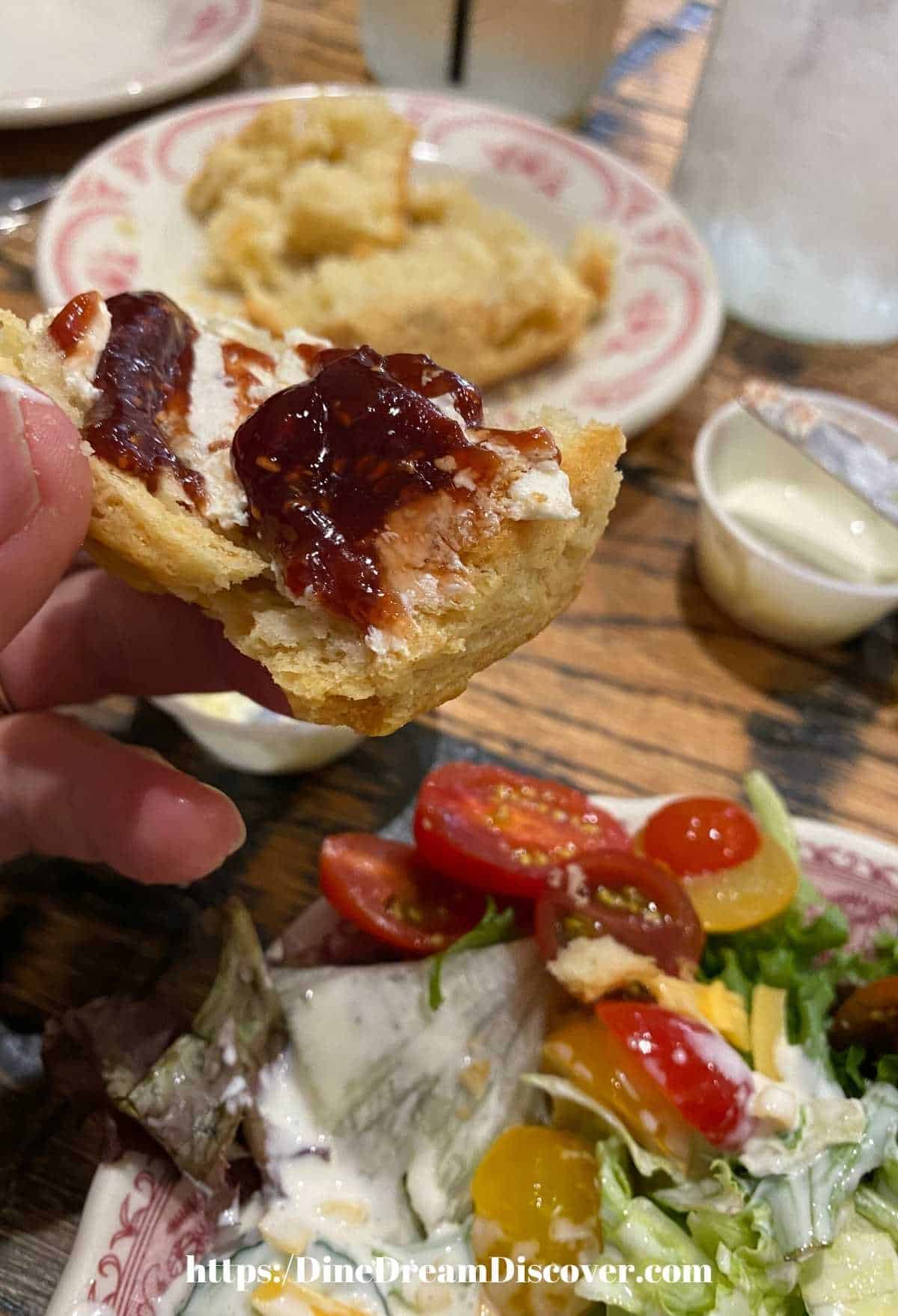 Not only do they have the best food, but their drinks are served in big mason jars! And they offer crushed ice for your beverage--the perfect combo of chilly and refreshing on a hot day. (If you are looking for a straw for your beverage, (like we were 🙄) it's wrapped up in the napkin with the silverware.)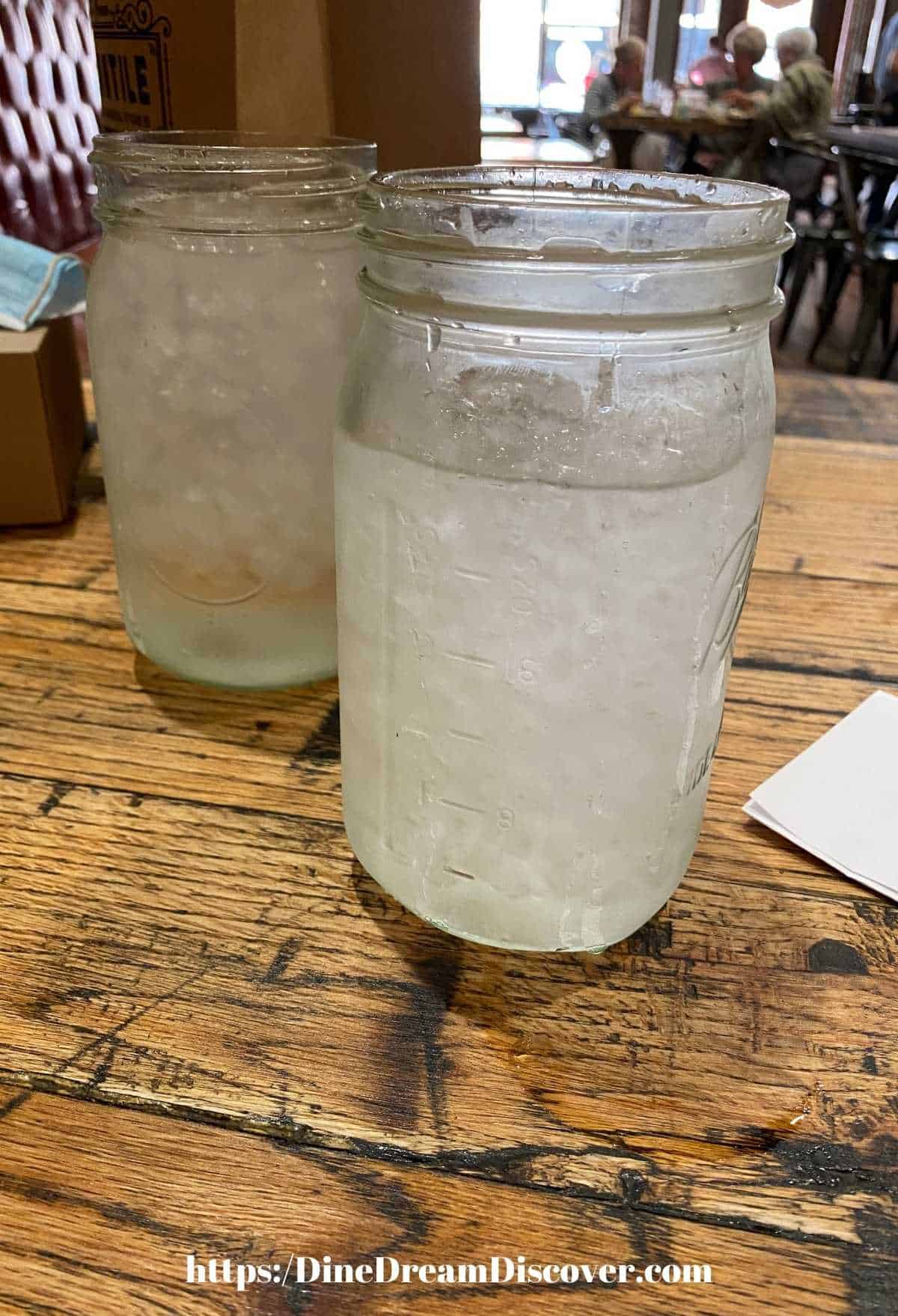 As I mentioned before, we had different items when we were there in 2017 and there were a lot of new items on the menu this time. So they obviously are always adding new foods.
The service was also excellent.
If there were desserts, I didn't ask because we were stuffed and besides, we had our box of muffins to take home. ❤️
What Else Is There to do In Pawhuska
The Drummonds are a family of entrepreneurs with five children, who have opened up several businesses in Pawhuska.
In 2018 they created "The Boarding House" - an all-inclusive bed and breakfast for travelers looking to experience Pawhuska's unique charm while also being right downtown!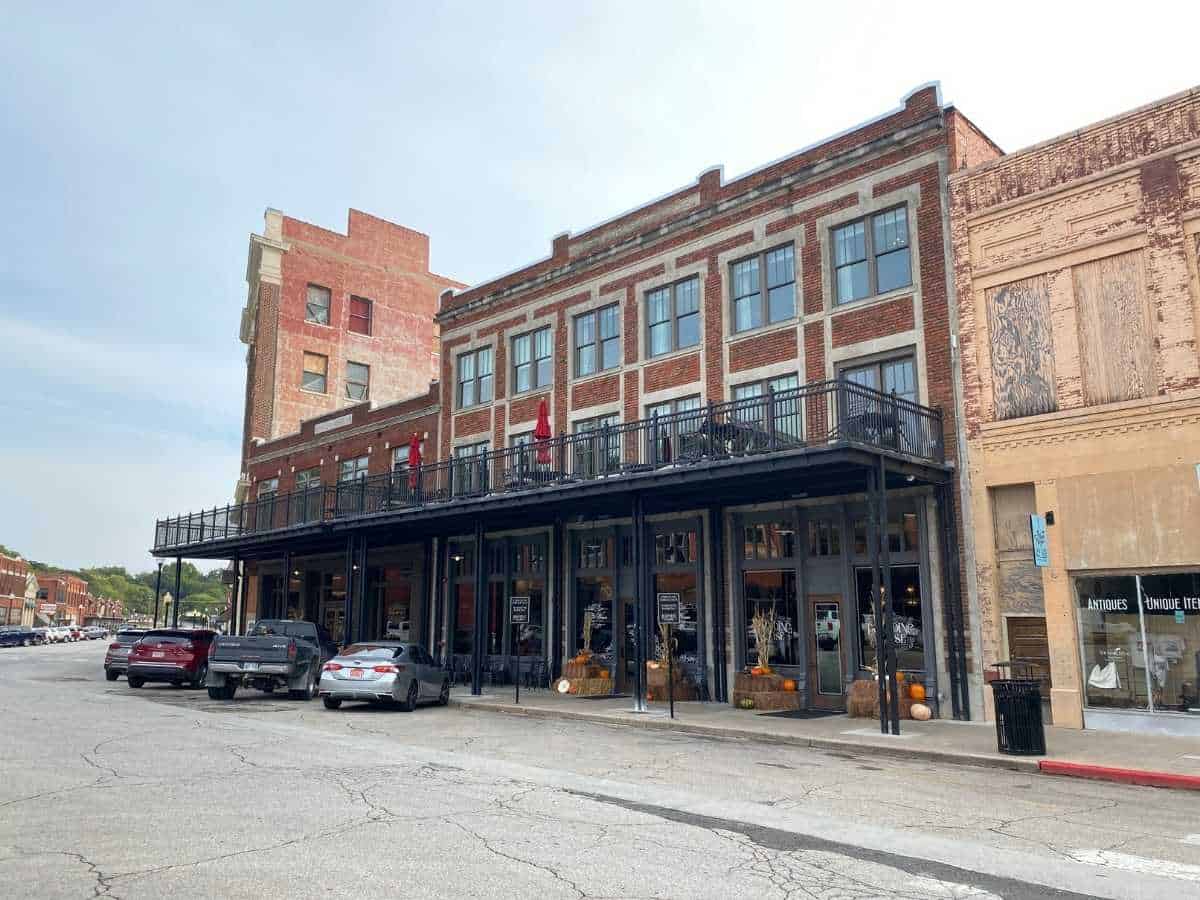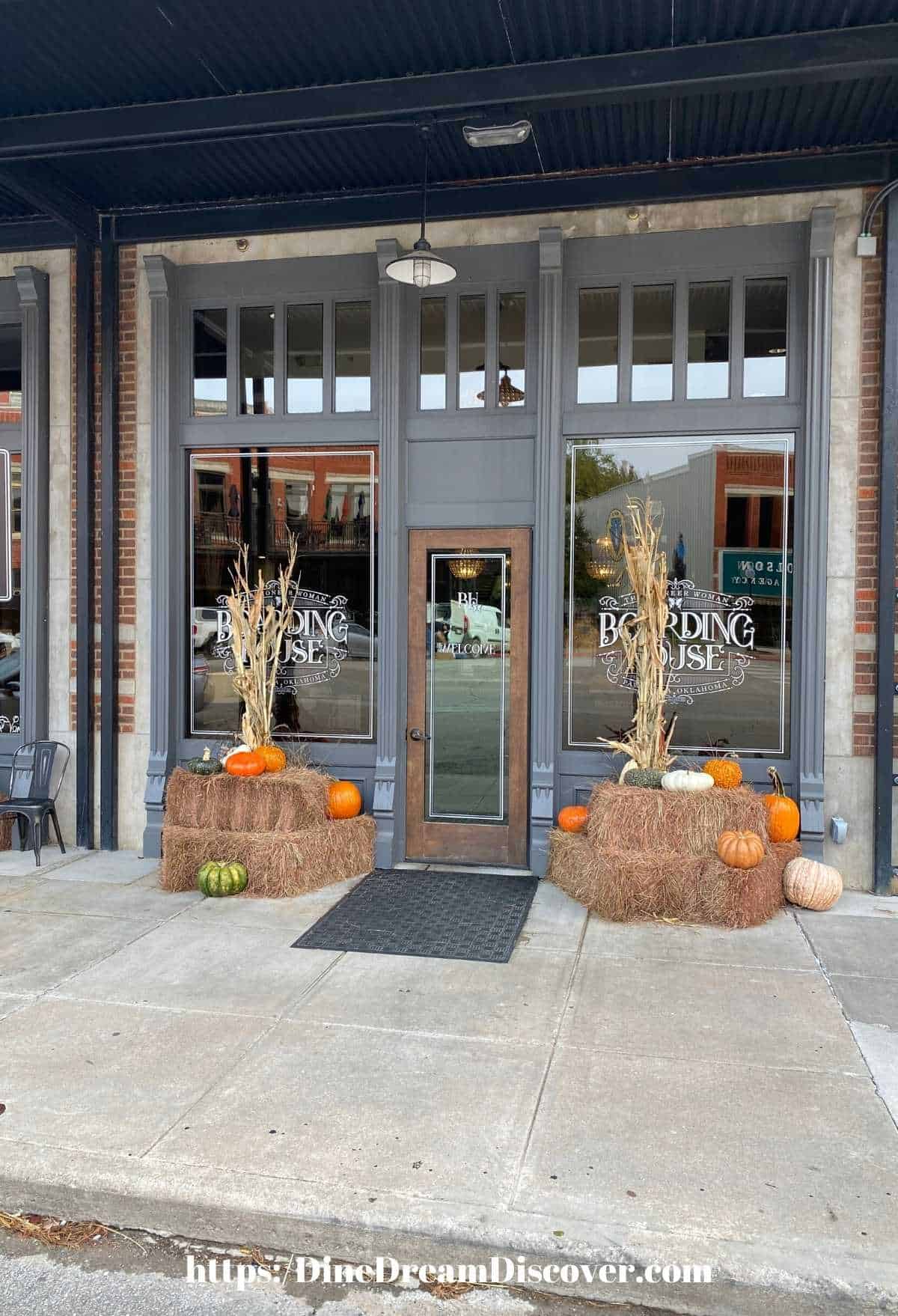 Also in 2018, they opened a pizzeria, called "P-Town Pizza".
In 2020, they opened "Charlie's Sweet Shop", ice cream and candy shop. It is named for their basset hound Charlie, who passed away in 2017.
Both of these are across the street and next door to each other.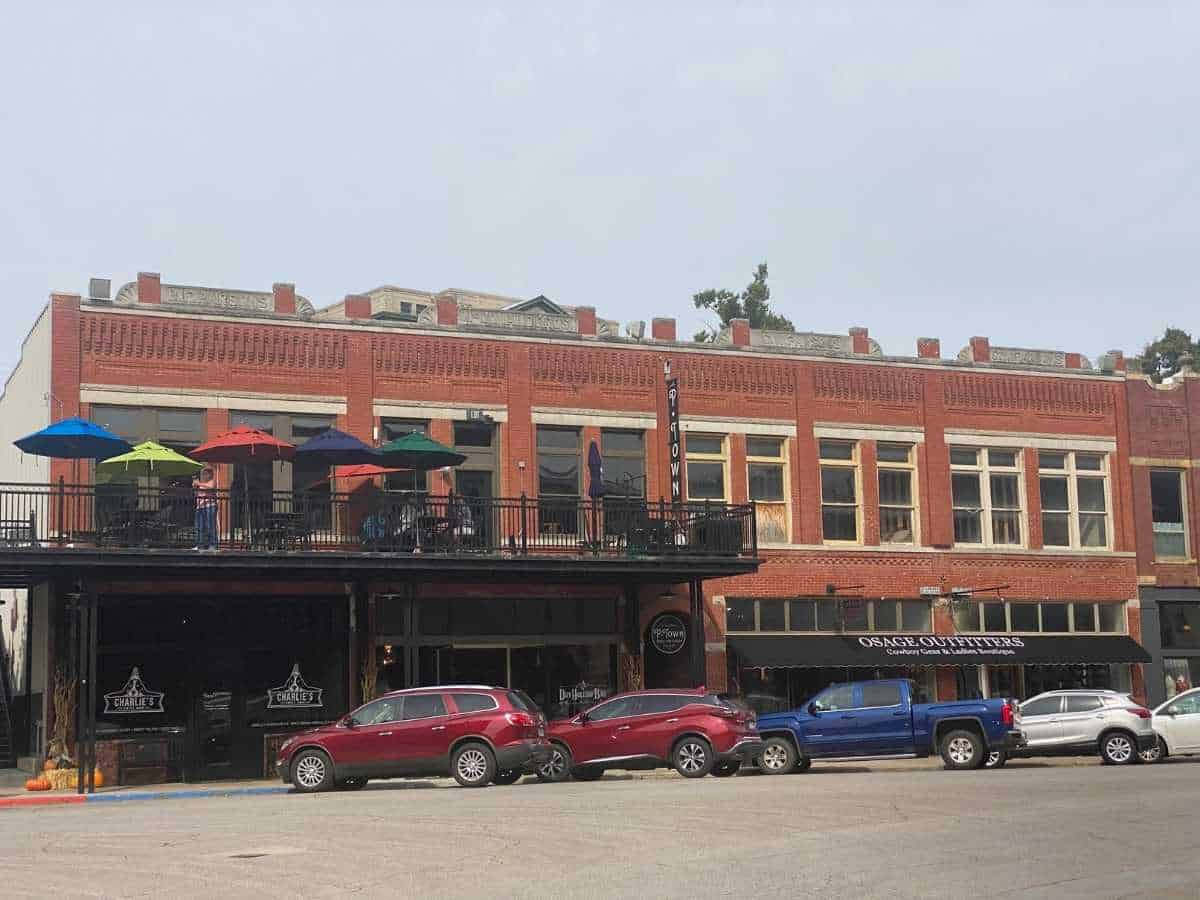 There is also a PW Collection store and an Event Center, owned by The Drummond Family.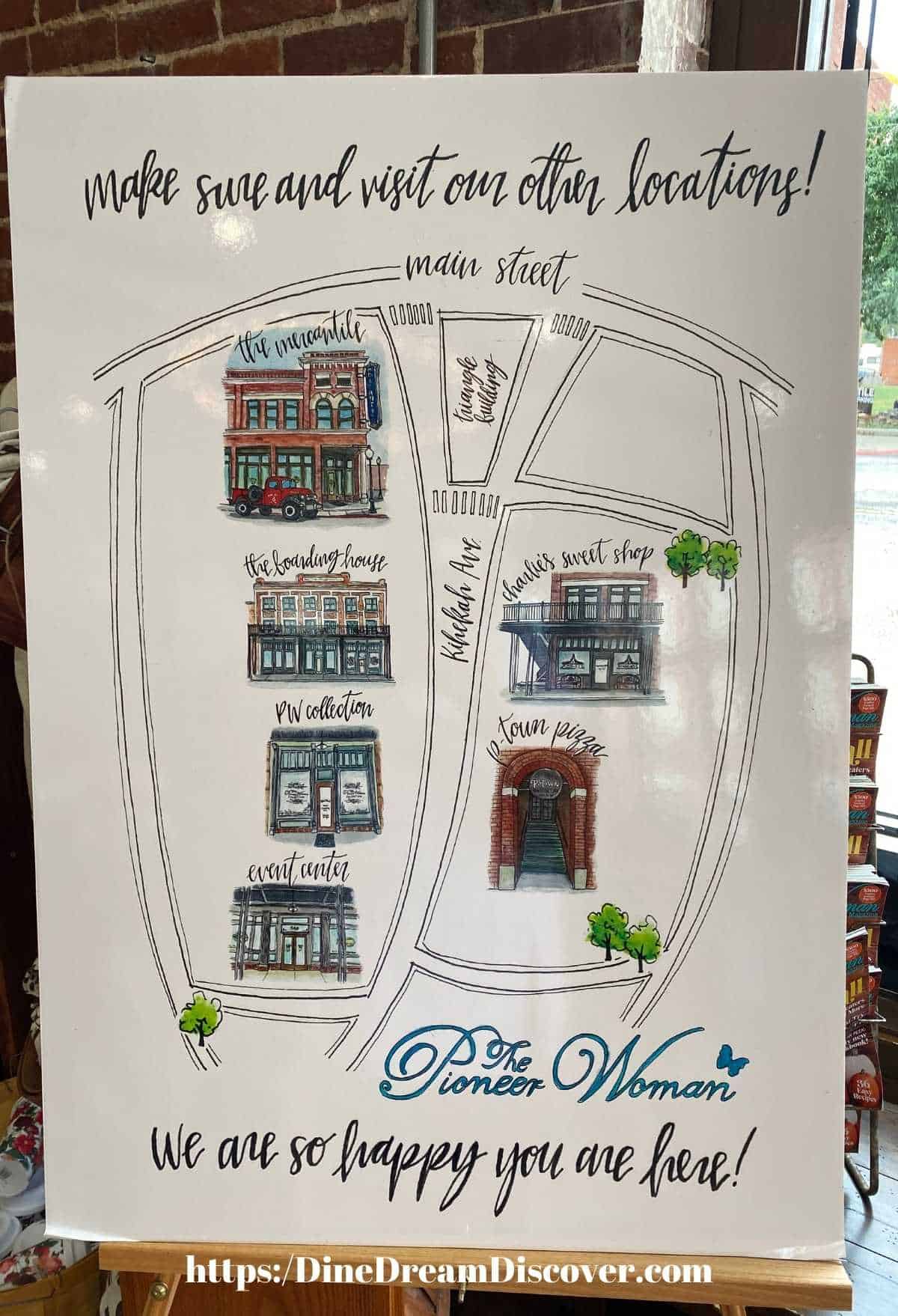 If you are daring, you can visit the landmark Swinging Bridge.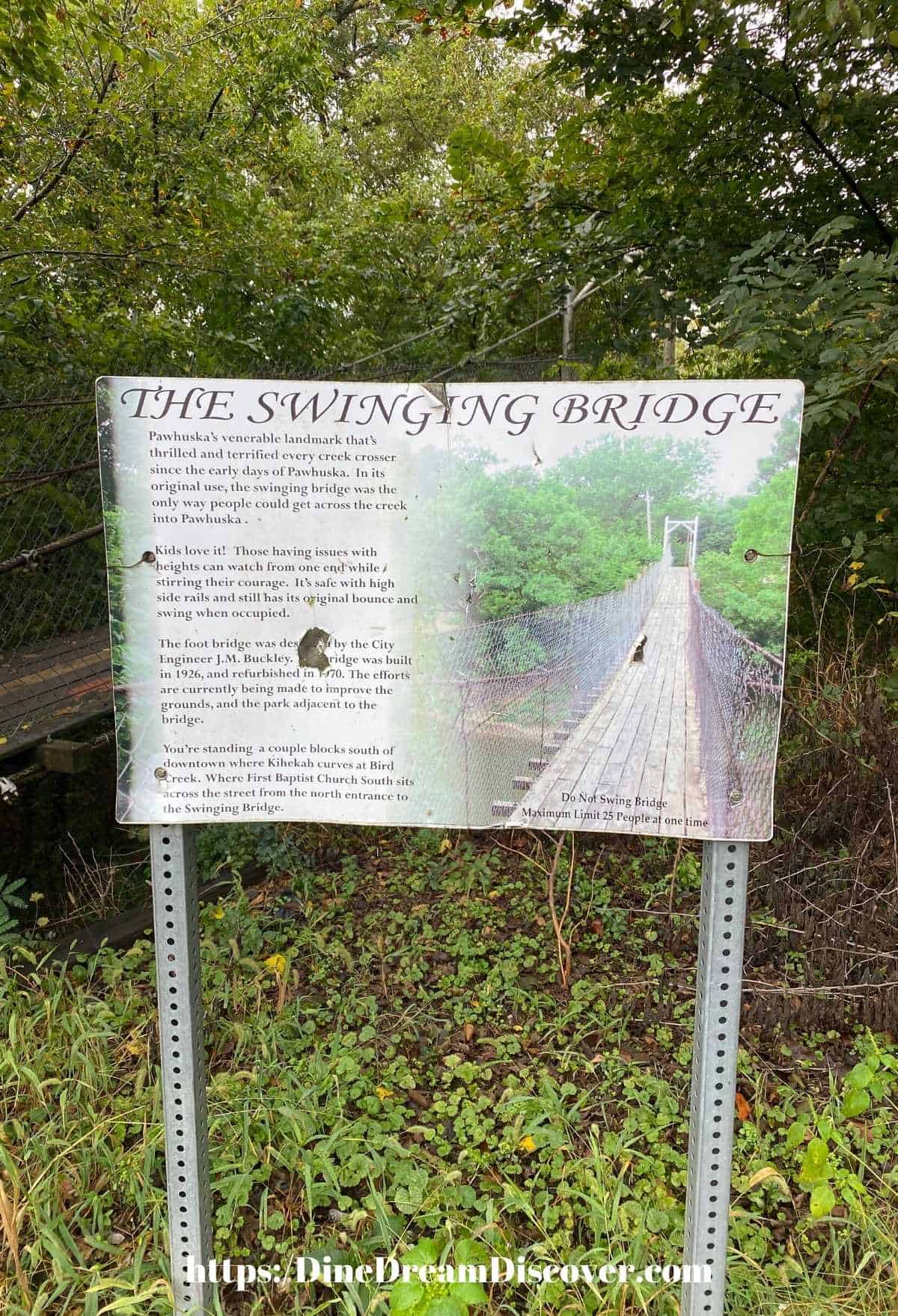 We stopped to visit, but it was a little scary to me as it was swinging in the wind.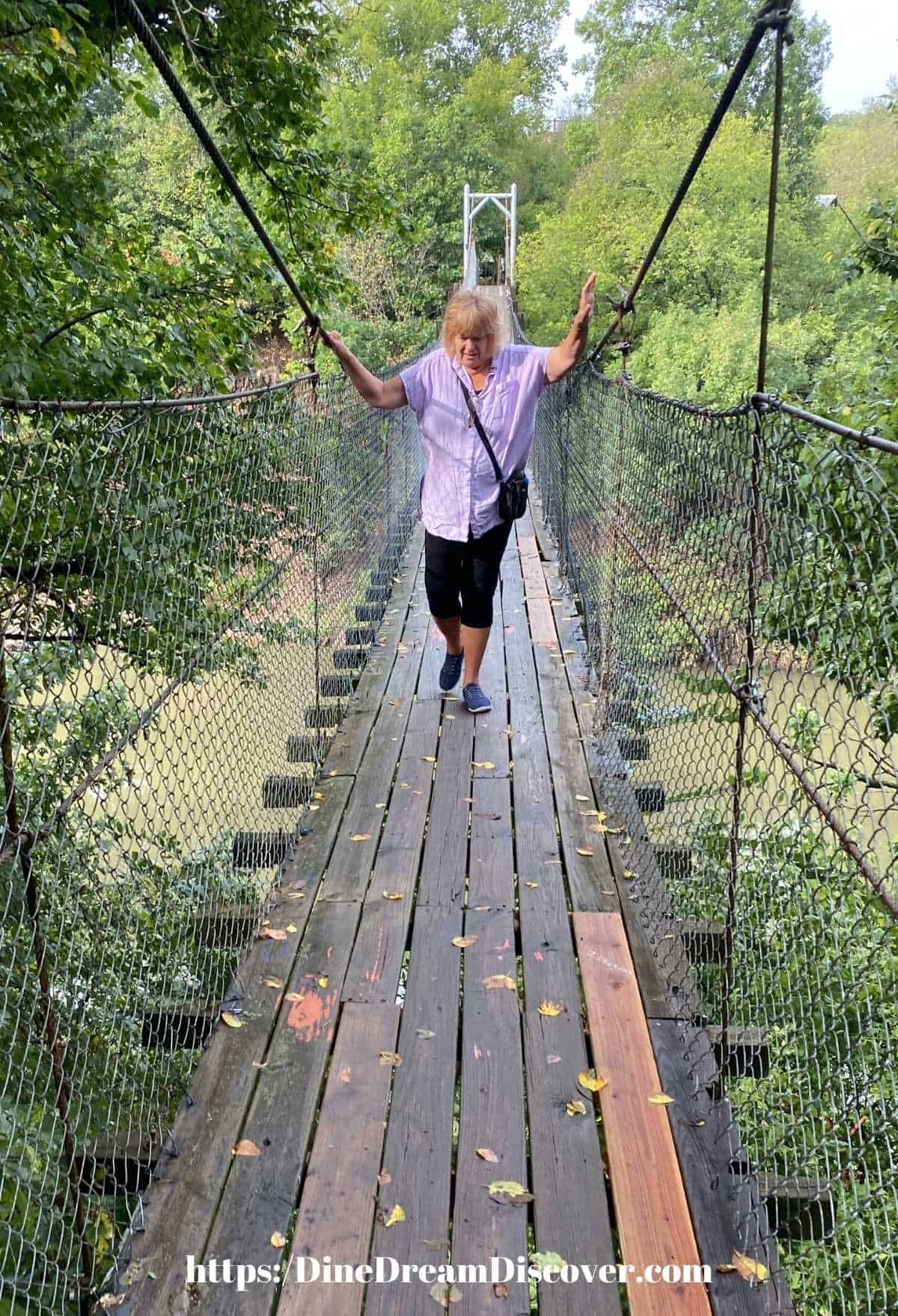 My husband, (who I thought would not go on it all) actually walked out further than I did. 😬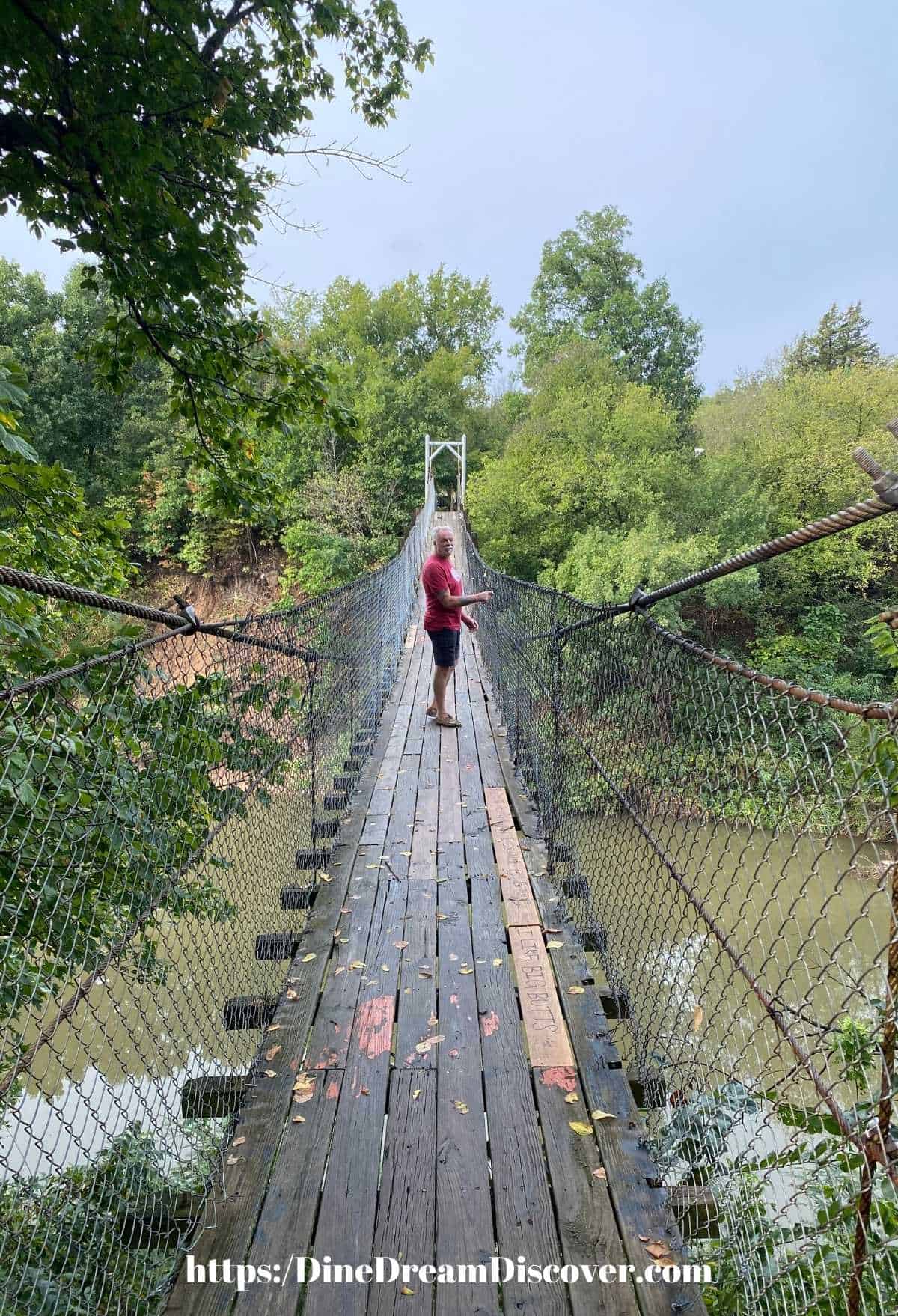 You can find out more about the nearby attractions right on the Mercantile website.
When is the Best Time to Visit
The best time to visit is definitely early in the day. We arrived around 10 am and there were not a lot of people.
When I went the first time, I was there in the late afternoon and it was definitely more crowded.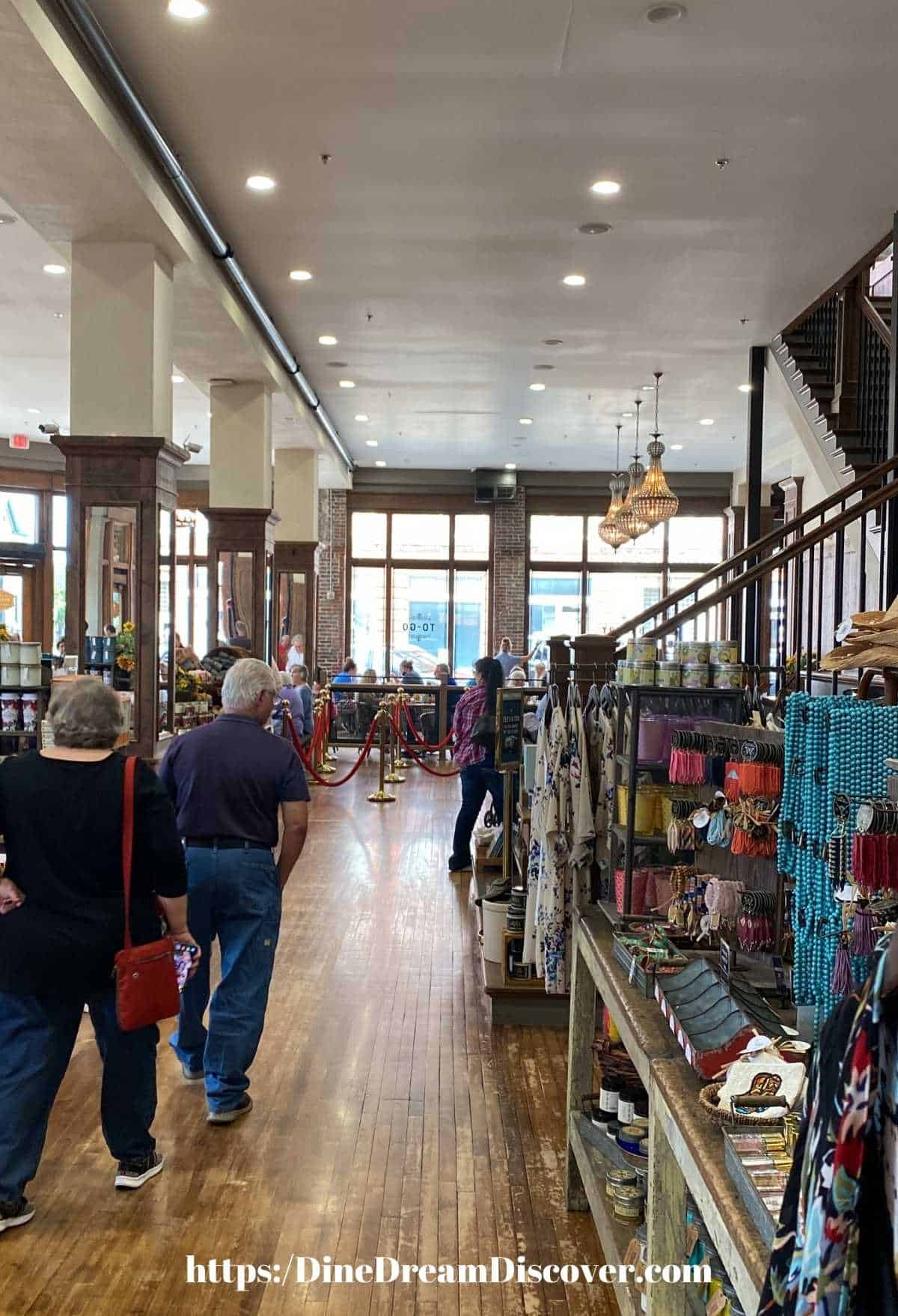 As we were leaving after lunch, the restaurant was filling up as was the store.
We were headed to The Pioneer Woman's Lodge and were hoping that was not going too busy. You can find out more about The Lodge once the post is written.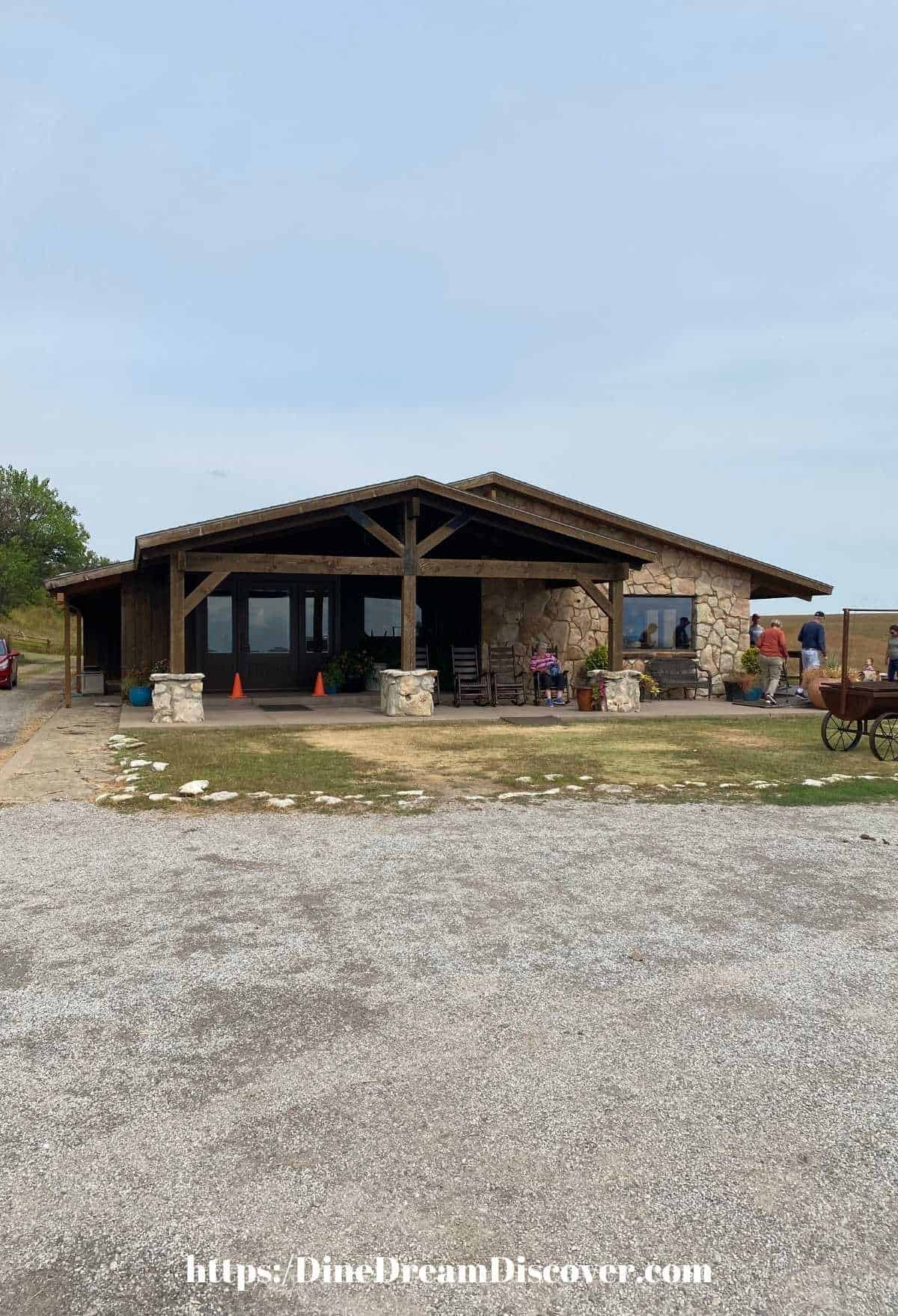 Find The Lodge tour dates on the Mercantile website. You do have to visit the Merc in order to get your FREE tickets to The Lodge.
How long Should I Stay at the Mercantile
You could spend all day at the Mercantile if you like.
Get there early and enjoy breakfast. Do some shopping afterward.
Then head over and see some of the nearby attractions.
Come back for lunch or dinner.
Head upstairs to the bakery and enjoy some baked goods for dessert.
Sit and relax while enjoying a Cowboy Coffee or Spicy Cowgirl Coffee. I'm really surprised how good it tasted! It was a nice pick-me-up with the cayenne in it.
The Spicy Cowgirl Coffee is an interesting coffee that combines two caffeine-rich drinks--coffee and Mexican hot chocolate.
If you like the taste of both, then this might be your ideal drink. It has a rich flavor with just enough spice to give it some kick without being too overpowering.
Give it a try if you're looking for something different than what's already out there!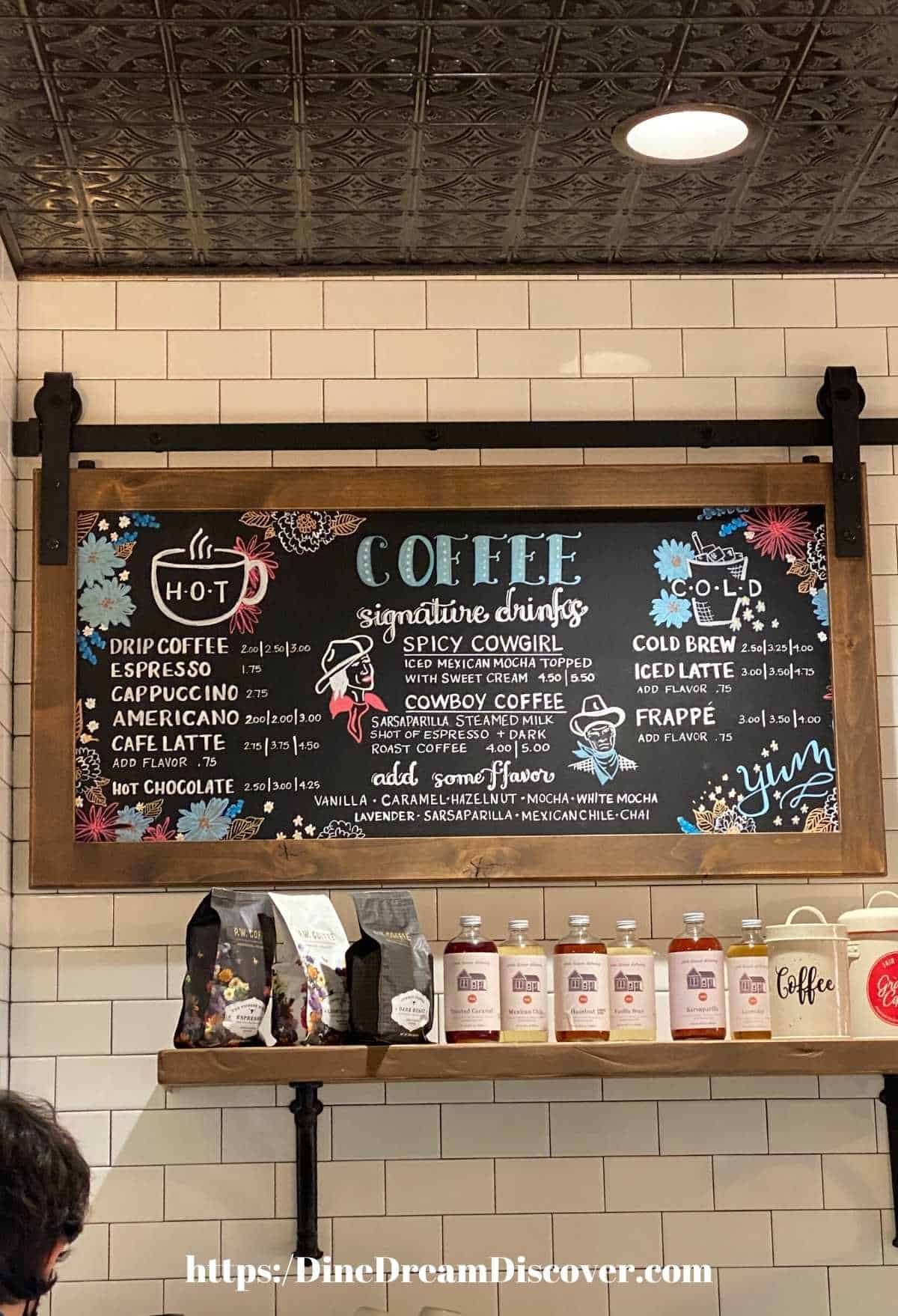 If you're a fan of cooking, or just want to find some new items for your home's kitchen needs The Merc is definitely worth checking out.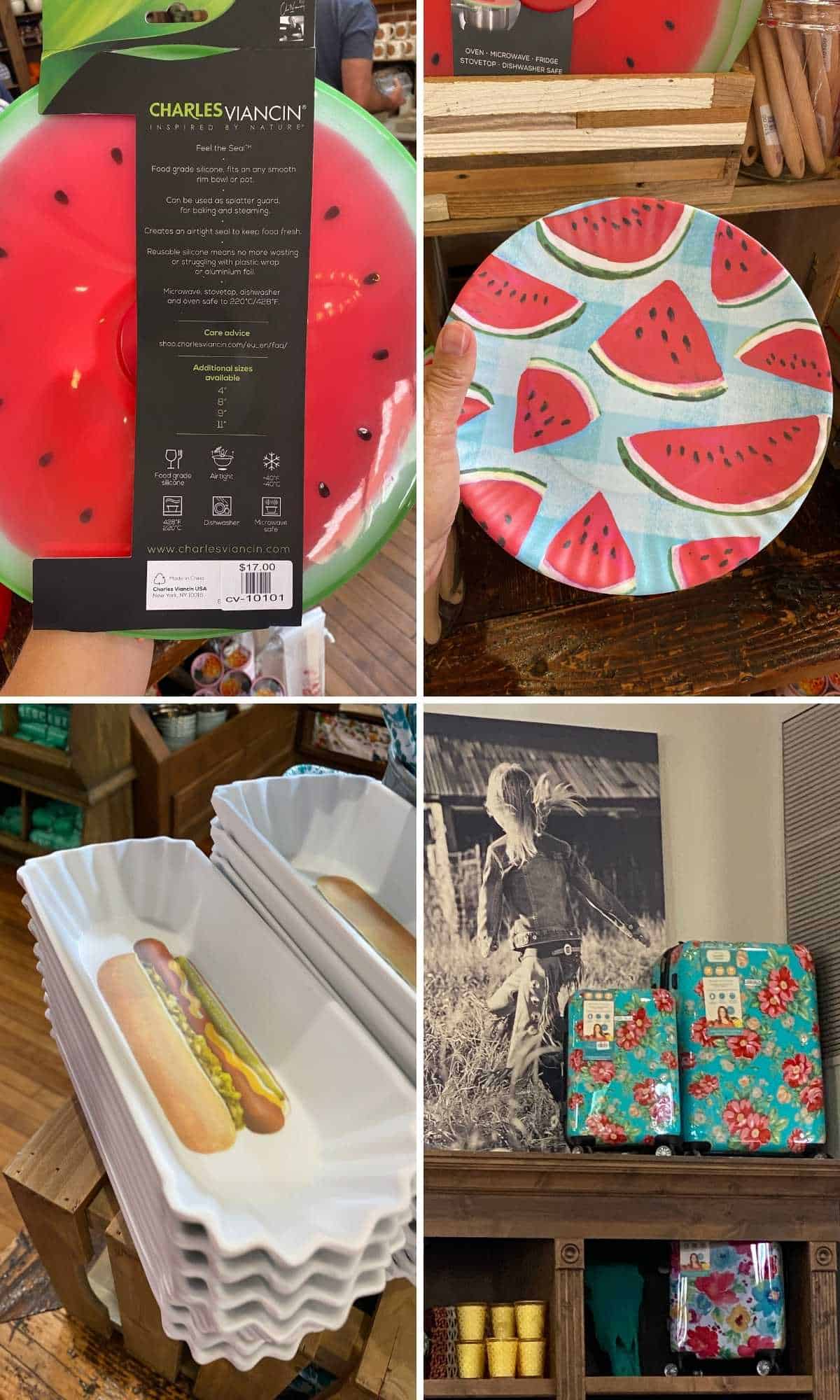 Where is Pawhuska, OK
Located in the Northeast corner of Oklahoma near the Kansas border. It was established in 1872 with the reservation for the Osage Nation, part of the Indian Territory.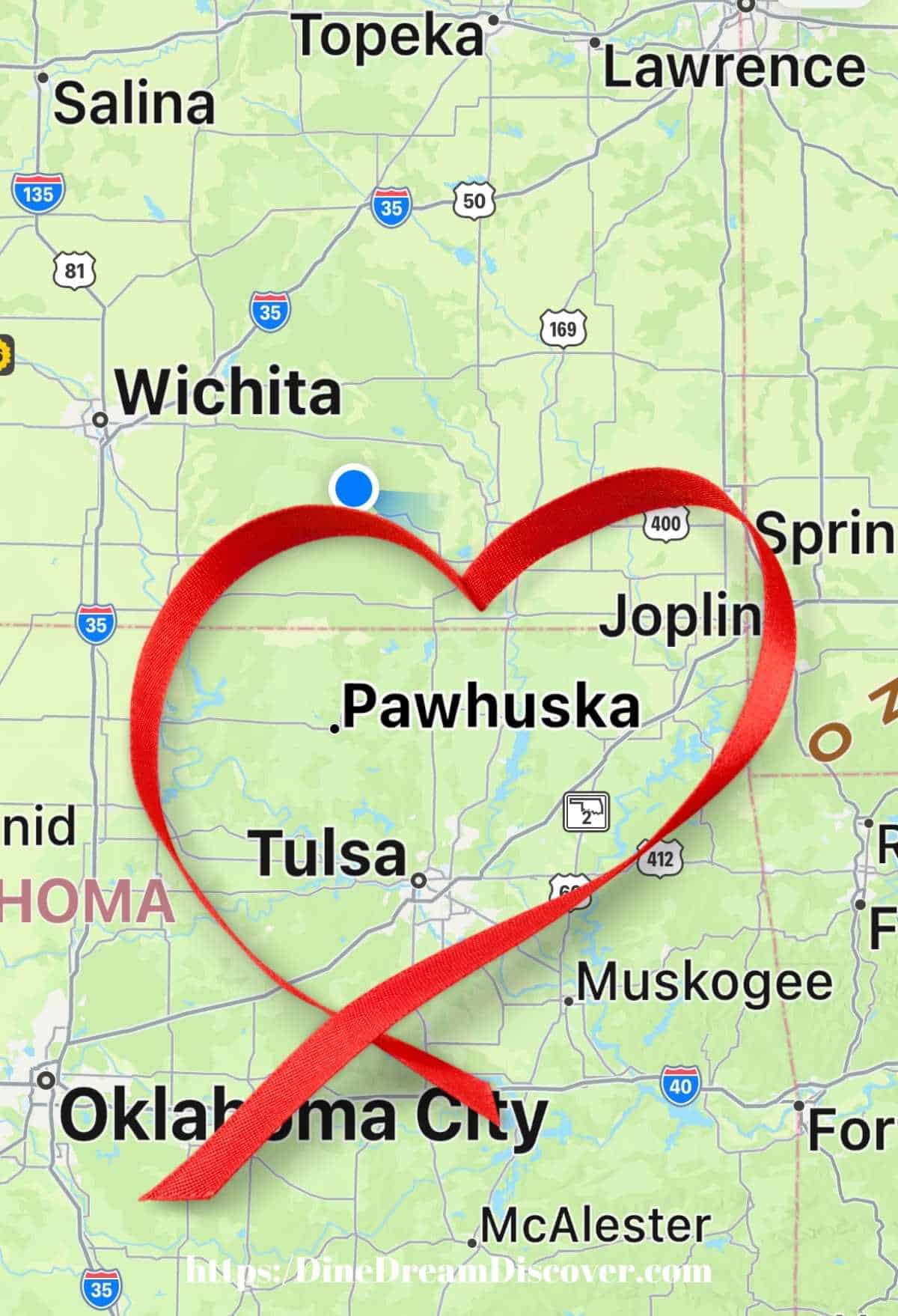 Directions to Pioneer Woman Mercantile
Tulsa to Pawhuska is about 60 miles northwest via a series of state highways and other back roads.
Oklahoma City to Pawhuska is about 150 miles northeast. You can take I-35 north to Tonkawa, and then US-60 east to Pawhuska.
Wichita, Kansas to Pawhuska, it's about a 130-mile drive. I-35 south to Tonkawa and US-60 east to Pawhuska.
Howard, Kansas to Pawhuska (which is where we came from) about 60 miles south on Hwy 99 to Hwy 60 right into downtown.
Pioneer Woman Mercantile Lodging and Places to Stay Near Pioneer Woman Mercantile
The first time we went, we were passing through with our 5th wheel, so we had to find an RV park. The closest was the Settle Inn RV Park.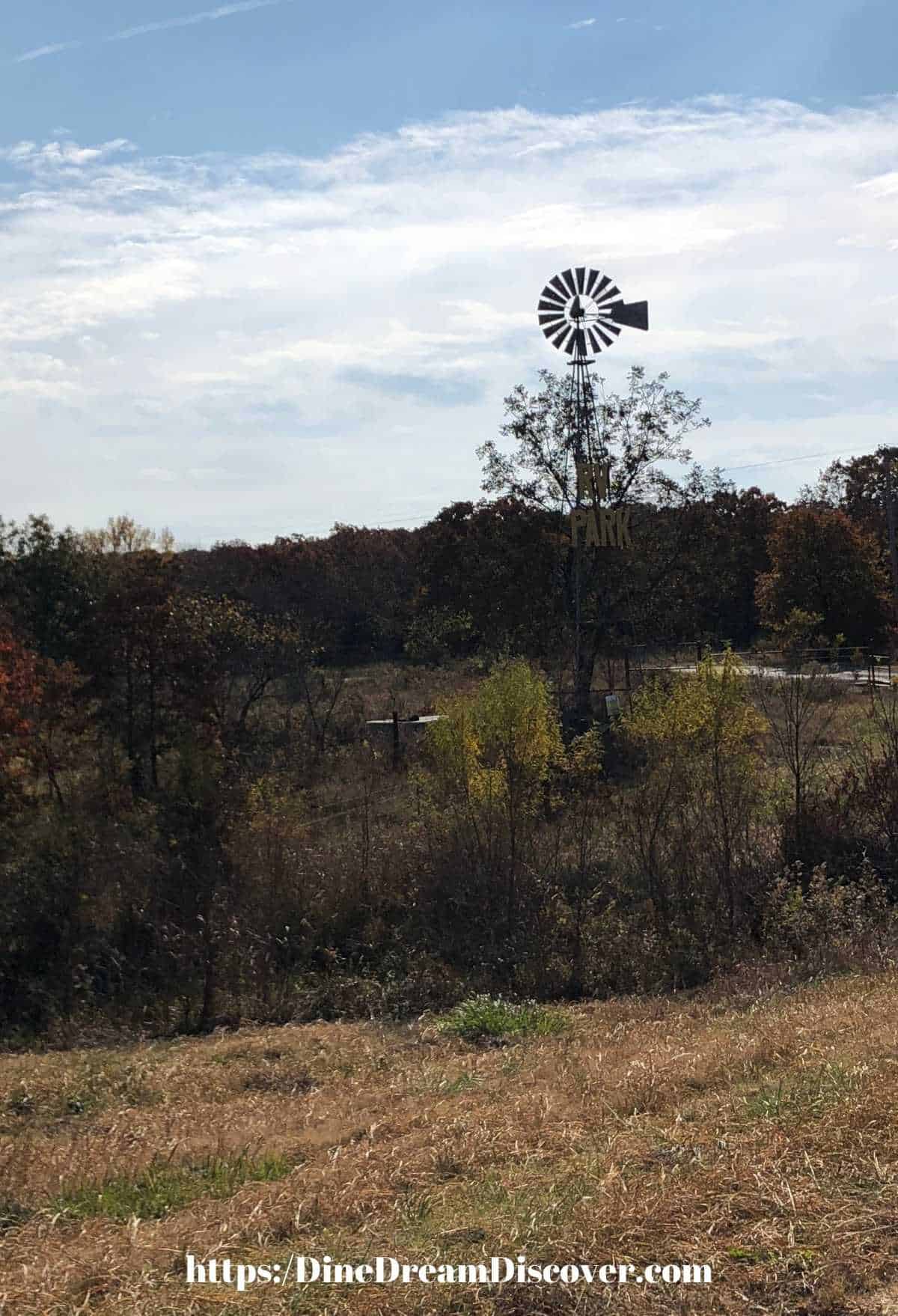 Upon arrival, the entry road was filled with cows, so you know it's out in the country in Oklahoma.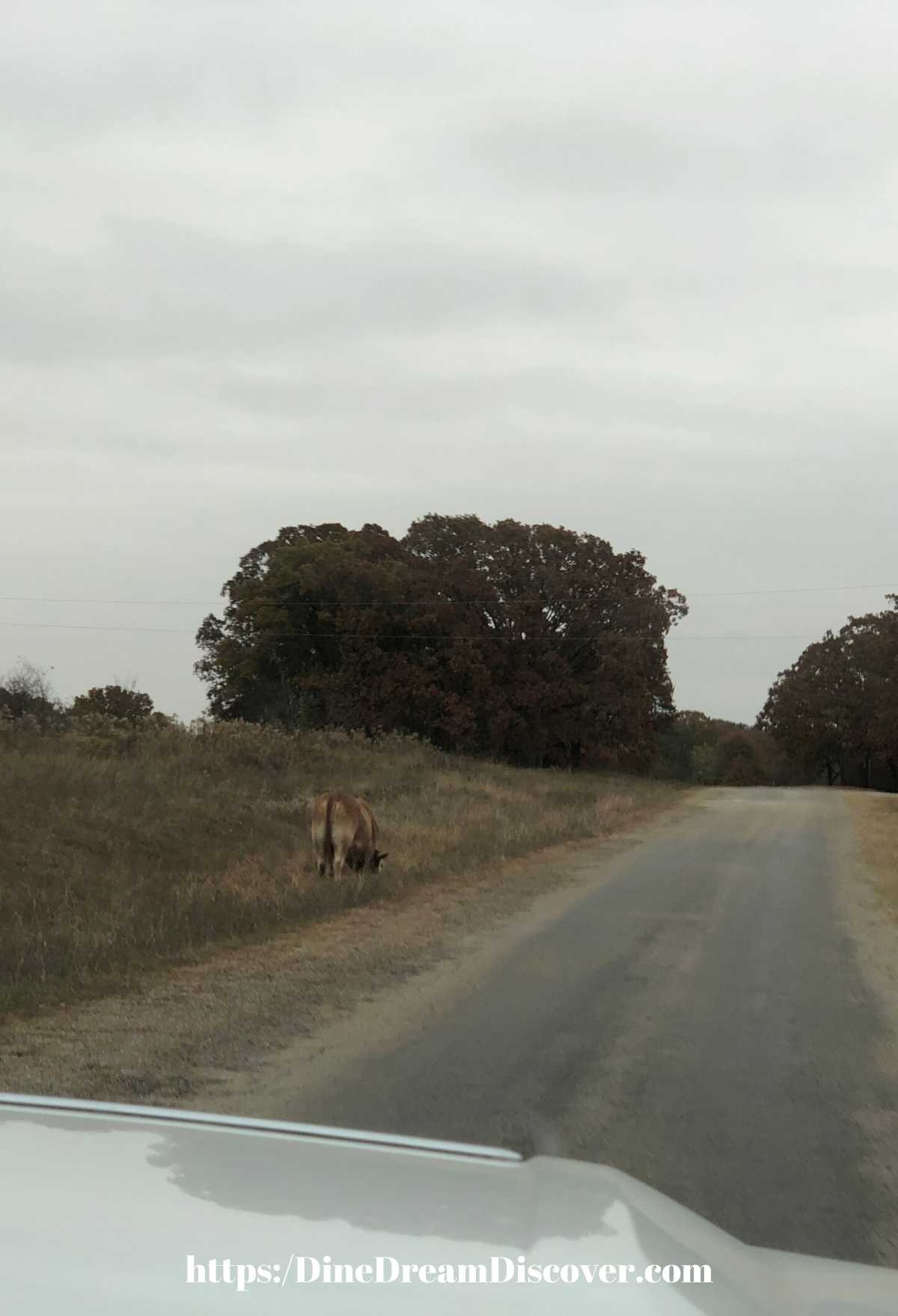 Oklahoma is like Kansas...there are more cows than people. (If you don't believe me just look it up! lol)
I had made reservations ahead of time because I didn't want to be stranded on the side of the road with nowhere to stay with a monstrous RV behind us.
They also have cabins available.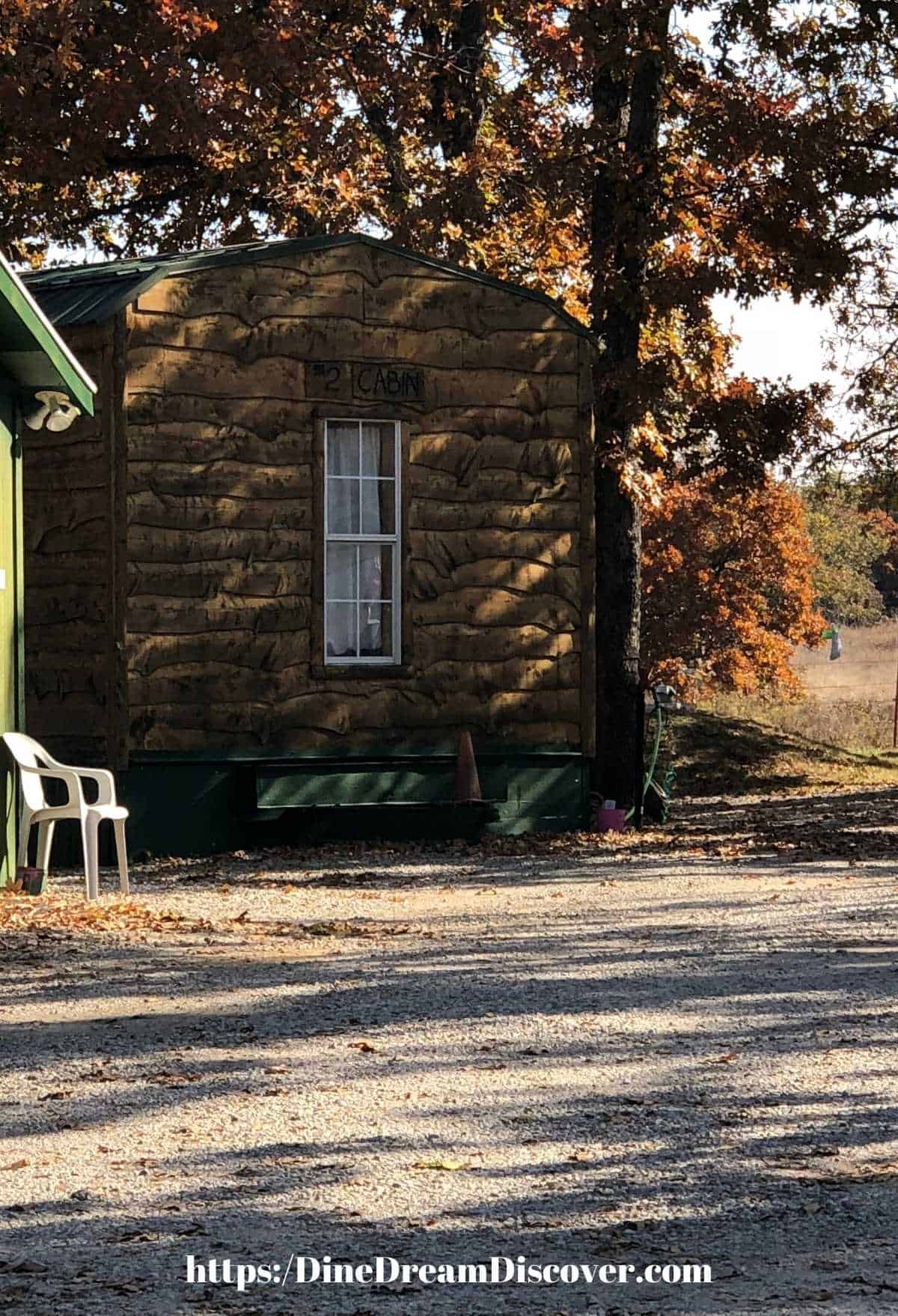 It's a small park and it's clean. The sites are not really spacious and definitely not level, but we made it work.
When you are ready to leave, you put your money in an envelope (cash is king and always easier) and drop it in the slot.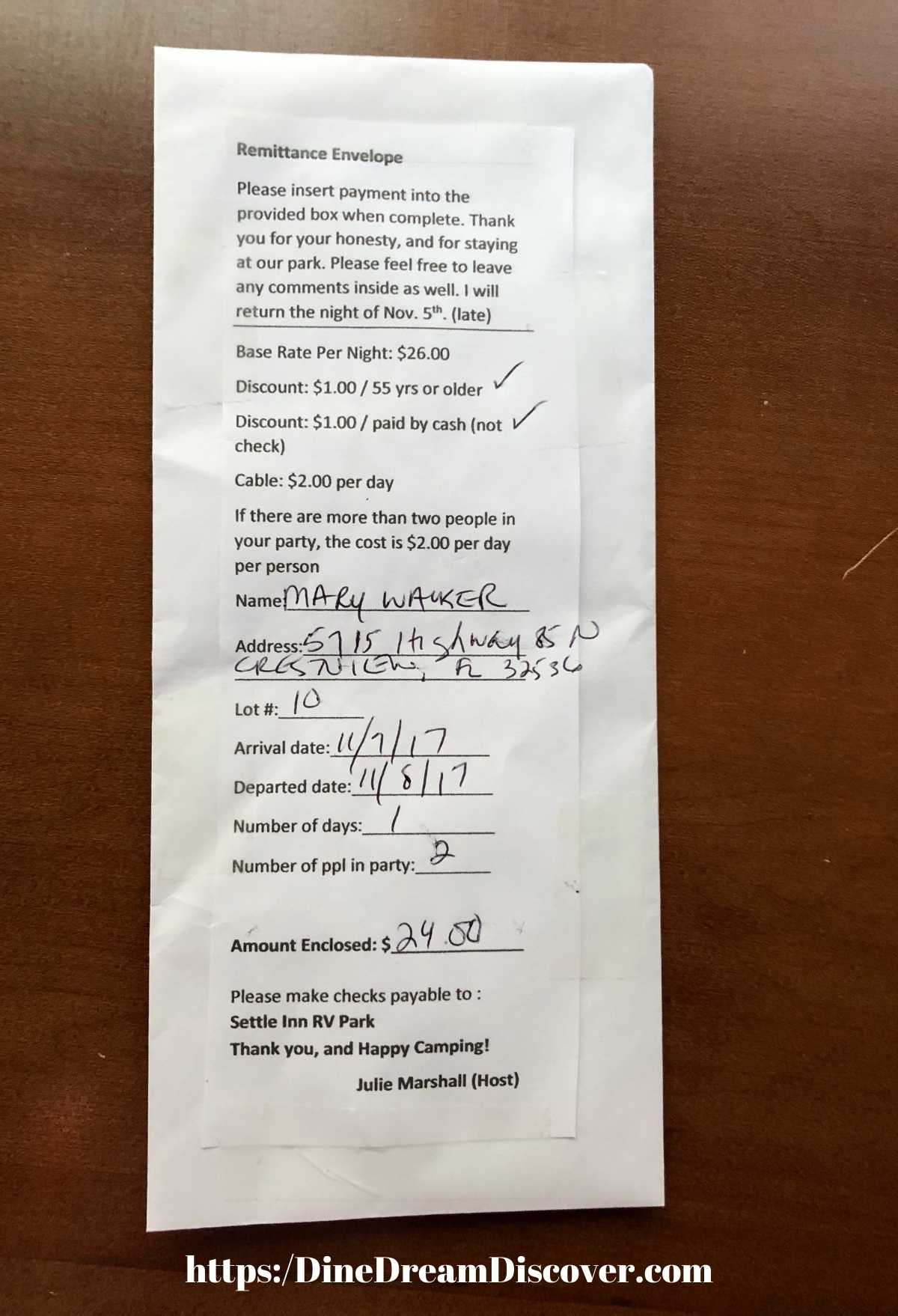 It was easy in and not so easy out as there were a lot of trees right by our site. Being RV newbies, it was kind of scary. Always make sure to have a spotter though and you'll be okay.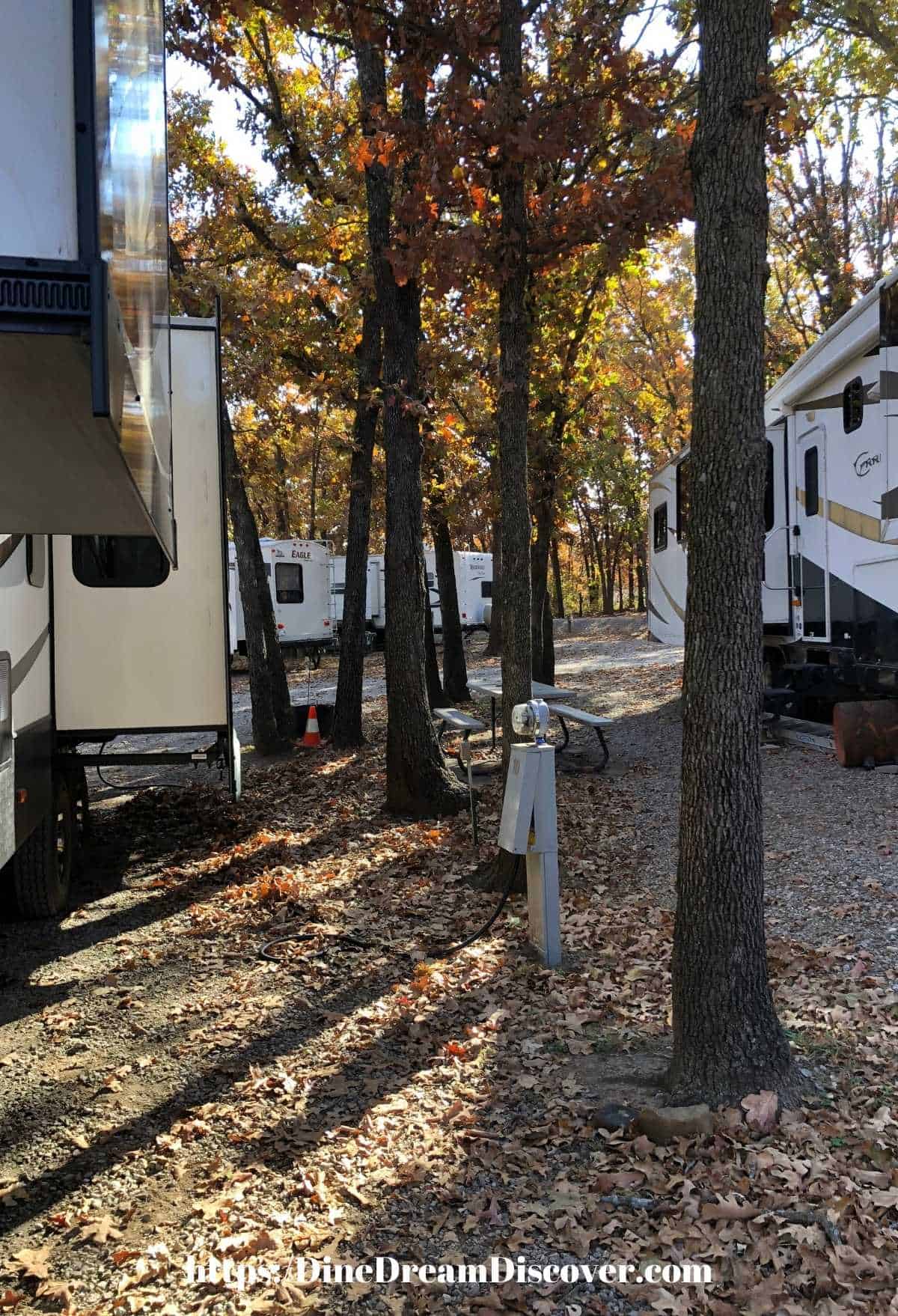 There are also Bed and Breakfast places to stay listed right on the Merc website along with The Boarding House.
The Boarding House is located at 540 Kihekah Ave, Pawhuska, OK, two doors down from the Merc.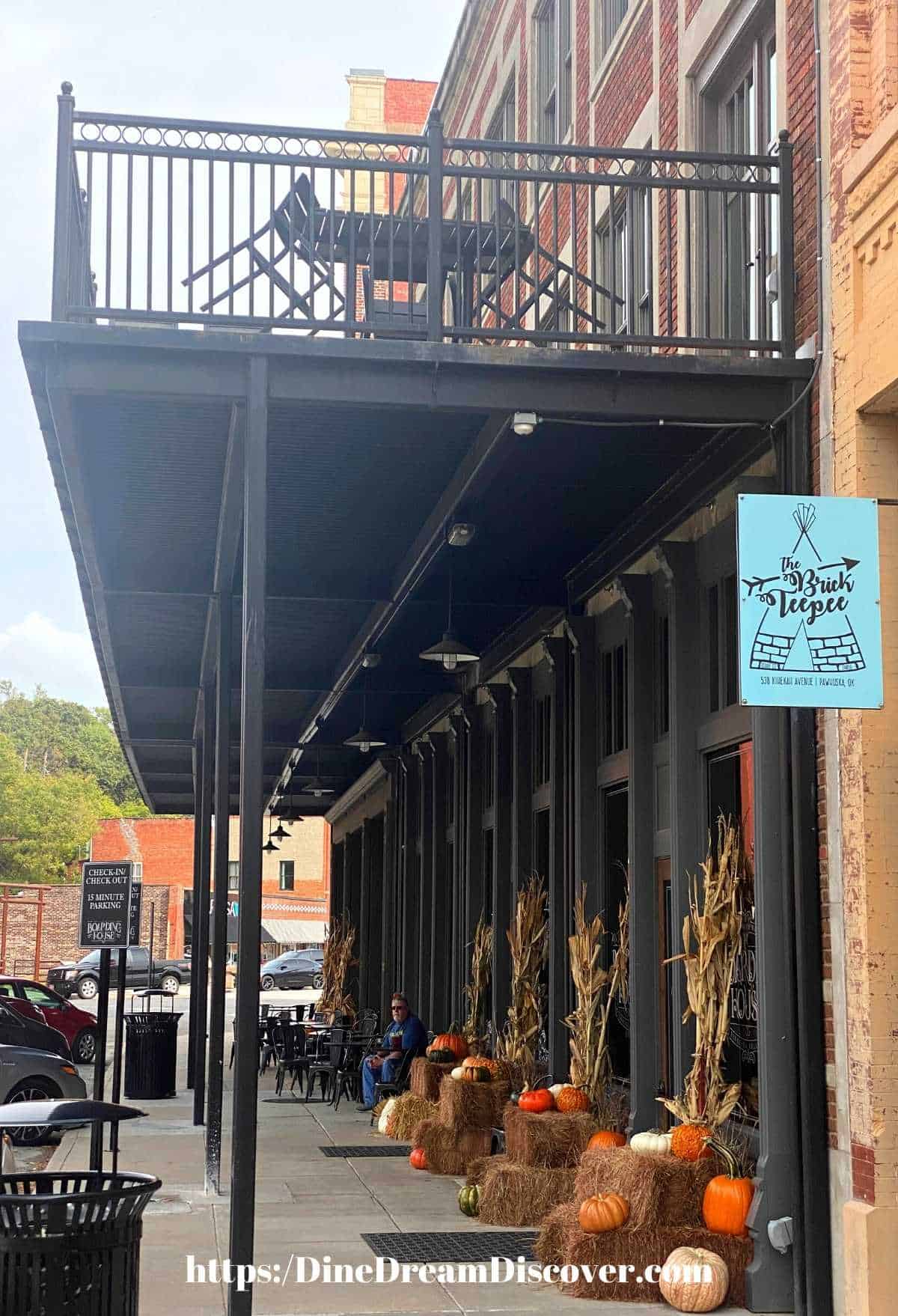 This boutique hotel is the perfect place to stay if you're looking for something different. Each room has its own theme.
The Photograph Room or Butterfly Room provide examples of what we offer, so don't wait too long before booking your reservation because they always fill up fast.
Frontier Hotel is located directly across the street from the Merc.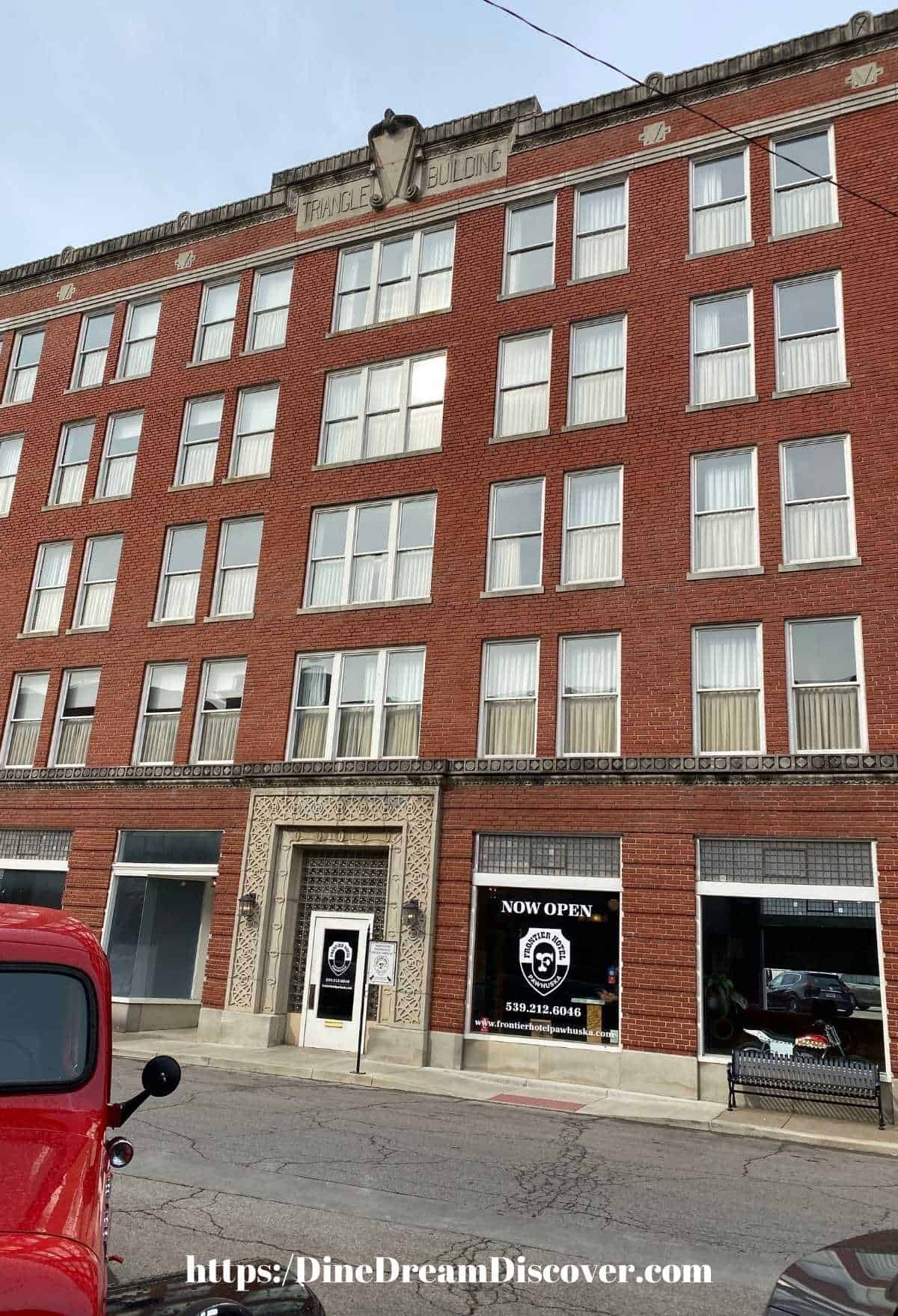 You can also stay at their newest additions of the Prairie Cottages, with king and queen suites available, which are a block over. And they look adorable from the outside so I'm sure they are just as cute on the inside.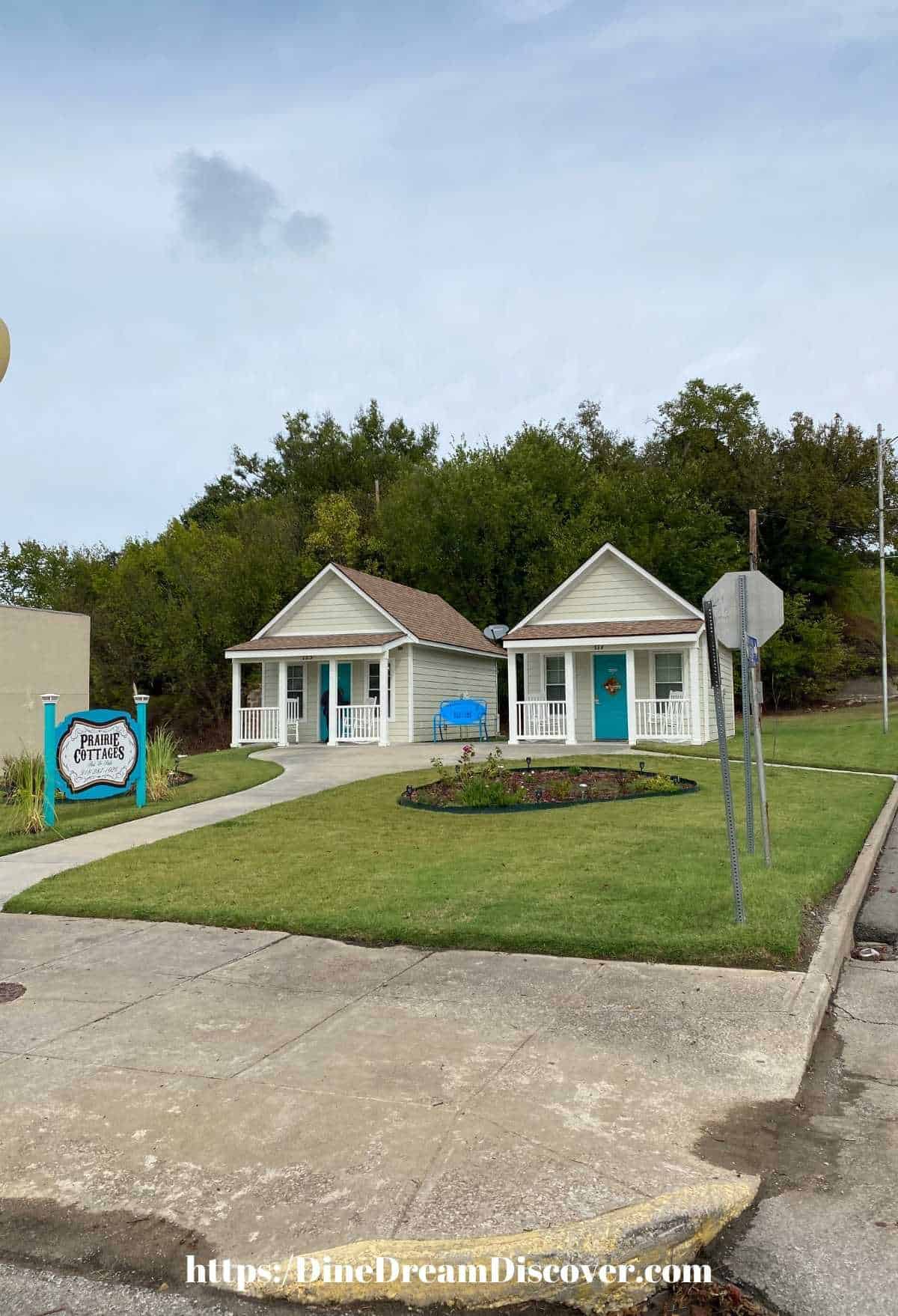 The Drummond Ranch
The Drummond family, that Ree married into, has had their ranch in Pawhuska since The Great Depression when Frederick Drummonds purchased 25 thousand acres and Hereford cattle.
On your way to The Lodge, you pass the entrance to the ranch so we stopped to take a picture.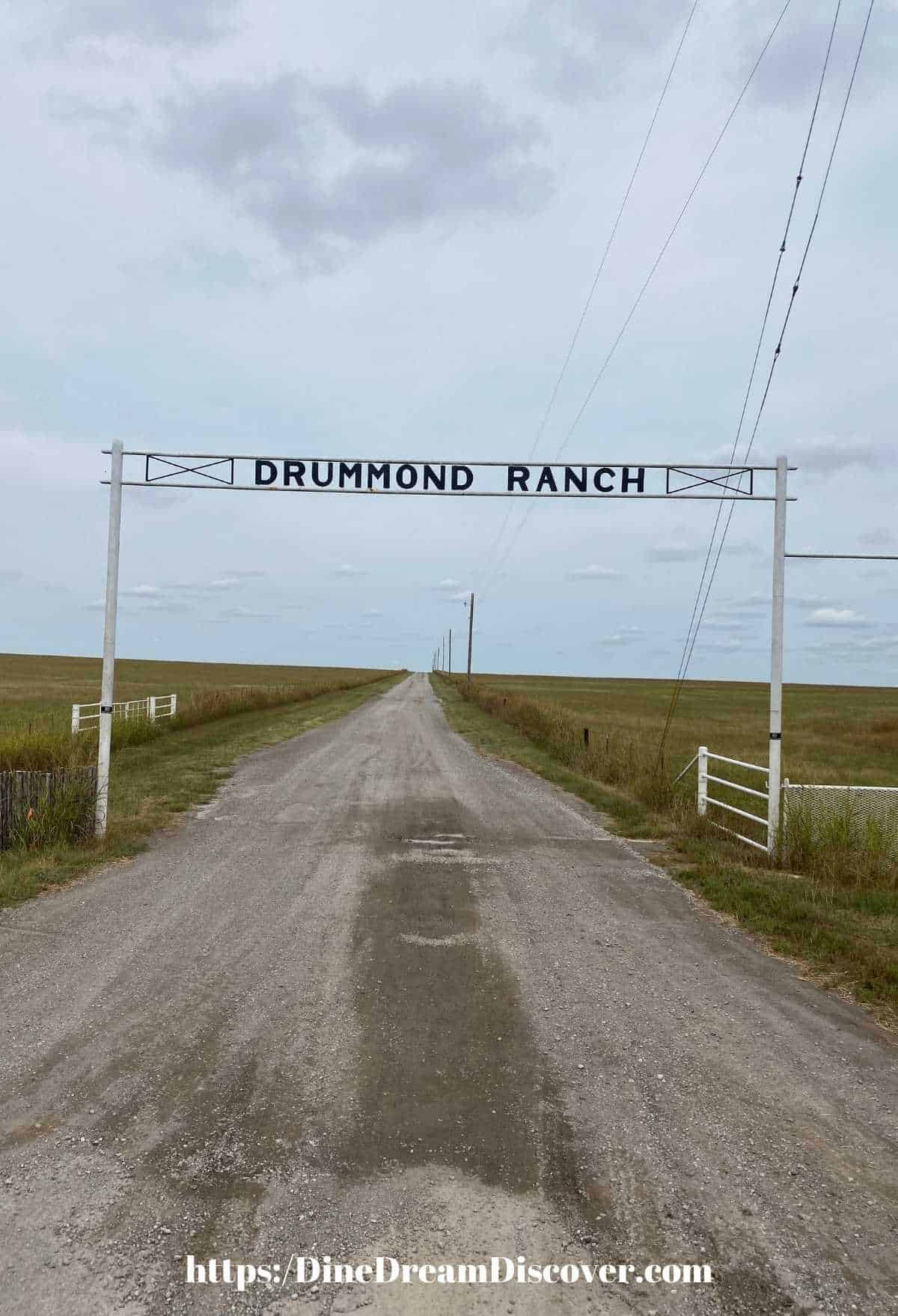 Having grown to 433 000 acres of land making them the 23rd largest land owner within America can't even be comprehended by many people today but it was very much so during that time period!
Pioneer Woman Lodge Tours
Part of the Drummond Ranch and located towards the back of the property, you drive 7 miles down dirt roads to get to it. My husband is not a fan of dirt roads, but he knew how much I wanted to visit it. And besides, my birthday is next week. 😉 Happy wife, happy life is how the saying goes. 😬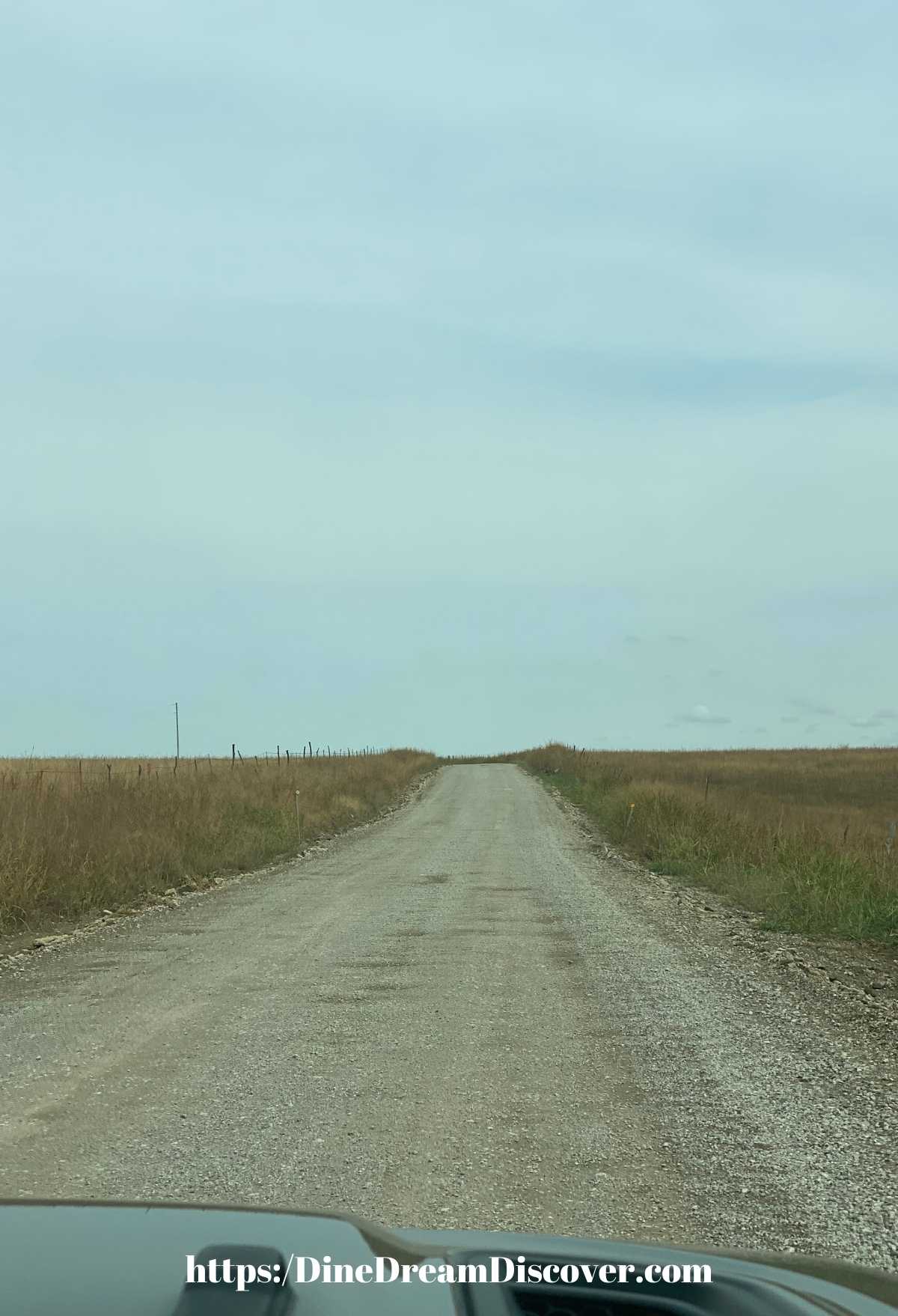 You know those houses that are just so beautiful, you can't help but feel like they're living in the moment and enjoying every single thing life has to offer?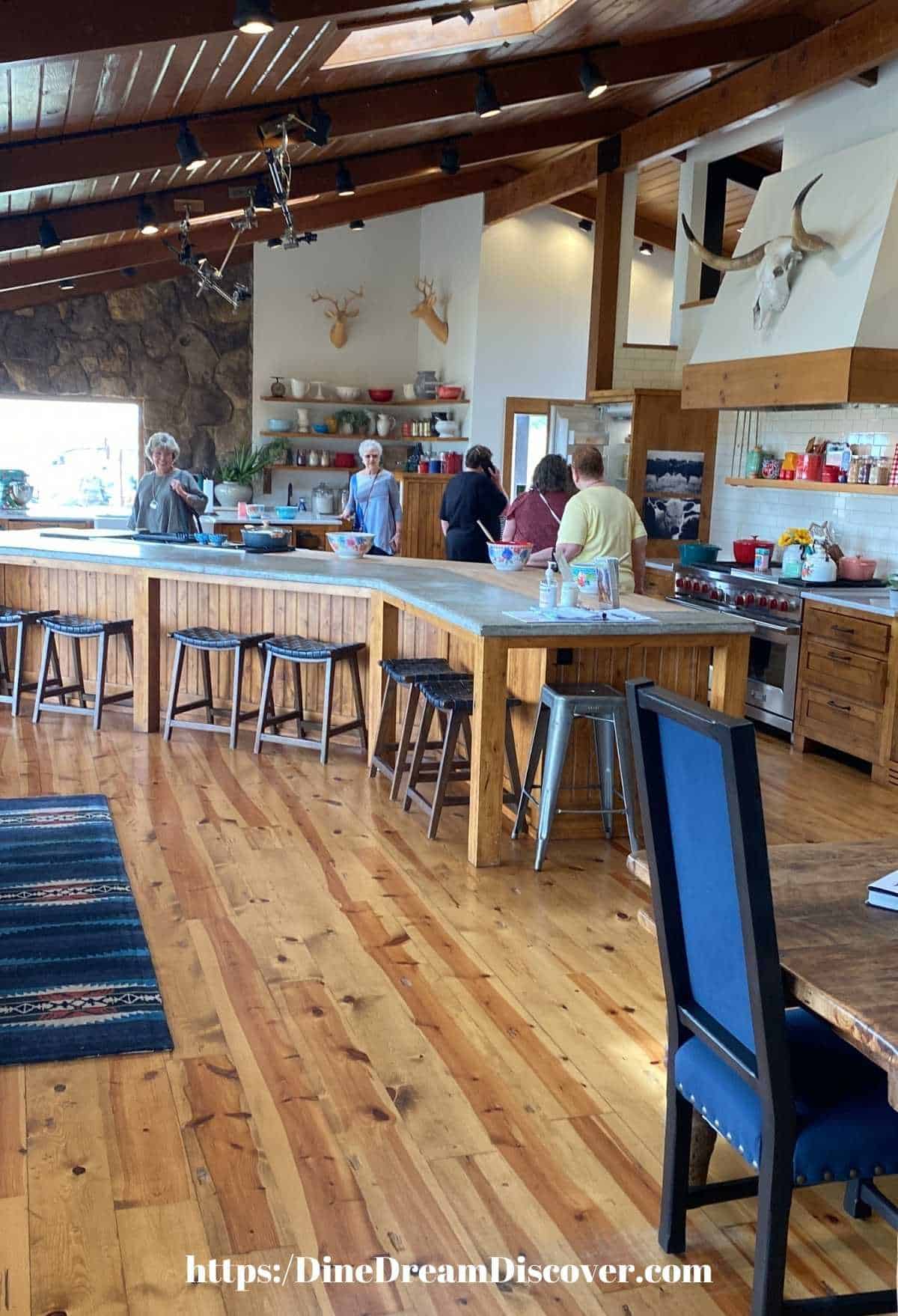 Well, imagine walking into one of these homes with your best friends for lunch. That's how it feels when we first arrive at this ranch lodge property!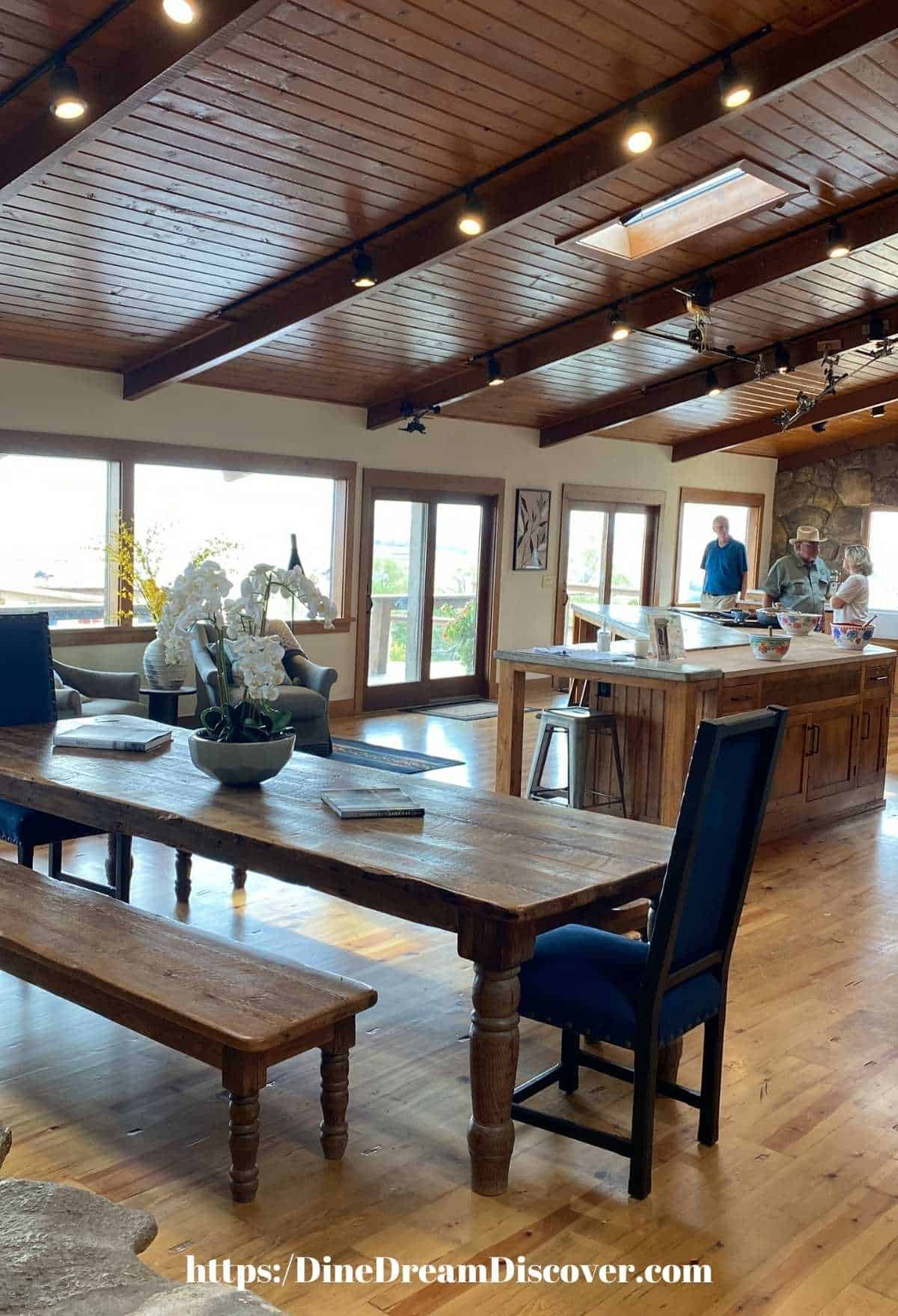 The view is breathtaking; rolling hills on both sides as far backlit by sun peaks over them with shadows moving slowly across each other while warm afternoon light pours through windows brightening up every corner inside--just what country home dreams are made out...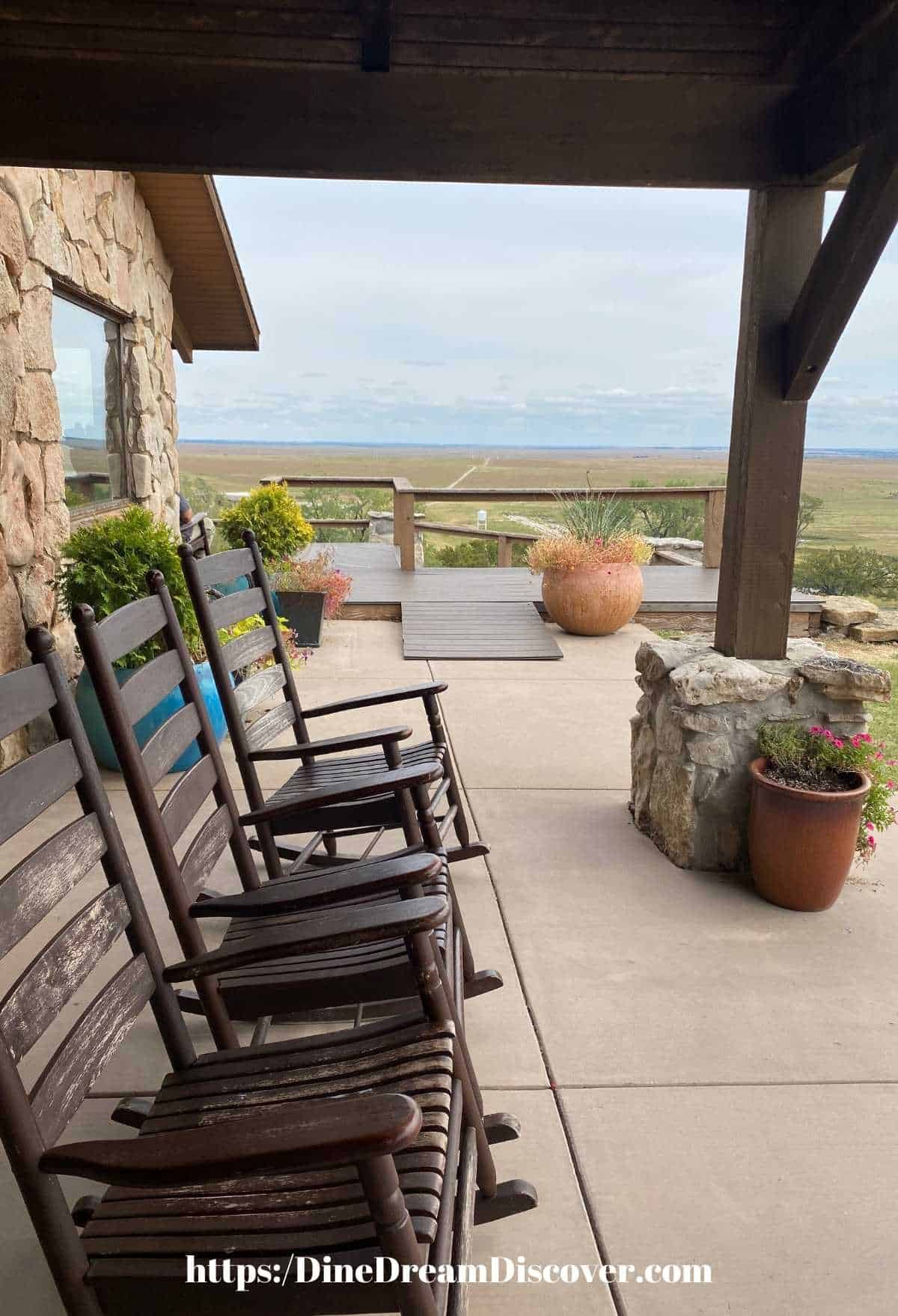 I can only imagine what her actual home looks like which is 2 miles away.
The ranch dogs have free roam which is why you cannot bring your pets with you when visiting. You are sure to see one or two just relaxing on the porch after all the excitement of the visitors.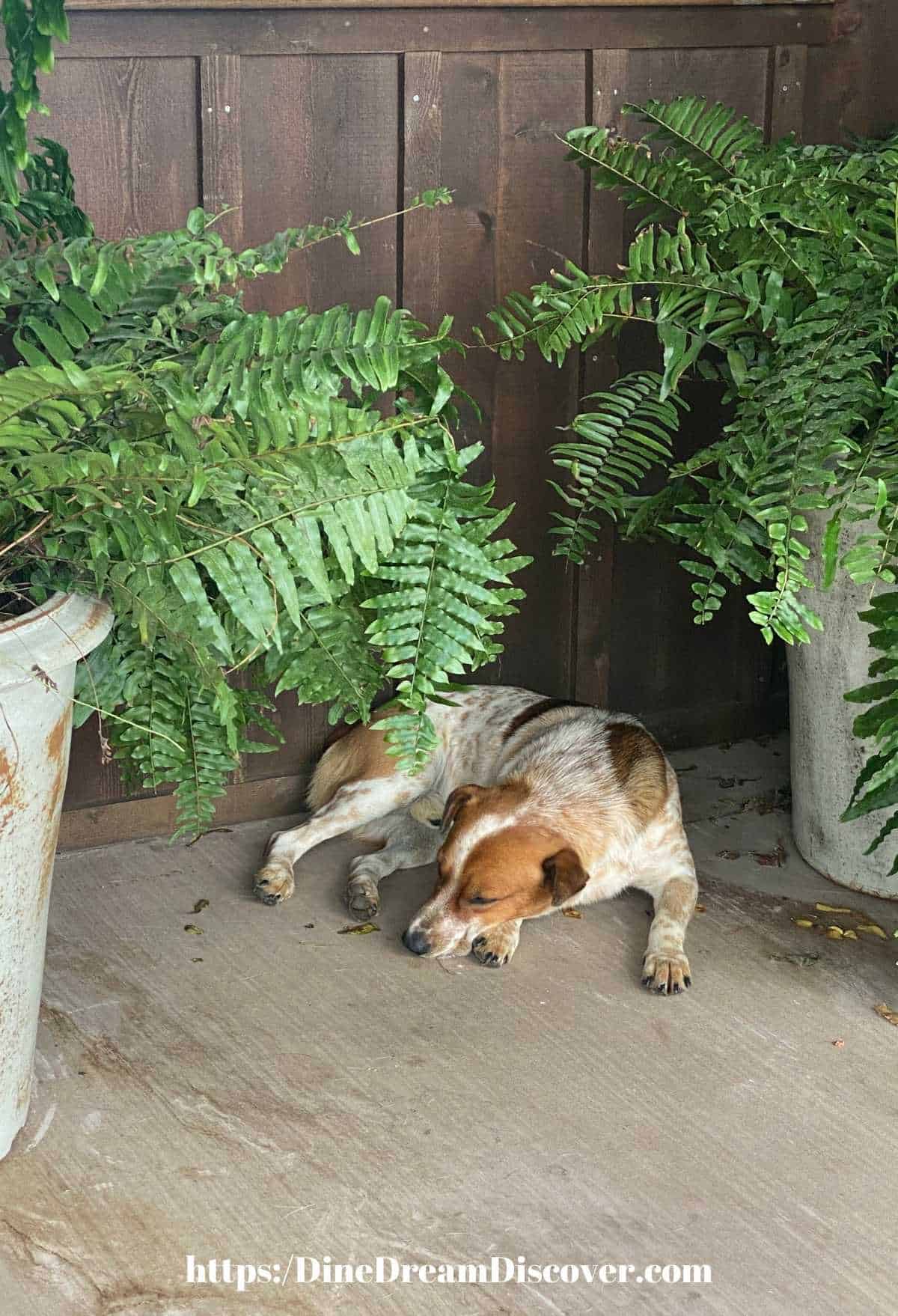 There are people on hand at the lodge to answer any questions you might have and even take your picture.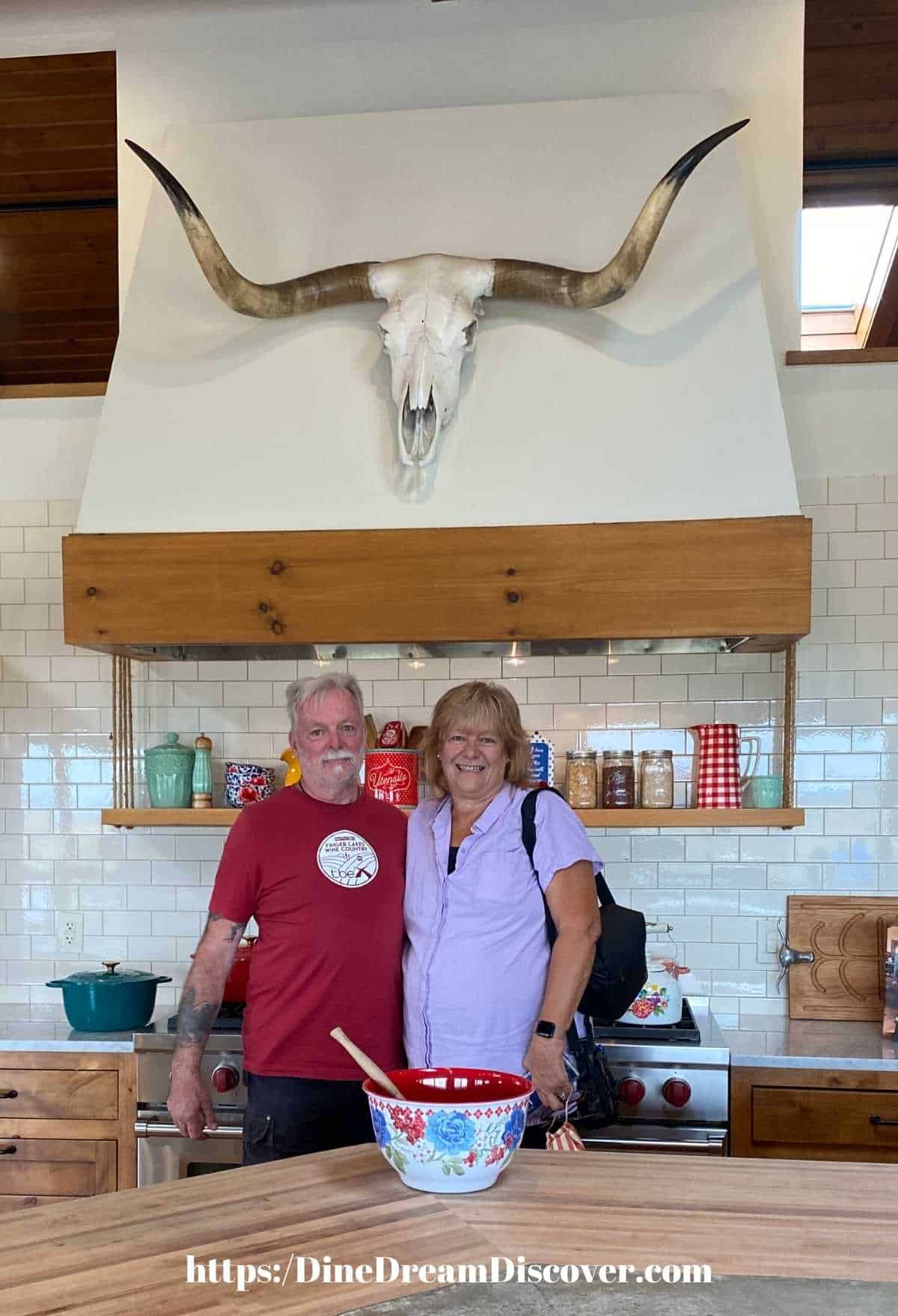 In Conclusion
I can't wait to go back and explore more. It was a fun experience, the people were friendly, and it feels like you're going on an adventure when you walk in. You never know what treasures await!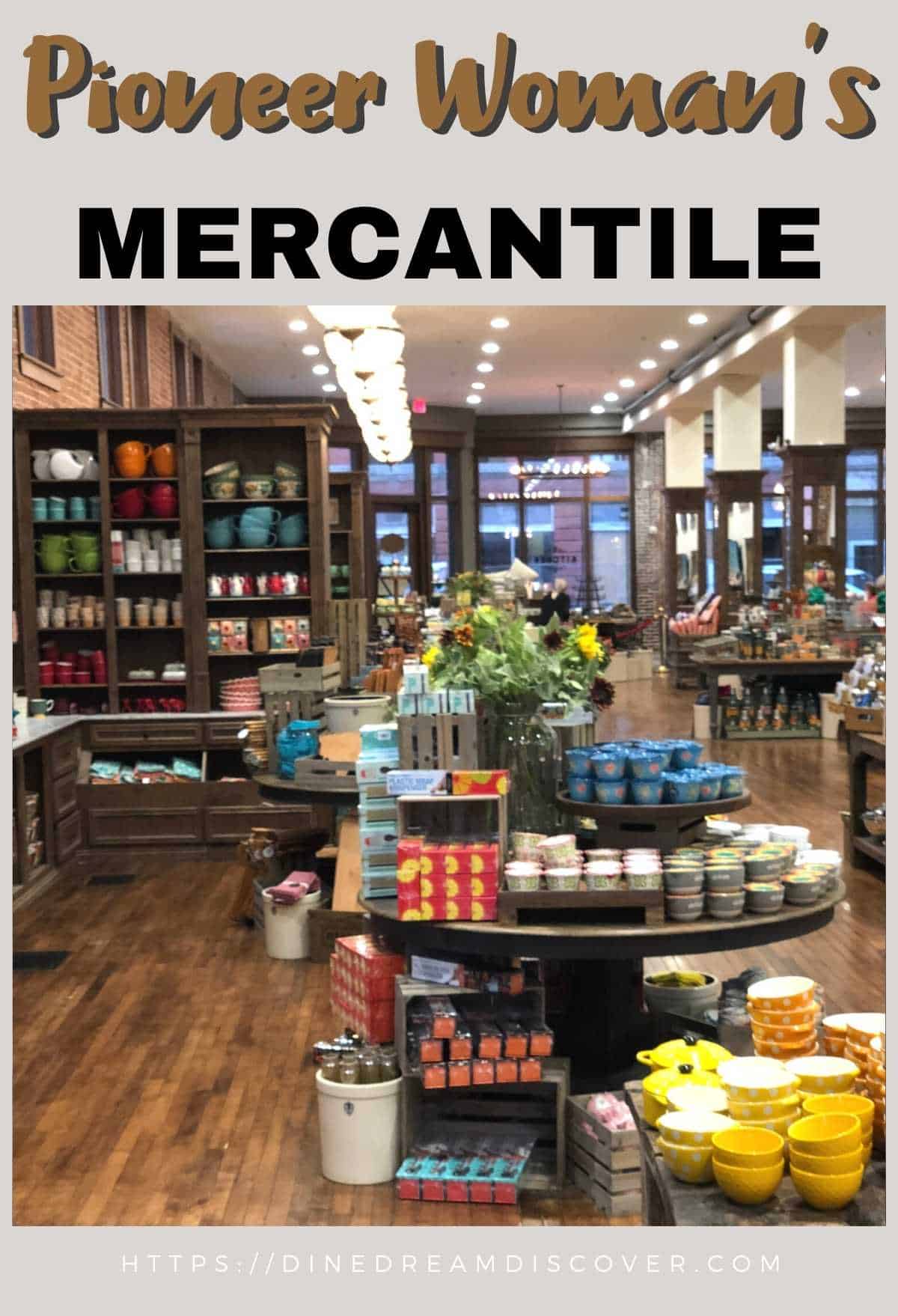 Connect with The Pioneer Woman's Mercantile on Facebook, Twitter, and Instagram. Visit the Pioneer Woman Mercantile today!