Chef-inspired gourmet cuisine One Hour Dinner that's convenient, cost-effective, and high-quality Gourmet Food Delivery Cuisinery Food Market.
I received the products mentioned below in order to facilitate my review. All opinions are my own and may differ from yours. This post may contain affiliate links. See my disclosure policy for more info.
Best Gourmet Food Delivery – Cuisinery Food Market
Who would have thought that you could get a Gourmet dinner in just one hour? And delivered right to your door too. Not me, that's for sure.
But you can and I'm going to tell you how. And how I got my husband who can't cook to make it. 😉
My husband cannot cook! Never could, never tried, and I could never see it happening. That was until I broke my ankle.
So a broken ankle plus a pandemic where you weren't able to eat out can only equal one thing…my husband learning to do ALL the household chores including cooking. 😂
Many of my friends told me good luck with that. They offered to help but I knew something had to be done.
I taught him to do the laundry, load and unload the dishwasher, and even something as simple as making the coffee. 🙄
Grocery shopping was easy because Walmart and Aldi both have grocery pickups. All I had to do was place the order and he could pick it up.
However, that meant I still had to figure out a way to make meals easily since I couldn't bear any weight on my leg at all.
I was tired of the same old quick frozen meals that could be popped in the microwave. (because that was pretty much all he could do after I read the directions to him! lol)
And then, it happened…Gourmet Food Delivery IS Available
Cuisinery Food Market sent me an email asking if I would like to try out some of their products and I said heck yeah!
They carry chef-inspired cuisine that is delivered right to your door. The meals are convenient, cost-effective, and high-quality.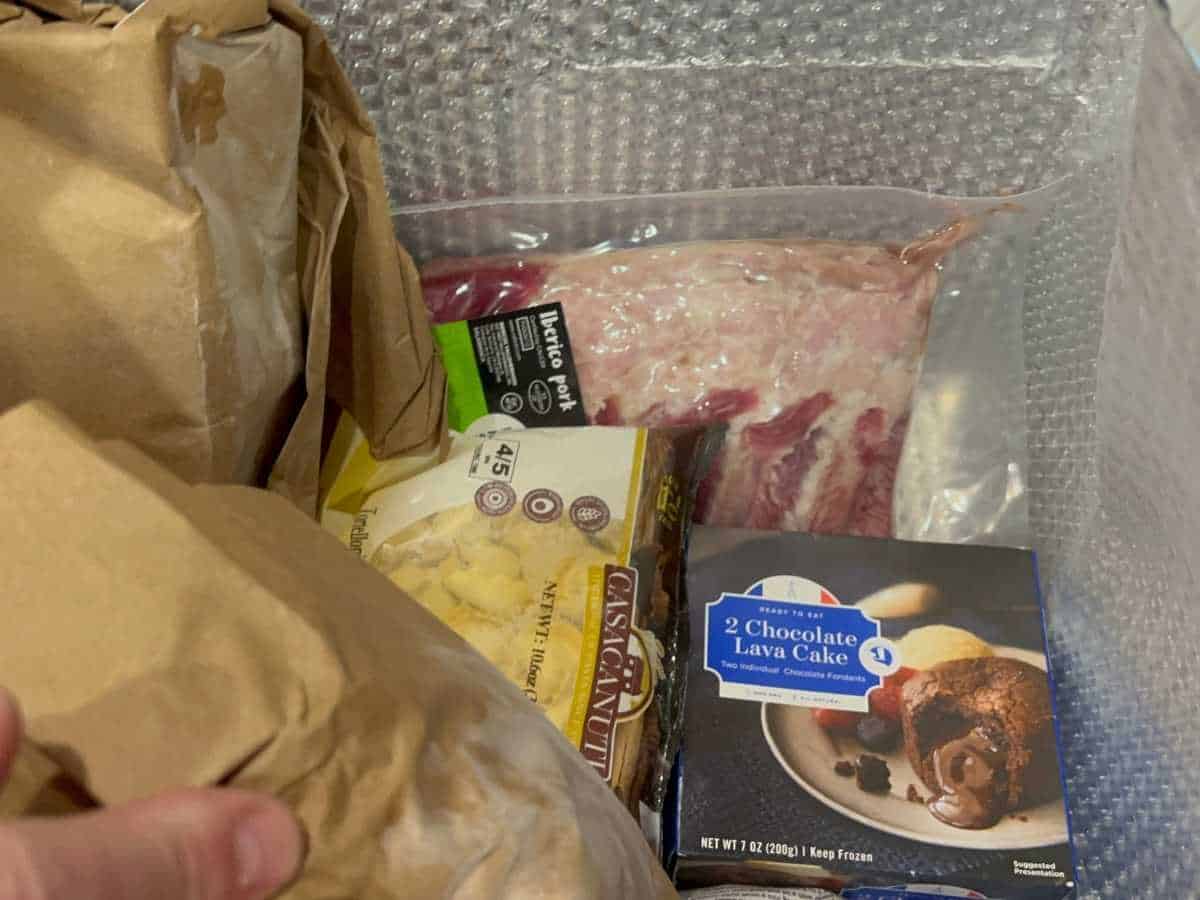 And when the food arrived, I could definitely see why.
We received Ibérico Pork Spare Ribs, Hasselback Potatoes, and Ricotta & Spinach Tortellini.
And the food was so excellent that I placed an order to re-order these items and also added Mexican Style Street Corn, and Chocolate Lava Cake.
Ibérico Pork Spare Ribs
The meat is marbled with fat that melts at low temperatures creating an incredibly succulent texture that will leave your mouth watering after every bite.
It has a rich flavor that makes it perfect for grilling or roasting over hot coals.
These pigs live out their lives in wide-open spaces eating natural cereal and legumes-based hay.
You won't have any concerns about additives or chemicals being added during processing – so you can enjoy your meal guilt-free!
Ibérico Pork Spare Ribs are a delicacy and taste like no other one comes from the Ibérico breed that can be found in Spain.
When you make these at home, remember to eat slowly so you can enjoy every bite!
They suggest thawing for 24-48 hours. Rub your favorite spices on them and grill, bake, or make them the Instant Pot Pork Ribs as we did.
Hasselback Potatoes
We all know that potatoes are delicious, but have you ever tried Hasselback Potatoes before?
They're thin slices of potato baked in butter and Guérande sea salt.
Have you ever wanted to eat a baked potato but didn't want to wait for it? Well, now you don't have to!
Hasselback potatoes are pre-cooked and ready in just 30 minutes.
The recommended method of cooking is in the oven.
Preheat the oven at 350°F (180°C). Place the potatoes on a baking tray, drizzle with olive oil to taste, and let them cook for 30 minutes.
They come out of the oven crispy on the outside and soft on the inside.
Plus they taste delicious with any topping or sauce that you like!
We made two of them in the microwave for 5 to 6 minutes on high and they were delicious without adding anything.
These potatoes will be the star of every meal! There are five per bag.
It's a simple side dish, but it tastes so good! You can serve them as an appetizer or side dish to any meal.
They go great with steak, chicken, pork chops – anything really! And they look beautiful on the plate too.
Ricotta & Spinach Tortellini
The Ricotta & Spinach Tortellini is the perfect way to enjoy a delicious, authentic Italian meal.
It's filled with soft ricotta cheese and spinach leaves, so it tastes just like what you would find in Italy!
Made using traditional recipes and techniques, it's imported straight from Italy.
You can serve this pasta dish with your favorite tomato sauce or meat sauce for an amazing dinner everyone will love.
Or try serving it with flavorful cheese or vegetable-based dressings – there are endless ways to make this dish taste great!
You won't believe how much flavor comes through every bite.
This pasta is packed full of fresh ingredients that really shine when they come together on your plate.
And because we use only the finest quality ingredients available, each tortellini has a satisfyingly smooth texture that melts in your mouth as soon as you take a bite.
We made an Italian Tortellini salad recipe with it as a complement to our meal.
Experience the best Italian cuisine by ordering some today!
Mexican Style Street Corn
This Mexican Style Street Corn is an unforgettable classic that will instantly transport you to the streets of Mexico.
Coated in cotija cheese, sour cream, and a touch of cayenne pepper, this side dish lets you have all the fun flavors of street corn without having to leave your house or go out to eat!
A little on the spicy side, this delicious recipe will have everyone coming back for seconds and thirds!
If you want to make sure that every bite is packed full of flavor, top it off with some fresh cilantro and queso fresco cheese.
Serve by itself as a snack or as part of a complete meal – either way, we know you'll love this tasty treat!
The preferred method of cooking is stovetop. However, we made ours in the microwave and it was perfect.
Are you looking for a new side dish to add to your dinner menu?
Chocolate Lava Cake
Do you love chocolate? You can't go wrong with this delicious treat that will satisfy your sweet tooth every time!
It's perfect for any occasion – whether it be a romantic dinner for two or just because you deserve it!
Enjoy this rich, indulgent treat on its own, or pair it with your favorite fruit, ice cream, or sauce for a truly unforgettable experience!
It's also great as part of any celebration – whether it be Valentine's Day, Mother's Day, birthdays, or anniversaries – because everyone loves chocolate lava cakes!
Make it simple and sprinkle it with some powder sugar.
So why not make someone happy today by surprising them with this delicious treat? They will love you forever!
How to Get Gourmet Food Delivery
All these items and more can be purchased online and will ship right to your door. They arrive packaged in a cooler with dry ice so the items stay frozen.
Orders placed by noon, are shipped Monday through Thursday.
There are also several stores where you can visit if you live on the East coast. One is in Paramus, NJ, and the other in Melbourne, FL.
I am looking forward to visiting the Florida location this winter since it's only about an hour and a half away from me.
Connect with them on Facebook, and Instagram.
Be sure to follow us on Pinterest and PIN IT FOR LATER!