A HERO Grill is a non-stick charcoal portable grill that lights easily and is not messy like a regular charcoal grill. No more lugging around bags of charcoal and lighter fluid and trying to start it.
I received the products mentioned below in order to facilitate my review. All opinions are my own and may differ from yours. This post may contain affiliate links. See my disclosure policy for more info.
Fire and Flavor HERO Grill for all Your Grilling Needs
One thing that reminds me of my childhood and brings back many happy memories is the smell of a charcoal grill.
During the summer, we would head to the beach almost every Sunday.
My dad would pack up the trunk with all the beach supplies and the charcoal grill. (A full size charcoal grill!)
After a couple hours on the beach, my dad would head up to the picnic area to fire up the grill for dinner. We would stay down at the beach for at least another 30 minutes.
The Fire & Flavor HERO Grill brings back those memories without the hassle of the big charcoal grill.
What is a HERO Grill
A HERO Grill is a portable non-stick charcoal grill that lights easily and is not messy like a regular charcoal grill. No more lugging around bags of charcoal and lighter fluid and trying to start it.
The HERO Grill sets up easily, lights easily, and within 10 minutes you are ready to start grilling.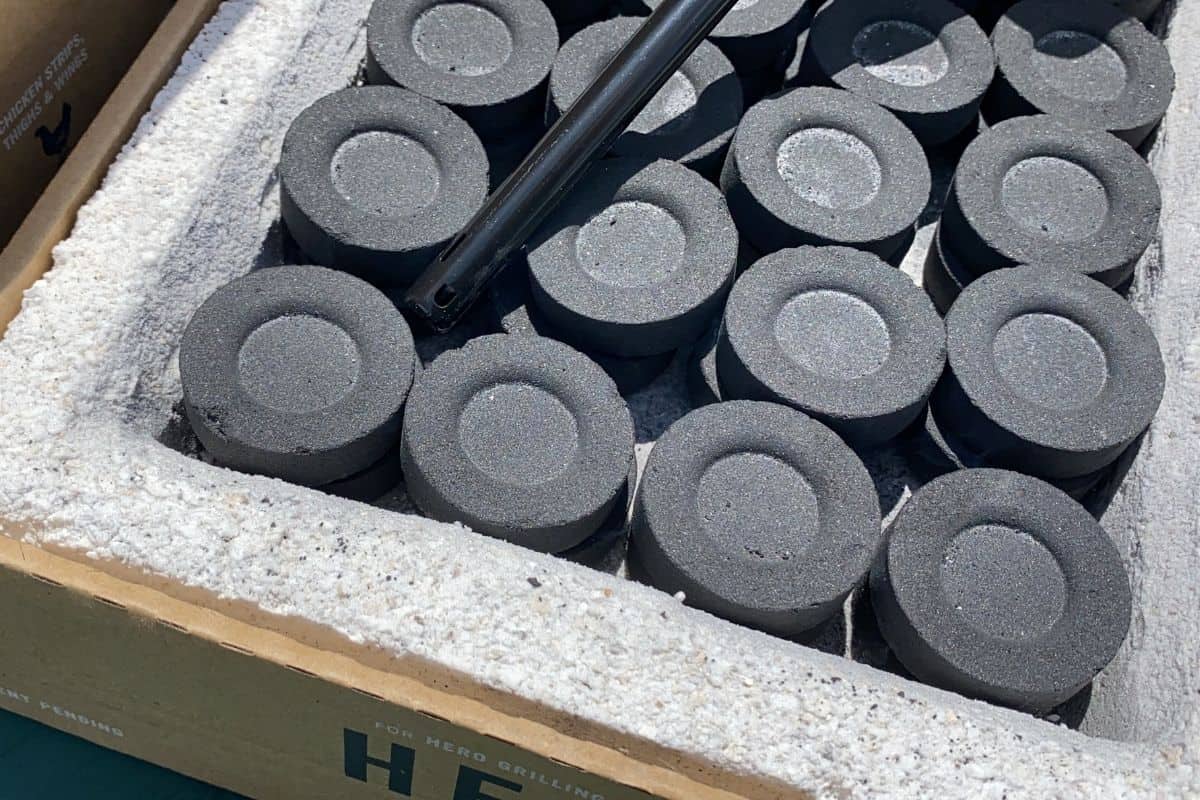 With a tray of charcoal briquettes that will burn for one hour, you can cook hot dogs, hamburgers, brats, and pretty much anything else you need to.
The best part is that the grill grate is dishwasher safe. Which when you are camping, doesn't really matter. However, because it's non-stick, it makes cleanup super easy.
How the Portable Grill Works
Once we removed the grate and charcoal pod from the carry all suitcase, we slid the pod under the grate and lit the corners as directed.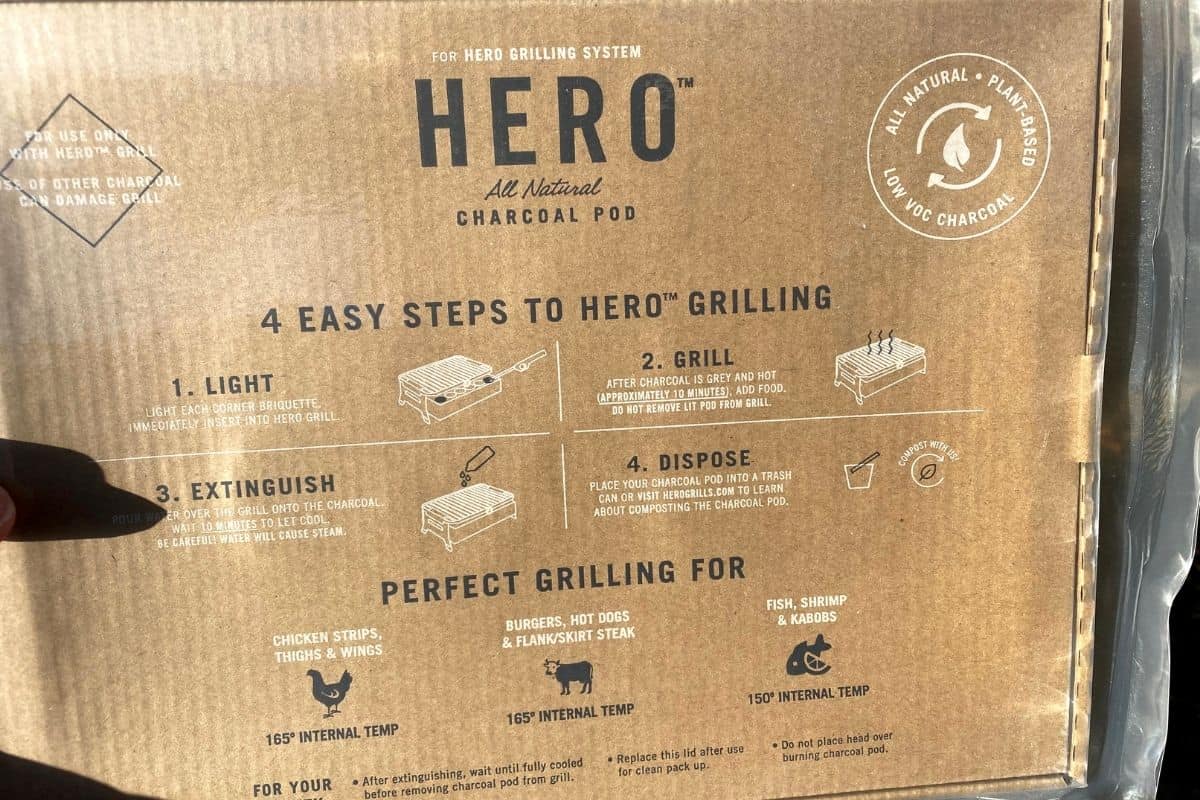 We waited for about 10 minutes and threw on our bratwursts. With the temperature at almost 500, they cooked evenly and quickly.
The thermometer is removable, so you can easily check the temperature of your food.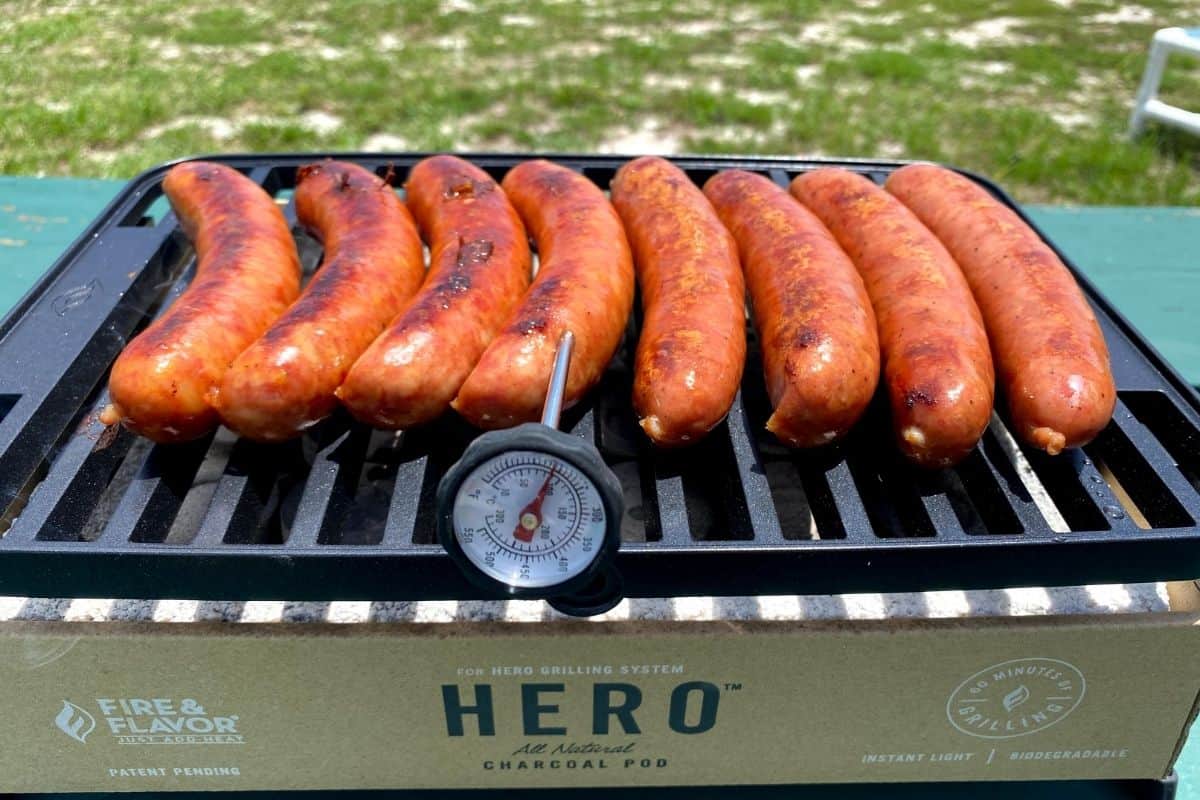 Once the cooking was done, we extinguished the pod with water and disposed of it according to directions.
What is Included
I received the complete HERO Grill System that comes with the following items:
Waterproof Carry Case
Non-Stick, Dishwasher Safe HERO® Grill
Disposable, Eco-Friendly Charcoal Pod
Nested, Multi-use Thermometer
Bamboo Spatula
Bamboo Cutting Board
Why a HERO Grill
Being a full time RVer, we have to conserve space and weight. A regular charcoal grill just doesn't make sense in an RV. With everything complete in the case, it fits perfectly in a compartment weighing in at only 10 lbs.
My son even borrowed it for when he went tent camping.
Sure we have a portable gas grill. But...my husband won't even let me cook hamburgers on it because of the mess they make.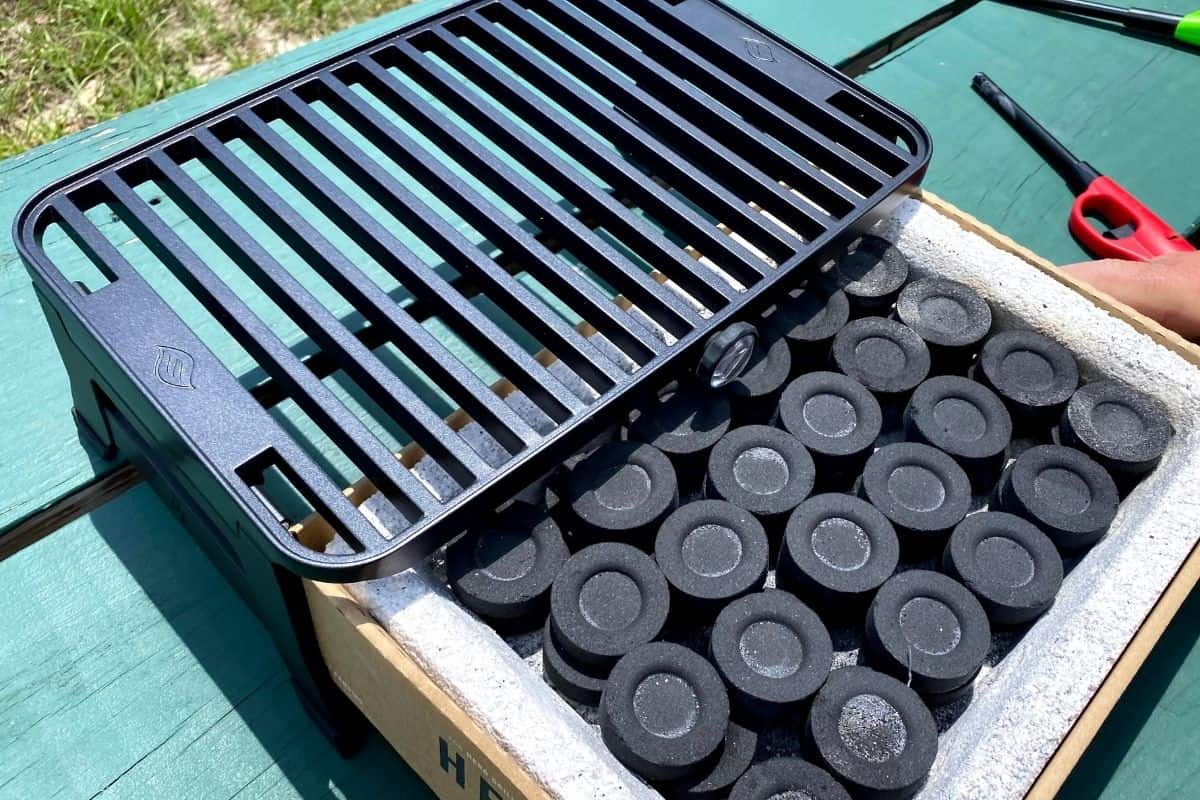 With the HERO Grill, there is no mess to clean up. Perfect for every day!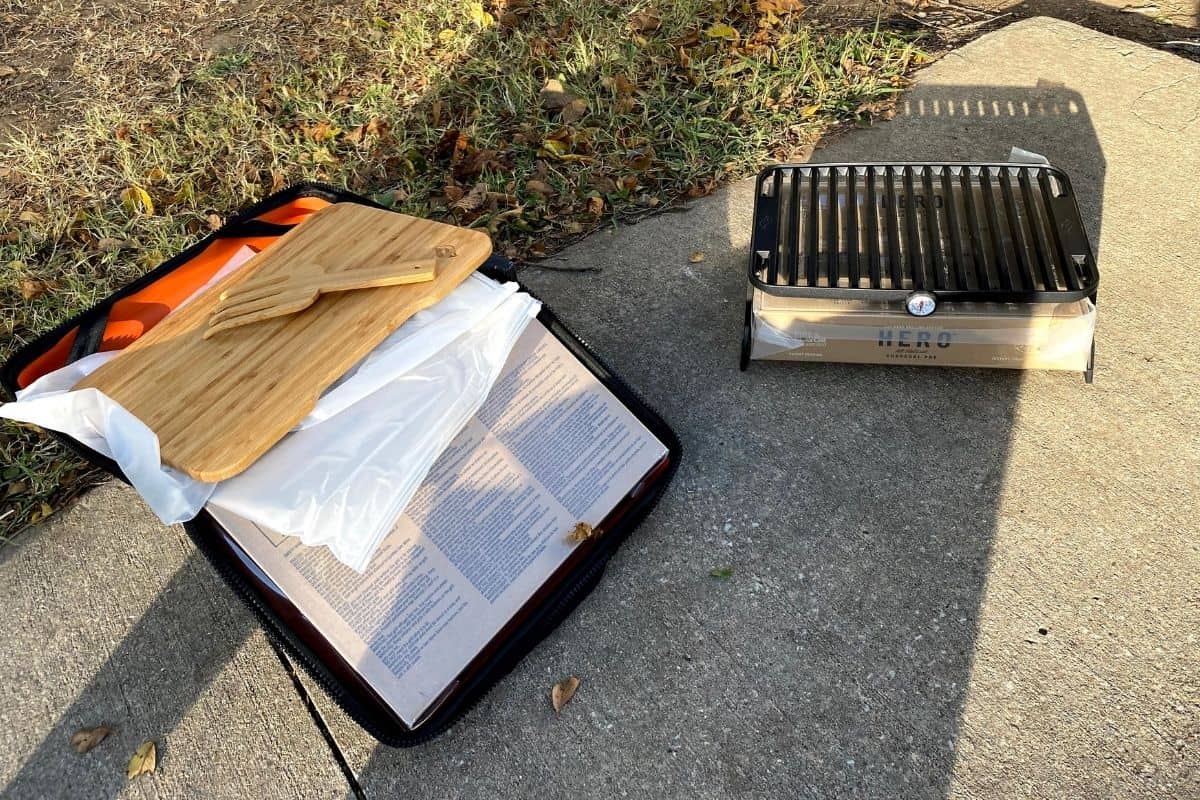 We placed ours right on the picnic table. The bottom of the charcoal pod did not get hot because it's insulated. The heat stayed right where it needed to be.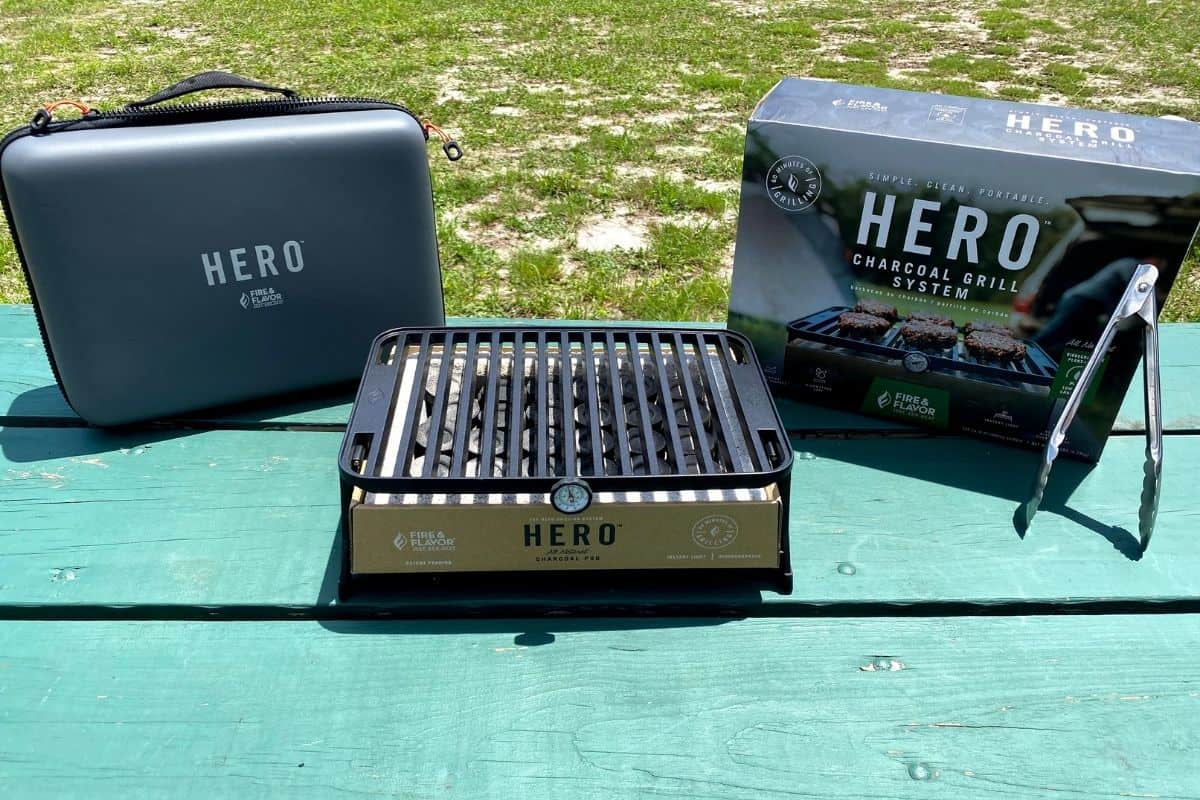 This would be perfect for tailgating (if it ever comes back) and even on the beach (where allowed!)
While it would take a while to feed a family of 6, it's the perfect size for my husband and I and also my son and his family of 4.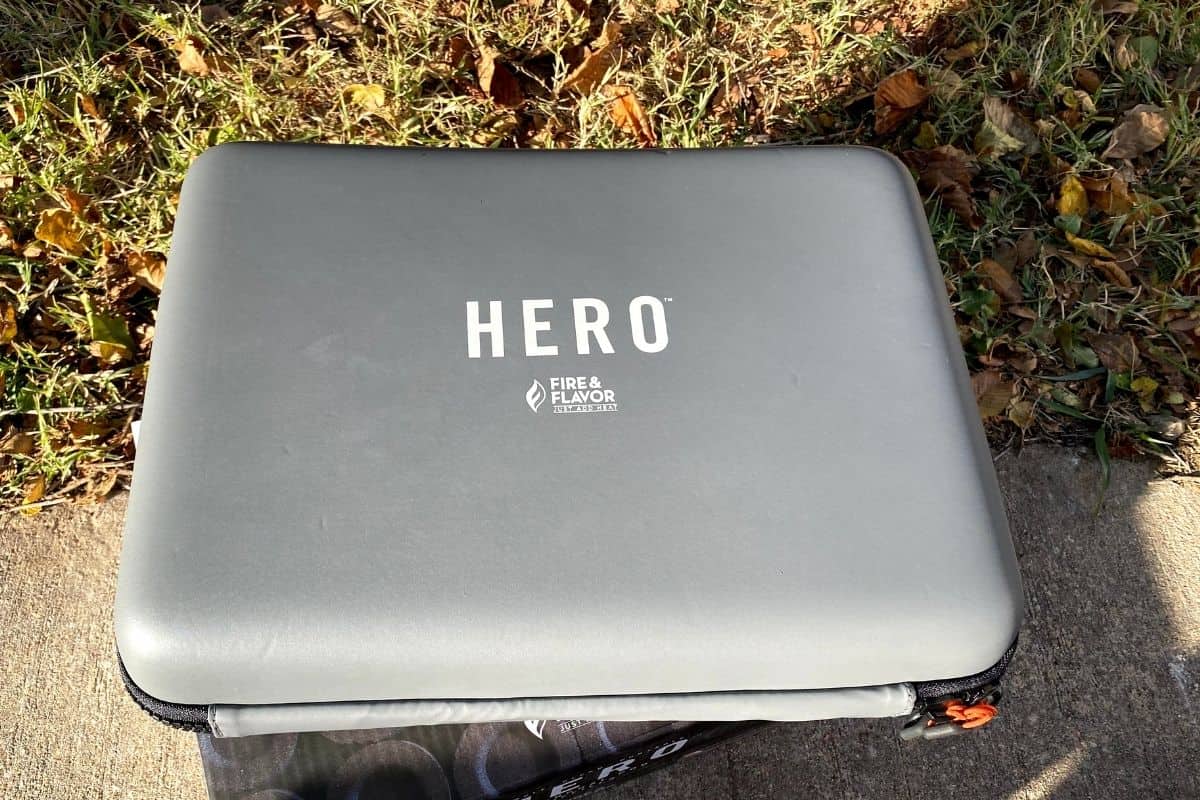 Where to Purchase the HERO Portable Grill
The HERO Grill System is available online at Fire & Flavor and also on Amazon.com.
Connect with Fire and Flavor on Facebook and Instagram.
Follow us on Pinterest and PIN IT FOR LATER!