Lucky Tail Dog Travel Bag holds your dog's food, a couple of toys, travel medicine (she gets car sick EVERY.SINGLE.TIME!), treats, poop bags, and more for overnight stays.
I received the products mentioned below in order to facilitate my review. All opinions are my own and may differ from yours. This post may contain affiliate links. See my disclosure policy for more info.
Dog Travel Bag - The Easy Way to Travel with Your Dog
We've had dogs all our married life. Which meant that the majority of the time, they went with us when we traveled.
Mostly because we would go on a trip for a couple of weeks. That's a long time to board your beloved fur baby.
But if you do board your dog for short periods, this is the perfect bag to take all their stuff with them too.
We always stayed in a Drury Hotel because they allow pets and we love that place!
Usually it was just a one night stay so I would pack a plastic grocery bag with a ziploc bag of Harley's stuff in it.
So in addition to our overnight bags, I had her plastic grocery bag full of stuff. 😂 (and that's even if you live in a state where they still hand out plastic grocery bags!)
It was even more fun when we had 3 dogs with us. 🙄 That was before I heard of Lucky Tail Pets Dog Travel Bag. 
But the Lucky Tail overnight bag is also great for airplane trips and is carry on compliant, camping trips, hiking with your dog, a day on the boat, and more. Does your dog go to doggy day care? It's perfect for that too.
What to Put in the Dog Travel Bag
I put quite a bit of stuff in the bag. (Including dog fur! 😂)
Harley's food, a couple of her toys, her travel medicine (she gets car sick EVERY.SINGLE.TIME!), treats, poop bags (poop boxes as a backup), dog medical bag, and her Snuggle Puppy for Dog Separation Anxiety.
Lucky Tail Dog Travel Bag Contents
The bag literally has everything you need to take your dog's belongings with you on your next trip.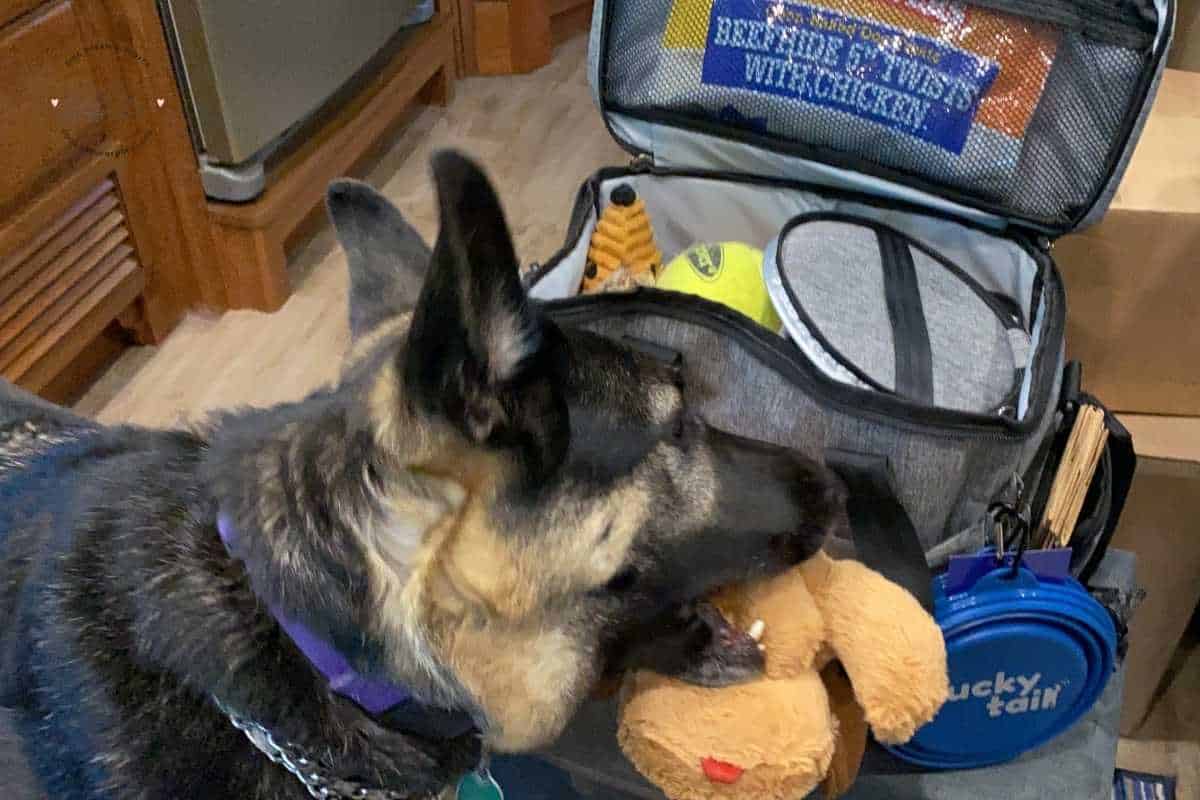 It contains two collapsable bowls, that are large enough for my German Shepherd Dog, one for food and one for water. Both have carabiner hooks to attach to the D rings on the side of the bag so they are at your fingertips.
There are two insulated & leak-proof food storage containers that will hold approximately 8 cups of dog food each.
The bag is water resistant, has a removable, padded shoulder strap, and a roller bag sleeve that fits over your suitcase handle. It's perfect for a day on the boat too and sits perfect on top of the rolling Ottoman Cooler.
A removable center divider gives you room to separate the items and lots of pockets for extra storage.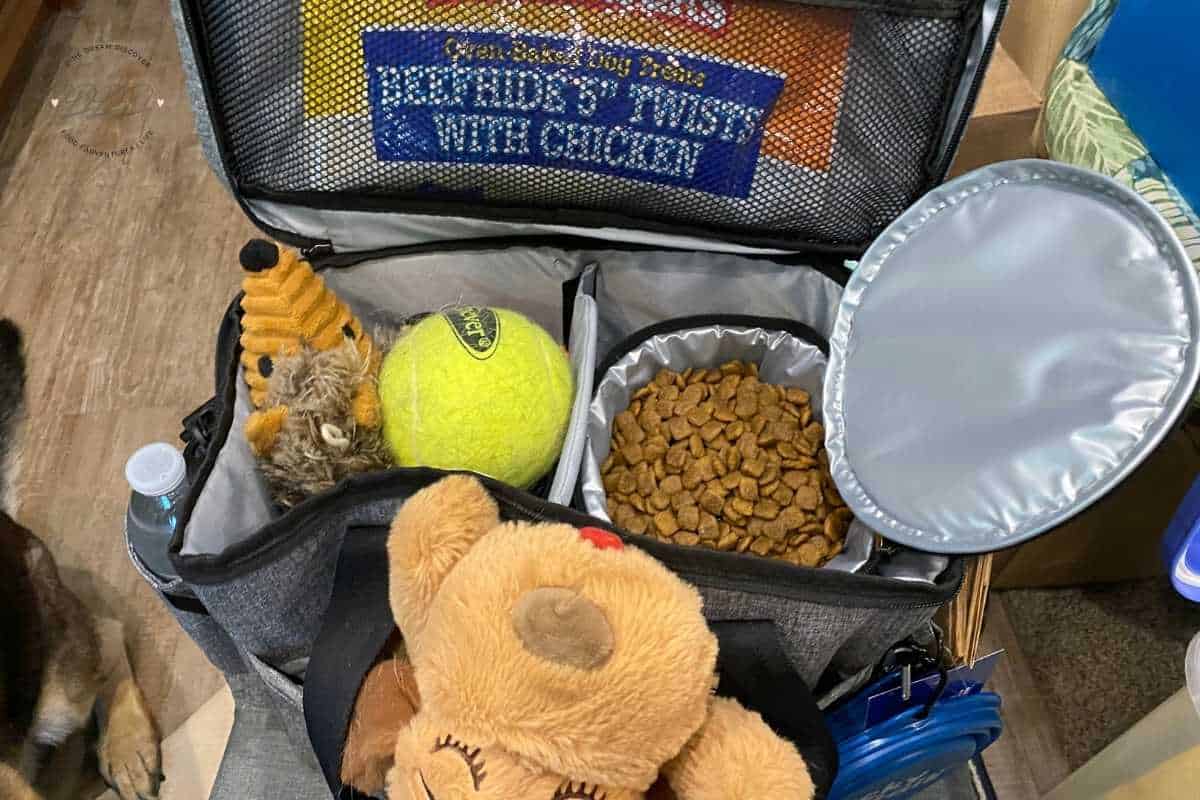 A bottle holder for a water bottle.
And even easy access dog poop bag dispenser. (Plus room for dog poop boxes for when she gets car sick! 🙄)
There is so much room in the Lucky Tail Dog Travel Bag that you could even put some of your items in there too.
Where to Purchase
The travel bag is available on Amazon. Connect with them on Facebook, Instagram, and Pinterest. 
Follow us on Pinterest and PIN IT FOR LATER!