If you have a little girl who loves dressing up and playing with dolls, a Feltman Brothers doll like Carly is the perfect gift.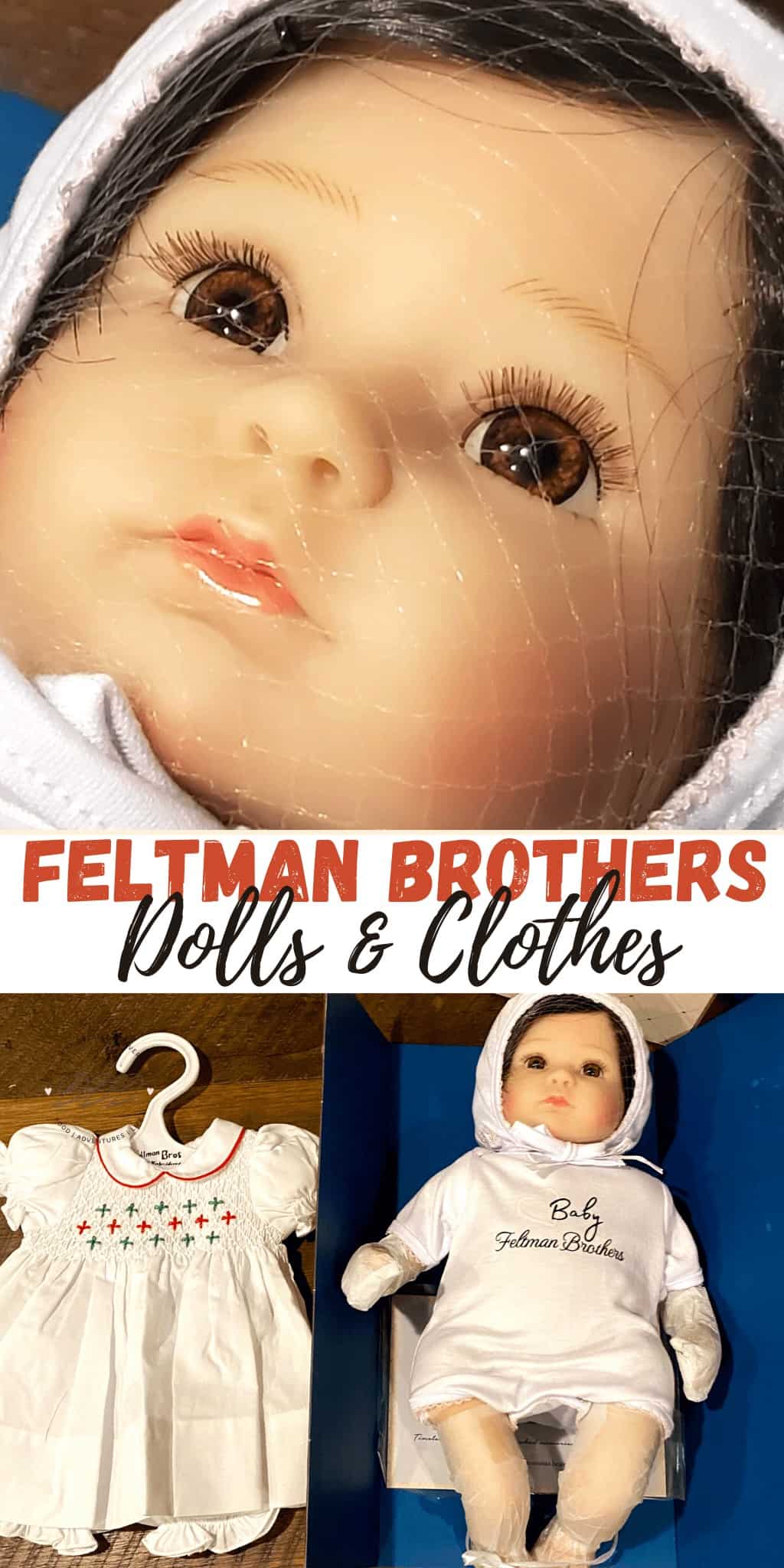 I received the product mentioned below in order to facilitate my review. All opinions are my own and may differ from yours. This post may contain affiliate links. See my disclosure policy for more info.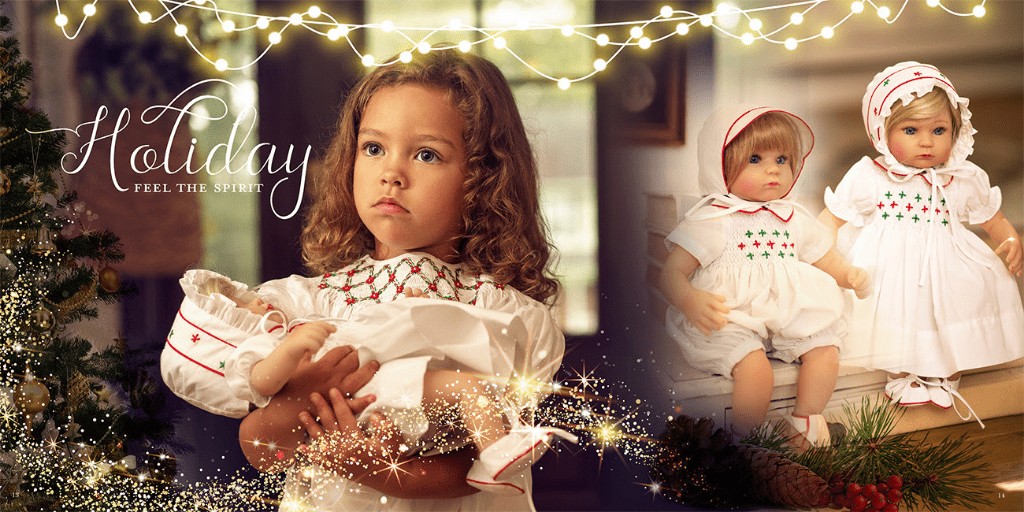 Photo Credit: Feltman Brothers
Feltman Brothers Doll Carly is Fun to Dress and Match
If you have children in your life or are about to, you want to know the name, Feltman. Feltman Brothers makes the most adorable clothes for baby boys and girls.
Finding boy and girl toddler clothes and even preemie clothes, can be really hard to find. Feltman Brothers make the best baby clothes and they have 14 different collections.
Let's face it. Babies are so much fun to dress up and the stuff you can find at Feltman Brothers is a dream come true for any of us who like to put babies in intricate little outfits.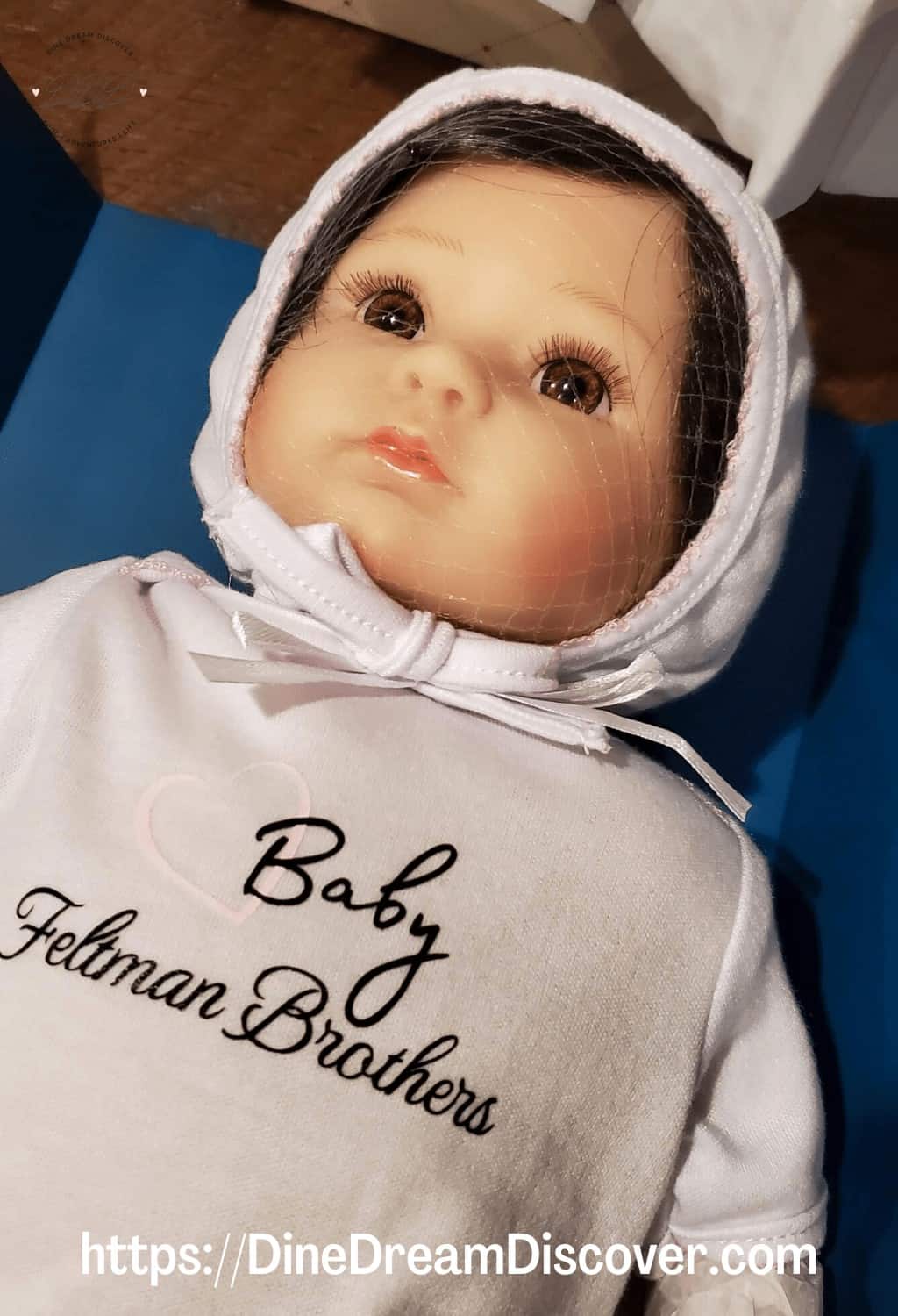 Dress Up is Fun with Feltman Brothers
Feltman Brothers knows how much we like to play dress-up with our little ones, and they know how fun it can be for little ones, especially little girls who enjoy playing with dolls. That's why they also have dolls available for purchase that you can also dress up in Feltman Brothers clothes.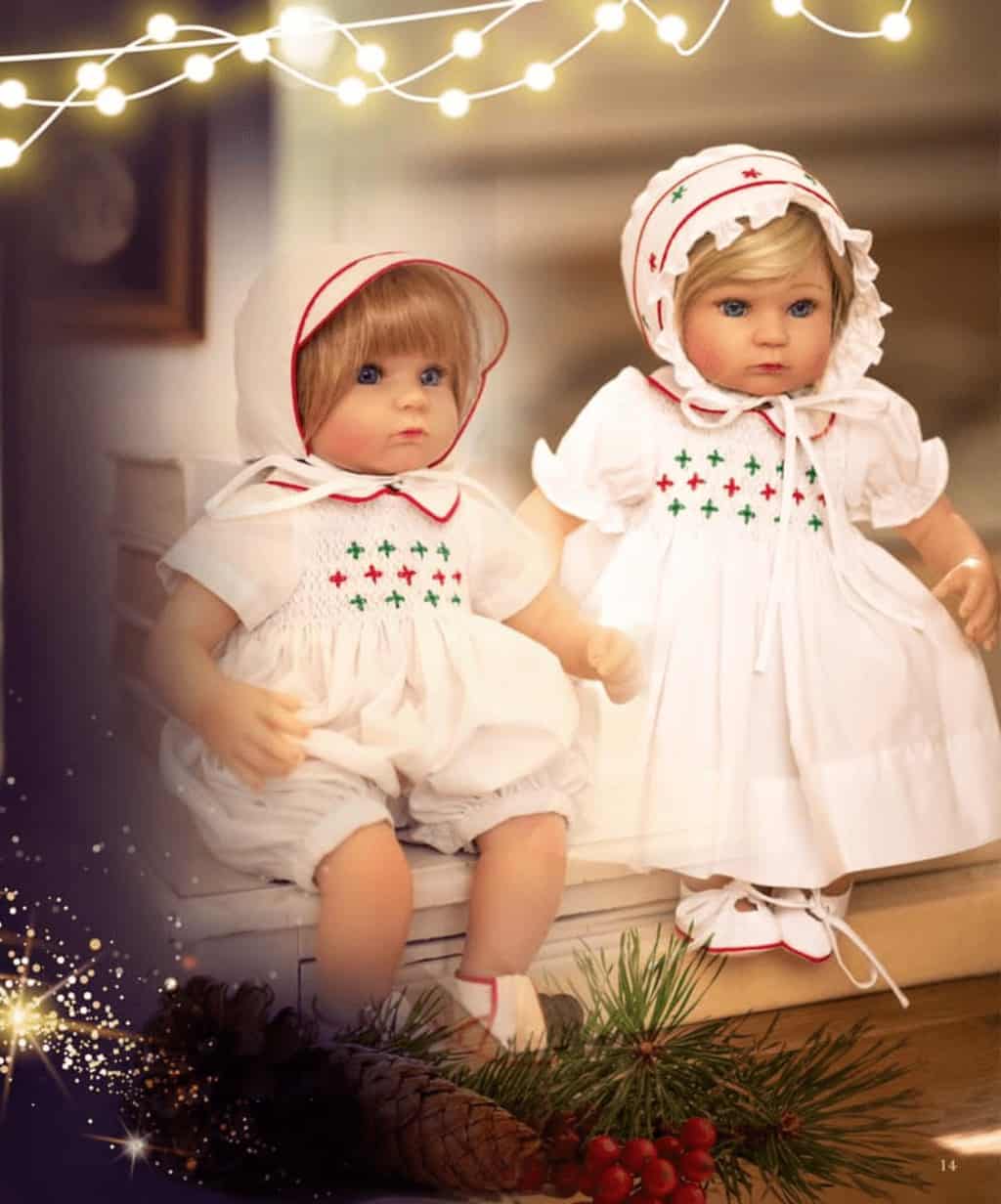 Photo Credit: Feltman Brothers
Not only can your child dress a 16" doll in cute clothes, but you can also dress her in the same clothes so they can match. Is this a need? No. But yes. It absolutely is.
Pretty 16" Carly: A Feltman Brothers Doll
There are four baby girl dolls from Feltman Brothers. They come in a Feltman Brothers onesie, but you will definitely want to buy some additional clothes to dress them in because Feltman Brothers makes such great clothes.
The doll clothes are not your typical doll clothes. We also received the Holiday Doll Dress. The dress and doll remind me of a doll and dress I had when I was little. It was a smocked dress similar to this one except it was yellow.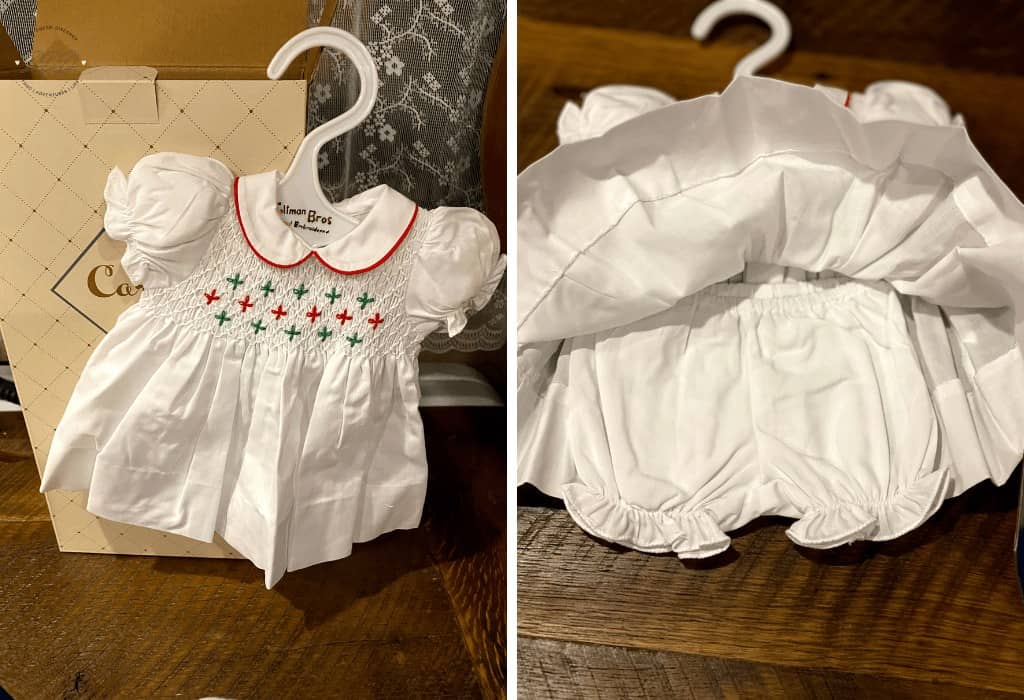 Now you have to remember that I'm talking 55 or so years ago. But I loved that doll to pieces. Who knows, the dress I put on my doll might have very well been Feltman Brothers.
The dolls themselves are also of exceptional quality. The dolls are named Abigail, Carly, Parker, and Destiny. Feltman Brothers sent me Carly and she's absolutely beautiful. We received her for our Giving Away Christmas Event, which is why we did not totally unwrap her.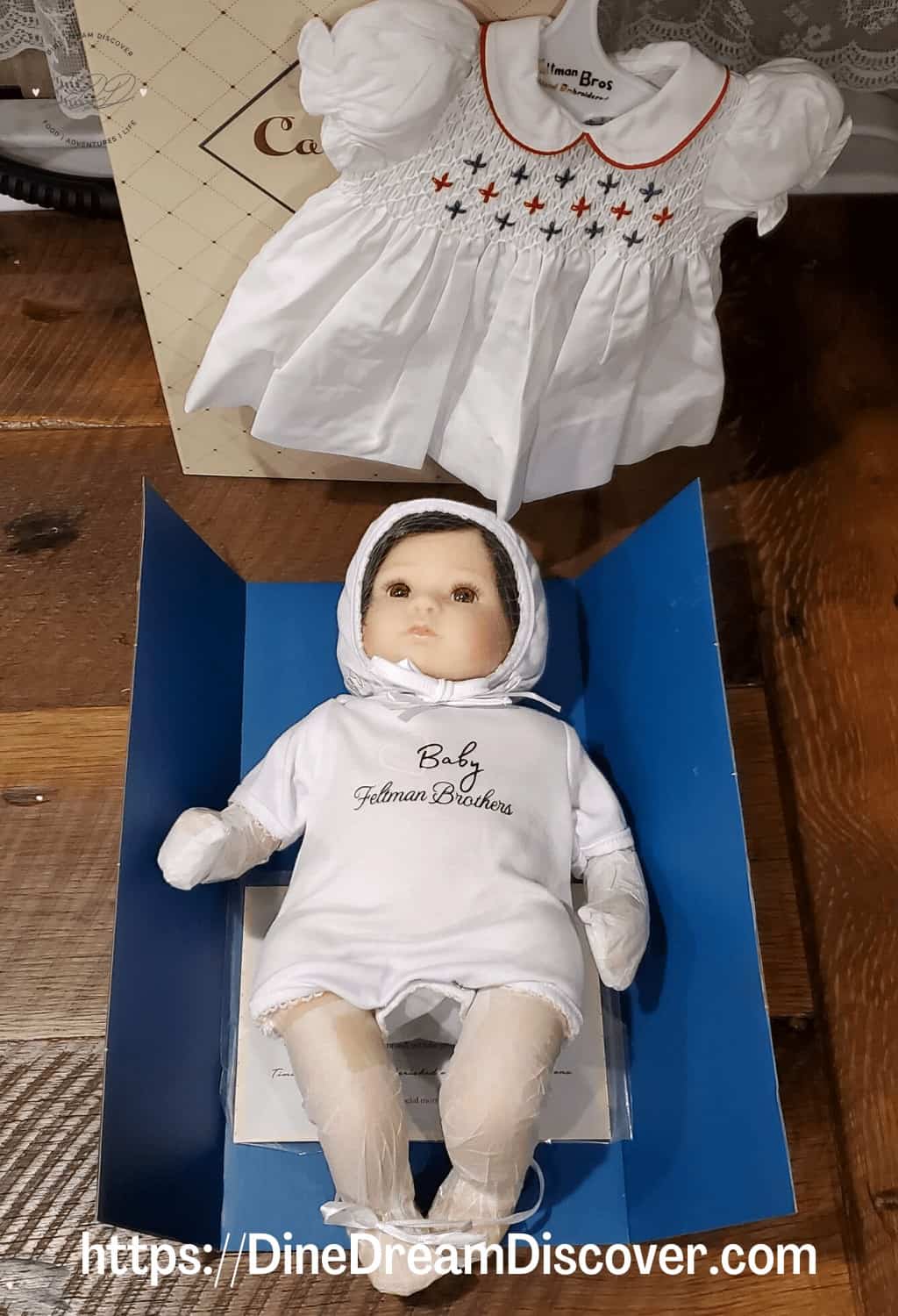 All of the dolls come with a birth certificate too, so your little one that you give this too can claim them as her very own. Carly is sold with options to buy vintage dress sets or holiday sets. There are also wooden brushes, bonnets and booties to complete the ensemble.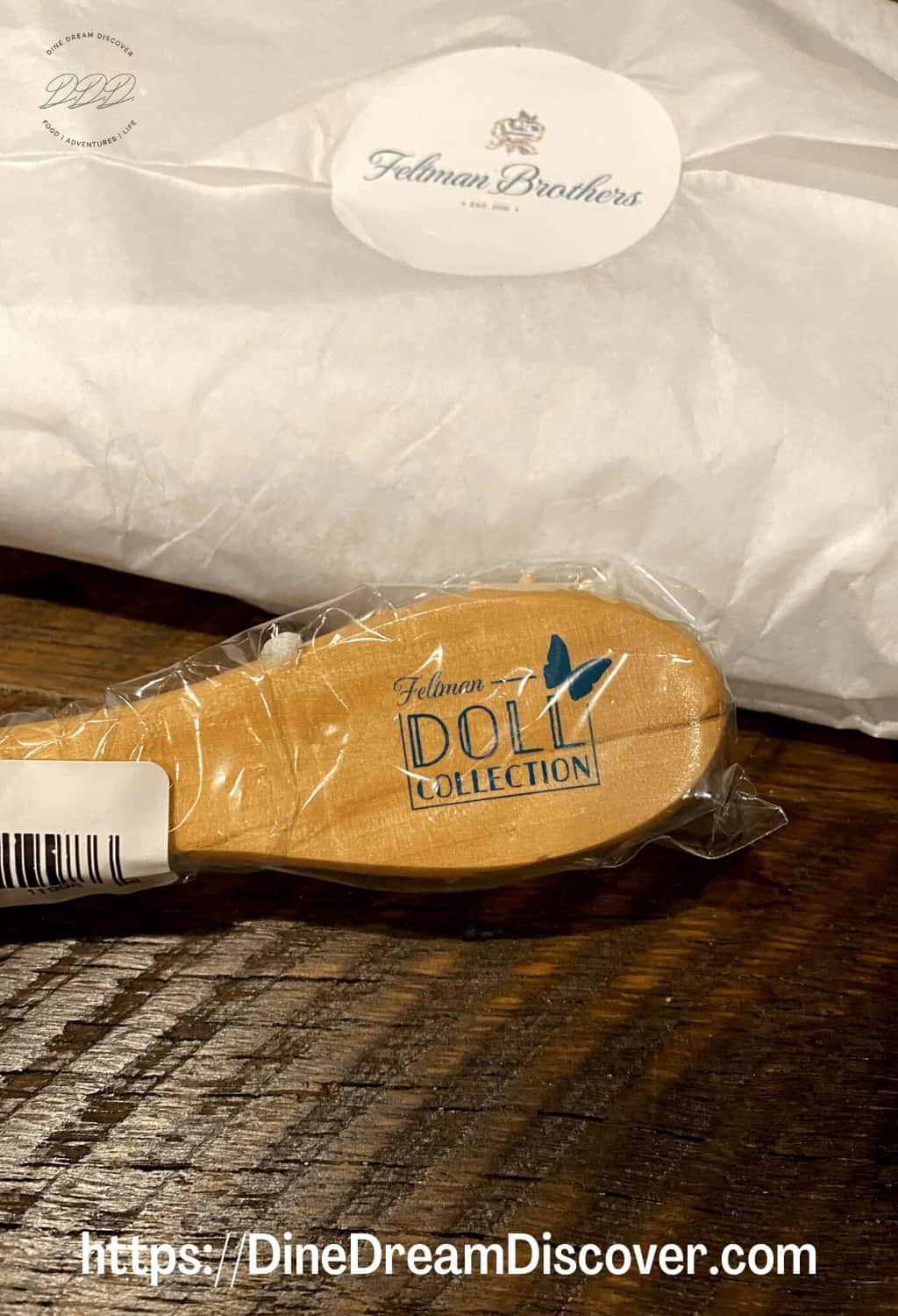 Carly is a High-Quality Doll
The attention to detail and quality with Carly is impressive. Carly is made very well and you can tell just to look at her. To the touch, you'll discover that Carly's head and limbs feel smooth.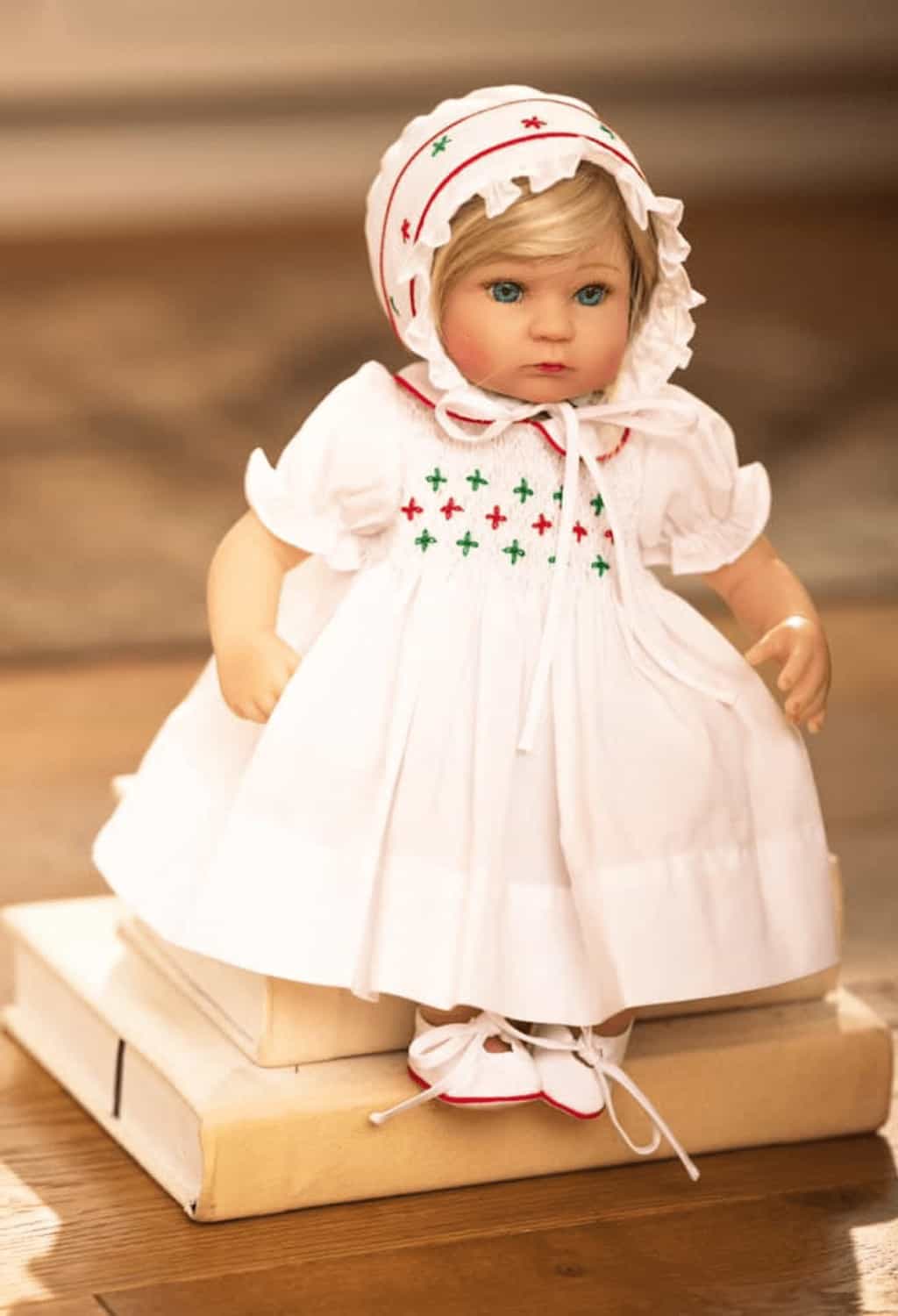 Photo Credit: Feltman Brothers
The vinyl used is soft and squeezable. Both hands and both feet are movable, too. Such a realistic-looking baby, Carly has a huggable body and realistic brown hair and lashes.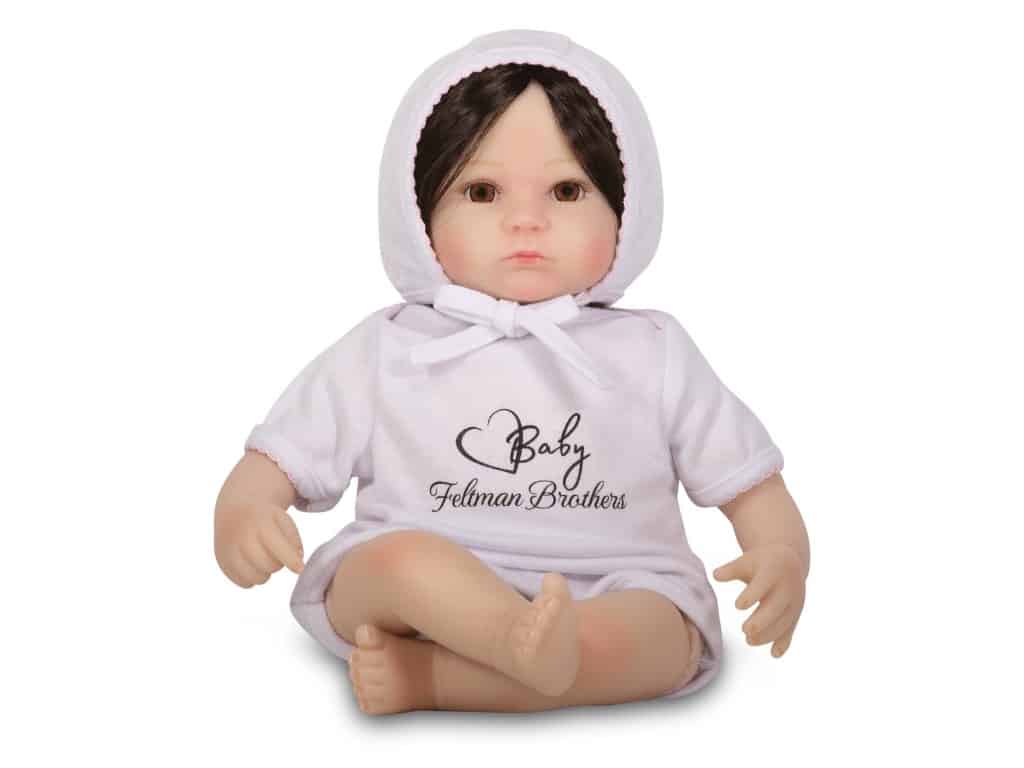 Photo Credit: Feltman Brothers
Included with Carly is a Feltman Brothers onesie and bonnet, plus a birth certificate.
Our Final Thoughts
If you have a little girl who loves dressing up and playing with dolls, Carly or one of the other Feltman Brothers dolls is the perfect gift. If they aren't quite ready for such fine quality merchandise, get one for when they're older, and in the meantime print out the cute paper doll set, they have right here or click the picture below.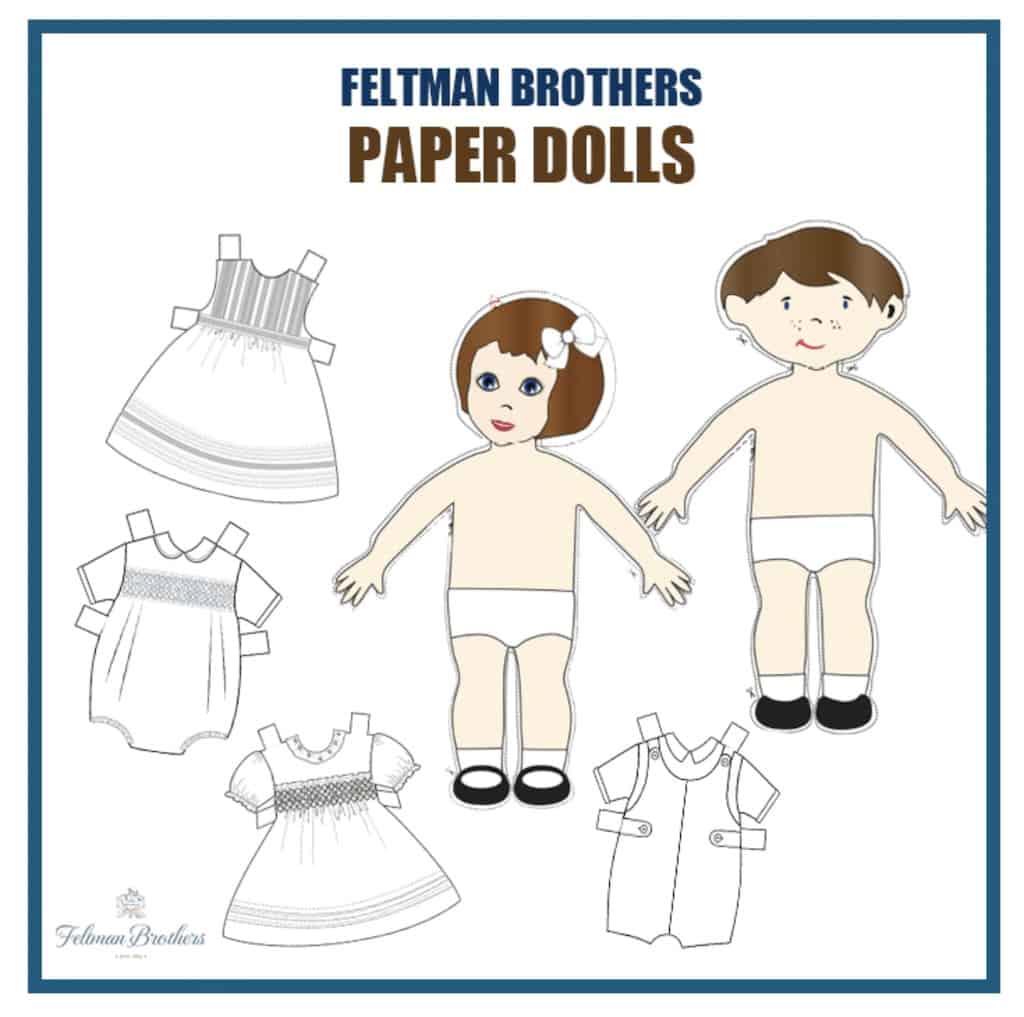 I was very impressed with Carly and I love the clothes so much. This will be the perfect Christmas gift for a very special little girl.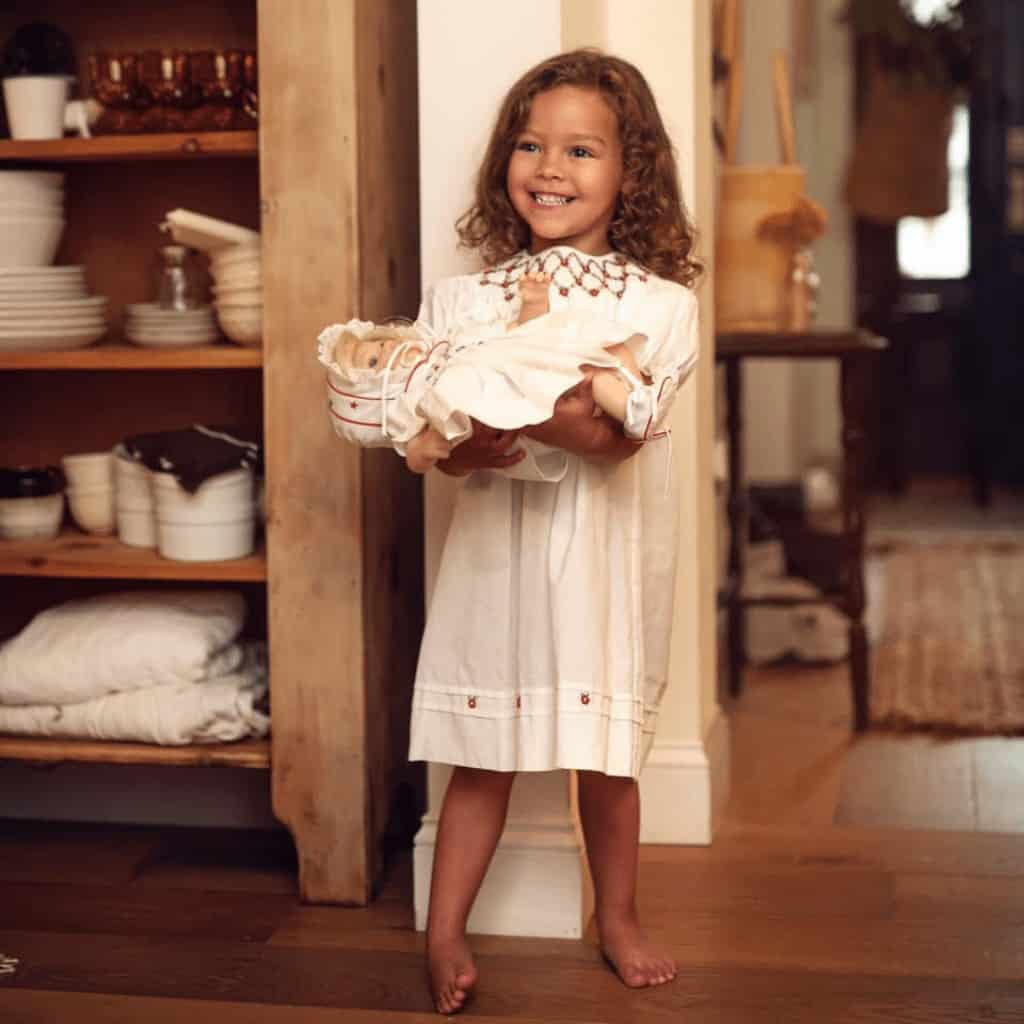 Photo Credit: Feltman Brothers
And unlike a real baby, these dolls don't outgrow their beautiful dresses.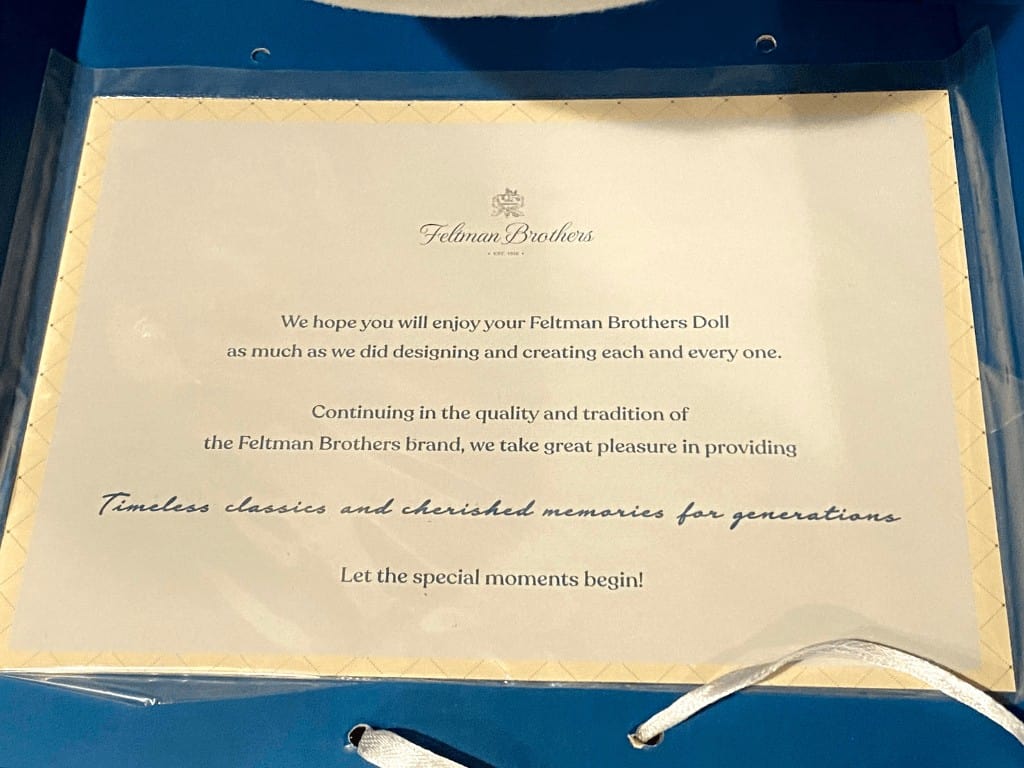 Where to Purchase Feltman Brothers Dolls and More
All Feltman Brothers items are available on the website. Connect with them on Facebook, Twitter, and Instagram.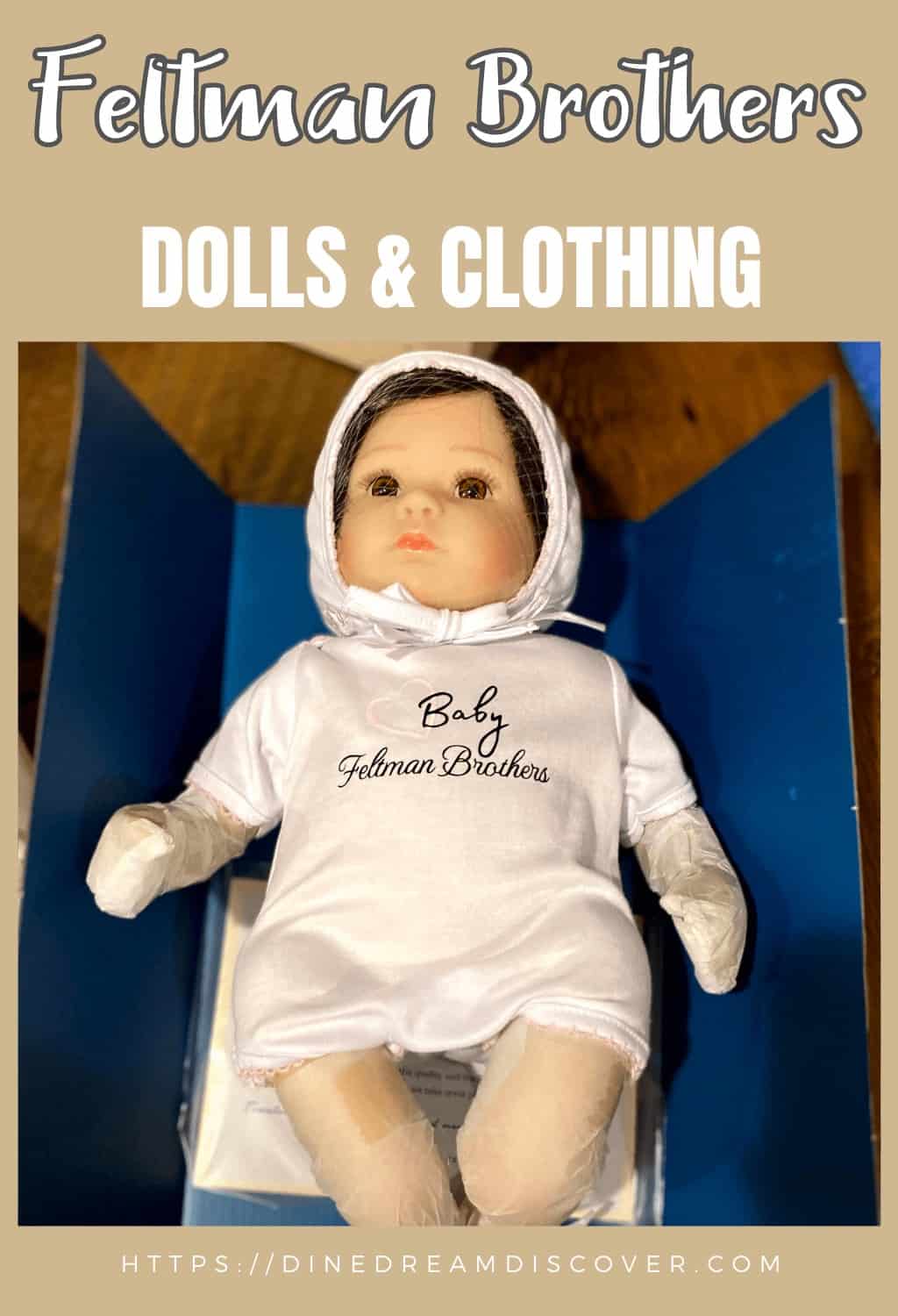 Follow us on Pinterest and PIN IT FOR LATER!