The Heat and Eat Camping Stove Heater is a 2-in-1 design that provides portable cooking and heat solutions. Check out the best features of this device!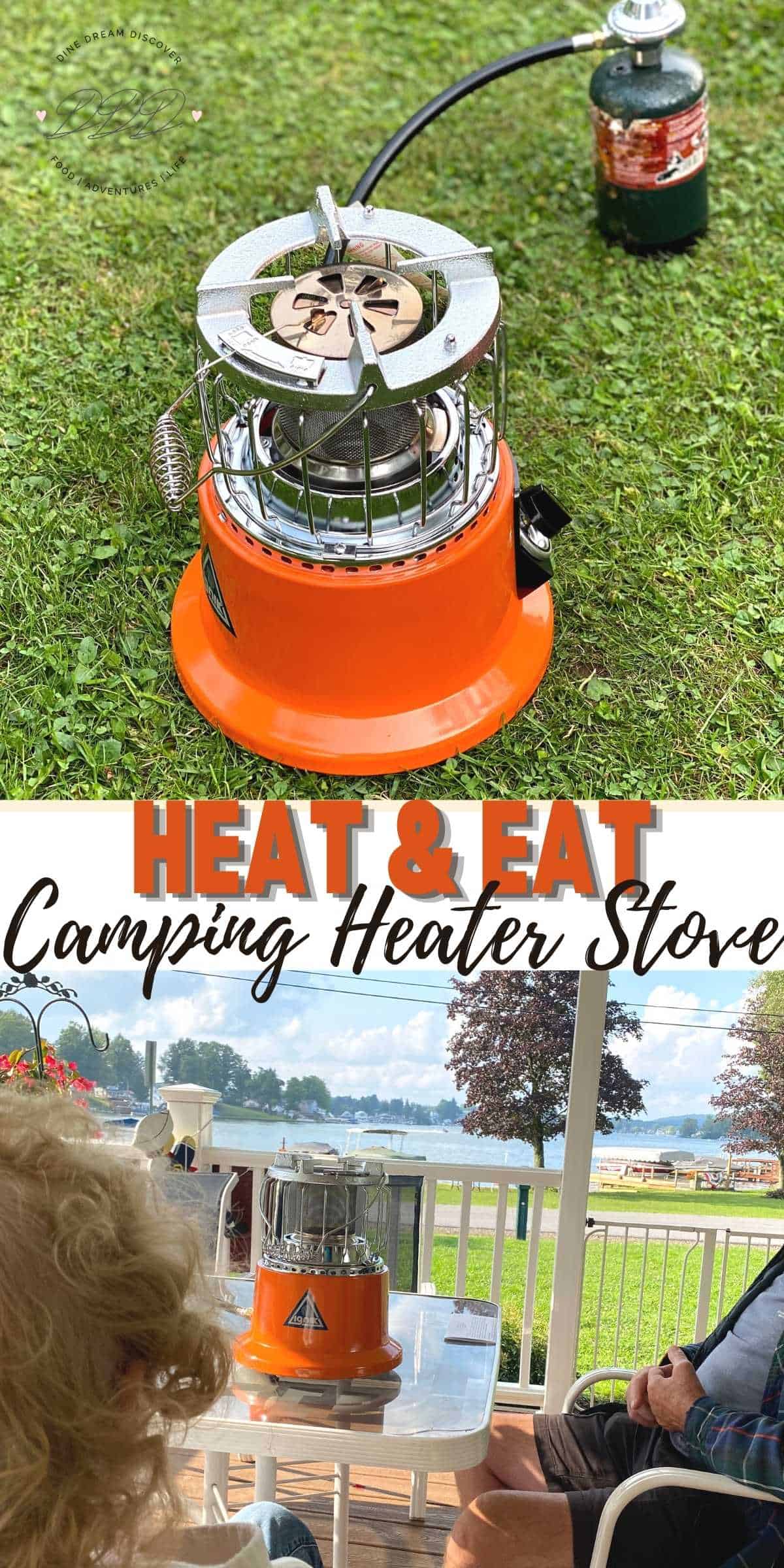 I received the products mentioned below in order to facilitate my review. All opinions are my own and may differ from yours. This post may contain affiliate links. See my disclosure policy for more info.
BEST Heat and Eat 2 in 1 Camping Stove Heater
Camping is a great way to spend time in nature, but it can be difficult when temperatures drop.
If you're looking for the best heat and eat 2 in 1 camping stove heater, look no further than this blog post.
In the cold and wet, camping can be more difficult. Camping equipment is often expensive and camping can be quite a bit of work.
One item that will make your time in the great outdoors much easier is the IGNIK heat and eat heater stove!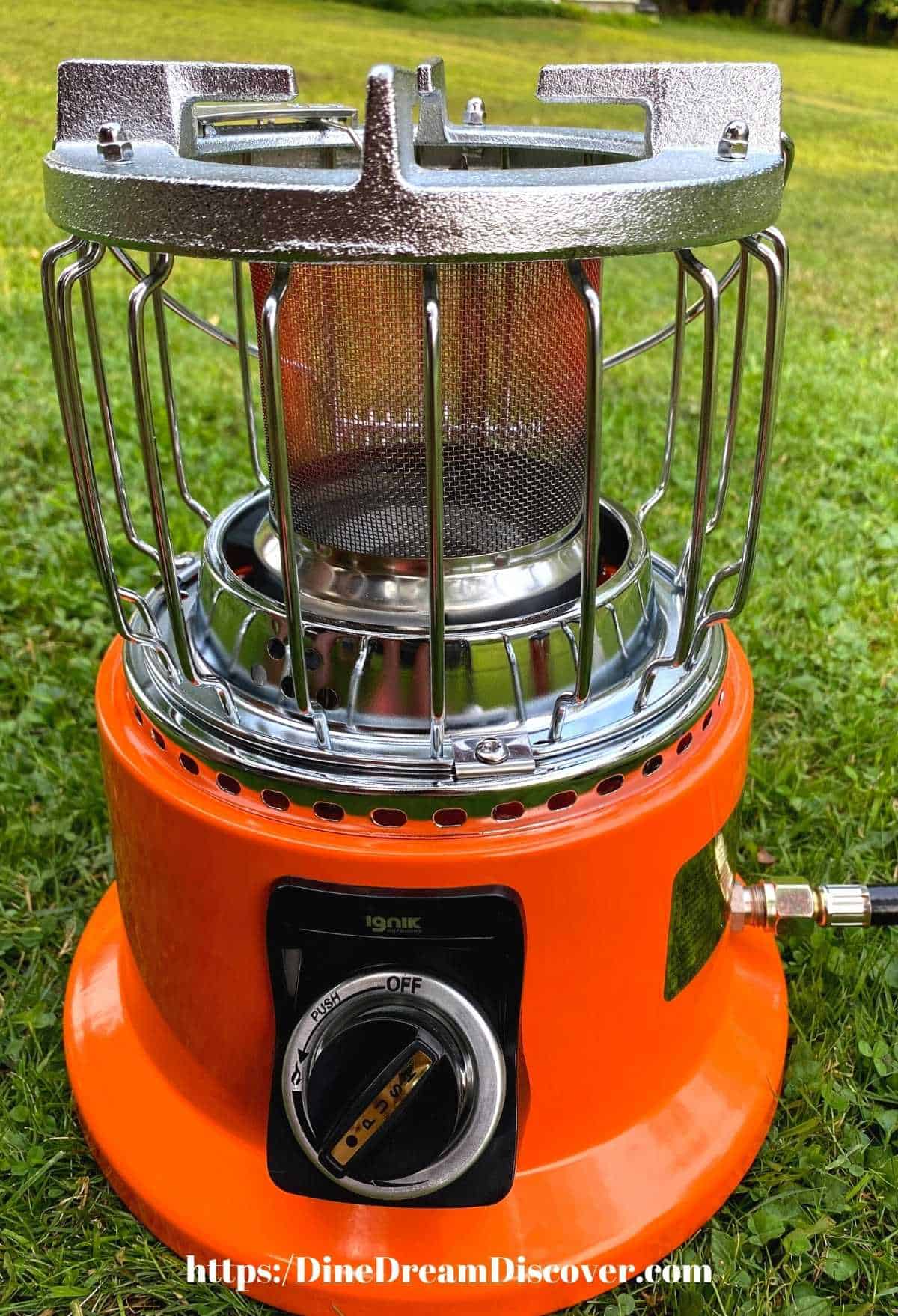 Why this is a Great Camping Stove
This handy little tool is lightweight at only 8.5 lbs, easy to use, inexpensive, and won't take up space in your gear.
It's perfect for cooking food or warming yourself up after being out on the trail all day long with no shelter from nature's wrath.
Or keeping warm while tailgating and watching the Buffalo Bills game. 😉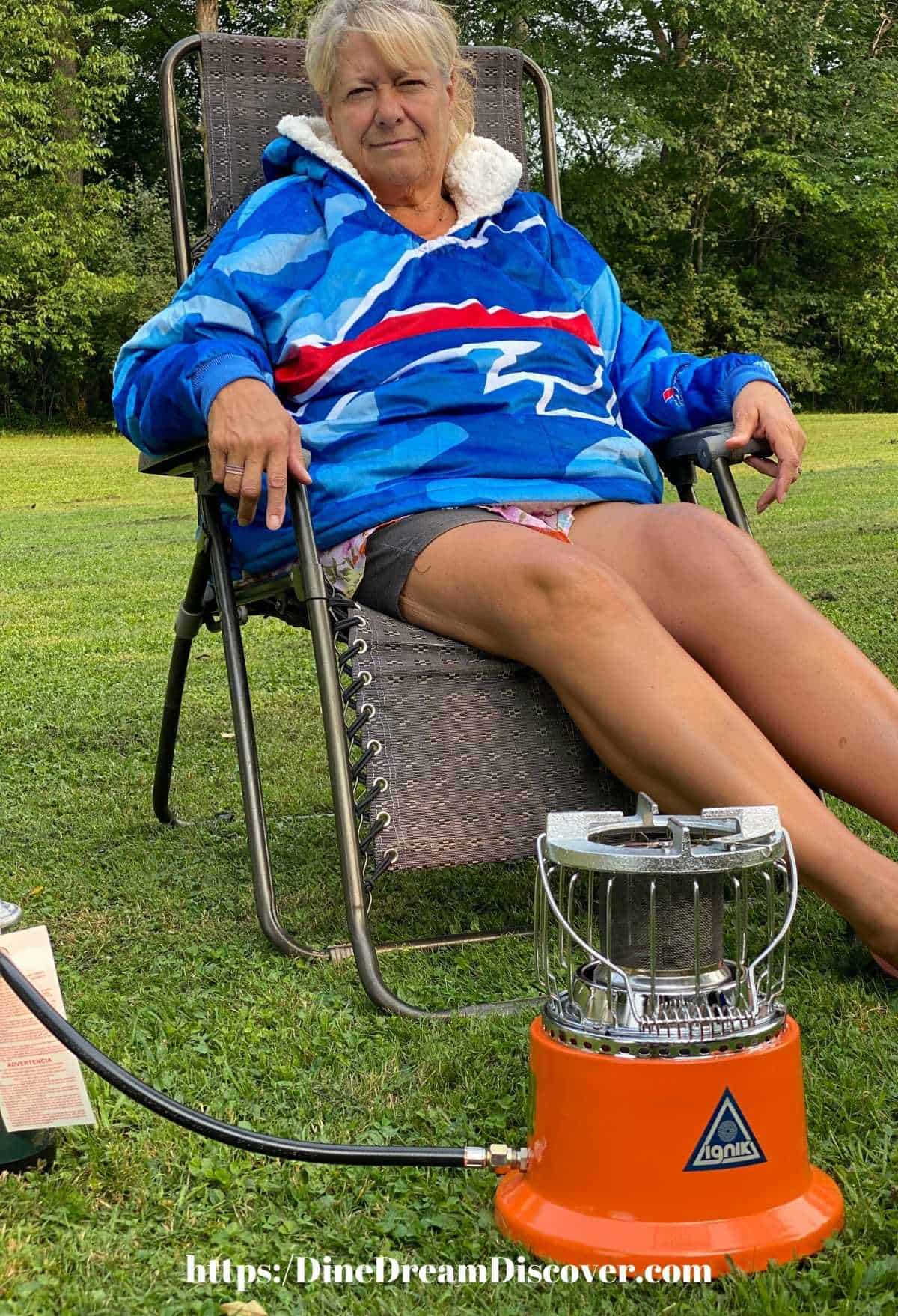 Not only is it great for camping, but my mother-in-law also loves it for her porch by the lake. It can get really cool in the evening and she won't sit outside if she is chilly. She is 91 so any breeze affects her.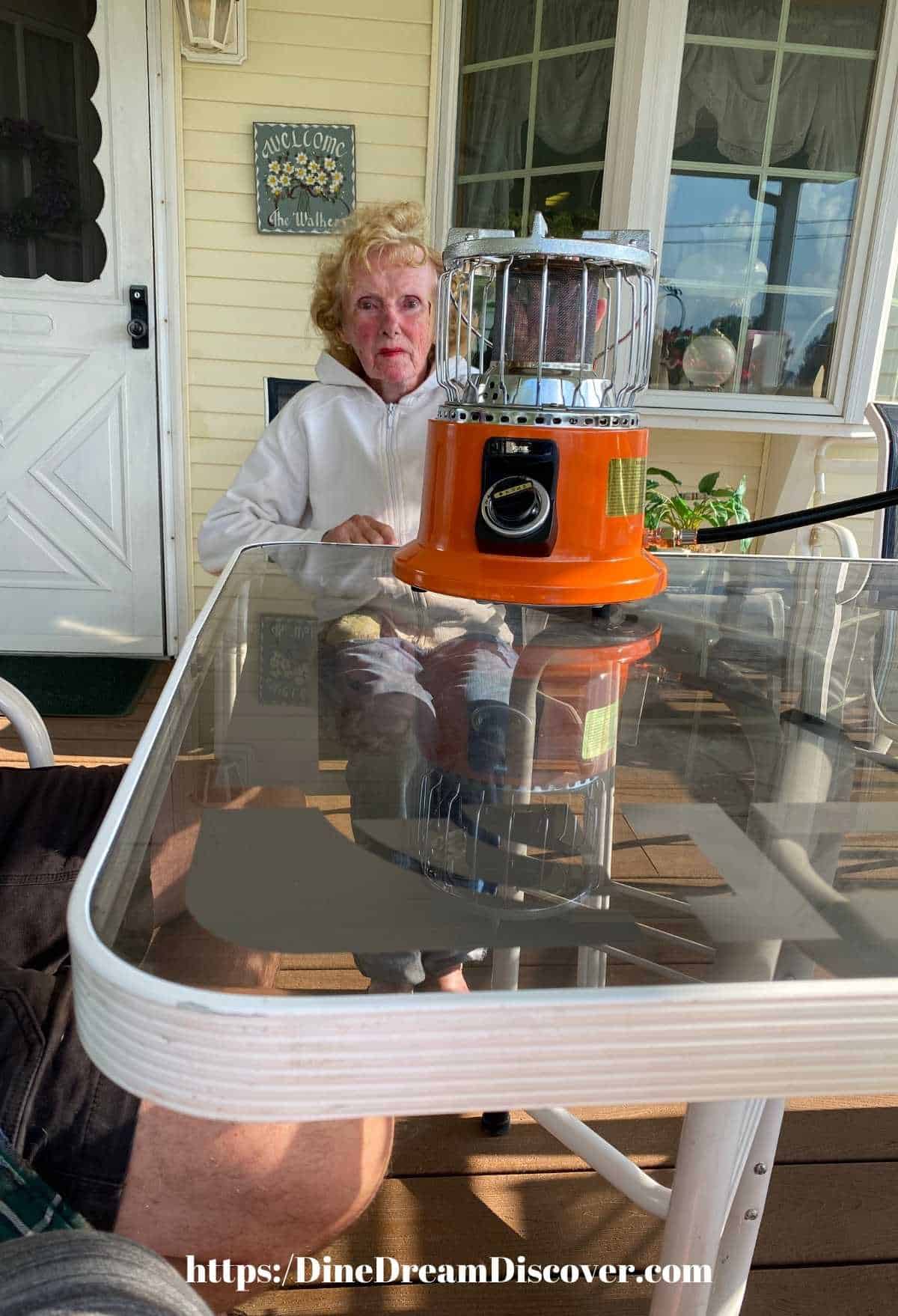 You wouldn't think it would be chilly in July, but then again...we are in Buffalo. 🙄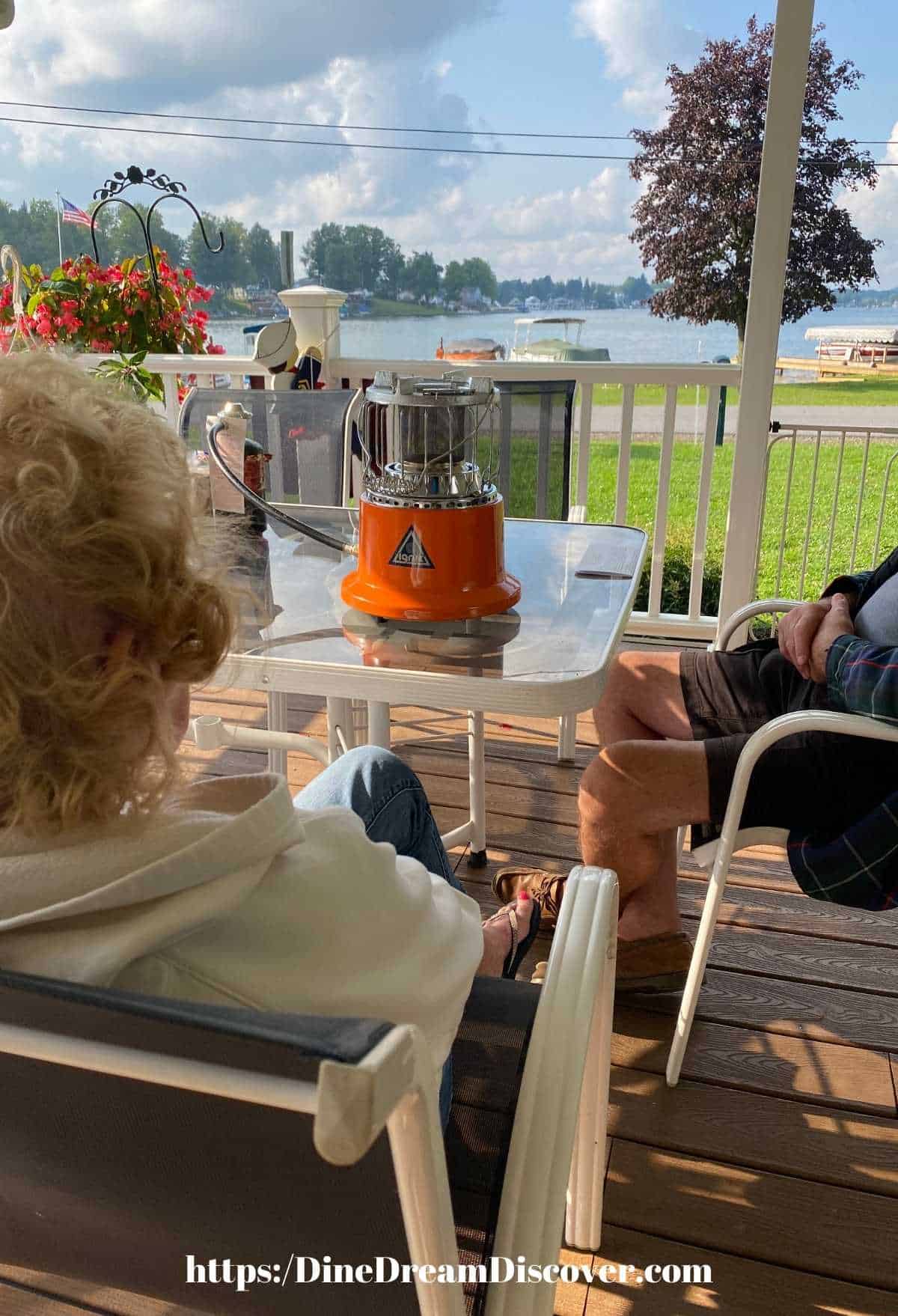 I just hope she doesn't want to keep it when we leave here. 😂
How it Works and How to Use it
Once you take it out of the box, just attach the 2 ft. hose that comes with it, hook up your propane bottle or Gas Growler, and fire it up.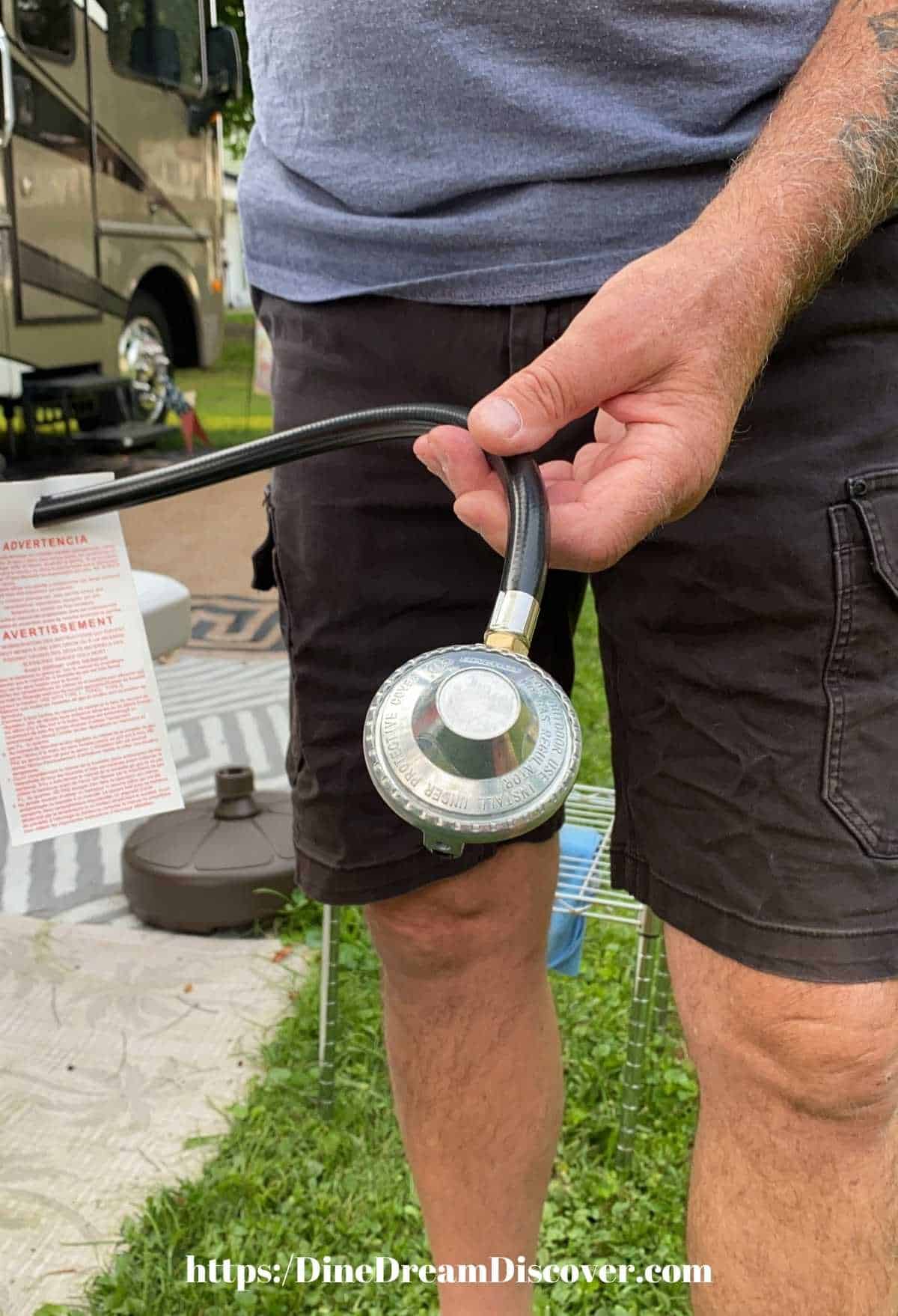 No lighter is needed as it has a Piezo ignition that will light it.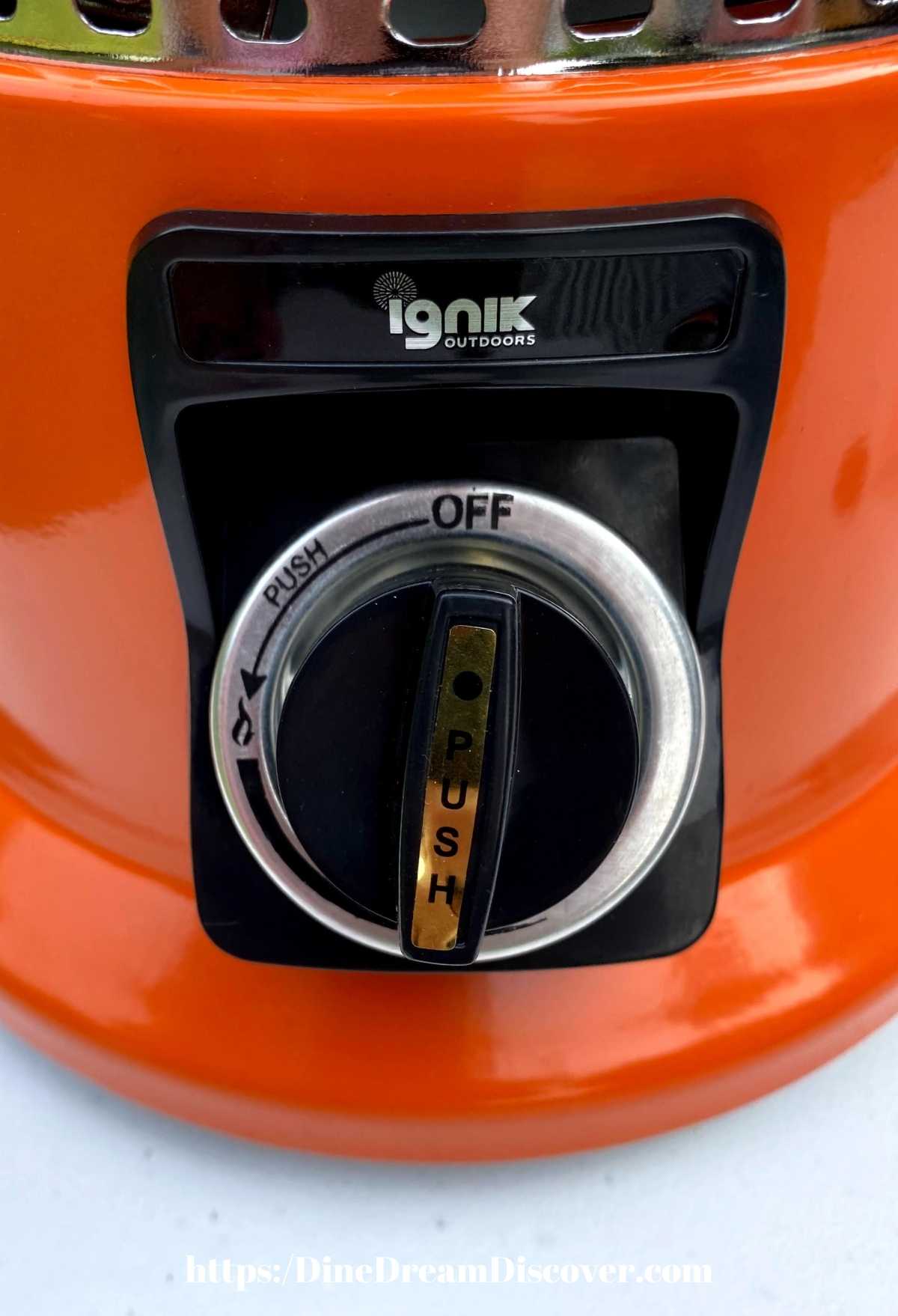 If you want to cook on it, then open the flue and place your pan on top.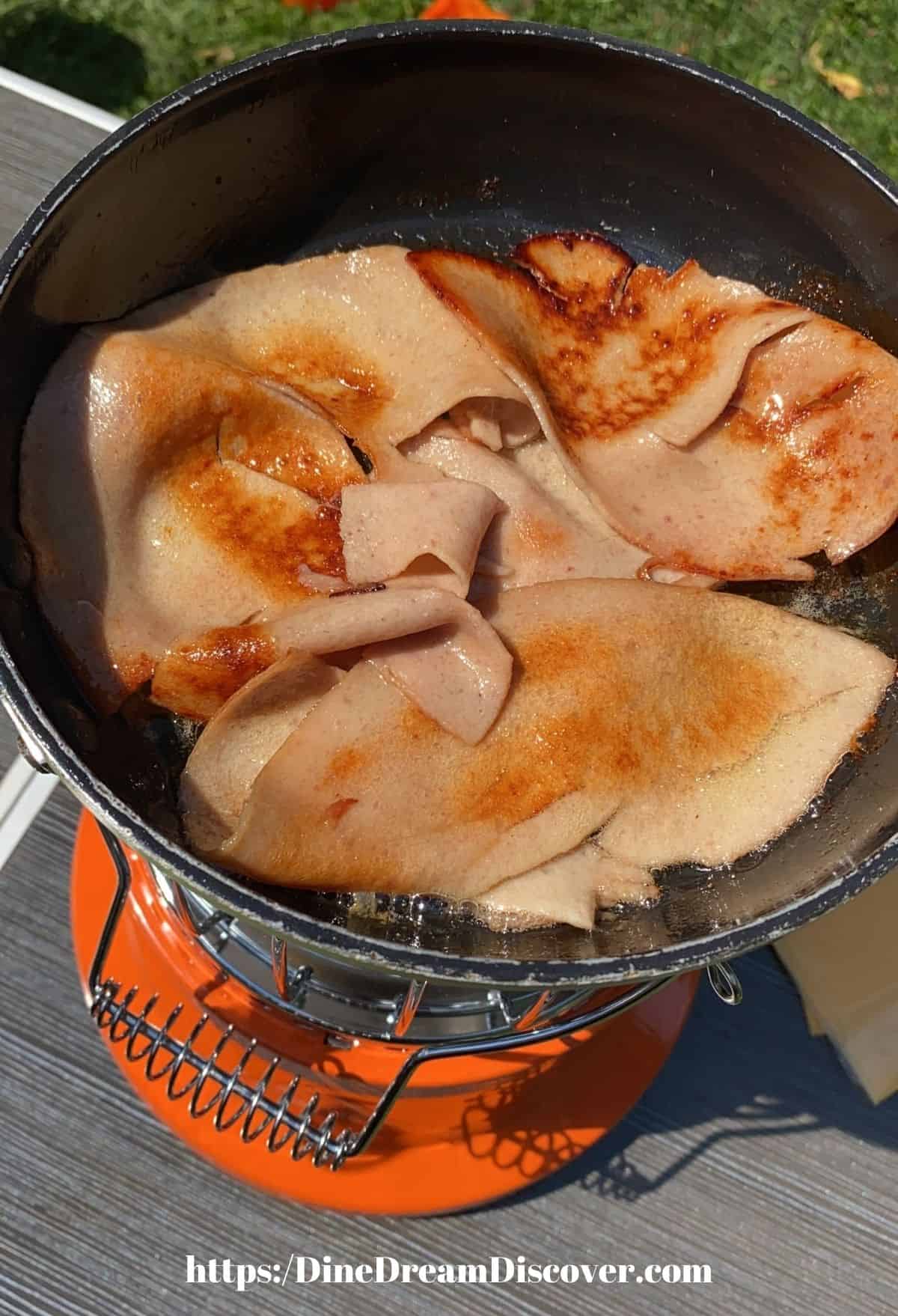 If you are looking for heat, close the flue and adjust it to the amount needed.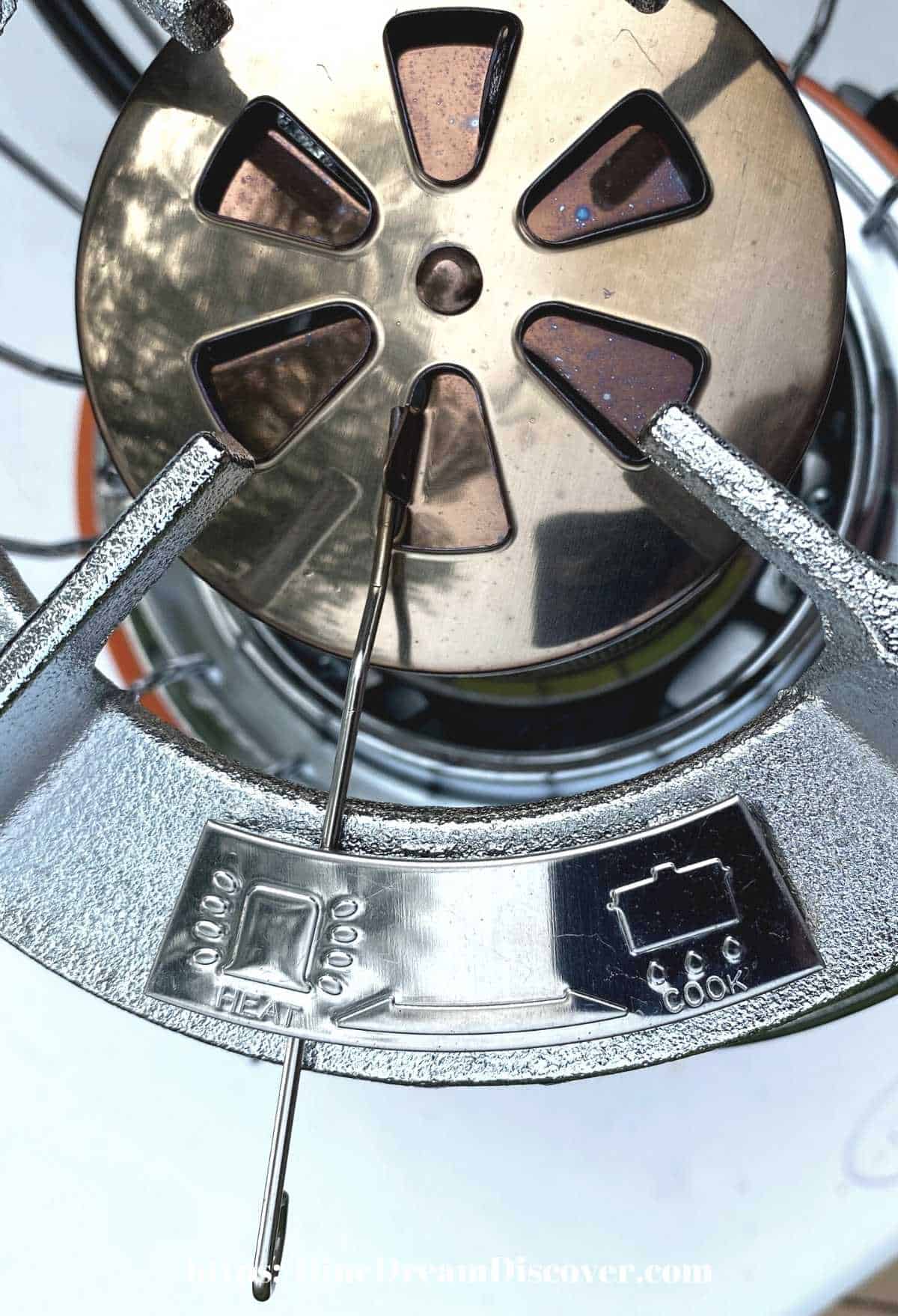 What Makes this Stove so Unique
The Heat and Eat Stove Heater is a 2-in-1 design that provides easy-to-use, portable cooking, and heat solutions.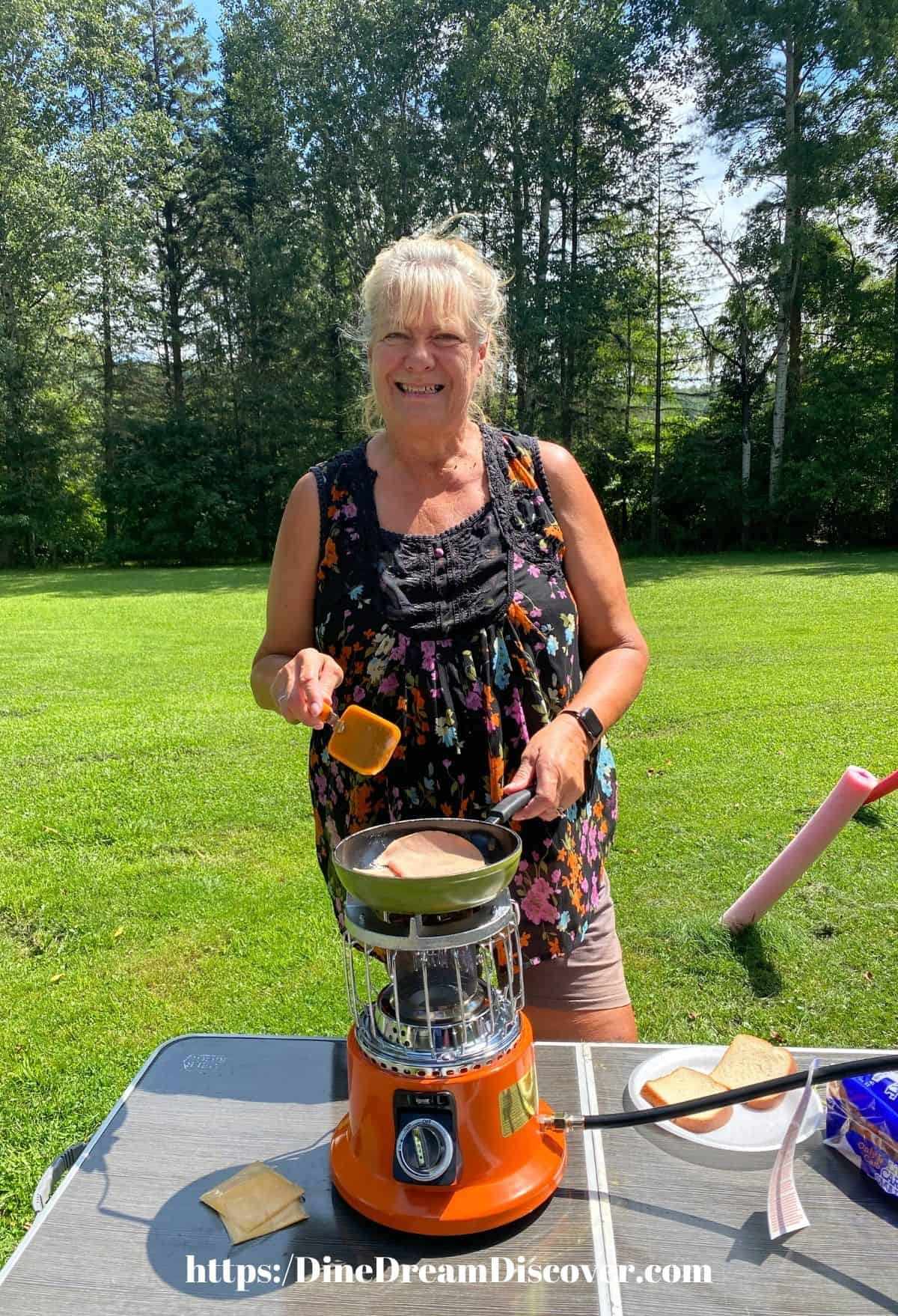 It has adjustable heat from 4,000 BTU/hr to 10,000 BTU/Hr which means it can provide plenty of heat for any cold-weather activity you may be engaged in like hunting or fishing.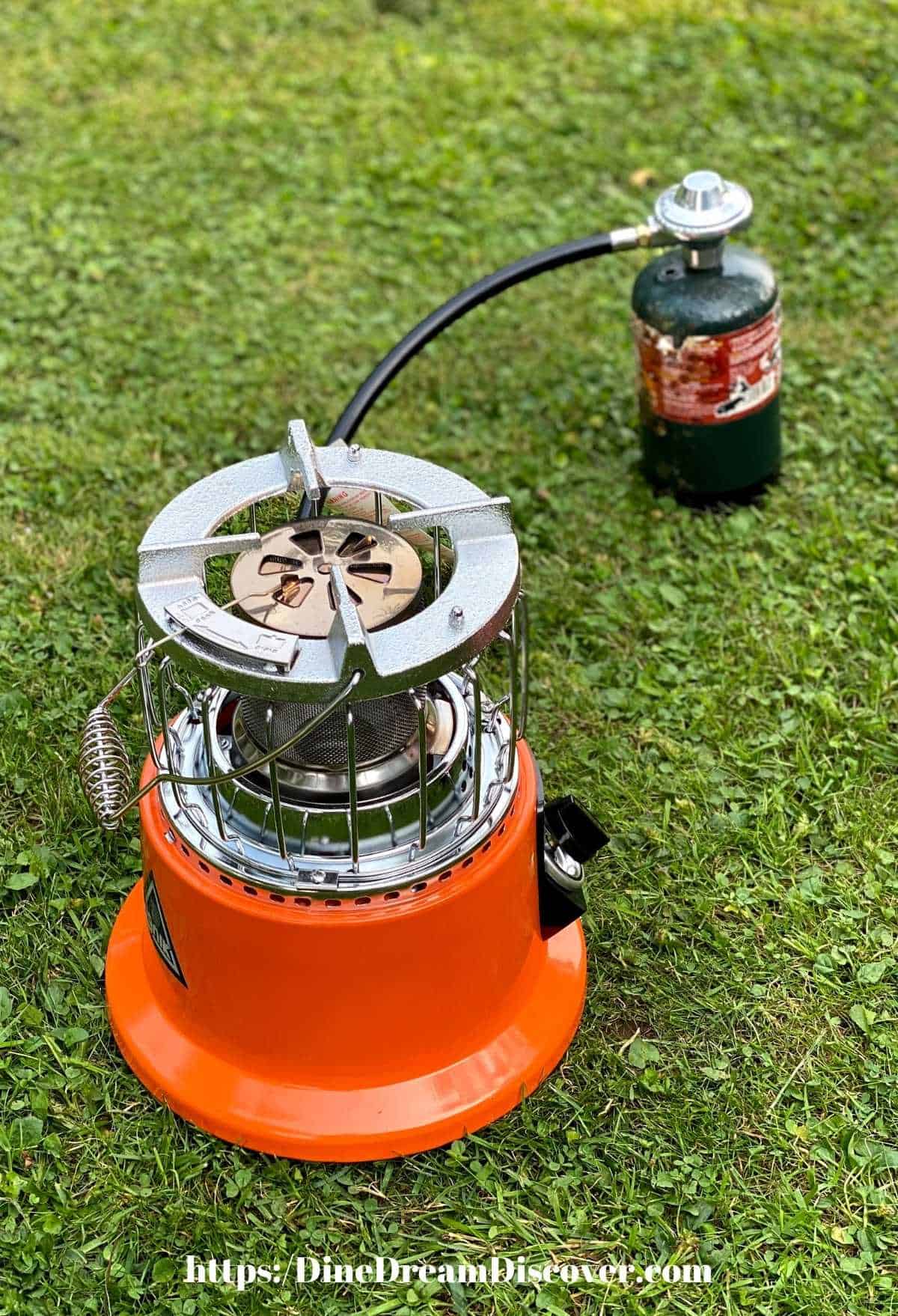 Plus the chromed cast iron burner supports are durable and retain more heat while the steel coil handle is comfortable and supportive and doesn't get hot.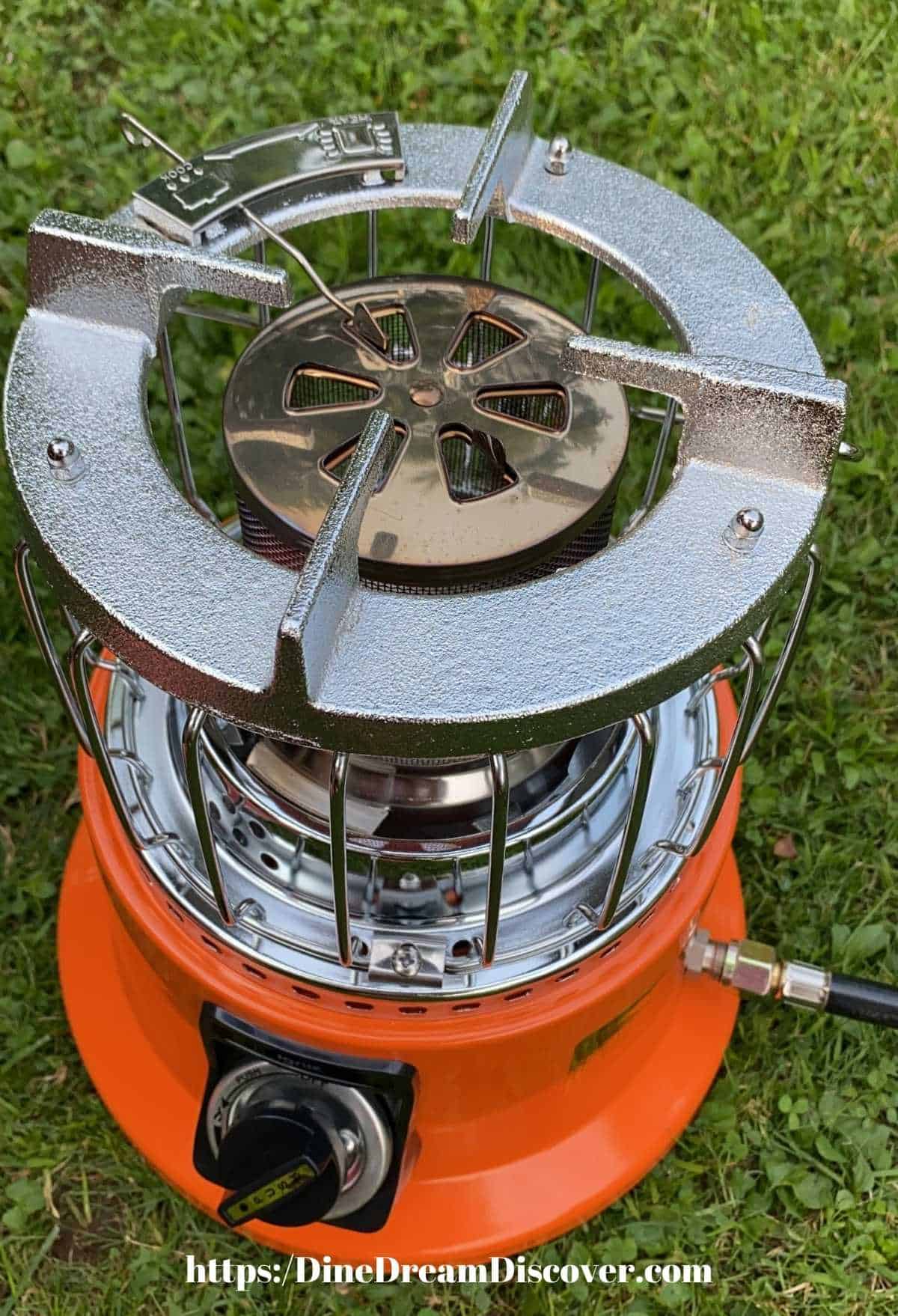 If you want an easy way to cook outdoors but don't have time to spend hours preparing food before your adventure starts then this stove heater would make life so much easier!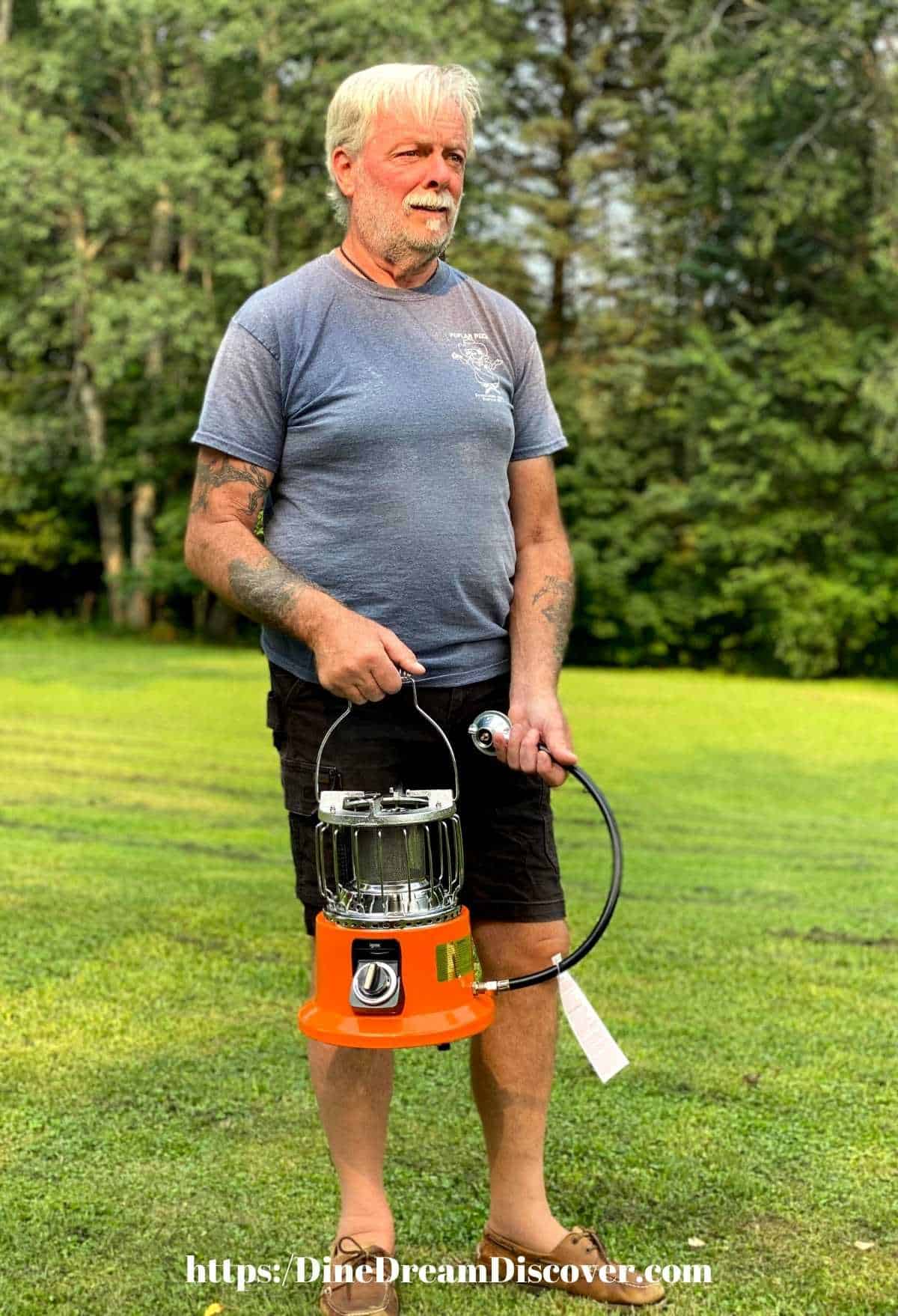 Tips for Using your New Heat and Eat 2 in 1 Camping Stove Heater
If you've been looking for more convenient ways to cook on your outdoor adventures, the IGNIK Gas Growler product might just do the trick!
While I did not receive one of these, it is next on my list.
It can be purchased separately from the Heat and Eat Stove Heater and takes the place of 5 green propane bottles.
The gas growler is an innovative solution to the problem of propane bottles.
It has a no-waste refillable design that can be used indoors or outdoors for cooking and heating purposes without any messes or waste, unlike traditional green propane bottles.
The Gas Growler is also great for your portable gas grill, propane fire pit, Blackstone grill, or anything else you might use propane for.
Where to Purchase
Both of these items and more can be purchased online at IGNIK.com. Connect with them on Facebook and Instagram.
Whether you're looking for something to keep you warm at night around camp or something to cook breakfast with before heading out into the wilds of mother nature this morning, get yourself one today!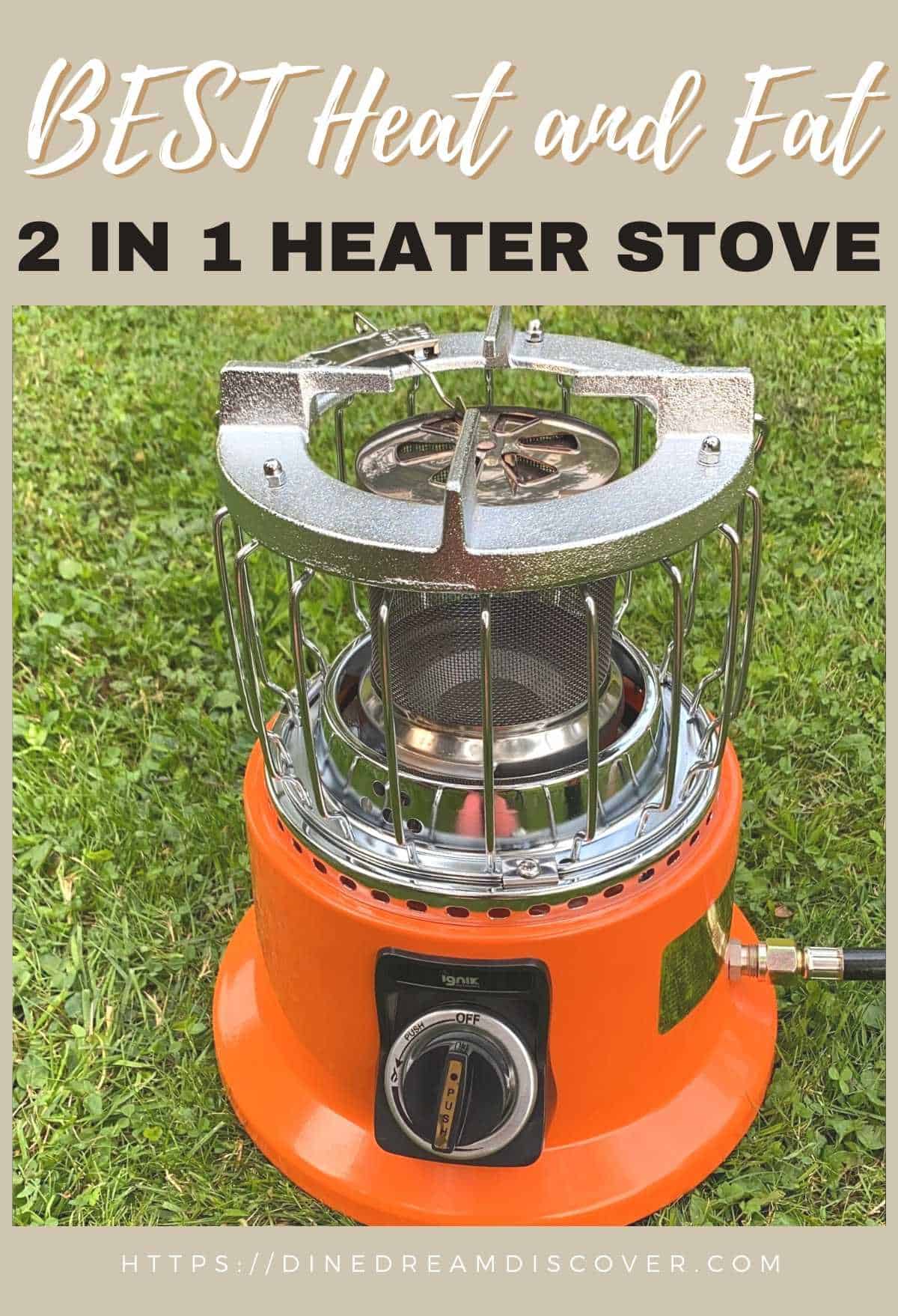 Where would you use this awesome new product? Let us know below what your favorite pastime is.
Follow us on Pinterest and PIN IT FOR LATER!