Kate's Real Food Energy Bars make a great grab-n-go granola bar that provides us the energy we need until we get to our destination. They also make an easy breakfast when in a hurry.
I received the products mentioned below in order to facilitate my review. All opinions are my own and may differ from yours. This post may contain affiliate links. See my disclosure policy for more info.
Kate's Real Food Energy Bars
Living full time in an RV has it's perks. But when we are on the road, it can also have its downfalls. Sure, we have a full kitchen and can make food anytime we want.
But if we are making stops to see the sights, we often just stop for an hour or two and are then back on the road again.
So that means we don't really have time to stop and make food. That's where Kate's Real Food Energy Bars come in.
They make a great grab-n-go granola bar that provides us the energy we need until we get to our destination.
They also make a great breakfast bar for when we want to get on the road early to beat traffic and there's no time to make a big breakfast.
Why Kate's Granola Bars
I've tried granola bars before that were "good for you" and they tasted like cardboard. So when I received these, I had my doubts that they were going to be any different.
After deciding which one of the seven flavors I received to try first, I chose the one I figured I would like the most...the Peanut Butter Milk Chocolate Tram Bar.
Because really, who doesn't love peanut butter and milk chocolate?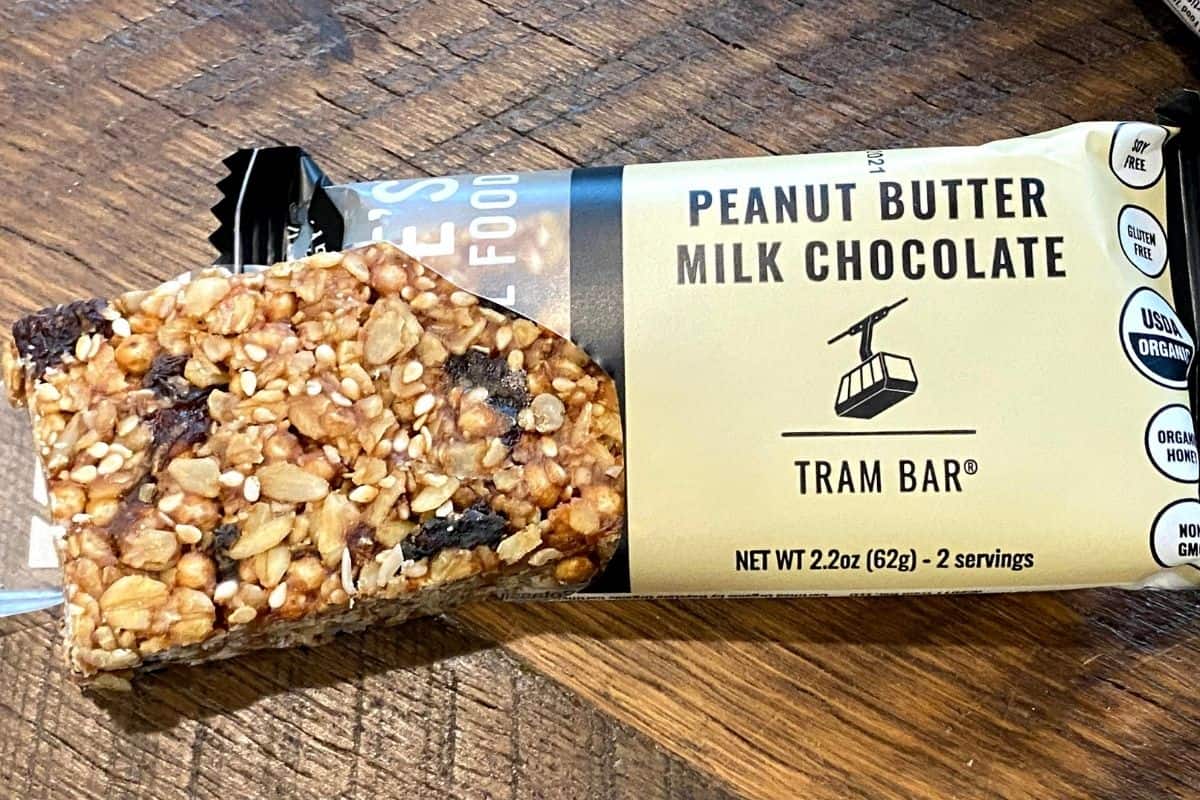 And? I was pleasantly surprised that it tasted awesome and not like cardboard or sawdust at all.
The other flavors I received were Lemon, Coconut and Ginger, Peanut Butter, Hemp and Flax, Peanut Butter Dark Chocolate, Dark Chocolate Mint, Dark Chocolate, Cherry and Almond, and Mango Coconut.
These are all flavors that most people love so they are easy to enjoy. Crunchy, chewy, satisfy a sweet tooth because it's sweetened with honey instead of high fructose corn syrup.
They are also organic, soy free, gluten free, non gmo, and taste good. So how can you go wrong?
They are easy to carry on a hike with you in your crossbody purse or the pocket of the HydroJug or store in your cupboard.
About Kate's Real Food
Kate was always on the go and needed something healthy to fuel her so she came up with a Tram Bar.
Once she perfected her recipe, she started sharing with her friends who finally talked her into selling them. And the rest is history as they say.
Energy Bars Availability
Kate's Real Food Energy Bars are available online and on Amazon
or you can locate a store near you.
Connect with Kate's Real Food on Facebook and Instagram.
Follow us on Pinterest and PIN IT FOR LATER!