Whether you are looking for a lightweight camping hammock stand for your RV or one to carry with you on a hike, this ENO portable hammock stand is just what you've been looking for.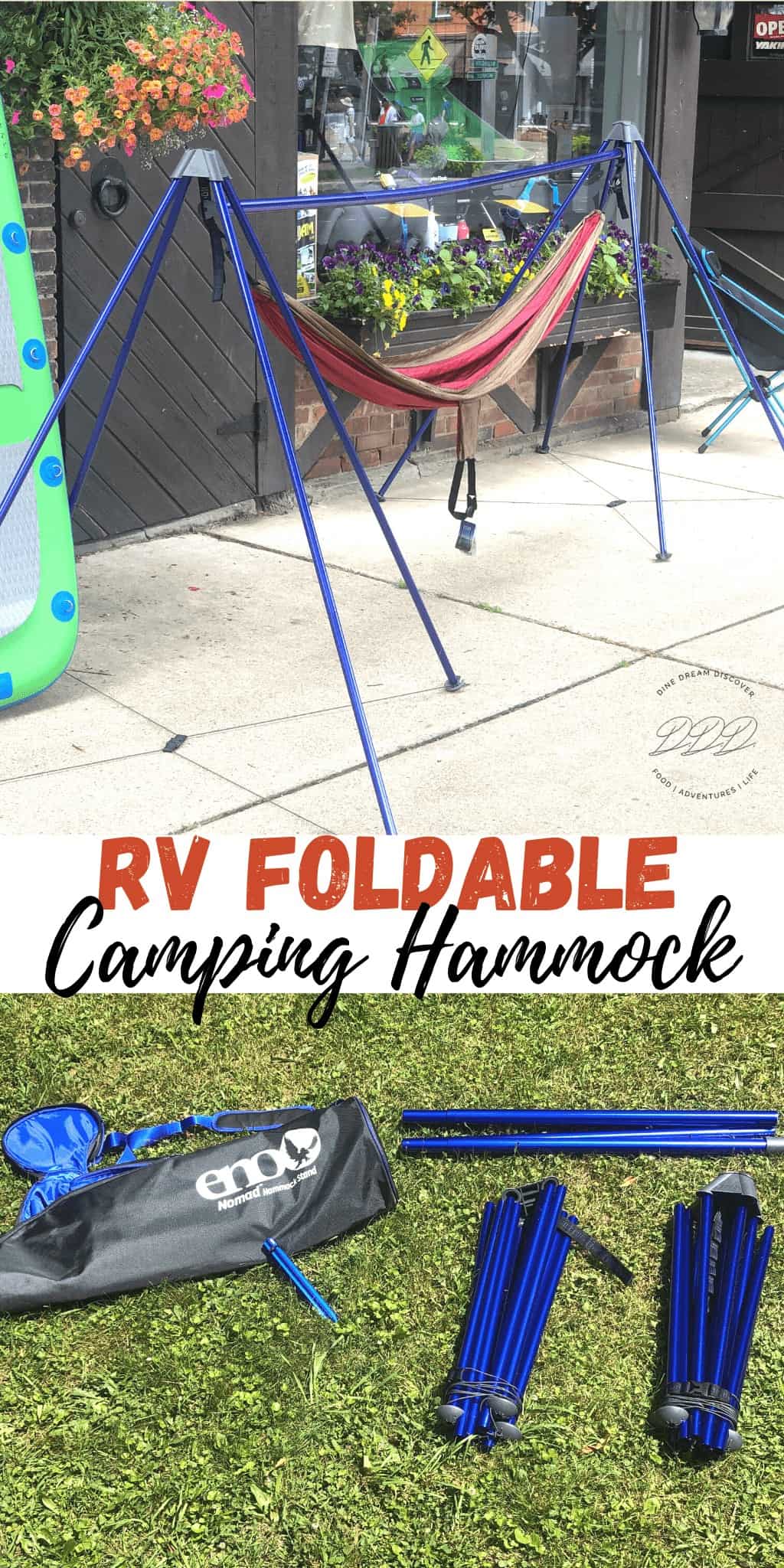 I received no compensation for this post. This post may contain affiliate links. See my disclosure policy for more info.
Best RV Camping Hammock Stand - No Trees, No Problem
When you live in an
RV
, you have to be conscientious of how much weight you have in it. You must stay within your weight limits to be safe on the road. With that being said, you might have to give up some things that you take with you.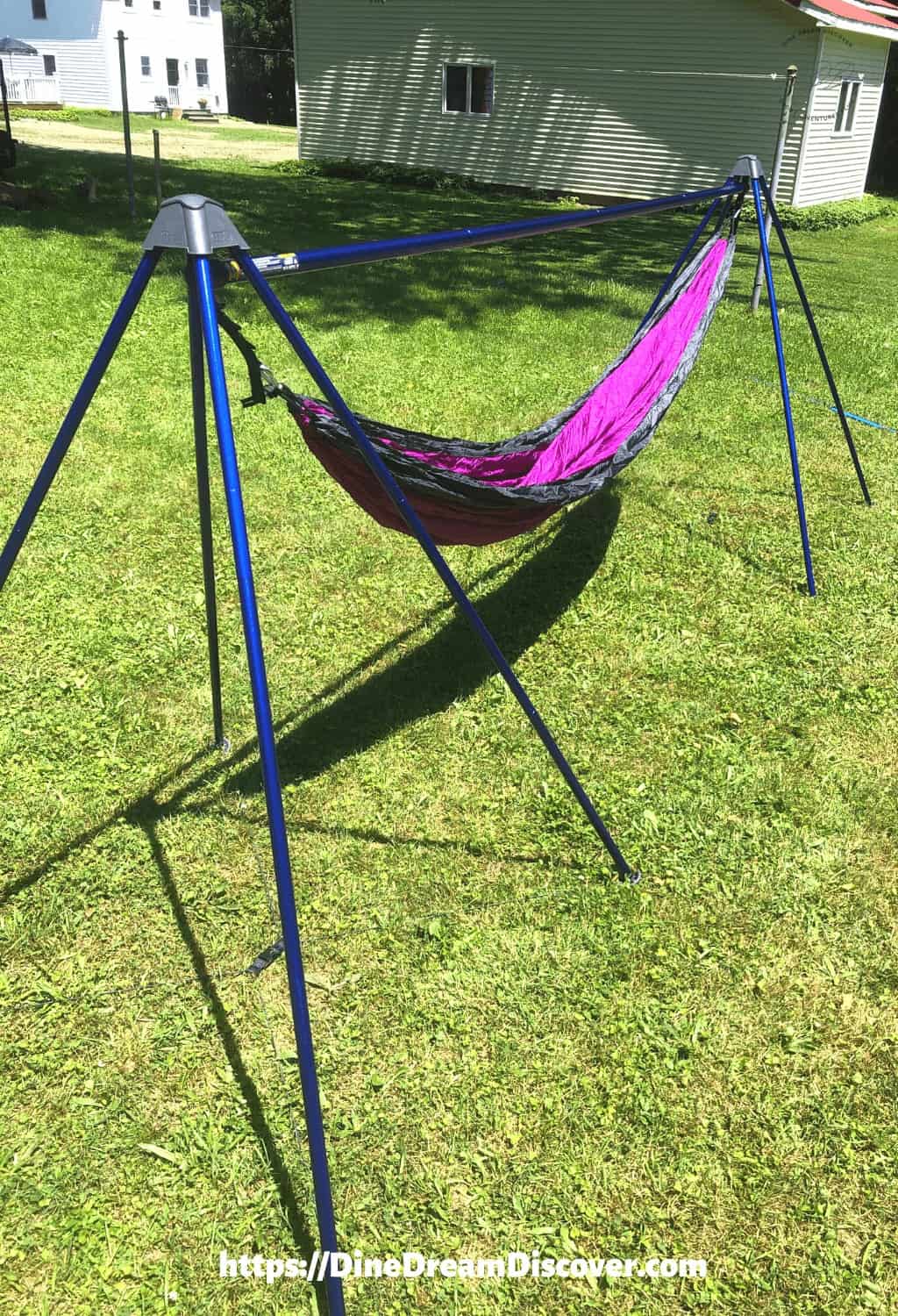 I had a hammock
with the hammock tree straps
. The problem with that was in three and half years, I never found two trees that I was able to hang them from besides my previous house.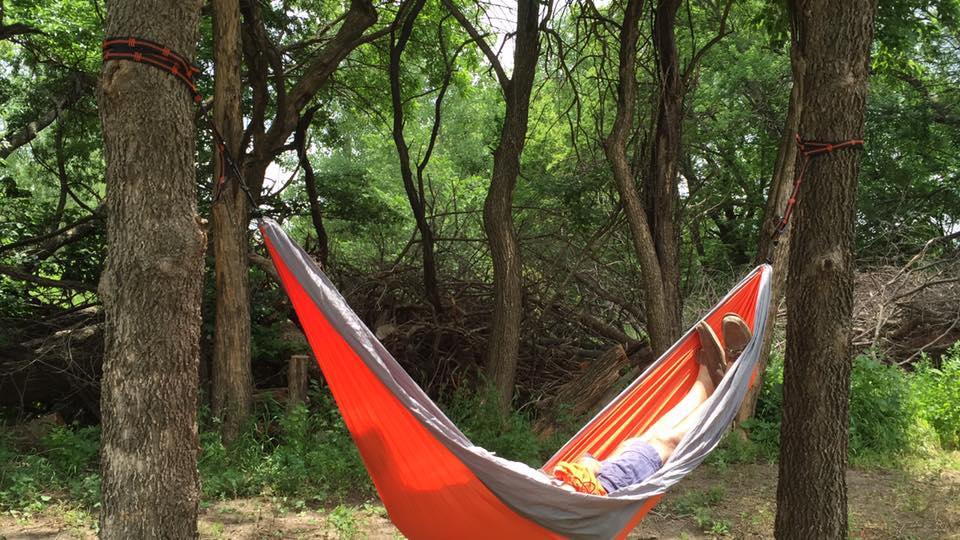 In Search of the Best Camping Hammock
I've been looking for a portable hammock stand for years, one that was foldable. I've seen the ones that come apart but those are el cheapos and bend easily. I happened to come across this one by accident.
We were doing some wine tasting in Ellicottville, NY. It's a quaint little town with tons of little shops. We walked by this one store and there it was...sitting right out front. I was like Oh Emm Gee, there it is!!!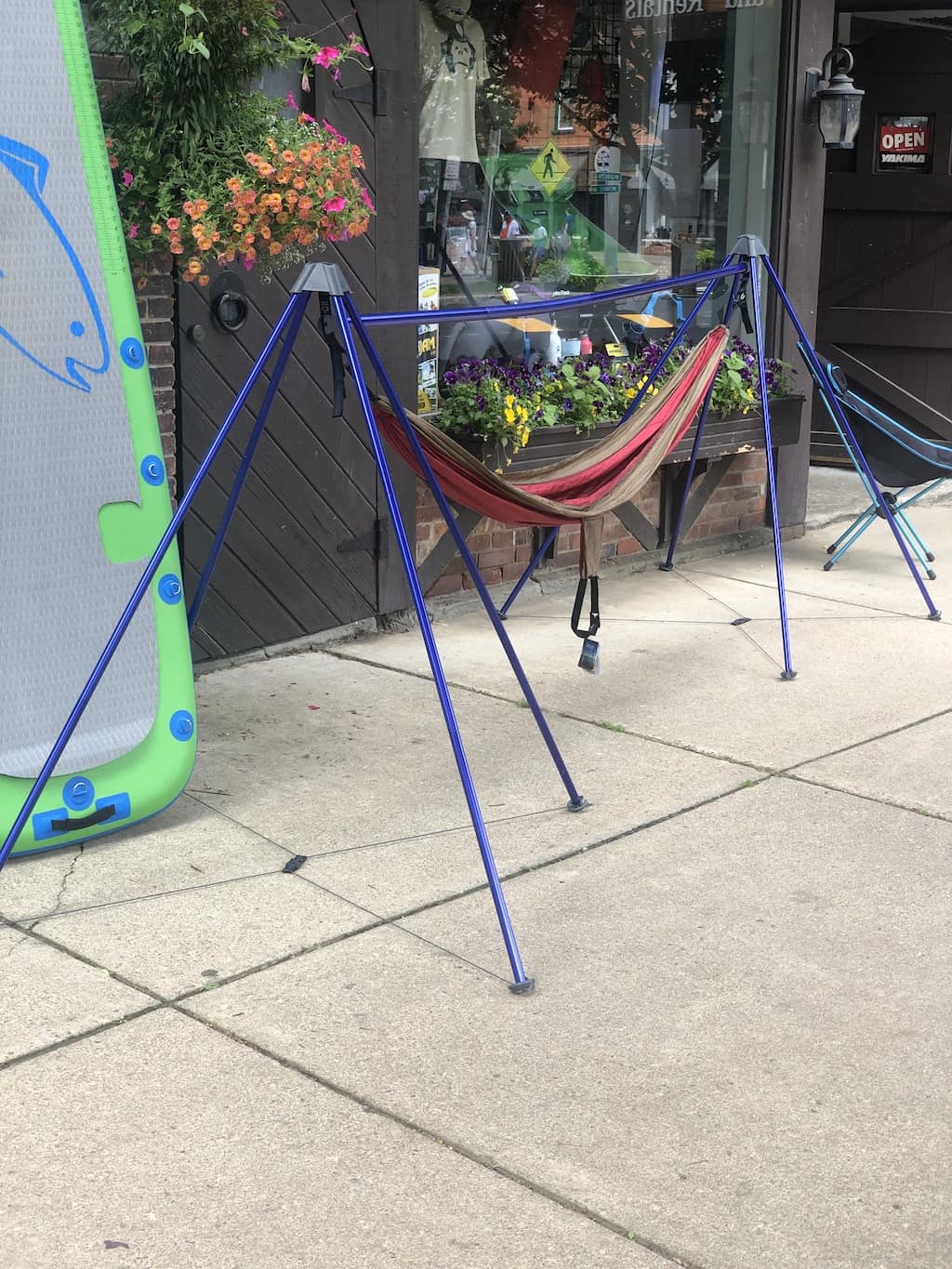 Funny thing is that I didn't buy it. 🙁 I scoped it out real good, tried it out to make sure I was able to get in and out of it easily. I said to my husband, I wonder if I could get this cheaper online.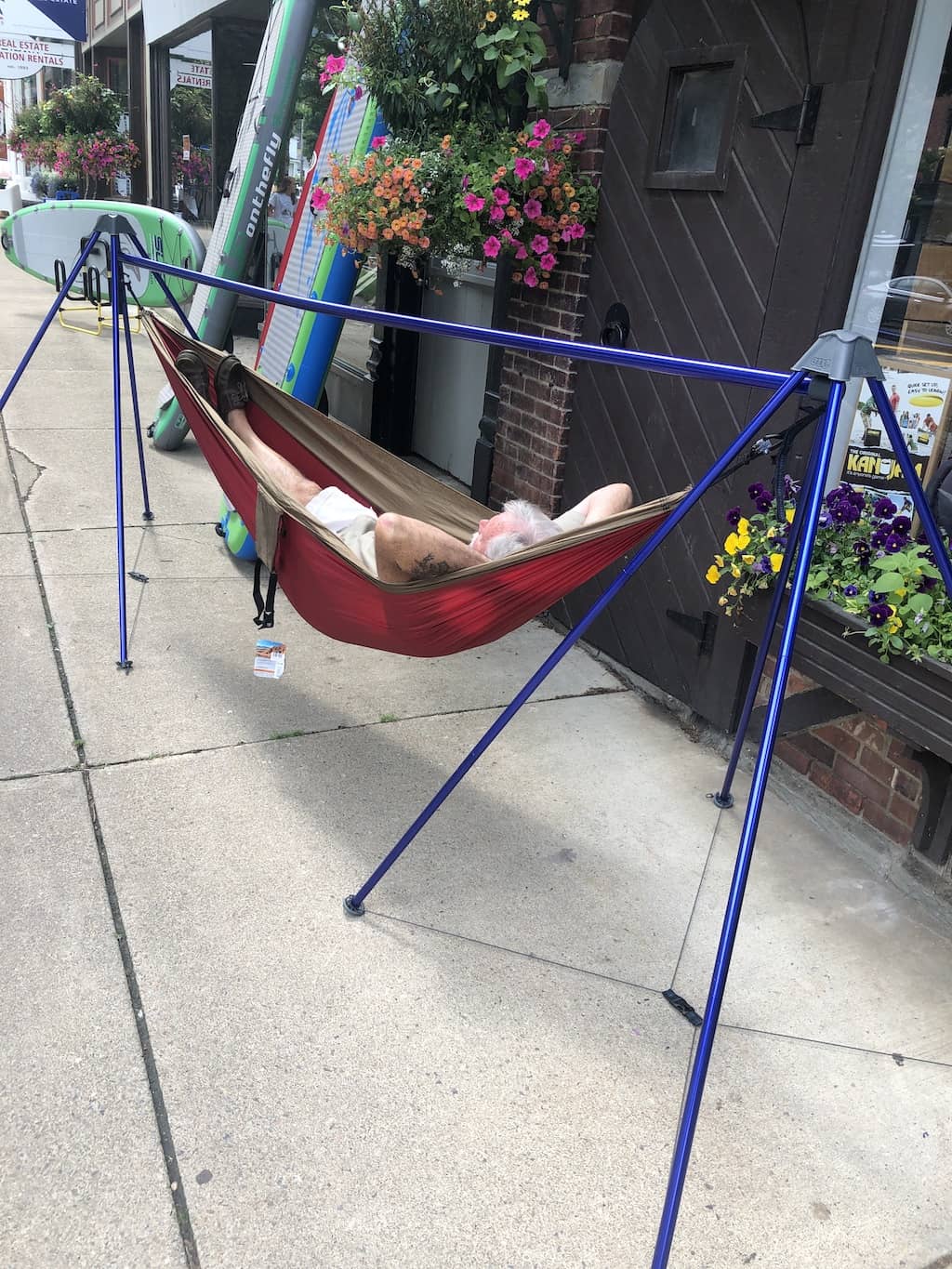 Welp, that answer would be no. It was the same price online. Luckily we only live about 20 minutes away so we headed back the following weekend (that meant more wine 🍷 tasting 😉) to buy it.
I'm not gonna lie...it was more than I wanted to spend (okay, it was a little expensive) but because I had been looking for so long, I figured what the heck (and my 60th birthday was coming up, lol!)
About the ENO Camping Hammock
The ENO Nomad Hammock Stand is a lightweight camping hammock with stand that can you can carry with you on a hike, use in your tent to sleep on, sleep in the forest under the stars or the perfect size to carry in your RV.
Did you know there is a National Hammock Day? I missed it but it was July 22nd.
The ENO camping hammock is not only great for camping but also the best hammock for backyard. It sets up in minutes and is also great for at the beach or in the desert.
Made of lightweight aluminum alloy and weighs in at only 15 lbs. It can hold up to 300 lbs. and folds for easy storage in it's own carrying case. The shock corded construction is what makes the poles collapsable yet stay together. Integrated cargo loops help to make your hammock adjustable.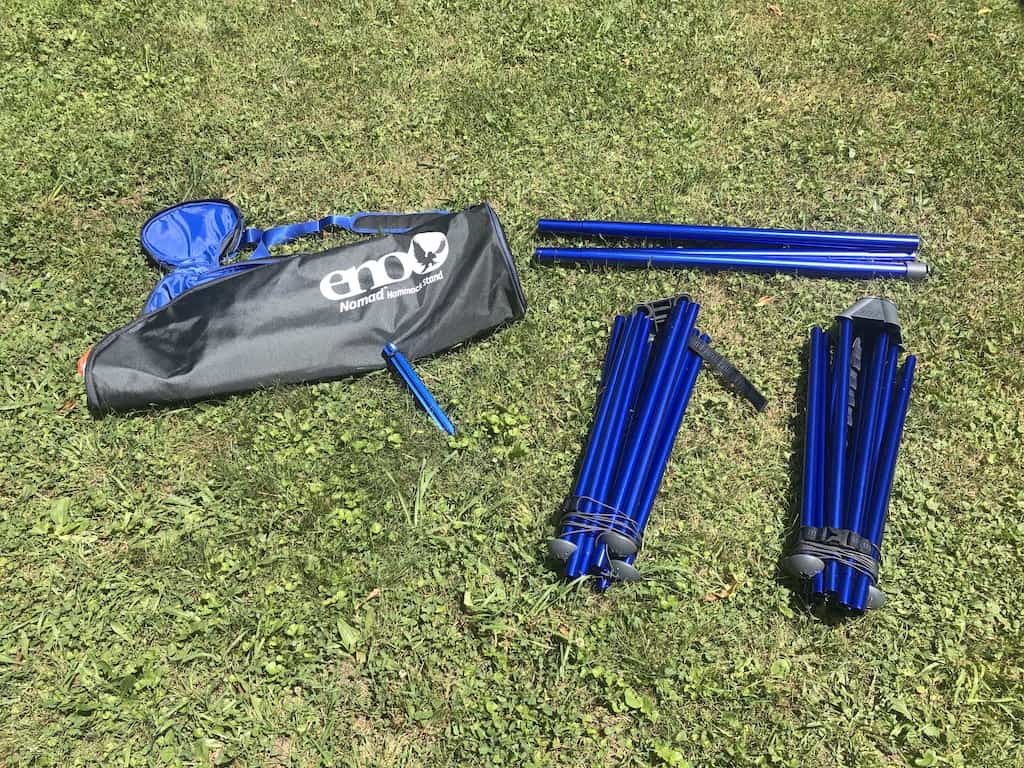 Is it Hard to Get Out of
I thought that maybe it would be because I have a hard time getting up out of anything. However, you just swing your legs over the side, push back with your feet a bit and stand up. Easy peasy. The one thing you cannot do is grab the bar that goes across. It's there for stability of the hammock stand and is not strong enough to grab onto to pull yourself up.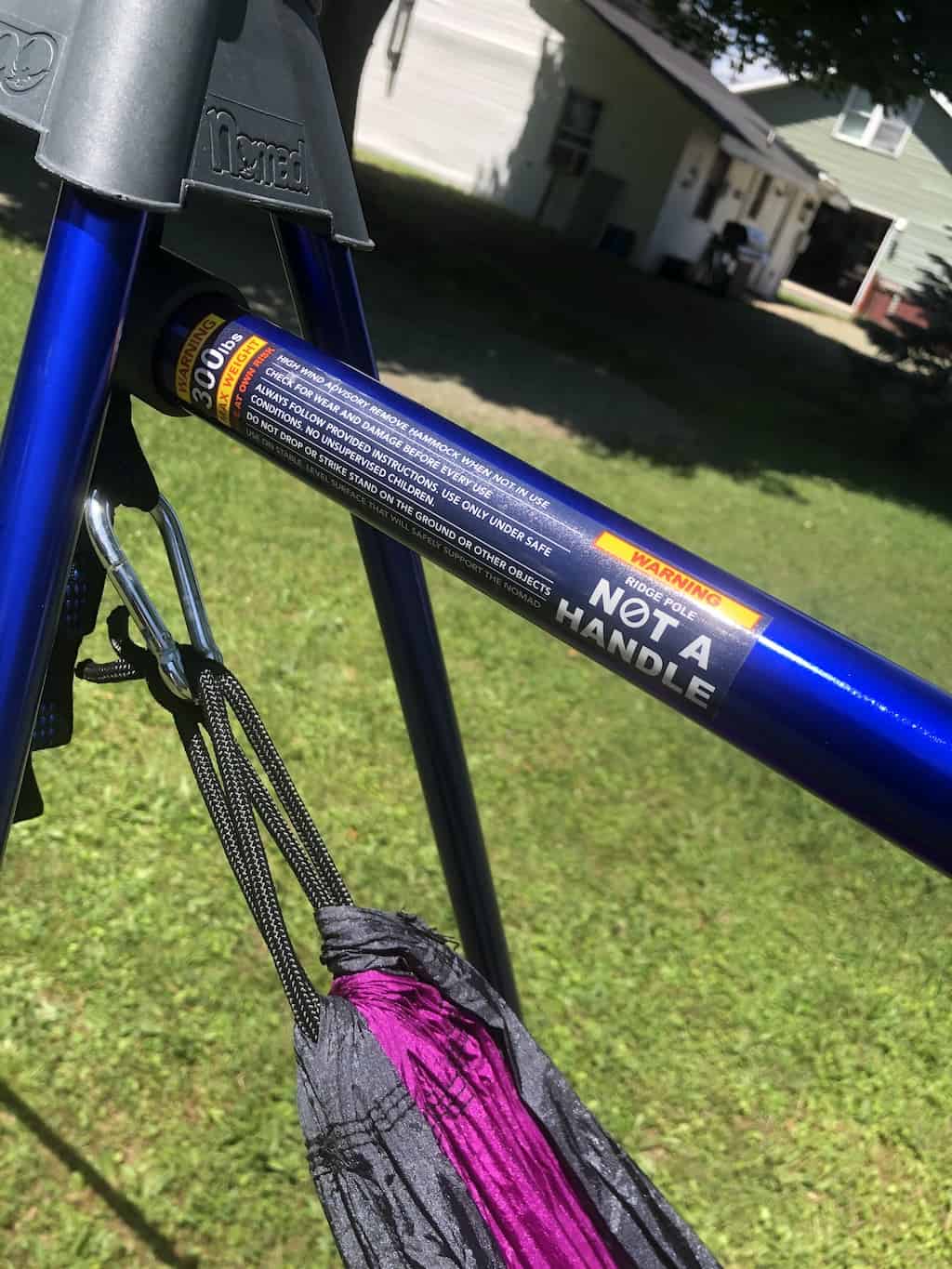 Where Can I Purchase The RV Hammock with Stand
You can purchase it online at Eagles Nest Outfitters Inc or on Amazon.com
. It does not include the hammock but luckily I had two of them already. I chose to use my two person hammock
because it gives me more room to move around and turn over if I need to.
A camping hammock with mosquito net is also available for sleeping outdoors. The only con about this is if it's windy outside and I leave the hammock hooked up, it will fall over. The hammock is made of parachute material so there's that! However, there is an easy solution, I just disconnect the one side and drape it over until I'm ready to use it.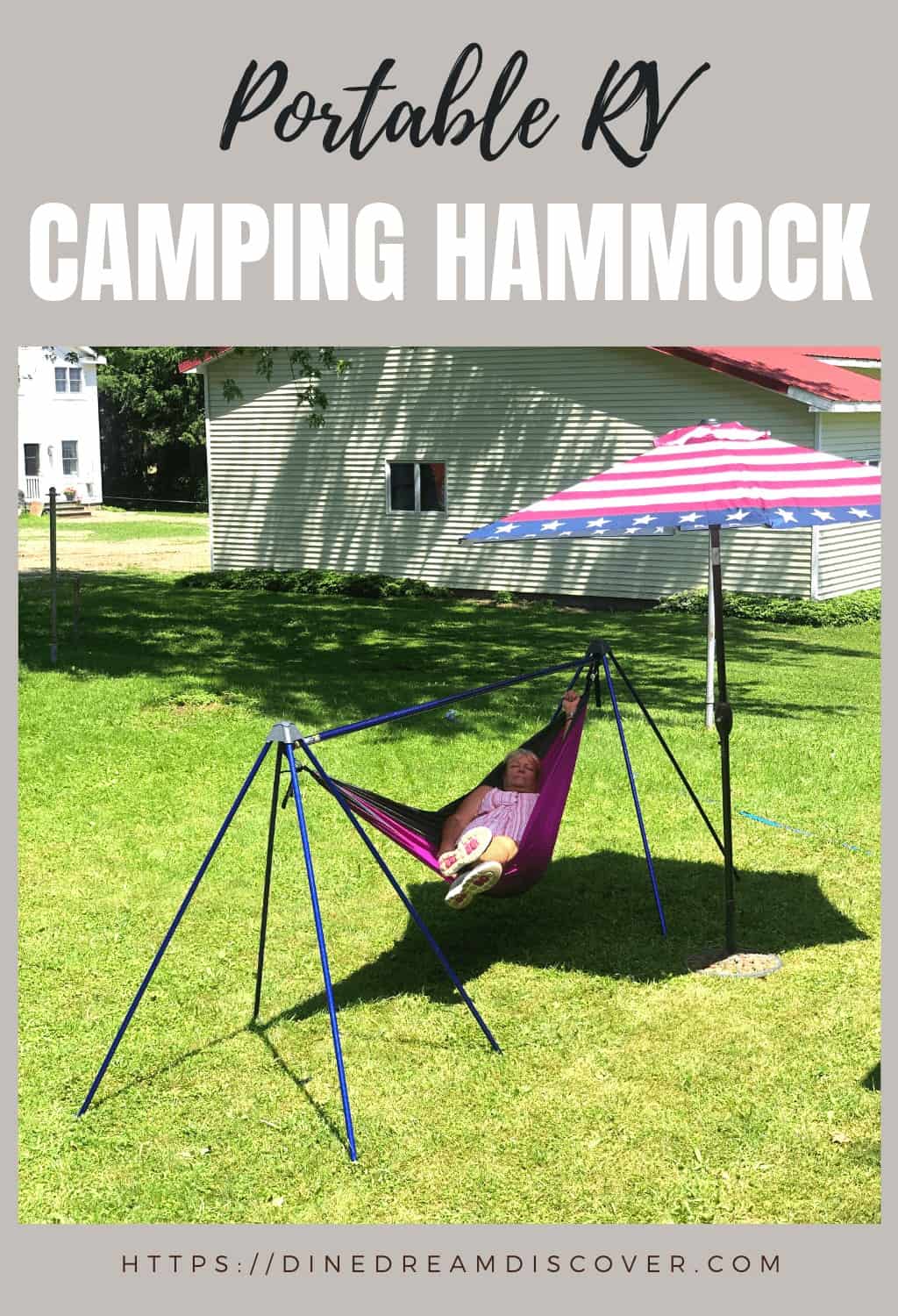 The RV hammock is the perfect gift for the camping person on your Holiday Gift list. Or even for those who are hard to buy for and like to relax in the yard. Some people don't have the room for a full fledged hammock so this would be perfect.
If you love the outdoors, then you need a camping hammock. However, if you don't love the outdoors, it's still the best hammock for lounging around in anywhere.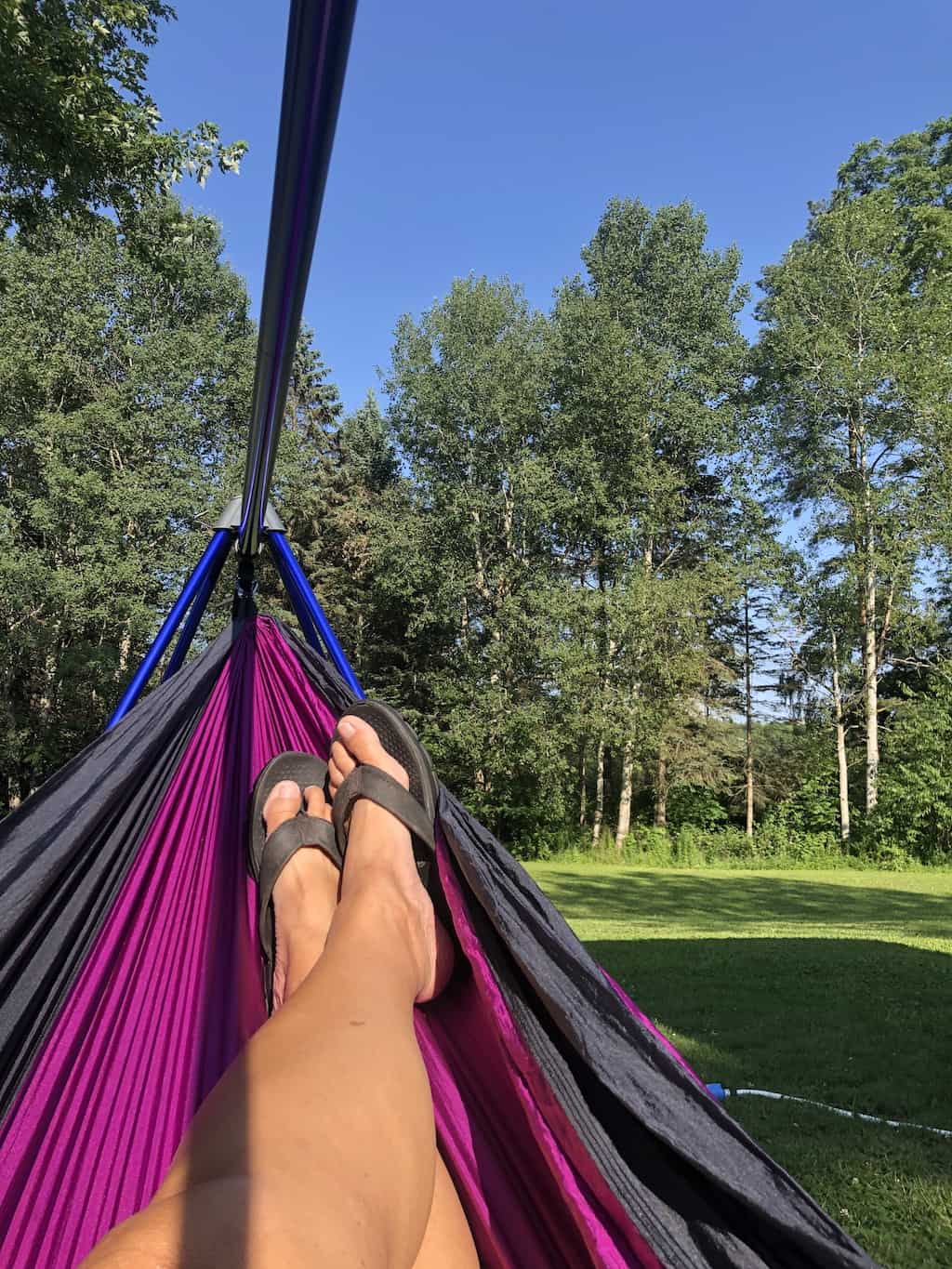 Follow us on Pinterest and PIN IT FOR LATER!