CROSSNET is the new volleyball game in town where 4 square meets volleyball. It can be played indoors or outdoors and comes with everything you need, including the volleyball and pump.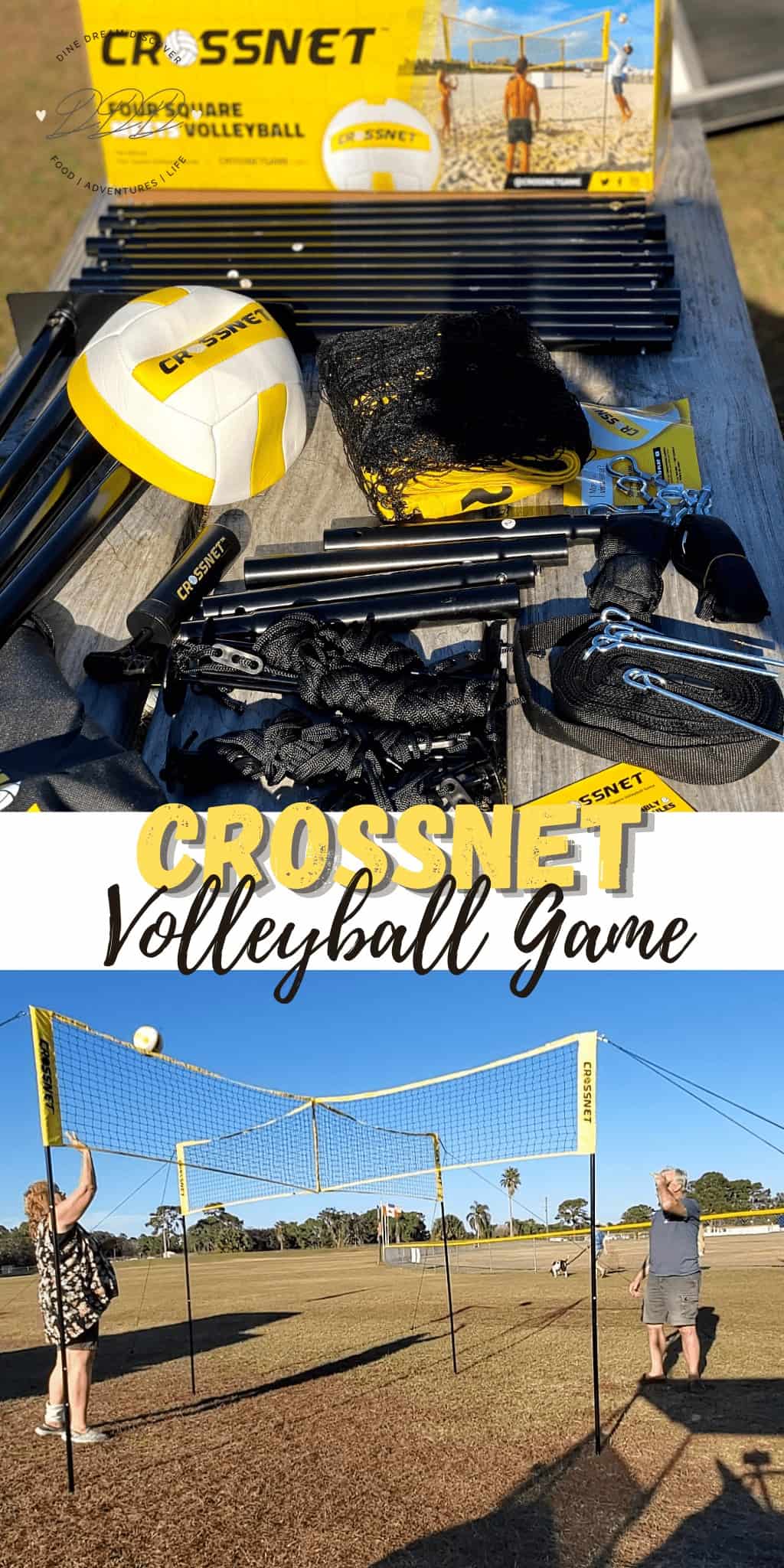 I received the products mentioned below in order to facilitate my review. All opinions are my own and may differ from yours. This post may contain affiliate links. See my disclosure policy for more info.
CROSSNET - The New Volleyball Game in Town
The best part about living in Florida (for the winter season) is that you can play games like CROSSNET Volleyball Game all year long! But in case you were wondering, it can also be played indoors like in a gymnasium. They do sell sand fillable bases made just for that.
The stakes make it so you can play in sand or dirt. Heck, you could probably even play in the snow if you like the cold weather. No matter where you choose to set it up, it will be a blast.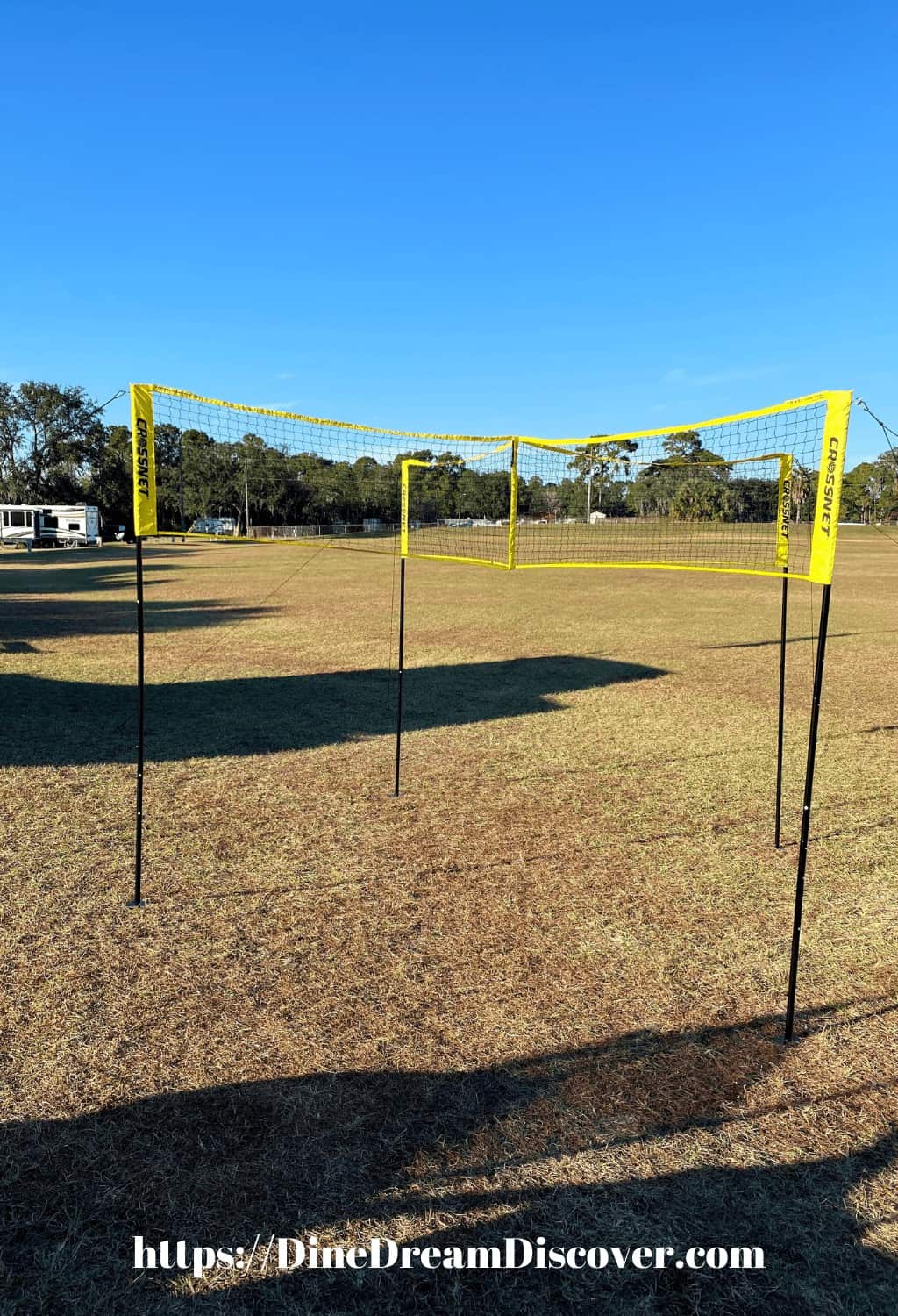 Anything that is going to get the kids (and adults) outdoors for some exercise is on the top of the list for me. Especially with virtual school and nowhere to go, the new volleyball game in town should be on everyone's list this year.
CROSSNET sent me one for our Holiday Gift Guide. And while I'm not much of a sports person, the video I took of us playing (which you will not see 😂) could make the TV show, Funniest Home Videos.
What is CROSSNET
CROSSNET is the new volleyball game in town where 4 square meets volleyball. I know it sounds confusing, but really it isn't. A volleyball net with 4 separate spots.
When the box arrived, I thought, oh no, we can't play because we don't have a volleyball. My son to check the box because maybe it was inside. There was no way a volleyball was fitting in that box.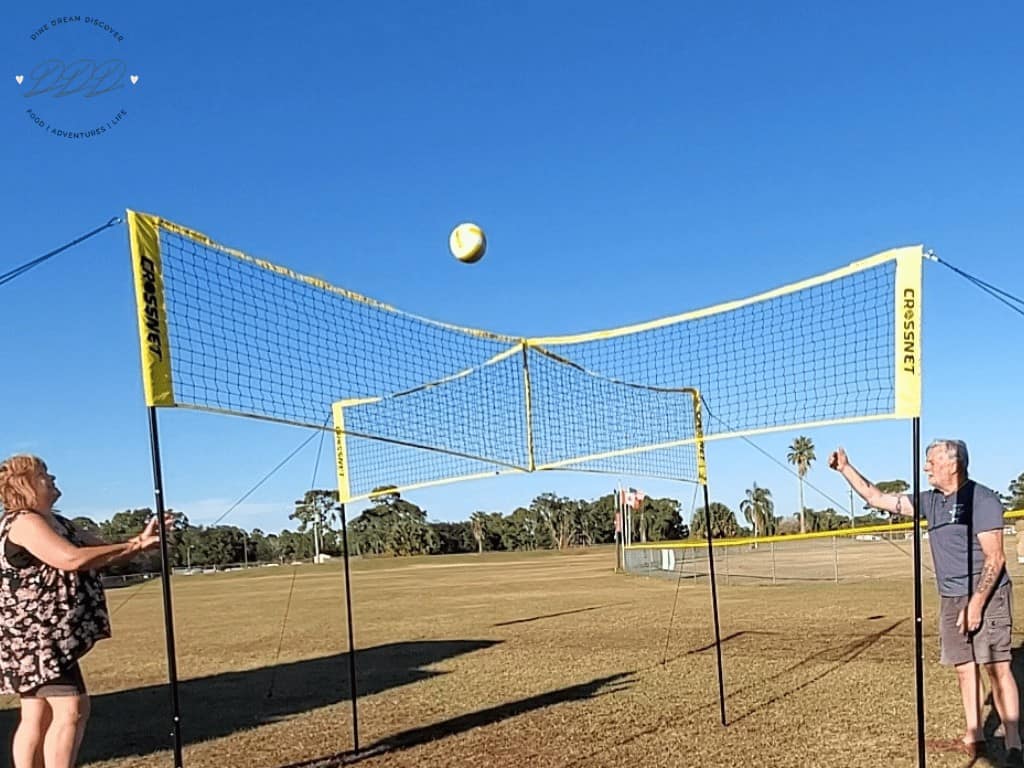 Sure enough, I opened the box and there was deflated volleyball. Then I started thinking, we don't have an air pump. But let me tell you...CROSSNET creators Greg and Chris Meade, and their childhood friend, Mike Delpapa thought of everything!
What's In The Box
When you open the box, you be a little intimidated with all the pieces. I know I was. But once I sat down and laid everything out on the table, (and I read the directions) it went together in less than 15 minutes. The poles are all numbered which makes it super simple.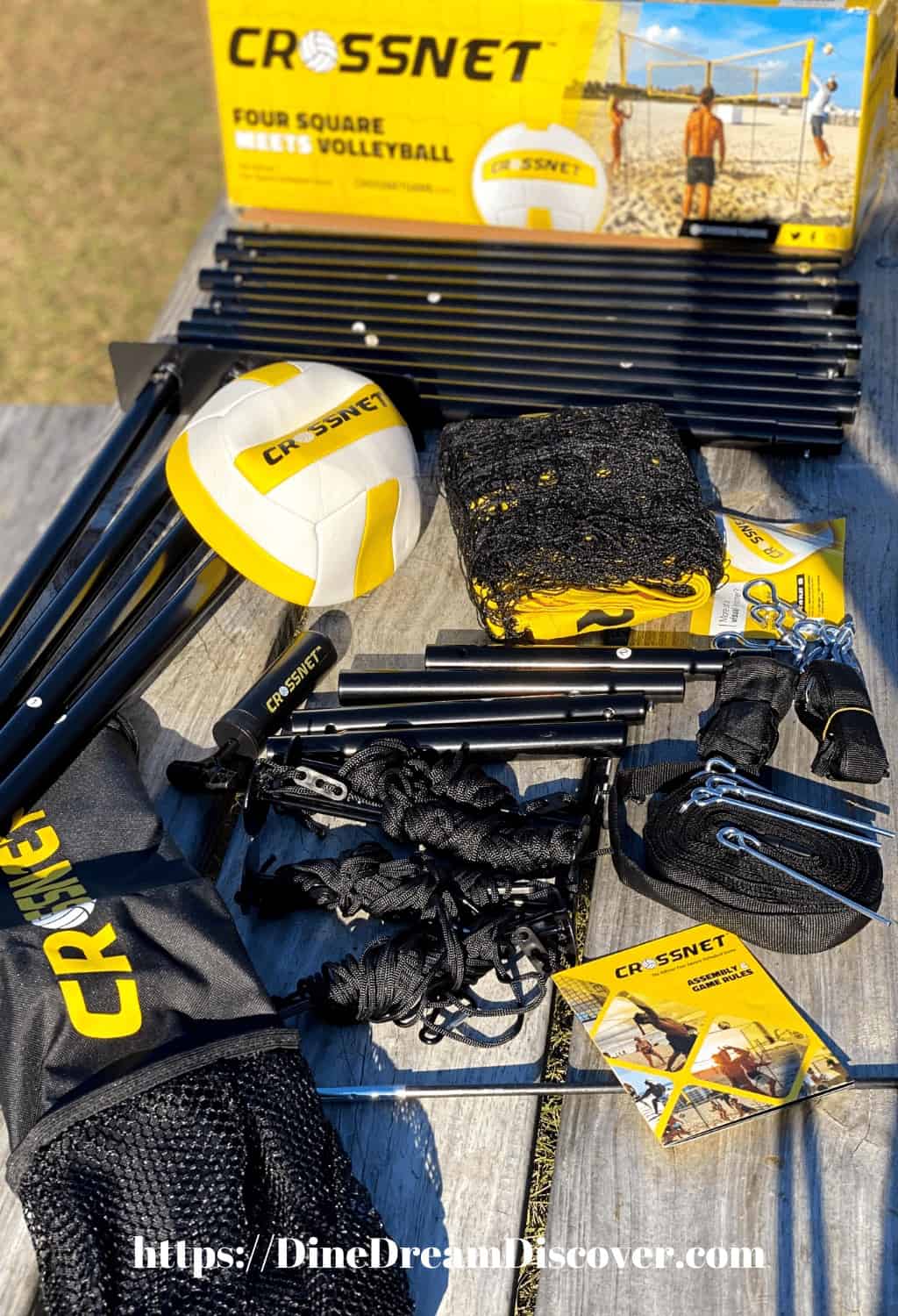 The poles can be put together in three different heights, Men, Women or Children. While there was only the two of us setting it up, it was doable. However, a third person to help with the stakes would have been nice.
Included with the set is a backpack to store all it in once you are done playing. We did cheat on setup though because we did not use the boundary straps on the bottom because we were on a slight hill and the one side was sloped.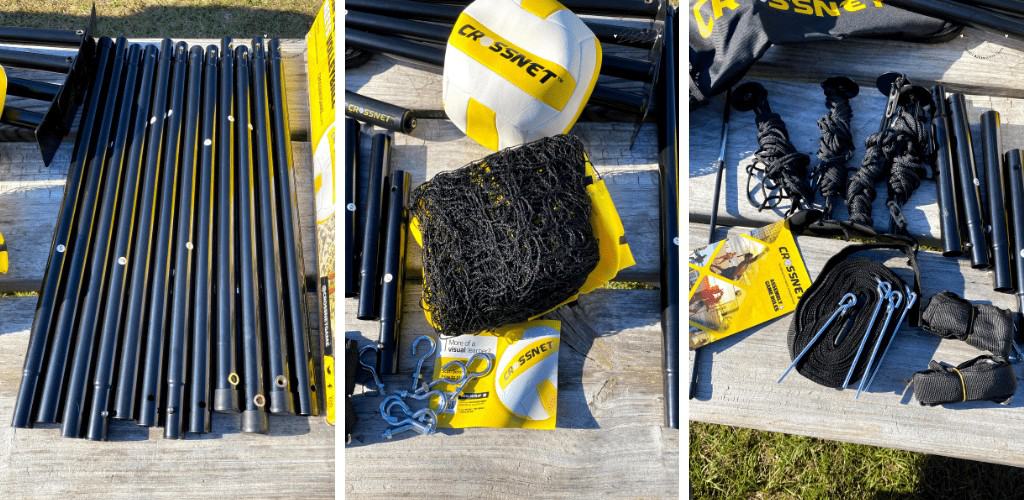 How to Play
There are four squares and you can only serve and collect points from square number four. You have to get to 11 points to win.
If the ball hits the ground or goes out of the boundary, you lose and are out. There are many ways for someone to be eliminated. When someone is eliminated, you rotate clockwise. The 4th square is the only square where you can score.
If there are more people waiting to play, once someone is eliminated, a new player can join in on square 1. If you've been eliminated, you have to wait your turn to rejoin.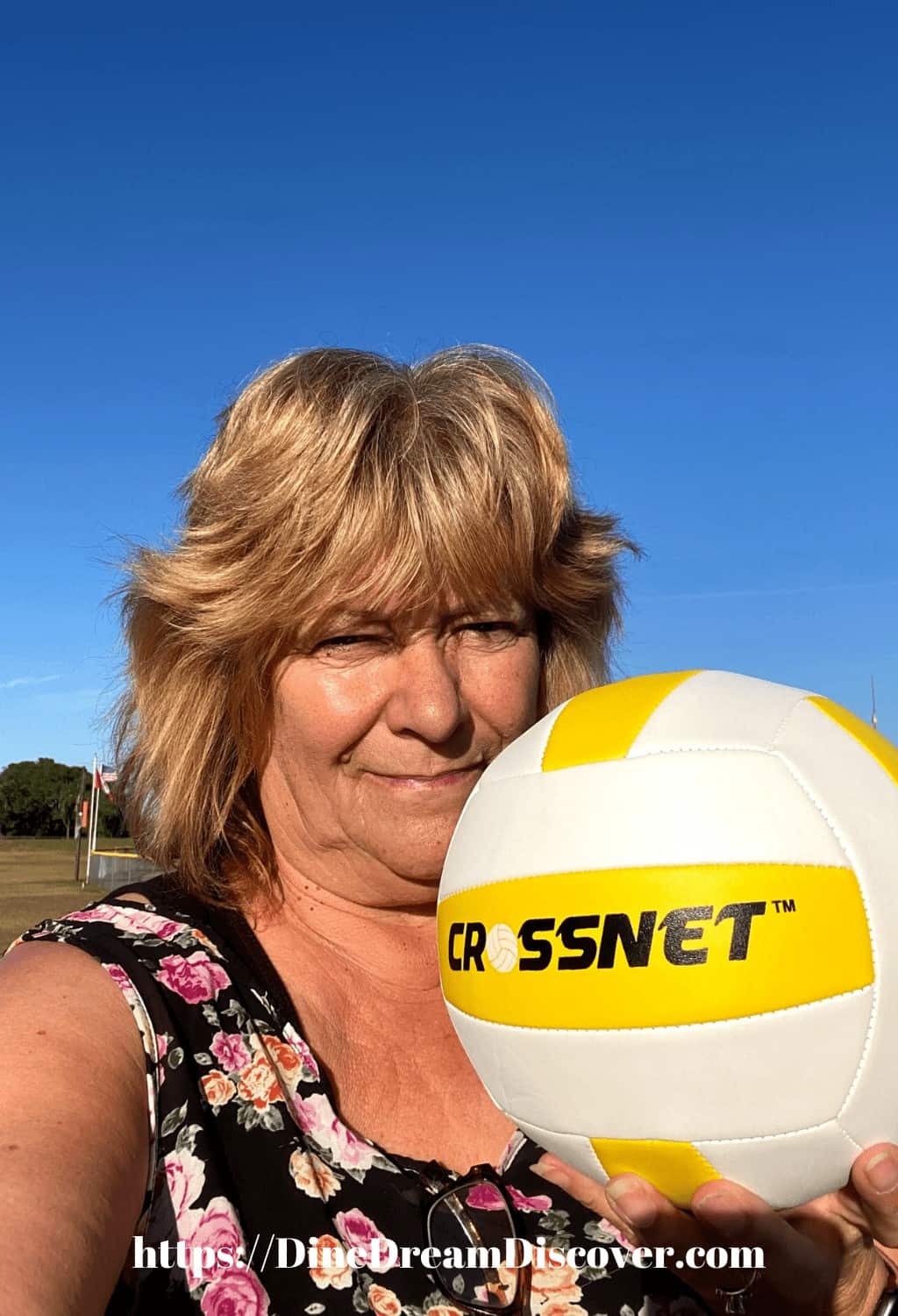 The game is fun and while there were only four of us, it would have been more fun with more. I did do a video but trust me, it's not something you want to see. I did however, forget to take pictures when my son and daughter in law showed up. 🙄
Sorry, I'll take more next time. We just wanted to start playing. 😊
Where to Purchase
The CROSSNET Volleyball Game is available at Crossnet.com, Home Depot, Amazon, Dick's Sporting Goods and many other places.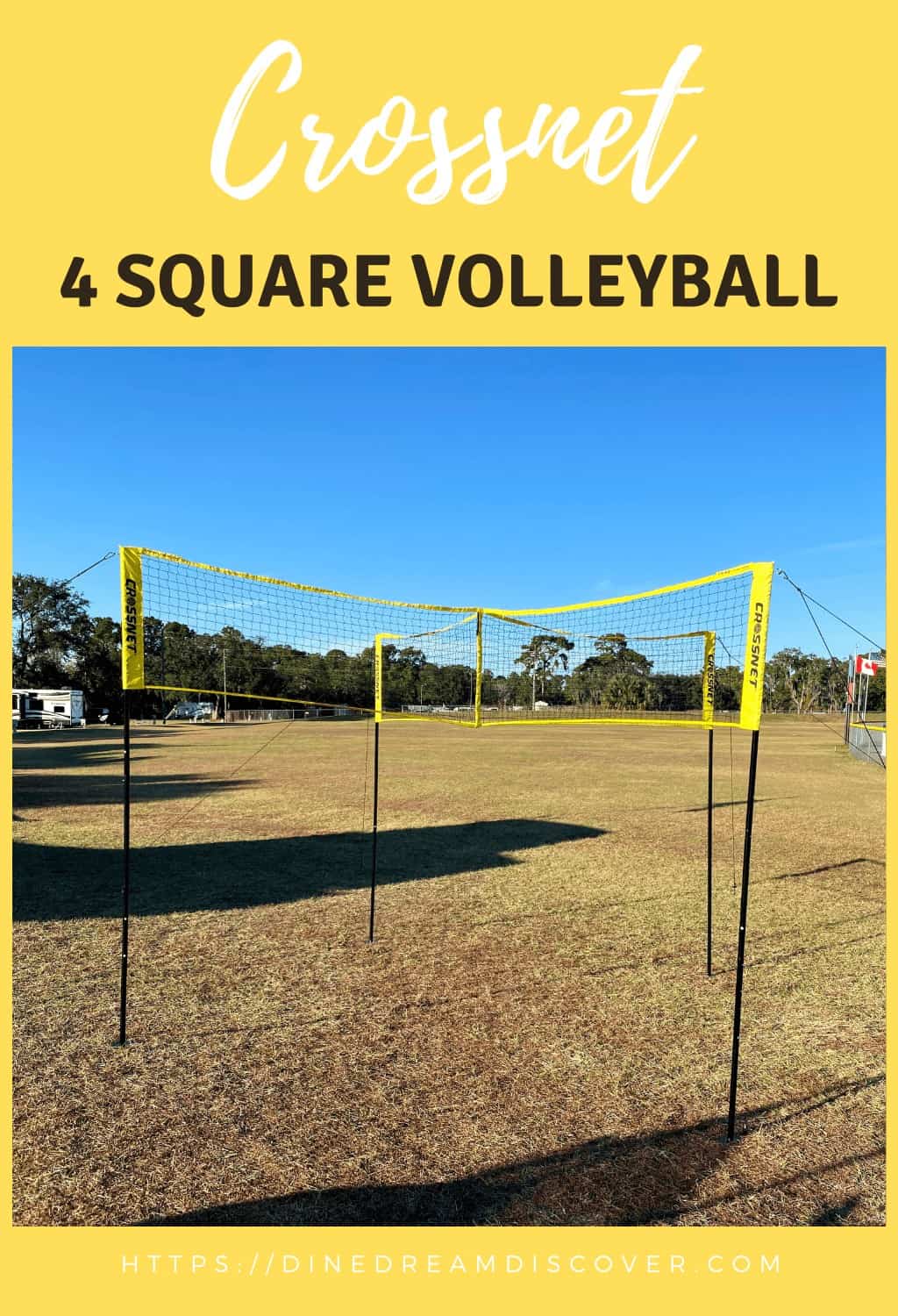 Connect with them on Facebook, Twitter and Instagram.
Follow us on Pinterest and PIN IT FOR LATER!