Experience the magic of the holidays with the limited edition Disney Advent Calendars. These calendars bring your favorite characters from Disney right to your home or office, where you can count down the days until Santa's arrival.
I received the products mentioned below in order to facilitate my review. All opinions are my own and may differ from yours. This post may contain affiliate links. See my disclosure policy for more info.
Counting down to Christmas never felt so good with Disney Advent Calendars
The countdown has begun. With Christmas just around the corner, it is time to start getting in the festive mood and preparing for Santa's arrival on December 25th.
There are many ways that you can get into the spirit of things this holiday season, from listening to your favorite Christmas songs or watching a few of your favorite movies.
If you want a countdown that is less traditional and more festive than the regular Advent calendar, then these might be the one for you!
These Disney Advent Calendars from Insight Editions have 25 gifts inside of them that will make your holidays extra special. You can do all sorts of activities with these items like reading stories and write letters.
It sounds like a lot of fun and I am sure everyone would love getting something like this as a gift during the holiday season.
Star Wars Advent Calendar - 25 Days of Fun for the Marvelous Star Wars Fan
Star Wars fans, rejoice! It's that time of year again. The time when you start counting down to the happiest day of the year-Christmas.
And what better way to celebrate this joyous holiday than by opening up a Star Wars Advent Calendar
full of goodies?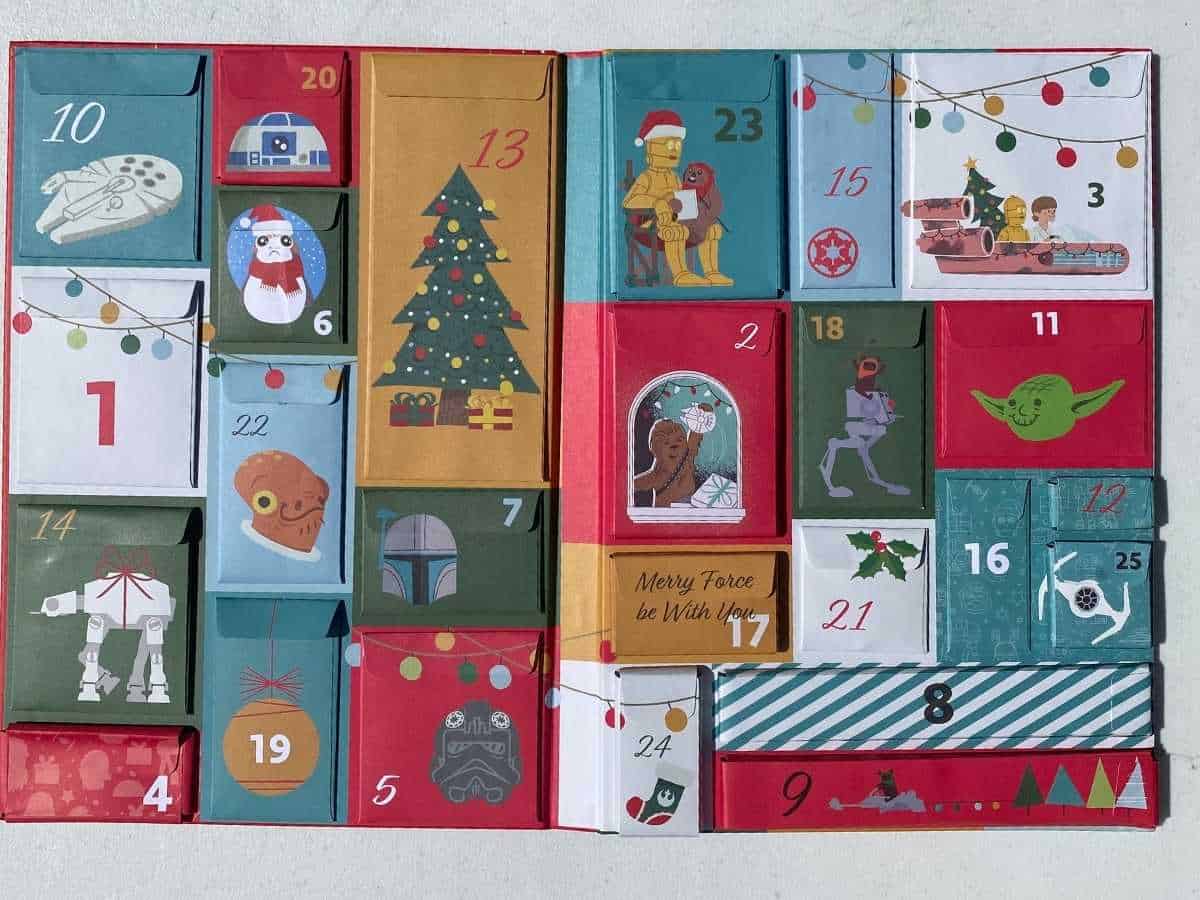 That's right, there are 24 days until Christmas and 25 gifts inside this Advent Calendar!
You'll get one surprise each day for twenty-five days with exclusive trinkets from your favorite galaxy far, far away.
What are you waiting for?
Unwrap a Magical Surprise every day in December
Celebrate the holidays with Harry, Ron, and Hermione with this Harry Potter magical advent calendar book filled with more than twenty-five Wizarding World surprises!
The holidays are a time for family, friends, and festivities. But it's also the perfect opportunity to celebrate Harry Potter!
This year, collect all the magic of Hogwarts with this beautiful Harry Potter advent calendar
book that includes more than twenty-five surprises from your favorite Wizarding World films.
Designed for all ages, there are festive paper ornaments and recipes cards included in this magical edition.
And if you're feeling creative, try making some of these recipes at home this holiday season!
You can't beat this Harry Potter Advent Calendar with 25 magical surprises.
Countdown to Christmas is the Happiest Holiday of All with Jack Skellington's The Nightmare Before Christmas
Is Christmas coming? We are counting down the days from 25 to 1 with this advent calendar! What better way than with a Nightmare Before Christmas Advent Calendar
?
With 25 gifts, you'll be sure to find something perfect for any Jack Skellington fan on your list.
You can't beat these awesome surprises inside: recipes, mini books, note cards, ornaments and so many more.
The countdown starts now!
This special countdown calendar opens to reveal 25 gifts that include mini-books, note cards, ornaments, and other surprises to take readers through the 25 days of the happiest holiday of the year.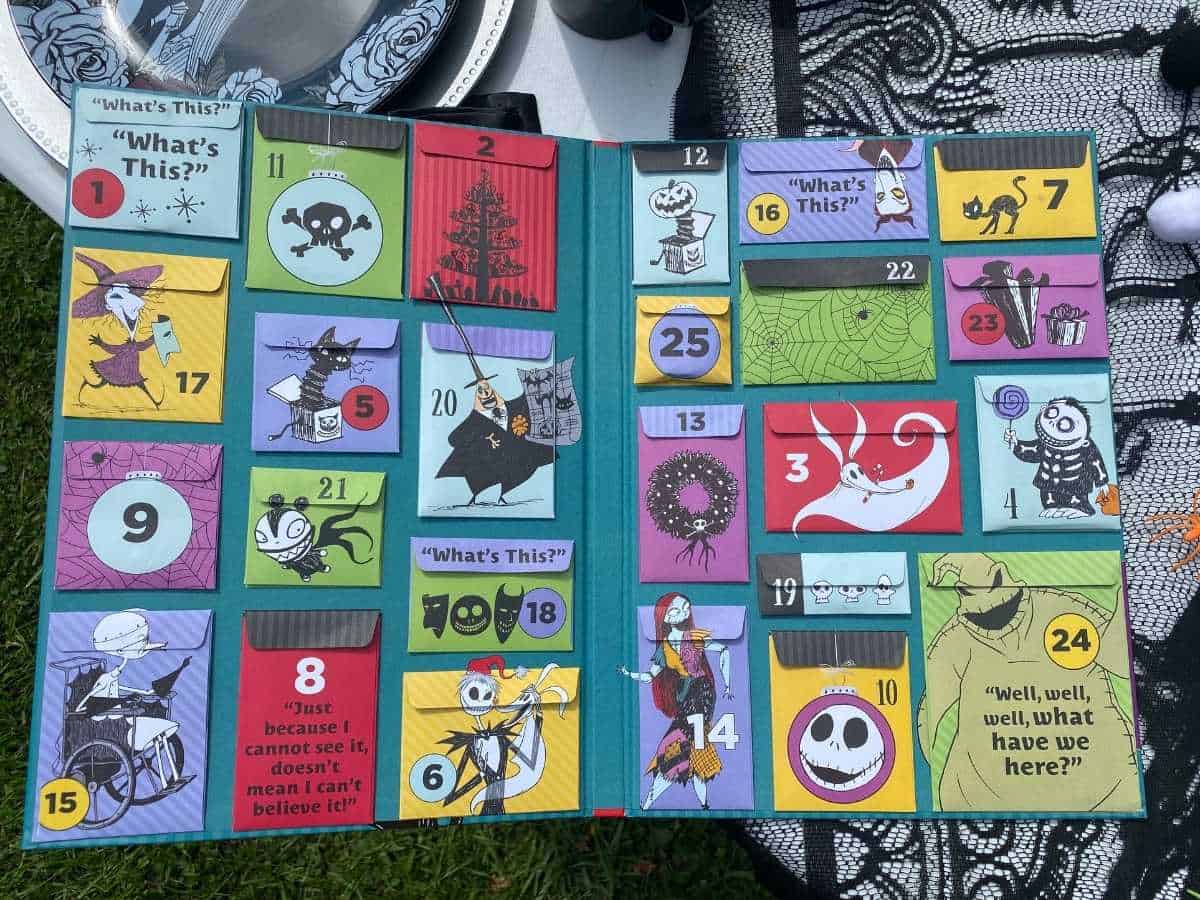 If you're looking for a fun gift idea this season that loves Jack and Sally, then look no further!
Disney Princess Advent Calendar - A Magical Holiday Treat for Kids and Adults Alike
Some people believe that Christmas is a time for giving and sharing. Others believe it's a time to spend with family and friends. Some people will decorate their home with lights, others will bake cookies to share.
It's also the season of Santa Claus, which includes "Elf on the Shelf". There are many traditions that families follow during the holiday season.
If you're looking for something new this year, why not start your own Disney Princess tradition?
Disney Princesses are a staple of children's lives. From the time they are born, kids grow up with Disney characters and stories.
With a new princess movie coming out every year, it is no wonder that Disney is one of the most recognizable brands in the world.
Now you can give your little girl or boy their own magical holiday treat with this stunning pop-up advent calendar.
This Disney Princess Advent Calendar
has 25 numbered doors that open up to reveal an ornament! There are 25 different ornaments inside this beautifully designed calendar including Cinderella's glass slipper, Rapunzel's frying pan, or even Belle's music box.
Girls will enjoy counting down the days until Christmas with their favorite princesses while adults will appreciate all the wonderful details hidden away in this captivating collectible.
This Disney Princess advent calendar is a must-have for any Disney fan this holiday season! With this advent calendar, everyone gets into the spirit of Christmas by getting ready for Santa's arrival on December 25th just like Elsa does in Frozen!
They will have plenty of fun for three weeks this holiday season - and maybe even learn something new about their favorite characters!
Treat your little girl or boy today by ordering one of these calendars today.
Conclusion
There's something perfect for any Jack Skellington, Disney Princesses, Darth Vader, or Harry Potter fan in your family - just look at all those gifts inside!
Now that you've had the chance to see these advent calendars, which one will be your new favorite?
The choice is yours and there are so many options to choose from your favorite movies, TV shows, and more including Friends, Disney, Harry Potter, Star Wars, and more!
They are all available online at Insight Editions. Connect with them on Facebook, Twitter, and Instagram.
Which calendar would you choose if you could only have one?
Can't decide? Enter our Disney Advent Calendars Giveaway to win all FOUR of these awesome calendars.
The Giveaway
Must be 18 and older to enter.
Void where prohibited.
US only!
Giveaway ends 10/20/2021
Winner must reply to the winning email within 24 hours or another winner will be chosen.
Enter on Rafflecopter below.
Winner chosen by Random.org.
Dine Dream Discover is not responsible for prize shipment.
Follow us on Pinterest and PIN IT FOR LATER!