Write, draw and mold with the new Chocolate Pen. The kit comes complete with everything you need and your child's artistic talents will come to right before your eyes.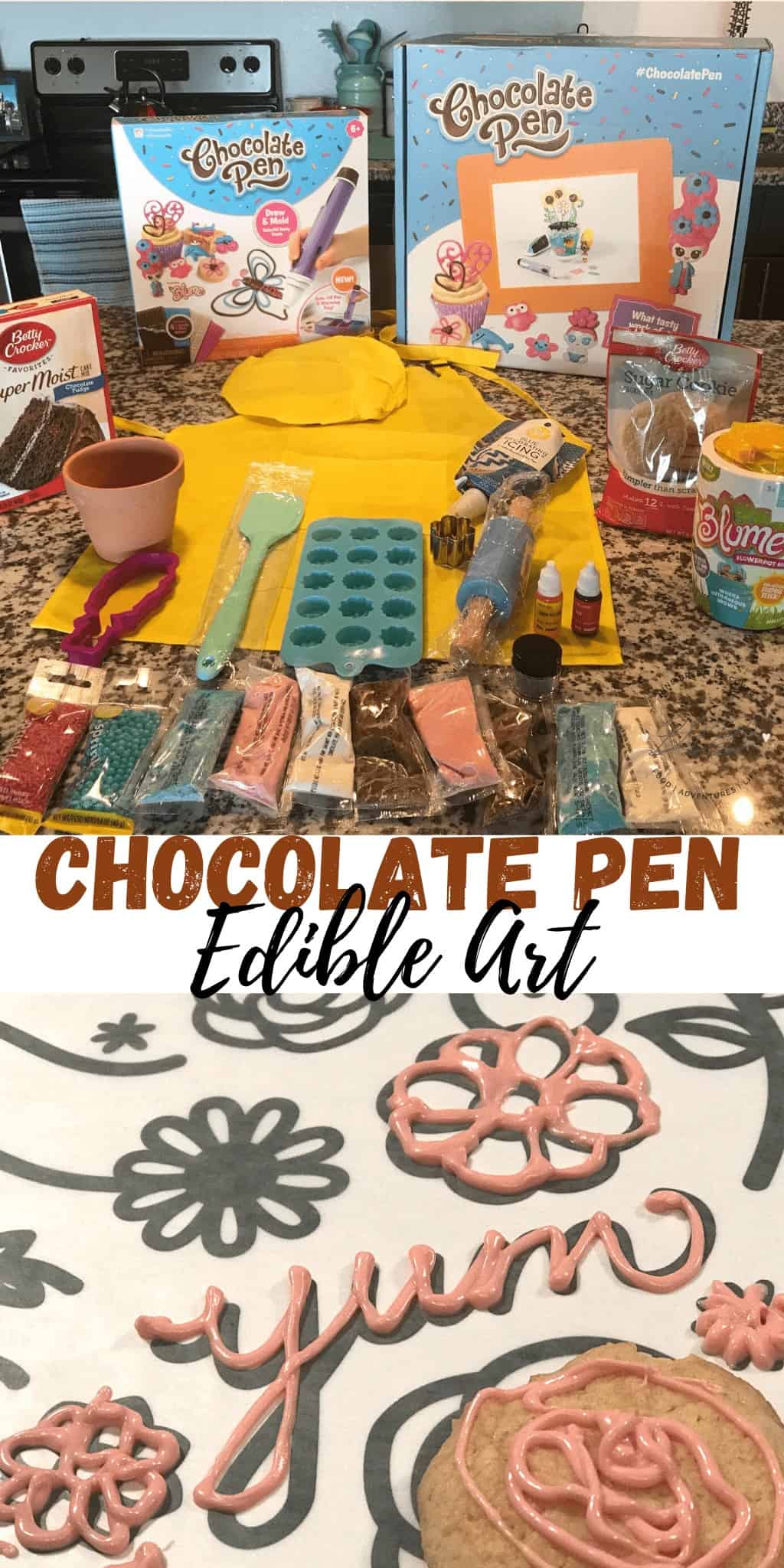 I received the Chocolate Pen from Skyrocket in order to facilitate my review. All opinions are my 100% own and may differ from yours. This post may contain affiliate links. See my disclosure policy for more info.
Creating Edible Art with the Chocolate Pen
The Chocolate Pen comes complete with everything you need to make edible art. And whether the kids are going to use it or an adult is going to use it, there are so many different things you can do with it. The days of drawing with chocolate in a baggie or piping bag are over!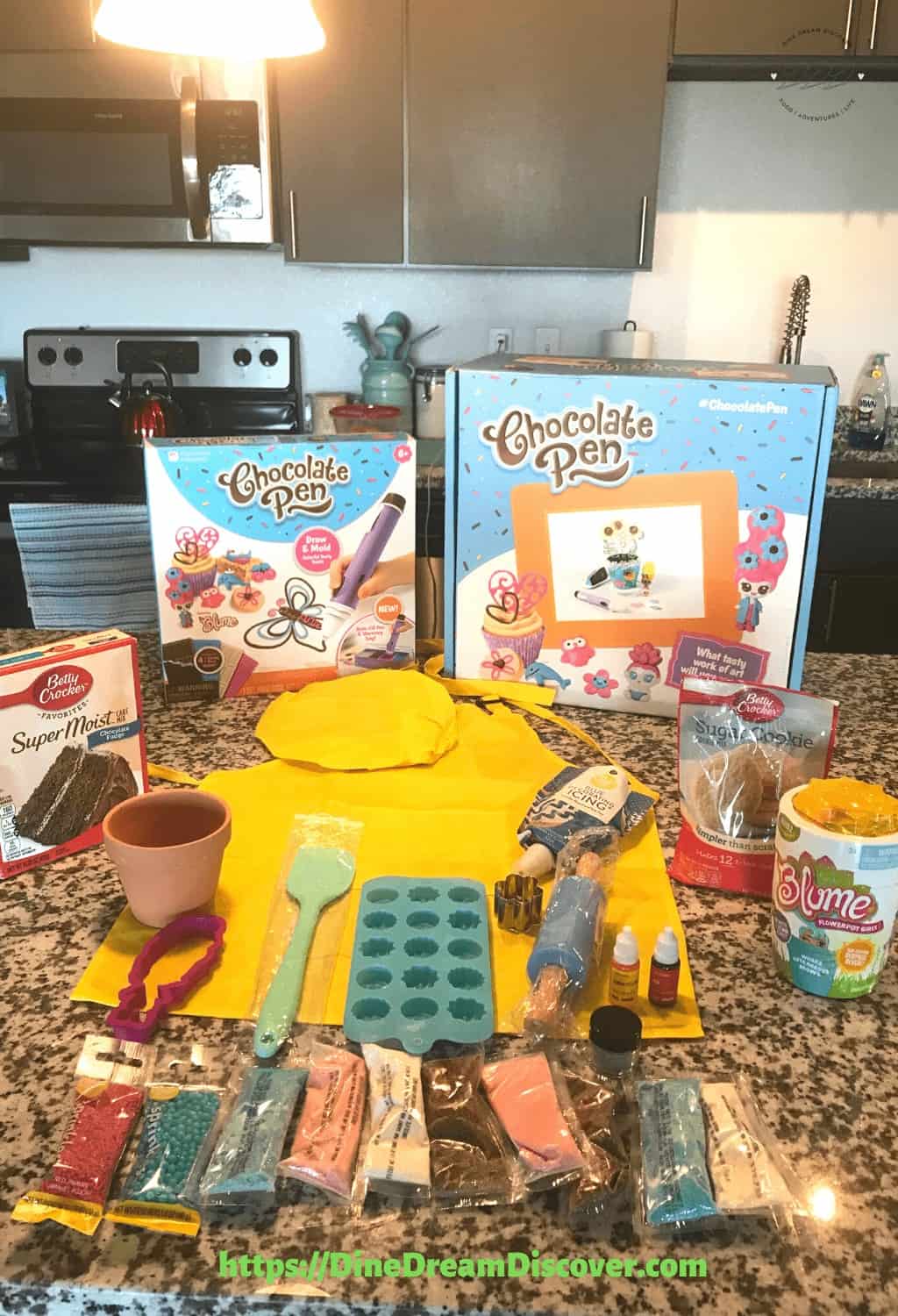 It was so much fun being part of the Sweet Suite @ Home Event by The Toy Insider this year and this is only one of the amazing hot toys for 2020, so stay tuned.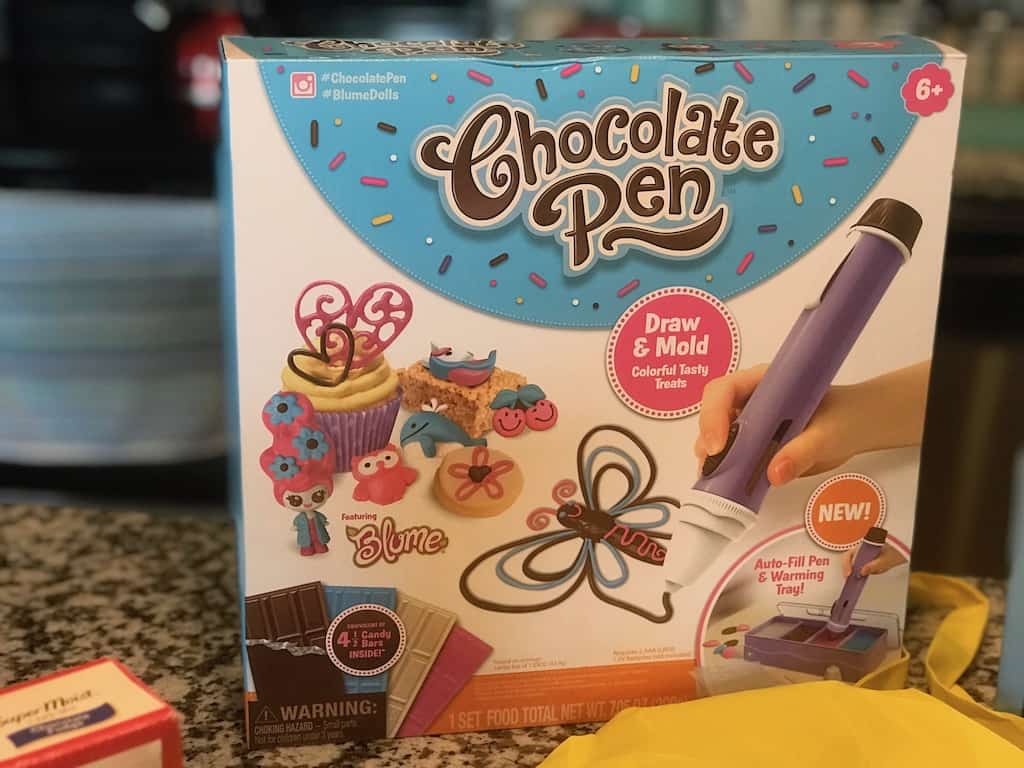 Kit includes:
Chocolate

Pen

Drawing Tip
Warming Tray with Lid
½ lb. of 4 Premium Confectioner's Chocolate Colors
Stirring Stick
40 Mold Designs
Charging Cable
Step by step Instructions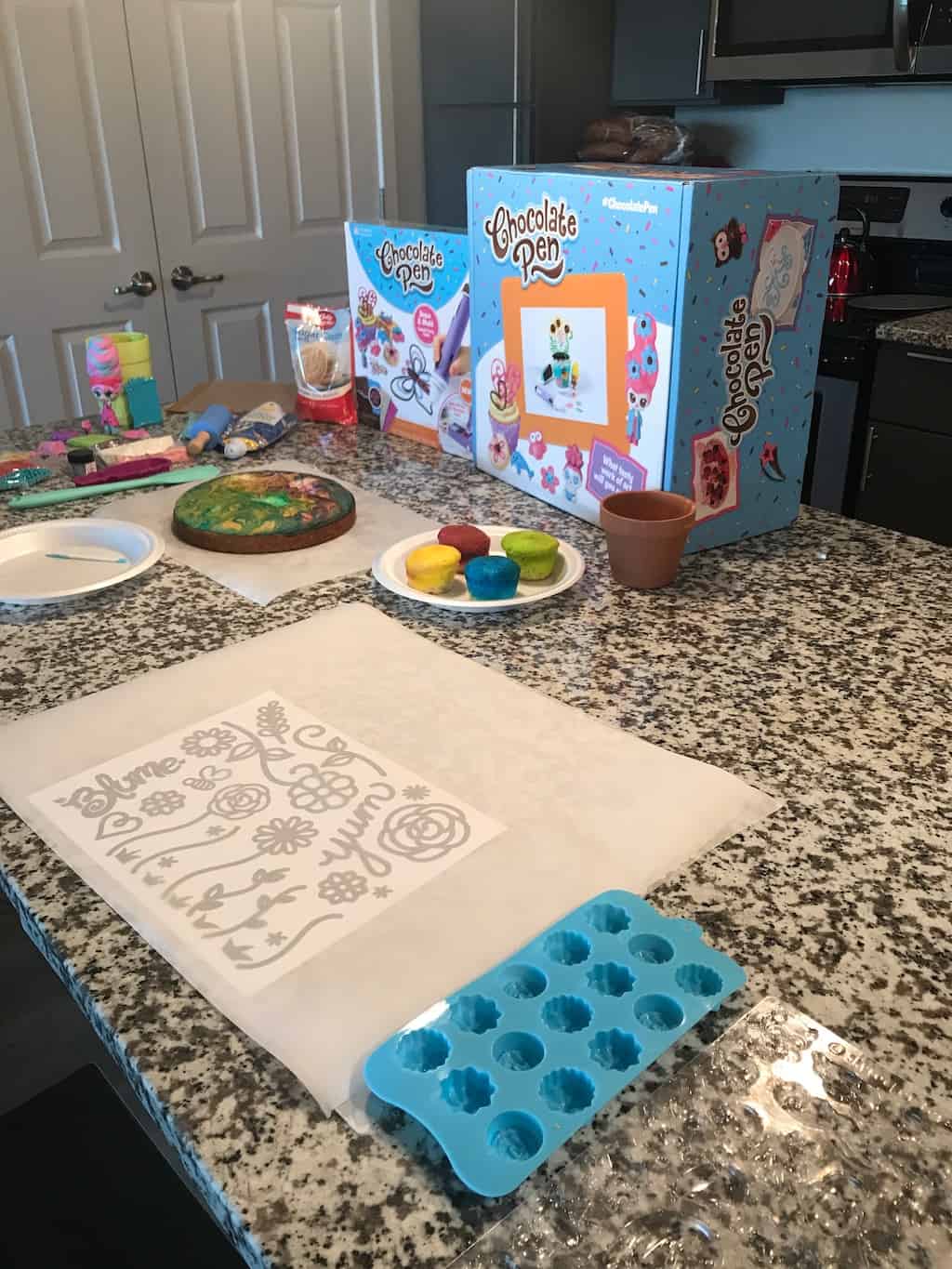 When the box originally arrived, I was planning on using it to make decorations for my cupcakes and other recipes. However, that is not how it ended up. 🙄 Someone (no names mentioned) confiscated it and claimed it as hers. 😂 It is recommended for ages 6 and up.
What Was In That Huge Box?
We also received a bunch of other fun things in our box.
Blume Doll
Edible Glitter
Chocolate Cake Mix
Cookie Mix
Frosting
Flowerpot (a real one)
Spatula
Chocolate mold
Sprinkles
Rolling Pin
Cookie Cutter
Food Coloring
Chef Hat and Apron
How the Chocolate Pen Works
Once you have everything unpacked and out of the box, you insert two "AAA" batteries. I love things that require little to no assembly. lol When the chocolate is ready, flip the switch to "fill mode". The chocolate gets sucked up into the pen chamber and will stop when full. You then flip the switch to "draw mode" and you are ready to create some edible food art.
The warming tray plugs into a USB and holds all four colors. While you are waiting for the warming tray to warm the chocolate, about 15-20 minutes, you can get your Blume Doll to bloom. More on that later.
The melted chocolate never touches the pen and the partially left over tubes can be stored and re-used.
There is so much you can do with the Chocolate Pen. Create designs for cupcakes and cakes, fill molds, decorate cookies...the possibilities are endless.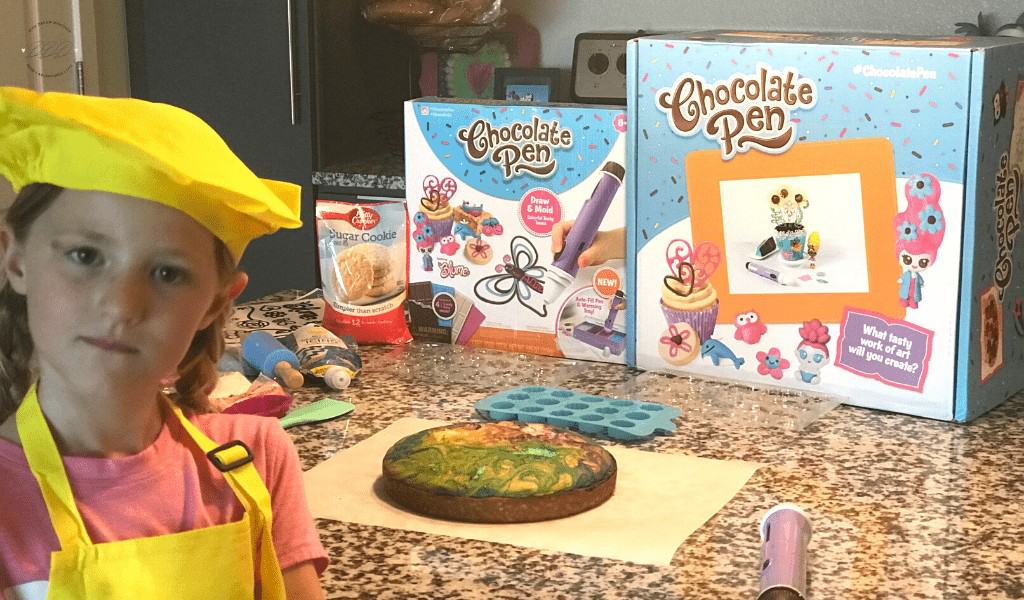 Oh No, I'm Out of Chocolate
No worries. Skyrocket Toys sells a Chocolate Pen refills kit
. It can be found in the toy section at Target or on Amazon.com.
What are Blume Dolls
Skyrocket Toys also sent us the Blume Flowerpot Doll which is the cutest thing ever. They are in blind packaging which means you do not know which doll you are getting. Who doesn't love surprises?
The Blume Doll
is in a little plastic flowerpot with a cover on it. You water it with the included watering can and wait for her to Blume. Once she stops coming out of the flowerpot we realized she was strapped into the seat that makes her come up.
We opened the flowerpot up and we found all her accessories were also in there. The doll we received was a rare one, Charlotte and her little friend Buzz. There is also a jumbo Secret Surprise Garden.
The flowerpot turns into a the Blume Doll house. Blume Dolls can be purchased online and in store at Walmart, Target, and Amazon
.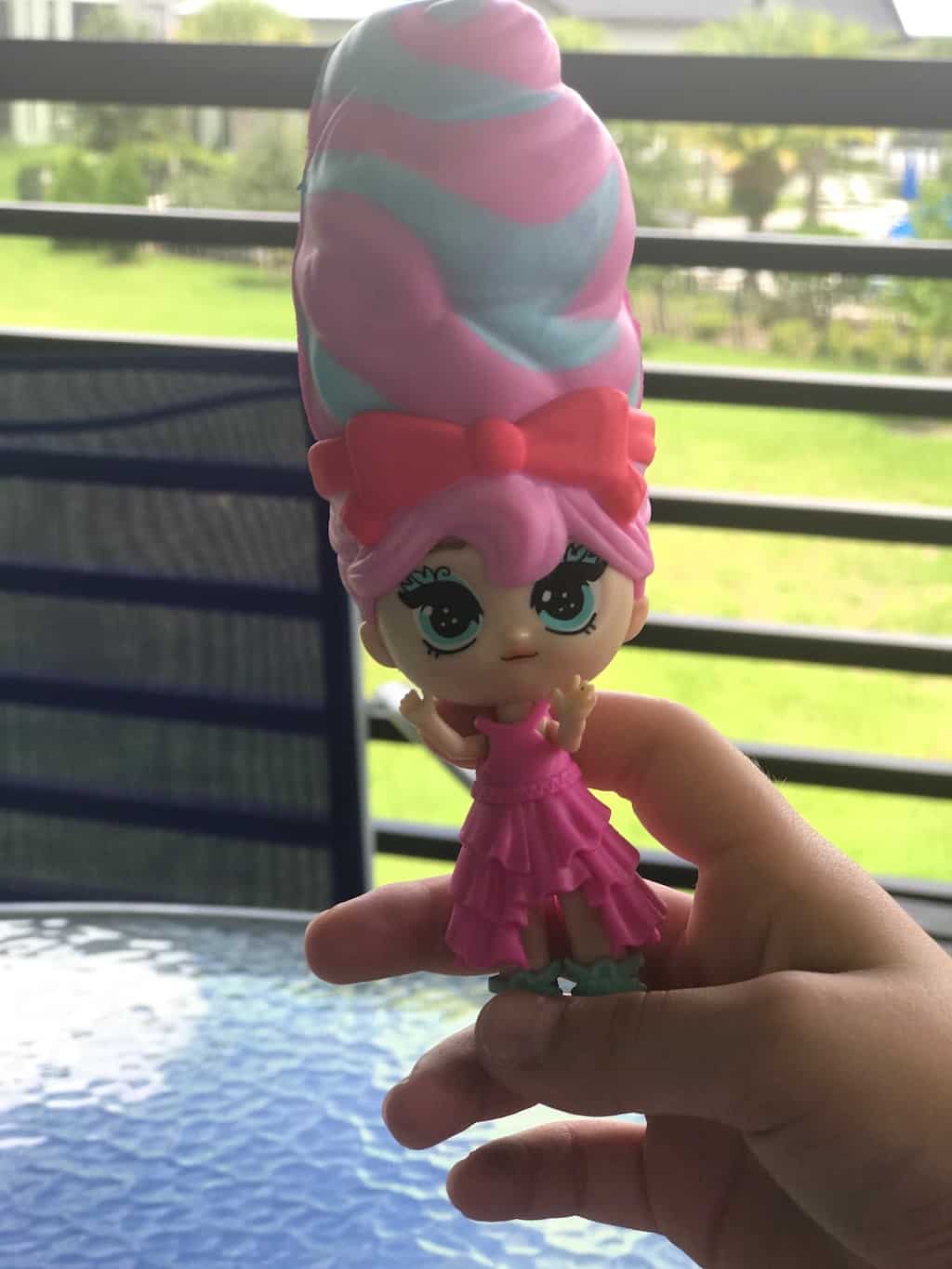 Where is the Chocolate Pen Available
Luckily it's available in many different places. You can purchase it online and in store at Target, Walmart, and Amazon
. The price runs around $29.99. Connect with Chocolate Pen on Facebook, Twitter, Instagram and YouTube.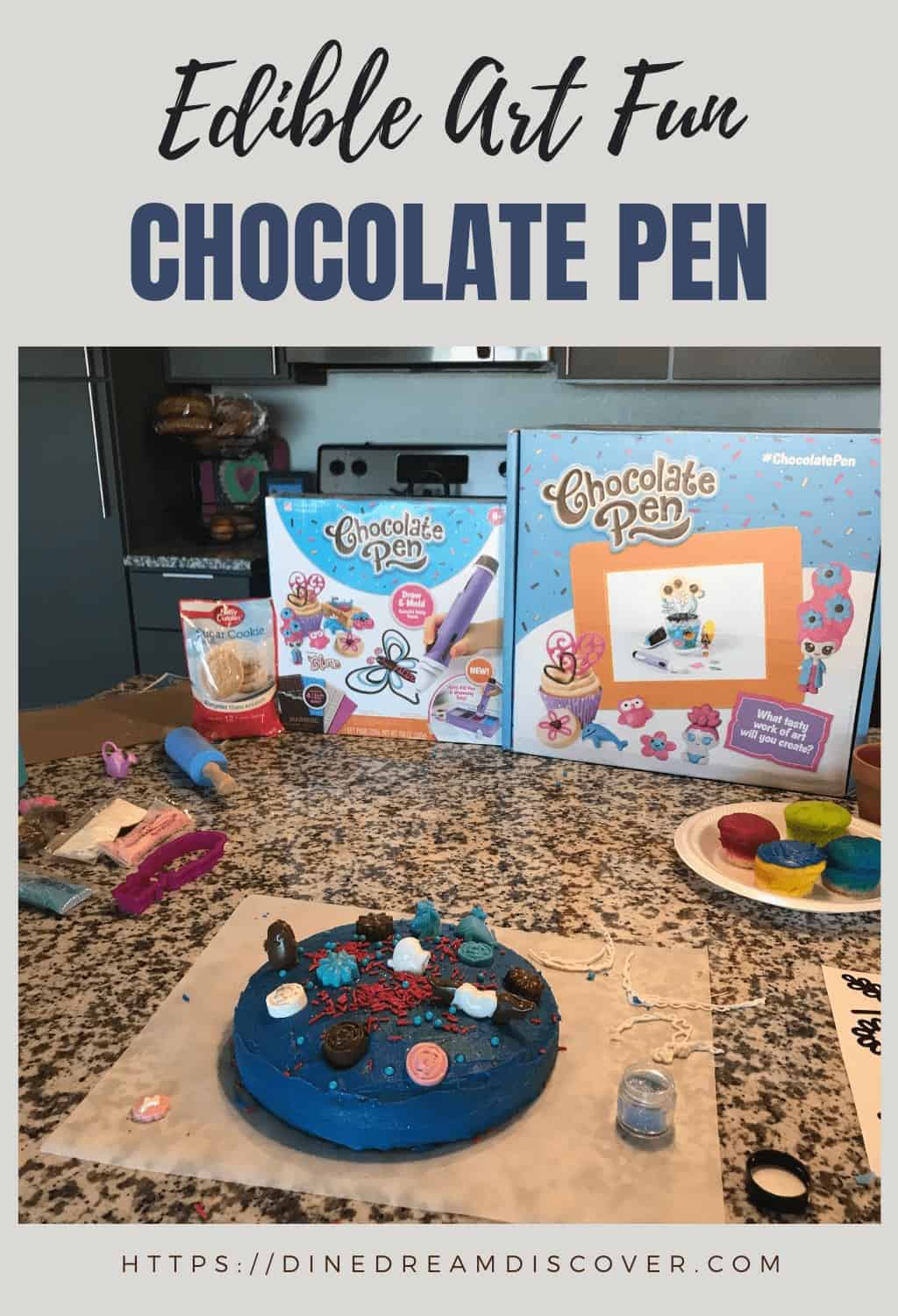 Follow us on Pinterest and PIN IT FOR LATER!