Easy no sewing needed Five Minute Face Mask Tutorial WITHOUT SEWING! DIY Washable mask is Reusable you make at HOME, for Children or adults.
This post may contain affiliate links. See my disclosure policy for more info.
Five Minute No Sew Mask Tutorial
With the current state of country being in panic mode, everyone is worried about contracting Covid-19. And they have every right to be. I don't have an N95 mask
so I made my own. Five Minute No Sew Mask is made out of a bandana and a couple of hair bands
, it serves the purpose.
It works for me because even if it doesn't keep the virus out, it keeps me from touching my face.
People are Rude When You Wear One
I went to the grocery store yesterday. While in the checkout line, the guy at the next checkout was all out of sorts because I was wearing a mask. He grabbed his bags and said I need to get out of here because people are sick. I said I'm not sick, I'm wearing it for my protection because I have a weakened immune system and I don't want to get sick. His response was very nasty and in a mean voice said, well then you don't need one. Who gives him the right to tell me that I don't need it?
Does it work? There have been reports that a mask does not keep the virus out. But let me ask you this, if it doesn't keep the virus out then why are all the health care professionals wearing them? Why are there so many people wearing them? My friend is a nurse in a hospital and they have been told that they don't need an N95 mask
and can use the regular ones for protection.
How to Make Your Own Mask
I used a bandana
that I've had and black ponytail bands
to wrap around the ears. I made a basic blue one for myself and a Harley Davidson one for my husband.
You can also use full size headbands
to make them too.
All I did was fold it over a couple of times, placed the ends through the hair bands
and folded the ends over and it was done. I have read that if you want you could cut part of a furnace filter
and place it in between the cloth. Or I've also read that you could use a vacuum cleaner filter
inside of it or the carbon filters
.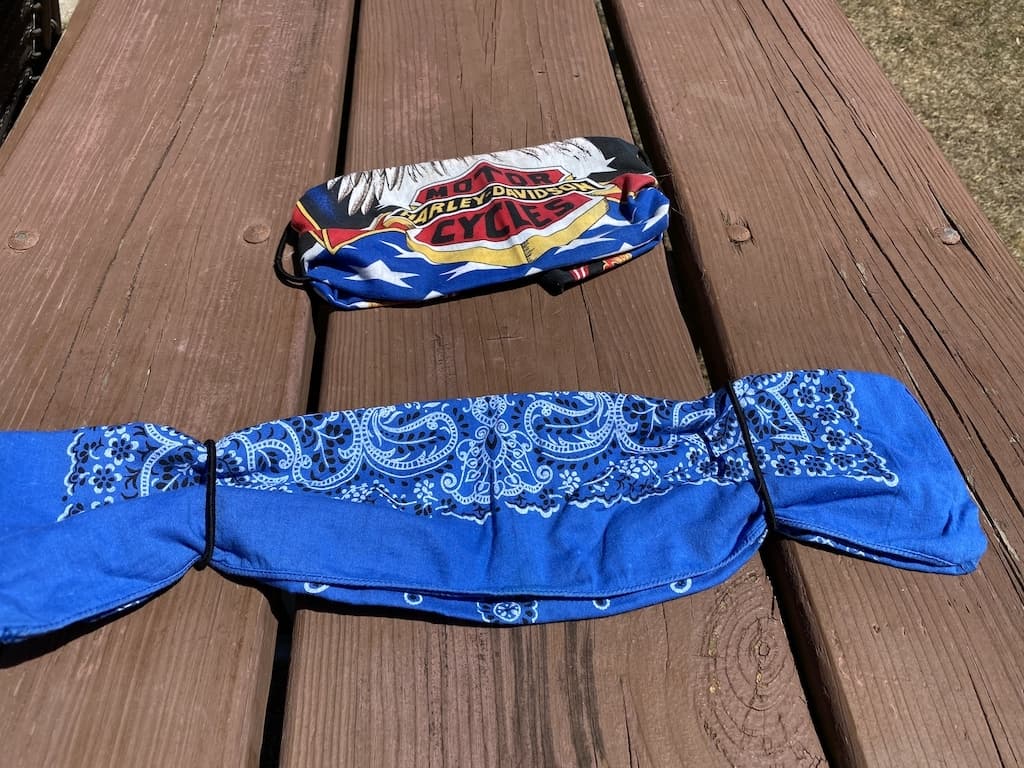 Do they work? No one really knows what works and what doesn't for the CoronaVirus. I think it's all pretty much a guessing game. I do know that we all need to stay at home and wash our hands.
Use gloves or bags for gas pumps. Wash your hands. Stay Home and Stay Safe!
Follow us on Pinterest and PIN IT FOR LATER!