The Solo Stove smokeless fire pit is a wonderful invention that makes starting your fire easy and smoke-free. It can be used in any backyard or RV, with three sizes to choose from as well as other accessories!
I received the products mentioned below to facilitate my review. All opinions are my own and may differ from yours.
This post may contain affiliate links. See my disclosure policy for more info.
Solo Stove Smokeless Fire Pit - Is it Worth The Money
We love having a campfire a few times a week. What we don't love is smelling like THE campfire when we go to bed.
I swear that I am a magnet for the smoke. No matter where I sit, it always heads right for me. Kind of like the mosquitos 🦟.
Even when I get up and move to the other side, it follows me.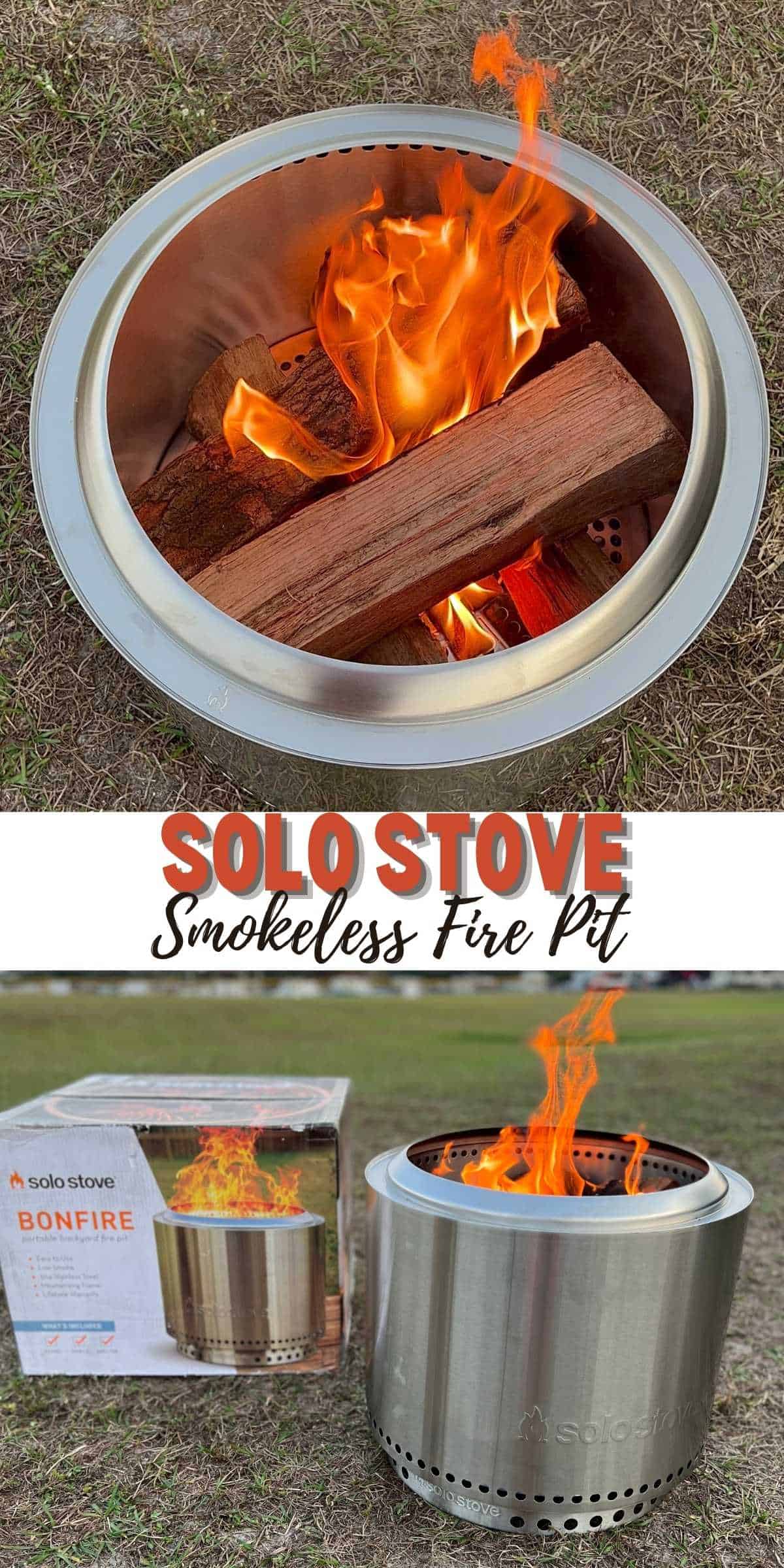 So when I first saw the Solo Stove smokeless fire pit, I thought yeah right! Then I saw the price and thought, could it possibly be worth the money?
Plus the fact that it looked heavy! We have to watch what we put in our RV in order to stay within our GCWR (gross combined weight rating) and GVWR (gross vehicle weight rating).
And also have to take into consideration the size. We only have so much room (shoes take up a lot of space you know!)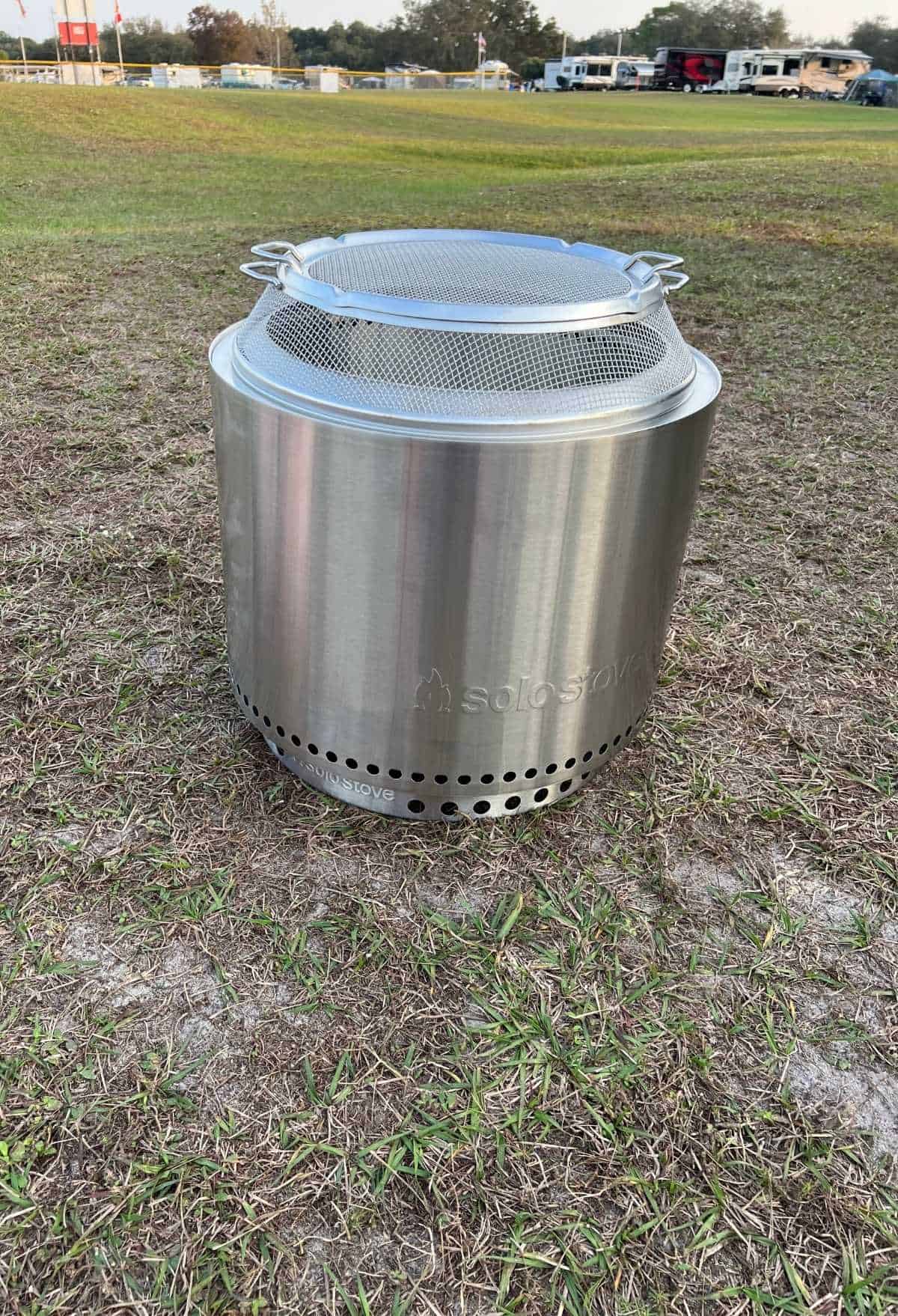 So, off I went to scour the internet to find out more about it.
What is a Solo Stove Smokeless Fire Pit
A Solo Stove is a fire pit that produces little to no smoke and makes starting a fire easy.
While it's perfect for any backyard, it's also a great addition to your RV.
With the Solo Stove, you choose between a fire pit or camp stove. Each has three sizes to choose from, Ranger, Bonfire, and Yukon, as well as additional accessories.
It is recommended that you use wood such as hickory, maple, birch, or maple in the fire pits. The camp stoves use twigs, pine cones, and sticks.
Fire needs oxygen to burn and that's why the Solo Stove came to be. They have a 360° Airflow Design™ which is what makes them virtually smokeless.
The double-wall wood-burning firepit is more than just an ordinary firepit. This sleek and stylish pit can create flames from two different places.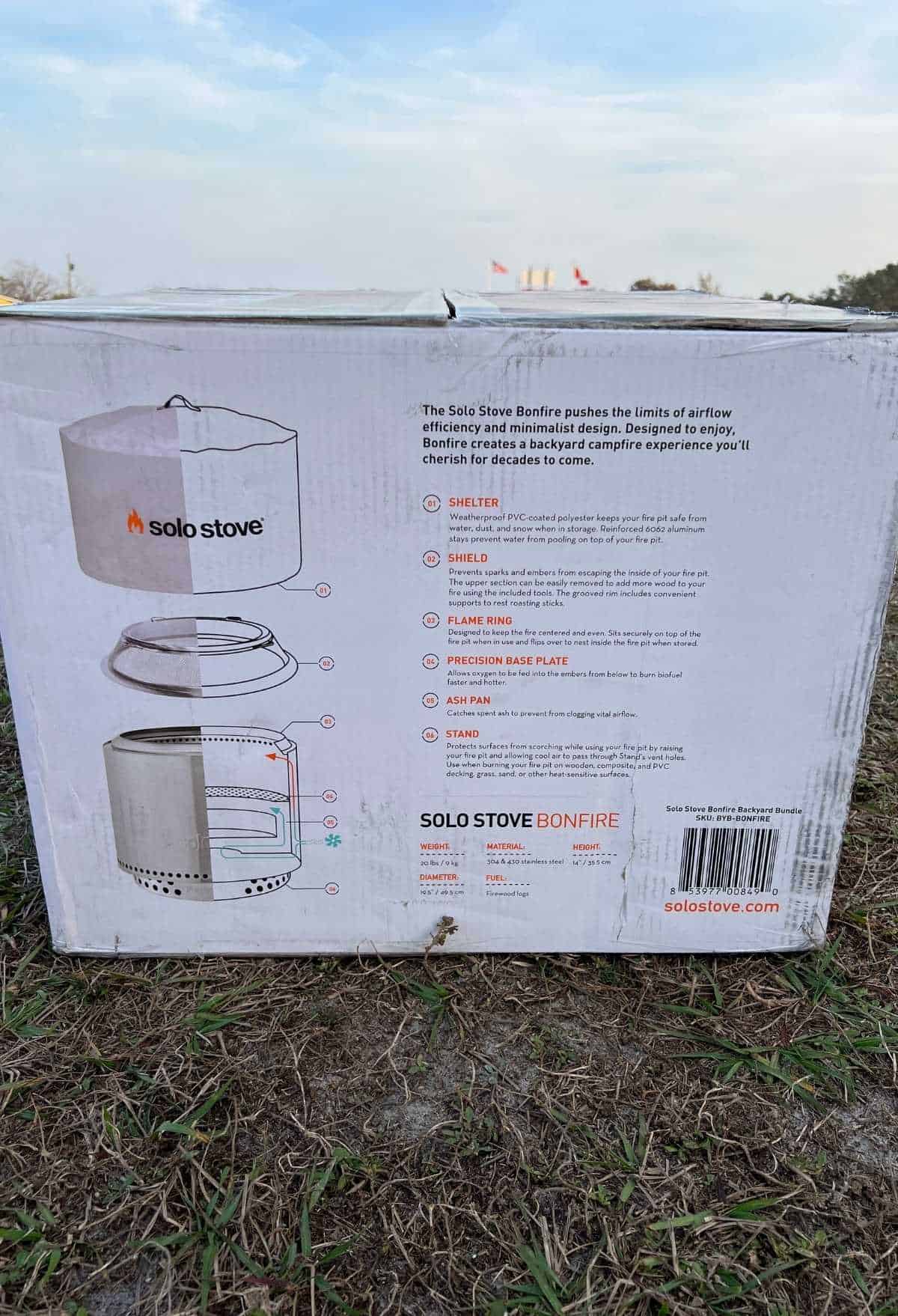 The design includes ventilation near the top so that heated oxygen fuels existing fires in your current flame without having to use any additional fuels.
Is it Really Smokeless
Well, mostly yes but also no. If you use the fire pit as recommended and follow all directions, yes, it can be a totally smokeless fire pit.
However, if you do a few things like place too many logs in the fire pit, use wet wood, don't stack the wood past the holes at the top. This is where you get the secondary burn from.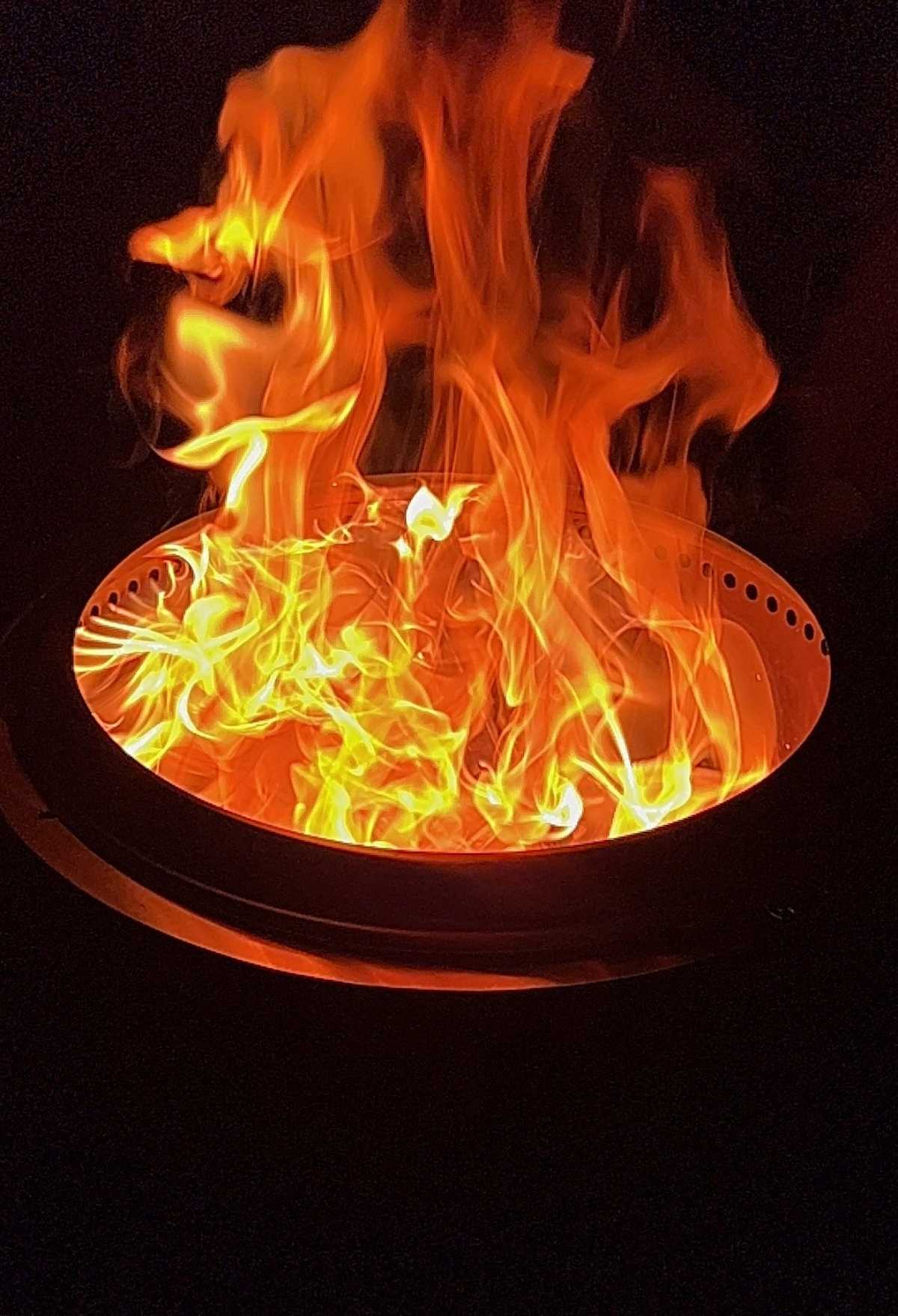 Many people place the flame ring the wrong way and it blocks the holes.
When placed in the correct position, with the tapered part towards the inside of the firepit, the preheated air flows through the double walls to the top fueling the fire and burning off the smoke before it leaves the firepit.
There are many benefits to using a Solo Stove over traditional fire pits.
The ash pan at the bottom of the stove catches ashes to keep the wood out of them, thus creating a smoke-free fire in addition to not burning the grass.
Choosing the Perfect Size
The Solo Stove is available in three sizes, the Ranger, Bonfire, and Yukon. I was originally looking at the Ranger mainly because of the size for the RV.
I knew the Yukon wasn't an option after seeing it in person. It's just the two of us most of the time, so I figured we didn't need to go that big.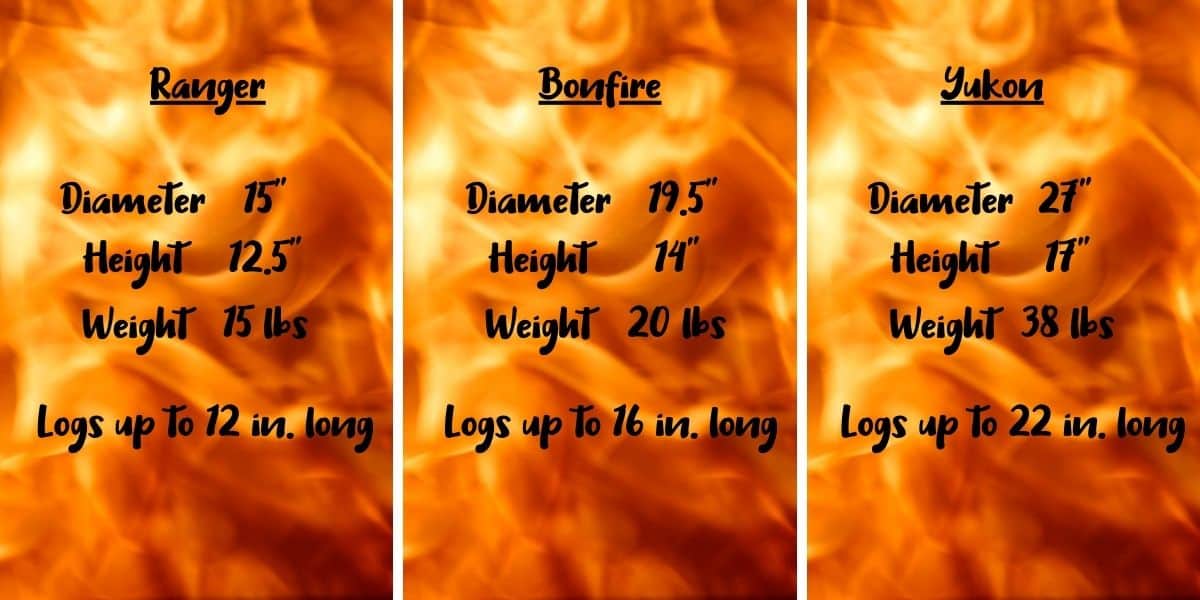 After comparing the Ranger and Bonfire, I ultimately decided on the Bonfire because there was only a couple inch difference in size and only 5 lbs in weight.
The Bonfire is perfect for about 6 people. We were seated comfortably around the smokeless fire pit and everyone stayed warm.
If there are 2 - 4 people, then I would suggest the Ranger. However, as I said before though, there isn't much difference between the Ranger and Bonfire, so I would definitely go for the Bonfire.
They are both portable and lightweight enough for your camping trip or even if you want to take it with you to your neighbors.
The Yukon, because of its size, is great for a bigger crowd and more of a stationary fire pit.
What Does it Include
There are a couple of different bundles to choose from or you can get just the Solo Stove Fire Pit.
Whichever bundle you ultimately decide on, everything stores neatly inside and is covered up with the Shelter.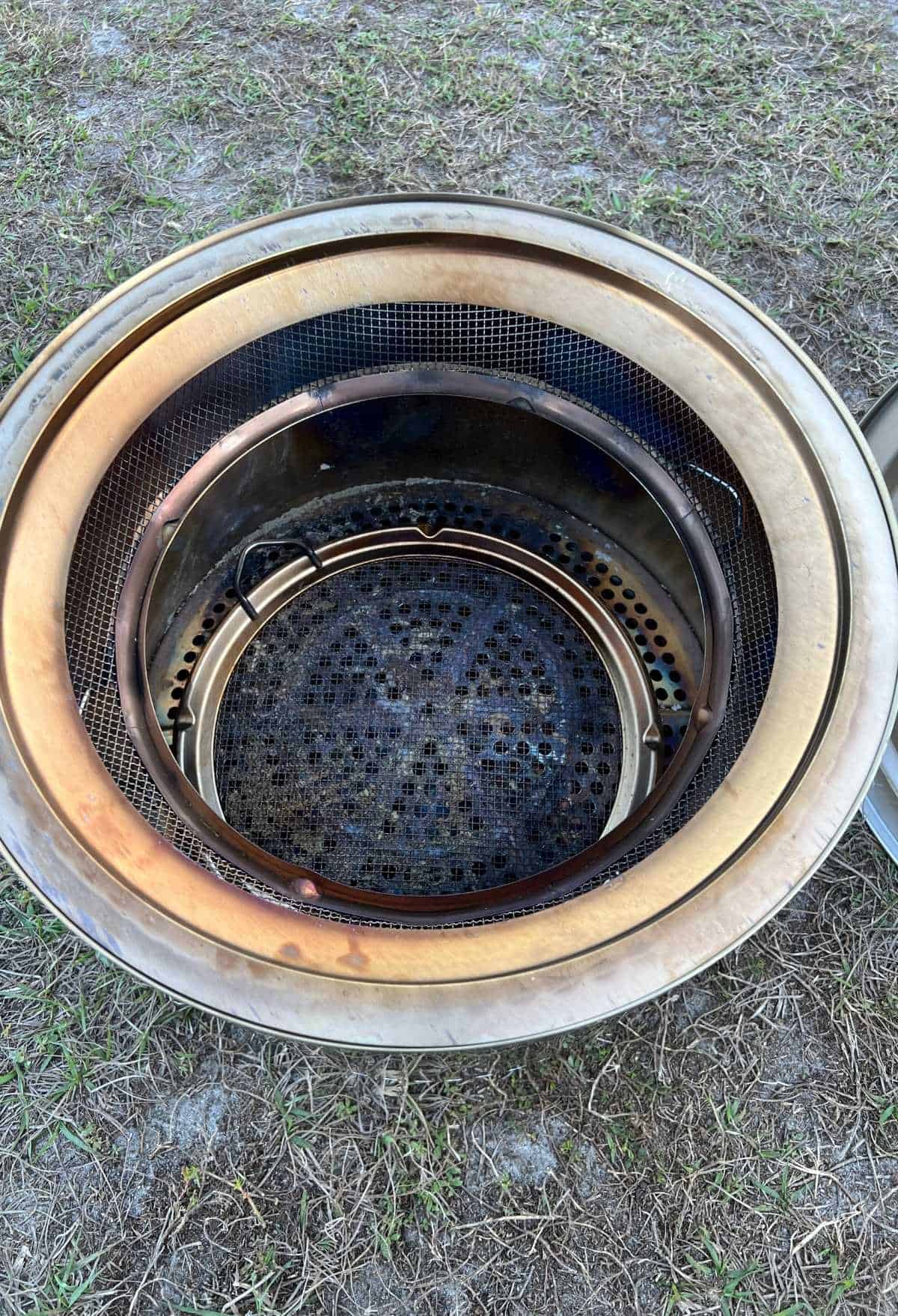 The next Bundle would be the Solo Stove and the stand.
Backyard Bundle is the one I purchased. It includes the Smokeless Fire Pit, the Stand, the Shield, Shelter, and a nylon carrying case.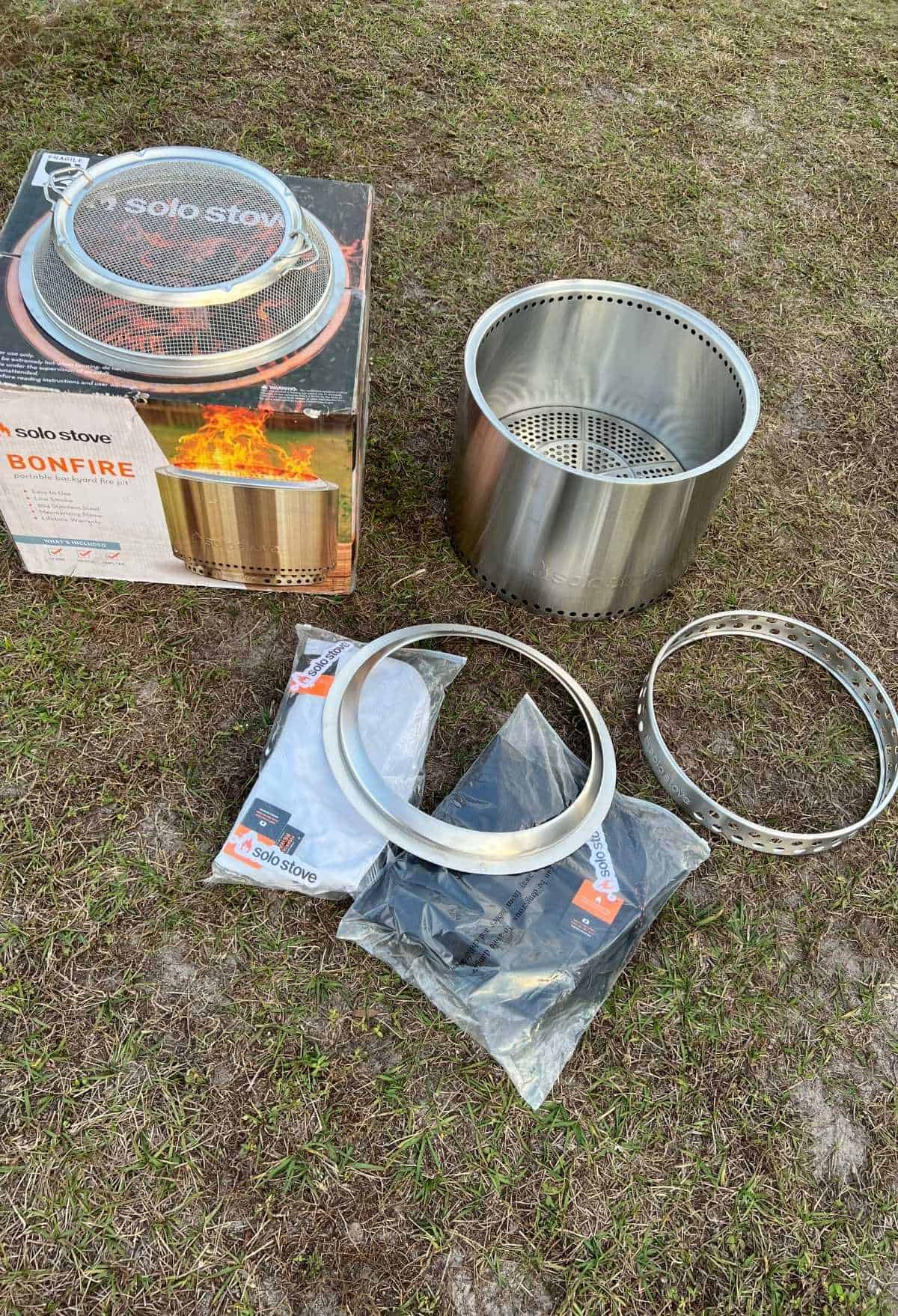 If you're looking for something that includes fire pit tools, marshmallows, and hot dog sticks in addition to the fire pit, stand, shield and shelter, then you will want the Ultimate Bundle.
I'm kind of jealous right now though because after I ordered mine, they came out with the Elemental Color Series.
In case you're a die-hard Collegiate Logos (Roll Tide 😂) Fan, they also have a set for you.
If you've previously purchased a Solo Stove or someone gave you one as a gift, you can also purchase the Ultimate Accessory Bundle. This includes the toolkit, shelter, shield, sticks, and smokeless fire pit tools.
Not interested in the whole kit and kaboodle? You can also purchase the Sticks and Tools Accessory Bundle.
Recommended Solo Stove Accessories
In addition to the accessories, the Stand, Shield, and Shelter, that come with the Bonfire Backyard Bundle, I highly recommend the Solo Stove Lid and the Solo Stove Handle. It also came with a black nylon carrying case which wasn't listed.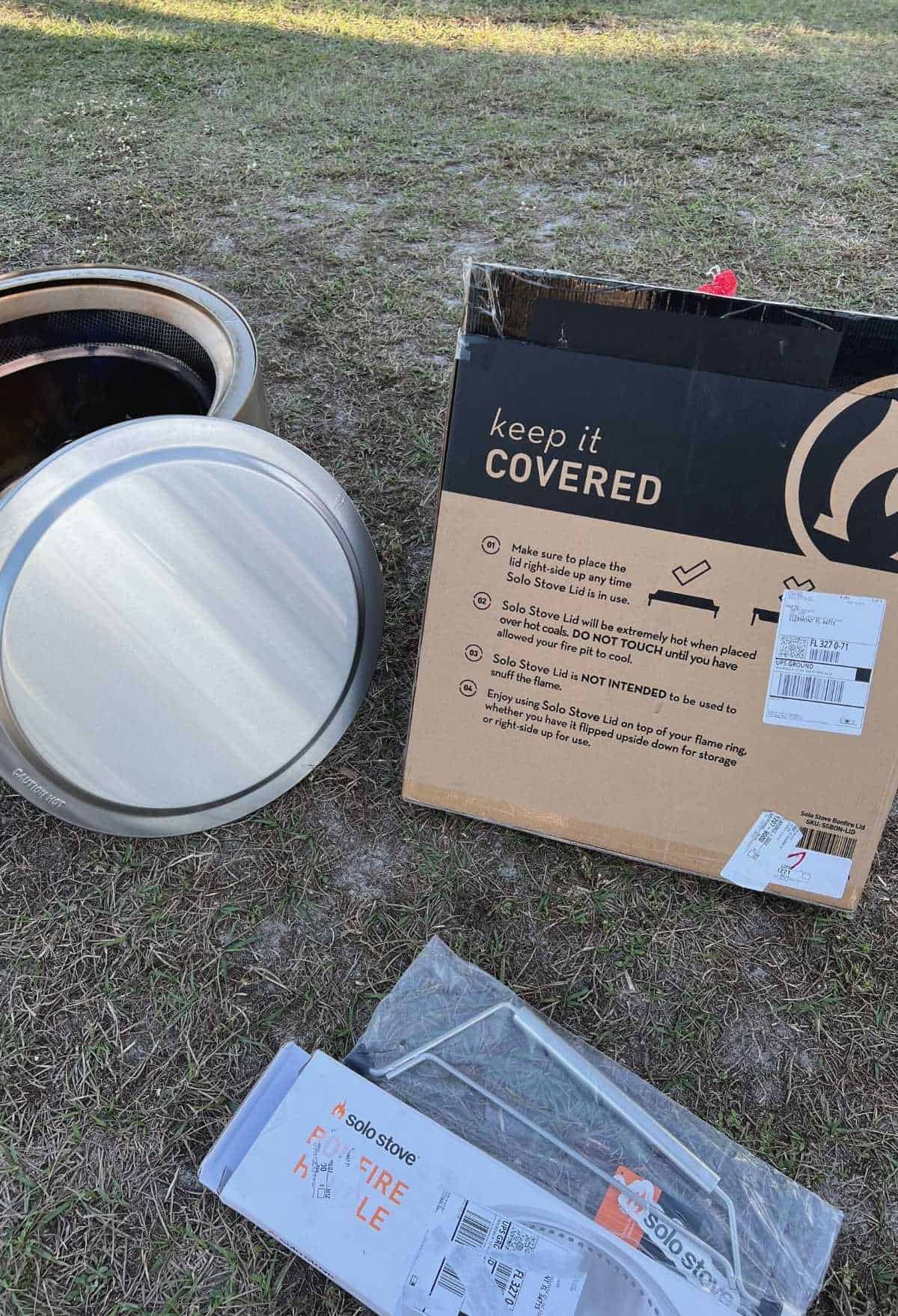 None of the bundles come with either of these and we were so glad that they offered to send them to me to add to my review.
When I originally ordered the Bonfire Bundle, I didn't think that we would need either. However, they are both really necessary in my opinion.
Solo Stove Lid
I love that the Solo Stove Lid doubles as a nice little table when not in use.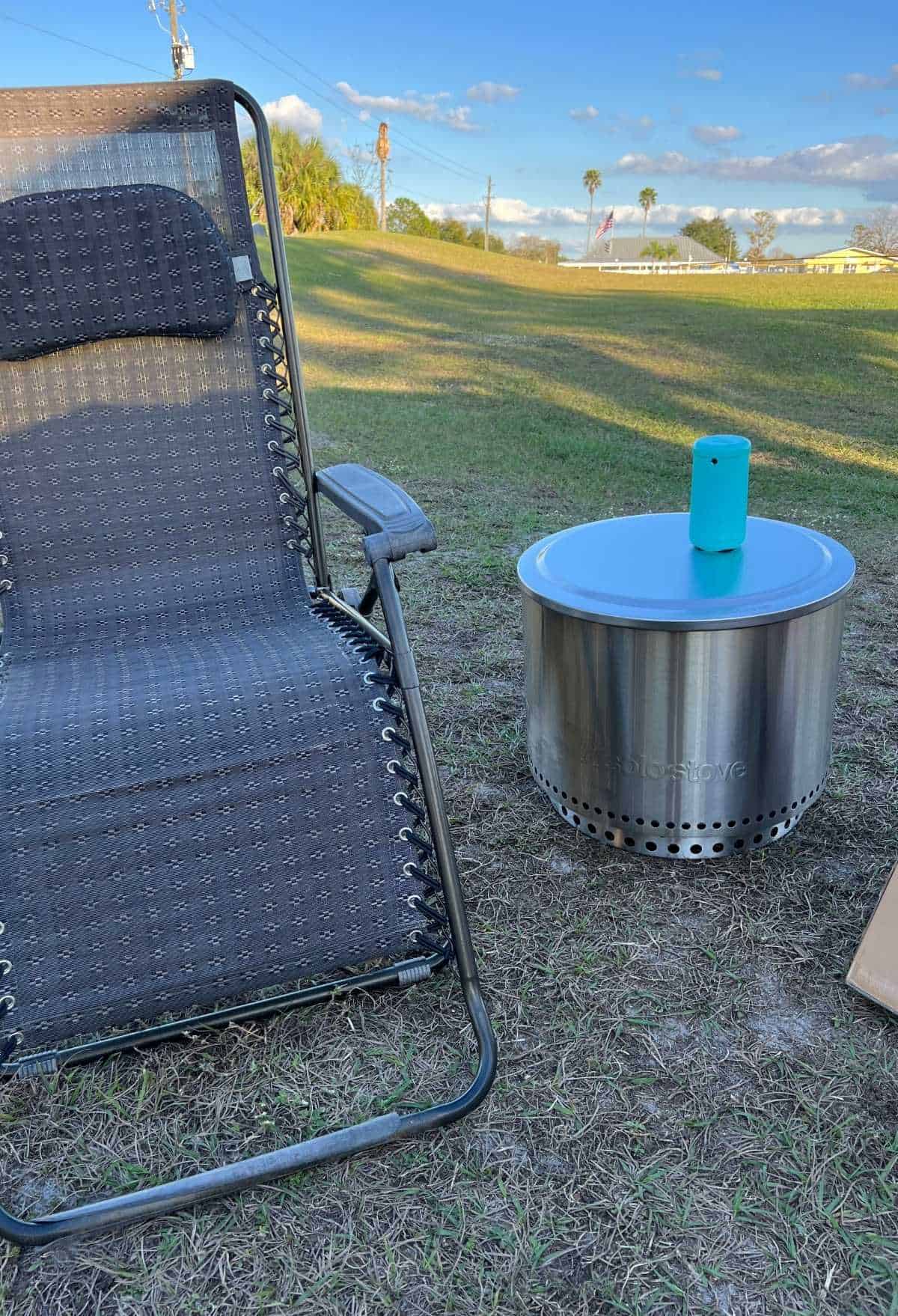 It cuts down on things we have to carry (as in extra tables) and I'm always looking for somewhere to put my phone and drink cup when lounging around outside.
Not every campsite has a picnic table. In fact, the majority don't.
Plus, it's handy to have in case it starts to rain. Just pop the lid on top to keep the rain out and protect the inside of your fire pit.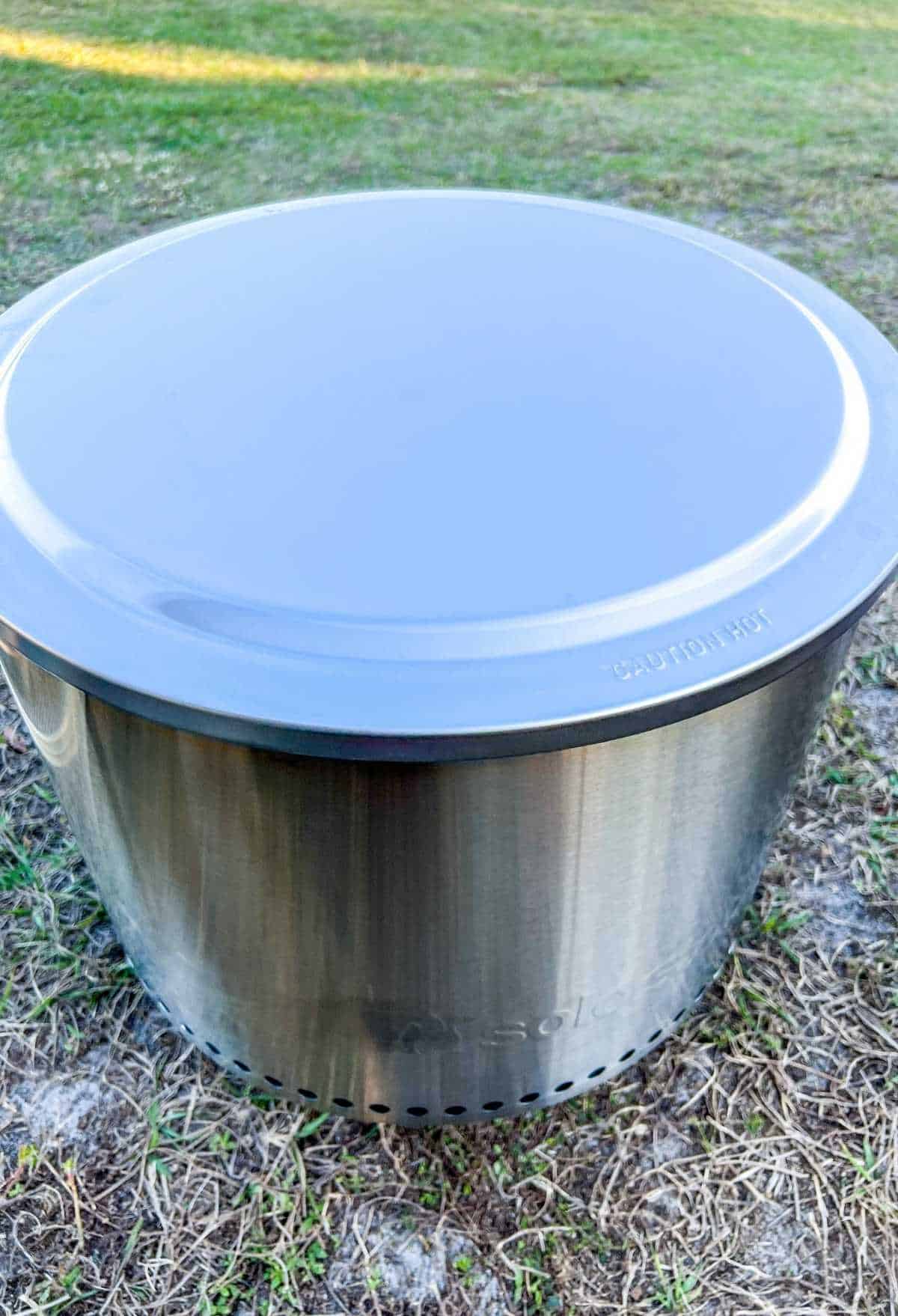 Just remember that the lid is not to be used to snuff out the fire. If you need to put it out really fast, they recommend using sand in a pinch, not water.
The lid can be placed on top whether the flame ring is up or down.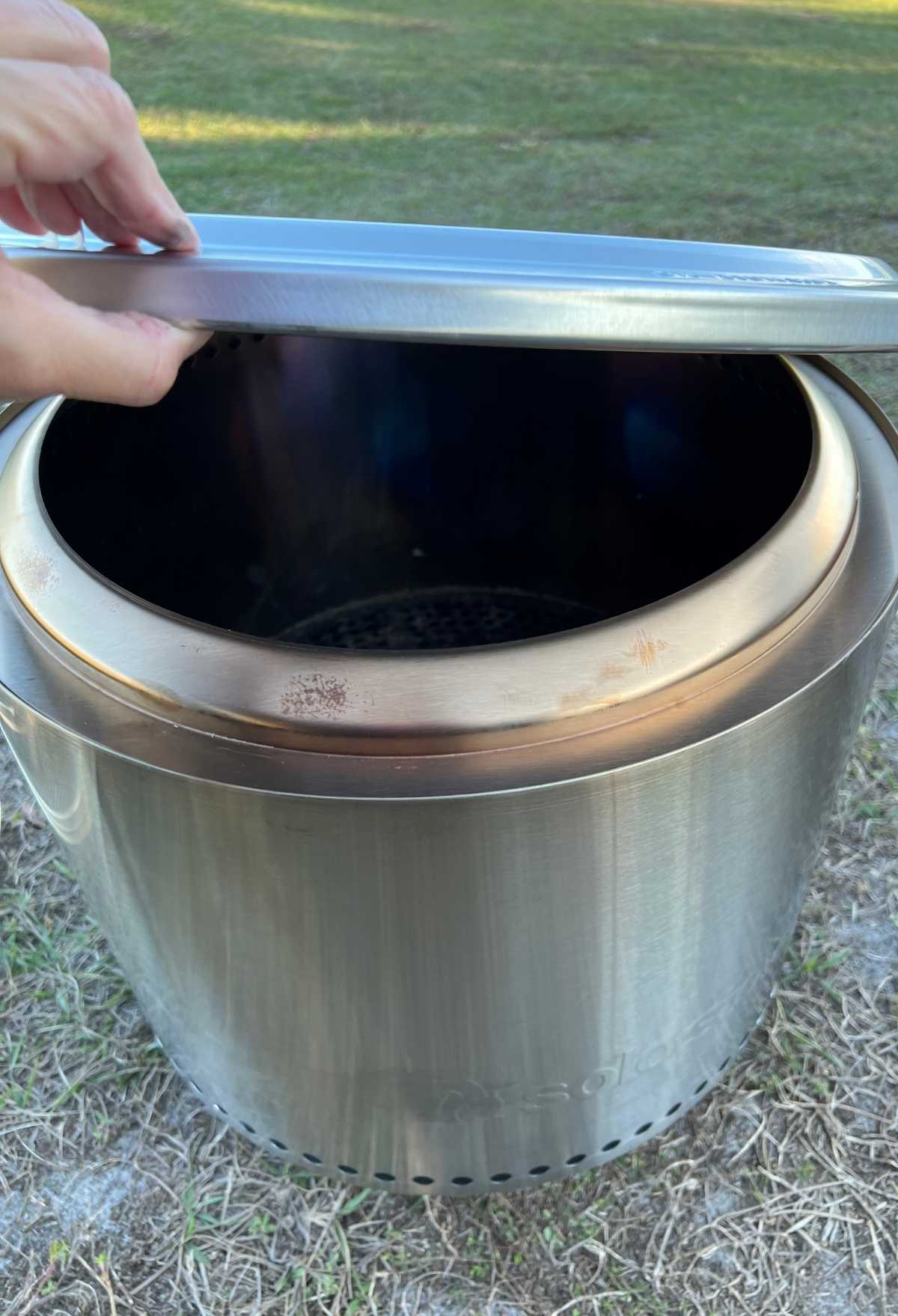 Solo Stove Handle
While it was easy and lightweight for my husband or myself to pick up the Solo Stove in order to put it away, it's kind of awkward.
With that said, the Solo Stove Handle makes it so much easier and it's easy to use.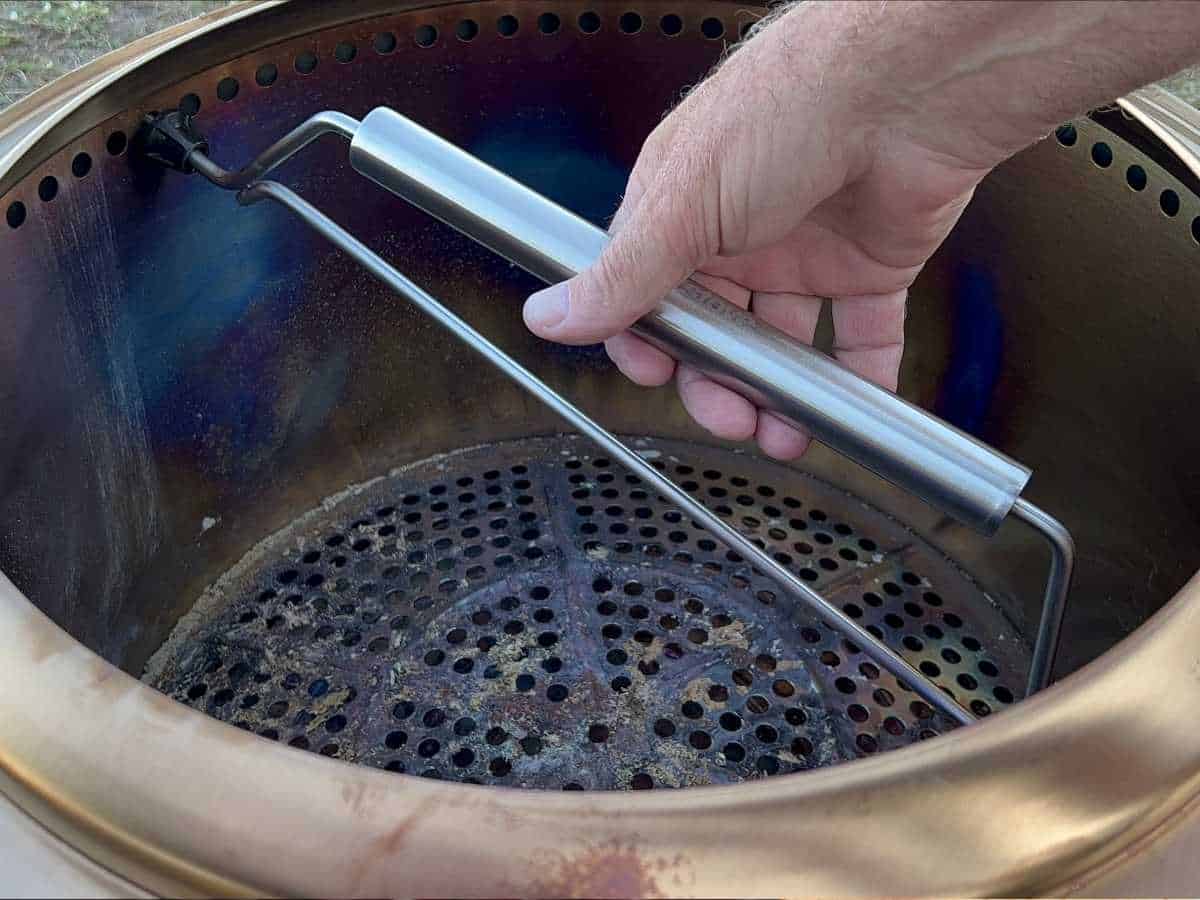 After placing it inside the fire pit with the big end first, place the top end into one of the holes at the top of the smokeless fire pit and carry it away.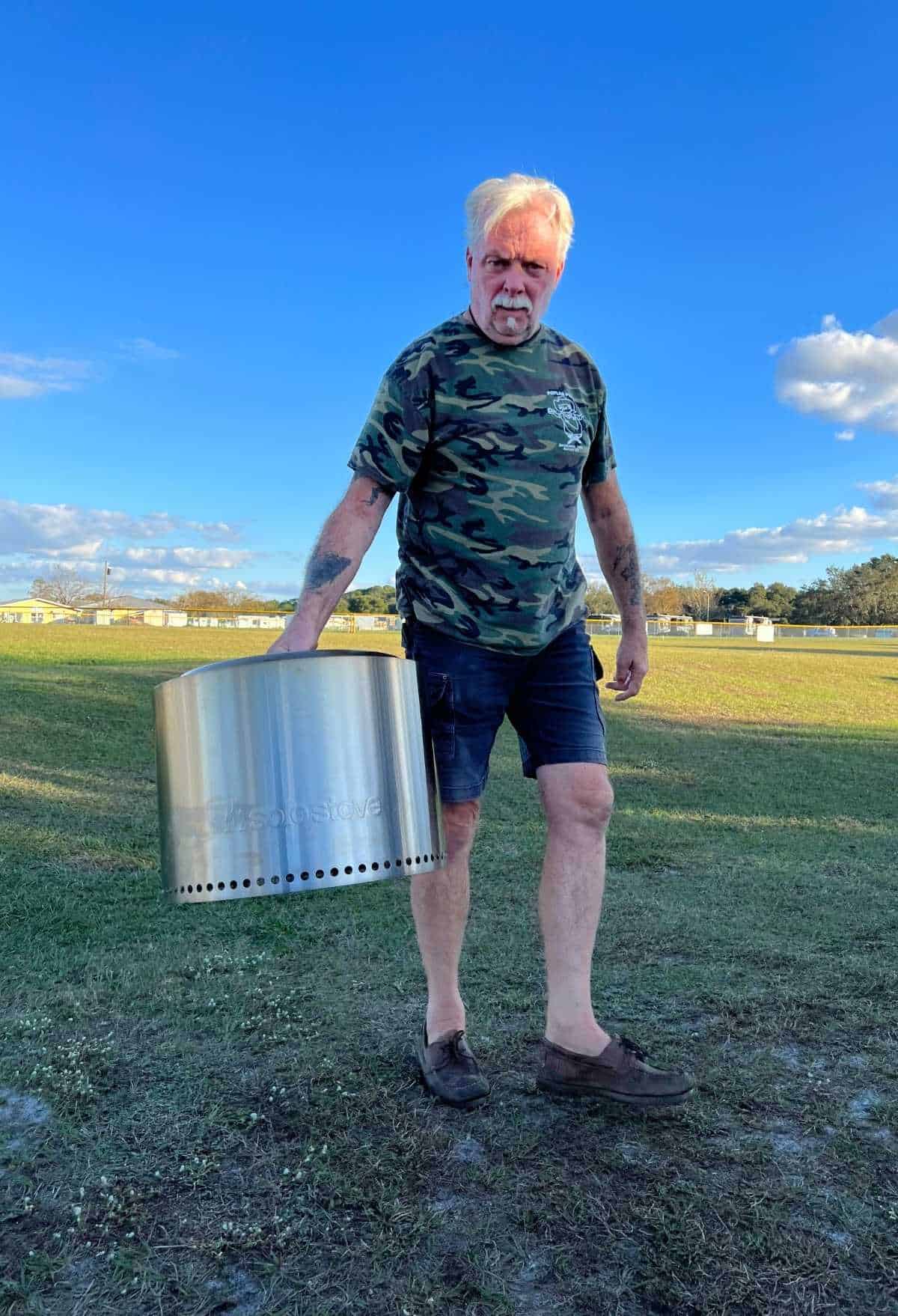 Of course, you want to wait until the fire pit is cooled off. No one wants to stick their hand inside of a hot fire pit!
Will the Solo Stove Rust
Contrary to popular belief, just like any other stainless steel item, if left out without protection, it will rust.
If you must leave it out for short periods of time, be sure you have the Shelter to keep undercover.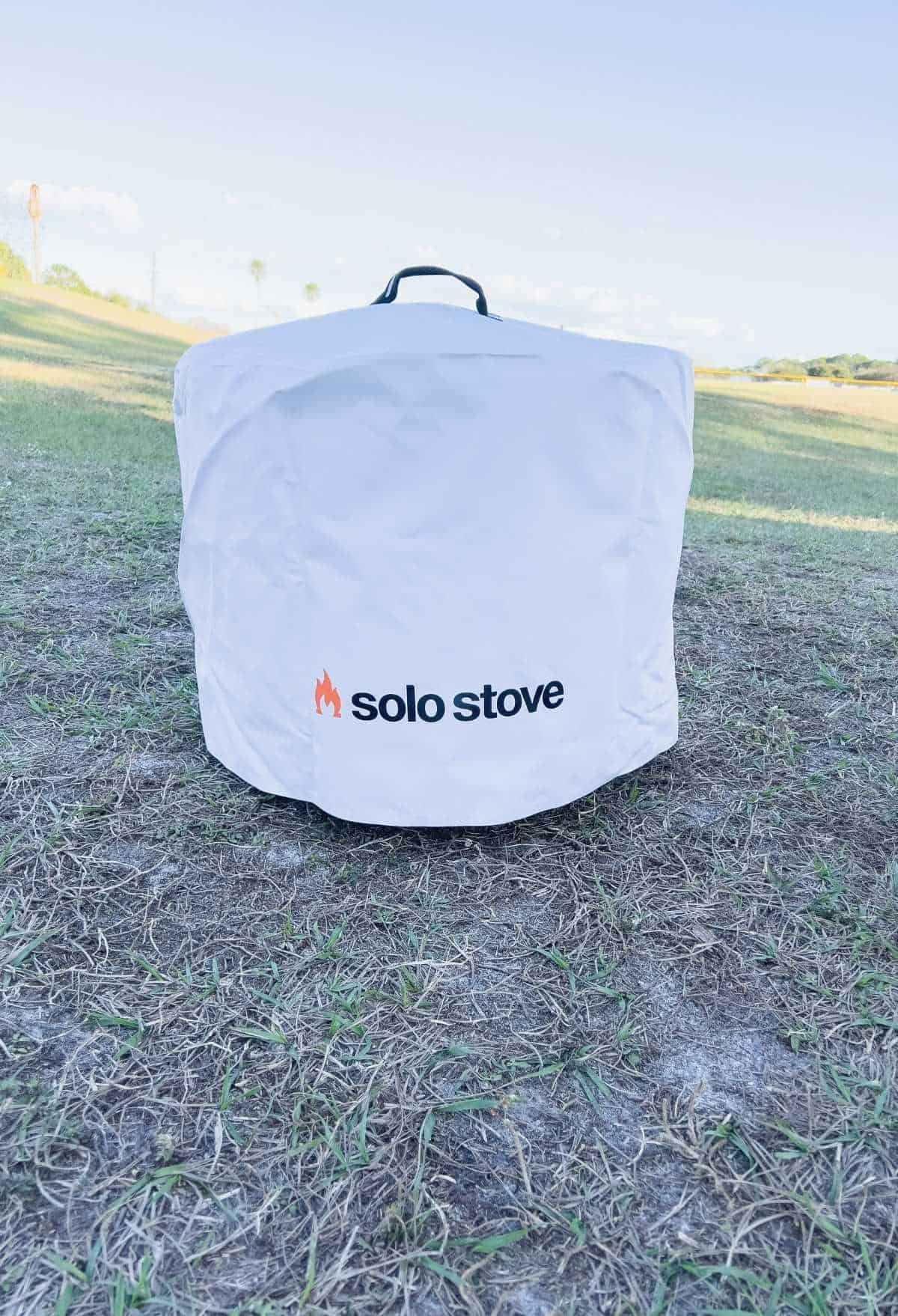 There is a metal form that gives the Shelter its shape and makes it easy to put on and take off.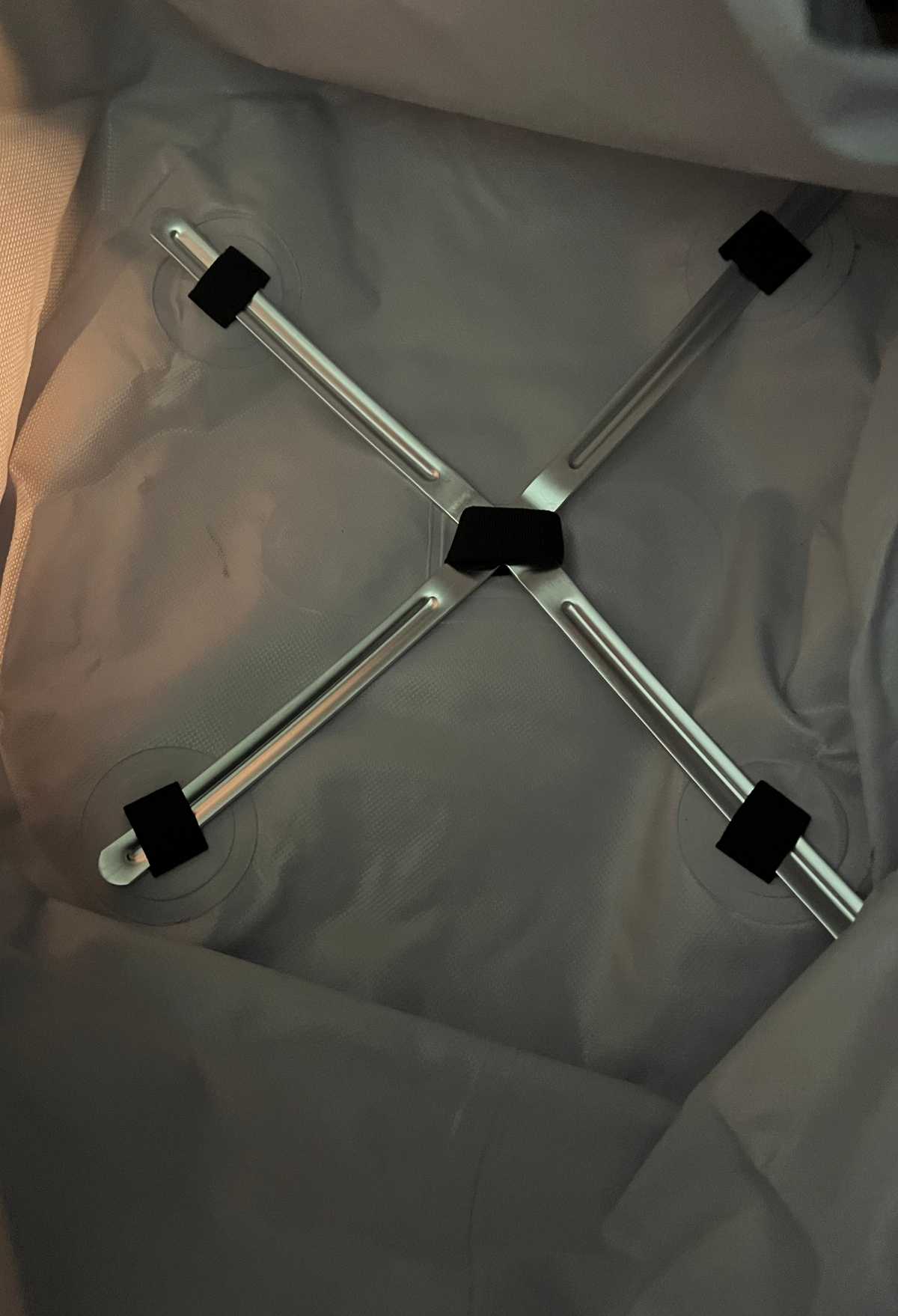 Obviously, we aren't going to bring it inside of our RV each time we are done with it. We keep ours in our screen tent with the Shelter on it. It's dry inside and won't get wet.
How do You Clean The Smokeless Fire Pit
When the Solo Stove first arrived, it's all shiny and clean. Someone even commented that it looked like a washing machine tub.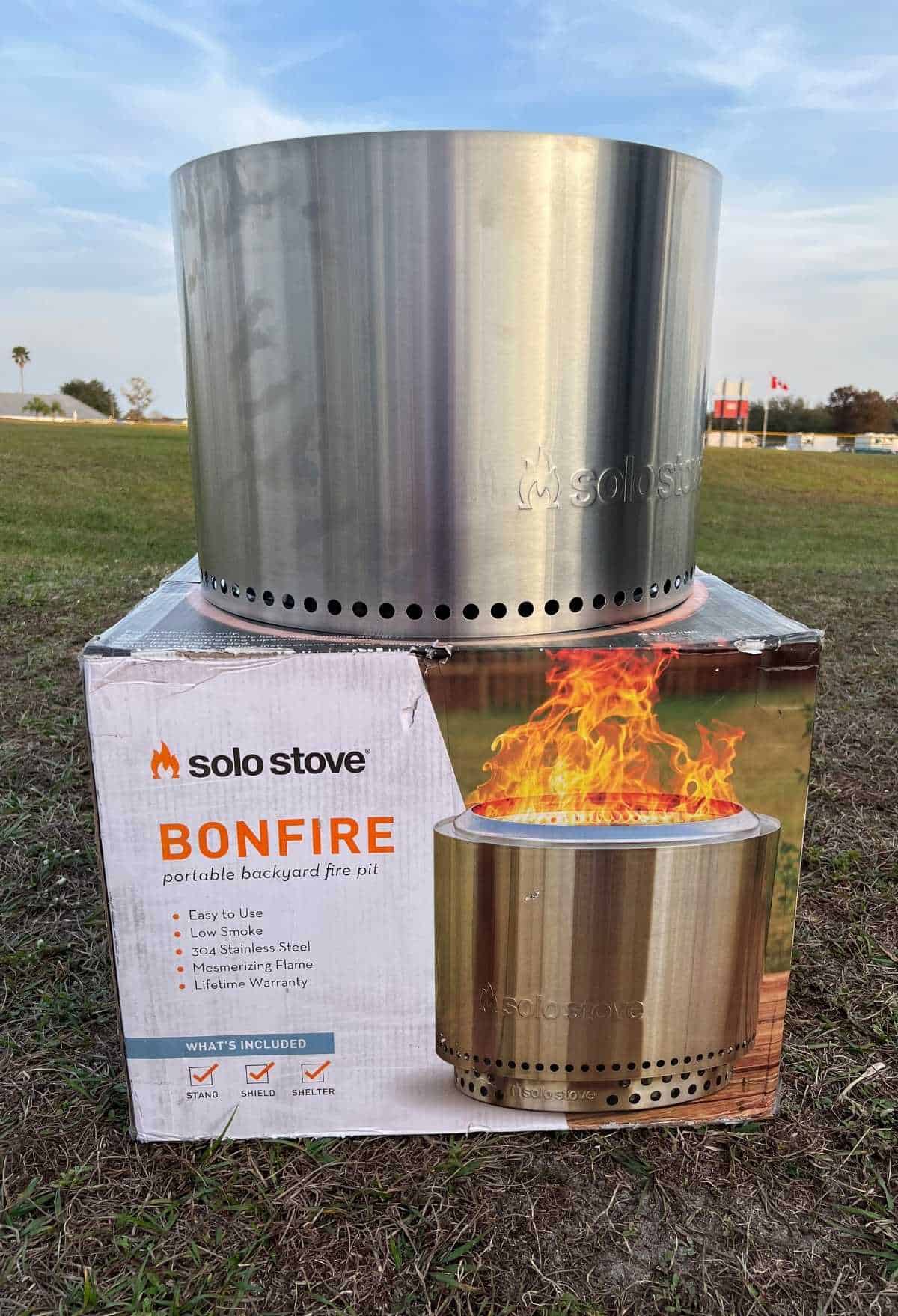 Unfortunately, it isn't going to stay that way. My husband wipes out the inside after dumping the ashes with a dry cloth, but it isn't necessary. He's kind of weird like that. 😂
After having just a couple of burns, your shiny metal smokeless fire pit starts showing patina.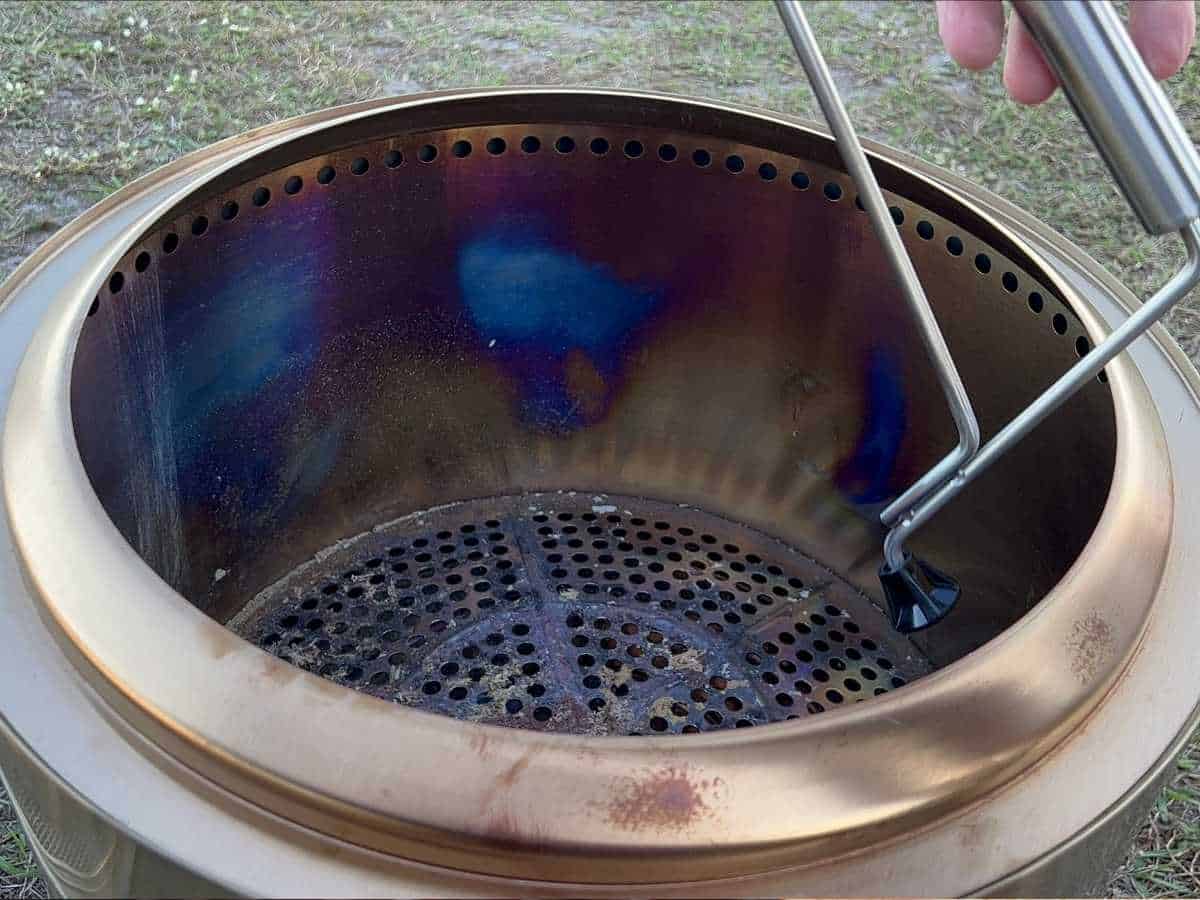 As the Solo Stove Blog puts it:
The patina represents every memory you've made around your fire pit. Every trip, every late night backyard hangout, every neighborhood driveway gathering– it's all summed up by the patina.
They recommend cleaning it with Bar Keepers Friend
. However, we haven't gotten to the point where we feel like we need to do that just yet.
Can You Cook Over The Fire Pit
With the added accessories, anything is possible. Choose from the Cooktop and Hub Bundles, Cast Iron Cooktops, or Fire Pit Cooking Bundles.
There is also a complete page of Cooking System Accessories.
Timeline of a Solo Stove Fire
In my entire life, I have never seen a fire start or burn so easily as the many fires we've had since we got it.
4 pieces of wood and 2 fire starters
Started at 4:53
Flaming at 4:56
Still lots of heat at 6:13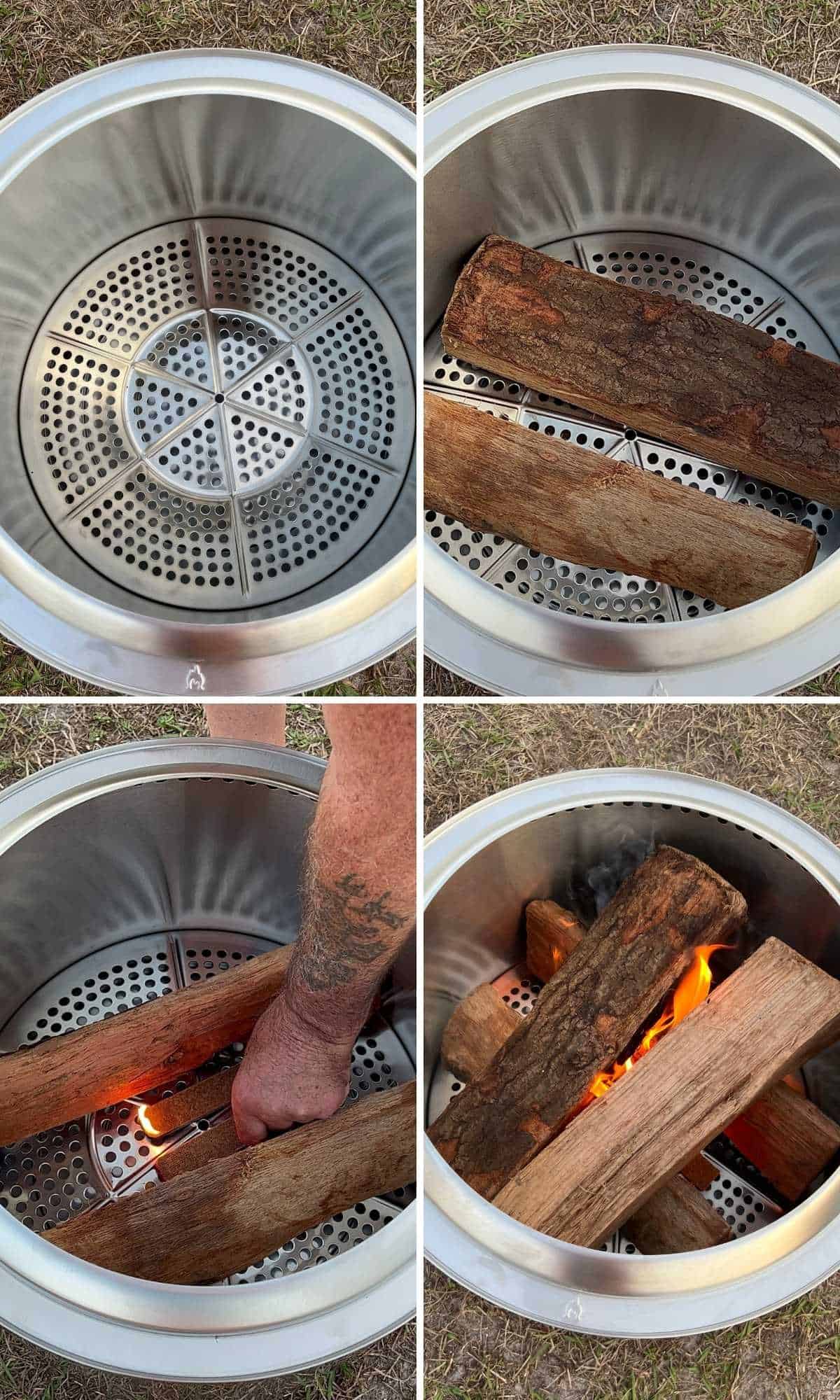 Totally out and cooled off at 8:05
Hardly any ash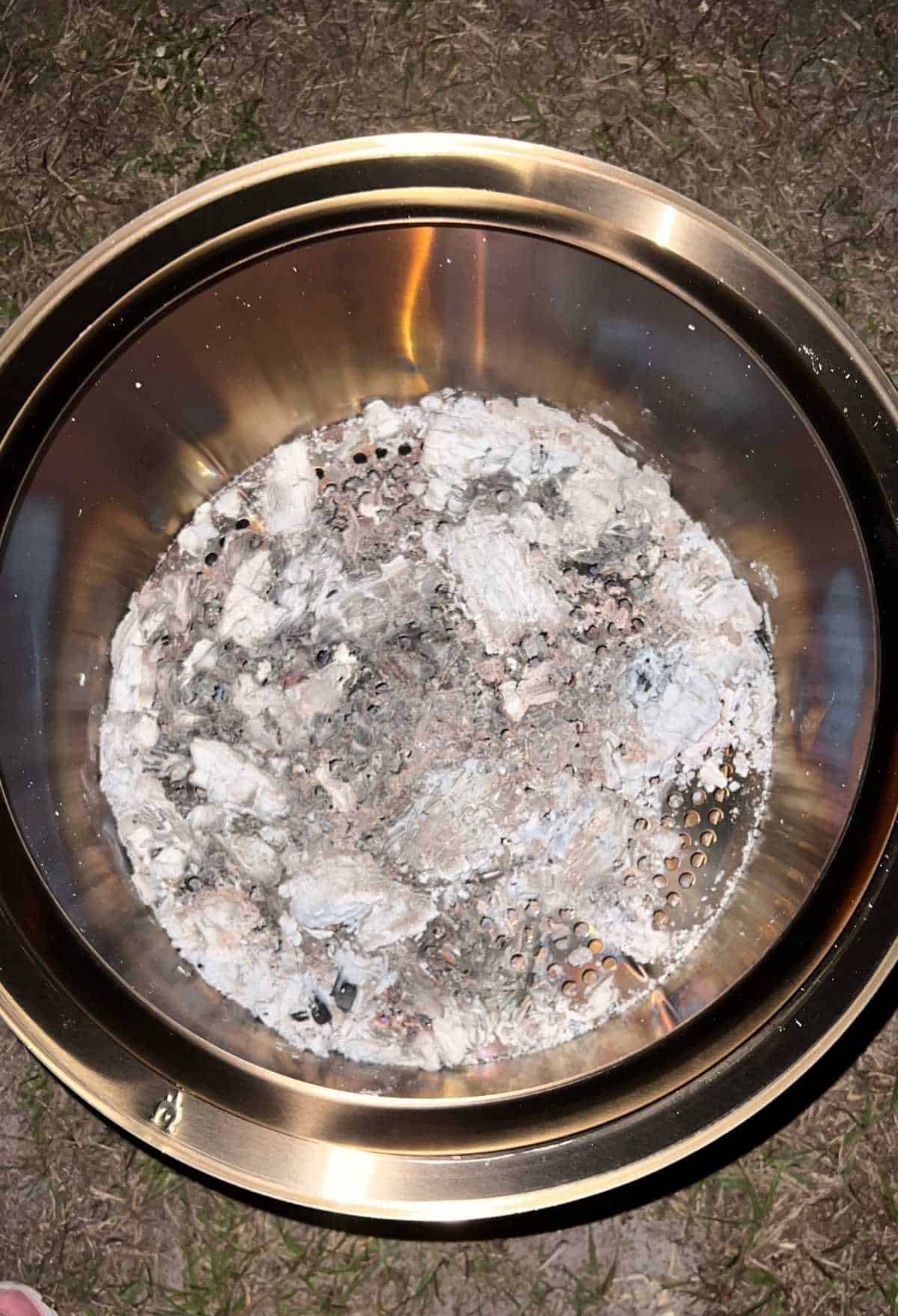 Does the Solo Stove Get Hot
Yes, yes, it does. But just like you would any other fire that you have, you want to keep the littles and pets away from it while it's burning.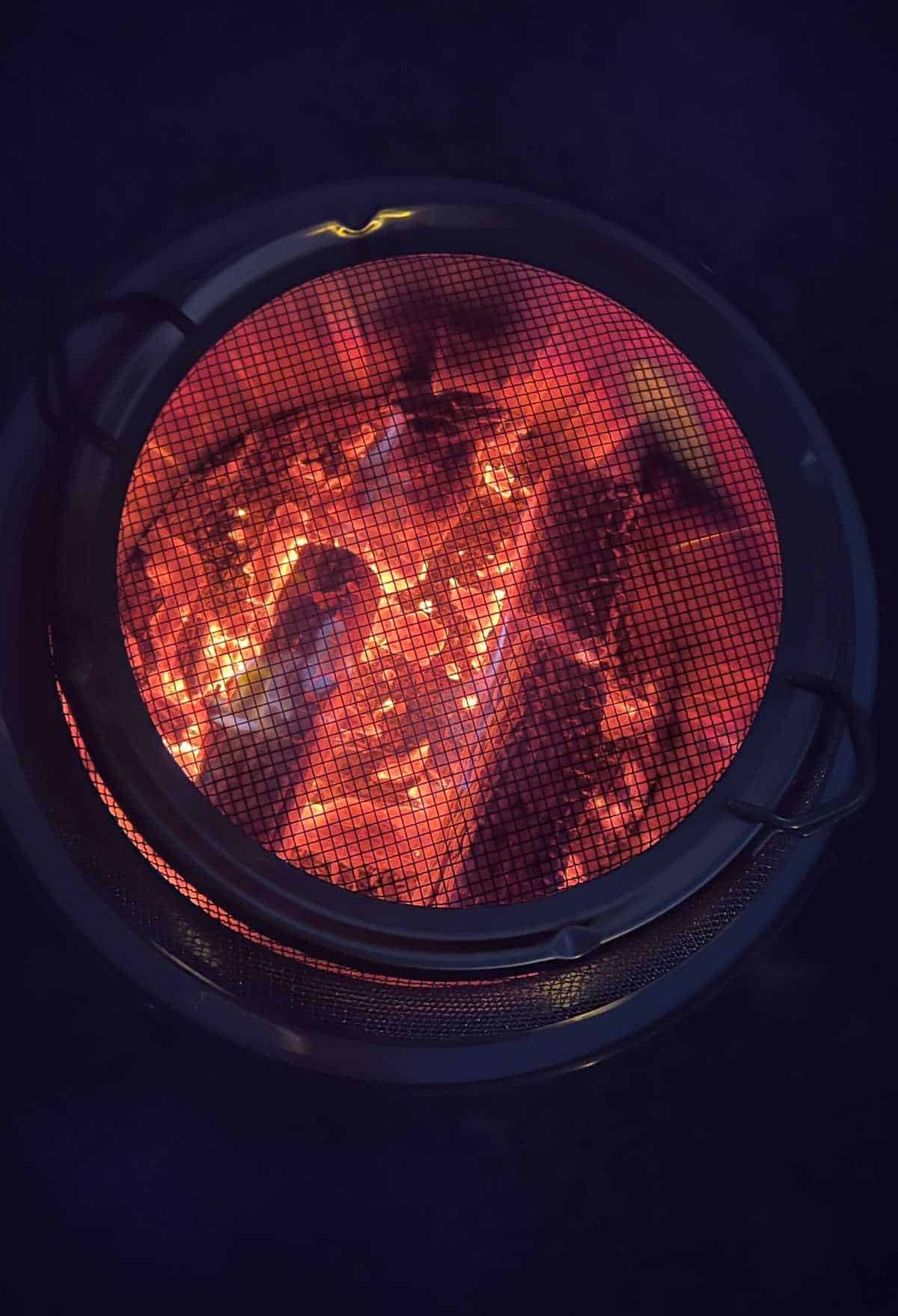 Once the fire dies down, it takes about an hour for the smokeless fire pit to completely go out and cool off enough for you to dump the ashes.
We wait for it only because we are in an RV park and don't trust anyone in addition to the fact that we've had a lot of foggy nights and don't want the humidity to wreck it.
Common Misconceptions About The Solo Stove
After researching the Solo Stove online, I was kind of leary about ordering one because of some of the things that were being said.
However, after having used it myself, the things I read online are furthest from the truth.
The wood burns faster - It's not that the wood burns faster, it's that the entire piece of wood is burning the entire time. Four pieces of wood lasted us an hour and a half. That's pretty good in my opinion. It actually seemed to burn longer and you didn't have to keep stoking it either.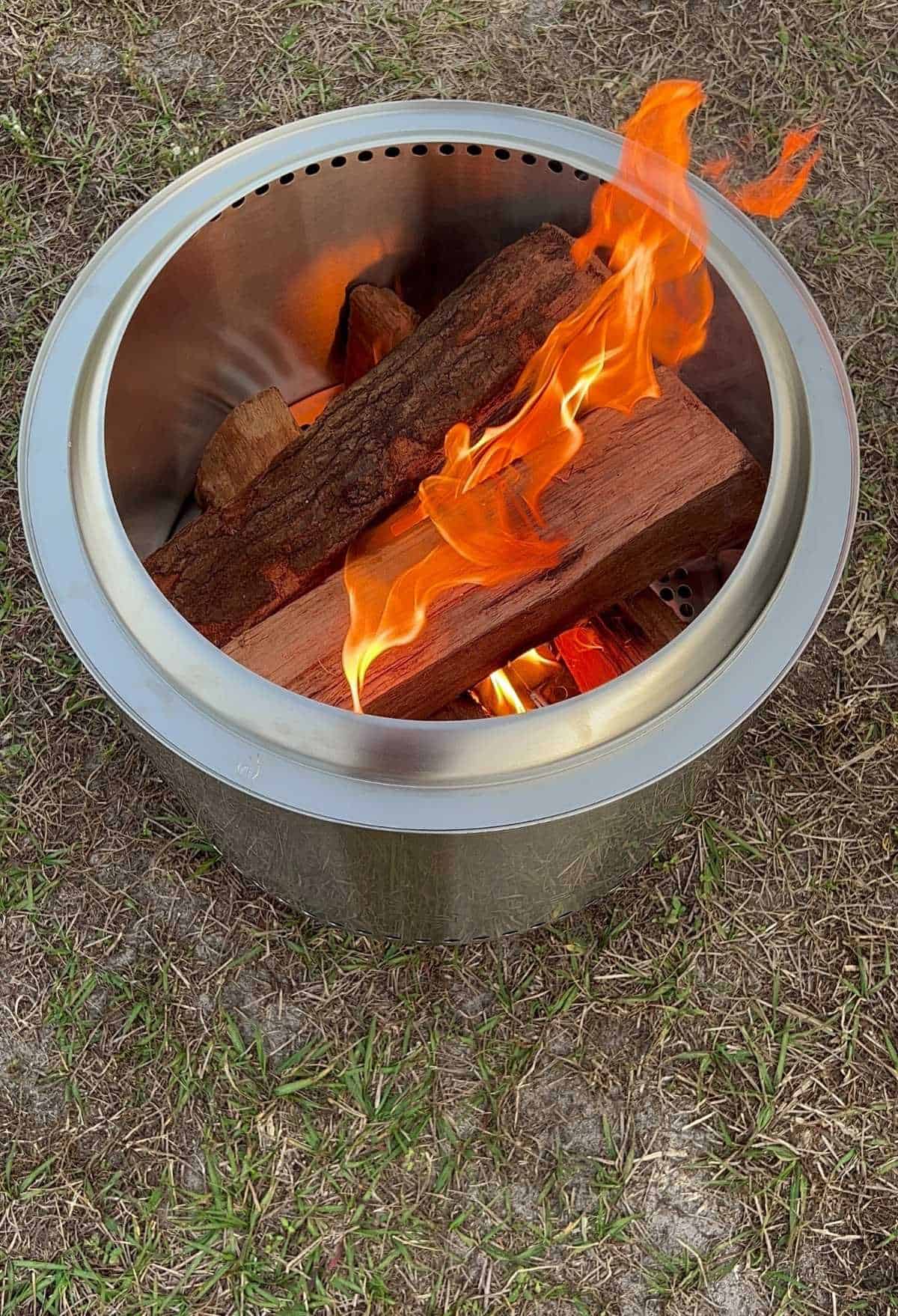 You don't feel the heat - I was sitting where I would normally sit while sitting next to a fire and I actually had to move back because the heat was intense. With a fire like this though, I don't know how you wouldn't feel the heat.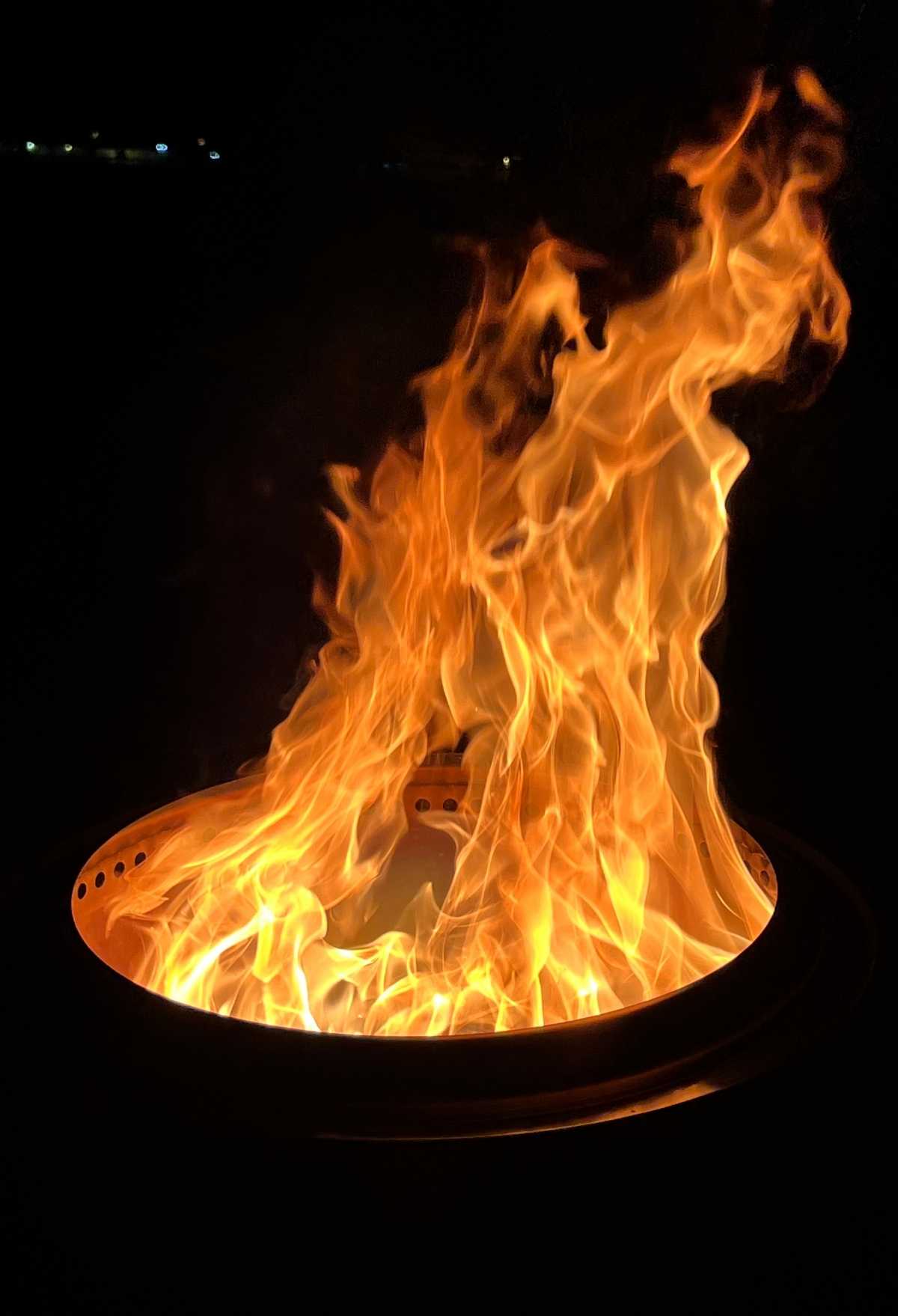 There are a lot of embers - This was one reason I decided on the Backyard Bundle. It comes with a shield that helps to prevent embers from flying on your patio furniture or your lap. Honestly, we didn't notice an access amount of embers at all. Maybe those that say that are using too much wood.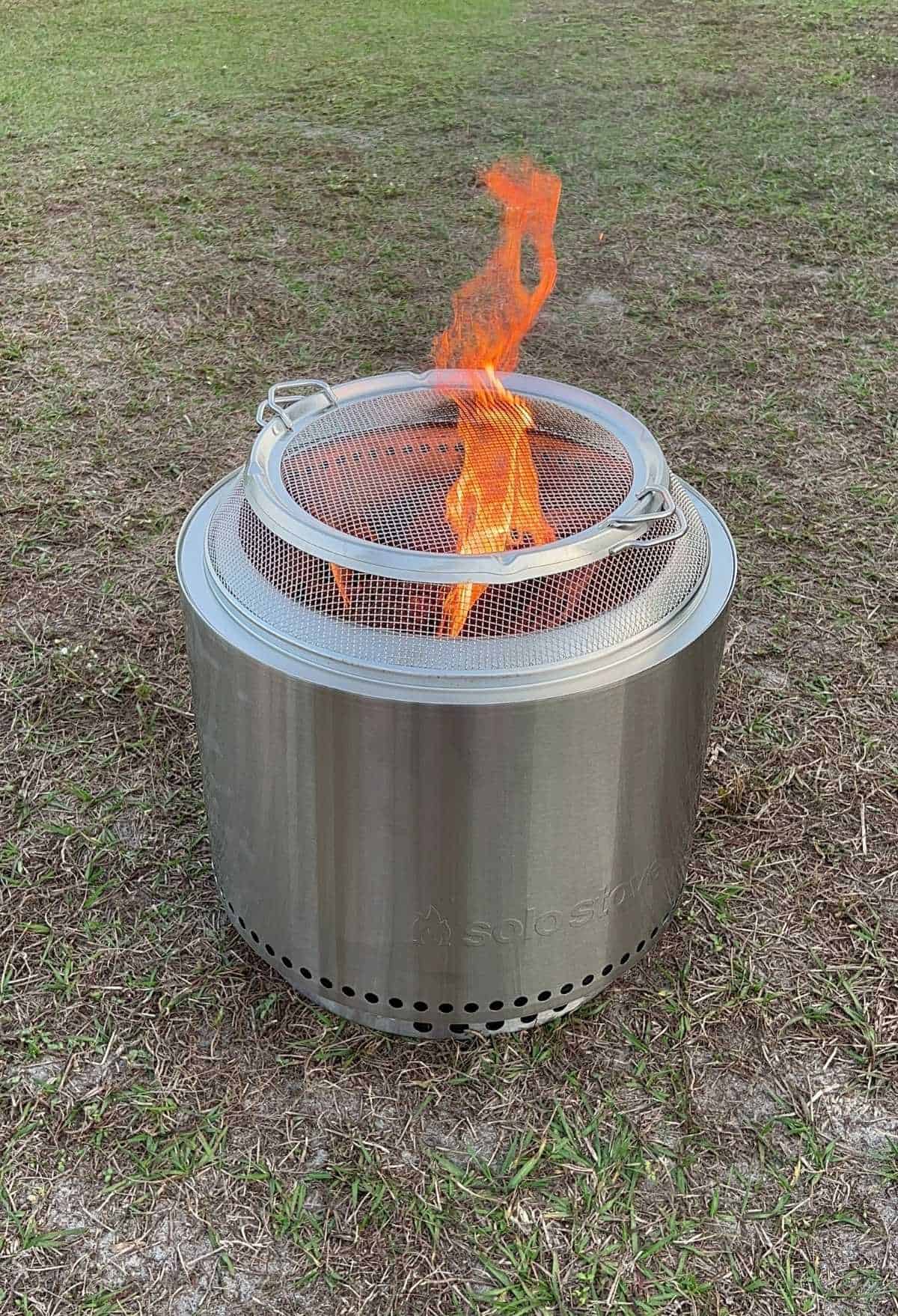 There's a lot of smoke - while they tout it as being a smokeless fire pit, common sense tells you that there is no way that can be true. It is, however, virtually smokeless. There are a couple of reasons you will get smoke. One is if you are using wet wood. And two, you are stacking it too high. You have to keep it below the holes at the top. Also, once the fire is hot enough, you will get the secondary burn, which means that the fire is burning off the smoke. While we did have a little bit of smoke in the beginning (nothing to write home about), our friend, who is allergic to smoke, was able to join us for a Christmas Eve bonfire.
My Final Thoughts
We have carried a few different fire pit designs since our start of full-time RVing 5 years ago. We found that a lot and I mean a lot of campgrounds do not have fire rings.
That was depressing when we realized we couldn't have a fire. 😢 And that's when we decided to get our own.
The first one was a traditional fire pit. Boy that thing was big. We actually had to carry it inside our RV because we didn't have a compartment big enough. 🙄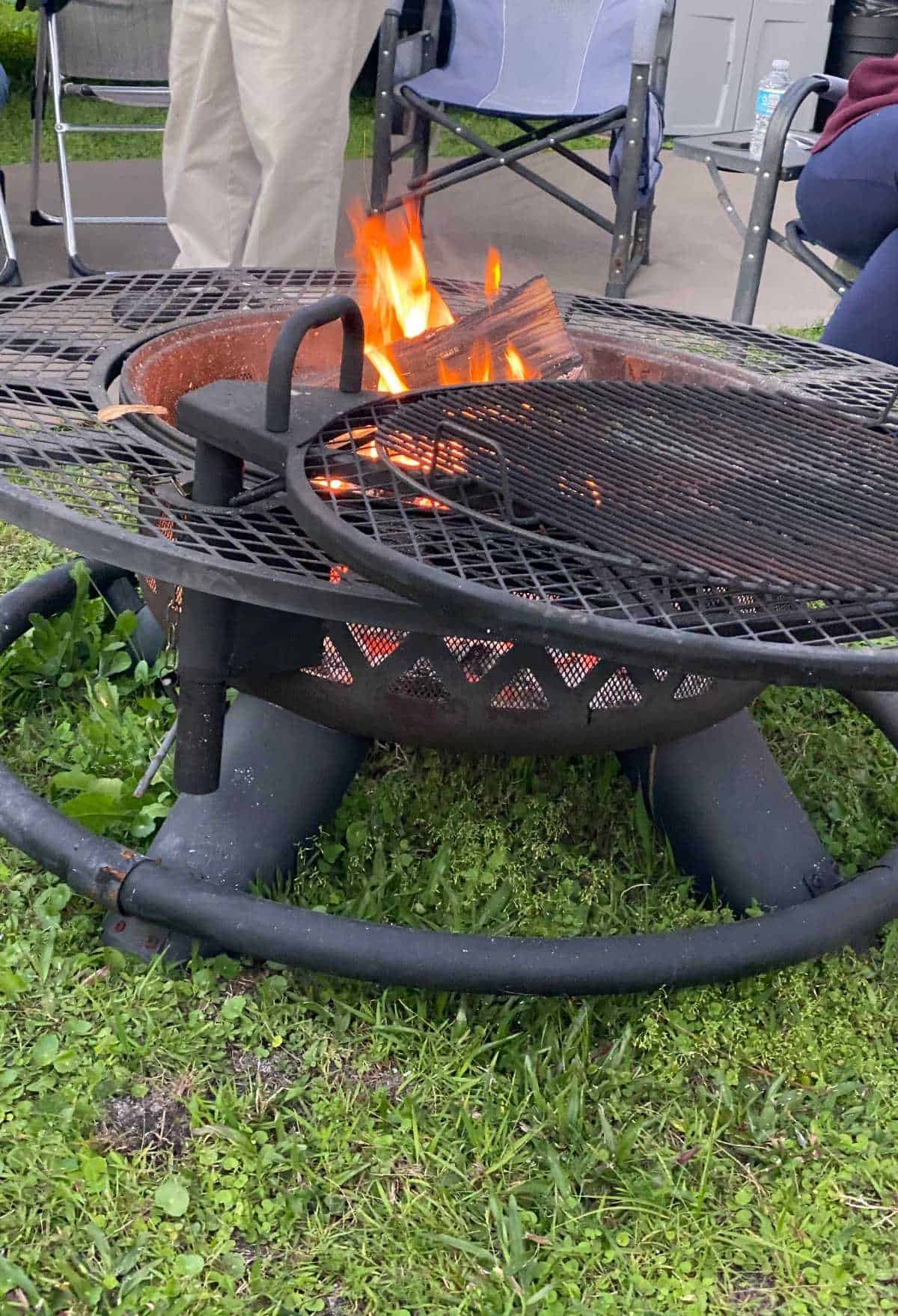 The second one was a folding one. That was super small and while it did fit underneath in a compartment, the fire was never big enough. Plus the fact we could never get the fire to really take off. Even with fire starters.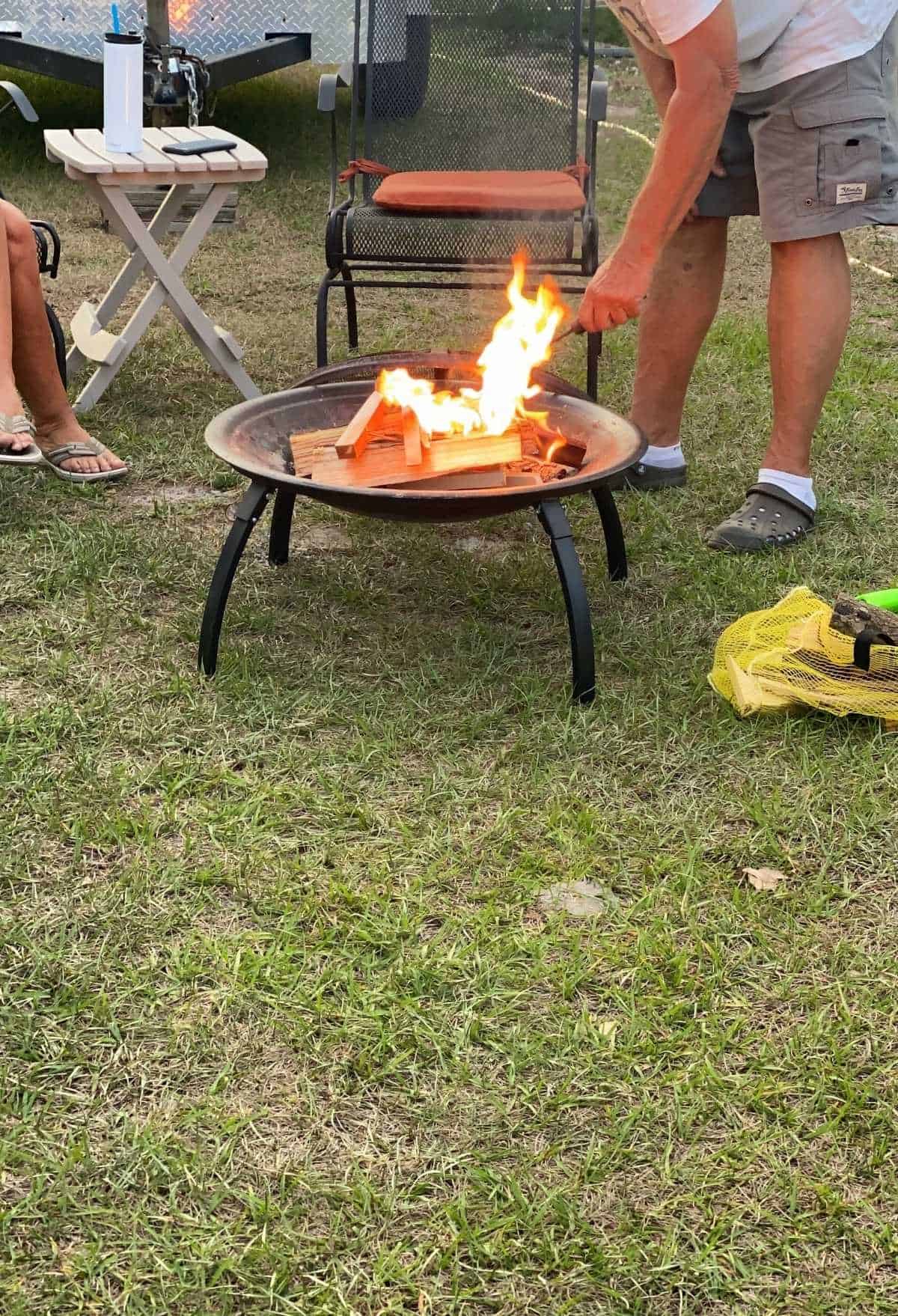 Then we decided on a propane fire pit. Everyone raved about them. 🤔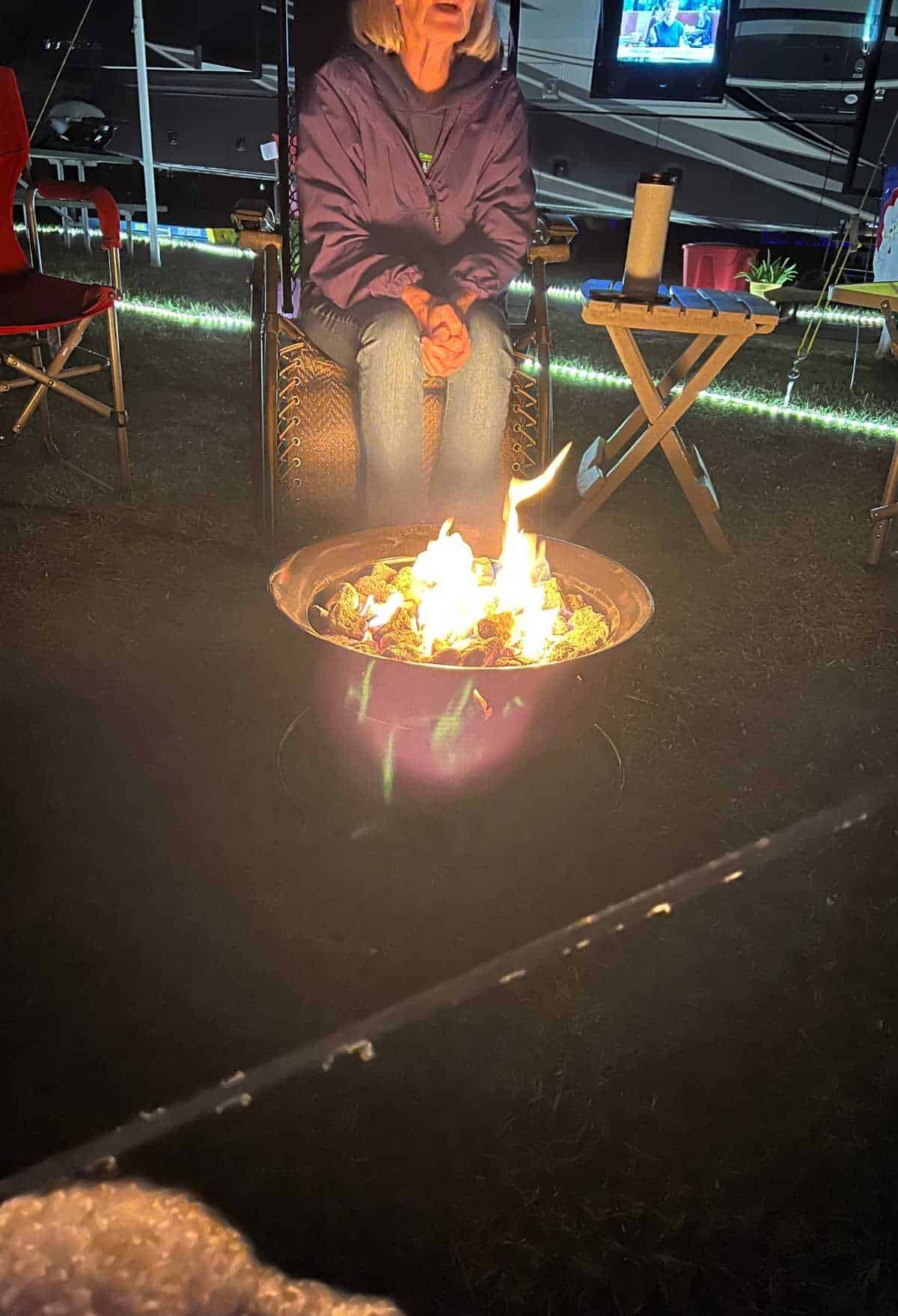 Well, let me tell you that I think they are nothing but a waste of money. You might save a little room with the firepit, but then you are carrying around a 20 lb. propane tank.
With the fire pit on medium, the tank only lasted two and half nights for a total of 7 hours. 😳 What a waste that is.
Is The Solo Stove Smokeless Fire Pit Worth the Money
The Solo Stove smokeless fire pit is the real deal. I should have just purchased one of these from the get-go but I didn't hear about them until this year.
We were impressed with how well it worked right out of the box—no assembly required!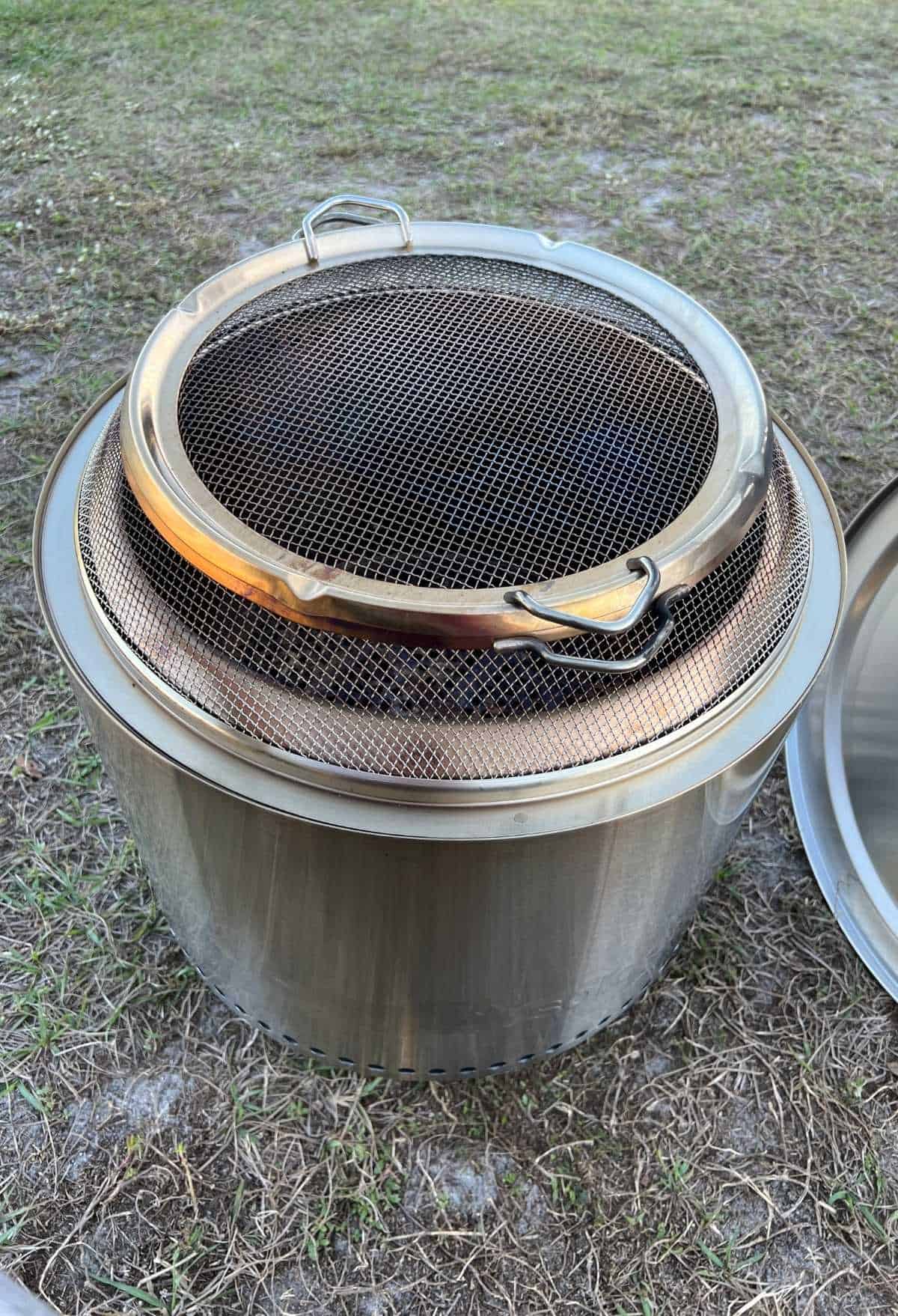 And actually, see one in person. There is a Yukon here at the RV park where we are staying and we were impressed.
The Solo Stove is the perfect fire pit for anyone who wants to start a campfire without all of that smoke. You can even cook on it!
With vent holes under the flames, this stove will make your camping experience much more enjoyable and convenient.
You'll be happy to hear that the smokeless fire pit is a great solution for those who are sensitive.
Do we recommend the Solo Stove? Absolutely!
Whether you are looking for the perfect fire pit for your backyard or RV, or the perfect gift for that new homeowner or RV owner, then the Solo Stove is what you need to get.
And while the Solo Stove isn't a Disney-approved fire pit, it is so awesome that someone hid a Campfire portable camp stove at Fort Wilderness for the scavenger hunt for someone to enjoy at home. Wow, Merry Christmas!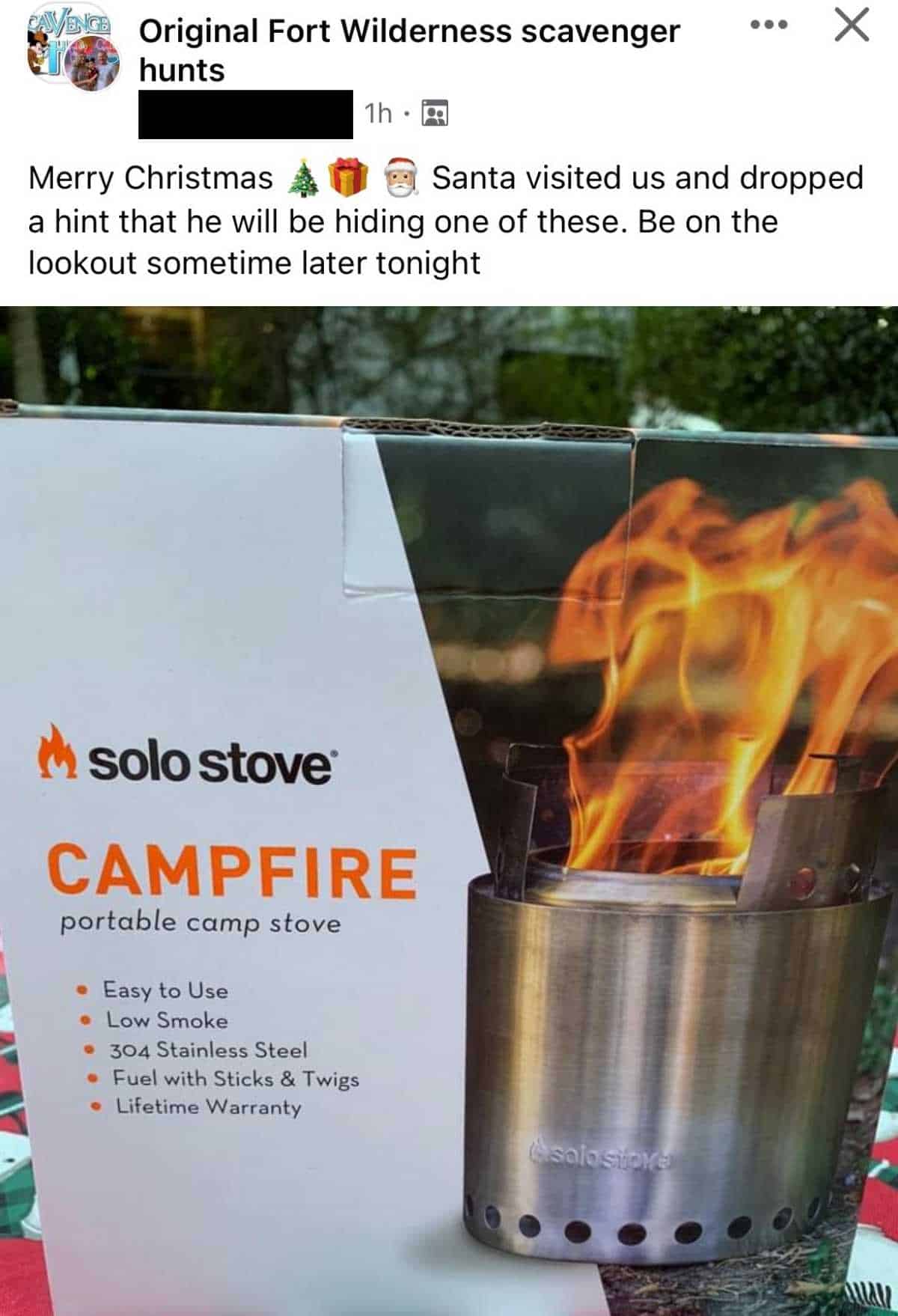 Where Can I Purchase a Solo Stove Smokeless Fire Pit
You can purchase this incredible smokeless fire pit on the Solo Stove website. and Amazon.com
. You will also find their Grills, Camp Stoves, and apparel.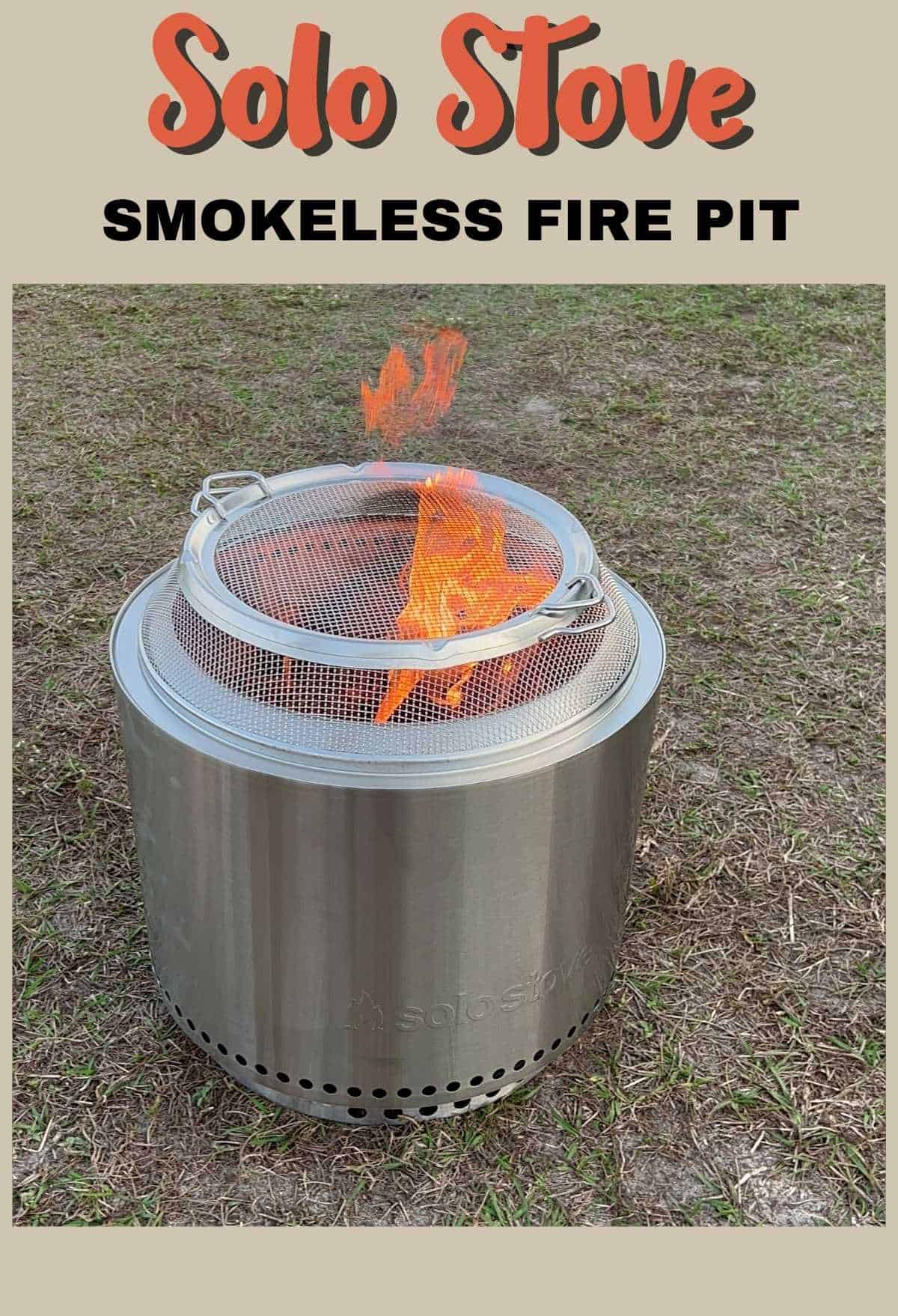 Connect with them on Facebook, Twitter, and Instagram.
Right now, they're still having their flash sale. So hurry on over and save a bunch of moolah and keep warm at the same time.
Be sure to follow us on Pinterest and PIN IT FOR LATER!