July will be four years that we chose RV Full Time Living. After following a few Facebook groups and watching people plan to go full time in an RV for years, our decision was a spur of the moment thing.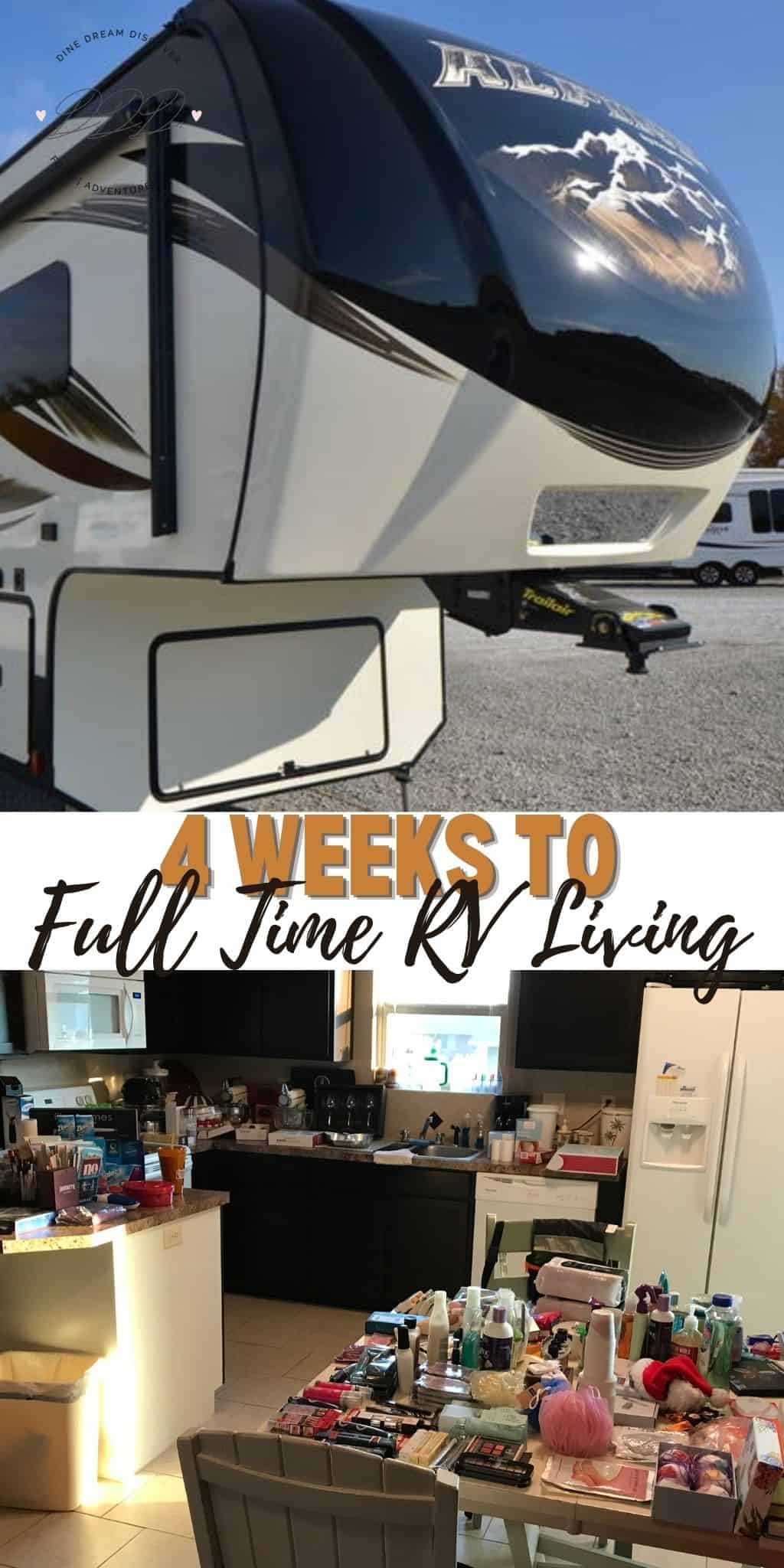 This post may contain affiliate links. See my disclosure policy for more info.
Renting to RV Full Time Living In 4 Weeks
July will be four years that we chose RV Full Time Living. Honestly, it doesn't seem like it's been that long! After following a few Facebook groups and watching people plan to go full time in an RV for years, our decision was a spur of the moment thing.
As we celebrate our 26th Wedding Anniversary today, we feel we made the right choice for this point in our lives. We did a 6000 mile trip a year and half ago, (more like 8600 miles) and hope to do it again real soon.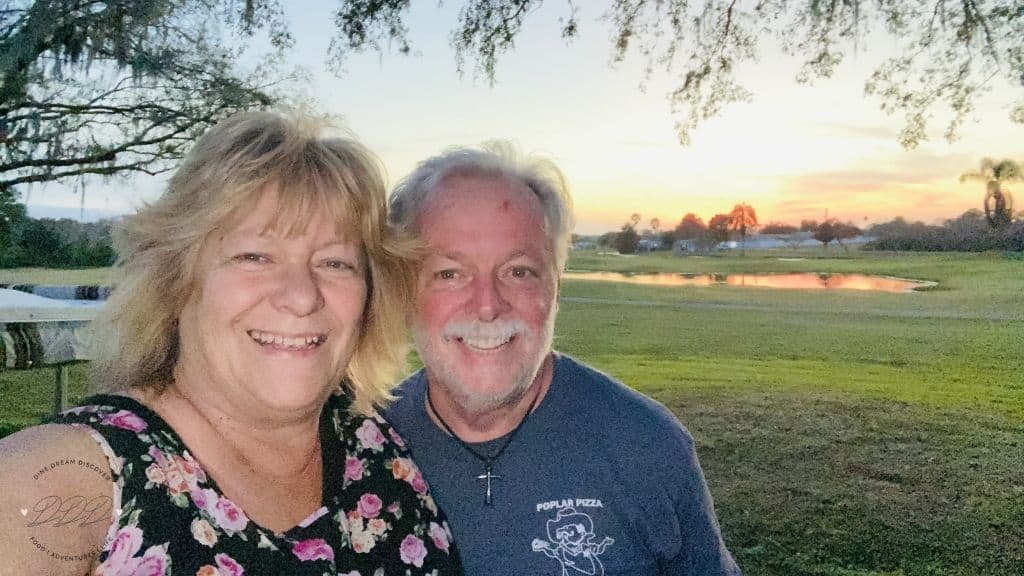 Our neighbors had rented one and we thought that maybe we should look at some.
We actually decided one day in the beginning of July 2017. After talking about it for a day or two, we decided to stop by a few of the local RV dealerships and check some out.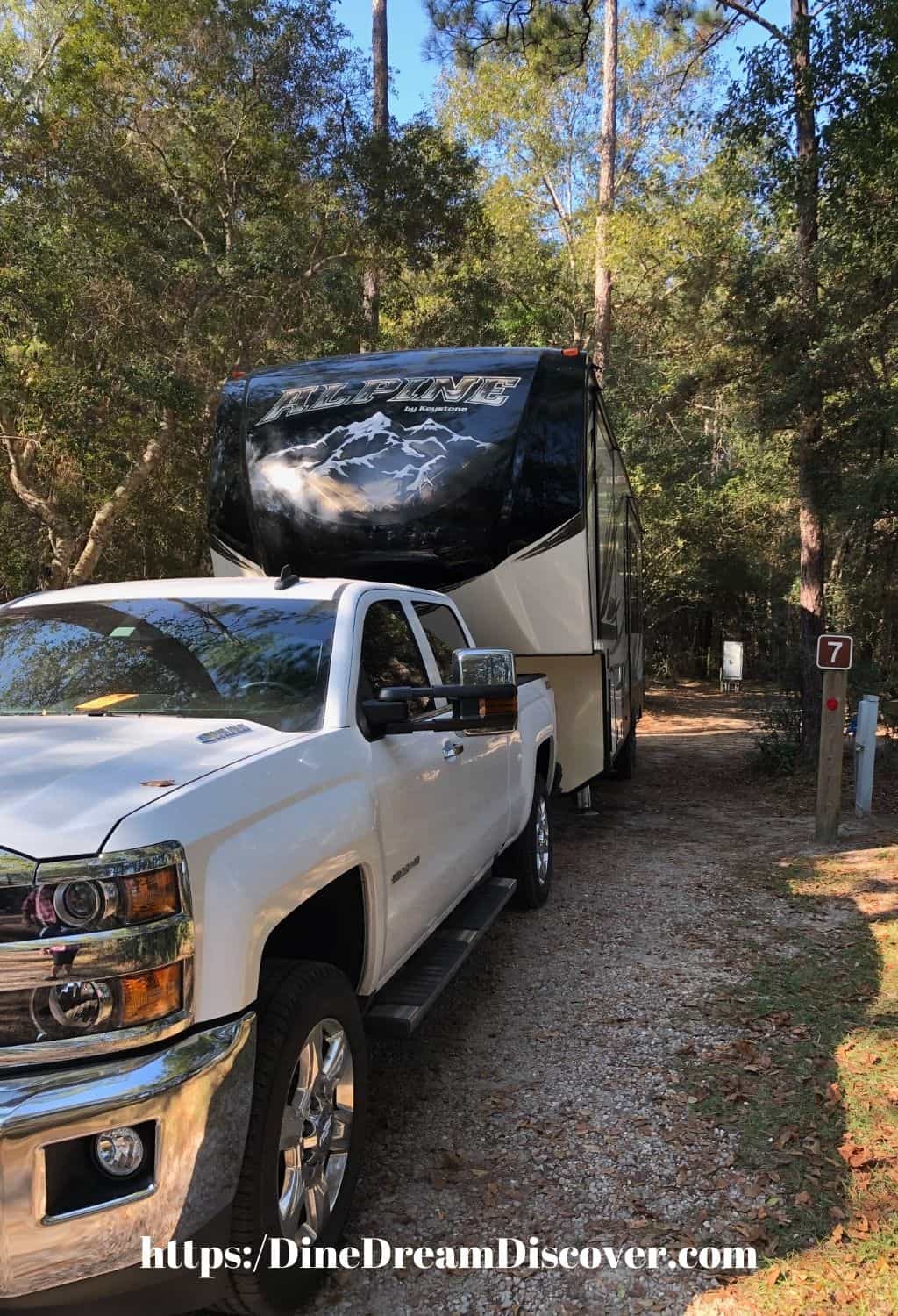 By July 27th, we were on our way to pick up our brand new RV! What were we thinking???
Must Haves
There were a few things that I knew I really wanted. A washer and dryer hookup, residential refrigerator, and a dishwasher were must haves. I know, I know, no one NEEDS a dishwasher.
We really knew nothing about RV's. We had purchased one back in 2007 to put on our land up North so we had somewhere to stay when we went up there.
It really wasn't something we needed because we could stay with our parents, but the sound of having our "own place" to stay in sounded good.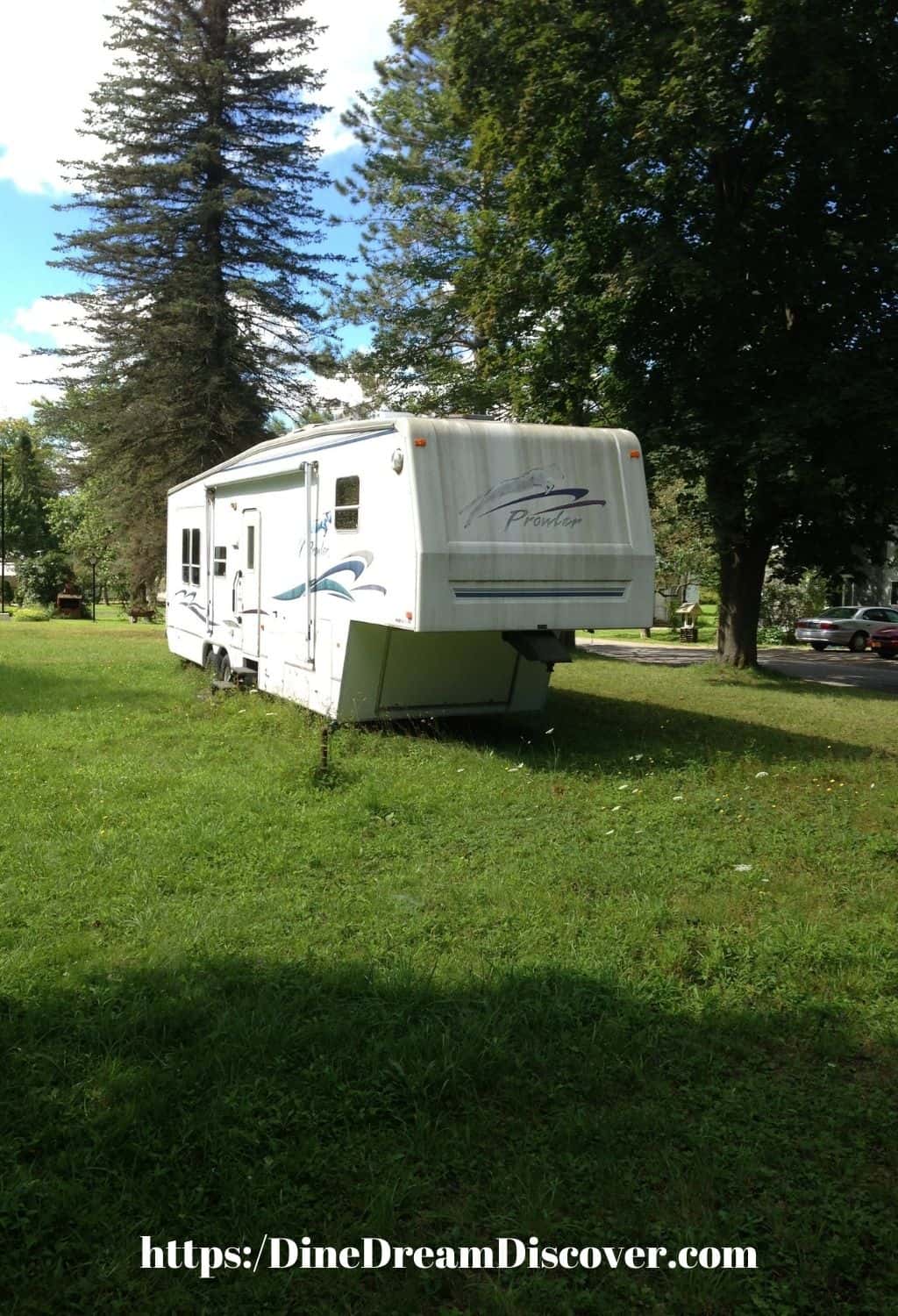 We actually purchased it in Florida and someone transport it up there for us. It was cheaper to do it that way (because you know..NY just costs a lot!) for the same exact 5th wheel. Crazy, I know!
That was a 2000 Fleetwood Prowler. And when I say we knew nothing, we really didn't. (Even back then, we got taken for a ride!)
However, it did have a washer and dryer so that was a good thing.
So Many Choices
When looking this time, we had looked at a few tag alongs and a few 5th wheels. We didn't bother to look at Class A's because we figured they were way out of our reach.
Class B's and C's weren't even an option.
After looking at a few tag-a-longs, we decided that a 5th wheel had the most room. After all, I'm 6 ft tall and don't like to feel cramped.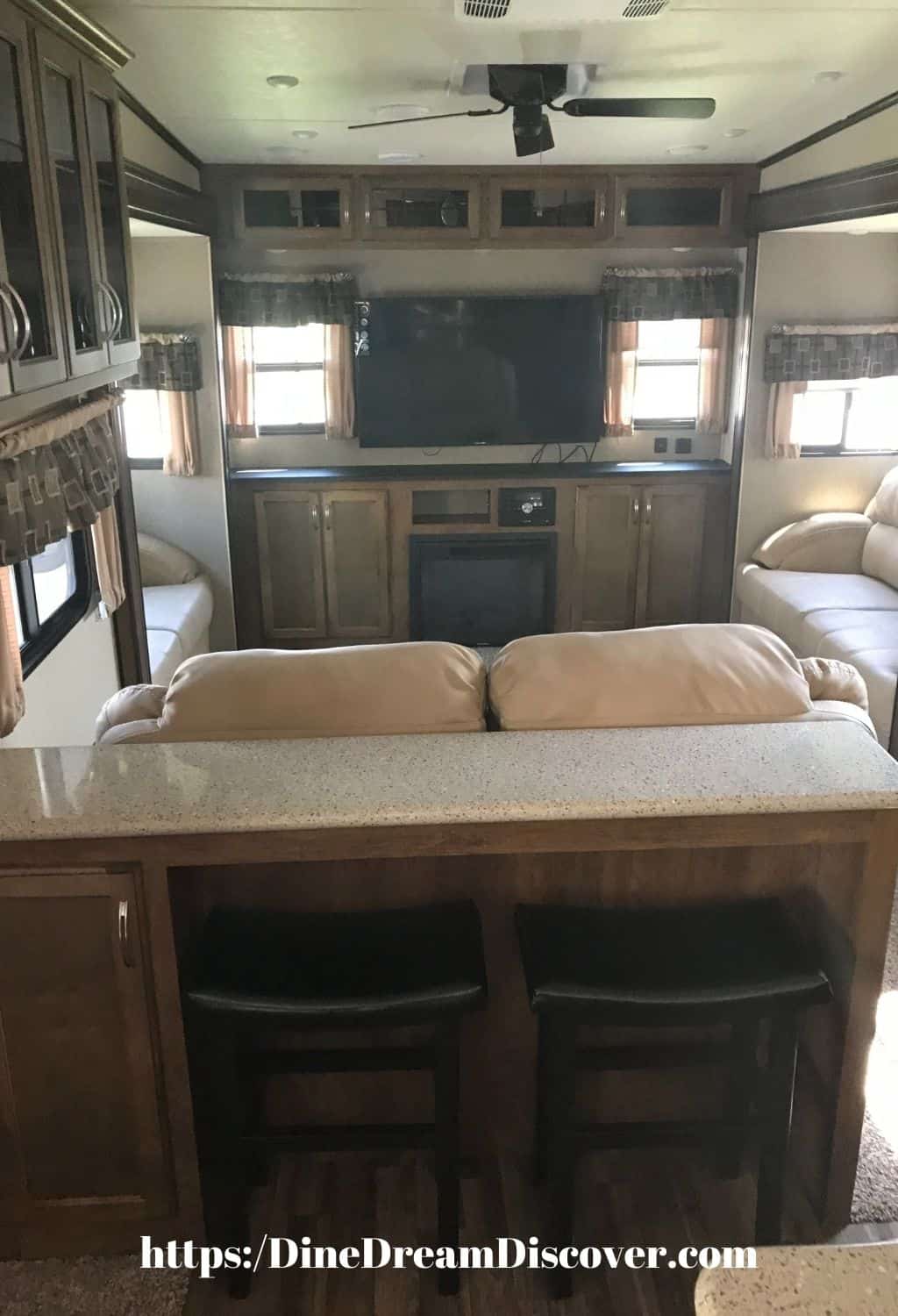 We did find one that we kind of liked with a washer and dryer hookup, however, the price seemed a little high. There were only 3 RV dealers in Wichita at that time so not much competition.
While you think you are making the right choice at the time, you will soon want a different one. 😂 Trust me on this one. We are on our 3rd one in 3 years.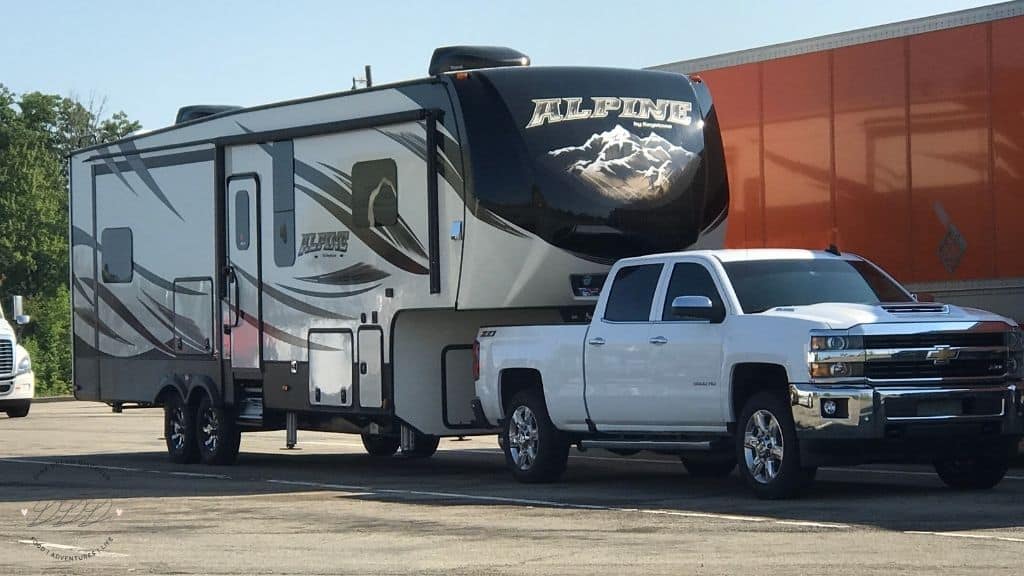 Looking Online
Once back at home, I decided to check out my options online. I found a few but none of them were really close. However, I did find one that was on the way from Kansas to Buffalo (where we own land and go for the summer months.)
It was in Cincinnati at an RV Wholesale dealership. And I found one that I really, really, liked loved! And it had everything I wanted, a washer and dryer hookup, residential refrigerator and a dishwasher.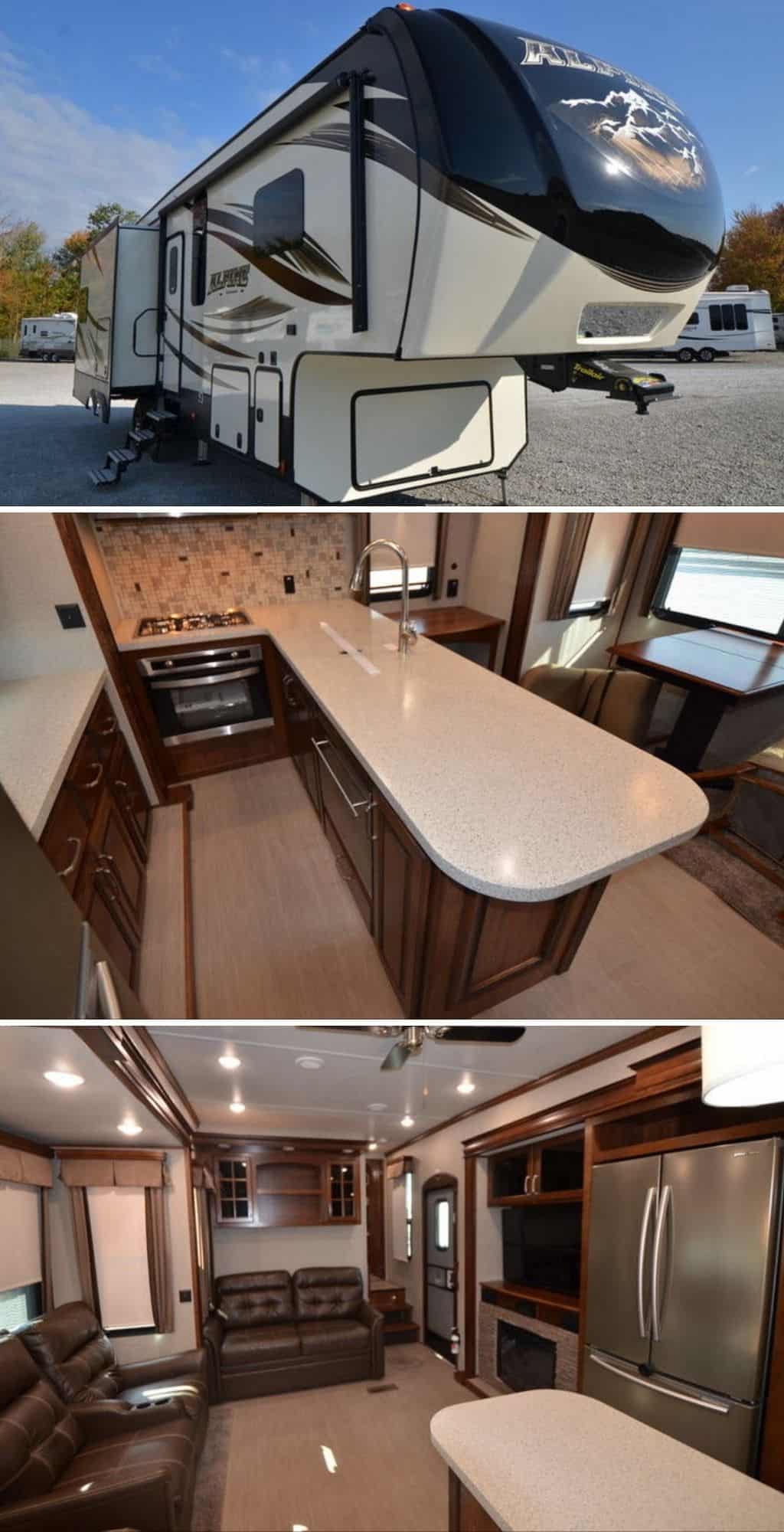 In addition, it also had a desk area for my computer and it was a four seasons trailer. Plus, it had tons of counter space and huge windows for light. I need my light. 😂
That means it's made for all types of weather and had tank heaters. (Ya know....just in case!)
Putting in an Offer
So, the next day, I sent an inquiry for more information. They replied with you need at least 20% down and once the financing and paperwork went through, we could pick it up. 😳
Luckily, we had already given our 30 day notice for our rental house. We were renting for a couple of months so I could have my knee surgery after we sold our house. (That's another story for another blog post! 🙄)
Getting the Right Truck to Pull it With
Finding the perfect RV wasn't the only problem. Now we had to find the right truck. Make sure to always check the amount of weight your vehicle can tow.
We had just purchased a new Silverado. However, it was lifted and wasn't the right vehicle for pulling. So....we had to get a new truck.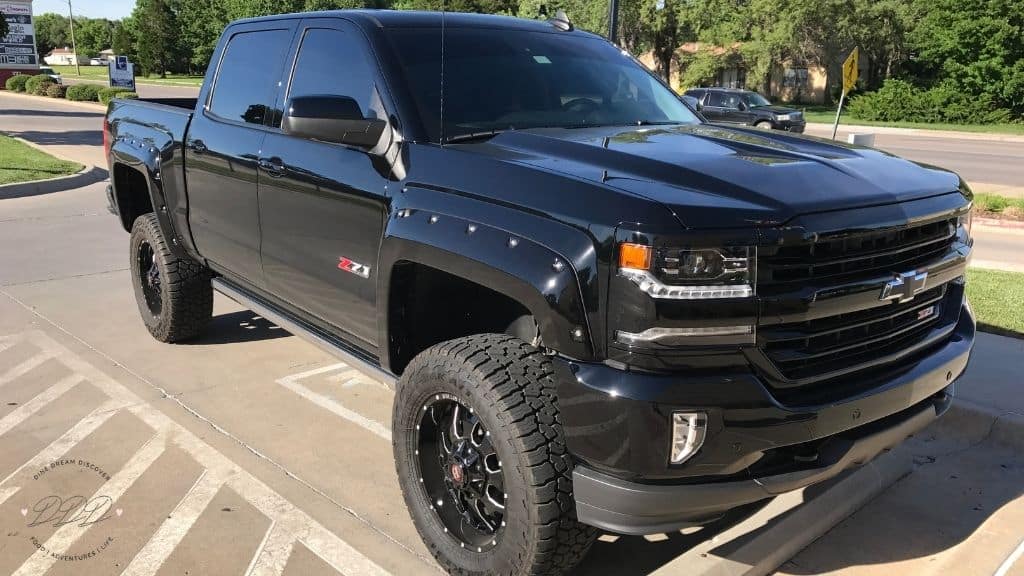 We ended up with a Chevy Silverado 2500HD Diesel. Another problem we ran into but didn't realize until we picked up the RV was that it didn't have towing mirrors. 🤨 (Another story for another day!)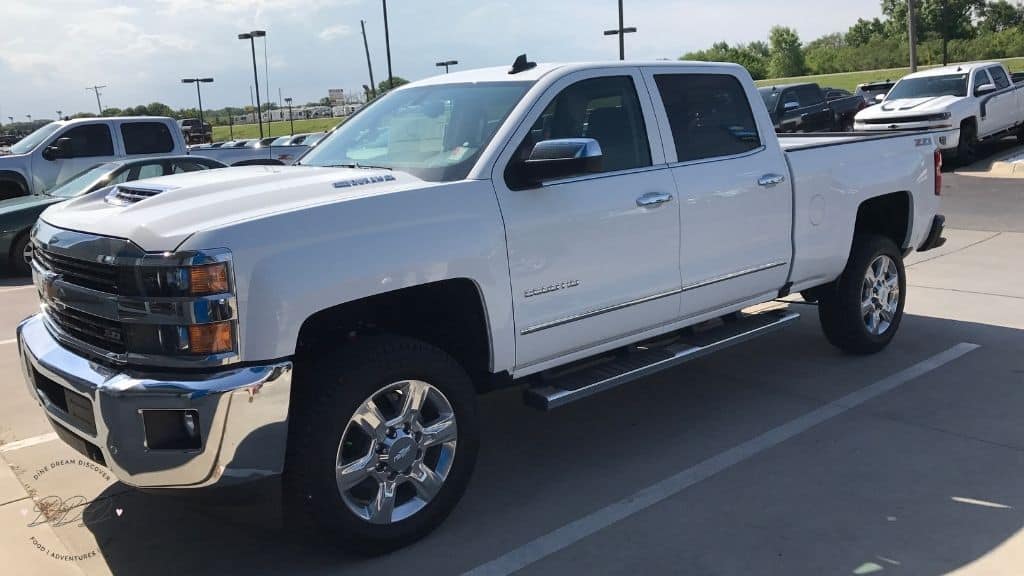 Once we got the new truck, we went and had a hitch installed.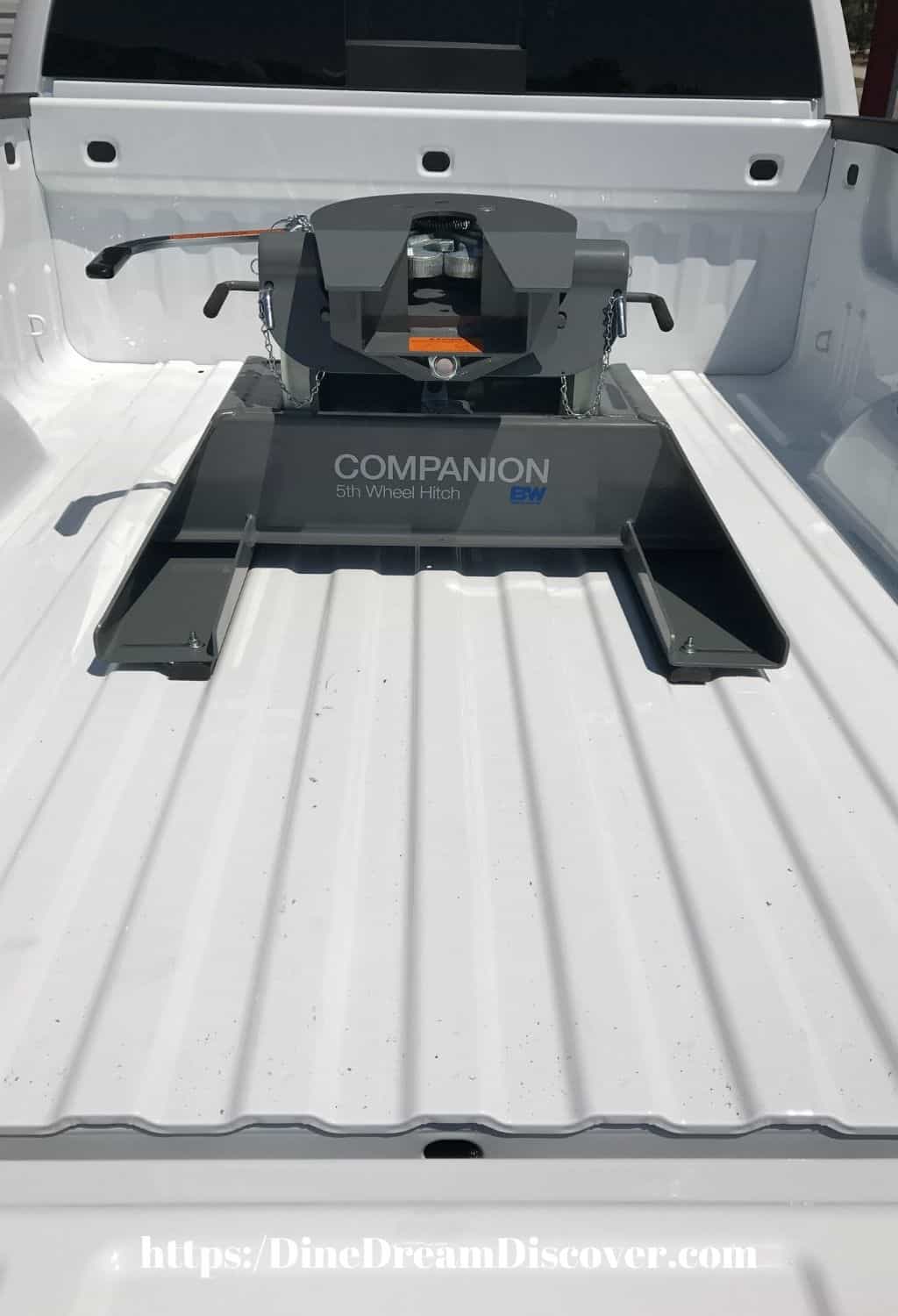 Two Weeks to Get Ready for RV Full Time Living
With all that out of the way, we had two, 2 weeks, to sell everything, pack the rest and head over to Cincinnati. And what came to mind after that? What in the heck did we just do????
Decluttering for RV Full Time Living
Well, I started decluttering and listing things as fast as I could on Facebook marketplace. Surprisingly, most the of the big furniture and stuff sold pretty quickly.
We also set up a bunch of tables inside the house and listed an indoor and outdoor garage sale.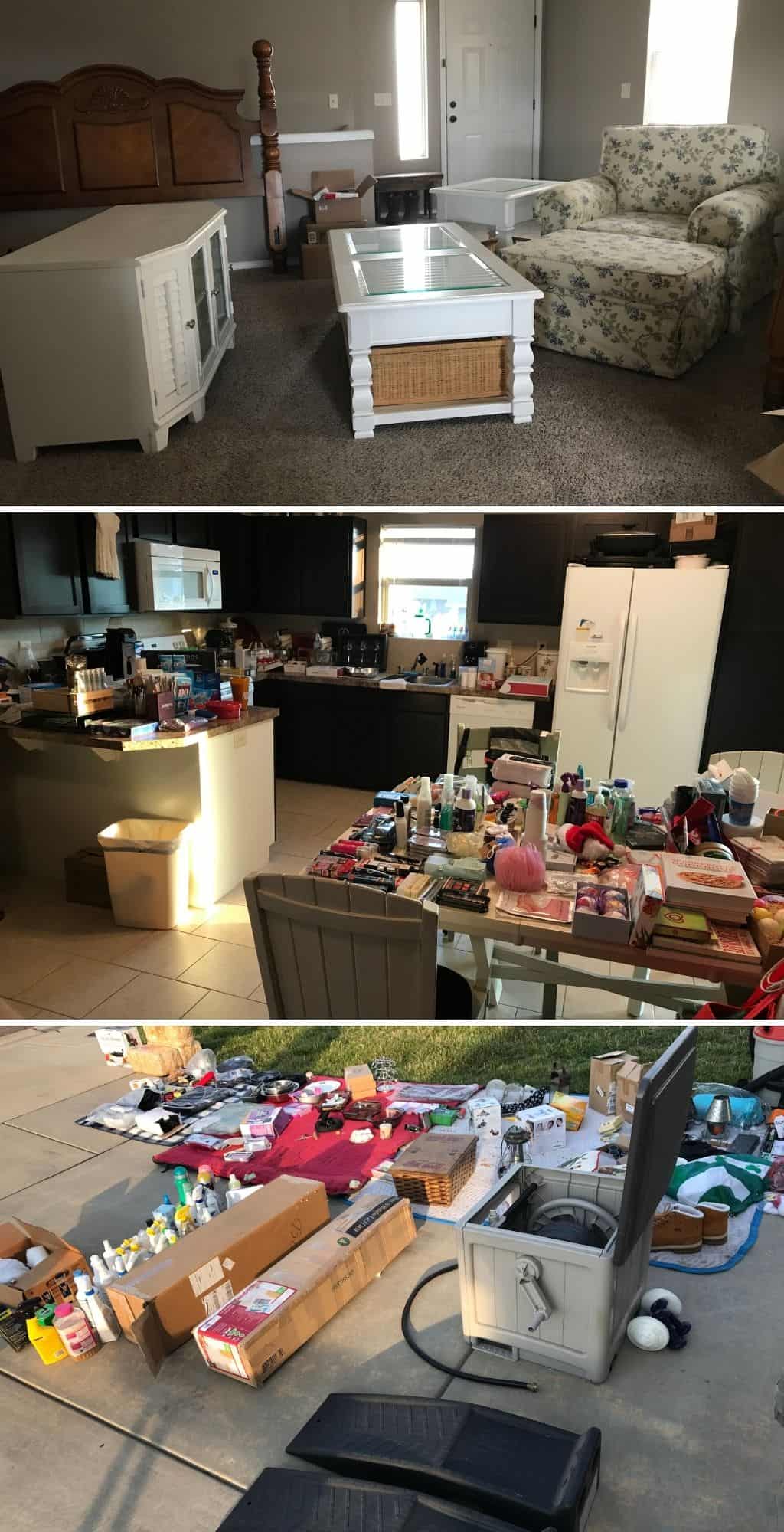 I didn't price everything because there was just way too much stuff. Since we had moved into this duplex temporarily so I could have my knee replacement, there was still a ton of stuff that we didn't unpack.
Actually, we had an entire bedroom full of boxes. We tried to empty as much as we could to sell it all.
Pods VS Storage Unit
Since we didn't know how long we were going to be RV Full Time Living, or if we were even going to like it, or where we would end up, we decided on Pods for the sentimental items we couldn't part with.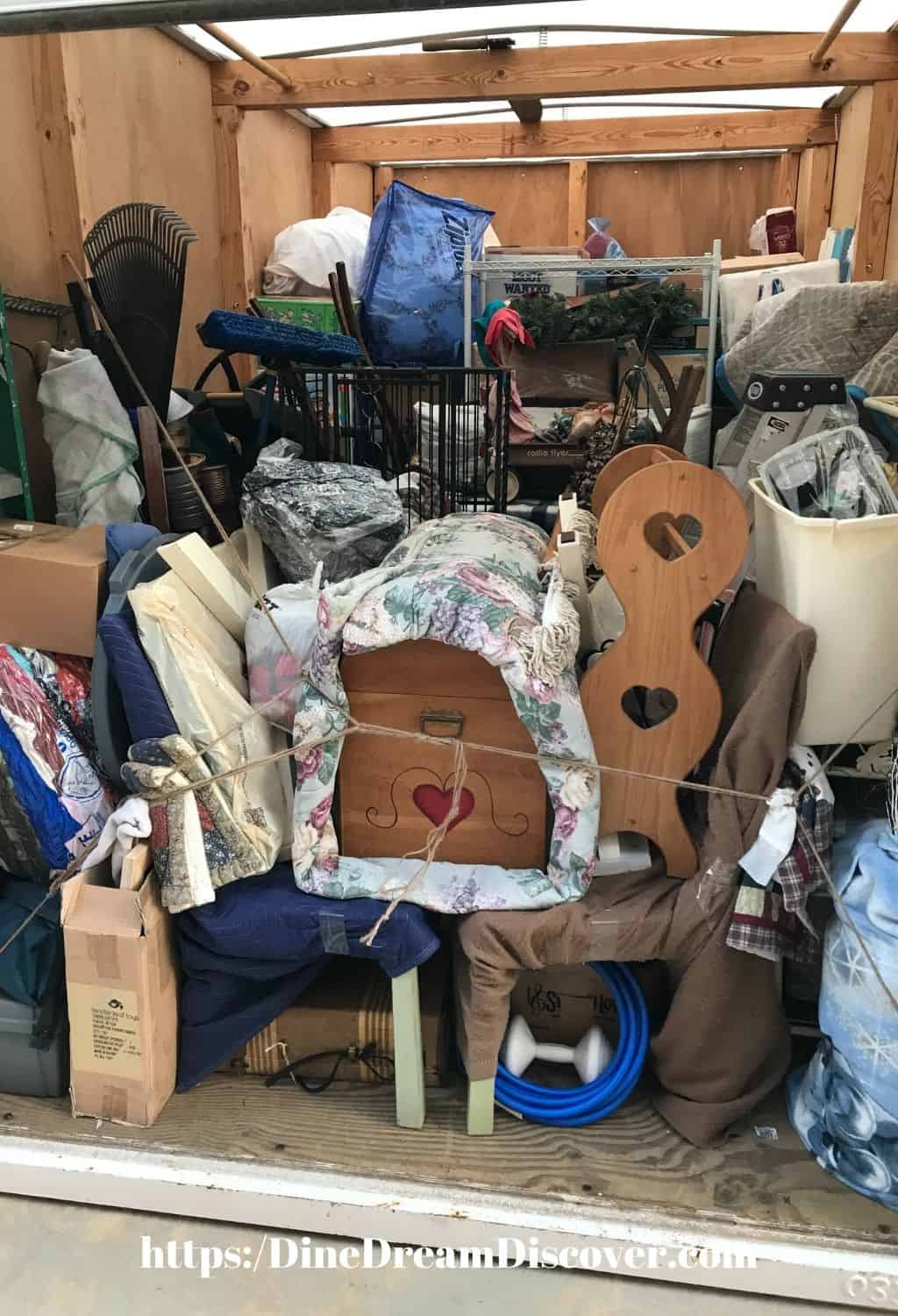 Why We Ultimately Chose RV Full Time Living
We ultimately chose RV Full Time Living because we have family all over the US. Our parents were living in Buffalo, NY, my kids and grandkids were in Kansas, Tim's son lives in California, and we also have family in Arizona and Pennsylvania, and his mom comes down to Florida for the winter.
Rather than have to leave our house for the summer months in order to travel to see everyone, we figured RV Full Time Living was the answer.
We would have to hire someone to cut our grass, take care of the pool, check on the house, etc. whenever we would head out. And then worry about the house while we traveled.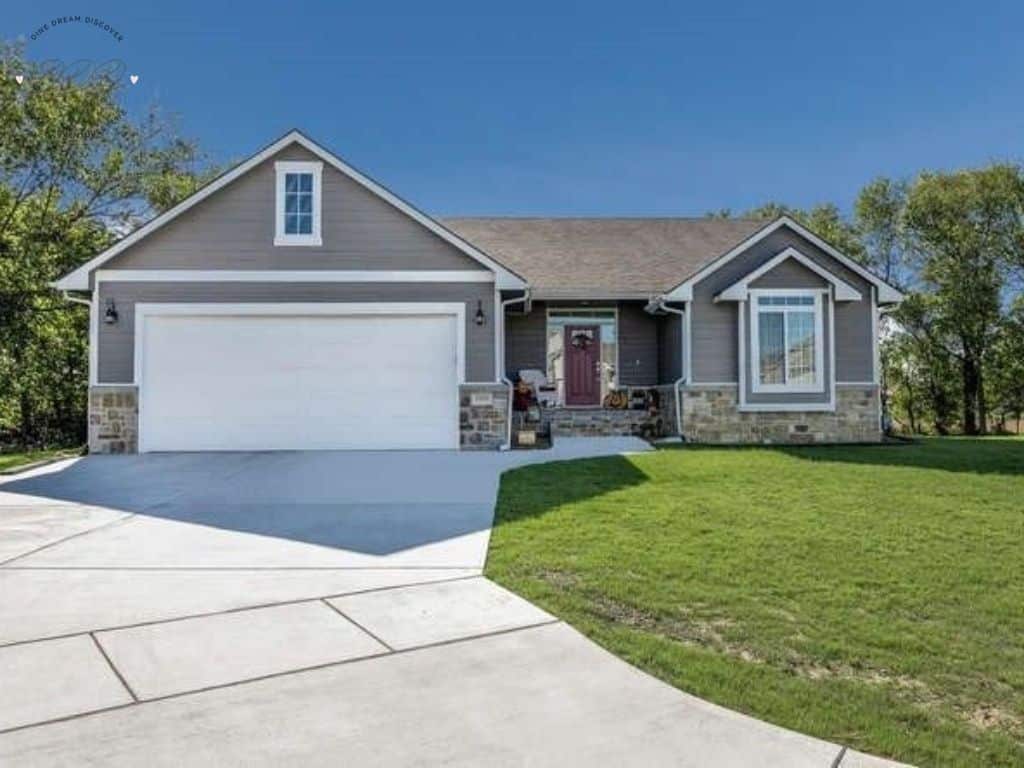 And also, we have crazy dog. Something happened when we boarded her in her puppy years. She hates everyone and everything now except us. Now we can leave her in the RV and not have to worry about her.
No more having to find a hotel that takes pets (even though we always stayed at Drury! They are the best!)
Picking up the RV
On July 27th, 2017, we headed out from Kansas to Cincinnati to pick up our new RV. We were excited and scared to say the least.
Picking up the RV experience is another post for another day, lol.
Almost 4 years later, we LOVE Life in the RV and wouldn't change it for anything....yet!
However, we have discussed whether or not it's time to quit full time RVing.
Is Full Time RVing Cheaper than Renting or Owning a Home
This question gets asked a lot. While there are many factors that can lead to the answer, that's another blog post in itself.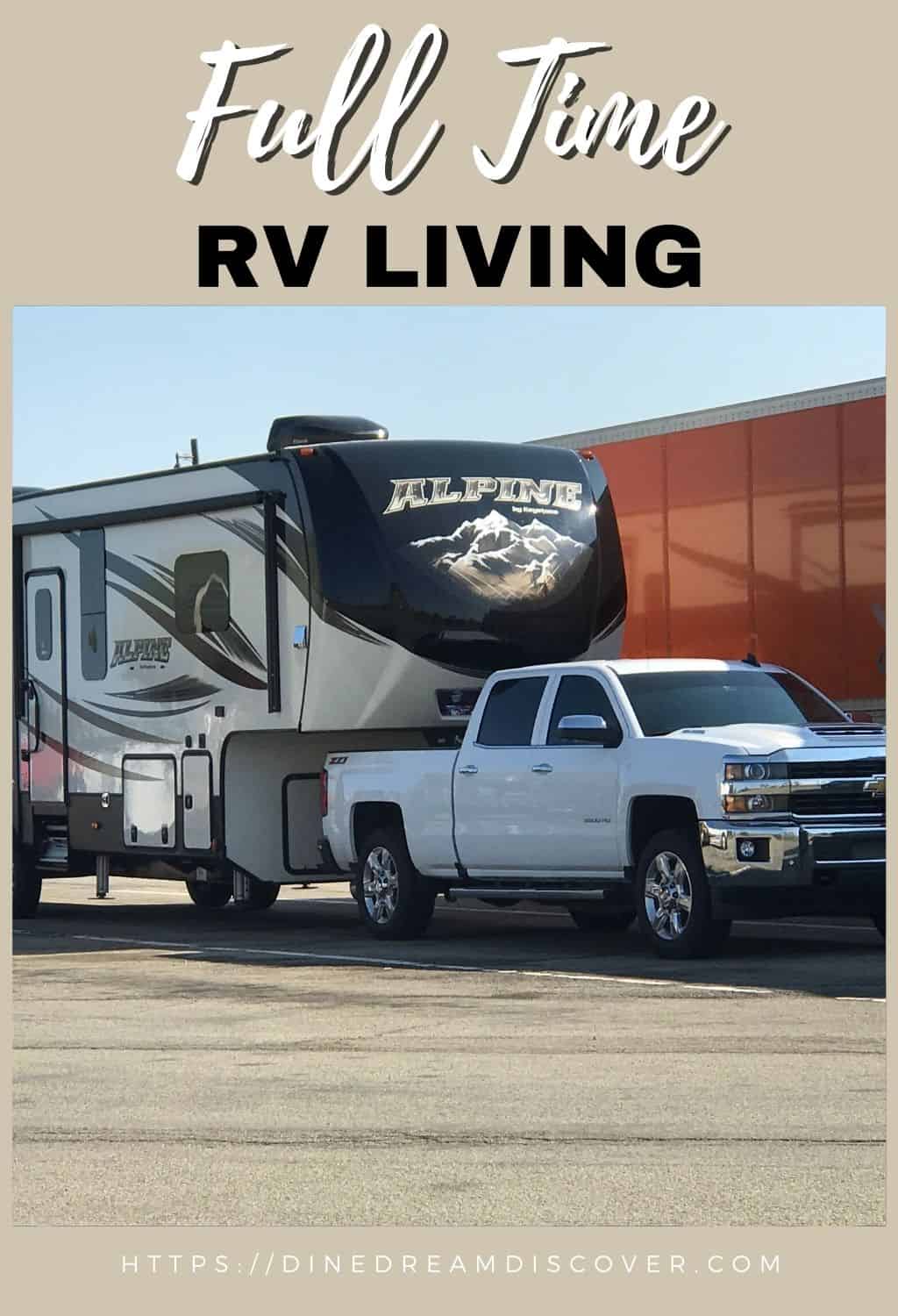 Be sure to follow us on Pinterest and PIN IT FOR LATER!