RV Christmas Decorations can be done! Who says you can't have an RV Christmas Tree? There are so many camping Christmas decorations that I've seen and are astounding. Camper decorations are easier than one might think.
RV Christmas Decoration Ideas
A great way to get the holiday season underway and get in the holiday spirit in a small space is with a few RV Christmas decorations.
Who says you can't have an RV Christmas Tree? There are so many camping Christmas decorations that I've seen and are astounding.
Camper decorations are easier than one might think. If you've ever driven through an RV park at Christmas time, then you have seen some of the best camper decor ideas out there.
When we lived in a sticks and bricks home, I had 20 Rubbermaid tubs full of Christmas decorations. That's a lot of decorations!
And that is the biggest thing I miss!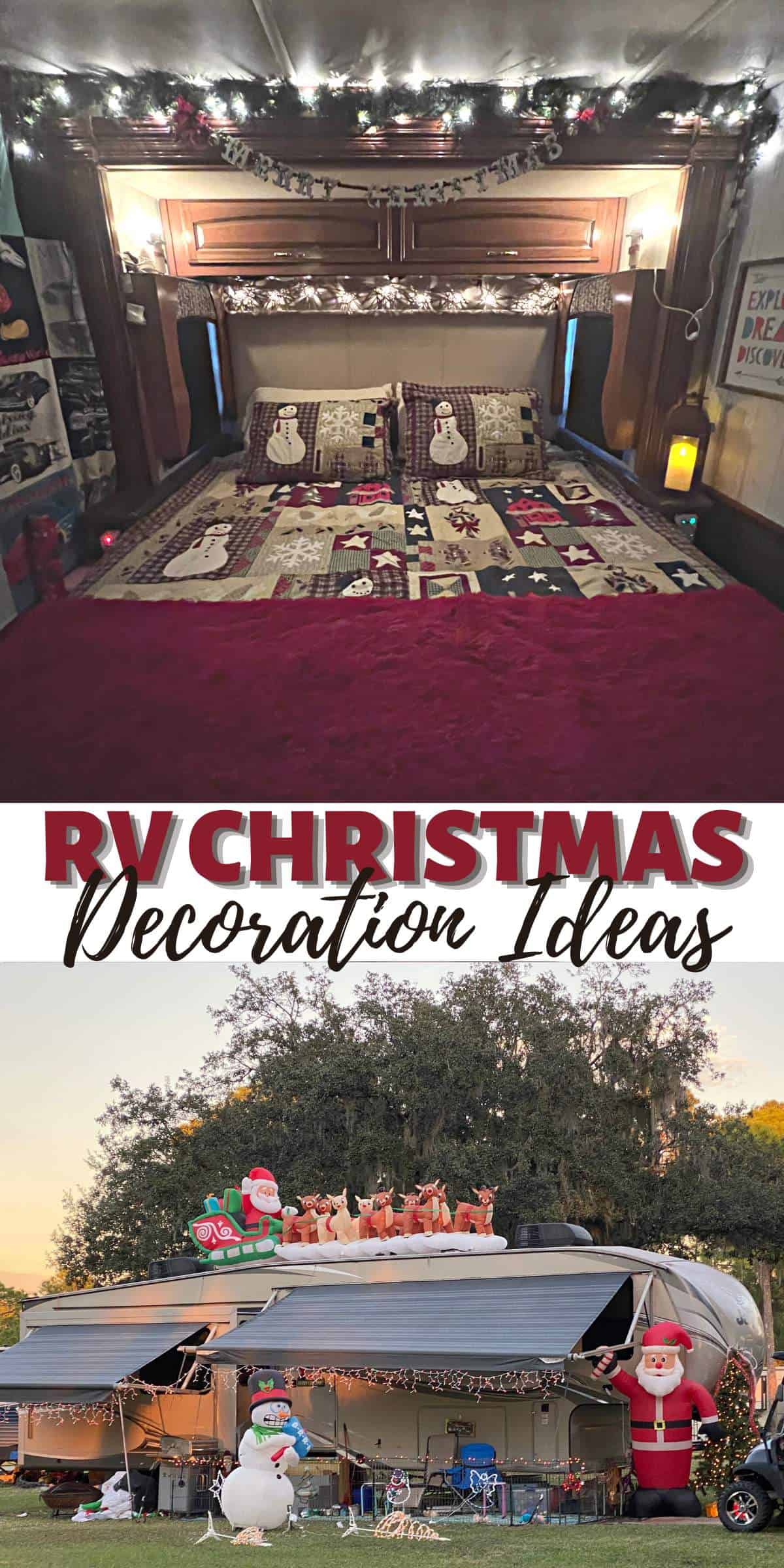 How to Decorate a Class A Motorhome for Christmas
I hang large twinkling snowflake lights in the windshield for starters.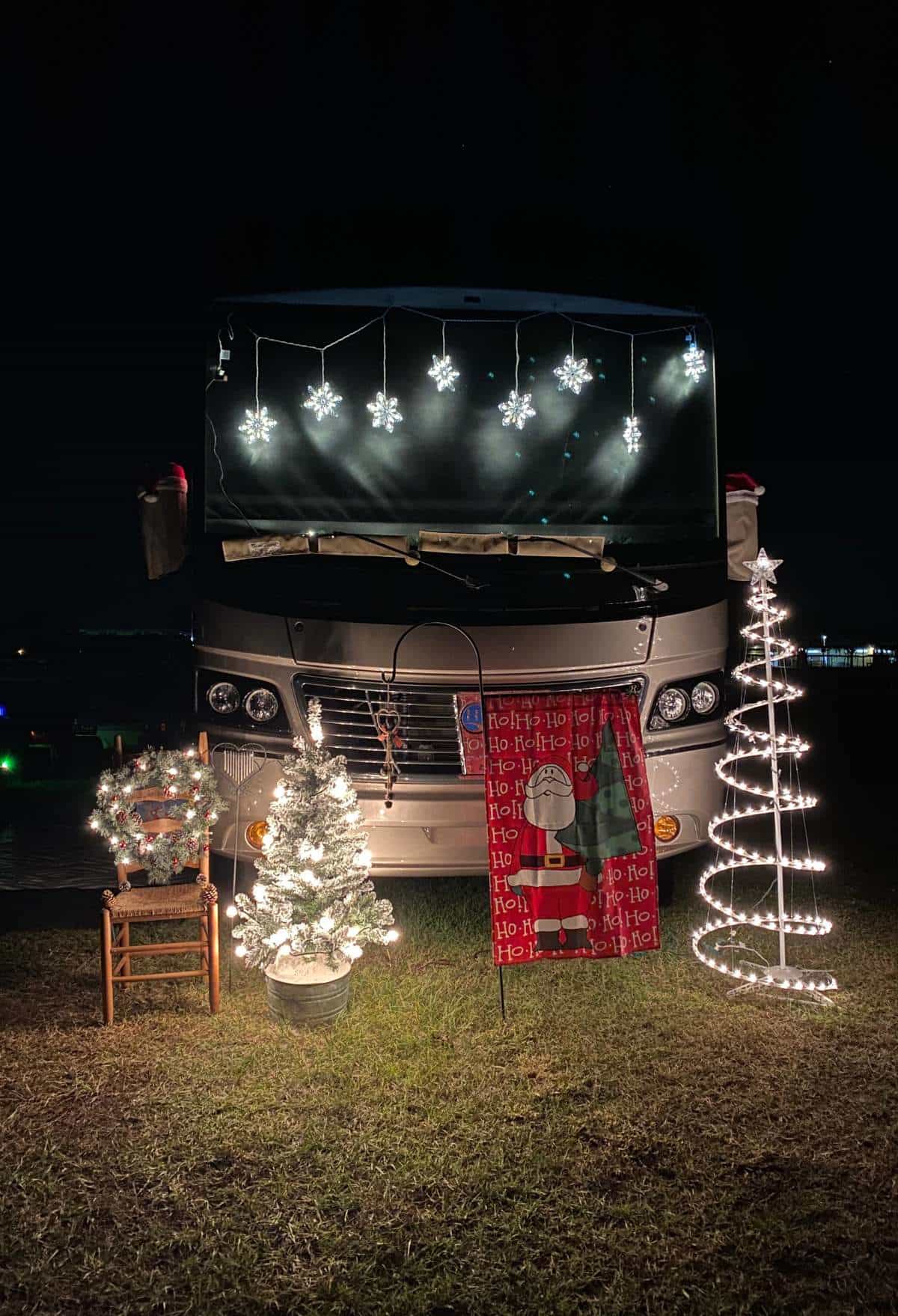 Christmas time is my favorite time of year. The best way is to try to decorate with natural elements as much as you can.
There are a ton of pine cones around us and I have always wanted to make a wreath or something out of them.
Or make some ornaments yourself, such as this Rudolph ornament.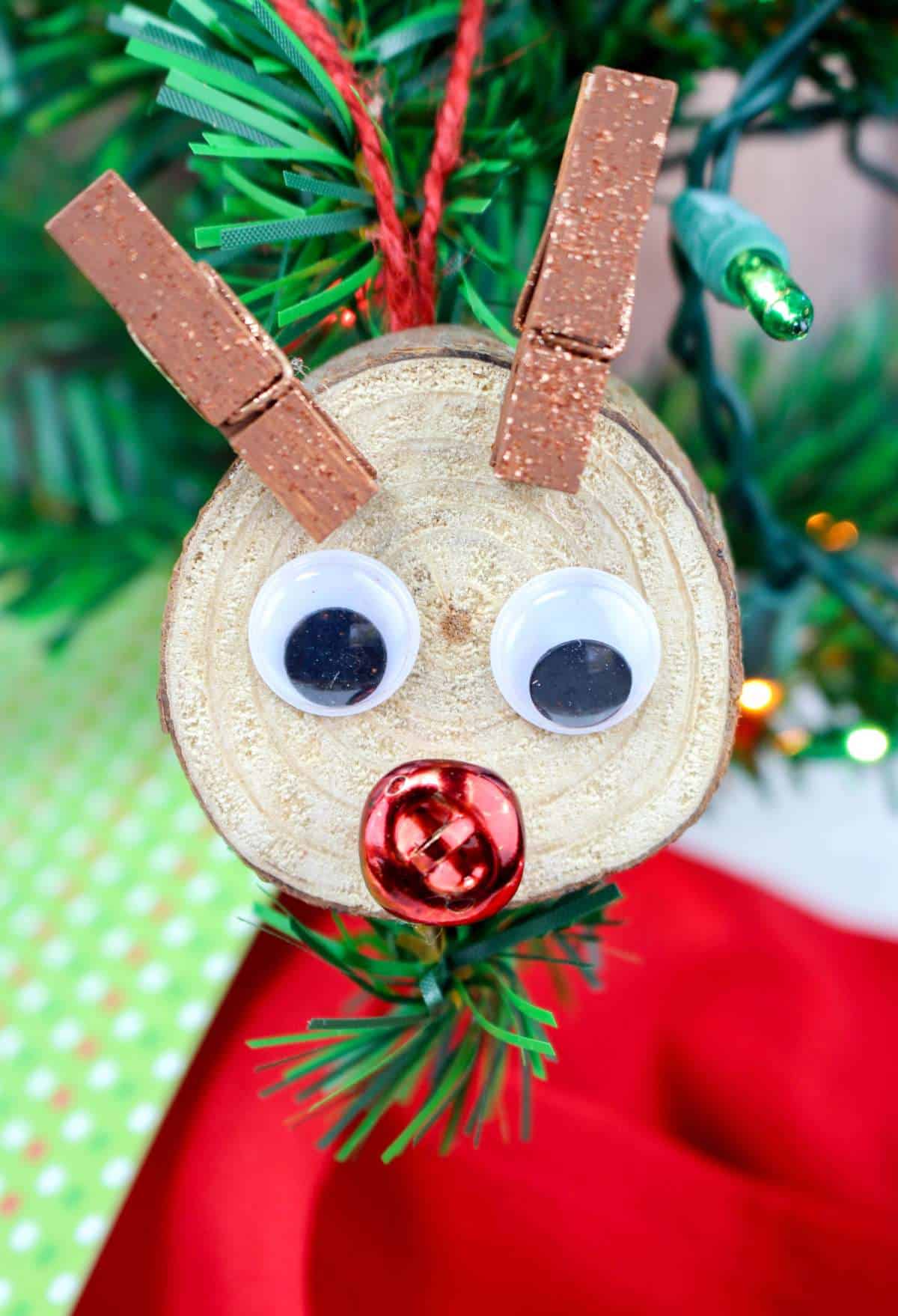 The great thing about that is you don't have to worry about extra space to store everything. Then if you have to discard your decorations before traveling, you won't feel bad.
Check thrift stores for Christmas decorations too. My sister-in-law got me the van and trailer for a great price.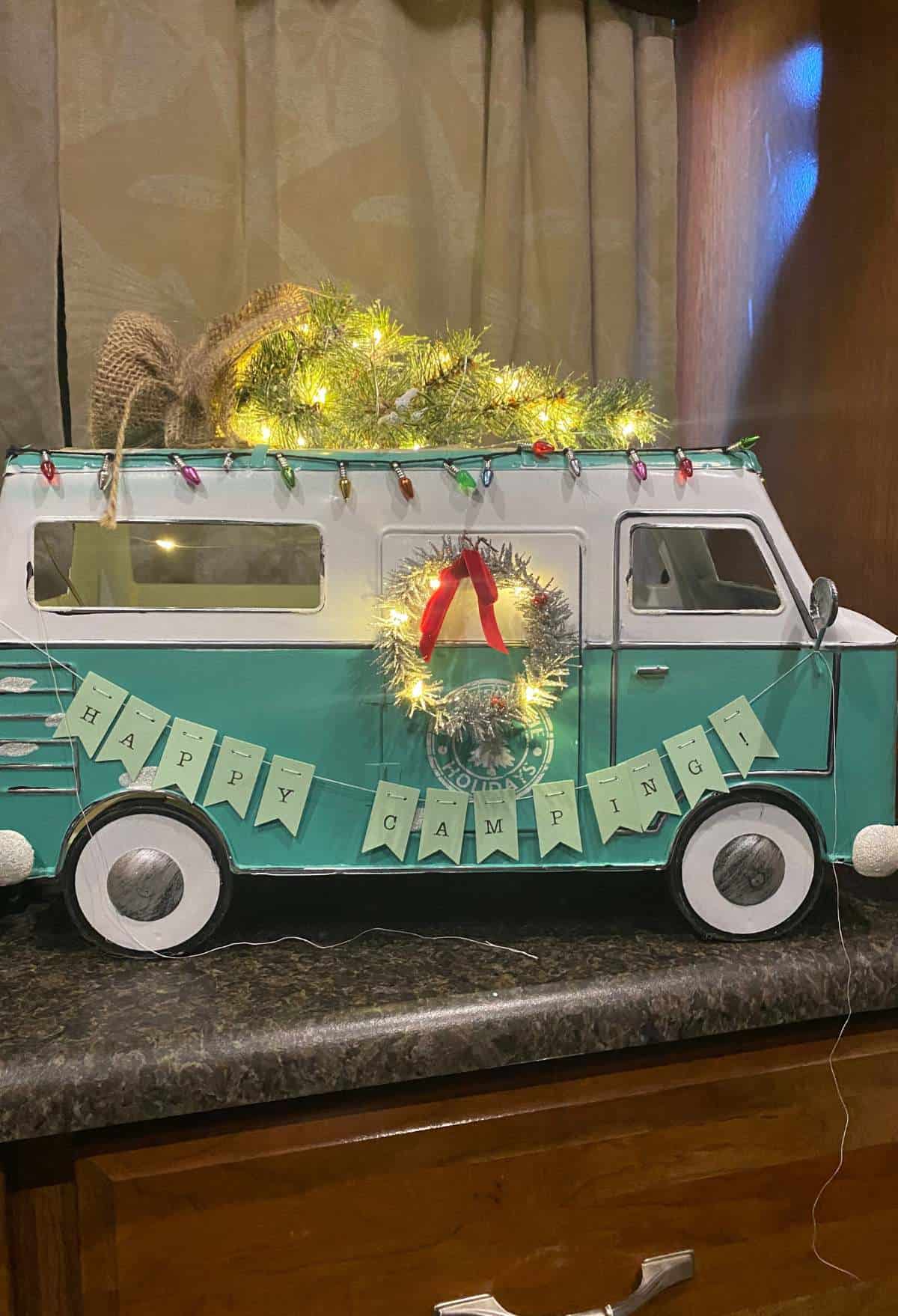 I normally don't decorate our tiny home before Thanksgiving.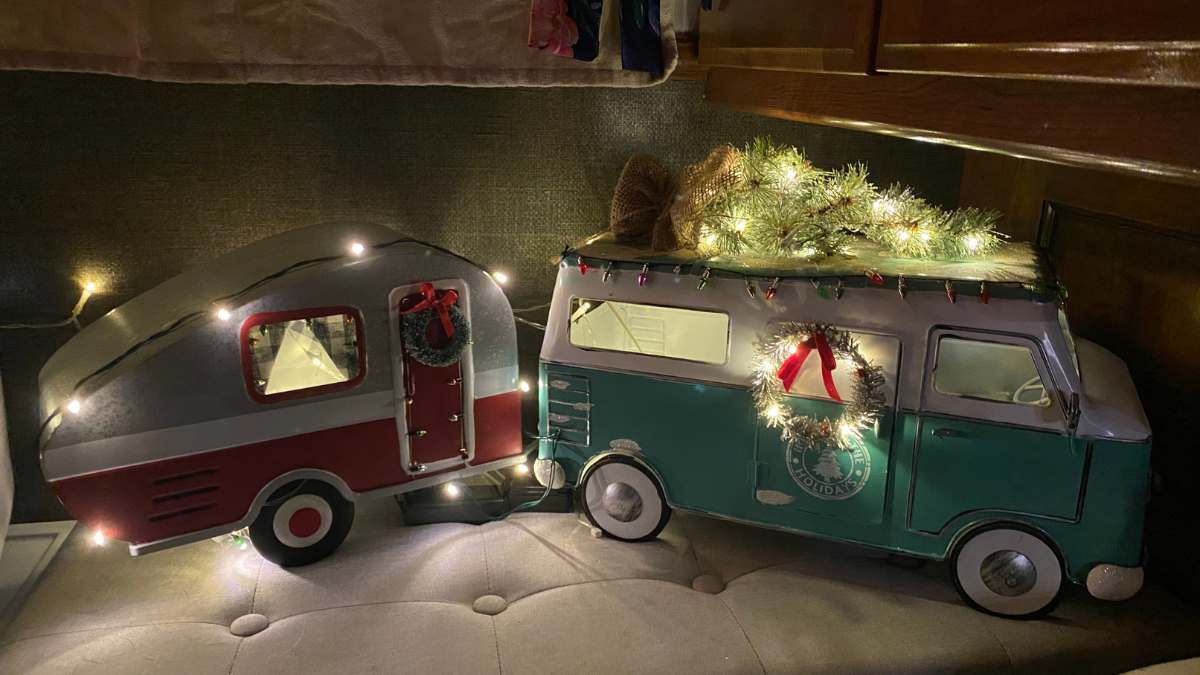 However, since we arrived early at the RV park that we will be at for the Christmas season, I figured why not decorate our smaller space with some holiday cheer early too?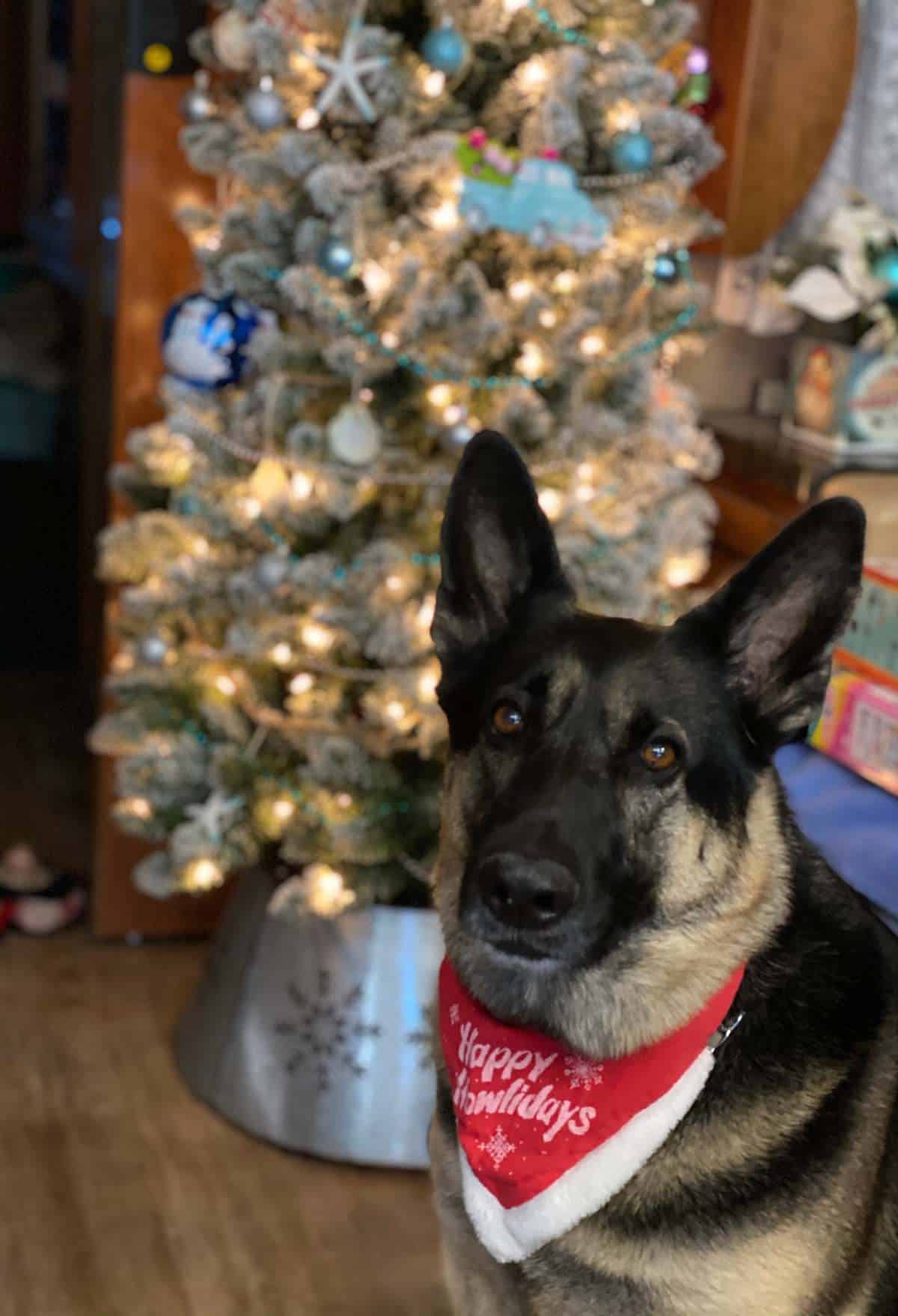 I received this awesome Candy Cane Christmas Wreath to review. It's a great option for outside of your RV and the best thing is that they can be delivered right to your door.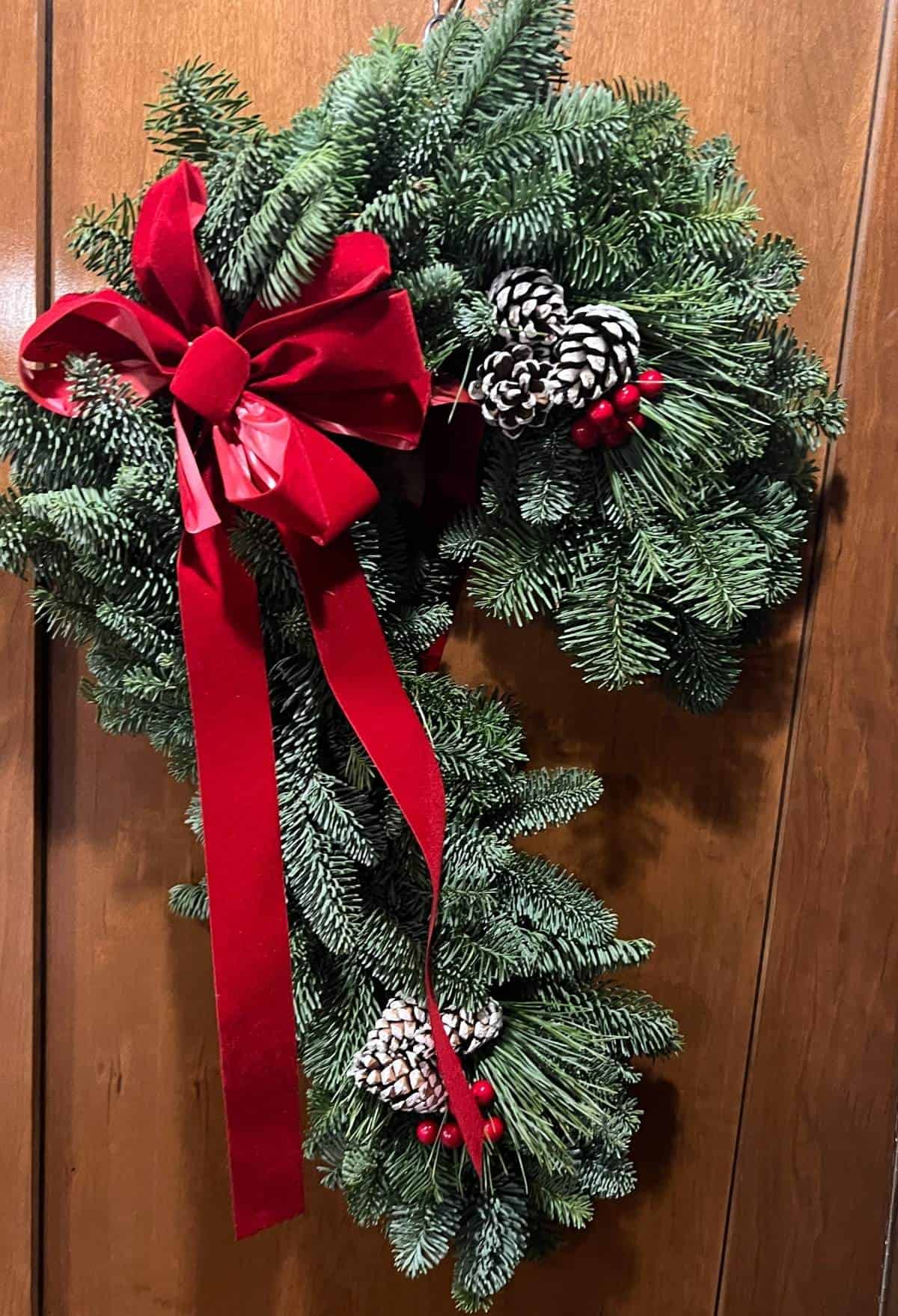 However, I did notice that Home Depot had its tent set up outside with pine garlands, full-size trees, and many more holiday decorations.
The best part is you can match any color scheme and have as much fun as possible while decorating. You can even decorate pine trees outside if you have any around you.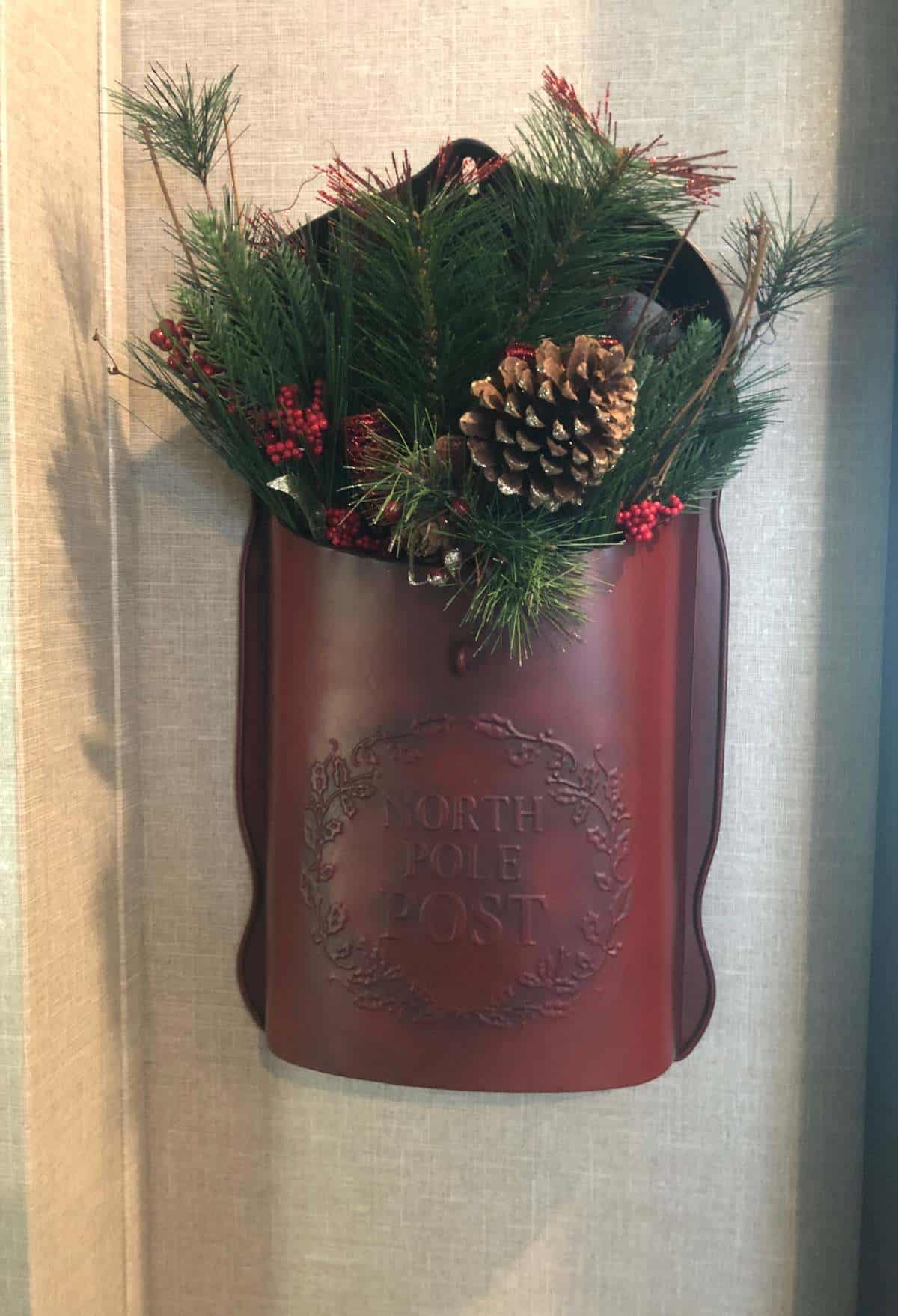 As an Amazon Associate, this post may contain affiliate links and I may receive a small commission at no additional cost to you. See my disclosure policy for more info.
Even the dog is decorated. lol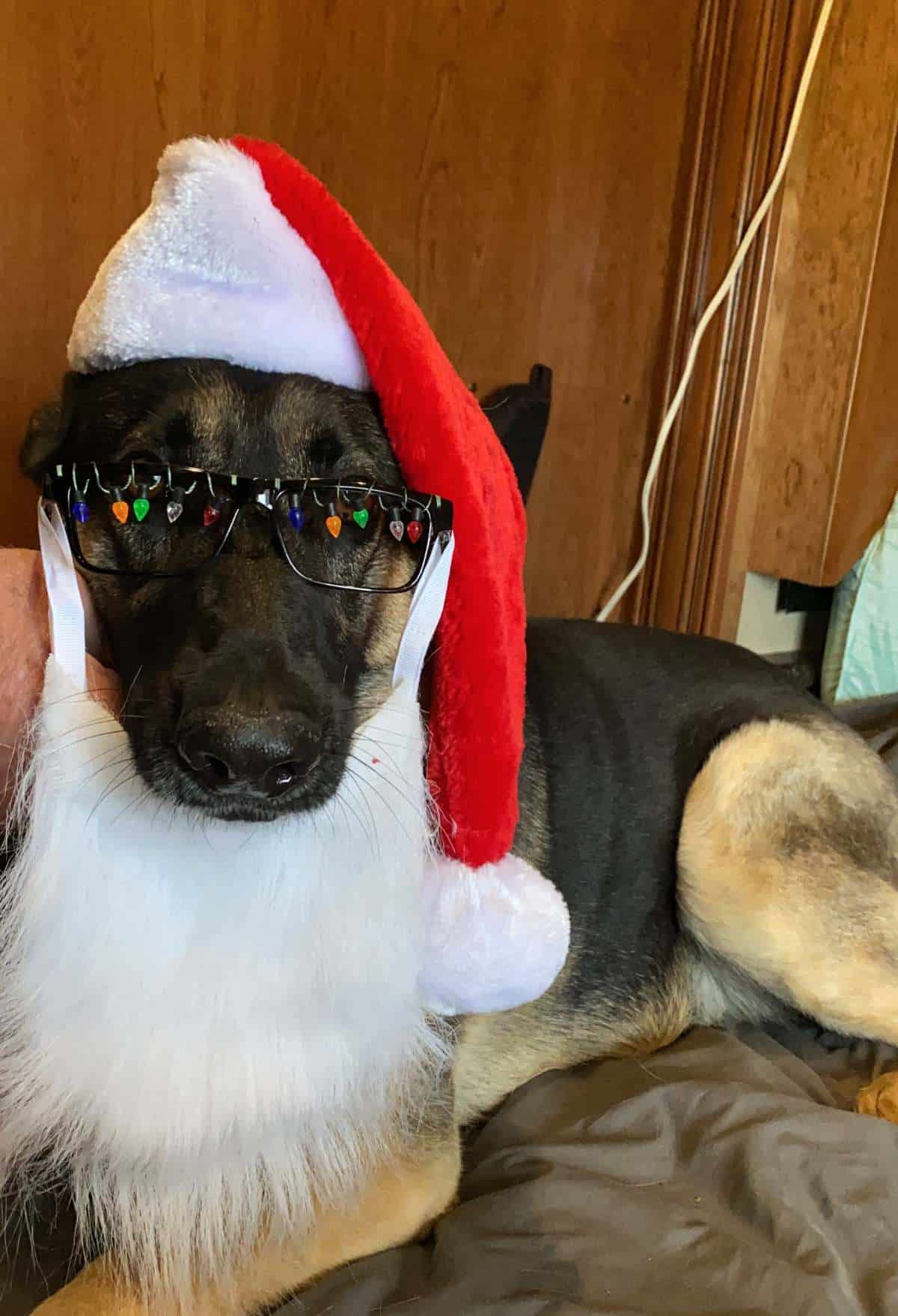 Outdoor Space Holiday Decorations
Just because we are full-time RVers, doesn't mean that I can't hang Christmas lights and spread Christmas cheer throughout.
These decorations can be used indoors or outside. I like to place them inside where I can see them.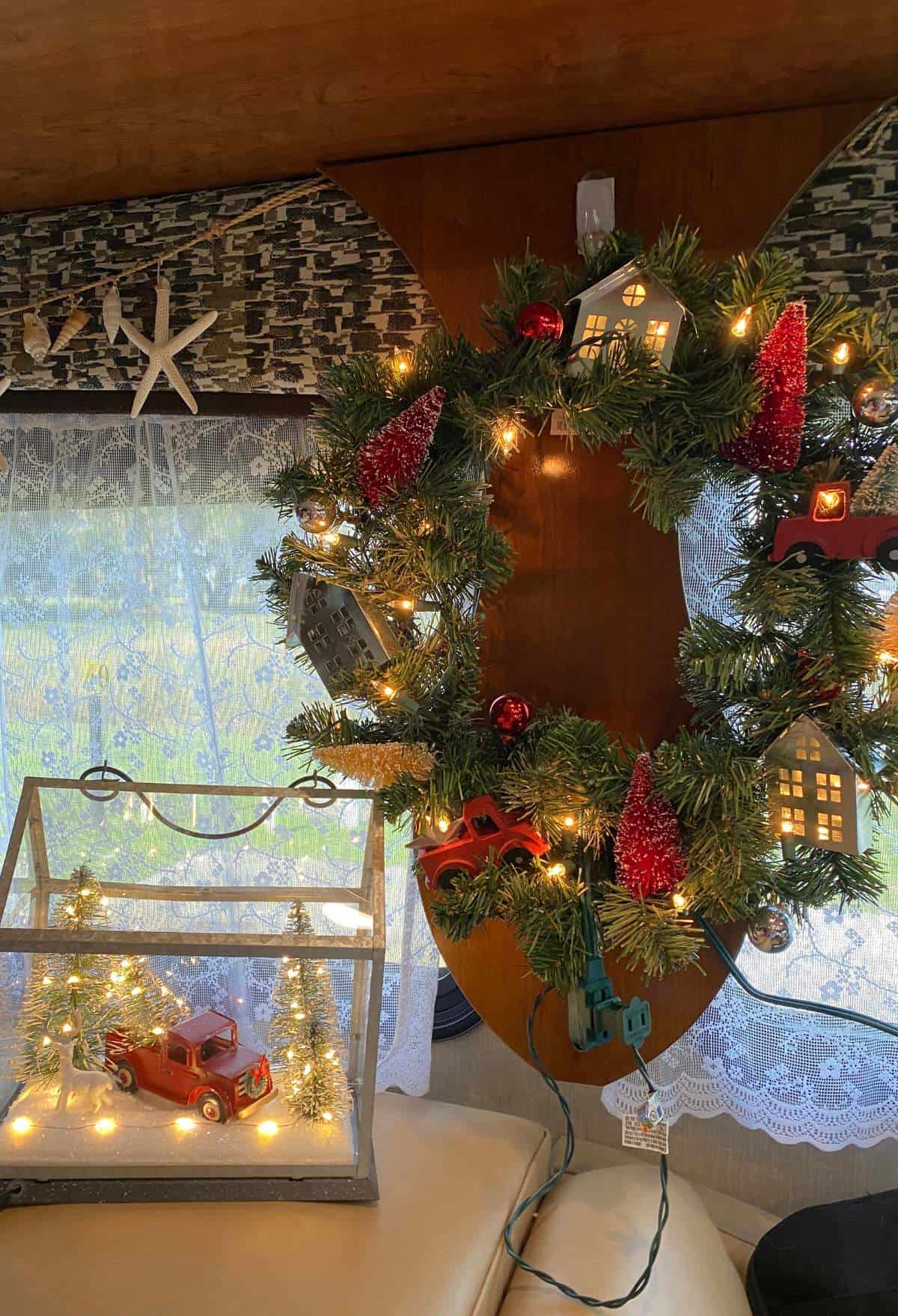 I have one tree that is just for special ornaments. I had a personalized coffee mug and ornament made for my BFF last year.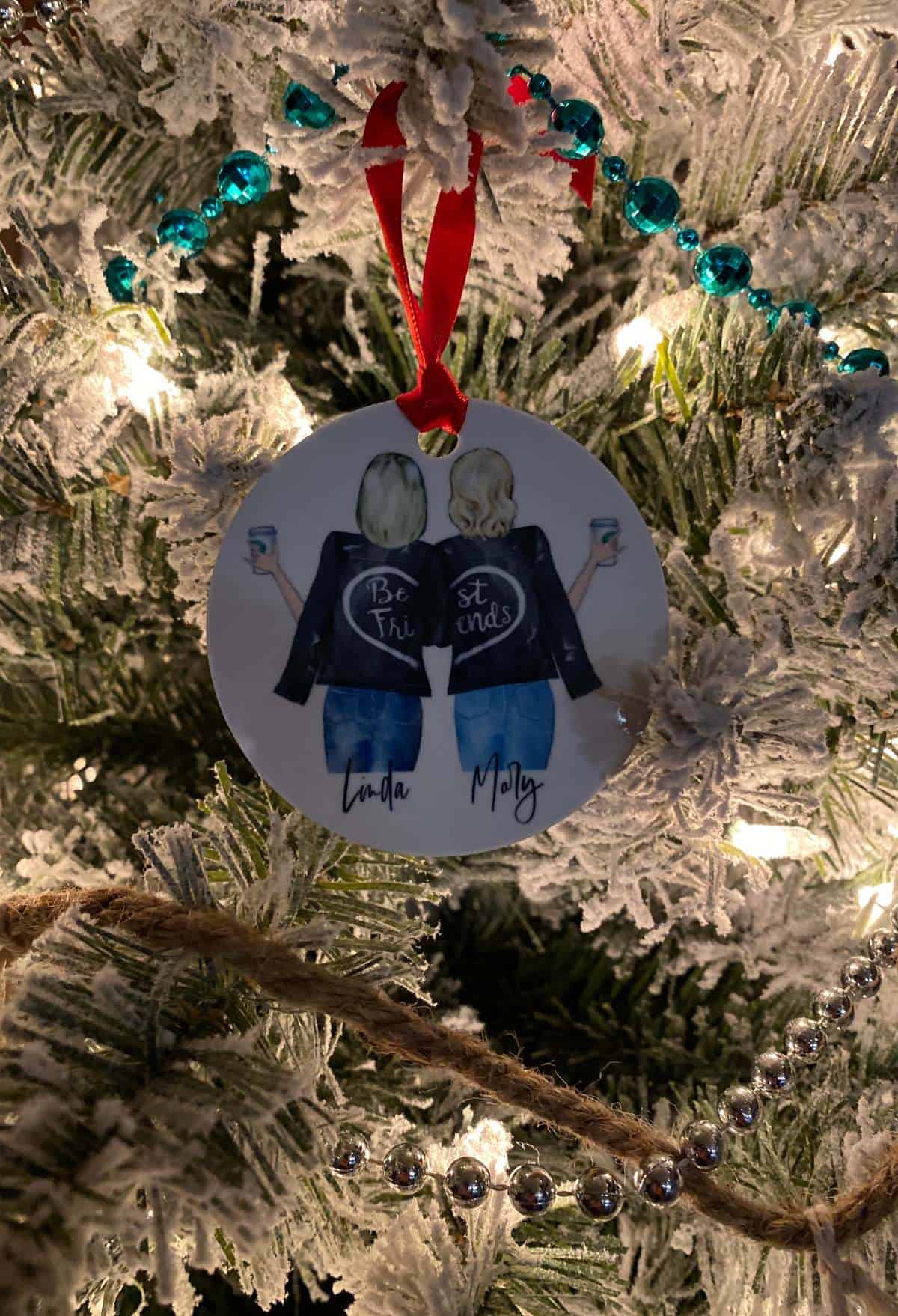 A fun way that I decorate outside is by placing Santa hats on the mirrors. Sometimes, outdoor RV Christmas decorations are a hoot.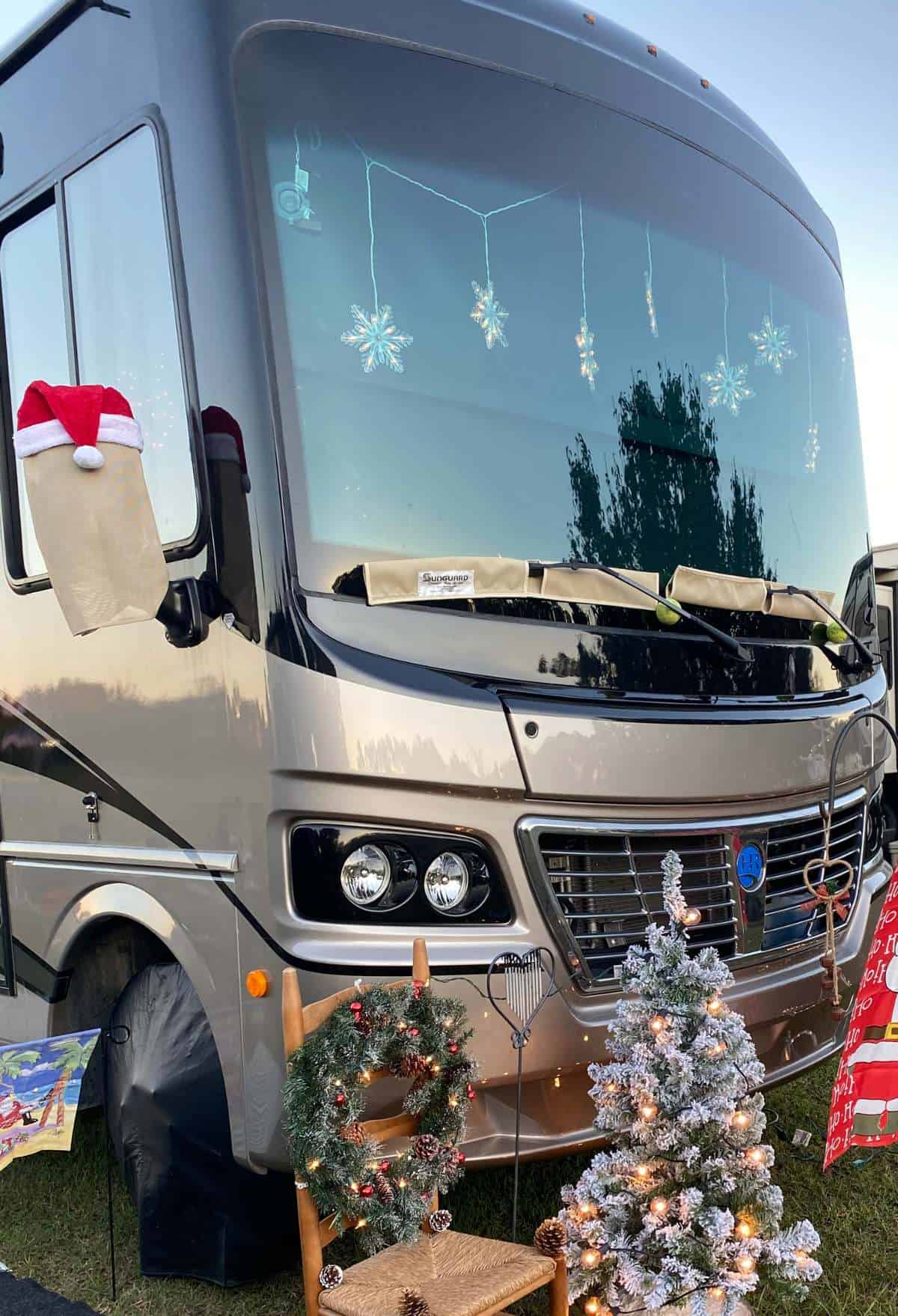 I also have tiny trees inside and out. I am always on the lookout for creative ways to decorate my artificial trees and make them look real.
You don't have to go crazy on the outside tree but it gets a festive look by placing it in a metal bucket filled with sand. Then I put big light bulbs on it.
I got the tree marked down at Michaels because it didn't light up. Not bad!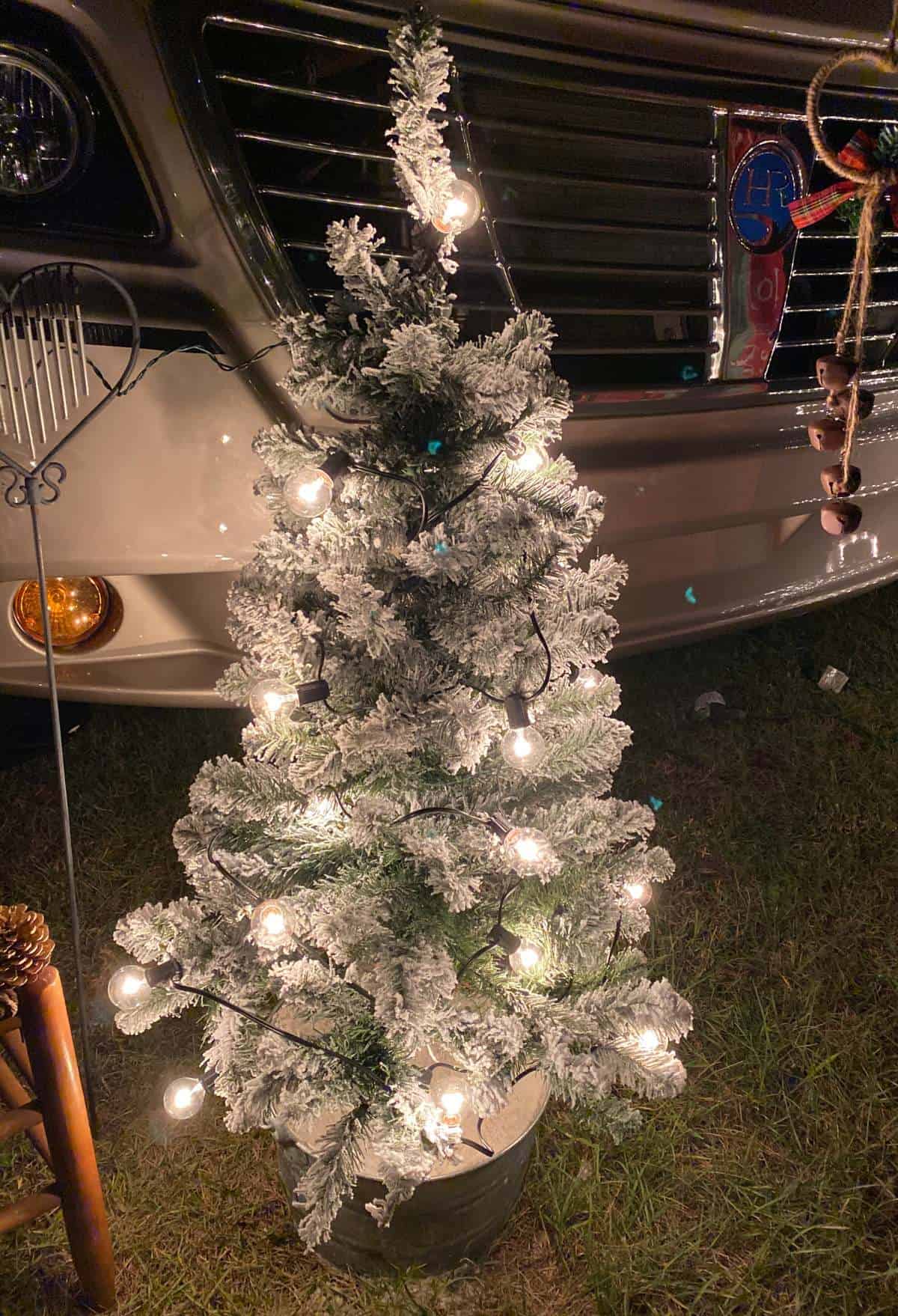 Originally, I saw the idea on Pinterest many years ago and thought it was a great idea.
You can pick up a miniature tree or a full-sized tree at a thrift store and will cost very little money.
More RV Christmas Light Ideas
Because we are limited on our electric output also, you can use lights with rechargeable batteries, use a battery pack, or even solar string lights.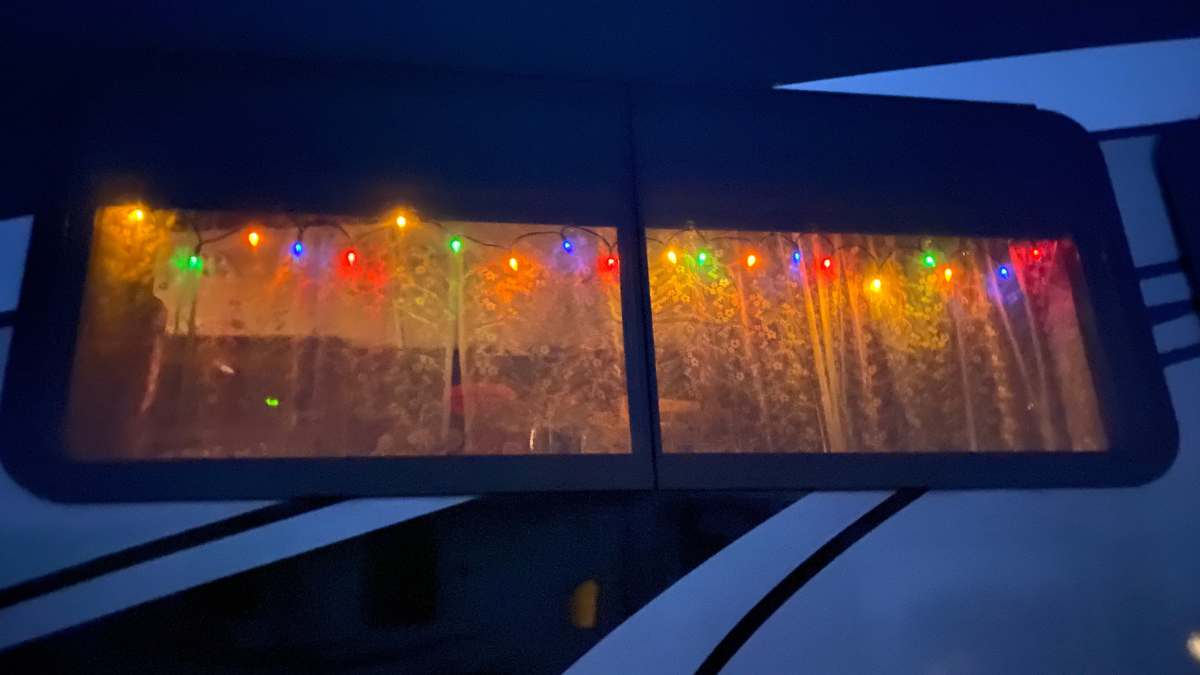 Choose what the best solution is for your situation.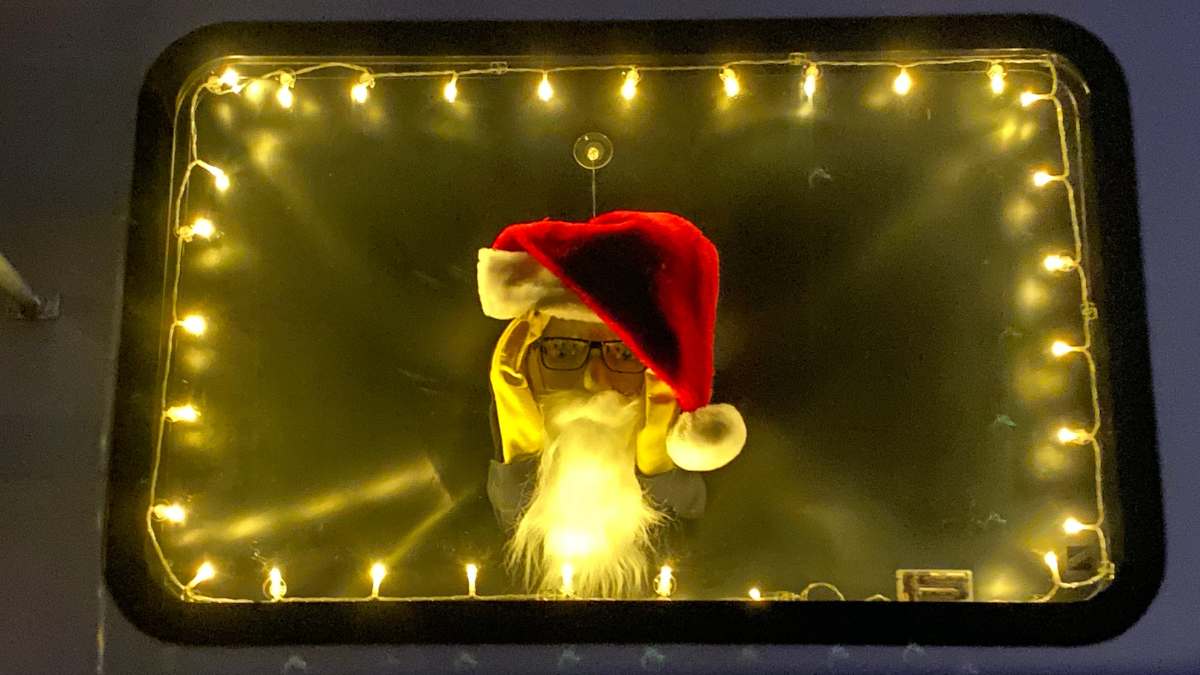 Indoor Camper Christmas Decorations
Once again, this all depends on how much floor space you have to devote to pencil trees and such. I love the real thing, however, I had no choice but to go with a skinny tree because of very little space.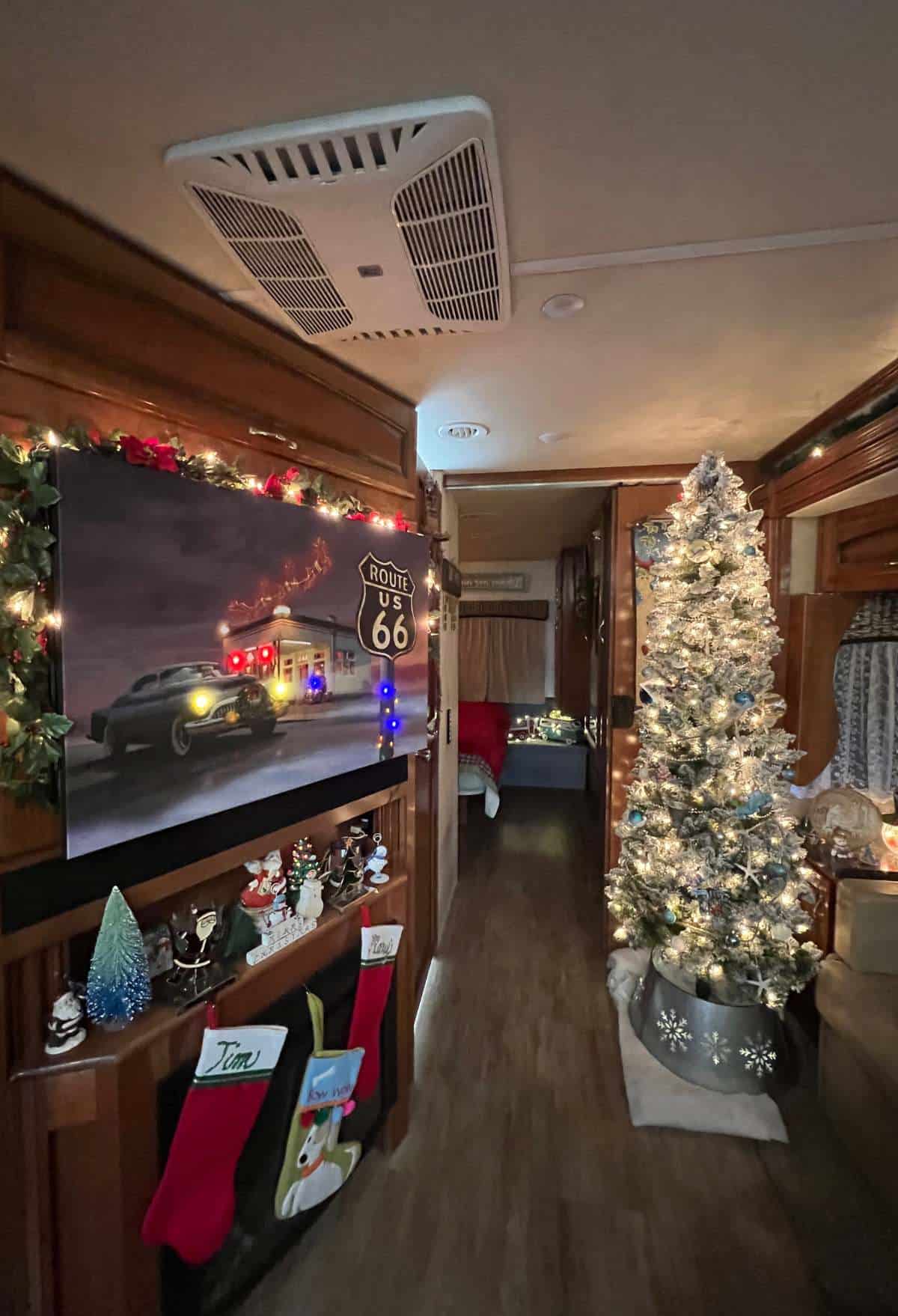 Our first Christmas and second Christmas in our RV full-time were in fifth wheels. Two different ones as a matter of fact.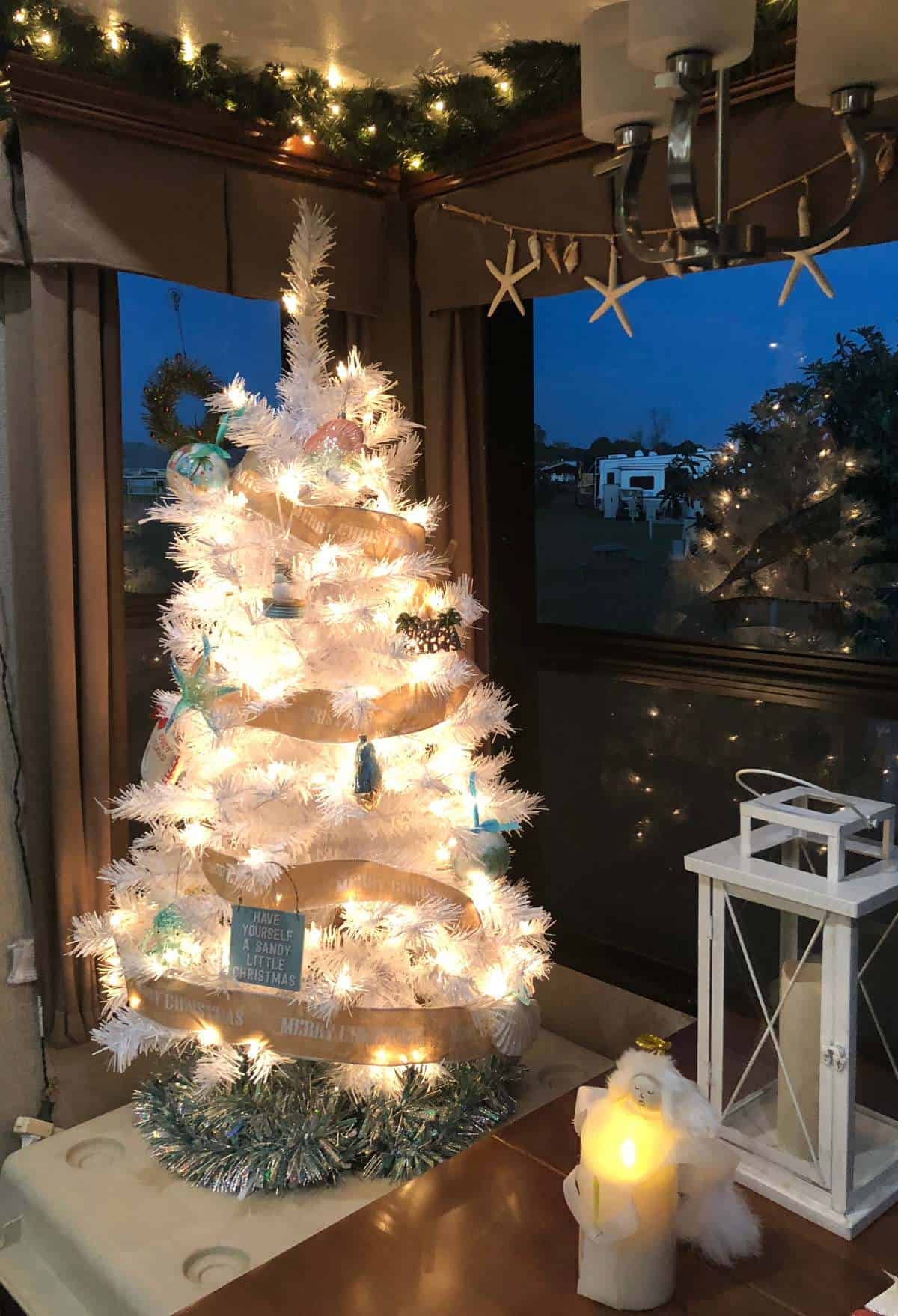 I loved our 12-foot artificial Christmas tree that we had in our sticks and bricks home. But unfortunately, we had to go with a smaller tree.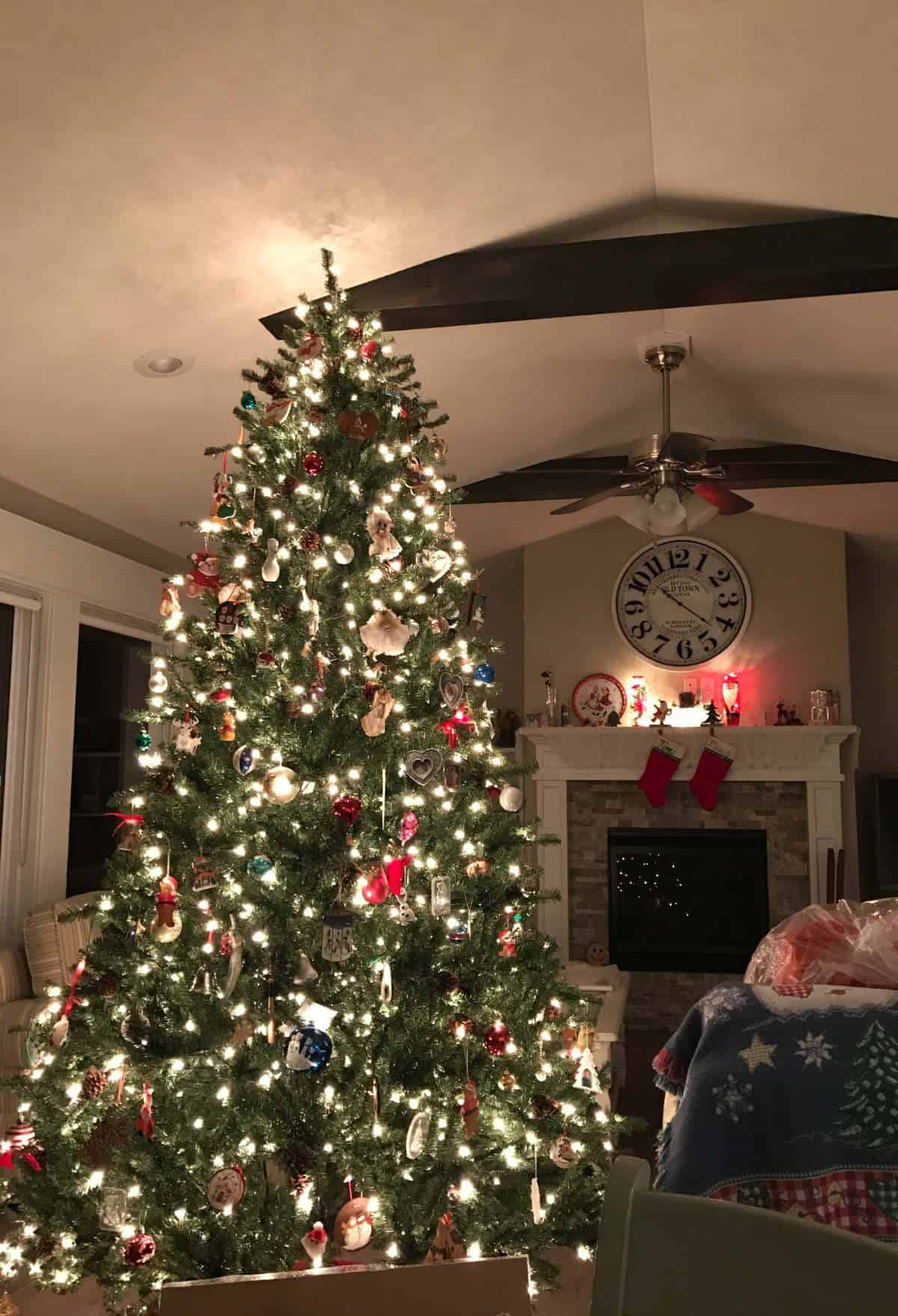 I found the perfect way to decorate it. A simple way with coastal ornaments.
It wasn't until we got our motorhome that I was able to go with skinny Christmas trees. Yes, I have multiple trees.
A Tiny Christmas tree in the bathroom too and miniature Christmas trees are scattered throughout.
More Decorating Tips and How to Decorate Your RV for Christmas
RV owners don't have to sacrifice much space because there are so many ways to decorate even in such a tiny space.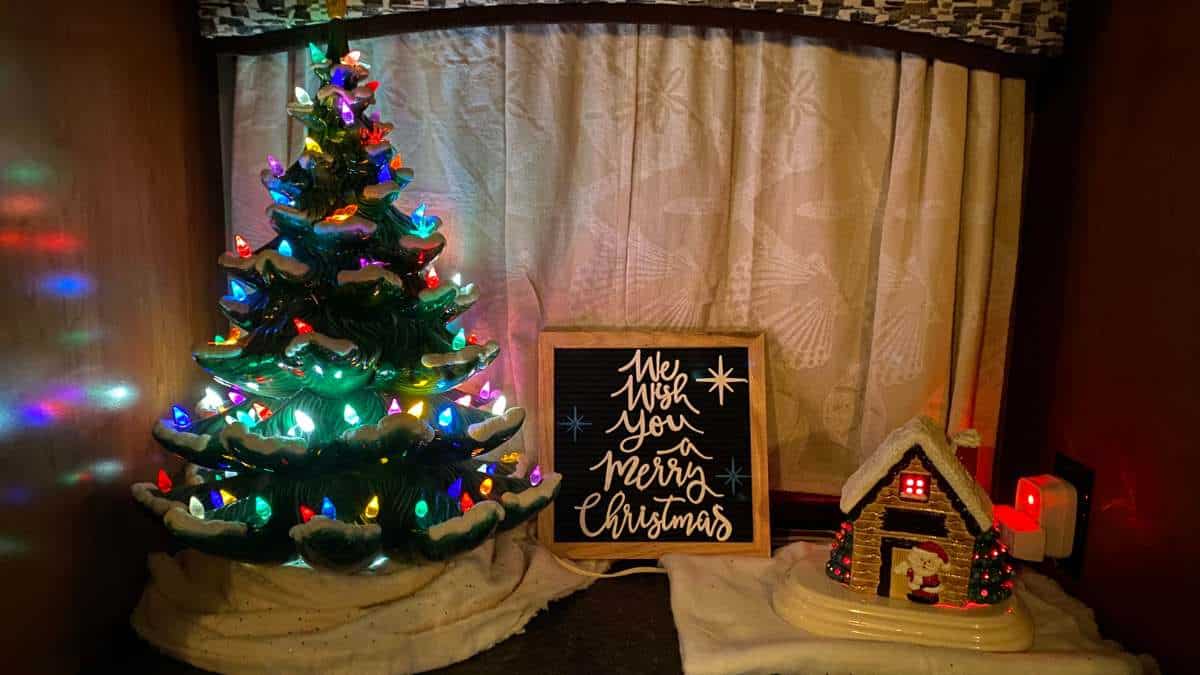 Christmas Recipes to Make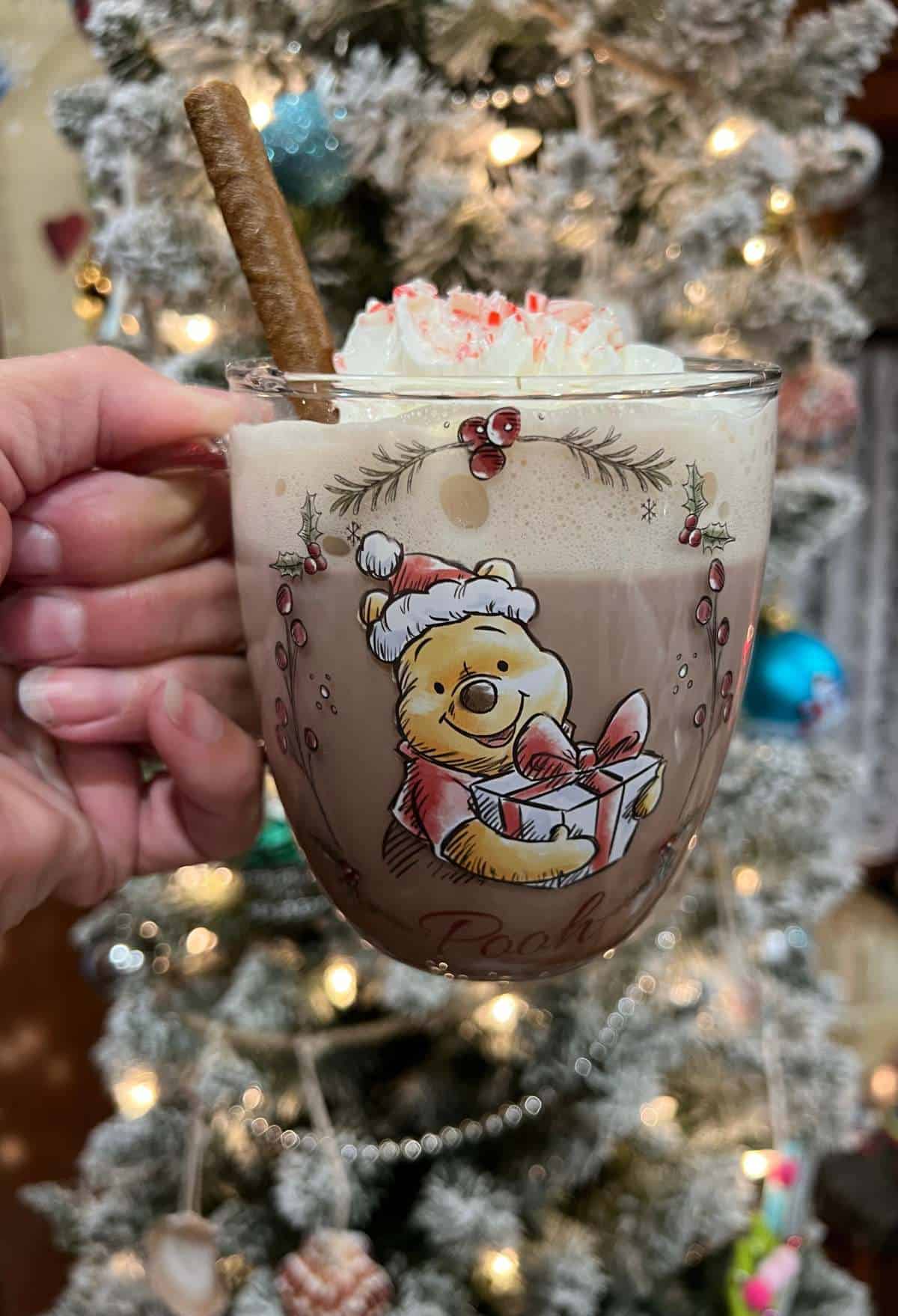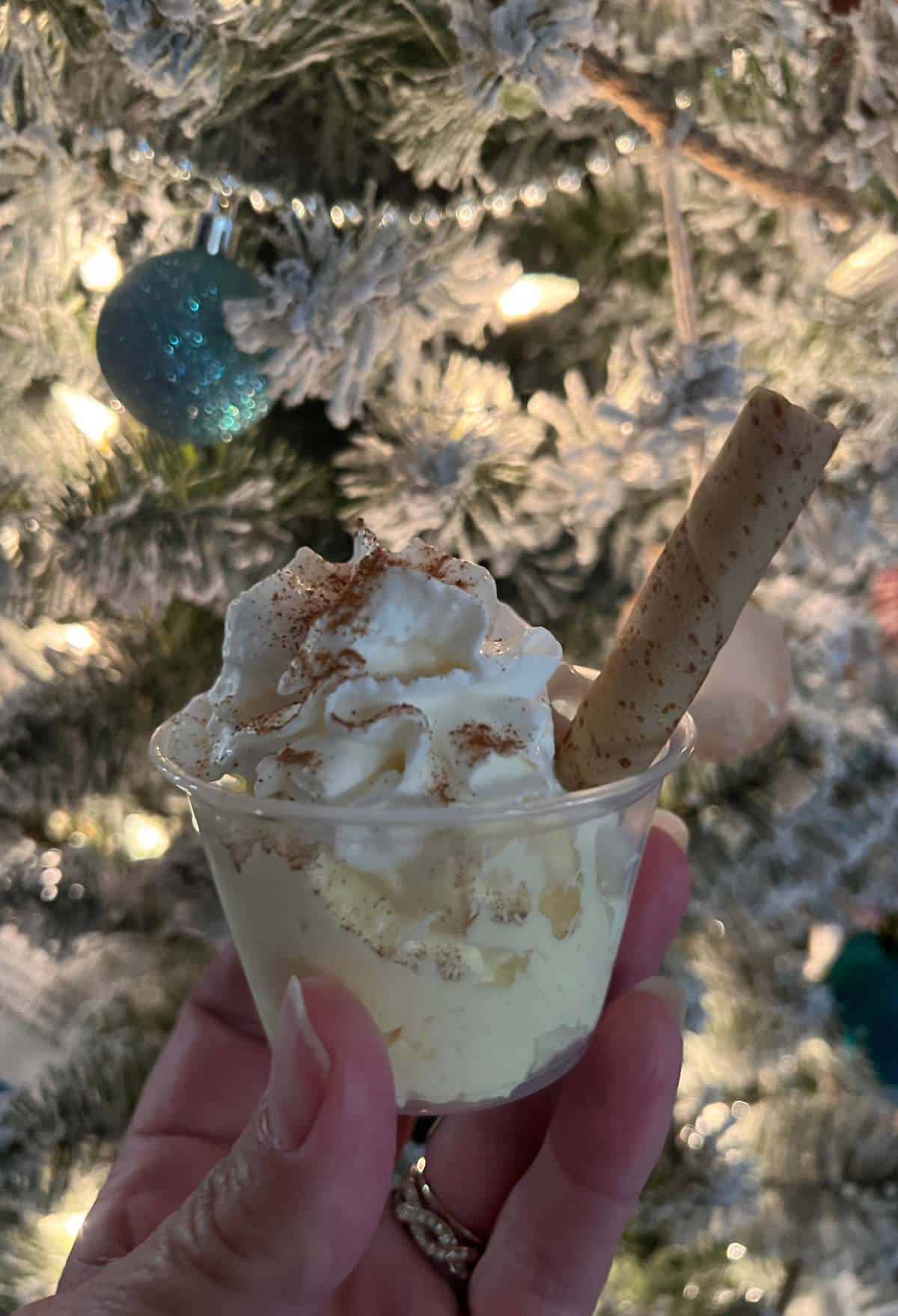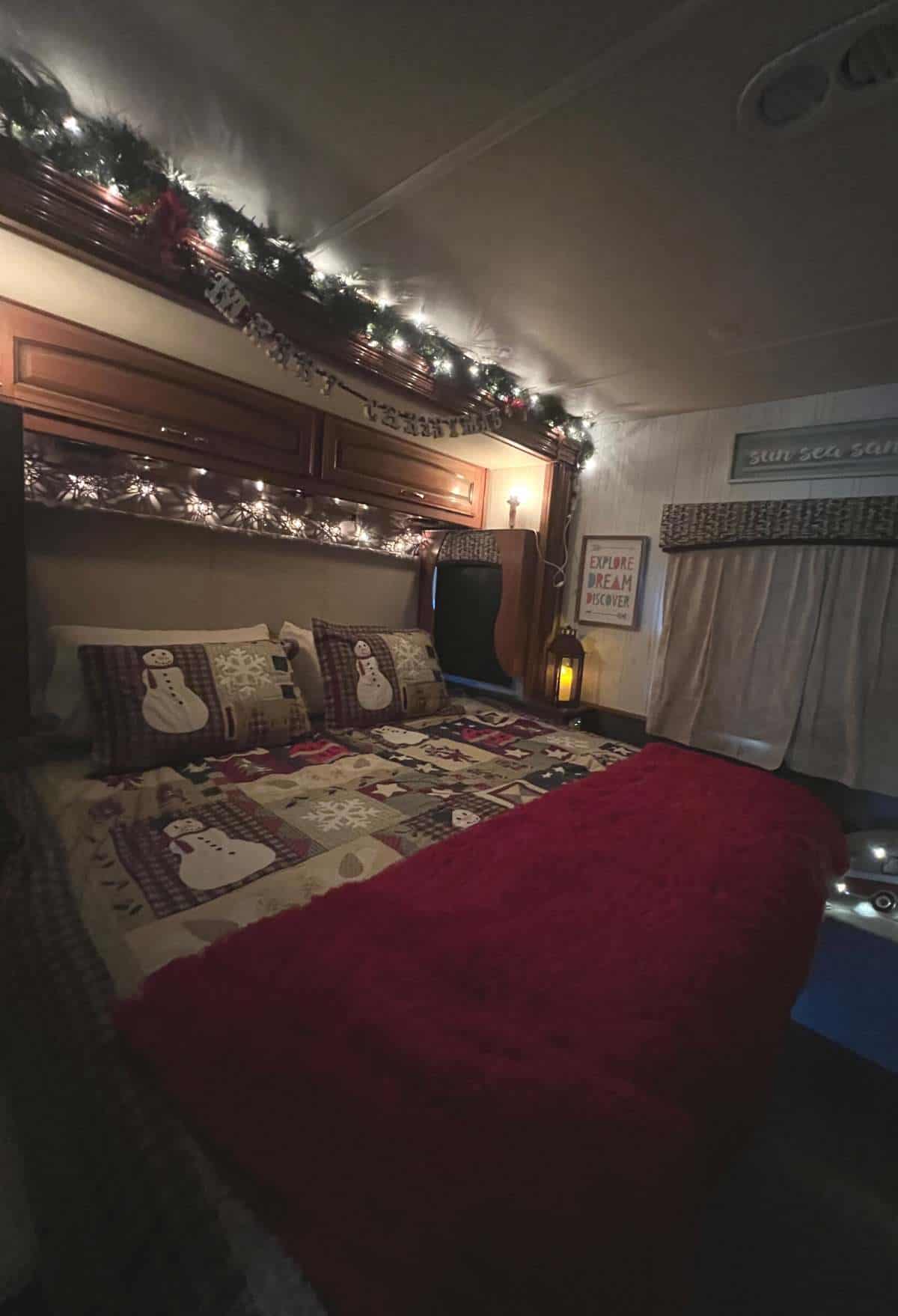 Cutting the Extra Cost
The easiest way to cut down on costs is to shop at dollar tree. This way, if you don't have a lot of storage space, you won't feel bad if you don't save your decorations for next year.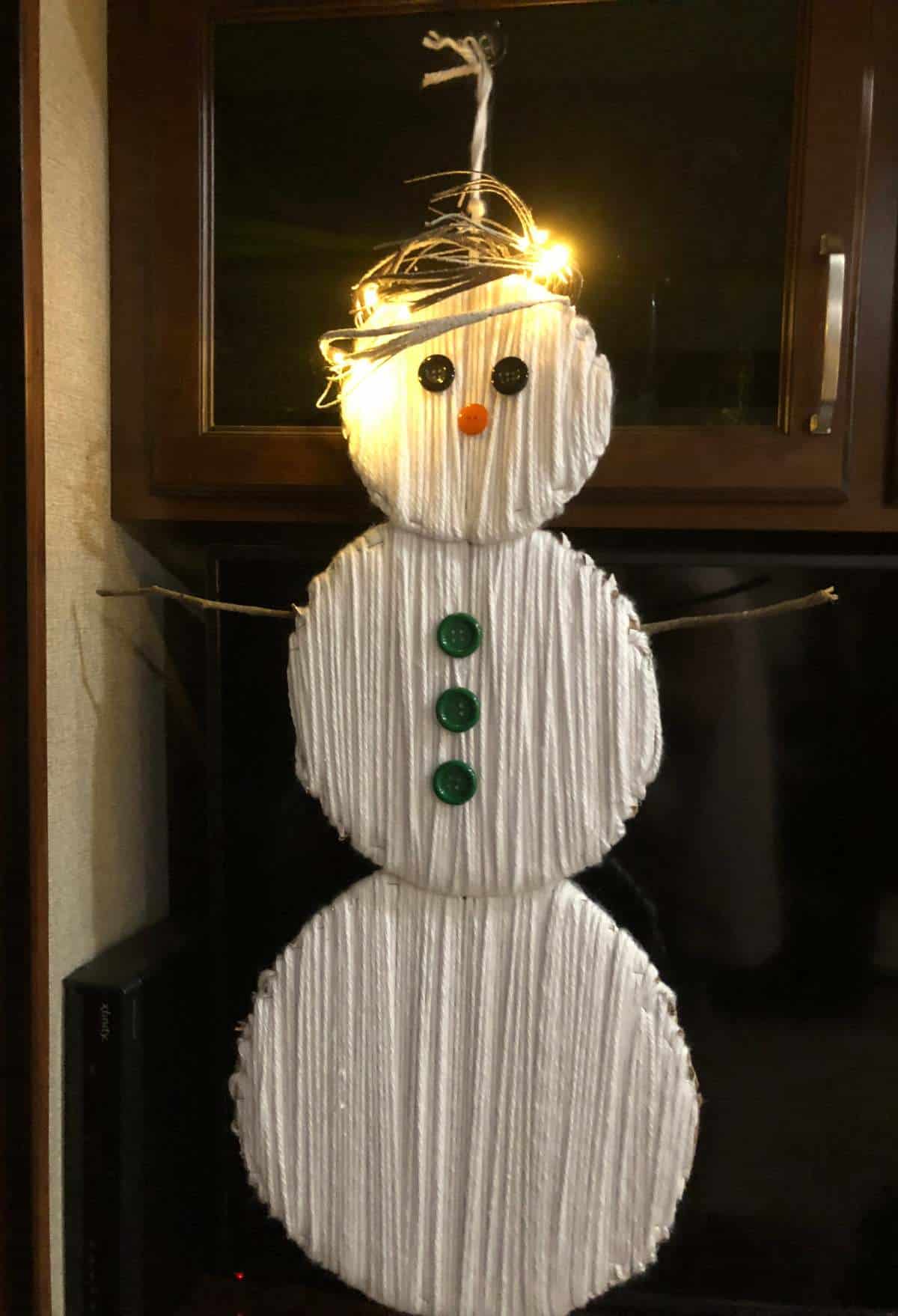 Pro Tip
Using command hooks is an easy way to hang icicle lights, Christmas stockings, or anything else you want to hang on your walls or outside your travel trailer.
Under that picture is our TV. We don't watch much TV so it only made sense to hang my favorite light up Christmas picture over it.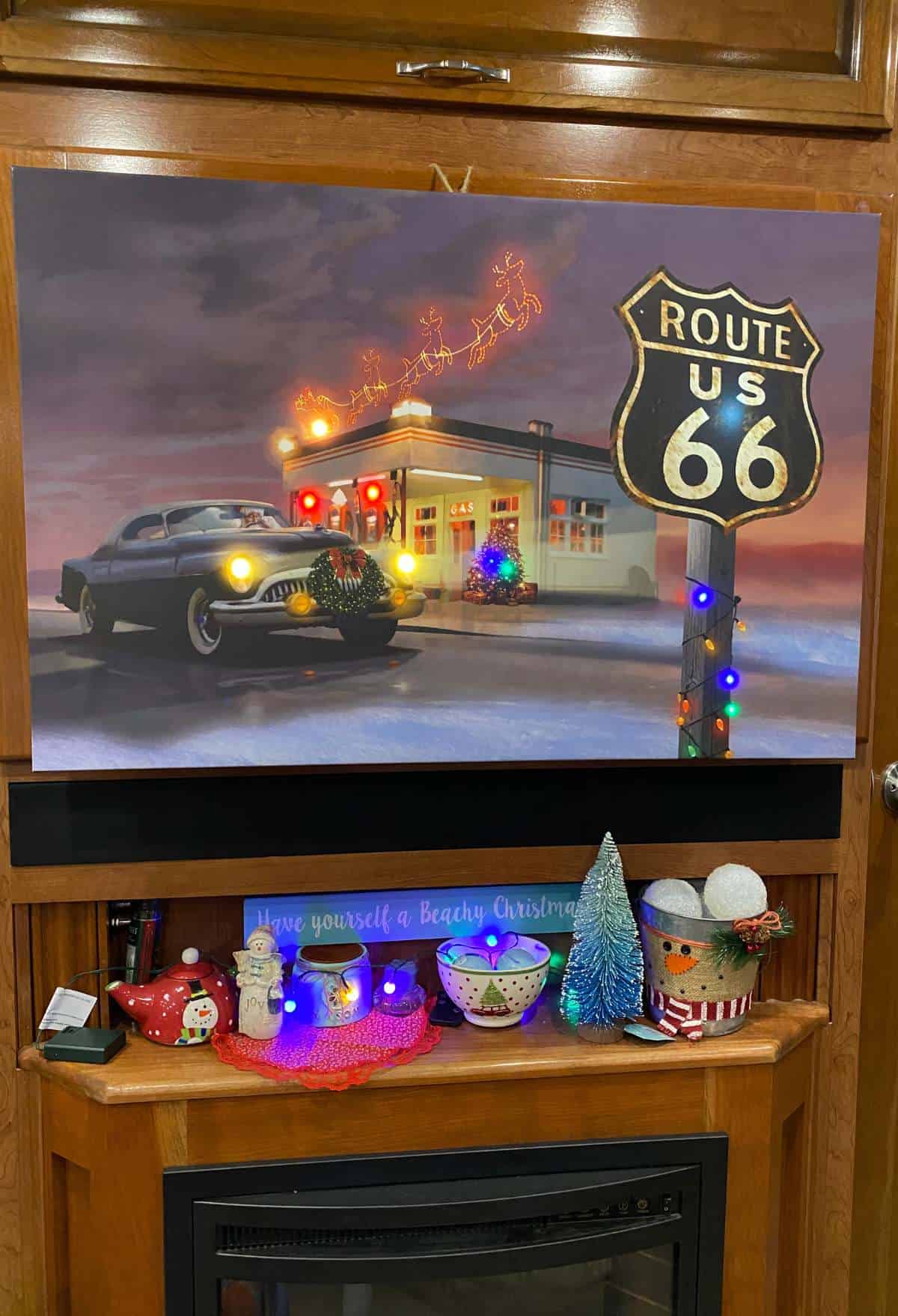 I purchased tab clips that slide in the awning track to hang our RV Christmas lights outside.
In Conclusion
So whether you are full time or not, or just decorating a camper, mobile home, or motorhome, the first thing is to turn on the Christmas Story, and some holiday music, and get decorating.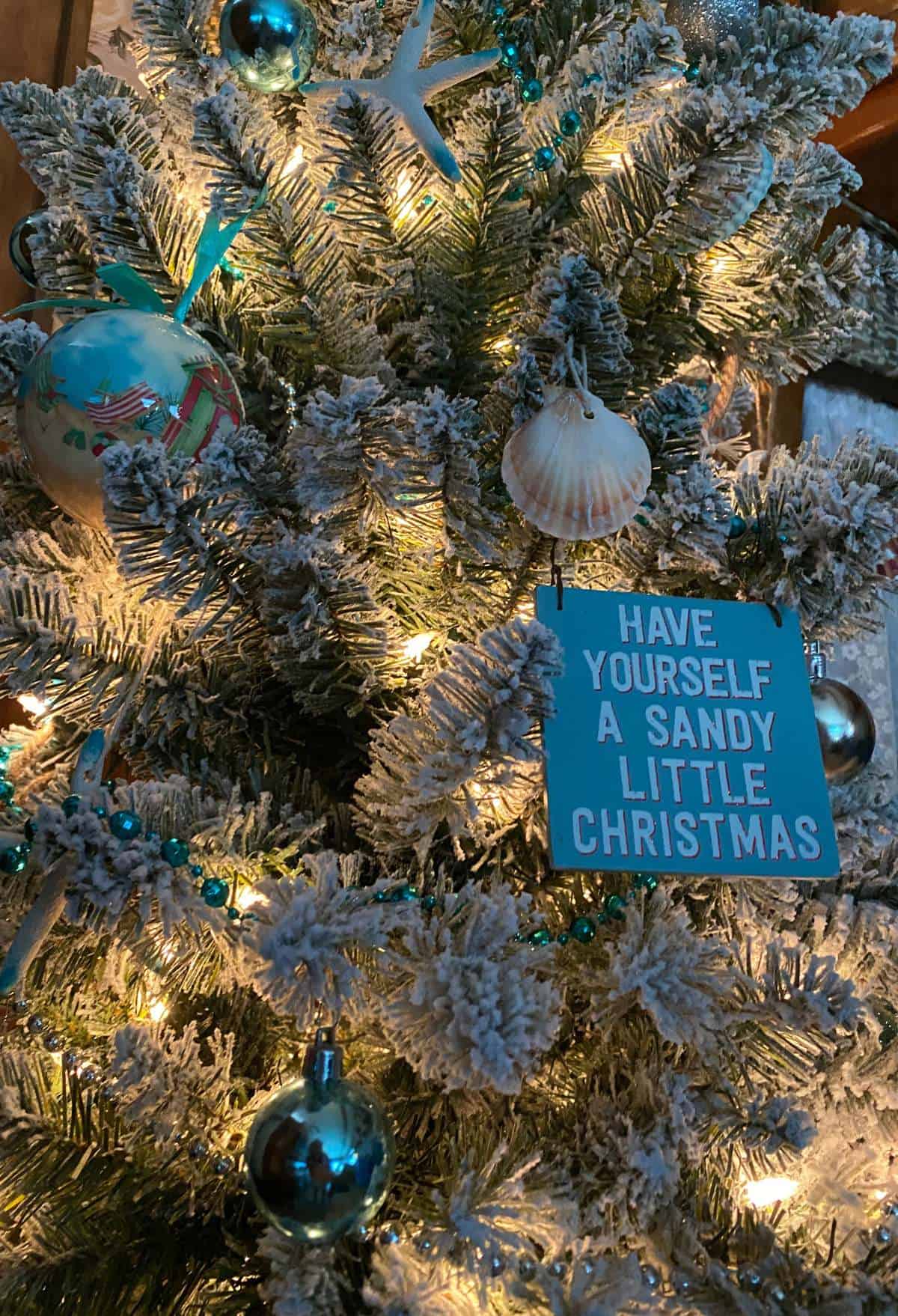 Christmas decorations for RVs can be big or small, one tree or 10 trees, real trees, or artificial trees. Christmas is whatever you want it to be.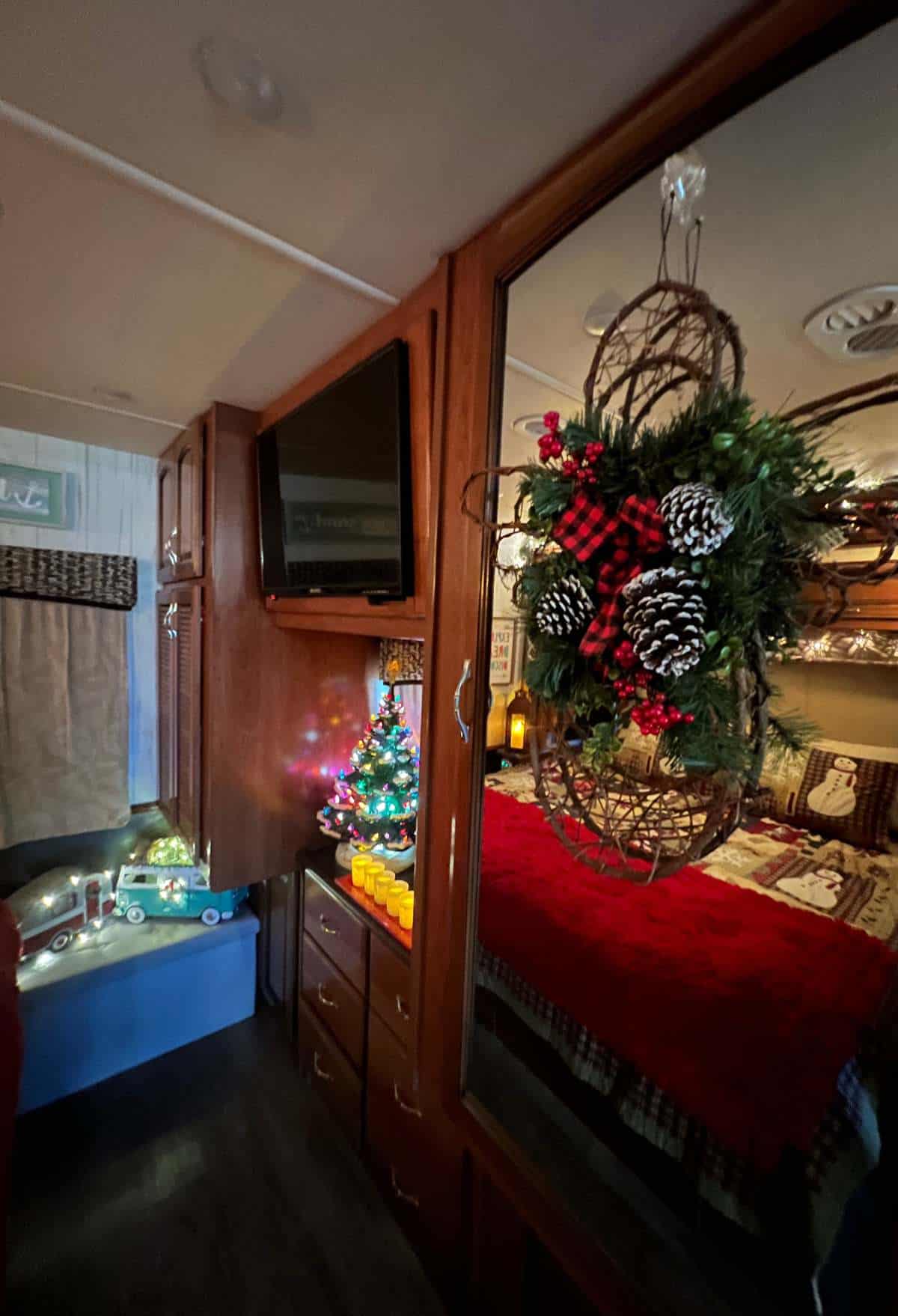 Don't forget to share your photos and tag us on social media. Find the perfect place for your tree and enjoy the holidays with family and friends.
Christmas Camper Outdoor Decoration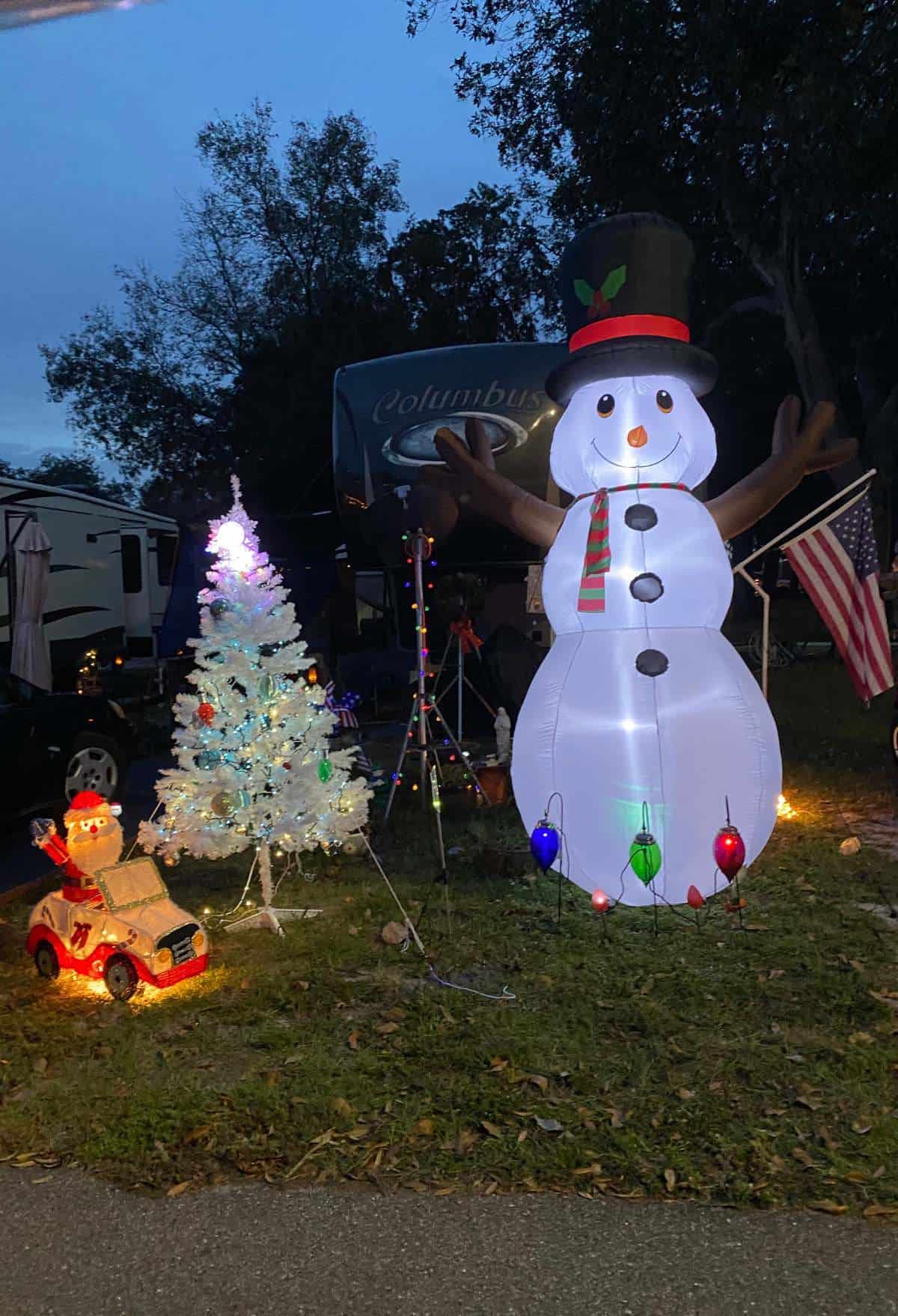 And don't forget the golf cart decorations!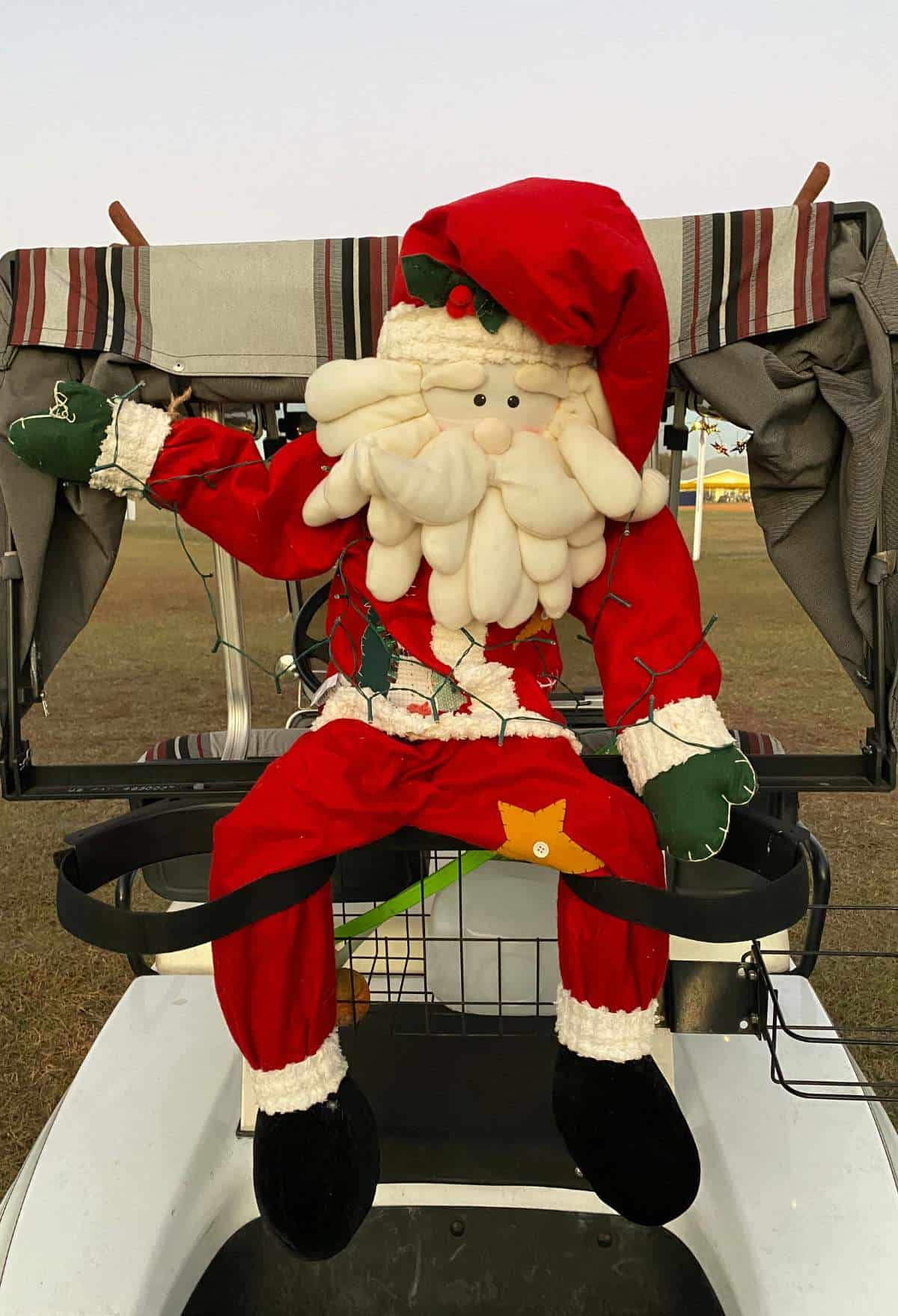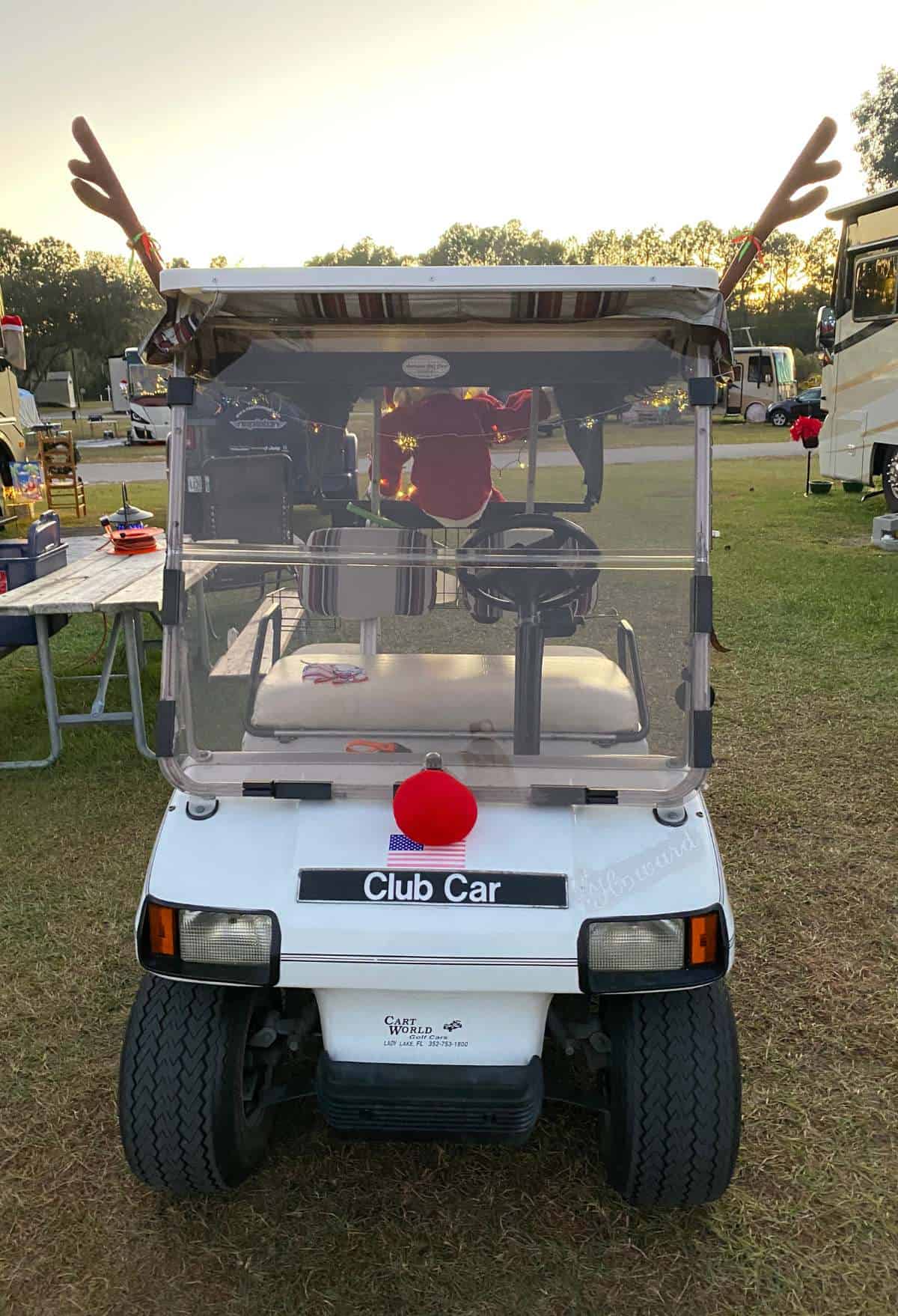 Let's have a motorhome Christmas!
After all...you need somewhere to put the gifts.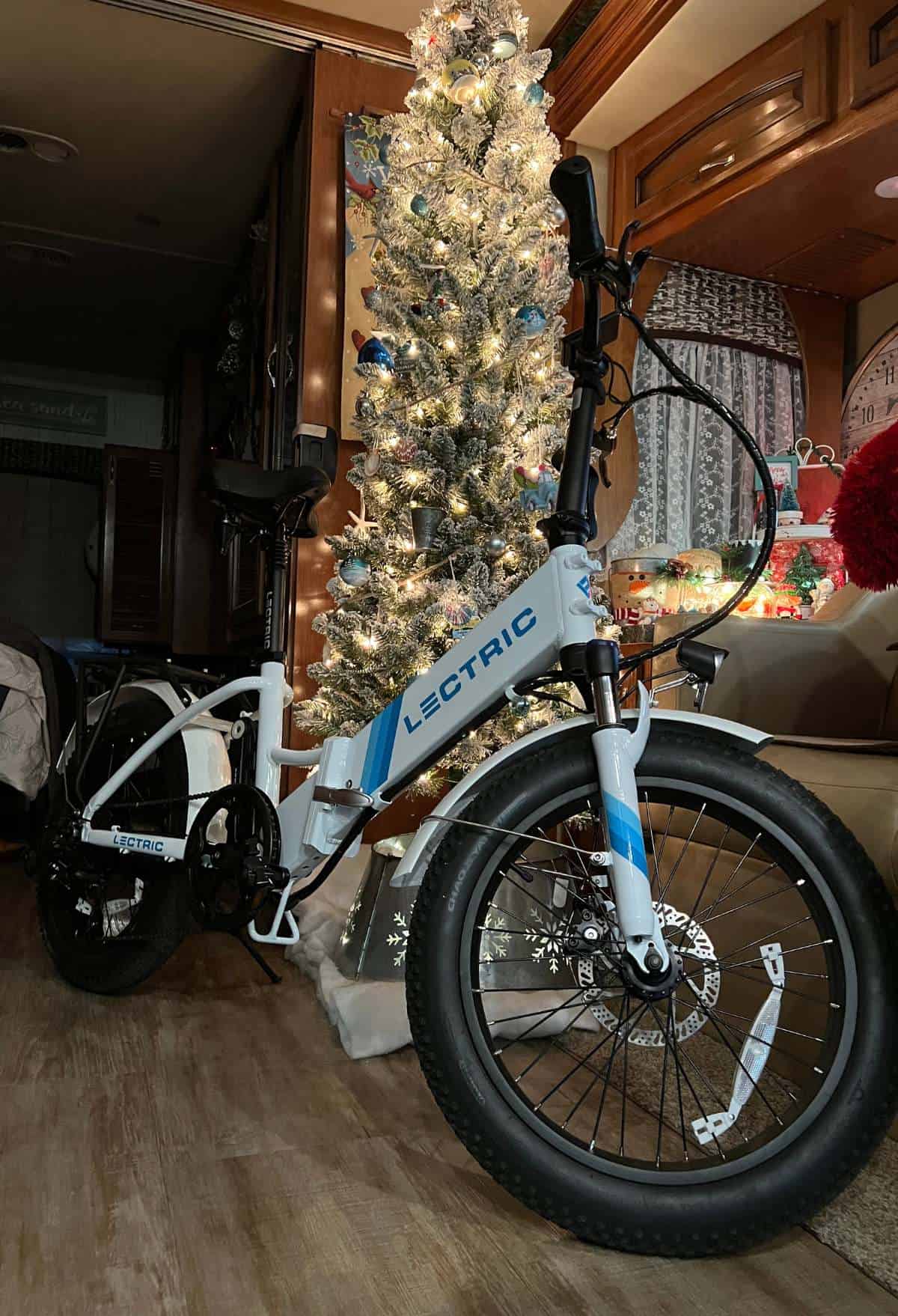 Share Your Ideas on How to Decorate a Class A Motorhome for Christmas
Be sure to share with us your ideas on how to decorate an RV for Christmas in the comments below and tag us on social media, Facebook, Twitter, Pinterest, and Instagram.
Be sure to pin it for later and follow us on Pinterest.