This summer, the Disney Villains After Hours Event will debut and I'm so excited for the dark and twisty side of Disney that isn't Halloween themed!
All About the New Disney Villains After Hours Event
For some, Disney Villains are the highlight of a Disney World vacation but it's hard to see your favorite antagonists when princesses and beloved classic characters are in high demand. Disney has offered After Hours Events at several of their parks for the last couple of years. Guests purchase event tickets in addition to their park tickets and they are able to stay late in the parks and enjoy smaller crowds and exclusive events. Unlimited snacks are included, many of the rides and attractions are open and there usually are a few character meet and greet spots. This summer, the Disney Villains After Hours Event will debut and I'm so excited for the dark and twisty side of Disney that isn't Halloween themed! Find out all the details of this hard ticket event below!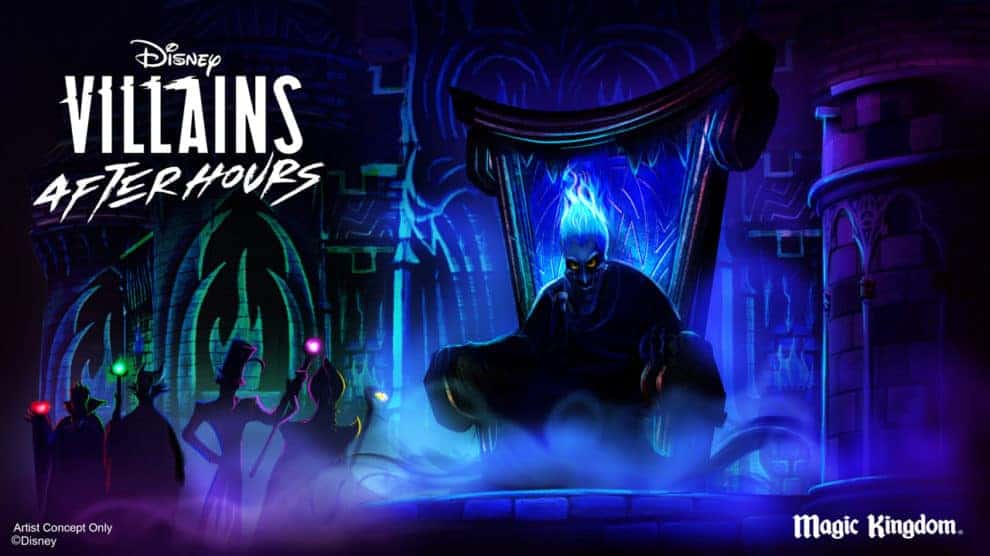 About the Event
Tickets go on sale April 29th.

Each ticket is $139 plus tax in advance and $144 plus tax on the night of the event, this is a hard ticket event which means that you must purchase a Magic Kingdom ticket to gain access to the park. Special pricing for Annual Passholders and disney Vacation Club Members is off each ticket.
Event begins at 10 PM to 1 AM but you can enter the park at 7 PM. Guests without event tickets will be directed towards exits.
As with other After Hours Events, tickets are limited to allows guests to enjoy shorter attraction wait times and great views of the stage shows.

More than 20 rides and attractions will remain open during the event.
When and Where
Villains After Hours will run on select nights in the Magic Kingdom from June 6th to August 8th.
The mood is set with dimmed lighting and the castle glows a deep blue and purple.
Hades, the villain from Hercules, will be your "Caretaker" for the event, he is joined by Meg.
In addition there will be a new stage show called "Villains Unite the Night". The show is 20 minutes long and will run 3 times during the night, so don't feel like you have to rush to the castle stage in fear of missing it.
The show will feature Maleficent (Sleeping Beauty), Jafar (Aladdin), Evil Queen (Snow White), and Dr. Facilier (The Princess and the Frog) and all of their evil henchman will be on hand to battle for control of the universe.
The fire breathing Maleficent Dragon makes an appearance in Central Plaza. You may have seen her in the Festival of Fantasy parade.
Who and What you will find at the Disney Villains After Hours Event
There will be a DJ in Central Plaza all night keeping the party atmosphere going!

Similarly, unlimited drinks and snacks will be available at kiosks and carts around the park, they are included in your ticket price. In other words, during regular After Hours, the snacks are popcorn, ice cream and bottled beverages. In addition, disney has announced what the food options will be for Villains, and they will be special "wicked" additions that are inspired by the villians in the show. Find them here.
Villains and their henchman will travel throughout the park stirring up trouble. Catch Hook's scalawags searching for treasure in Adventureland's Pirates of the Caribbean ride. Space Mountain is teeming with villains and all new music to accompany you on the journey. If you've ever attended the Mickey's Not So Scary Halloween Party, you're familiar with fun additions to these classic rides.

Special disney Villain logo merchandise will be available for purchase. A slew of other villain inspired merchandise will be brought out for the event as well.
Unfortunately, the villains will not be doing meet and greets during the event but they'll put on and excellent show. Each will show off their evil skills and display just how powerful they really are!
This late-night summer party is sure to be a wickedly good time. If you're lucky enough to snag a ticket, be sure to take lots of pictures. Use the hashtag #VillainsAfterHours to keep the rest of us in the loop!