Whether you are looking for good food, wine, live music or wine slushies, Corbin Farms Winery has it all. Stay for free with Harvest Hosts.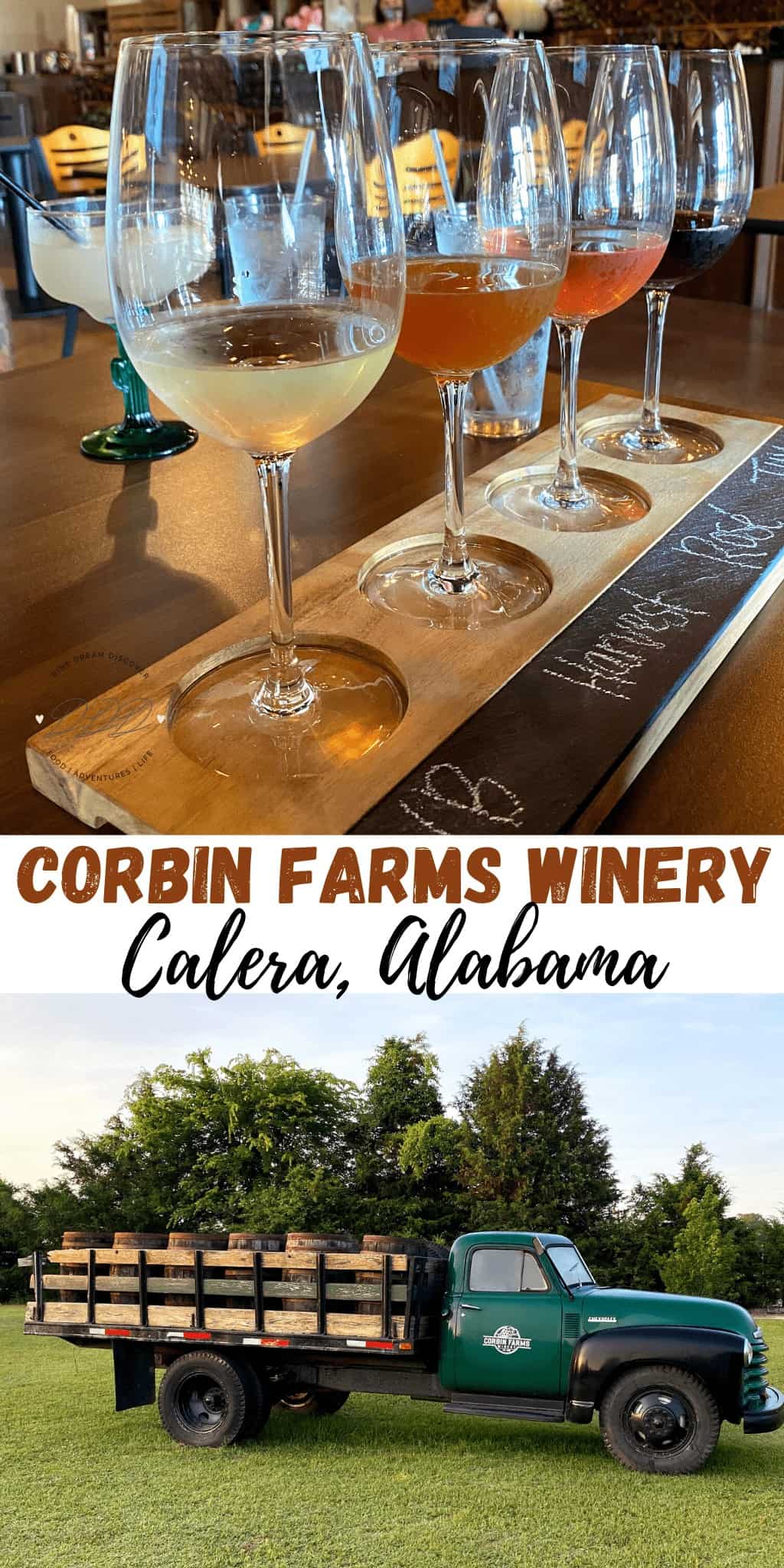 This post may contain affiliate links. See my disclosure policy for more info.
Corbin Farms Winery - Calera AL
Being a member of Harvest Hosts definitely has its advantages. We got a late start leaving Sand Pond Campground but figured a little over 200 miles was doable.
We were set to arrive before they locked the gate at 3 pm, however, traffic can be unpredictable, and had changed our ETA to 4 pm. I, unfortunately, had to call to let them know we were not going to make it.
Much to my surprise, they had a
change of plans
and were having live music that evening and we were still able to stay there in our
RV
.
Yay! So much more fun than camping at a campground.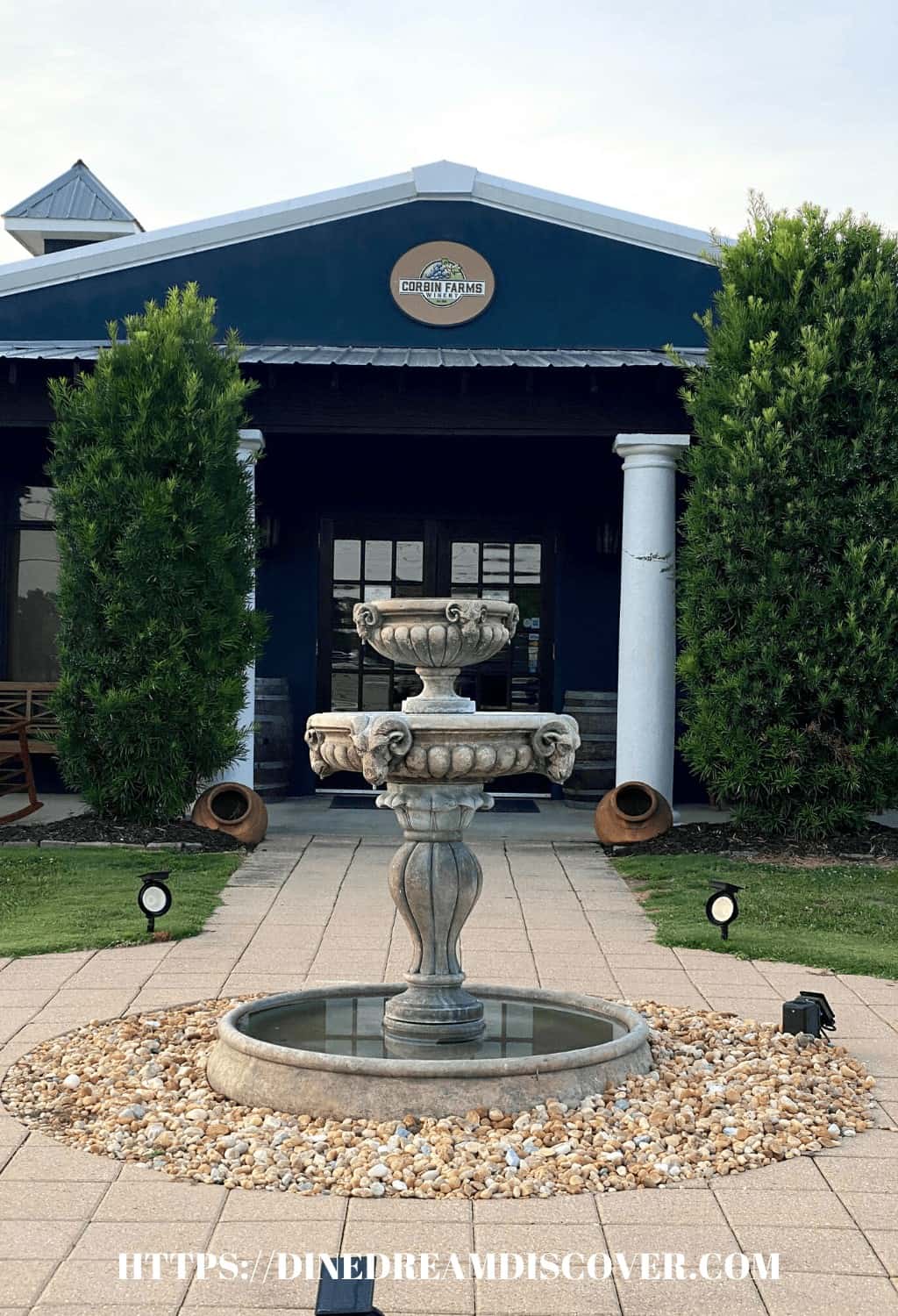 Once we arrived, I headed inside to find out where we needed to park. I met up with the owners, Carley and Matt, and they are the nicest people.
She told me where to park so we weren't in the way of the people coming in for dinner and the live music.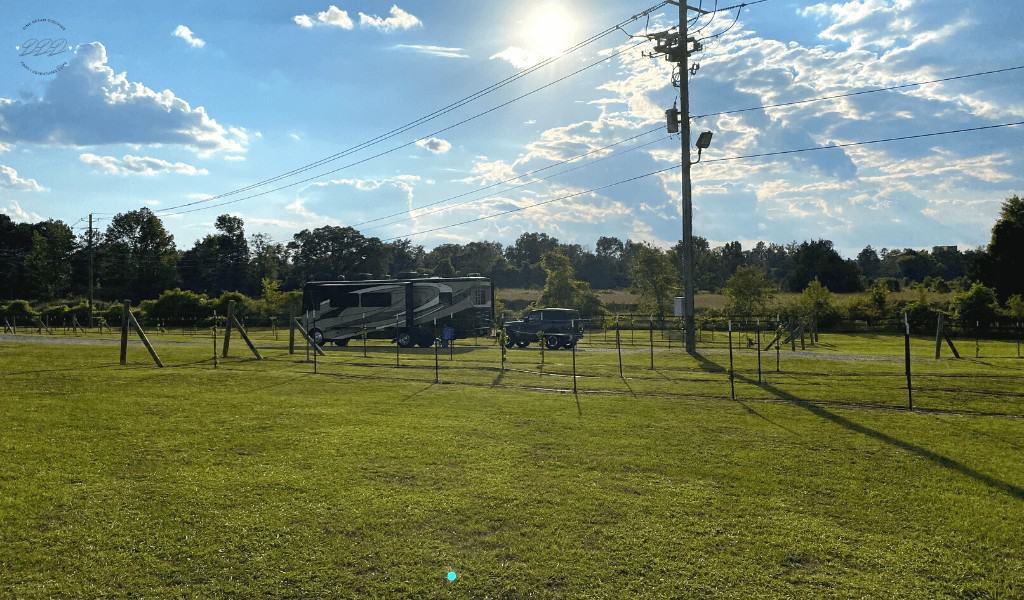 We set up and then headed back in to try the wine and have something to eat. The place looks small from the outside but there is multiple seating areas.
We chose to eat inside since it was quite warm (86) and the dining room was empty at the time of arrival.
There is also a greenhouse-type room and the outdoor patio where the live music was playing.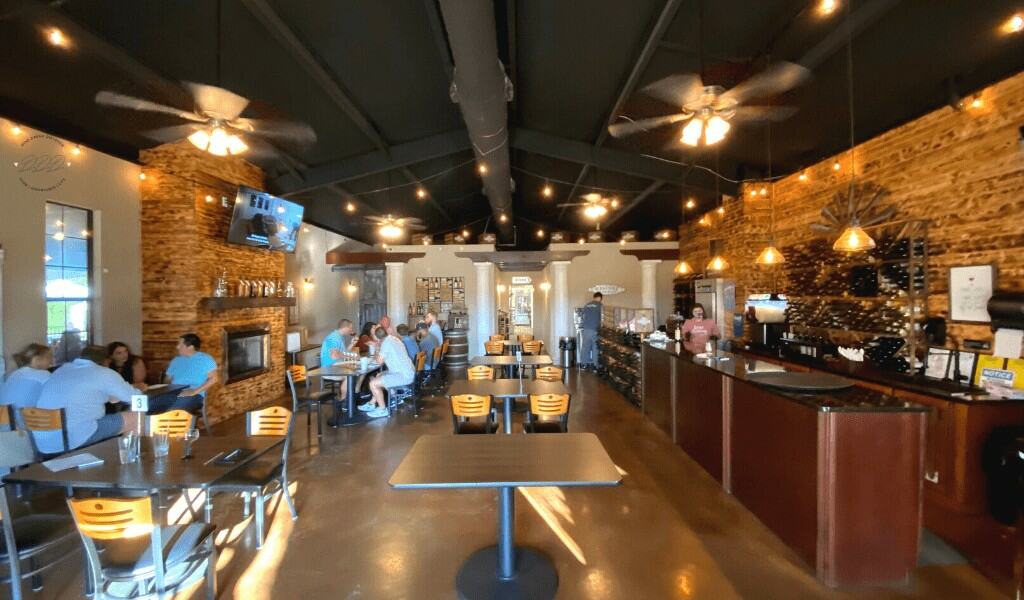 Harley also enjoyed relaxing after a long day of travel.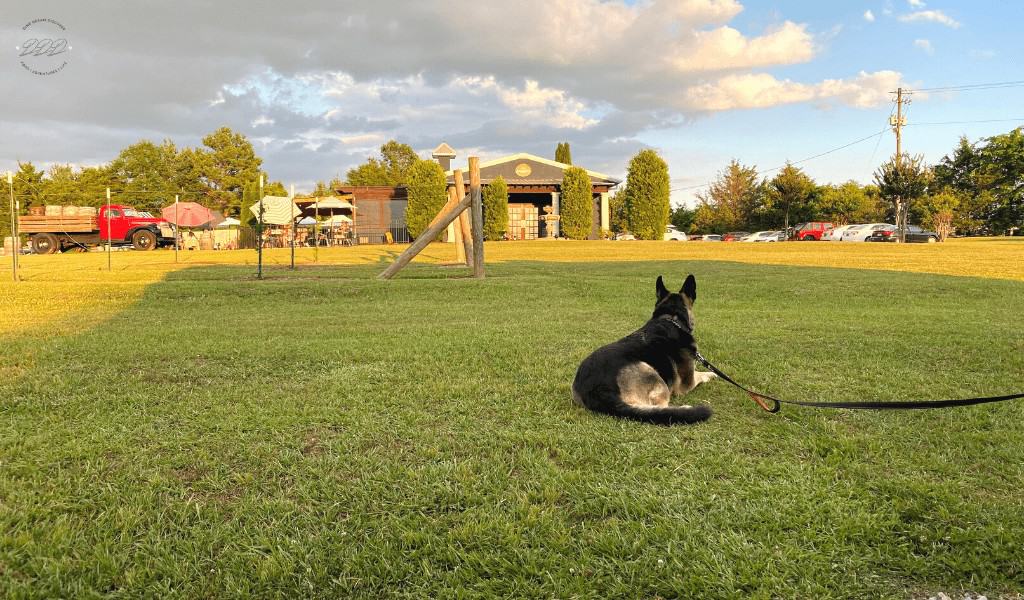 The Wine
While my husband is not a wine drinker, he does like wine slushies.
They have two different kinds, one made with their chocolate/raspberry dessert wine, Tuxedo Junction 😊 and the other made with their sweet white wine. They were both delicious.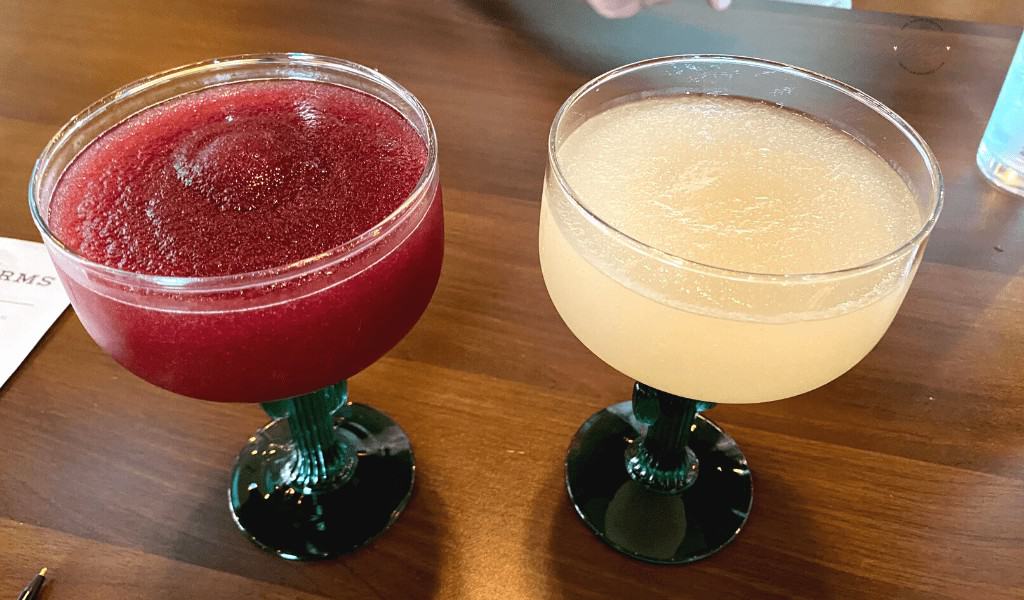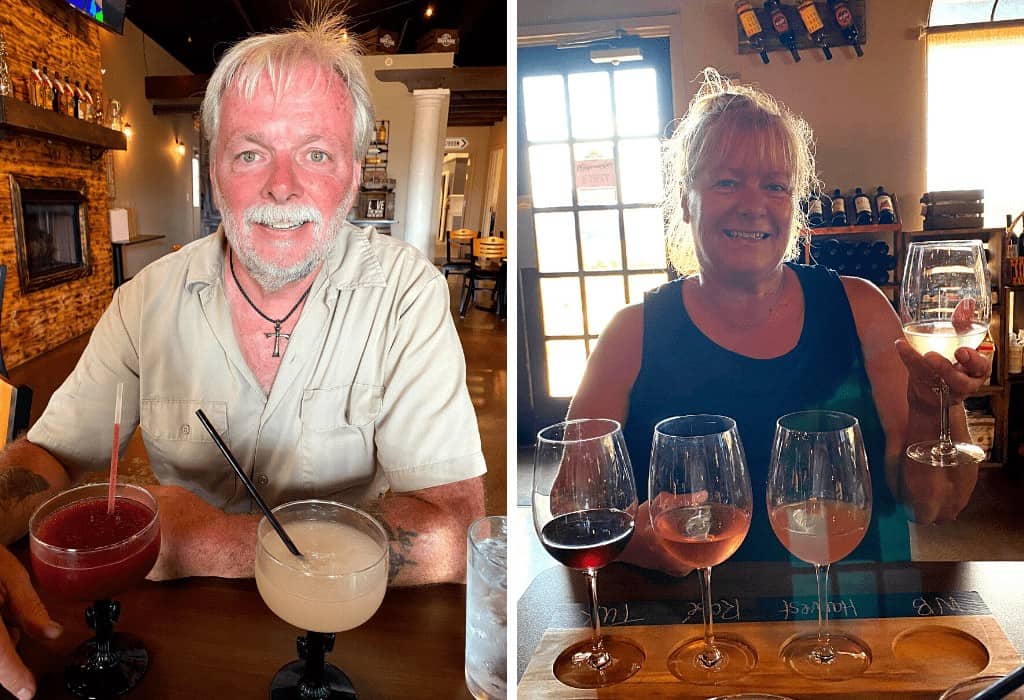 I also had a wine flight which includes four - two-ounce portions of wine that I choose. 🍷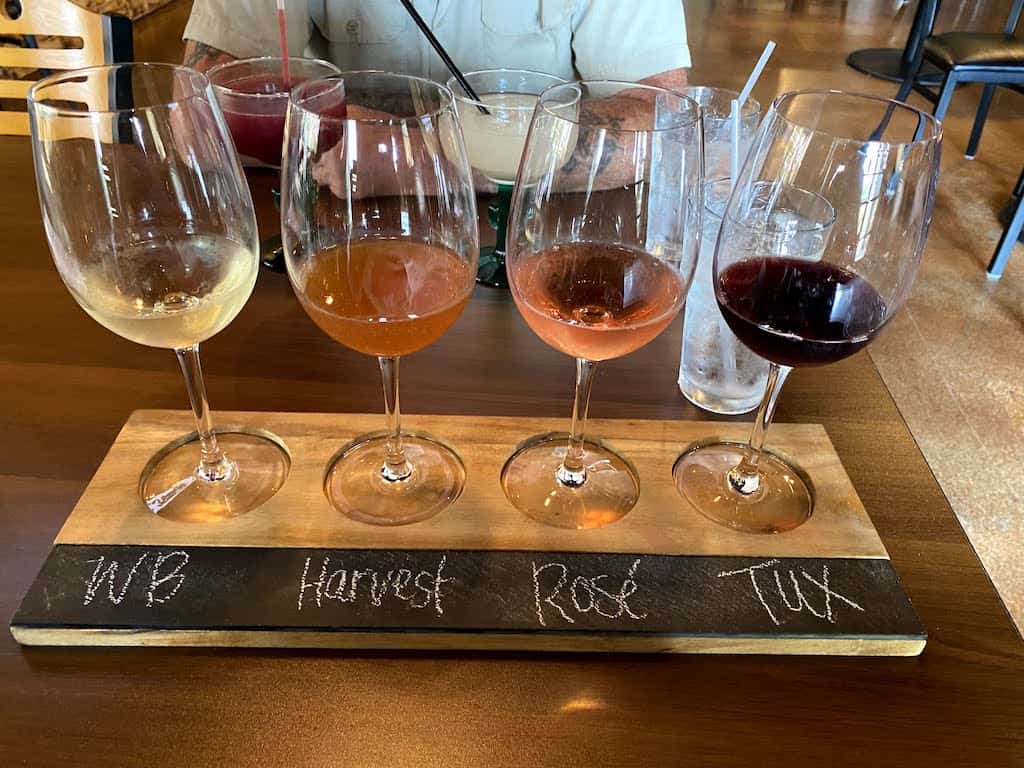 The first one I chose was the White Blend which is a semi-sweet with apricot and peach notes. This one was really good.
I also chose the Harvest Spice because I like pumpkin spice. It's a pear wine with pumpkin spice. This one had a spice taste to it.
While it was good, it wasn't for me so I left a little in the glass.
The third one I chose was a semi-sweet rose with notes of strawberry. This one was also very good but anything with strawberry is always at the top of my list.
I saved the best for last. The fourth one was definitely my favoritist (is that even a word?) EVER! The Tuxedo Junction (which the slushy is made with) is a chocolate raspberry sweet dessert wine.
While I thought it kind of tasted like a cherry cordial candy, there is no cherry in it. It goes down smooth with no after taste.
This is THE BEST WINE EVER! Gosh, I wish they shipped it. I guess we will just have to stop there again and buy a few more bottles on our way back to Florida, sigh. 😂 ❤️ 🍷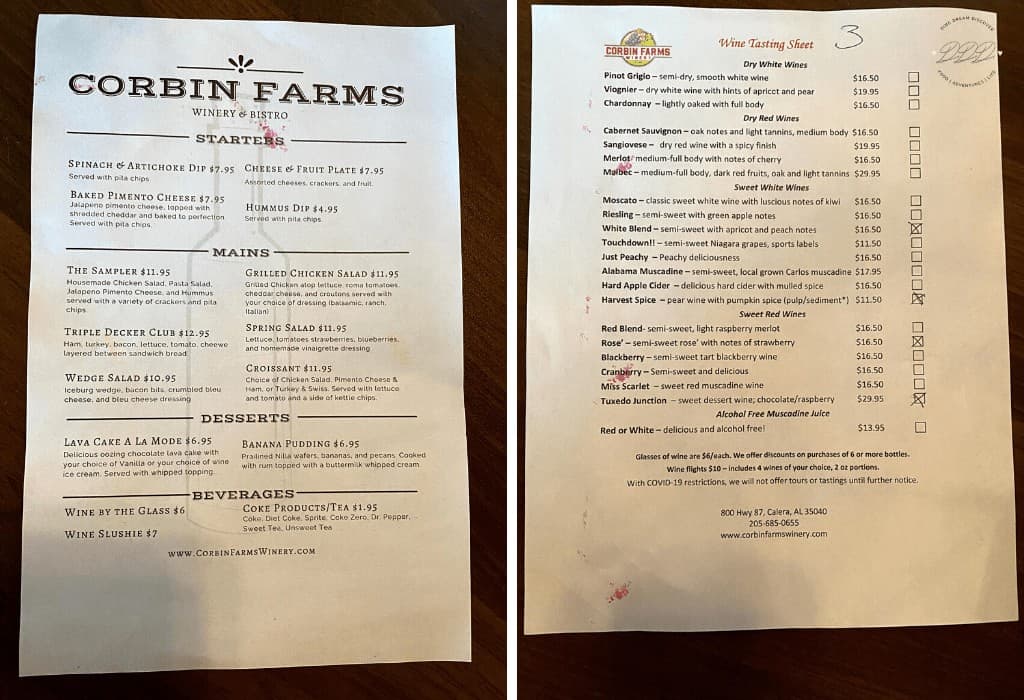 The Food
Alex was our server and very friendly and informative. The food was just as good as the wine. We had a triple-decker club sandwich and a banana pudding.
The triple-decker club sandwich is ham, turkey, bacon, lettuce, tomato, and cheese layered in between sandwich bread.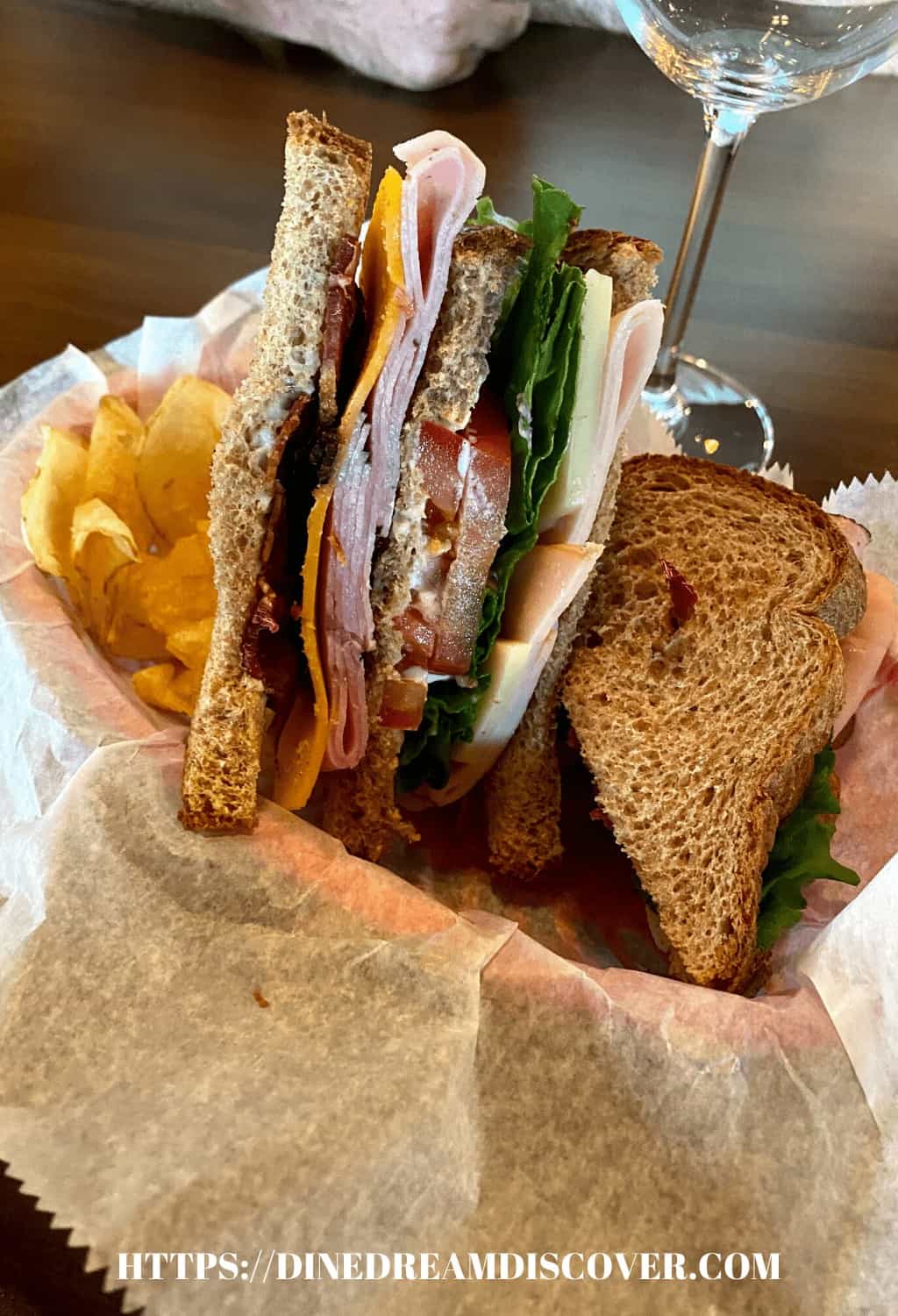 Banana Pudding was awesome as well. Prailined Nilla Wafers, bananas, and pecans cooked with rum and topped with buttermilk whipped cream. 😋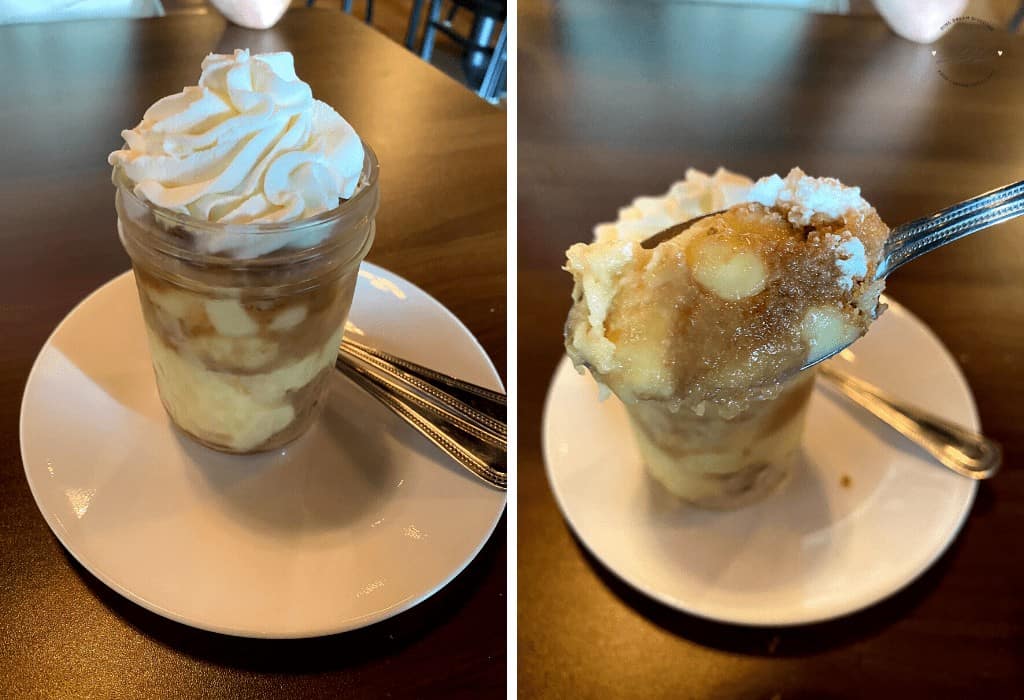 Cell and Internet Service
The cell and internet service was as follows:
Verizon jetpack 19.8/1.22
Verizon phone internet 9.07/.60
T-Mobile jetpack 2.10/1.39 - 3.61/1.37
Verizon phone 2 bars
AT&T phone 2 bars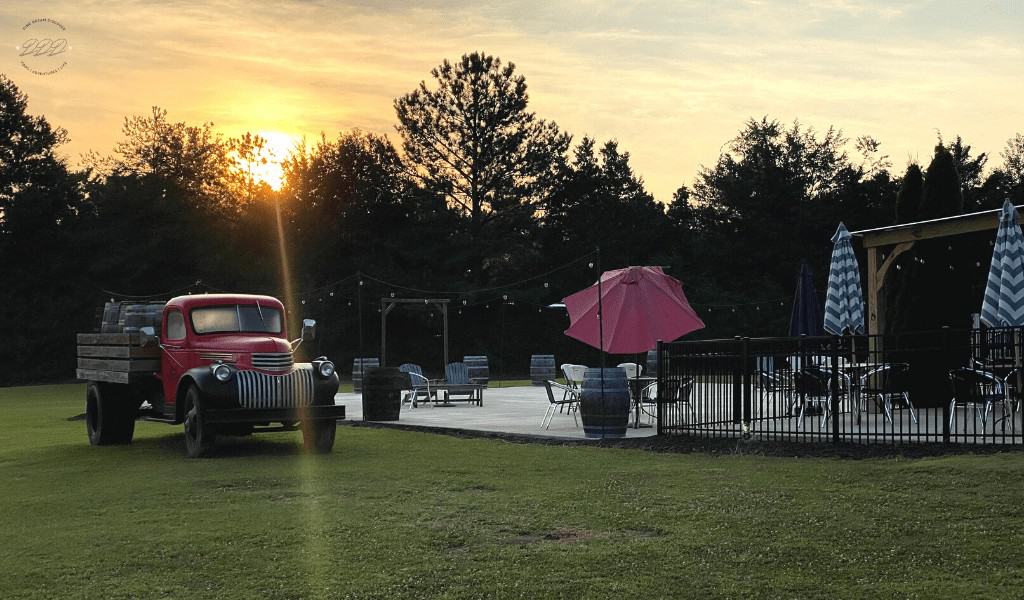 About Corbin Farms Winery
Plenty of space to park and big rigs are able to drive right around the building. It was very quiet and we were able to sleep soundly and felt very safe.
The sunset and sunrise were both beautiful. We were not able to do a tour thanks to C-19 which only means we will definitely have to visit again.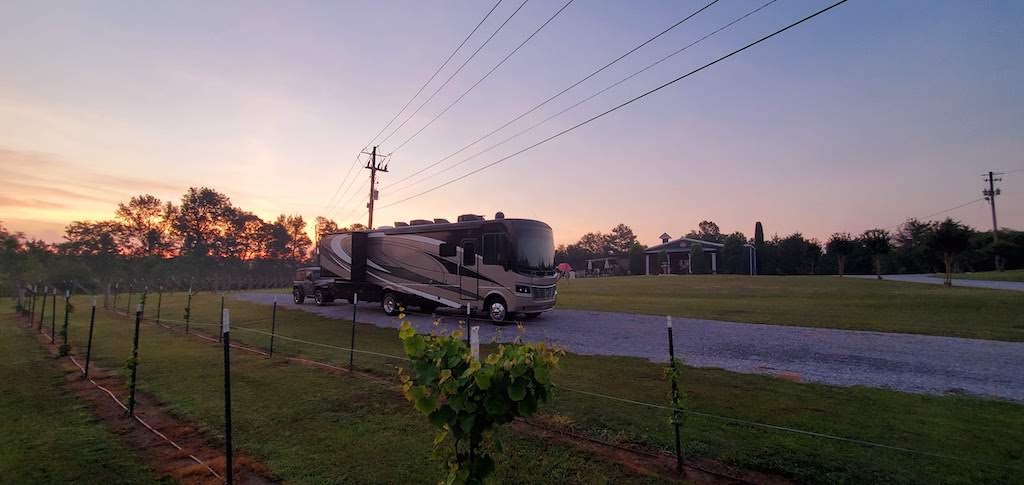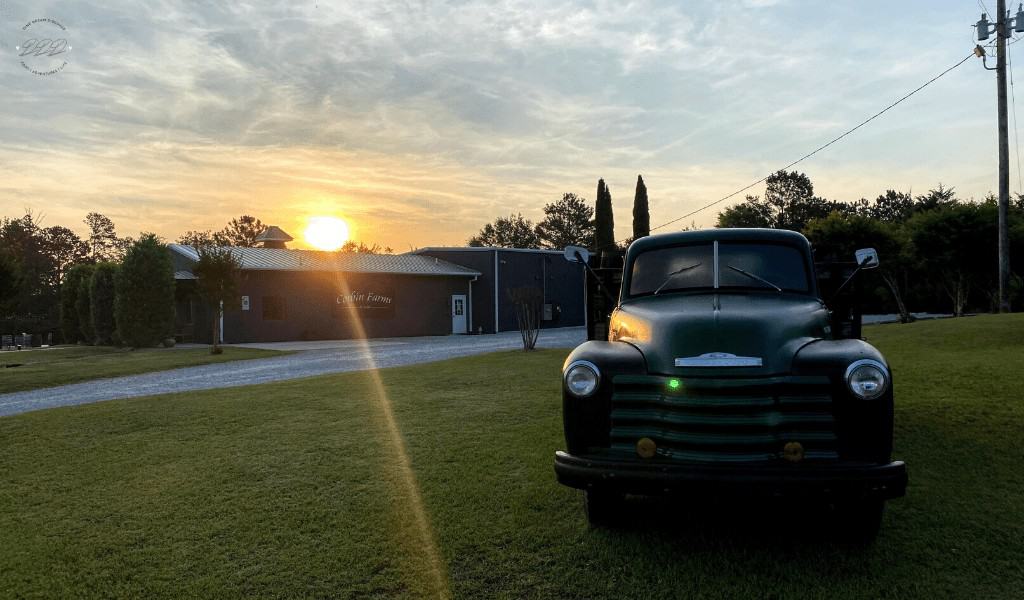 Corbin Farms Winery is a family-owned business that was started in 2005.
It sits on 5 acres of farmland is located at 800 Highway 87, in Calera, AL, 35040 right off Interstate 65.
Connect with them on Facebook and Instagram.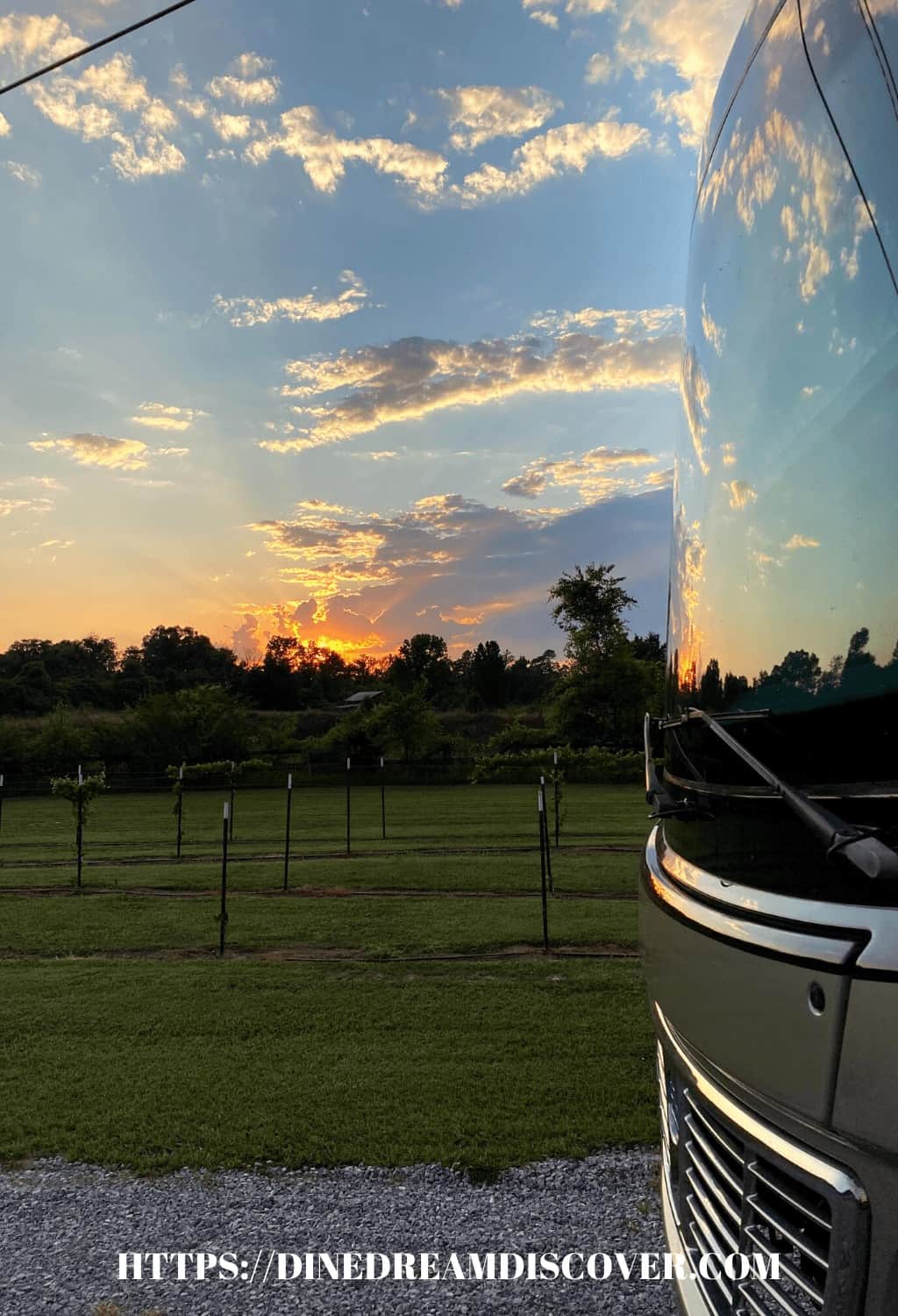 Harvest Hosts Information
Harvest Hosts is a yearly membership where you can stay at farms, wineries, and golf courses. Your unit must be self-contained
and you must call the host no less than 24 hours in advance to reserve your spot and make sure there is room. They will ask you when you will be arriving and also for your membership number.
They do ask that you make a purchase from the host. With over 1000 hosts, it is well worth the money.
Grab this Harvest Hosts deal and save 15% with my referral link.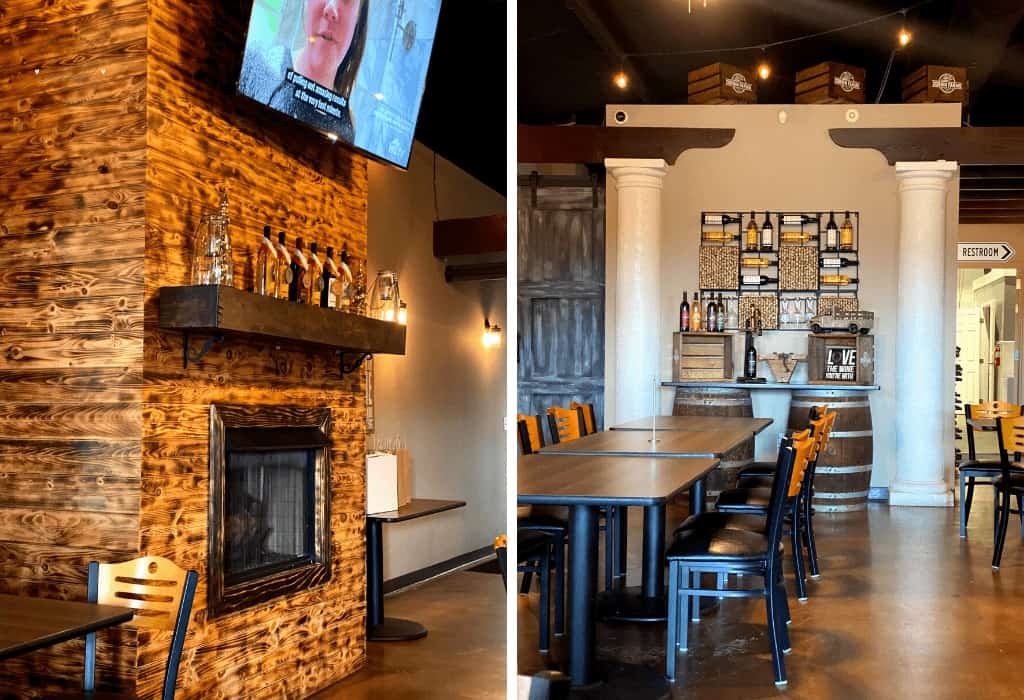 Connect with Harvest Hosts on Facebook, Twitter, Instagram, and YouTube.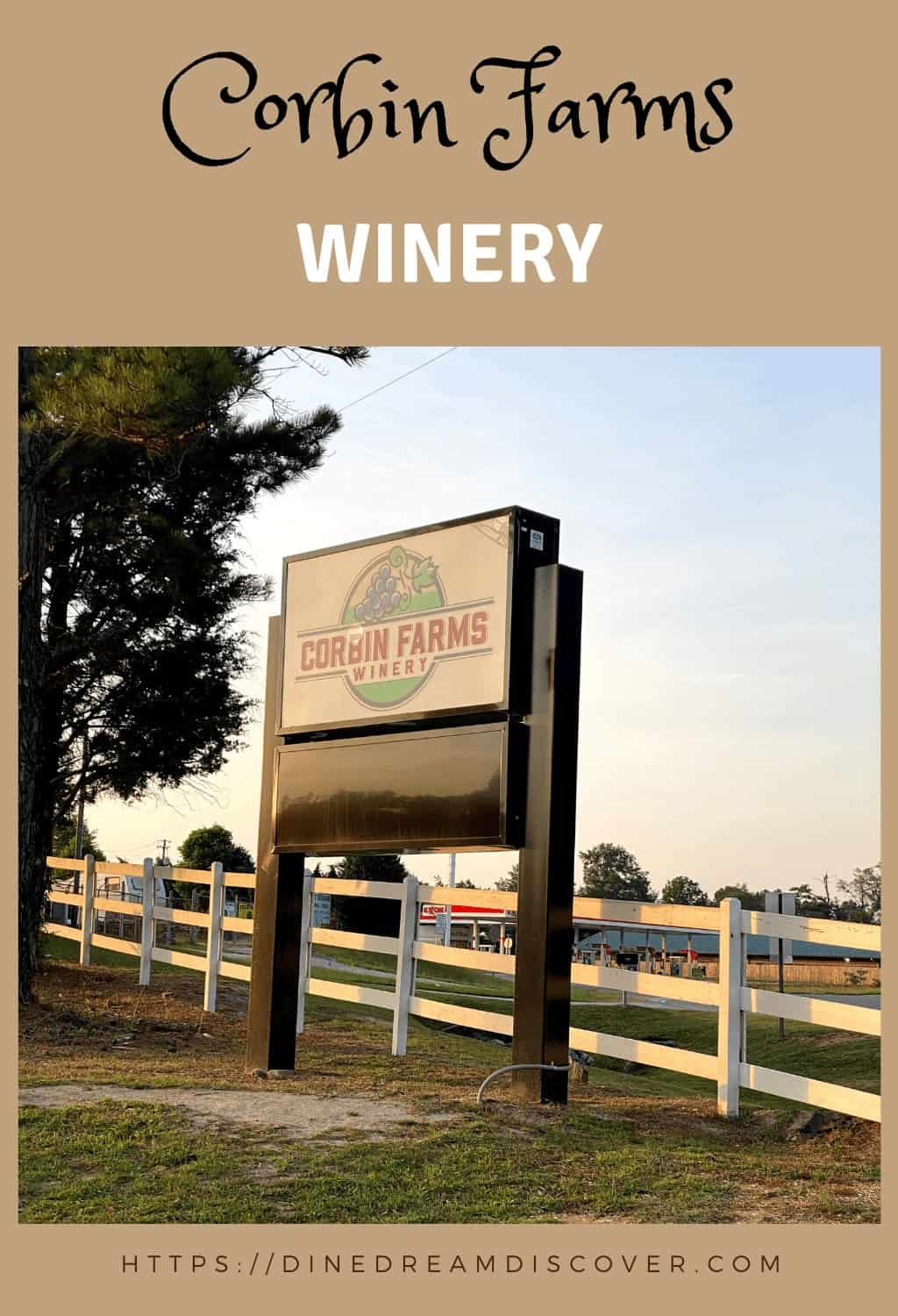 Follow us on Pinterest and PIN IT FOR LATER!