I think making quilts out of shirts is a brilliant idea! And it's the perfect gift for those that you have no clue what to buy for. With different sizes available, the T-Shirt Blanket from Project Repat IS a perfect remembrance of lost loves.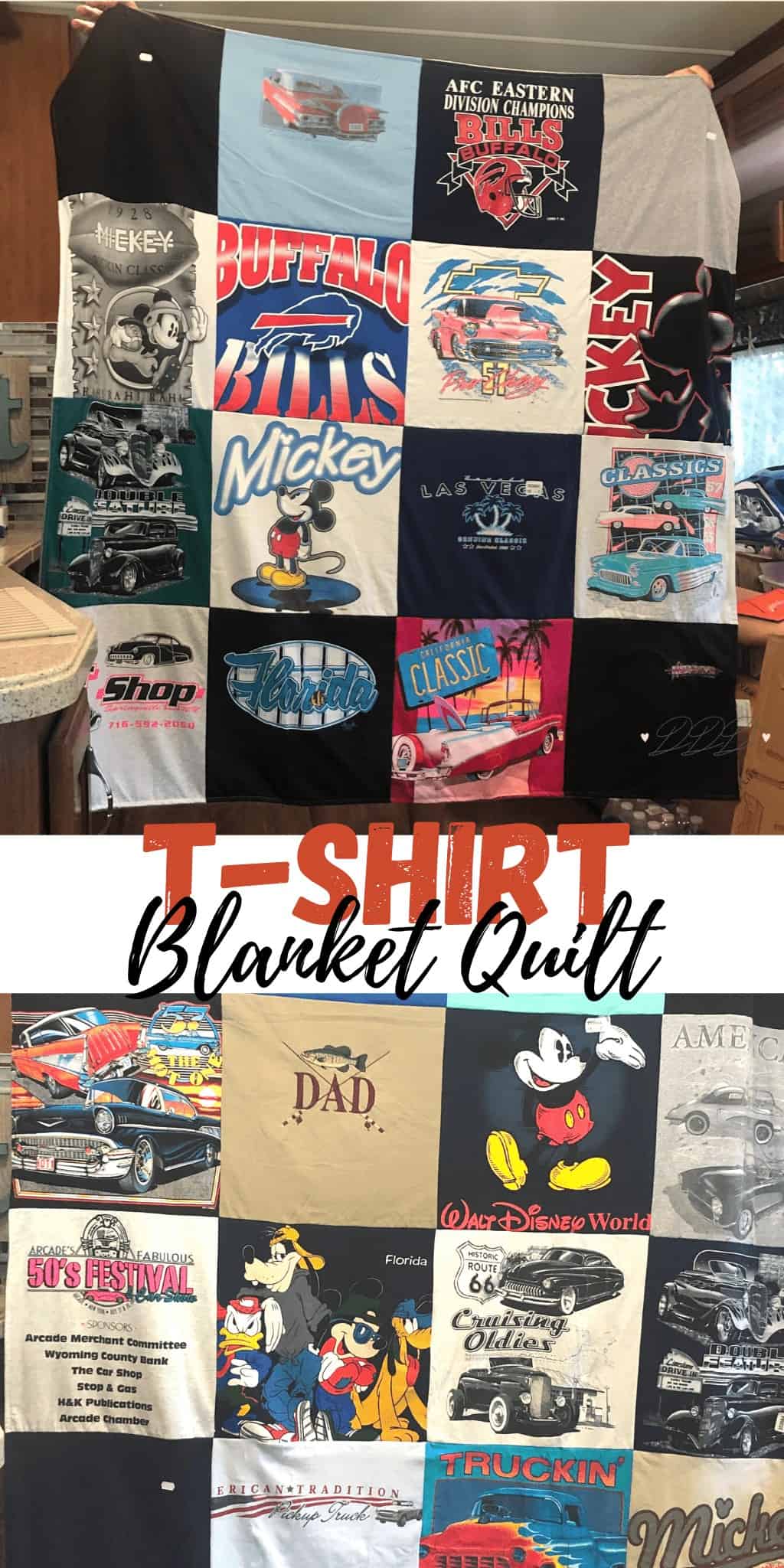 I received no compensation for this post. This post may contain affiliate links. See my disclosure policy for more info.
T-Shirt Blanket Keepsake Quilt
My mother in law's birthday is this Saturday and she will be 90. Because really, what can you get someone that has everything and needs nothing? Her husband passed away 10 years ago and I wish I had heard of the T-Shirt Blanket from Project Repat back then. Blankets made from t-shirts is one of those..."why didn't I think of that" ideas. It's also the perfect gift to add to your Holiday Gift list.
He wore t-shirts all the time (Disney, Buffalo Bills and old cars mostly as you will notice 😊), however, she had already given away a bunch of his stuff so we were limited to the size we were able to have made. I also wanted for my husband as he also is celebrating a special birthday this year (65) and I never know what to get him either.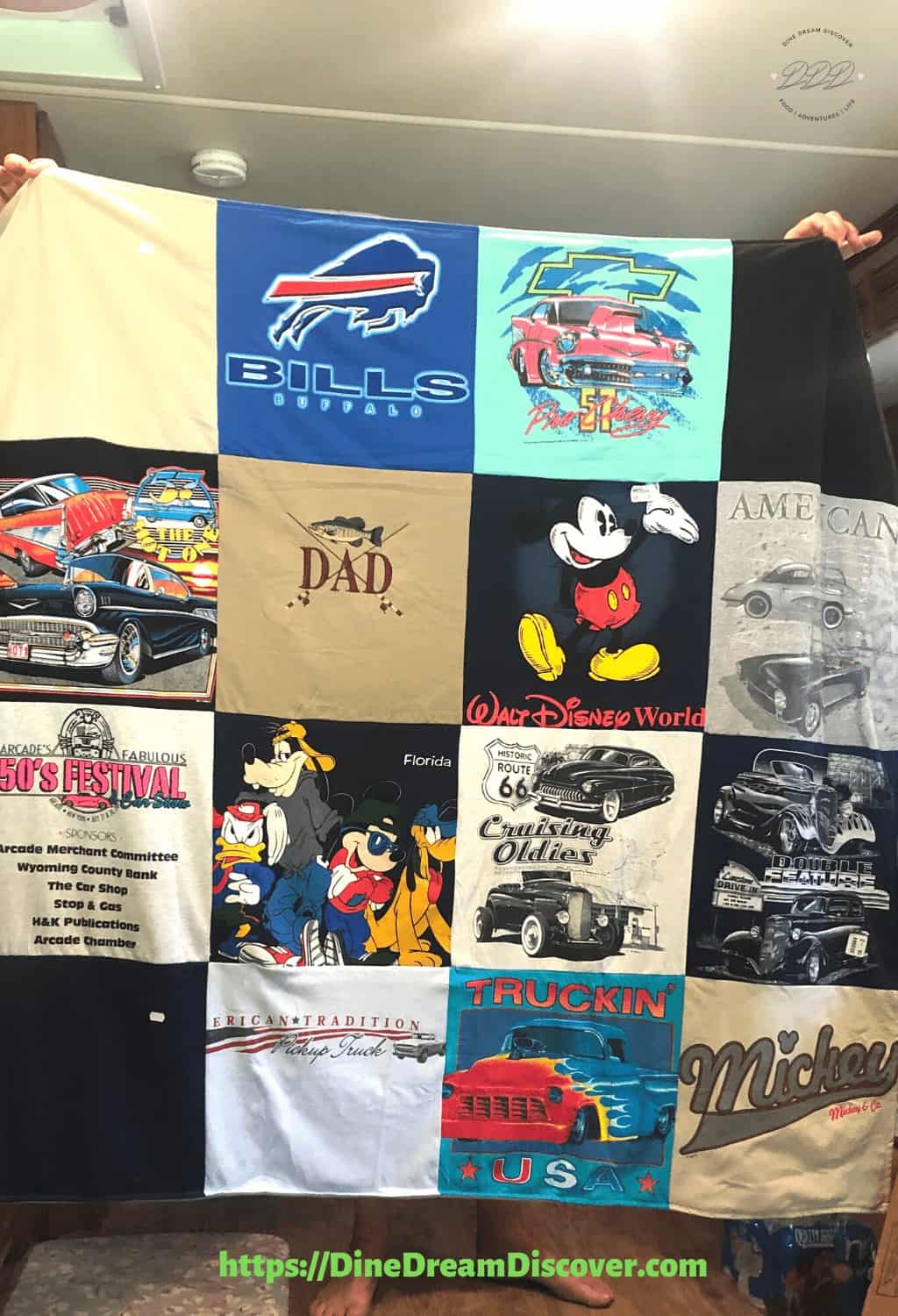 Other T-Shirt Quilt Ideas
These are also a great idea for a remembrance of places you've traveled. Being a full time RVer, I would love to have one made eventually of all the places we have traveled to. We have already started a collection of t-shirts from places that we have visited and when we have enough, we will have one made. It also makes a great campus quilt for those going away to college.
Where to Get a T-Shirt Blanket Made
While I had them made from Project Repat, there are different places that make t-shirt quilts
including Etsy. Project Repat had a special going on at the time for $40 for any size. That was an awesome deal! The specials run from time to time so you just have to watch and sign up when they have one.
How Does It Work?
You start by going to their site. From there you choose what size you want. After that you choose the color. Then click the buy now button, pay and they send you directions. You can also choose some upgrades like bigger 14 x 14 squares. You can even choose your layout of how you want the t-shirts. I chose the standard layout and 12 x 12 squares. If you need it quick, there is even a rush shipping upgrade.
There is even an option to include a photo square or special message. ❤️

How Many T shirts for a tshirt Quilt?
Well, I'm glad you asked! I chose the Lap size which needs 16 sides. I was worried because I wanted two of them made and I knew I didn't have 32 t-shirts. However, you can use not only t-shirts but also sweatshirts
, button ups, mesh jerseys, tech shirts and pretty much almost any type of fabric.

What I also found out was that you can use both sides of the item if there is a design on the back and front. I was short a couple of shirts if I wanted to have two tshirt quilts made. With that being said, I included a couple of the plain sides of the shirts. So when you look at them, there are a couple of blank squares. However, that was no big deal to me as the majority of the squares are t-shirts that my father-in-law wore and that in itself is priceless.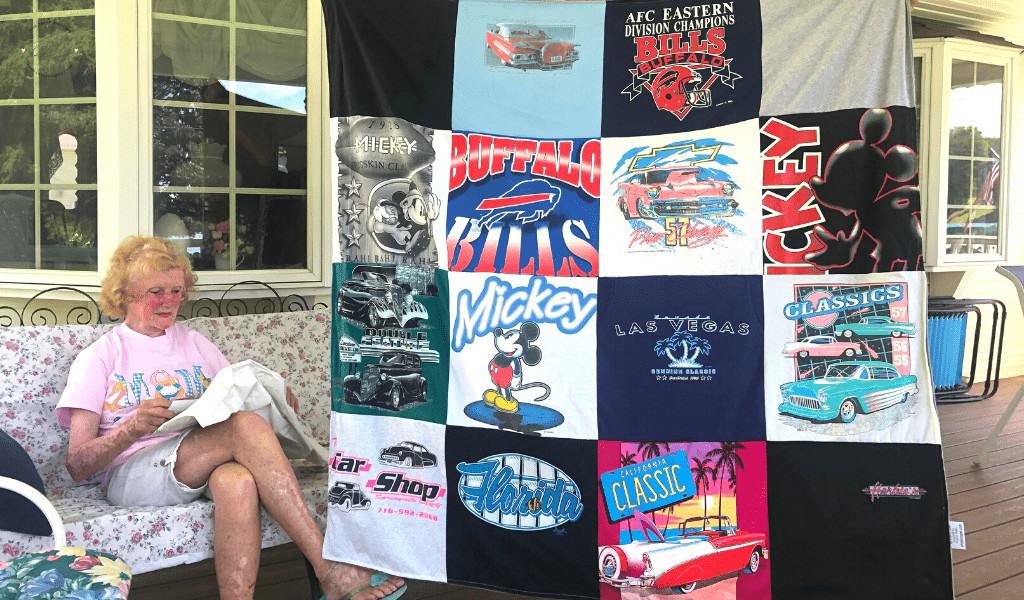 Getting Ready for Shipping
Once you have all your t-shirts ready, you then need to cut them. I know it sounds scary but it's easy. They have videos for you to watch so you do it right.
Once that is done, you will print your packing slip to place in the box. They have to know who's t-shirts they are so they make the correct size t-shirt quilt. One thing to keep in mind is that you only have 60 days from the time you purchase it to the time you ship the shirts to them.
When I shipped mine, I created my own shipping label. Although there is no money that can replace the t-shirts if they were to get lost or damaged in shipping, I did place a $250 value of insurance on it...just in case. It seems that now you are able to purchase your label directly from Project Repat. Had that been an option when I purchased mine, I would definitely have chosen that option.
After Shipping
Once they receive your package of t-shirts at the factory, they send you an email to let you know, hence the packing slip. 🙂 They will also let you know if there are any problems. There were two issues with my t-shirts.
The graphics on my shirts were a little larger than the standard 12 x 12 panels so they recommended I upgrade to the 14 x 14 panels for an extra $15, which I did. There were also two tank tops that were kind of thin so they recommended purchasing a backing for $5 each, which I also did. While they were most likely going to be used on the back of a couch for decoration, I wanted the t-shirt blanket to look really good.
Once I decided on the upgrades, I was curious as to how I was going to pay the extra. That was easy too. They sent me an invoice and I was able to pay securely.
How Long Does it Take to Receive the T-Shirt Blanket Quilt?
They received my t-shirts on June 20th and I received a shipping notification on July 11th. So approximately about 3 weeks. However, if you are ordering during the holidays or even during this Covid-19 Pandemic, I suggest you allow ample time before you need it. They even sent me a notice when it was "out for delivery" and when it was delivered, so I could get more excited. lol
How Did They Turn Out?
Absolutely beautiful! They are super soft and the job they did is exceptional.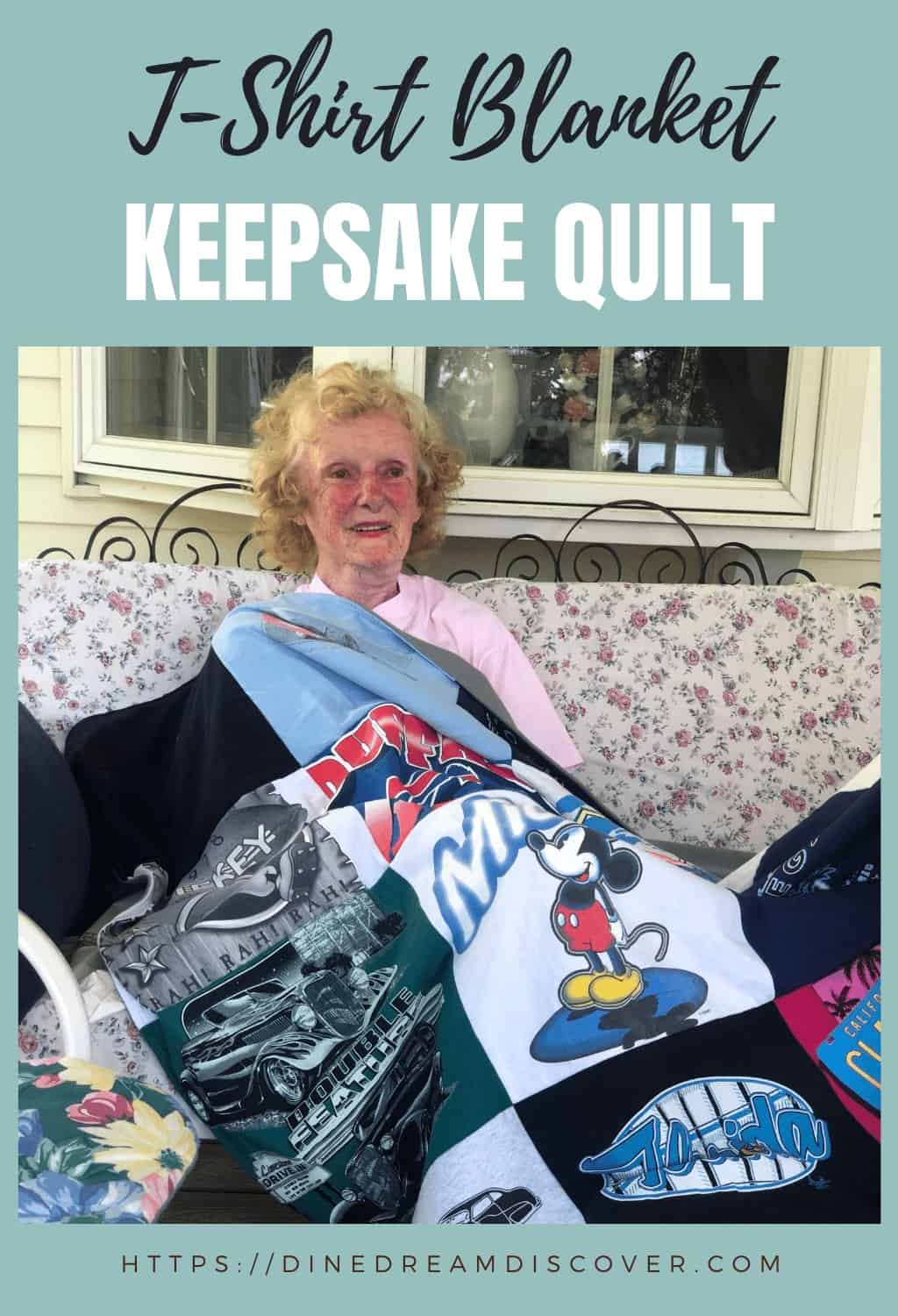 Our Final Thoughts
I'm going to admit that I am not one to withhold gifts until the day I'm supposed to give it to the person. With that being said, I had to give it to both of them before their birthdays. 🙄 I know!
My mother-in-law cried and absolutely loved it. She showed it to everyone! My husband was surprised because he did not know he was getting one also. He thought we were just ordering one for his mom. I love surprises! 😍
The T-Shirt Blanket is such a loving gesture and a way to remember someone that has passed. I love giving gifts with a meaning and the keepsake t-shirt quilt is one that will last forever and mean so much.
So, if you are thinking about ordering one for your loved ones for the holidays, I suggest you order it soon.
Follow us on Pinterest and PIN IT FOR LATER!