Head on over to Disney Springs Christmas Tree Stroll and take a look at 20 festive displays of elaborately-decorated Disney themed Christmas trees and decorations!
This post may contain affiliate links. See my disclosure policy for more info.
Disney Springs Christmas Tree Stroll
If you're looking for a unique way to get in the holiday spirit this season, head on over to Disney Springs.
There you can take a look at these elaborately-decorated Disney themed Christmas trees.
You can find them all throughout the shopping district, with each one featuring a different theme from your favorite movies or attractions.
Start by picking up your Disney Springs Christmas Tree Stroll map at one of these locations:
Planet Hollywood
Chicken Guy
The Boathouse
Amorette's Patisserie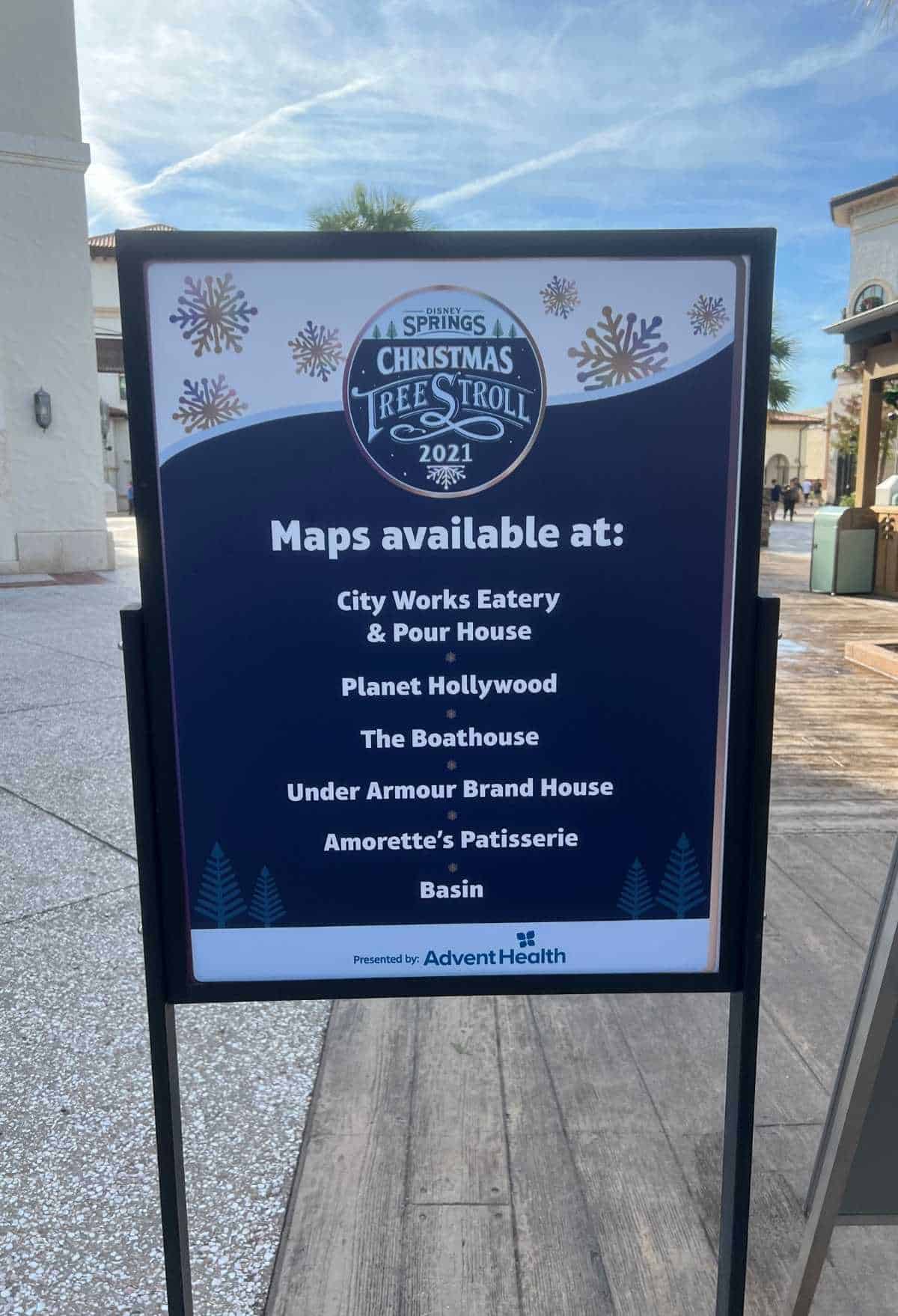 Basin
Under Armour
City Works Eatery & Pour House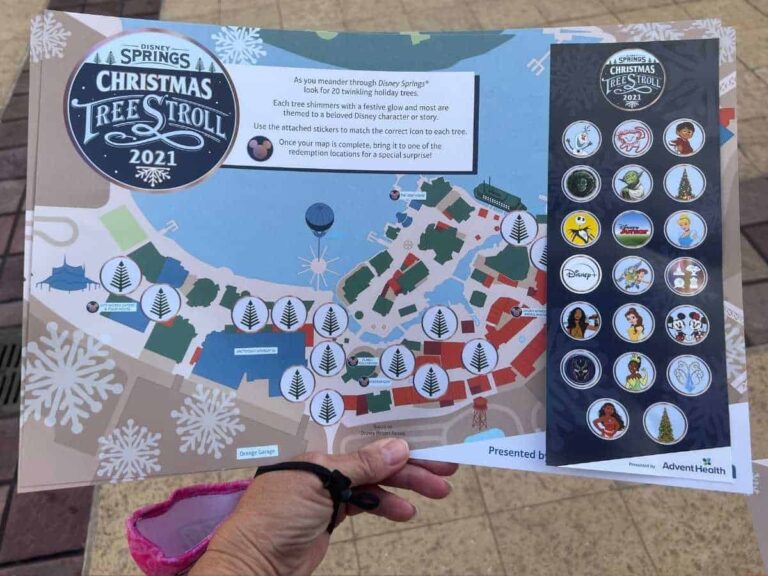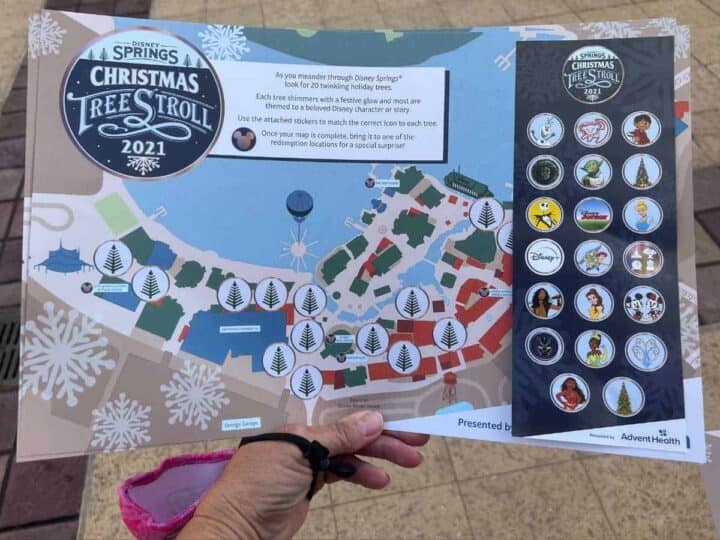 Once you are finished placing your stickers on the map, take it to any one of the above locations for a special prize.
Whether it's Mickey and Minnie Mouse, Frozen, Nightmare Before Christmas, The Lion King, or Star Wars that inspires you most this year, there will be something perfect among the 20 festive displays of trees and decorations!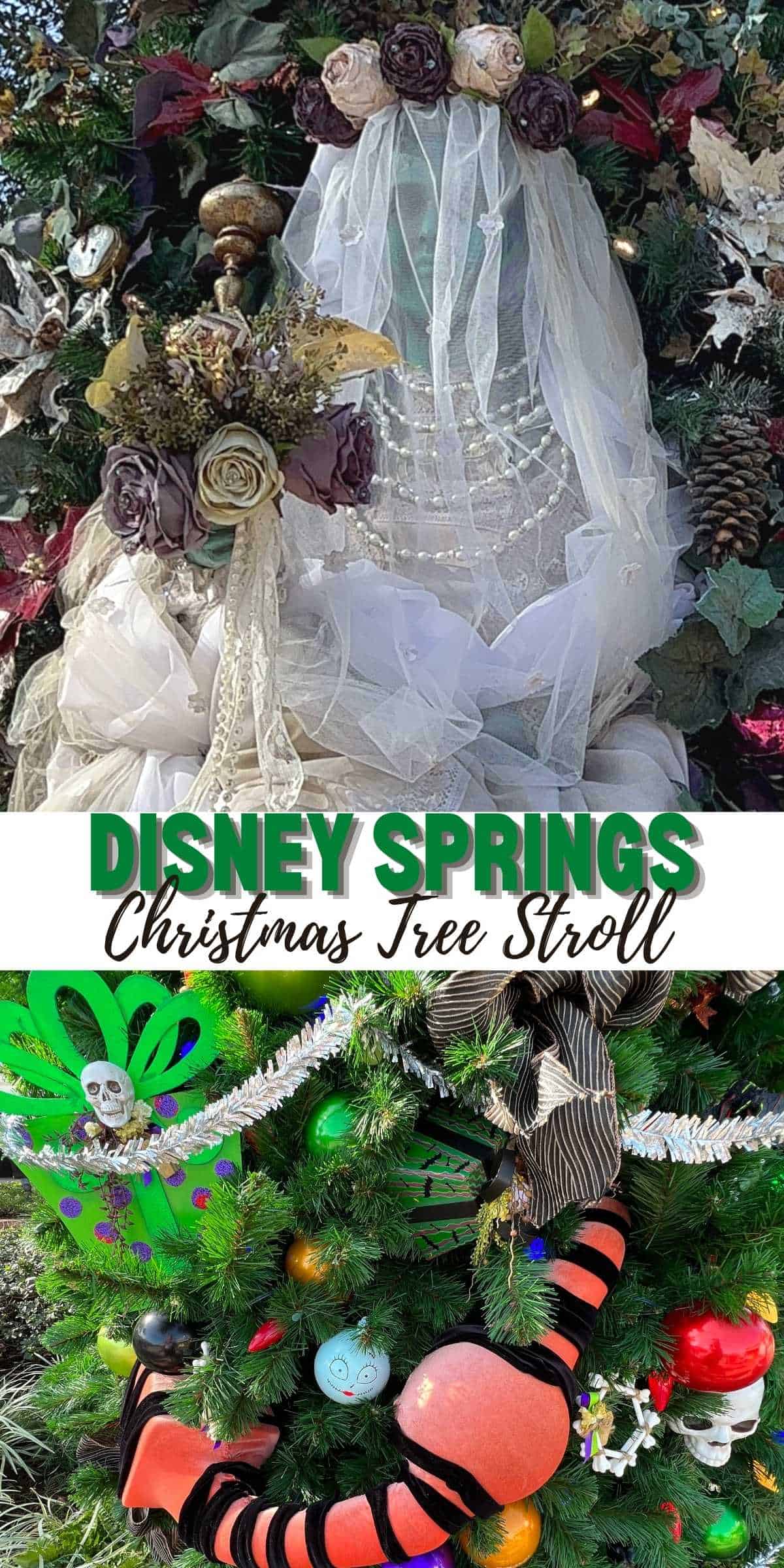 The Disney Springs Christmas Tree Stroll is a great way to get into the holiday spirit.
So, what are you waiting for? Put on your winter summer sweater and get to Disney Springs before these trees go back into hibernation until next year.
Whether it's with the family or just by yourself, there is plenty of magic in store this holiday season at Disney Springs!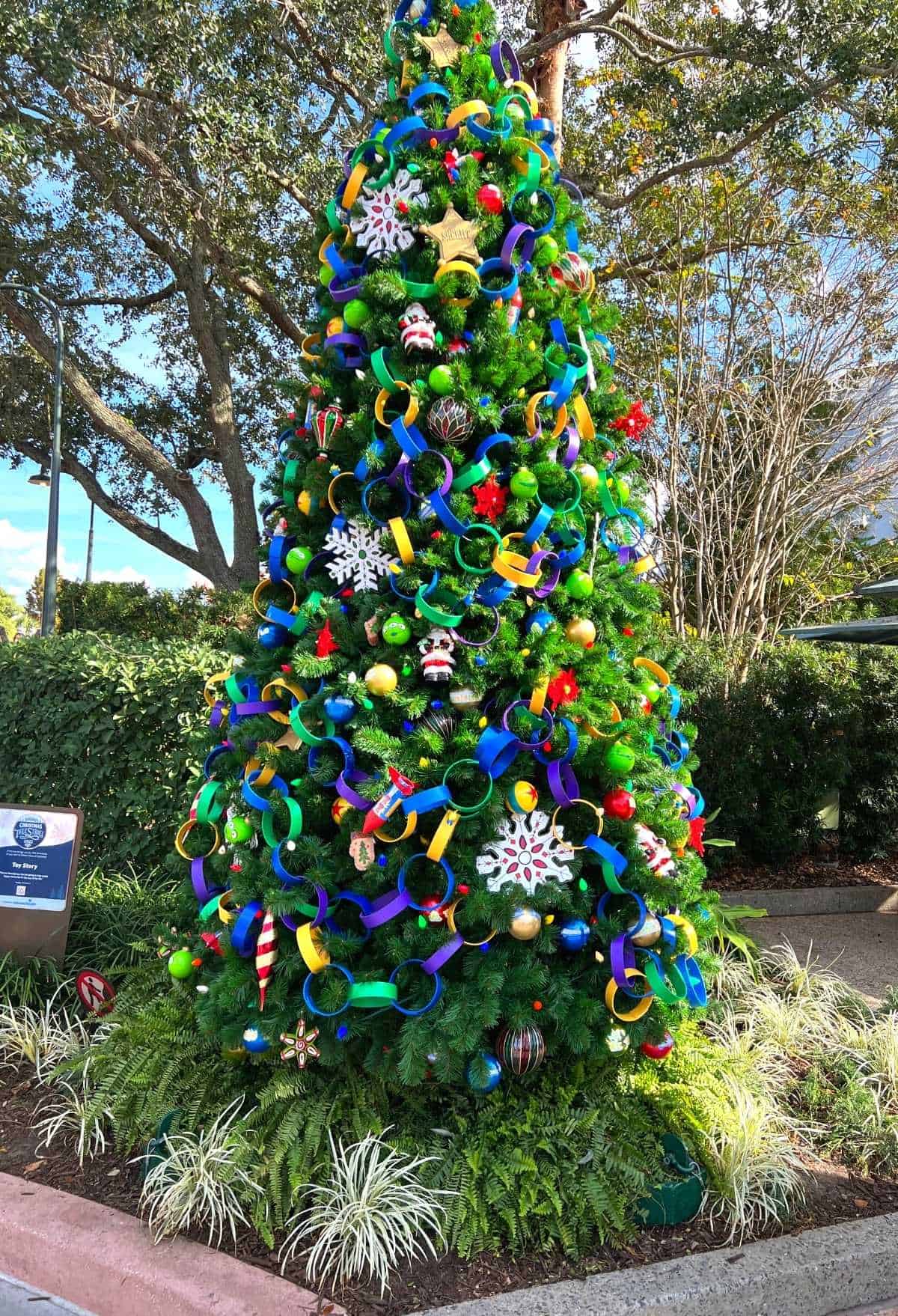 This Year's List of Trees at Disney Springs Christmas Tree Stroll
Raya and the Last Dragon
The Princess and the Frog
Star Wars
Black Panther
Moana
Coco
Frozen
Disney+
The Haunted Mansion
Beauty and the Beast
Old Fashioned Christmas Tree
Town Center Tree
The Walt Disney World 50th anniversary
Mickey and Minnie Mouse
The Lion King
Disney Jr.
Golden Balls Tree
Cinderella
Once you find all the trees and your map is complete, bring it to one of the redemption locations for a special prize which is a Christmas Tree Stroll pin! (I somehow forgot to get mine. 🙄)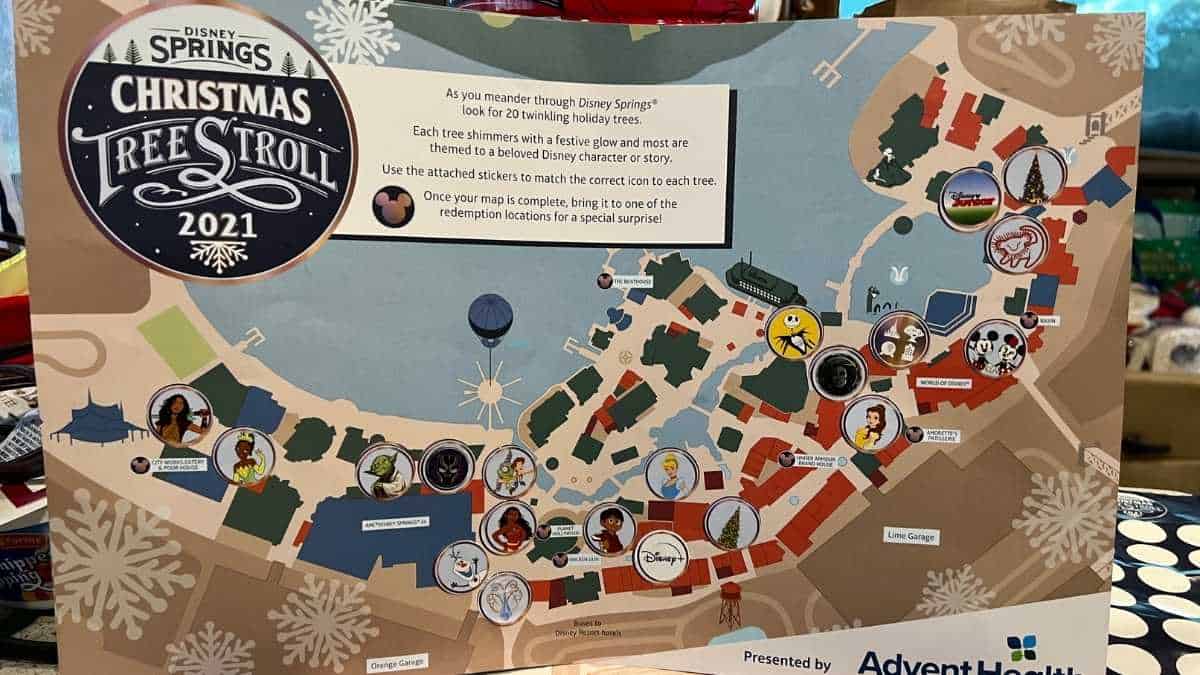 Raya and the Last Dragon
On this tree, found across from House of Blues, you will find the Kumandra Flower, Chattering Ongis, Tuk Tuk, and Sisu.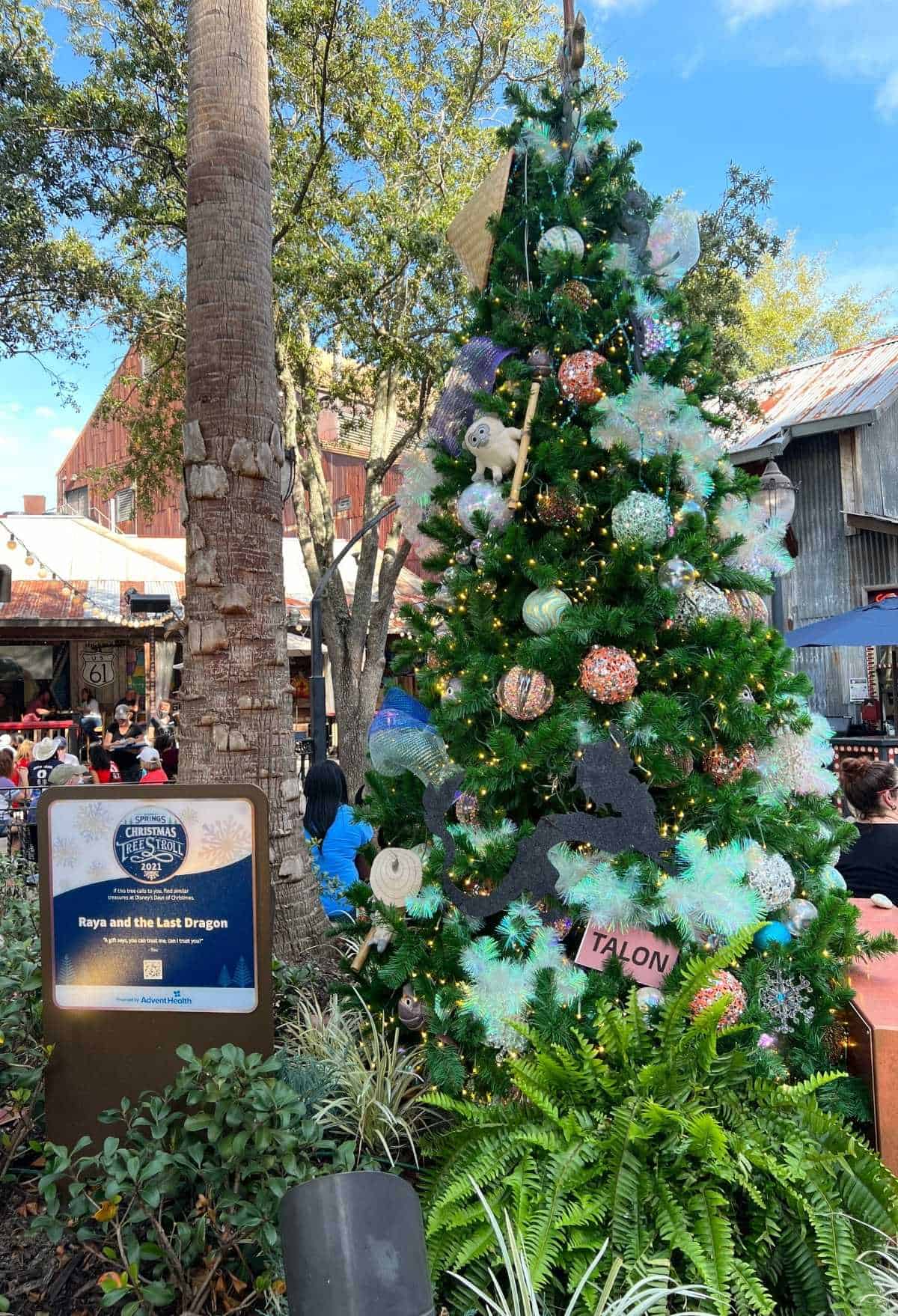 Raya's tree is filled with colorful ornaments and also her hat that looks like the Salakot.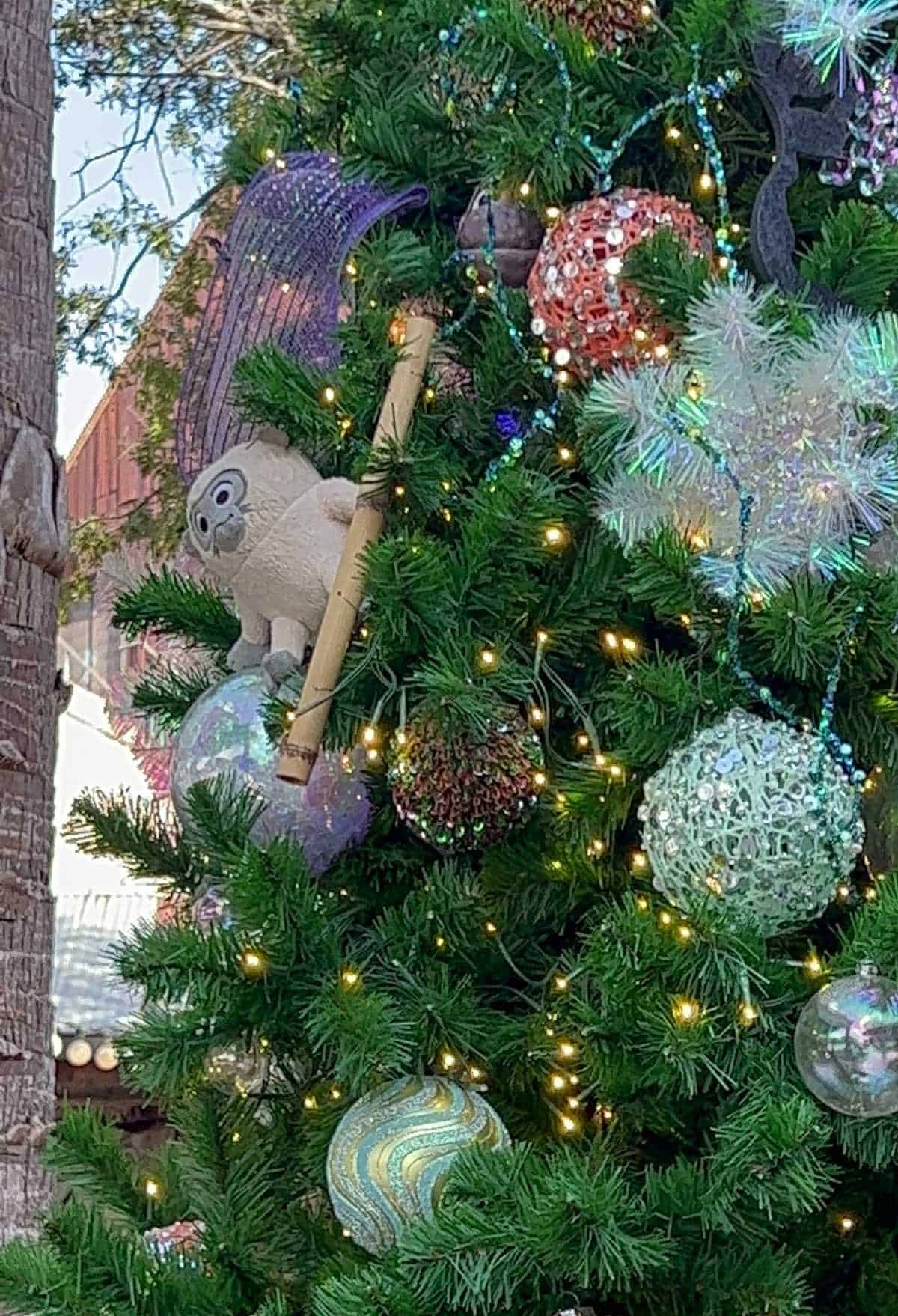 The Princess and the Frog
Decorated in New Orleans style with beads, trumpets, and New Orleans colors.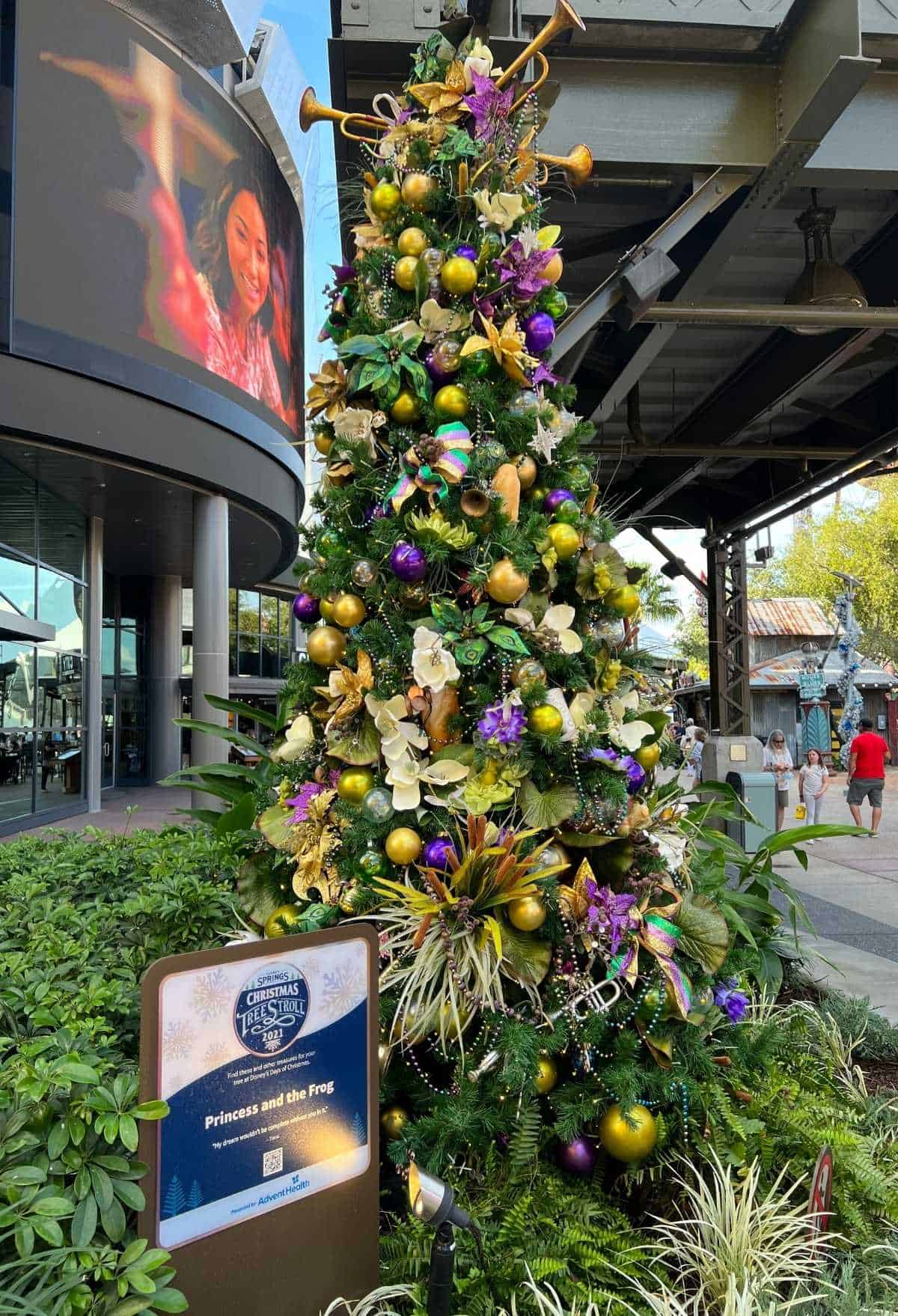 This tree can be found outside City Works.
Star Wars
Right outside the Star Wars Galactic Outpost is where you'll find the Star Wars tree.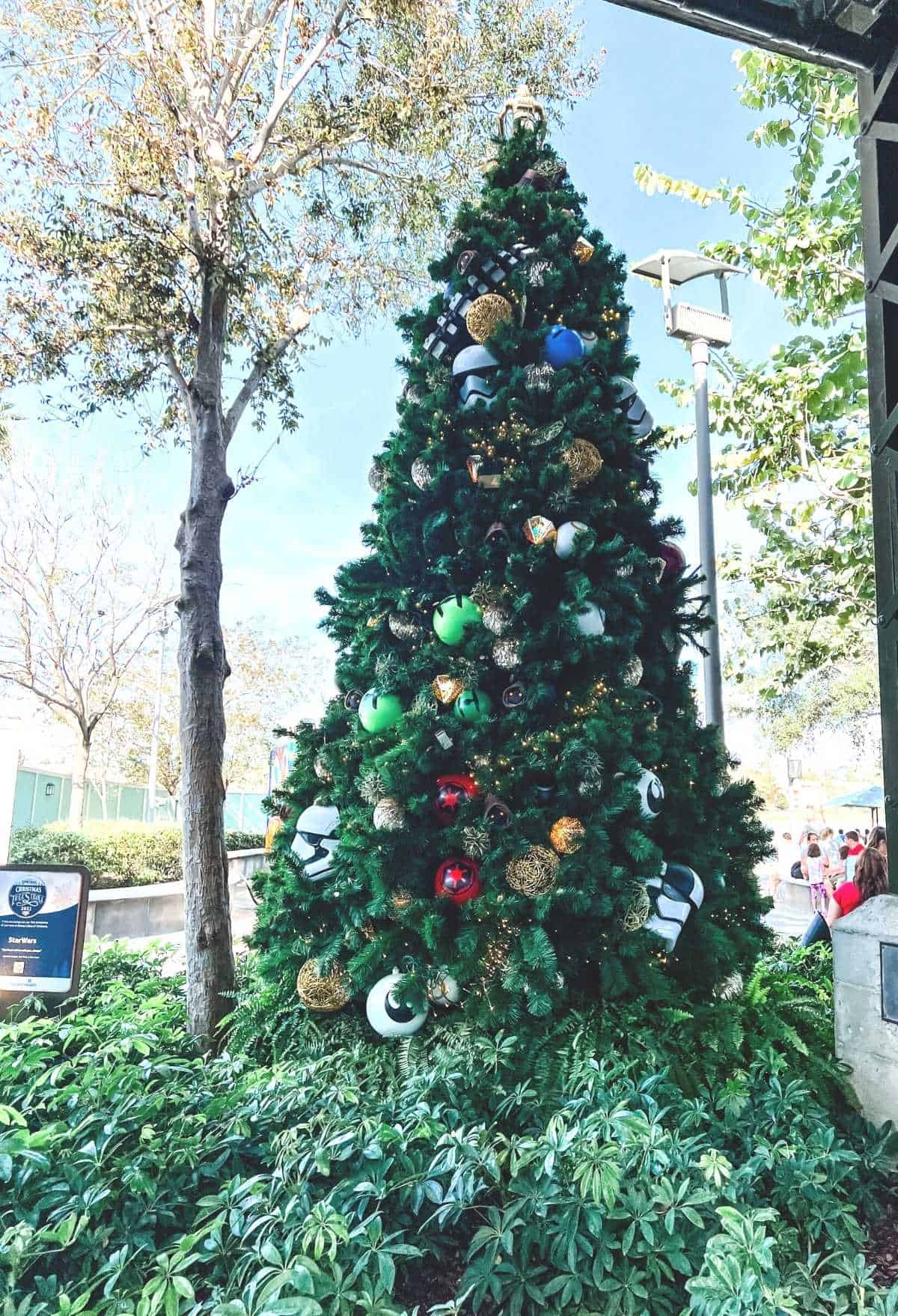 On top of the tree is C-3P0. You will also see Stormtrooper, Jawa with his glowing eyes, and BB-8 just to name a few.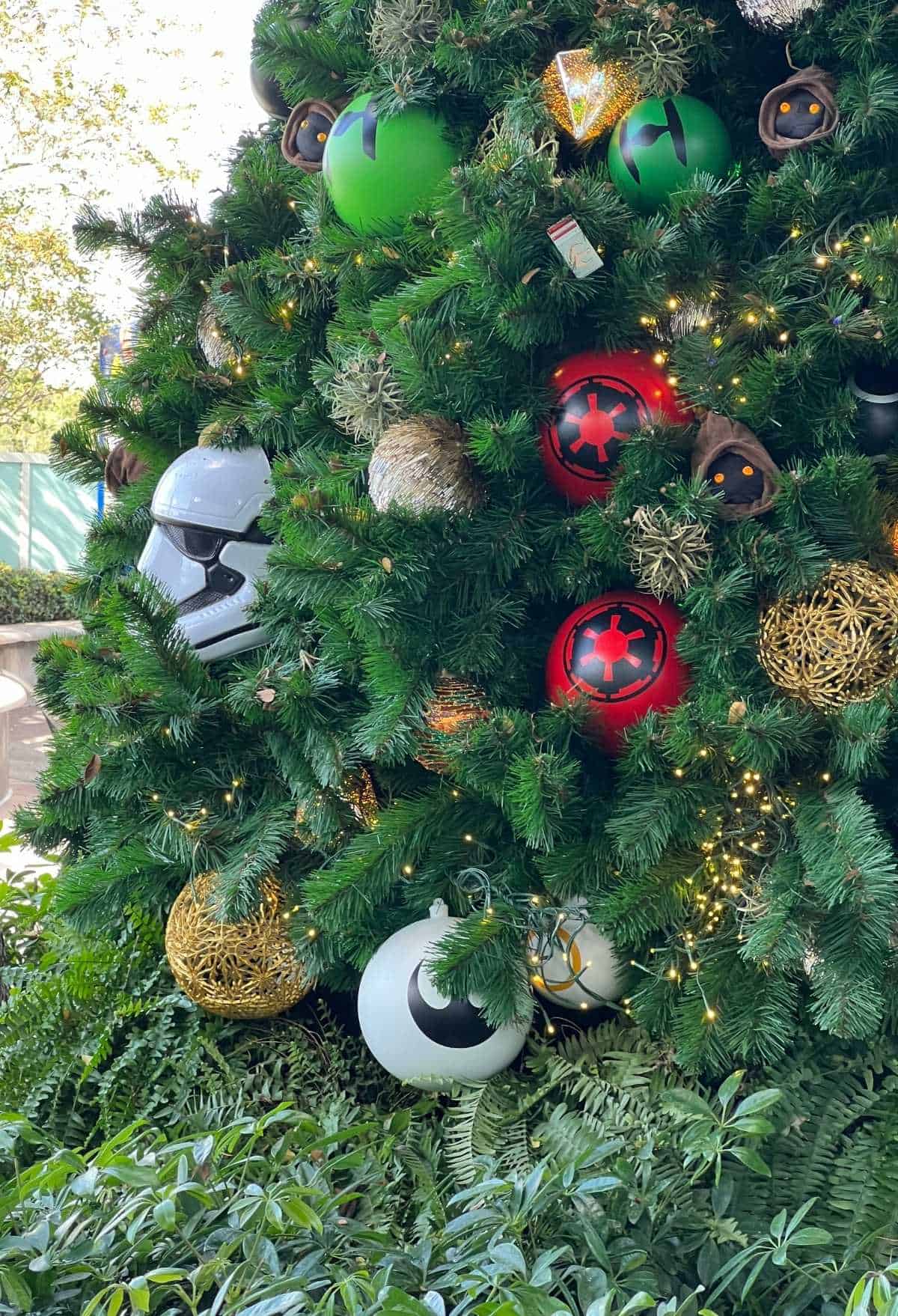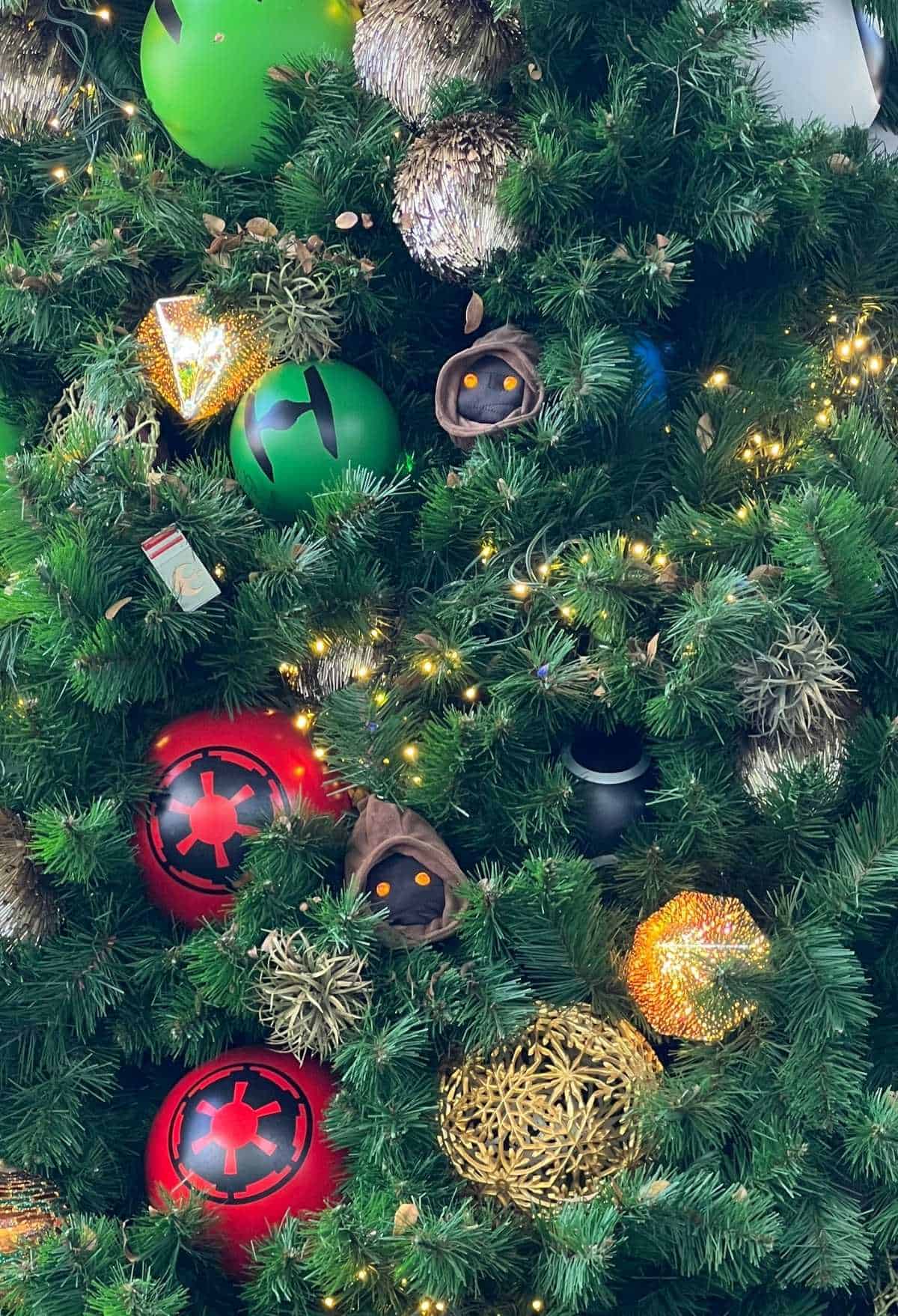 Black Panther
The Black Panther tree can be found right next to the Star Wars tree by Super Hero Headquarters.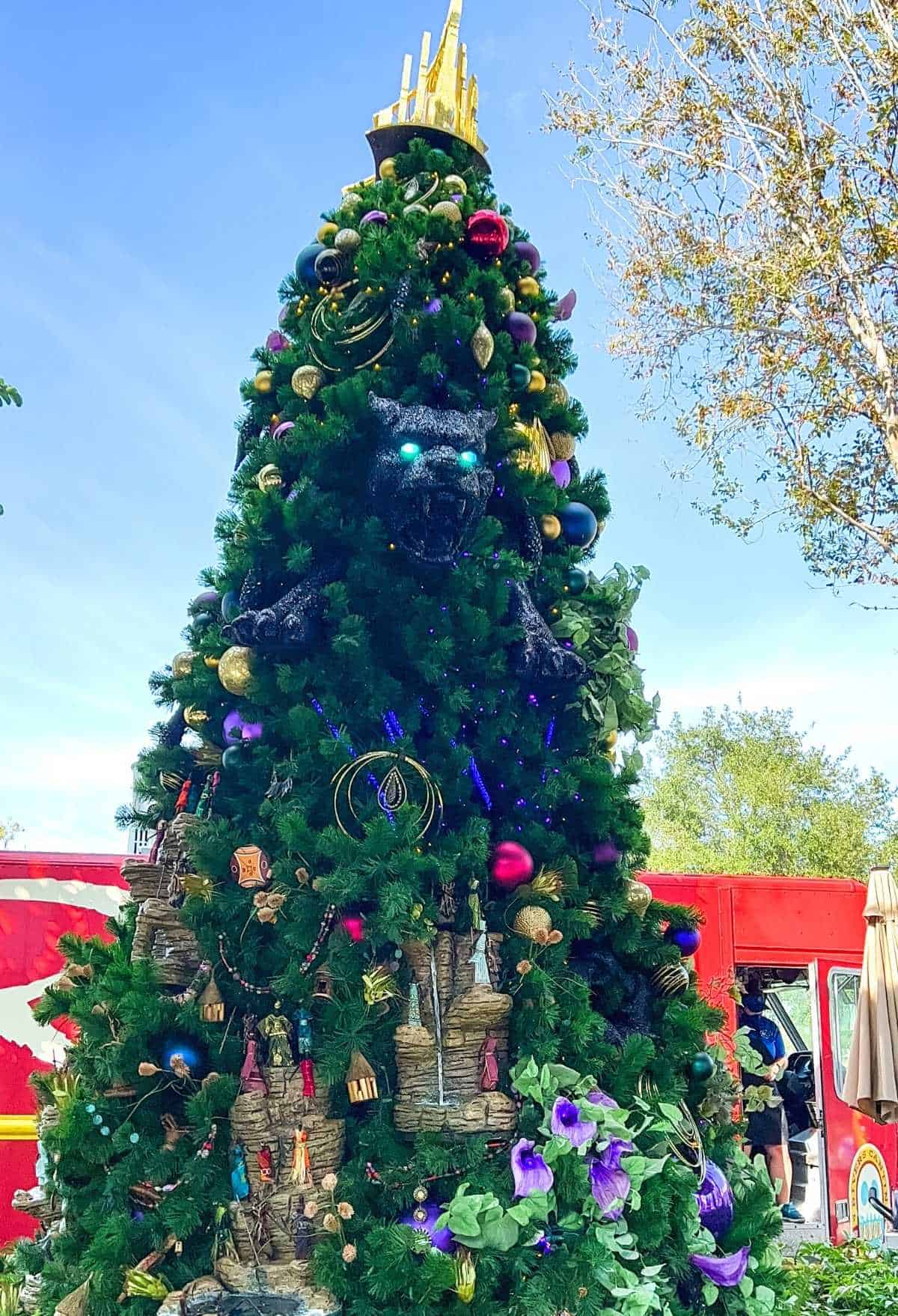 The new Black Panther tree at Disney Springs is not just an ordinary Christmas tree.
Decked out in purple, blue, and gold with vignettes of the Warrior Falls hanging from all sides of the tree.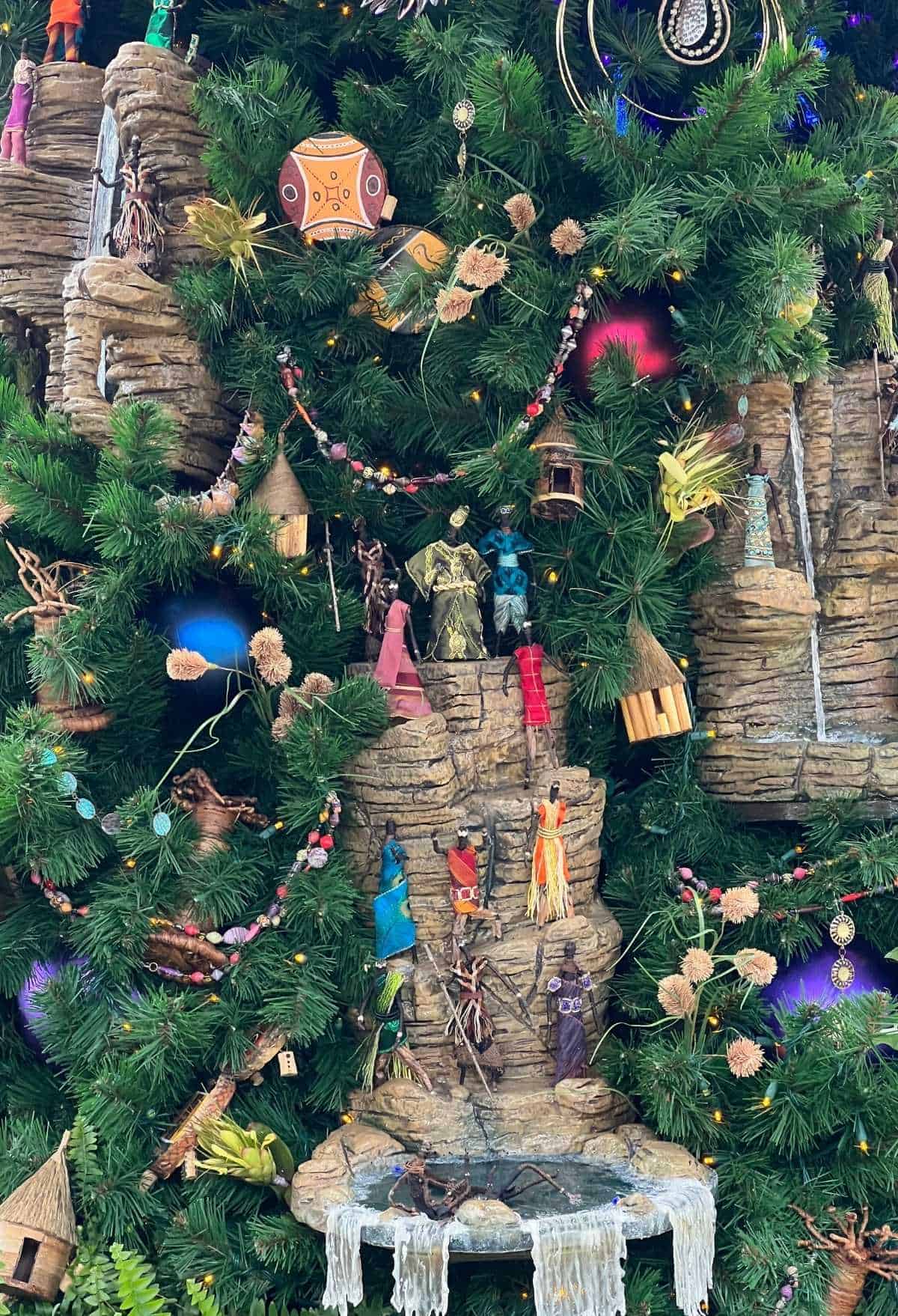 This special incarnation also has black sequined panthers hidden among the branches with glowing eyes make this tree stand out as a holiday must-see!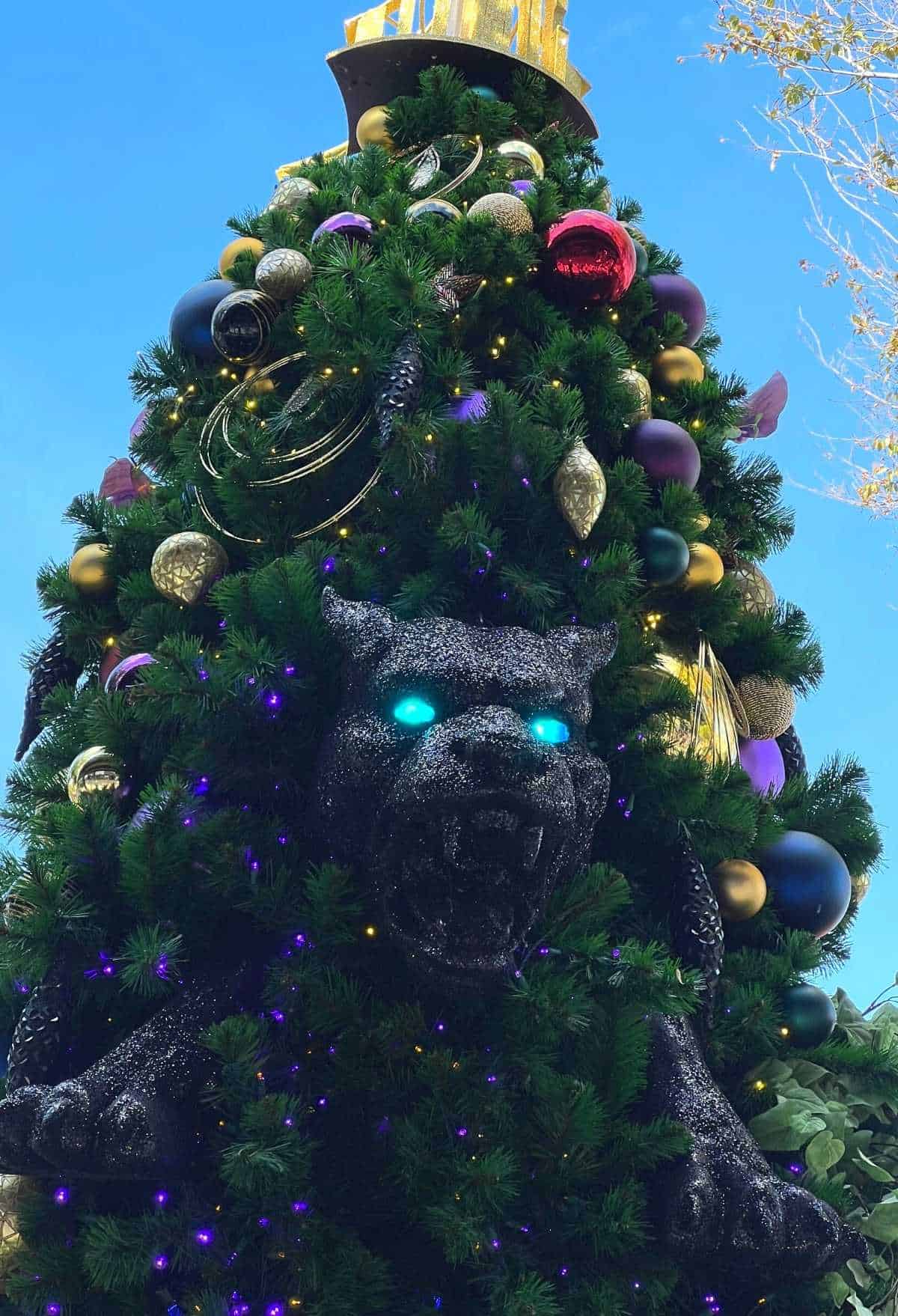 I think you'll agree that this tree is one to remember!
Toy Story
Next up you will find Woody's Toy Story tree which is right by the bridge to the Landing.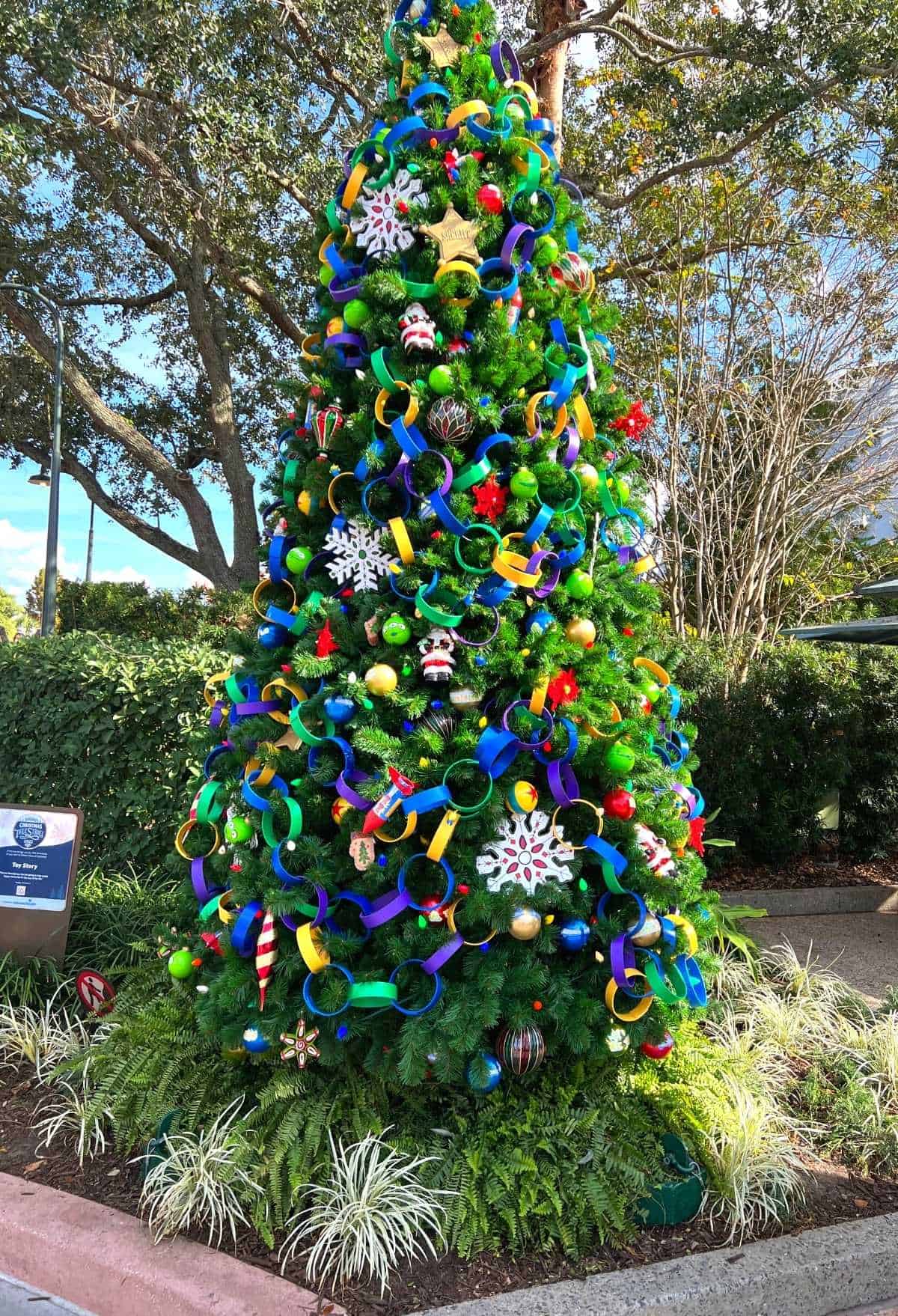 Complete with Sheriff badges, faux paper chains like we used to make as kids, Santa Claus, the Big One rockets, aliens, and mini lights just like Toy Storyland.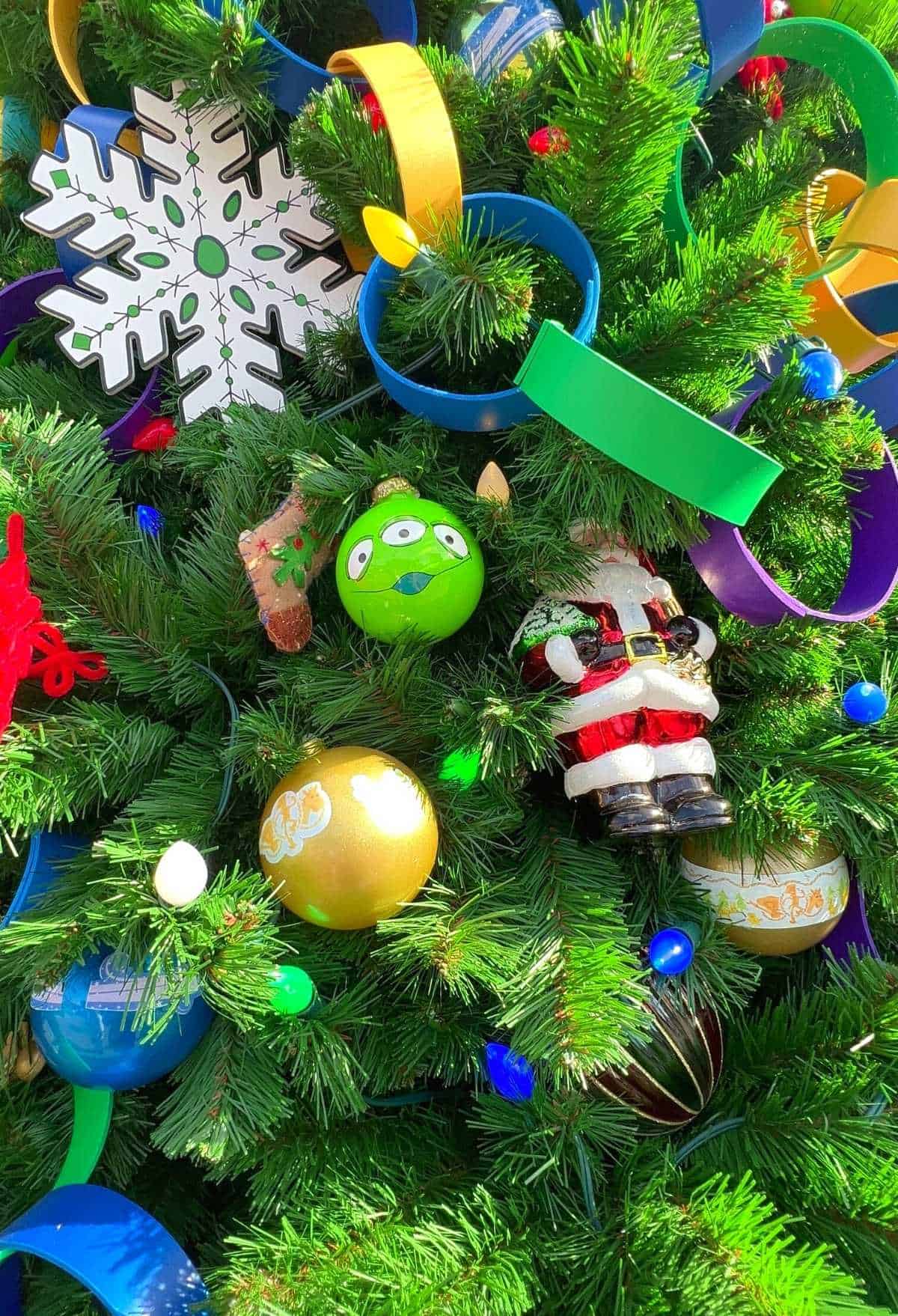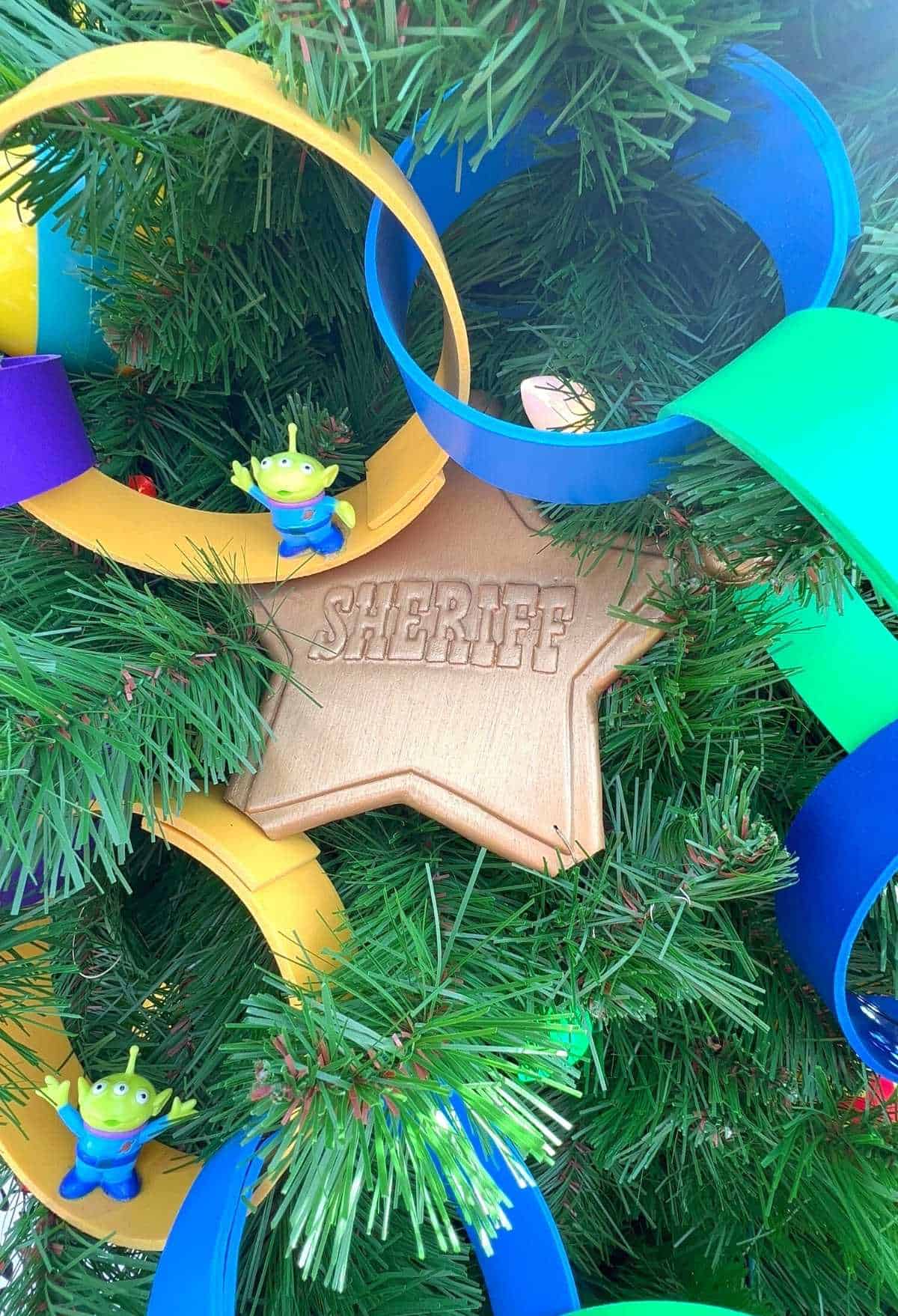 The tree is topped with Angel Kitty once again. Most people don't know who Angel Kitty is.
However, she is not seen in any of the four Toy Story movies. Created by Bonnie in a 2014 TV special, "Toy Story That Time Forgot" and is a Christmas ornament that helps carry the spirit of the holidays through the characters' adventures in Battleopolis.
Moana
Decorated with savage tribe of Coconut-like pirates called Kakamora and many tropical flowers. Found by the AMC fountain, this was the only location where we found a Disney Photo Pass photographer.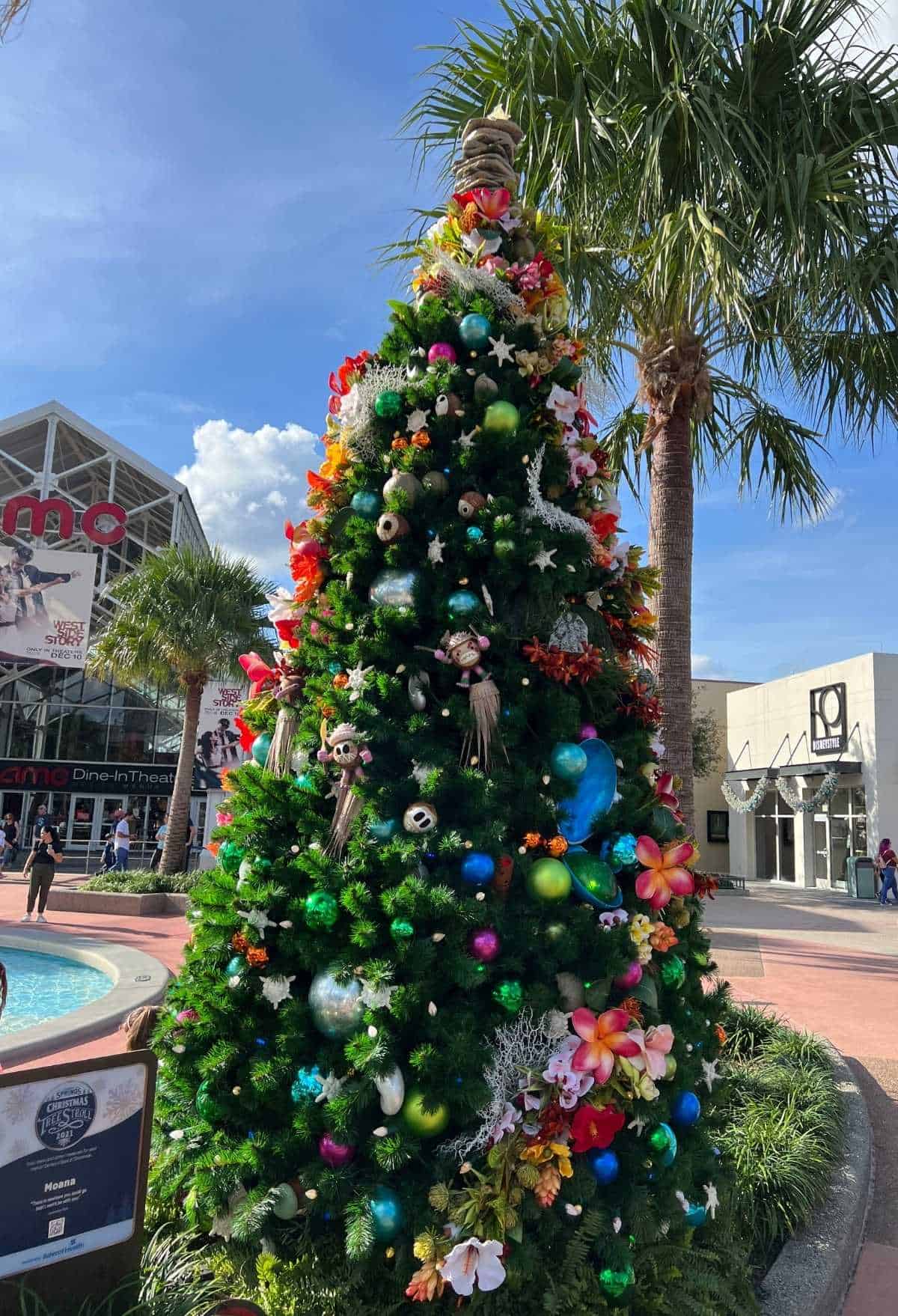 Hibiscus and coral are used instead of garland.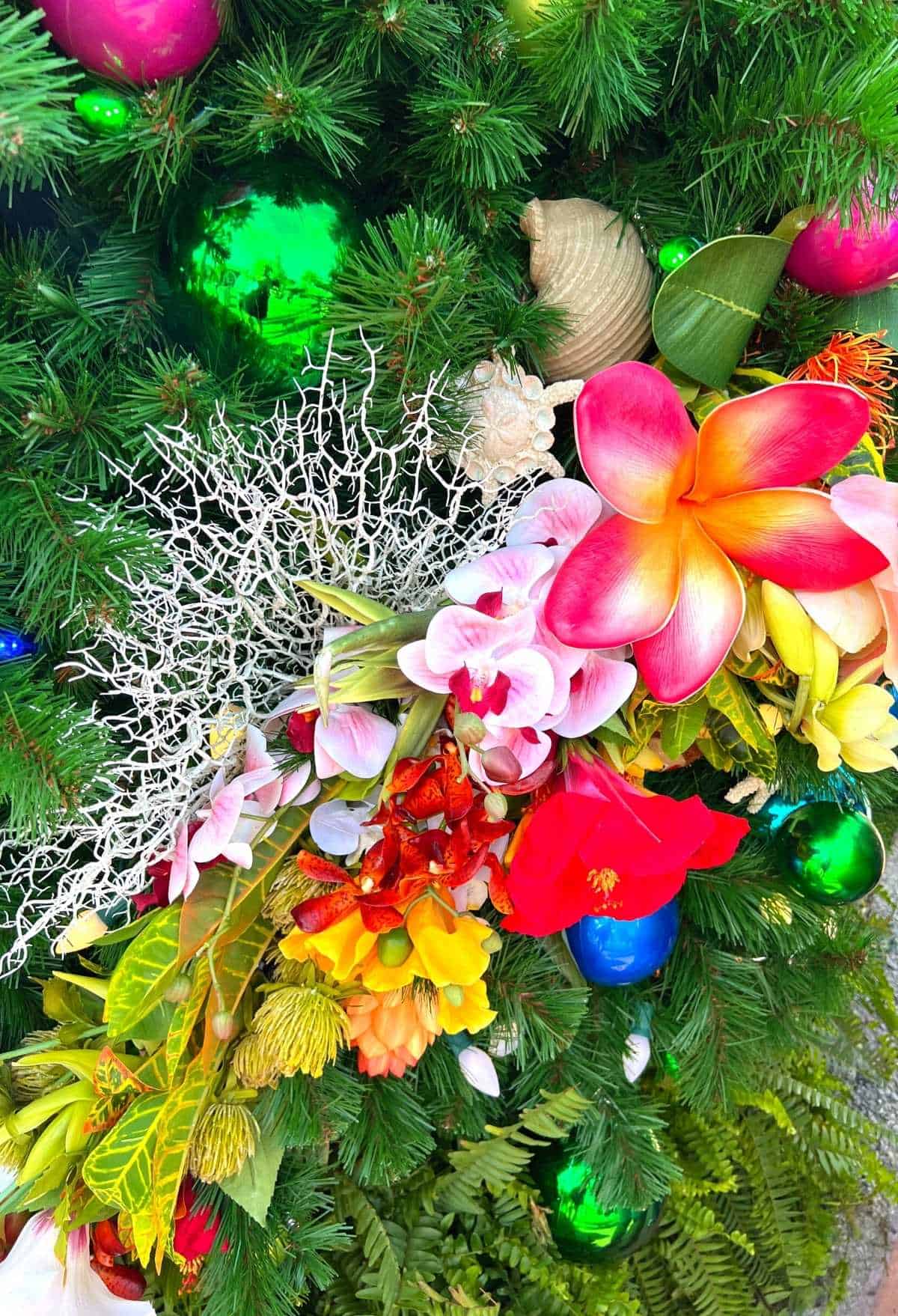 The tree topper is stacked with stones with the shell on top and Hei-Hei is also on the tree as well.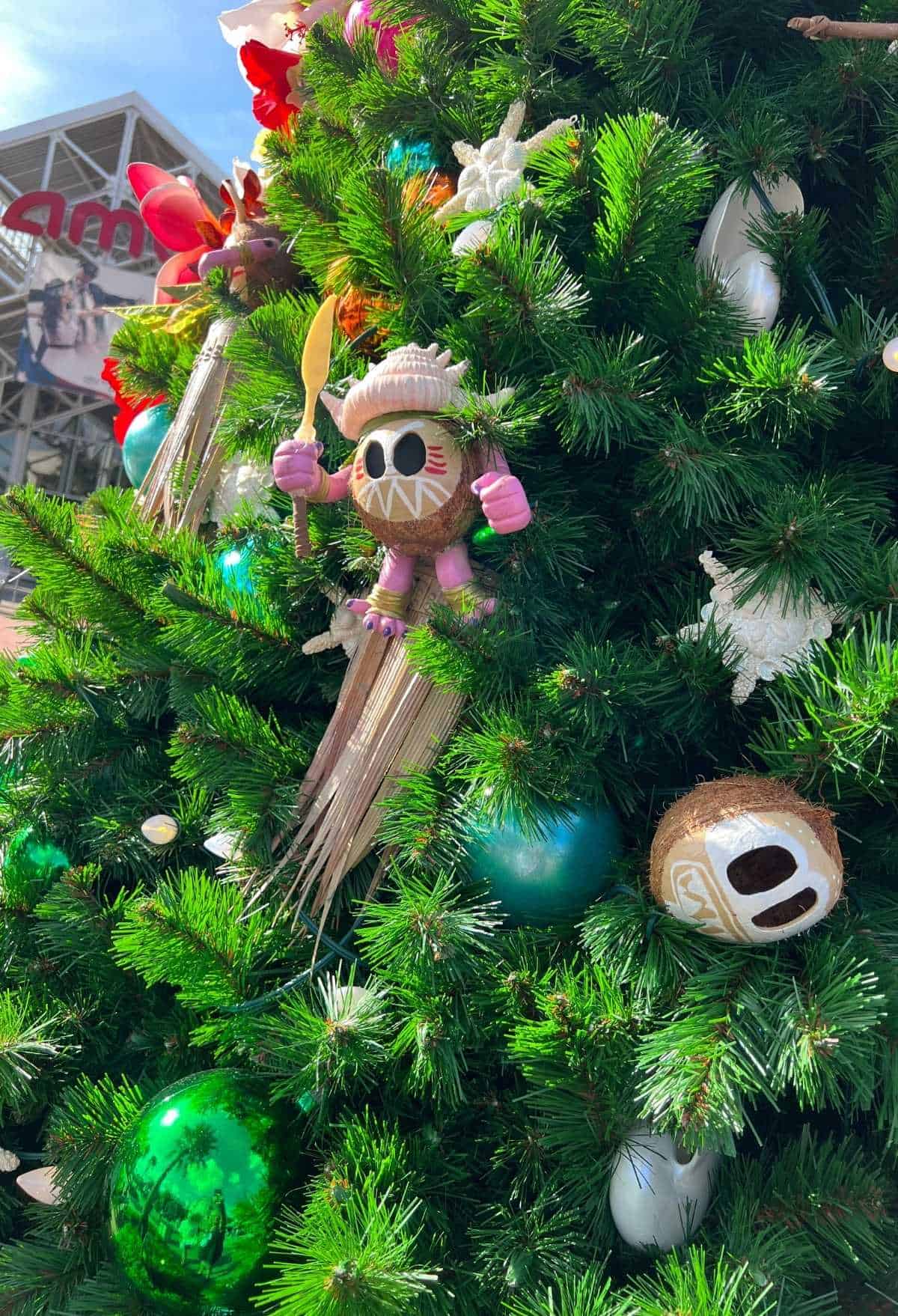 Moana's shell at the end, on top of the stack of stones, marks an ending to this era of isolation from the sea - her people are now explorers again, and may live on the ocean again.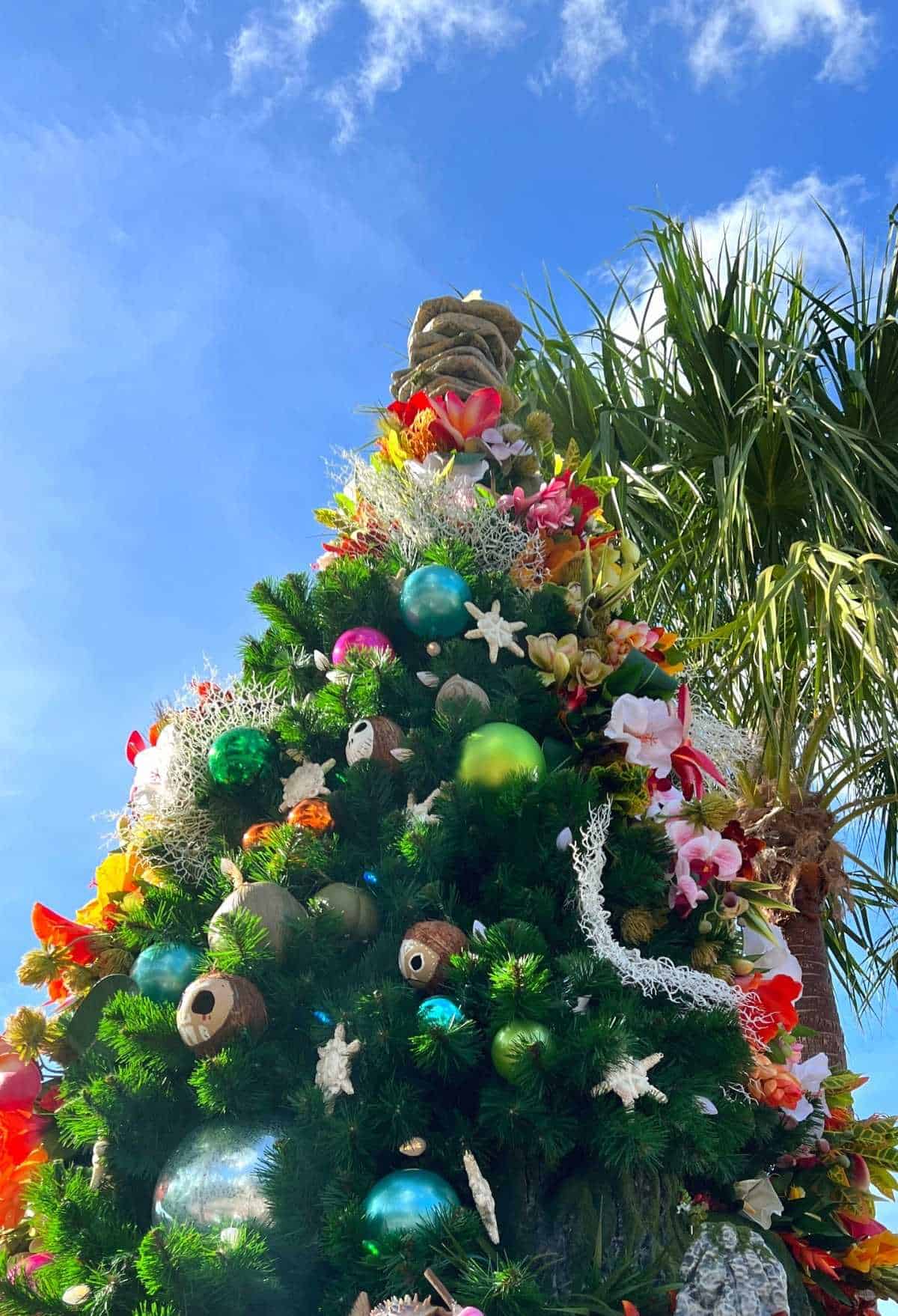 Frozen
Frozen is exactly what you'd expect, filled with everything Arrendelle.
The Frozen tree is located on the opposite side of the AMC fountain from Moana and is filled with Ice Skates, carrots, and even Sven.
Coco Themed Tree
The Coco tree can be found under the canopy as well as the Disney+ tree and is a beautiful and festive way to celebrate the Díad de Los Muertos holiday.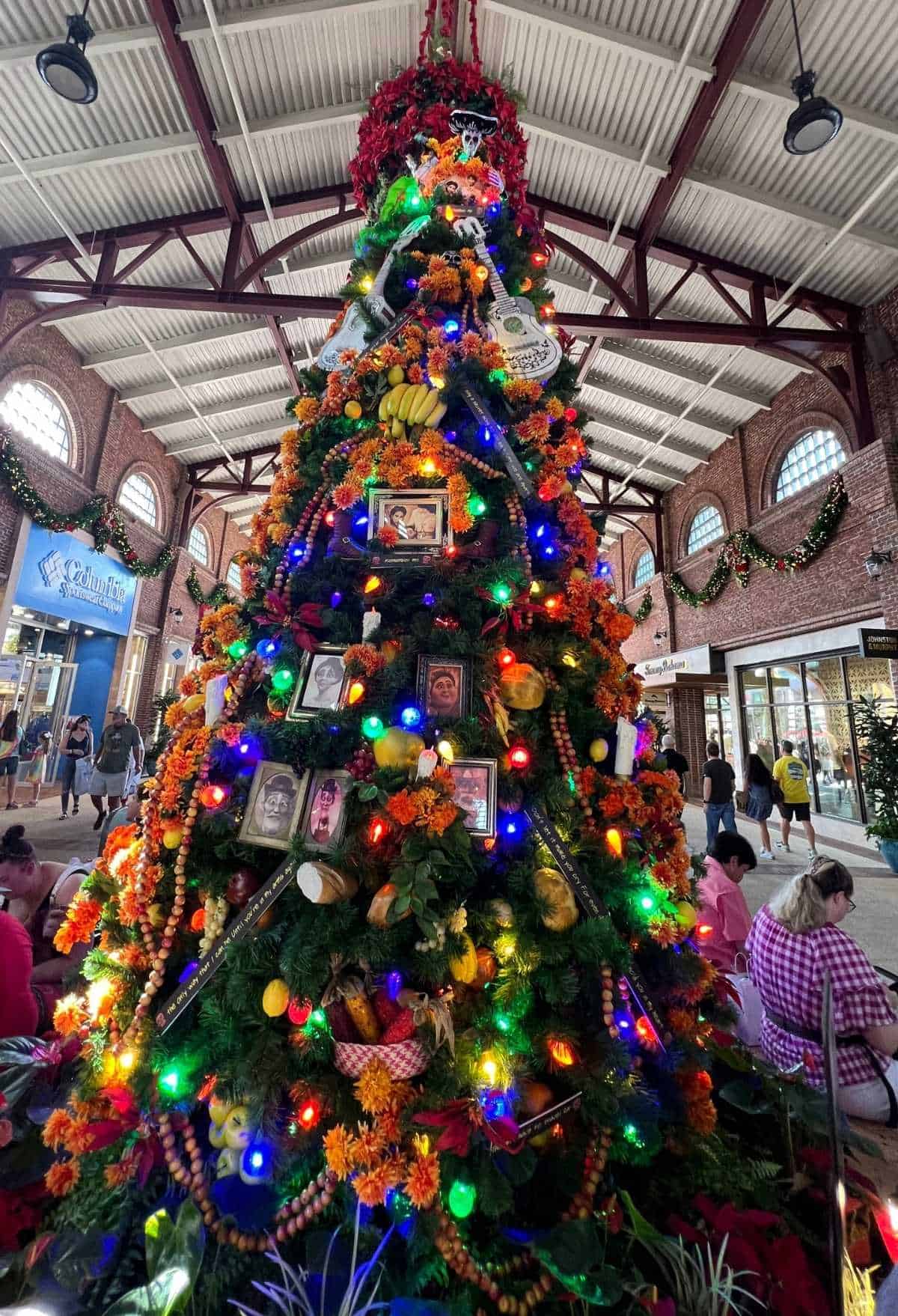 This movie-themed decoration has all the colorful details you would expect from this holiday including images taken directly off of Day of the Dead family altars dedicated to commemorating those who have passed on.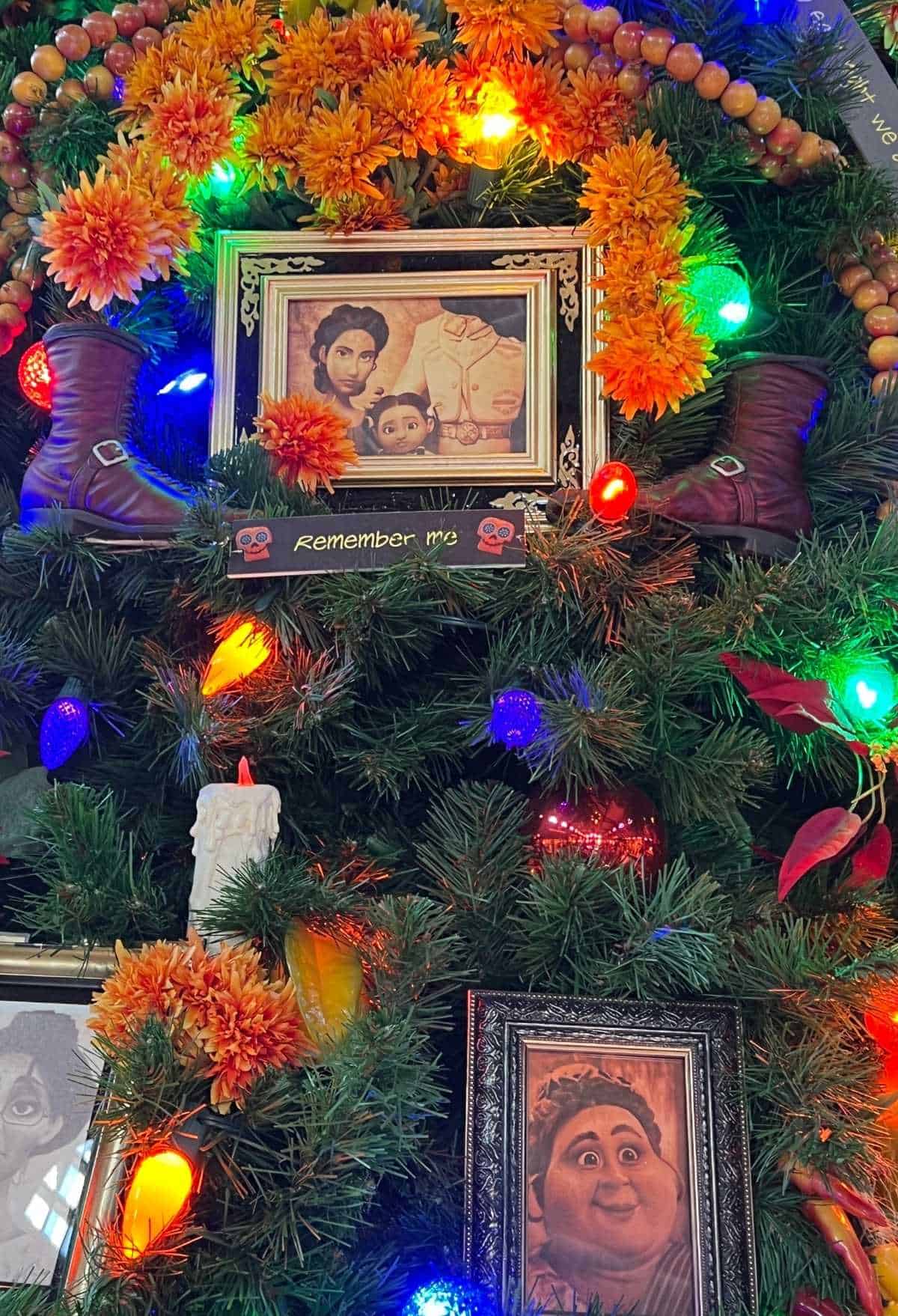 You'll also find many lights, guitars, and marigolds strung around like garland and bread. 😂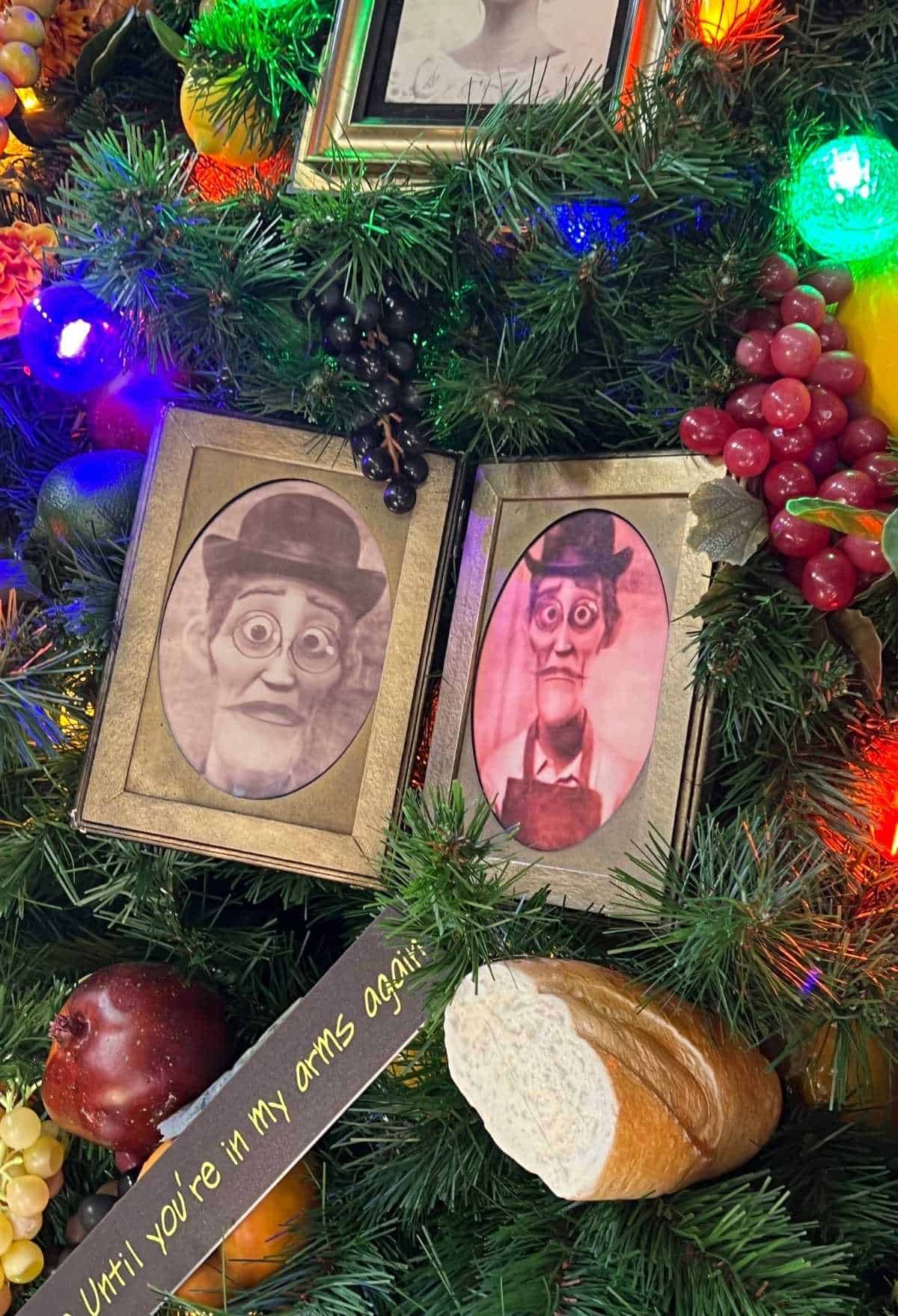 Disney+
Right next to the Crystal Deer, you will find the Disney+ tree with strands of ribbon cascading down the tree filled with all your favorite Disney+ holiday movies.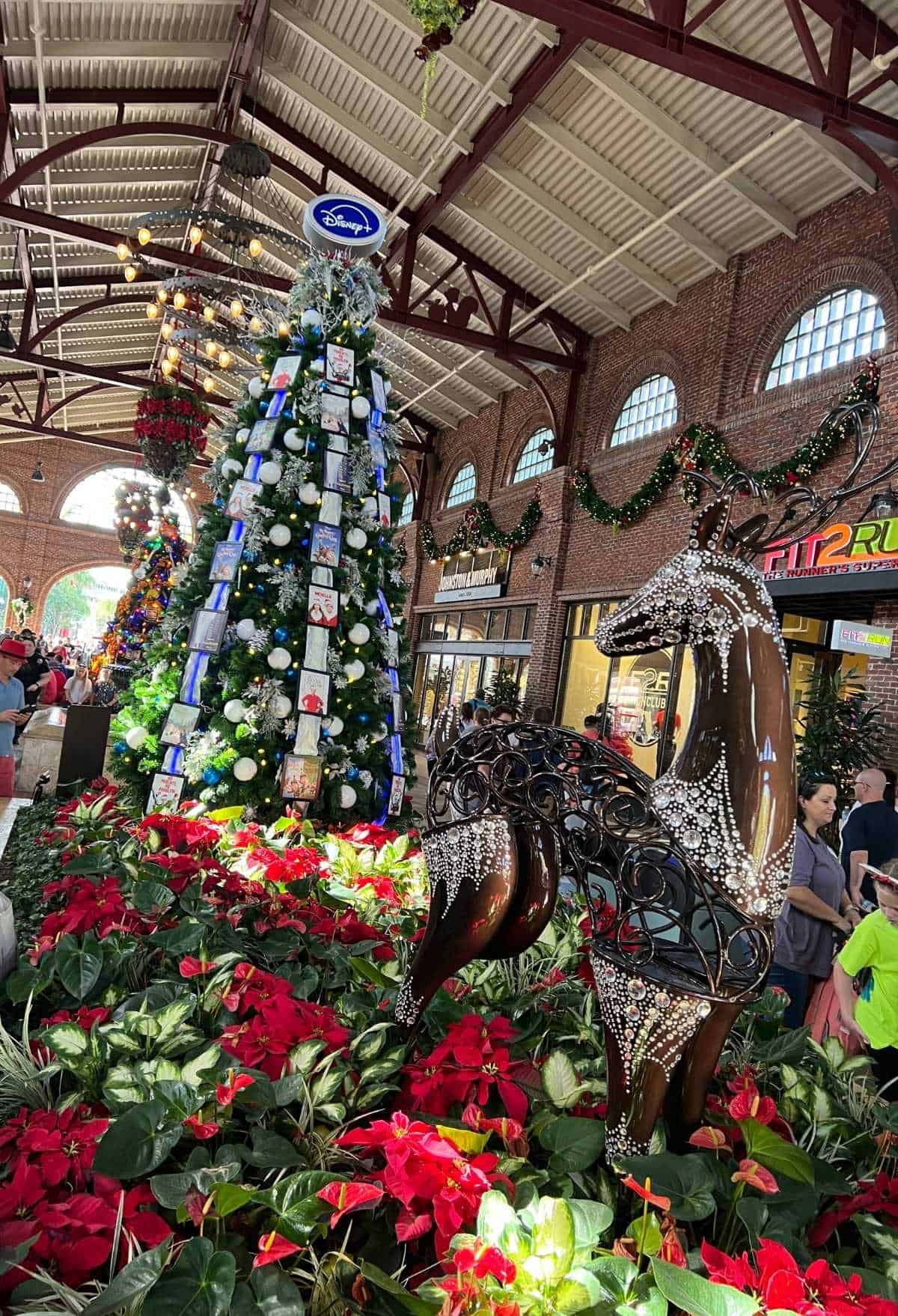 We saw The Santa Clause, Noelle, Godmothered, The Muppet Christmas Carol, Hawkeye, and No Parents, No Problem, just to name a few.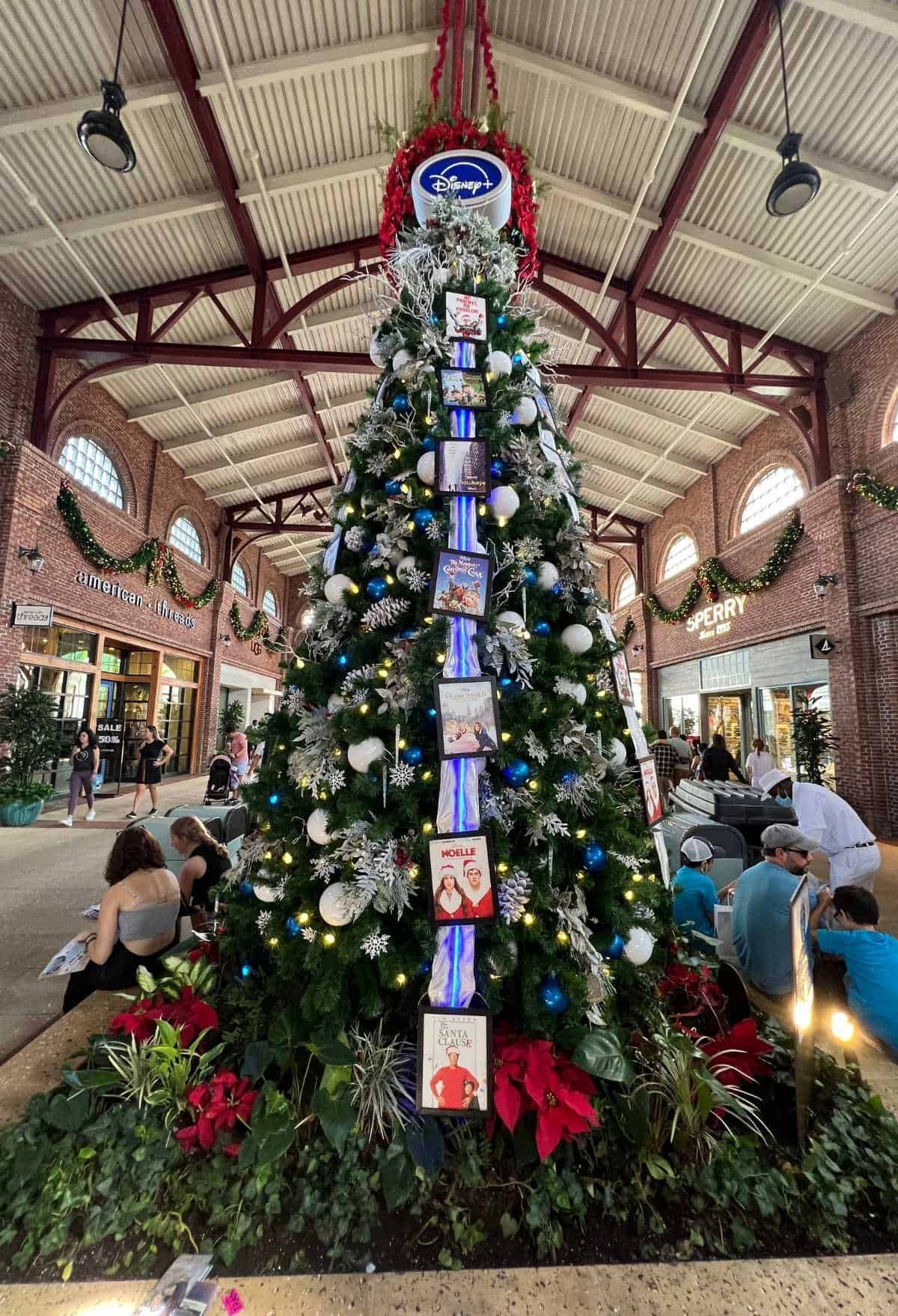 Mickey and Minnie Mouse
Located right outside of the World of Disney store, the Mickey Mouse and Minnie Mouse tree is a staple.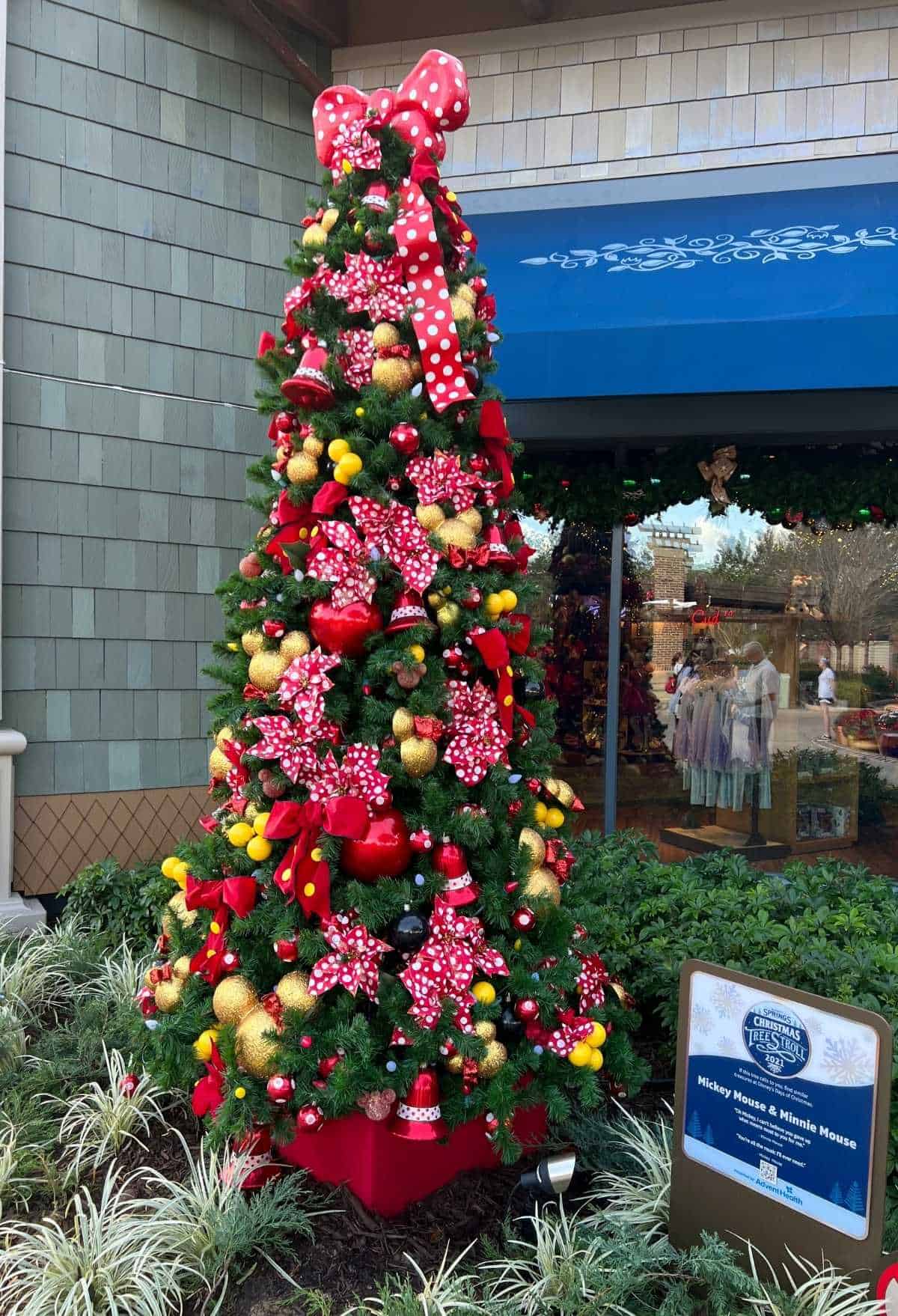 Filled with Minnie's bow garland, ornaments, bells, and Golden Mickey's.
Christmas Tree Stroll Old Fashioned Christmas Tree
The Old Fashioned Christmas Tree is located near Earl of Sandwich.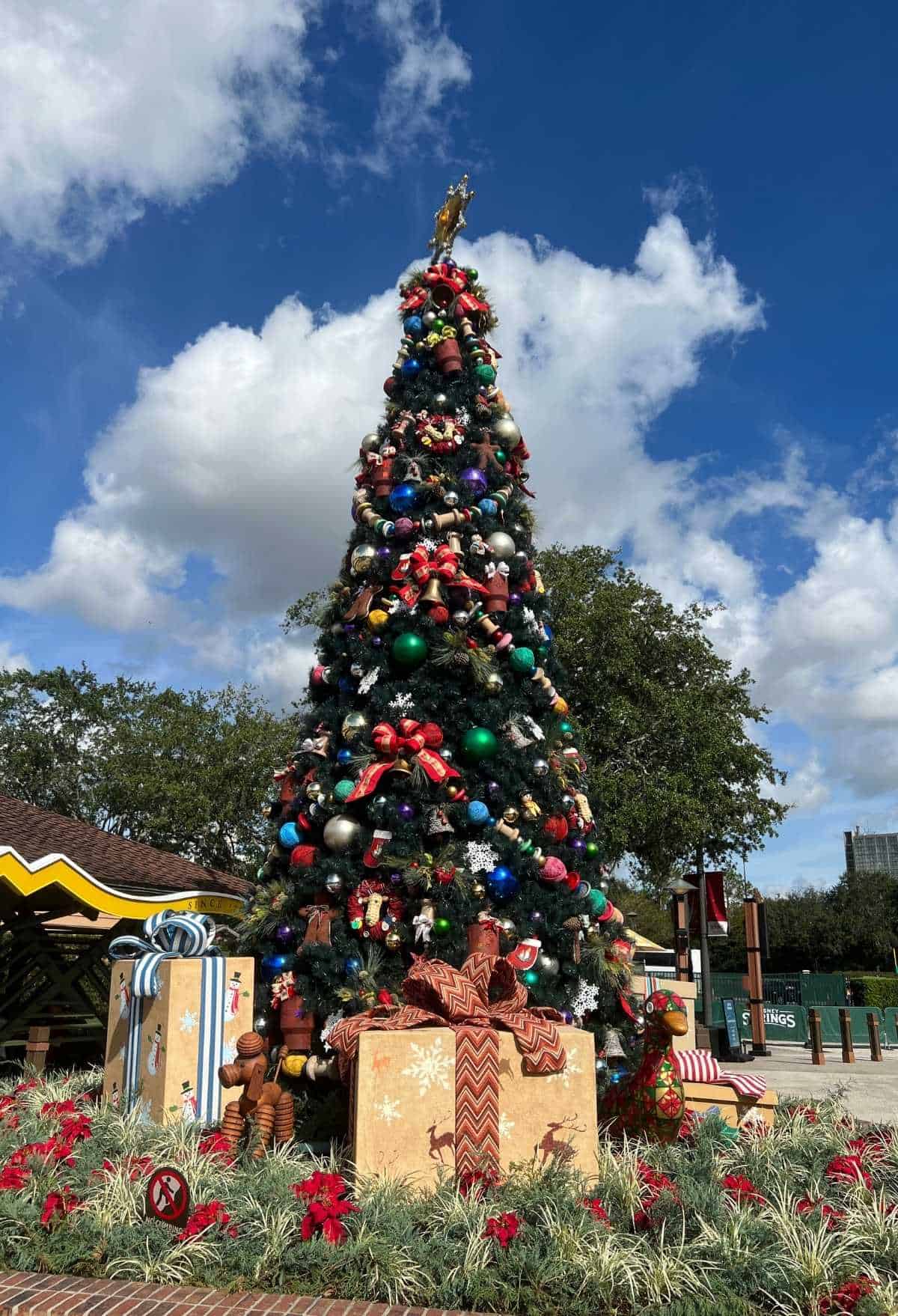 Here you will find huge gift boxes, as well as all our favorite old-style ornaments,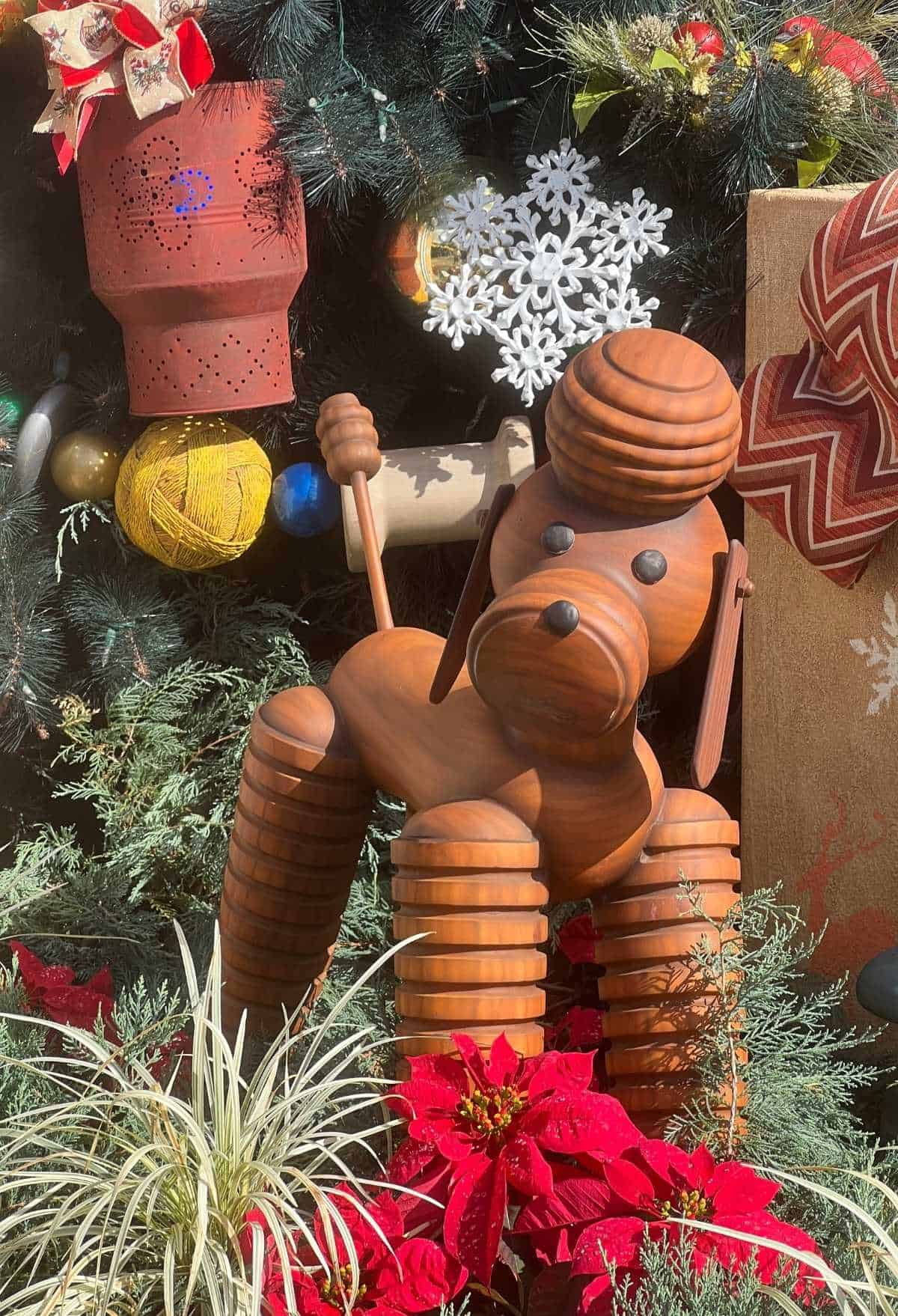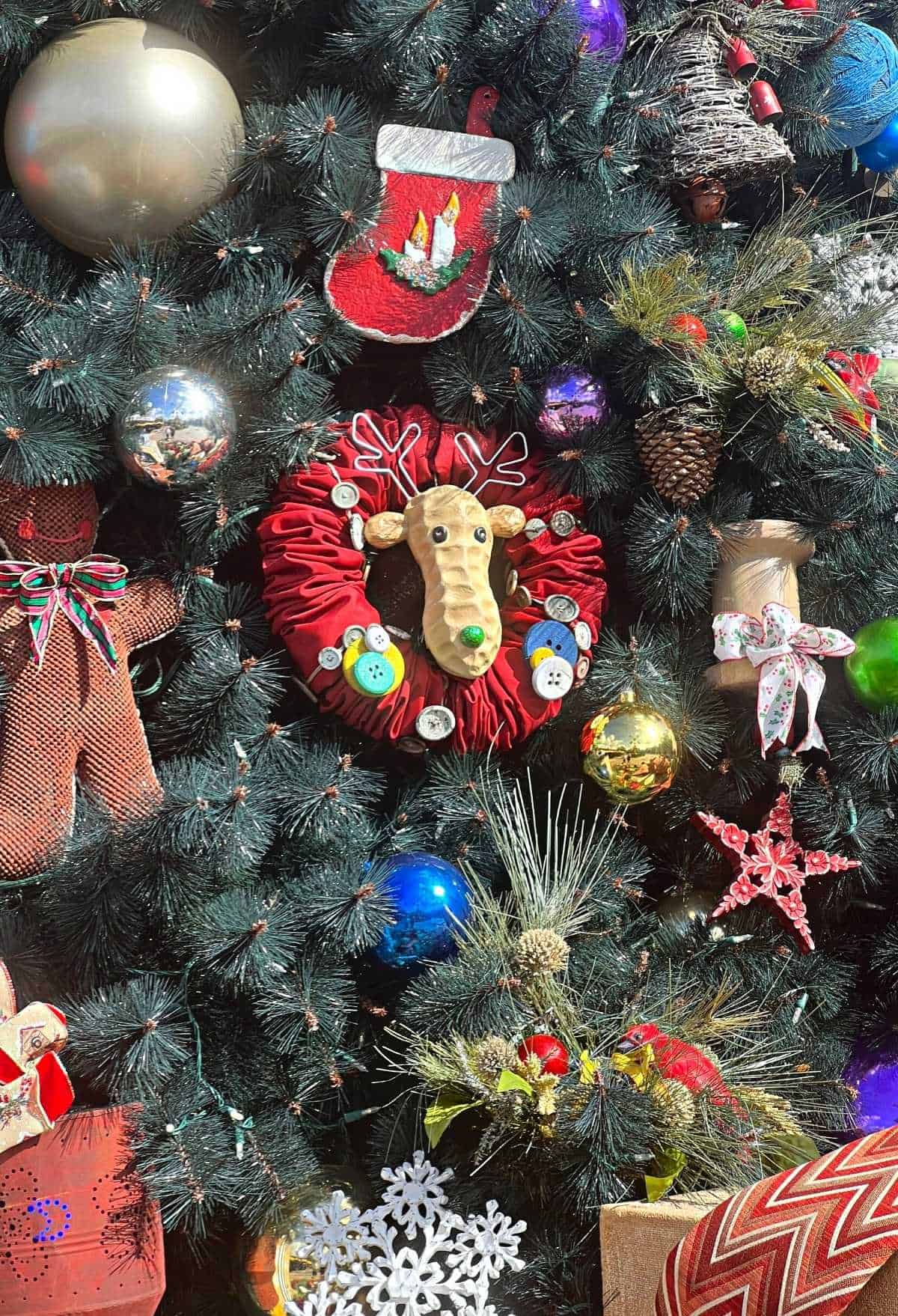 Wooden spools strung for garland, bells, bows, stockings, balls of yarn, gingerbread men, snowflakes, and punched tin lanterns.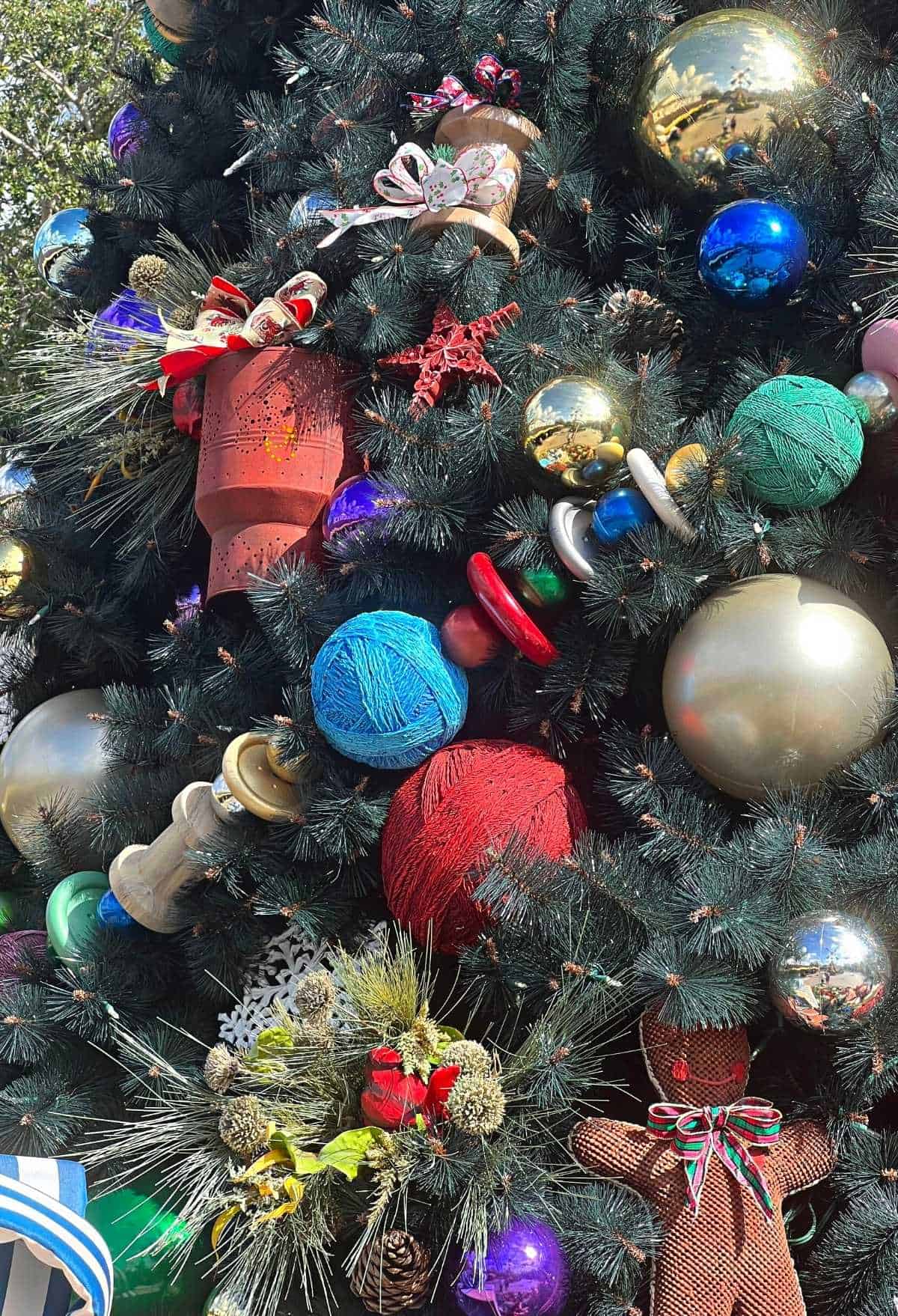 The Lion King
Next up is The Lion King. On the top of the tree, you will find Simba!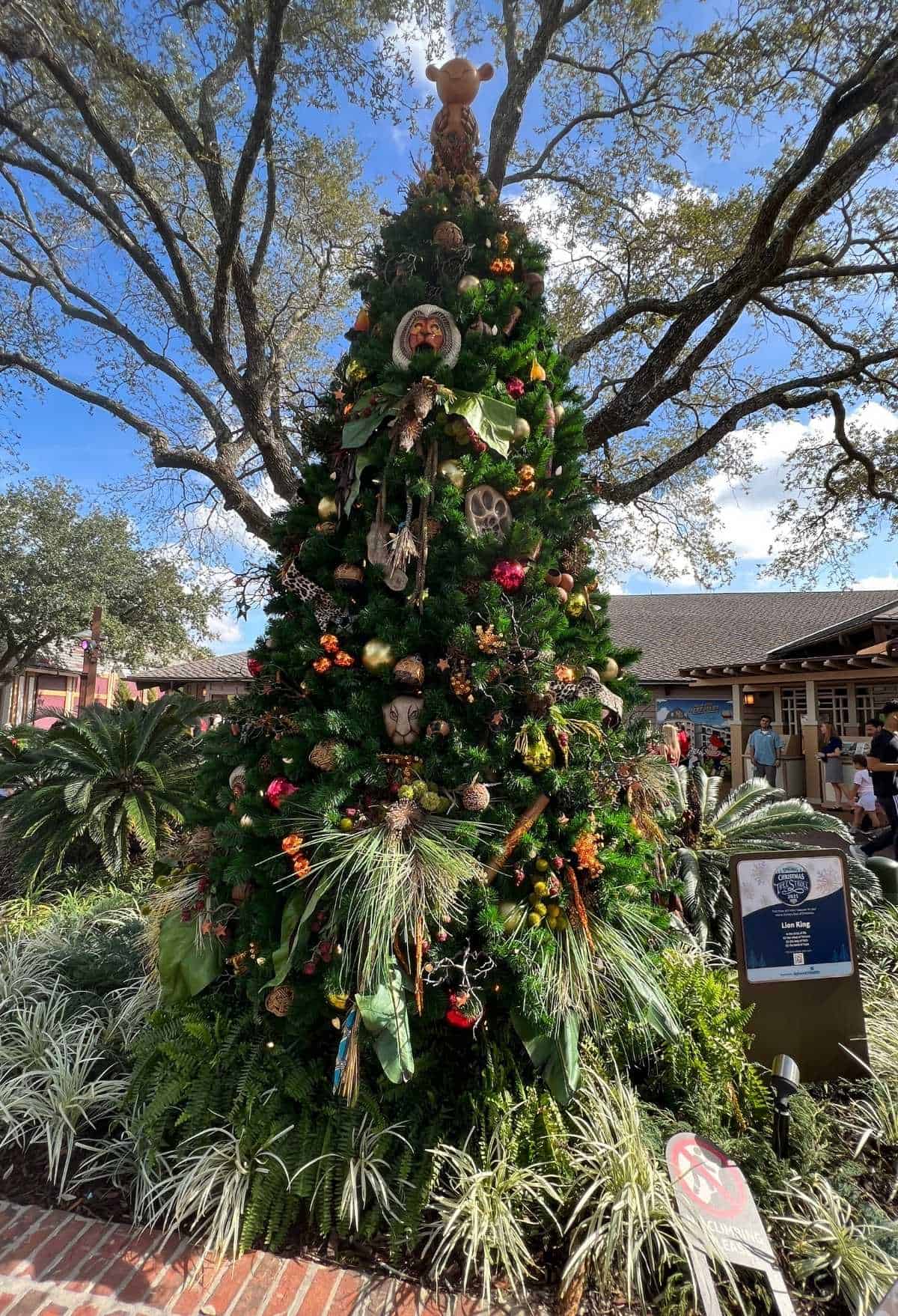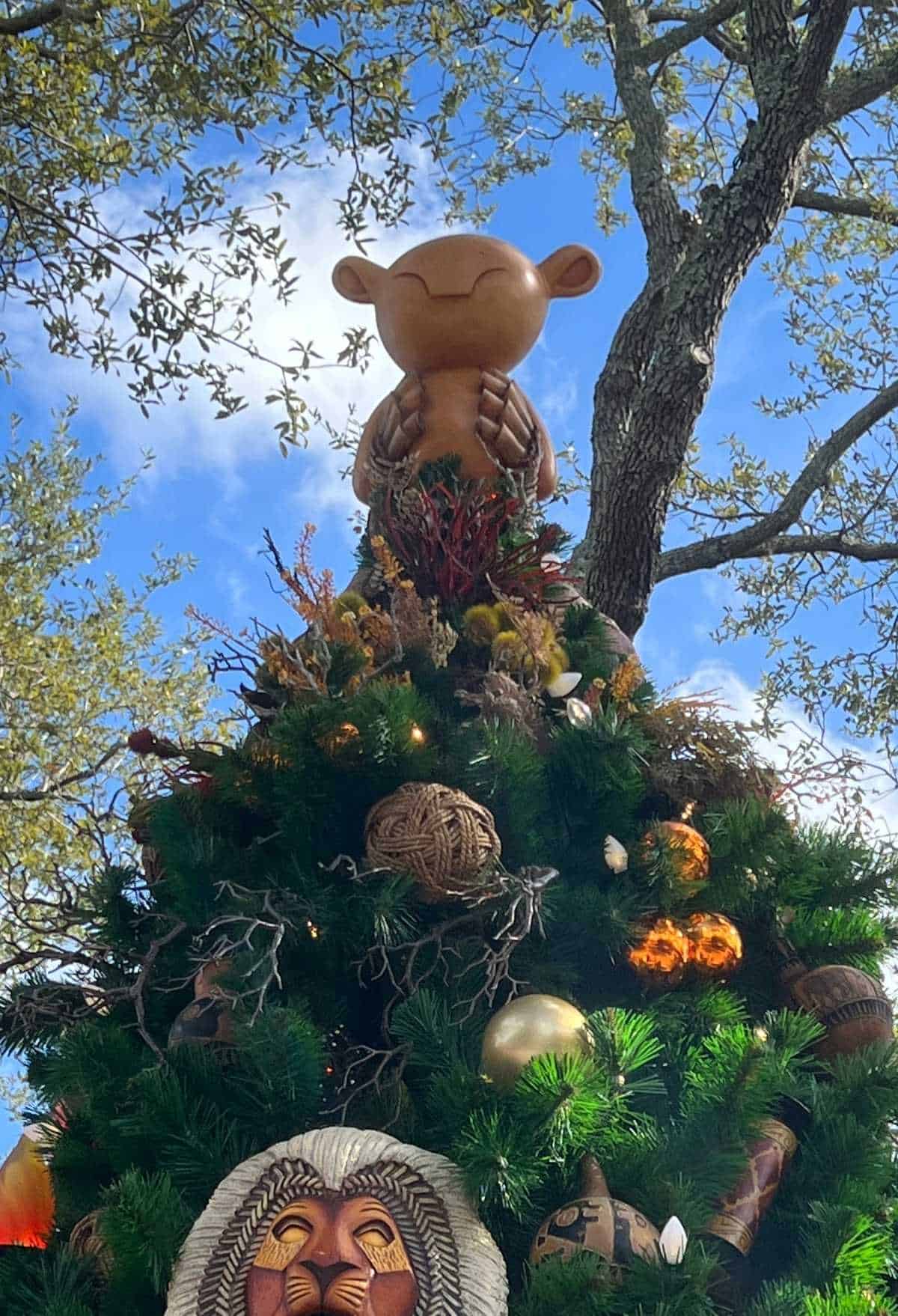 Masks representing Simba and Nala, paw print ornaments, and more adorn this tree.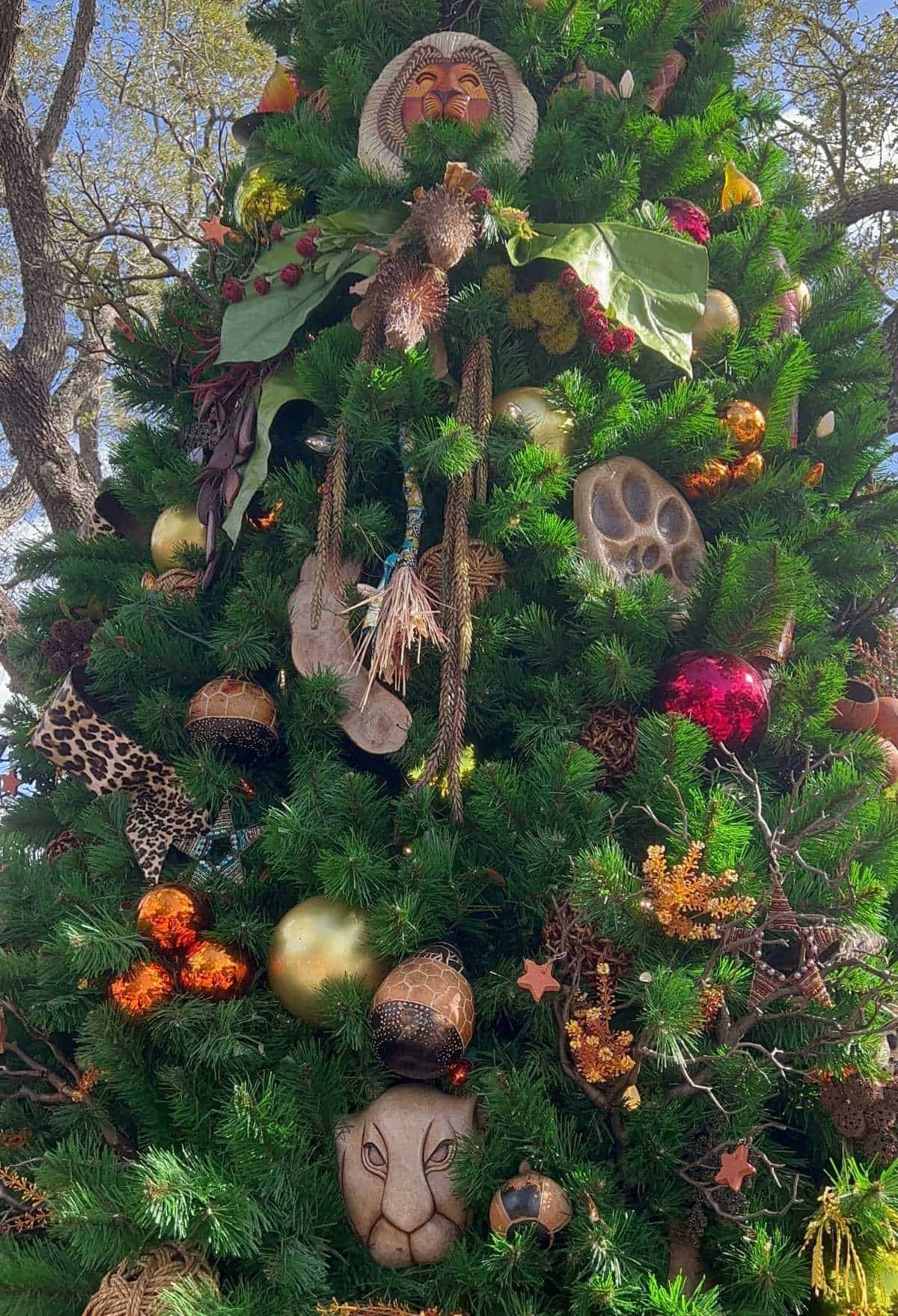 Cinderella's Tree
Right near D-Luxe Burger is where you will find Cinderella's tree filled with carriages, glass slippers, tiaras, and everything in Cinderella.
The Nightmare Before Christmas
Nightmare Before Christmas is one of my favorites and can be found in front of T-Rex.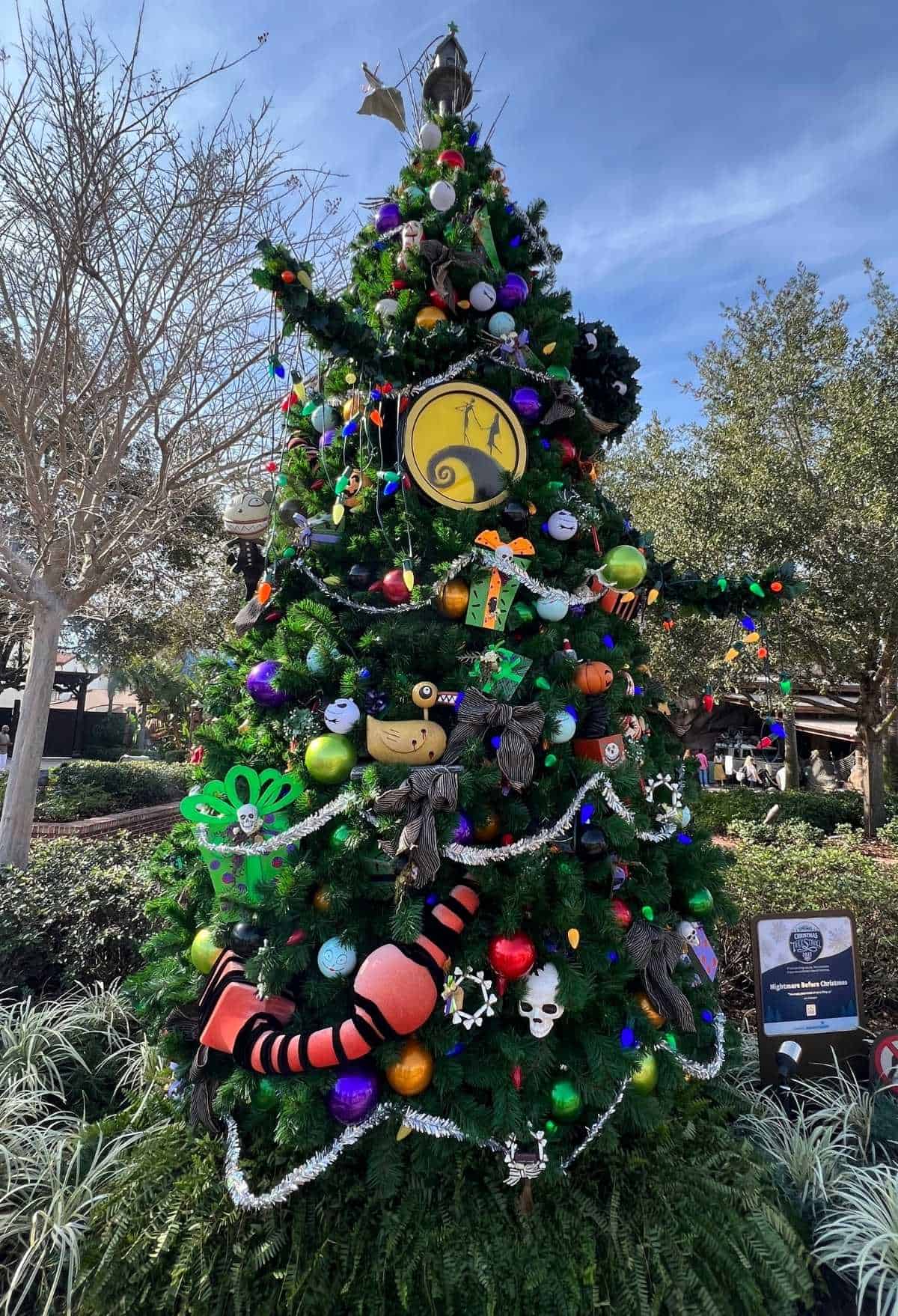 Topped by Zero and his dog house, you will find Jack and Sally ornaments, the gift-eating snake, and many other items from the movie.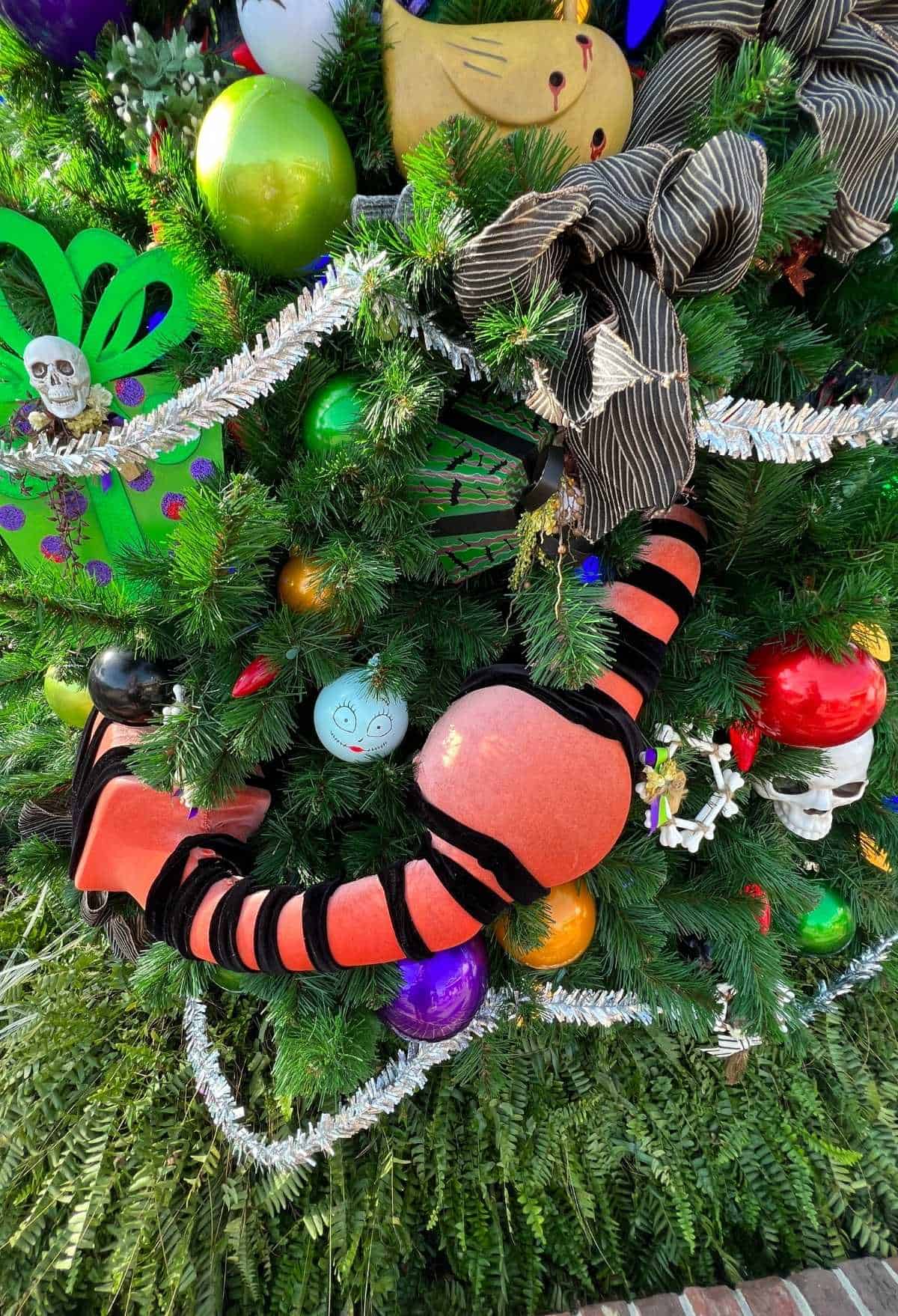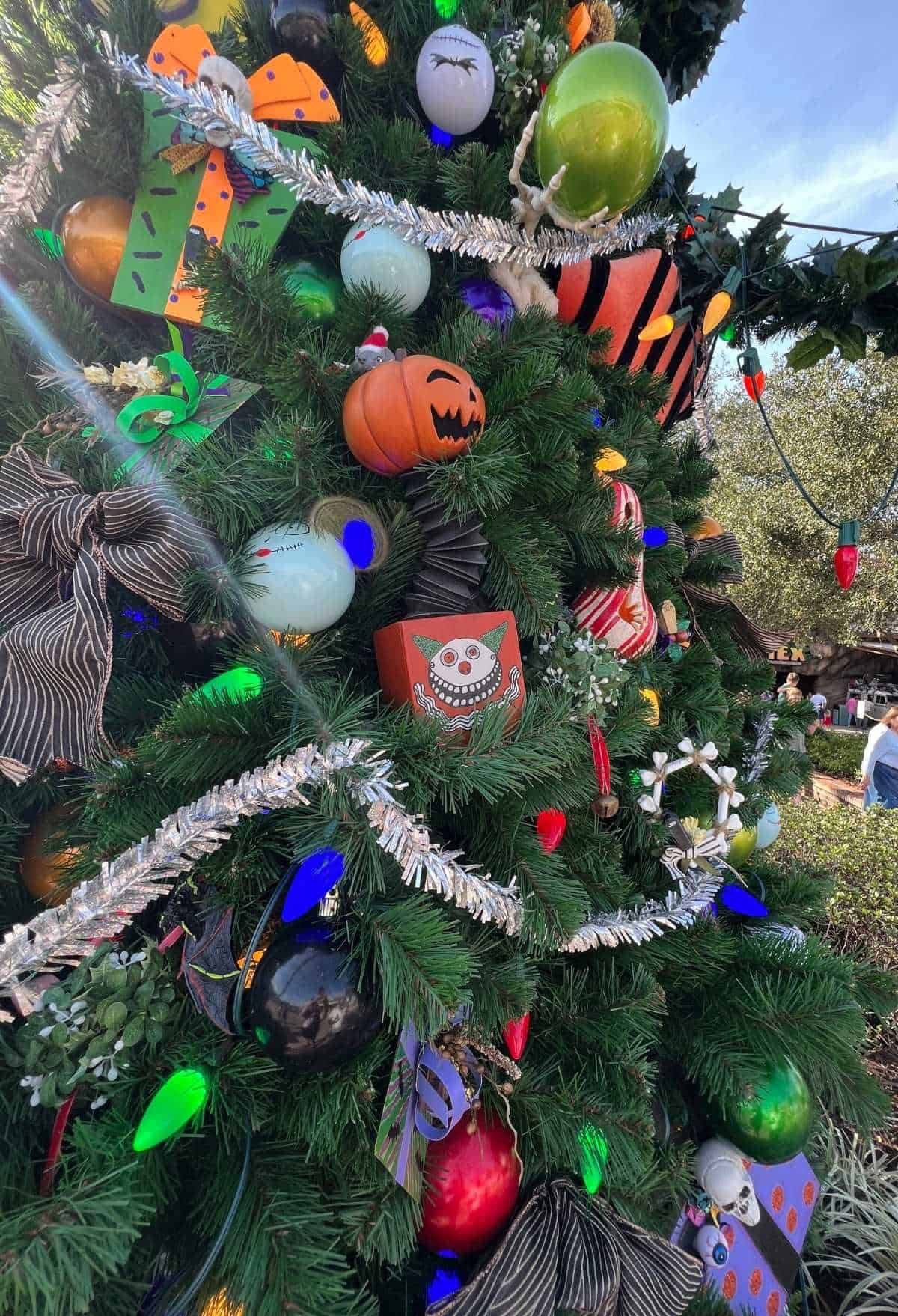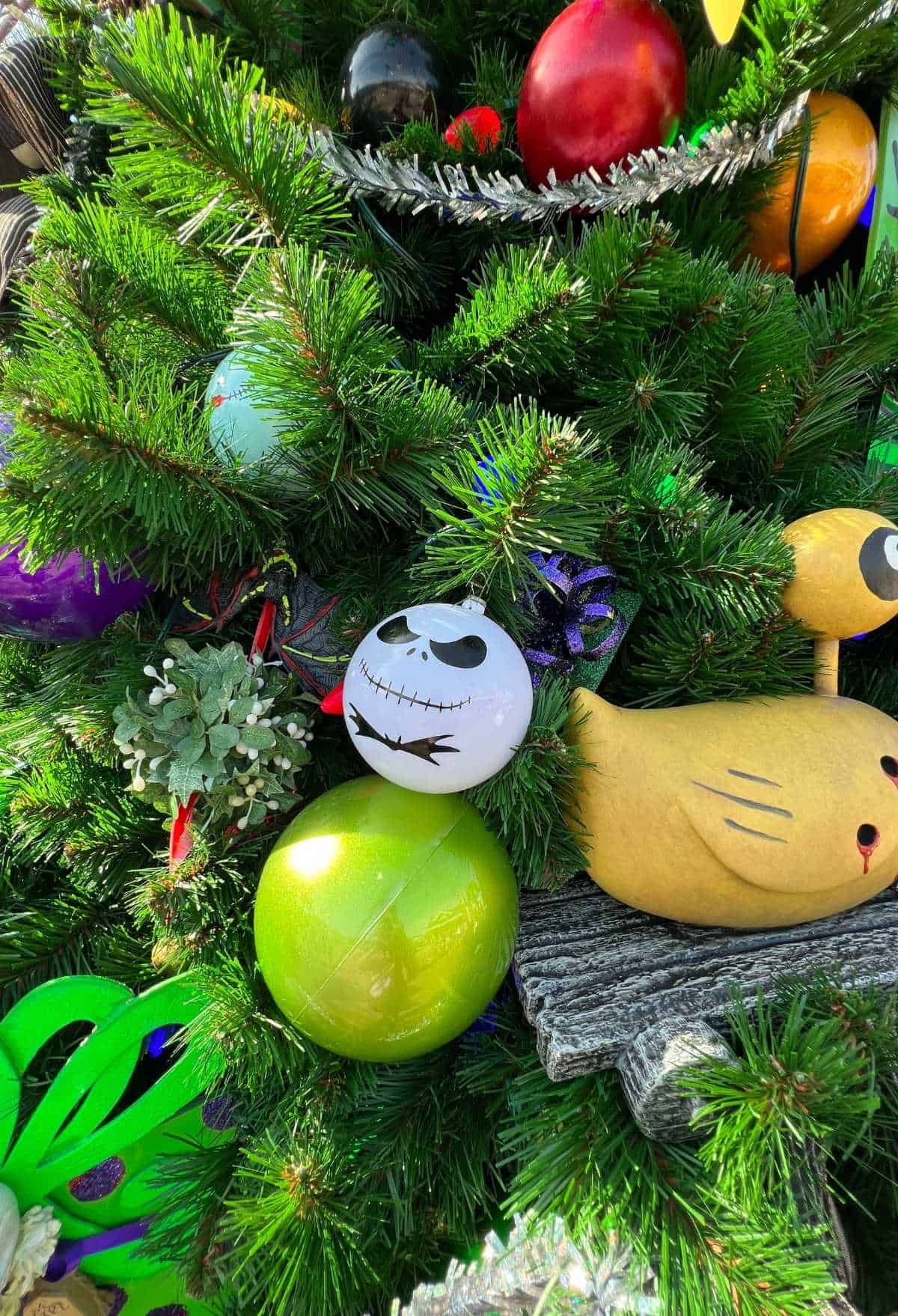 Here's looking at you! 👀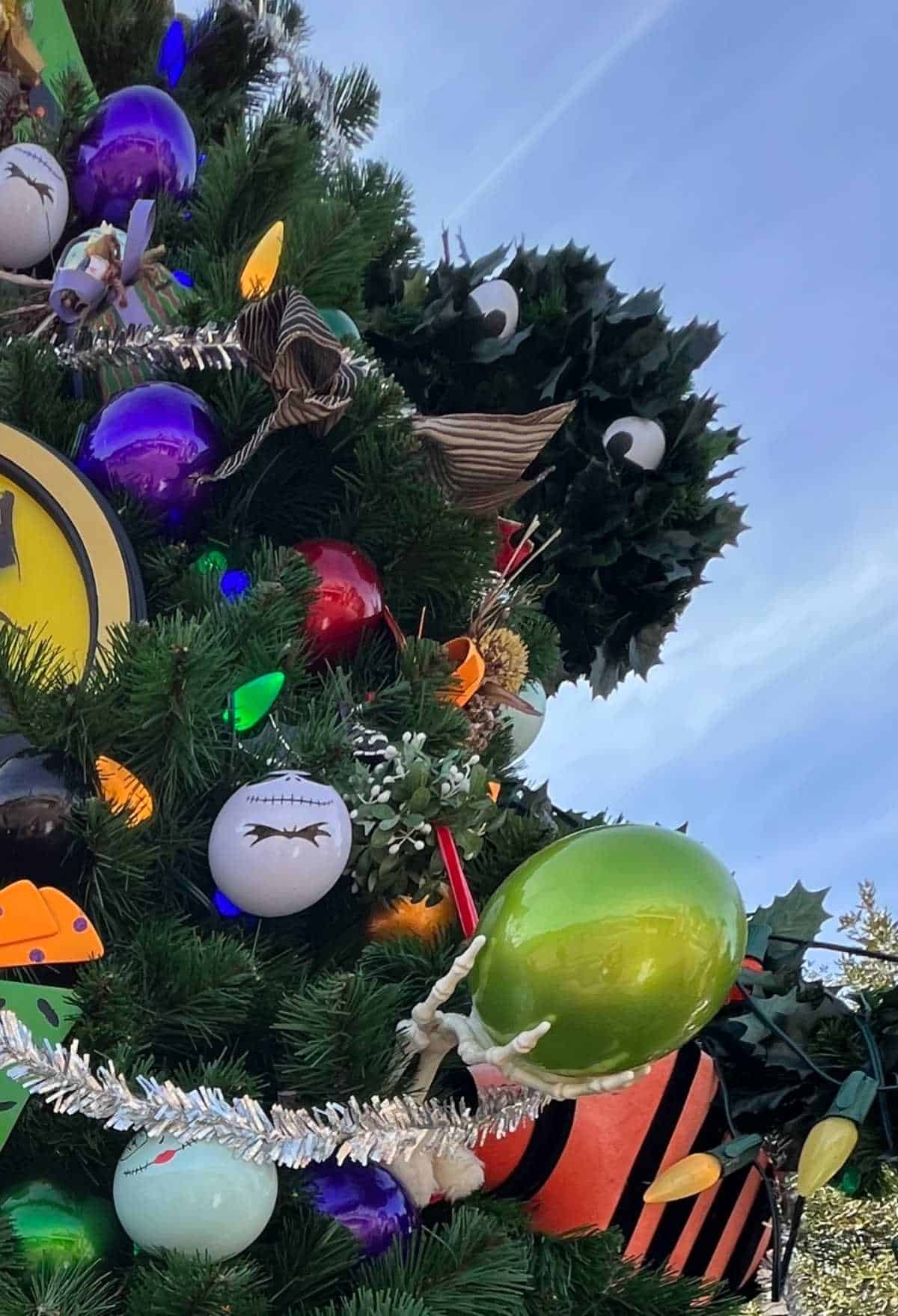 The Haunted Mansion
The bestest tree of them all is located between the Lego Store and the Daily Poutine.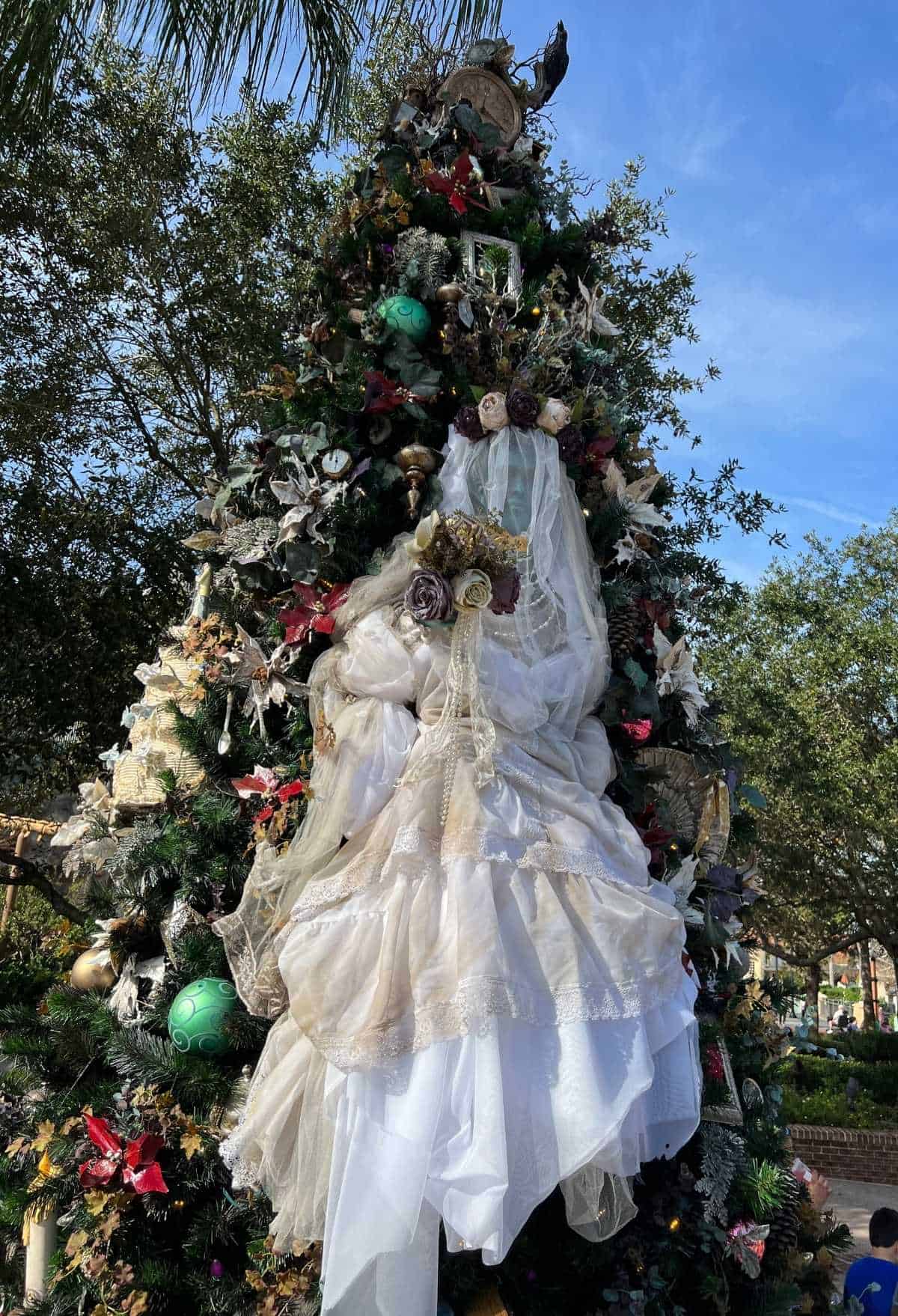 The ghost bride is front and center!
Floating candelabras, carpets, books, and fall foliage can be found on the Haunted Mansion tree.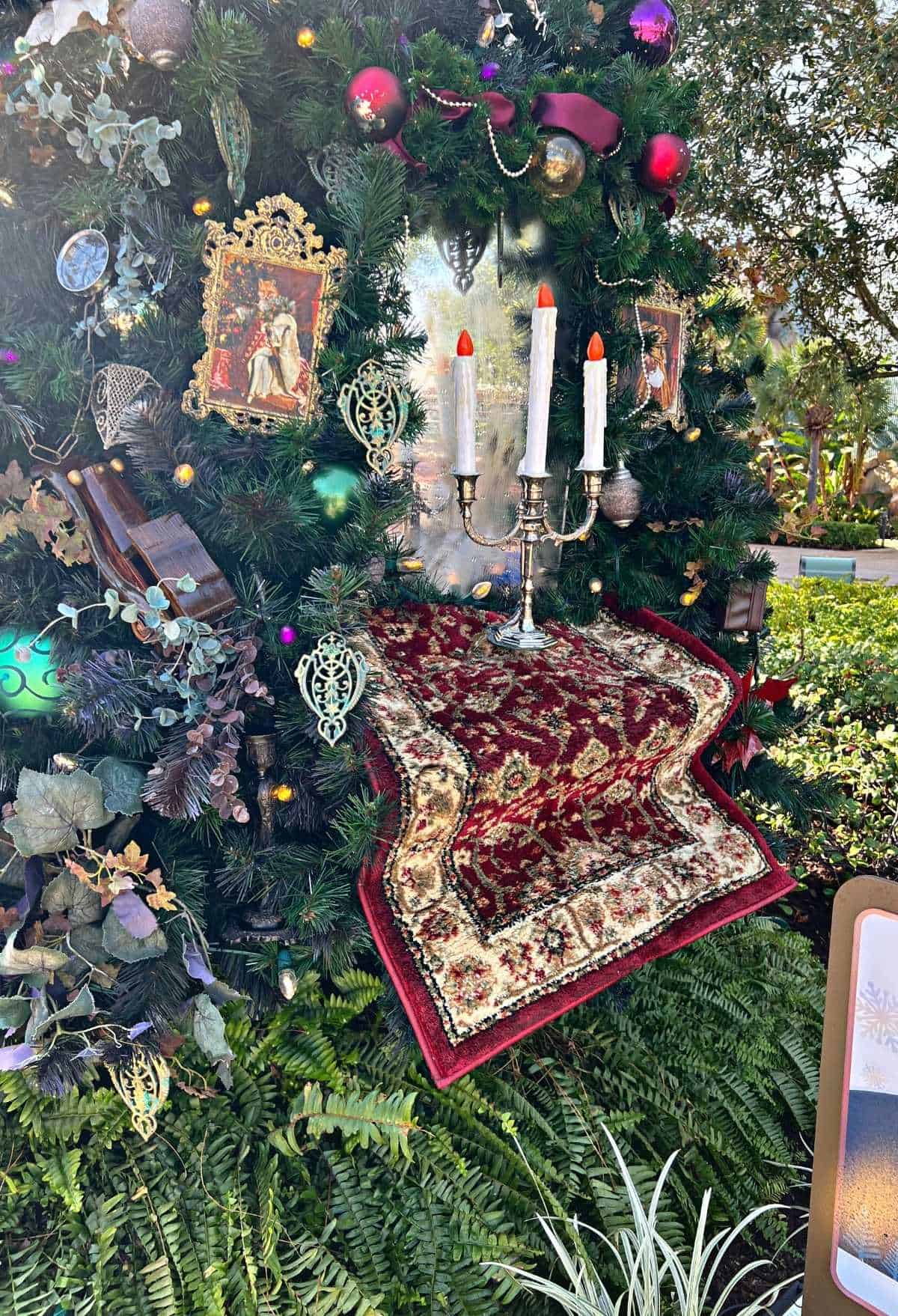 A clock and black crow top off this awesome tree.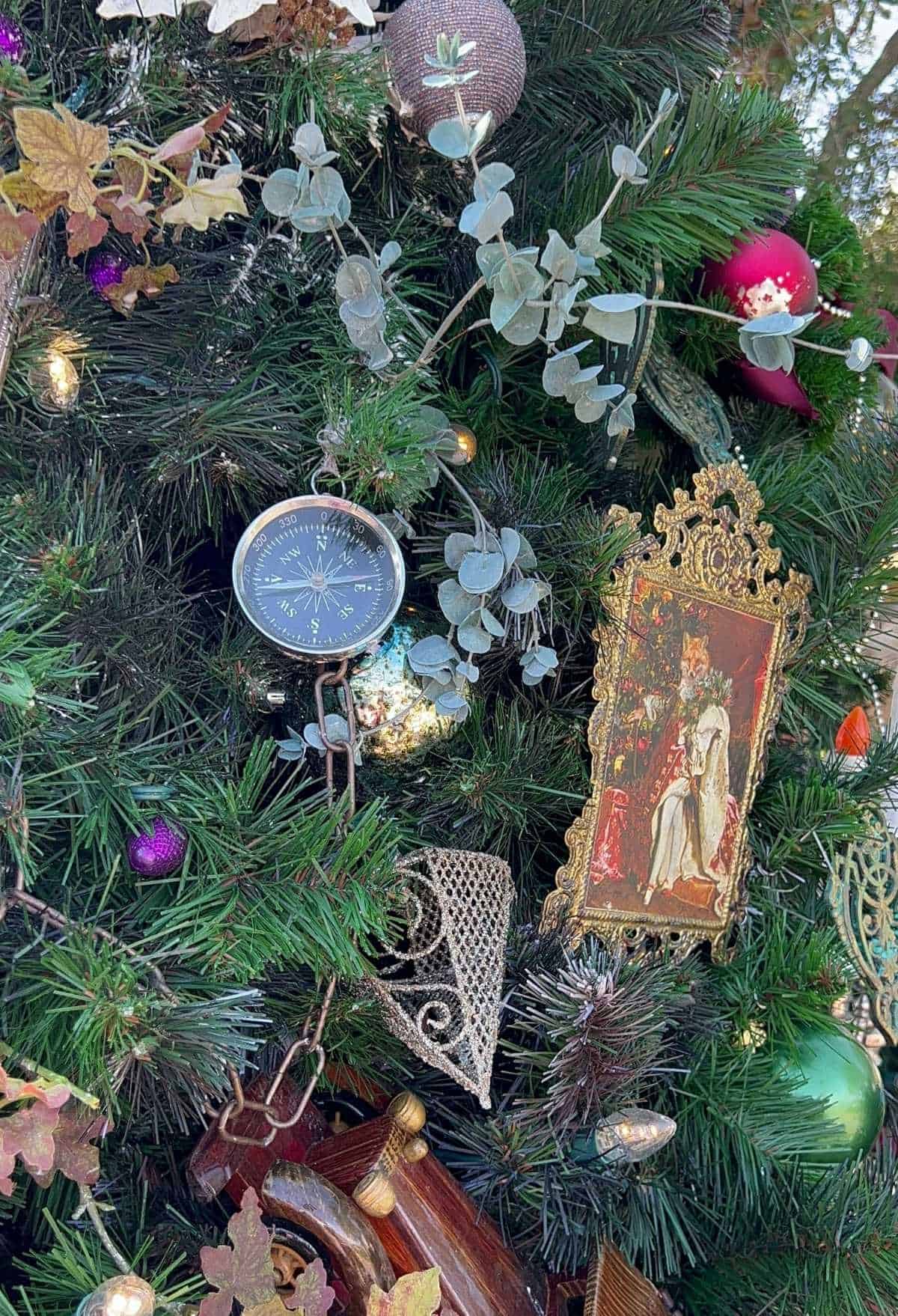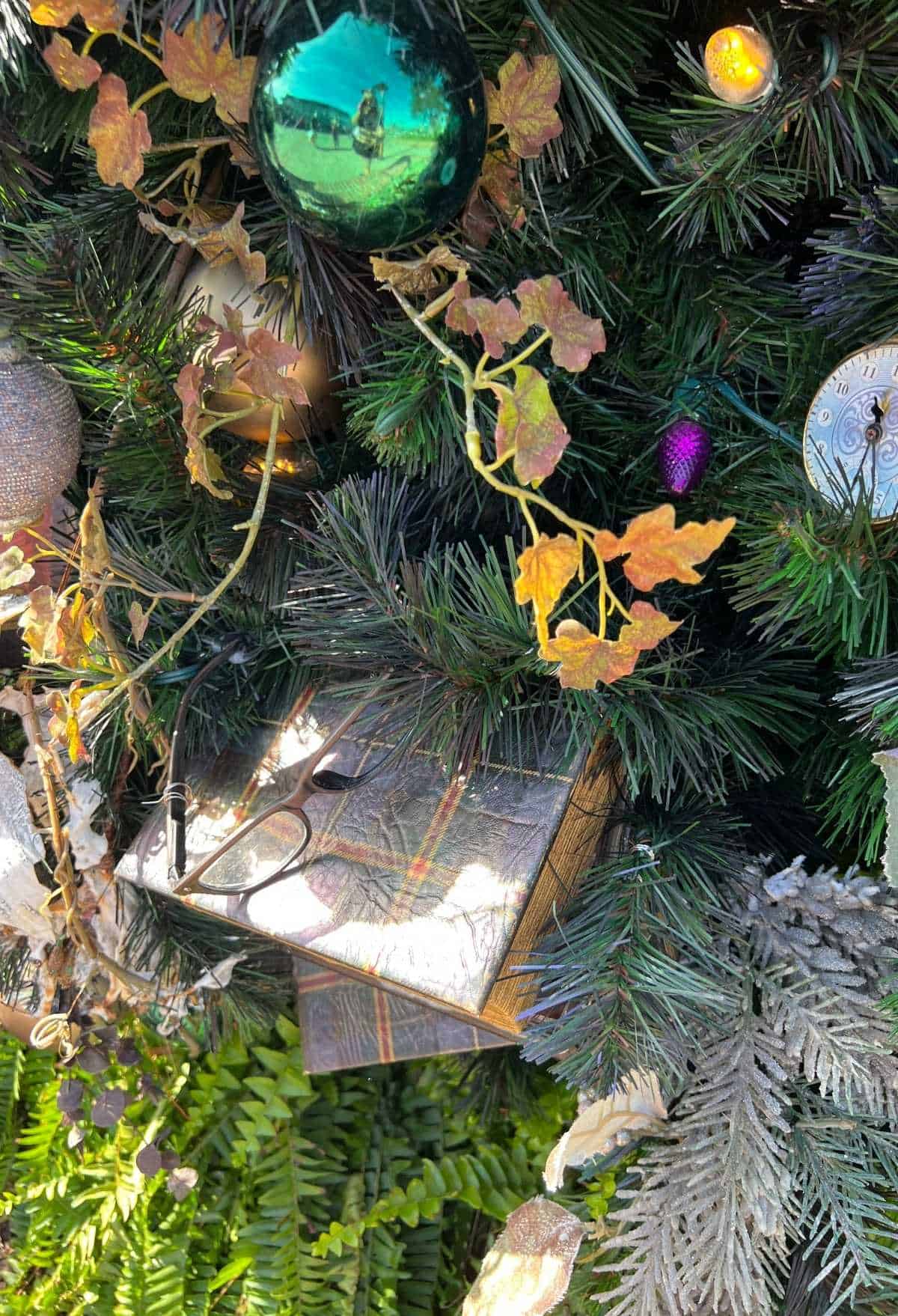 Usefull Tips for Disney Springs Christmas Tree Trail
Make sure to walk around the entire tree. There are different items on each side. By not taking my advice, I missed out on a lot including the Haunted Mansion Wedding Cake.
If you decide to go early to beat the crowds, (like at 10 am when they open) be sure to download your map ahead of time so you have an idea of where to look. We wasted a half hour just looking for one of the locations to be open. Most didn't open till noon.
Grab a Disney Springs map upon arrival also so you have an idea of which way to go if you haven't been there before and don't know the layout. The last time we were there was years ago, and everything is totally different.
Give yourself enough time. It took us a total of 4 hours. That did include a couple stops to have some Holiday Treats at Ghiardelli and Amorette's Pattiserie.
Beauty and the Beast
Located near The Daily Poutine, Candles, Yellow bows, and roses give this tree away right from the start.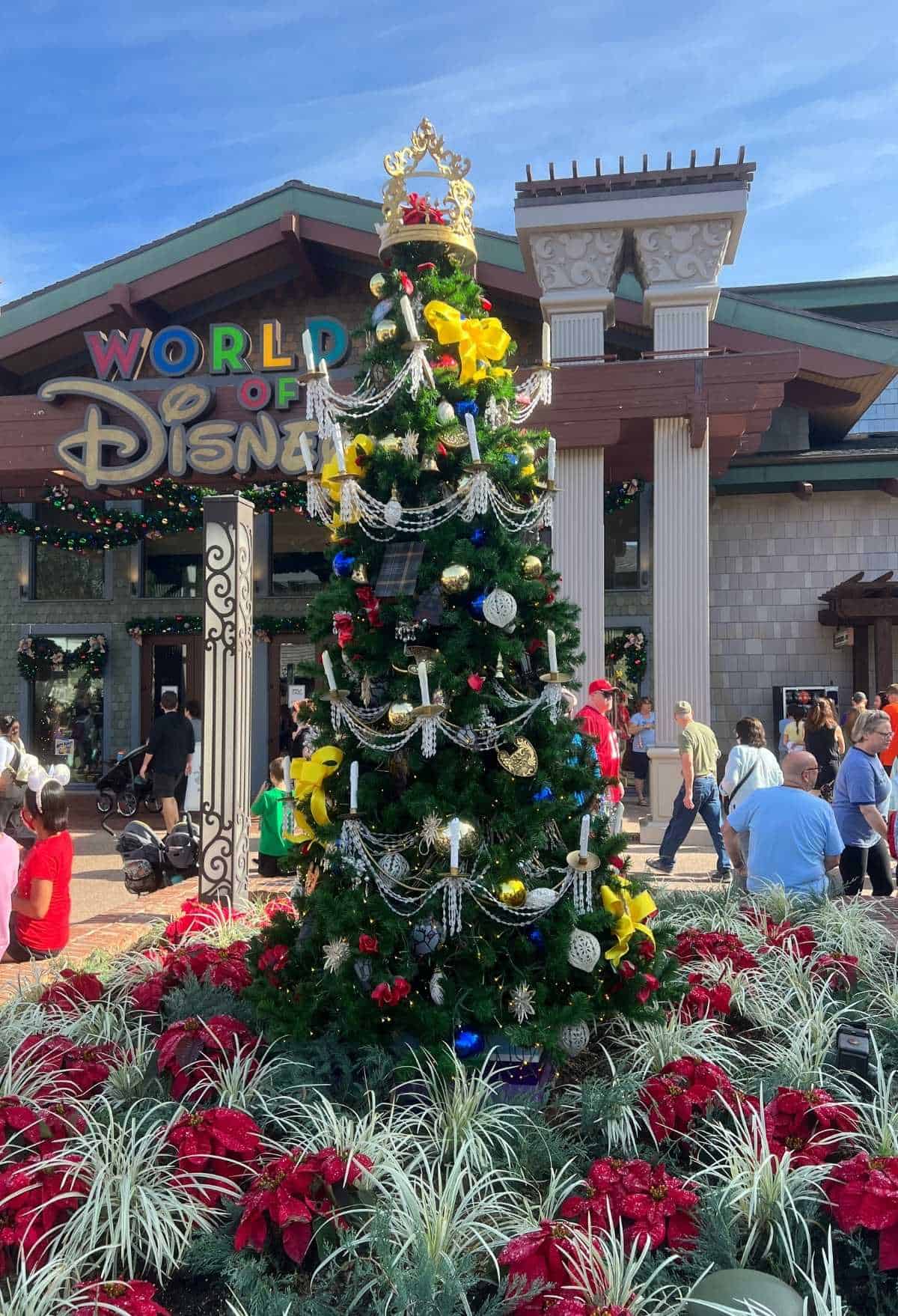 You won't be able to miss the stained-glass figures from the film either!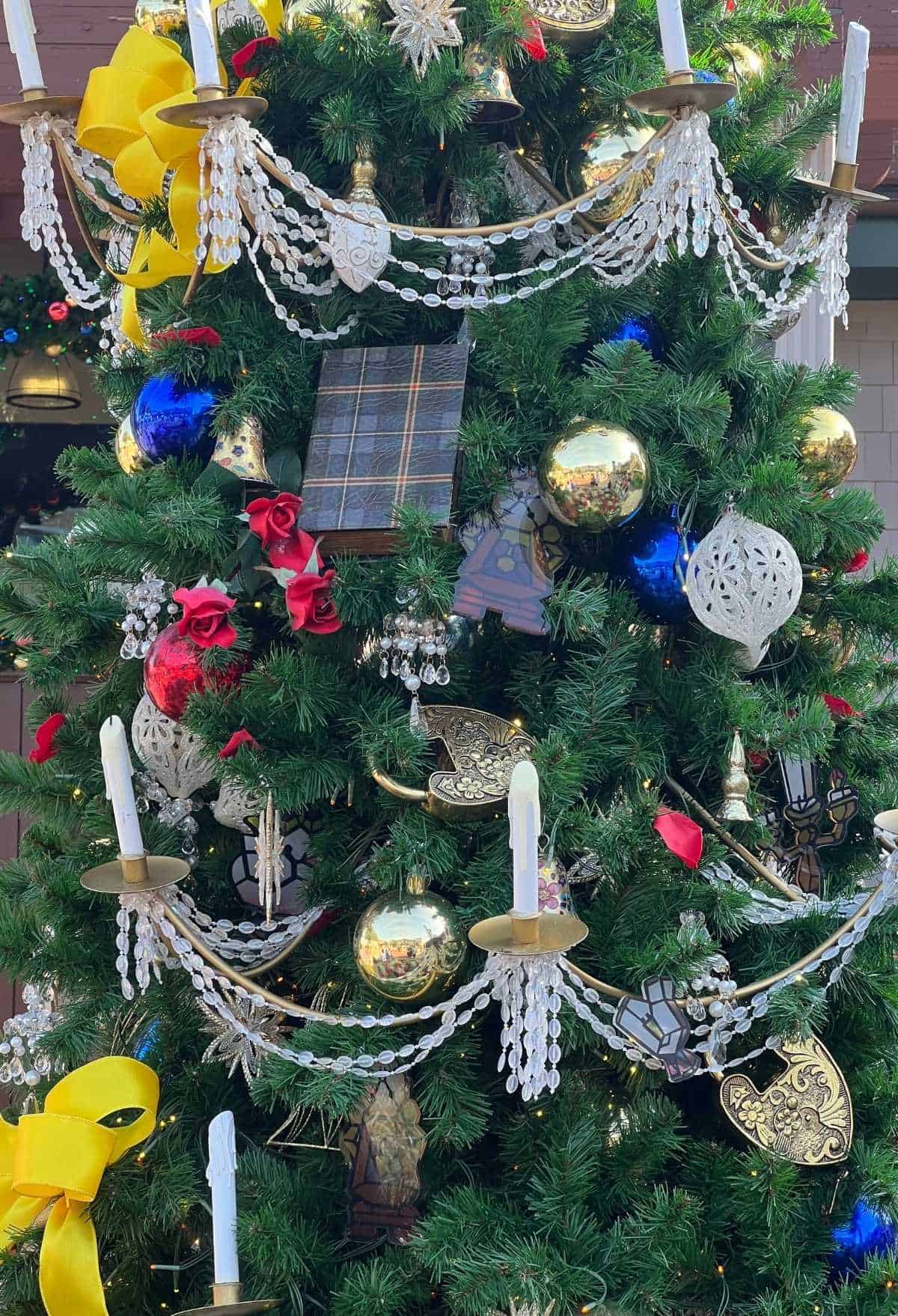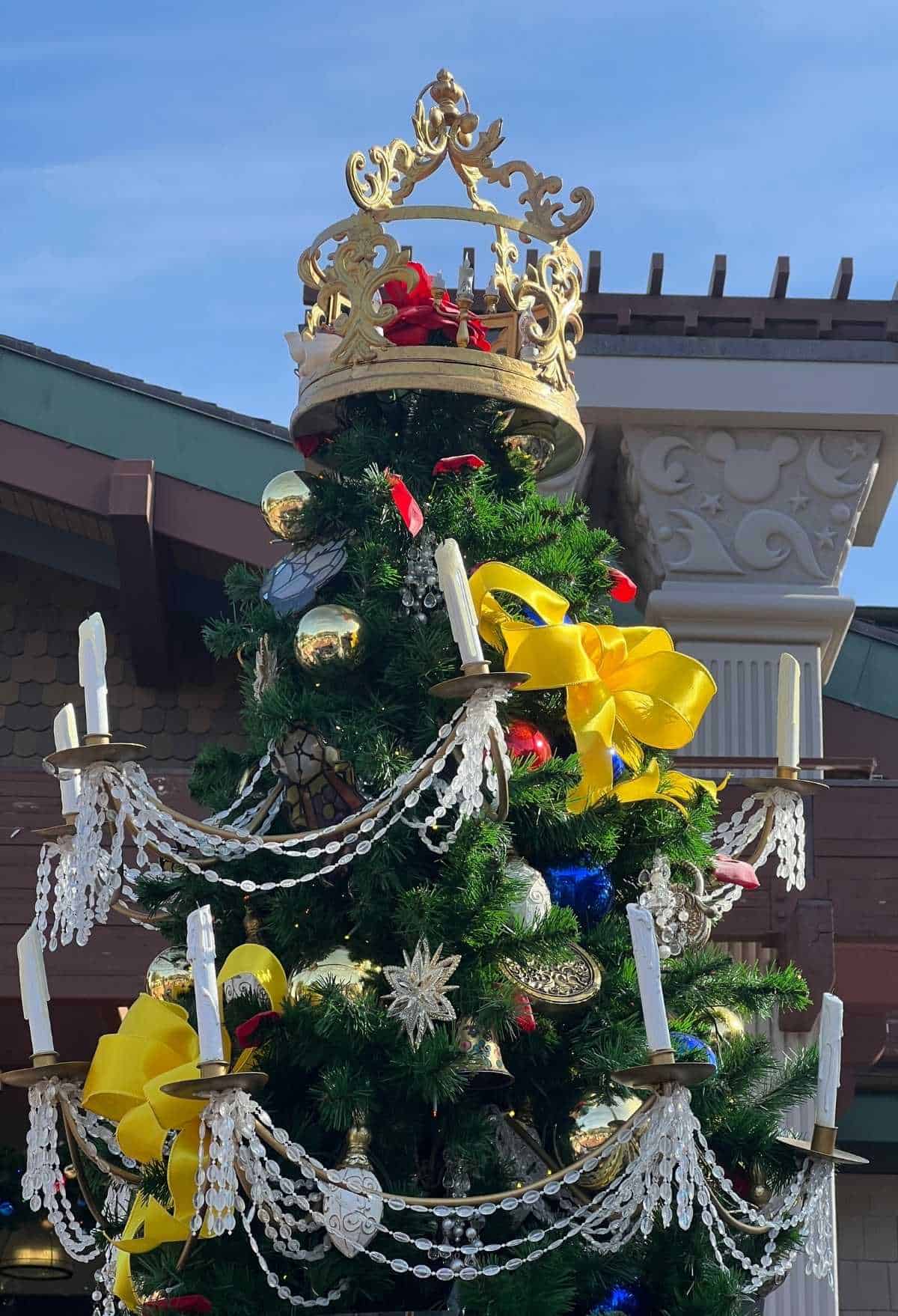 Christmas Tree Stroll Town Center Tree
The Town Center Tree is located near the Orange Garage by Zara and is a yearly staple.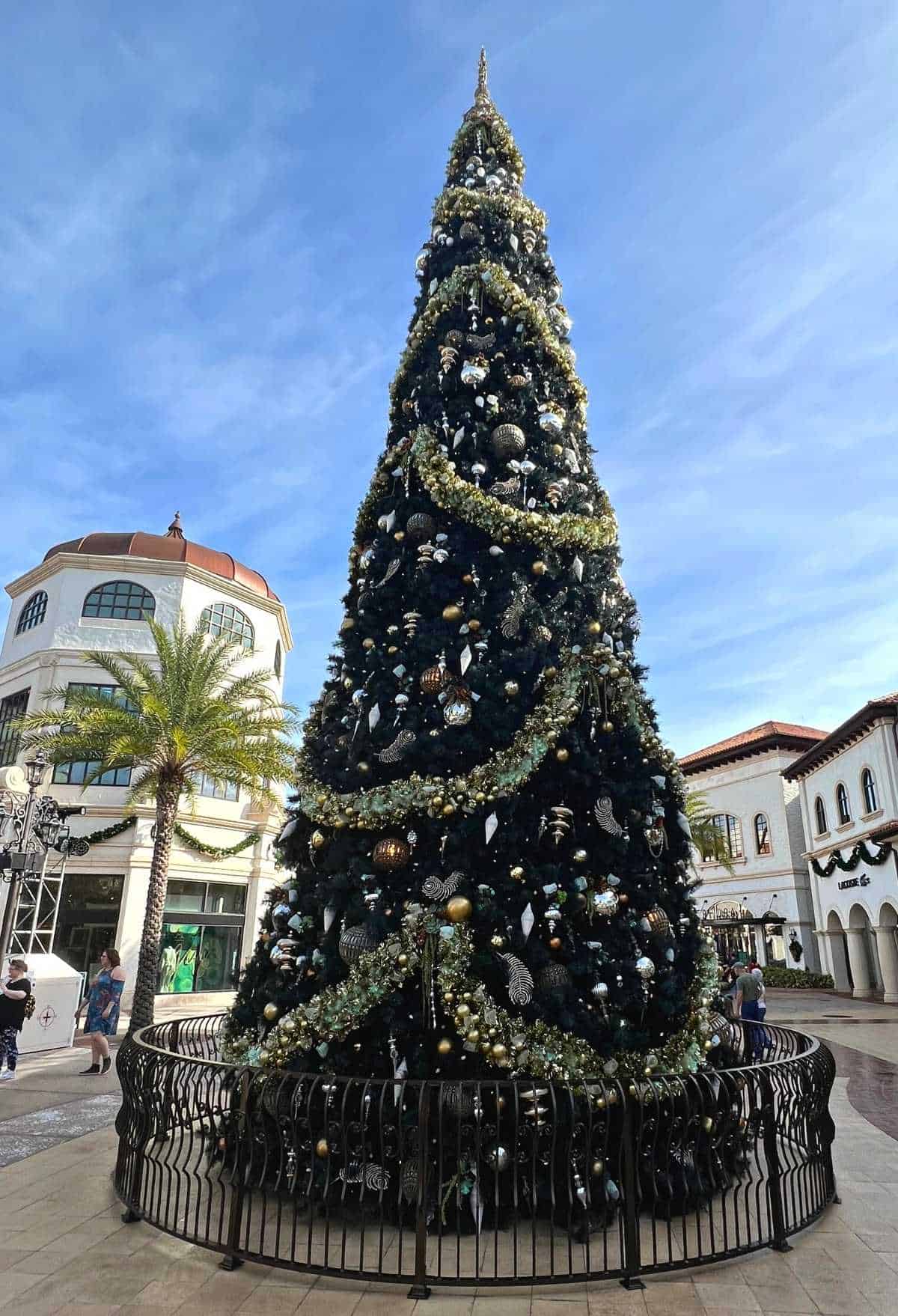 Decorated with gold ornaments, tree topper, and garland for the 50th anniversary.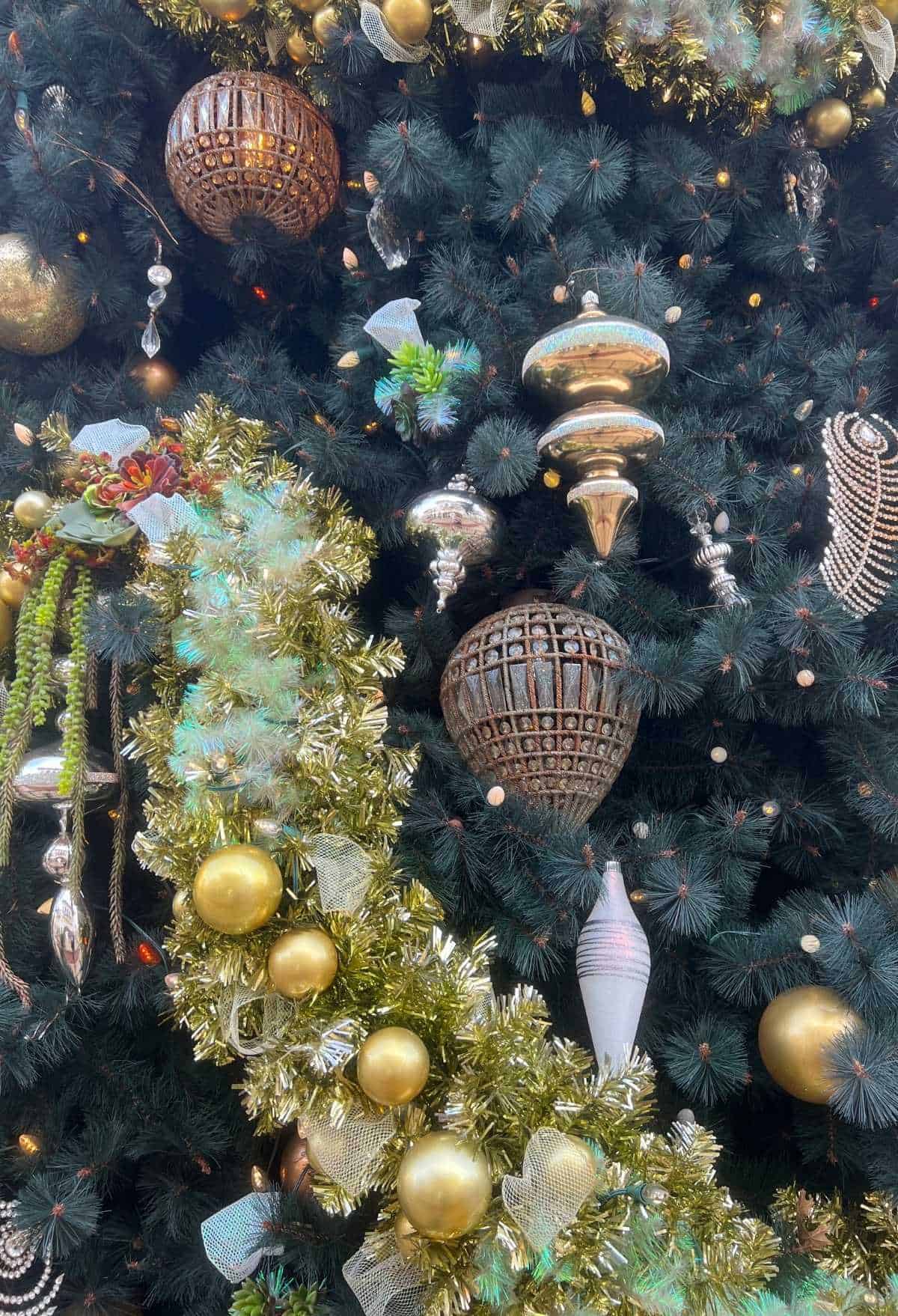 Disney Parks Christmas Tree Stroll EARidescent for the 50th Anniversary Celebration
Opposite the Mickey and Minnie tree, on the other side of The World of Disney, you will find the Disney Parks EARidescent tree all decorated for Disney World's 50th Anniversary Celebration.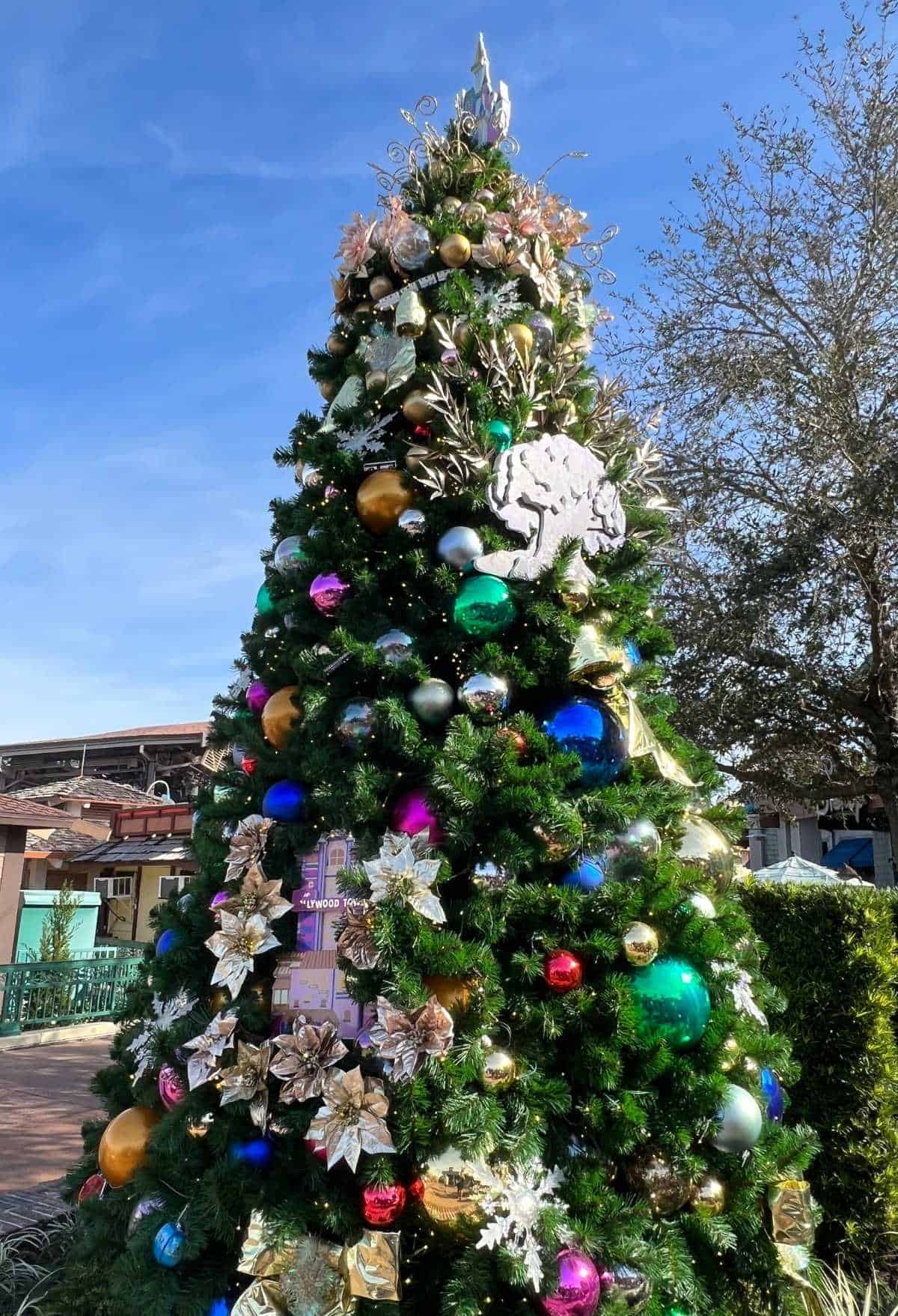 Topped with Cinderella's Castle, this tree features all 4 parks.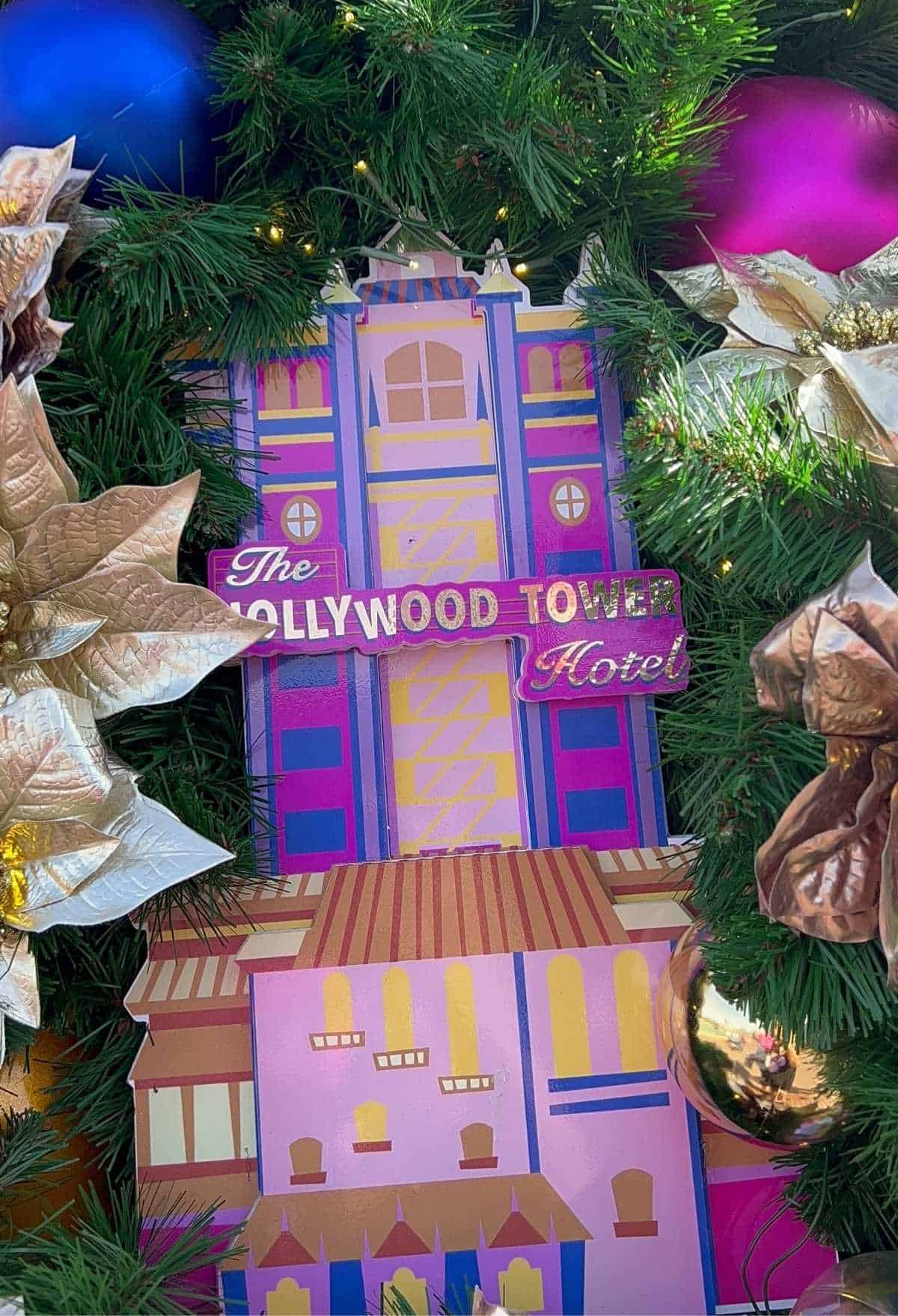 You will find the Tree of Life, Tower of Terror, the monorail, buses, Skyliner, gold poinsettias, and so much more.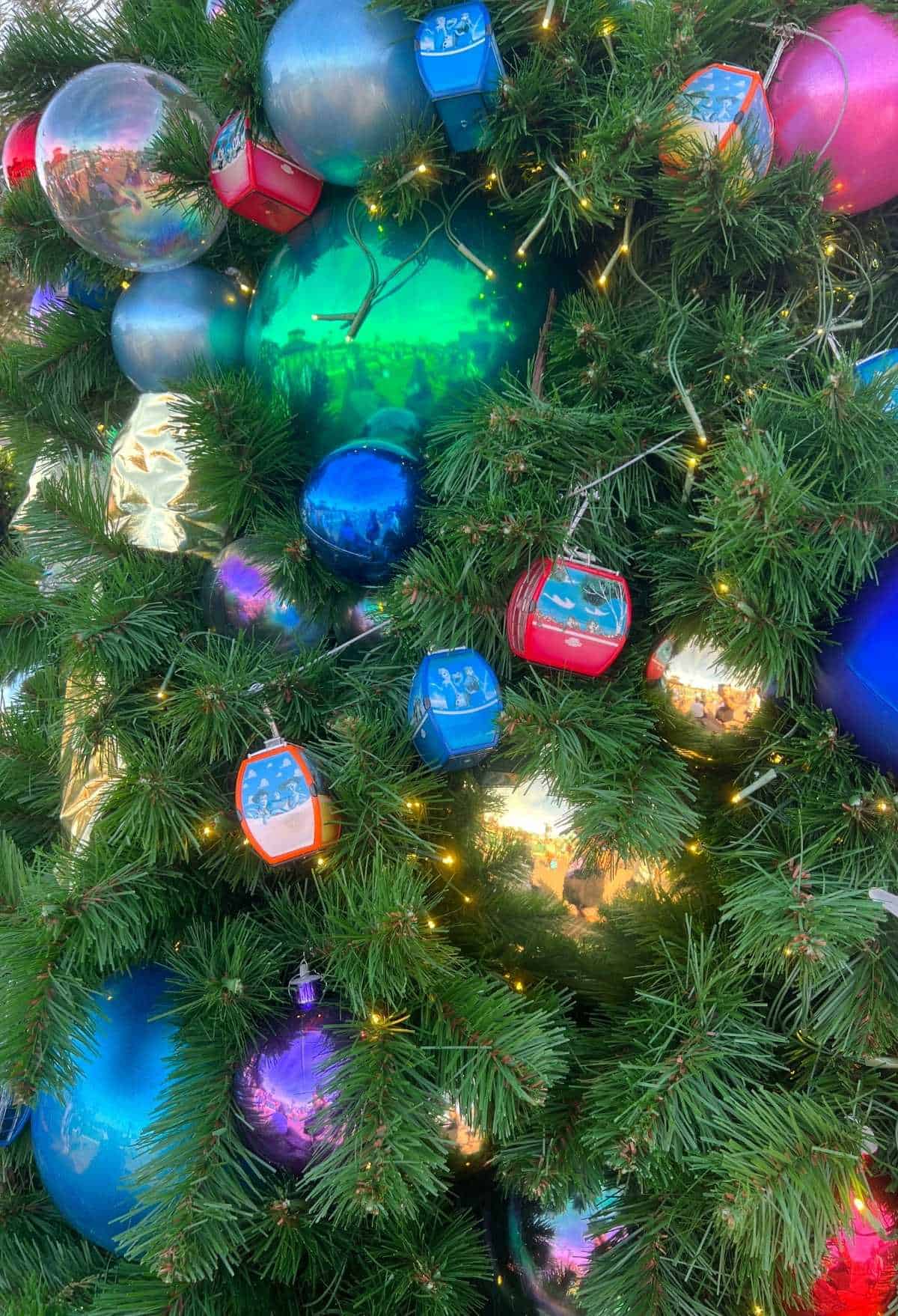 Disney Jr.
The Disney Jr. tree is located near the marketplace train express.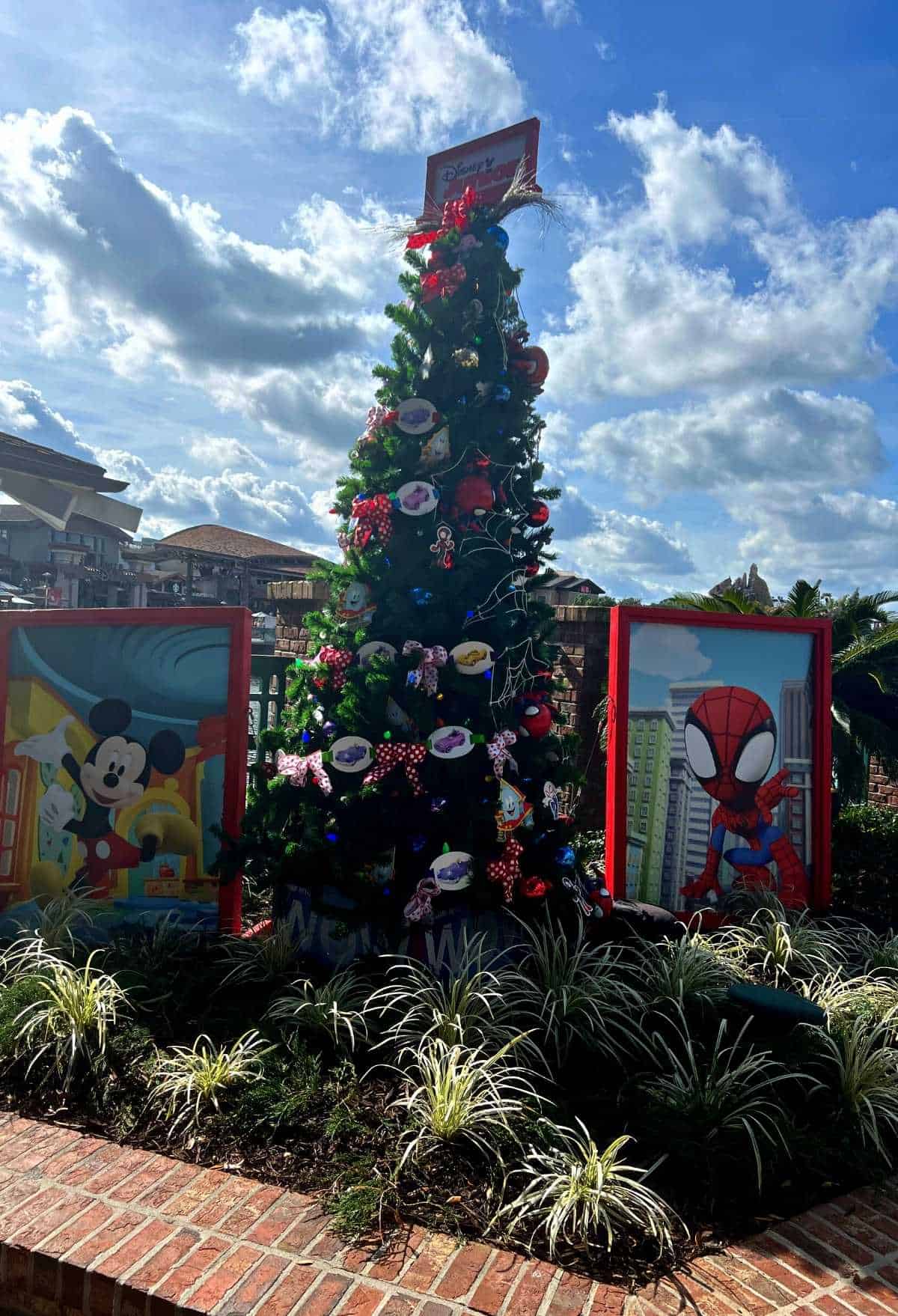 Decorated with car garland, Spiderman's spiderwebs, and Minnie's bows.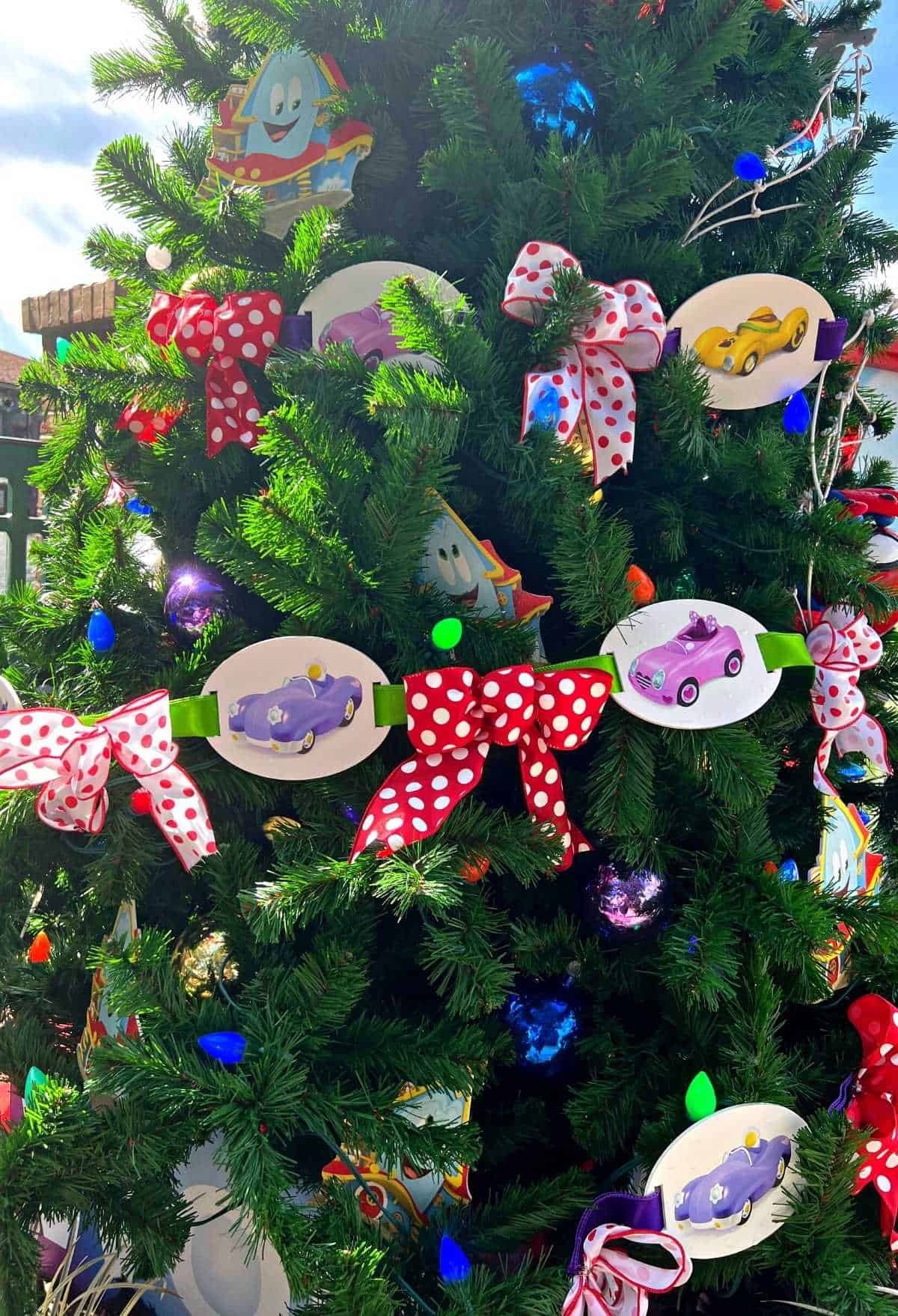 Disney Springs Christmas Tree Stroll Golden Balls Tree
The first tree we spotted coming off the escalator from the Orange garage, I'm calling the golden balls tree.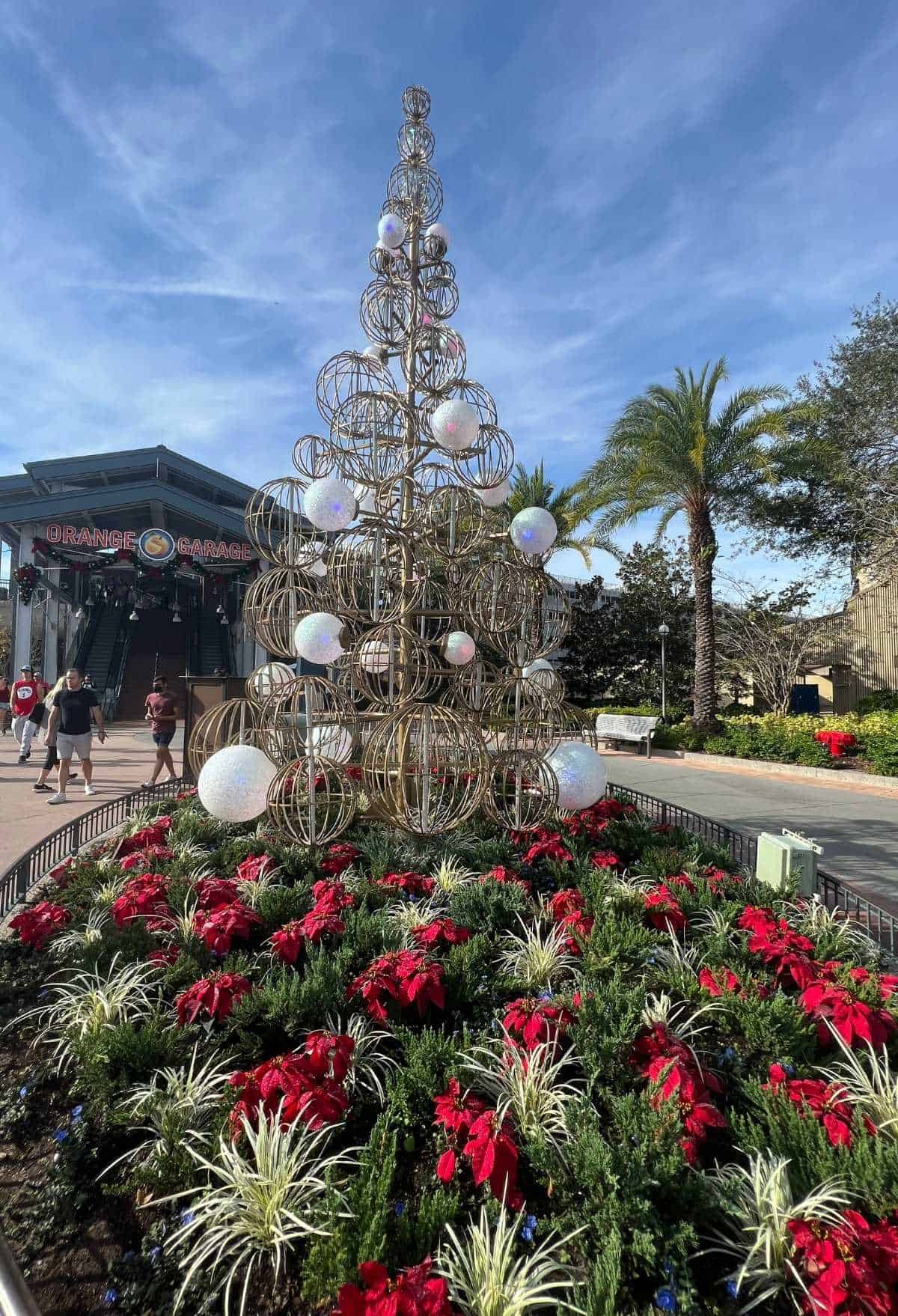 I'm not sure what's it's actually called because I didn't see a sign.
Covered in Golden wire balls, I bet this tree looks amazing at night.
Christmas Tree Stroll Conclusion
And there you have it, this year's Disney Springs Christmas Tree Stroll.
The Christmas Tree Stroll has been going on since 2015. And I'm still not sure why this was our first year attending it.
Don't forget to take your finished map over to one of the locations to get your prize which is a pin (like I did!)
Disney Springs Holiday Decorations
In addition to Disney Springs Christmas Tree Stroll, there are also many holiday decorations to enjoy while you are there also.
Here are just a few for your enjoyment.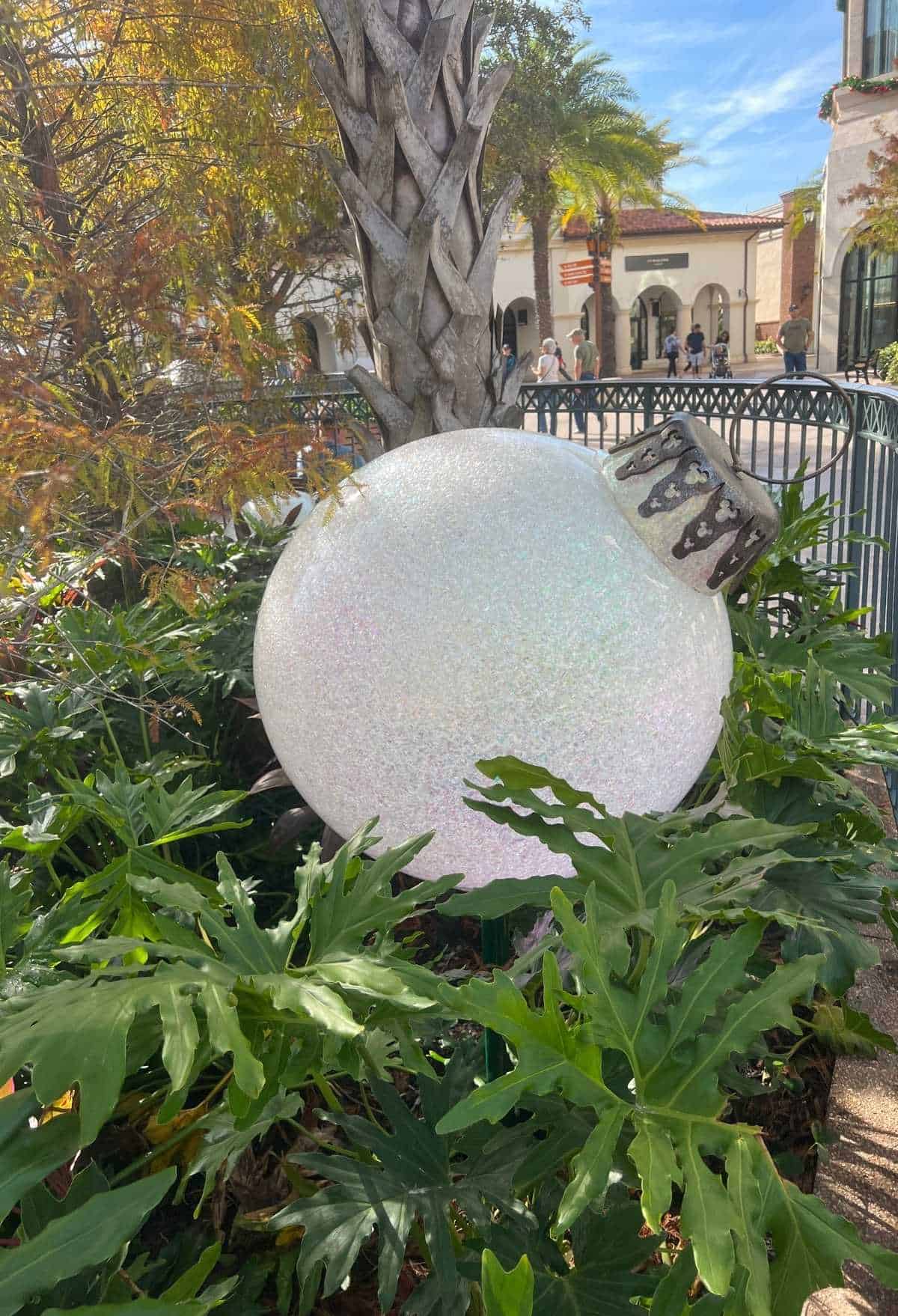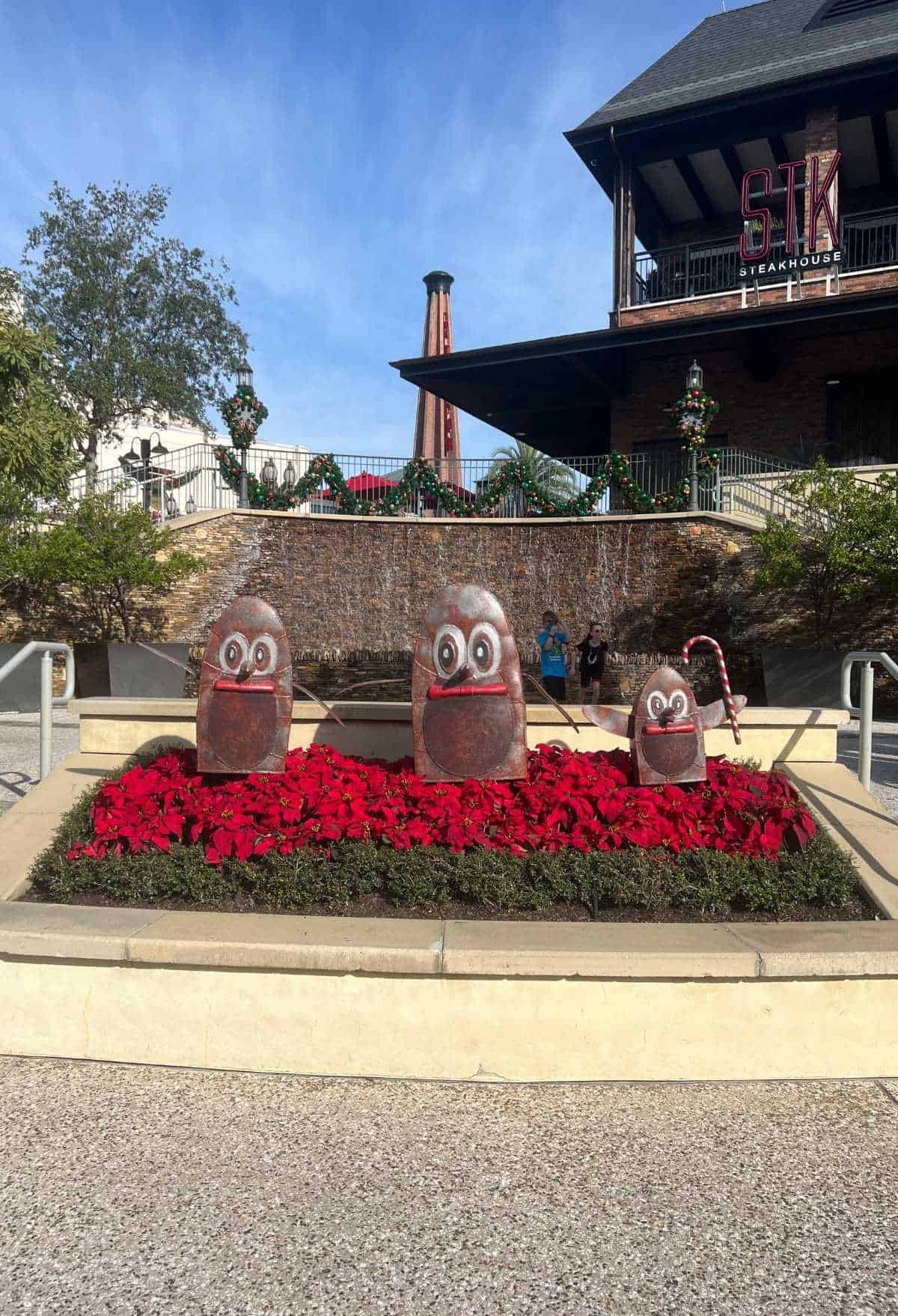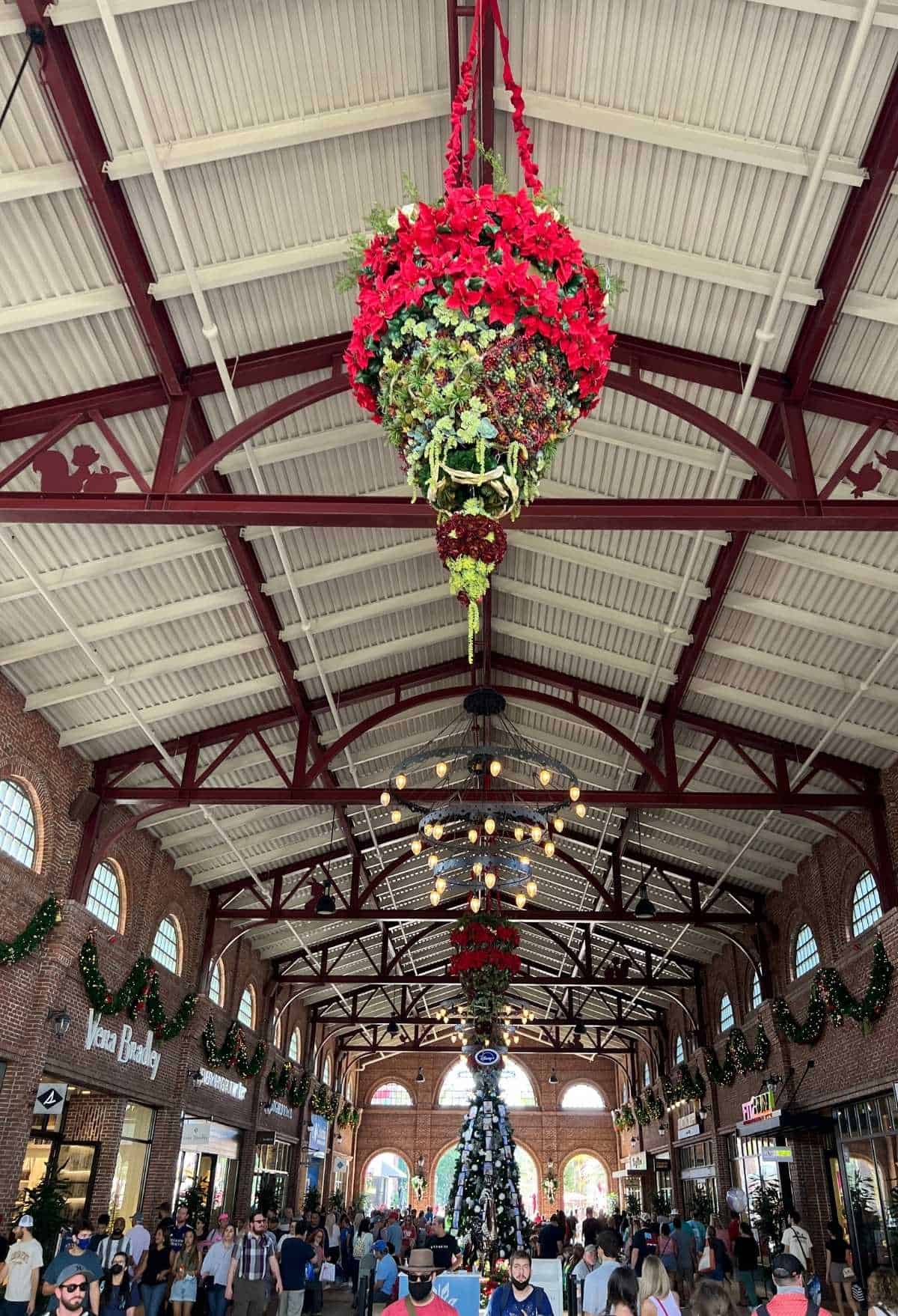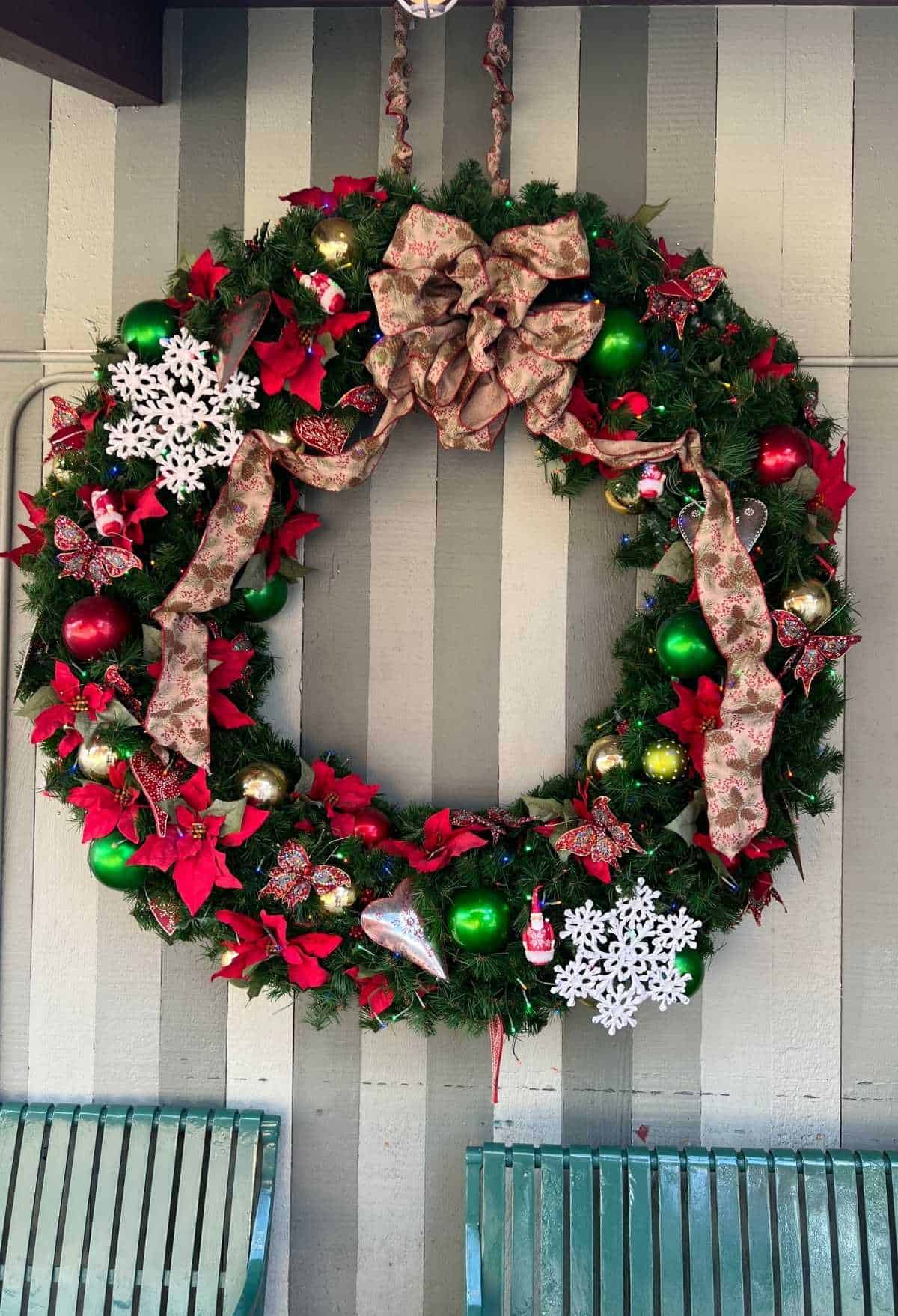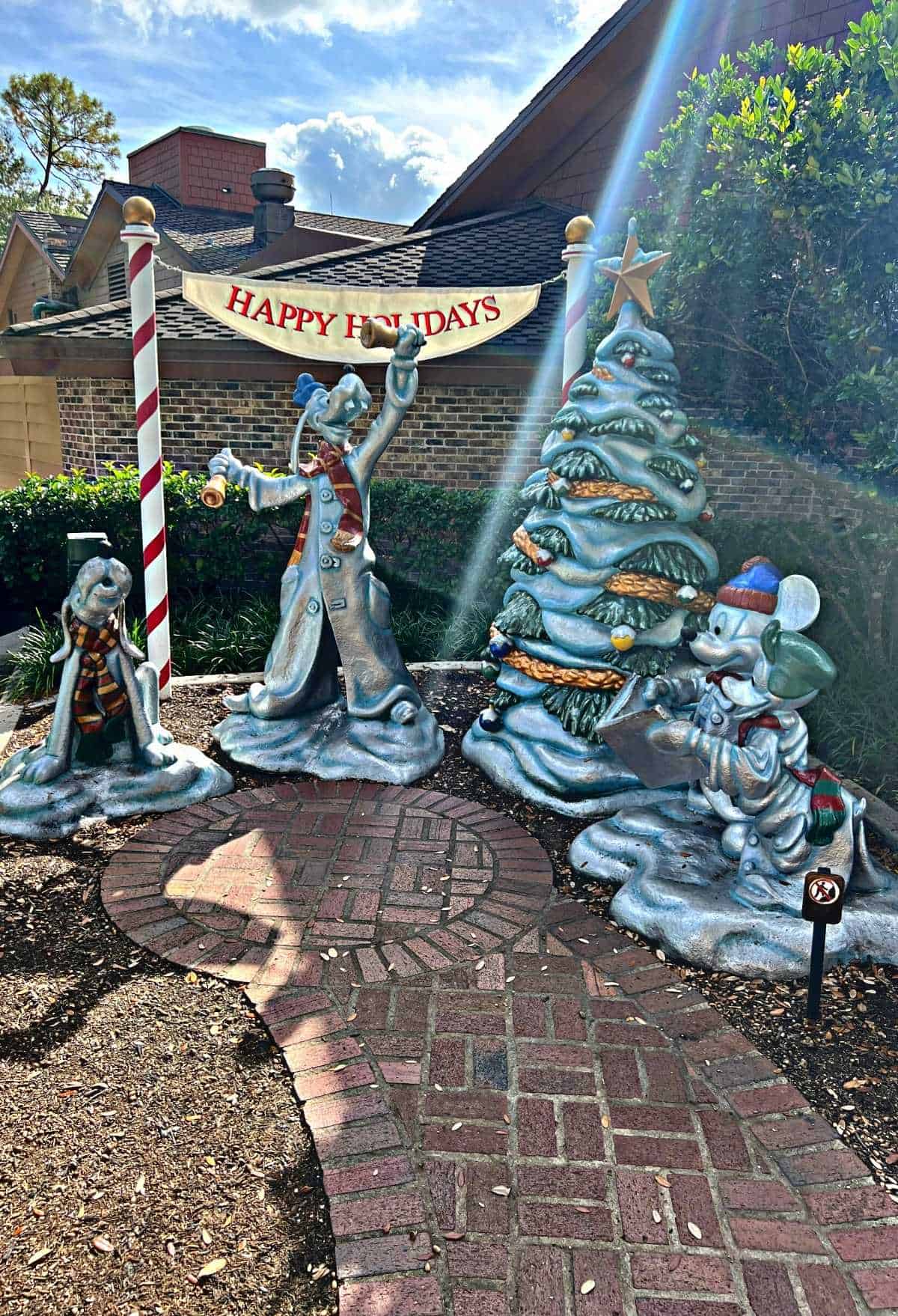 Be sure to follow us on Pinterest and PIN IT FOR LATER!