The creamy egg salad pairs perfectly with the crunch of the crostini, making it a delicious and satisfying Egg Salad Crostini Appetizer dish.
How to Make Egg Salad Crostini in Under 15 Minutes (Yes, It's Possible!)
Easter is quickly arriving and more than likely there will be leftover hard-boiled eggs.
So what do you do with all of them? You make Egg Salad Crostini appetizers.
Appetizers aren't just for parties. They make good evening snacks, and school snacks, and are even great for lunch.
It's like an egg salad open-faced sandwich.
Not only is it the perfect addition to any brunch spread, but it also makes a great snack or lunch option.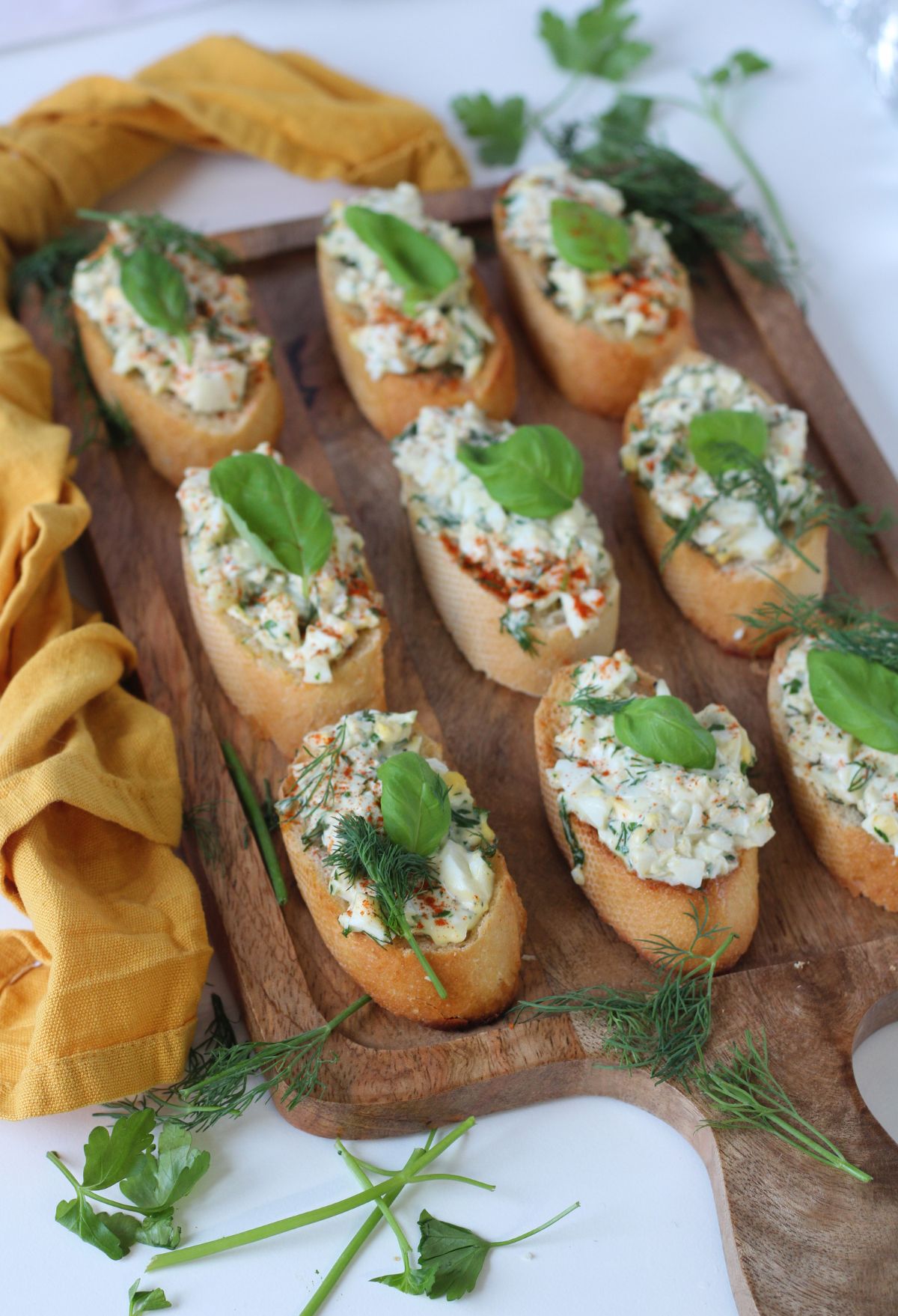 The creamy egg salad pairs perfectly with the crunch of the crostini, making it a delicious and satisfying dish.
It's incredibly easy to make! Just whip up the egg salad, toast the crostini, and assemble.
Whether you're entertaining guests or just looking for something tasty to enjoy on a lazy weekend morning, this crostini is sure to impress.
WHY YOU WILL LOVE THIS EGG SALAD CROSTINI RECIPE
Quick and easy
Minimal effort
Simple ingredients
Bite-sized pieces
Can make a double batch easily
Family-friendly
Creamy and silky smooth
Incredible flavor
Easily customizable
Everyone loves it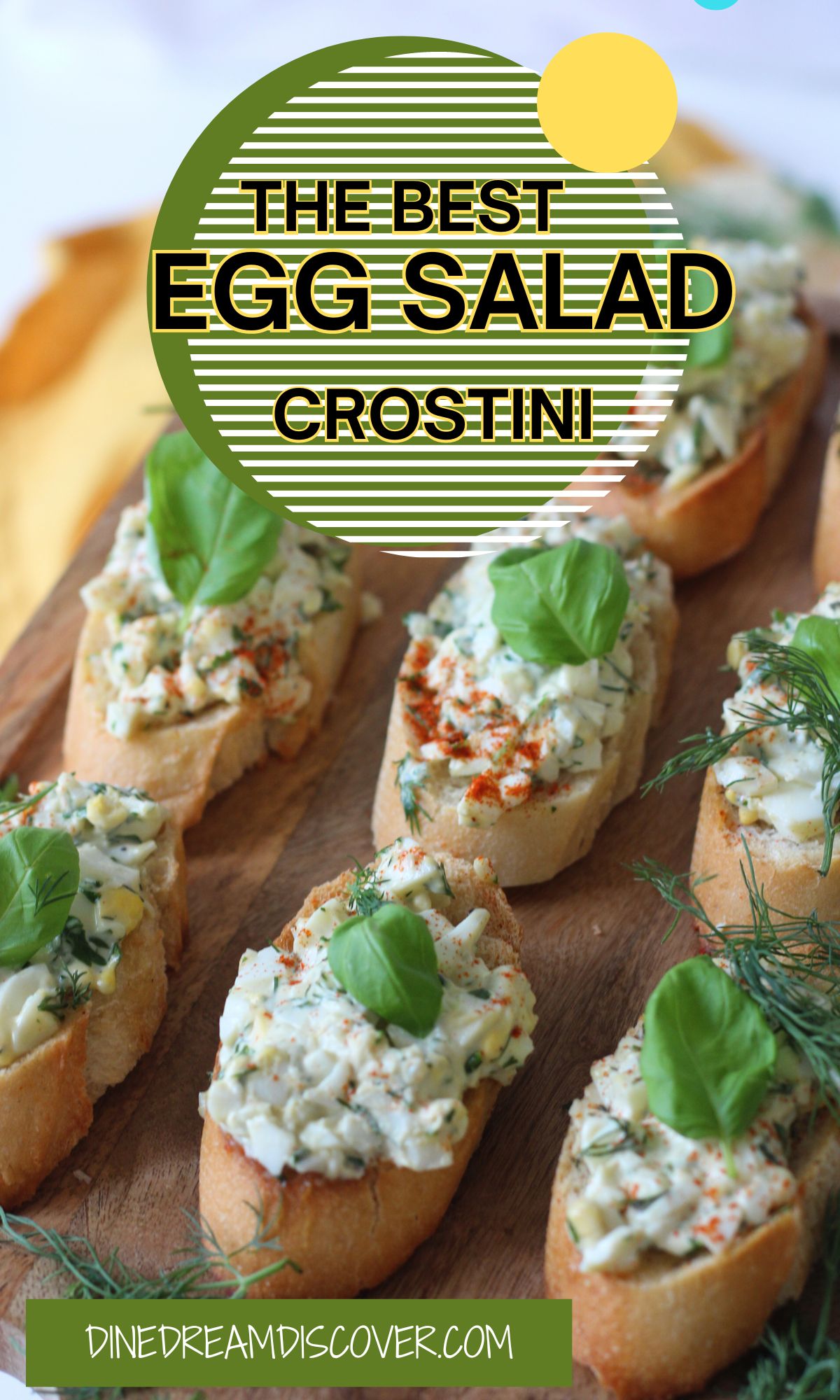 Yield: 24 Crostini
Preparation: 15 minutes
Cooking: 10 minutes
Ingredients:
French Baguette
Olive oil
Eggs
Fresh parsley
Fresh dill
Mayo
Salt
Paprika
Black pepper
Butter
Basil leaves to garnish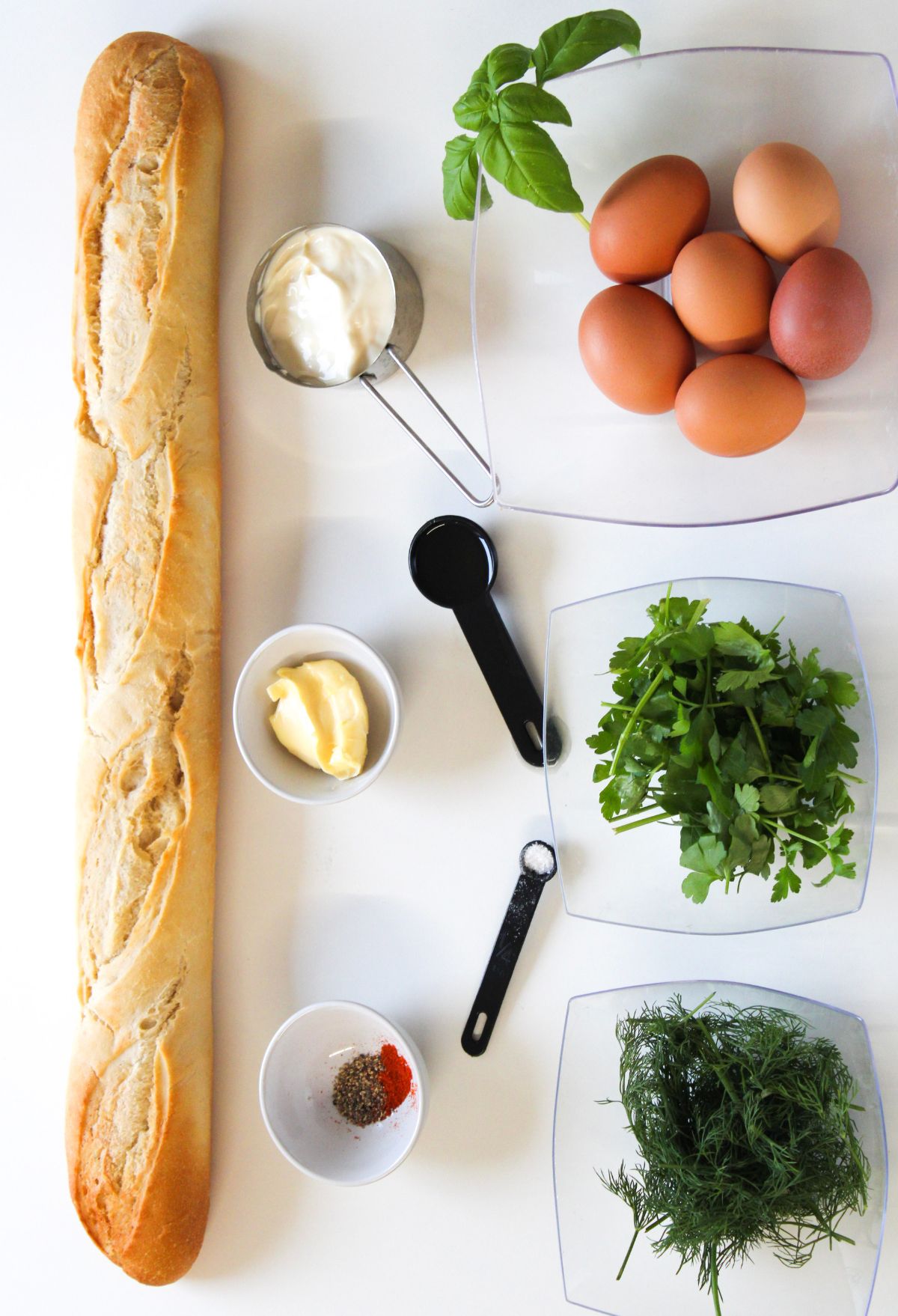 For exact measurements, please see the printable recipe card below!
Supplies Needed
As an Amazon Associate, this post may contain affiliate links and I may receive a small commission at no additional cost to you. See my disclosure policy for more info.
How to Make Easy Egg Salad Crostini
Making the Egg Salad
The first step in making the egg salad crostini is whipping up a batch of creamy egg salad. Start by boiling six eggs or placing them in the Ninja Foodi pressure cooker until hard-boiled.
Once cooled, peel and dice your eggs before mixing them with mayonnaise, Dijon mustard, salt & pepper, and chives for added flavor.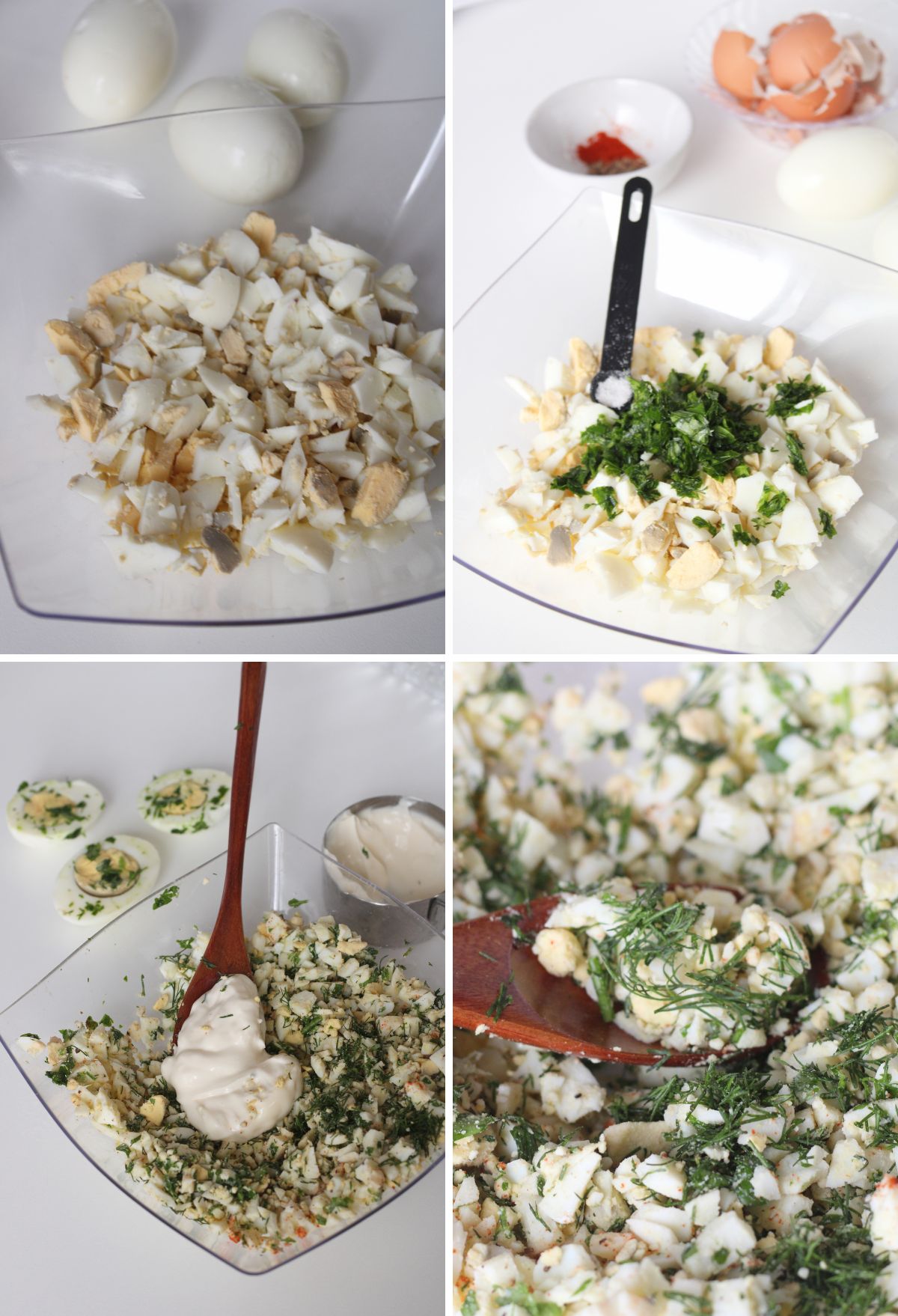 You can also get creative with your ingredients here - try adding in some diced celery or red onion for extra crunch!
Making the Crostini
Crostini are simply thin slices of toast that are lightly brushed with olive oil and baked until crispy.
To make them at home, grab a baguette from the store and preheat your oven to 350 degrees Fahrenheit.
Slice off ½ inch thick slices of bread and place them on a baking sheet lined with parchment paper.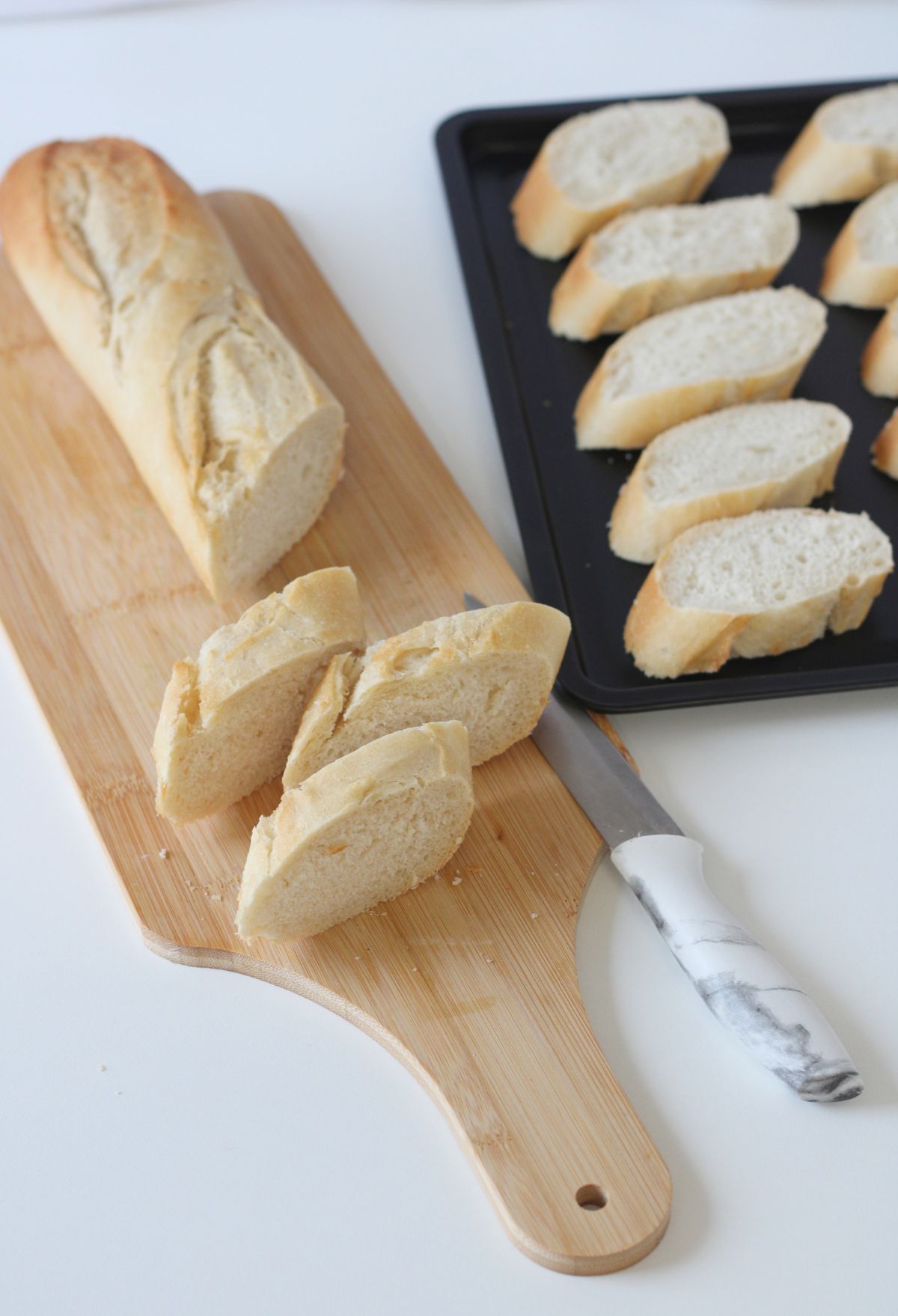 Brush each piece evenly with olive oil before baking for 8-10 minutes or until golden brown.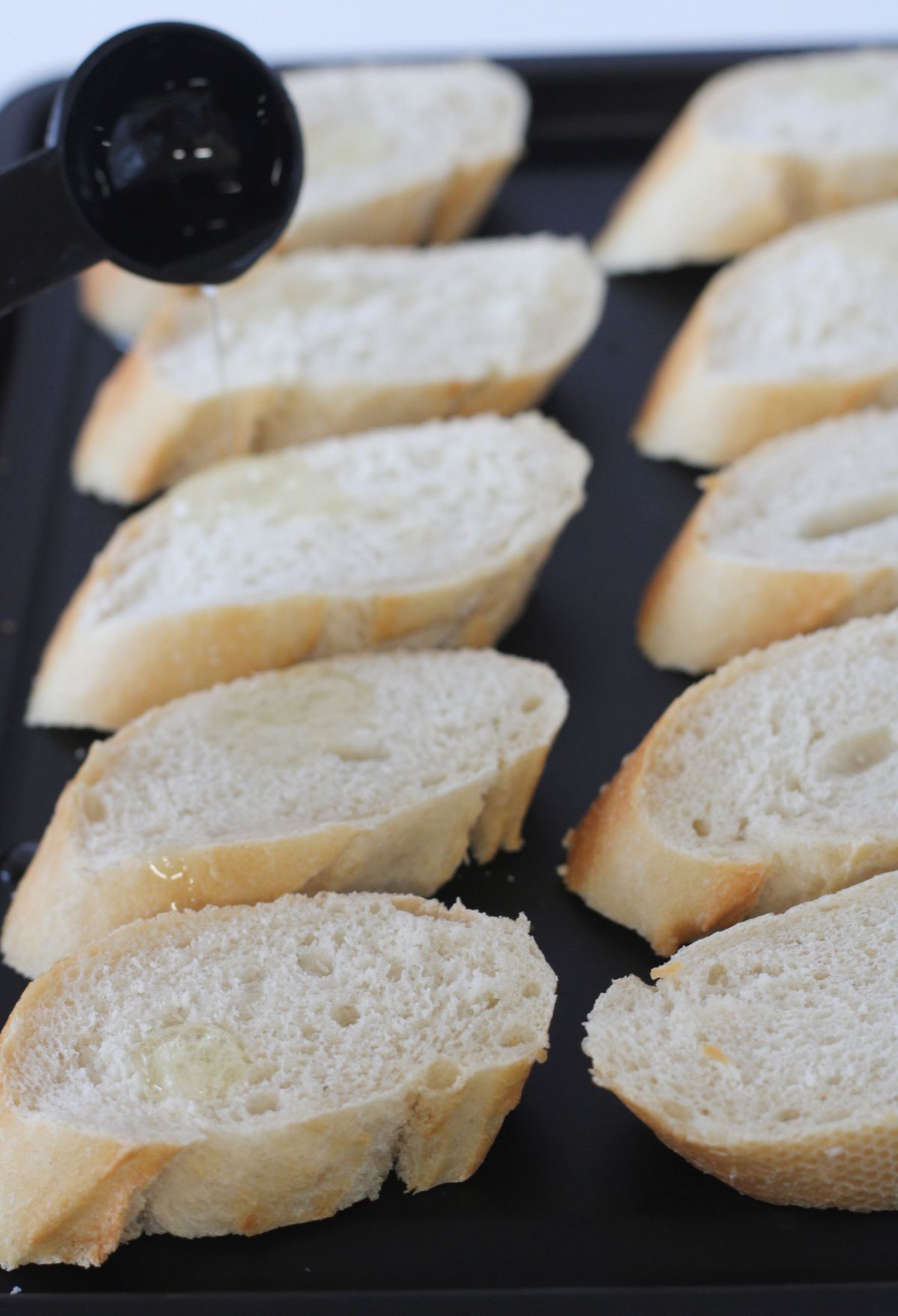 Sprinkle with dill.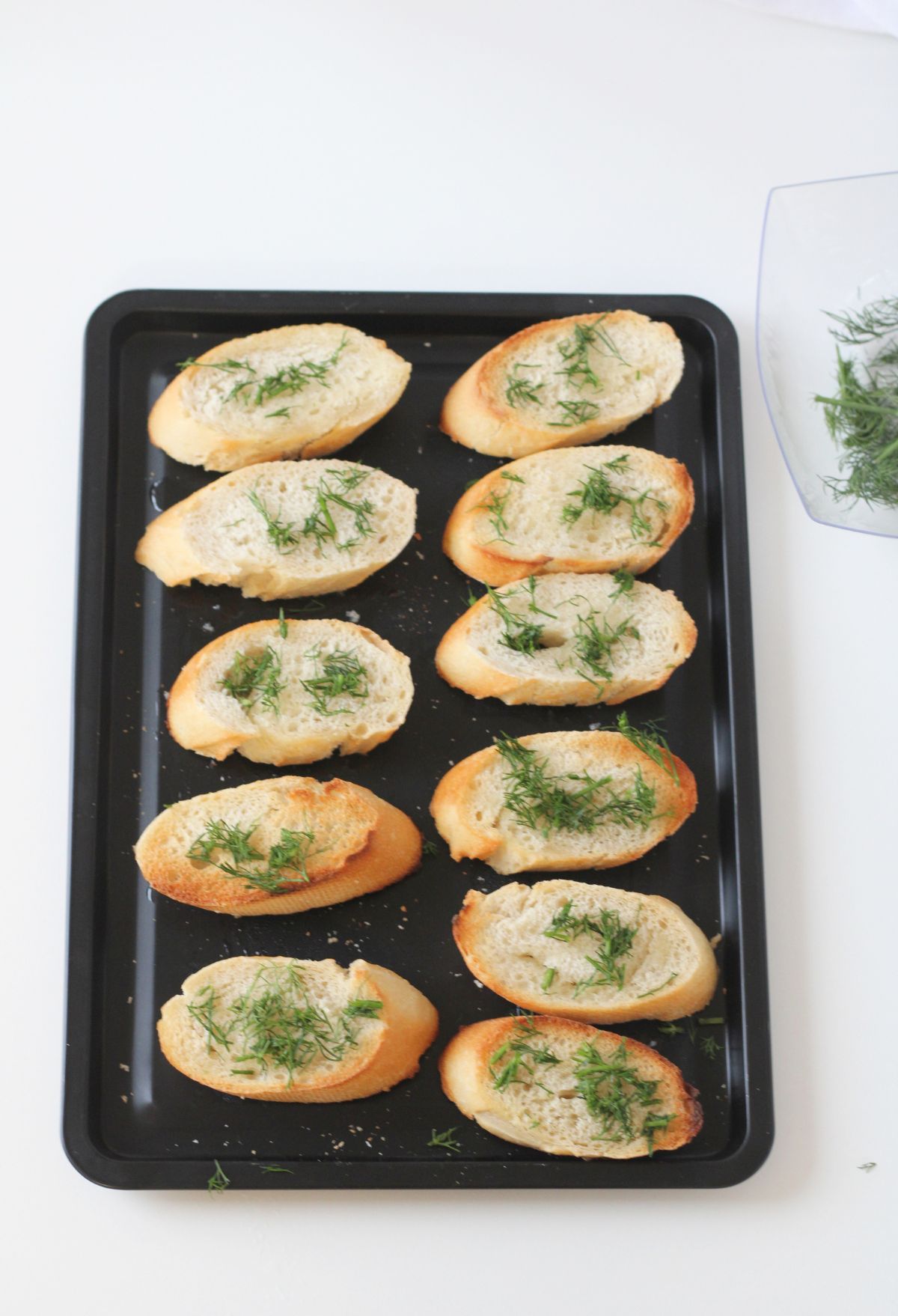 Assembly Time!
Now comes the fun part, assembling your crostini!
Take out those freshly made crostini slices and spread each one with a generous spoonful of egg salad.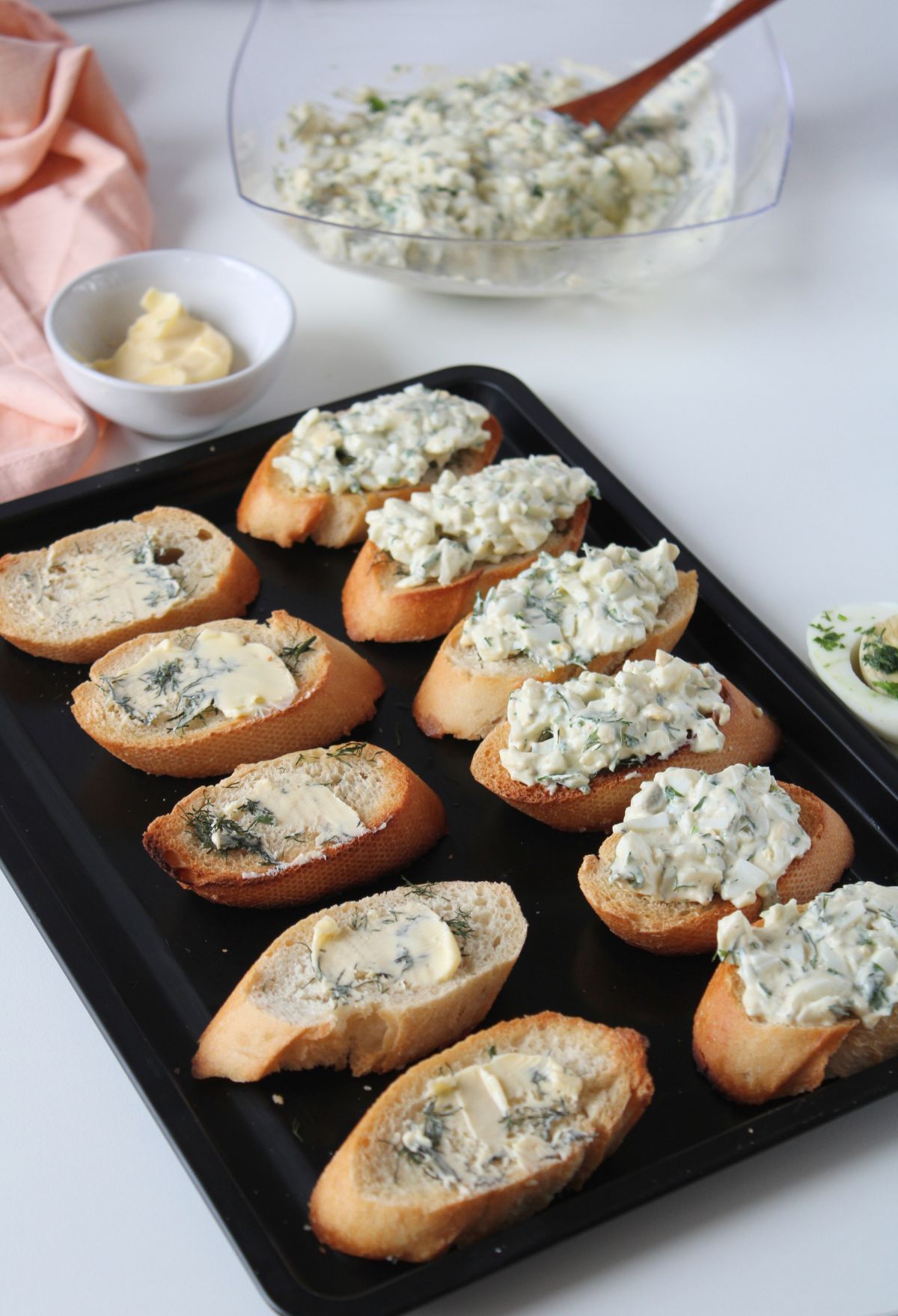 For an extra fancy touch, garnish each one with some fresh chives or parsley (or even some bacon bits!).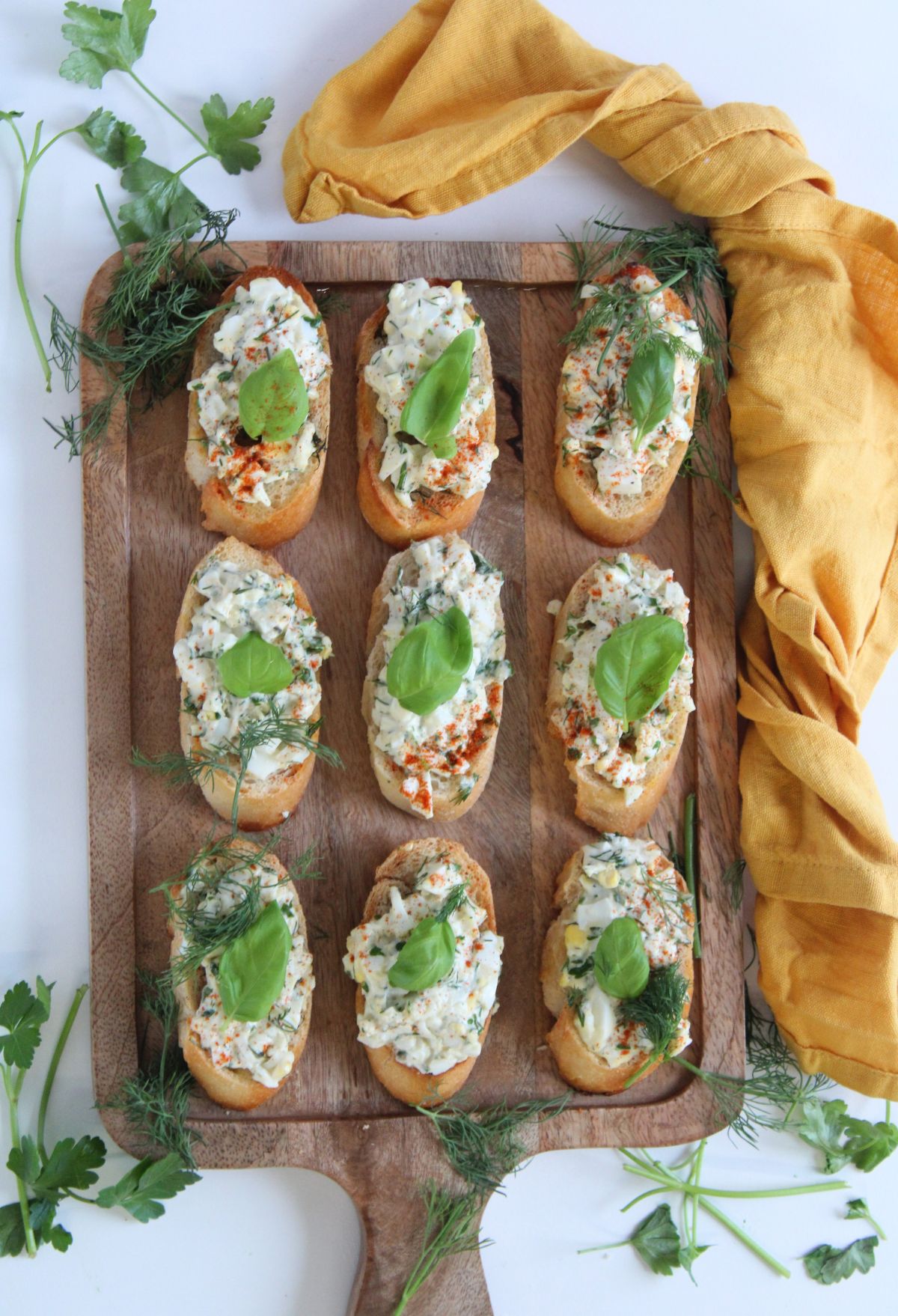 You can also top it off with a sprinkle of paprika or black pepper for some extra flavor and color!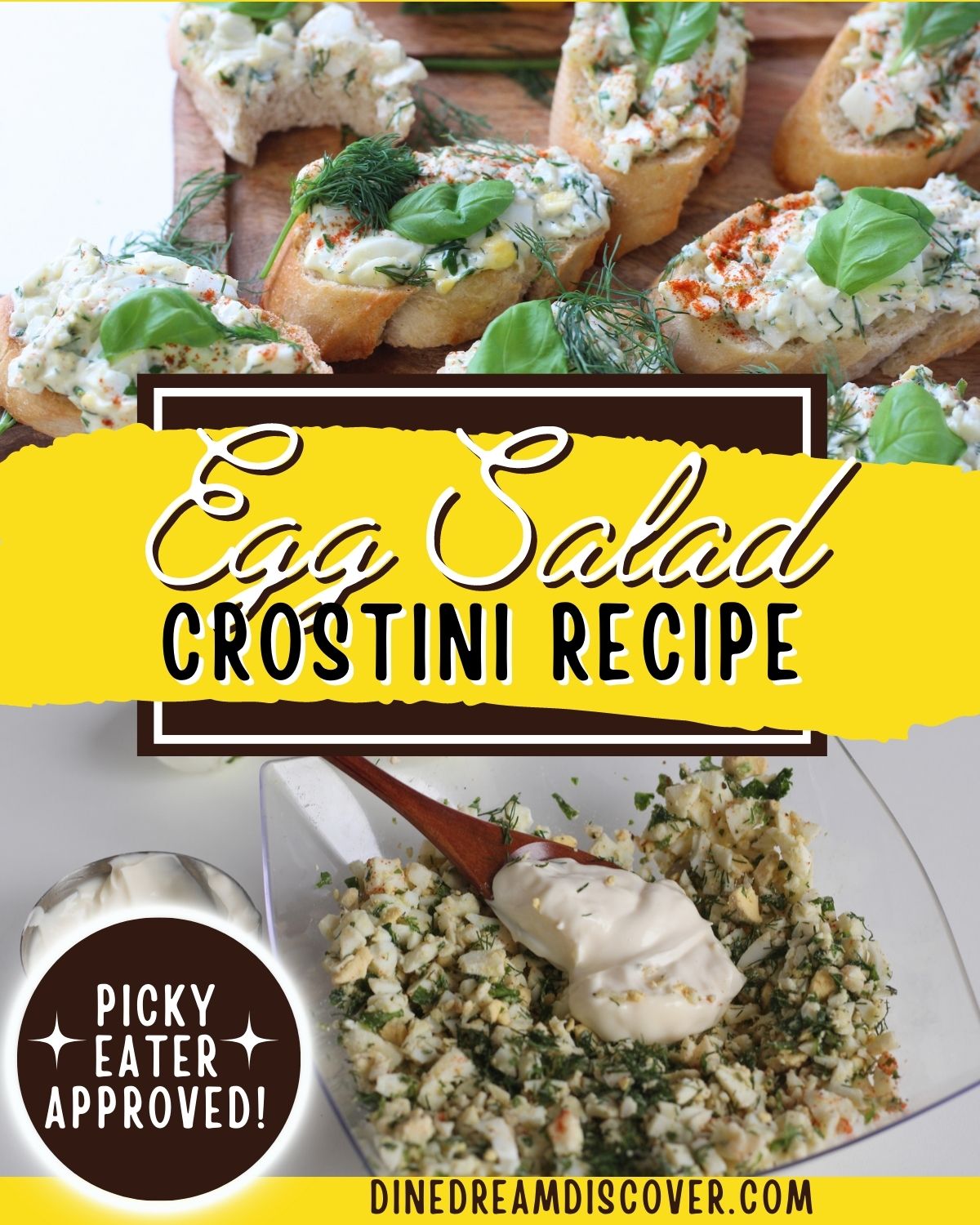 Enjoy!
More Egg Recipes For You
Yield: 24
Egg Salad Crostini Appetizer Recipe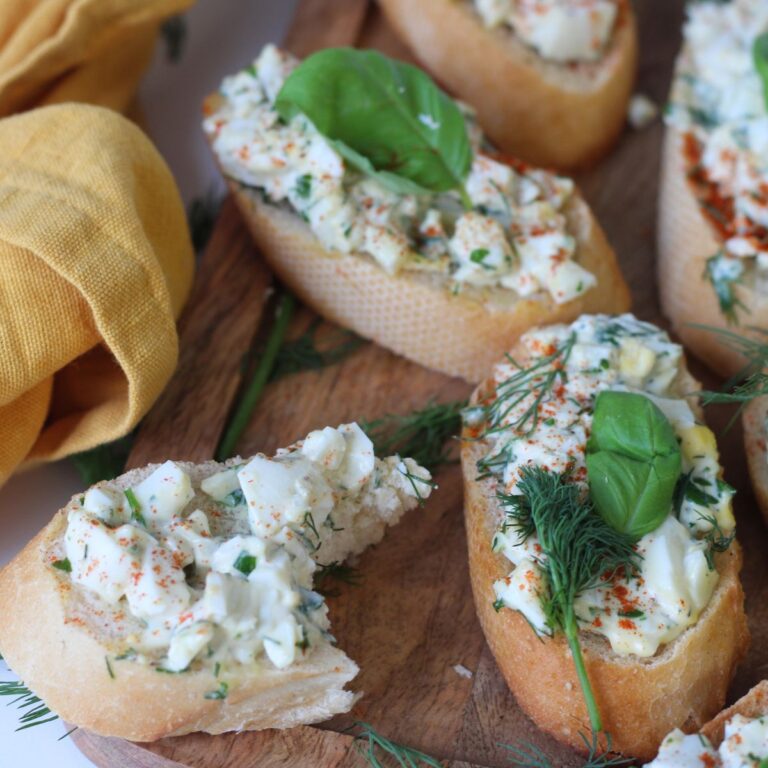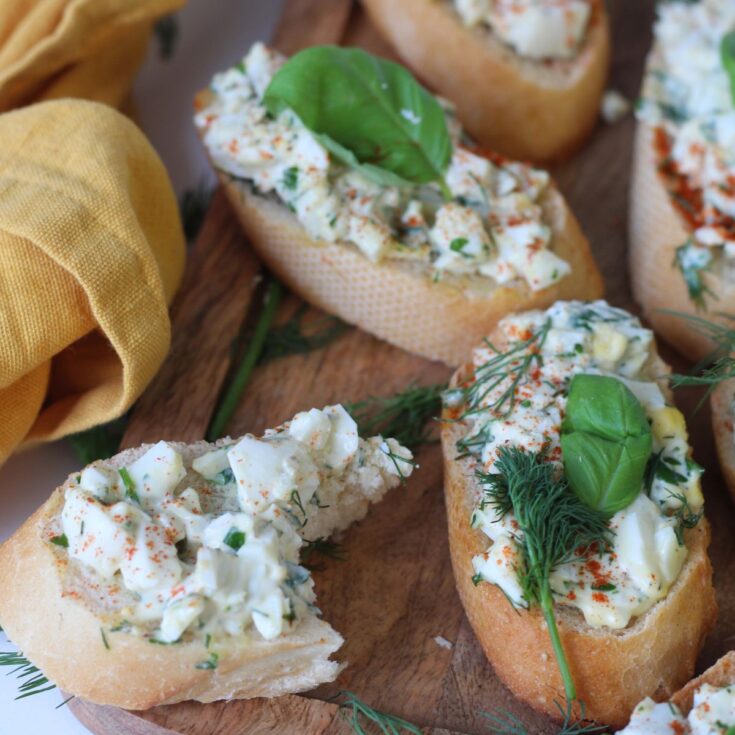 The creamy egg salad pairs perfectly with the crunch of the crostini, making it a delicious and satisfying Egg Salad Crostini Appetizer dish.
Ingredients
1 French baguette 13.3 oz
1 tablespoon olive oil
6 eggs
1 cup fresh parsley
1 cup fresh dill
1 cup mayo
½ teaspoon salt
½ teaspoon paprika
1 teaspoon black pepper 
3 tablespoon butter 
Basil leaves to garnish
Instructions
Preheat oven to 350F
Cut the baguette into ½ inch slices.
Place each slice onto a prepared baking sheet and drizzle it with olive oil.
Garnish each slice with a pinch of fresh dill.
Bake for 10 minutes. Leave to cool. Spread butter onto each slice when ready.
INSTRUCTIONS FOR MAKING A SALAD:
Peel boiled eggs and cut them into small pieces.
Chop parsley and dill, and mix them with eggs.
Add salt, pepper, paprika, and mayo, and mix them together.
Transfer salad onto each slice. Garnish with basil and a hint of paprika.
Enjoy!
Nutrition Information
Yield
24
Serving Size
1
Amount Per Serving
Calories

142
Total Fat

10g
Saturated Fat

3g
Trans Fat

0g
Unsaturated Fat

7g
Cholesterol

54mg
Sodium

232mg
Carbohydrates

9g
Fiber

0g
Sugar

1g
Protein

3g
Nutrition may vary depending on the products used.
In Conclusion
This egg salad crostini is easy to make yet still looks beautiful enough for entertaining guests, not to mention it's incredibly tasty too!
Whip up a batch of this delicious treat next time you're looking for something easy yet impressive to add to your brunch spread or as an afternoon snack.
With its crisp crostini topping complemented by the creamy egg salad filling, this dish will be sure to please everyone's palate
Be sure to pin it for later and follow us on Pinterest.