With the Epcot Flower and Garden Festival in full swing, here is your guide to eating around the world. The top 10 foods you need to try.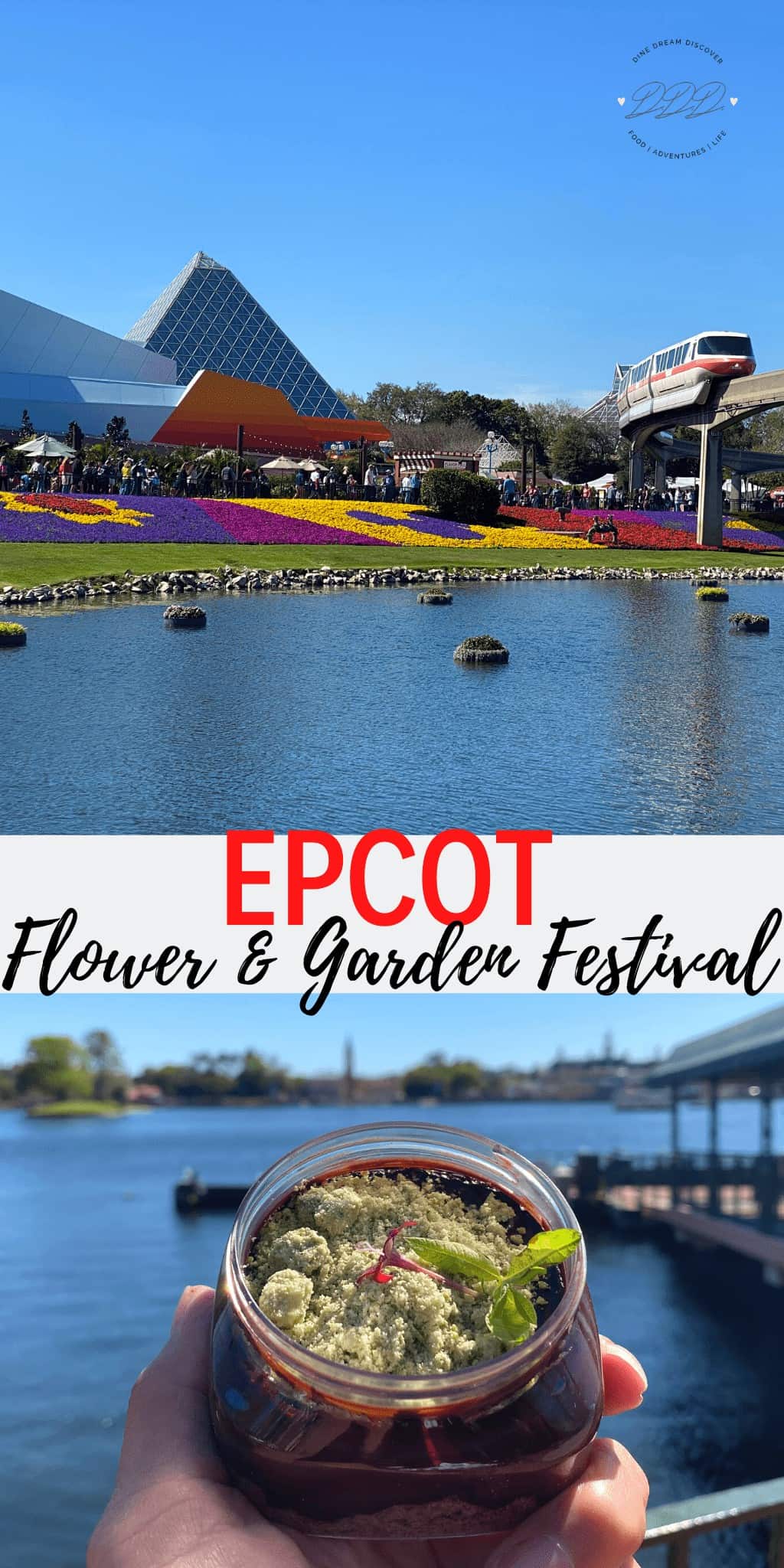 This post may contain affiliate links. See my disclosure policy for more info.
Eating Around the World at Epcot Flower and Garden - Top 10 Foods to Try
I love the four festivals that Disney World's Epcot has each year. I can't say which one is my favorite because I love them all. We went the other day for the Epcot Flower and Garden Festival and had a blast.
It really was the perfect day because the temperature was only a high of 60, believe it or not. Yup that's Florida for you. The Flower and Garden Festival runs through July 5, 2021.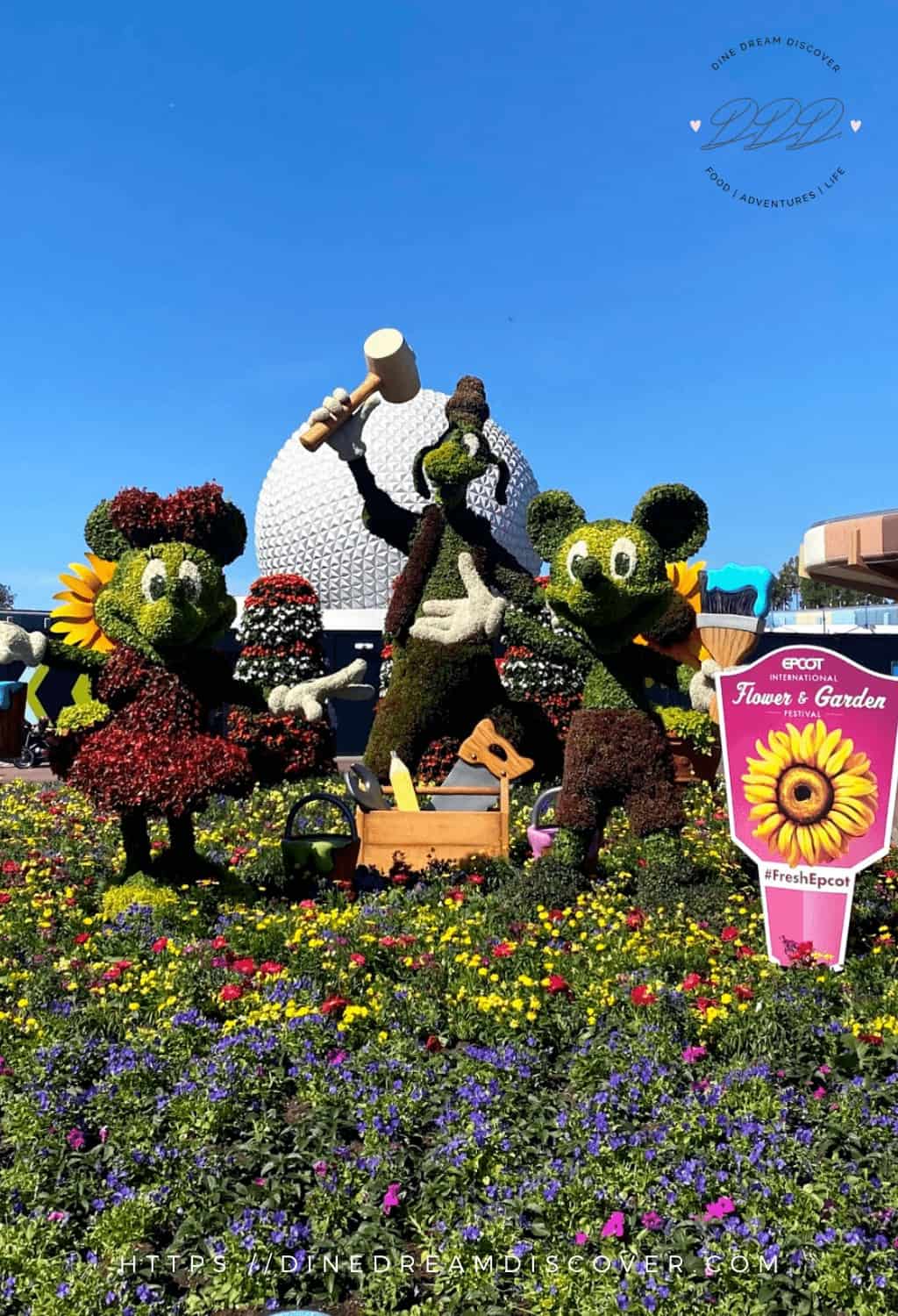 Maybe it's because of the Coronavirus, but it really wasn't that crowded. Were we worried about it? It's there in the back of our minds but we can't lock ourselves in the house.
They've issued a travel warning for people going on cruises, but we aren't doing that. Disney has put up hand sanitizing stations everywhere. And as long as you wash your hands with soap for 20 seconds often, and don't touch your face, nose, eyes, or mouth, you should be safe.
We came in at the entrance closest to the Gondola's. So let's get started on the list of top 10 foods that you need to try at the Epcot Flower and Garden Festival.
The Epcot Food and Wine Festival will be coming up and we just got done with the Epcot Festival of the Arts. You can get your tickets to Epcot right here.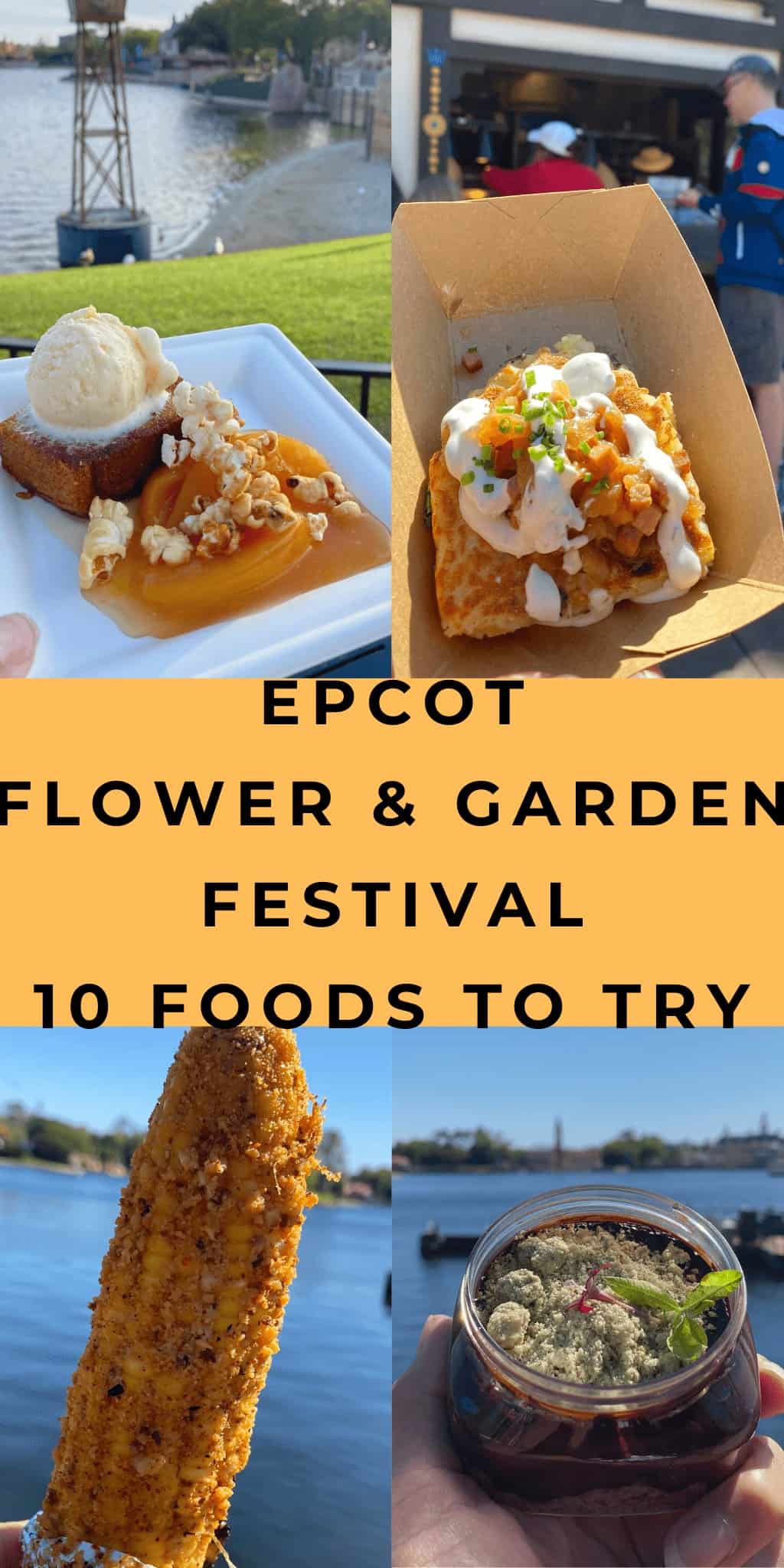 We started at the Bauernmarkt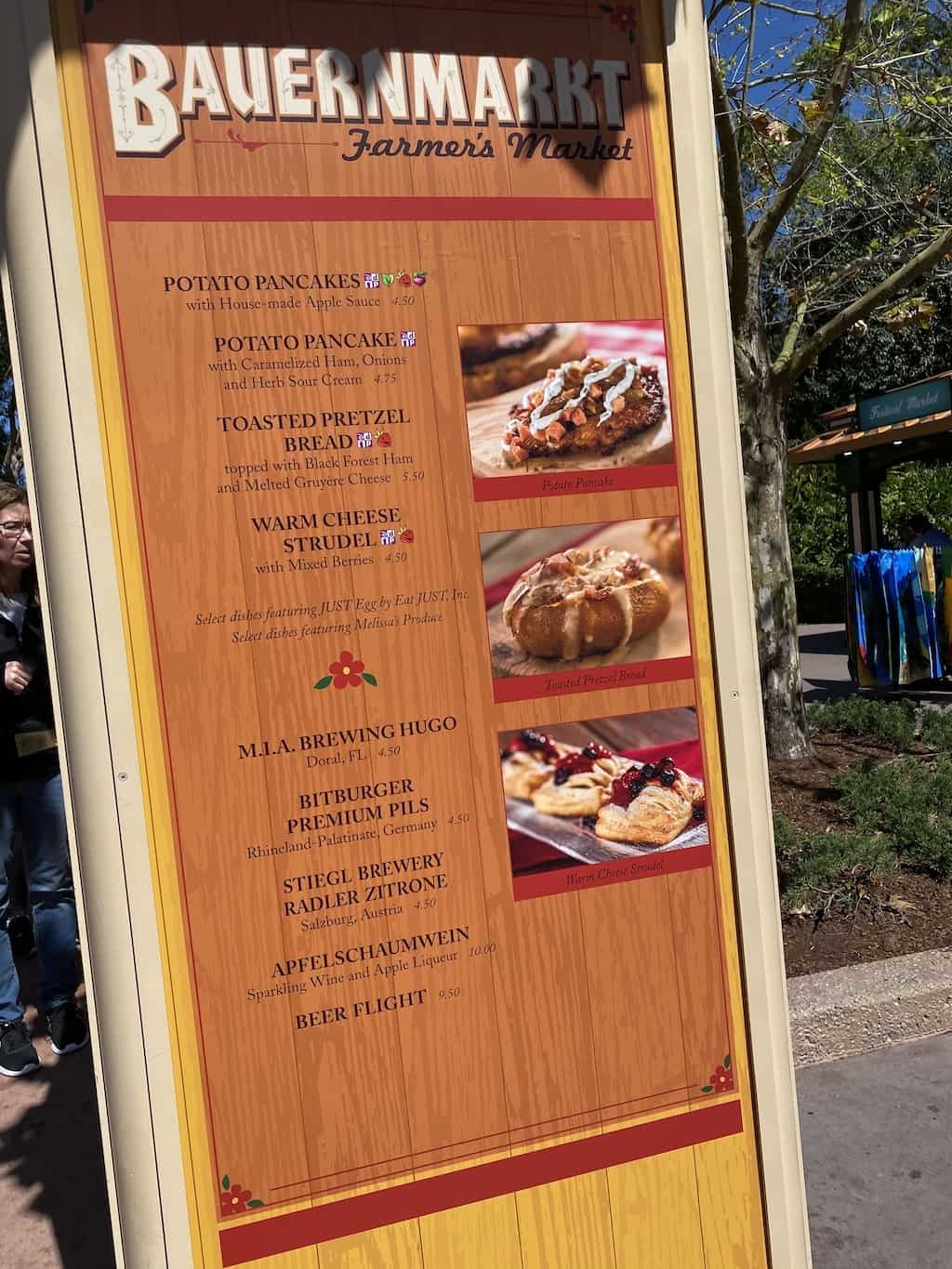 Number one on the list is the Potato Pancakes with house-made applesauce or Potato Pancake with carmelized ham, onions, and herbed sour cream.
These are very good were almost as good as my mom's (I said almost because there is none that compare to hers!)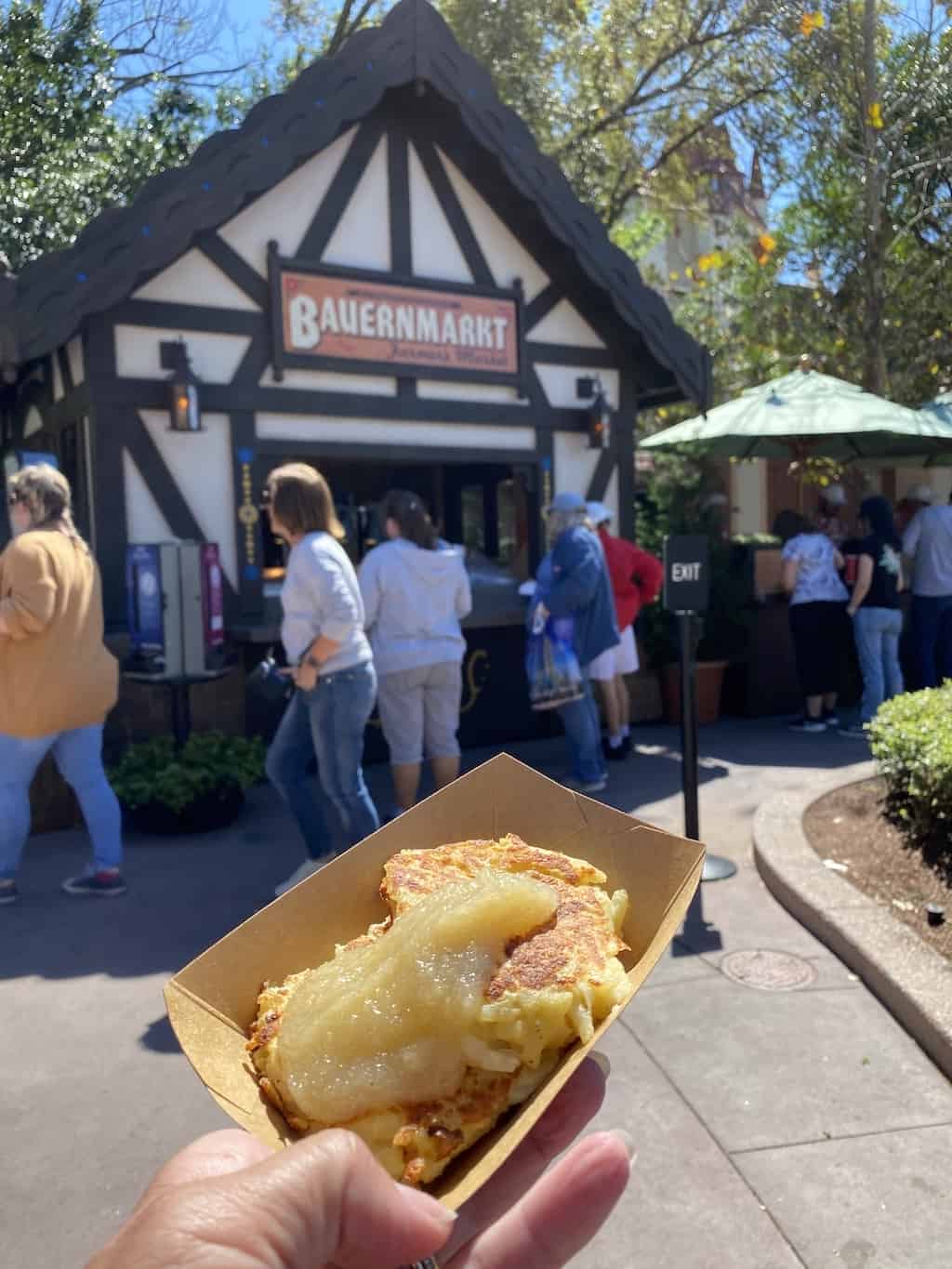 Number two is the Toasted Pretzel Bread is topped with ham and melted Gruyere Cheese. This also was very good. But then again...I don't think there was anything we didn't like that we tried.
Three on the list is dessert. The Warm Cheese Strudel with mixed berries was superb. Not only was it good, but it was a good sized piece at a great price.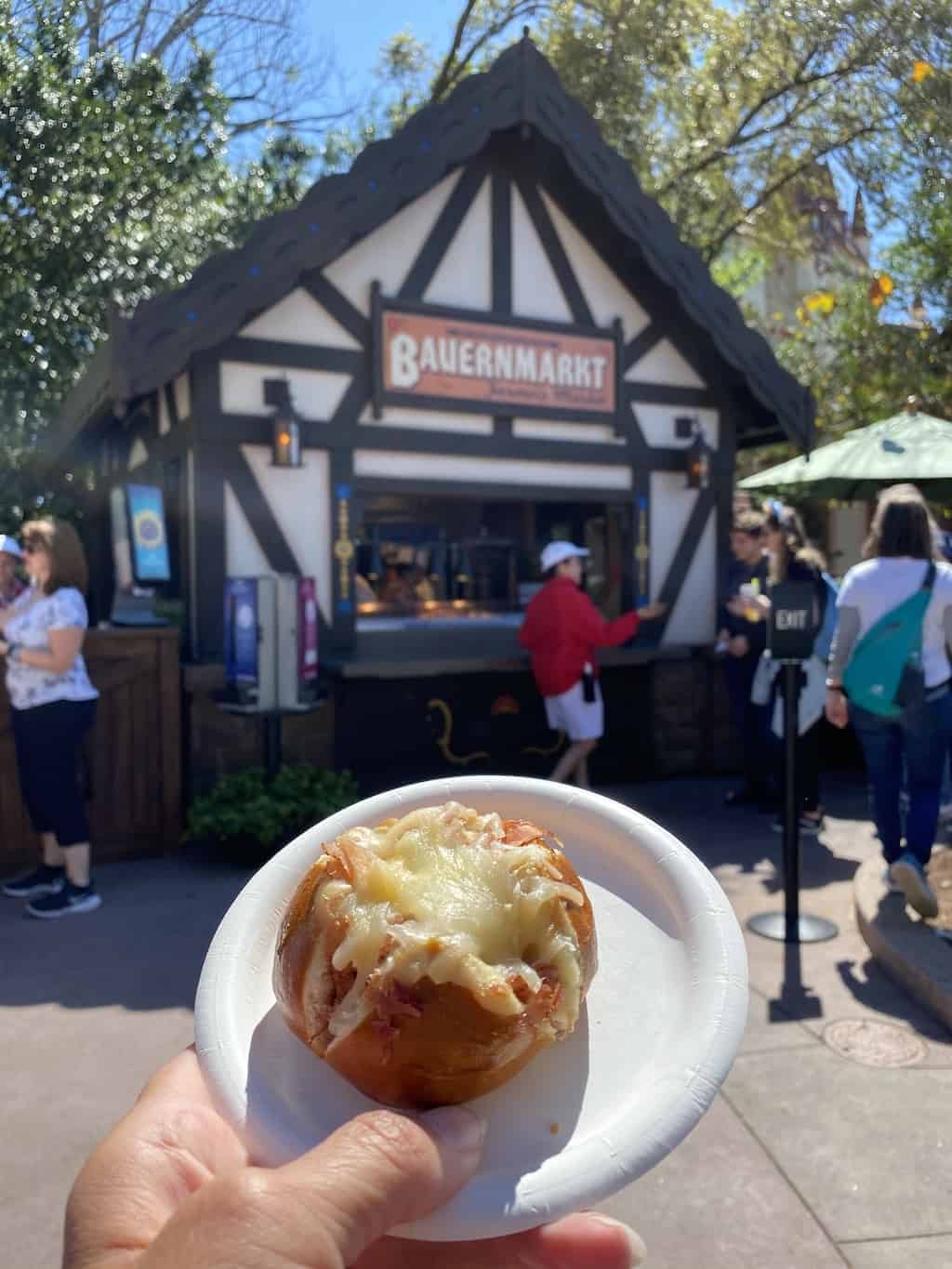 After that we hit up the Trowel & Trellis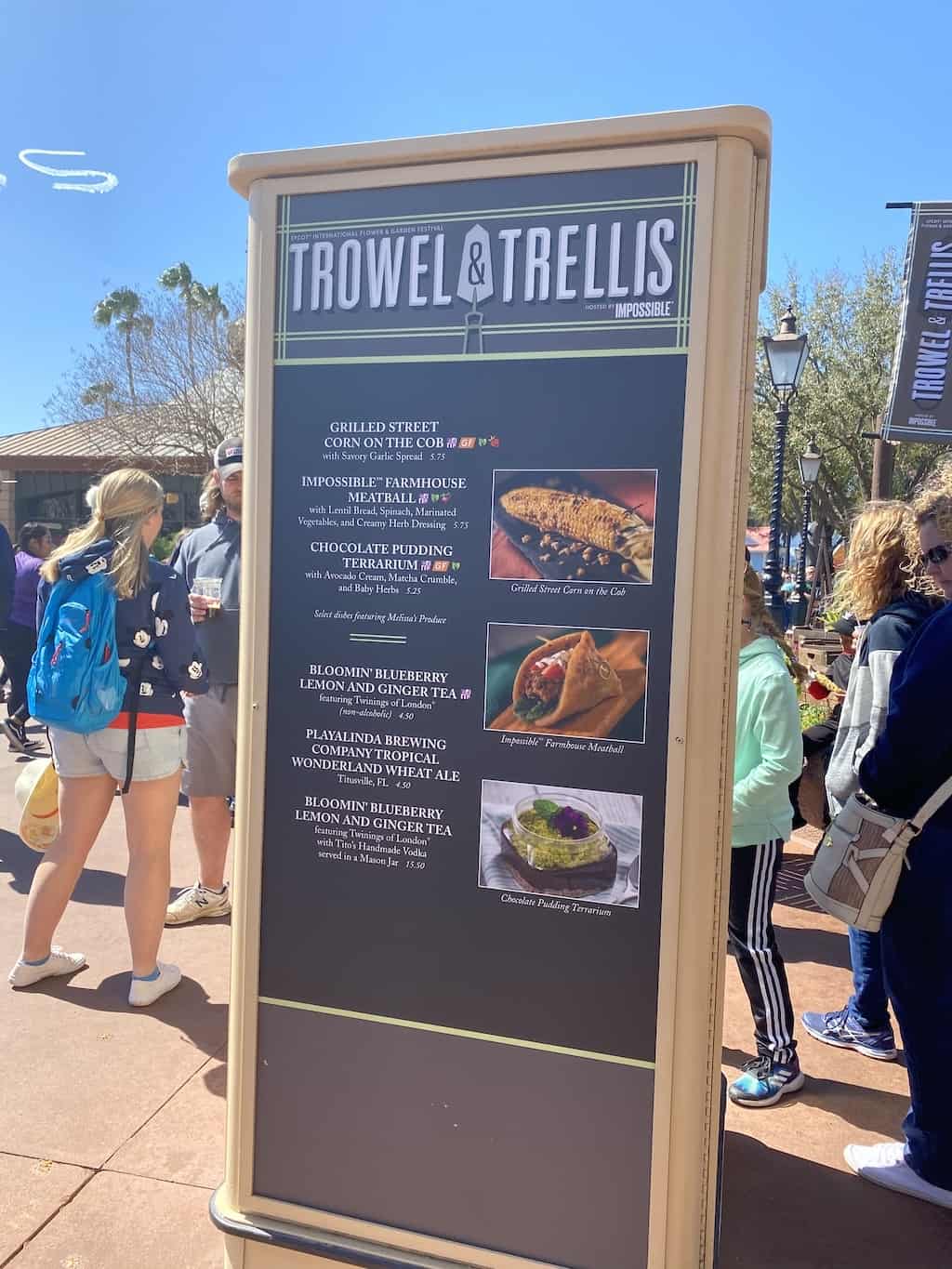 Four, five and six was at the Trowel & Trellis. I'm not sure if they have any sort of cardboard trays to carry multiple items on because I didn't see any.
It was kind of hard to juggle the corn, farmhouse meatball and chocolate pudding terrarium. So just be sure if you are ordering multiple items that someone is with you to help you carry. Thank goodness I didn't order a drink too.
The Grilled Street Corn on the Cob is covered with a savory garlic spread and parmesan cheese. So tender and good.
The Impossible Farmhouse Meatball is a plant based meatball. Apparently I didn't know that's what it meant when I ordered it, lol. It was served with marinated vegetables, spinach and creamy herb dressing on lentil bread. It was good but beware...because it dripped all over me.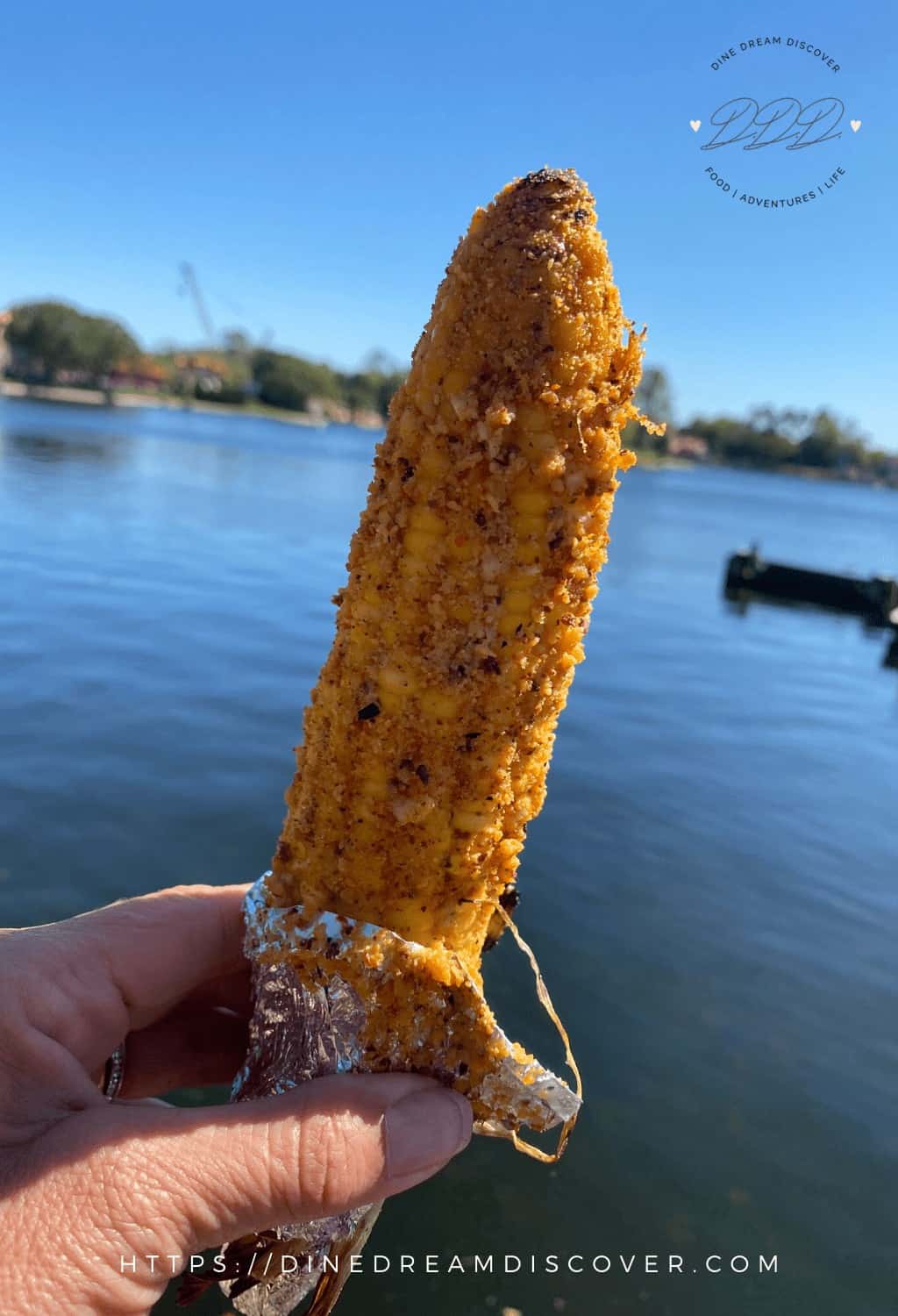 I loved the Chocolate Pudding Terrarium. Made with Avocado Cream, Matcha Crumble, and baby herbs. Not only was it cute (and on my list before I even went to the festival) but who doesn't love chocolate pudding?
If you're concerned about the avocado and matcha in it, you won't even know it. Aren't the little flowers cute?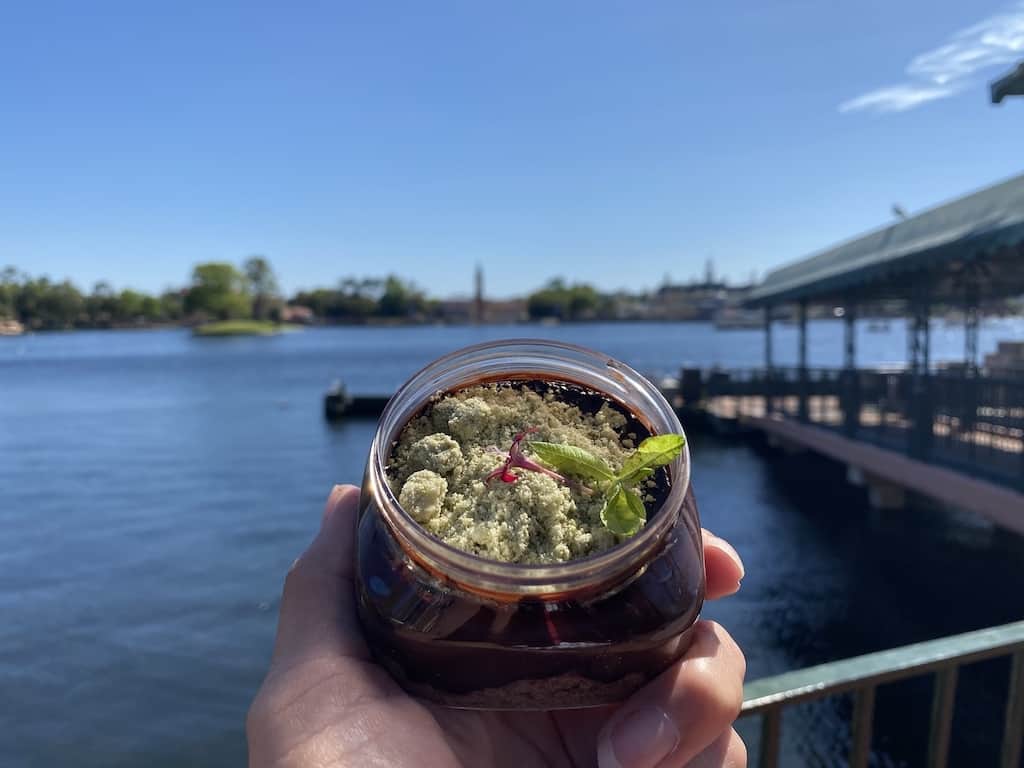 Next stop is Jardin de Fiestas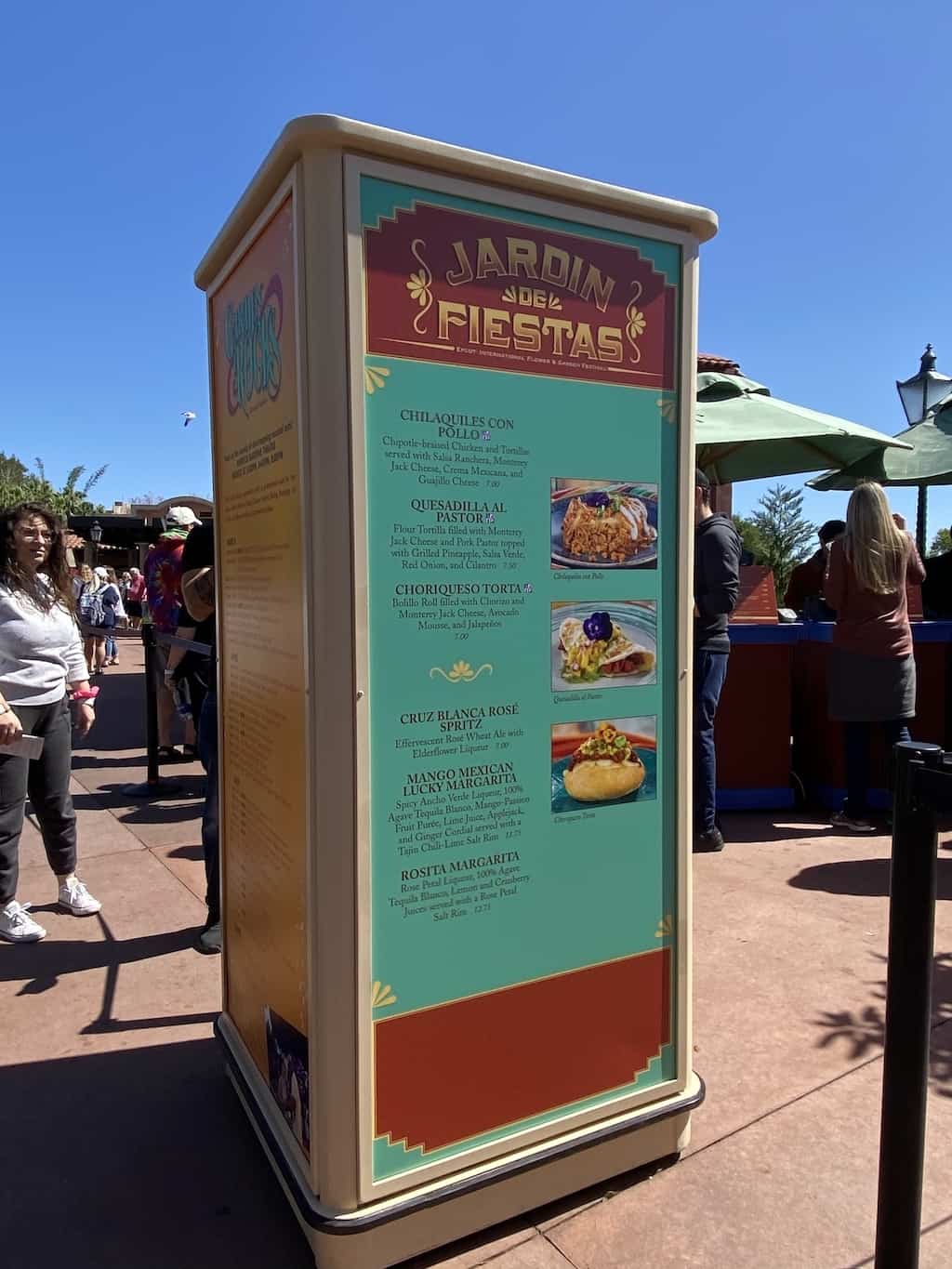 Seven is the Chilaquiles Con Pollo. It is a chipotle- braised chicken and tortillas served with salsa ranchera, Monterey Jack Cheese, Crema Mexicana, and Guajillo Cheese.
This smelled really good but Megan and the kids were eating this, so I didn't try it. They loved it though.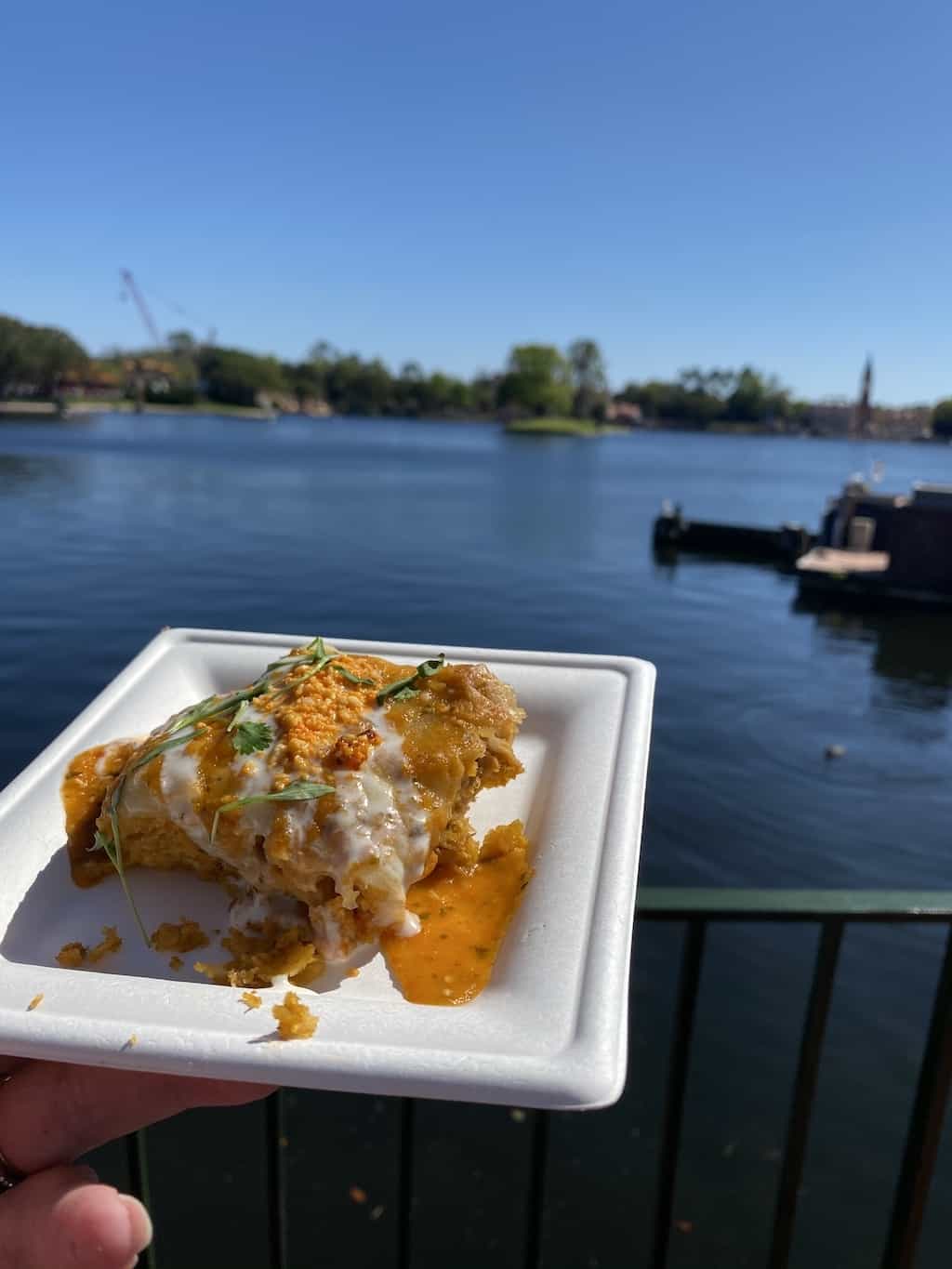 Dessert at La Isla Fresca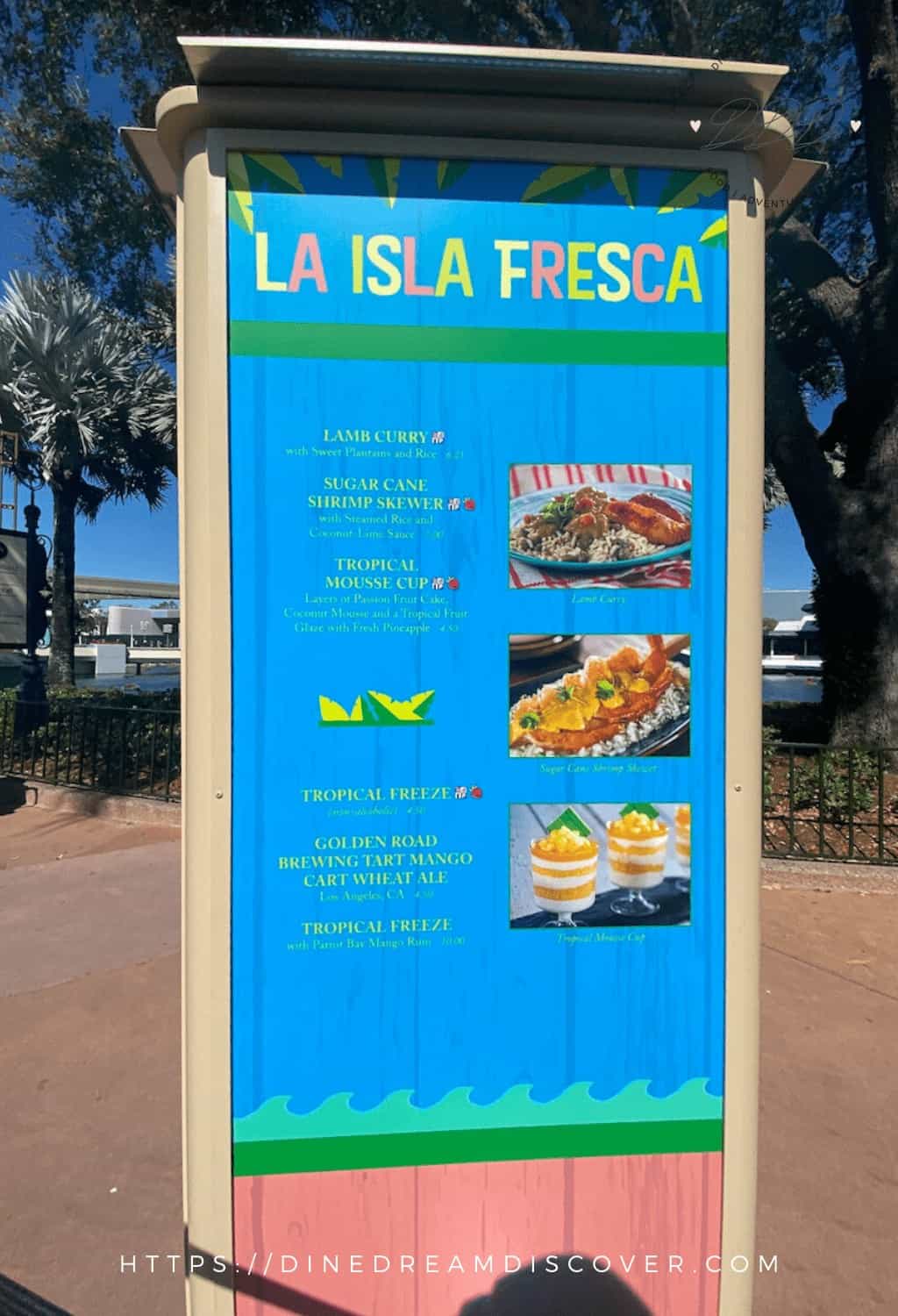 Number eight is dessert with the Tropical Mousse Cup. We didn't plan this one but someone was walking by with it and we're like where did you get that from? lol
It was a pretty good sized cup filled with layers of passion fruit cake, coconut mousse, tropical fruit glaze with fresh pineapple.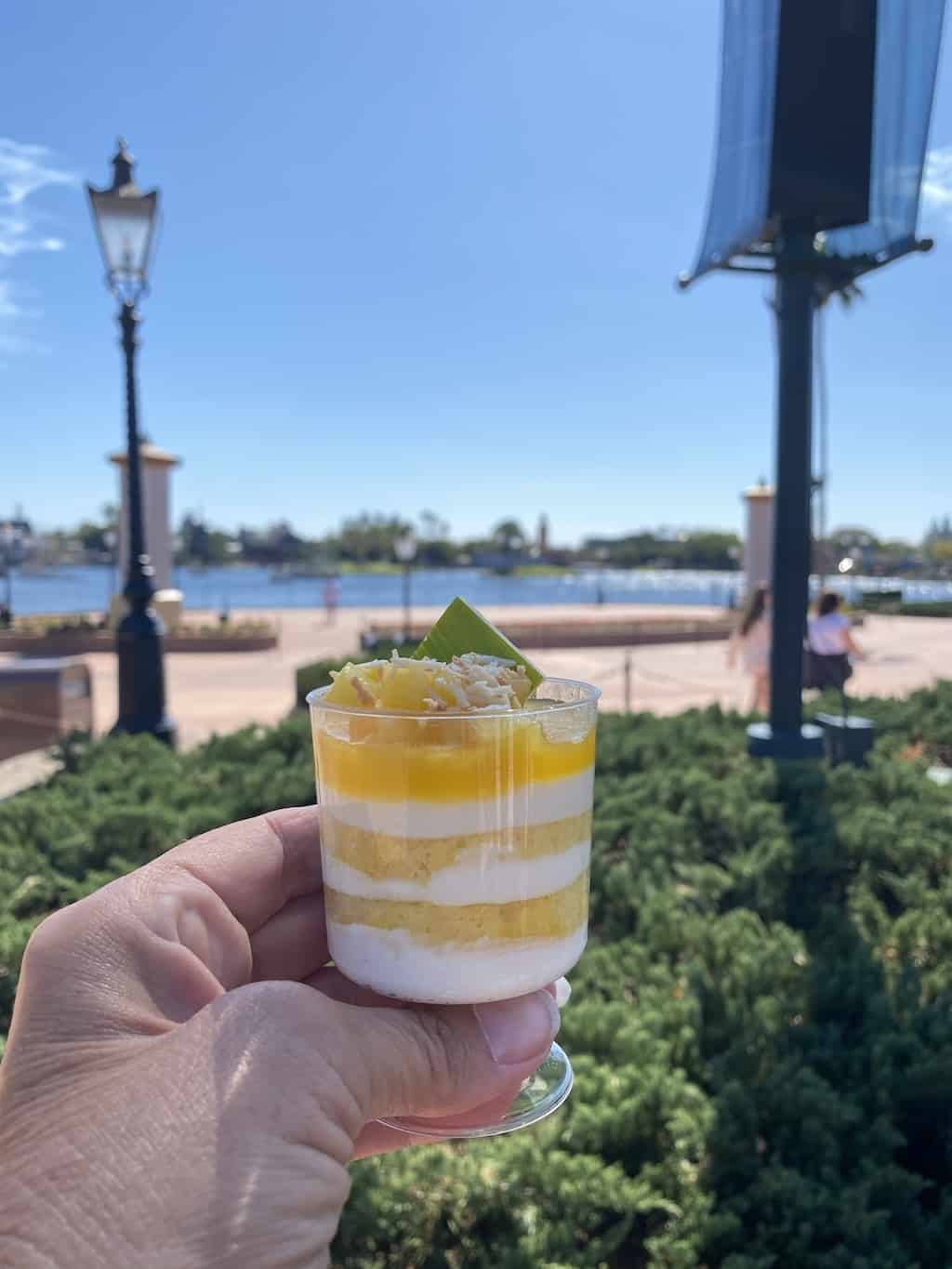 A little bit of everything at Northern Bloom
Number nine, ten and a bonus, lol.
I love Beef Tenderloin Tips so of course I had to stop for these. Beef Tenderloin Tips in a mushroom Bordelaise Sauce served over Whipped Potatoes and garden vegetables. No complaints here. 😉
The Seared Scallops are served with French Green Beans, Butter Potatoes, Brown Butter Vinaigrette and Applewood Smoked Bacon.
Griddled Maple Pound Cake wasn't a disappointment either. Served with warm Peach Compote and Sweet Corn Gelato with syrup.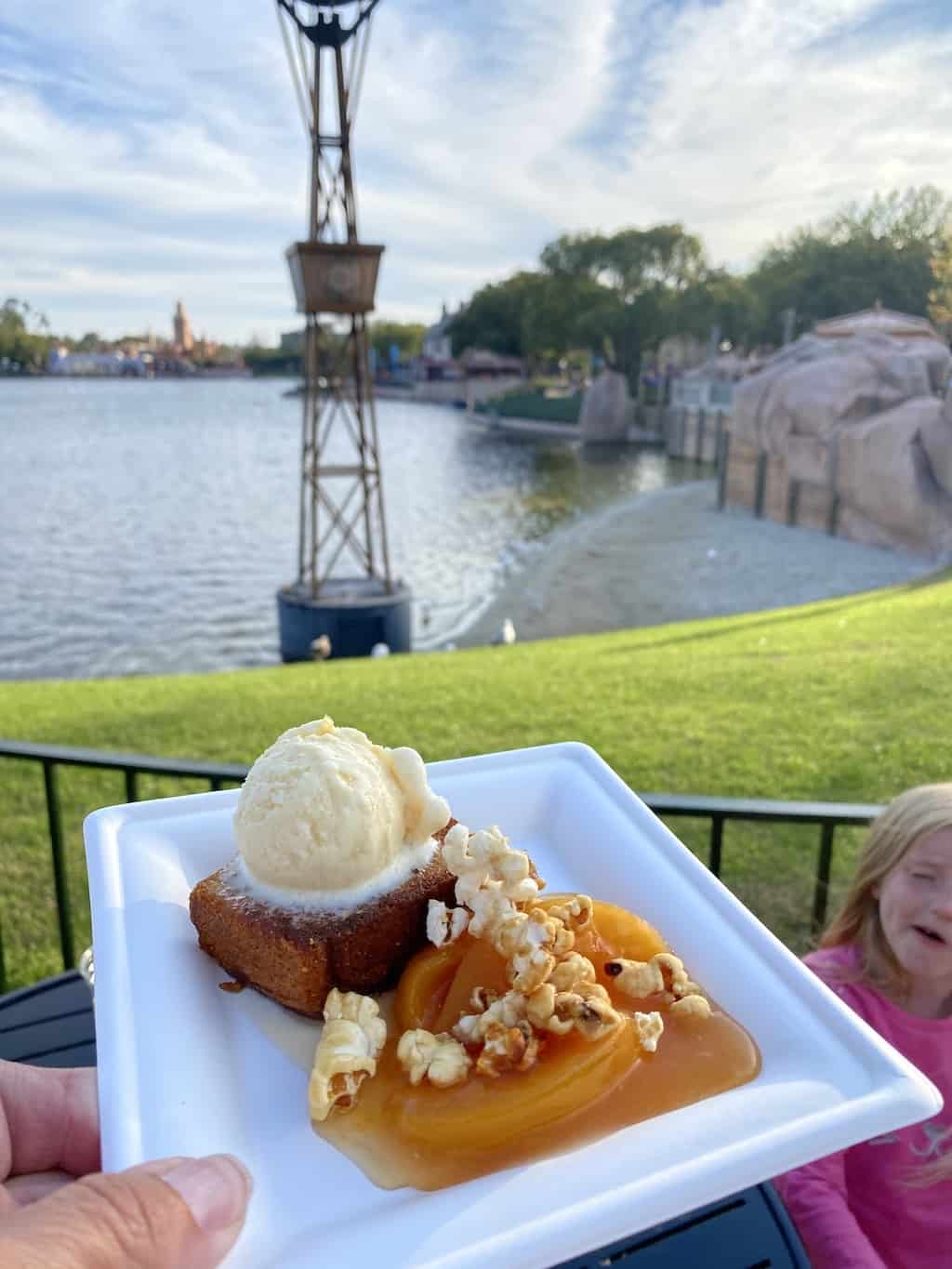 Food for the kids at Epcot Flower and Garden.
In addition to a couple of the foods above that the kids tried, they had a hot dog as the Via Napoli for some reason was not open for pizza. They also had their Coca-Cola Slushies from Epcot Cool Wash.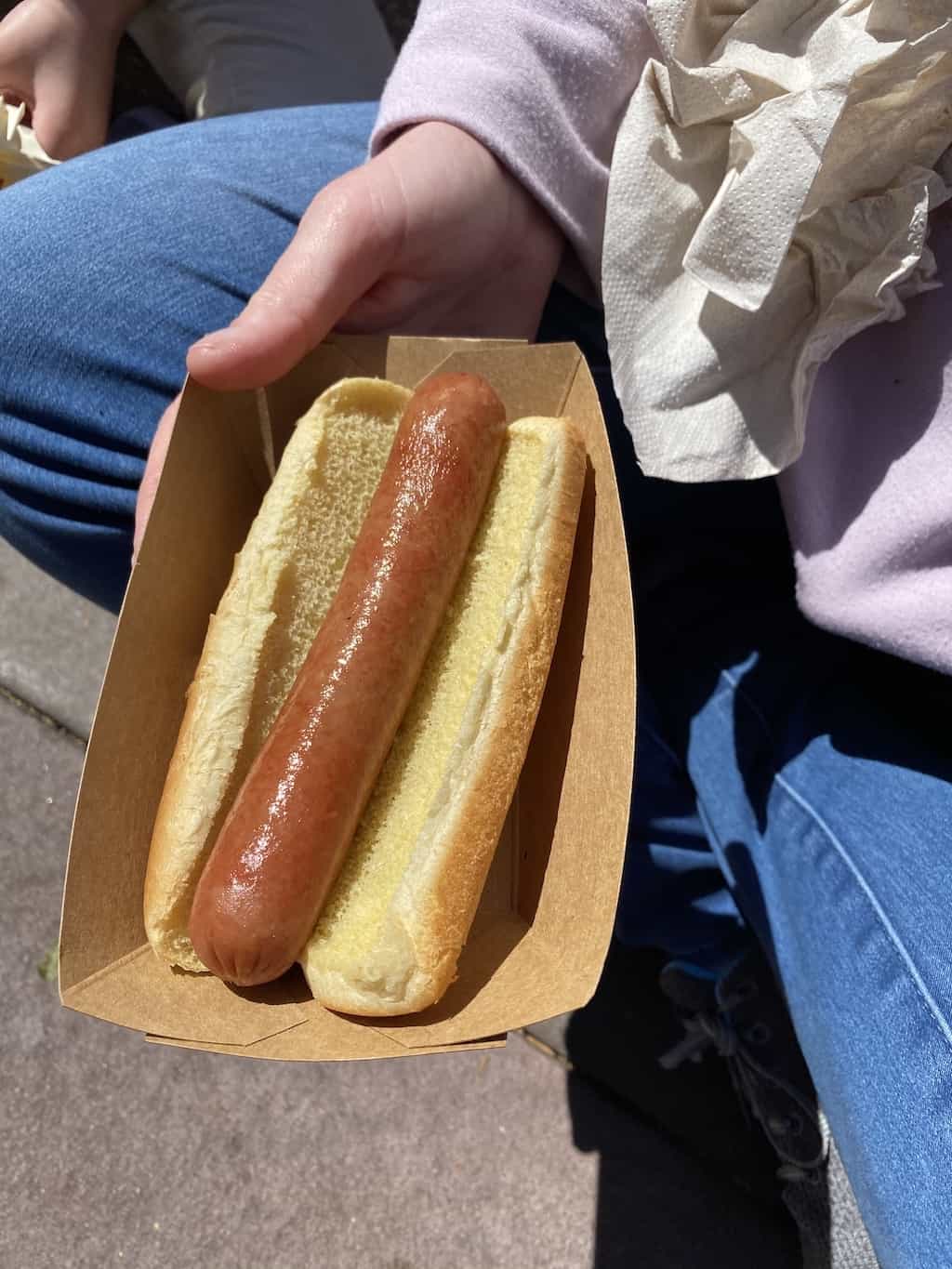 Epcot Flower and Garden Outdoor Kitchens We Didn't Stop At
Inevitably, there were many Epcot market stands that we didn't stop at. But that only means one thing....we will have to go again! 🙂
Some of them include: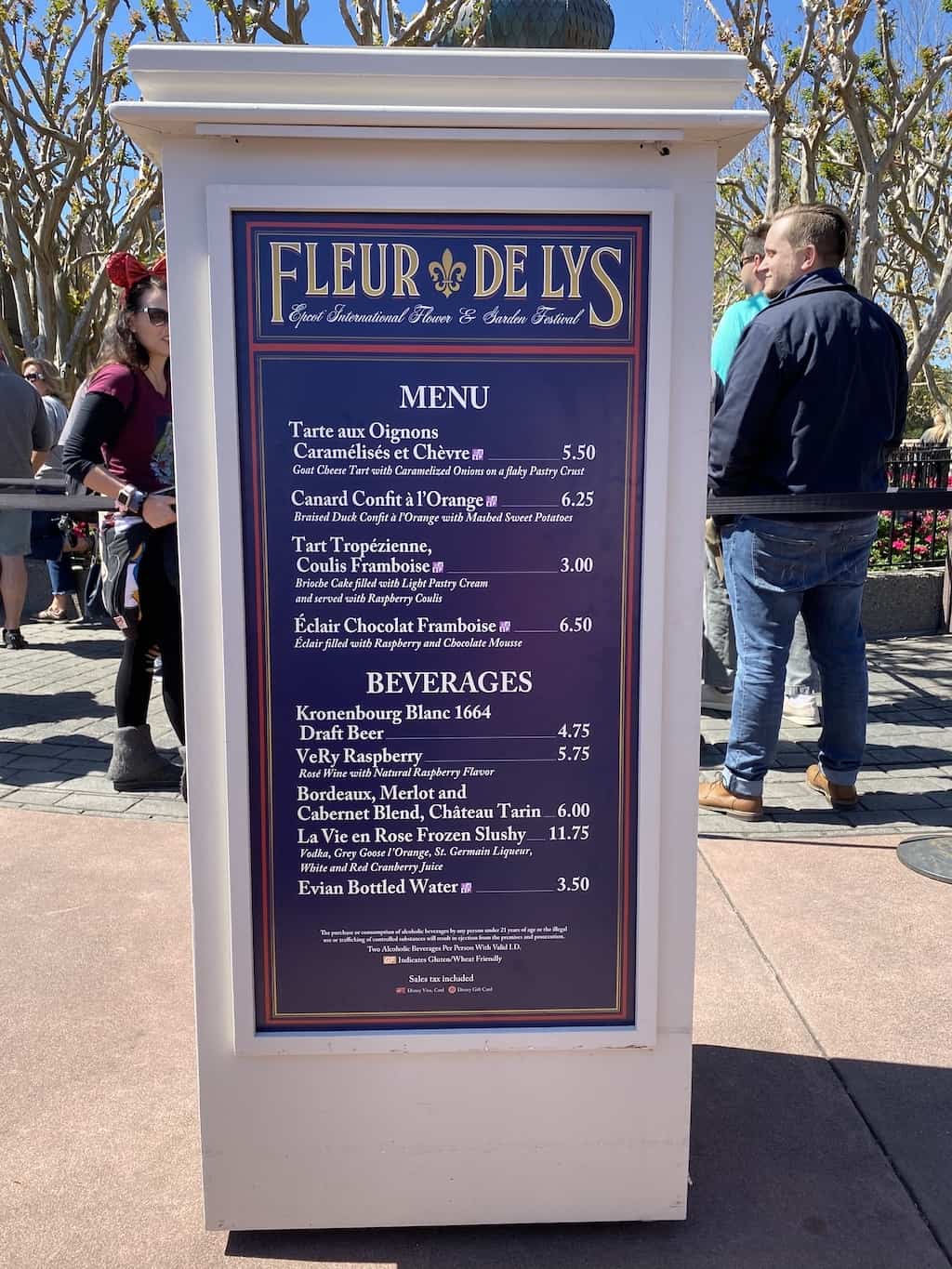 Florida Fresh
Taste of Marrakesh
Hanami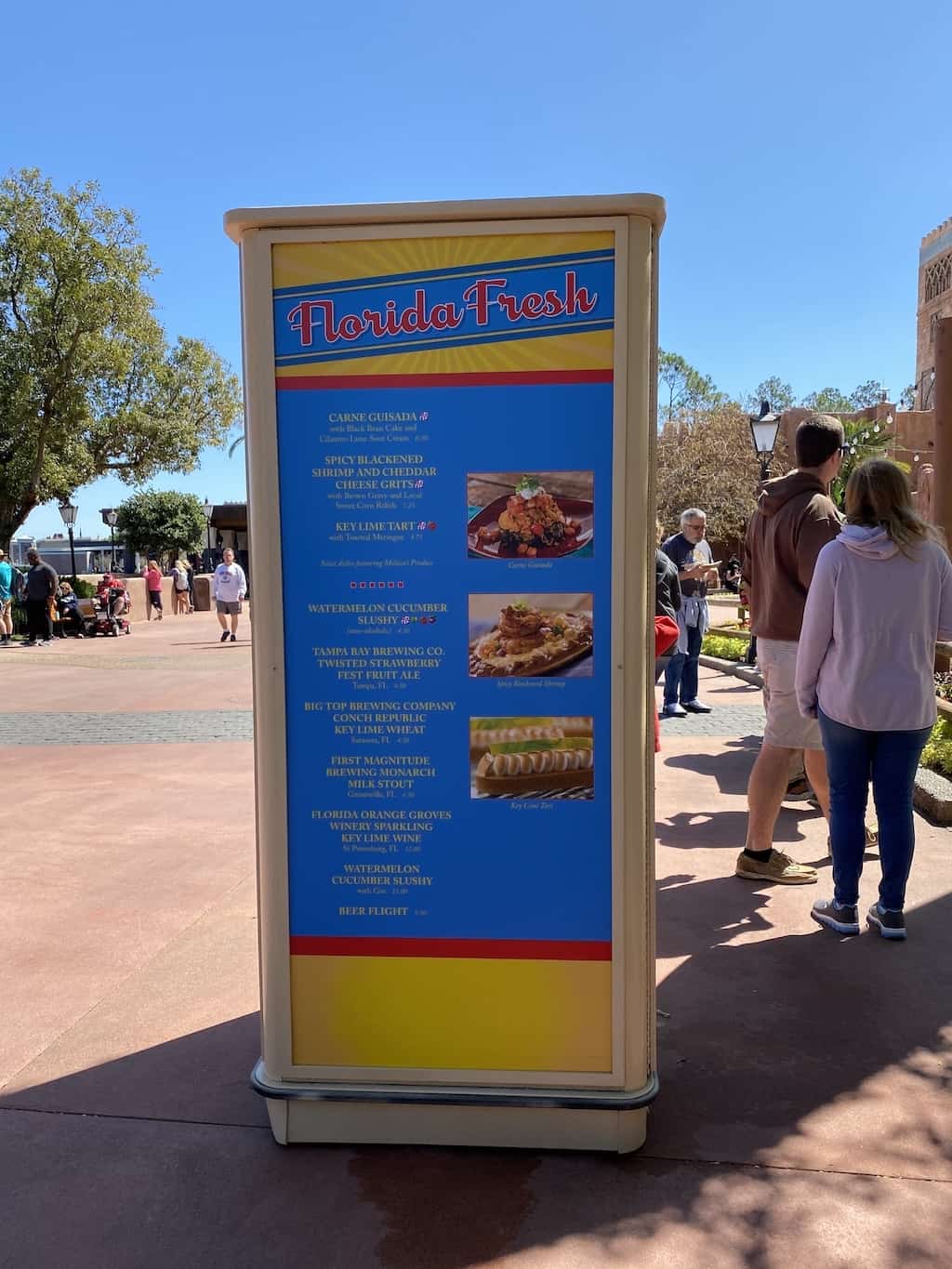 Magnolia Terrace
Joffrey's
Primavera Kitchen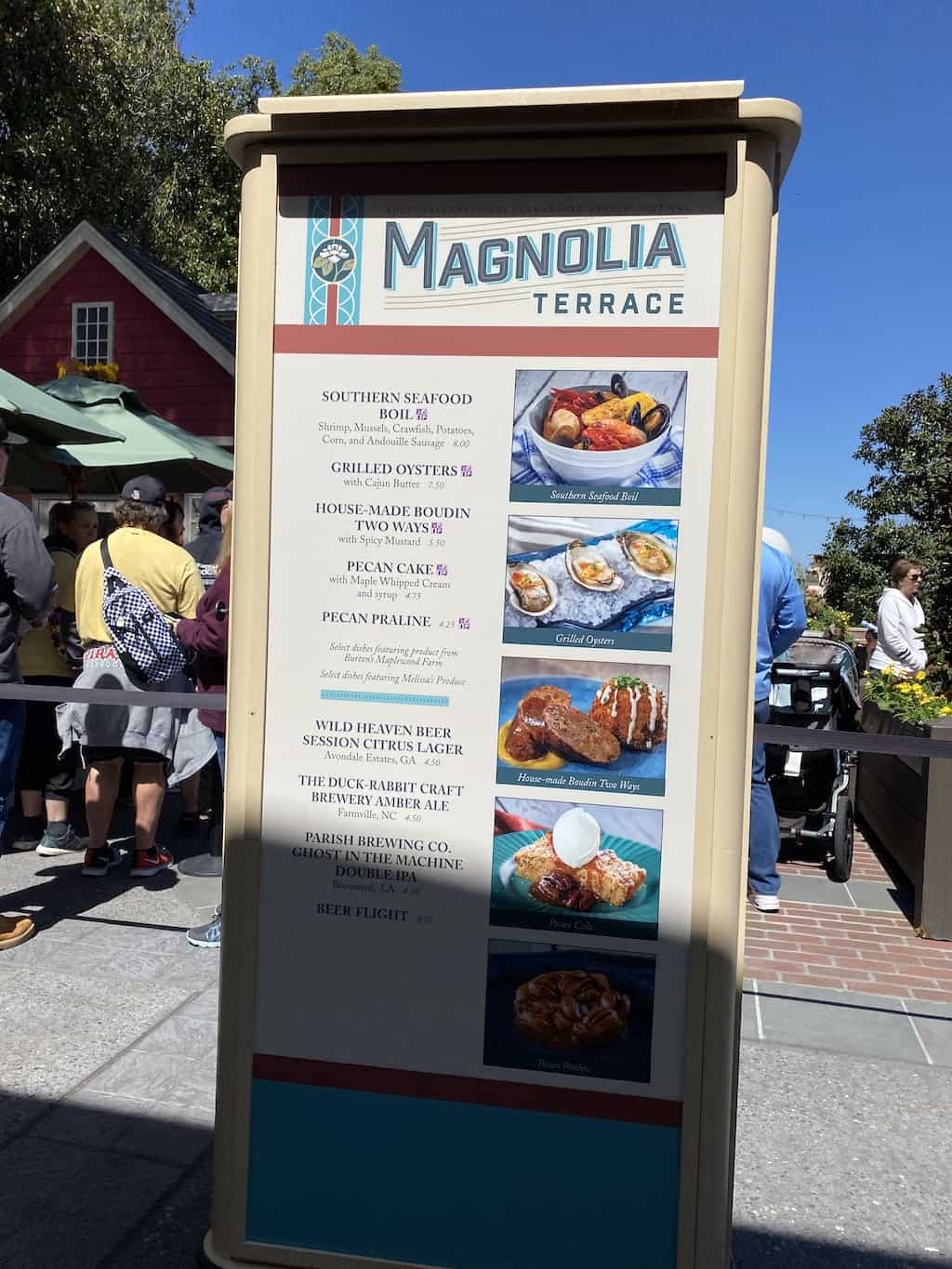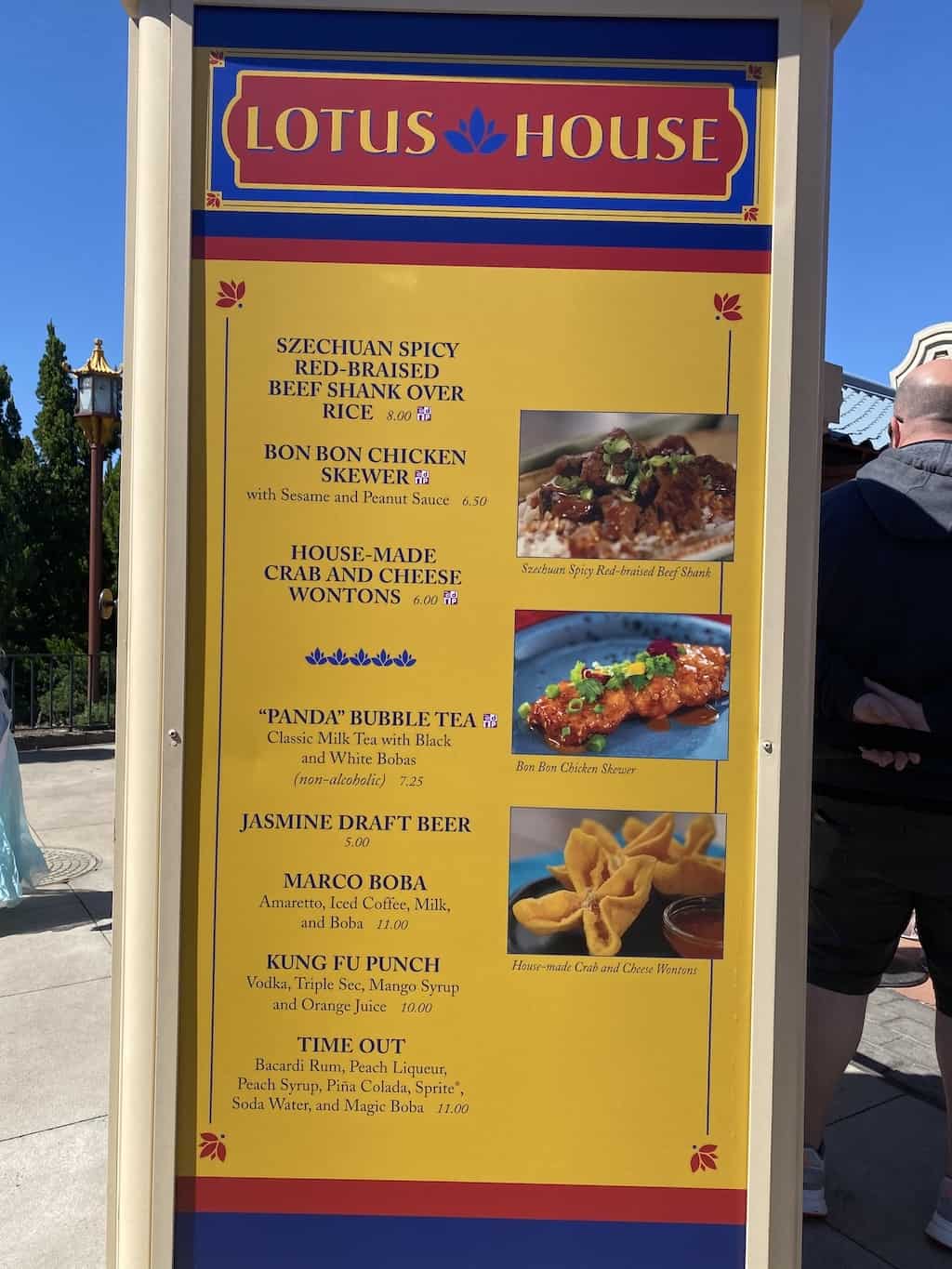 Flavor Full Kitchen
The Honey Bee-stro Garden
The Citrus Blossom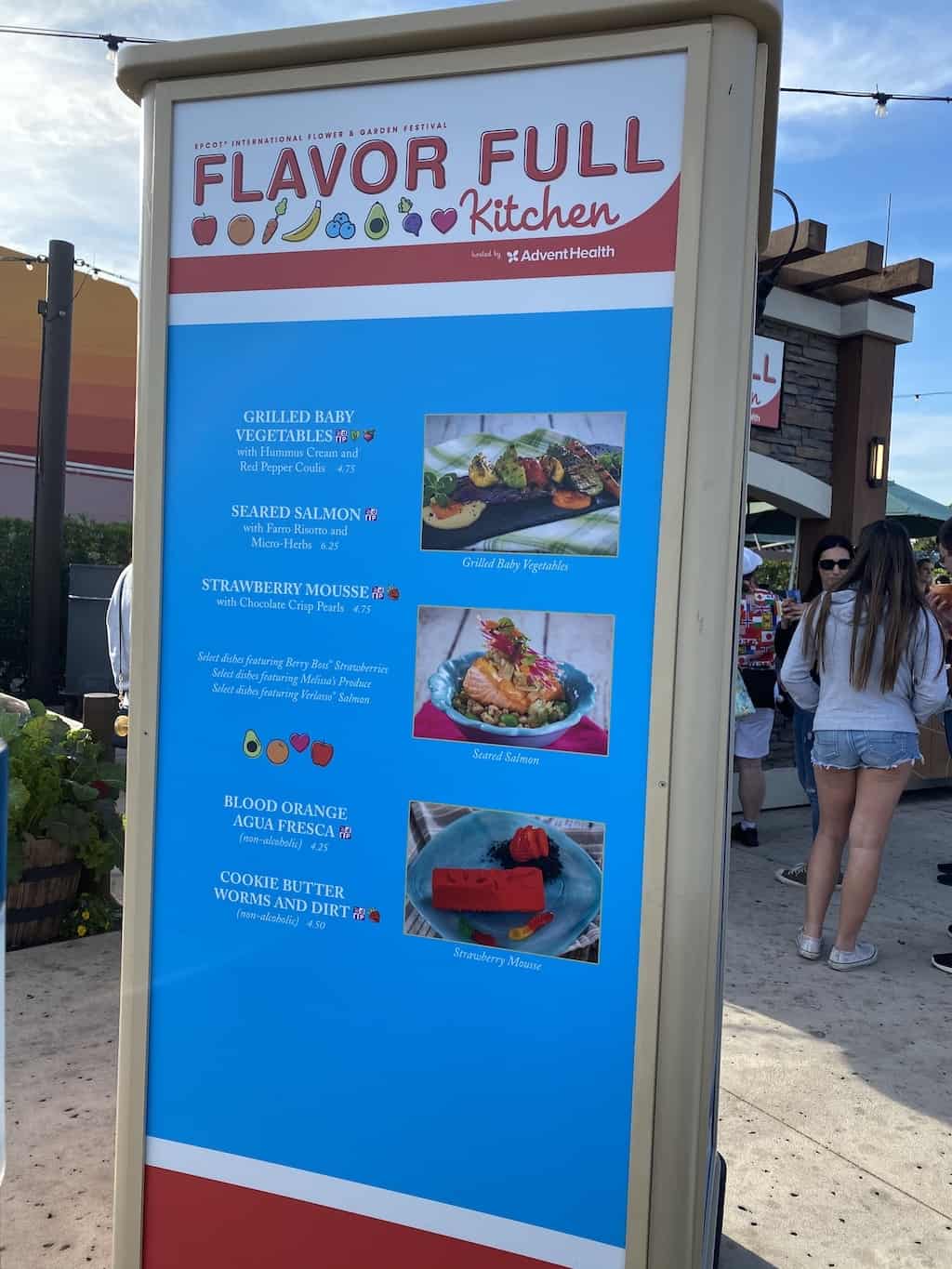 There are many more that we missed, so be sure to pick up your Festival Passport so you don't miss any.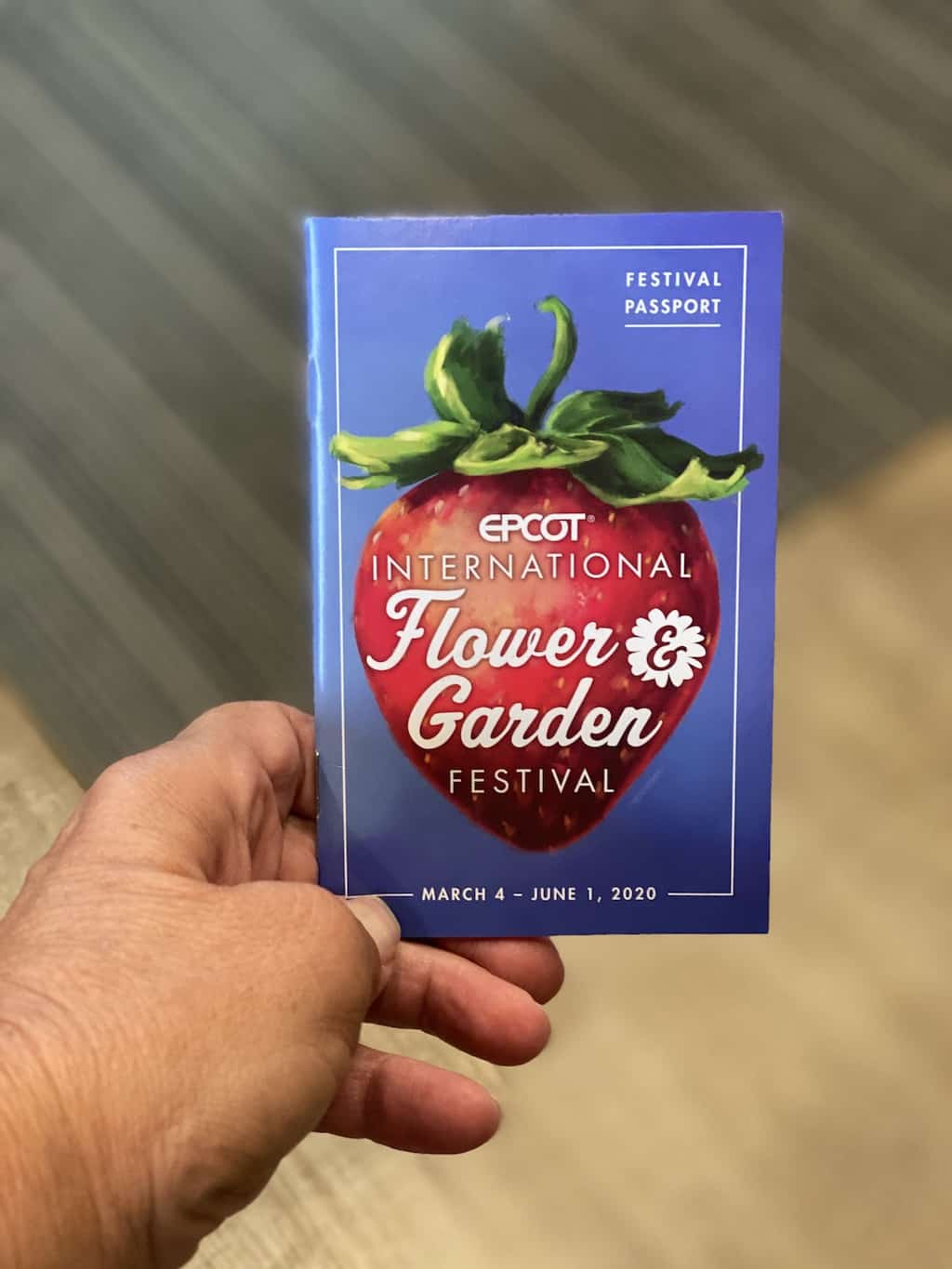 Get a Complimentary Item with Five Garden Graze Menu Items
While we didn't purchase all five of the required items this time, we saved the receipts so that we can get the Complimentary Pineapple Promenade form the Showcase Plaza the next time we go.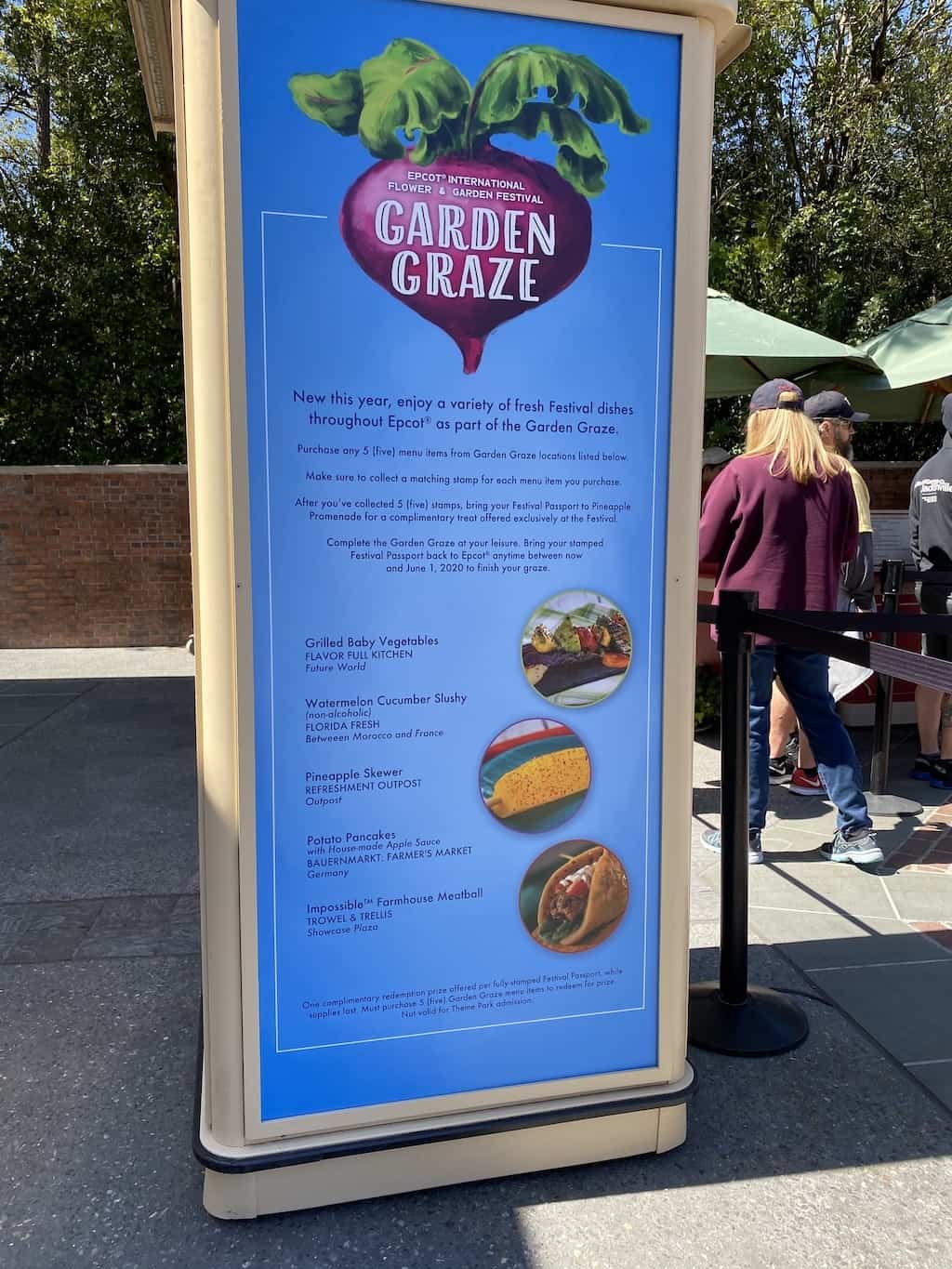 Grilled Baby Vegetables from the Flavor Full Kitchen.
Impossible Farmhouse Meatball from Trowel & Trellis.
Pineapple Skewer from Refreshment Outpost.
Potato Pancakes from Bauernmarkt.
Watermelon Cucumber Slushy from Florida Fresh.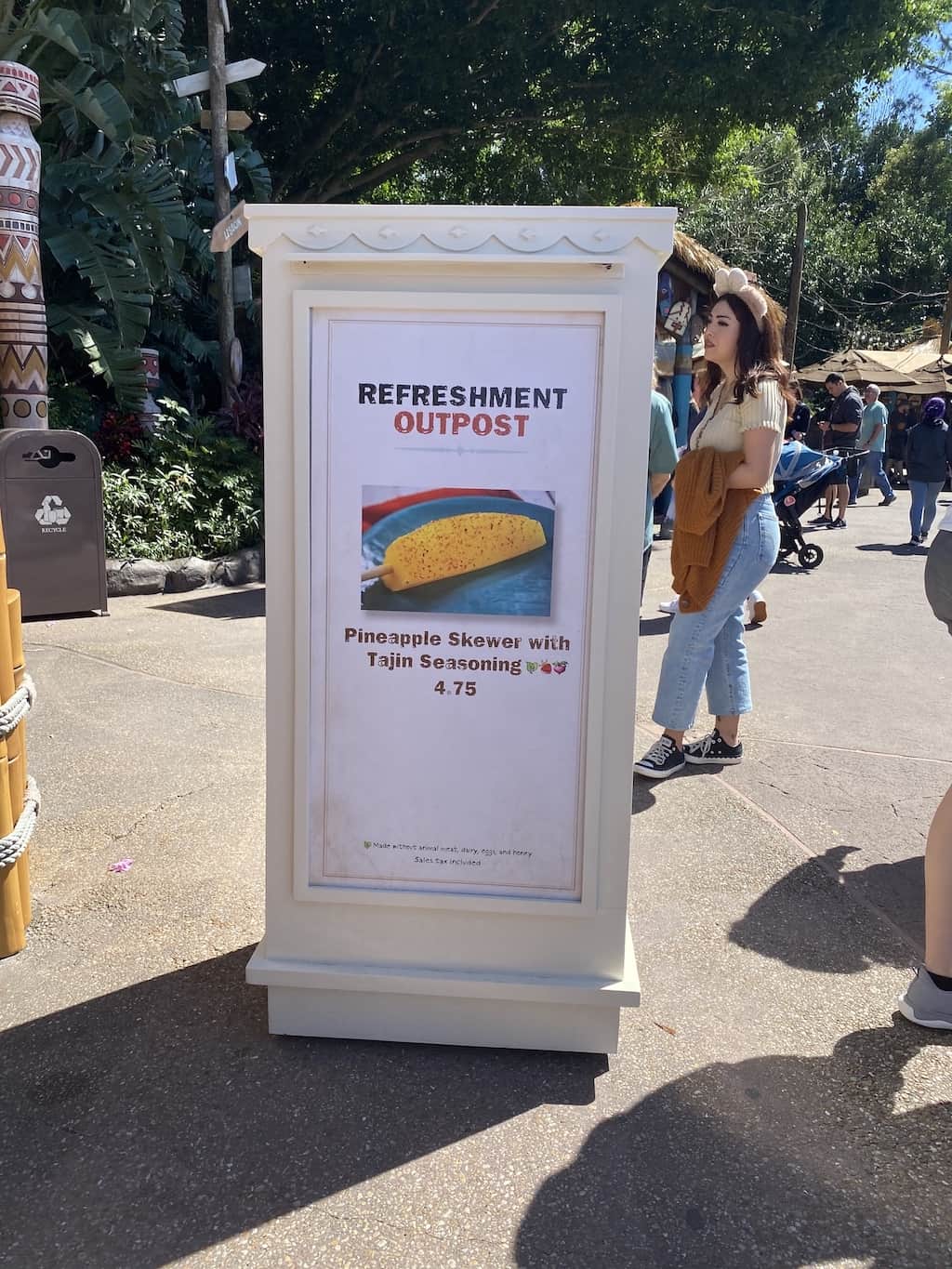 Lines for the food may look long, but they moved along really quickly. So don't be discouraged and skip something because of it.
Be sure to check out our other blog posts about Epcot Entertainment Garden Rocks Concert Series 2020 and the other Epcot Festivals 2020.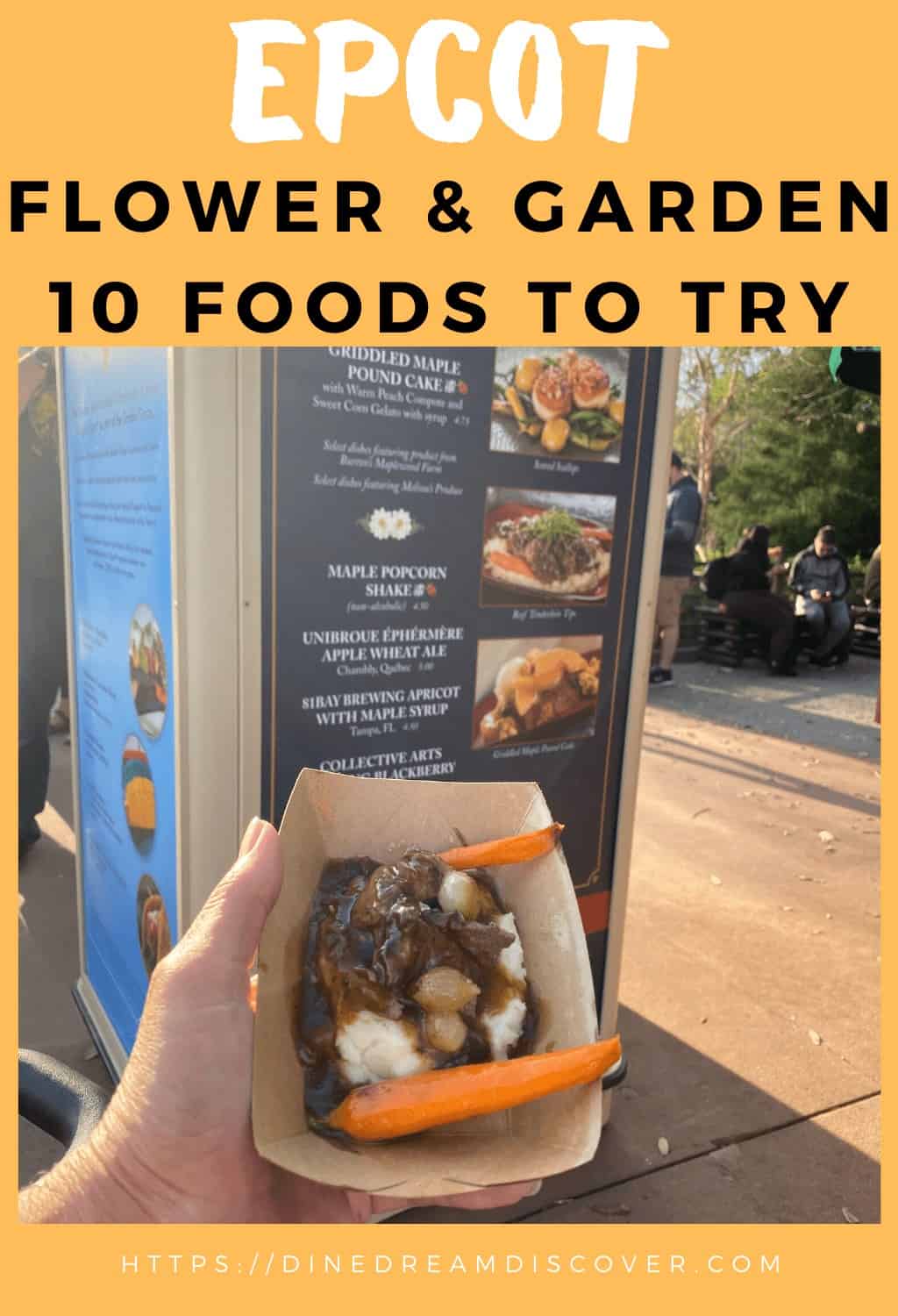 Follow us on Pinterest and PIN IT FOR LATER!