A deliciously and easy Valentine Cake Mix Crinkle Cookie Recipe made with a white cake mix and topped with white chocolate drizzle.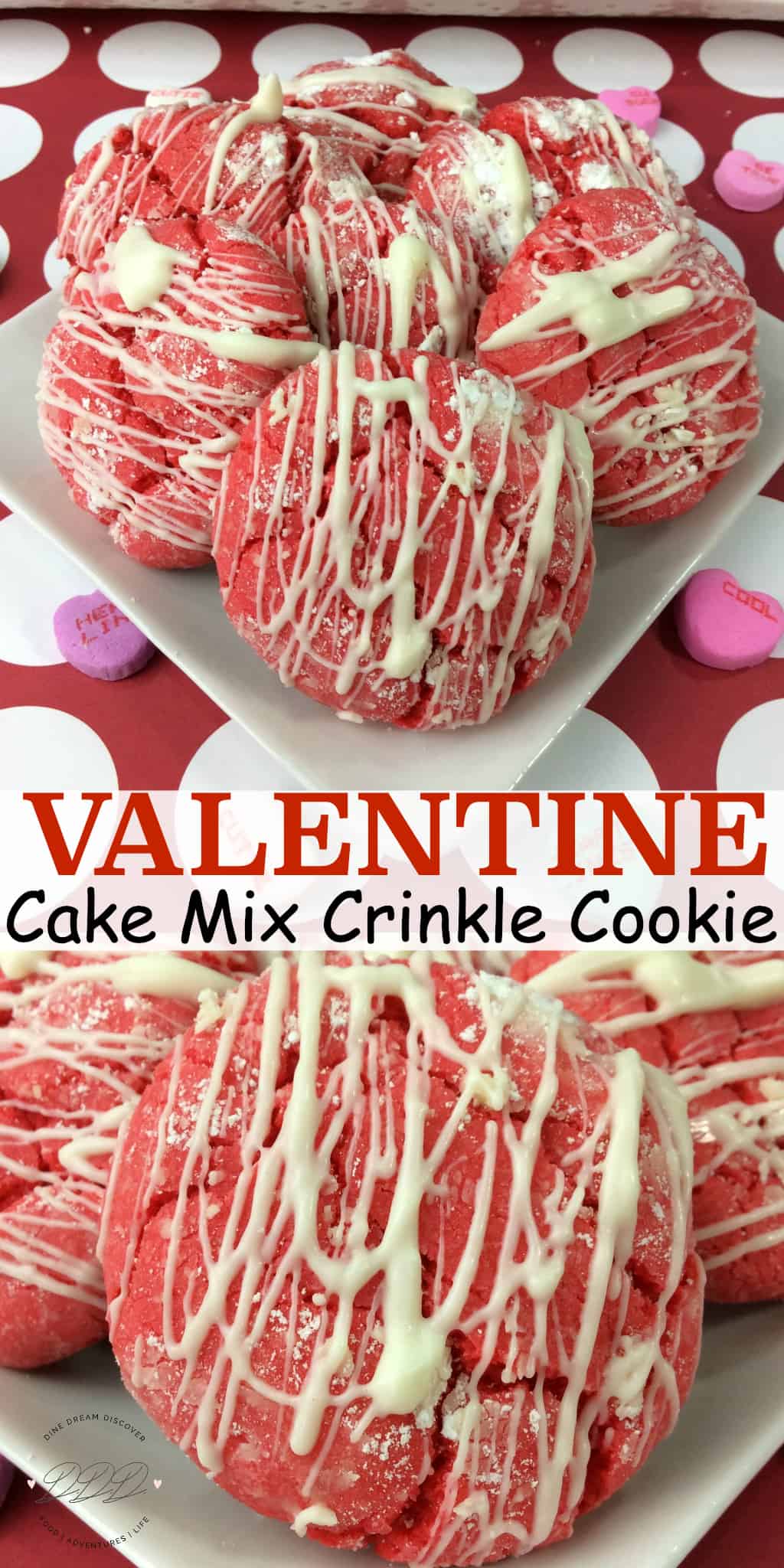 Valentine Cake Mix Crinkle Cookie Recipe with White Chocolate Drizzle
Ah, Valentine's Day. A day for lovers or so they say. It's also a day for cute little valentine's cards to pass around in school. I used to love doing that when I was little but I was afraid to give them to the boys. We only had 7 boys in our class in elementary school. The classes were small, very small.
What better way to tell your sweetie "I Love You" than with some fresh baked cookies? Give some of these sweet treats a try this Valentine's Day. Cupid himself would be impressed by these yummy creations. They are sure to be a hit with your Sweetheart, Children, Neighbors or anyone else special to you as well. Don't forget to get the kids involved! I still have memories of making Valentine's Day Cookies as a child.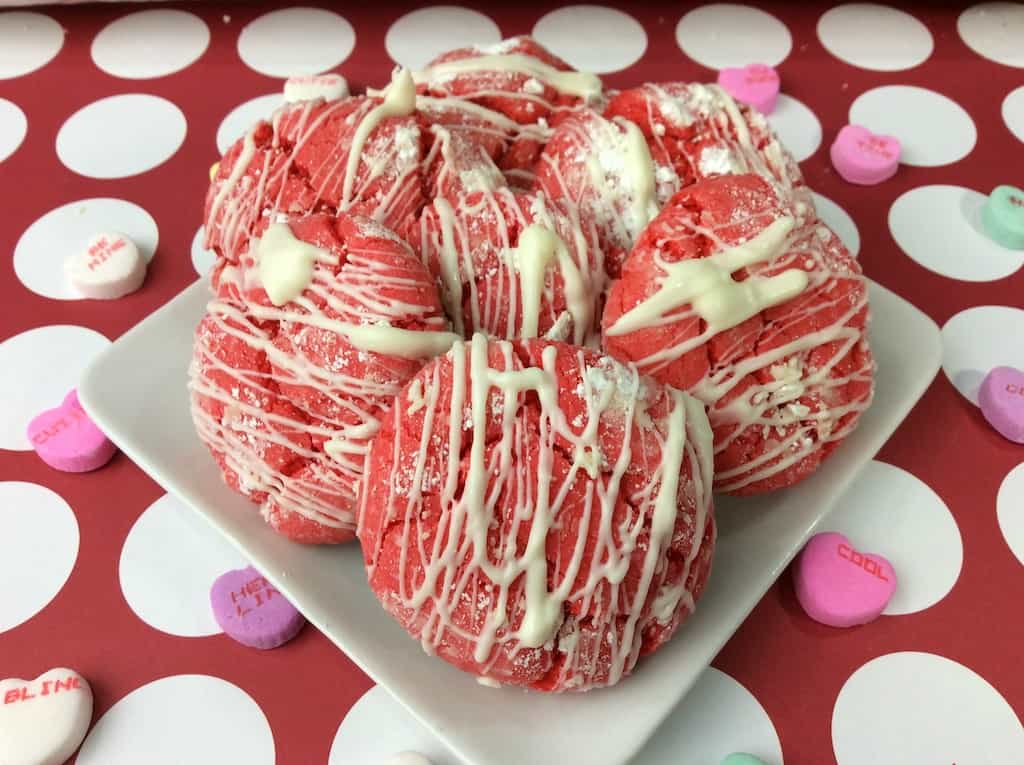 The history of this day has origins in both Christian and Ancient Roman tradition. As a matter of fact there are many legends surrounding Valentine and the day it was yet to become. According to the Catholic Encyclopedia (1908) there are least three St Valentine's recorded.
Cake Mix Crinkle Cookie Ingredients
1 package white cake mix
2 1/2 cups thawed, frozen whipped topping, divided
6 tbsp butter, melted, divided
1 egg, beaten, divided
3/4 cup powdered sugar
1 cup of white melting chocolate chips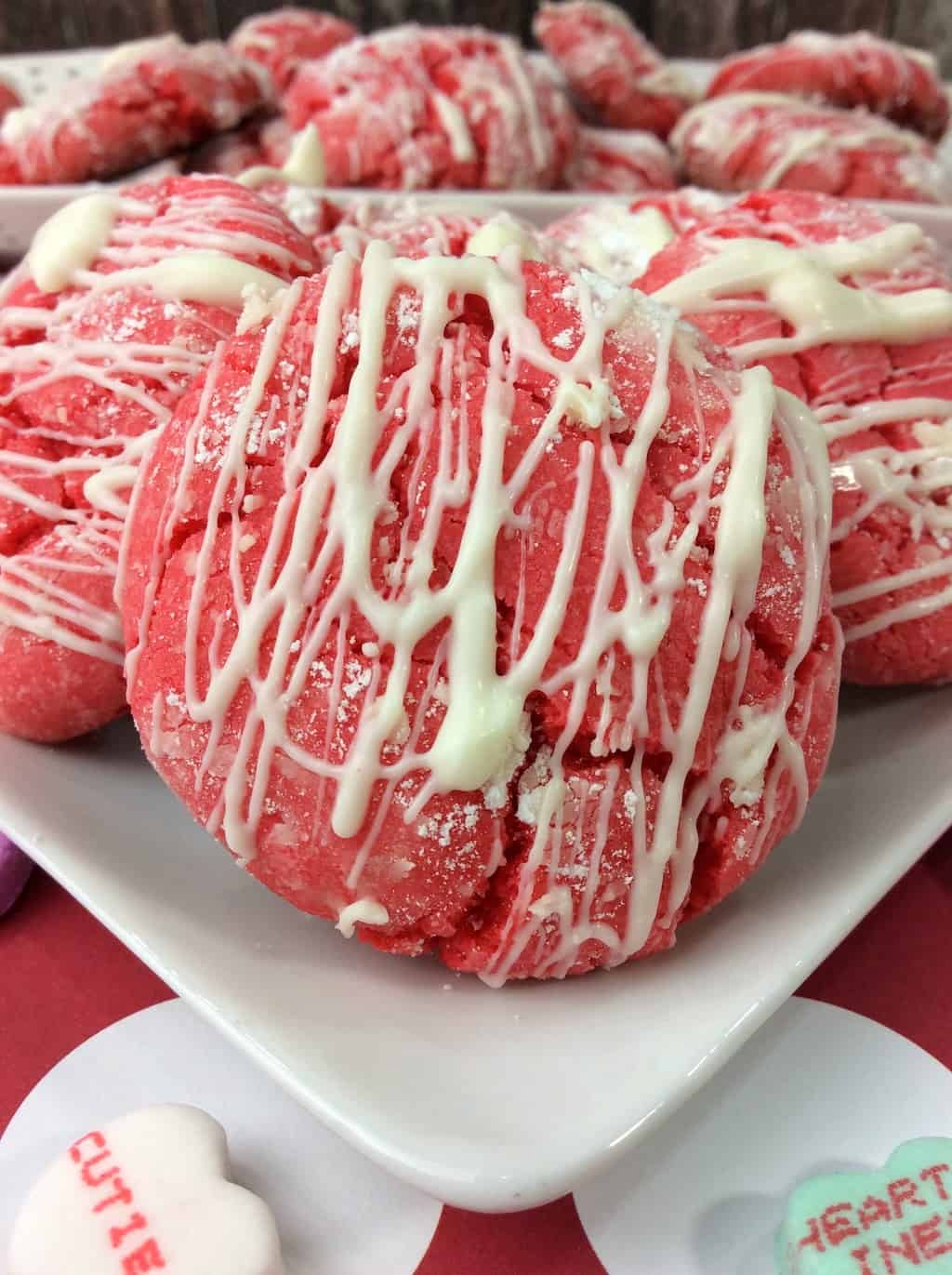 How to make Crinkle Cookies from a cake mix?
1. Preheat your oven to 350°F.
2. Blend your white cake mix, whipped topping, butter butter and your egg in medium bowl with electric mixer on medium speed until blended.
3. Put your powdered sugar in small bowl. and set to the side.
4. Using a small ice cream scoop, scoop out your cookie dough and roll into a small ball.
5. Place the cookie ball into powdered sugar to coat generously. Place on ungreased baking sheets.
6. Bake 11 to 13 minutes or until edges are lightly browned and tops are crackled.
7. Remove immediately to wire rack to cool completely.
8. In a small bowl add your white chocolate melting chips and melt as directed.
9. Use a spoon and drizzle your chocolate over your cookies.
10. Set to the side to allow the chocolate to set.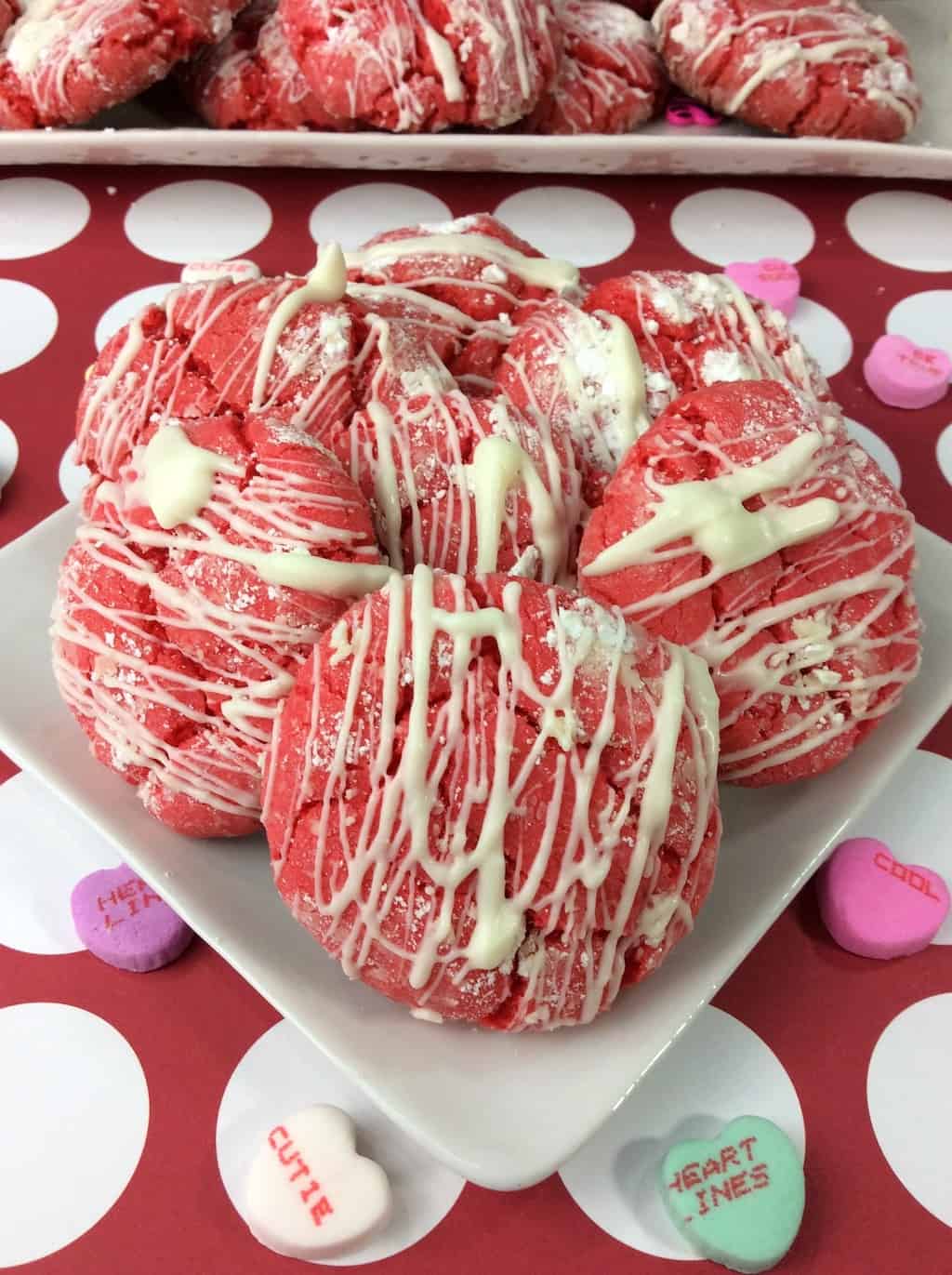 Here are a few Cake Mix Crinkle Cookie Variations:
Chocolate Crinkle Cookie – Replace the white cake mix with Chocolate cake mix and you will fill that chocolate craving in a heartbeat.
Chocolate Chip Crinkle Cookie – Yellow cake mix and 1 cup of chocolate chips will give you a little bit of different kind of chocolate chip cookie that everyone will still love.
Red Velvet Crinkle Cookie – Red Velvet cake mix for Valentine's Day or Christmas.
Elf Crinkle Cookie – Add green food coloring and have the elf serve up some cookies in the morning.
Strawberry Crinkle Cookie – Strawberry cake mix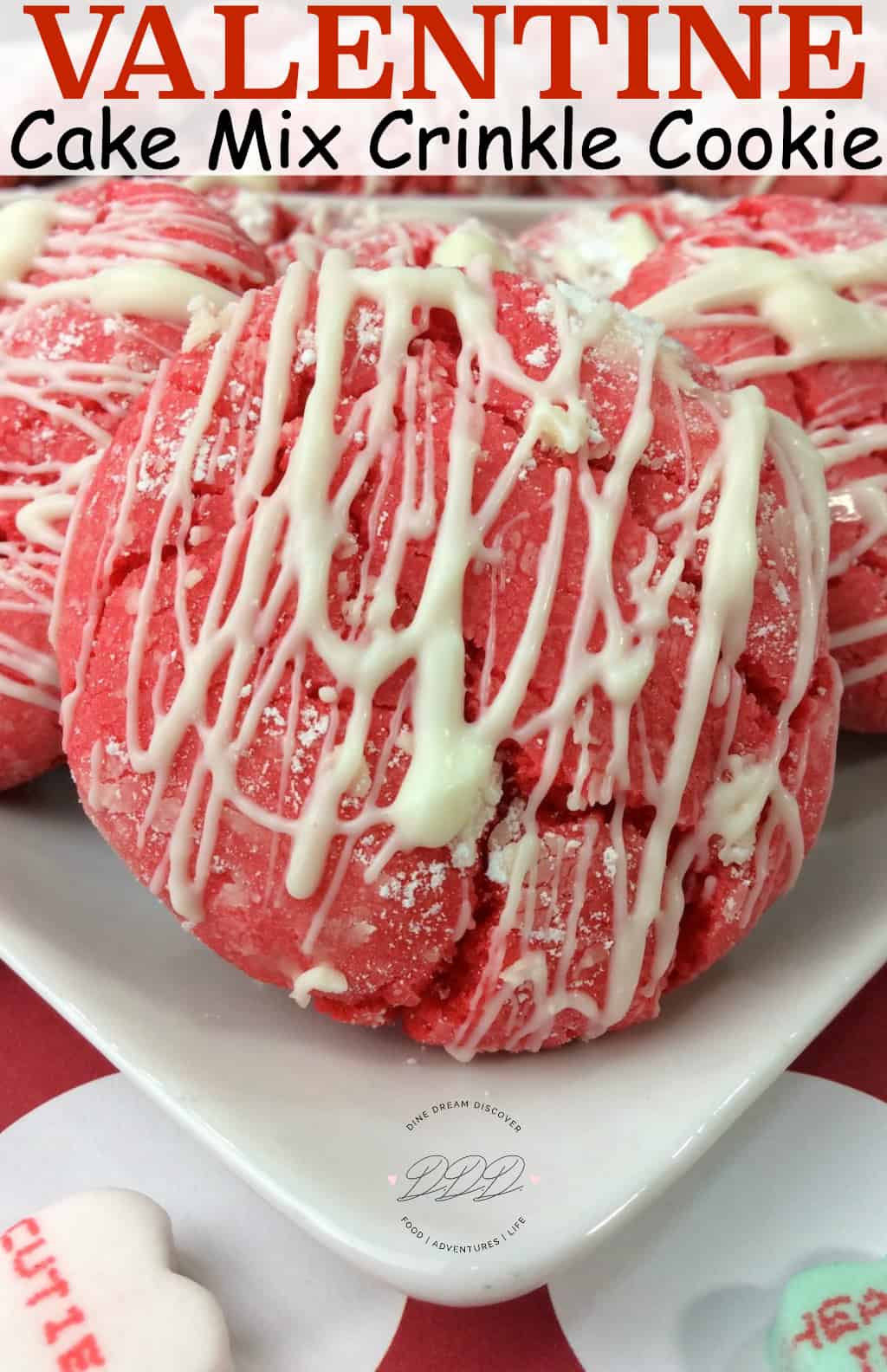 Yield: 12
Valentine Cake Mix Crinkle Cookie Recipe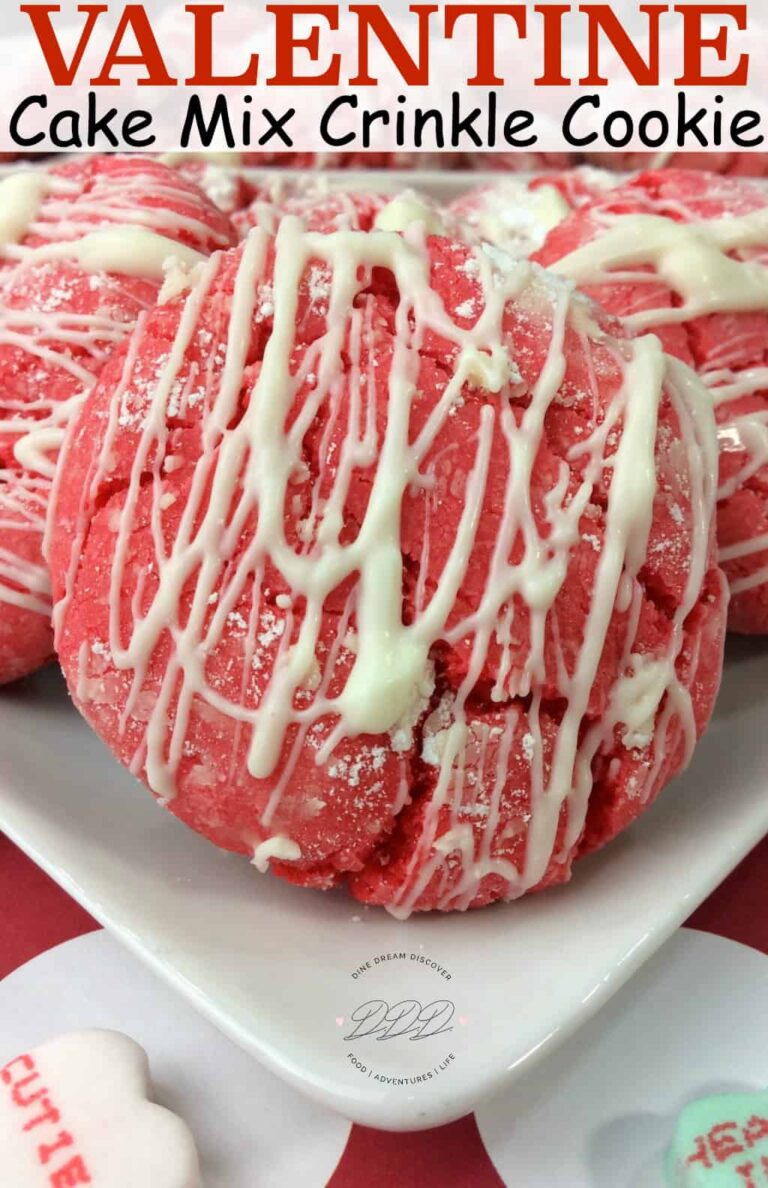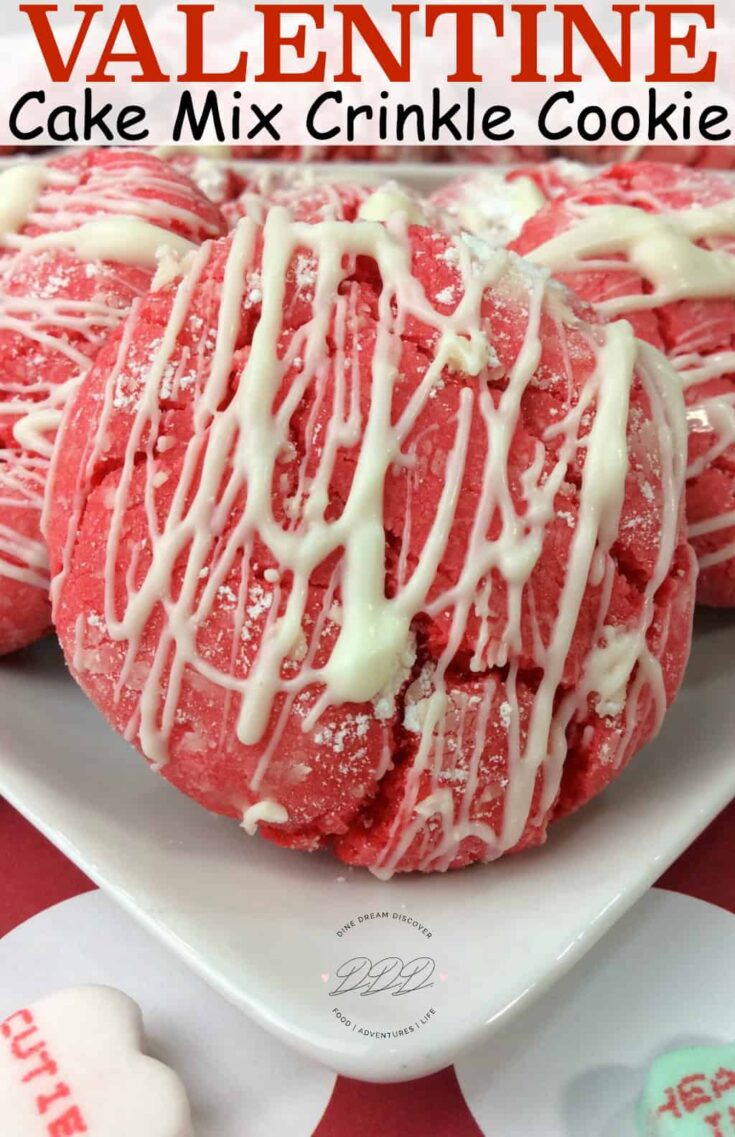 A deliciously and easy Valentine Cake Mix Crinkle Cookie recipe made with a white cake mix and topped with white chocolate drizzle. 
Additional Time
10 minutes
Ingredients
1 package white cake mix
2 1/2 cups thawed, frozen whipped topping, divided
6 tbsp butter, melted, divided
1 egg, beaten, divided
3/4 cup powdered sugar
1 cup of white melting chocolate chips
Instructions
Preheat your oven to 350°F.
Blend your white cake mix, whipped topping, butter butter and your egg in medium bowl with electric mixer on medium speed until blended.
Put your powdered sugar in small bowl. and set to the side
Using a small ice cream scoop, scoop out your cookie dough and roll into a small ball.
Place the cookie ball into powdered sugar to coat generously. Place on ungreased baking sheets.
Bake 11 to 13 minutes or until edges are lightly browned and tops are crackled.
Remove immediately to wire rack to cool completely.
In a small bowl add your white chocolate melting chips and melt as directed
Use a spoon and drizzle your chocolate over your cookies
Set to the side to allow the chocolate to set
Enjoy
You may also like: